By: Julie Szpira
Disclosure: This post may contain references to products from our advertisers. We may receive compensation from products we link to. We appreciate your support.
Whether you're 2 or 92, a trip to Disney can be a magical experience for the family to share. What can be not-so-magical is the high price tag of a visit to the Happiest Place on Earth.
Flights, hotels and park tickets can quickly add up to thousands of dollars. Well, we here at 10xTravel want you to enjoy your trip to see Mickey and Minnie, and not worry about the costs.
By maximizing points and miles, you can make your visit, and still have cash left to buy that $11 souvenir cup!
Despite the fact that I am a non-married, childless, 32 year old woman, I love Disney and actually had an annual pass for Disneyland as recently as 2016.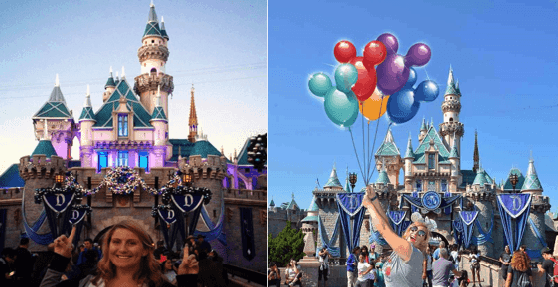 Is it normal for an adult to have multiple solo photos in front of the Disneyland Castle?
The following plan is designed for a visit to Disney World, but with a few tweaks to hotel planning it would also work for a visit to Disneyland.
Disney World is a larger property, with many more hotels from which to choose, including more than 25 Disney owned properties, as well as many hotel chain options.
Disneyland has a much smaller footprint, with only three Disney properties, but the area still provides many excellent hotel chain options.
How To Fly To Disney World
Unless you are living within a reasonable driving distance of Disney (for my family, 1200 miles was considered reasonable… it's not), you're going to have to fly.
With a little bit of pre-planning, a family of four can fly for almost free with the Southwest Companion Pass. Check out our complete guide to obtaining the Southwest Companion Pass to learn more. Continue Reading