In This Article
Loading table of contents …
Once you learn how to upgrade to first class on American Airlines, you'll never walk to the back of the plane again.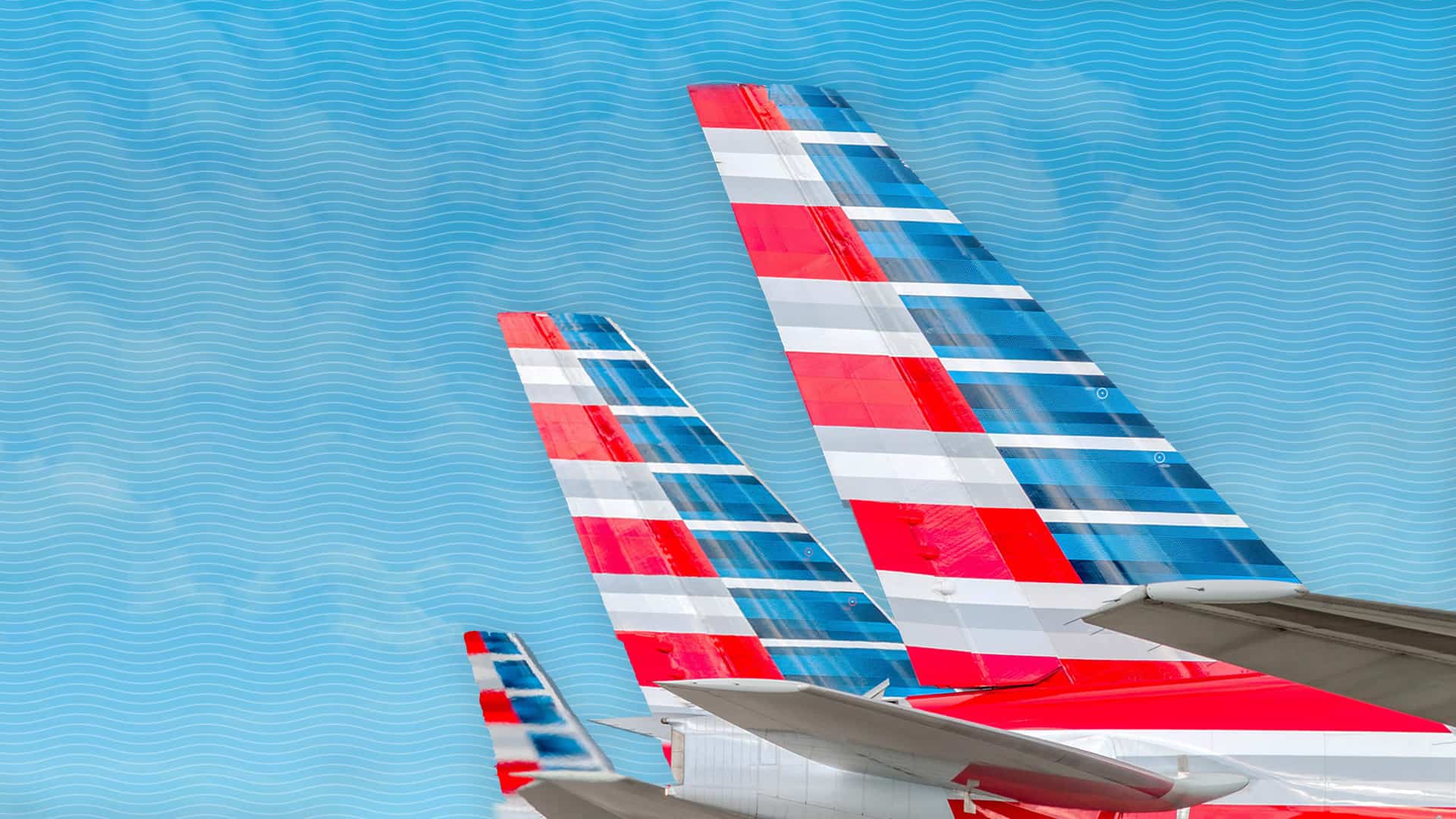 Few things are more disheartening than getting on an airplane and walking through a business-class or a first-class cabin on the way to your seat in the back of a plane. As passengers sip on their welcome cocktails, you begrudgingly wheel your carry-on suitcase in front of you praying there's space for it in the overhead compartment.
What if we told you that you can be one of the people sipping on a drink as others pass you by down the aisle?
The first thing you must know about upgrades on American Airlines is that there's no single best way to get an upgrade on your flight. It's true that in most cases, you have to be an elite flyer. However, mere mortals without status can secure a seat upfront, too.
We'll discuss the differences between complimentary upgrades and systemwide upgrades, as well as how 500-mile upgrades work and how to use the Business Extra program to your advantage. Finally, we'll talk about upgrading cash fares with American Airlines miles and whether you should do it or book a mileage ticket outright.
Once you learn how to upgrade to first class on American Airlines, you'll never walk to the back of the plane again (unless you choose to, of course).

How Upgrades on American Airlines Work
Before we dive in head first, let's establish how exactly American Airlines upgrades work on domestic and international flights.
When flying on a domestic route, you get the following options for cabins of service: basic economy, main cabin and first.
If you're an elite flyer or hold an eligible co-branded American Airlines credit card, you keep upgrade privileges on basic-economy tickets, which normally aren't upgradeable. Based on elite status, you can get upgraded to a complimentary preferred seat in the main cabin, such as a seat with extra legroom.
Otherwise, if you booked your original seat in the main cabin, you're eligible for an upgrade to first class on a flight within the continental United States (we'll discuss your upgrade options below).
On flights to Alaska and Hawaii, as well as on international flights, aircraft are configured with more classes of service: main cabin, premium economy, business and sometimes first class. For this reason, the upgrade hierarchy may be confusing.
Keep in mind that you can get upgraded to the next class of service only. If a plane is configured with economy, premium economy and business classes of service, you can't get upgraded from economy straight to business.
So, if you were to book your original seat in the main cabin, then your upgrade gets you into a premium-economy seat. Booking a premium-economy seat can qualify you for an upgrade in business class. Similarly, if you booked a seat in Flagship Business class on a long-distance flight, you could be eligible for an upgrade to Flagship First.
How to Get Complimentary Upgrades on American Airlines
Of course, complimentary upgrades are the ultimate way to get upgraded on an American Airlines flight. It's also the least guaranteed. Take a look at the American Airlines upgrade chart for elite flyers.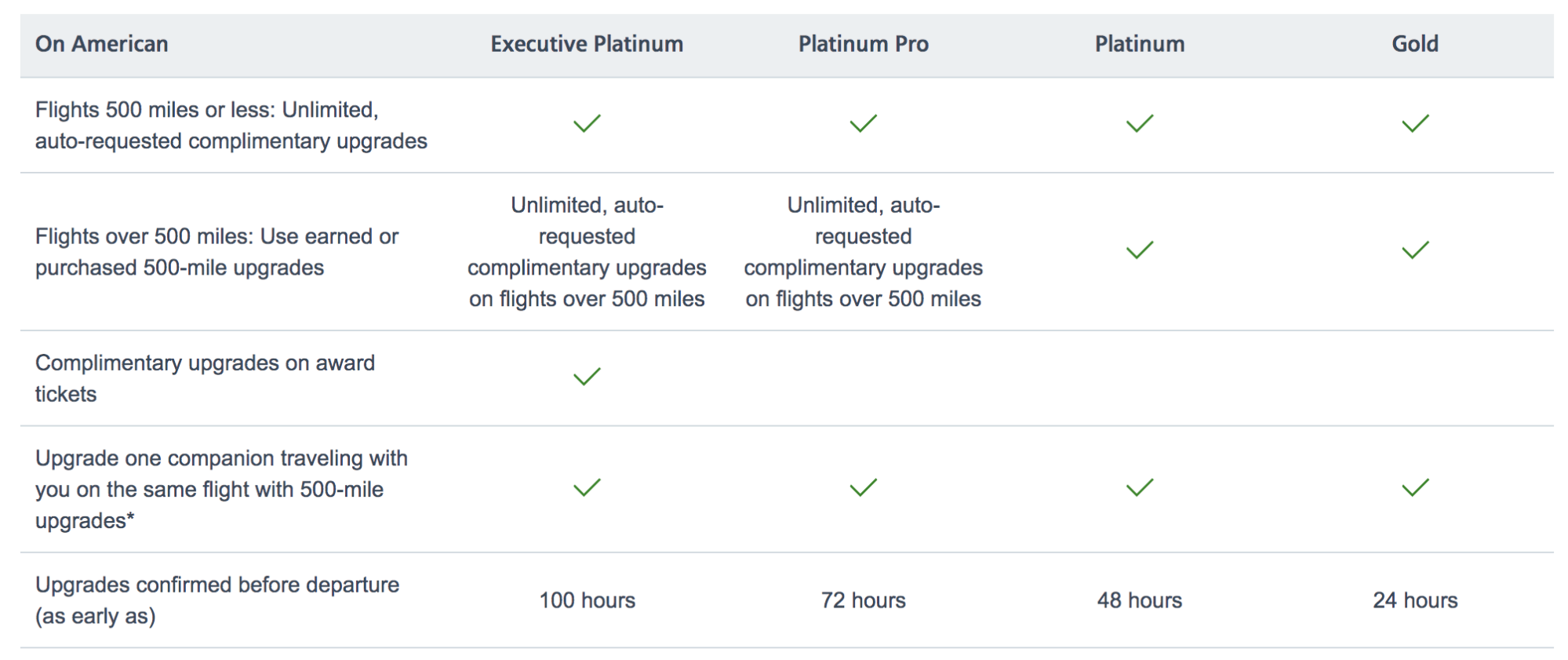 When it comes to complimentary upgrades on flights shorter than 500 miles (including domestic and short-haul international flights), Executive Platinum flyers receive AA upgrade priority. Their upgrades clear as early as 100 hours before a flight.
Platinum Pros get notified as early as 72 hours before departure. Platinum members receive a 48-hour notice, and Gold members know 24 hours in advance.
Executive Platinum members are also the only elite flyers who could get bumped up a cabin on award tickets.
Although complimentary upgrades on short flights are unlimited and are available to all elite flyers, the competition is strong on every flight. The lower your elite tier is, the less of a chance of receiving an upgrade you have.
So, if you're not sure about whether your upgrade based on your elite status would clear, it's best to ensure you're getting upgraded one way or another. Luckily, AA offers its flyers many opportunities to fly like a rock star.
How to Apply Systemwide Upgrades on American Airlines Flights
American Airlines top-tier elites can use systemwide upgrades (SWUs) for one-way travel for up to three segments on an AA-operated flight anywhere the airline flies. Codeshare flights, government fares and award tickets aren't eligible.
These confirmed upgrades receive top priority and are good toward the next class of service for most fares. Most economy tickets can be upgraded to premium economy. Similarly, most business-class tickets can be upgraded to first class.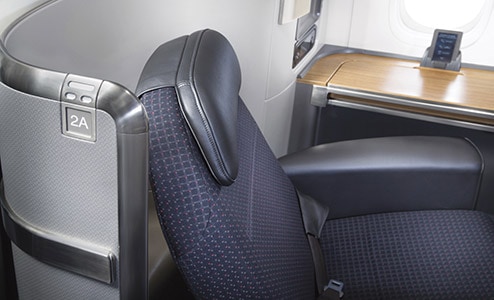 Executive Platinum members receive four SWUs every year they qualify for this top-tier status. It's possible to earn additional upgrades when you reach 150,000, 200,000 and 250,000 Elite Qualifying Miles (EQMs). Million Millers also receive four additional SWUs for every million miles flown with American Airlines. Unfortunately, award tickets don't count toward Million Miler status.
You don't have to use systemwide upgrades on flights for yourself. You can apply these to anyone's ticket whether you fly together or not.
Keep in mind that systemwide upgrades expire after one year and must be used before their expiration date. SWUs earned during 2020 are valid through Jan. 31, 2022. Make sure to contact the elite service desk to apply a systemwide upgrade to your trip.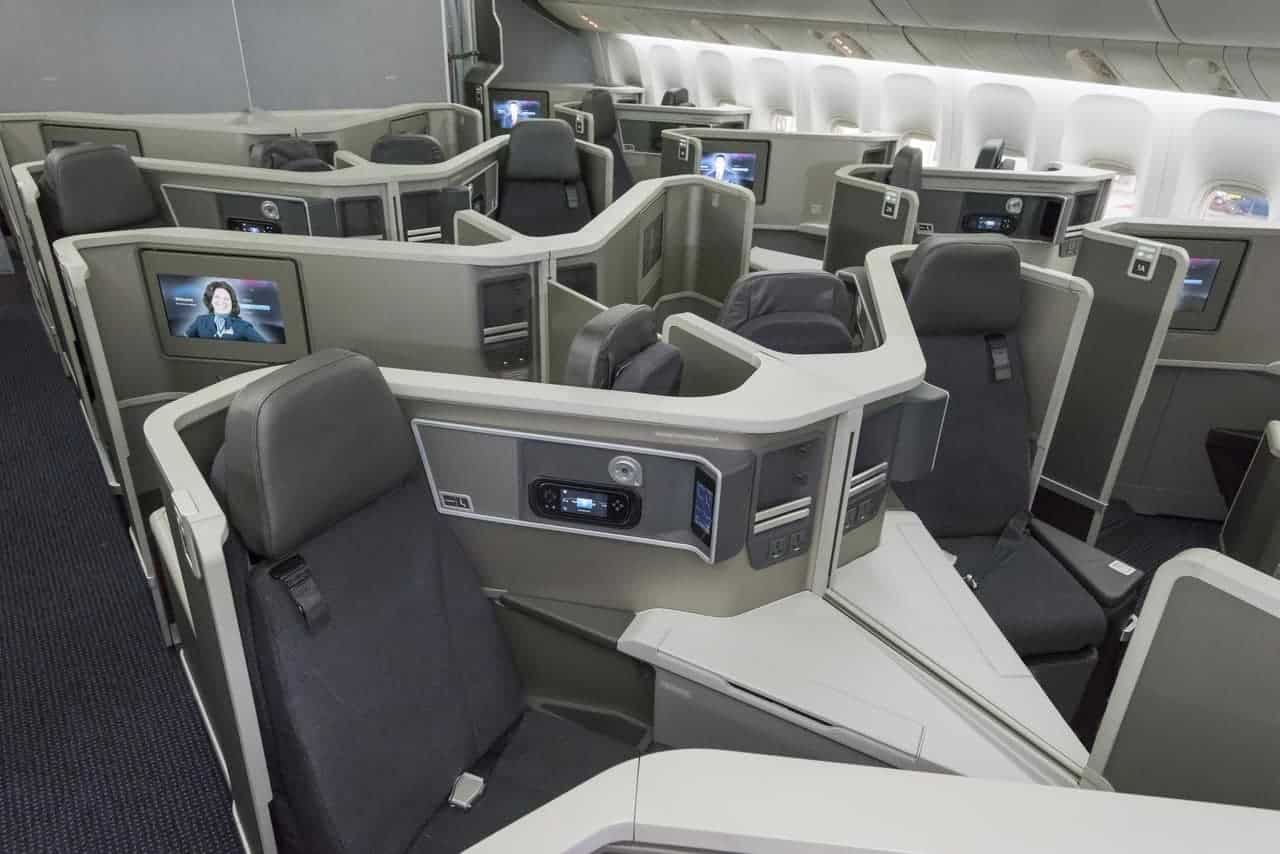 How to Apply 500-Miles Upgrades on American Airlines Flights
AAdvantage elite flyers who purchase a ticket in either the main cabin or premium economy are eligible to upgrade their paid American Airlines-operated flight to the next class of service. For example, a main cabin ticket can be upgraded to premium economy. A premium economy ticket can be upgraded to either domestic first class or international business (for travel within North America).
Executive Platinum and Platinum Pro flyers always receive complimentary upgrades, subject to availability. Platinum and Gold flyers may receive complimentary upgrades on flights shorter than 500 miles. Otherwise, they need to use their 500-mile upgrades.
If you are an AA flyer with Executive Platinum elite status, you can upgrade both paid tickets and award tickets. All other statuses can only upgrade paid tickets.
To earn four 500-mile upgrades, AAdvantage Gold and Platinum members must earn 12,500 EQMs during the membership year.
Each 500 miles flown requires one upgrade. For example, a 1,250-mile flight requires three 500-mile upgrades. If you're short on 500-mile upgrades, you can purchase them for $40 apiece or redeem 40,000 AAdvantage miles for a pack of eight.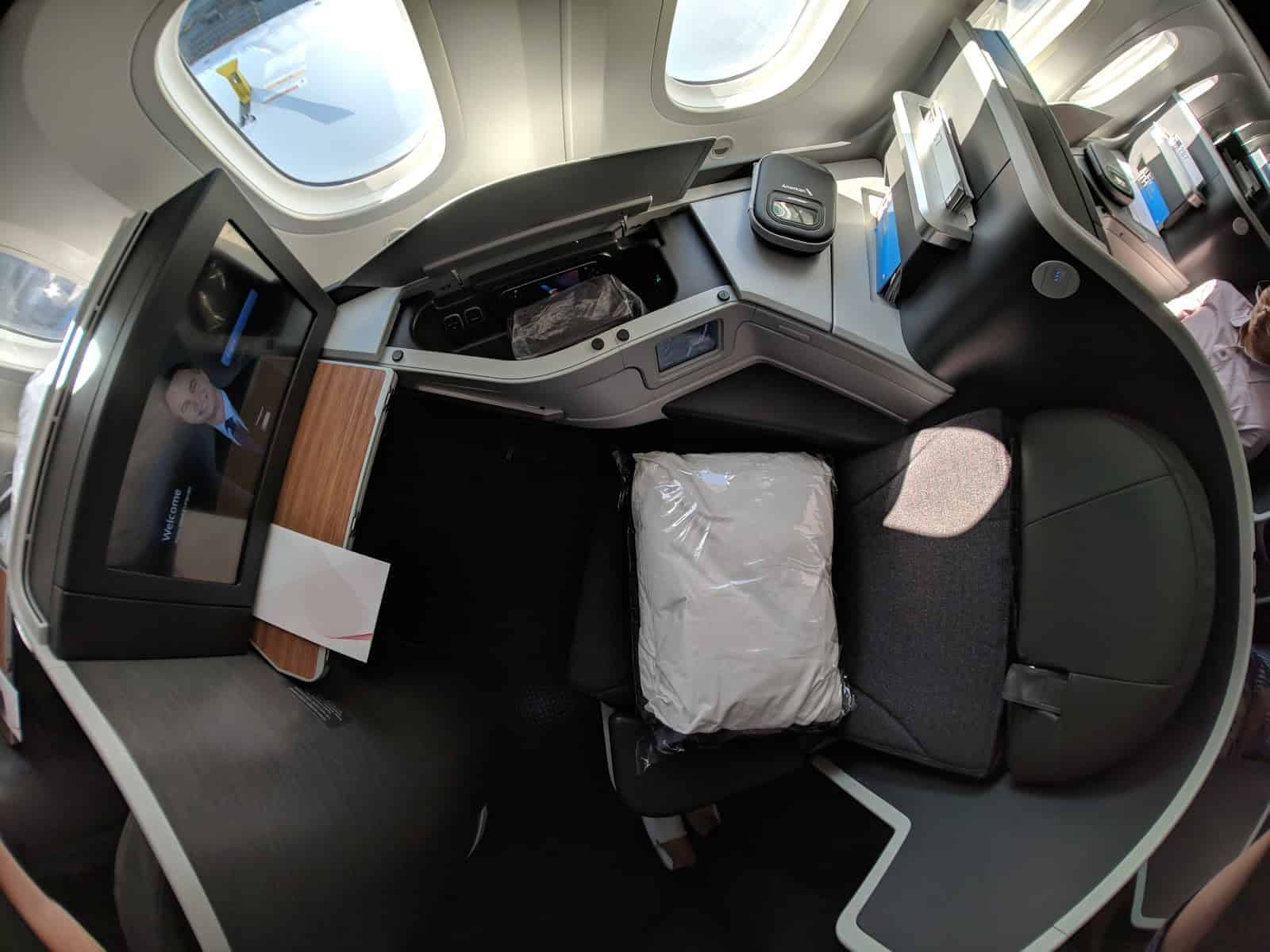 You can apply 500-mile upgrades to one companion's flight. If you're not traveling together, you must call American Airlines to add a 500-mile upgrade to another traveler's trip.
Keep in mind that 500-mile upgrades are available to elite flyers only. Even if you earn them in a year when you have AAdvantage elite status, you can't redeem them unless you maintain that status. The upgrades won't expire, but you won't be able to use them until you requalify for elite status.
Additionally, systemwide upgrades and upgrades with miles receive priority over 500-mile upgrades.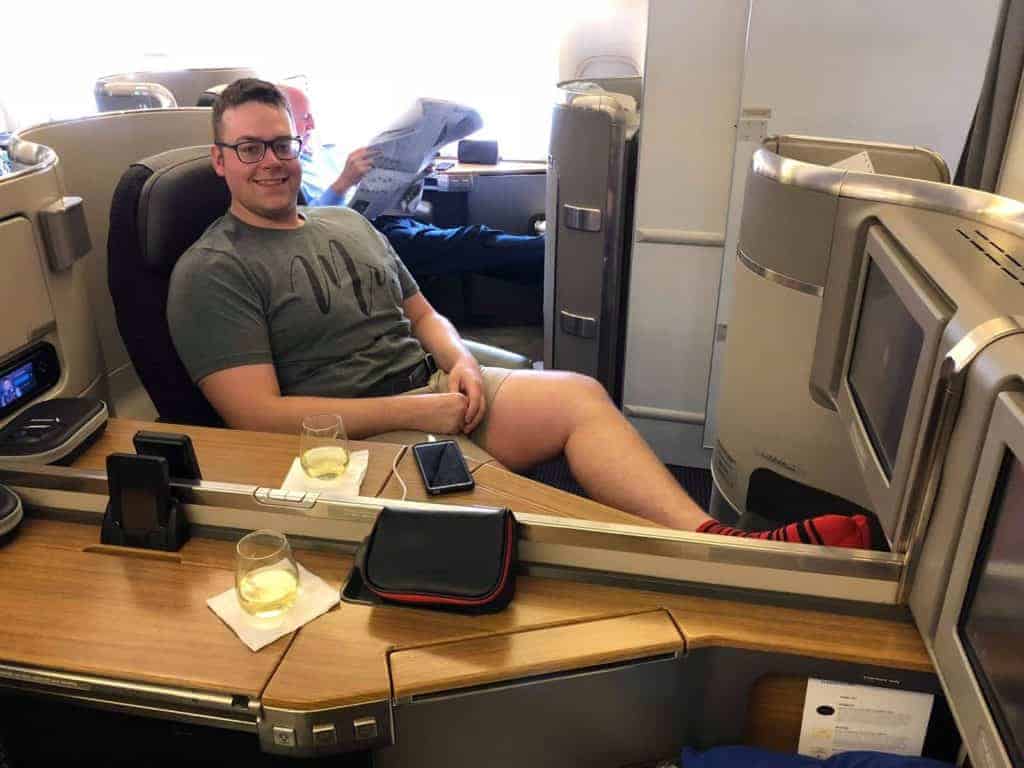 Can You Upgrade American Airlines Award Tickets?
In select cases, American Airlines flyers can get upgrades on award tickets.
First of all, to score an upgrade on an award ticket, you must be an Executive Platinum elite member. It's the only status tier that can receive complimentary upgrades on award tickets.
Because complimentary upgrades are a crapshoot, especially between hub cities where elites compete for the limited premium space, Executive Platinum members flying within North America can apply 500-mile upgrades to award flights to ensure flying more comfortably.
Those without status or flying internationally are better off redeeming AAdvantage miles to score that coveted seat in the premium cabin.
How to Earn American Airlines Upgrades with the Business Extra Program
Small-business owners are free to join AA's Business Extra program to earn points toward future upgrades, among other perks.
The Business Extra program rewards both the individual passenger and the company for which he or she travels. Simply add your Business Extra number when employees book travel and earn more rewards for the same trip.
As a program member, you earn 1 Business Extra point for each $5 spent on eligible American Airlines and partner flights, including those taken with British Airways, Iberia and Japan Airlines. Finnair and Qantas flights marketed and sold by American Airlines are also eligible for point accrual.
Business Extra one-segment upgrades start at 650 points, which means that spending at least $3,250 as part of the program can score you or an employee an upgrade on a domestic or a short-haul international flight. Long-haul international upgrades start at 1,200 points on full-fare tickets and at 3,100 points on discounted fares each way.
Aside from upgrades, Business Extra points also can be redeemed for Admirals Club day passes, AAdvantage Gold elite status and free flights.
Rewards earned via the Business Extra program don't expire for two calendar years and can be used for any employee in the company.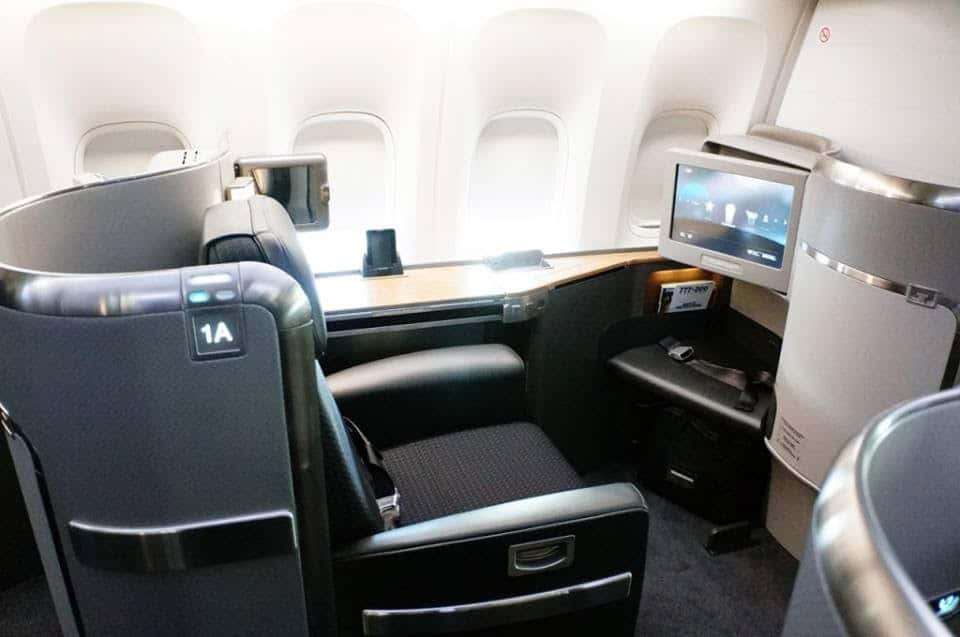 How to Upgrade Your American Airlines Flight Using Miles
Upgrades with AAdvantage Miles
No matter your elite status, all AAdvantage members are eligible to upgrade their revenue AA flights using AAdvantage miles. As in other cases mentioned above, only single-class upgrades are available for mileage upgrades. In other words, it's not possible to receive a first-class upgrade on an economy ticket.
The cost of an upgrade varies based on your itinerary and the initial class of service purchased. Fortunately, even discount tickets are eligible for upgrades with AAdvantage miles and a cash copay. Unfortunately, the upgrade space isn't always available.
Discount economy: G, H, K, L, M, N, O, Q, S, V
Military or government: Y
Full-fare economy: Y
Discount premium economy: P
Full-fare premium economy: W
Discount business: I
Full-fare business: D, J or R
The rates are as follows: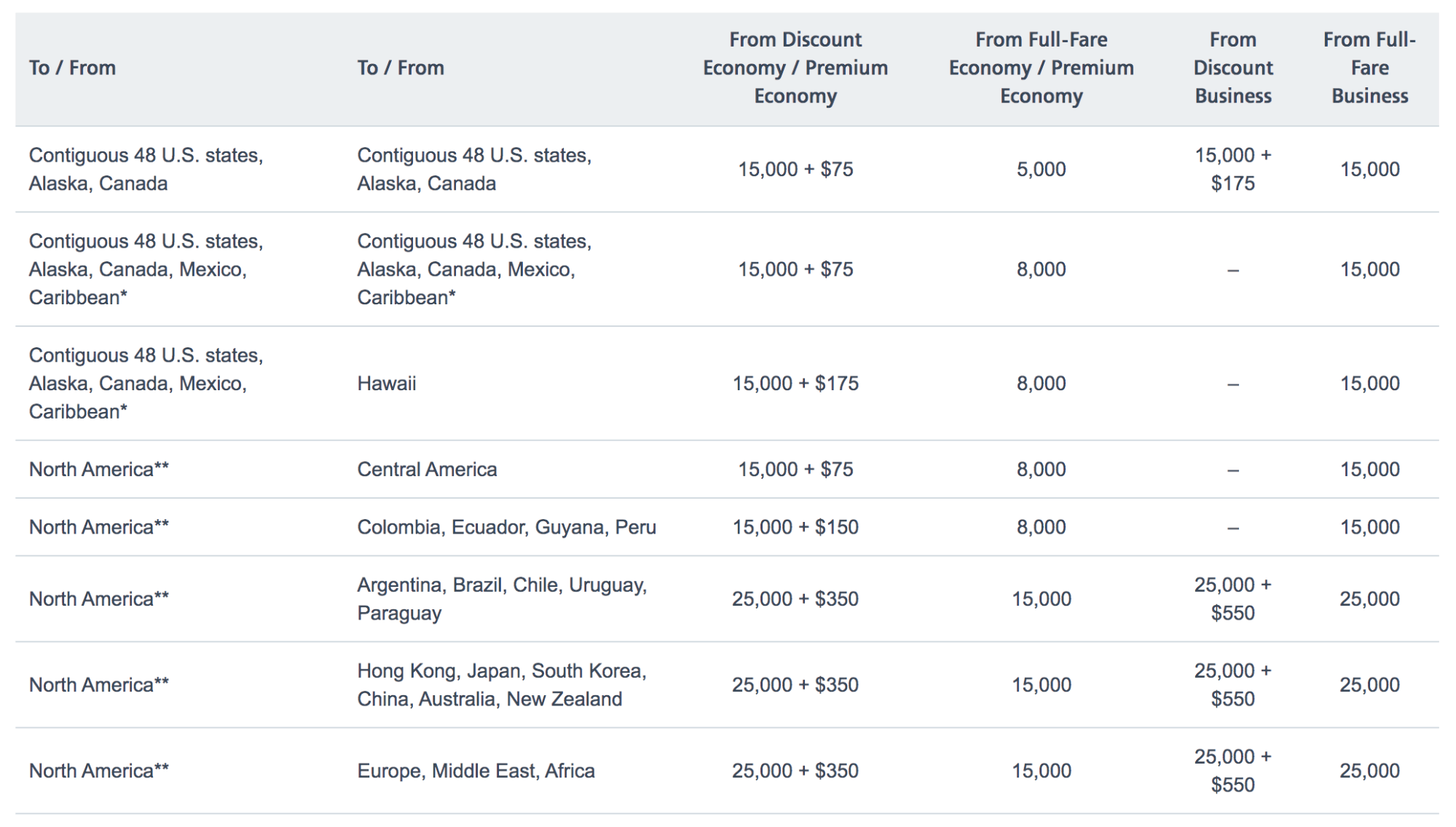 To request a mileage upgrade, contact American Airlines reservations and have your passenger name record (PNR) number ready. If an upgrade isn't available at the time of calling, you'll be added to the waitlist, which clears based on your elite status level, the type of an upgrade requested and the number of Elite Qualifying Dollars (EQDs) on your account during a 12-month rolling period.
Upgrades with British Airways Avios
If you don't have any AAdvantage miles, British Airways Avios are the next logical option as they're easier to obtain. You can get your hands on these miles by transferring them from American Express Membership Rewards (1:1), Chase Ultimate Rewards (1:1) and Marriott Bonvoy (3:1).
Whenever there's availability, you can upgrade a cash booking to the next class of service using Avios. It goes without saying that business-class seats can't be upgraded on aircraft without a first-class cabin.
You can request an American Airlines seat upgrade with Avios either at the time of booking or later on, depending on if there's availability. There must be an award seat available on the flight for the upgrade to clear.
The cost of an upgrade is calculated based on the following formula:
Avios for the cabin you wish to fly – Avios for the cabin you purchased = Avios required to upgrade per way (plus fees and taxes when applicable).
For the upgrade with Avios to be possible, you must purchase your American Airlines-operated flight through British Airways. The following fare codes are upgradeable:
Full-fare economy: B or Y
Full-fare business: C, D or J
Unfortunately, the fare codes listed above are for the most expensive tickets, and it might not make a lot of sense financially to purchase this type of fare just so you could try to upgrade.
How to Upgrade American Airlines Flights with Cash
Paid flights can be upgraded with more cash if you choose to shell out more money for a more comfortable seat.
If you booked a flight and want to see your options, go to Find Your Trip and fill in blank cells with passenger information and your PNR. Once your reservation comes up, scroll to the bottom and check your cash upgrade options.

If your ticket type is eligible for an upgrade, you'll see the cost there. It's going to be up to you to decide whether the upgrade cost is reasonable.
Skip the Upgrade and Book an Award Ticket with Miles
The only way to guarantee you fly in a cushy seat with nice amenities, especially on a long-haul international flight, is to pay for the ticket up front. This is the only foolproof method to fly in a premium cabin for those without airline elite status.
Of course, we at 10xTravel rarely pay for business-class tickets with cash, if ever, so miles to the rescue.
American Airlines is a Oneworld partner, which means you can use plenty of programs to book AA flights with miles, including British Airways Executive Club, Iberia Plus, Qantas Frequent Flyer, Qatar Privilege Club and soon Alaska Mileage Plan when it officially joins the Oneworld alliance. It goes without saying that American's own program, AAdvantage, is quite useful for booking award flights as well.
Depending on your itinerary, some frequent-flyer programs might be better than others. We suggest searching for award flights with multiple programs to check all the redemption options and find the best rate.
Should You Upgrade?
Well, the answer to this question depends on what you expect from your flight. Do you expect a lie-flat seat and bottomless champagne? Or do you simply need to get from point A to point B?
If you're an elite member and receive a complimentary upgrade from your status, then yes, the answer is quite obvious—you should take the upgrade. Similar logic applies to systemwide upgrades. If your American Airlines upgrade expires soon and you have a trip before it does, why not use it to secure an upgrade to a higher class or service?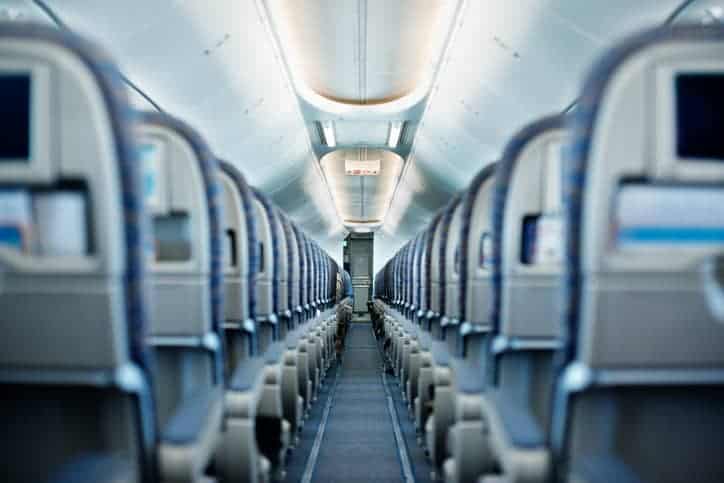 However, if you have to shell out extra money or even miles for an upgrade, ask yourself if you really need it. Do you have a physical condition, such as a broken leg, that would help you feel more comfortable in a lie-flat seat? Are you tall enough for others to ask if you play basketball and need the extra legroom? Do you need to arrive in your destination ready to attend a business meeting? Then yes, you should probably secure that upgrade on a long-haul flight.
Unless you're an elite American Airlines flyer, the best way to secure that upgrade is by redeeming miles for a business-class seat right out of the gate. Otherwise, upgrading a cash ticket will either require purchasing a significantly more expensive ticket, cost you a hefty fee on top of that or not be possible at all based on the fare code you bought.
Final Thoughts
Flying upfront is a desire for many travelers, especially those traveling long distances. Who hasn't thought about getting a taste of that bougie life even for a moment? Luckily, it's possible to achieve an American Airlines upgrade by either holding elite status or having access to some frequent-flyer miles.
Although the options are abundant and the process is different for every type of an AA seat upgrade, you're now familiar with how it all works before you plan your next trip (whenever that may be).
New to the world of points and miles? The Chase Sapphire Preferred is the best card to start with. With a bonus of 80,000 points after $4,000 spend in the first 3 months and 2x points on dining and travel, this card truly cannot be beat!
Learn More
Editors Note: Opinions expressed here are author's alone, not those of any bank, credit card issuer, hotel, airline, or other entity. This content has not been reviewed, approved or otherwise endorsed by any of the entities included within the post.