Note: Some of the offers mentioned below may have changed or are no longer be available. You can view current offers here.
A couple months ago I introduced you to one of my first consulting clients, Nathan, and invited him to tell you about his first couple months of travel hacking (which included a $102 round-trip flight to London). Many of you told me that you wanted to see more posts like Nathan's in the future so I made a note to include a guest post from time to time.
This week I decided to follow through on that promise by inviting my twin brother Wes to tell us about his recent trip to Costa Rica. Wes has been travel hacking for a couple years now and has built up an impressive amount of frequent flyer miles in the process.
With those miles (and a little help from me), Wes was able to take a week-long trip to Costa Rica with his girlfriend for just $101.02.
In his own words, here is how he did it.
I consider myself an early disciple of the concept of travel hacking but take absolutely no credit for it. I was introduced to the concept by Bryce, my twin brother and lifelong partner in crime.  Bryce had been feeding me tips on what credit cards to apply for along with other travel hacks for the better part of two years. Combine this with the fact that hadn't taken a major vacation (a word not understood by many in Banking) since starting work and I was ready to make it rain points like Lebron James in the 4th quarter of a playoff game.
The decision to use my time off after leaving my job to take a pretty serious vacation was easy, the hard part was deciding where. Southeast Asia beckoned, Australia seemed just a hop and skip away and I have always wanted to see Greece. Ultimately I wanted somewhere that I could explore, relax, try some new things, and have a few days to do absolutely nothing. I was traveling with my girlfriend Laura so I sought her input as well.
"Costa Rica", she said without any hesitation. A tropical paradise filled with rainforests, volcanoes, and beautiful coastline.
I was sold. We picked a week in April that worked for both of us and took advantage of Bryce's Award Booking Service to book our flights.
Bryce was able to book our flights for $101.02 using points that I didn't even realize I had! Booking those same flights with cash would have been more than $1,300. It was the fastest $1,200 I have ever saved.
We decided to take the red-eye flight so that we didn't have to waste a day traveling. Naturally, we were feeling a bit tired when we got off the plane in San Jose (the capital of Costa Rica) but our excitement kept us going. On any other vacation a cup of coffee and quick breakfast would have been just fine, but we had bigger plans in mind.
Just 20 minutes outside of San Jose sits Doka Estate, a coffee plantation that offers tours and tastings along with a wonderful traditional Costa Rican breakfast. We loaded our bags into a SUV driven by Rosie (our private chauffer and excellent local guide) and headed up for the first of many great breakfasts on the trip.
The breakfast was amazing, the coffee was fantastic, and we learned the art of growing, harvesting and roasting great coffee. After spending the morning exploring the plantation we piled back in to the car and headed west for the second leg of our trip.
Arenal
About halfway between San Jose and the Pacific coast of Costa Rica sits Arenal, a region covered in rain forest. Arenal is also home to the Arenal Volcano National Park, which as you might have guessed has a massive volcano. We arrived in Arenal that afternoon and checked in to Tabacon, a resort nestled in the rainforest at the base of the volcano with hot springs to swim in and relax.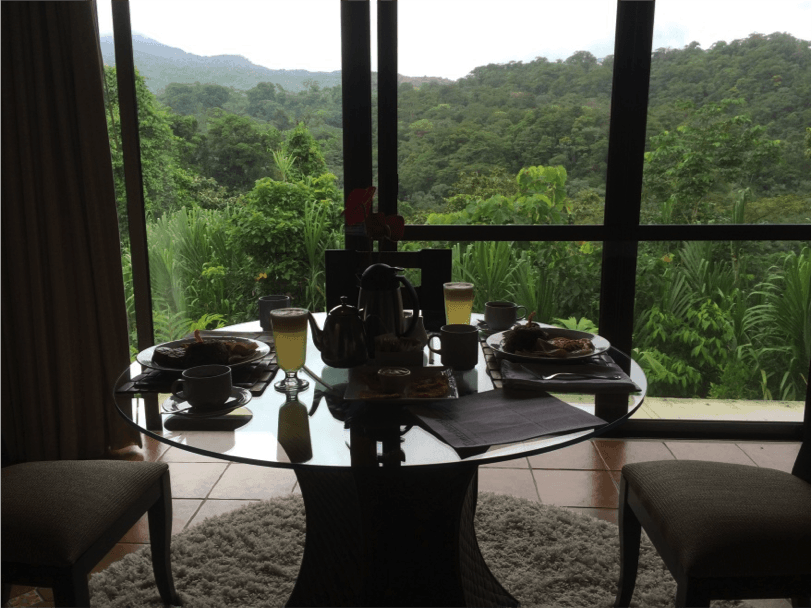 Upon arriving we were offered the opportunity to upgrade our room to a suite with a terrific view of the Volcano. This opportunity was too good to pass up, so we took it. We spent the rest of the day relaxing in the hot springs and resting from our travels.
On the second day we woke up bright and early to the sounds of the rainforest. Keeping with our theme of epic breakfasts, we ordered room service and enjoyed it while taking in the great view from our upgraded room.
Both Laura and I love to hike, and we had a full day ahead of hiking through the rainforest as well as around the base of the volcano (pictures below).
We lucked out and got a day with minimal fog cover, giving us a full view of the volcano. After getting back to Tabacon we headed to the spa for a massage and some more time relaxing in the hot springs before dinner.
I was able to use Capital One points to cover the cost of 2 nights at Tabacon, our room upgrade, 2 massages, and a wonderful room service breakfast for a grand total of $0 out of pocket. That's right! I scored an additional $600 worth of travel absolutely free!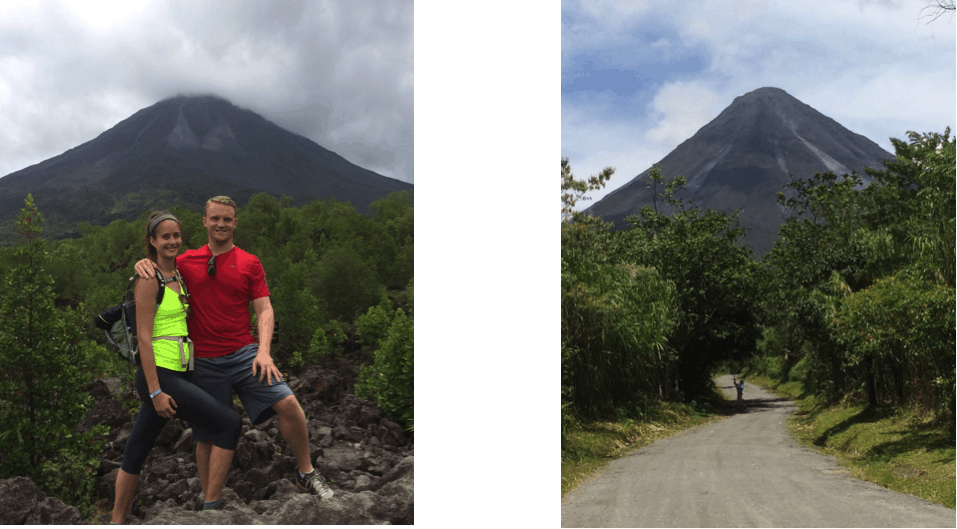 Papagayo
We left Arenal early the next morning and headed off to our final destination of the trip, Papagayo. Papagayo is a peninsula on the Pacific coast of Costa Rica with sandy beaches, high-end resorts and a rather large population of howler monkeys.  We arrived at the Hyatt Andaz Peninsula Papagayo Resort, one of only 11 Andaz resorts on the planet and the newest addition to the Andaz group (it opened in December).
We spent the first day lounging in the infinity pools, catching some sun and enjoying the many amenities of the hotel (see earlier comment related to spending time doing absolutely nothing). The second day we went on a boat trip for a full day of snorkeling, fishing for our lunch, BBQ on the beach (including the fresh fish we just caught) and seeing the rest of the peninsula from the water. The rest of our time in Papagayo was spent working on our tans, listening to live music, and kayaking around the peninsula. We also managed to squeeze one final epic breakfast in on the balcony of our hotel room.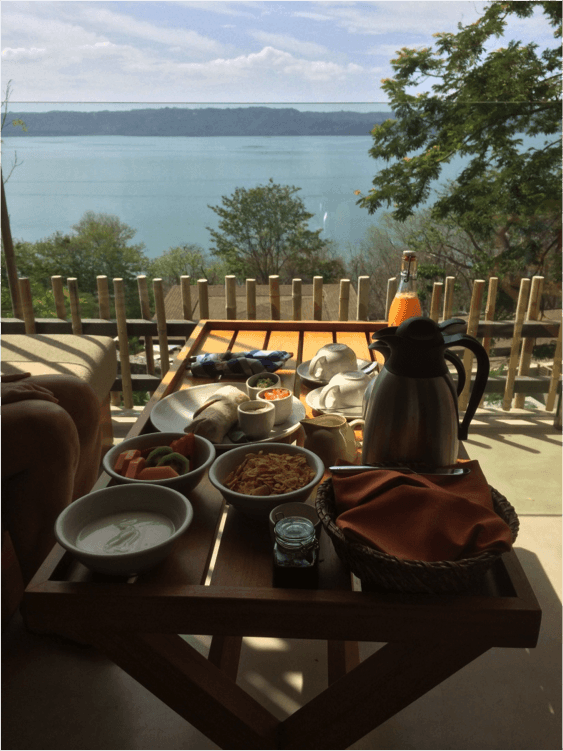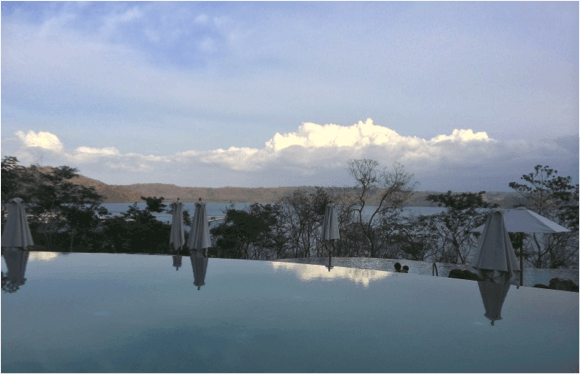 Staying at an Andaz Property is not cheap, especially when the property is only a few months old. Rooms at typically go for $400+ per night. Luckily for me, Bryce was able to help me score 2 nights absolutely free with the Hyatt Visa Signature Card. I was able to use some leftover Chase Ultimate Rewards points to book a third night for free, meaning that again I was able to stay at a luxury hotel without having to spend a single penny!
The final morning we caught a shuttle back to San Jose to catch and early morning flight the next day. We booked a night at the Marriott close to the airport so we could make our flight.
Summary
Two round trip flights from San Francisco to Costa Rica, two nights at Tabacon (including room upgrade, room service breakfast and massages), three nights at the Hyatt Andaz Peninsula Papagayo Resort, and one night at a Marriott near the airport on the final night. Total out of pocket cost…..$101.02.
Booking our exact same trip with cash would have cost more than $3,500.
A special thank you to Bryce for handling all of our trip planning and saving us so much money! 
---
10xTravel is part of an affiliate sales network and receives compensation for sending traffic to partner sites, such as CreditCards.com. This compensation may impact how and where links appear on this site. This site does not include all financial companies or all available financial offers.
Editors Note: Opinions expressed here are author's alone, not those of any bank, credit card issuer, hotel, airline, or other entity. This content has not been reviewed, approved or otherwise endorsed by any of the entities included within the post.