In This Article
Loading table of contents …
Here is the step by step guide and pair it with a video walk-through to ease any confusion around award bookings after earning Southwest Rapid Rewards points.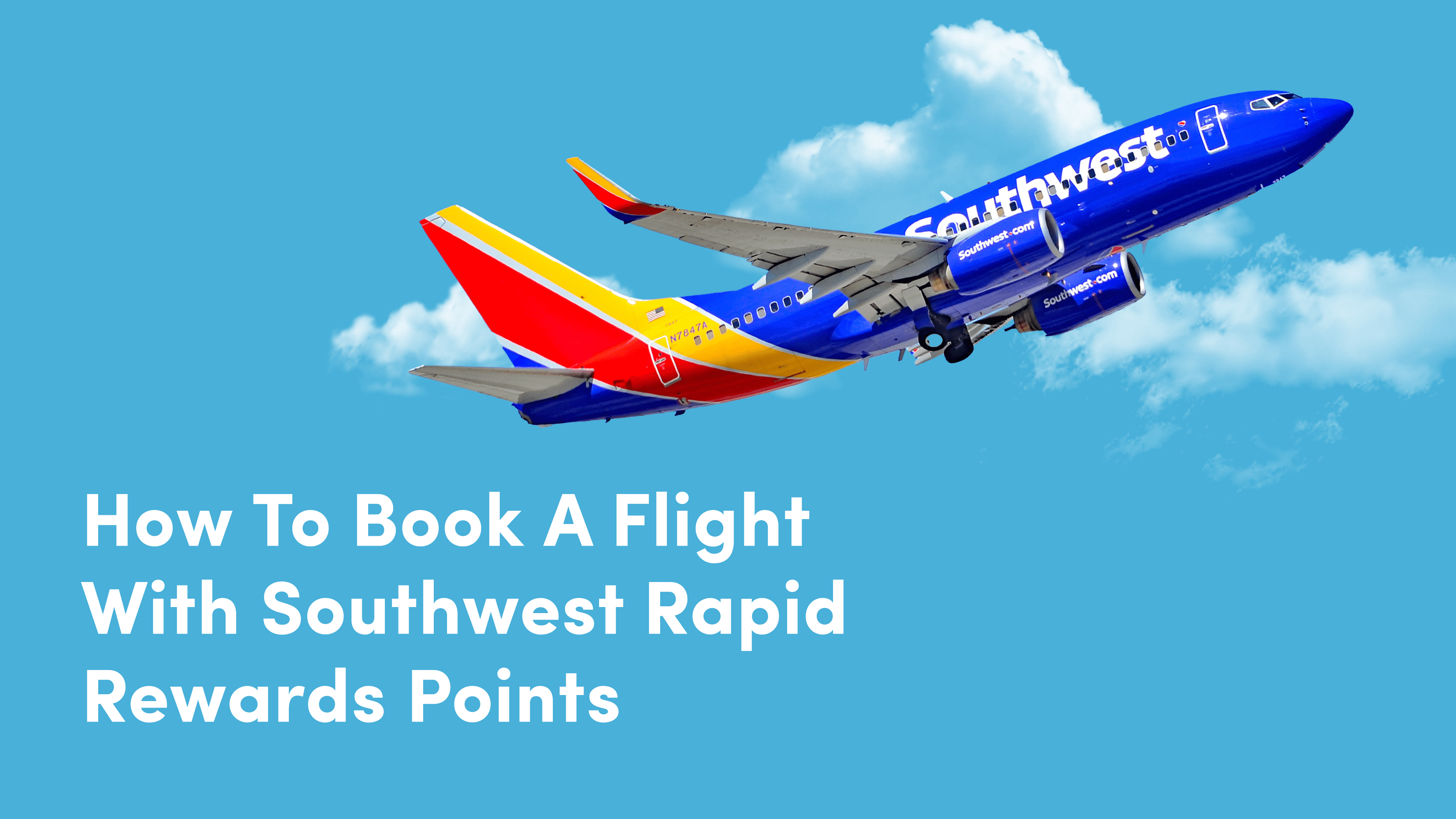 Note: Some of the offers mentioned below may have changed or are no longer be available. The content on this page is accurate as of the posting date; however, some of our partner offers may have expired. You can view current offers here.
In our video and article "How-To" series on booking award flights, so far we've covered American Airlines so today we'll focus on Southwest Airlines. This series is meant to help readers get over the hurdle of actually making a booking after earning points. We'll go step by step in the article and pair it with a video walk-through to ease any confusion around award bookings.
Southwest is a popular airline for travel within the US (and some international destinations) and is known for its no-fee ticket changes and cancellations, free checked bags, and unique boarding process. Rapid Rewards are easy to earn if you're under 5/24 and it's great to know how to use them to book inexpensive and flexible travel.
Southwest Simplicity
Southwest has one of the easiest redemption processes because of its simplicity.
It's not part of any airline alliance which can sometimes complicate the booking process. This means that when you book with Southwest, you fly Southwest, unlike other airlines that are part of alliances where you may book with United Airlines but fly on Air Canada aircraft. The lack of alliance also means that Rapid Rewards are the only currency you can earn when you fly with Southwest.
You're also not able to book some of the more advanced itineraries like open jaws or stopovers unless you book each leg as a one-way trip. While this makes booking simpler, it also means that you'd be paying the taxes and fees multiple times for each one-way trip as well as trip insurance for each reservation. Best to keep it basic with Southwest.
Southwest doesn't have any blackout dates that prevent you from using your points at specific times of the year. As long as there is a seat available on the plane, you can book it.
If you're really looking to level up your Southwest experience, a great way to do this is by earning the Companion Pass that will effectively double the value of your Rapid Rewards points.
Southwest's Lack of Award Chart
If you're looking for an award chart that will tell you exactly how many Southwest Rapid Rewards points you'll need for a flight, unfortunately, you won't find it. Southwest doesn't have a fixed award chart like some other airlines. Southwest prices award tickets dynamically based on the cash price of the ticket.
There are pros and cons to this type of award. One pro is that if the cash price goes on sale, so does the award price. This can be a great way to score flights for incredibly low rates. On the flip side, a con is that you can't predict the award prices, so when cash prices skyrocket, you'll have to shell out more points.
One way to get around this con with Southwest's cancellation policy. You can change or cancel any flight at no charge, so if you keep an eye on prices and see them drop after you've booked, you can cancel and rebook for the cheaper price and recoup some savings. This works with both award bookings and cash bookings.
Southwest Route Options
Southwest has routes to 106 destinations within the U.S. and 15 international destinations including Mexico, the Caribbean and Central America.
Because of the many domestic destinations, Southwest can be a great airline to use for a positioning flight if you're traveling internationally but not to a destination Southwest offers. You can use Southwest to fly to a larger hub airport and then catch an international flight on a different airline and end up with significant savings.
It's important to keep in mind that most of the U.S. destinations Southwest flies to are typically secondary airports within cities with more than one airport. This can be a great way to cut costs, but can also be a crucial detail especially if you're using Southwest for a positioning flight. You don't want to land at Chicago Midway (MDW) only to realize your next flight leaves from Chicago O'Hare (ORD).
While it may look like many of Southwest's routes are multi-stop when you're browsing for flights, they actually have almost 700 routes that are nonstop. These just may be more expensive than their multi-stop counterparts.
Southwest Booking Process
Now that you're familiar with some of the ways to leverage Southwest, let's dive into the step-by-step booking process.
The easiest way to book with Southwest is on their website or through their mobile app. We'll be focusing on the website process.
Start by navigating to Southwest.com and scrolling down to find the "book" section. Here you can input your travel itinerary. Let's say we're booking a trip from Oakland, California to Honolulu, Hawaii. Make sure to select "points" as the payment type in the top right corner.

If your dates are flexible, it's handy to use the Low Fare Calendar to see when the cheapest fare options are.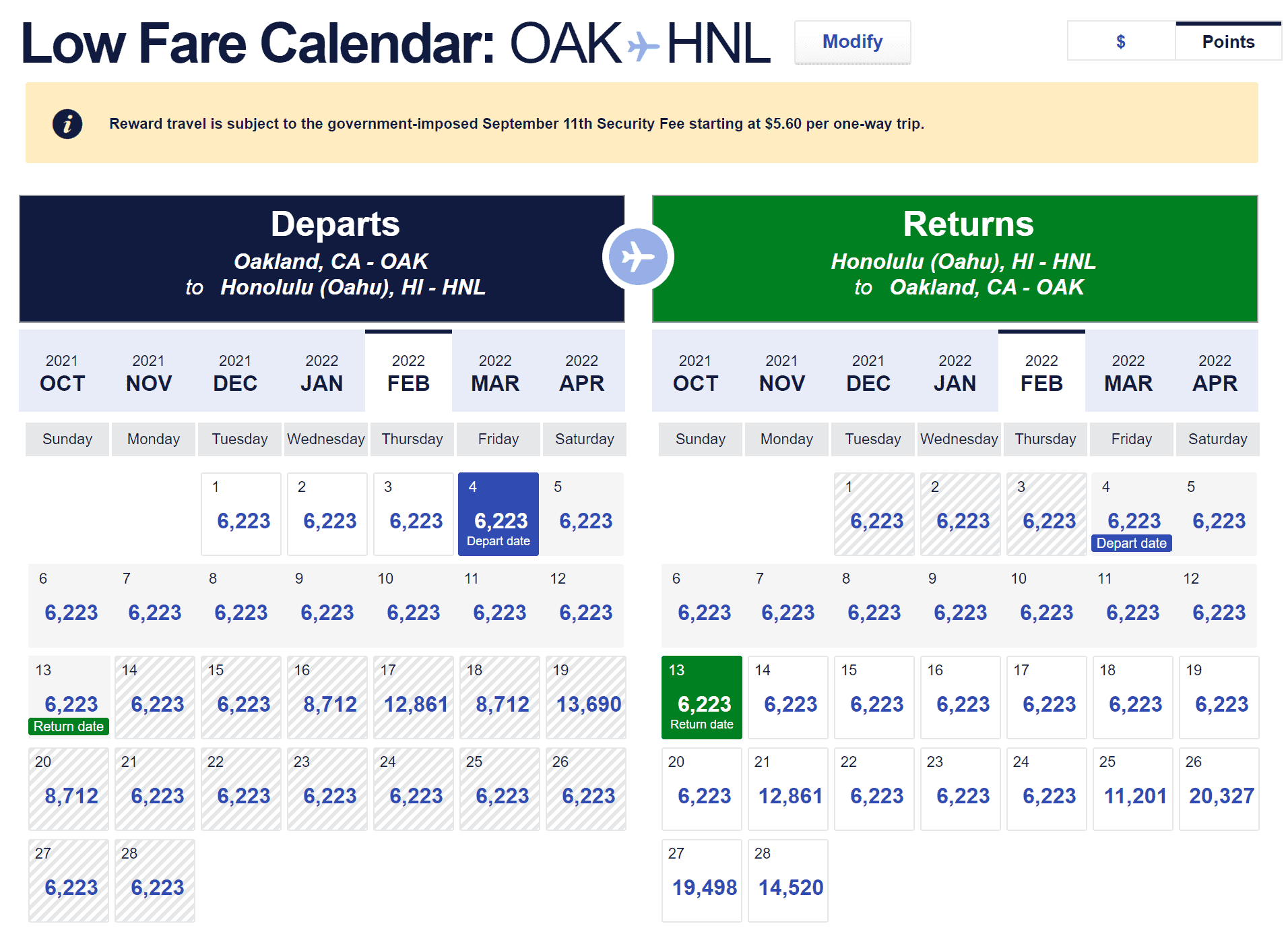 Once you've browsed the Low Fare Calendar, you can search specific dates to select your exact flights. On this screen, you can sort the flight options by departure time, number of stops and time of day to help you narrow down your choices. You'll also notice the different fare classes on the right-hand side of the search results; Business Select, Anytime and Wanna Get Away. Specifically, with Southwest, I'd always recommend purchasing the Wanna Get Away fare if it's available since there is no difference in the level of luxury on a Southwest plane. All the seats are the same.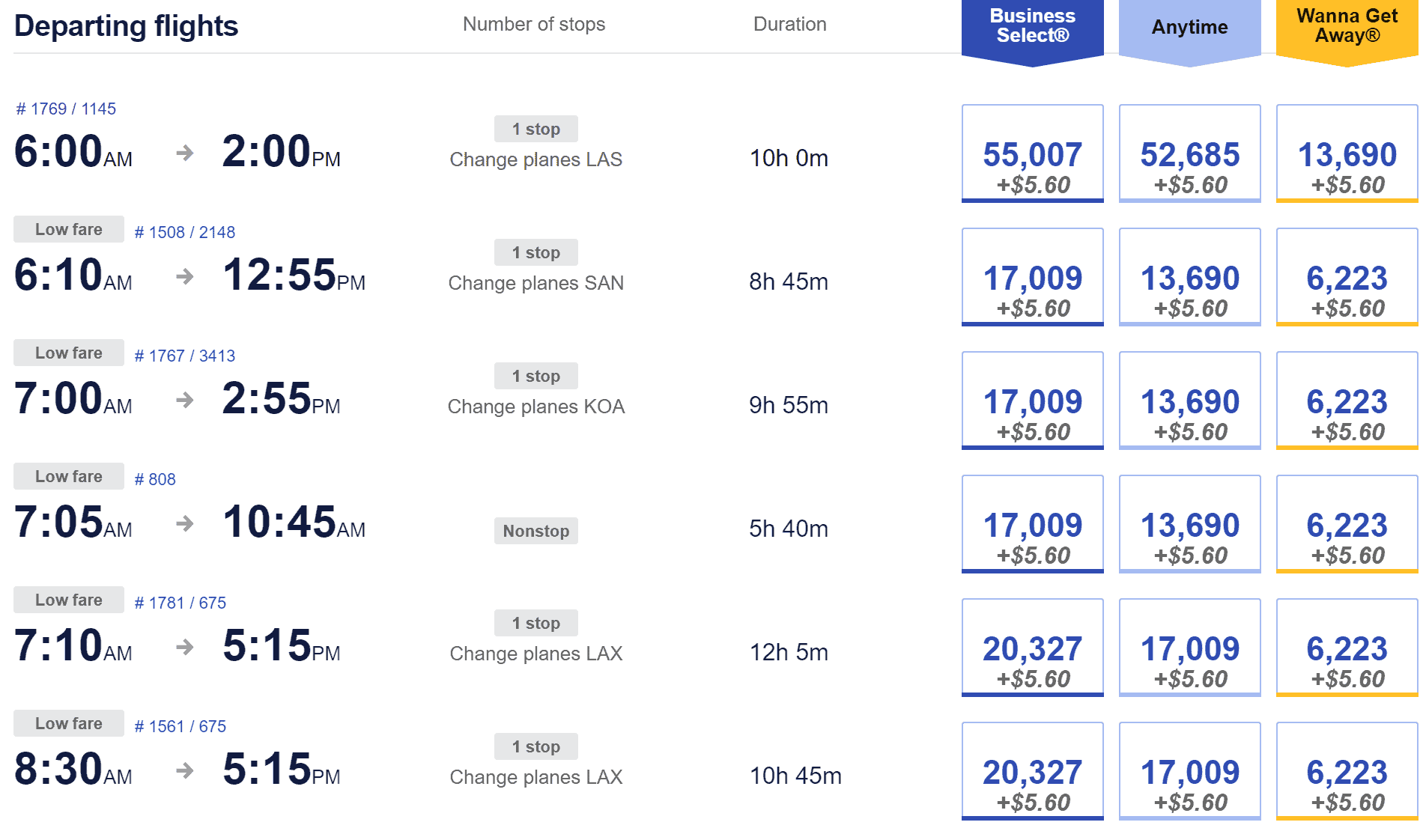 Once you select each leg of your trip, you'll see a summary page that tells you the total number of points required and any taxes and fees. These are $5.60 each way for domestic flights but can be more for international destinations. From there, it's as simple as using the points in your Rapid Rewards account to pay for the reservation.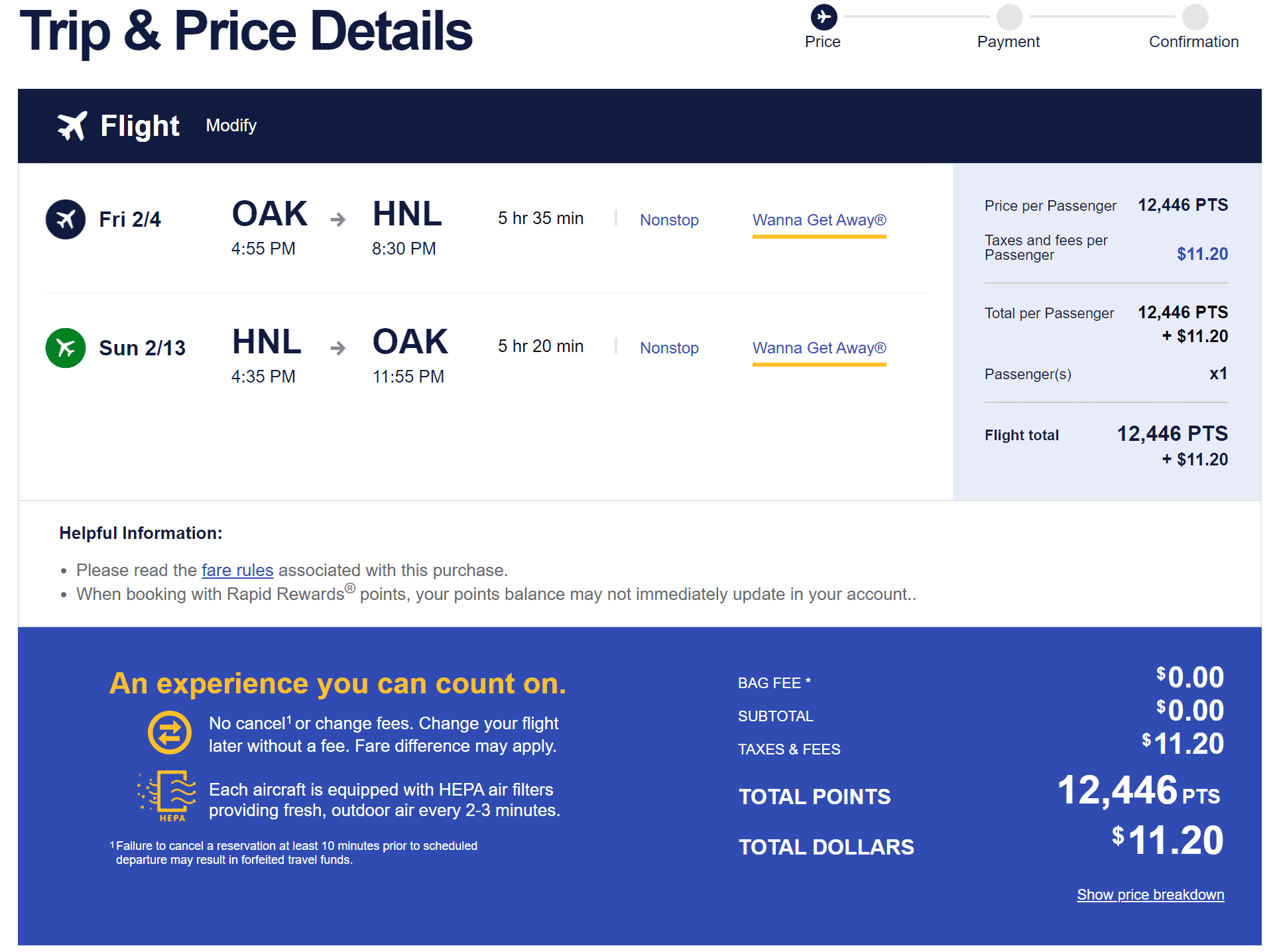 Southwest Nuances
While Southwest is a pretty simple airline to navigate when it comes to booking, there are a few things you can do to help improve your experience.
Open Seating
Because of Southwest's open seating policy, you want to try and secure an early boarding number. Southwest breaks up the boarding process into groups "A", "B" and "C" and then within each group are numbers "1" through "60". This creates a boarding sequence to arrange passengers to "line up" during boarding, so the "earlier" the number (like "A1"), the earlier you board.
If you don't want to pay any extra for an early boarding number, you can check in online exactly 24 hours in advance of your flight and you'll be pretty likely to get an "A" boarding group with a higher number or "B" group with a lower number. If you're flying solo, this will put you in a seat near the front or middle of the plane. If you're flying with others, you'll likely still be able to find seats together, just further back on the plane.
If you're willing to pay a little extra, you can add "early bird" check in to your booking. This will check you in automatically, so you won't have to remember to check in exactly 24 hours prior. Business Select customers get first priority, followed by other fare types. You're checked in in the order by which you purchased "early bird" check in, so if you were the 3rd person to pay for it you'd be the 3rd person checked in. Keep in mind that if you're trying to change the flight later to a cheaper flight and you have to cancel your existing reservation, you'll forfeit what you already paid for "early bird" check in.
If you still don't feel like you've secured an early enough boarding number to sit with your group or if you just prefer to be at the very front of the plane, you can pay to upgrade your boarding number when you arrive at the gate. With the Southwest Rapid Rewards® Performance Business Credit Card you are also eligible for four upgraded boardings per year to Business Select which will give you priority boarding with a boarding number between A1-A15.
One other way you are guaranteed to board earlier is if you are traveling with children under 6 years old. You'll get to board during the family boarding period which is between boarding groups "A" and "B", allowing you to get seats together.
Companion Pass
Southwest offers one of the best perks in the game, the Companion Pass.  In short, it doubles the value of your Rapid Rewards points by letting you bring a companion along with you for just the cost of taxes and fees for the flight.
It's simple to add a companion to your reservation. After you've made your reservation, go to this "My Trips" section of your Rapid Rewards account and pull up the flight you want to add them to. Click the "Add Companion" link and then click continue to get to the screen where you add their personal information and pay the taxes and fees. Keep in mind that your companion won't be automatically checked in when you check in for your flight. They need to be checked in separately. The other nuance to the Companion Pass is that you can only change who your companion is four times a year and you cannot have two different companions booked on two separate reservations simultaneously.
How to Earn Southwest Rapid Rewards Points
There are a number of different ways you can earn Rapid Rewards points that will set you up for nearly free flights on Southwest.
Southwest Credit Cards
Southwest currently offers five credit cards in partnership with Chase that can help you build up a stockpile of Rapid Rewards points with sign-up bonuses typically between 40,000 – 80,000 points.
There are a few rules to remember to help you decide which cards to apply for. In order to earn a bonus you cannot have earned a bonus on another Southwest personal credit card in the past 24 months AND you cannot currently have an active Southwest personal credit card. This applies to the three Southwest personal cards (Premier, Plus and Priority). This rule, however, doesn't apply to the Southwest business cards. You can have both of the business cards at the same time and earn both bonuses.
Transferring Points
Southwest is a transfer partner of Chase Ultimate Rewards which means you can easily transfer any Ultimate Rewards you've earned into your Rapid Rewards account at a 1:1 ratio. The transfer is instant so this is a great way to act quickly on a cheap Southwest flight if you have a stash of Ultimate Rewards. If you need more help with this step, dig into this article which will show you the step-by-step transfer process.
Southwest Shopping Portal
Southwest, like most other airlines, has a shopping portal that allows you to earn extra points when you shop through the portal. You can use the portal to search for a store you are looking for and it will list the number of points you can earn. Once you click on the retailer, you will be taken to an interim page that explains the details of the promotion, and then the retailer site will load. As long as cookies are enabled on your browser, Southwest will be able to track your purchase and credit the additional points to your Rapid Rewards account. While using the shopping portal won't earn you a high volume of points, it's a great way to top up your Rapid Rewards account.
Southwest Travel Partners
Southwest has partnerships with hotel brands that give you the opportunity to book your hotel through Southwest and earn additional Rapid Rewards. You can find the current travel partners here. The number of points you can earn varies based on the terms of the partnership, but this is another great tool to use that helps you earn incremental points on purchases you were going to make anyway.
Southwest Dining Partners
Similar to the travel and shopping portals, you can also earn Rapid Rewards points when you link a credit card to the Southwest dining program. You can earn three Rapid Rewards points for each dollar you spend at a participating restaurant when using the card that's linked to the program. This is another method that won't earn you a ton of points, but if you're going out to eat already it can't hurt to earn while you dine.
Flying on Southwest
Actually flying the airline is the most traditional way to earn points. When you fly on Southwest with a paid fare, you can earn 6-12 points per dollar depending on the fare class you book. Again, you only earn when you pay to fly, so this won't work with award flights.
Final Thoughts
Southwest is probably the easiest airline to book an award flight with because it's not part of an alliance that can sometimes make award bookings more complex. While the lack of alliance partnerships makes redemptions more limited, it does simplify the process considerably. Because of this simplicity, it's best to use Southwest for domestic travel or positioning flights to further international destinations. If you're really looking to level up your Southwest experience, a great way to do this is by earning the Companion Pass that will effectively double the value of your Rapid Rewards points.
All in all, Southwest definitely has some unique perks and boarding processes, but if you follow our tips you'll not only know how to book your trip but know how to make the best experience out of it as well.
As always, if you're still struggling with the redemption process, you can take advantage of our award booking service and we'll do the job for you.
New to the world of points and miles? The Chase Sapphire Preferred® Card is the best card to start with.

With a bonus of 80,000 points after $4,000 spend in the first 3 months, 5x points on travel booked through the Chase Travel Portal and 3x points on restaurants, streaming services, and online groceries (excluding Target, Walmart, and wholesale clubs), this card truly cannot be beat for getting started!
Learn More
Editors Note: Opinions expressed here are author's alone, not those of any bank, credit card issuer, hotel, airline, or other entity. This content has not been reviewed, approved or otherwise endorsed by any of the entities included within the post.