Note: Some of the offers mentioned below may have changed or are no longer be available. You can view current offers here.
While it is now a little harder to get the companion pass due to the new rules on Southwest personal cards (Southwest Rapid Rewards Plus Card and Southwest Rapid Rewards Premier Card). It is still possible to get the companion pass or get close to the companion pass by getting the Southwest Business Card and one of the two Southwest personal cards.
If you've managed to sign up for the bonus offers when at least one is at 60,000 Rapid Rewards points and another is at 50,000 points, and you've met the minimum spending requirements then congratulations, you've officially earned the Southwest Companion Pass and you can start booking flights for you and your companion.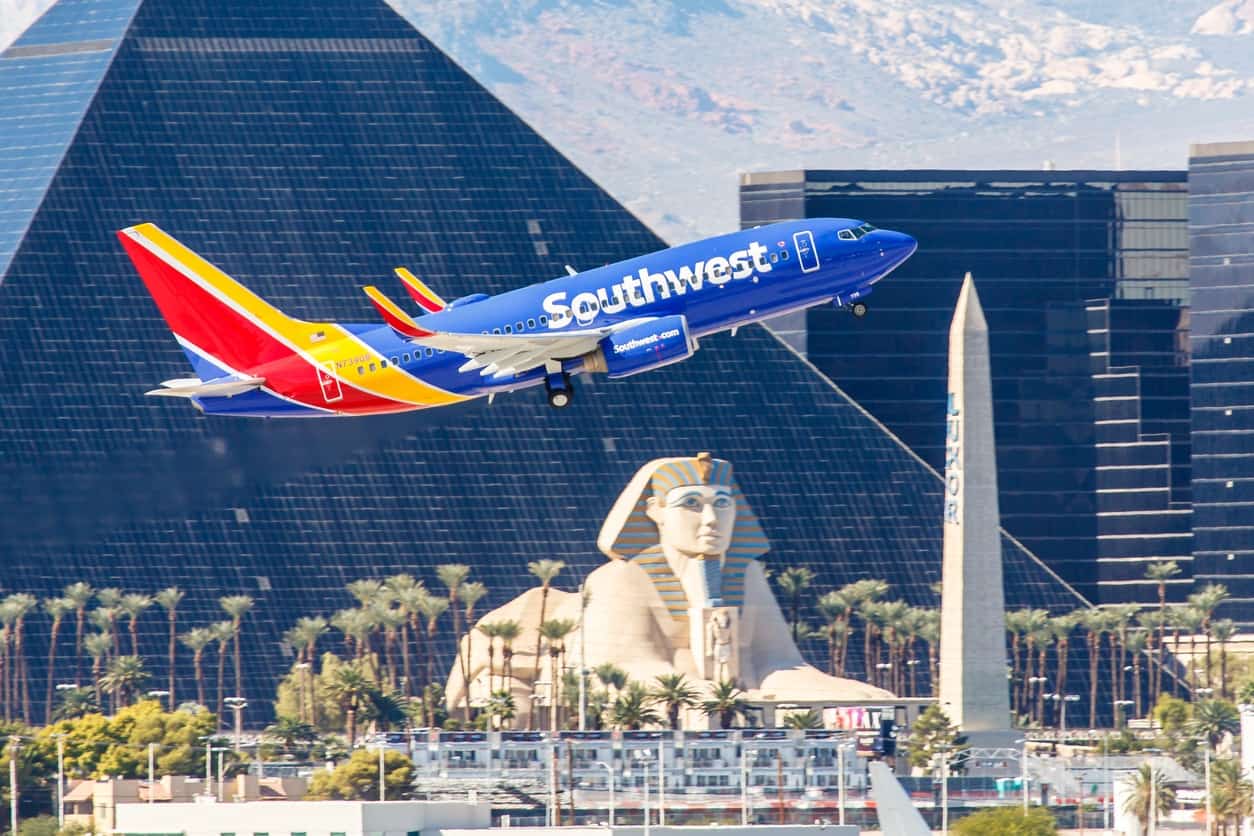 However many of you sign up when the offers are a little lower so you're likely about 6,000 points short if you signed up during the 50,000 point bonus or up to 26,000 short if you decided to sign up during the 40,000 point bonuses (don't do this). This is of course assuming you've met the minimum spend and earned at least 2,000 points per card while doing this.
So let's look at a few ways you can earn those last few thousand points to get you to the glory that is the Southwest Companion Pass.
Flying Southwest
You can earn Southwest Rapid Rewards points the old fashioned way by simply flying with Southwest. You get miles for every flight and you can boost these earnings by booking "Anytime" or "Business Select" fares—of course, you'll pay more. Anytime fares earn 10x the fare and Business Select earns 12x the fare while "Wanna Get Away" fares only earn 6x the fare.
This means that if you book and fly an $500 fare or $500 worth of flights (before taxes and fees) in Business Select you can make up those last 6,000 points. This is doable if you fly often, especially if you're using one of your Southwest cards to book. Getting the extra 2X points per dollar using a Southwest Credit Card means you would only have to spend $429 on Business Select fares to make up those last 6,000 points.
If you have 26,000 points to make up it would be a little harder as you would need to book over $2,000 worth of tickets to get the points needed for the Companion Pass. While alone this may be a lot it can easily be combined with other methods below to help you get over the 110,000 Rapid Reward threshold.
Putting All Your Spend On A Southwest Card
Another way to earn those last few thousand points is to put all of your spending on one of your Southwest cards. While this may be feasible for those of you trying to get 6,000 points it's a lot of spend to put on a card if you need to earn 26,000 points—especially when you consider that you could be putting that toward a new sign-up bonus or on a card with bonus categories.
However, if you're going to be using the Companion Pass extensively, it might be worth shifting your spend to this card for awhile.
Use the Southwest Shopping Portal
Like many other points programs, Southwest Rapid Rewards has its own shopping portal and thee points earned through the shopping portal count towards the Companion Pass. Popular merchants like Harry's razors (9X points per dollar), Proactiv (11X points per dollar), Stitch Fix (20X points per dollar) and New Balance (5X points per dollar) all offer great ways to earn extra points.
There are also a variety of other stores offering lower rates but that still might be useful like 2X points per dollar on Groupon purchases, 1X point per dollar Home Depot, Microsoft and Apple.
Refer Friends to the Chase Southwest Cards
Chase often includes Southwest cards in the refer-a-friend program. You can earn 10,000 Rapid Rewards points for each friend you refer (and is approved). This is true on both cards so you can get refer a friend to both cards to help both you and a friend get the companion pass.
Keep Your Eyes Open for Special Deals
During holidays, Southwest often has special bonuses through the shopping portal. Earlier this year I sent my girlfriend flowers for Valentine's Day from 1-800-Flowers and received 1,750 Rapid Reward points.
Not only did I score some major Southwest Rapid Reward points towards the Companion Pass, but I scored some points with my girlfriend. It's something that I likely would have done anyway but the extra money I spent to have the flowers sent rather than buying them myself was more than worth earning the extra Rapid Rewards points toward the Companion Pass.
Book Hotels Through Southwest
When booking hotels through the Southwest Hotels website you can earn up to 10,000 points per night. While this is proudly displayed on the front page and, in many popular locations, there are a few hotels that offer 3,000-5,000 Rapid Rewards points per night, however most simply offer 1 point per dollar. If you find yourself traveling, it's at least worth taking a look at what Southwest Hotels has to offer and if Southwest Hotels fails you you can also try Rocketmiles which could earn you some Rapid Rewards points as well.
In addition to the Southwest Hotels portal and Rocketmiles, Southwest has partnerships with many other hotels including Best Western, Radisson, Choice Hotels, Hyatt, LaQuinta, Marriott, MGM and SPG. These partnerships allow you to earn Southwest Rapid Rewards points instead of hotel points however obtaining points this way isn't advised as none of the points transfer 1:1 except SPG which are almost always worth more as SPG points than they are as Southwest points.
Pay Your Power Bill
If you happen to be lucky enough to be in an area served by NRG, Everything Energy, or Reliant you can earn anywhere between 5,00 and 15,000 points just for switching over your power supplier and additional points for every month or dollar you stay with the company. While this clearly isn't for everyone and is pretty limited in its coverage area it may be worth looking into if you've been thinking about switching your power company.
Book Rental Cars Through Southwest
When you book car rentals through the Southwest website you can earn up to 2,400 points plus get additional discounts. Southwest partners with most major car rental agencies including National, Alamo, Payless, Avis, Hertz, Budget, Thrifty and Dollar with many of them giving at least a 10% discount and points based on the length or cost of the rental.
This can be a great way to earn those final points without having to go out of your way and also allow you to get a discount while you're at it.
Final Thoughts
While getting the initial sign-up bonuses can be exciting and get you incredibly close to meeting the 110,000 Rapid Rewards points required for the Southwest Companion Pass, getting those last few points can be a frustrating process if you don't know some tricks to boost your earning.
Using a variety of the methods outlined above you can get to 110,000 Rapid Rewards points and start enjoying the perks of the Southwest Companion pass on every trip!
Keep Traveling,
John
---
10xTravel is part of an affiliate sales network and receives compensation for sending traffic to partner sites, such as CreditCards.com. This compensation may impact how and where links appear on this site. This site does not include all financial companies or all available financial offers.
Editors Note: Opinions expressed here are author's alone, not those of any bank, credit card issuer, hotel, airline, or other entity. This content has not been reviewed, approved or otherwise endorsed by any of the entities included within the post.