In This Article
Loading table of contents …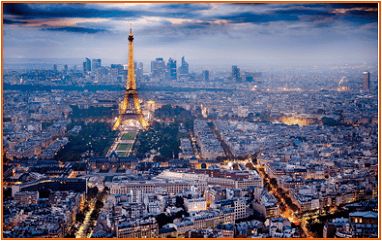 Note: Some of the offers mentioned below may have changed or are no longer be available. The content on this page is accurate as of the posting date; however, some of our partner offers may have expired. You can view current offers here.
So, what do you want to do for your birthday this year?
It's the question that we all have to answer once every year. Maybe you round up your friends for a night on the town, grab dinner at your favorite restaurant, or go on a weekend road trip to an adventurous destination. Or maybe you just want to have a nice relaxing night at home. It's your birthday, right? It's up to you.
I decided that my answer to that question was going to be something a little different this year. I was feeling spontaneous and wanted to travel somewhere for the occasion. So when my fiancée asked me what I wanted to do for my birthday, I told her that I wanted to go to Paris for the weekend.
After all, there are certainly a lot more dining options along the Champs-Élysées than in my hometown.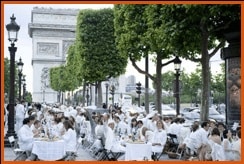 Naturally, my response was met with skepticism. Only the rich and famous can drop everything and head to Paris for their birthdays, and last time I checked I am neither rich nor famous. I am pretty good, however, at booking travel for next to nothing so I decided to give it a shot.
I decided I would only go if I could book the trip for roughly the same amount of money I would spend on a weekend road trip. Much to my surprise, I was able to easily clear that goal.
So without further ado, here is how I was able to book a $3,263 trip to Paris for just $266.
The Flight
The first step to booking any trip, especially an international one, is to book your flight. Flight prices and availability can change in an instant so it is important to nail this down before making plans for hotels, transportation, attractions, etc.
As we discussed in the book, the best way to earn enough frequent flyer miles to book a flight is to take advantage of credit card bonuses. Most bonuses offer enough frequent flyer miles to book at least one round-trip flight for free. So by signing up for one or two credit cards, I should be able to earn enough frequent flyer miles to book a round-trip ticket to Paris.
Choosing which cards to sign up for can be a bit tricky, especially if you have been travel hacking for a couple years. Having applied for most of the major credit cards on the market, I had to find a card that I had not previously signed up for.
This process was made easier because I knew I would be traveling in early February, an off-peak time of year to travel to Europe. By taking advantage of off-peak awards I could book a round-trip ticket to Europe for about half as many miles as a standard flight.
Because American Airlines and US Airways are the only major airlines to offer off-peak awards, I knew that I needed to apply for one of their credit cards. After doing some research, I determined that the Barclays US Airways Premier World MasterCard was the best option for my trip.
The Barclays Premier World MasterCard offered a sign-up bonus of 30,000 frequent flyer miles after first purchase, which meant that I didn't have to worry about meeting a minimum spending requirement. In addition to the sign-up bonus, the card also came with the following features: (this offer is no longer available)
Earn 2 miles per $1 spent on US Airways purchases, and 1 mile per $1 on all other purchases
Annual companion certificate, good for 2 companion tickets at $99 each
One complimentary US Airways Club Day Pass each year
The ability to book award flights for 5,000 fewer miles
(this offer is no longer available)
The card has an annual fee of $89, which is charged on your first billing statement. I was able to avoid this however by using an expired offer link to sign up for an offer that waived the fee for the first year.
My application was approved instantly and the card arrived in the mail a few days later. Not long after making my first purchase, which was a $2 cup of coffee, the 30,000 frequent flyer miles showed up in my account.
So with less than 10 minutes of work, I was able to earn 30,000 US Airways frequent flyer miles absolutely free.
Now that I had my miles, it was time to redeem them for my flight. As I mentioned earlier, traveling in February meant that I could take advantage of off-peak rates for my flight to Paris. To review, let's take a look at the off-peak awards chart for US Airways.

As you can see, round-trip flights between North America and Europe cost just 35,000 frequent flyer miles when you travel from January 15 – February 28. The standard rate is 60,000 miles, so traveling off-peak provides a considerable savings over traveling during peak times.
And because I am a US Airways card holder, I can book award flights for 5,000 fewer miles than they would otherwise cost. This means that my 30,000 mile bonus is enough to cover my entire flight! Unbelievable!
Here is a screen shot of my itinerary.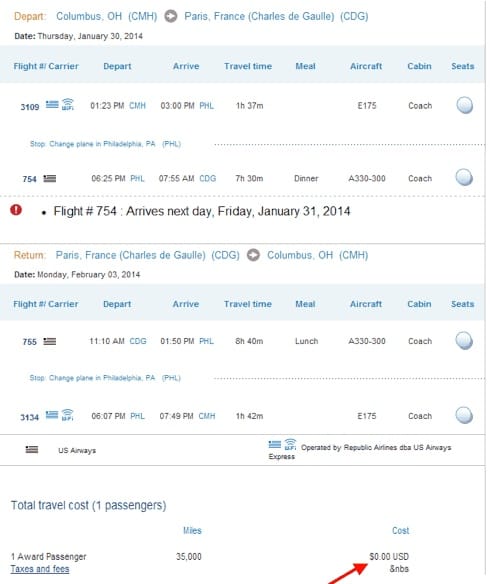 While the total says $0.00, there was a $92.20 Fuel Surcharge and a $50 Award Processing Fee required before I could book the flight. So the total cost for the flight was $142.20.
For comparison, let's take a look at how much the flight would have cost if I paid with cash.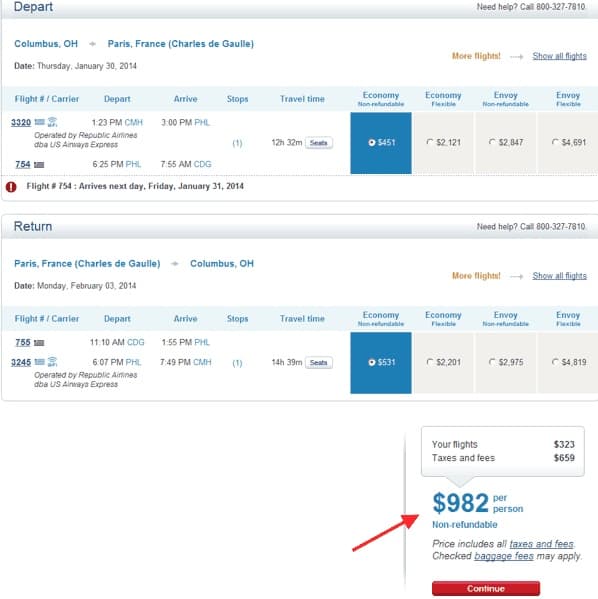 As you can see, paying for the flight with cash would have cost $982. So by taking advantage of the credit card I was able to save $839.80 on my flight! Not bad for about 20 minutes of work.
My fiancée also applied for the card and just like that, both of our flights were booked.
Next, we had to find a place to stay.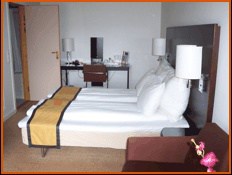 European hotels are quite different than their American counterparts. The rooms are much smaller, there are fewer amenities, and prices are much higher than comparable hotels in America.
This is especially true for popular tourist destinations such as Paris. With over 70 million visitors every year, it can be hard to find decent accommodations when you are visiting the City of Light. Most people have to decide whether to splurge on a luxury hotel or find more modest accommodations that fit within their budget.
But as you have hopefully learned by now, points/miles junkies are able to find ways around the conventional rules of travel. Just as I did with my flight, I set out to find a solution that allowed me to have the best of both worlds.
After researching hotel credit card offers, I decided to sign up for the Club Carlson Rewards Visa Signature Card. The Club Carlson card is one of the best hotel cards on the market, especially if you are planning a trip abroad. You can find Carlson Rezidor properties just about anywhere and they typically provide a great value for your points.
The Club Carlson Rewards Visa Signature Card offers 50,000 Gold Points after your first purchase, and an additional 35,000 points after you spend $2,500 within 90 days. The card has a $75 annual fee that is not waived for the first year. (this offer is no longer available)
In addition to the sign-up bonus, the Club Carlson card comes with the following benefits:
10 points per $1 spent at Carlson Rezidor hotels, and 5 points per $1 everywhere else
A bonus award night when you use gold points to book a stay of 2 or more consecutive nights
Gold Status with Club Carlson for as long as you remain a cardholder
(this offer is no longer available)
Unfortunately, I could not find an expired offer link for this card so I couldn't avoid the annual fee. Again, my application was approved instantly and my card arrived a few days later in the mail.
After using Amazon Payments to meet the minimum spend, I was able to earn a total of 92,500 Club Carlson Points (80,000 sign-up bonus + (2,500 x 5 points per $1 spent) for the price of the $75 annual fee.
With almost 100,000 Club Carlson points at my disposal, I took a look at what I could get for them.
There are over a half dozen Carlson Rezidor properties in Paris, but two in particular caught my eye. The Radisson Blu Le Metropolitan and the Radisson Blu Hotel Champs-Élysées. These are the best Carlson Rezidor properties in Paris and two of the nicest hotels in the city. Both are within walking distance of the Eiffel Tower, the Arc de Triomphe, and numerous other popular tourist attractions.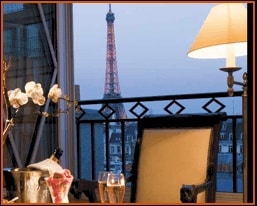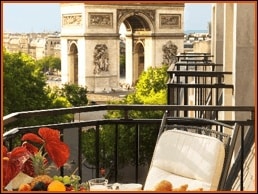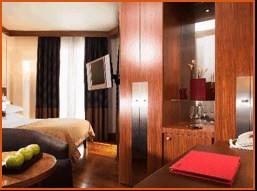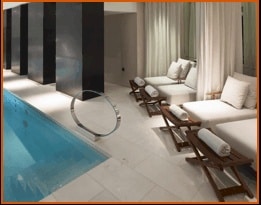 A quick search revealed the following prices for my travel dates:


As you can see, these hotels go for €420 to €500 a night, which is roughly $588 to $700. That is pretty pricey, even for Paris, and well beyond my budget.
Looking again however, you can see that they can also be booked for 50,000 points per night. While that is still "expensive" in terms of points, it is a great value given the cost of booking the hotel with cash.
So with my 92,500 Club Carlson points, it seems that I can book one night in one of these hotels.
But wait! Let's not forget about one of the best features of the Club Carlson card!
When you book a stay of two or more consecutive nights, the last night is free. This is called a Bonus Award Night, and it essentially gives you the opportunity to get a "buy one get one free" deal on hotel nights at Club Carlson properties. So rather than only being able to book one night, my 92,500 points can book two nights at either-one of these properties!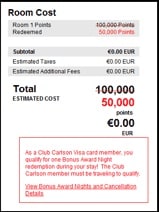 I used this benefit to book a two-night stay that the Radisson Blu Le Metropolitan. As you can see below, there was no charge to book the hotel with points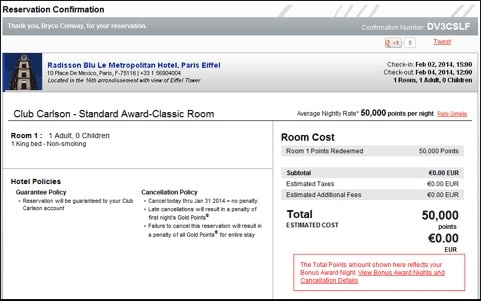 This leaves me with 42,500 Club Carlson points, which are just a few points short of being able to book another stay of two nights at the Radisson Blu Hotel Champs-Élysées.
This is one of those rare situations where I recommend buying points with cash. As I mentioned in the book, the only time you should do this is when you are just a few points short of booking a trip you have been planning for a while.
Luckily, Club Carlson was offering a bonus on any points that you purchase. Here are the details of the promotion:
Buy 5,000 – 10,000 points and receive a 20% bonus
Buy 11,000 – 30,000 points and receive a 30% bonus
Buy 31,000 – 50,000 points and receive a 50% bonus
Every 1,000 points costs $7 (not taking into account the bonus miles).
As I mentioned in the book, I am generally not a fan of purchasing miles when I don't have an immediate use for them. For that reason, I decide to buy only the miles that I need to book this hotel stay. I purchase 7,000 miles for $49 and receive a bonus of 1,400 miles.
Now with 50,900 points, I book a two night stay at the Radisson Blu Le Metropolitan for 50,000 points. Again, there are no additional charges for completing the reservation.
So for a total of $124, I am able to book four nights at two of the best hotels in Paris. Like we did with the flights, let's take a look at what that would have cost if I paid cash.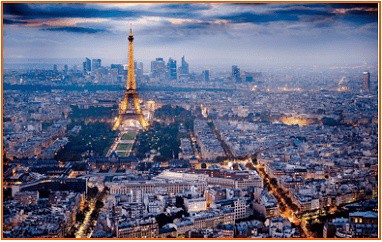 As you can see below, booking my same itinerary with cash would have cost €1,882, which is roughly $2,634.80.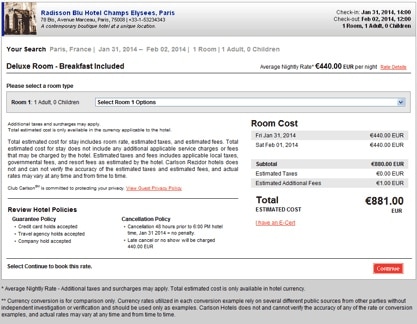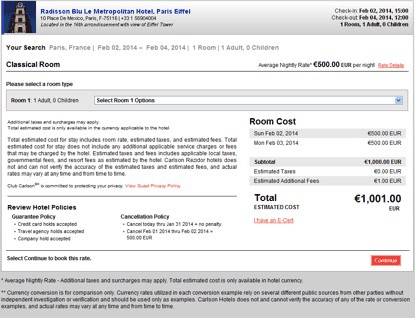 So by signing up for the Club Carlson Rewards Visa Signature Card I was able to save $2,510.80 on my hotel stays in Paris.
Now let's add everything up to see how much I saved.
Here is an overview of my trip

As you can see, I was able to save $2,997 on my trip by using just a couple basic points and miles strategies.
Keep in mind also that this does not factor in other benefits I earned such as the US Airways Lounge Passes, hotel status perks, free checked bags, etc. While they are not as valuable as discounted flights or hotels, these benefits can add up to significant savings, and a more enjoyable trip.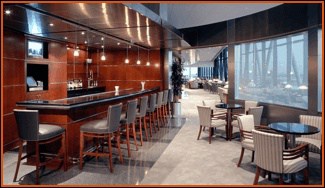 Voilà! Who knew that heading to Europe for the weekend could be that easy?
You Can Do This Too!
Hopefully this post showed you that booking these sorts of trips is not incredibly difficult to do. With a little time and the right advice, anyone can do it. You could even follow these methods step by step to book an identical getaway if you would like.
Now before you attempt to try this yourself, please note that there is a method to this madness. Choosing to not follow established principles is risky and I wouldn't recommend it to anyone.
But luckily for you, I wrote a book about the subject that contains everything you need to know to start booking a few trips of your own.
It has over 100 pages of material and covers everything from the basics of frequent flyer miles to some of the more advanced tactics used by the pros.
 And best of all, its FREE.
Additional Services
Lastly, don't forget that I can handle this entire process for you as part of my consulting services. I have arranged dozens of trips like the one you just read about and would be happy to help you through the entire process. Whether you want book a weekend getaway to Paris, a month long trip to Asia, or a flight home for the holidays, I can help get you there for next to nothing.
Happy Travels!
Bryce
New to the world of points and miles? The Chase Sapphire Preferred is the best card to start with.

With a bonus of 60,000 points after $4,000 spend in the first 3 months, 5x points on travel booked through the Chase Travel Portal and 3x points on restaurants, streaming services, and online groceries (excluding Target, Walmart, and wholesale clubs), this card truly cannot be beat for getting started!
Learn More
Editors Note: Opinions expressed here are author's alone, not those of any bank, credit card issuer, hotel, airline, or other entity. This content has not been reviewed, approved or otherwise endorsed by any of the entities included within the post.