In This Article
Loading table of contents …
Kiwii is a new tool created to make sure you're using the right card when shopping online.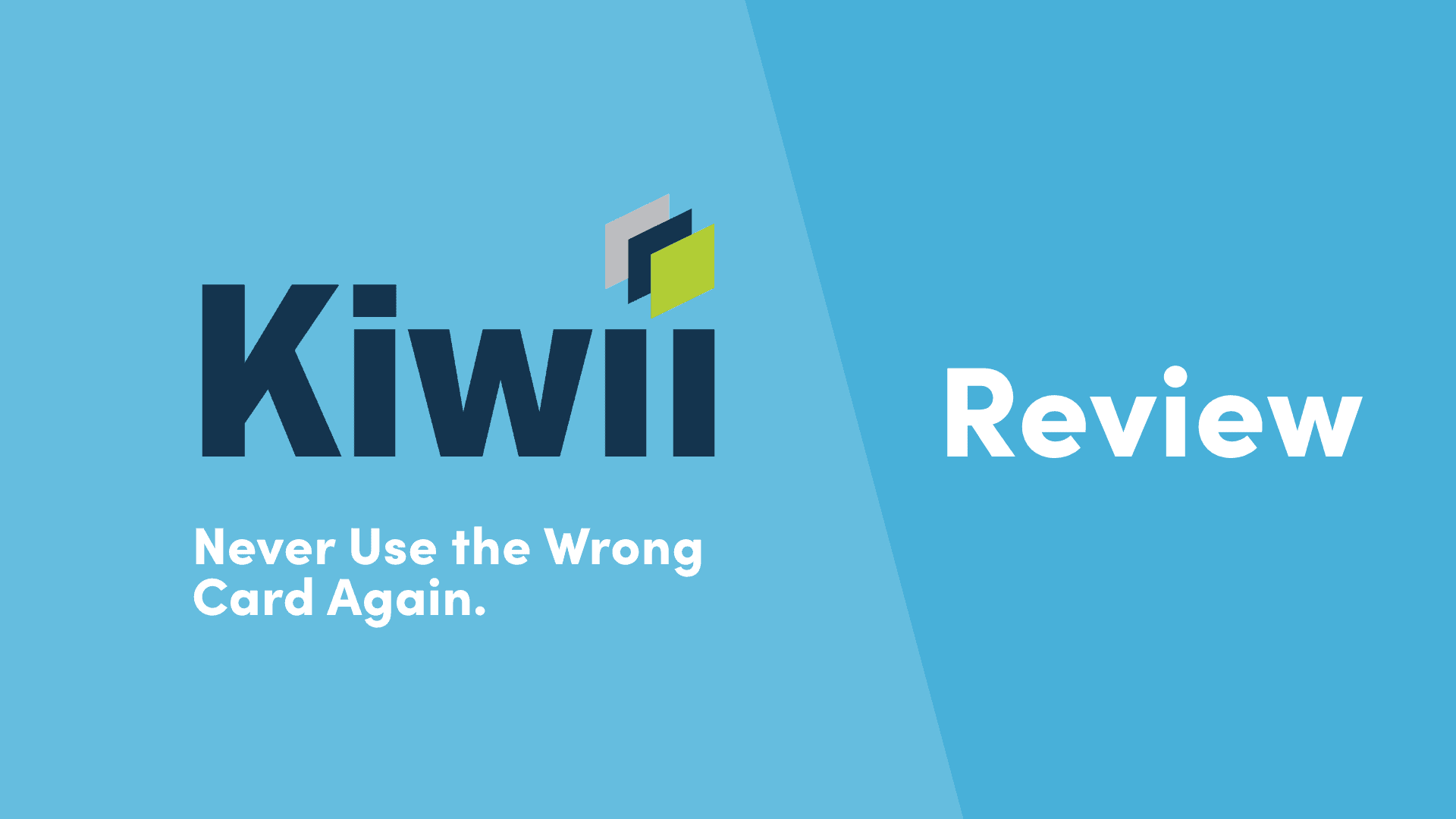 There are a lot of tools out there to help maximize what you get out of your points and miles journey. Some are duds, some are okay and others are really outstanding. Today I want to share with you a tool I've been using recently that I'm really enjoying to help get the most out of my online spend: Kiwii.
Let's take a look at what Kiwii is and how you can incorporate it into your points and miles strategy.
The card recommendation is based on the total value you'll get from using the card based on the purchase category and the bonus points it earns at the respective store.
What Is Kiwii?
Kiwii is a new tool created to make sure you're using the right card when shopping online. Kiwii is a chrome extension that shows you the best card to use for a given website. You simply tell Kiwii what cards you have and when you go to checkout it provides the recommended card to use for your purchase.
The card recommendation is based on the total value you'll get from using the card based on the purchase category and the bonus points it earns at the respective store.
Think of Kiwii as a label maker for your cards, but online. I know plenty of you have printed off some labels and slapped them on your cards so that when you're buying gas or groceries you'll always get the most points. Kiwii is the same idea, but for shopping online.
When Should You Use Kiwii
Of course, the best return you're going to get is opening a new card and working on the minimum spend. But there's plenty of times when you might not be chasing down a new card bonus.
Maybe you're cooling off on your Chase 5/24 status, maybe you recently opened a few new cards and so you just don't have one you're working on right now, or maybe you're applying for a mortgage and unable to open a new card at the moment.
If you're not working on a bonus, you should be trying to maximize the value that you get from every dollar you spend. With more and more of us shopping online today, Kiwii provides a pretty simple way to put every dollar you spend to better use.
How Kiwii Works
Kiwii is pretty easy to use given it only took me all of about 5 minutes to set up and get going. First, you'll head over to Kiwii's website and install the Chrome extension. Right now, Kiwii only has a Chrome extension so if you use other browsers like Safari it won't be compatible right now.
Once you've installed the extension, Kiwii will prompt you to add the cards in your wallet.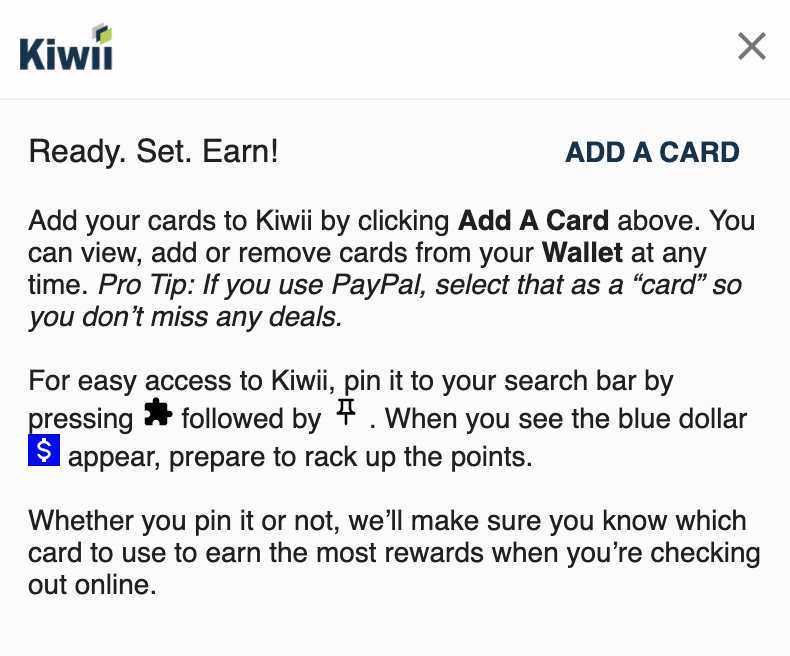 Kiwii has just about every card out there, but there are some less common cards missing. If you're trying to add a card that isn't available, simply email Kiwii so they can get it added.
The interface is pretty easy to use. Simply type in your card name and once it pops up you just click on the card and it adds it to your "wallet." If you're concerned about privacy, don't worry. Kiwii doesn't ask you to log into your bank and add your cards. You won't have to enter any card numbers to add your card. You just manually tell Kiwii what card you have so they can recommend which card to use when checking out.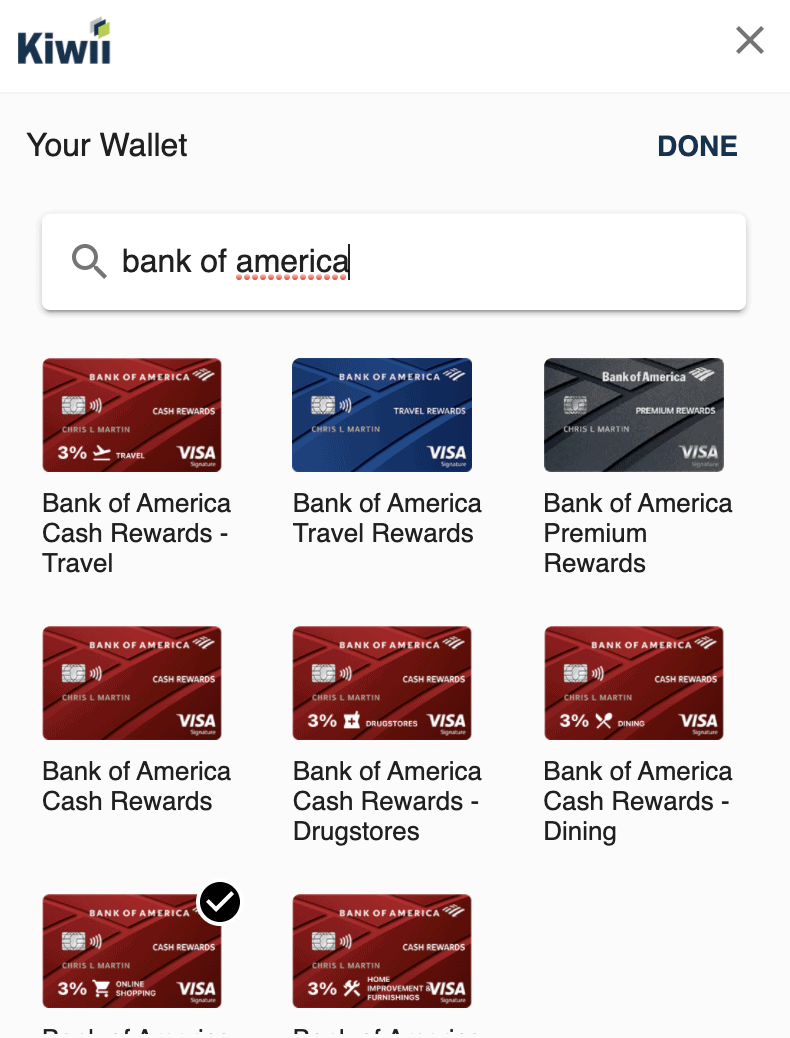 After you've added all your cards, you're in business and ready to roll.
When you're shopping online there are two ways that you can use Kiwii. You can click the extension in Chrome once you're at the site and Kiwii will show you the recommended cards.

Alternatively, once you go to checkout Kiwii, will automatically pop up and show you the recommended card to use to checkout.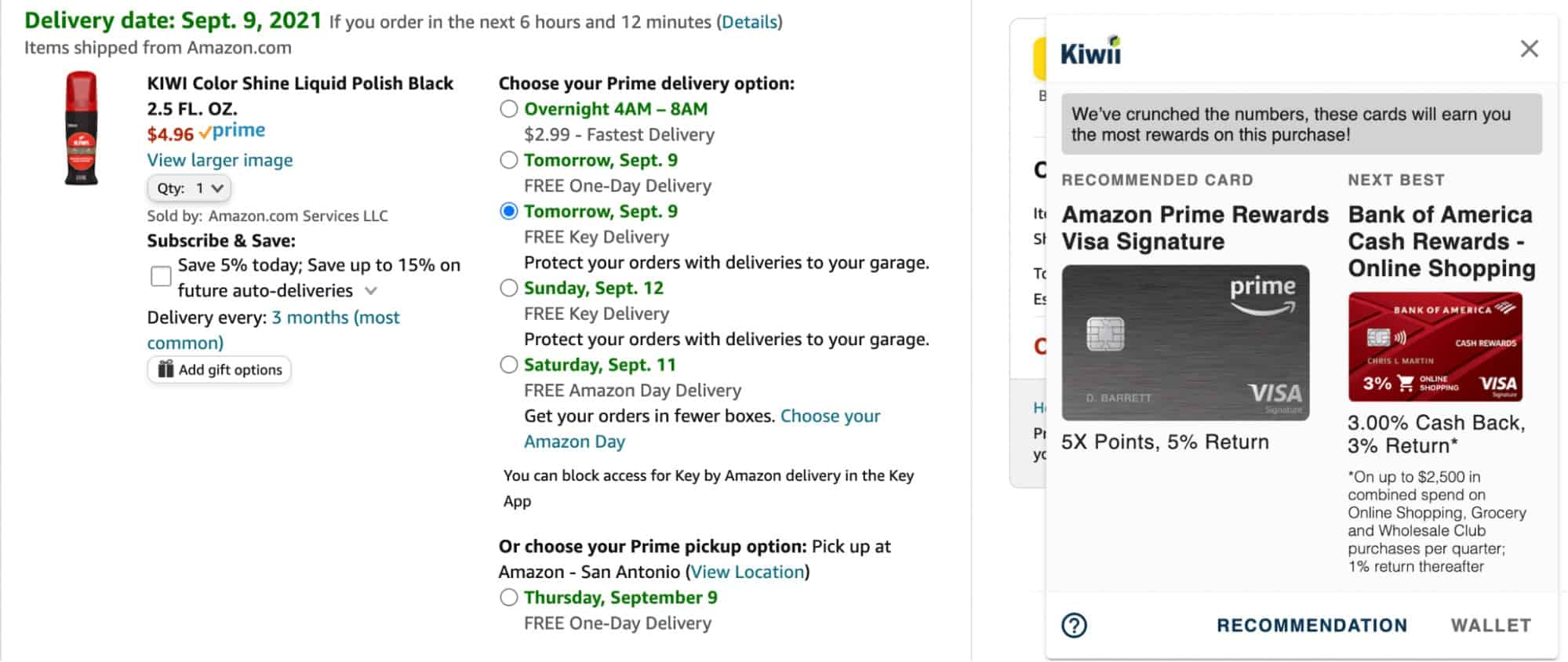 Keep in mind, Kiwii doesn't have your card info so you'll have to have your card numbers ready when you checkout. The extension acts as a guide to show you the recommended cards to get the best return on your purchase. For Amazon, it recommended I use either the Amazon Prime Rewards Visa Signature Card or the Bank of America Cash Rewards credit card.
The recommendations are based on the cards you selected, not on all cards available. This tailors the experience to the cards you already have available.

Stack Kiwii With Portals to Maximize Your Return
One nice thing about Kiwii is that it isn't meant to replace shopping portals, but instead is an addition to help you get more value. In fact, Kiwii has their own online platform to show you the value of different travel portals called Kiwii Boost. You can plug in the store you're shopping at or the type of merchant you're exploring to shop at and Kiwii Boost shows you the highest paying travel portals available.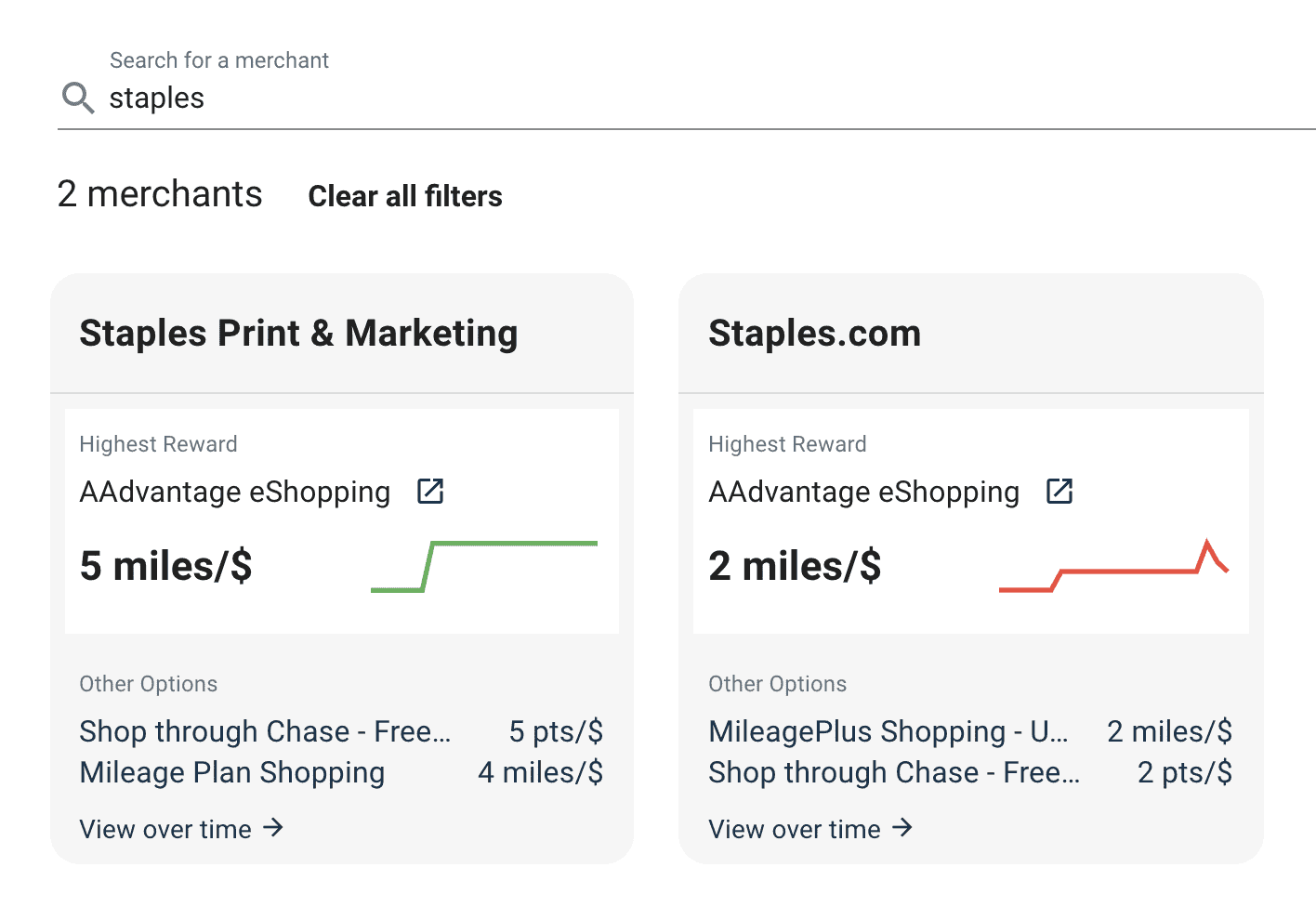 You can filter out certain portals so that you're not seeing rates for award programs that you might not use. Another nice feature is that you can click the link and be taken directly to the shopping portal's page for that store. The Kiwii extension will pop up whenever you go to the store so you can navigate to the portal to be sure you get your extra points.
Think of Kiwii Boost as an alternative to sites like Cashback Monitor or EVRewards to see the rates you can get from various shopping portals. Kiwii boost is built into the extension, showing you the best portal to use for your purchase.
By stacking your best earning card and a travel portal, you can sometimes get five or more points for every dollar spent. Kiwii makes it easy to stay organized and help you get the most rewards possible when shopping online.
What I Really Like About Kiwii
With all that said, what are my thoughts on Kiwii? I've been using it for a few weeks now and overall I like it. I plan on continuing to use Kiwii so that I can make every online purchase I make go a little bit farther.
Kiwii made me reconsider some of the cards I'm using when shopping online. I used to always use my Chase Freedom Unlimited® when shopping on Amazon because I figured 1.5 Ultimate Rewards per dollar seems fair. I've had an Amazon card for a long time now, and it is actually my second oldest credit card. I haven't used it much because, well, I'd rather earn flexible bank points.
However, having it slapped in my face that I could earn 5% back on my Amazon purchases really made me rethink my strategy. I know I know, I'm now using a cashback card on Amazon, but this is a situation where considering an alternative card does make sense for me.
The 1.5 Ultimate Rewards I was earning are worth 1.88 cents for travel through the Chase travel portal by transferring the points to my Chase Sapphire Preferred® Card. Sure, I can often get more value by utilizing transfer partners, but I'd need to get about three times the value from transfer partners for every dollar spent for it to be worthwhile.
Instead, I can use my Amazon card and get 5% back. I had mostly forgotten about my Amazon card, so Kiwii really made me question if I'm using the right card when checking out on Amazon.
Additionally, there are some nice interactions that Kiwii has. For example, if you have a Chase Sapphire Reserve® and a Chase Freedom Unlimited®, Kiwii automatically lets you know that the value of purchasing your Freedom Unlimited is worth 2.25% back when you combine points to your Chase Sapphire Reserve®. It takes these interactions into consideration to recommend the best card for you to use.
One thing that Kiwii relies on to recommend the card is the value that you're getting from using the recommended cards. Although the value of points can vary depending on how you use them, Kiwii takes a conservative approach to determine the value of Chase Ultimate Rewards points and other points. The values aren't highly inflated and are fairly reasonable, but use your best judgment if you think the value is worth it.
Overall, I'm pretty impressed with Kiwii and think it's a valuable tool to use to get the most value when shopping online.
Room for Improvement for Kiwii
That being said, there is some room for improvement that Kiwii could make that would help it be even more valuable.
For starters, there's room to add more portal options. Kiwii Boost doesn't currently show rates on Rakuten. Rakuten is a popular cashback portal, but if you link an Amex card that earns Membership Rewards to Rakuten, you can actually earn points rather than cashback. Adding more options would help Boost.
Currently, Kiwii only shows you the highest portal in the app. If you want to see other portals, you'd need to go to the Kiwii Boost site or use a third-party shopping portal aggregator if you want to earn other points.
For example, when I went to Nike, Kiwii showed me 4X American Airlines AAdvantage miles as the best portal option, but the Chase portal was offering 3X Ultimate Rewards. As much as I love AAdvantage miles, I'd rather earn 3X UR than 4X AA miles. The extension doesn't show this alternative option, although it would be a bit challenging to do so without getting too cluttered.
Finally, the extension can be a bit unclear on how it determines the rewards you earn. Take a look at Nike again as an example.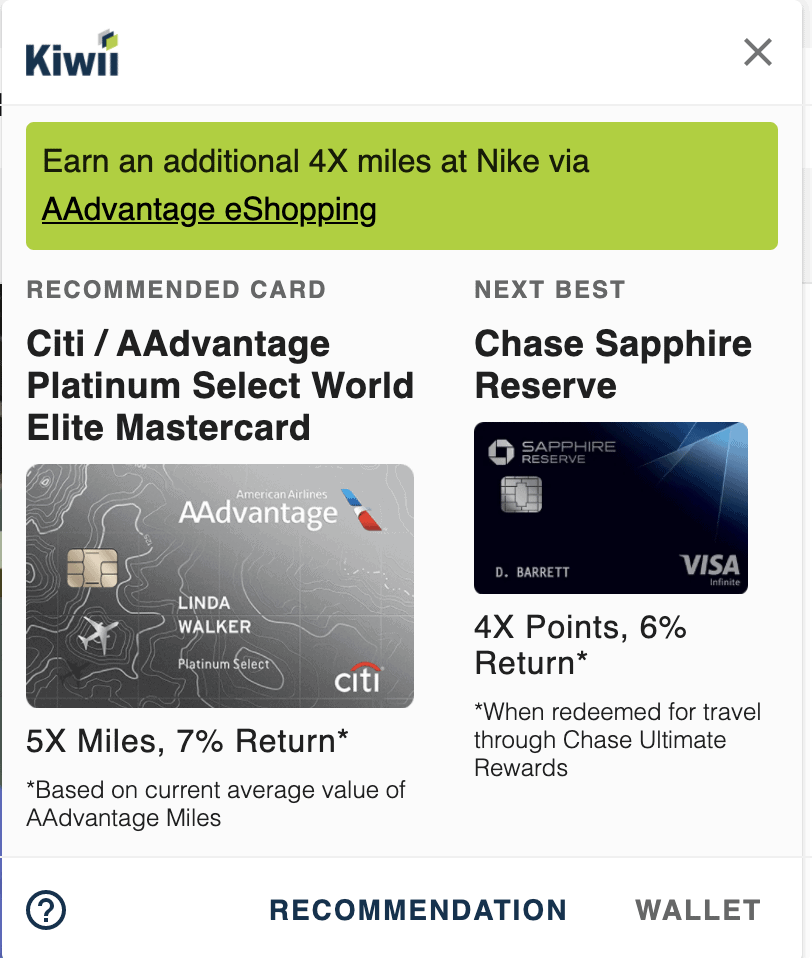 On its face, this looks like you'll get 5X miles for using the Citi / AAdvantage Platinum Select World Elite Mastercard or 4X points for using your Chase Sapphire Reserve®. In reality, this requires stacking through the portals rather than in addition to the portals. You won't earn 5X points on your Citi AAdvantage card plus 4X through the portal, but instead, you'd get one point on the card and an additional 4X AAdvantage miles through the portal. The same thing applies to the Chase Sapphire Reserve®, which earns one point on the card for purchases at Nike and an additional 3X Ultimate Rewards points if you go through the Chase portal.
I'd much prefer these to be separated out so that you can mix and match portals and cards to get the best return for you. Plus it would be more transparent about the amount of points you're actually earning from the card versus through the portal.
Final Thoughts
Overall, I'm pretty impressed with Kiwii. While I think there's some room for improvement to make the earning rate a bit more transparent, it is a valuable extension that can help you choose the right card when shopping online. It might even show you options that you've overlooked or hadn't considered, like for me with my Amazon card.
New to the world of points and miles? The Chase Sapphire Preferred is the best card to start with.

With a bonus of 60,000 points after $4,000 spend in the first 3 months, 5x points on travel booked through the Chase Travel Portal and 3x points on restaurants, streaming services, and online groceries (excluding Target, Walmart, and wholesale clubs), this card truly cannot be beat for getting started!
Learn More
Editors Note: Opinions expressed here are author's alone, not those of any bank, credit card issuer, hotel, airline, or other entity. This content has not been reviewed, approved or otherwise endorsed by any of the entities included within the post.