In This Article
Loading table of contents …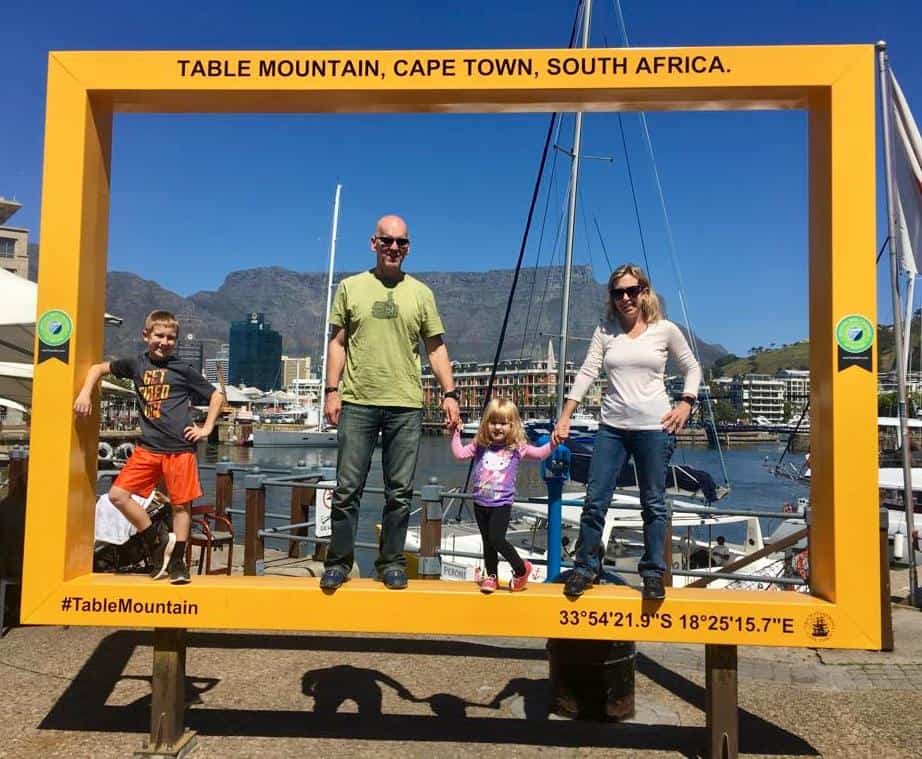 Note: Some of the offers mentioned below may have changed or are no longer be available. The content on this page is accurate as of the posting date; however, some of our partner offers may have expired. You can view current offers here.
By: 10xT Reader Jessica
Editors Note: Some of these credit card offers have changed. Please visit 10xTravel.com/credit-cards for a list of up-to-date offers.
Intro
I'm not new to the points and miles world. I've traveled to Italy, France, Australia, United Arab Emirates and Seychelles (to name a few) on points and miles over the years. That being said, the 10X Team took it up to the next level. Once our family of 3 became a family of 4, this game became a little more challenging. I'm here to tell you that you can still play the points and miles game as a family and explore the world.
Earning the points and miles to travel South Africa
A little over a year ago, our family purchased a 100-year-old farmhouse on 3 acres in Northern California. At this point, I wasn't seriously into the points and miles game (this is a good thing as it's recommended to not apply for cards within 9 months of applying for a mortgage). The house we bought was livable, but definitely, a "fixer-upper" that we planned to change from a 2 bedroom / 1 bathroom to a 3 bedroom / 2 bathroom.
Months later, we had a designer and a contractor on board. With all of the spending we had ahead of us, it was time to maximize the credit card points. I was not new to the Chase Family at this point. I already had a Chase Sapphire Preferred (CSP) and Chase Freedom from many years prior with some Ultimate Rewards (UR) racked up.
Following the monthly 10X post on the best credit cards to apply for, I went for the Chase Ink Preferred Credit Card for 80,000 UR. I also referred my husband to his own CSP for an additional 10,000 UR (for referring him) plus his 50,000 UR sign up bonus plus 5,000 additional UR for adding our son as an authorized user (there are pros and cons to adding a minor as an authorized user, decide for yourself if this is a good move in your particular case).
Editors Note: The Sapphire Preferred no longer offers the 5,000 points authorized user bonus.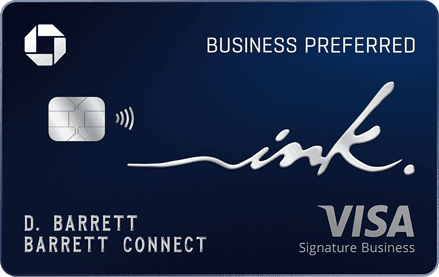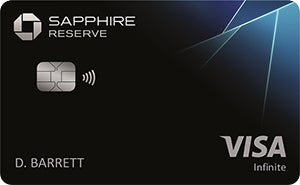 Chase Ultimate Rewards Points
after you spend $4,000 in 3 months
We were in the middle of hitting minimum spends for these cards when Bryce posted about "last chance" to apply for the Amex SPG business card for 35,000 SPG points (most business cards do not add to your 5/24). My husband and I decided to apply for it at the same time since we could hit the $7000 minimum spend (X2) easily with our remodel expenses. After hitting the minimum spend and then some, we had 90,000 SPG points.
My (then) 9-year-old son (who's been to 20 countries and counting) reminded us that he'd be experiencing a "milestone" 10th birthday in September 2018 and that he wanted to visit his cousins in South Africa. Why not? At this point, I knew we were getting close to deciding on our fall trip, so I thought it was a good time to product change my CSP to a Chase Freedom Unlimited (CFU) and apply for the Chase Sapphire Reserve (CSR) for 50,000 Ultimate Reward points.
Flights
I wish I could say we flew first class to South Africa… (that will be a later post once my children are in college!), but I can say that our family of 4 flew to South Africa and back for a net cost of $135.64. Yes, you heard me right, that's $33.91 per person.
How did we do this? I started by transferring my husband's SPG points to my SPG account (at no cost). Next, I transferred my 90,000 SPG points to my Marriott account (again, at no cost). This gave me 270,000 Marriott points (before the merger, SPG points transferred to Marriott at a 1:3 ratio). At the time, 270,000 Marriott points translated to a "Hotel & Air Package" of 7 nights at a Marriott Category 1-5 plus 120,000 miles with many airline programs. If you chose United, you received 10% more United miles. So, by using 270,000 Marriott points, I received a certificate for a 7-night stay at a Category 1-5 hotel PLUS 132,000 United miles deposited into my account (almost immediately).
United Airlines is a Chase transfer partner. From the new Chase cards, my husband and I applied for, we had over 200,000 UR between the two of us. (Plus, I already had another 100,000 UR or so before we applied for the new cards.) To fly economy class to South Africa using United miles, I knew I needed 40,000 award miles for one-way saver awards. So, for a family of 4, this would equal 320,000 award miles needed. I already had 132,000 United miles in my United account thanks to the Marriott Hotel & Air Package, so I all I needed to do was transfer an additional 188,000 UR from my CSR to United.
The transfers to United all happened in late July / early August and we wanted to fly to South Africa in late September / early October. During this time period, I was logging into my United account frequently and seeing a lot of available for our time frame. (Note that you should not transfer points to an airline partner until you're ready to book and know that there is availability.)
On August 3rd, I pulled the trigger and booked our flights. I booked one-way tickets in an "open jaw" format (SFO → CPT and JNB → SFO) through the award travel tab on the United website. I booked the first part of our trip on Lufthansa with a layover in Frankfurt for a total of 160,000 United miles plus $163.20 in taxes and fees.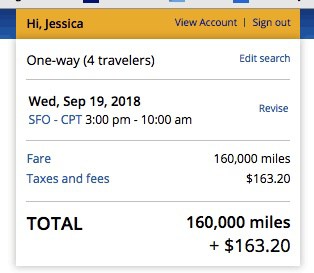 For the flight home, I booked Swiss Airlines with a layover in Zurich for 160,000 United miles plus $272.44 in taxes and fees. The total for the 4 of us came to $435.64. But wait, you said the total was only $135.64, where did the $300 difference go? It was erased thanks to my $300 travel credit from my CSR! (For fun, I looked up the cash price of these tickets, and although I know it's super inflated, it was over $12,000 for the 4 of us!)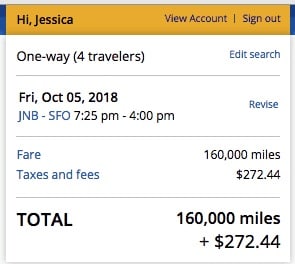 So, we now had our flights booked, but no real itinerary for our trip. We just knew we had 2 weeks in South Africa, starting in Cape Town and ending in Johannesburg. We also knew that we wanted to spend time in Cape Town, drive the Garden Route and fly from Port Elizabeth to Johannesburg and then back home. I had heard about the United Excursionist Perk (where you basically get a free one-way segment within your trip), but there was no award availability from Port Elizabeth to Johannesburg for our specific dates. This is where the Chase travel portal came in handy. I was able to book flights on Mango Air for just under 40,000 UR for the 4 of us.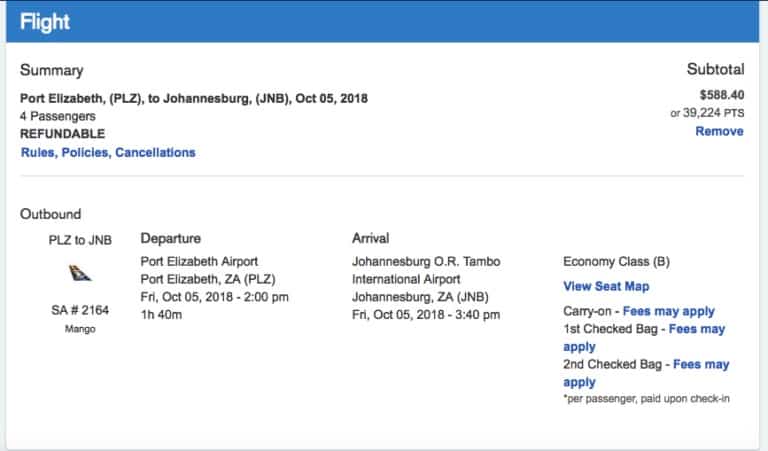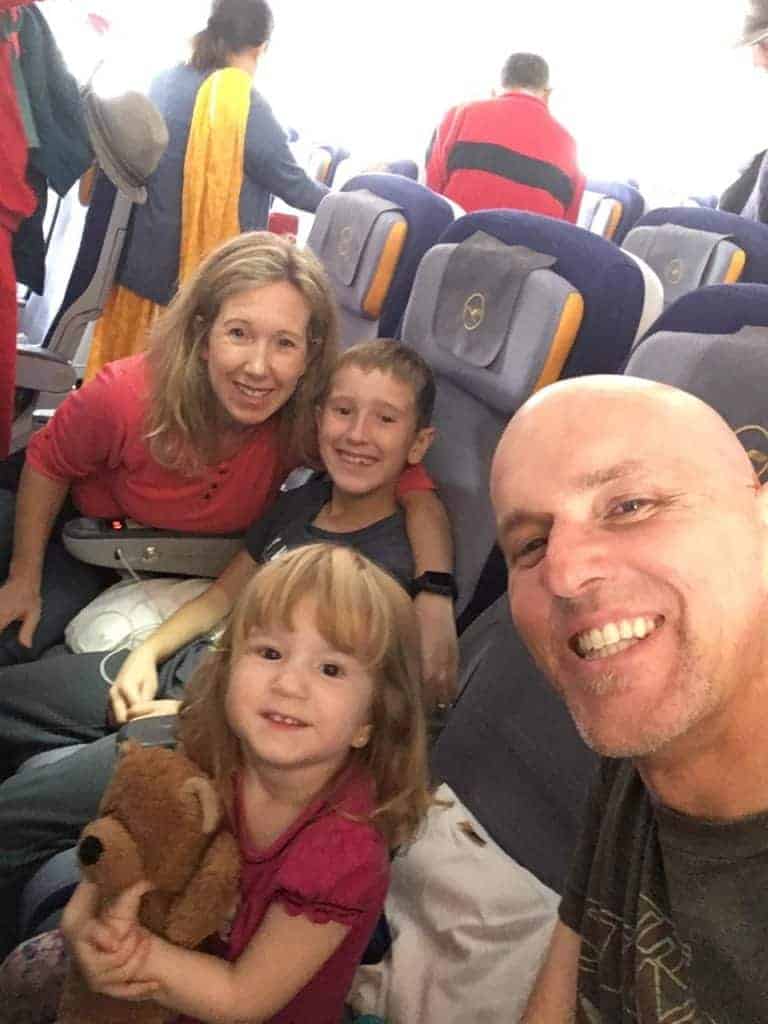 Accommodations
When researching Marriott award stays, I often read that it was difficult to book stays for occupancy of more than 2 people per room. I was thinking, "Oh great, I'm sitting on this 7-night certificate, hoping to use it in South Africa for a family of 4, AND hoping to book it before the merger occurs… this is never going to happen…" Sure enough, ALL of my searches showed NO AVAILABILITY in Cape Town at any Marriott property when I searched for an occupancy of 4, but plenty of award availability when searching for an occupancy of 2.
I ended up researching all of the Protea Hotels that were available in the areas we thought we wanted to stay in. I decided that the Protea Hotel Cape Town North Wharf would meet our family's needs the best. I mean, it was advertised as a 4-star large luxury apartment with a full kitchen, rooftop pool and breathtaking views – what's not to like? To top it all off, the smallest room was a 1 bedroom with a pull-out sleeper sofa in the living room. (How can this not accommodate 4 people??) After emailing back and forth for a few days with Marriott, I was finally put in contact with an actual person at this hotel. I wrote a nice letter explaining that we were a family of 4 with two children (ages 10 & almost 3) and we were hoping to use our 7-night certificate at their lovely hotel to celebrate my son's 10th birthday trip. I explained that a 1-bedroom apartment with a pull-out sofa in the living room would be plenty of space for us, and would they allow us to stay in it even though it was listed as a "max occupancy" of 2. Within a day or so, I received a friendly email basically saying, "no problem", proving that it doesn't hurt to ask.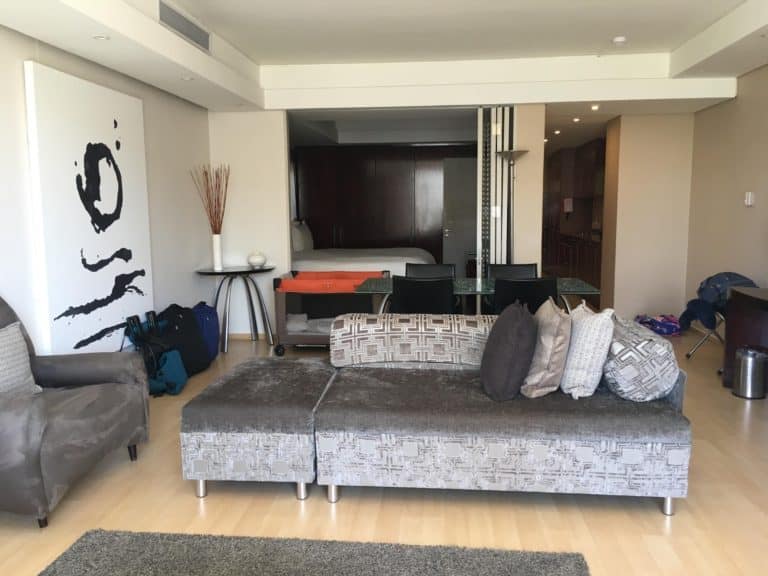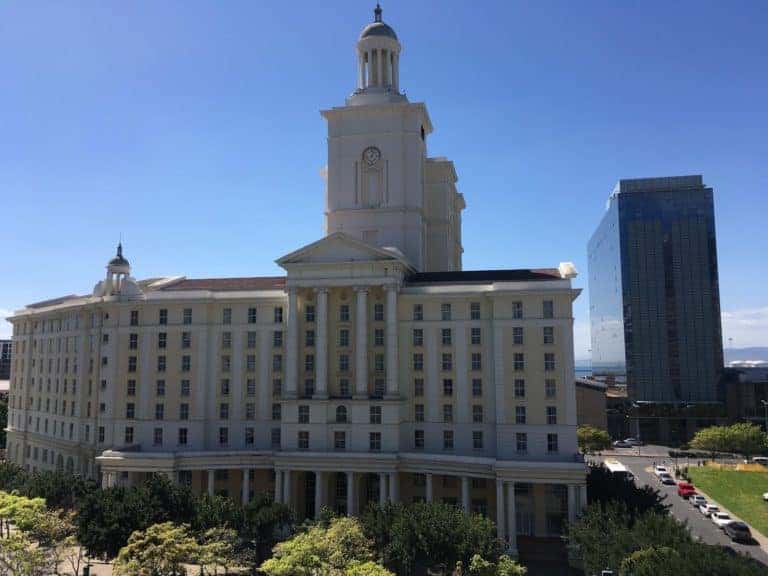 We now had our first week in Cape Town figured out. My cousin lives in Cape Town with his family, so we decided to explore the Garden Route with them. He suggested staying in Hermanus for a night and then meeting them in Plettenberg Bay for 4 nights and ultimately finishing up our trip with 2 nights (on our own) in the Addo Elephant National Park area.
We booked a 2-bedroom ocean view Airbnb in Hermanus for one night for just under $80 USD. I booked the Airbnb through the Delta Airbnb site for 1X Delta miles, using a gift card purchased on the United MPX app for 2X United miles using my CSR for 3X UR. (Remember to pay a small amount of the Airbnb using your CSR or other preferred travel credit card in order to get the travel insurance.)
Our next 4 nights were spent in a lovely 3-bedroom beach house in Plettenberg Bay, just a 2-minute walk from the breathtaking Robberg Beach. Unfortunately for me, my cousin decided to book this Airbnb before I could tell him to let me book it for the extra points! We just paid him our portion in cash, approximately $260 USD for 4 nights in a beach house.
As we usually do on all of our big trips, we save the best for last and really splurge. After reading tons of reviews, we decided on the Hitgeheim Country Lodge & Eco Reserve near Addo Elephant National Park for our last 2 nights. I found the best deal on Priceline for just over $400 USD per night. (There were smaller, more affordable rooms for 2, but for a family of 4, we had to reserve the "Luxury Family Suite" and it was most definitely worth it!)
Highlights
I have to give a shout out to Julie Szpira's hotel template! (Available to anyone in the 10xTravel Facebook Group)
When we checked in to the Protea in Cape Town, they made sure to give us their biggest 1-bedroom apartment, purchased cupcakes from a local bakery and sang Happy Birthday to our son! The Protea Hotel Cape Town North Wharf ended up being an excellent choice for our family. It was in a central location for exploring, and had all of the amenities we needed. As far as exploring Cape Town goes, a week is obviously not enough, but we made the most of the time we had there.
Some of the highlights included hiking to the top of Lion's Head, walking around the V&A Waterfront (including a fantastic Farmer's Market), going on a scenic drive to Chapman's Peak and exploring the Cape of Good Hope (where we saw the most south-western point of the African continent!). We also loved seeing African penguins on the beach in Simon's Town, the beautiful Kirstenbosch Botanical Gardens and wine tasting in Stellenbosch. Speaking of Stellenbosch, we had an amazing lunch at Stellenbosch Kitchen – gourmet food for a family of 4, including wine for about $40 USD! And, I can't forget to mention our best meal in Cape Town. We were fortunate that my cousin could babysit our kids while my husband & I enjoyed a date night at Chef's Warehouse (Beau Constantia). We had cocktails, an 8-course tapas dinner, at least 6 glasses of wine, after dinner drinks and coffee for under $100 USD! Did I mention that the dollar goes far in South Africa?!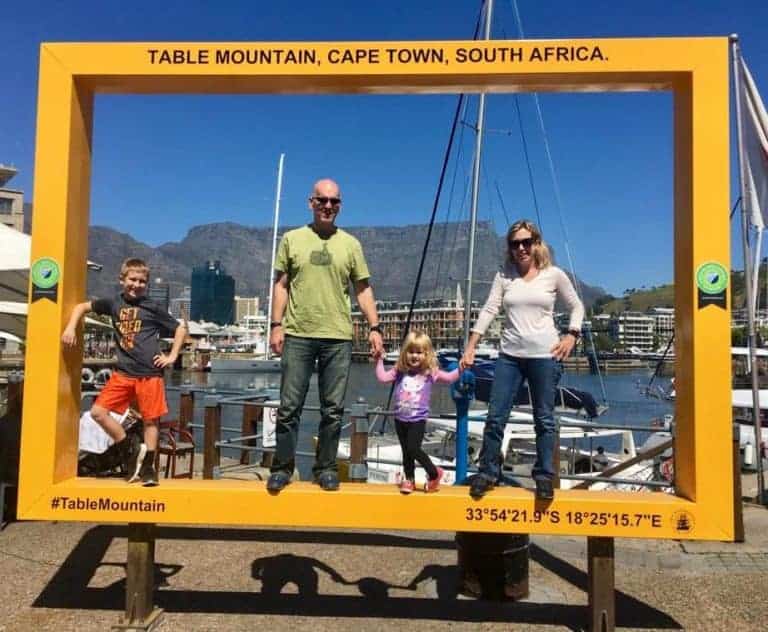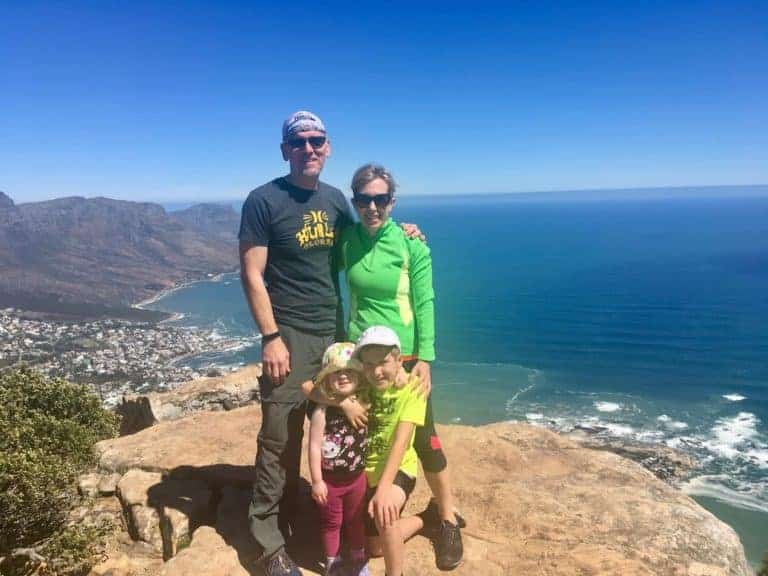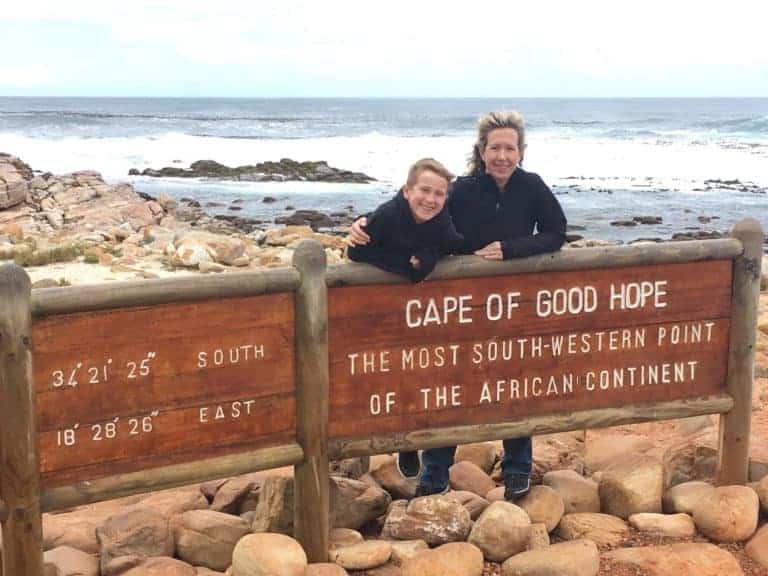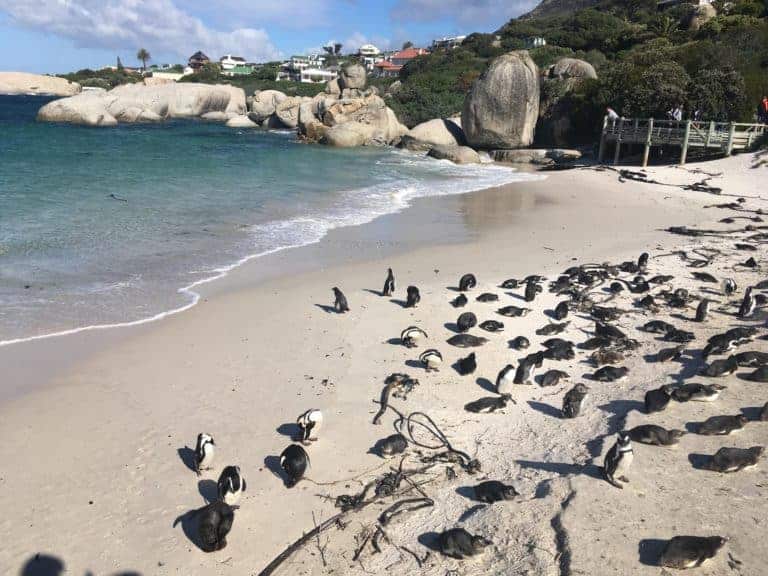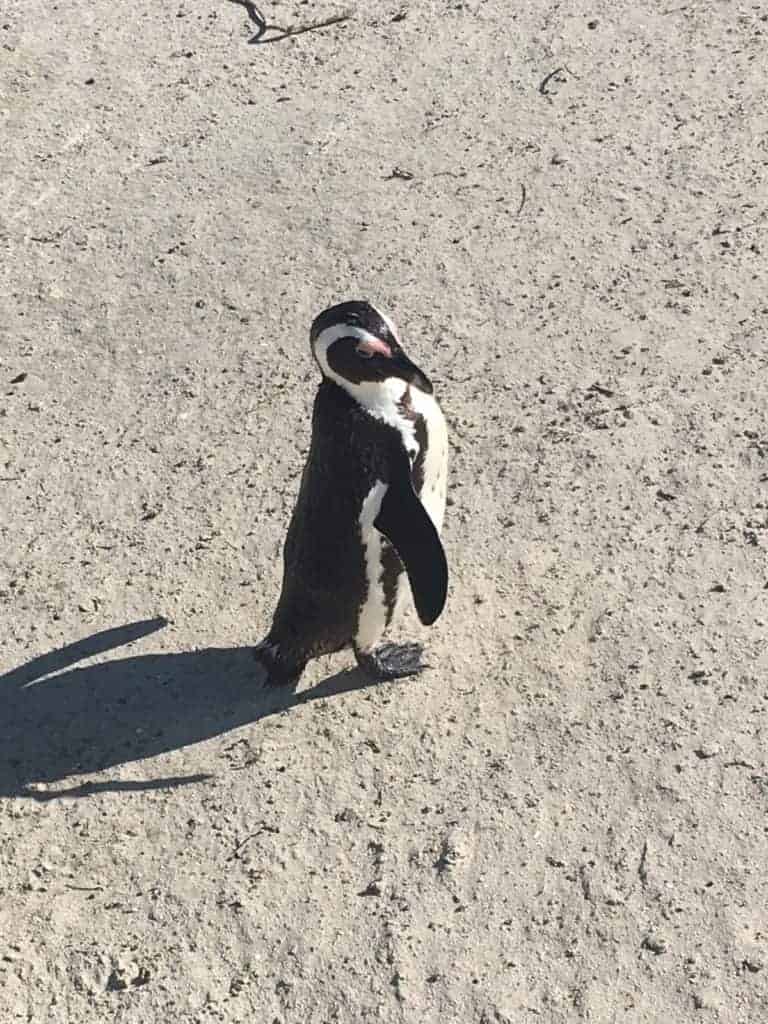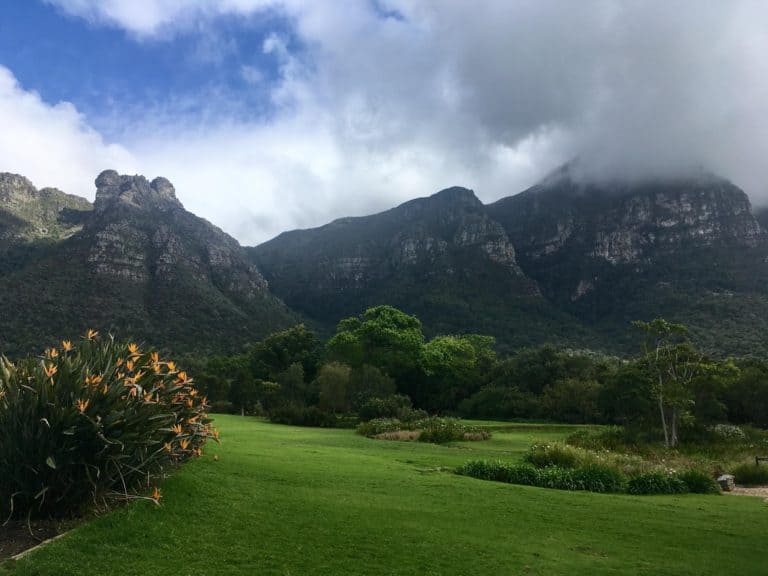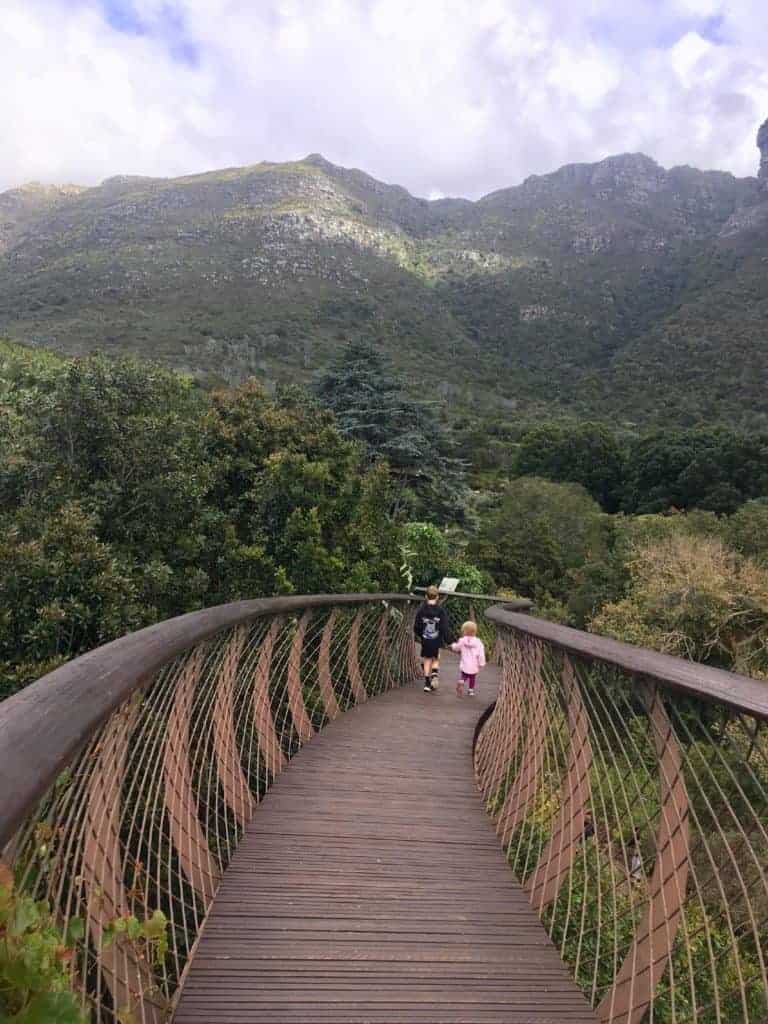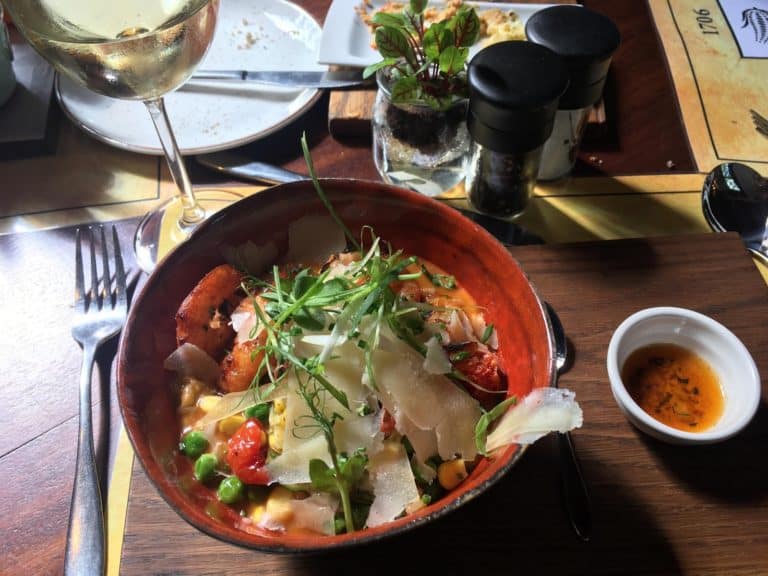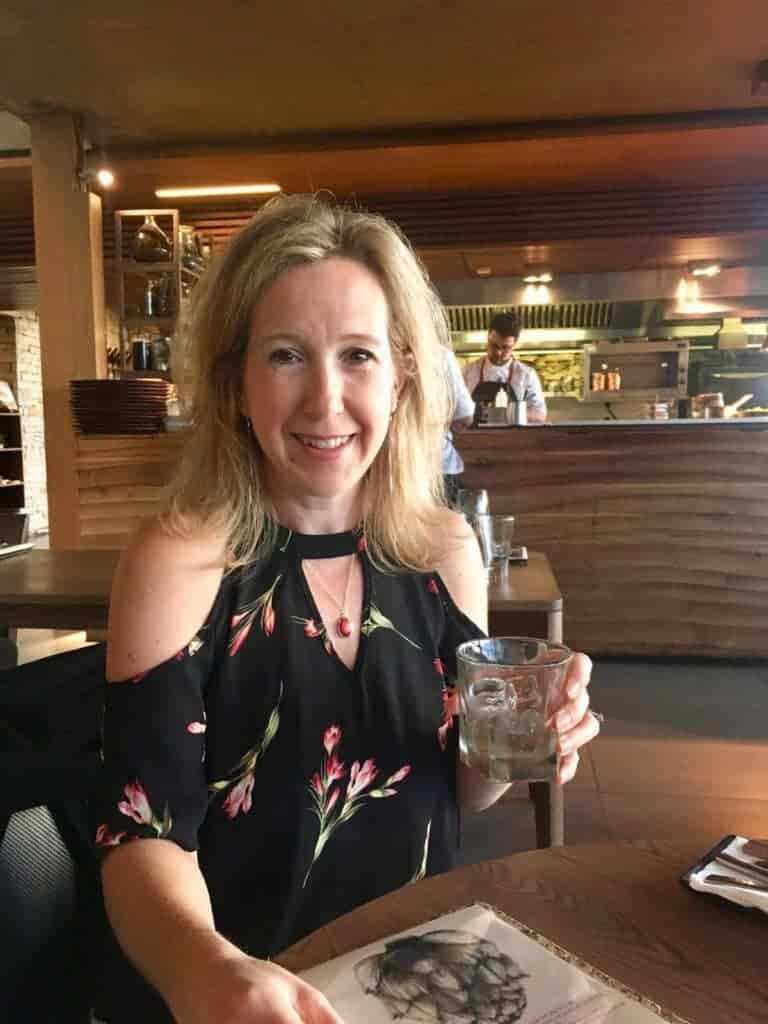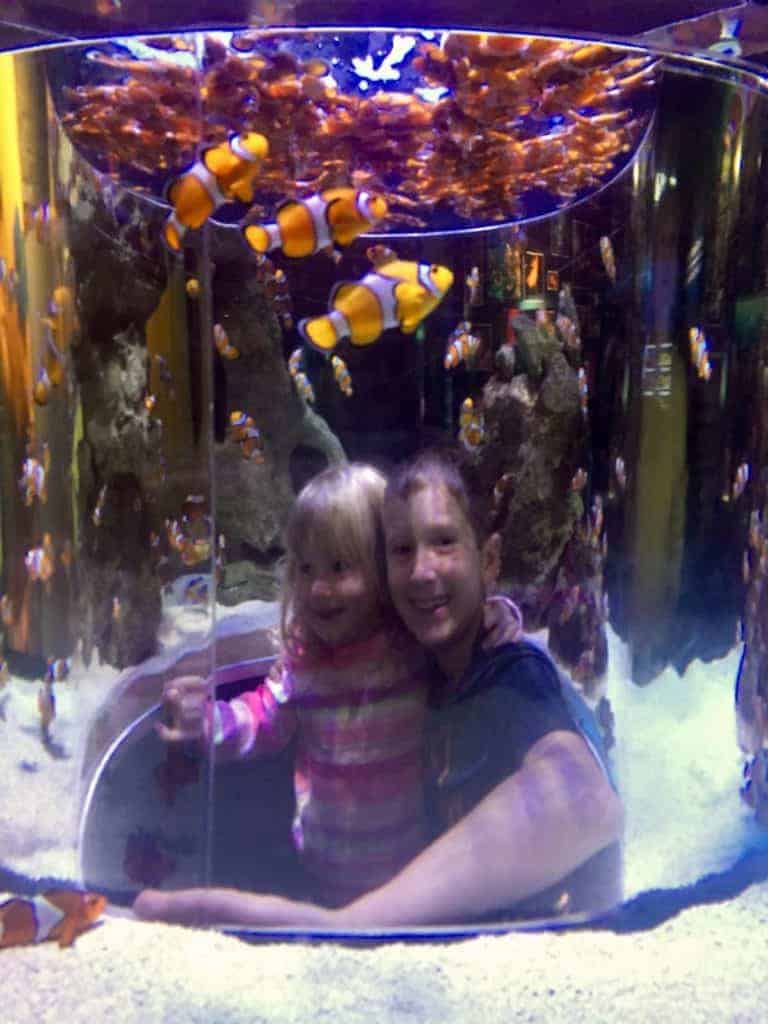 After a week in Cape Town, we drove about 90 minutes east to Hermanus to see the amazing Southern Right Whales. They say whale season is from July – November, with one of the best months being September (lucky for us, we were there in September). You can easily jump in a boat and go on a whale watching tour, but there are so many whales, it's easy to spot them from the shore. We chose to view them just before sunset on the Cliff Path, and then again, the following morning. We saw dozens of these beautiful creatures and many dolphins as well.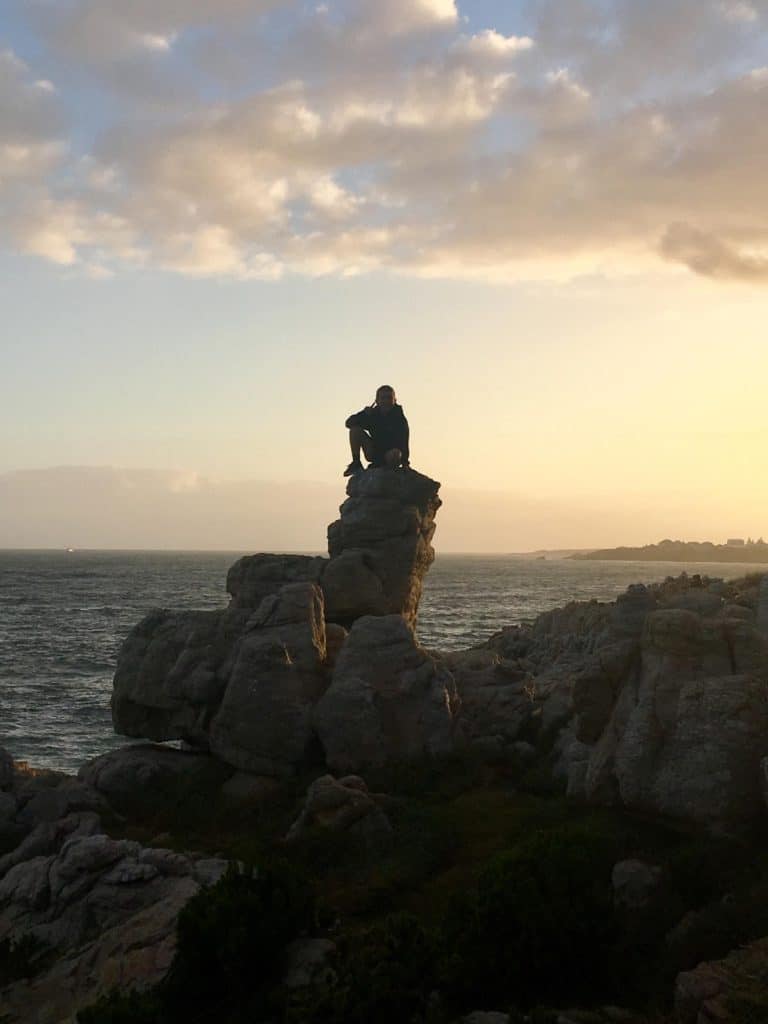 We checked out of our lovely Airbnb in Hermanus and drove about 5 hours east along the Garden Route to Plettenberg Bay where we stayed in a beach house with my cousin and his family for 4 nights. This was the relaxing part of our vacation. We mainly just enjoyed the beach and family time. We did venture out and see the Knysna Heads one day and Jukani (a big cat sanctuary) another day.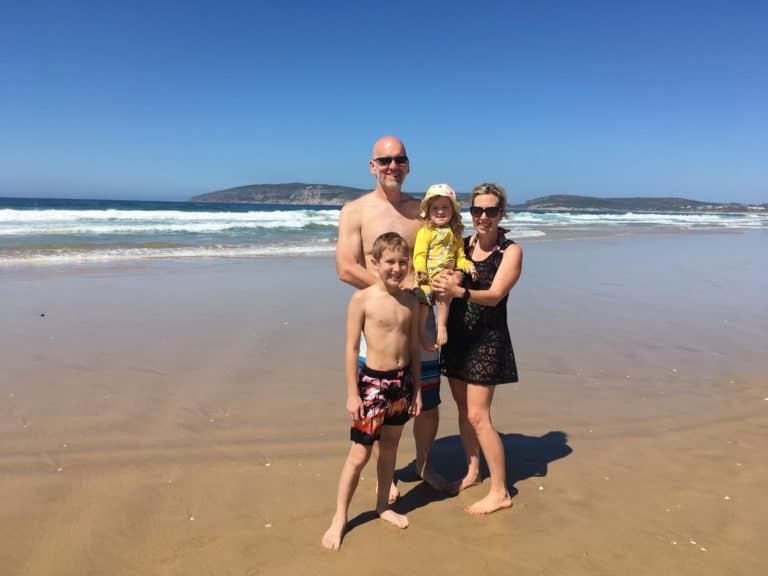 Our final leg of the trip was to see Addo Elephant National Park. We drove about 3 hours from Plettenberg Bay to (the awesome) Hitgeheim Country Lodge & Eco Reserve. As we were pulling in, we saw zebras in the wild! We really did save the best for last as this "Lodge" was 5-Star from the employees to the food to the amazing views from the suites. We chose to do a game drive (rather than a self-drive) through Addo. It was worth every penny of the $300-ish USD we paid for our family. Someone else did the driving and pointed out animals we might not have otherwise seen. We were lucky to see 3 of the "Big 5" animals during our day trip (elephants, cape buffalo, and a lion). The highlight, of course, was seeing the amazing elephants up close and personal. It's an experience we will never forget.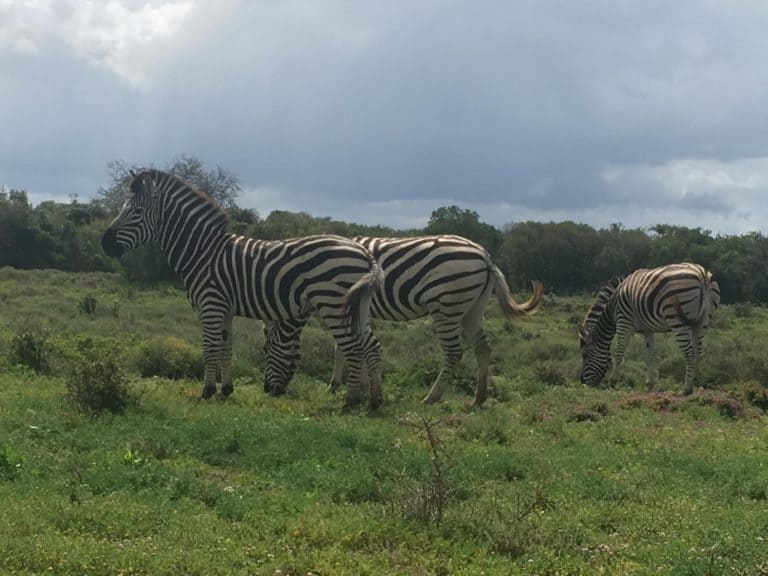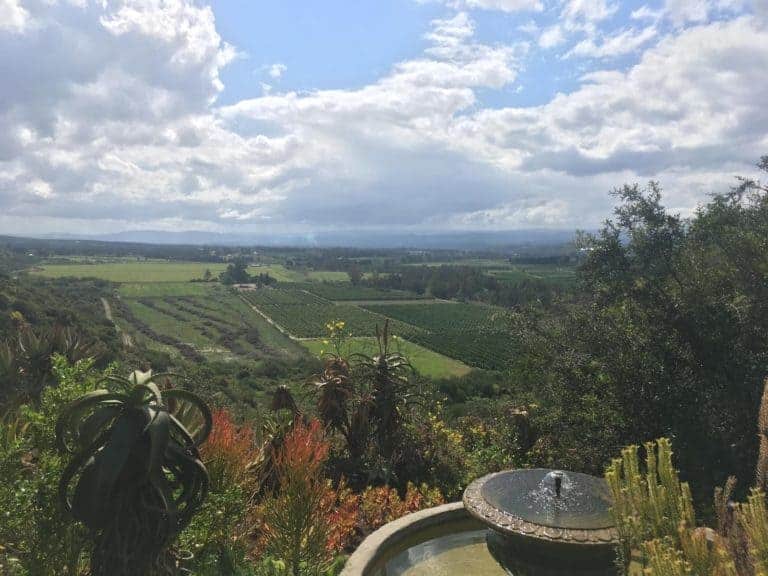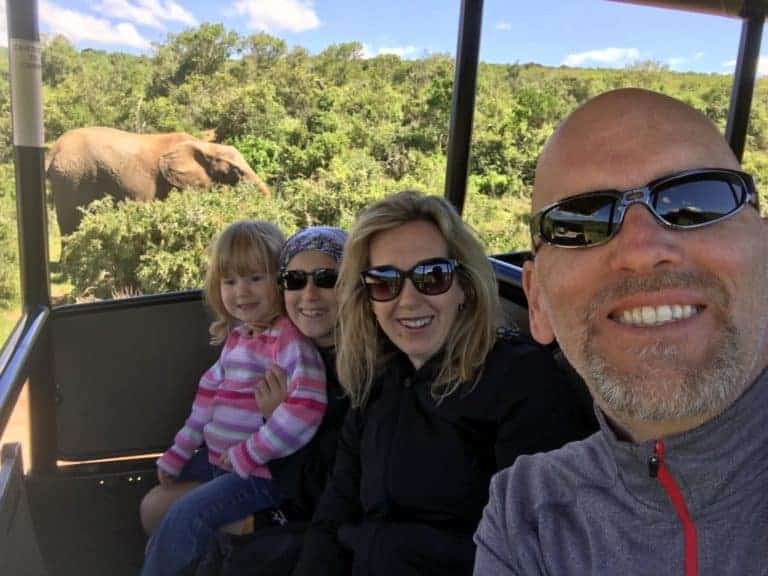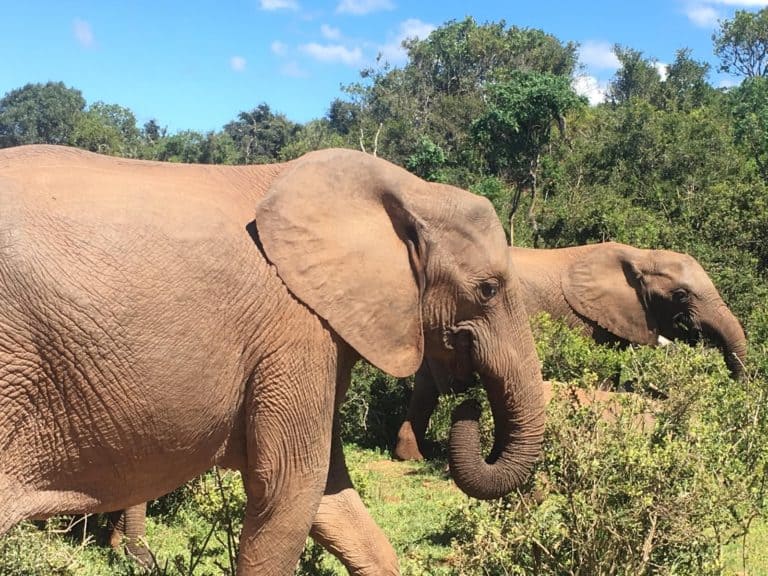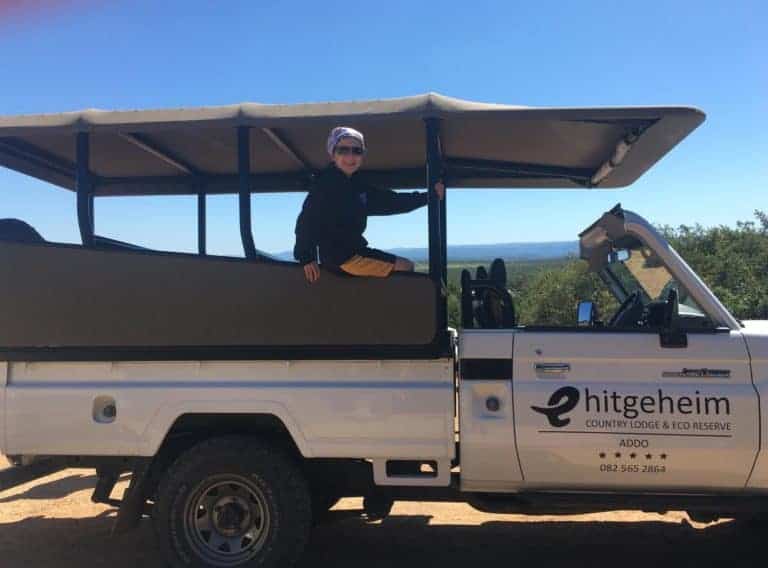 Total Points Used
In summary, we used a total of 90,000 SPG (aka 270,000 Marriott) points and 227,224 UR (188,000 transferred to United and 39,224 in the Chase portal) plus $135.64. This paid for a family of 4 to fly from San Francisco to Frankfurt, Frankfurt to Cape Town, Port Elizabeth to Johannesburg, Johannesburg to Zurich and Zurich to San Francisco PLUS a full week at the Protea Hotel Cape Town North Wharf. We paid cash for 5 nights in two different Airbnbs (~$340 USD) and splurged at the end at a luxury eco-reserve (~$800 USD).  We also rented a car from Hertz for about $300 USD for 12 days with a car seat (and picked up/dropped off in different locations). We could have used UR to cover the car rental, but chose to save those for future trips.
Sidebar
On a side note, we were able to experience a taste of both Frankfurt and Zurich on our layovers. Both of these cities are easily accessible by train from the airports (about 10-15 minutes). Speaking of Frankfurt, we enjoyed our first Priority Pass lounge experience at LuxxLounge before boarding our long flight to Cape Town. The food was nothing special, but the booze was a different story! That being said, we thoroughly enjoyed the Bidvest Premier Lounge in Johannesburg. They had a full-on buffet dinner, great wines, and even some top-shelf liquor. Having access to these lounges (thanks to the CSR) really makes the whole travel experience more enjoyable.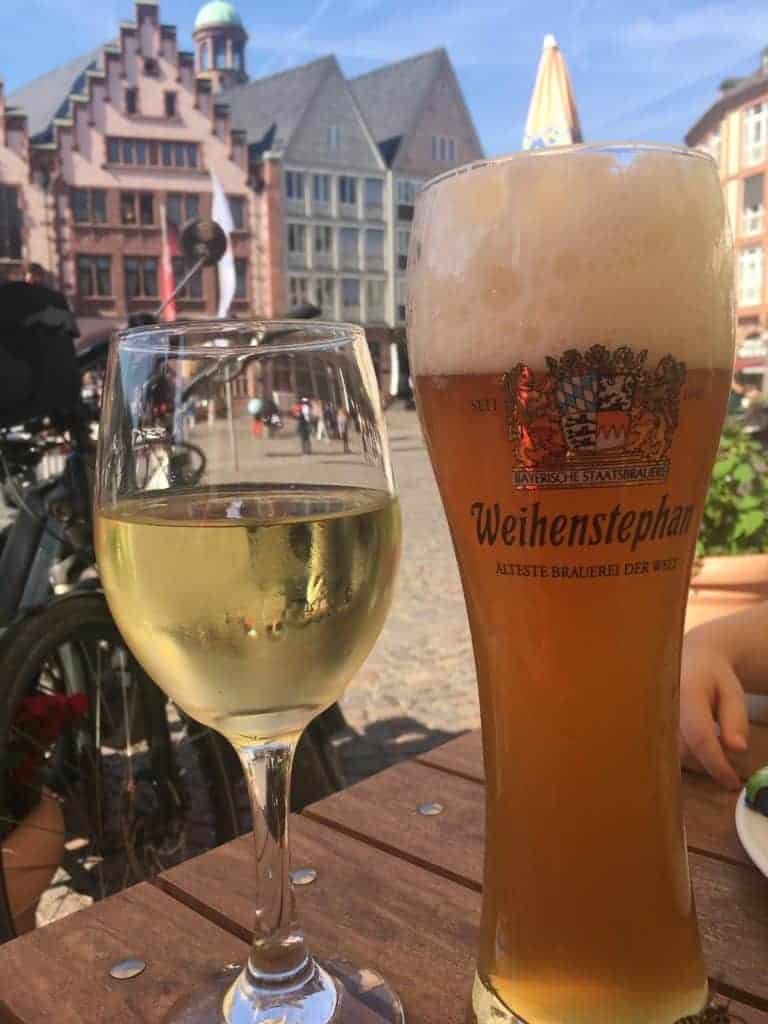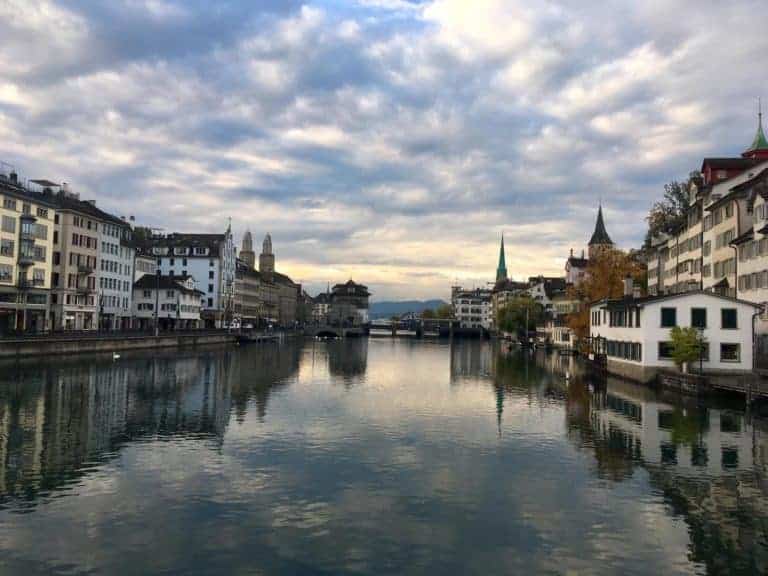 Final Thoughts
All in all, if you're thinking about traveling to South Africa, stop thinking and just go. It's an amazing place, unlike any other country we've experienced. It's truly an adventure. The people are friendly, the scenery is gorgeous, the wines are top notch and the dollar goes so far. Thank you to Bryce and the 10X Team for helping us take the points and miles game to a whole new level! Happy Travels!
P.S. Bryce here. Have a success story of your own that you would like to be featured on the blog? Shoot me an email ([email protected]) to get started. We will send a free 10xT T-shirt as a thank you!
New to the world of points and miles? The Chase Sapphire Preferred is the best card to start with.

With a best-ever bonus of 100,000 points after $4,000 spend in the first 3 months, 5x points on travel booked through the Chase Travel Portal and 3x points on restaurants, streaming services, and online groceries (excluding Target, Walmart, and wholesale clubs), this card truly cannot be beat for getting started!
Learn More
Editors Note: Opinions expressed here are author's alone, not those of any bank, credit card issuer, hotel, airline, or other entity. This content has not been reviewed, approved or otherwise endorsed by any of the entities included within the post.