By: Spencer Howard
Disclosure: This post may contain references to products from our advertisers. We may receive compensation from products we link to. We appreciate your support.
Not a day goes by that we don't get questions about credit scores. Sometimes it's as simple as someone wondering where to find their credit score, other times it's a momentary freak out when a reader looks at Credit Karma and sees their score has dropped.
To prevent these freakouts and make it easier for you to find your credit score, we're going to discuss where you can find your credit score. Not an estimated FICO score, but your actual FICO score. This is what you really need to know.
Does Credit Karma Actually Provide Your FICO Credit Score?
Let's just get this out of the way now: NO!!!
Credit Karma provides a VantageScore which is not a commonly used score for credit card applications. We have found that the score it provides can vary by 50+ points compared to a true FICO score.
It seems to be very sensitive to credit utilization, which is what causes such anguish for readers who rely on Credit Karma. They see a huge drop and, understandably, are not pleased.
It is because of situations like this that we felt it was necessary to address Credit Karma.
Now, that does not mean Credit Karma isn't a useful for a miles and points connoisseur like you. Credit Karma is a big help if you want to see credit card inquiries on your Equifax and TransUnion reports. Additionally, you can see what open accounts you have reporting to each credit bureau.
This can be particularly helpful if you are unsure of your 5/24 status with Chase.
Get Your Actual FICO Score
There are several free ways to get your actual FICO score from each of the three credit bureaus: Experian, Equifax, and TransUnion.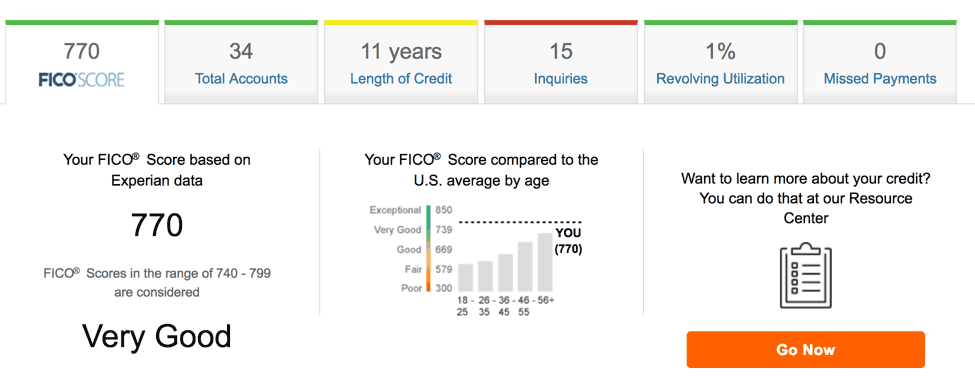 Let's start with Experian, as you don't even need a credit card to get your FICO score from Discover through their Free Credit Scorecard. The scorecard provides your true Experian FICO credit score as well as a bunch of other great information including: total accounts, length of credit, inquiries, utilization, and missed payments.