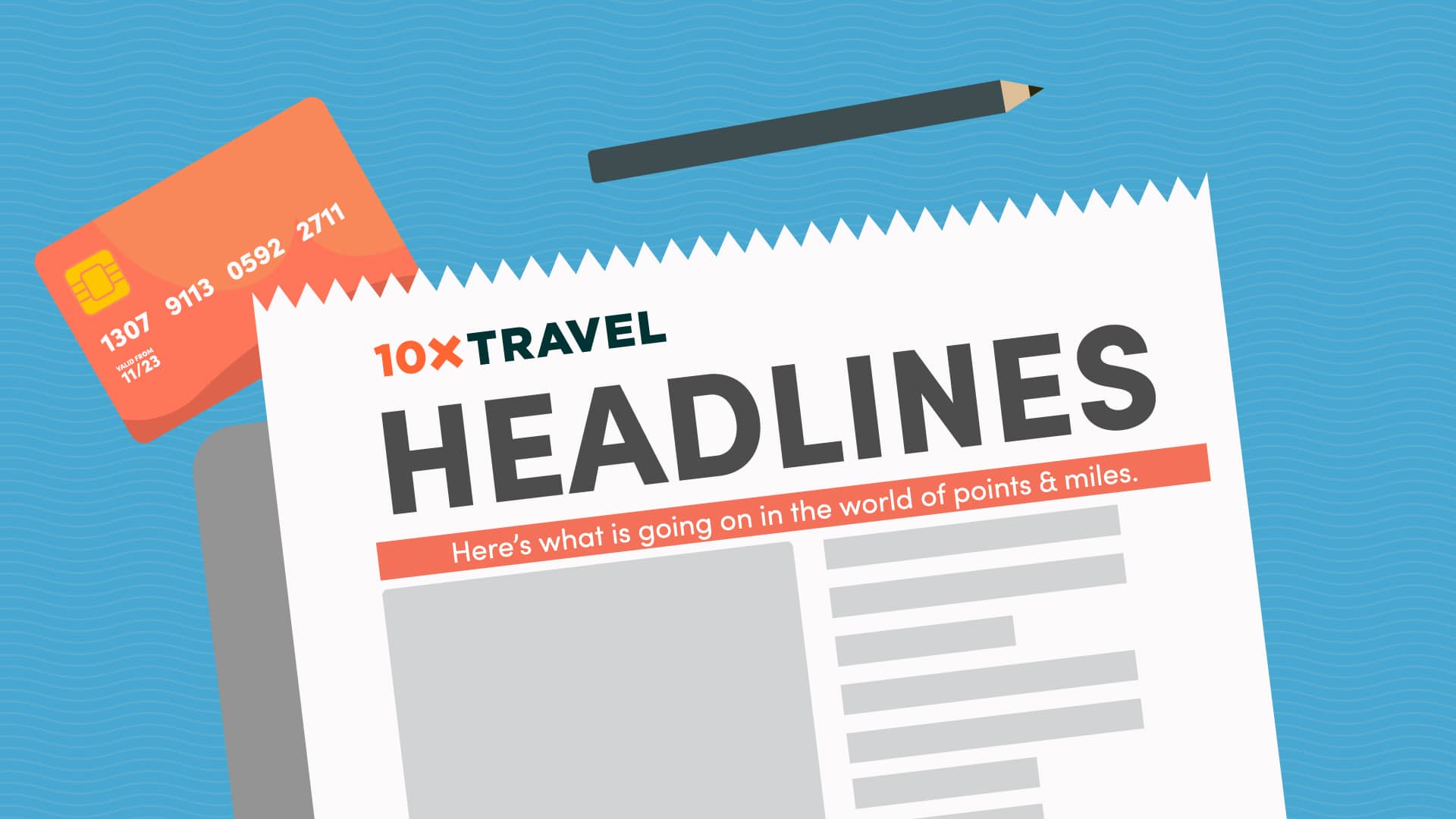 Headlines
Here's what is going on in the world of points & miles.
Please send any requested additions or updates to [email protected]
Business Owners: The 2nd Round of the Paycheck Protection Program (PPP) is Now Live! You Should Apply ASAP (We Just Did)
Smaller lenders are given a head start this time and can begin submitting applications to the SBA today, so it would be a good idea for you to apply via a small lender right away. You can always apply with others later (this is what seemed to work best last time).
BlueVine is known to be one of the fastest in terms of getting your application submitted and your funds secured.Here is a link to apply: Apply Now
*Note that this is an affiliate link, we do get a small commission if you end up getting funded. This is very much one of those "we like these guys anyway, would share their info anyway, and the fact that they're potentially paying us is just icing on the cake
Like last time, you can receive up to 2.5x your monthly payroll costs with the opportunity to have this loan completely forgiven.
To qualify for PPP this 2nd round you need to show a >25% loss in revenue from 2020 compared to 2019.
Timing is crucial here (like last time), so I highly suggest applying right away. And please share any progress updates in the comments!
Good luck!
Southwest Extends 2020 Companion Passes
Heads Up Southwest Companion Pass Holders:
If you originally had a Companion Pass expiring 12/31/2020, you've already gotten a six month extension and your pass now ends on June 30, 2021.
Southwest just announced that they've granted an additional 6-month extension, so your pass now ends December 31, 2021.
Additionally, if you had a Rapid Rewards account opened by December 31, 2020, Southwest is again giving you a jump start on your elite status and Companion Pass qualifications:
15,000 tier qualifying points (TQPs – not redeemable points)
25,000 Companion Pass Qualifying Points (not redeemable points)
10 qualifying flight credits towards A-List and A-List Preferred
25 qualifying flights towards Companion Pass
These adjustments should show up in your RR accounts within a week or so.
And no, there have been no announcements, and likely won't be any time soon for those of you that have a Companion Pass set to expire on December 31, 2021.
It's Southwest Companion Pass Season
The end of the year/beginning of a new year means it's time to start talking about companions.
First, around the Thanksgiving dinner table  Zoom video dinner when your family inevitably asks about your dating life, and second when we start talking about earning the Southwest Companion Pass.
Right now is the time to start working on earning your Southwest Companion Pass for all of 2021 and 2022.
This is typically done by opening one of the Southwest business credit cards, one of the Southwest personal credit cards, and not earning each of their signup bonuses until after January 1, 2021. Which has already passed so you are good to go.
There's a lot more to know about earning the Southwest Companion Pass so you should probably give our overview a read before getting started.
You may even want to read it 2 or 3 times to be sure. Once for each time your weird uncle tries to talk about politics this holiday season.
Marriott Has Announced Their Status Qualifications for 2021
Marriott has just announced their status qualification updates for 2021.
If you recall, in 2020, as a response to the effect of the pandemic on travel plans, Marriott gave current elite members 50% of the elite nights needed to requalify for the same level of elite status they had.
Marriott has decided to continue this same plan for 2021 as well.
So in February, if you're an elite member, you'll receive these elite night credits deposited in your Marriott account based on the status you earned in 2020.
Ambassador – 50 elite night credits
Titanium – 38 elite night credits
Platinum – 25 elite night credits
Gold – 13 elite night credits
Silver – 5 elite night credits.
Don't forget, you also receive 15 elite night credits for having a personal Marriott credit card, as well as 15 nights for having a business Marriott credit card. So if you are an elite member and hold both types of Marriott cards, with the above promotion, you will have already requalified for status through Feb 2023.
This promotion allowed me to earn Titanium last year after years of just barely making Platinum annually. And for me personally, I'm now starting the year off with 68 elite nights. With 10 nights already scheduled for later in this year that hopefully happen, it will allow me to easily re-earn Titanium.
Elevated Offers on The Platinum Card from American Express & New $30 Monthly PayPal Credit
Dozens of readers in the Insider's Facebook Group are reporting that they are seeing offers for 100k and 125k points on the Platinum Card from American Express after you spend $5,000 in the first 6 months. You also have the opportunity to earn 10x points on purchases at U.S. Gas Stations and U.S. Supermarkets on up to $15k in purchases in your first 6 months.
But there's a twist, these offers aren't exactly "public".
Though they are about as well hidden as my 3 year old when we play hide and seek.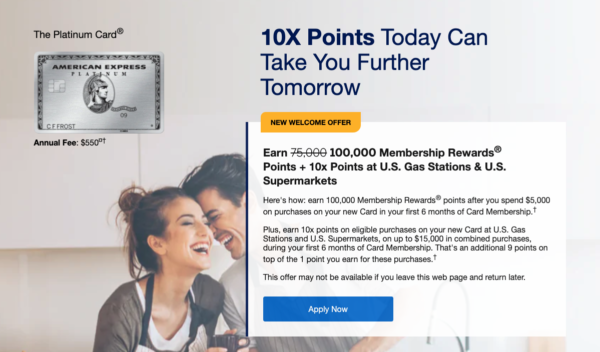 Here's how to find one, should you be interested.
Check CardMatch.  CardMatch is a tool that "matches" you with credit card offers that are specifically for you. (Ignore the non Amex offers for now)
If you don't see them on CardMatch, simply try searching for the offer a few times using different browsers and devices. Readers are reporting that they occasionally show different offers.
The 100k and 125k offers are far from guaranteed, but I would go so far as saying that you are likely to see them if you have never had this product before.
For those of you who recently got this card and are asking "now what?", you should consider reading our full review of the Amex Platinum as well as our team piece on how each of us would spend 100,000 American Express Membership Rewards Points.
Three more things to know about the elevated Amex Platinum offers:
Many people who are under 5/24 should consider these offers, but each situation is different. You might consider asking the 10xTravel Insiders Facebook Group for advice if you are not sure what to do.
Amex generally does not match offers, so if you recently got the Platinum Card with a lower bonus you probably aren't going to be matched to this one. It never hurts to ask (and please share any data points of success), but I have yet to see them honor this.
The opportunity to earn 100k+ via CardMatch and incognito are pretty well known by now, so be very skeptical of any site that is actively promoting the 75k offer with no mention of this trick.
New $30 Monthly PayPal Credit (Good through 6/30/2021)
American Express also recently added a $30 monthly PayPal Credit to new and existing personal Platinum cards, valid through 6/30/2021.
No registration required, simply add your Platinum card to your PayPal account and select it as the payment method at checkout.
Transactions must be made in US Dollars with U.S. Merchants to qualify. Person to person transfers, reloading of gift cards, and purchases of other cash equivalents do not qualify.
The monthly credit will simply show up as a statement credit on your account.
Chase Ink Business Cash and Ink Business Unlimited Offers are Up to $750 Cash Back (Previously $500), and Chase is Matching the Offer
Ink Business Cash and Ink Business Unlimited recently upped their bonuses to $750 cash back after $7,500 spend in the first 3 months. This is a substantial increase over their previous bonuses of $500 after $3,000 spend in the first 3 months, which is what the offers have been for as long as I can remember.
This change caused them to jump to #2 and #3 in our monthly card rankings.
Keep in mind that these bonuses are awarded in the form of 75,000 Ultimate Rewards points, meaning that if you have a Chase Sapphire Preferred Card, Chase Sapphire Reserve, or Chase Ink Business Preferred Credit Card, you can combine your points to be used for higher value travel uses.
We have also seen many reports of Chase matching this offer for anyone who has recently received the Ink Cash or Ink Unlimited. If this is you, simply log in to your Chase account and send a secure message asking Chase to match the current offer.
We do not know how long the $750 bonuses are scheduled to last at this time.
For more information on these cards be sure to read our review of the Ink Cash, review of ink unlimited, and team piece on how we would each use 100k Chase Ultimate Rewards Points.
Upgrade Your 10xTravel Experience with 10xTravel+
Get access to member-only deals, dedicated support from our experts, discounts, random surprises, and more.
Learn more and sign up today by visiting our 10xTravel+ Page.