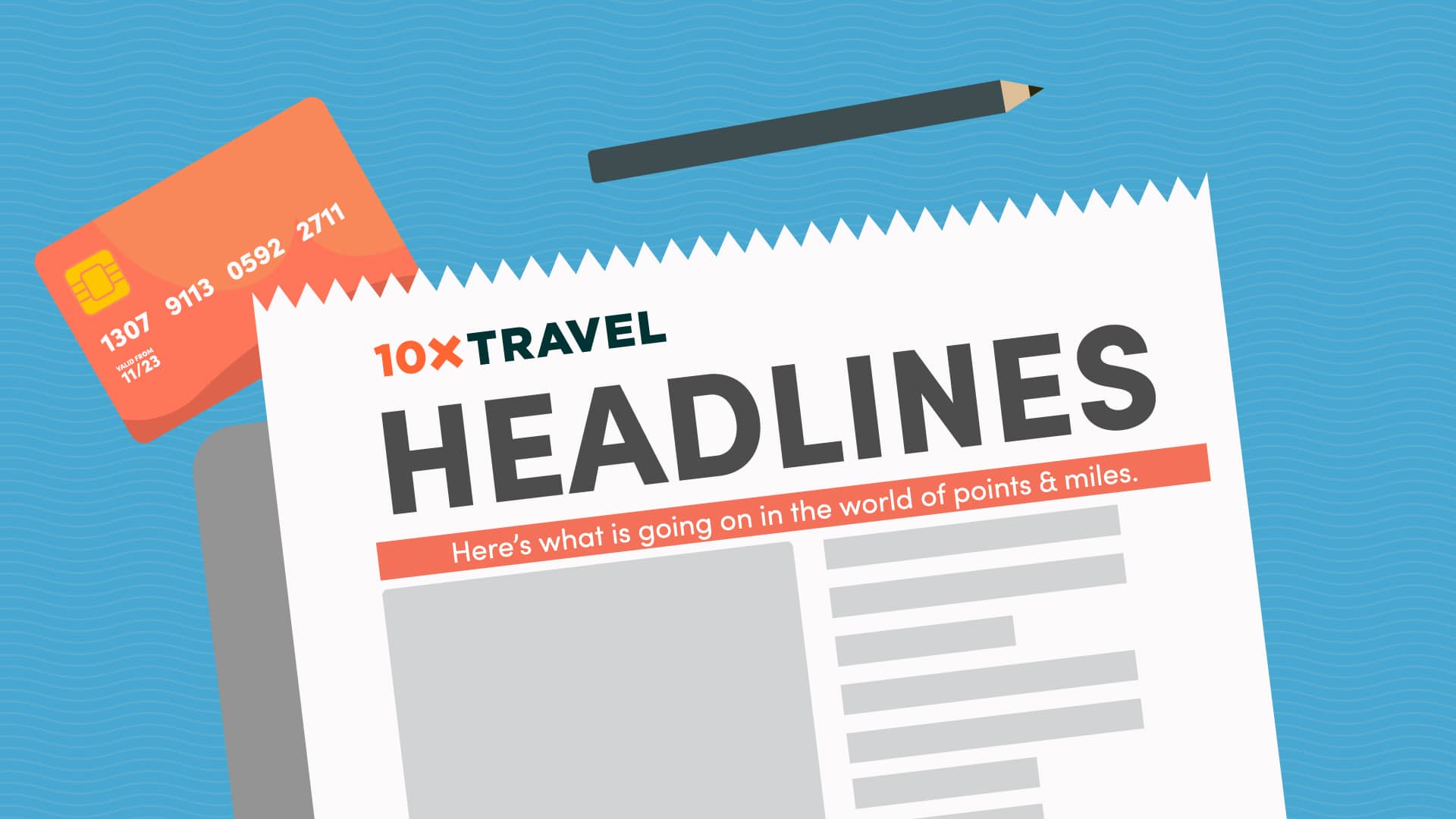 Headlines
Here's what is going on in the world of points & miles.
Please send any requested additions or updates to [email protected]
The Platinum Card® from American Express Updates
Big changes to the Amex Platinum card including an increased annual fee:
$200 Hotel Credit
$179 Clear Credit
$240 Digital Entertainment Credit ($20 per month, enrollment required)
$300 Equinox Credit ($25 per month, enrollment required)
$695 Annual Fee (Rates & Fees)
Chase Sapphire Preferred Card Has A New All Time High Bonus
If you've been procrastinating on the old bonus, now is the time to jump. The Chase Sapphire Preferred Card just increased its bonus to 100,000 points after you spend $4,000 in purchases in the first 3 months of card opening.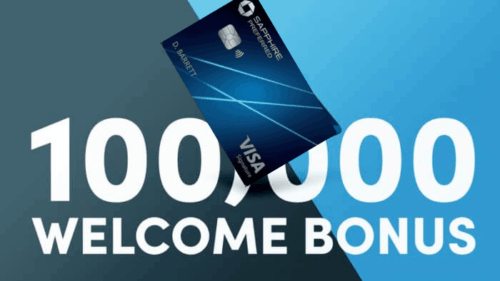 Points on the CSP are worth 25% more when redeemed for travel, making this bonus worth $1,250.
We can't stress enough that if you're eligible (under 5/24 and haven't earned a new Sapphire bonus in the last 48 months, and don't currently have a Sapphire product), now is the time to jump on this offer.
New Capital One Lounges, Transfer Partners, and Updated Transfer Ratios
That may not be so exciting, but here's what is exciting. Capital One is adding 4 new transfer partners:
Turkish Airlines (2 Cap one becomes 1.5 Turkish miles)
British Airways (2:1.5)
TAP Air Portugal (1:1)
Choice Hotels (1:1)
1:1 is big news from Cap One, and they're extending it to some other airline partners as well including:
Aeromexico
Avianca LifeMiles
Cathay Pacific AsiaMiles
Etihad Guest
Finnair
Qantas
Wyndham Hotels
Marriott Has Announced Their Status Qualifications for 2021
Marriott has just announced their status qualification updates for 2021.
If you recall, in 2020, as a response to the effect of the pandemic on travel plans, Marriott gave current elite members 50% of the elite nights needed to requalify for the same level of elite status they had.
Marriott has decided to continue this same plan for 2021 as well.
So in February, if you're an elite member, you'll receive these elite night credits deposited in your Marriott account based on the status you earned in 2020.
Ambassador – 50 elite night credits
Titanium – 38 elite night credits
Platinum – 25 elite night credits
Gold – 13 elite night credits
Silver – 5 elite night credits.
Don't forget, you also receive 15 elite night credits for having a personal Marriott credit card, as well as 15 nights for having a business Marriott credit card. So if you are an elite member and hold both types of Marriott cards, with the above promotion, you will have already requalified for status through Feb 2023.
This promotion allowed me to earn Titanium last year after years of just barely making Platinum annually. And for me personally, I'm now starting the year off with 68 elite nights. With 10 nights already scheduled for later in this year that hopefully happen, it will allow me to easily re-earn Titanium.
Elevated Offers on The Platinum Card from American Express
Dozens of readers in the Insider's Facebook Group are reporting that they are seeing offers for 100k and 125k points on the Platinum Card from American Express after you spend $5,000 in the first 6 months. You also have the opportunity to earn 10x points on purchases at U.S. Gas Stations and U.S. Supermarkets on up to $15k in purchases in your first 6 months.
But there's a twist, these offers aren't exactly "public".
Though they are about as well hidden as my 3 year old when we play hide and seek.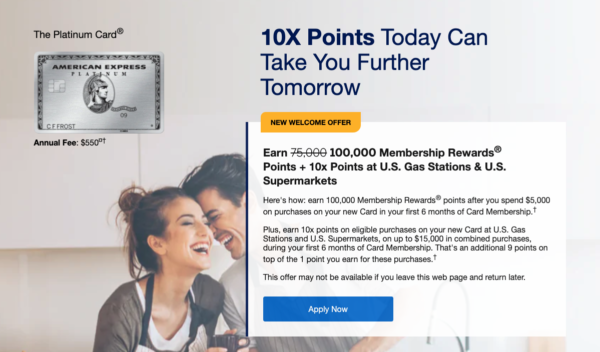 Here's how to find one, should you be interested.
Check CardMatch.  CardMatch is a tool that "matches" you with credit card offers that are specifically for you. (Ignore the non Amex offers for now)
If you don't see them on CardMatch, simply try searching for the offer a few times using different browsers and devices. Readers are reporting that they occasionally show different offers.
The 100k and 125k offers are far from guaranteed, but I would go so far as saying that you are likely to see them if you have never had this product before.
For those of you who recently got this card and are asking "now what?", you should consider reading our full review of the Amex Platinum as well as our team piece on how each of us would spend 100,000 American Express Membership Rewards Points.
Three more things to know about the elevated Amex Platinum offers:
Many people who are under 5/24 should consider these offers, but each situation is different. You might consider asking the 10xTravel Insiders Facebook Group for advice if you are not sure what to do.
Amex generally does not match offers, so if you recently got the Platinum Card with a lower bonus you probably aren't going to be matched to this one. It never hurts to ask (and please share any data points of success), but I have yet to see them honor this.
The opportunity to earn 100k+ via CardMatch and incognito are pretty well known by now, so be very skeptical of any site that is actively promoting the 75k offer with no mention of this trick.
Chase Ink Business Cash and Ink Business Unlimited Offers are Up to $750 Cash Back (Previously $500), and Chase is Matching the Offer
Ink Business Cash and Ink Business Unlimited recently upped their bonuses to $750 cash back after $7,500 spend in the first 3 months. This is a substantial increase over their previous bonuses of $500 after $3,000 spend in the first 3 months, which is what the offers have been for as long as I can remember.
This change caused them to jump to #2 and #3 in our monthly card rankings.
Keep in mind that these bonuses are awarded in the form of 75,000 Ultimate Rewards points, meaning that if you have a Chase Sapphire Preferred Card, Chase Sapphire Reserve, or Chase Ink Business Preferred Credit Card, you can combine your points to be used for higher value travel uses.
We have also seen many reports of Chase matching this offer for anyone who has recently received the Ink Cash or Ink Unlimited. If this is you, simply log in to your Chase account and send a secure message asking Chase to match the current offer.
We do not know how long the $750 bonuses are scheduled to last at this time.
For more information on these cards be sure to read our review of the Ink Cash, review of ink unlimited, and team piece on how we would each use 100k Chase Ultimate Rewards Points.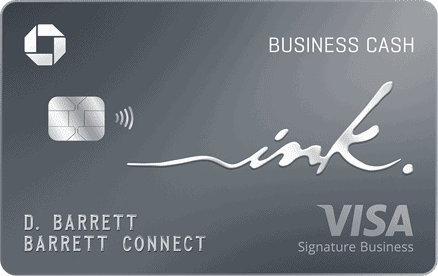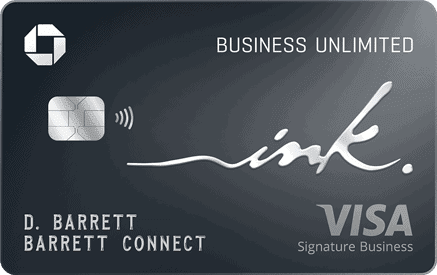 Upgrade Your 10xTravel Experience with 10xTravel+
Get access to member-only deals, dedicated support from our experts, discounts, random surprises, and more.
Learn more and sign up today by visiting our 10xTravel+ Page.