By: Eric August
Editors Note: Some of these credit card offers have changed. Please visit 10xTravel.com/credit-cards for a list of up-to-date offers.
Hey, 10xTravel readers!
My name is Eric August. I've been in the miles and points game for a little over a year now, and with the help of Bryce and the 10xTravel team (and other readers) my friend Joe and I were able to take a two-week vacation to Australia and New Zealand in November.
I'll show you how we did it, how much we spent, and how much we would've spent, so I hope you enjoy!
Since 2013, Joe and I have taken a trip together just about every year. We began with Myrtle Beach, South Carolina, then Toronto, Canada in 2015, and so when it came time for 2016's trip, we discovered a crucial difference in our planning: points!
Next Stop, Los Angeles
We began our journey at Midway Airport in Chicago. Using my Southwest Companion Pass (and redeeming 17,399 Southwest Rapid Rewards points), we flew from Chicago to Los Angeles for a fun weekend in L.A. before our flight to New Zealand.
Joe rented a Mustang Convertible (utilizing Emerald Status from National), and our luck instantly took a turn for the worse as our rental car was broken into and my passport was stolen.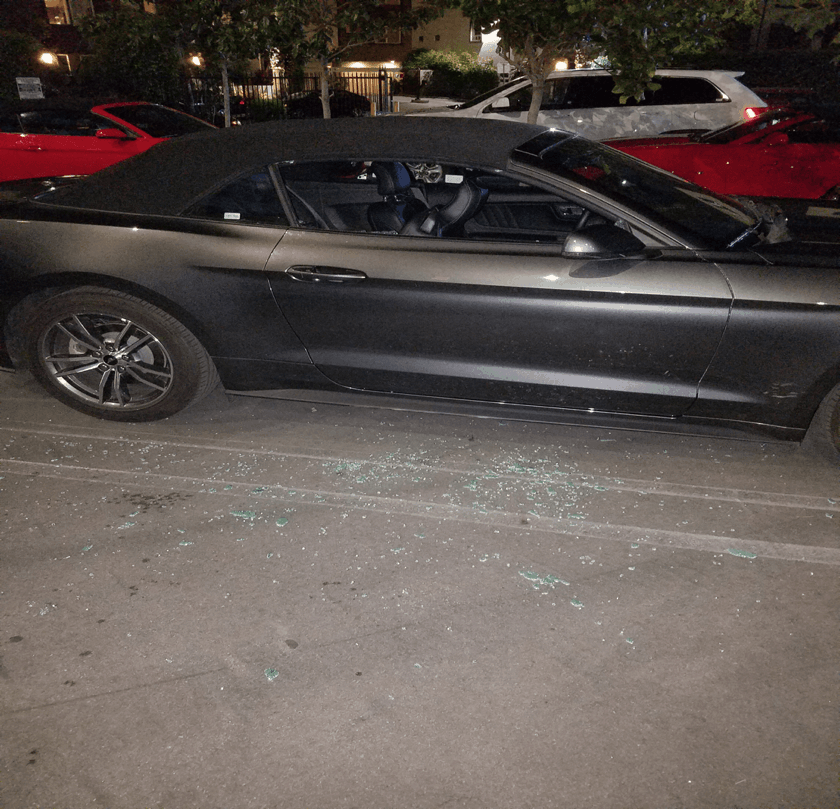 They didn't steal my Gameboy color with Pokémon so it wasn't a total loss.
Not to be deterred, we still enjoyed our weekend in L.A. meeting with friends, somehow getting into secret clubs, and making the most of our vacation (although I could've used some Xanax).
Luckily, I applied and was able to receive a new passport on Monday before we left.
*Pro-tip: Don't leave your backpack on the seat of a car in a major city, even if you'll only be gone for a few minutes. An obvious rookie mistake.
The Journey to New Zealand and Australia
Our round-trip itinerary took us from Los Angeles to San Francisco (connection) to Auckland (stopover) to Sydney (destination) to Seoul (connection) and finally back to Los Angeles. All this for just 80,000 United miles and about $230 out of pocket.
I transferred 30,000 Chase Ultimate Rewards points – that I'd earned with my Chase Sapphire Preferred and Chase Ink cards – to my United account. I also had 50,000 points from the Chase United Mileage Plus card.
Joe transferred Ultimate Rewards to United after earning the points with his Chase Sapphire Reserve and Chase Ink cards.
Our Stay In Auckland
Arriving in Auckland, we stayed at the Jucy Snooze hostel, redeeming Chase Ultimate Rewards points through the Chase travel portal to book our stay. We spent two days in Auckland going pub quizzes, wine tastings on Waiheke Island, and meeting up with other travelers after being absorbed into a pub-crawl.
We then rented a car and to head south to Rotorua. I was able to erase the cost of the rental car using 26,800 points from my Barclaycard Arrival+ card.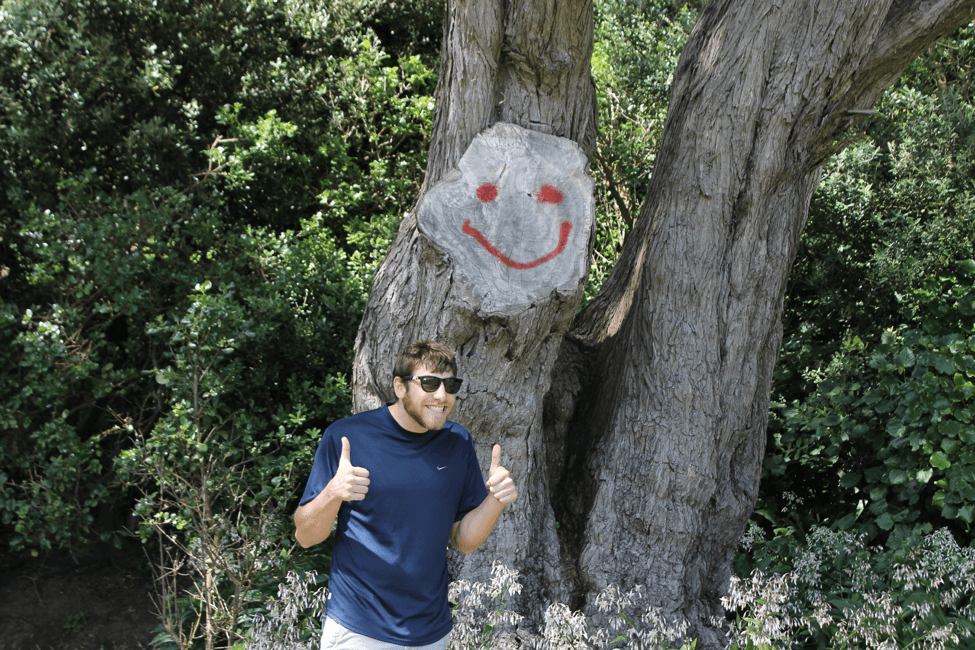 We stayed a night in Rotorua, and redeeming 10,603 Chase Ultimate Rewards through the Chase travel portal at the Bella Vista Motel. We went Zorbing (look it up), got serenaded by a girl who assumed, since we were American, we definitely wanted to hear country, and spoke to some very friendly Kiwis about why they loved their country so much.
The next morning we hiked around Lake Tarawera, and continued our journey south to Palmerston North, and the next morning finished our New Zealand drive in Wellington.
I have a musician friend who lives in Wellington, so we met up and he and his wife took us on a lovely tour of the city, told us about the history, and made us feel very welcome.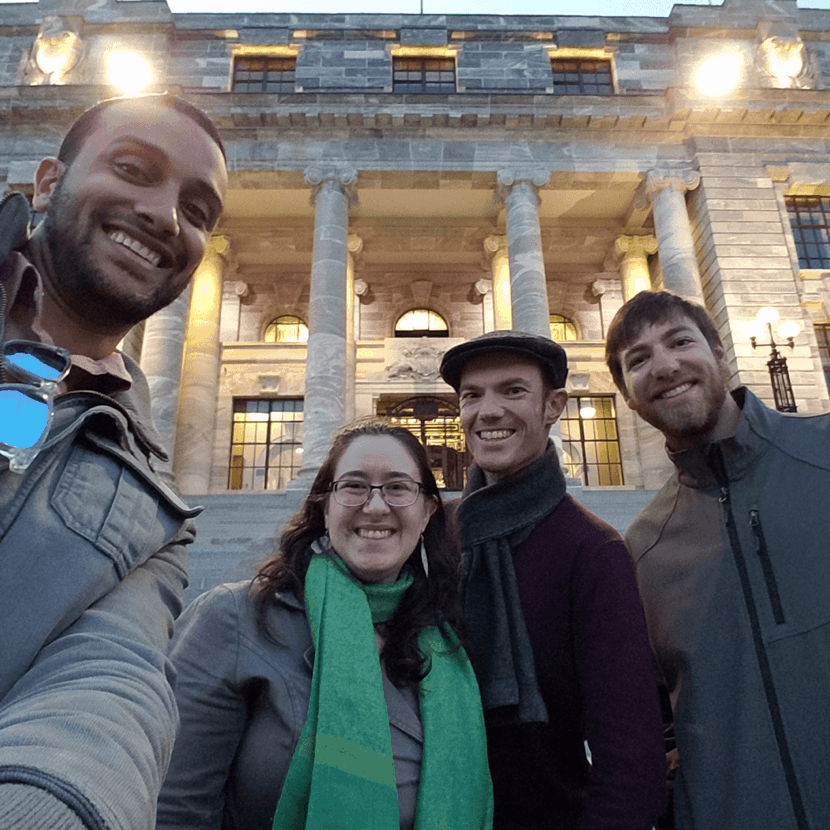 Standing in front of the New Zealand Parliament building
I paid $54 for a Jetstar flight from Wellington back to Auckland (Joe's was covered using the Chase Sapphire Reserve travel credit), and we prepared for our flight to Sydney.
Because my passport was stolen so was my electronic Visa needed to enter Australia, so I spent an hour and a half getting that figured out while Joe enjoyed the many comforts of the Air New Zealand lounge thanks to his Priority Pass Select membership through his Chase Sapphire Reserve.
Staying Alive In Australia
After a short flight to Sydney, we made our way to our first hotel, the Four Points Sheraton Sydney (now a Hyatt Property). Joe transferred Marriott Rewards points to SPG Starpoints to book it.
We heard through the grapevine that 10xTravel's own Spencer Howard was also in Sydney, so we set out to look for him. He apparently likes very hidden places, and our first night we didn't find him at all. The next day we found a bar that showed American sports, and we sat and watched the Green Bay Packers game at noon on a Tuesday.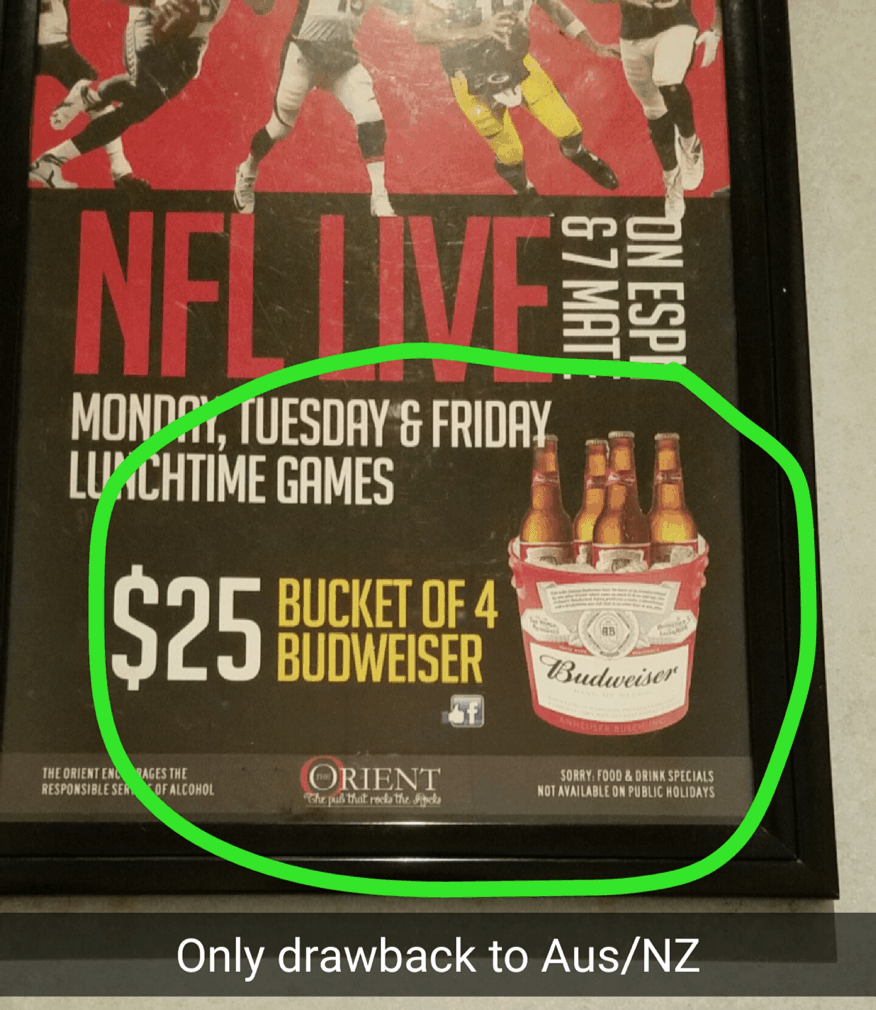 We reached out to Spencer and were able to meet up with him and his friend later that night at a rooftop bar overlooking the Sydney Opera House. We, of course, talked about miles and points after getting there on miles and points.
The next morning we checked into our new hotel (where Spencer had been staying), the Park Hyatt Sydney. One of Hyatt's Category 7 properties where a single night costs upwards of $1,000, but using the sign-up bonus from my Chase Hyatt card we were able to redeem two free nights in this beautiful hotel.
Later that morning, we took a ferry out to Manly Beach (one of Sydney's most popular, but much less crowded, beaches), and enjoyed our day meeting people and playing beach volleyball.
The next morning, we took a train two hours west to Katoomba from Circular Quay (pronounced "key") by our hotel. We spent a day hiking the Blue Mountains.
Despite being told that everything in Australia wants to kill you, our hike was worry free and it was even nice and cool going down into the forested valley in between the mountains.
We spent our last day in Sydney at Bondi Beach. I used 7,902 Chase Ultimate Rewards points to book a night at "The Captain Cook Hotel".
The Final Numbers
This trip was clearly all about Chase Ultimate Rewards with some help from our friends at Southwest and Barclaycard. Here's a rundown of the points I used on this trip.
Chase Ultimate Rewards points: 108,426
Southwest Rapid Rewards points: 17,399
Barclaycard Arrival+ points: 26,800
Overall, I spent $230.20 out of pocket on travel, while Joe was able to pay entirely on points and have other travel expenses reimbursed by his Chase Sapphire Reserve.
Had we not used points, our trip would've cost us $6,242.61. I don't know about you, but I'm more than happy to take amazing trips like this for a fraction of the cost!
If you are interested in learning how to take amazing vacations like this, join our email list to learn more.
---
10xTravel is part of an affiliate sales network and receives compensation for sending traffic to partner sites, such as CreditCards.com. This compensation may impact how and where links appear on this site. This site does not include all financial companies or all available financial offers.