In This Article
Loading table of contents …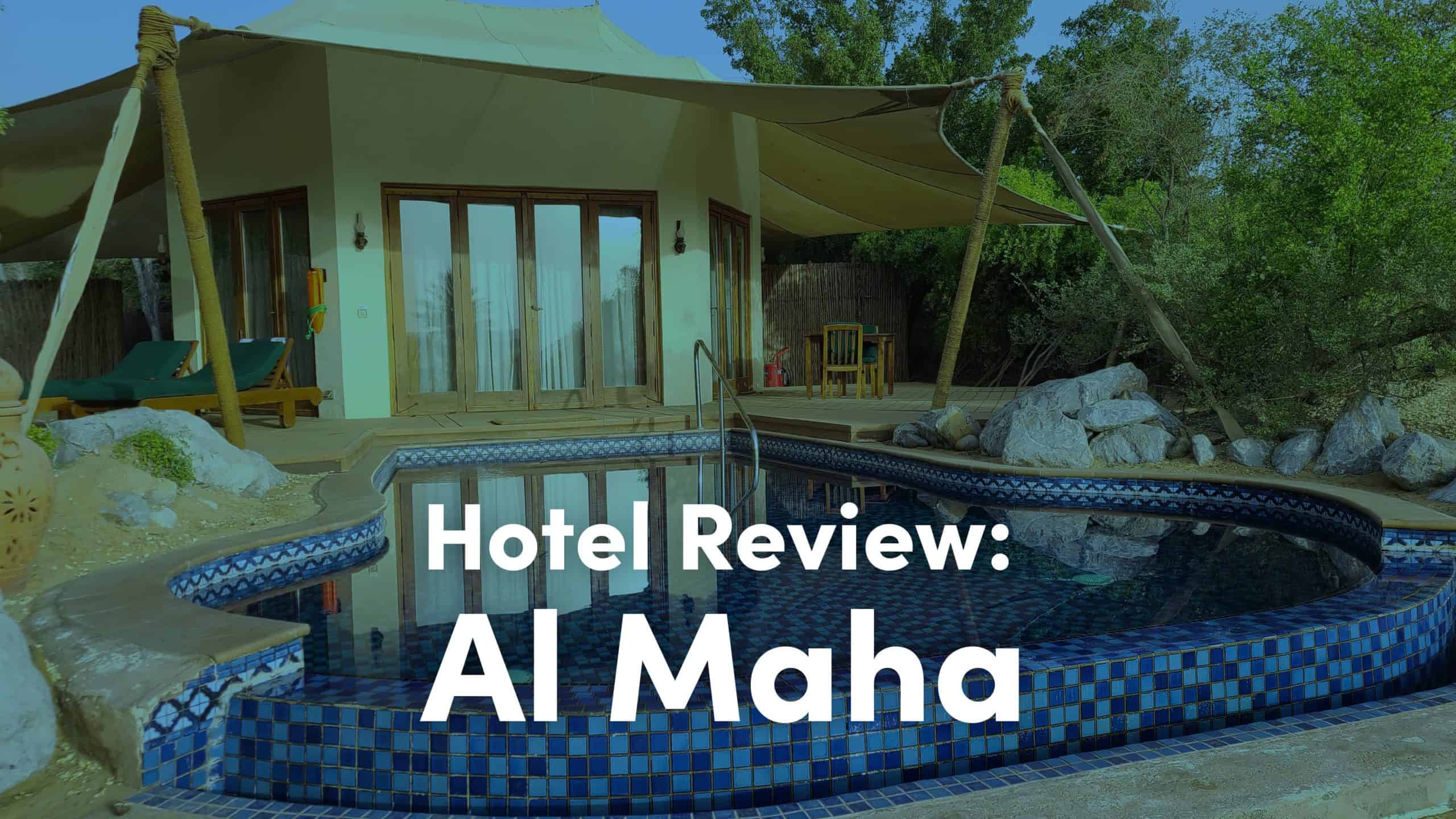 The Al Maha, a Luxury Collection Desert Resort & Spa, Dubai is one of those deliciously aspirational properties for Marriott Bonvoy points collectors, and it's easy to see why. The property is an all-inclusive luxury resort within an hour-drive of Dubai, United Arab Emirates, that includes meals, daily activities and villas with private pools.
I had the opportunity to stay at this location recently, and here's how I booked it with points and how my experience went.
How I Booked an Award Night at Al Maha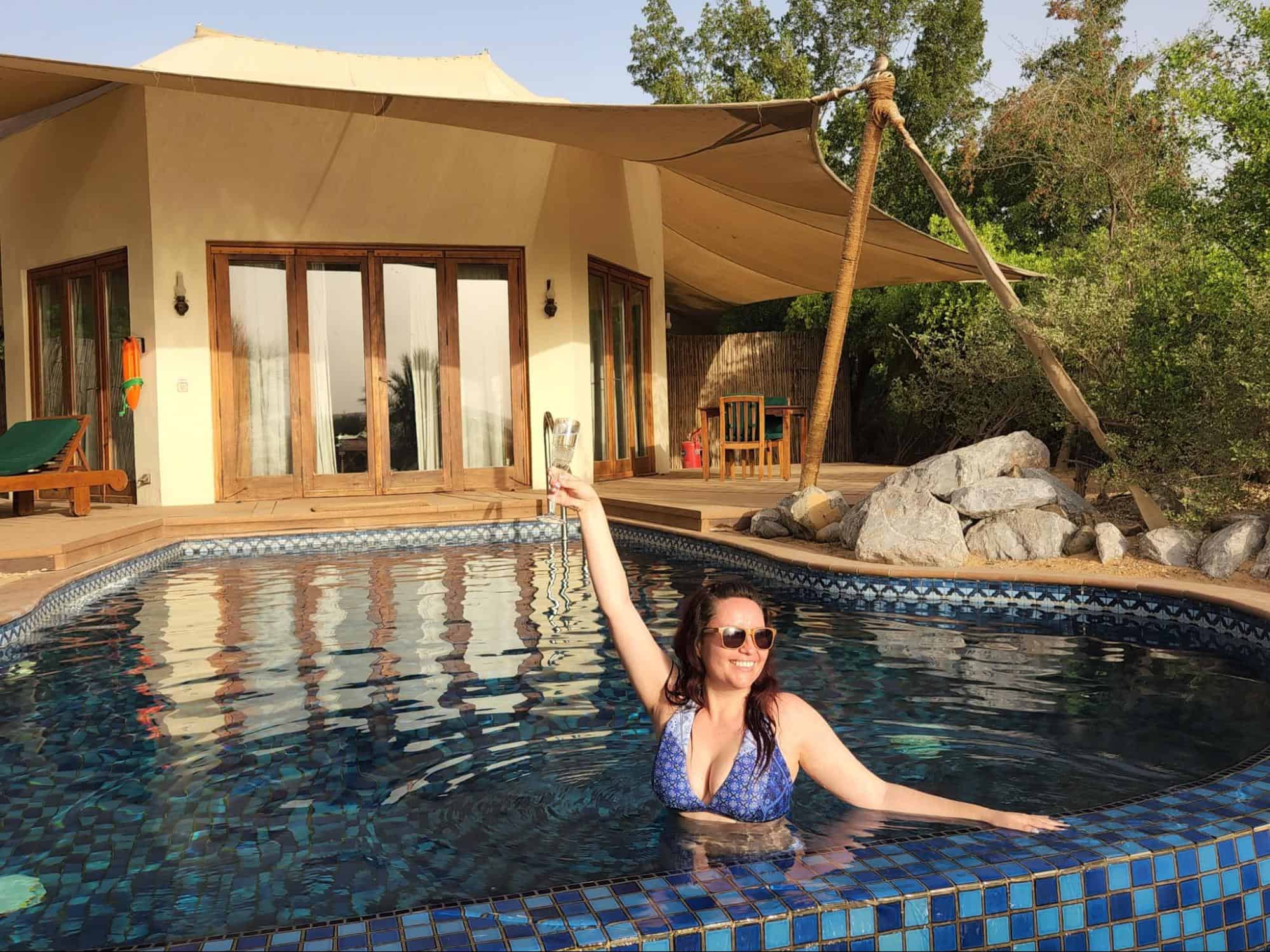 Last year, my husband applied for the Marriott Bonvoy Brilliant™ American Express® Card (see rates & fees) when the welcome bonus was 150,000 Marriott Bonvoy points plus a free night certificate worth up to 85,000 points (offer no longer available).
It was a proactive application to earn enough Marriott points for a specific trip. The points were to be used for a stay in Munich during Oktoberfest in 2022 should it happen (and we now know that it is, indeed, happening this year), and the certificate had its own purpose—for a luxury stay at Al Maha.
We had three nights in Dubai to work with. At first, I thought that we'd use my husband's certificate and my Marriott points to book two nights at this wonderful property. However, our arrival flight was getting into Dubai late in the evening, and our departing flight was leaving early in the morning, meaning we'd have to skip one of the activities.
So, we chose to maximize our one night booked with the certificate and save the points for something else. We stayed at a Marriott property in Dubai the night before and at an IHG hotel the night after Al Maha.
A night on our desired date was going for 85,000 Bonvoy points, which is exactly what the certificate was worth. Unfortunately, now that Marriott has gone dynamic, an award night at Al Maha requires as many as 120,000 points per night.
If you have a certificate worth up to 85,000 points in your Bonvoy account, you can increase its value with up to an additional 15,000 Marriott points and book a night going for as many as 100,000 points. Unfortunately, if the rate is higher on your dates, you're out of luck using the certificate and will have to book solely on points.
Nightly rates at Al Maha start at about $930 per night (before taxes) and go up to $2,400 on certain dates. Needless to say, the prices listed even on the lower end of the spectrum make my eyes bleed, so the Marriott certificate provided us with an opportunity that we otherwise couldn't have afforded.
At checkout, we paid a tourism fee of 20 Emirati dirhams charged per room per night, which is about $5.40.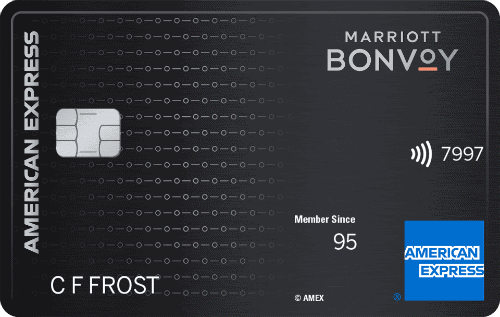 Getting to Al Maha from Dubai
As the name suggests, the property is located in the desert, away from Dubai's glitz and glam, and it takes about 45 minutes to an hour to reach it by car.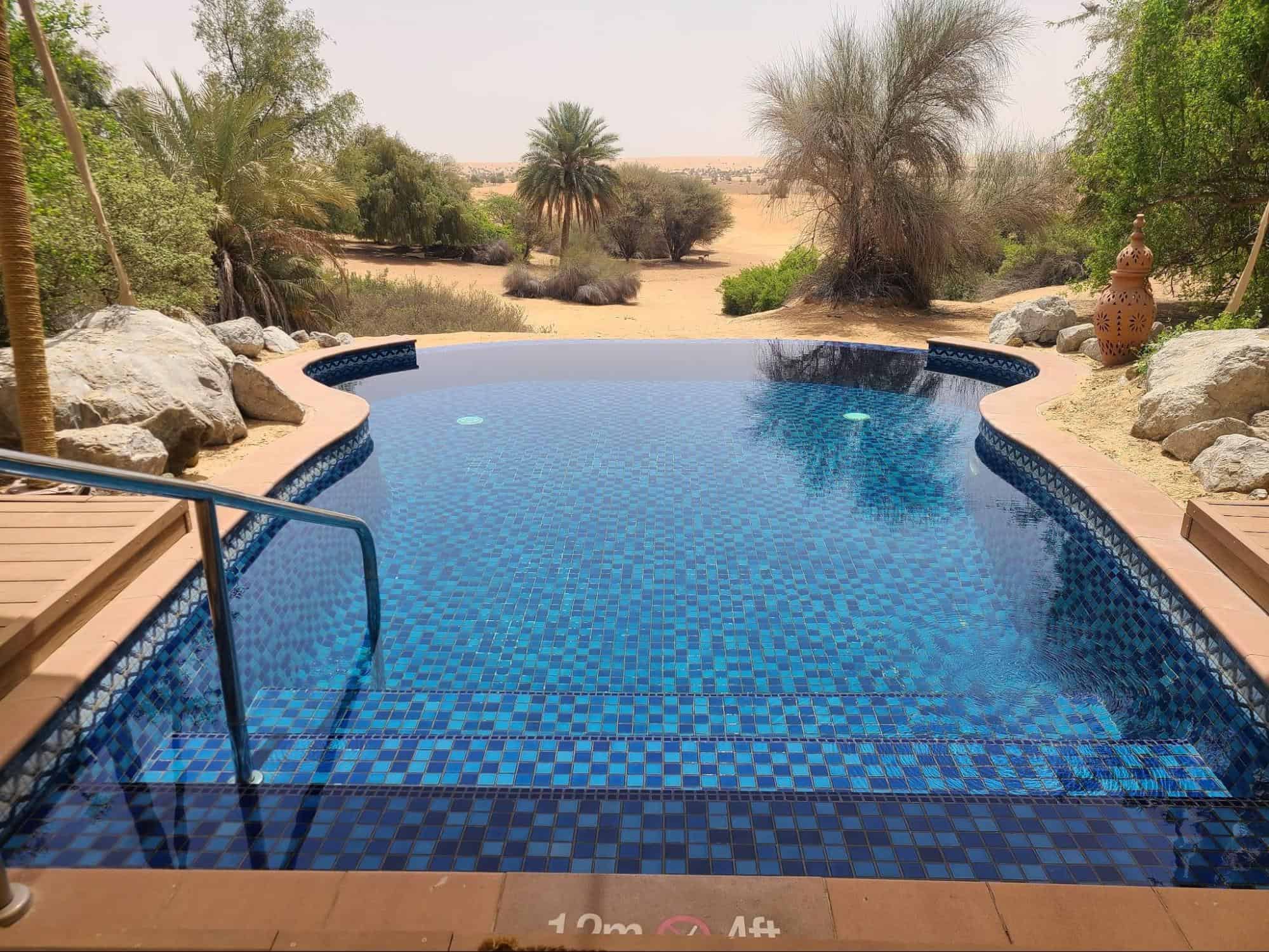 A couple of days before check-in, my husband received an email with specific instructions on how to get to the resort by car. If you Google the resort, the map takes you the wrong way to a service entrance that's not open to the public. The email included a link with the exact GPS coordinates for the guest entrance, so finding it with a taxi was a breeze.
Once you reach the gate, prepare to drive another 9 kilometers (5.5 miles) on a dirt road toward the resort. Although the email recommended a 4×4 vehicle, the sedan cab we took from Dubai didn't have any problems.
Depending on traffic and where you're coming from, it should cost about $40 to $50 for a one-way taxi ride.
For the return, the hotel can call you a cab or provide its own luxurious (of course) transportation back to the city.
Pro tip: Uber in Dubai is more expensive than a metered cab, so I recommend either taking one of the official taxis or downloading the Careem app to hail the same taxi from your phone.
Checking In / Checking Out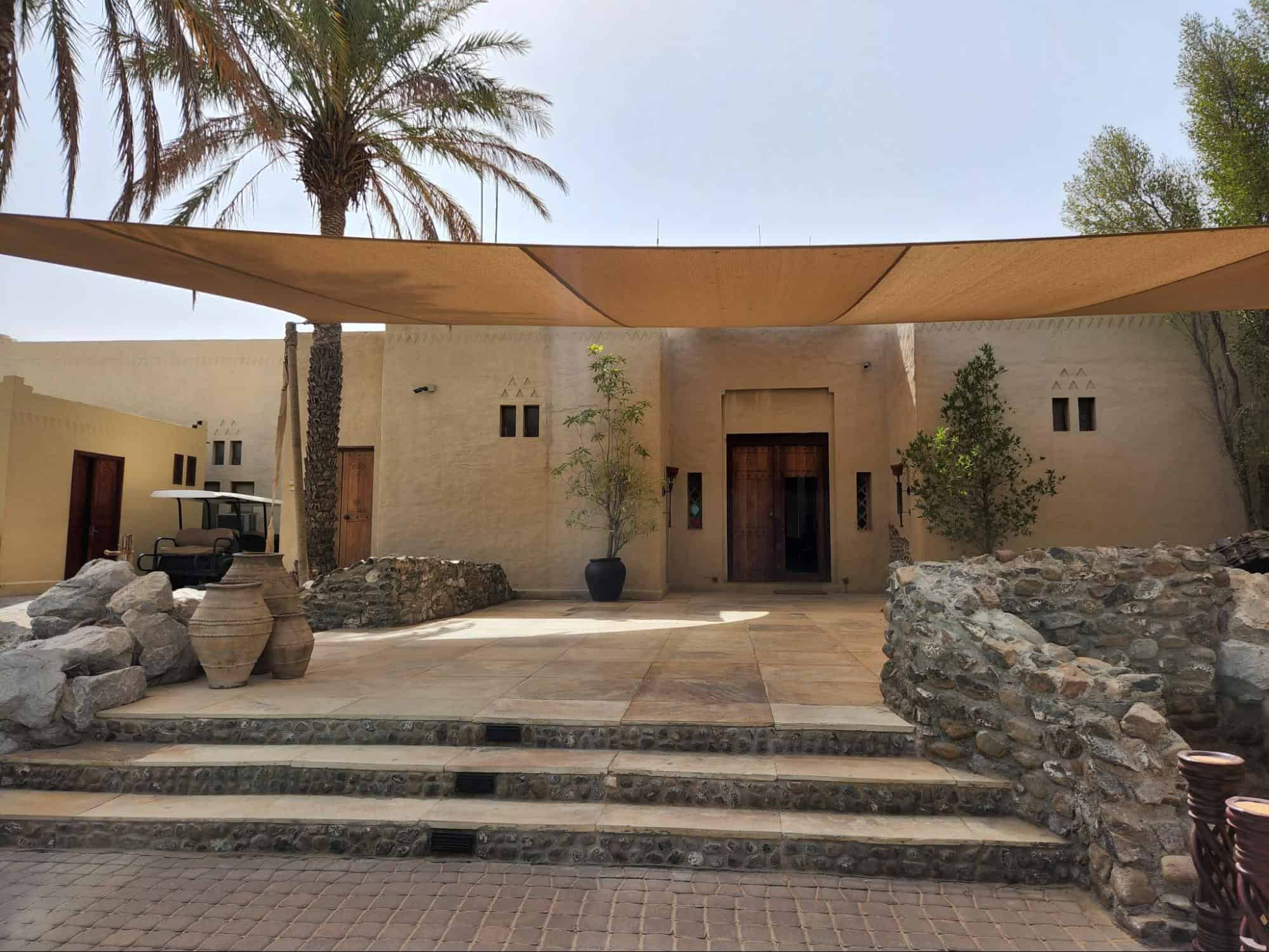 Because we stayed the night before in Dubai, we made sure to arrive at Al Maha right on the dot for our check-in time of 3 p.m. to get the most out of our short stay at the resort.
A guest relations coordinator Winnie met us on arrival and took us into the lobby where two tasty welcome drinks magically appeared out of nowhere. She gave us an overview of what to expect and offered to book us a taxi or another transport back to Dubai.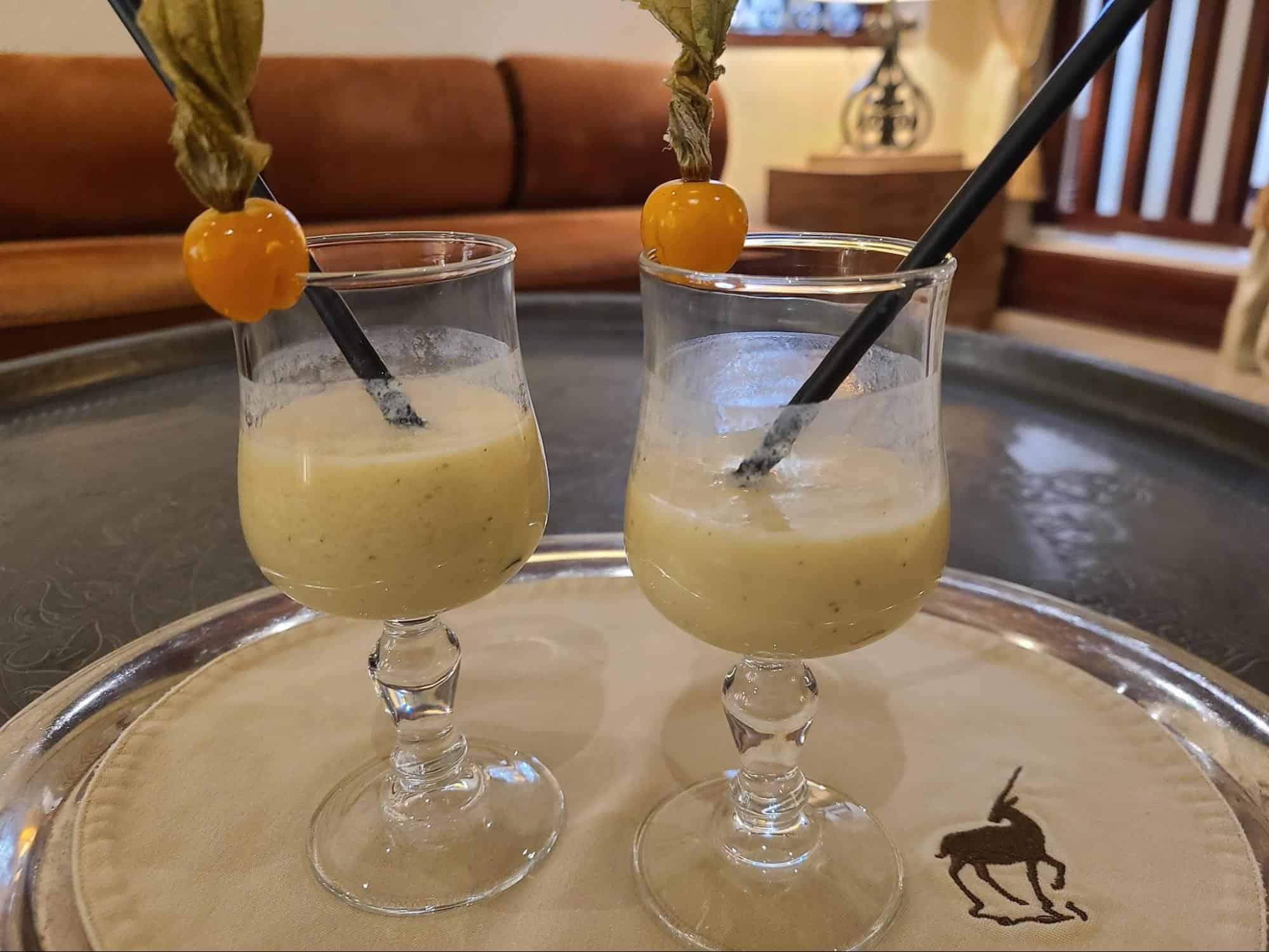 Because we were to stay one night and already had missed lunch, we asked whether we'd have to skip one meal, and she was happy to add lunch to our reservation for the following day. She also said that we could stay on property to use the spa facilities for as long as we wanted after checkout, so we settled on 4 p.m.
In the end, we got to stay 25 hours at Al Maha. Talk about maximizing one Marriott certificate.
A field guide Daniel then met with us to explain how the activities worked. We told him our preferences for an evening activity and a morning activity, and both experiences were available to us. (For more details on this, see below.)
The Property
Al Maha sits on land called the Dubai Desert Conservation Reserve, the emirate's first national park aimed to protect and preserve the desert wildlife. Its area of 225 square kilometers, or about 87 square miles, takes up 5% of the emirate of Dubai.
Although you have to go into the desert to see wildlife, such as oryx and sand fox, hundreds of Arabian sand gazelles roam the property. They can be spotted everywhere including at the front gate, near the villas as well as in the desert from a distance. They're a bit skittish, so it's recommended not to touch or feed them.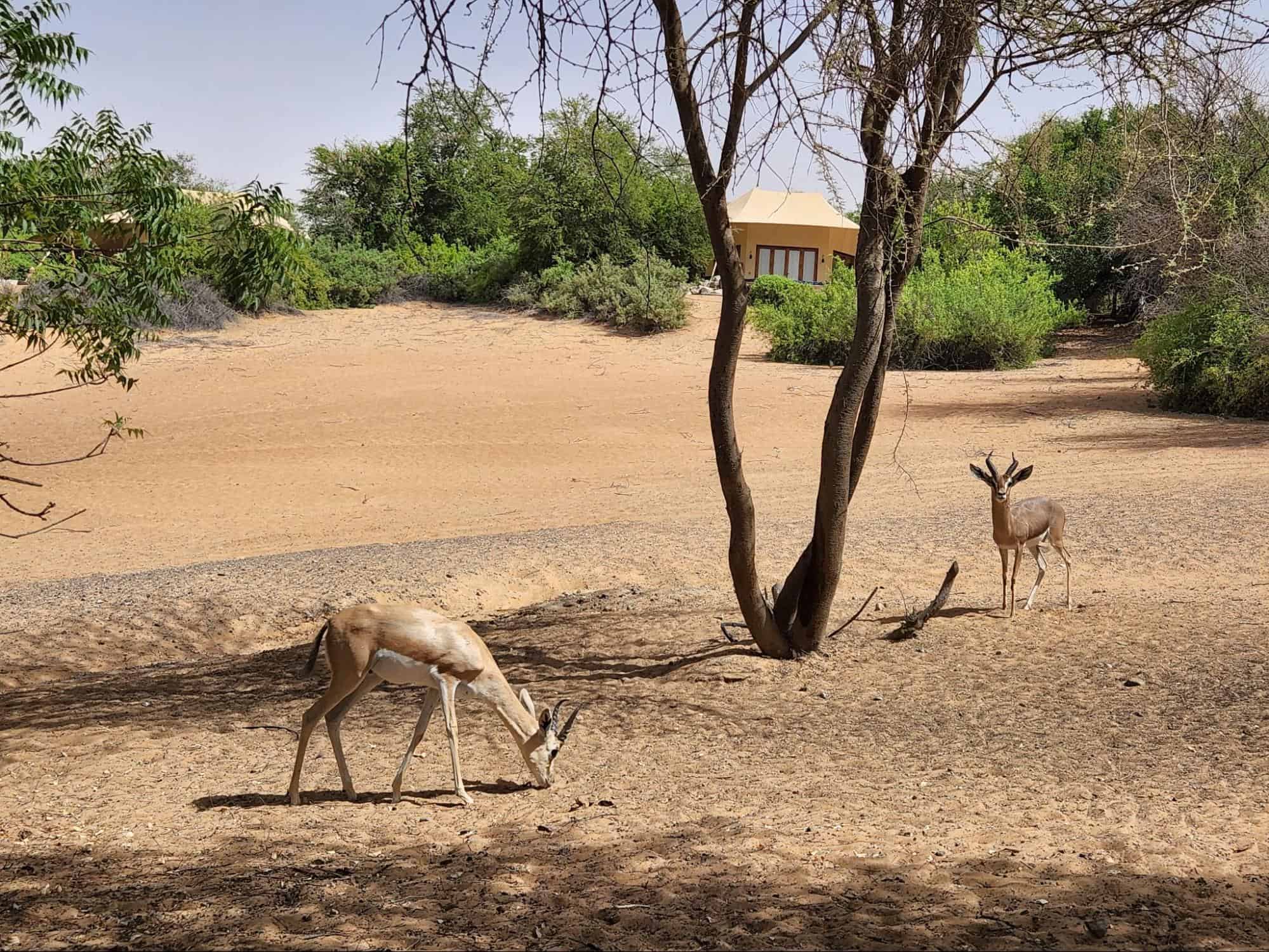 On the property, you'll find a spa and an outdoor pool, a fitness center and one restaurant.
The Room
Oh, my heavens, I have to take a breath of gratitude before describing the room because I hadn't seen anything like it before. *inhales* *exhales* OK, where were we? Ah yes, the room!
Al Maha has 42 villas on its property. Each one is a suite with a private plunge pool.
37 Bedouin suites
Two Emirates suite
Two Royal suite
One Presidential suite
Winnie whisked us to the Bedouin suite No. 18 in a golf cart, and our luggage arrived later. She gave us a room tour, and I couldn't pick my jaw up off the floor the whole time.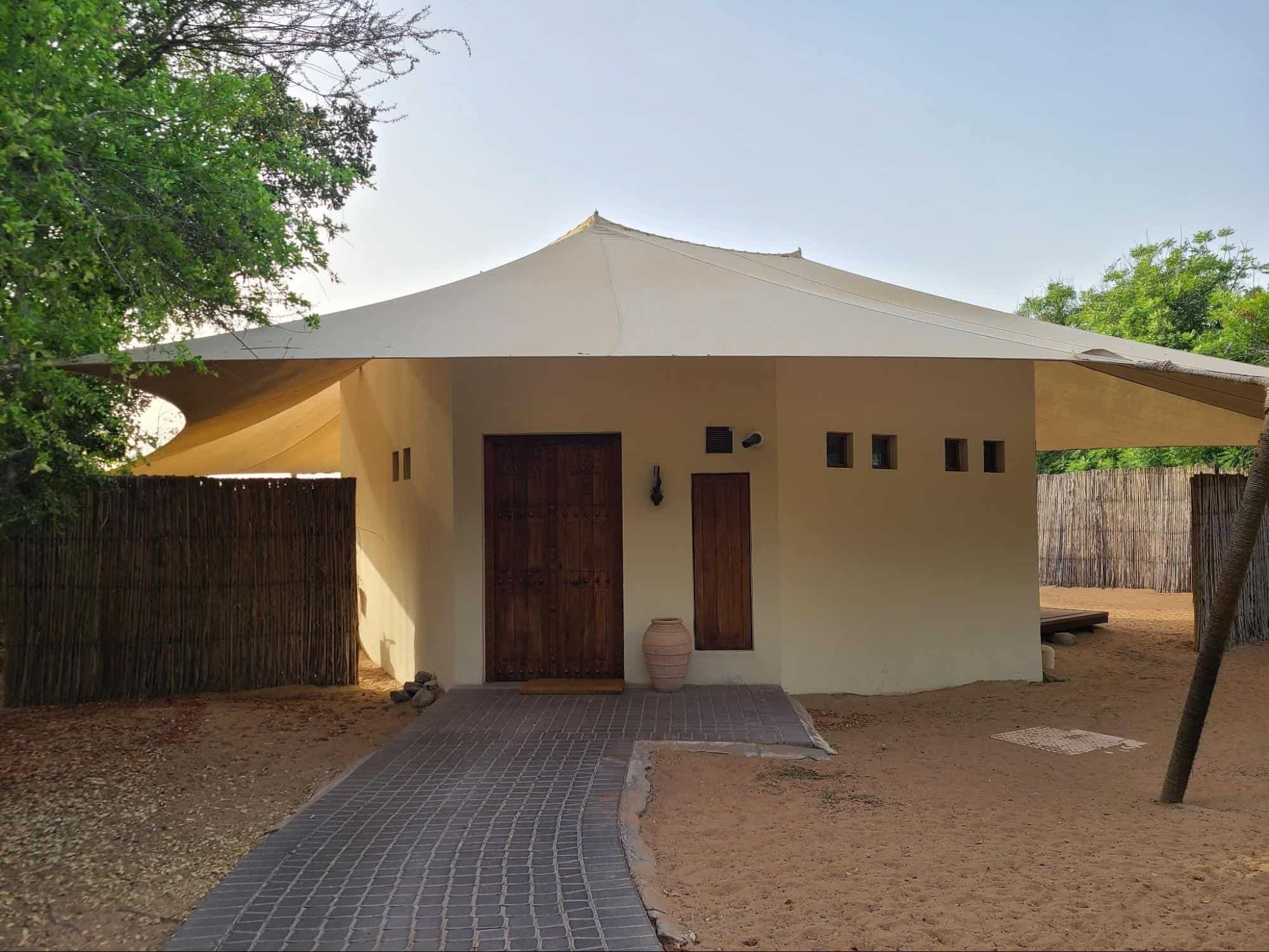 The bathroom alone was bigger than the entire lower level of my loft apartment; the room boasted antiques in every corner; and the private pool deserved love songs written about it.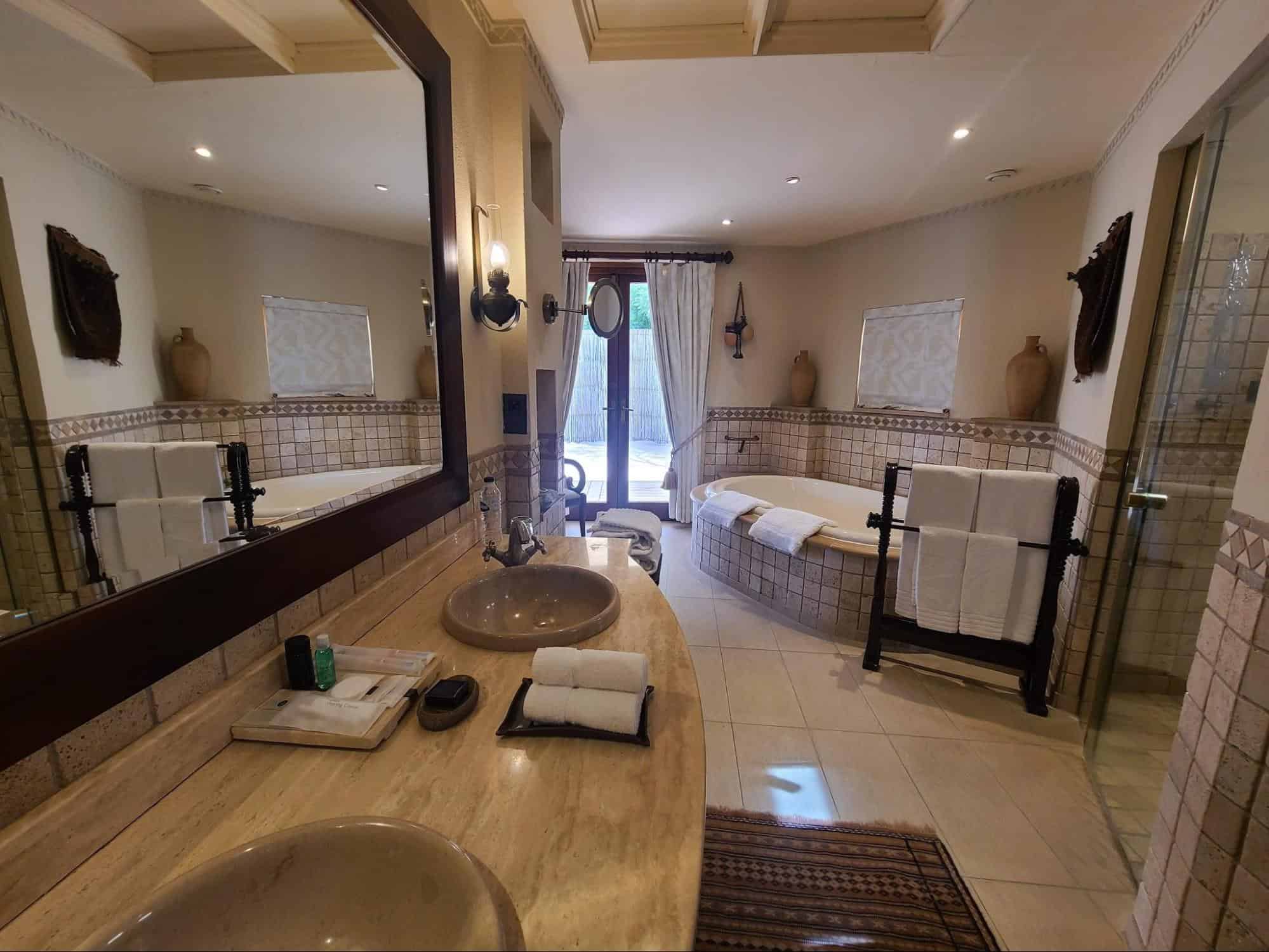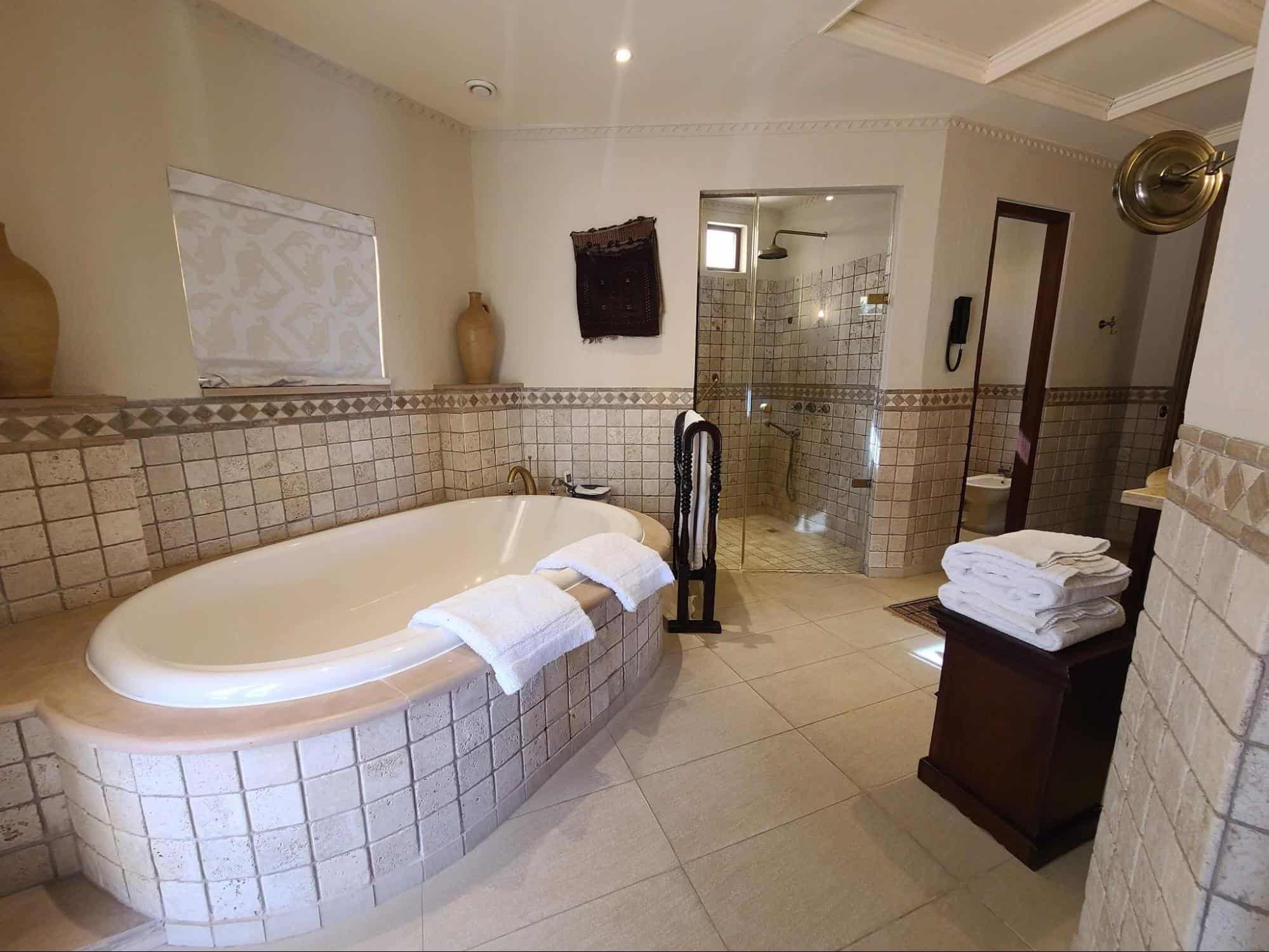 Al Maha's Marriott page describes the 807-square-foot suites to be "lavishly decorated," and it's an understatement of the century. We're talking a luxurious marble bathroom, Arabian furnishings, floor-to-ceiling windows and a super king bed. And this is considered a standard room at this hotel.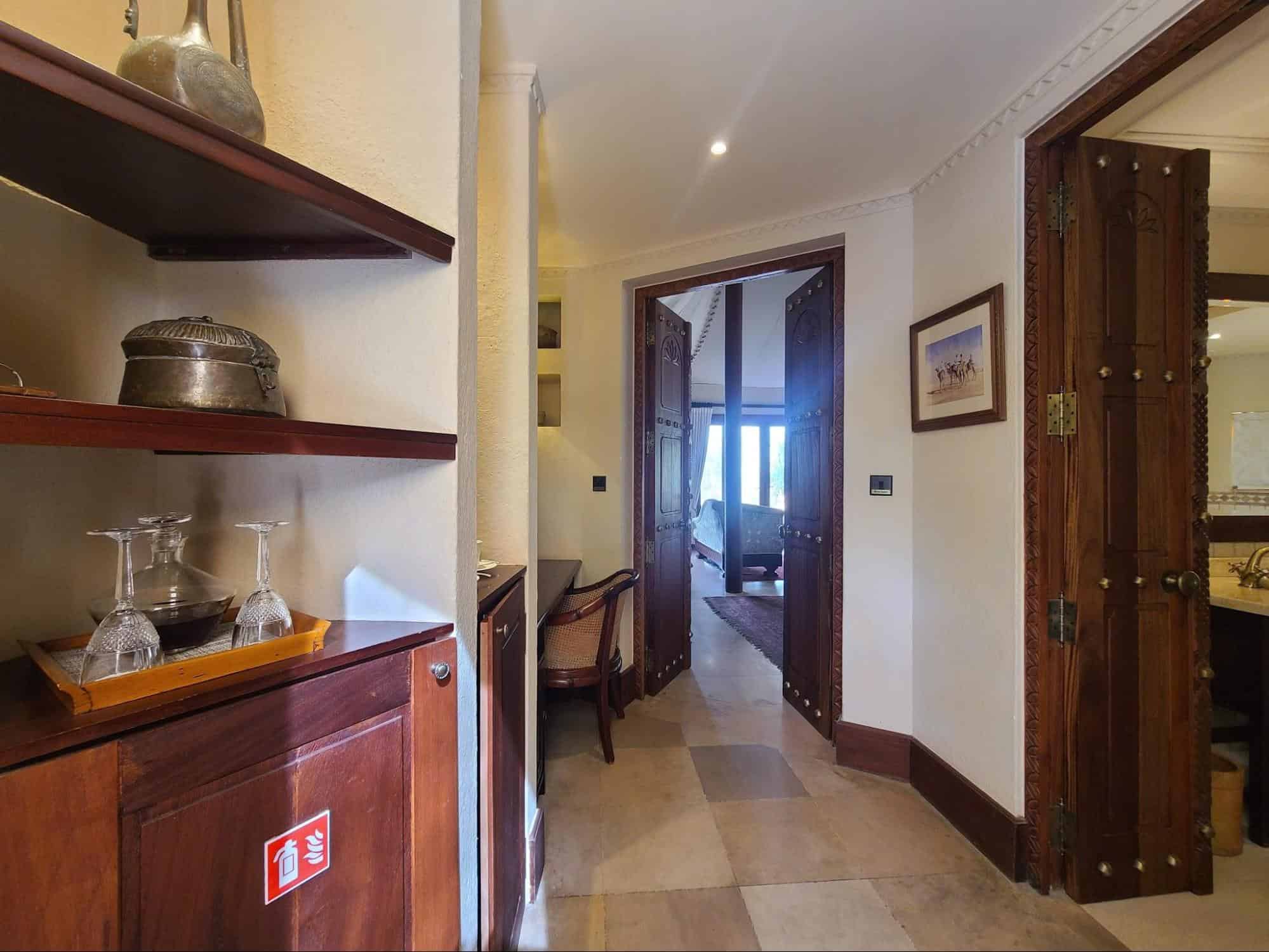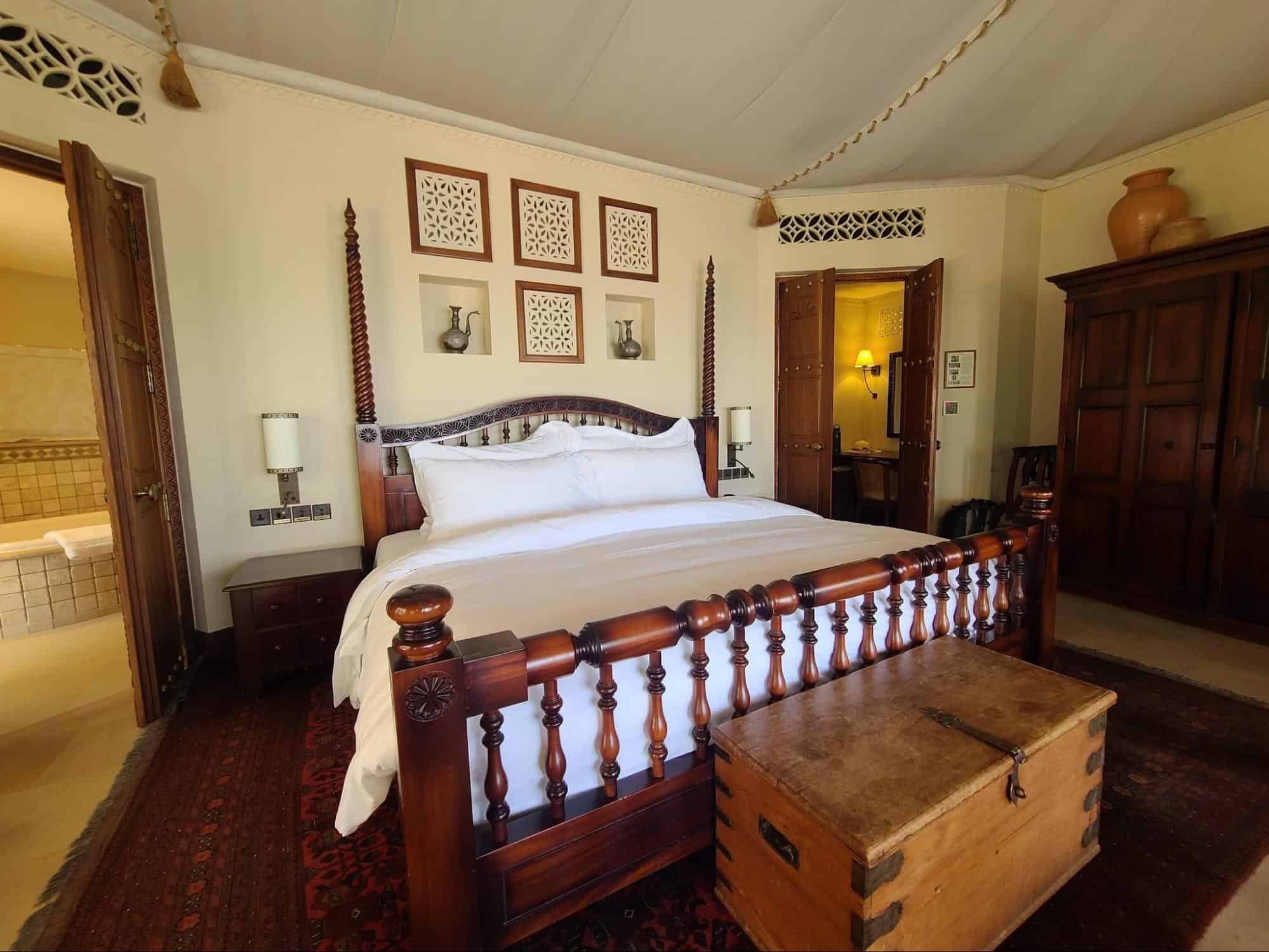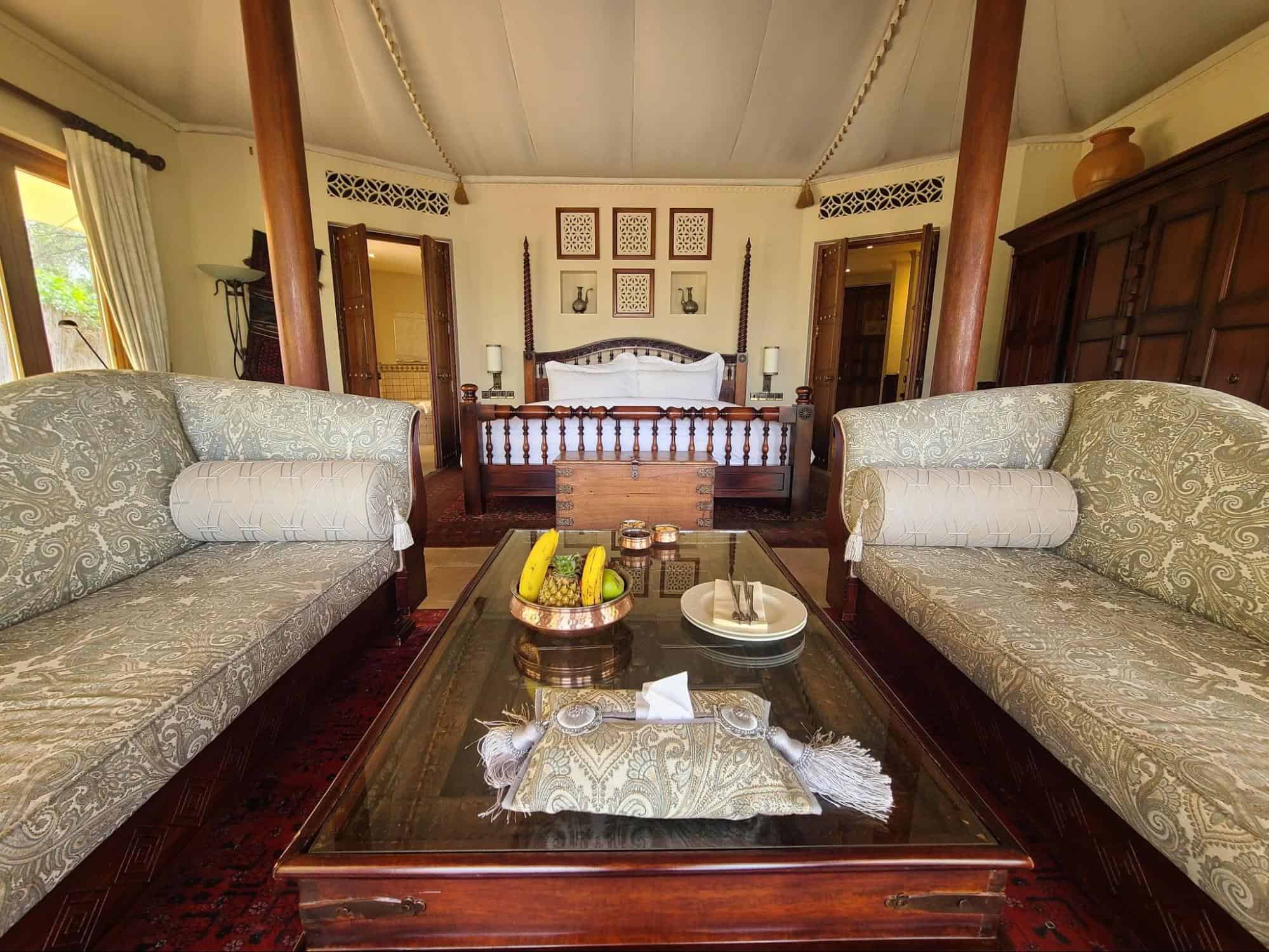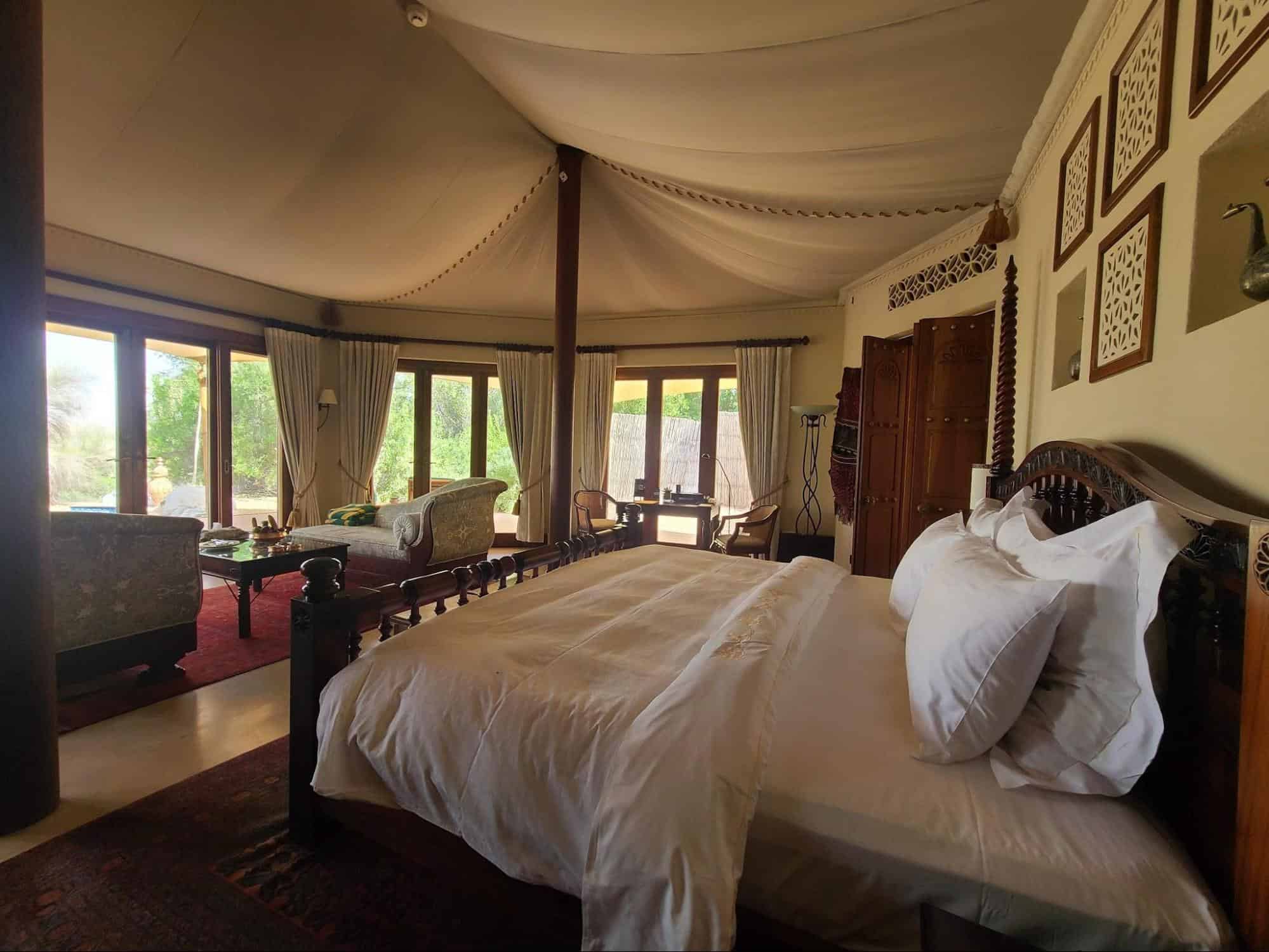 Each villa has lounge chairs on the deck with the views of the desert, so you can jump in and out of the pool at your leisure. The pool temperature can be controlled, but you have to call the front desk if you want to change it.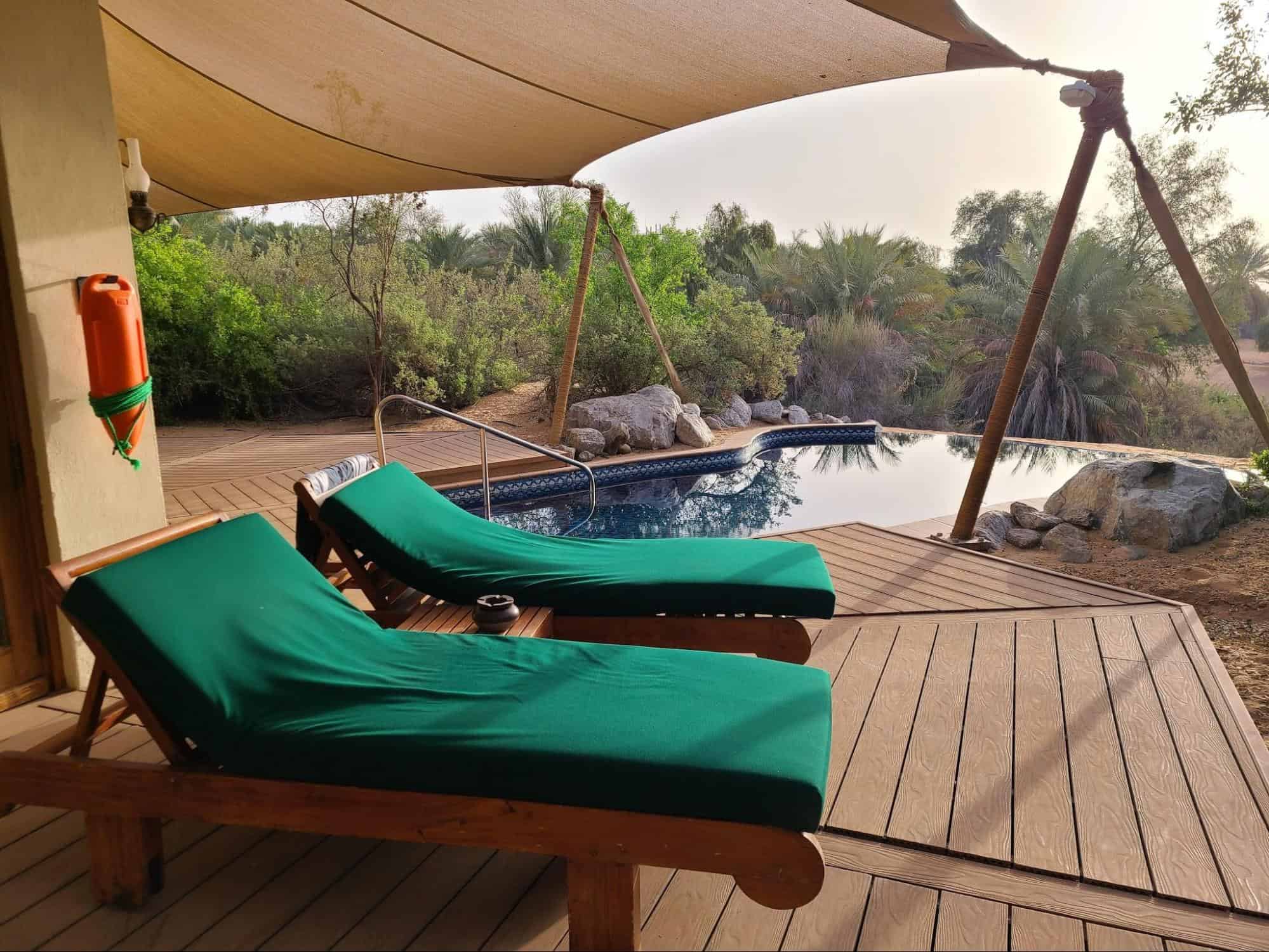 Upon arrival, we found an amenity in the form of a fruit bowl, as well as a selection of nuts and dates, in the room. And the vanity area by the door offered a selection of coffee and tea.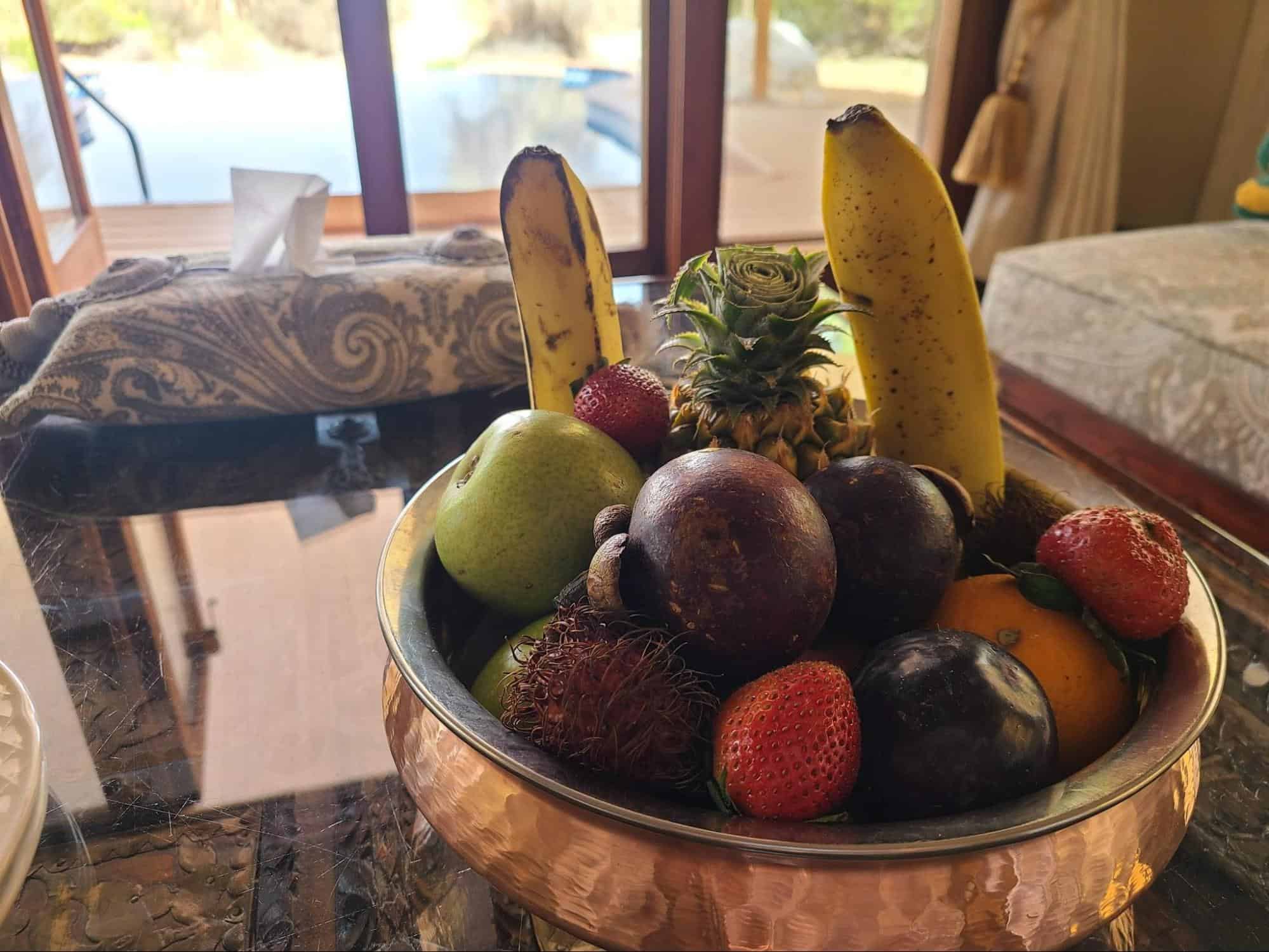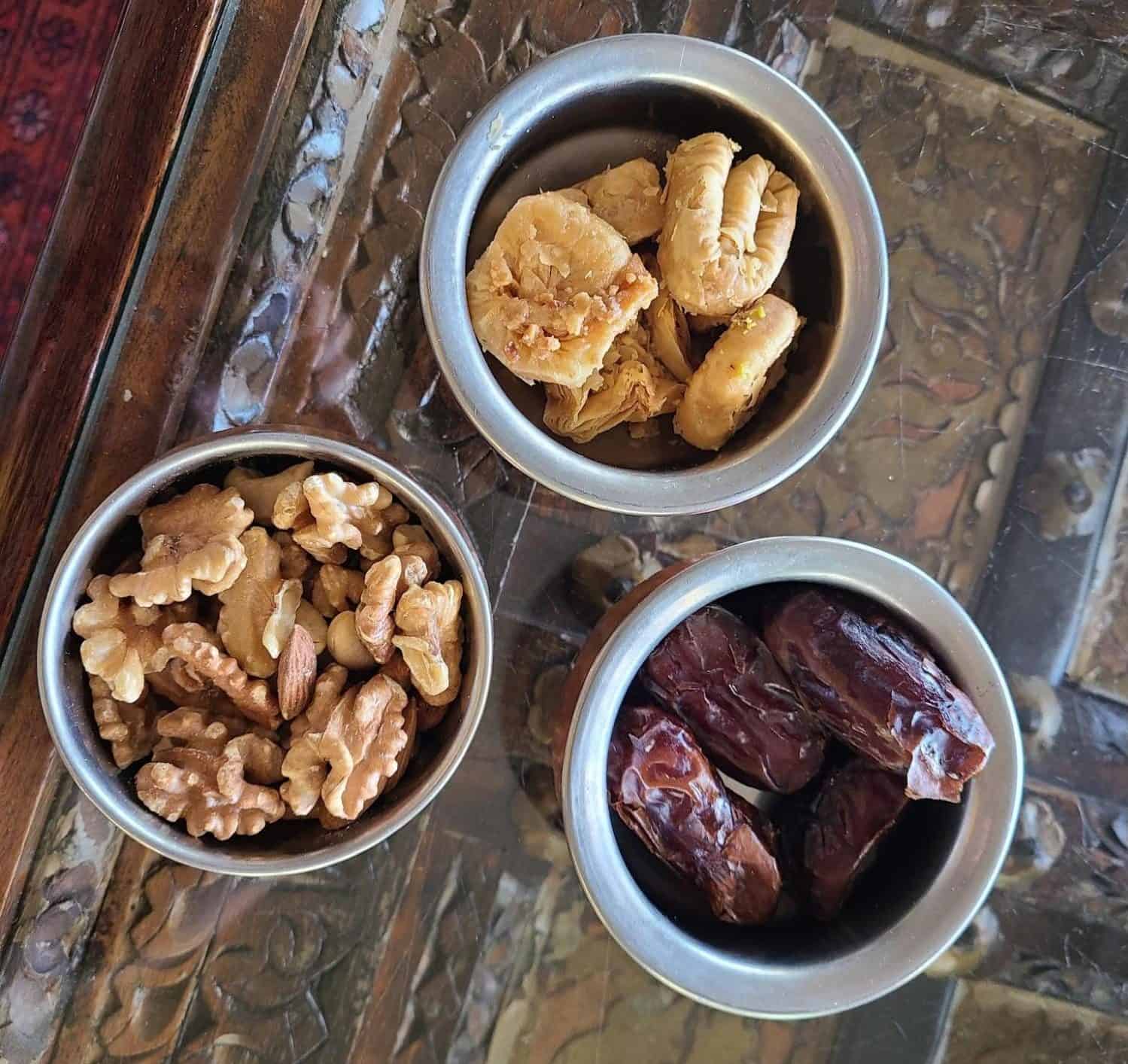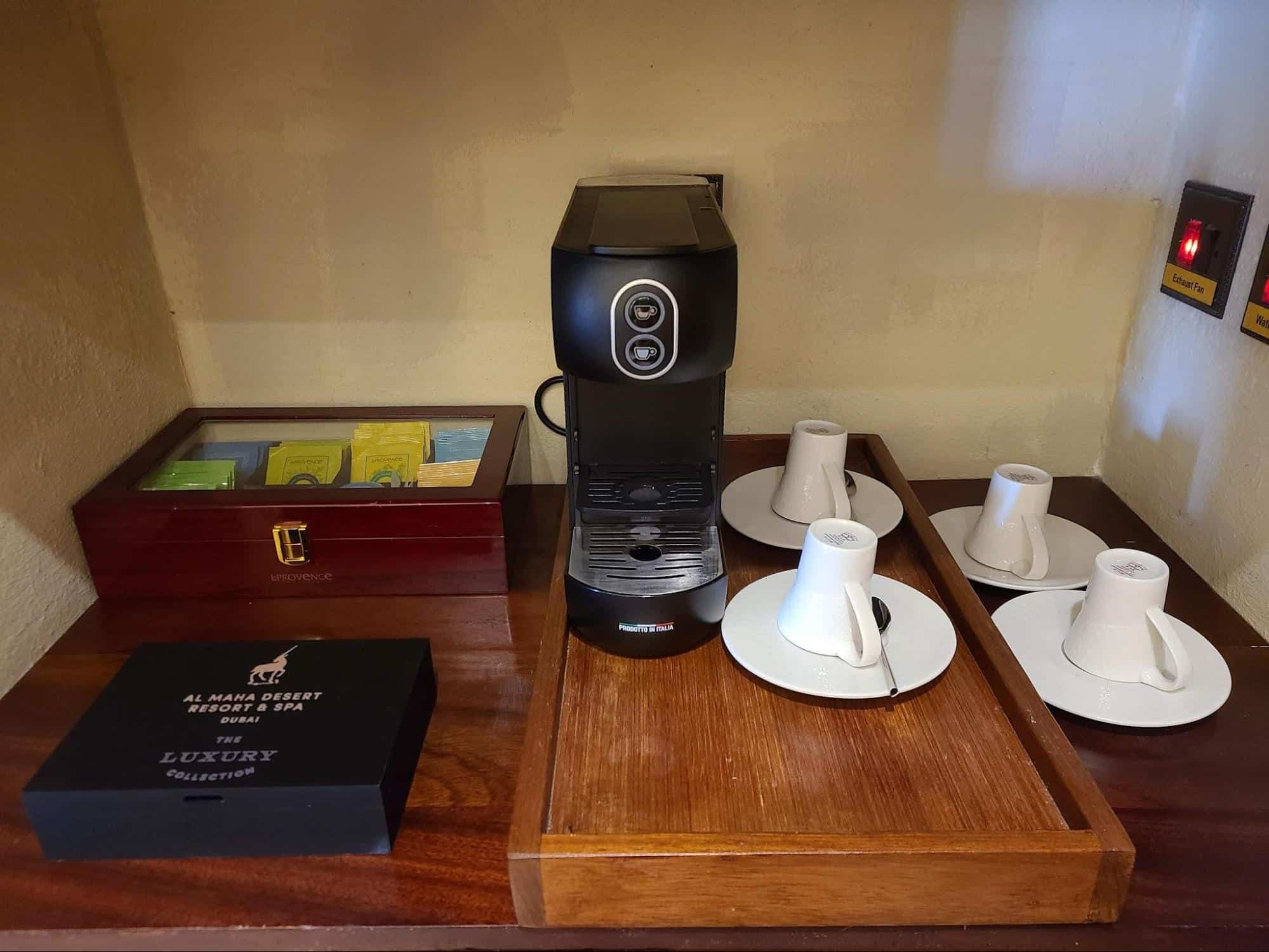 Experiences
Each night at Al Maha comes with two experiences, or activities, that take place either early morning or in the evening when the outside temperatures are the most bearable.
You can choose from the following options:
Archery
Camel trekking
Desert wildlife drive
Falconry
Horse riding
Sundowners
Nature walk
We chose camel trekking for our evening activity and falconry for the morning experience.
The camel trekking involved a 20-minute ride atop a moody dromedary into the surrounding sand. I'd taken a camel ride into the Sahara before in Morocco, and the experience at Al Maha felt a lot less secluded—with tire marks everywhere and an obvious presence of people around you.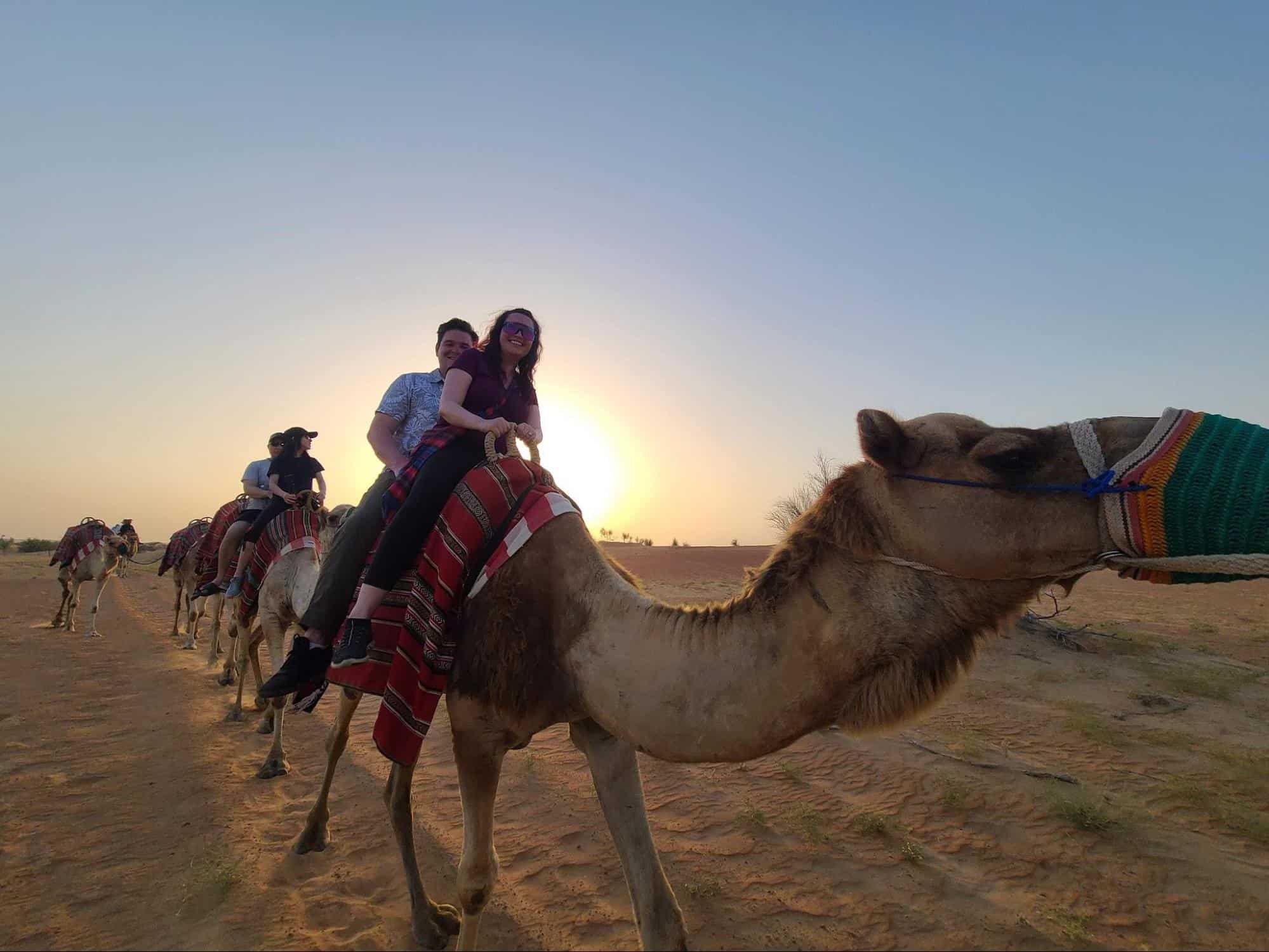 Once we reached our final destination, a bartender serving sparkling wine, dates and nuts greeted us. It was a pretty nice setup actually. We watched the sun dip below the horizon line and rode our steeds slowly back to the resort to get ready for dinner.
The sundowners activity takes you to the same place but in a 4×4 vehicle instead of a camel.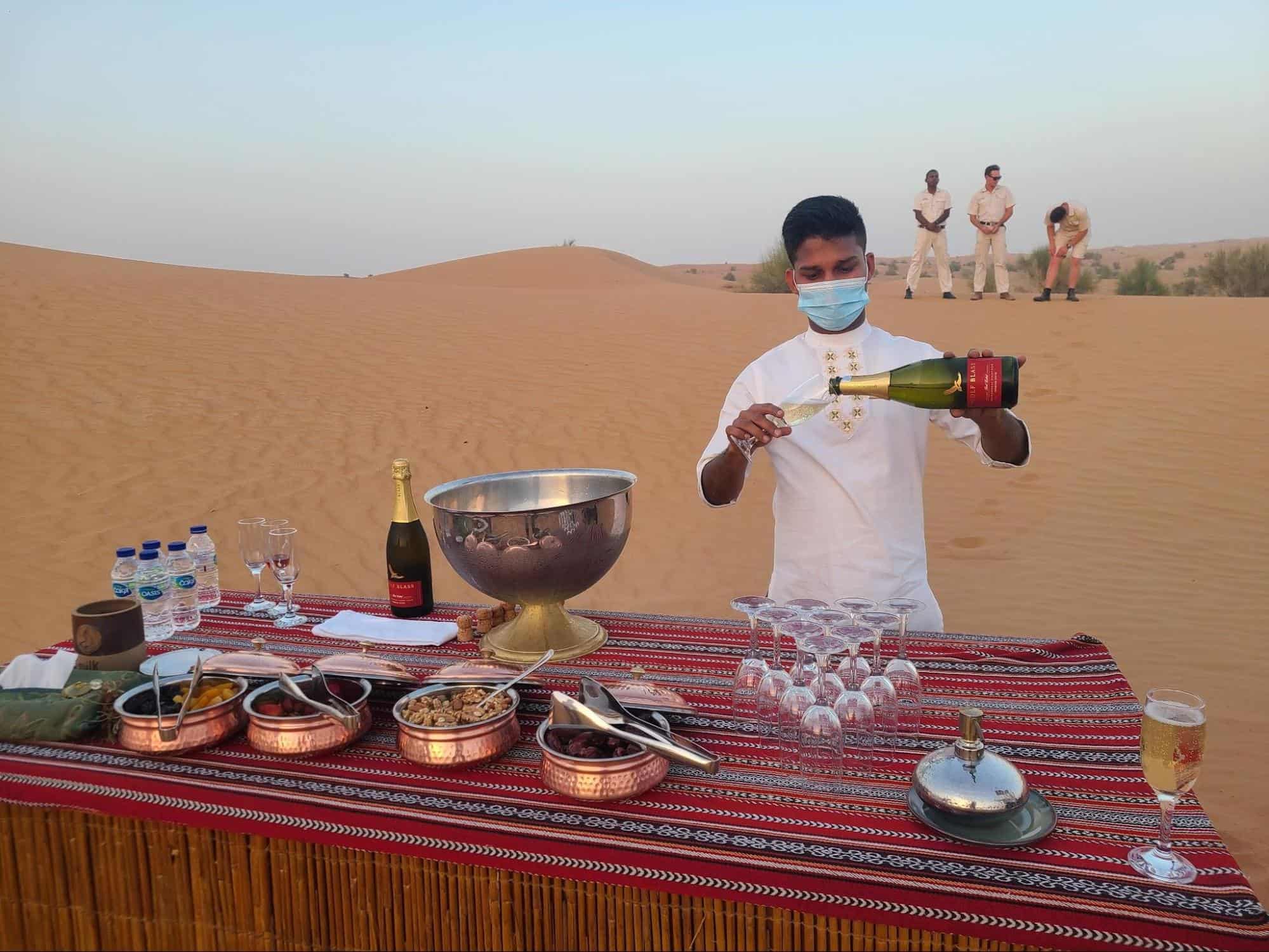 My husband and I chose falconry for our morning activity. We got up before dawn, and walked into the open desert behind the hotel where a group of field guides ran a hunting presentation involving falcons, an owl and an eagle.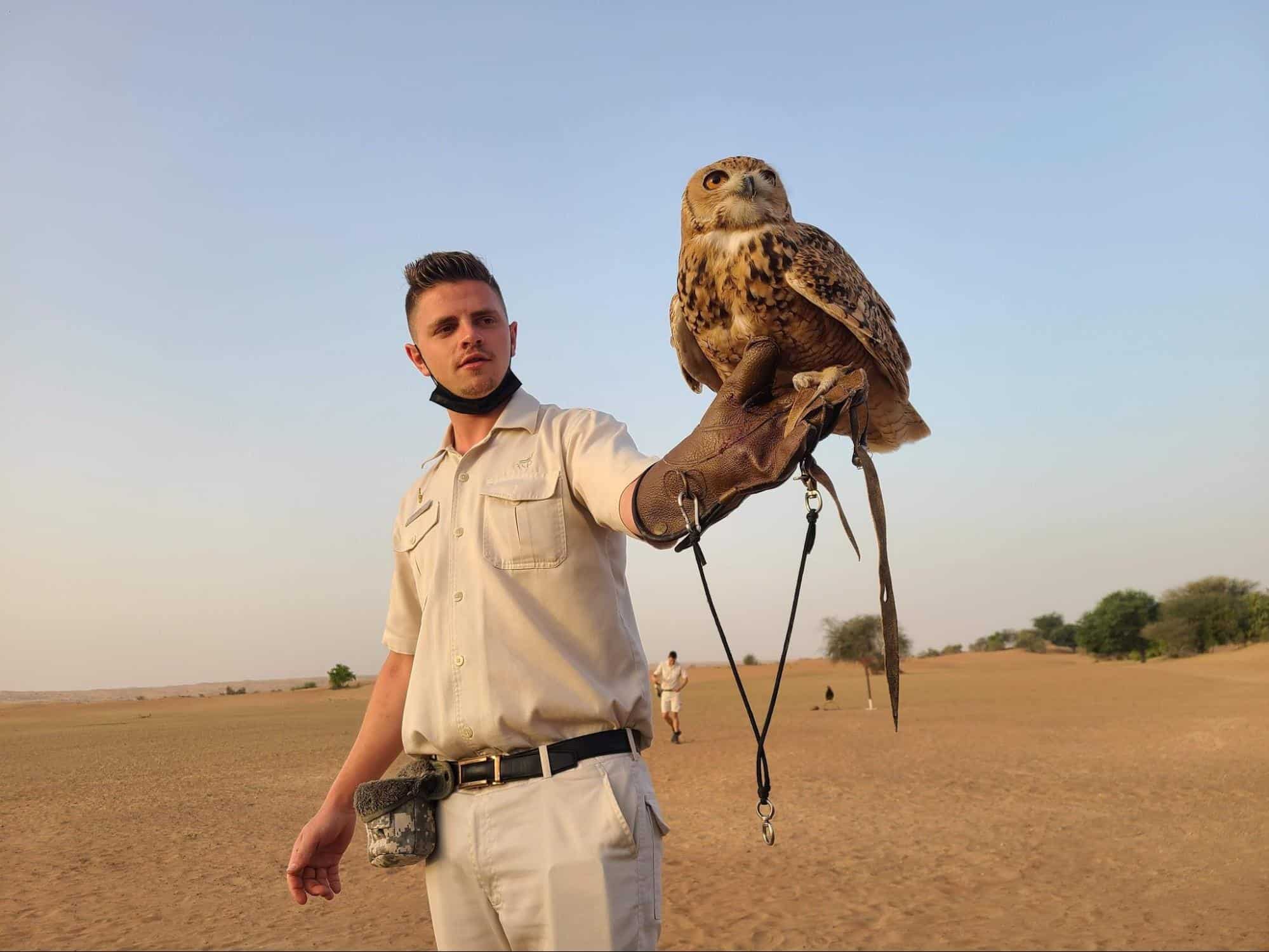 We learned about the thousands-year-old Bedouin tradition of falconry, watched a demonstration of how the birds hunt down the prey and even had a chance to hold a falcon afterward.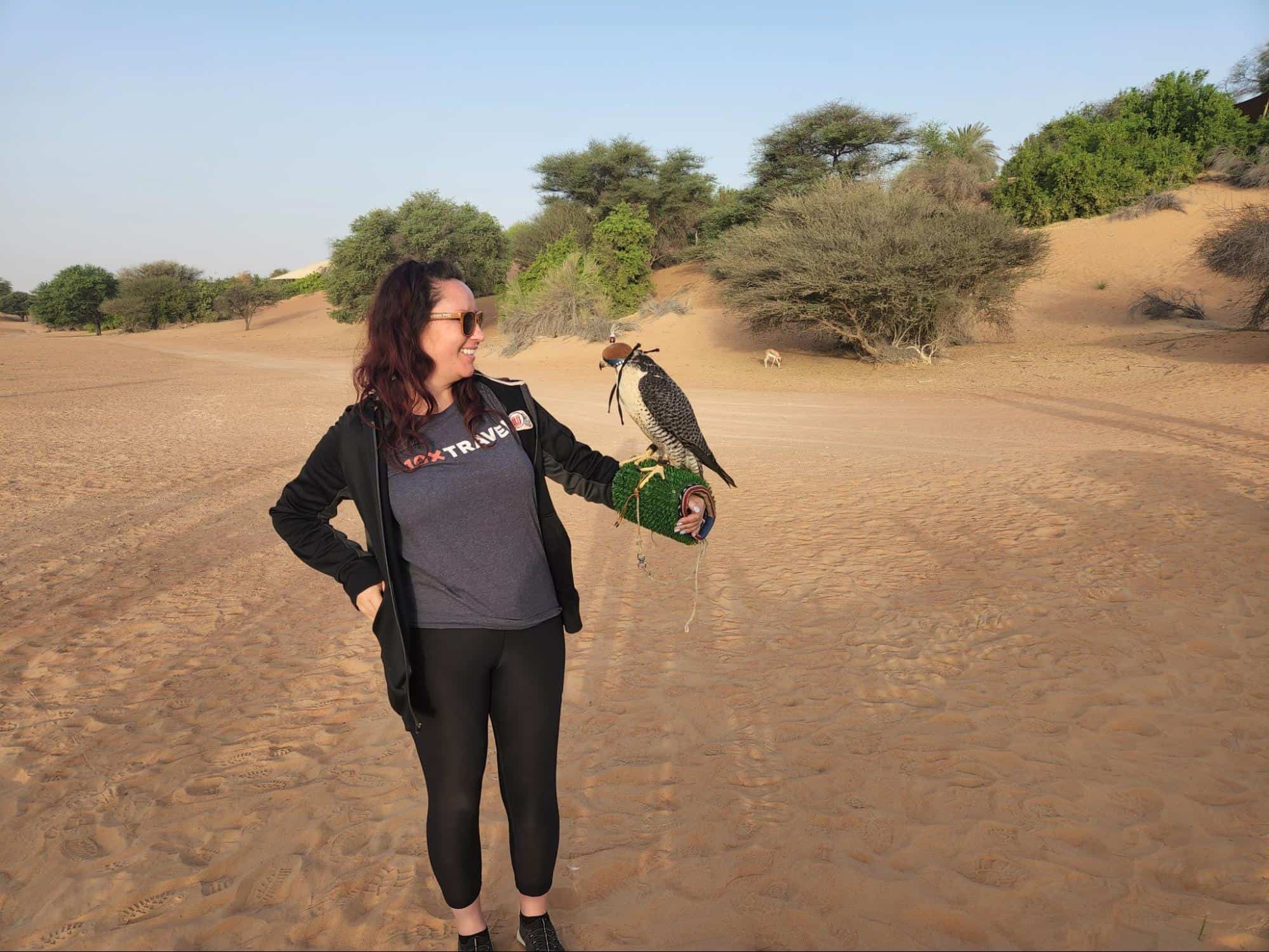 On-Site Dining
Al Maha is an all-inclusive resort, and three meals per day are included in the room rate. And these aren't just mediocre meals; these are exquisite restaurant-quality dining experiences that take your stay to the next level. Arabic and Western items are available.
It's worth mentioning that alcohol isn't included and is rather expensive—we're talking $13 for a bottle of Corona or Heineken—so plan accordingly.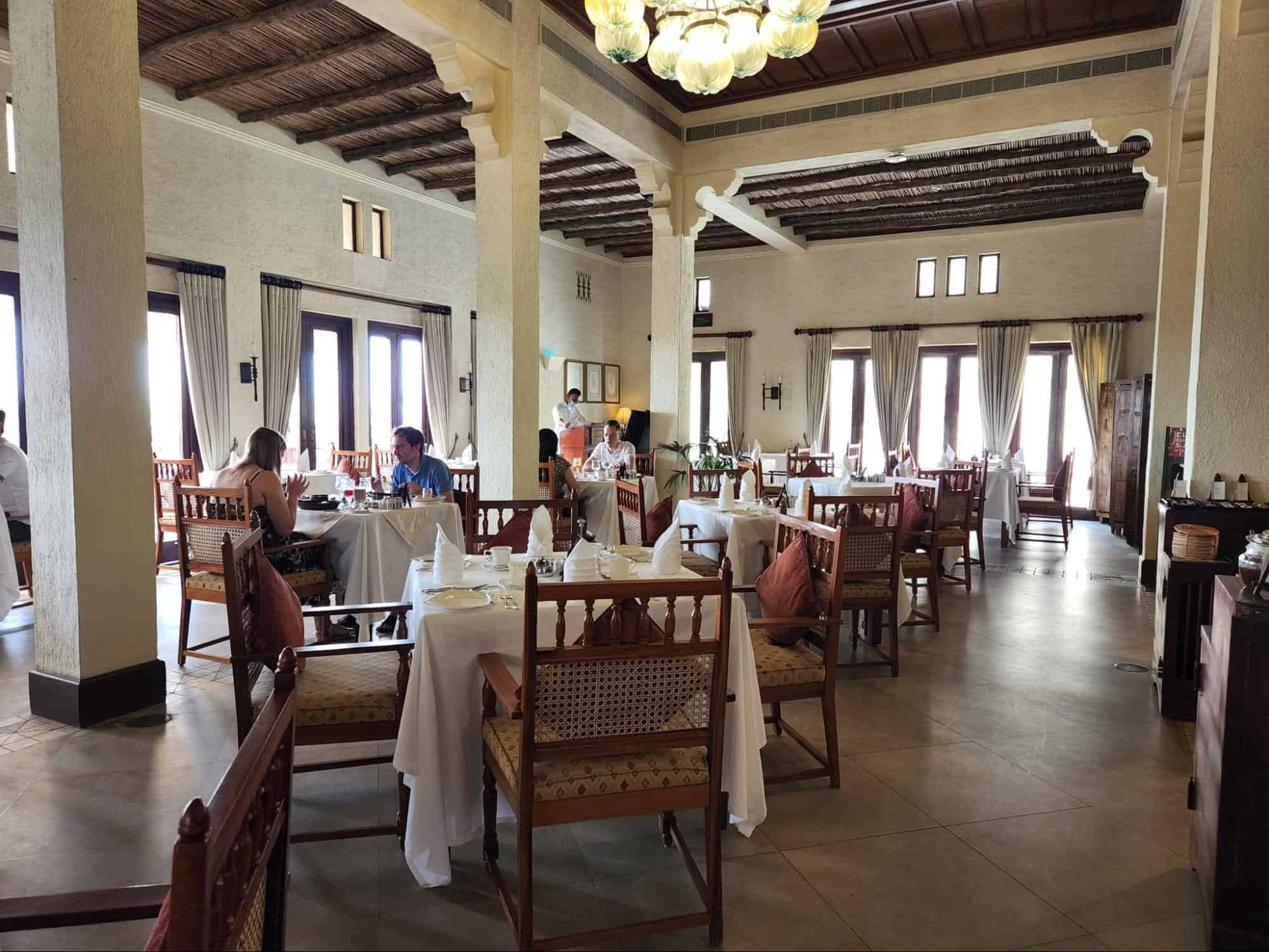 Meals are served at the following times:
Breakfast from 7 a.m. to 10:30 a.m.
Lunch from 12:30 p.m. and 2:30 p.m.
Dinner from 7:30 p.m. to 10 p.m.
You can select an all-Arabic or Sri Lankan menu for dinner, but you have to make the request before 3 p.m. It's also possible to order food to your suite, but we chose to take every meal at the restaurant.
Al Maha Dinner
I'll go in the order in which we received our meals and start with dinner.
After camel trekking, we took showers and took a stroll over to Al Diwaan, the only restaurant on property. The dress code is smart casual, and men are asked to wear long pants and closed-toe shoes. Dress code for other meals is casual.
The atmosphere is quite nice with tables set up on an outdoor patio. The dinner menu consists of starters, main course and desserts.
For guests with dietary restrictions, all the menu items are labeled: vegetarian, contains dairy, contains nuts, contains seafood, contains alcohol, contains gluten and whether gluten can be removed.
We got an amuse-bouche to prepare us for a meal and then a sorbet after the main course to clean the palate.
I ordered scallop tempura for an appetizer, and my husband went with a duck fritter special. For the main course, I selected a lamb shank, which was excellent, and my husband chose a Bedouin platter, which was good, but not great. We finished the evening with a date mousse and a "tiramisu" mousse.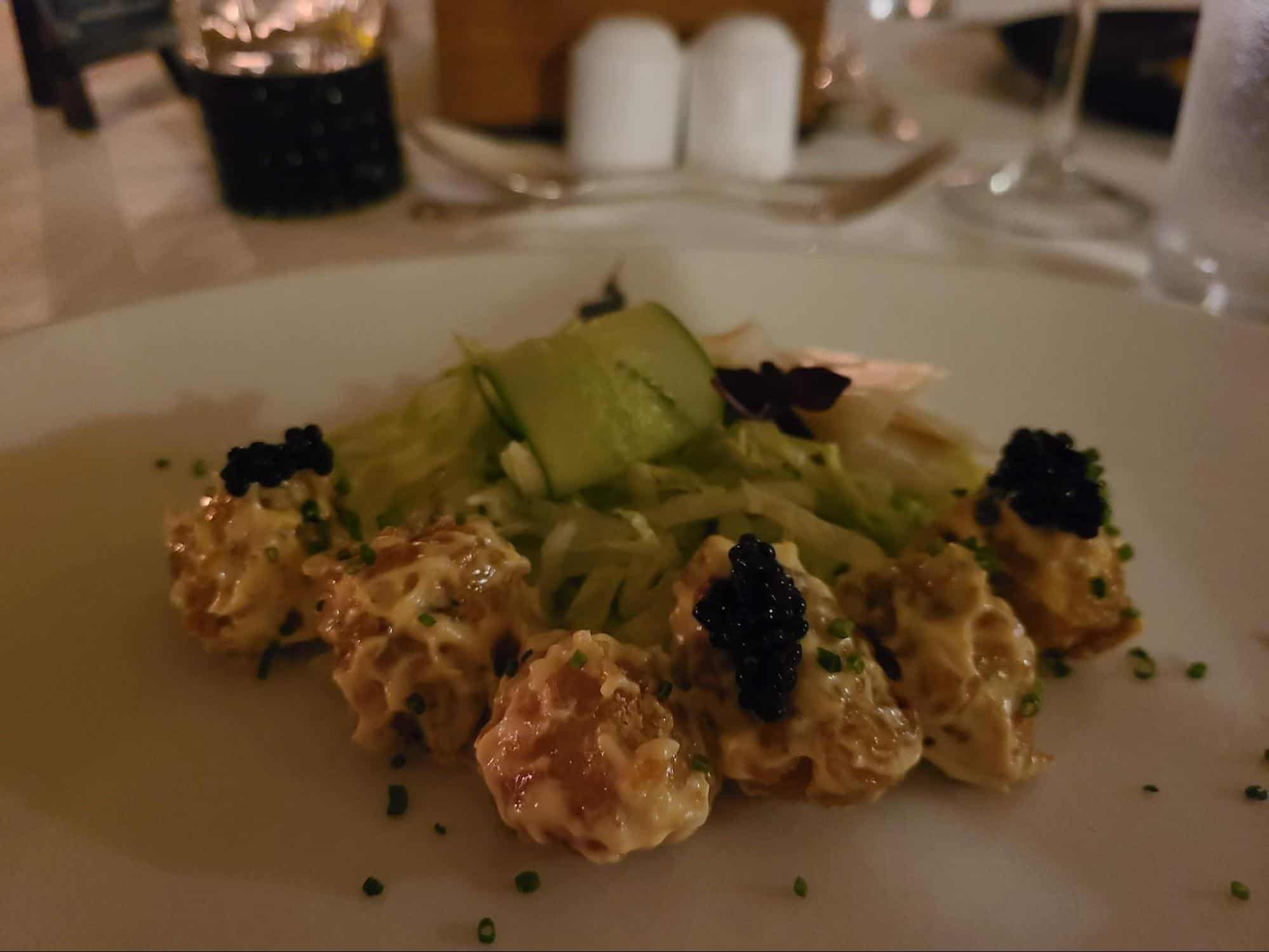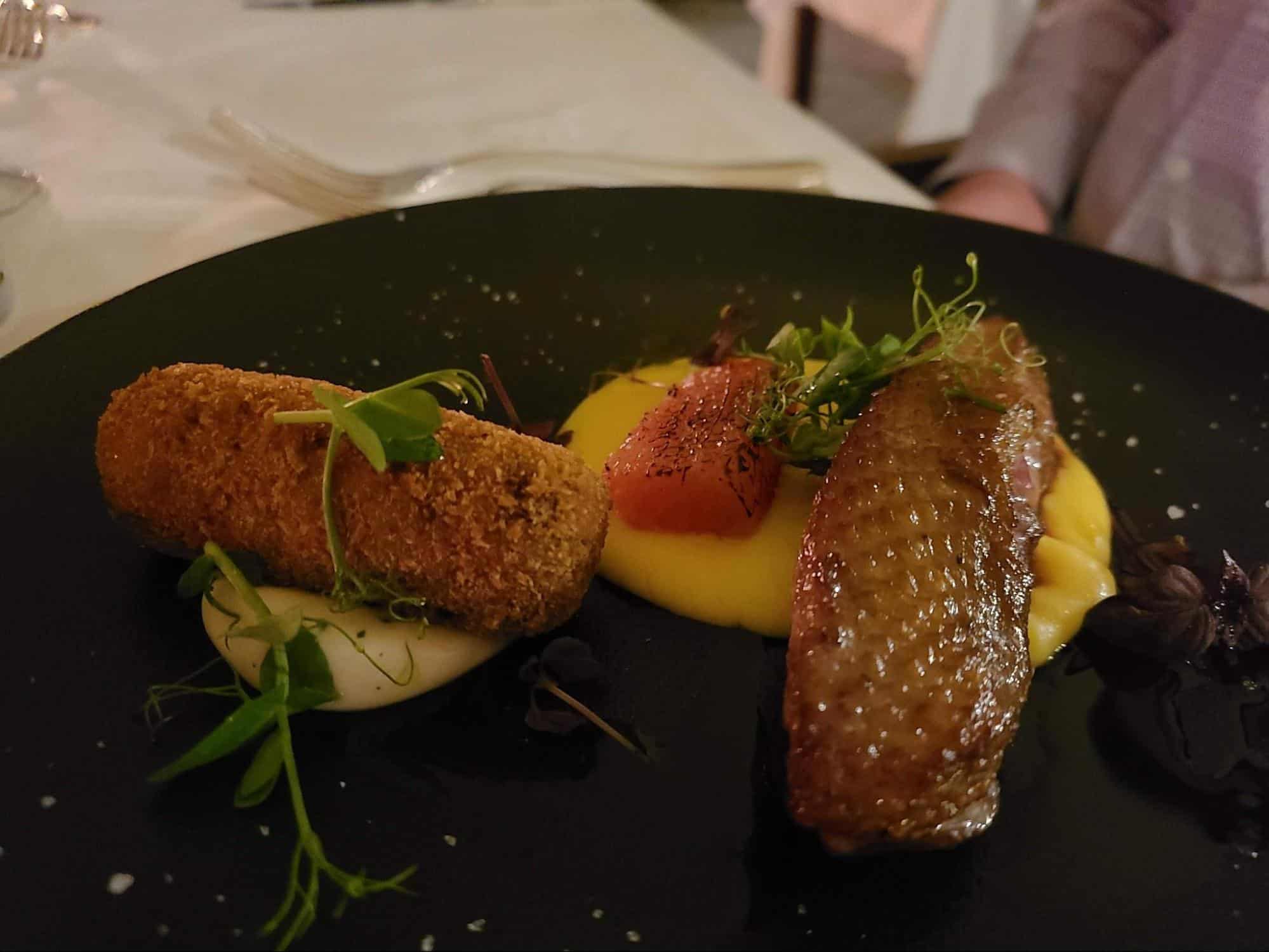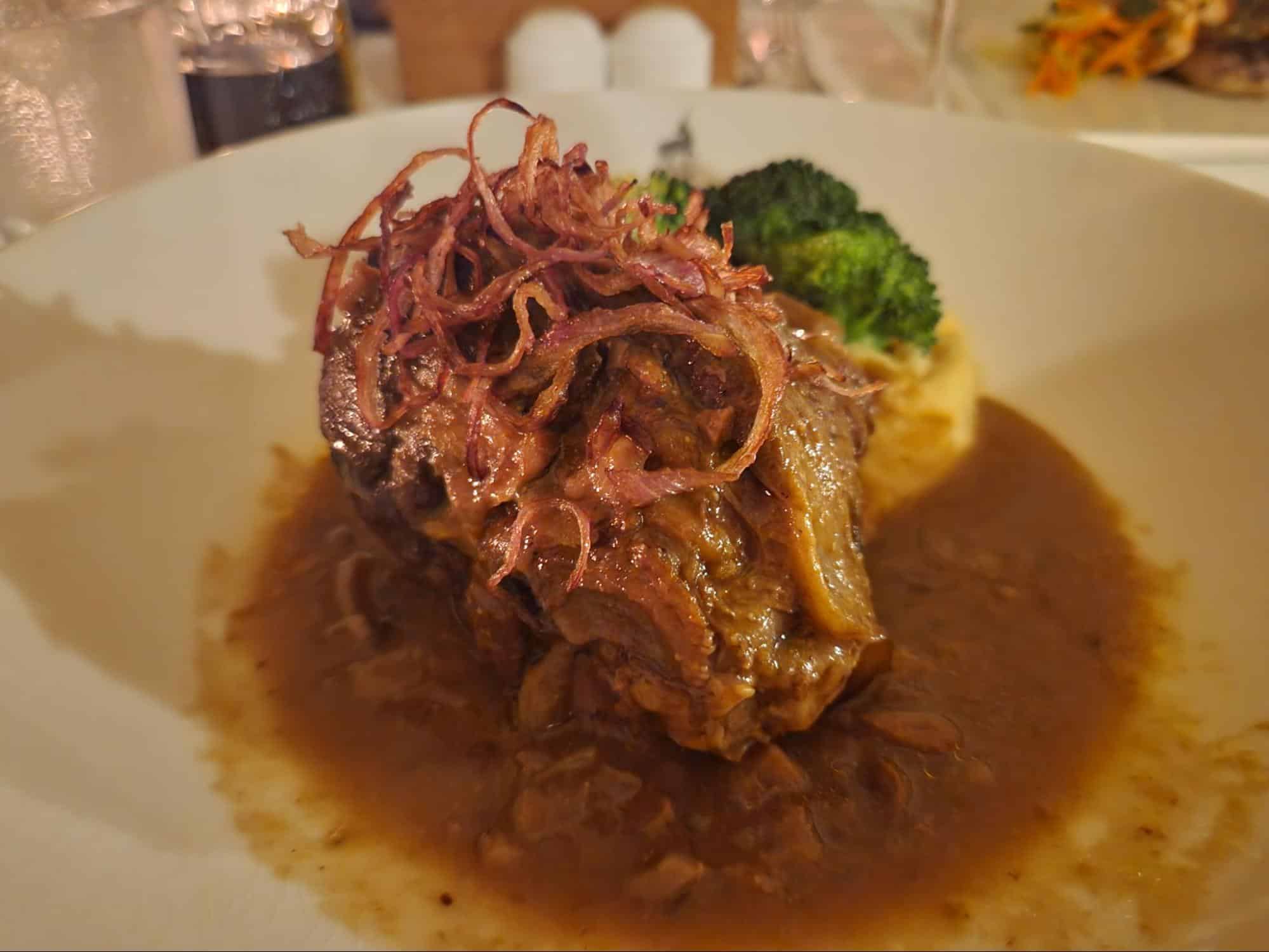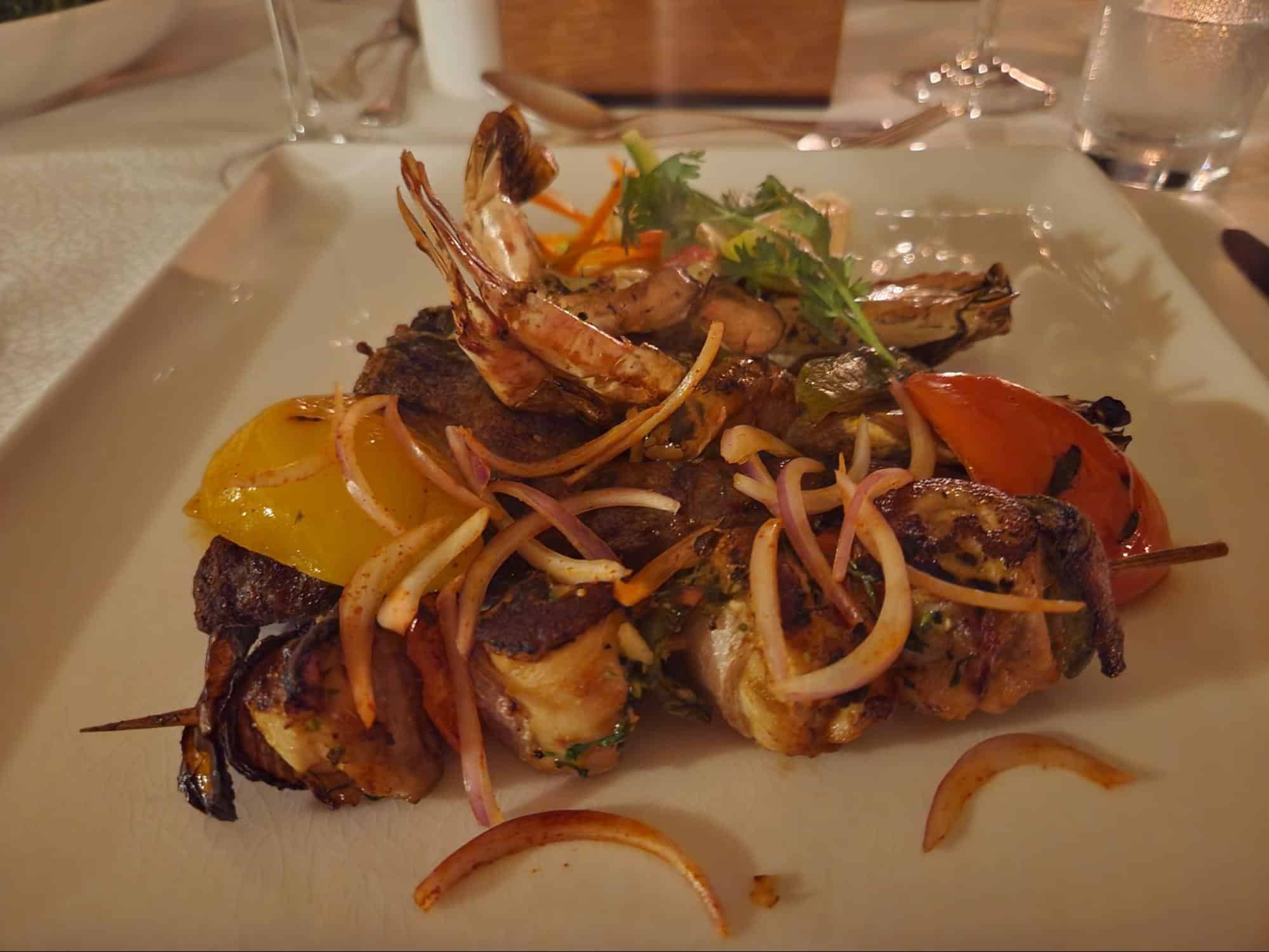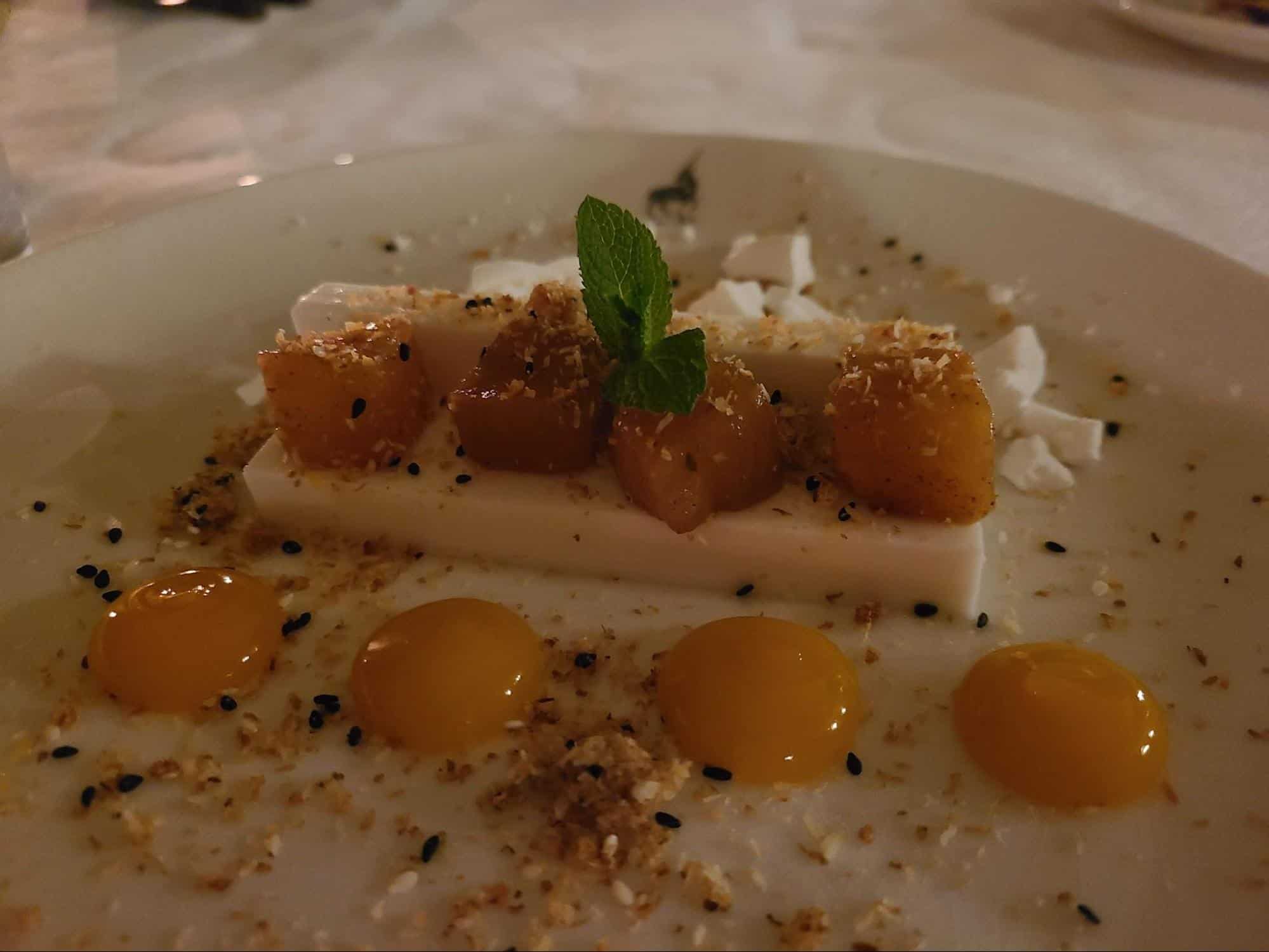 When we stumbled back to the room after a feast that could have easily been considered a last meal, we noticed that turndown service had come by while we were stuffing ourselves with food.
Al Maha Breakfast
After falconry in the wee hours, we had some downtime before breakfast started, so we threw on our swimsuits and enjoyed a bottle of Prosecco we had bought from duty free at Dubai International Airport.
Breakfast is the only meal that offers buffet as well as à la carte menu selections. We opted to sit inside this time to escape the heat and the flies, which is the only negative thing about the resort.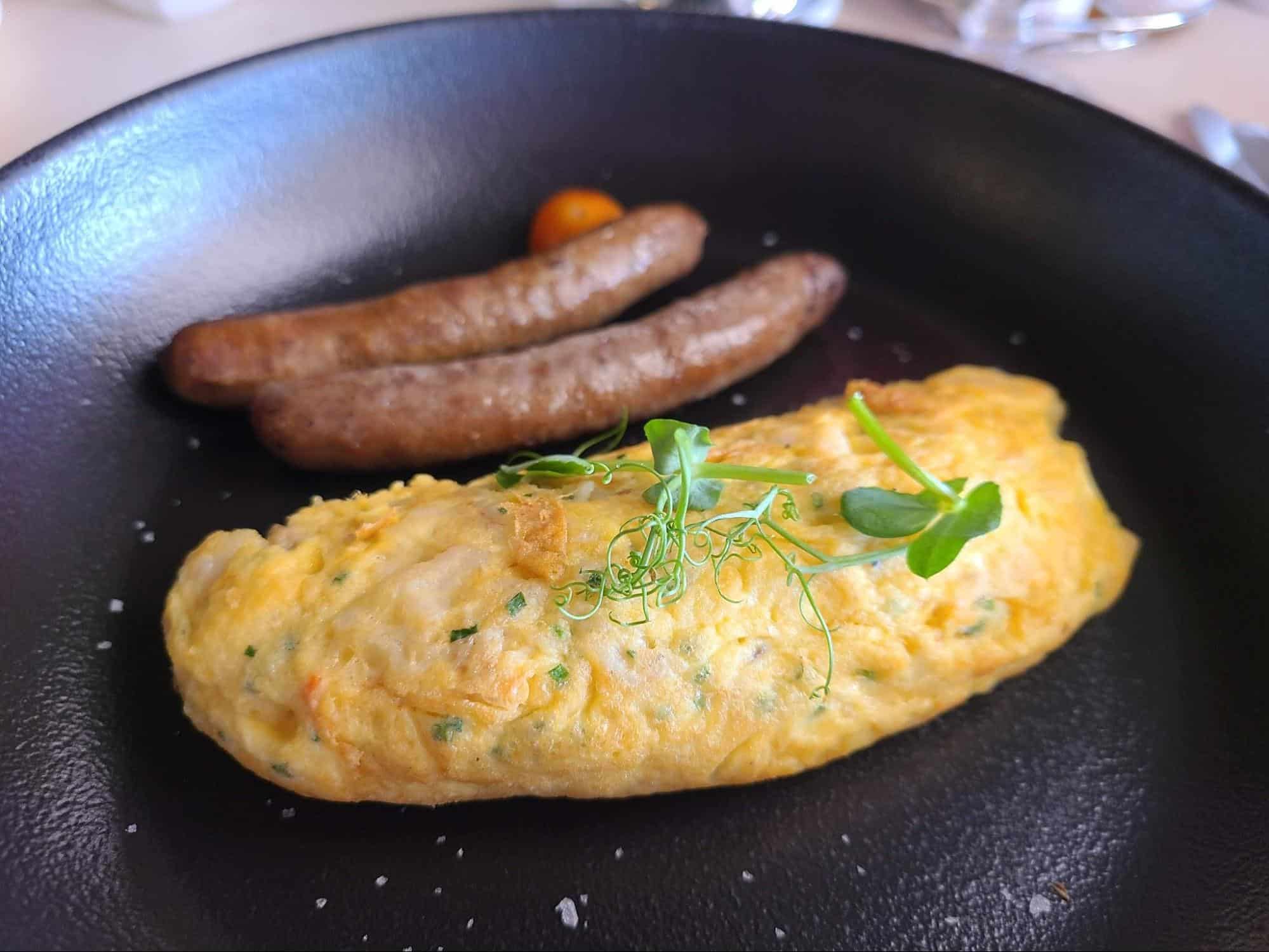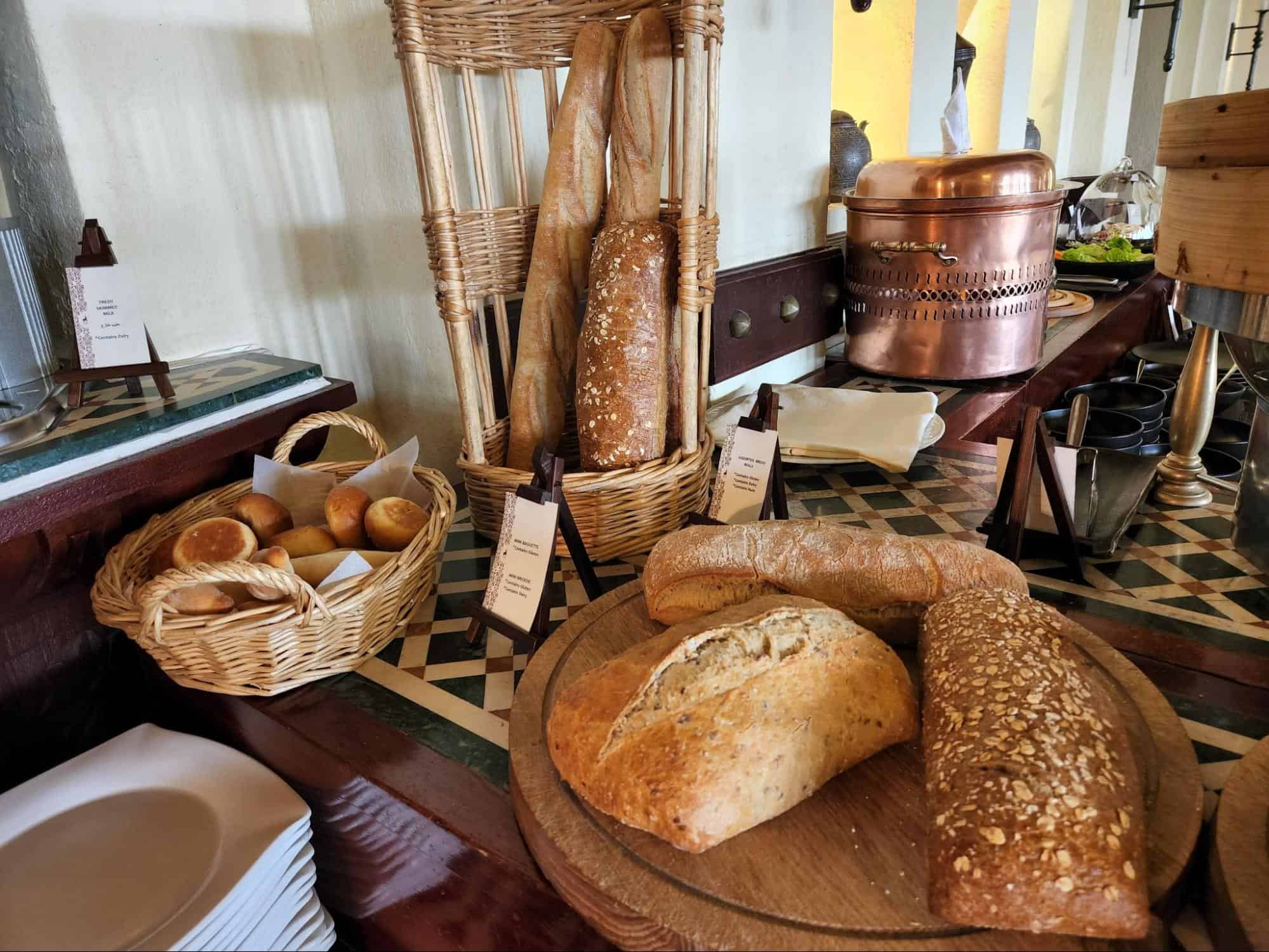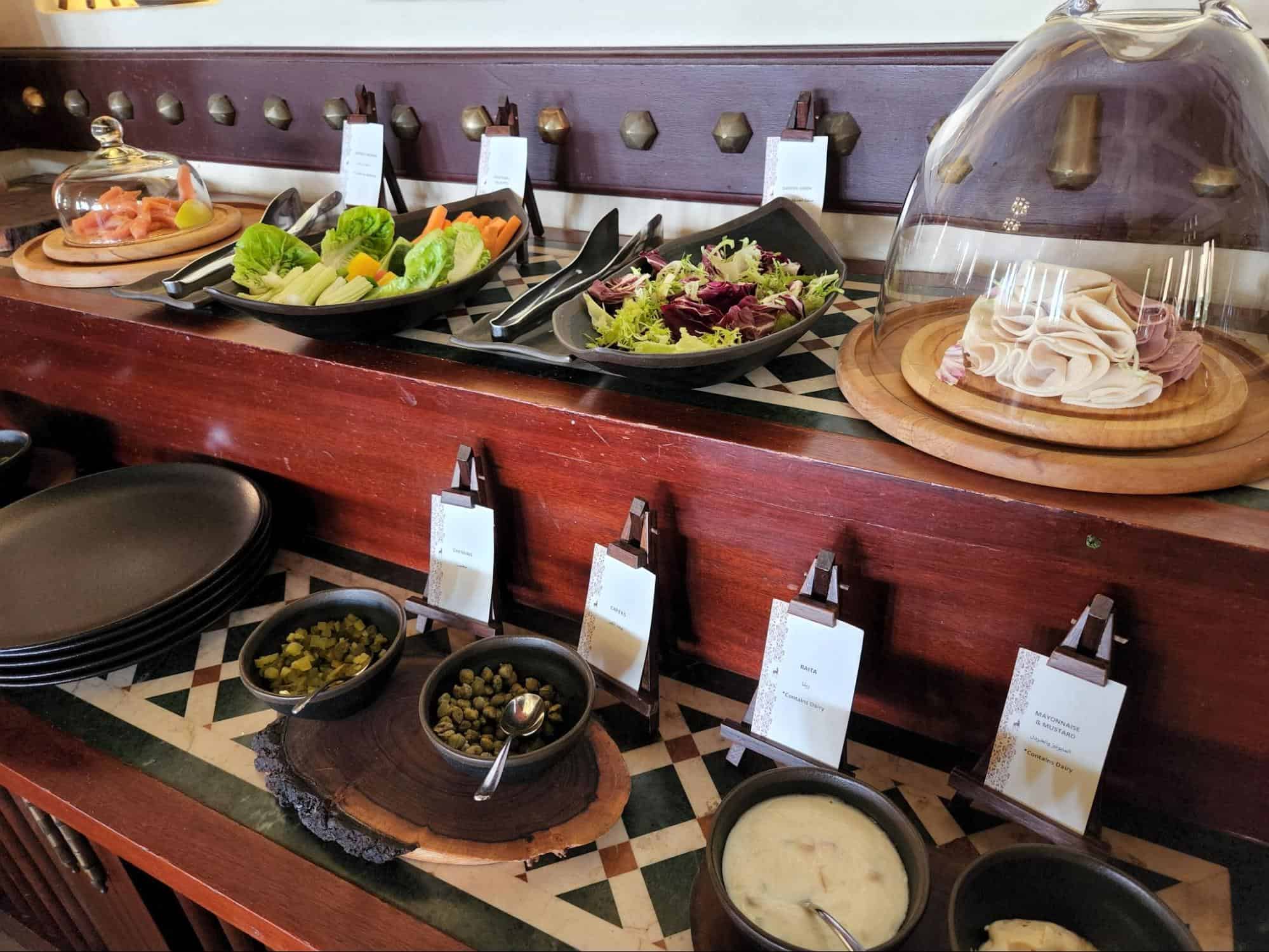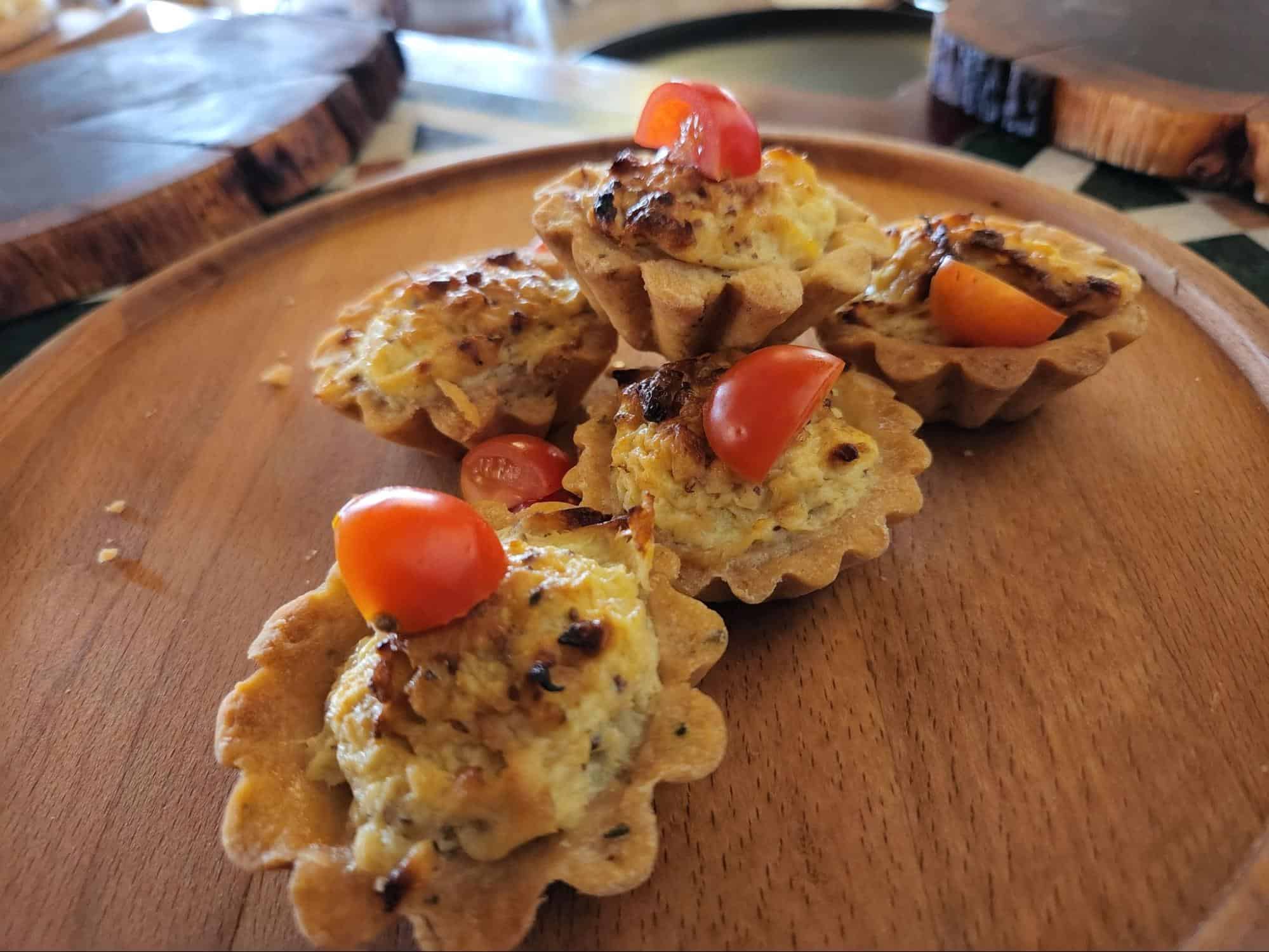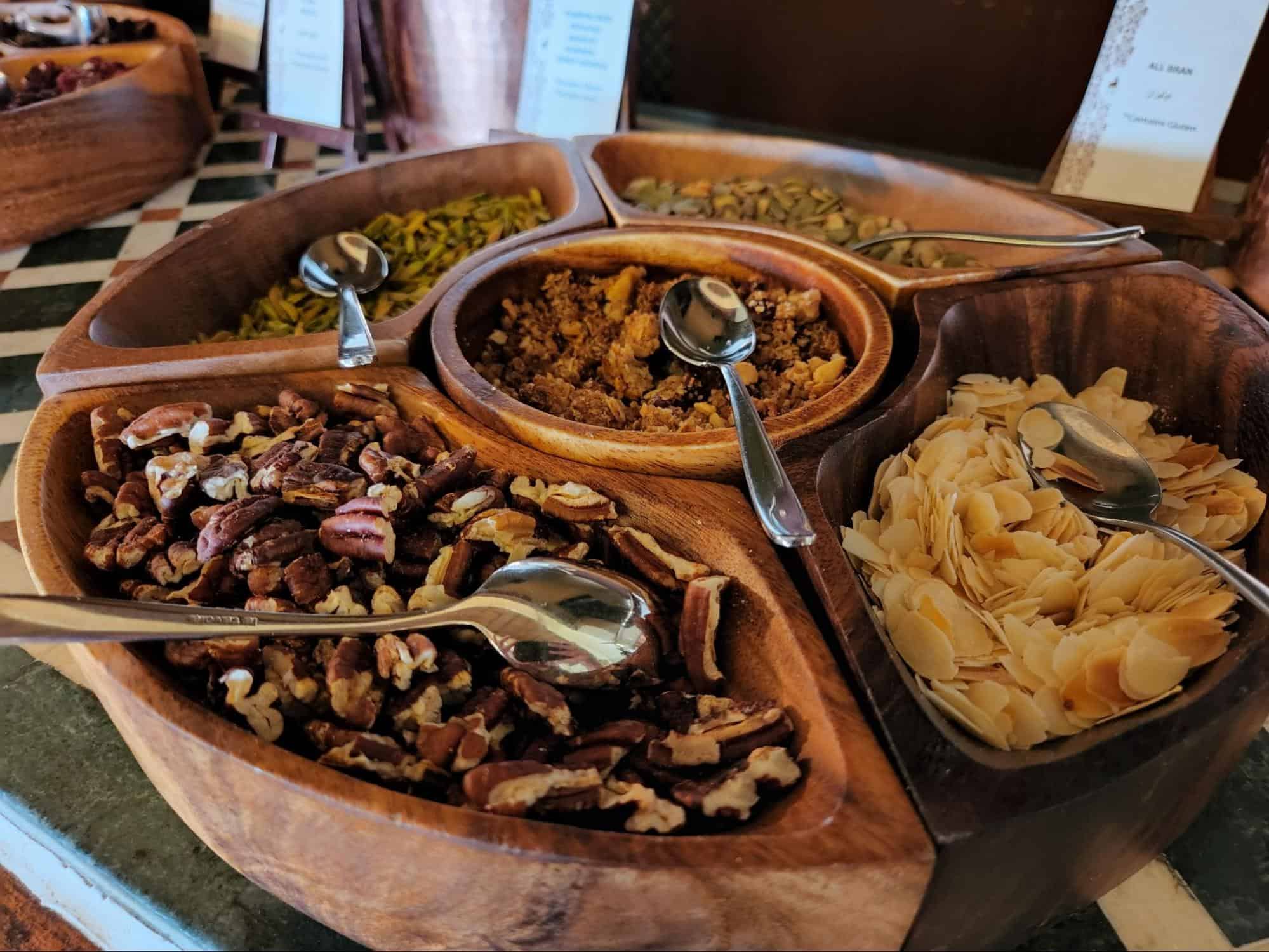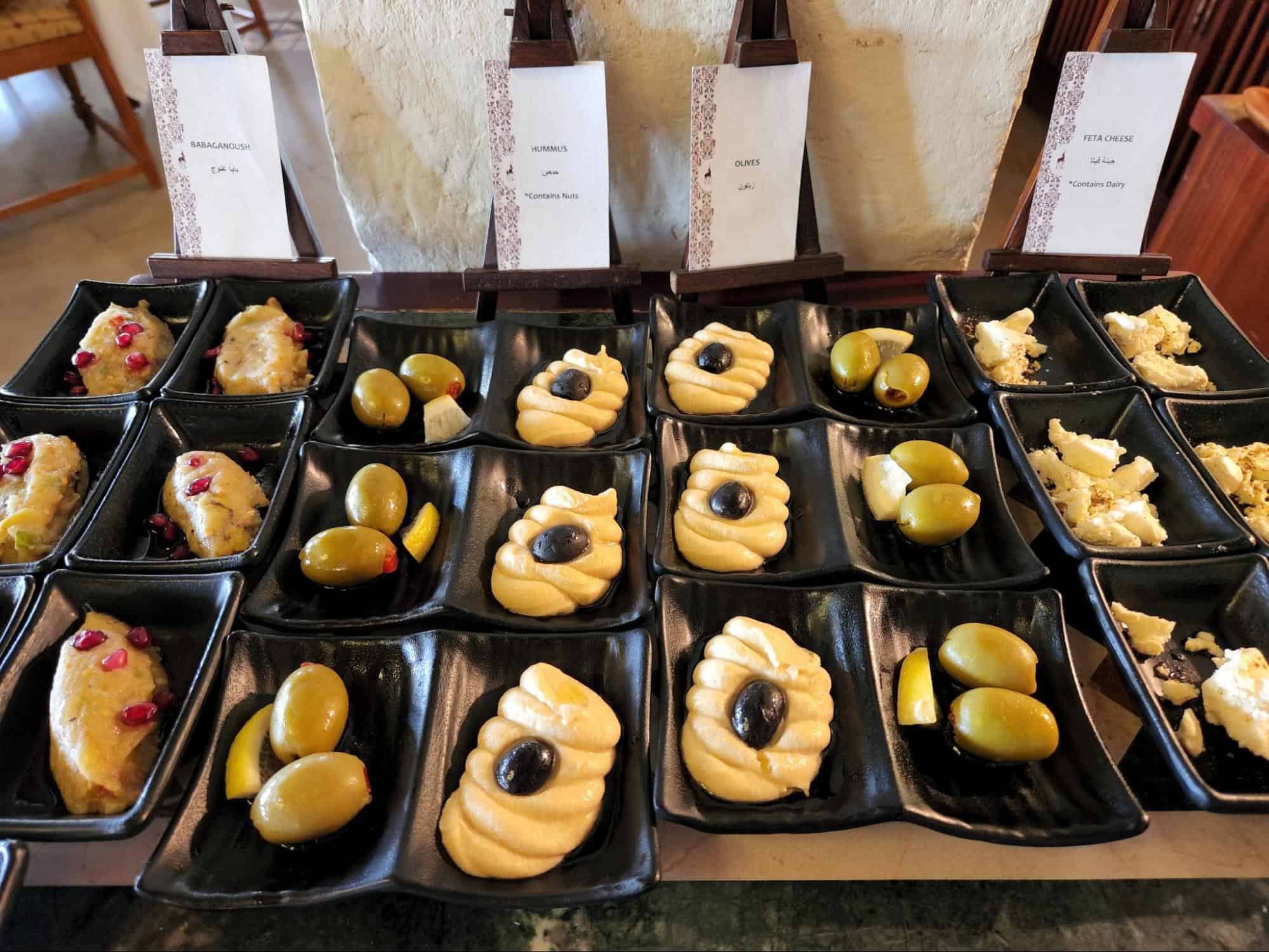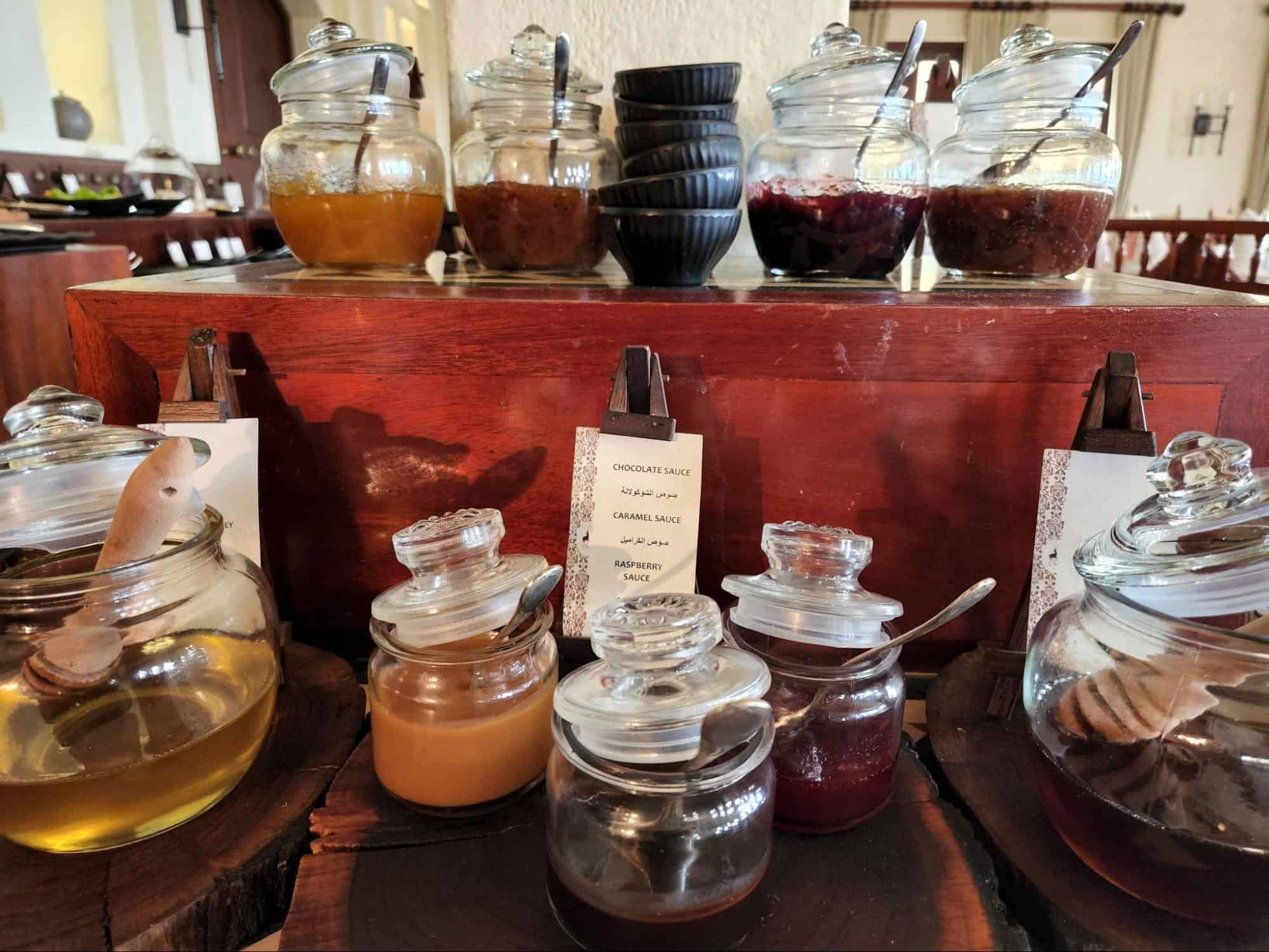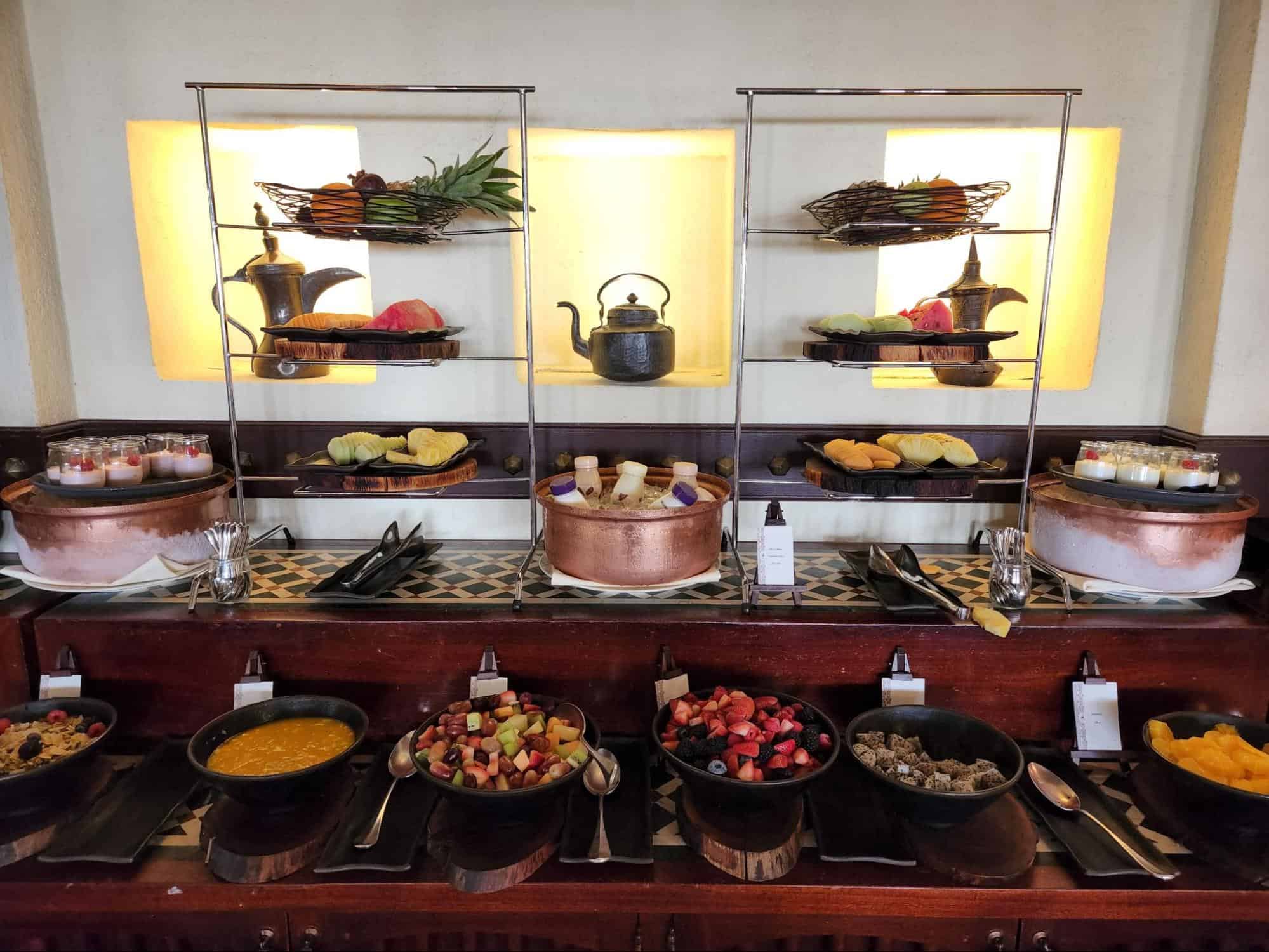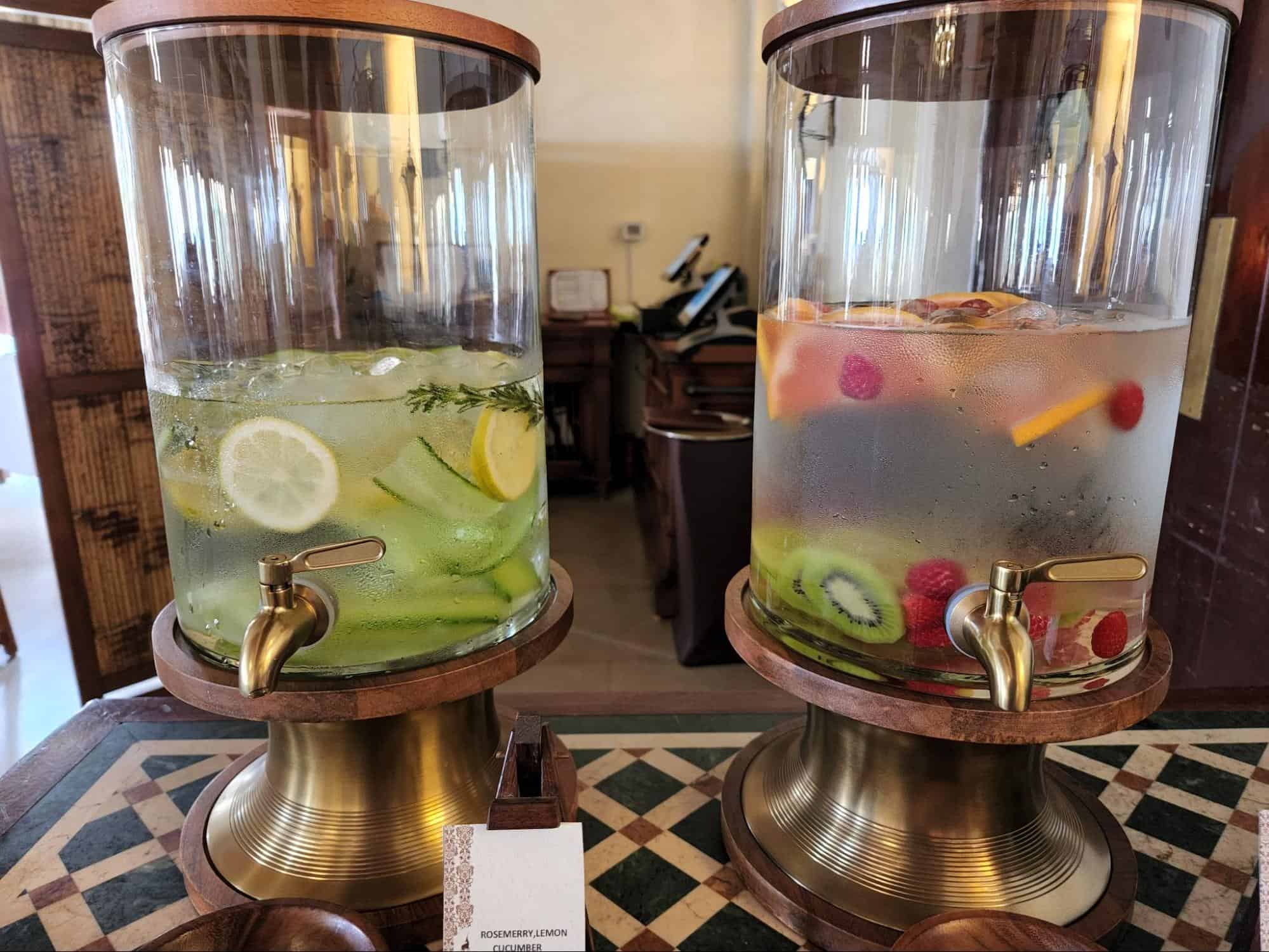 My husband went with a seafood omelet, and I ordered an Al Maha omelet. We both also got things from the buffet, which included a variety of pastries, cold cuts, fruits and Arabic mezze.
Al Maha Lunch
As mentioned earlier, we asked whether we could have lunch after checkout, and our wish was granted. Still full from breakfast, we couldn't miss out on the experience and tried a few items off the menu.
Lunch includes many options, ranging from pizza, sandwiches, and fish and chips to curry, steak and lamb chops.
Worried about overeating (again), the husband and I shared one appetizer, a foie gras terrine, but each ordered our own meals: prawns and scallops Thai green curry for him and dorado fish and chips for me. We split a yuzu crème brûlée to finish off the feast.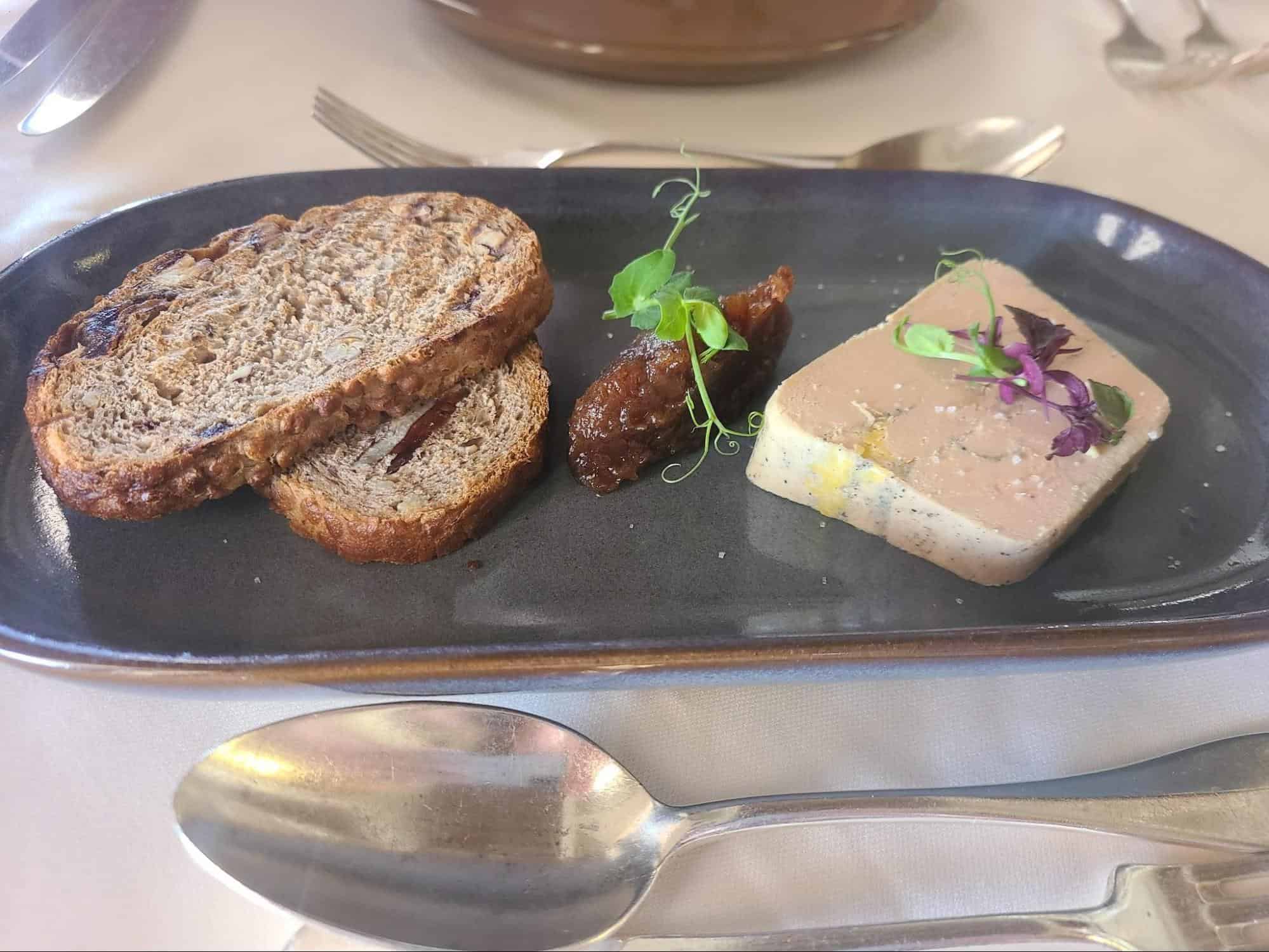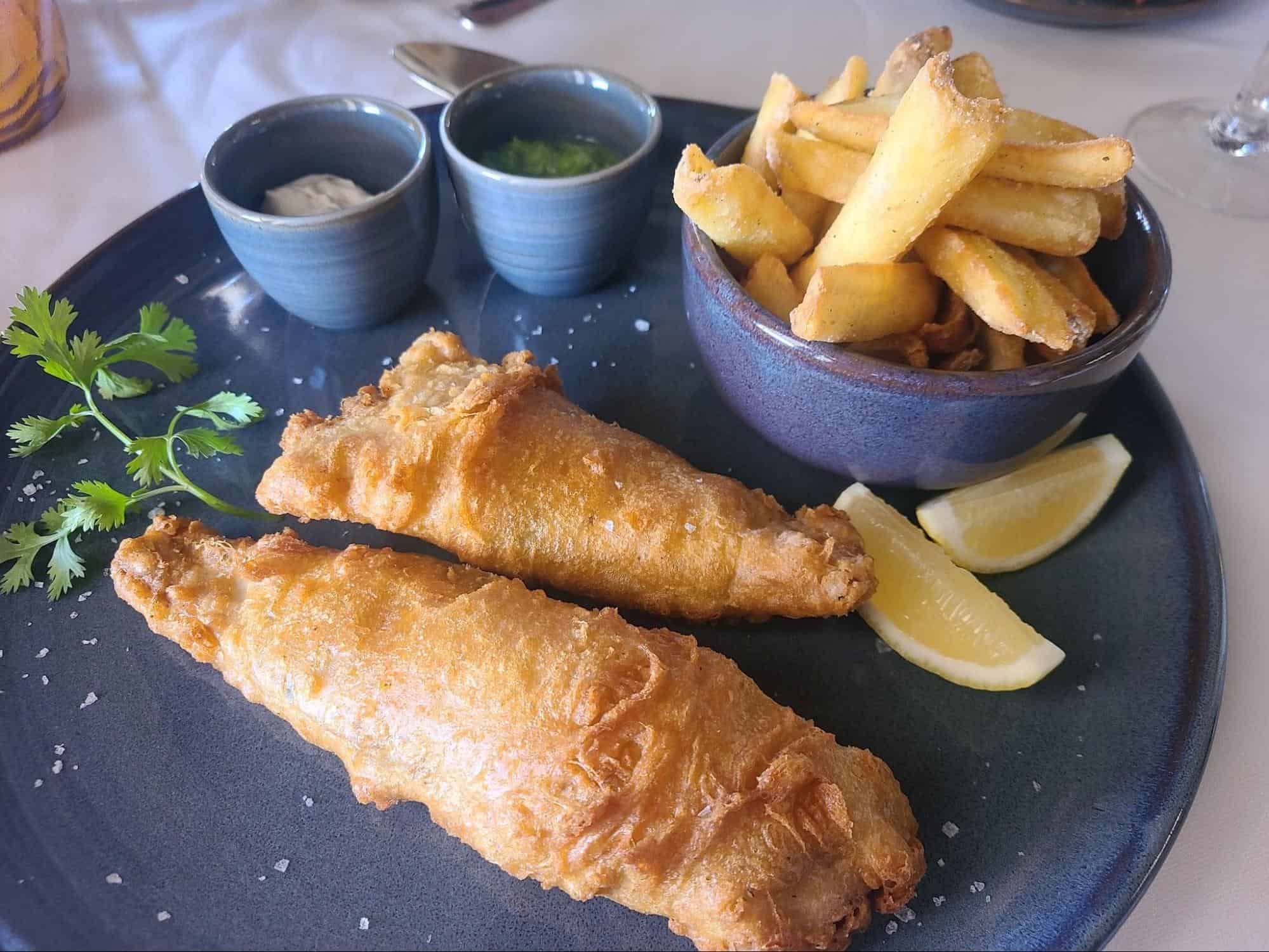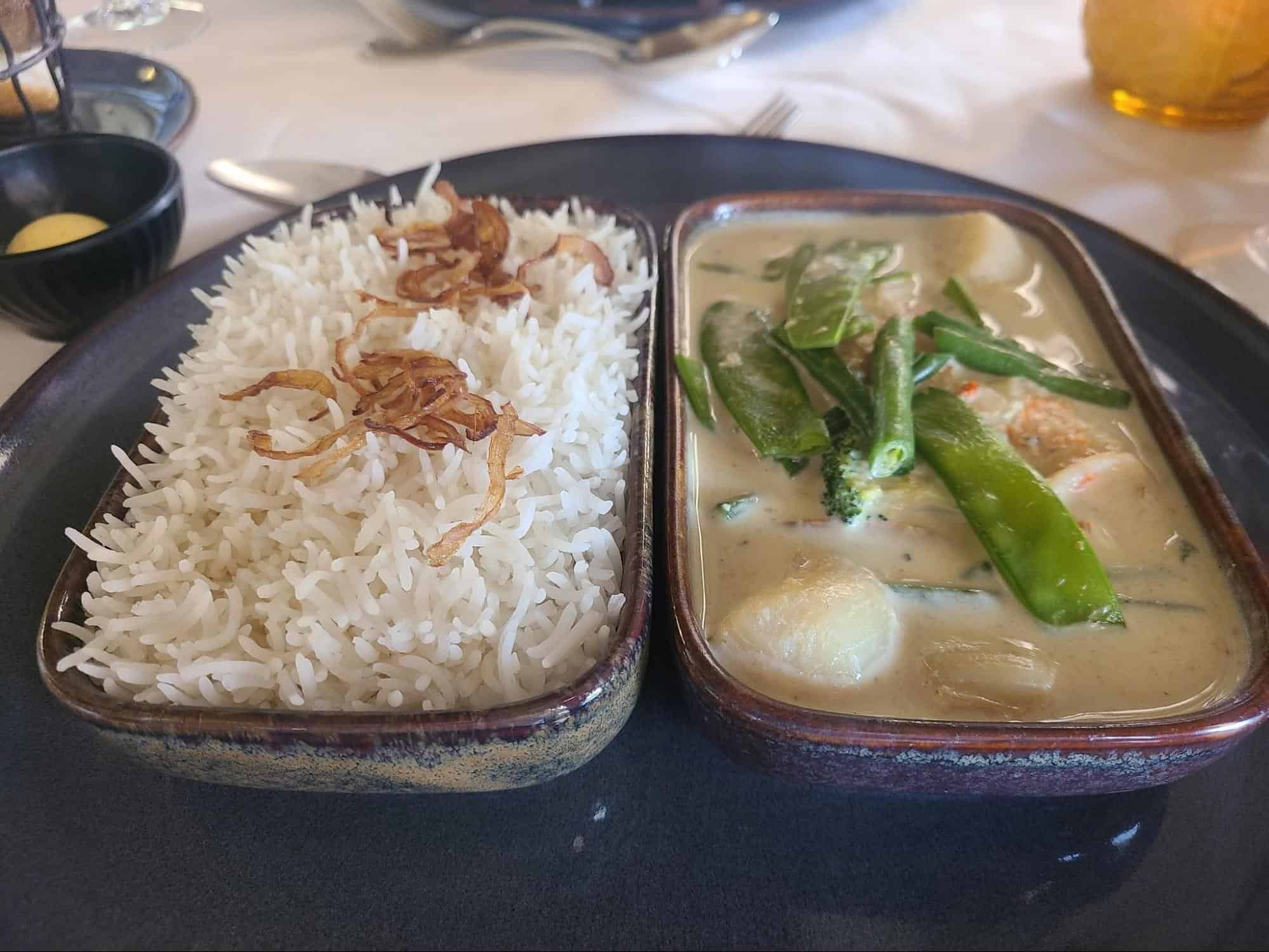 Once again, the food was outstanding, and it was hard to believe that this kind of quality can be found at an all-inclusive resort, albeit a luxurious one.
The Service
What I liked the most about Al Maha was the service. From the moment Winnie greeted us to the moment we said goodbye, every single staff member made our stay there memorable.
I also enjoyed the "yes" attitude of everyone who works there. Can we please stay for lunch? Yes! Are we allowed to enjoy the spa facilities after checkout? Yes! Can I please save this restaurant menu with a QR code so I can write this review later? Also yes!
The servers at the restaurant and the bar were professional and courteous, but not over attentive. The spa attendant gave me a ride in a golf cart to the restaurant for lunch even though I didn't ask for one.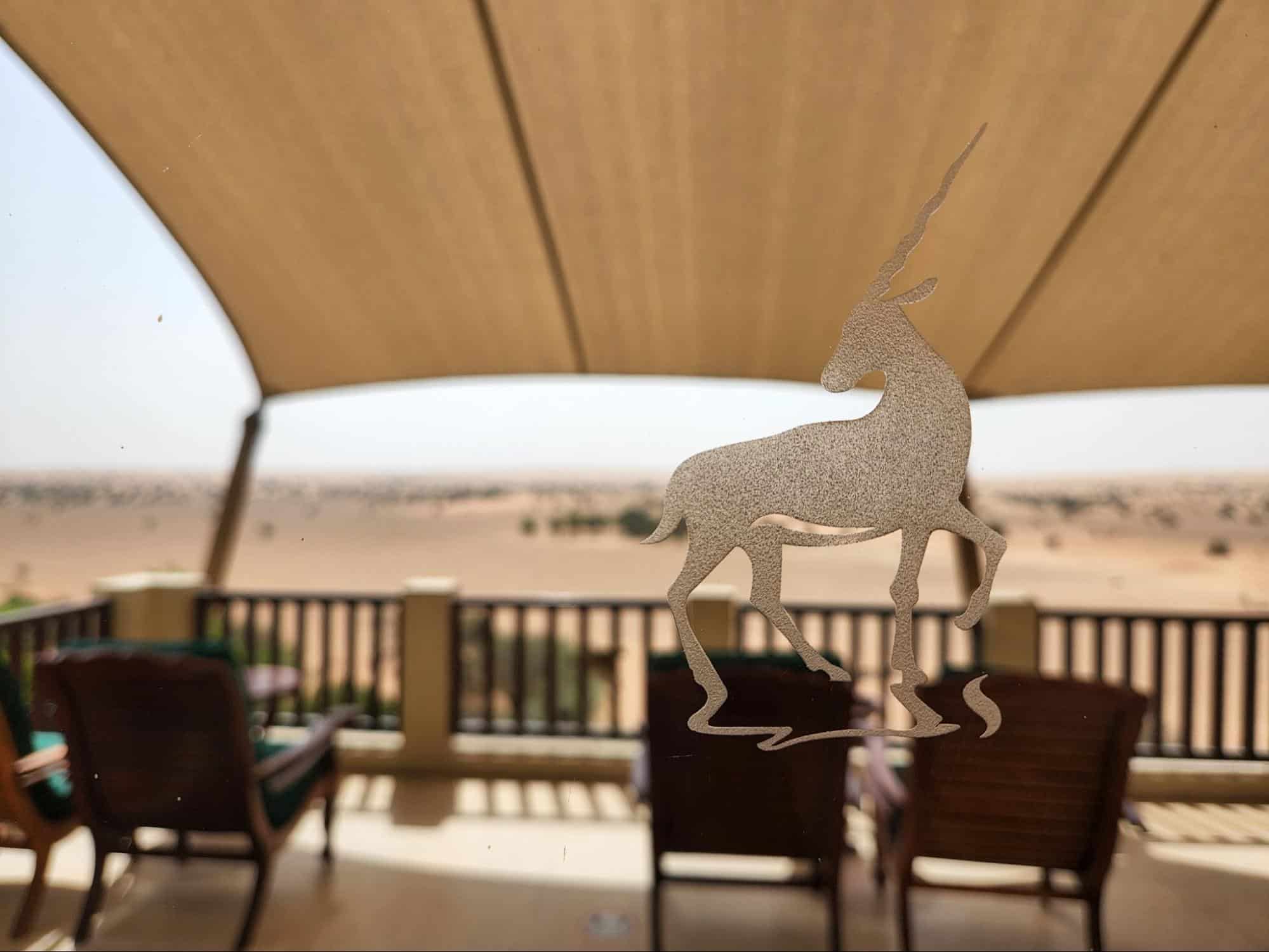 My husband and I both had a fantastic time at Al Maha Resort & Spa. The Marriott certificate worth up to 85,000 points provided solid value, and we offset the $450 fee of the Marriott Bonvoy Brilliant™ American Express® Card (see rates & fees) for years to come.
Everything from the room and food to service and activities was top-notch. Not everyone can afford to experience that kind of luxury, but, thankfully, points and miles put an extravagant trip like this within reach for those who are willing to learn how to use credit card welcome offers to their advantage.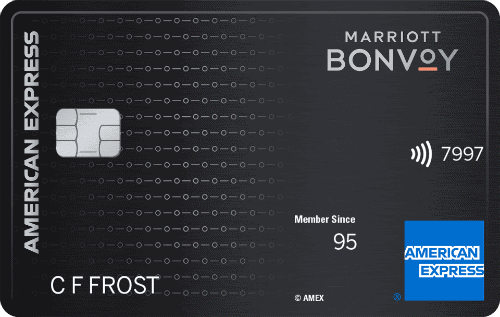 New to the world of points and miles? The Chase Sapphire Preferred® Card is the best card to start with.

With a bonus of 60,000 points after $4,000 spend in the first 3 months, 5x points on travel booked through the Chase Travel Portal and 3x points on restaurants, streaming services, and online groceries (excluding Target, Walmart, and wholesale clubs), this card truly cannot be beat for getting started!
Learn More
Cards in This Article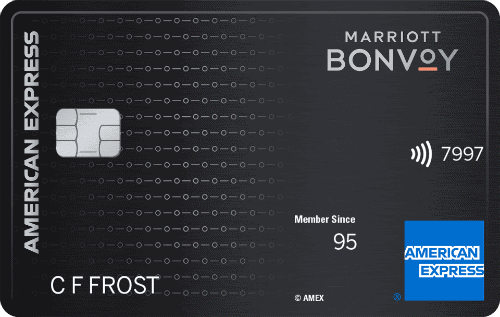 75,000
Bonus Marriott Bonvoy Points
after making $3,000 in purchases in the first 3 months.
Editors Note: Opinions expressed here are author's alone, not those of any bank, credit card issuer, hotel, airline, or other entity. This content has not been reviewed, approved or otherwise endorsed by any of the entities included within the post.