Note: Some of the offers mentioned below may have changed or are no longer be available. You can view current offers here.
Airbnb is one of the premier household names in sharing-economy accommodations, but it certainly is not your only option. Regardless of how you feel about Airbnb — staunchly against, neutral, or here for it — it's always good practice to shop around and suss out your options before booking your stay. None of us are traveling for a while anyway, so we might as well spend our newly reallocated time on some wishful thinking and travel planning!
If you're thinking about exploring beyond the regular Airbnb listings for your next trip, here are a few Airbnb alternatives that we think you should check out while you're killing time dreaming of traveling again.
In This Article
1. Homestay
We'll start off with a site that's pretty similar to Airbnb: Homestay. Homestay allows travelers, international workers, and international students a unique option to rent a home away from home from an on-site host. Whether you're looking for short-term or long-term stays, Homestay has plenty of options available.
Top-booked listings on Homestay are located in major cities around the world such as London, Rio de Janeiro, Sydney, Paris, Toronto, Boston, Havana, and New York. I especially like the emphasis on homestay options for international students because it's not always simple to find short-term accommodations while planning for Erasmus or exchange.
Homestay is ideal for travel too, especially if you'd like to experience your destination through the everyday lives of locals. Renting through Homestay is something to consider especially if you're learning a new language, curious about cooking a new type of cuisine, and anxious to explore a culture that is different from your own.
2. DOMstay&live
If you have an affinity for architectural integrity, minimalism, and interior decoration, DOMstay&live is likely right up your alley. DOM is a relatively new platform populated with properties that were either designed or hand-selected by interior architect Marta Nowicka. With the goal of connecting guests to property owners and their unique homes, the appropriately-named DOM (Polish for "home") exists to find that home for anyone looking for something special.
DOM features properties all over the UK and continental Europe but has also expanded to include accommodations in Mexico. If you're looking for a proper living space, DOM also hosts homes for long-term hire, pending availability.
However, short-term rentals are the DOM norm and they include a rustic brick room in Croatia, a bell tent in Wales, and a terracotta-colored cabin with a plunge pool in Yucatan.
Photo Credit:  DOMstay&live
These properties are wonderful and uncommon options for solo travelers or small groups traveling together. Even if you aren't yet ready to book your trip, it's relaxing and exciting just to flip through the properties available through DOM and dreaming about what it could be like to stay at each one!
3. OneFineStay
Are you itching to splurge on a luxury vacation as soon as we can return to a newer normal? Level up your home sharing experience with OneFineStay, a collection of the world's finest vacation homes and apartments in select locations worldwide. Not only does OneFineStay offer a platform for listing and renting luxury accommodations, but each property is managed by local teams in order to offer professional service during your stay.
OneFineStay has two main collections: the City collection and the Villa collection. The City collection includes flats in Covent Garden, historical homes in Rome, marina apartments in San Francisco, and expansive Bondi Beach houses in Sydney. Alternatively, the Villa collection includes ski lodges in Aspen, terrace homes on the Amalfi coast, and sparkling beachfront mansions in Turks and Caicos.
At thousands of dollars per night, this may sound a bit overreaching for the average traveler. But one of the things I like about OneFineStay is that many of the listed properties are well equipped for groups — some for 20+ people! So, this could be a fun option if you and a bunch of your friends or family are looking for a getaway villa to split and enjoy together.
4. GlampingHub
If luxury isn't really your vibe but wilderness camping doesn't sound like fun either, why not meet yourself halfway? GlampingHub hosts an impressive collection of treehouses, tipis, yurts, tiny houses, safari tents, geodesic domes, and more. With over 30,000 locations worldwide in 115 countries, you're likely to find something unique through GlampingHub wherever you're headed next.
Through this platform, you'll also have the opportunity to connect with truly special people from all around the globe. Meet Rob and Sandi at their site on a ranch in the Mojave Desert, stay at David and Marta's hobbit-like micro cabin just outside of Lisbon, check out Kristin's decked-out Airstream, or stay in a treehouse on Kristin's private island in Nicaragua.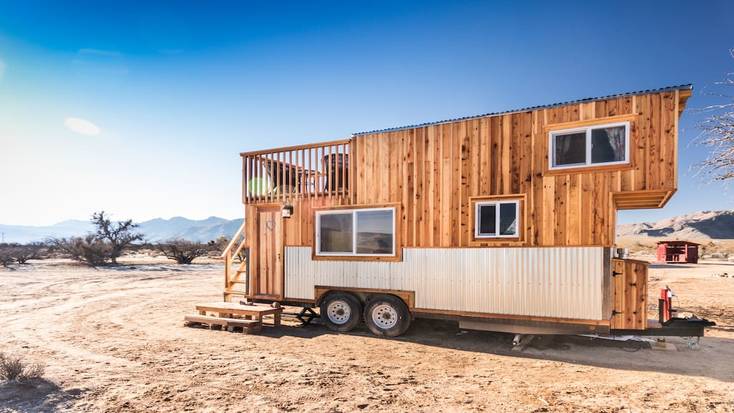 This platform is ideal if you're looking for one-of-a-kind properties and don't want to sift through the thousands of listings on other home-sharing sites. GlampingHub is essentially stacked with unique accommodations; the hardest part will be deciding where to book first!
5. Hipcamp
Very on-brand with GlampingHub, Hipcamp offers a similar selection of glamping sites, RVs and tiny houses. However, Hipcamp is also useful if you're just looking for a unique place to pitch your tent for a couple of nights. Hipcamp offers a collection of tent sites on lakeshores, in comfortable meadows, in vast deserts, and in the middle of forests across the US.
Find a place to crash during your climbing trip to Joshua Tree, snuggle up in the woods outside of Asheville, or relax in the Ocala National Forest with friendly, like-minded folks — bring your musical talents for a special discount at this unique spot!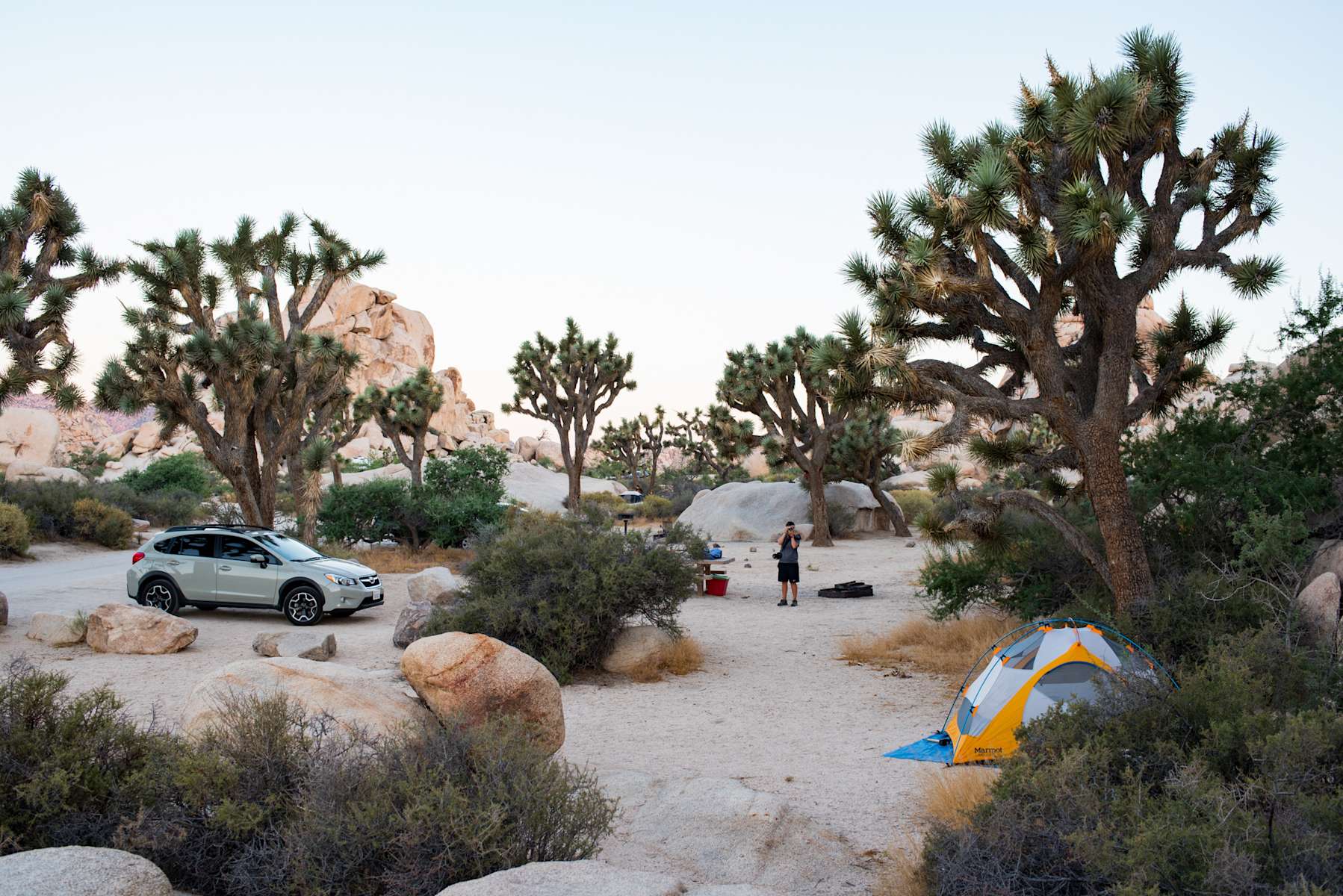 It can sometimes be a challenge to understand what land is fair-game for camping and what isn't. This is where Hipcamp really shines; their extensive campsite repository covers public lands and parks in all 50 states, adding up to nearly 375,000 campsites from sea to shining sea.
6. Tripping
If you aren't super interested in specification or uniqueness but you'd just like to sort through whatever the world has available for you, check out Tripping. Tripping is a multi-platform storehouse of vacation rental listings around the world and it pulls from sites like HomeAway, VRBO, Booking.com, TripAdvisor, and yes, Airbnb. However, since it's not exclusively Airbnb, I figured it would be worth mentioning here for travel planners who are looking for a tremendous volume of options.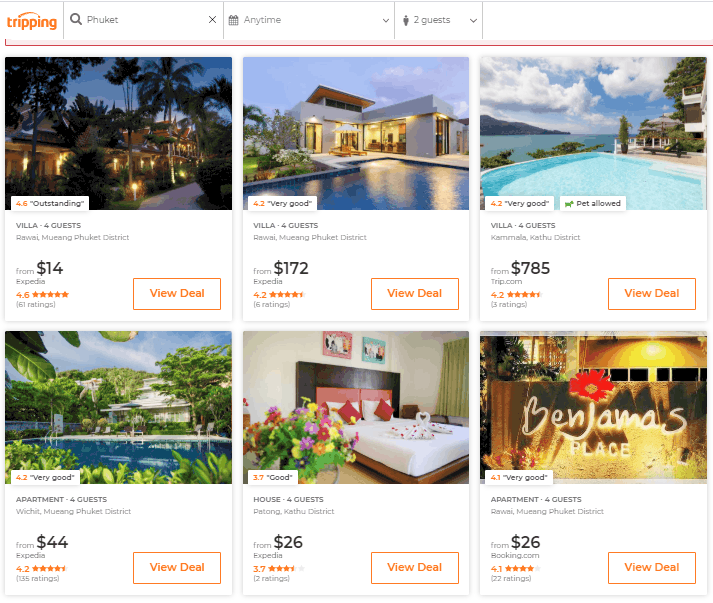 Tripping makes it possible to search across multiple platforms in one fell swoop, which gives you a ton of choices to accommodate your particular style, travel goals, and budget. Search any region and filter through the 12,000,000 available properties in 190 countries; this makes Tripping one of the most comprehensive and global collectives out there.
7. Redweek
Throughout many popular destinations, timeshare resorts have established themselves as exclusive and comfortable options for timeshare owners to enjoy. However, you don't have to be an owner to stay in one since many owners rent out their condos on Redweek.
Redweek offers studio, one, two and three-bedroom condos at locations throughout the world, but the majority of the units are located in popular locations where families enjoy vacationing, including beach, theme park and ski resort locations. Marriott, Disney, Hilton and Hyatt are just some of the many providers in this market.
Since timeshare owners are usually looking to cover their maintenance fees, the rental rates are usually attractive on a per night basis. Rentals are usually for weeks at a time, but that's not always the case. Redweek has full descriptions of the resorts' amenities (pools, grills, etc.) and you can book through their website. Redweek is the market leader in timeshare rentals and even has resale inventory as well for those interested in the secondary market for timeshares.
8. Getaway
If you're looking for an escape into nature and an invitation for some rest and relaxation, Getaway is the platform you're after. Built on the idea that work-life balance is essential and necessary for our overall health, Getaway offers idyllic cabins located in outposts all across the USA.
First, you'll choose your ideal outpost including cabins in the Catskills, Chattahoochee, Big Bear, and Shenandoah. Then you'll add guests, choose the number of beds you'll need, and decide when you'd like to go. No matter where you end up, each cabin includes queen sized beds, cooking equipment, a lockbox to store your phone while you unplug, heating and air conditioning, and a private bathroom with a hot shower. You can even add optional amenities for kids, celebrations, or romance.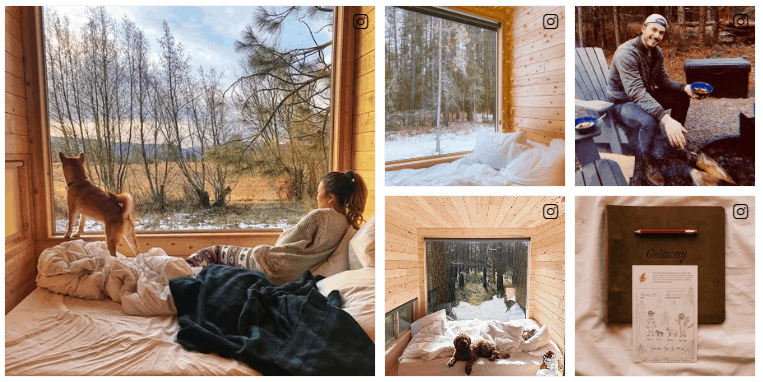 One of the neat things about Getaway is that you don't need to waste time scrolling through specific properties. You simply tell them where you'd like to go and how many beds you need and they'll select the cabin for you. You'll get the exact address after you book, and all you need to do when you arrive is check in with the keycode, banish your phone to the provided lockbox, and enjoy your quiet getaway.
9. FlipKey
FlipKey is one of the closer platforms to Airbnb, compared to some of the more specific and esoteric ones we've talked about so far. It is basically the same thing, but it functions as the established, chilled-out big sister of Airbnb since it was founded two years before Airbnb. FlipKey isn't a standalone service; it's a subsidiary of TripAdvisor which, in addition to its deep roots, gives it some decent street cred. Since many of us rely on TripAdvisor for reviews, a TripAdvisor-owned home sharing platform lends itself to a certain sense of relief and trust.

Even though FlipKey has a stocked repository of international properties, their original focus on US-based family-style vacations is still apparent. They feature mountain cabins in Tennessee, fun beach getaways in Florida, and sunny adventures in California. Several years back, I used FlipKey to rent a wonderful cabin back in the days when the host would physically mail the keys to the renter, but luckily, they've adapted quite a bit to the changing times since then. If you're looking for something that's similar to Airbnb but isn't Airbnb, this is a perfect option.
10. HomeAway/VRBO
Speaking of platforms that are similar to Airbnb but aren't, HomeAway and VRBO are two other great choices. In fact, HomeAway and VRBO are both pretty much the same thing as FlipKey but instead of being owned by TripAdvisor, they're owned by Expedia. As Expedia is a trusted third-party travel shopping company, this gives HomeAway and VRBO status as trusted platforms as well.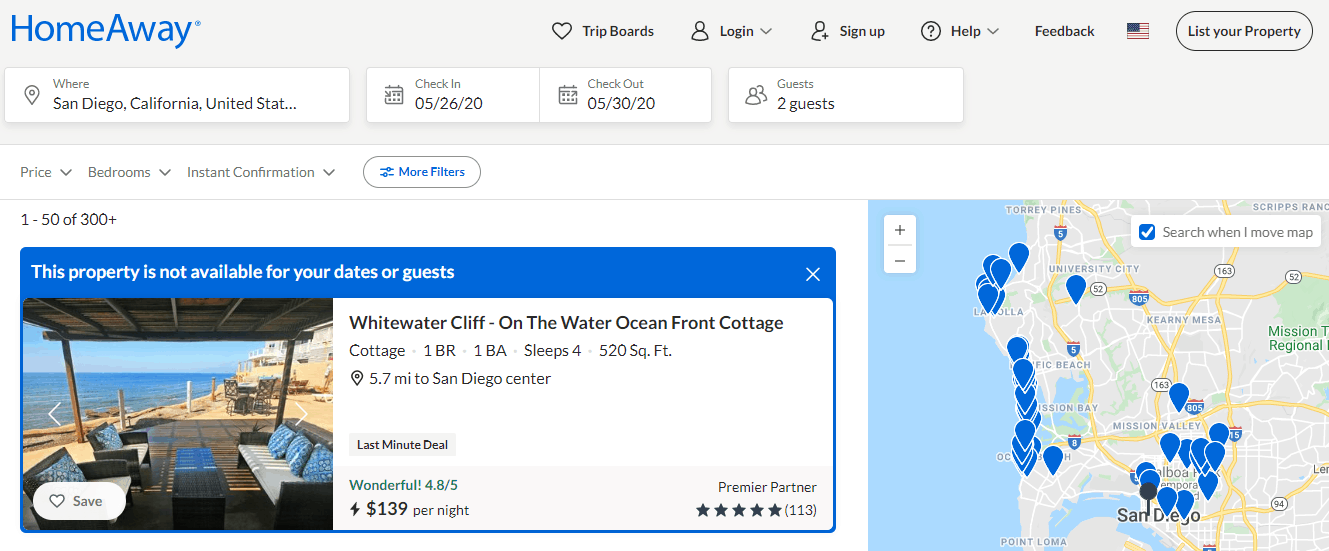 One of the things that sets HomeAway and VRBO apart from the rest is that while you may search for properties by destination, they also have the properties partitioned by property type. This way, you can search for beach houses, mountain huts, quaint cottages, or condos and apartments. You can even search for properties that would allow you to bring your furry friends along, which is important when you'd like to travel with the whole family!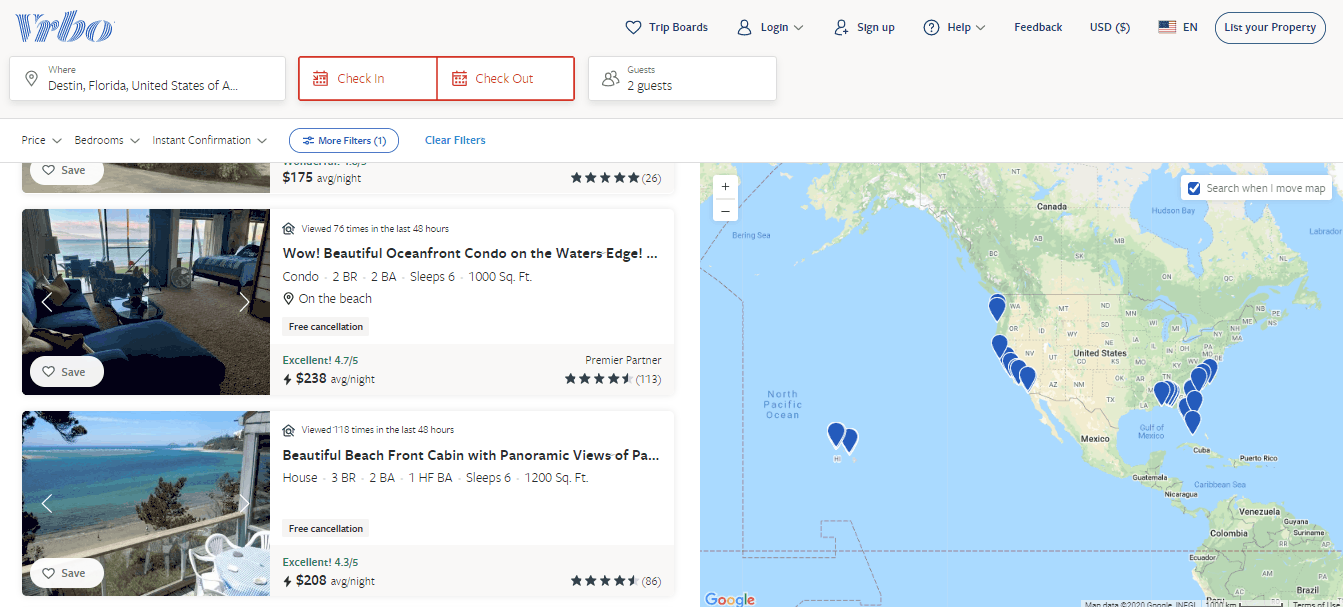 If you're planning a group trip and you're not sure where to begin, take advantage of the Trip Boards feature on each site. Simply browse and "heart" the properties you love, invite friends and family to collaborate, and host a discussion directly through HomeAway or VRBO so that you can decide together where to go. HomeAway and VRBO make it easy to find amazing properties and to plan trips together with your loved ones.
Final Thoughts
Even if Airbnb is your go-to home rental site, it's important to know that there are so many more options out there. Whether you're looking for glamping sites, tiny homes, luxurious beach villas, one-of-a-kind minimalist domes, a local family to visit, a condo at a resort, or just a place to crash, you can find all of those properties using the platforms mentioned above. If you're looking for a way to use your time at home, feel free to flip through those sites and start planning your next adventure!
New to the world of points and miles? The Chase Sapphire Preferred is the best card to start with. With a bonus of 80,000 points after $4,000 spend in the first 3 months and 2x points on dining and travel, this card truly cannot be beat! 
Learn more
---
10xTravel is part of an affiliate sales network and receives compensation for sending traffic to partner sites, such as CreditCards.com. This compensation may impact how and where links appear on this site. This site does not include all financial companies or all available financial offers.
Editors Note: Opinions expressed here are author's alone, not those of any bank, credit card issuer, hotel, airline, or other entity. This content has not been reviewed, approved or otherwise endorsed by any of the entities included within the post.