In This Article
Loading table of contents …
Let's take a look at how to turn your Marriott Bonvoy points into a comfortable stay at a professionally managed vacation rental.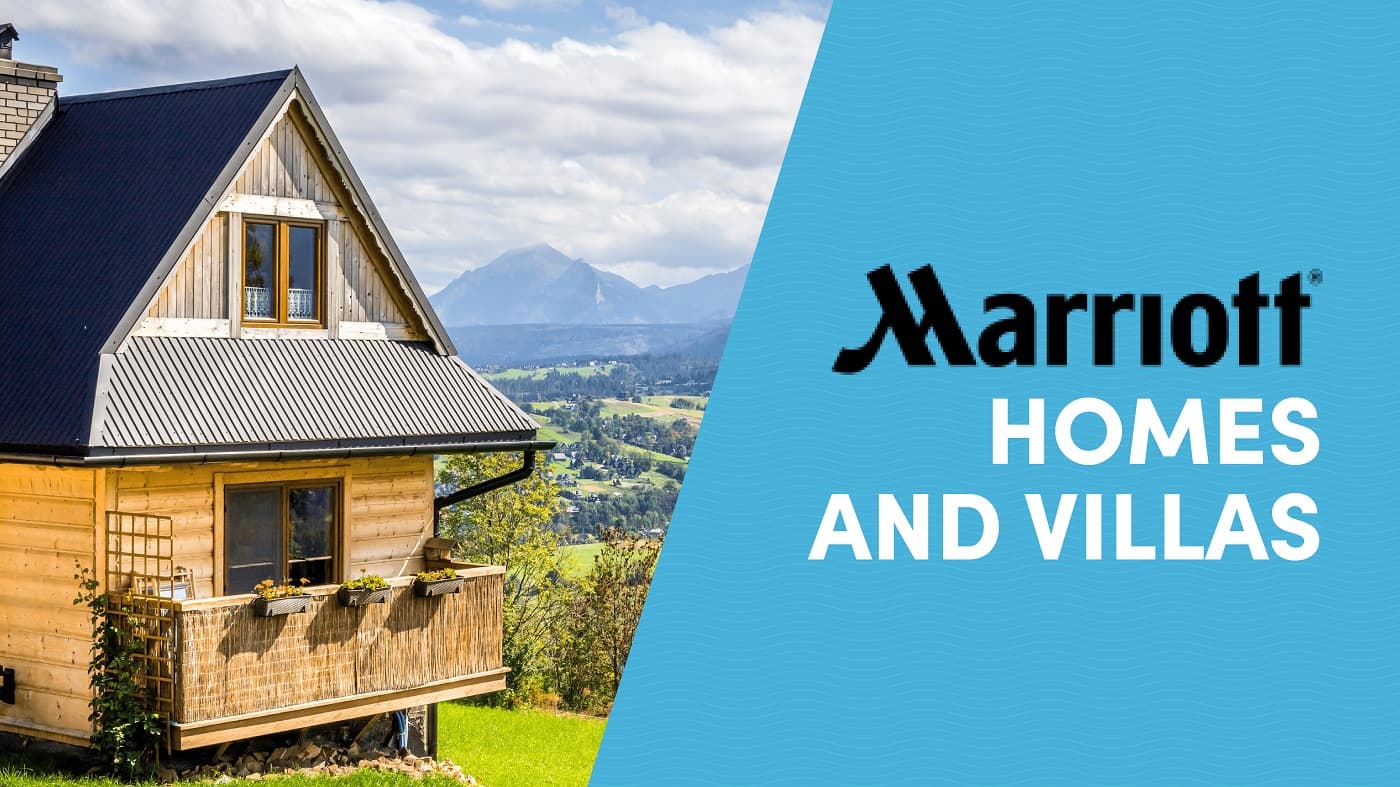 Demand for vacation rental properties is surging. Between post-pandemic habit changes, hotel staffing challenges, amenity cuts and families' desire to spread out at unique properties, it seems the industry will only grow.
Booking privately-owned vacation properties with points and miles has historically been a challenge. While flexible points currencies like Membership Rewards, Ultimate Rewards and ThankYou points offer travel portals that include vacation rental properties and Venture Miles can be used to get reimbursed for vacation rental purchases coded as travel, you sacrifice more efficient uses of these points by using them for vacation rentals. If you and your family find yourself staying in vacation rentals often you may have little use for hotel points.
Marriott Home and Villas is a little-known use of Marriott Bonvoy points. Through Marriott Home and Villas you can redeem Bonvoy points at vacation rental properties worldwide.
Let's take a look at how to turn your Marriott Bonvoy points into a comfortable stay at a professionally managed vacation rental.
About Marriott Home and Villas
Marriott is a recognized name in the hotel industry. It is the largest hotel family in the world, composed of 30 hotel brands with over 8,000 properties in 139 different countries. There's scarcely a place in the world where you won't find a Marriott property.
In 2019, Marriott launched the Marriott Home and Villas program. Marriott Home and Villas is a curated list of professionally-managed, privately-owned rental properties that can be reserved via the Marriott Home and Villas site with Bonvoy Points, Cash or a combination of the two. While these properties are not owned nor are they managed by Marriott, they must adhere to Marriott's quality standards and are vetted through on-site or virtual visits by Marriott staff.
The Marriott Home and Villas program lists about 2,000 homes in 100 different locations. Some of these locations fill in the few gaps where Marriott previously didn't have a presence, expanding the reach of your Marriott Bonvoy points.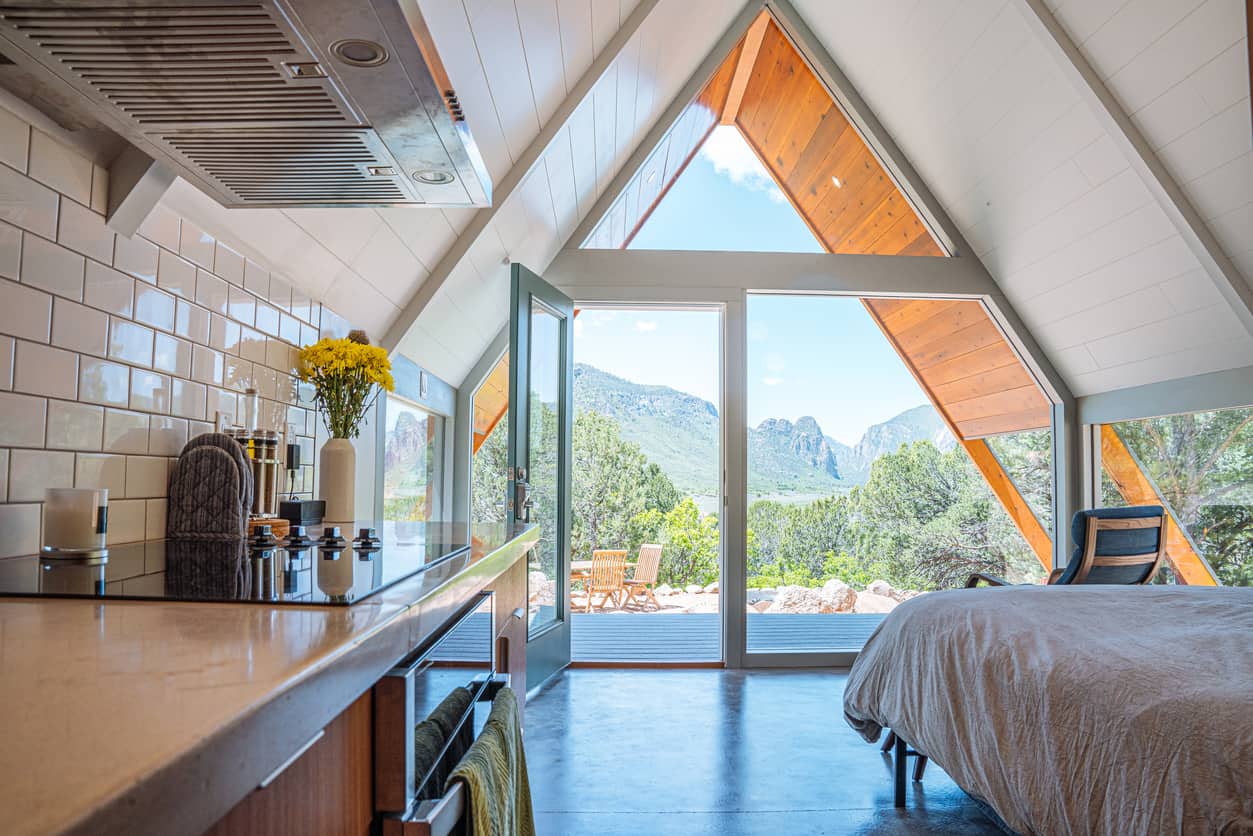 What are Marriott Home and Villas Properties Like?
Stays at Marriott Home and Villas properties will feel similar to experiences you've had with VRBO or Airbnb properties.
The selection of properties leans on the luxury side, but they still offer a wide range of price points. All properties are professionally-managed, whole-house rentals. So you won't deal with any idiosyncratic owners or awkward bedroom arrangements.
Locations and properties range widely, from this one-bedroom apartment in Mexico City at 15,000 Bonvoy per night to a luxury 4-bedroom villa near Athens, Greece for 187,000 per night and everything in between.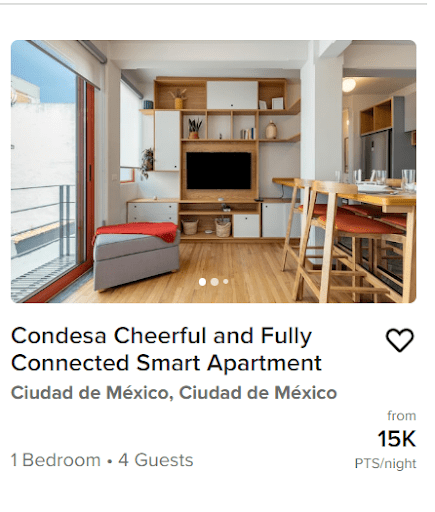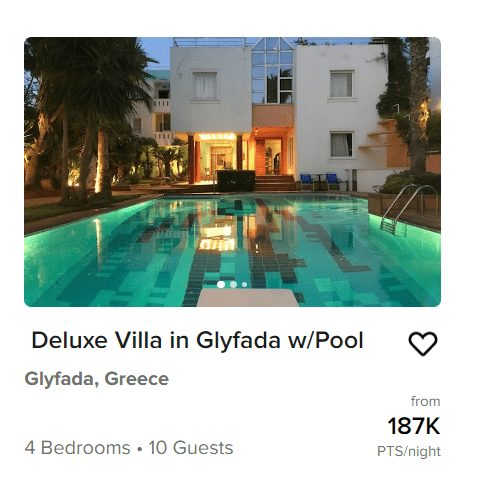 While privately-owned vacation homes offer a wide range of amenities Marriott guarantees the following amenities at every Marriott Home and Villas Property:
24/7 support
High-speed internet
Television
Kitchen Essentials
In-unit washer
Premium linens and towels
Bathroom starter kit (Toilet paper, shampoo, conditioner, soap)
Hair dryer
Smoke Detectors
Professional cleaning
While Marriott vets and periodically inspects the quality of properties on this list, the actual reservation is handled through the property's management company. Therefore, you'll have to work through them if you have an issue. Once a reservation is made with a Marriott Home and Villas property, Marriott is basically "out of it".
How to Book a Marriott Home and Villas
Booking a Marriott Home and Villas property is almost identical to booking a hotel on marriott.com.
Simply go to homes-and-villas.marriott.com and search your location and dates to find a property that works for your trip.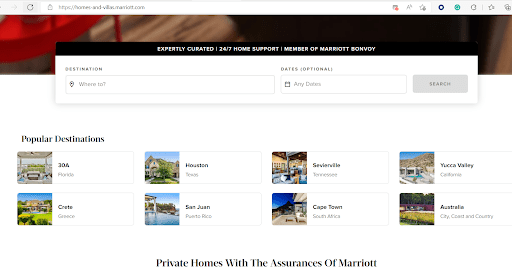 Click on the filters to drill down to properties with the bed/bath count, price or features you require. You can also toggle the screen to show rates in Bonvoy Points or Cash by clicking the checkbox in the upper right-hand corner of the screen.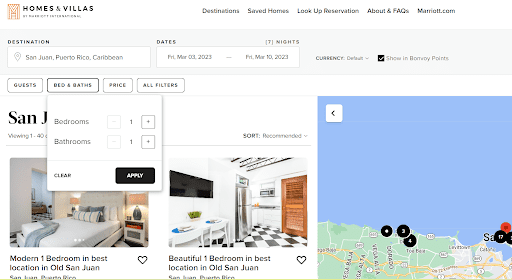 Once you find a property you like, click the "Book Now" button. For most properties, this will instantly reserve your property, just like a hotel booking. On others, the property will require 24 hours for the property manager to confirm the reservation.
A few properties won't display a "Book Now" button and instead will display an "Inquire for Details" button. This will put you in touch with the property manager who will provide rates and availability for the property.
You can book any property with all cash, all points or a combination of cash and points.

Each Marriott Bonvoy Point is worth 0.6 cents when used to offset the cash price of a Marriott Home and Villas reservation. You can decide how many points you'd like to use for your stay. Simply click the "Use Points" box and edit the points field up to the number of points in your Marriott account.
Keep in mind rates include the all too familiar taxes, cleaning and service fees like most vacation rental properties. While booking hotels with rewards points helps you avoid taxes and fees, you'll use your Bonvoy Points to offset the cost of these fees when booking through Marriott Home and Villas. This would be true no matter how you booked a vacation rental property, whether through a travel portal or by reimbursing a travel purchase with your Venture Miles, but it's something to be aware of when comparing redemption opportunities.
Why Use Marriott Home and Villas?
Unlike booking a vacation rental through popular vacation rental sites, booking vacation rentals with Marriott Home and Villas allows you to earn Marriott Bonvoy Points for the cash portion of every stay. You'll even benefit from the bonuses on the base points based on your Marriott status.
You'll earn five times base points on the cash portion of Marriott Home and Villas stays. The base points don't apply to taxes or fees.
In addition to earning Marriott Bonvoy Points on your stay, every night at a Marriott Home and Villas property counts as a qualifying night for your next status tier. This is a great way to keep earning status while staying in vacation rentals.
All things being equal, why not book your vacation property on a site where you'll earn hotel points and loyalty status?
Keep a look out for bonus periods where Marriott offers double points or other benefits for Marriott Home and Villas bookings. Marriott is making a pretty big bet for the future of vacation rental properties. It will be exciting to see how their offerings and rewards expand over time.
What to Watch Out for While Booking Marriott Home and Villas Stays
Booking vacation rentals through Marriott Home and Villas isn't all sunshine and rainbows. Because Marriott Home and Villas is simply a curated list, your booking isn't directly with Marriott. Therefore, just like booking through a travel portal or booking with VRBO or Airbnb. your customer service experience can vary widely.
Additionally, since the management company processes your credit card, the charge may not code as travel. Similarly, you won't earn Marriott property bonus points on your Marriott branded credit card. Consider booking your Marriott Home and Villas room with the card with the best travel interruption protection or the best uncategorized spending rate.
At 0.6 cents per point isn't the most value you can extract out of a Marrit Bonvoy point. However, this isn't a horrible rate and many people value their Bonvoy Points at about this rate. Marriott's dynamic pricing means you can find hotels valued anywhere between 0.5 and 1.20 cents per point.
By using your Marriott Bonvoy points at a slightly worse rate than their normal, you may be preserving your flexible points for more lucrative redemptions. For instance, instead of using Capital One Venture miles to offset a vacation rental charge, you can transfer them to an airline to pay for your flights, likely getting two or three times more value than you would by erasing a travel purchase.
One other drawback of booking through Marriott Home and Villas is that as of this writing you can't use a free night certificate with the program.
How to Earn Marriott Bonvoy Points
Marriott Home and Villas opens up a whole new world of Bonvoy point redemption opportunities. Luckily, Marriott points are fairly easy to earn. Marriott partners with both Chase and American Express to offer a plethora of co-branded cards. Let's explore some of the most popular options.
Chase Personal Marriott Bonvoy Credit Cards
Marriott Bonvoy Bold® Credit Card
Marriott Bonvoy Bold® Credit Card is Marriott's no-fee credit card. You'll earn automatic Silver Elite Status from the 15 qualifying night credits the card generates. Additionally, you'll earn the following rates on purchases:
3X on Marriott purchases
2X spent on travel
1X on all purchases
Besides earning automatic Silver elite status, there aren't a lot of bells and whistles with this card and the welcome bonus is generally not the highest. Since this is a chase card it will take up a 5/24 slot which likely won't be worth it, but if you somehow have all the Chase cards your heart desires and haven't crossed the 5/24 threshold, this no-fee card is a low-risk way to get some Marriott Bonvoy Points in your account.
Marriott Bonvoy Boundless® Credit Card
The Marriott Bonvoy Boundless® Credit Card is the next step up and the only other Marriott card offered by Chase at this writing. Although Chase still services several other Marriott cards, all others have been discontinued for new applicants.
You'll get stronger earning potential with the following rates on purchases:
6X on Marriott purchases
3X on the first $6,000 spent on grocery stores, gas stations and dining
2X on all other purchases
You'll also earn a free night certificate up to 35,000 points on every card anniversary after you pay your annual fee. Plus you'll receive the travel protections you've come to expect from a Chase travel card such as:
Baggage delay reimbursement
Lost luggage reimbursement
You'll also get complimentary DashPass for the first 12 months after card opening. Considering the free night certificate and the other travel insurances offered, the card is worth the $95 annual fee.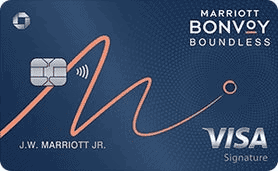 American Express Marriott Bonvoy Credit Cards
Marriott Bonvoy Brilliant™ American Express® Card
The Marriott Bonvoy Brilliant™ American Express® Card (Rates & Fees) is the premium Marriott card. With a $450 annual fee it better pack a punch. You'll earn similar rates to the Boundless card, except the earnings aren't bound by a cap:
6X at Marriott Hotels
3X at restaurants and flights booked directly with the airline
2X on all other purchases
You'll also receive some hefty statement credits, Gold elite status and a collection of travel benefits:
Up to $300 in restaurant credits per year (issued as a credit of up to $25 per month)
$100 Marriott Property Credit at St. Regis or The Ritz-Carlton during stays of two nights or longer.
Annual free night reward up to 85,000 points
Complimentary Priority Pass Select Membership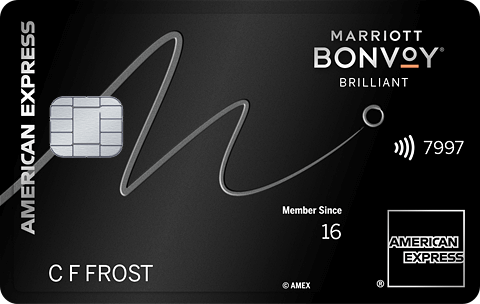 Marriott Bonvoy Business® American Express® Card
The Marriott Bonvoy Business® American Express® Card (rates & fees) is the only remaining Marriott Business card. The extra benefits are similar to the Boundless card but it centers its bonus categories around business expenses:
6X at Marriott Hotels
4X at gas stations, restaurants, wireless and shipping2X on all other purchases
You'll also receive travel-related benefits such as:
Annual free night certificate up to 35,000 points
Additional free night up to 35,000 points after spending $60,000 in a calendar year
Gold Elite status
The annual fee for the Marriott Bonvoy Business is $125. Even though it's slightly more expensive than the Boundless card this is one of the best cards to attain Bonvoy points. Because it's a business card it won't count against your 5/24. The free night certificate offsets the annual fee by itself.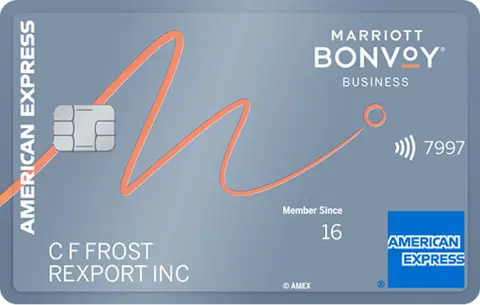 Marriott Bonvoy Bevy™ American Express® Card
The Marriott Bonvoy Bevy™ American Express® Card is a mid-tier card offering a number of benefits:
6X at Marriott Hotels
4X points at restaurants worldwide and U.S. supermarkets (on up to $15,000 in combined purchases at restaurants and U.S. supermarkets per calendar year, then 2 points)
You'll also receive additional travel-related benefits such as:
Gold Elite status
15 Elite Night Credits toward the next level of Marriott Bonvoy® Elite status. Limitations apply per Marriott Bonvoy member account. Benefit is not exclusive to Cards offered by American Express. Terms apply
1,000 Marriott Bonvoy® bonus points per paid eligible stay booked directly with Marriott for properties participating in Marriott Bonvoy
Annual free night certificate up to 50,000 points when you spend $15,000 in a calendar year
The $250 annual fee makes this a mid-tier card, and it will count towards your 5/24 status.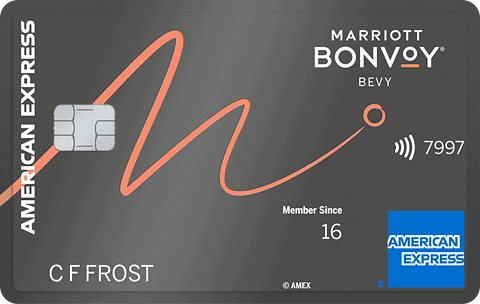 Marriott Card Rules
One catch to earning Marriott Bonvoy points is the confusing card eligibility rules. Because Marriott offers cards through two issuers and seems to reinvent its offerings regularly, it's a lot to keep track of. If you hold a Marriott credit card already, you'll want to be aware of these restrictions on Marriott Bonvoy Credit Card welcome bonuses.
The short version is you can't currently hold or have received a bonus on the same card or its predecessor or competitor's version of its predecessor in the last 24 months. Additionally, you must wait up to 90 days between applications for Marriott Bonvoy Credit cards except in the case where you are applying for a personal and business card at the same time.
Of course, unless you're a Marriott Credit Card historian you may not know which cards cause a restriction on a new application. Check out the graphic on this article before your next Marriott branded credit card application.
Transfer Partners
Both American Express Membership Rewards and Chase Ultimate Rewards transfer to Marriott at a rate of 1:1. Occasionally American Express offers bonuses on transfers.
Although these transfers are available, they rarely make sense.
You can often get two to three cent per point values by transferring these powerful points to airline partners. The rule of thumb is you'd only transfer valuable points like Ultimate Rewards to Marriott to top off your account. Because Marriott Home and Villas lets you use any number of Bonvoy points to offset the cash price of your stay that situation doesn't apply.
If you're trying to keep the cash price of a stay to a minimum and you are flush with points, know that you can transfer these points, but it's not a move we recommend without a quality transfer bonus or unless you're topping off.
Final Thoughts
Marriott Home and Villas is an exciting use for your Bonvoy Points. Most hotel award programs leave your family cramped in tiny rooms devoid of personality. Not only can using Marriott Home and Villas help you use your Bonvoy Points to stay in a property better suited for your family, but you'll also earn Marriott Bonvoy Points on the cash portion of your stay.
Though it may not be the most efficient use of Bonvoy Points, Marriott Home and Villas is a fair value and one you'll want to keep in mind the next time you need to reserve a vacation rental property.
When faced with two properties with identical pricing, book your next vacation rental through Marriott Home and Villas to earn qualifying nights and points for your stay.
While it rarely makes sense to transfer points to Marriott, having the option to book vacation rentals through Marriott increases the flexibility of your existing Bonvoy Points and the comfort of future family stays.
New to the world of points and miles? The Chase Sapphire Preferred® Card is the best card to start with.

With a bonus of 60,000 points after $4,000 spend in the first 3 months, 5x points on travel booked through the Chase Travel Portal and 3x points on restaurants, streaming services, and online groceries (excluding Target, Walmart, and wholesale clubs), this card truly cannot be beat for getting started!
Learn More
Editors Note: Opinions expressed here are author's alone, not those of any bank, credit card issuer, hotel, airline, or other entity. This content has not been reviewed, approved or otherwise endorsed by any of the entities included within the post.