Note: Some of the offers mentioned below may have changed or are no longer be available. You can view current offers here.
Backstory
My dad, brother and I took our first international trip together in 2005 to France to see the Tour de France. As big cycling fanatics, it was certainly a memorable trip to be able to follow le Tour around France for a few days, to be able to drive some of the famous climbs and to watch the finishing stage on the famed cobblestones of the Champs-Élysées in Paris.
That trip was full of fun memories during the 2 weeks or so we spent in France together and was one of my first experiences with using points – my dad utilized a bunch of his US Airways Dividend Miles and Marriott Rewards points to cover our flights over and many of our hotel nights for this trip.
The trip to France was such a highlight in our lives, and we refer to memorable events and happenings from that trip often. But it was 13 years ago, and we hadn't done a trip like it since. So in Fall 2017, my brother Andy and I crafted a plan to do another similar trip with my dad, and it focused almost exclusively on using points and miles to get to a destination that my dad has longed to visit since he was in college.
In college, my dad was a History Major with a concentration in U.S. – Latin American Foreign Relations. As such, he spent years studying Latin American countries cultures, customs, and politics. In these studies, he learned about Machu Picchu and developed a fascination with the place over time. He's talked time and time again over the years about how a bucket list trip would be to visit Machu Picchu, so Andy and I knew we had to make it happen.
Fast forward to Summer 2017, and I randomly discovered that American Airlines award chart considers Peru to be part of South America Region 1, which means that saver business class flights are only 30,000 AAdvantage miles, rather than the 57,500 AAdvantage miles that the rest of South America costs, which is almost half-price. Yes, it's a little bit embarrassing that I sometimes plan travel around award chart sweet spots, but hey, I value my points, so I immediately reached out to Andy to formulate a plan.
Our the plan went something like this – I convinced my dad to open up the American Airlines CitiBusiness / AAdvantage Platinum Select Mastercard for a welcome bonus of 70,000 AAdvantage miles after spending $4,000 in purchases within the first 4 months (no longer available). This was not at all out of the ordinary for me because I'm constantly helping my parents (well anyone who will listen to me really!) with their credit card miles and points strategies. I had him open up this card in particular so that it wouldn't affect his 5/24 standing to be able to continue to open Chase cards.
After ensuring he had plenty of time to meet his minimum spending requirement, on Christmas Day, Andy and I gave my dad an envelope with a fake business-class plane ticket to Lima, Peru for him to open. It was an exciting moment for him to slowly put together what exactly he was holding and what all it meant.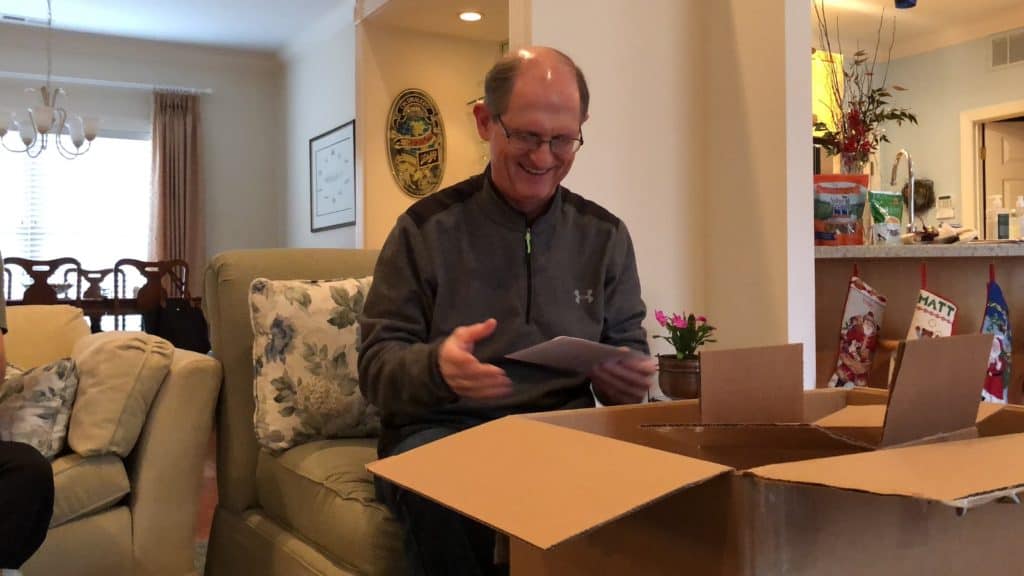 Cards Used
As a part of the planning that Andy and I formulated in the fall to make this trip happen, we all assessed our own American Airlines AAdvantage accounts to ensure we each had enough miles to cover the flights for the trip. Even though we each already had accumulated enough American AAdvantage miles in our accounts from years of flying American Airlines, we also each used the following cards to specifically earn miles to cover our flights for this trip and replenish our balances:
Matt:
CitiBusiness / AAdvantage Platinum Select
Andy:
AAdvantage Aviator Red World Elite Mastercard
Citi / AAdvantage Platinum Select World Elite Mastercard
Jeff:
CitiBusiness / AAdvantage Platinum Select
For our hotel stays, I didn't open any cards specifically for this trip. However, I am a cardholder of SPG Amex and Chase Marriott credit cards, as well as multiple Chase Ultimate Rewards earning cards, so I had some points earned from both welcome bonuses as well as regular organic spending to be able to cover all of our hotel nights during our stay. All of our nights were paid for with points, except for one, which was our most extreme one.
Read more to find out which one!
Note that Marriott has since folded SPG into its loyalty program so the redemption rates for Starwood hotel stays are now different.
Flights
My brother lives in Arkansas, and my dad and I both live in North Carolina, so we knew our flight logistics would require that we met somewhere along the way because we wanted to fly all together on the same flight from the US to Peru.
Going into flight searching, we knew that finding flights with 3 business class seats available at the saver level was likely going to be a challenge. But I'm not sure we had even finished opening all of the presents before we got searching for flights. Fortunately, we were able to find an option that worked during September 2018. It included saver business class on the flights down to Peru and Main Cabin Extra seats for the return home. It worked with everyone's vacation schedule, and we quickly got to booking the flights.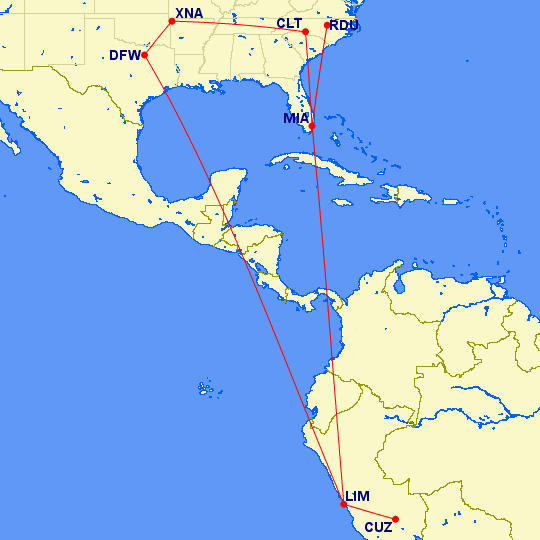 Our routings for this trip.
My dad and I were able to book the following routing:
Raleigh-Durham (RDU) to Miami (MIA) in domestic first class
MIA to Lima (LIM) in business class
Check out our simple guide to each class of service if you don't know the difference between domestic first class and international business class.
My brother booked the following to meet us in Miami:
Northwest Arkansas (XNA) to Charlotte (CLT) in domestic first class
CLT to MIA in domestic first class
MIA to Lima (LIM) in business class
We split up on the return flight for logistics and timing reasons, so my dad and I had the following return:
LIM to MIA in Main Cabin Extra
MIA to RDU in economy
And my brother's return routing was:
LIM to DFW in economy
DFW to XNA in economy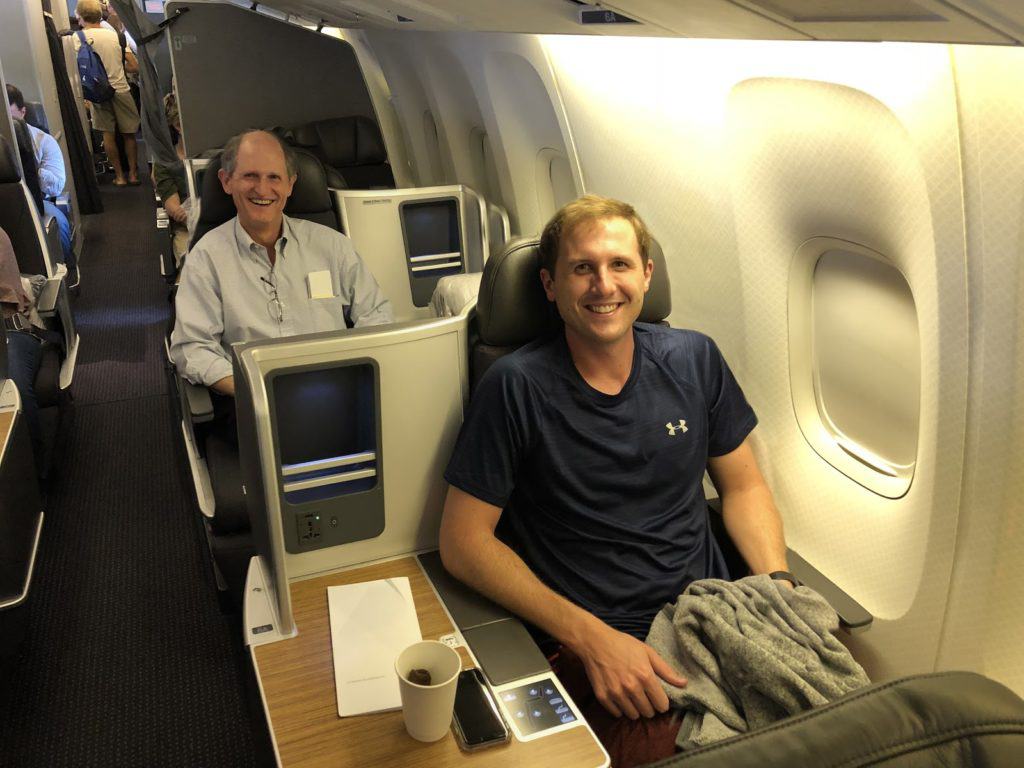 The flights down cost 35,000 American AAdvantage miles for one-way saver business class flights. Unfortunately, neither saver business nor economy class was available for the way home anywhere near the dates that would work best for our travel home, so we had to book AAnytime awards home for 30,000 American miles. It was an overnight flight and we were going to be sleeping after our week-long non-stop adventure, so economy worked out just fine.
After getting to Lima, we then had to take a short hour-long flight over to Cusco. Our flight logistics were:
LIM to Cusco (CUZ) in economy
CUZ to LIM in economy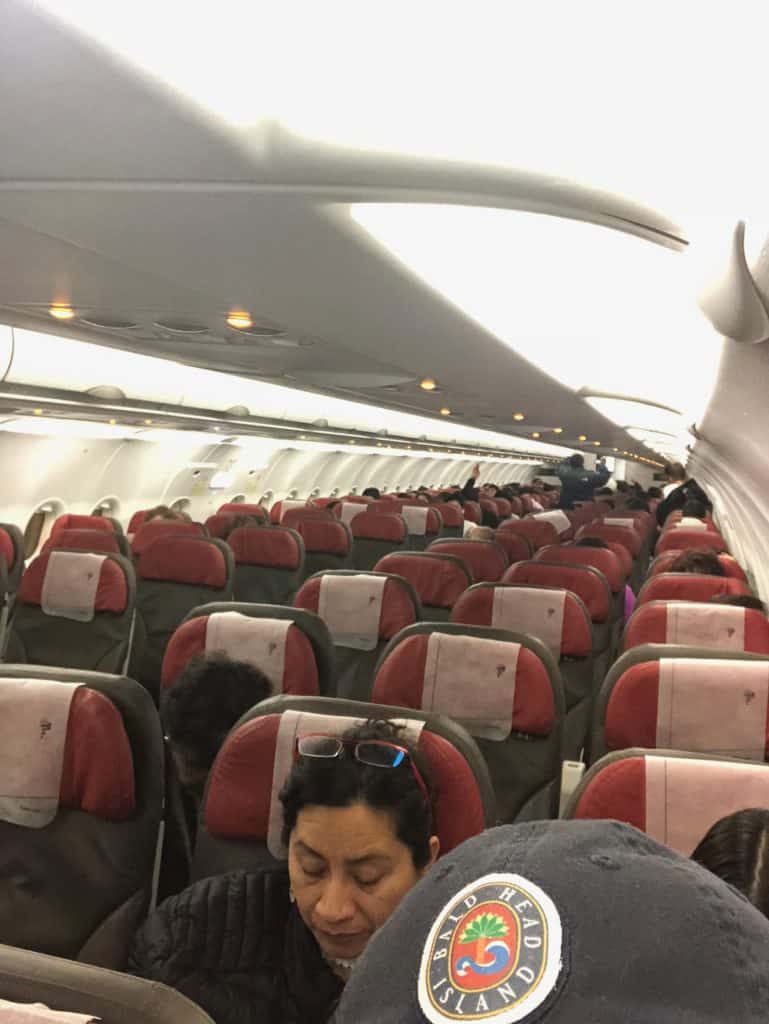 On the outbound, we each used 12,396 Chase Ultimate Rewards Points via the Chase Ultimate Rewards portal for a one-way flight on LATAM. The cash cost of the flight was $185.95 per person. There was no saver economy space available on this flight, which was surprising once we got on the plane because there were literally 40 or so passengers on the entire 737.
On the return, we were able to find saver economy space, which worked out well because LATAM was charging $380 for this leg one-way. Since LATAM is a OneWorld partner, we were able to take advantage of British Airways' distance-based award chart.
Since the flight was only 364 miles, it cost only 4,500 Avios per person one-way. We each transferred Ultimate Rewards points from Chase to British Airways to book this flight. This is what we would've like to have done on the outbound, but no saver space was available. As you can see, the outbound flight cost almost 2.5x what the inbound flight cost in Ultimate Rewards points.
Hotels
For this trip to Peru, our accommodations include stays at the following places:
Holiday Inn Lima Airport (1 night)
JW Marriott El Convento Cusco (1 night)
Tambo del Inka (3 nights)
Skylodge Adventure Suite (1 night)
Palacio del Inka (1 night)
Holiday Inn Lima Airport
Our first stop at the Holiday Inn Lima Airport was simply because our flight from the US landed at 8:40 pm. After clearing customs, and waiting for what seemed like an eternity for our bags, we hopped into a cab for the short 3-minute drive at about 11 pm. This hotel is literally across the street from the airport, but the traffic is complete chaos so you can't walk to it without risking your life and have to take a cab. However the hotel covers the cab fare for the short journey, so that is a nice touch.
If booking this again, I would instead stay at the Wyndham Costa del Sol. It's literally in the parking lot of the airport and has a direct connection from the baggage claim area. For convenience, it's hard to beat.
Our stay at the Holiday Inn was extremely short – we got to bed around 12 am, and had to wake up around 4 am to catch our 5:15 am flight to Cusco. I wish we had booked at the Wyndham because we could've probably gotten 30 minutes of extra sleep!
Our one night at the Holiday Inn Lima Airport cost about $125. We booked through the Chase Ultimate Rewards portal for just 8,200 Chase Ultimate Rewards points for our 1 night, well about 5 hours, stay.
JW Marriott El Convento Cusco
After our flight from Lima to Cusco, we checked in at the JW Marriott El Convento Cusco. After reading up on this hotel while planning the trip, I was very excited to check this hotel out. The hotel is located in a building that formerly served as a convent that dates back to the 16th century. And being that it's a JW in the Marriott brand, I could only expect good things. It definitely lived up to the expectation.
We booked our award stay at the JW Marriott El Convento Cusco using the Chase Ultimate Rewards portal. It cost about 17,000 Ultimate Rewards points for our one-night stay. The cash rate at the time of booking was about $288 per night.
While we didn't get upgraded during our stay (mostly because we booked through the Chase portal which limits loyalty benefits extended by the hotel), all three of us were allowed to use my Platinum benefit of free breakfast at the hotel. The breakfast spread was incredible and we dined well. Additionally, we were able to enjoy it upon arrival since our room wasn't quite ready yet which was another bonus. This benefit saved us $75 plus taxes and fees per day. The breakfast spread was extensive and very impressive, and it would've been worth paying $20 per person for, so to get it included was an added benefit.
We quickly realized just how much the elevation of Cusco (11,000 feet) can affect those that are not acclimated to it, so we spent a low-key day exploring Cusco while also starting to adjust to the elevation. We're glad we did this because even just casually strolling around town after a short night of sleep, we were ready to turn it in for the night after a delicious alpaca dinner, a local delicacy, at about 8 pm.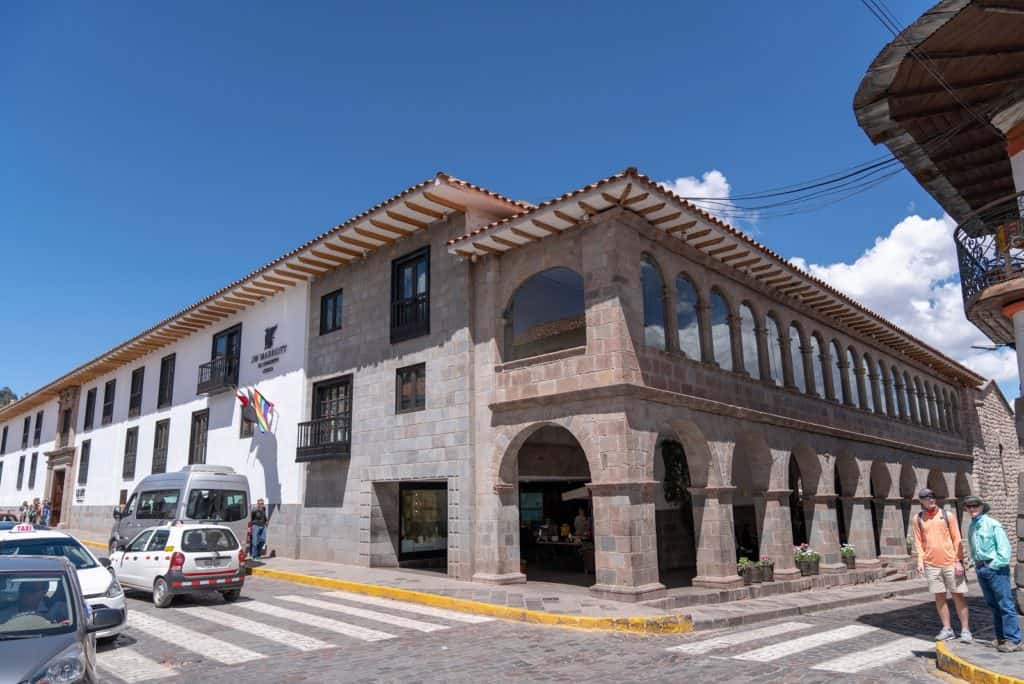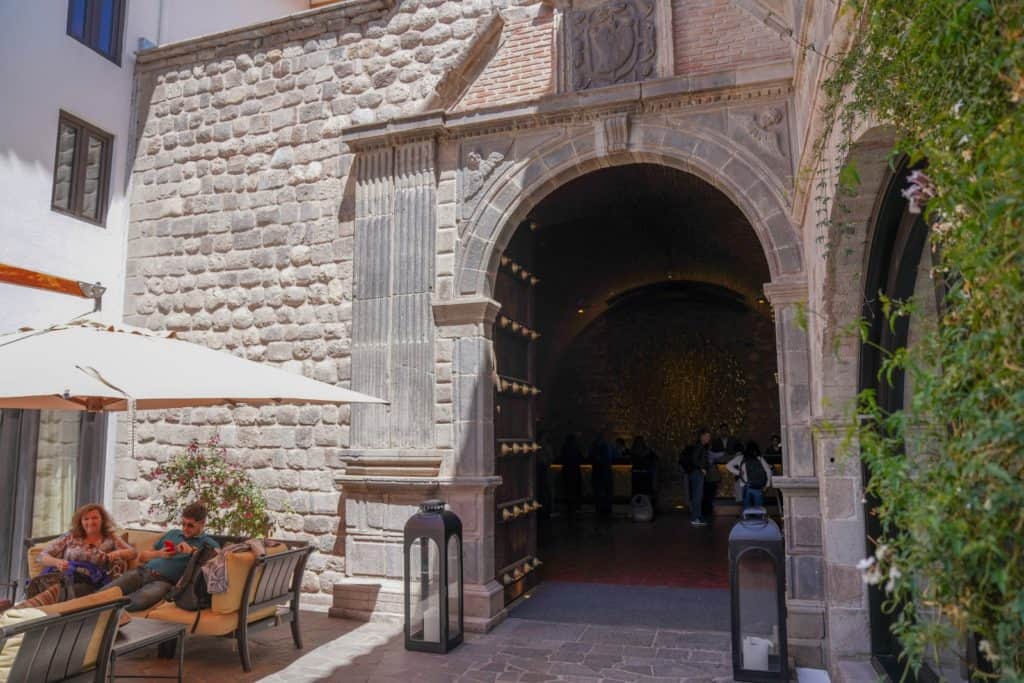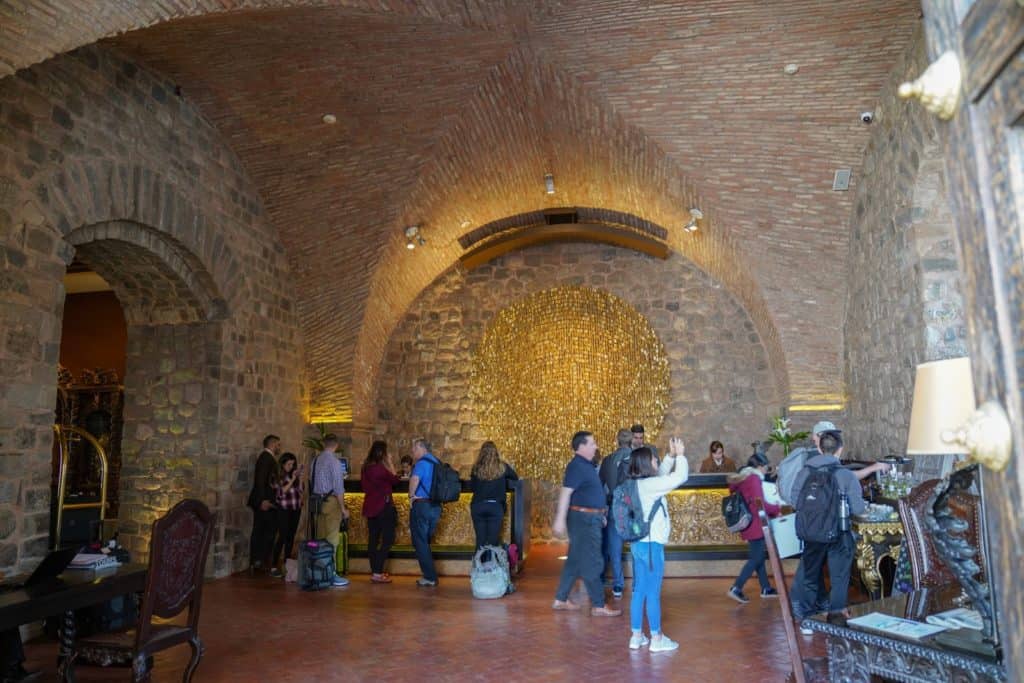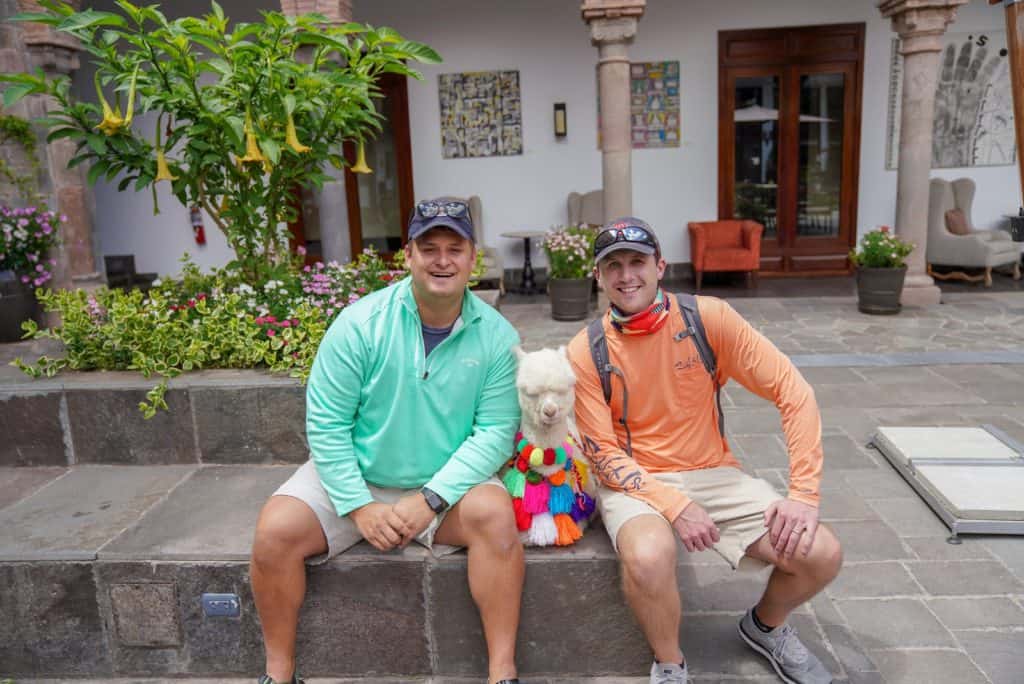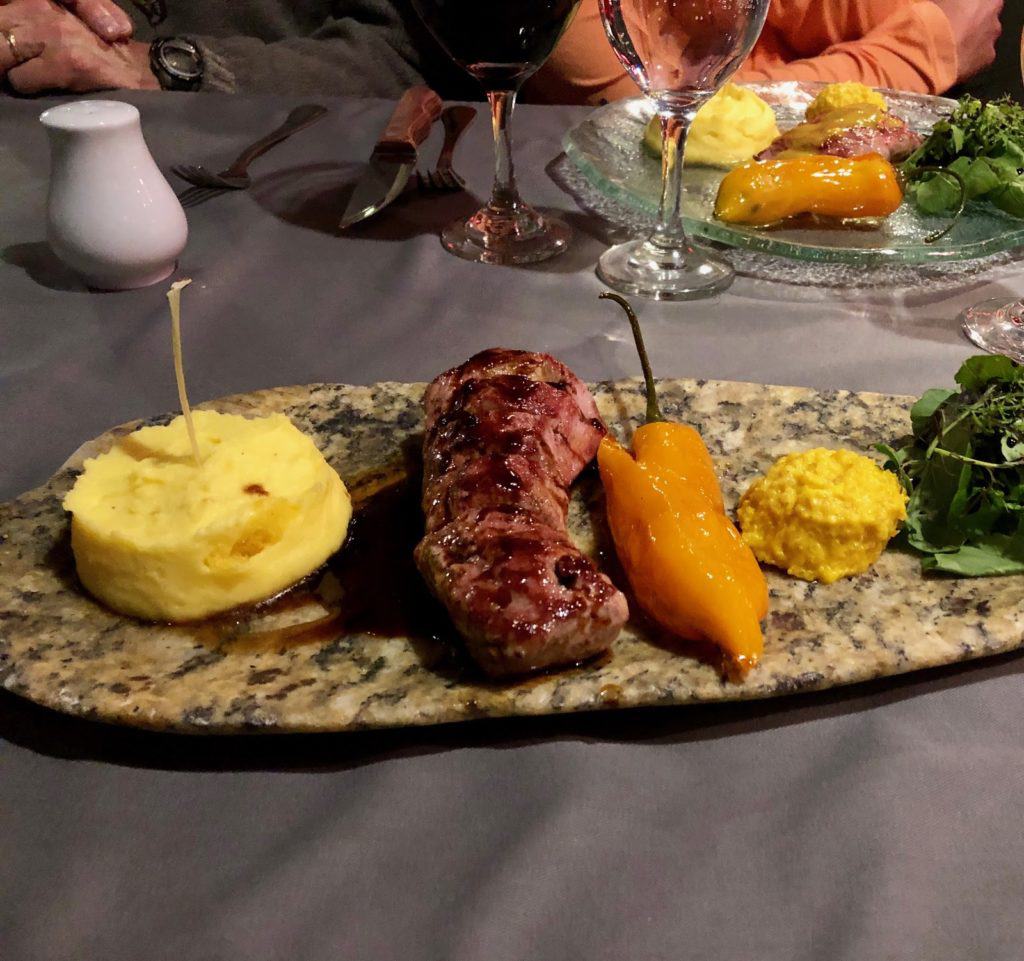 Tambo del Inka
After our pleasant day and a half exploring Cusco and our 1-night stay at the JW Marriott in Cusco, it was time to head to the Sacred Valley to begin working our way to Machu Picchu. Located in the town of Urubamba, Tambo del Inka is about a 1.5-hour drive from Cusco. It's then about a 20-minute drive from Ollantaytambo, the launching point for everyone that's headed to Machu Picchu.
Tambo del Inka is probably one of the nicest, if not the nicest, hotel in all of the Sacred Valley. Behind its walls and gated entrance is beautifully landscaped grounds with walking trails throughout the property, lagoons and other water features, and more.
It's a Category 5 Marriott property, which means that award stays cost 35,000 Marriott points per night. This makes it a great option for redeeming free night reward certificates that you can earn annually from various Marriott and SPG credit cards, or paying outright with Marriott points.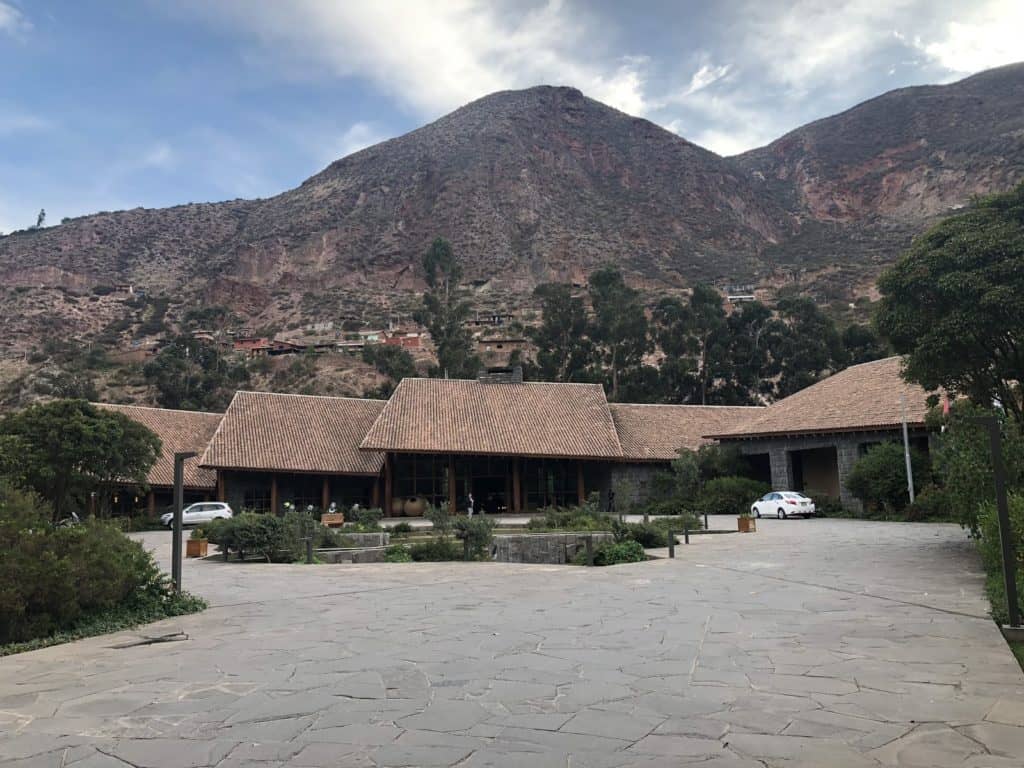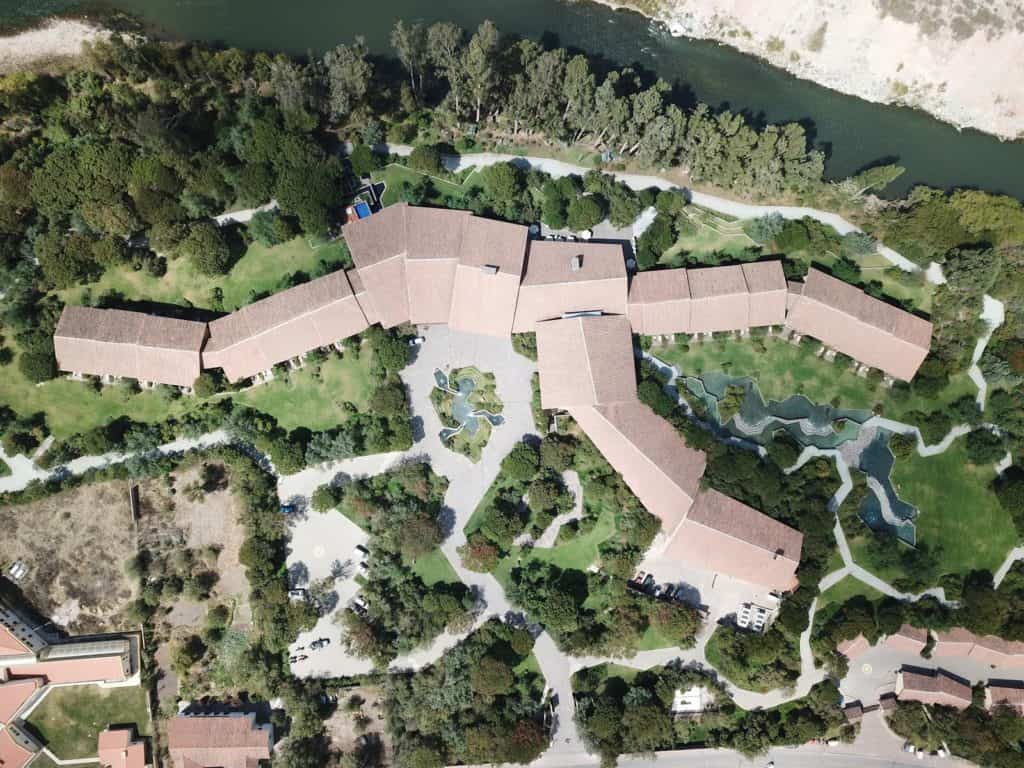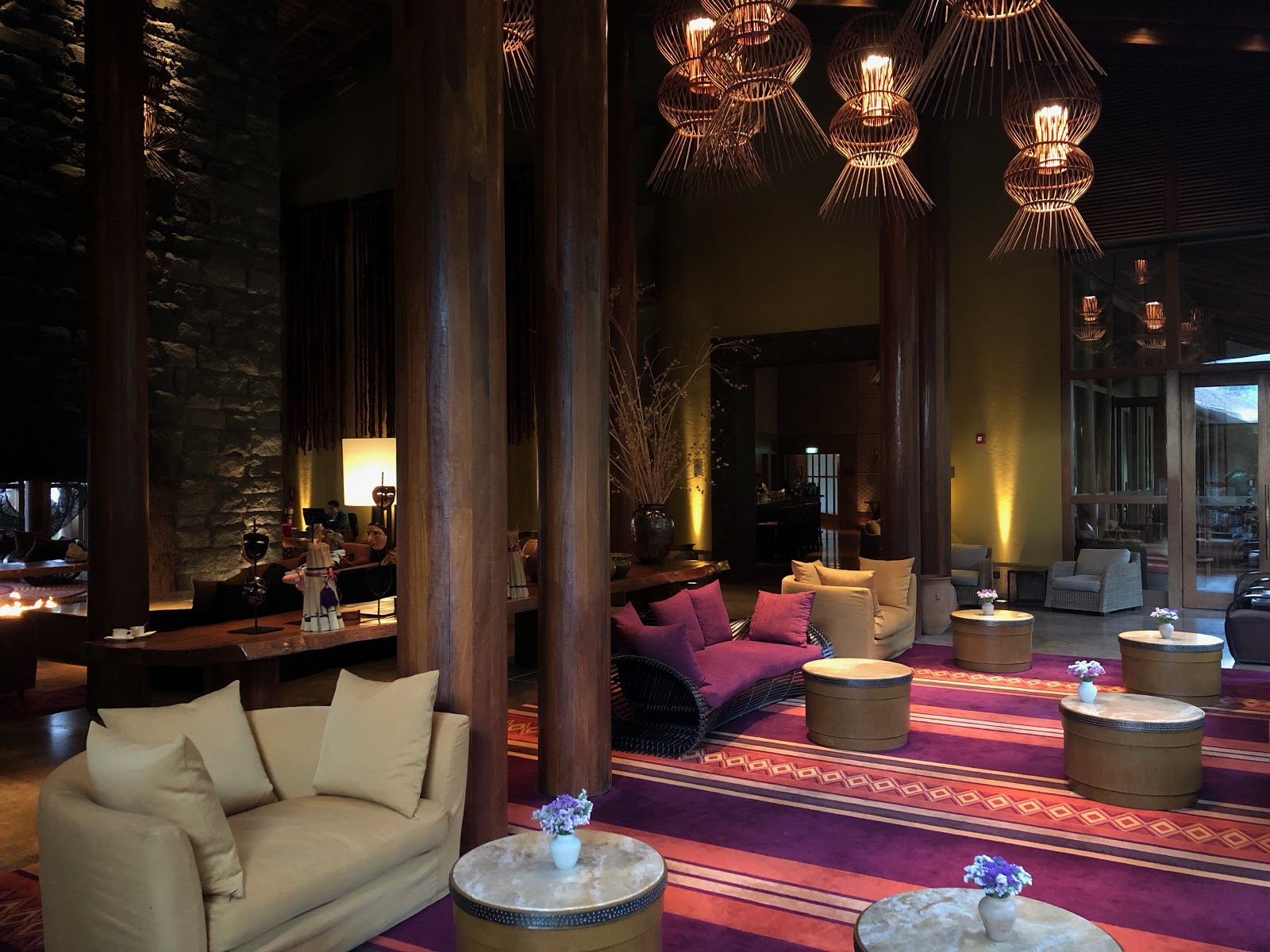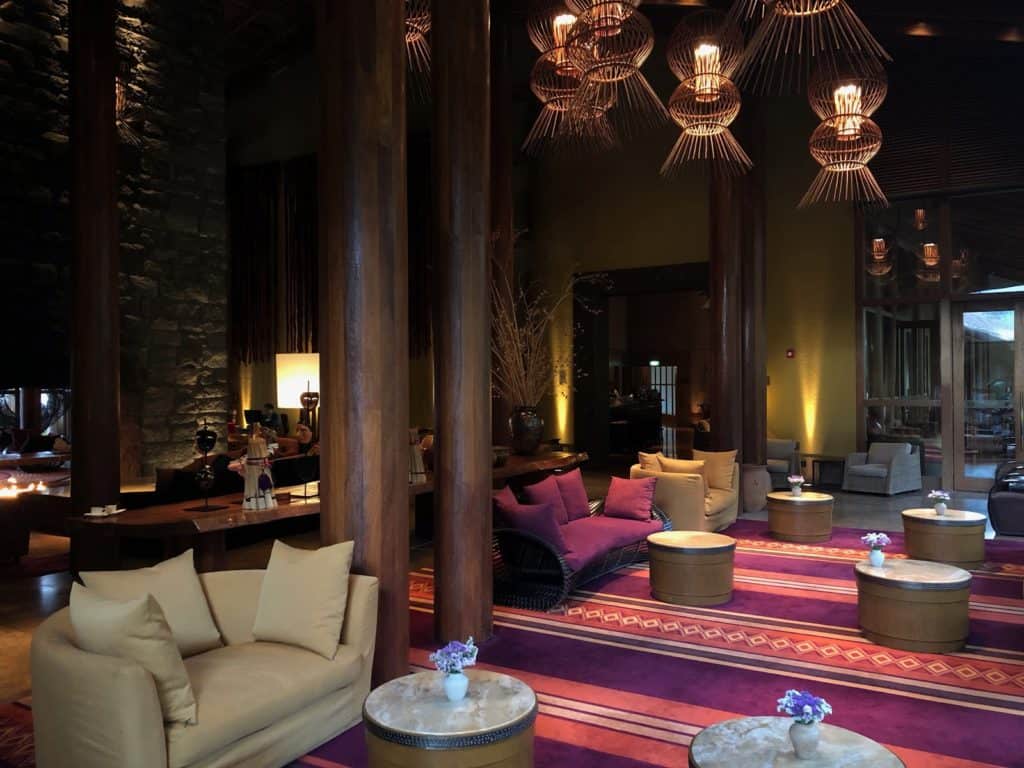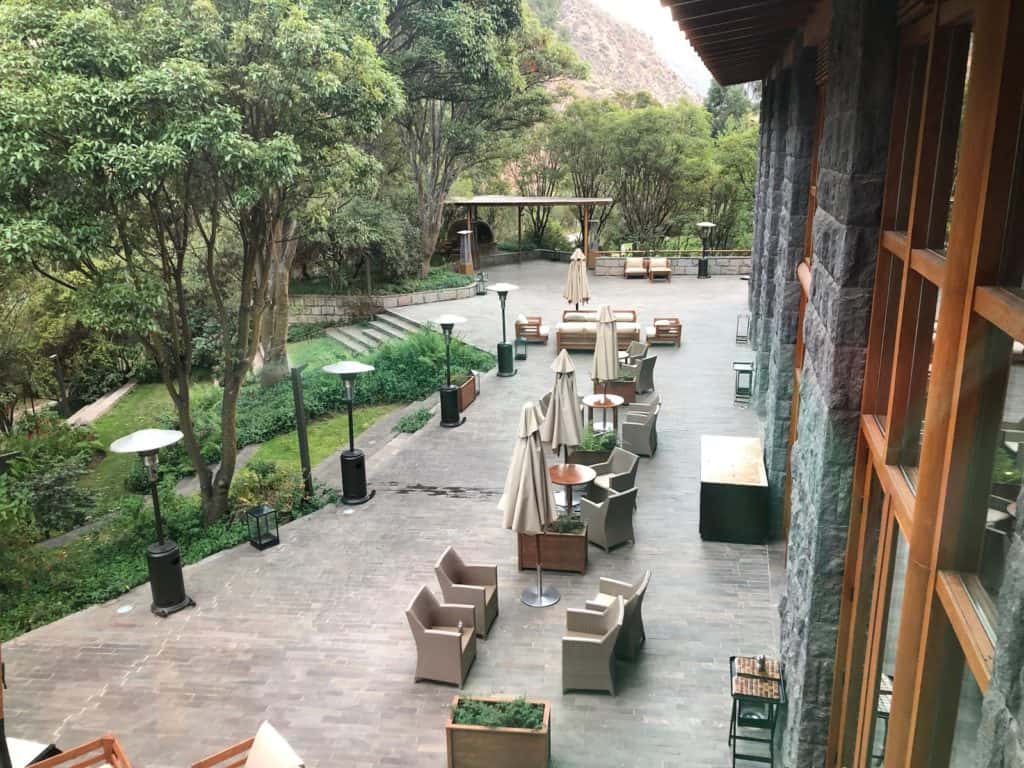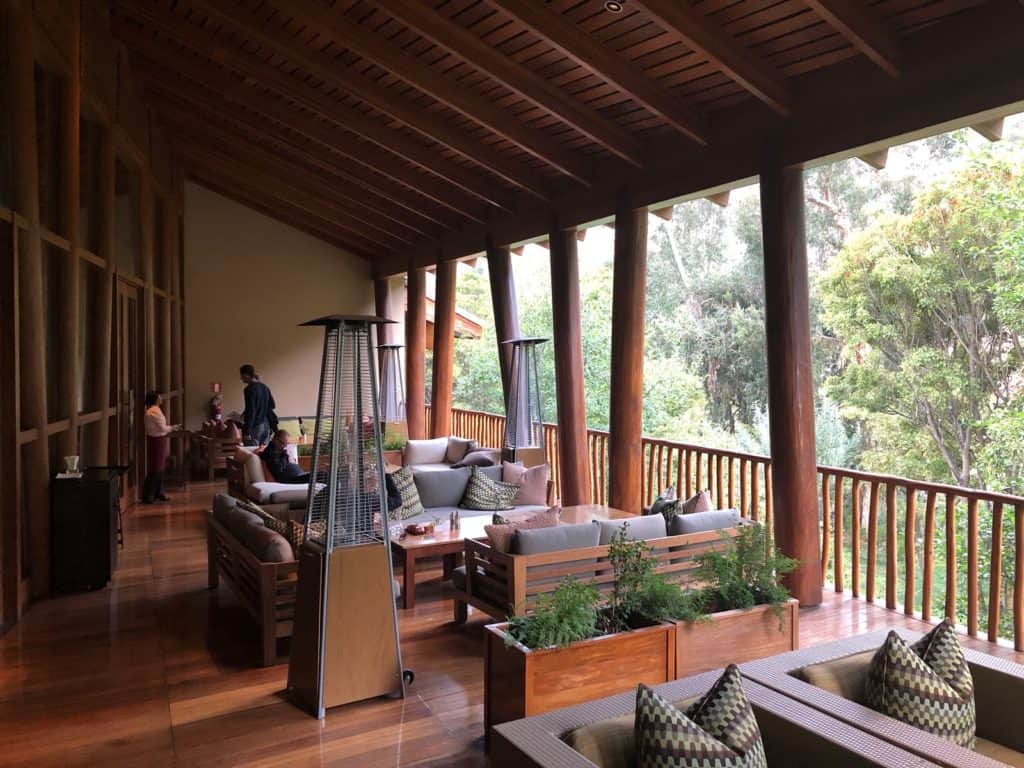 We booked our award stay at Tambo del Inka with 12,000 SPG Starpoints per night. The cash rate at the time of booking was $446 per night plus taxes and fees of about $50 per night, making this an excellent award booking.
Because I am a Marriott Platinum member, we were upgraded to a 2 bedroom Junior Suite with 2 Queen beds and a double bed in the 2nd bedroom. This worked out great for the three of us as it gave us some room to spread out all of our stuff for the 3 nights that we were staying. Plus, after our long 10-mile 1-day hike and exploration of Machu Picchu, it was a great room to come back to and crash in.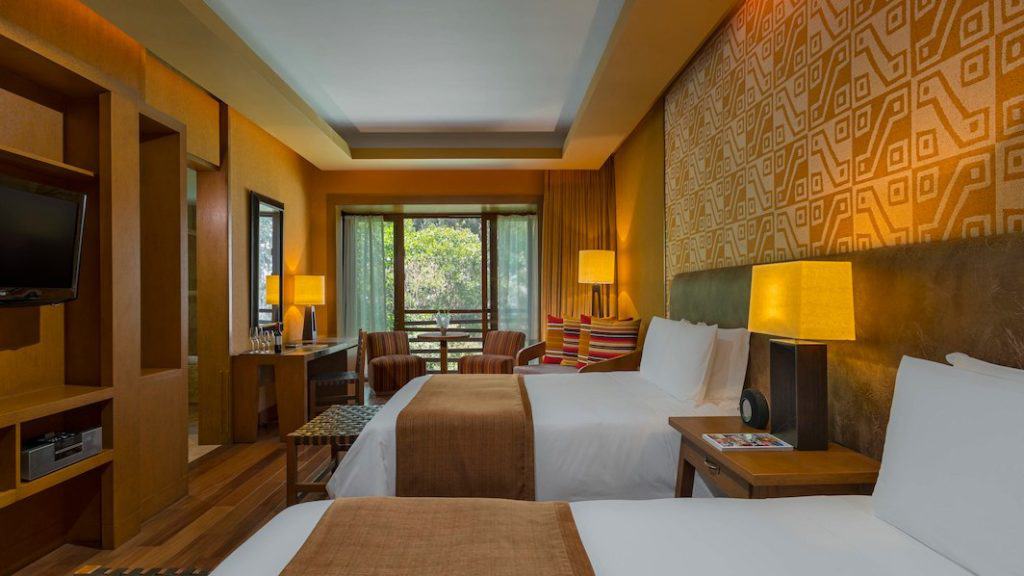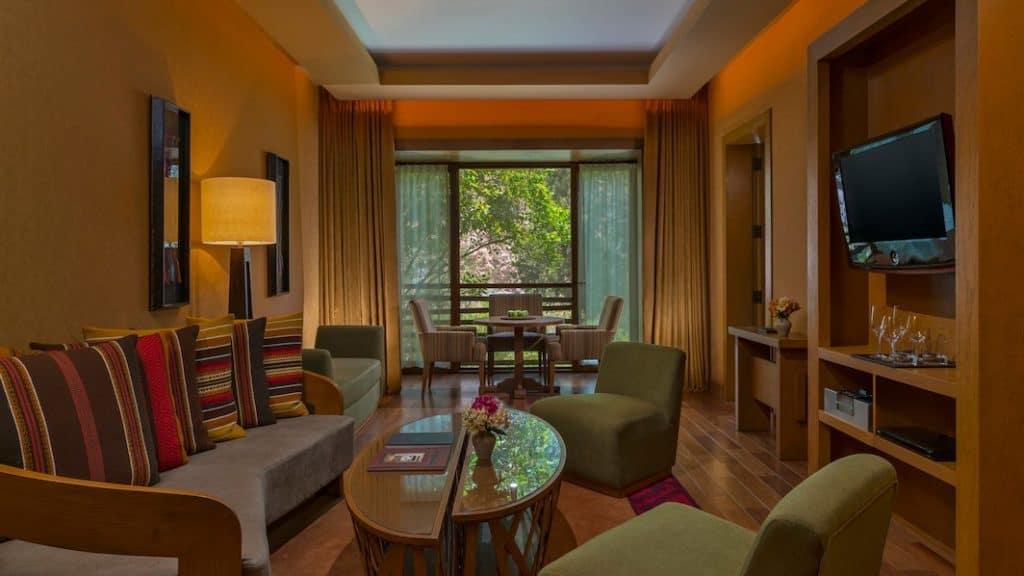 Additionally, all three of us were allowed to use my Platinum benefit of free breakfast, which saved us at least $60 plus taxes and fees per day. The breakfast spread was very impressive and would've been worth paying $20 per person for, so to get it included was again a great benefit.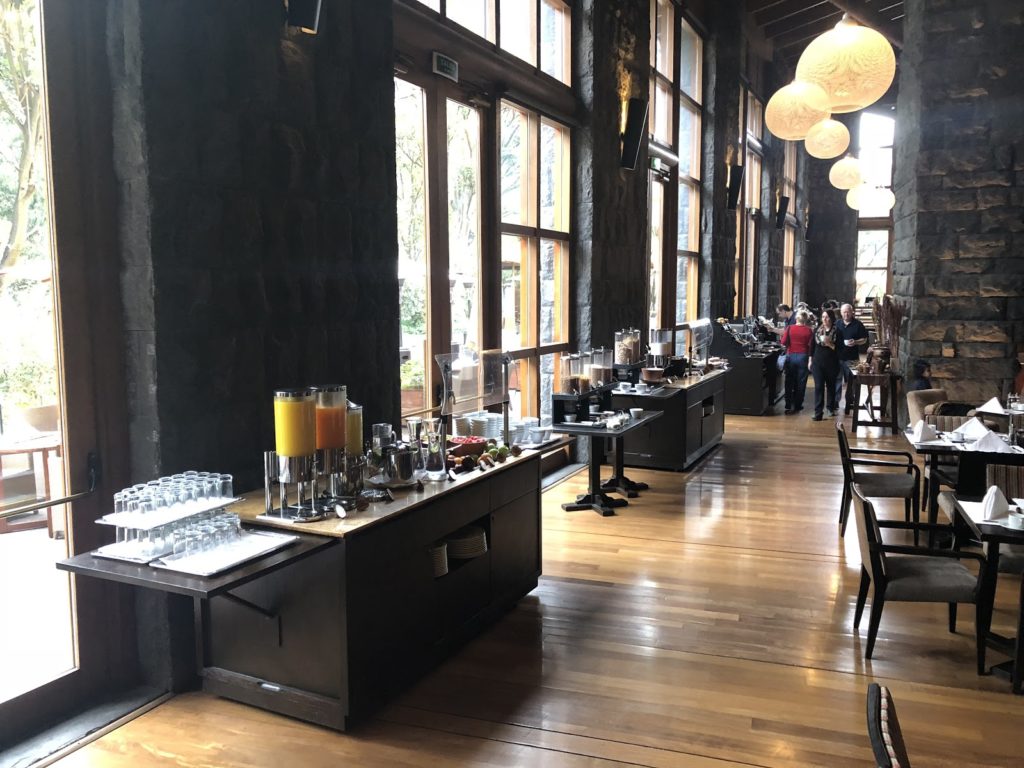 If you find yourself in the Sacred Valley, I highly recommend you look into staying at the Tambo del Inka as a part of your visit. It is a beautiful hotel that is quiet and tranquil and allows for some time of relaxation and enjoyment. It was probably my favorite hotel accommodation on the trip, and the one I was looking forward to the most.
Skylodge Adventure Suites
After our luxurious stay at Tambo del Inka, our next lodging accommodations were actually aluminum and polycarbonate suites. Even though we were located just a few miles down the road from the luxurious Tambo del Inka, our next accommodation couldn't be anything further from it.
Why you might ask? Well, we had to climb 1,300 feet straight up the side of a mountain to get to the Skylodge Adventure Suites, which consists of four pods dangling off the side of the mountain above the valley floor below.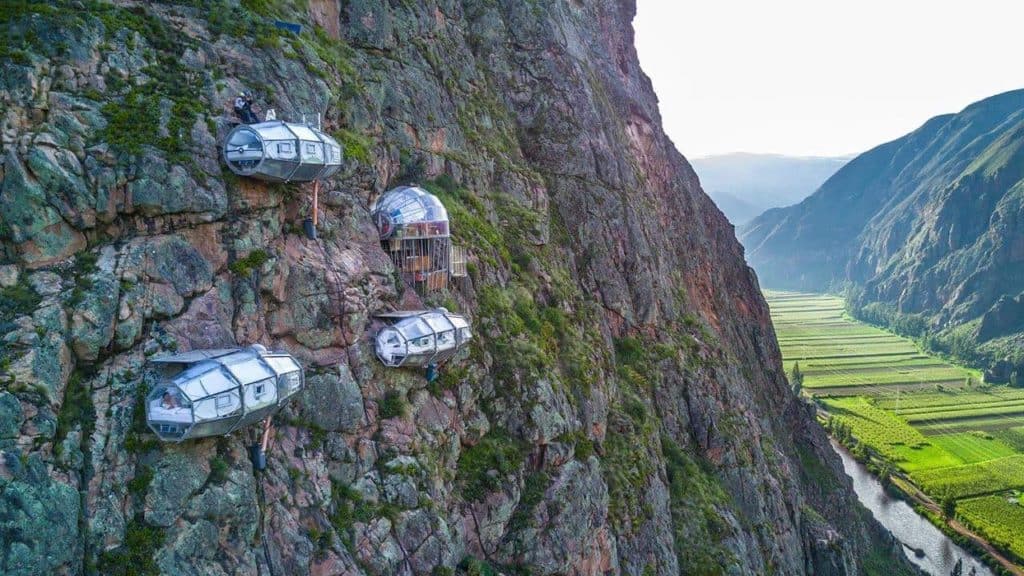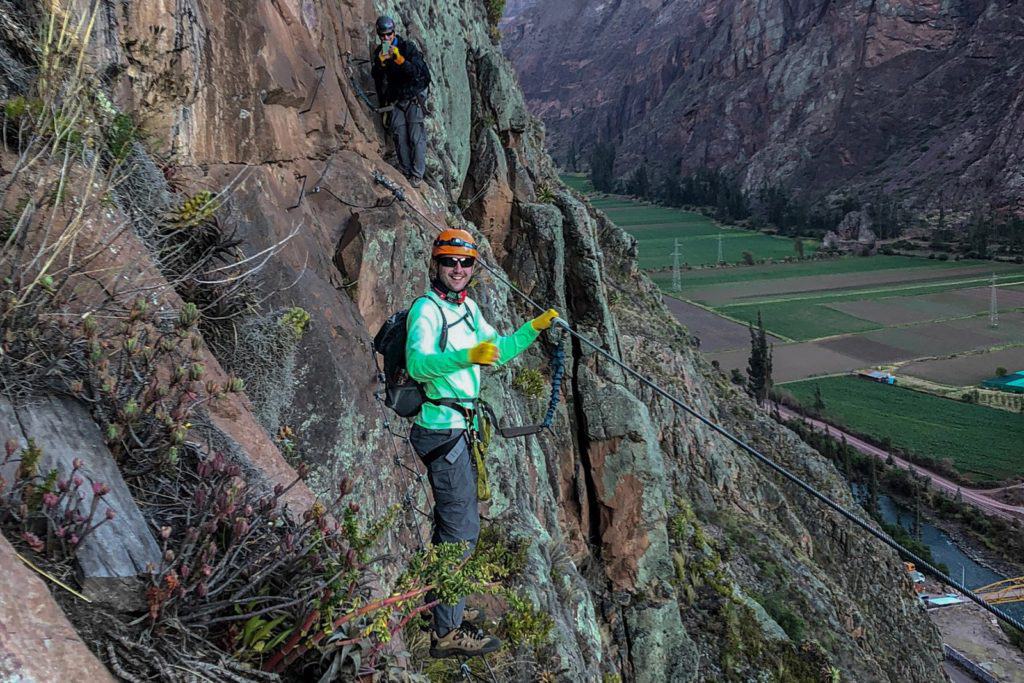 We began our climb at about 4 pm in the afternoon and finished around 5:30 pm. Once we arrived at the top, we met at the main pod where we had a gourmet dinner cooked in front of us. As you can imagine, all of the food and drink and everything else has to be carried in daily on the backs of the staff, so the food was even more impressive considering that!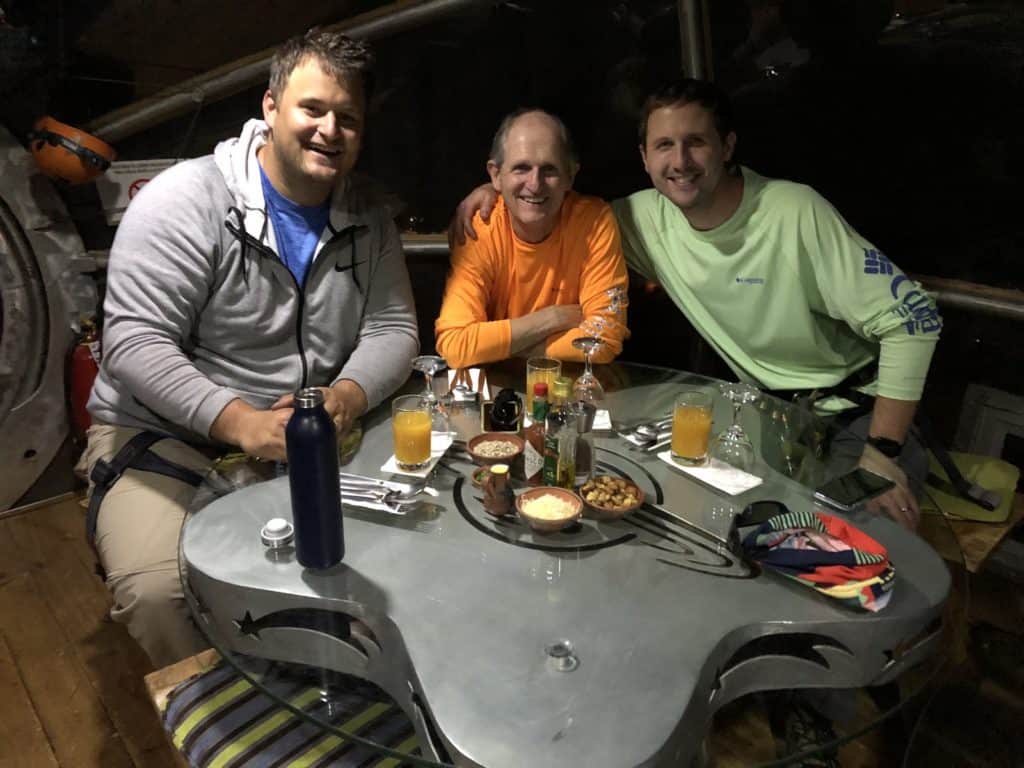 After dinner was finished, it was time for a short climb over to our accommodations for the night, our own private pod. It consisted of beds for up to four guests, solar-powered lighting and a private bathroom and sink. The down pillows and quilts on each bed made for a surprisingly comfortable sleep, even though the temperature dropped to about 30 degrees that night. On clear nights, you can pull back all of the shades on the pod and have incredible stargazing views.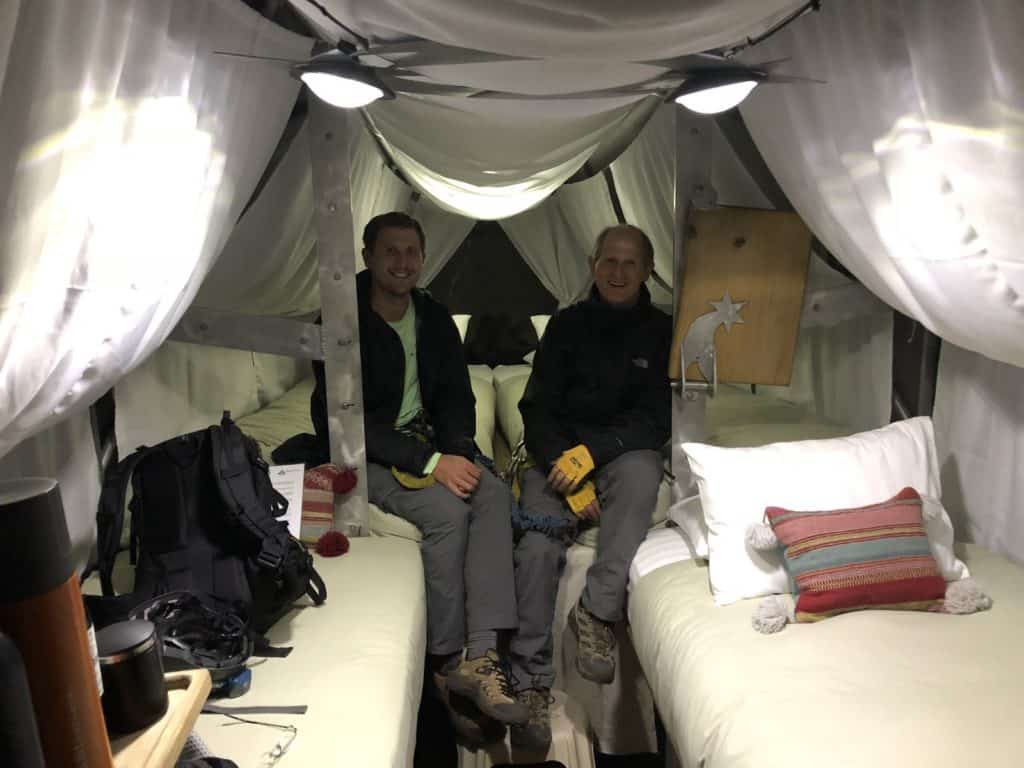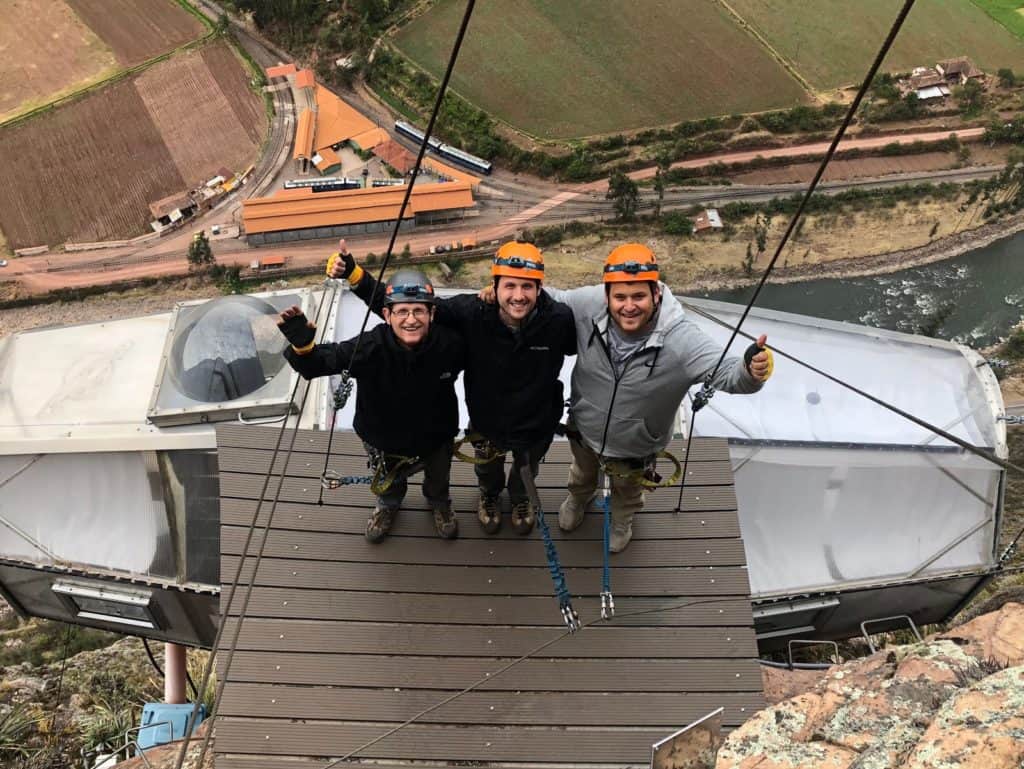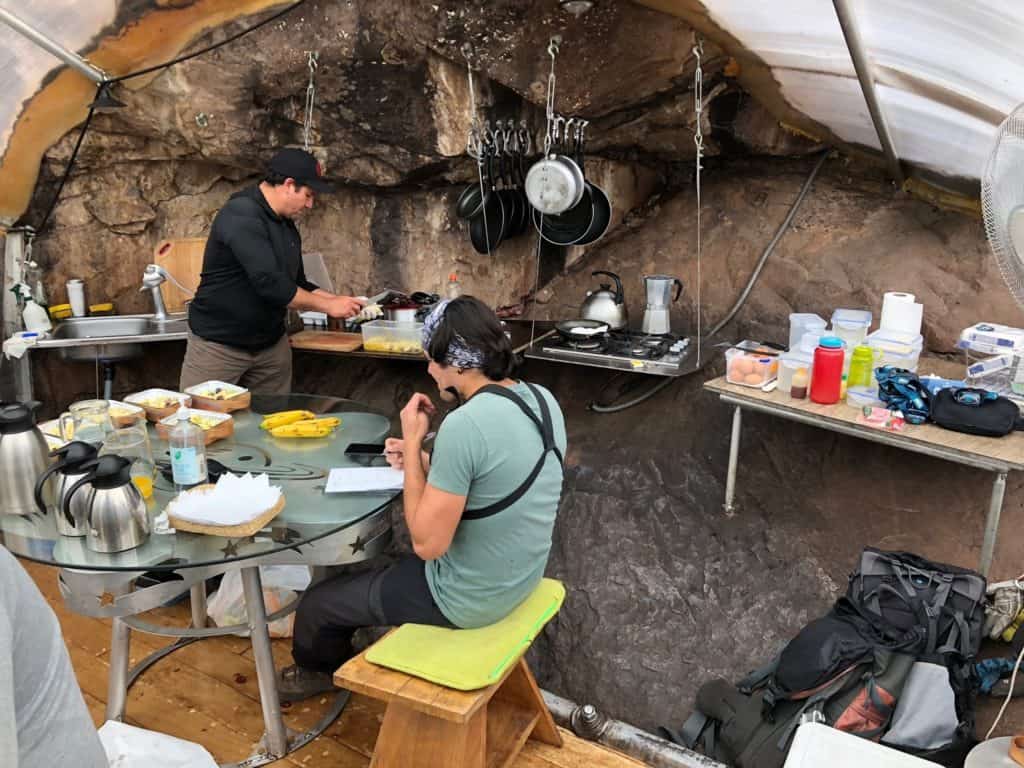 After a relaxing and quiet night sleeping under the stars, it was time for the second part of our adventure. Once we finished a delicious breakfast in the main pod, our next adventure awaited – the zipline down to the bottom.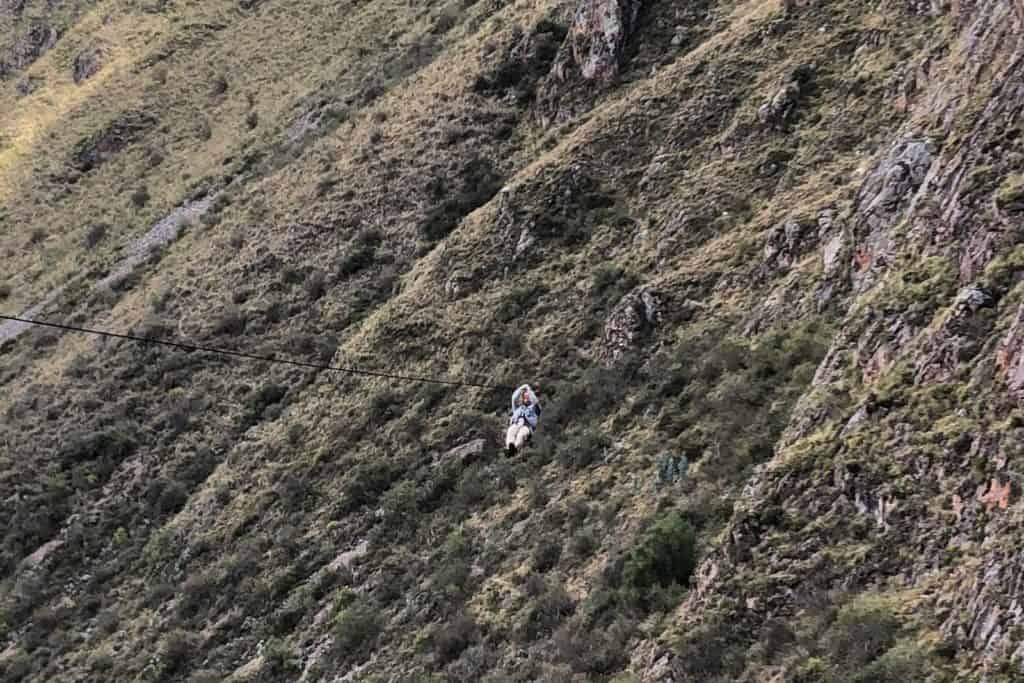 If you're in the Sacred Valley and somewhat adventurous, you have to spend a night at the Skylodge Adventure Suites! If your schedule doesn't allow an overnight stay, they also offer lunch options where you climb up to have lunch and then zip-line down.
So you may be asking yourself – how did you book the Skylodge Adventure Suites using points? Well, we didn't. We paid cash for it, and it was worth every penny. It ended up costing about $425 per person for the option that we chose. It was easy to justify though – all of the money we saved on flights and hotels for the other parts of our trip allowed us to splurge on this one night adventure. This was a drop in the bucket for the experience, especially when you consider all the money we've saved on this trip!
Palacio del Inka
After our fun adventure in the Skylodge, it was time to start winding our trip down. After a drive back from the Sacred Valley to Cusco, we had one night remaining. Rather than staying at the JW Marriott El Convento Cusco again, we instead chose to stay at the other SPG property in town that's located just 2 blocks away – the Palacio del Inka.
The Palacio del Inka has a storied history to it similar to the JW Marriott – it was a former palace-turned-museum-turned-hotel that dates back to 1533. Located just a 5-minute walk from the main square, this hotel was in a great location for exploring Cusco. We arrived late in the afternoon, so the location was perfect for us to spend 3-4 more hours exploring Cusco and having a great dinner on our last night of the trip. We called it an early night to prepare for our travel day back home the following day.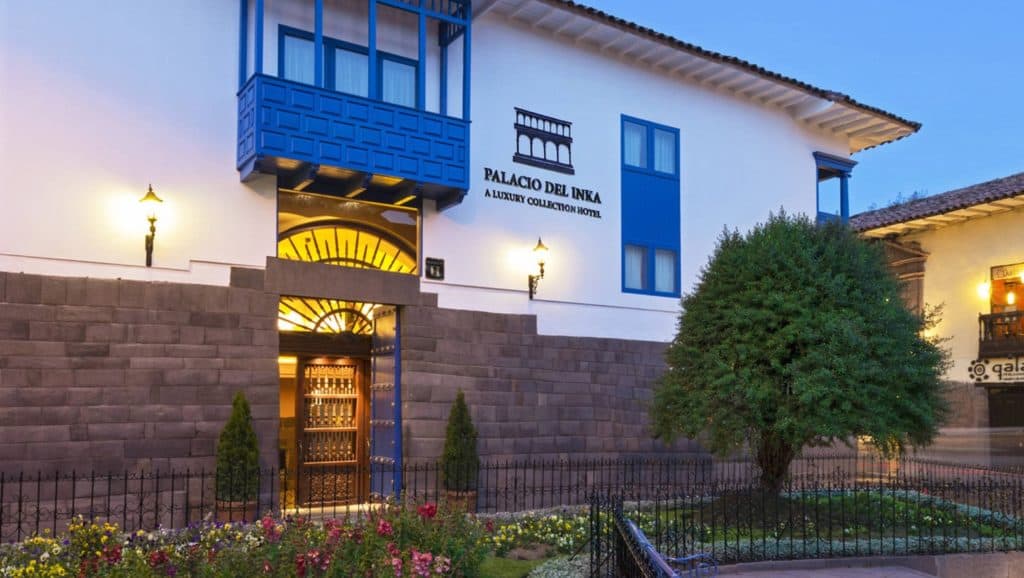 We booked our stay at Palacio del Inka using SPG's points + cash option. I contacted the concierge at the time of booking to inquire about confirming a suite upgrade but was unable to successfully get confirmation that we could be upgraded. Rather than chance one of us having to sleep on a rollaway bed on the last night of our trip, we booked 2 rooms that ended up being adjoining rooms.
We paid 5,000 SPG Starpoints + $75 per room for our one night stay. The cash rate at the time of booking was $420 per room per night, making this another terrific award redemption. The other option would have been to pay 10,000 SPG Starpoints per night, but in doing my calculations, 5,000 SPG Starpoints are worth more than $75 to me, so the cash + points option made the most sense.
Additionally, all three of us were allowed to again use my Platinum benefit of free breakfast, which again saved us about $60 plus taxes and fees. The breakfast spread was also very impressive, similar to previous breakfast at the JW Marriott and Tambo del Inka. However, our 8:30 am flight from CUZ to LIM meant that we had to eat breakfast at around 6:30 am, and it was a struggle to eat much food for us all at that hour. So I'm glad it was complimentary and that we hadn't spent $60 to gently graze on such an immaculate food spread!
Hotel Summary
Holiday Inn Lima Airport – 8,200 Chase Ultimate Rewards points instead of $125
JW Marriott El Convento Cusco – 17,000 Chase Ultimate Rewards points instead of $288.50
Tambo del Inka – 12,000 SPG Starpoints/night instead of $446/night
Skylodge Adventure Suites – $427/person (CASH)
Palacio del Inka – 5,000 SPG Starpoints/night + $75 (per room) instead of $420/room
All of the reservations were made before the August 2018 merger of Marriott and Starwood Hotels, therefore our stays were priced under the old award chart. Under the new Marriott award chart, pricing for these properties is:
JW Marriott El Convento Cusco – 35,000 Marriott Points / night (Category 5 Property)
Tambo del Inka – 35,000 Marriott Points / night (Category 5 Property)
Palacio del Inka – 35,000 Marriott Points / night (Category 5 Property)
Trek to Machu Picchu
Our trip focused primarily on two main adventures – Adventure #1 being a trek to Machu Picchu, and Adventure #2 being the Skylodge Adventure Suites. Along with these two main adventures, we thoroughly enjoyed exploring Cusco and the Sacred Valley. It truly is a beautiful part of the world.
For getting to Machu Picchu, we chose to hire a private guide and do the traditional one-day Inca Trail hike. We modified it to do both the hike, exploration of Machu Picchu, and trek back from Aguas Calientes to Ollantaytambo in one day, which is normally done over a span of two days – the hike on day one, and visiting Machu Picchu on day two.
Our adventure started with an early 6:10 am train from Ollantaytambo Station aboard Perurail.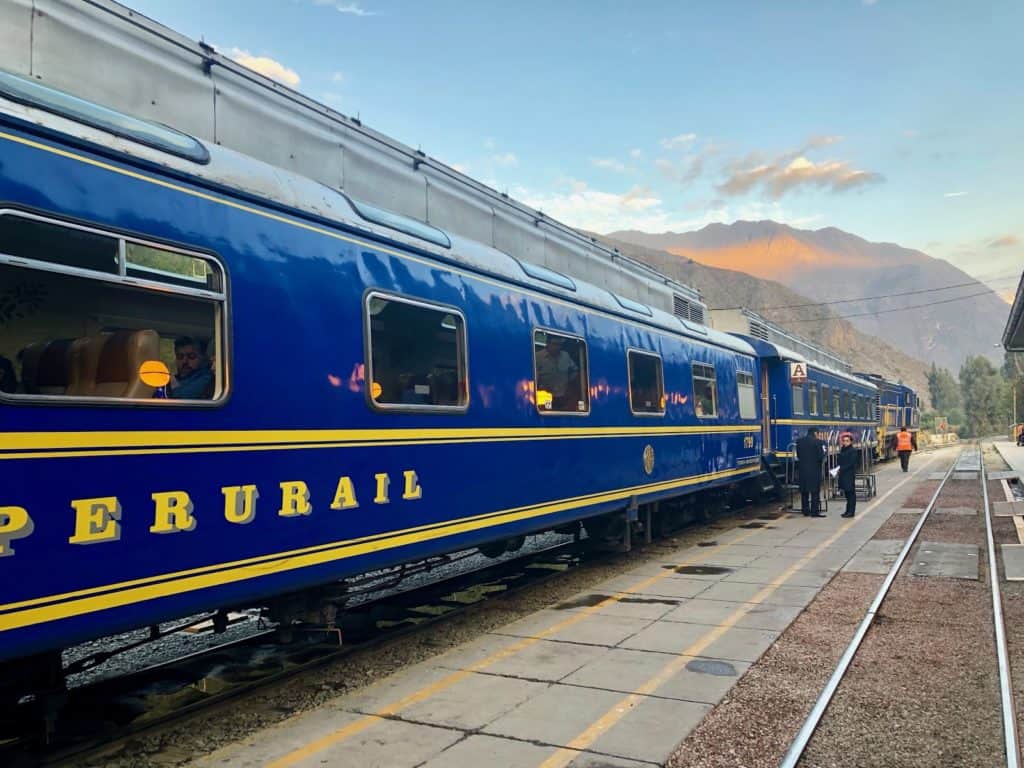 Even though it was early, the train ride was an incredible way to start the day. The train tracks weave through the Sacred Valley all while staying on the banks of the Urubamba River, offering spectacular view after view.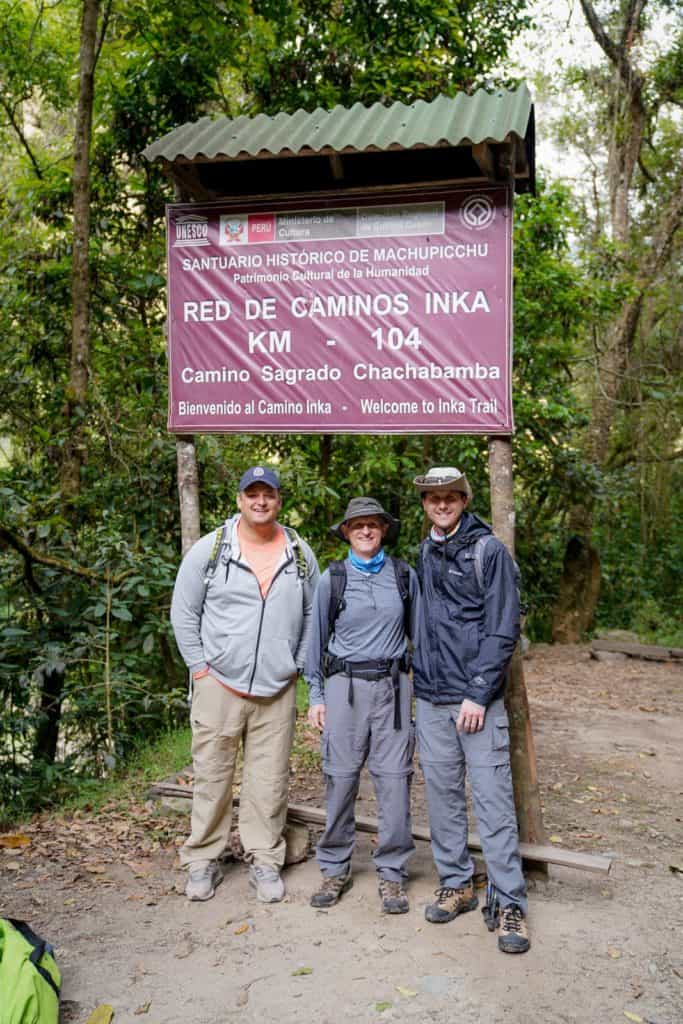 After about a 90-minute train ride, the train came to a stop at kilometer marker 104, which is the start of the portion of the Inca Trail that we would be doing. No turning back after this point as the train left us to continue on and we were literally on our own!
We started our approximately 10-mile hike that would culminate at the Sun Gate above Machu Picchu. The first ⅓ of the hike is by far the most difficult, with a steep slope on the trail. Combining this with being at about 10,000 feet and the less oxygen available, it is not a hike for the faint of heart and there is very little of a warmup!
We had majestic views on this hike and hiked through various Incan ruins along the way.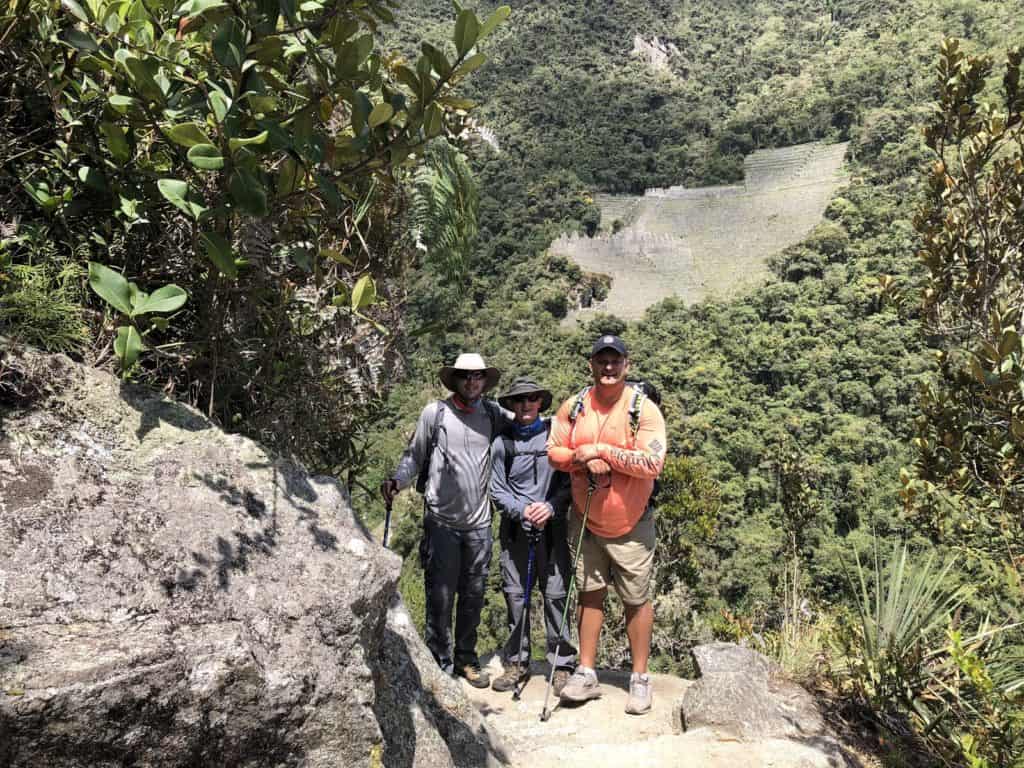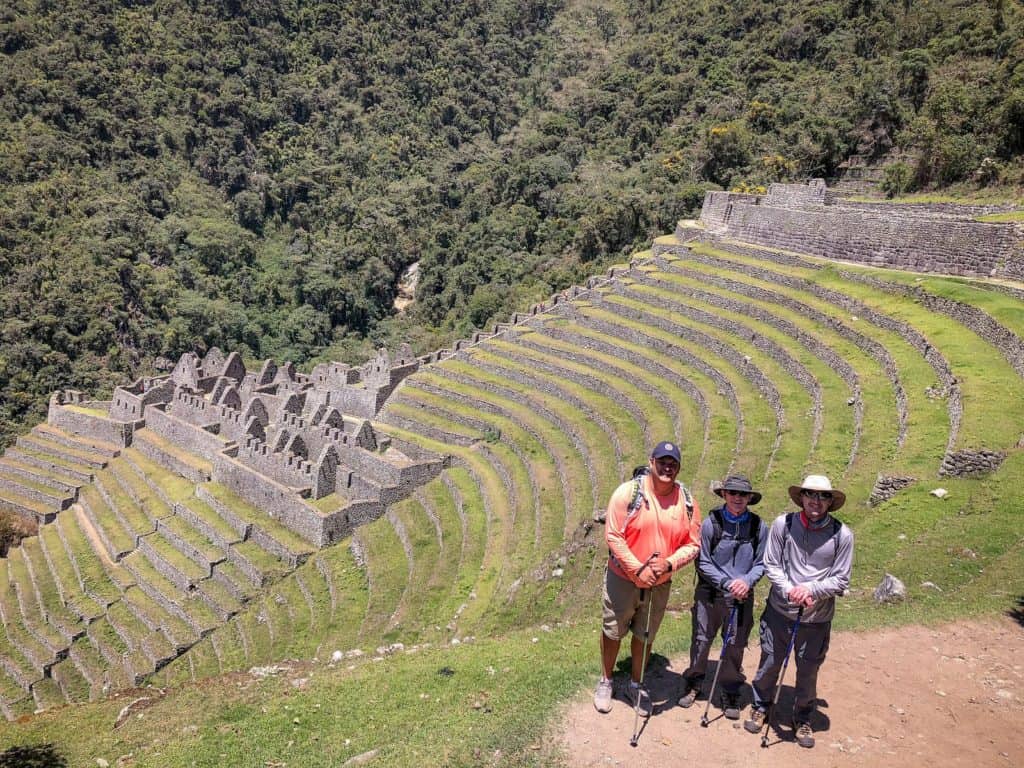 Finally, after about 7 hours of hiking, we made it to the Sun Gate and got our first glimpse of Machu Picchu. What a sight it was! What was probably the most special part about all of this and made it so worth it was to see our dad's reaction to seeing it for the first time with his own eyes! That made the sometimes hard and challenging hike worth it by itself! And to be able to experience it all together made it extra special and a memory we'll talk about for years to come.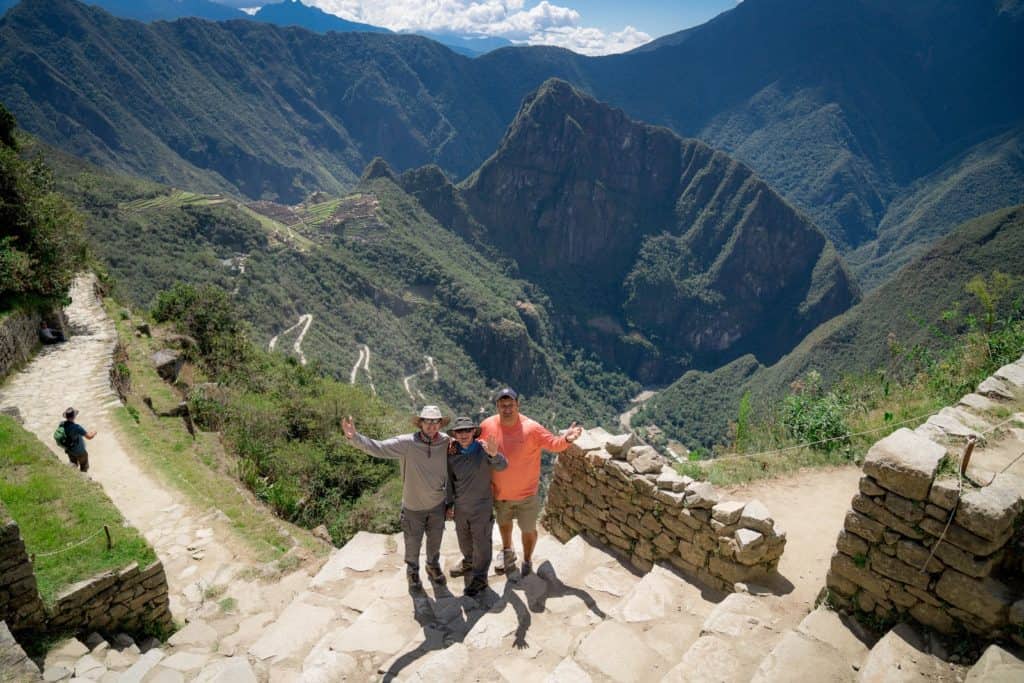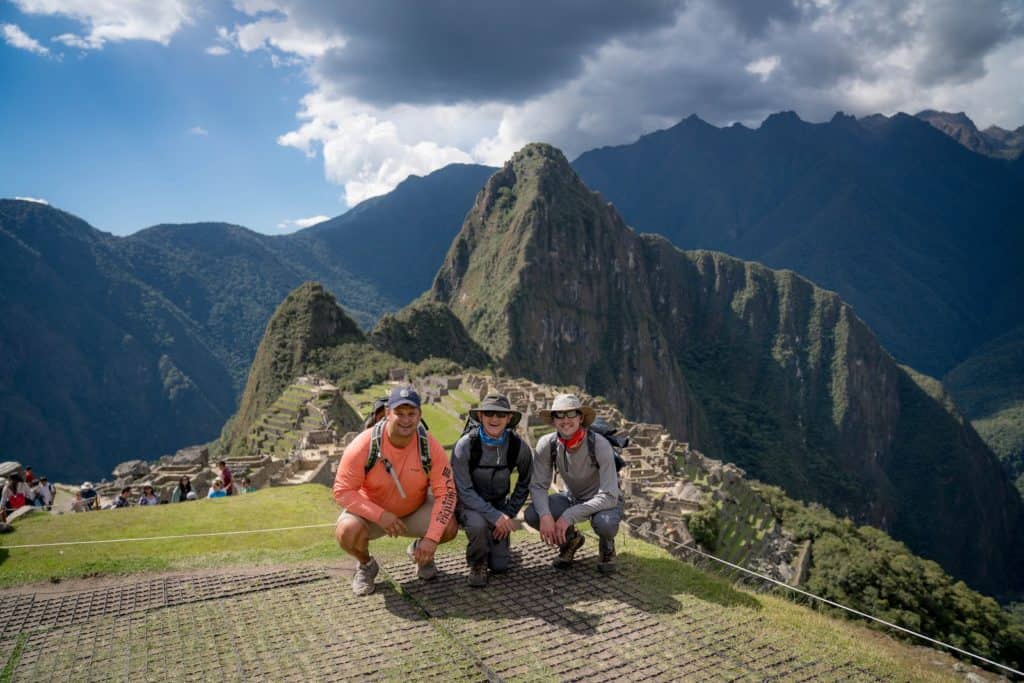 After a short hike down from the Sun Gate into Machu Picchu, we spent a few hours exploring the ruins with our private guide. From there, it was a harrowing bus ride down from Machu Picchu into the town of Aguas Calientes. After a few much deserved cold beers were enjoyed after a long and challenging, but extremely fun and memorable day, we made our way to the train station to catch our ride back to Ollantaytambo and Tambo del Inka, where we slept until almost 10 am the next morning.
Final Thoughts
My dad, brother and I had an incredible time on this adventure to Peru. Without the strategic use of points and miles, we certainly wouldn't have enjoyed it in the luxury that we did! We had very comfortable flying accommodations, luxurious hotel accommodations, an incredible adventure to Machu Picchu as well as the Skylodge, and more.
If Peru has been on your radar, I can't recommend going highly enough. We continued to be impressed by the food, the culture and the people throughout our stay. It's only getting more and more popular, so the sooner that you can get there the better! And hopefully, you've seen how you can use points and miles to cover some of if not your entire visit to Peru.
---
10xTravel is part of an affiliate sales network and receives compensation for sending traffic to partner sites, such as CreditCards.com. This compensation may impact how and where links appear on this site. This site does not include all financial companies or all available financial offers.
Editors Note: Opinions expressed here are author's alone, not those of any bank, credit card issuer, hotel, airline, or other entity. This content has not been reviewed, approved or otherwise endorsed by any of the entities included within the post.