In This Article
Loading table of contents …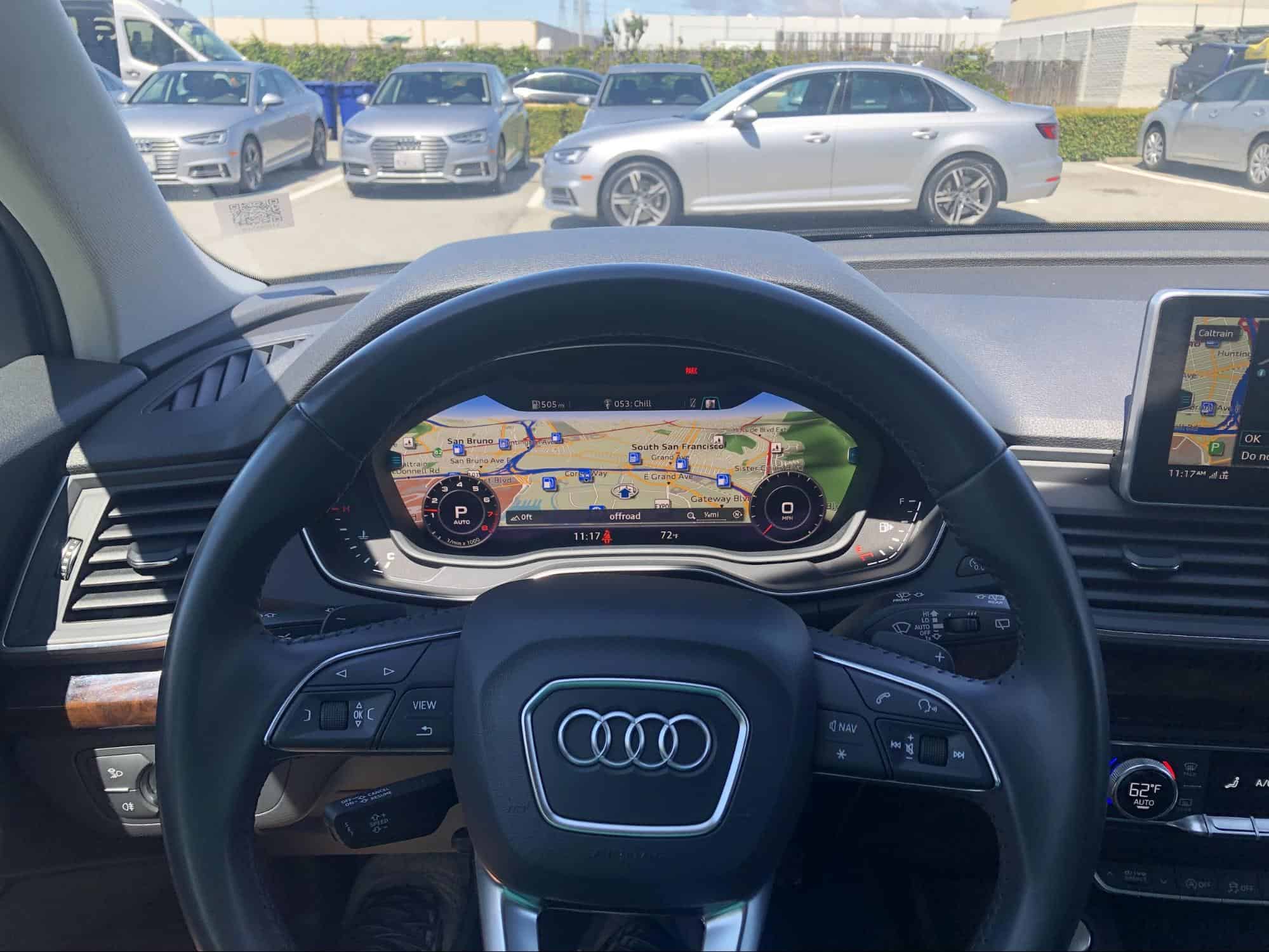 Note: Some of the offers mentioned below may have changed or may no longer be available. The content on this page is accurate as of the posting date; however, some of our partner offers may have expired. You can view current offers here.
Let's be honest – the entire rental car process, at least here in the US, is annoying/frustrating/a hassle and much more.
After your flight, you often have to wait on a shuttle to take you out to a remote lot to get your car.  There, you have to wait in a hopefully short line where the pushy salesman then tries to guilt trip and talk you into paying for things you don't need, like their insurance and overpriced gas service.
Once you've crossed that hurdle and head into the garage, you often find that you didn't actually get the car you thought you had reserved, but rather a similar car in that category. Regardless, they're almost always a stripped-down car with the minimum engine capabilities, features, etc, and not fun to drive.
Finally, you have to learn all of the nuances of the car you're now driving because everything in it is always just a little bit different.
That's the traditional rental car process, one that we've all no doubt experienced multiple times.
Meet Silvercar
I recently used Silvercar, and am glad to say Silvercar rental car does things differently. Entirely differently. In fact, after my first rental with them, I'll be as bold as to say that they make renting cars fun and enjoyable and something to look forward to!
Silvercar is an-Audi only, app-centric rental car service that is located in about 20 cities around the United States. Acquired by Audi in 2017, their fleet of almost always brand new silver Audis (would you expect anything different with the name Silvercar?) operates like the Uber of rental cars. The entire process starts and ends all within the app, and needs almost zero human interaction throughout the rental process.
Because I'm always on the lookout for new things, on a recent trip to California, I knew I had to give Silvercar a try since I would be flying through San Francisco, one of Silvercar's locations. As an extra incentive, right after I had booked my flights for the trip, my local Audi dealership emailed me a promo for current Audi owners that offered 1 day free on a 2-day rental. This was perfect because I needed a rental car for about 3 days, so after all of the taxes and fees and such, it ended up being a discount of about $90.
I made my reservation on the Silvercar website, but reservations are just as easy, if not even easier, to make on the Silvercar app itself once you have an account.
Don't have a Silvercar account yet? Use the 10xTravel referral code "YXNJUHRZ" when signing up for an account on Silvercar.com. By doing so, you will get a $25 Visa gift card once you return the car after your first rental.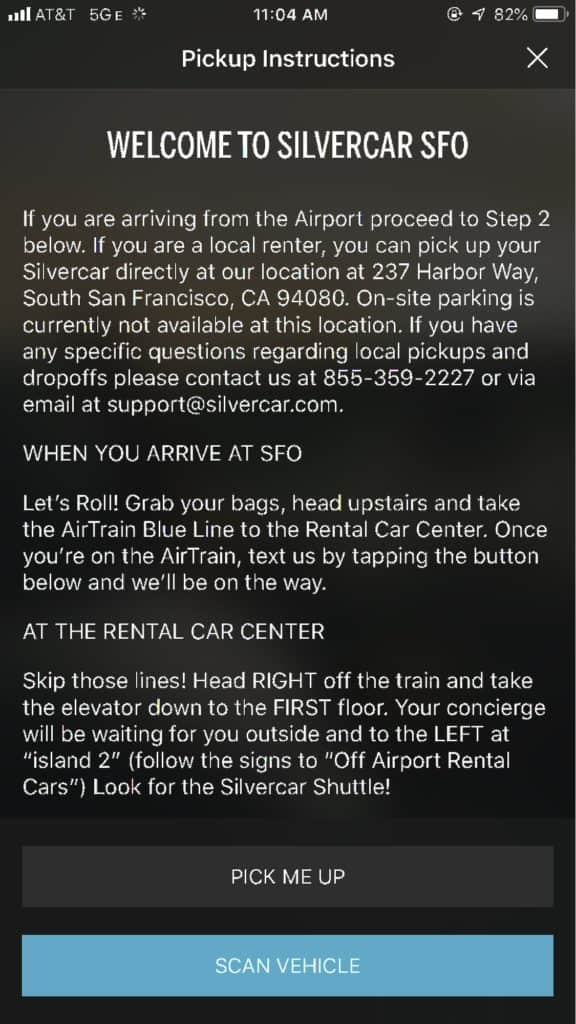 Upon arriving at SFO, I opened up my Silvercar app, where I had a popup notification with the pickup instructions for the SFO airport.
Following the instructions from the app, I grabbed my bags at baggage claim and then went upstairs to the AirTrain Blue Line towards the Rental Car Center. Once I was on the AirTrain, I pressed "Pick Me Up" in the app as instructed. I received a text message a few moments later confirming they received my pickup request, and also to confirm the number of people in my party, which I suspect was just to confirm how many customers they could take on the shuttle this trip.
Once I arrived at the Rental Car Center, I followed the secondary set of instructions in the app and found a Silvercar van waiting for me exactly where it said it would be.
Upon entering the van, the driver had me present my driver's license and credit card for a visual confirmation of the reservation information. We left shortly thereafter to head to the Silvercar Warehouse as it's known once another passenger joined me in the shuttle.
On the way to the Silvercar Warehouse, we passed another Silvercar van headed back to the Rental Car Center, so it was nice to see they had multiple shuttles working the route to and from the Warehouse.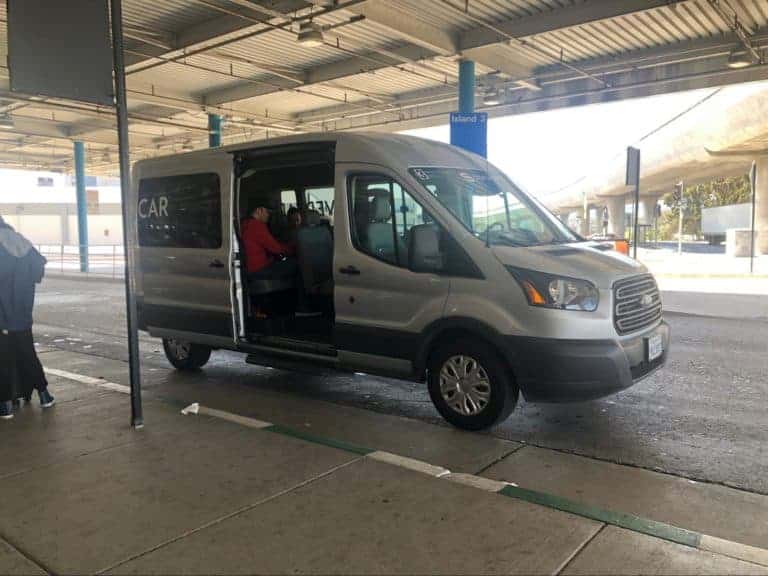 Getting My Vehicle
After a quick 8 or so minute drive from the Rental Car Center, we pulled into the Silvercar Warehouse. To no surprise really, there were about 7 silver Audi A4's, and 4 Audi Q5's lined up ready to be picked up. Looking up the ramp into the actual warehouse, at least 30-40 more various Audi's were visible. Some of these vehicles I suspect had just been returned and were being cleaned, some having general maintenance work done on them, and others were lined up ready to go.
It was certainly a different sight than any other rental car lot I've ever seen that's for sure!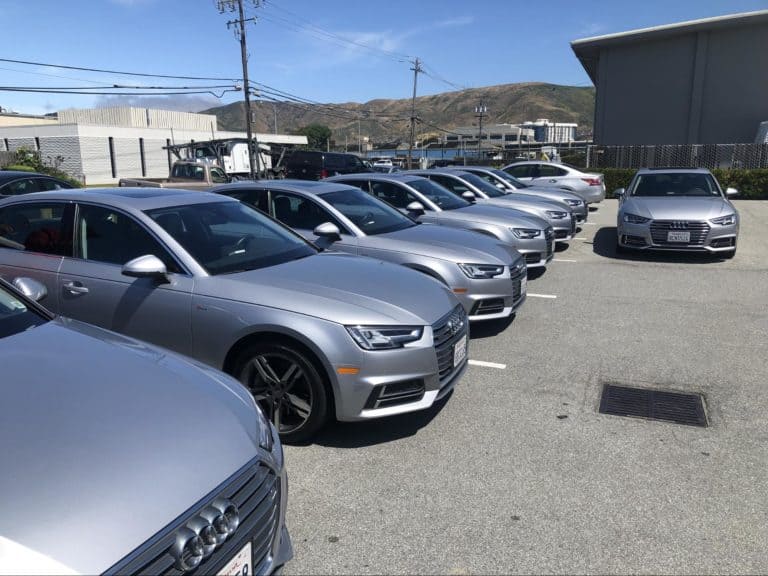 After we arrived at the lot, it couldn't have been a more simple process of getting the car. Quite a contrast from the traditional rental car experience, that's for sure.
You simply walk up to the type of vehicle you reserved, and on the driver's side window there is a QR code. You simply press "Scan Vehicle" in the pickup instructions section of the Silvercar rental car app.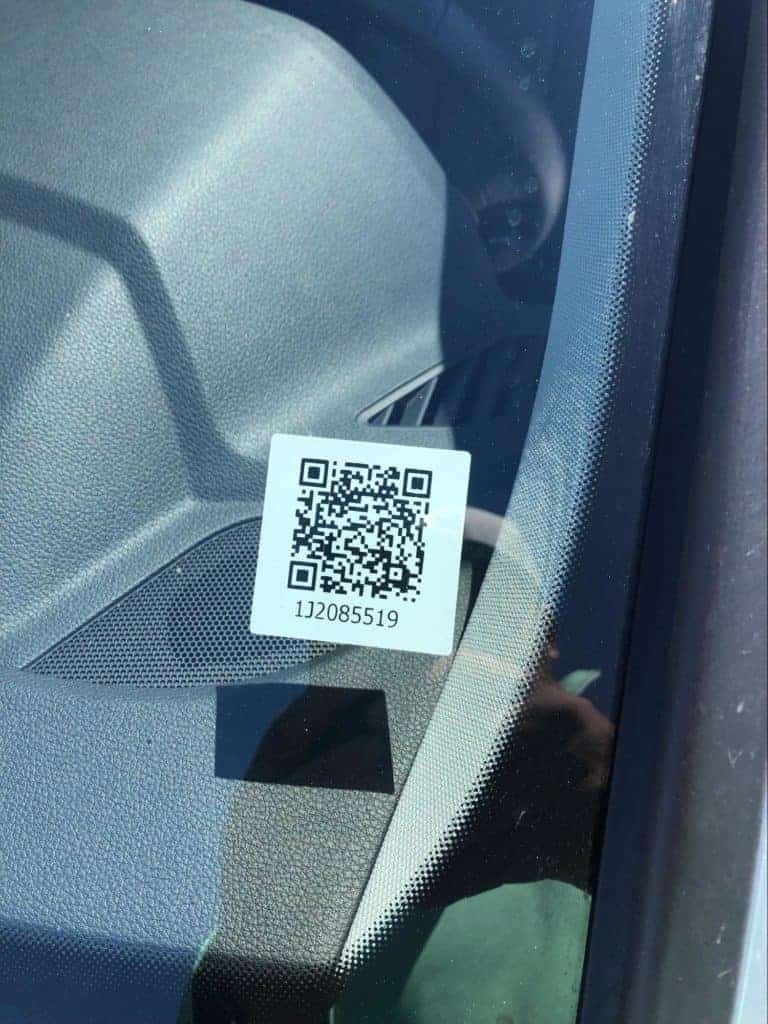 It verifies your car type and reservation and then prompts you to confirm their waiver on the app.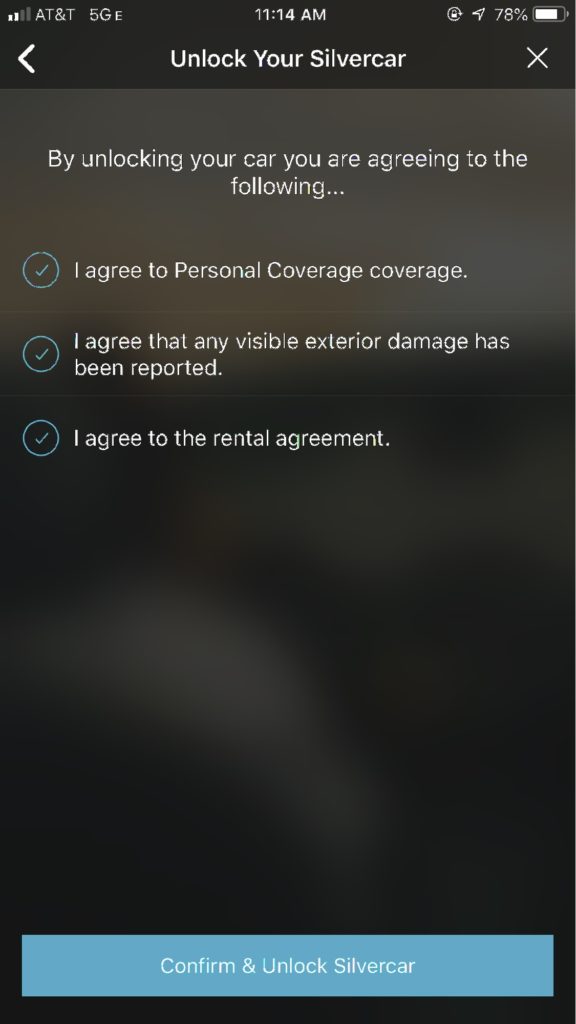 Once you've confirmed the waiver, it remotely unlocks the car and you're good to go.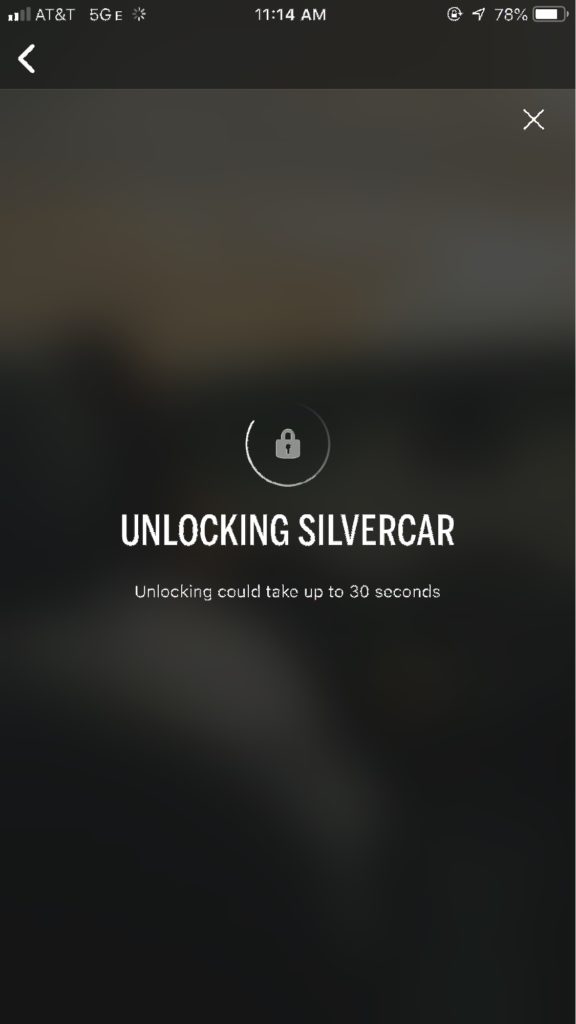 Once the car has been unlocked, that particular vehicle's specs popup on the app with the make and model, license plate number, and current fuel level of the vehicle.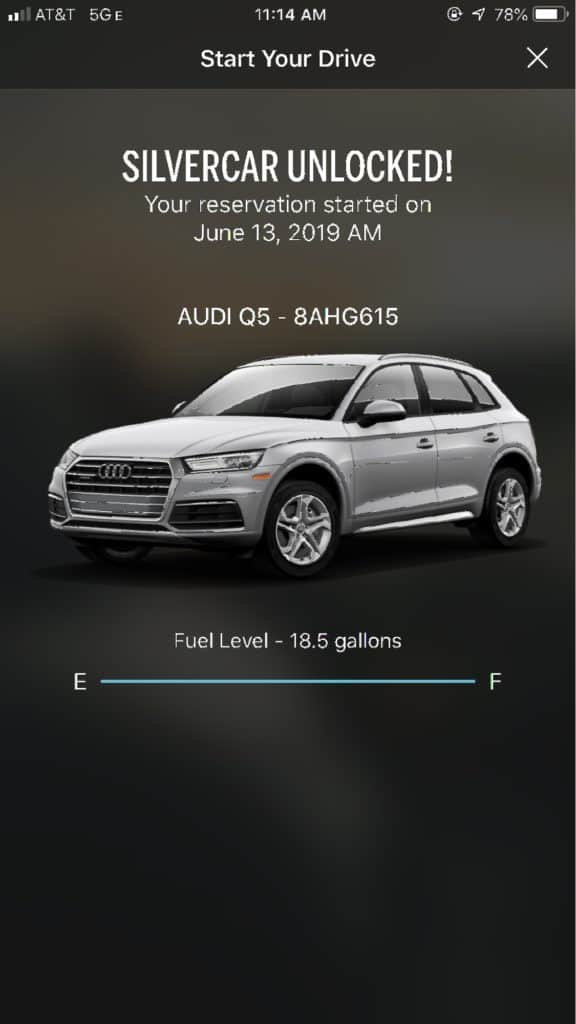 You simply hop in, where you'll find that the keys are waiting, and you're ready to go on your merry way. Nothing to sign, but more importantly no high-pressure upgrades or upsells.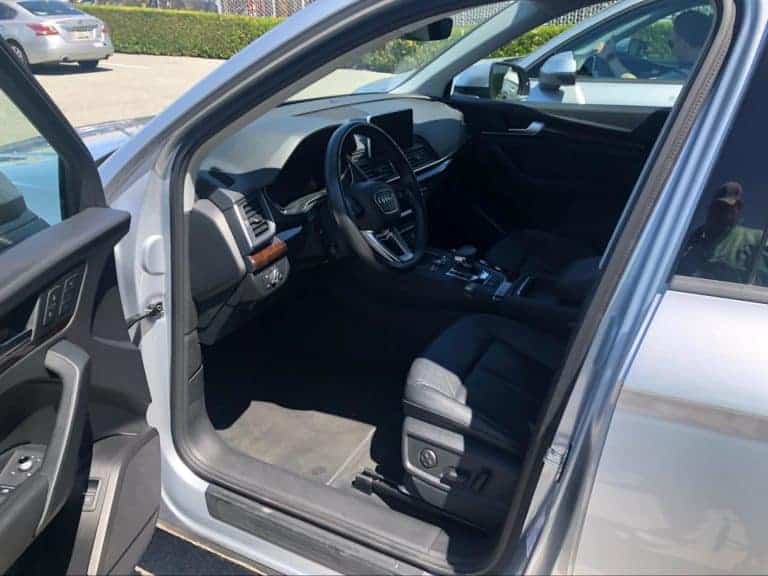 This pickup process, even with the additional 8 minutes of driving from the Silvercar Rental Car Center to the Warehouse, couldn't have been more different than just about every traditional rental car experience I've had, even the ones where their marketing says "walk up to any car on the aisle and take it."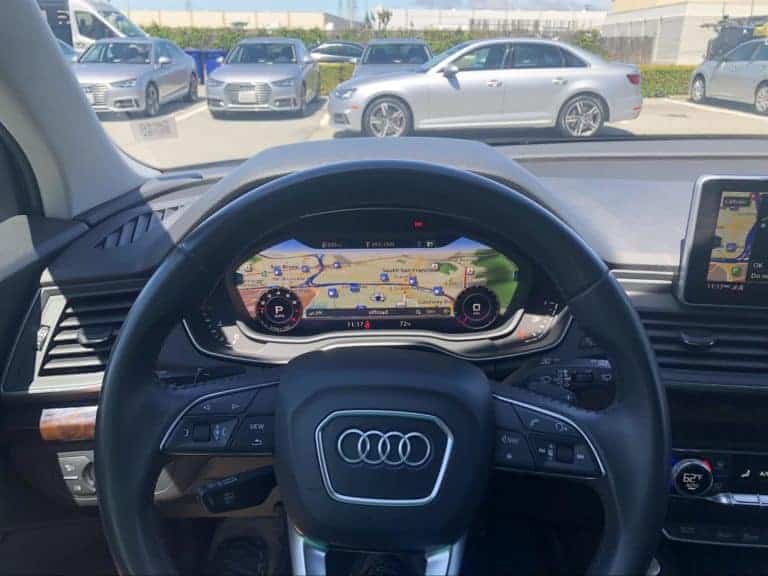 My only gripe – and ultimately I did have to ask for assistance from one of the Silvercar Reps, was more an issue with the app and its usability. Once you click "Pick Me Up" on the app, nothing on the app really changes indicating what your next steps are in the process. After asking as I wasn't sure what to do next when I got to the lot, the Silvercar rental car rep told me that I needed to then press "Scan Vehicle" in the app to proceed, and of course, after the fact, this makes sense.
But as a first time user, it would make more sense that once I press "Pick Me Up" in the app, it would then move onto a screen that says something along the lines of "Once you arrive at the Silvercar Warehouse, simply walk up to your car, and scan the QR code on the driver's side window using the button below". A small gripe, but again more with the app usability than Silvercar and their process.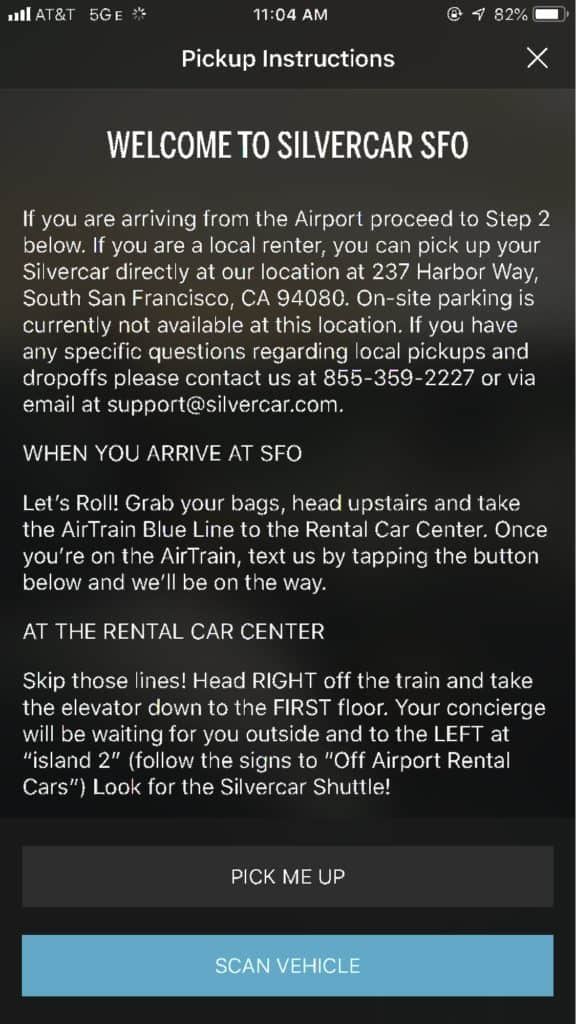 The Vehicle: Silvercar – Car Rental
Each Silvercar vehicle is in fact a silver Audi. Right now, their fleet consists of the Audi A4 (sedan), the A5 cabriolet (convertible sedan), the Audi Q5 (mid-size SUV) and the Audi Q7 (full-size SUV). However, not all vehicle types are available at all locations, but all locations have both the A4 and Q5.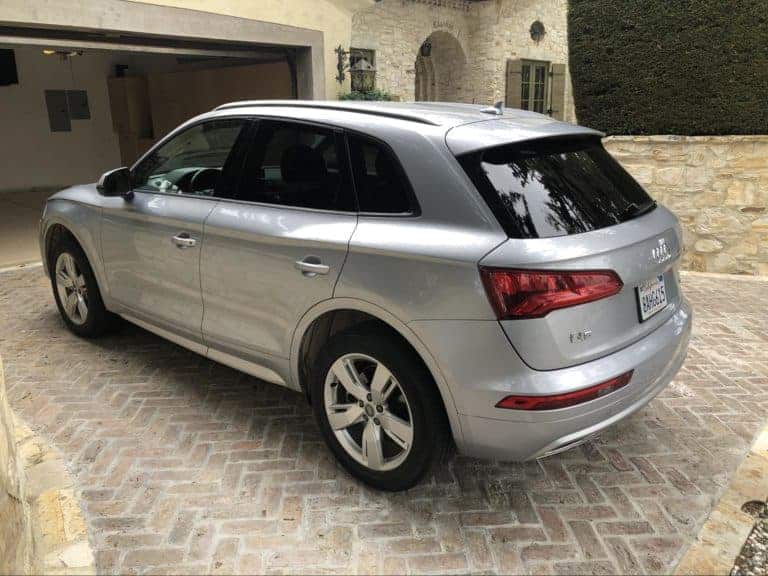 Another way that Silvercar is different than traditional rental cars – each car is a premium, fully-loaded car. They have power seats and windows. The highest option entertainment, media, GPS, navigation and phone system that you can get, not just a basic radio and CD player. To top it off, all seats and interiors are leather.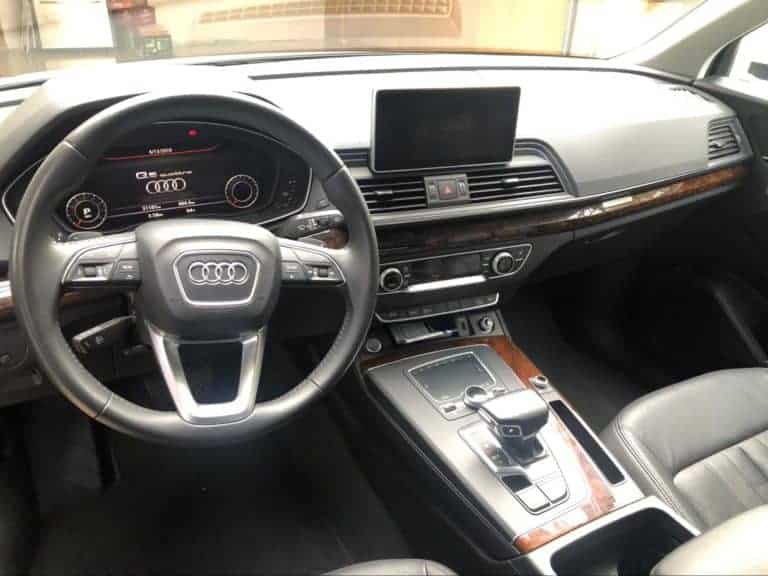 Even better is that your rental includes premium options such as a free Wifi hotspot in the car that costs nothing extra to use, SiriusXM Satellite radio included for free, GPS Navigation again included, and a toll pass.
Further, the cars support Android Auto and Apple CarPlay, so you can hook your phone up via USB or Bluetooth and be on your way. One of my least favorite tasks in setting up a rental car is pairing my phone via Bluetooth, but the Audi process couldn't have been more simple and fast. That's more of a feedback item for Audi than Silvercar, but it's worth noting this completely first world problem.
The Return – Silvercar Rental Car
After 3 days of zooming around the Monterey Peninsula (sidenote: the PCH is a beautiful and fun place to drive Audis!), it was time to drop-off my Q5. I was certain that the return process couldn't be simpler than the pickup process, but it is.
The Silvercar Warehouse is stored in the vehicle's GPS as a favorite location, so you simply have to choose it from the favorites list on the GPS, and you'll be back at the Warehouse in no-time.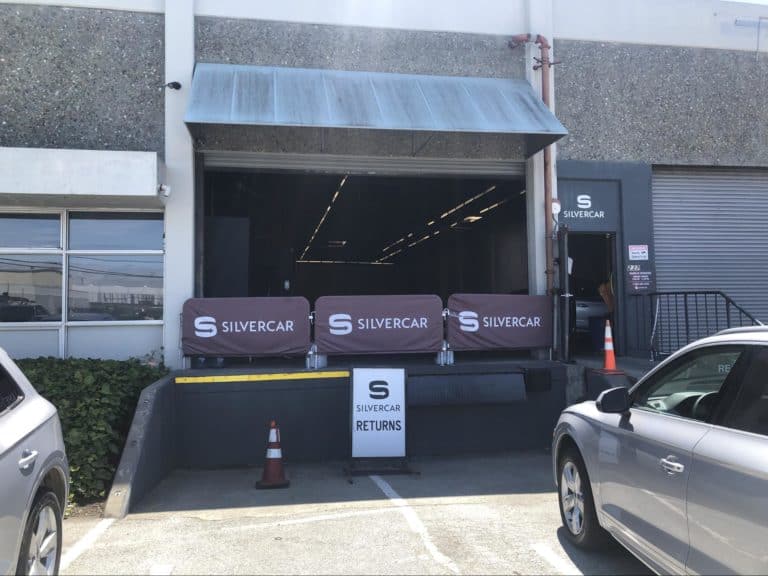 Once you're at the warehouse, it's just a simple 30-second walkthrough with the associate to ensure no damage to the vehicle, and you get your final receipt emailed to you literally within 30 seconds. It's that easy.
A quick hop on the shuttle back to the Rental Car Center at SFO, and I was good to go. Painless. And the best part is that the Silvercar shuttle takes you back to the airport just as soon as you're ready to go – they don't wait for the van to fill up, or drive on a set schedule, so it's completely on-demand transportation as you need it, which is nice.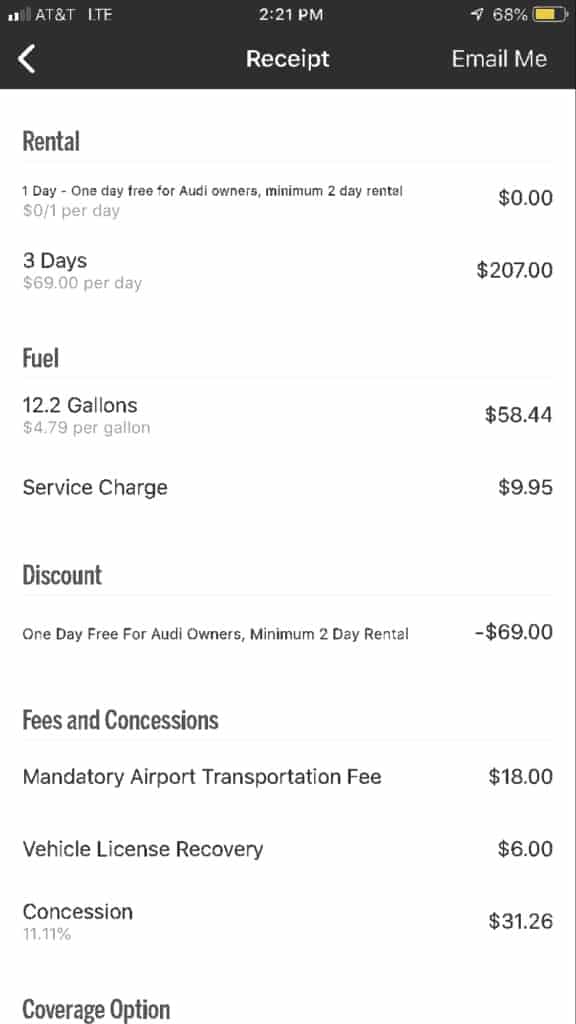 One quick note about how Silvercar handles gas and refueling for the car – on the surface, it seems like their policy for gas is very easy, and less punishing than the traditional rental car companies if you do like I did and forgot to fill up.
They have what they call the Silvercar Fair Fueling Promise, which states "If you'd rather skip refueling to save time and hassle on your return, you'll be billed at the current local premium fuel rate for exactly what you use, plus a simple $9.95 fill-up fee. No whole-tank pre-pays, and no exaggerated per-gallon markups." This helped to take the pressure off of remembering to fill up the car as I didn't mind paying an extra $10 to not have to worry.
In the end, my final bill showed a fuel charge of $68.39, which broke down to 12.2 gallons of 93 octane fuel at $4.79/gallon plus the $9.95 service charge. I was fine with this as I know gas in CA, especially around the SFO airport, is expensive.
I was a little bummed however to drive past a Costco about 1/4 of a mile away from the Silvercar Warehouse on the shuttle back to the Rental Car Center, where they were selling 93 octane fuel for $3.74 that day. This means that I could've saved almost $13 on the fuel price difference plus the $9.95 service fee for a total of $23. But I'll chalk that up to learning a lesson in paying more attention.
I was still pleased with this option knowing that a traditional rental car company would've charged well north of $100 (I suspect) to refuel the car. Though a quick search on the GasBuddy did show that the next highest 93 octane fuel price was $4.27 within a 1-mile radius, so I'm not entirely sure I believe SIlvercar's claim of the "current local premium fuel rate".
Is it Worth the Money?
The chances of Silvercar being a cheaper alternative to a traditional rental car company are slim to none. So it wouldn't be fair to directly compare it to one of the more traditional rental car companies unless you're comparing it to some of their premium cars.
If you aren't in the mindset of looking for the best/cheapest deal when it comes to rental cars, then Silvercar should definitely be on your radar when traveling through locations where they rent cars. Yes, the car is likely more expensive, but it comes with TONS of features that are considered standard for Silvercar, but premium for all other rental car companies. These include:
Wifi – your Silvercar becomes a wifi hotspot for no additional cost so your family can surf in style using Silvercar's data, not yours
GPS – this is standard issue on Silvercar rentals, and even better in that Audi's feature an in-dash navigation right above the steering wheel, making it even easier to use
SiriusXM Radio – usually a $5-$10/day upgrade, this comes included on your Silvercar rental car
Child Seats – Silvercar offers Peg Perego car seats and boosters
Surf or Ski Rack – Whether skiing or surfing, you can add a Thule surf or ski rack to your rental free of charge
And of course, probably the best benefit that goes without saying – we're not talking about a Dodge Stratus here (any Will Ferrell/SNL fans?), Audi's are really powerful cars that not only go fast, but they're really, really fun to drive. To me, I'd much rather pay a little bit of a premium to get a fun car to drive, than be bored and annoyed in my low-end and stripped-down rental car.
Recommendation and Suggestions
Even with Silvercar likely costing more, there are a few very simple ways to save money with Silvercar.
1. First-time Promo Codes
By being a first-time Silvercar customer, you have 2 options for saving on your first rental:
Utilize a referral code when signing up for an account on Silvercar.com. By doing so, you will get a $25 Visa gift card once you return the car after your first rental. Support 10xTravel and use code "YXNJUHRZ" when signing up. Thanks in advance!
Along with utilizing the referral code, first-time customers get 20% off of their first rental by simply using the coupon code FIRST20 during the checkout process. You can stack these promotions, meaning you'll be able to receive decent savings on your first rental. An Audi A4 often rents 1 day for $77, meaning with the above promo, you would only pay about $40 with the 20% discount (-$12) and $25 you would receive back. That's likely cheaper than, if not comparable to, a lot of economy car rental prices!
2. 20% Discount for Visa Infinite Cardholders
If you're a cardholder of a card like the Chase Sapphire Reserve® or the Ritz-Carlton Rewards Credit Card, you're eligible to utilize the code "VISAINF20" to get 20% off of your rental of 2+ days. There is no limit to this so you can use this an unlimited number of times on Silvercar bookings.
Bonus Miles
after you spend $3,000 on purchases in the first 3 months your account is open.
Annual Fee: $0 for your first year, then $95.

3. Book with a Card Offering Primary Rental Car Insurance
Just like a traditional rental car company, Silvercar does offer insurance coverage options for your rental. Even though you'll avoid the pushy sales tactics during your car pickup, when making your reservation online, you'll still have the option to choose from either buying coverage from Silvercar, using your personal coverage, or using corporate coverage.Silvercar has 3 coverage options for you to choose from: "Just the Car", "Other People and Their Things", and "You and Your Things". You can pick 1, 2, or all 3 options. I appreciate their naming conventions on these policies as it simplifies what each option does since very few of us are insurance experts.However, by booking your rental with a card like the Chase Sapphire Reserve®, Chase Sapphire Preferred® Card, United℠ Explorer Card, United Explorer Business Card, and United Club Card you're eligible for primary rental car insurance.
Bonus Miles
after you spend $3,000 on purchases in the first 3 months your account is open.
Annual Fee: $0 for your first year, then $95.

If you find yourself traveling on business, you can also book using the Ink Business Preferred® Credit Card , Ink Business Cash® Credit Card, or Ink Business Unlimited, but a part of any claim made will be the insurance company confirming that the trip was in fact for business purposes. If it's not a business trip, then your claim will be denied. In all cases, booking with a card offering primary rental car insurance DOES require that you decline the rental company's collision damage waiver (CDW) and pay the full amount of the rental on your card, so be sure you meet these requirements so that you have full primary rental car insurance.
Bottom Line
I loved my experience renting with Silvercar and will absolutely do it again when my travel plans permit. I will even consider paying a bit extra for the Silvercar rental given the easy experience and high-quality vehicles that you have access too. I used to own an Audi but had to recently sell it, and this was a great way to experience the reasons I loved driving my Audi again for a short while, without all of the worries about the maintenance costs that can come along with it.
In my opinion, Audi acquiring Silvercar was brilliant as it's essentially the perfect test drive program for new Audis. It certainly reminded me how much I love driving an Audi and gave me a few days to experience the brand new version of the car I used to have. Especially since it was a fully-loaded premium version of it with all of the bells and whistles.
Will I go buy a new fully loaded Audi because of this experience? No. But I will definitely rent from Silvercar again, and may even try and get another Audi further down the road. I would never say that after a traditional rental car experience, that's for sure.
New to the world of points and miles? The Chase Sapphire Preferred® Card is the best card to start with.

With a bonus of 60,000 points after $4,000 spend in the first 3 months, 5x points on travel booked through the Chase Travel Portal and 3x points on restaurants, streaming services, and online groceries (excluding Target, Walmart, and wholesale clubs), this card truly cannot be beat for getting started!
Learn More
Editors Note: Opinions expressed here are author's alone, not those of any bank, credit card issuer, hotel, airline, or other entity. This content has not been reviewed, approved or otherwise endorsed by any of the entities included within the post.