In This Article
Loading table of contents …
Chase Dining is a benefit included with select Chase cards such as the Chase Sapphire and Chase Freedom collections.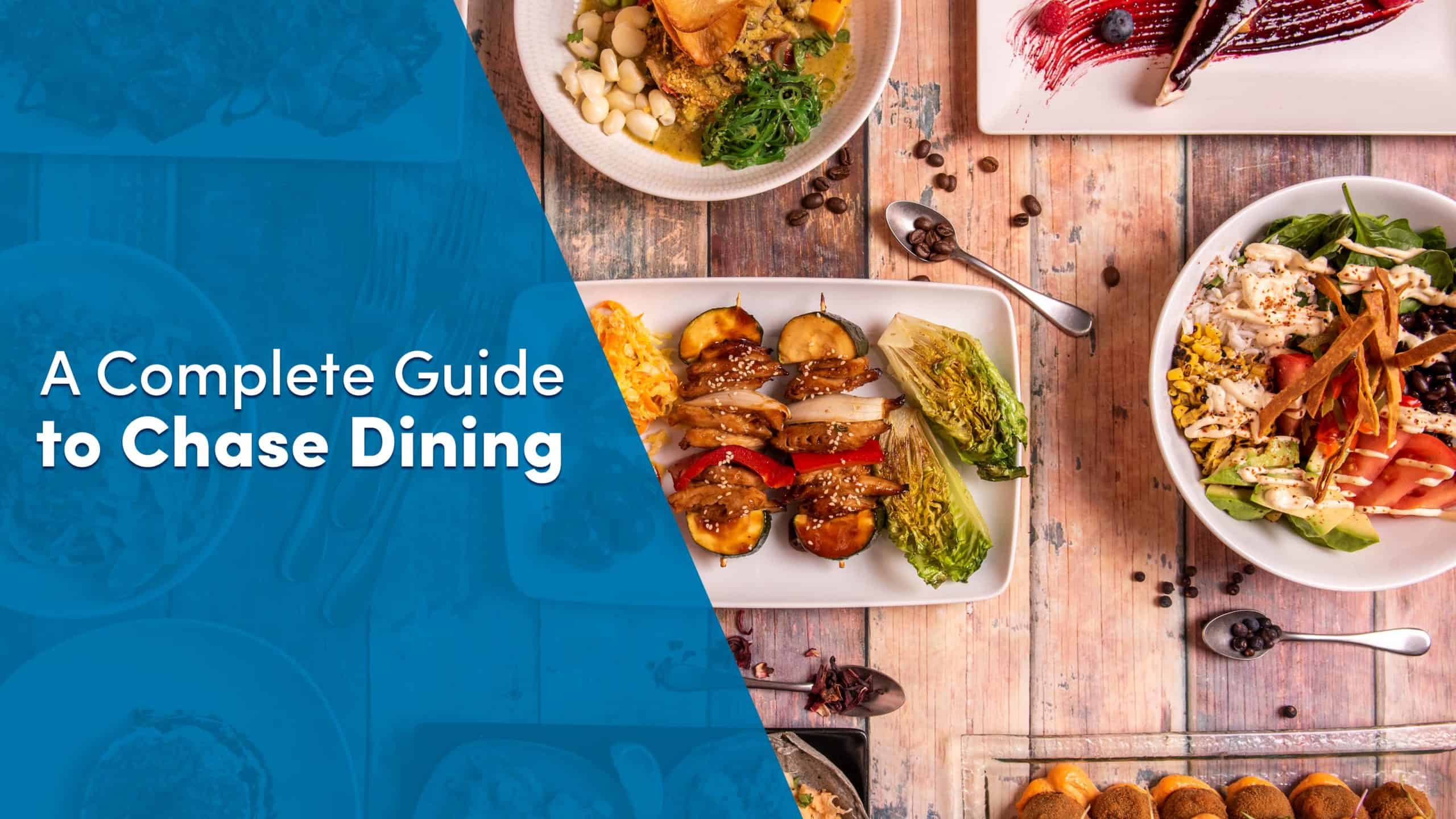 Note: Some of the offers mentioned below may have changed or are no longer be available. The content on this page is accurate as of the posting date; however, some of our partner offers may have expired. You can view current offers here.
When it comes to the benefits available to Chase Sapphire cardholders, Chase Dining is — forgive the pun — truly a gem.
I'll admit, I invested in my Chase Sapphire Reserve® primarily for the outright travel benefits like the annual travel credit, travel insurance bundle, access to Priority Pass membership, and reimbursement of the Global Entry application fee.
In order to take advantage of the full suite of benefits accessible to Chase Sapphire cardholders, it's important to pay attention to the relatively new Chase Dining program. If you aren't familiar with the benefits that accompany Chase Dining, read on for a comprehensive overview.
We love Chase Dining for two reasons: the earning potential, which can be pretty great if you have the right card, and the access to exclusive dining experiences that are hard to come by elsewhere.
What Is Chase Dining?
First of all, what is Chase Dining? Launched in 2020, Chase Dining is a benefit included with select Chase cards such as the Chase Sapphire and Chase Freedom collections. Note that Chase Dining is best utilized through the Sapphire collection, so that's what we'll focus on here.
We love Chase Dining for two reasons: the earning potential, which can be pretty great if you have the right card, and the access to exclusive dining experiences that are hard to come by elsewhere.
The earning potential is pretty cut and dry. Chase Sapphire Reserve® cardholders can now earn 10X points per dollar on purchases made through Chase Dining, whereas Chase Sapphire Preferred® Card holders earn 3X points per dollar.
Initially, Chase ran a promotion for their Sapphire collection which gave Reserve and Preferred cardholders access to an increase in earning potential, and that increase became permanent for the Chase Sapphire Reserve®. This was likely an attempt to offset yet another hike in the annual fee ($450 to $550) but regardless, the earning potential isn't bad — as long as you can use it!
Most exciting, though, are the exclusive events offered to cardholders through Chase Dining. Through the Chase Dining portal, cardholders have access to high-end reservations at hard-to-reach venues, plus invitations to private dining events and multiple-course tasting menus.
Chase Dining also includes access to at-home digital events, plus takeout and delivery options that cater to those of us who aren't going out just yet. These virtual experiences are hosted by celebrated chefs around the globe, and participants get to experience some of the chefs' favorite recipes and learn new tips and tricks to up their at-home cooking game.
Whether you're looking forward to hitting the town and experiencing some upscale dining, or you just need a new recipe to get you through the rest of your time in the home office, Chase Dining is full of great options. This is an especially great benefit to keep in mind as the world continues to open up; if you can't decide where to go out during your next trip, Chase Dining can help you explore some of the best recommendations out there.
Why You Should Be Using Chase Dining
On top of the fact that Chase Dining is essentially a repository of some of the greatest restaurants in your area, the earning potential really sweetens the deal.
I already mentioned that Chase Sapphire Reserve® cardholders can earn 10X points per dollar spent on purchases booked through the Chase Dining portal, but as per usual, there are a few rules and caveats to that. As it turns out, this magical 10X rate is only accessible through prepaid bookings, not just bookings alone. Note that not all restaurants through the Chase Dining portal even offer a prepaid option, so these restaurants will not qualify cardholders for the 10X rate.
This is kind of a bummer, and it requires a bit of increased vigilance on the part of the cardholder. If you only search for and book restaurants or events that offer a prepaid option, then you won't have any trouble earning on the 10X rate. However, restaurants booked but not prepaid will only earn you 3X points, the same rate as the Chase Sapphire Preferred®.
The CSR and the CSP share several benefits, but there are a few notable differences. Most important is the vast gap in annual fees, only offset by the CSR's travel credits and occasional boosts in earning and redemption potential. In general, both cards share the same earning potential on dining: a flat 3X points earned on all eligible dining purchases. It's only on pre-booked and prepaid restaurant experiences booked through Chase Dining that CSR cardholders have access to that sweet 10X rate. It's a great benefit, but make sure to be aware of the rules and regulations.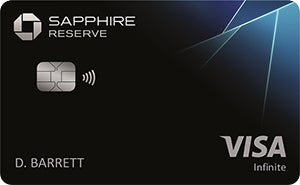 Chase Ultimate Rewards® Points
after you spend $4,000 in 3 months
How To Use Chase Dining
If you're wondering how to use your Chase Dining benefit, here's a step-by-step guide.
Log In and Select Your Account
You may log in directly through Chase, click here to log in, or visit the Sapphire Dining page and click "Learn More" to access your Chase Dining benefits. You can also simply click on "Dining" in the Ultimate Rewards portal.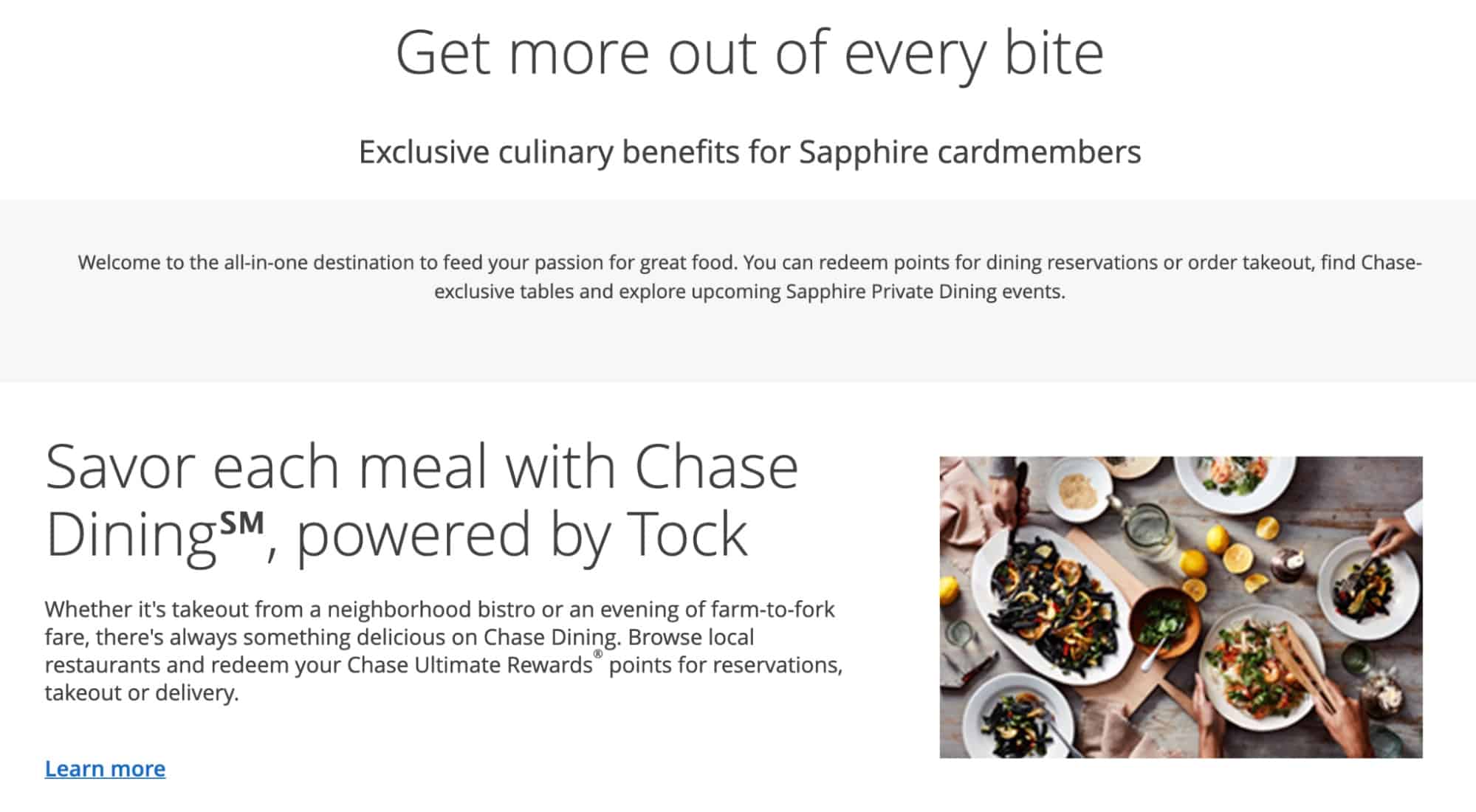 Through the Sapphire Dining page, you can learn more about the restaurants, events, and digital events that are happening where you are.
Search For an Experience Near You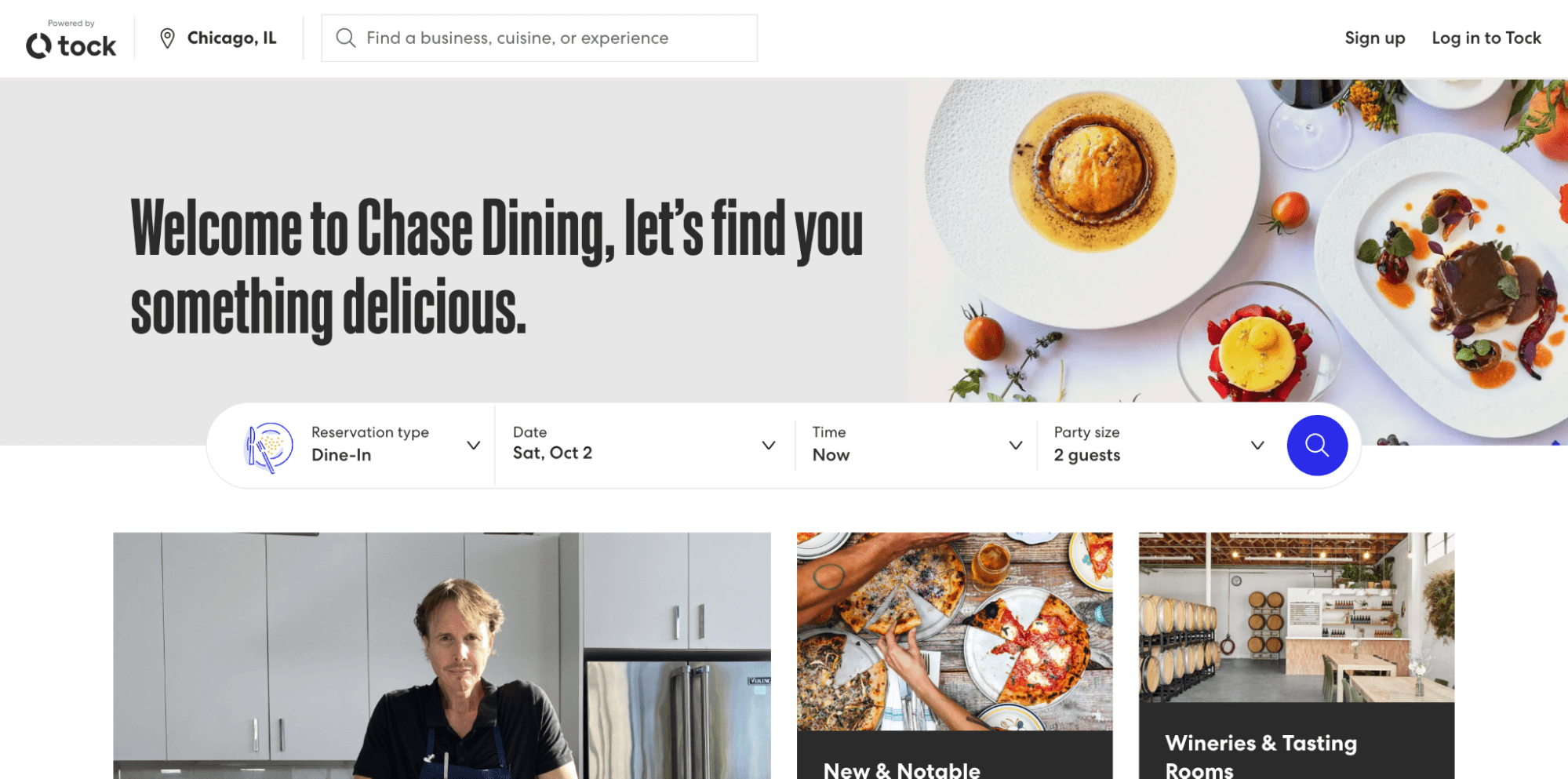 Powered by Tock, the Chase Dining Portal allows users to search for venues or events by location, name, or title. You can set your location in the upper left-hand corner, or search directly from the search bar right next to the location bar.
Then, use the drop-down menu to select the type of experience you're looking for. Your options include Dine-in, Pickup & Delivery, Events, or Everything. Select your date, time, and party size and let Chase Dining find the right experience for you!
If you don't have anything particular in mind, you can still use this page to browse any available experiences. Take a few minutes to explore and get a feel for what kinds of venues are accessible in your area. Below, I have included a few examples of the offerings from Chicago, featuring favorite restaurants, to-go options, and private events.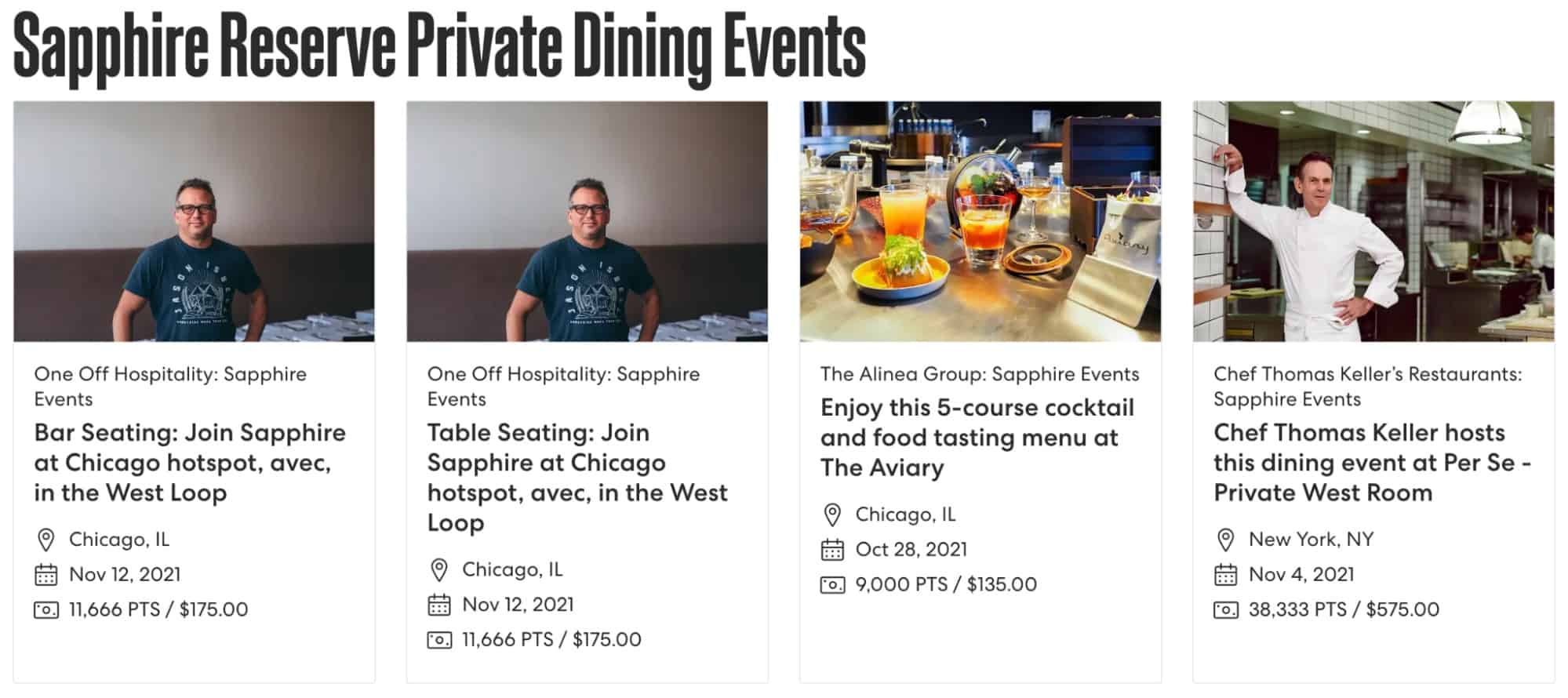 Select your Experience
Let's say that you're interested in checking out a private dining event at The Aviary, which features five courses of cocktails and paired foods. To select, simply click on the event and you will be redirected to the event page, complete with all of the information you need for booking.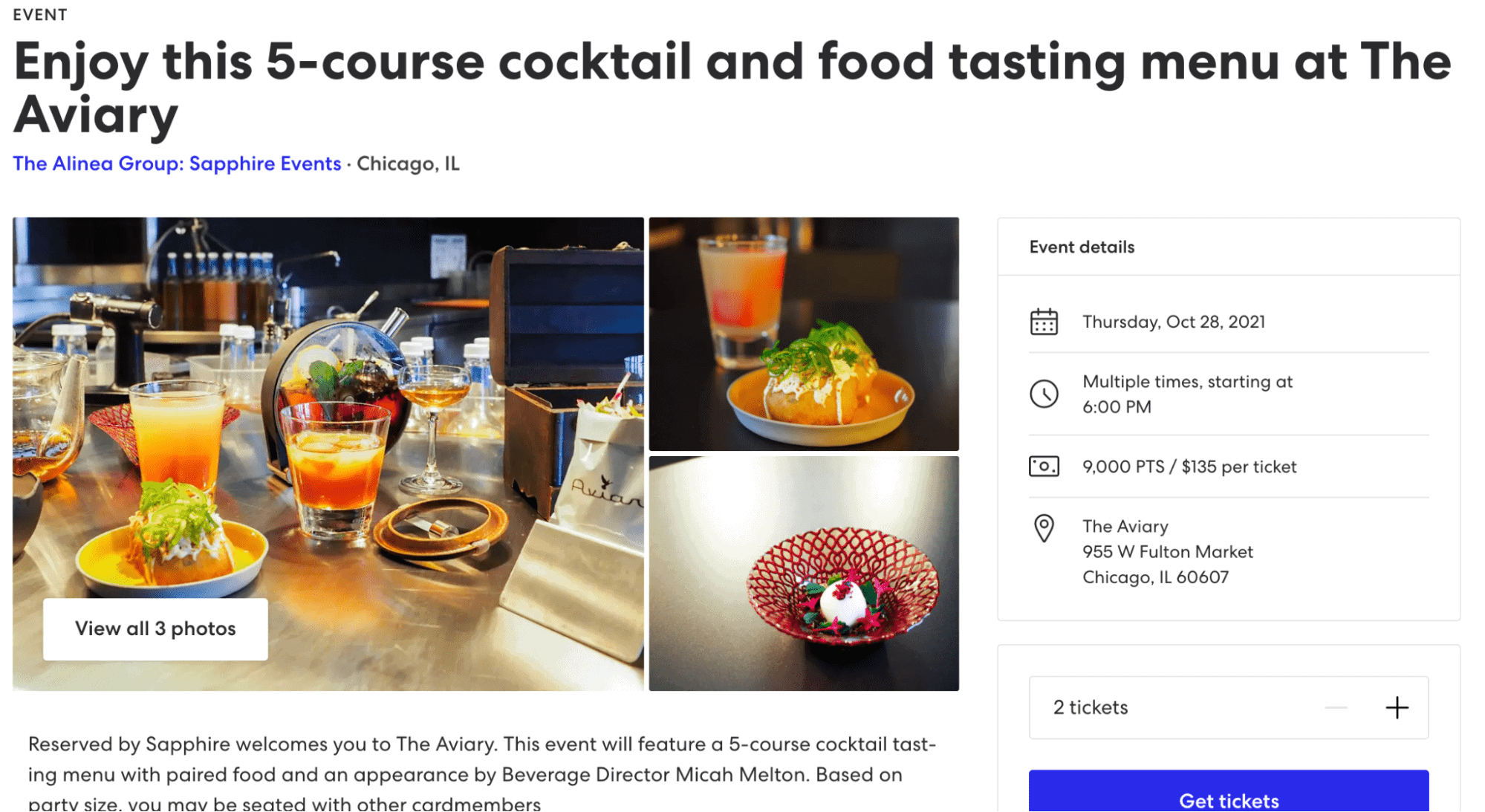 Schedule and Book
From the event page, navigate over to the booking bar on the right-hand side and click the "Get tickets button.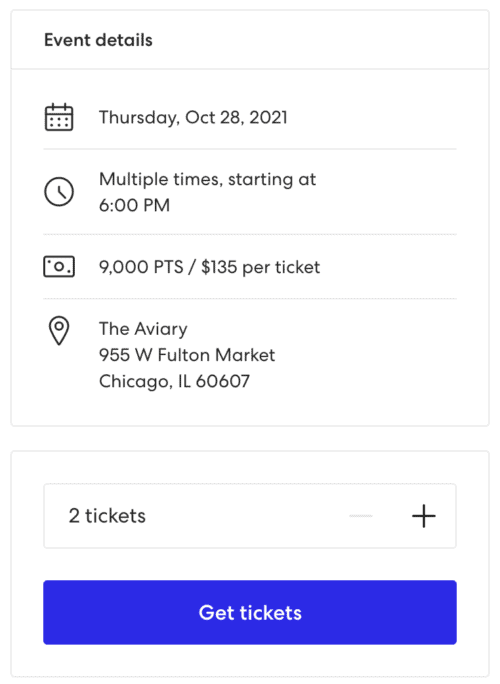 Once selected, you will be directed to the scheduling page. In this case, this particular event features several different seating times as well as seating availability. You will also be able to see the price per person. Select a time that suits you, and then you will be directed to the booking page.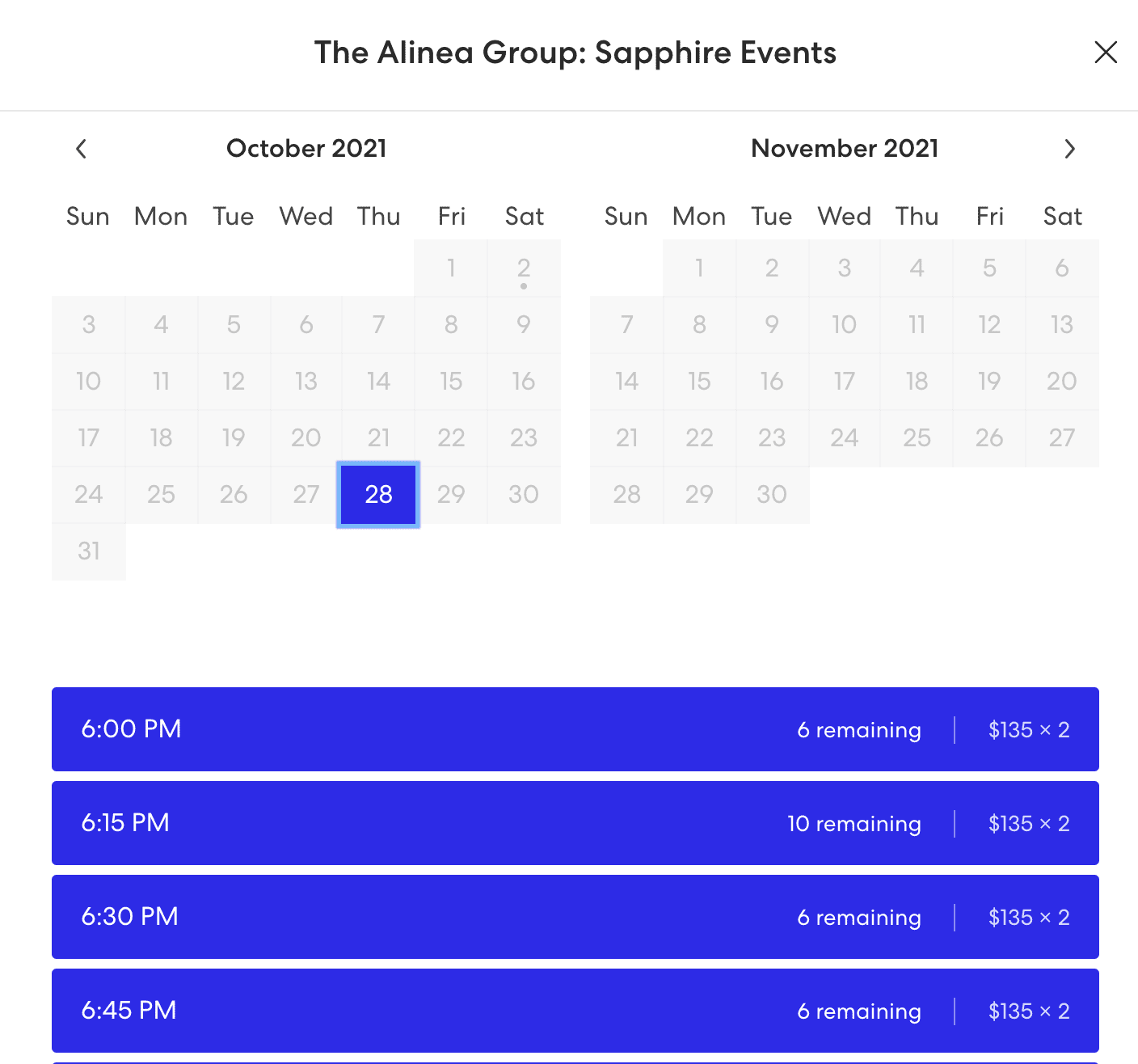 Then, simply enter your information and book, and be aware that this information will be used to automatically create a mandatory Tock account. This is necessary since the Chase Dining service is operated by Tock.
Don't Pay with Points!
Remember to pay for the event in advance, if the option is available. It is only the prepaid events that qualify you for the 10X bonus. If you are looking for that bonus, you must also ensure that you do not pay for the booking with points.
With this sample event, I could pay $135 USD or 9,000 points per person, which isn't a bad redemption at 1.5 cents per point. But if I paid with points, I would miss out on 1,350 points earned per person for one $135 event! Unless you're looking to redeem points or cannot take advantage of the 10X point deal with your booking, there is no reason to pay with points.
Limitations of Chase Dining
The Value Of Chase Dining Will Be Location Dependent
Of course, not all of us are located in Chicago where the culinary scene is always hopping. Not all of us have direct access to New York, LA, or Houston either. Chase Dining includes more than 4,000 restaurants and dining experiences, but many of them are concentrated around major dining hubs.
If you are a Chase Sapphire cardholder and located (for example) in Berea, Kentucky, you'll have access to one, sometimes two restaurants located in Louisville. It's nice that the search engine will direct you to the nearest venue, but there's no guarantee that it'll be worth the drive just to use Chase Dining (unless you also have a card that earns bonus points on gas and plan to earn points at the pump).
For this reason, I tend to lump Chase Dining in with the CSR and CSP travel benefits, at least as an indirect travel benefit. Since the vast majority of Chase Dining benefits pertain to major population centers, folks who don't live in those urban centers can really only use it during, say, a business trip to San Francisco.
Chase Dining Requires Pre-Paid Reservations
If you remember one single thing from this article, it should be that you cannot earn the 10X return on purchases made with your CSR through Chase Dining unless you prepay for the reservation.
Again: the 10X point bonus is now a permanent feature of the CSR, but it is only valid for reservations booked and prepaid through Chase Dining. If you cannot prepay for the booking through Chase Dining, then you will still earn 3X points when you swipe your card at the restaurant. Only prepaid bookings are eligible for the 10X point bonus.
How Chase Dining Impacts The Value Of The Chase Sapphire Reserve
The Chase Sapphire Reserve is a valuable card for those who use it primarily for travel, but there are a few other categories that are worth checking out when it comes to Ultimate Rewards points and their value.
With the CSR, redemptions on travel purchases through the Ultimate Rewards Portal are worth 1.5 cents per point, the highest value for travel redemption in the Chase game. Recall that Chase Dining includes redemptions that are worth 1.5 cents per point as well, just as I showed in the example booking above. This means that dining and travel points are simply worth more when you have a CSR, considering both earning potential and points redemption.
Points earned with the Chase Sapphire Reserve are also worth 1.5 cents when redeemed through the newly-extended Pay Yourself Back program, which allows cardholders to erase eligible charges from their statement using points.
Recently, Chase added categories like Airbnb and dining at restaurants (including takeout and eligible delivery services) to the list when you pay your cash payments back with points. This program was supposed to end in September 2021, but it was extended through September 30th, 2022 for Chase Sapphire Reserve.
To illustrate how CSR points and Pay Yourself Back can work in your favor, let's take that earlier Chase Dining booking example again.
Say that I purchase the reservation with cash ($135 USD) to earn 1,350 Ultimate Rewards points as per the 10X point bonus. Then, seeing that $135 USD charge on my bill (not taking into account taxes, tip, etc.) I'd like to pay myself back using points. Since dining is included in the Pay Yourself Back program, I can pay myself 9,000 points and erase the bill from my statement. But, since I had earned 1,350 points on that transaction, in the end, I only really paid 7,650 points total for the $135 bill. Effectively, that's 1.76 cents per point! That value of Chase Ultimate Rewards is rare, if not unheard of.
This means that if you use cash bookings to prepay for reservations through Chase Dining, pay yourself back with points, then account for the 10X point bonus you earned on the cash booking, CSR Ultimate Rewards points become a lot more valuable.
Chase Dining FAQs
If you're looking for a brief rundown of Chase Dining, here are a few FAQs about the recently launched program.
What Is Included In Chase Dining?
Regular dining purchases include any purchase made from a restaurant, cafe, brewery, fast food joint, etc. Chase Dining, however, is a specific collection of 4,000+ restaurants and experiences over 200+ cities and 30 countries. These experiences are bookable through the Chase Dining portal. Some of the listings offer a prepaid rate, others offer reservations, and some offer delivery or pickup. Chase Dining also includes a repository of virtual culinary events, when available.
Does Fast Food Count As Chase Dining?
Fast food restaurants always count towards regular dining purchases which will earn 3X bonus points, flat. However, only restaurants that are bookable through the Chase Dining portal and have the option to prepay are eligible for the 10X point bonus.
Can I Use Chase Dining For Delivery?
Yes! Simply select the "Pickup & Delivery" option from the dropdown menu and search for eligible restaurants. Depending on what the restaurant offers, you may select either Prepaid Pickup or Prepaid/Doordash Delivery.
How Can I Earn 10X Points Using Chase Dining?
This offer is available to Chase Sapphire Reserve cardholders who book and prepay for their reservation through the Chase Dining portal. Note that not all restaurants offer a prepaid option, which means that bookings made at those restaurants are not eligible for the 10X bonus, even when booked through Chase Dining.
What Are The Best Alternatives To Chase Dining?
The Chase Sapphire collection is not the only suite of cards that offers great dining benefits. If you would like to up the value of your earning rate (i.e. when you can't book with a prepaid rate through Chase Dining) then there are several other great options.
One alternative card is the American Express® Gold Card, which offers 4X flat points on dining and groceries. It isn't the 10X bonus rate that certain Chase Dining bookings offer with the CSR, but it is higher than the flat 3X rate offered by Chase Sapphire cards.
Another option is to go with airline dining programs such as AAdvantage Dining. This is ideal if you already have an AAdvantage account with American Airlines, because you can simply activate your AAdvantage Dining rewards, link your credit card, and start earning. This program is similar to Chase Dining in that it only applies to participating restaurants, but it has over twice the amount of participating restaurants compared to Chase Dining.
This is a neat way to earn points in two places, because your linked credit card may have its own dining reward. For example, you can earn 4X points and a certain amount of miles if you link an American Express® Gold card to your AAdvantage Dining profile.
Note that the number of miles you earn through AAdvantage Dining depends on your membership tier, so you'll earn 1X miles, 3X miles, or 5X miles per dollar. Moving through the tiers is as simple as agreeing to email communication from American Airlines and making qualifying purchases, so registering for AAdvantage Dining and linking a card like American Express® Gold is actually a pretty good deal.
Final Thoughts
Although Chase Dining is really only worth it if you have a Chase Sapphire Reserve, live near a participating location, and make an eligible prepaid purchase, there is certainly potential to really up the value of your points if you know how to use them. By combining the 10X points bonus offer with the Pay Yourself Back program, Chase Dining definitely makes it worth your while to check out some of the most exclusive, inspiring dining experiences in your area.
New to the world of points and miles? The Chase Sapphire Preferred® Card is the best card to start with.

With a bonus of 60,000 points after $4,000 spend in the first 3 months, 5x points on travel booked through the Chase Travel Portal and 3x points on restaurants, streaming services, and online groceries (excluding Target, Walmart, and wholesale clubs), this card truly cannot be beat for getting started!
Learn More
Editors Note: Opinions expressed here are author's alone, not those of any bank, credit card issuer, hotel, airline, or other entity. This content has not been reviewed, approved or otherwise endorsed by any of the entities included within the post.