In This Article
Loading table of contents …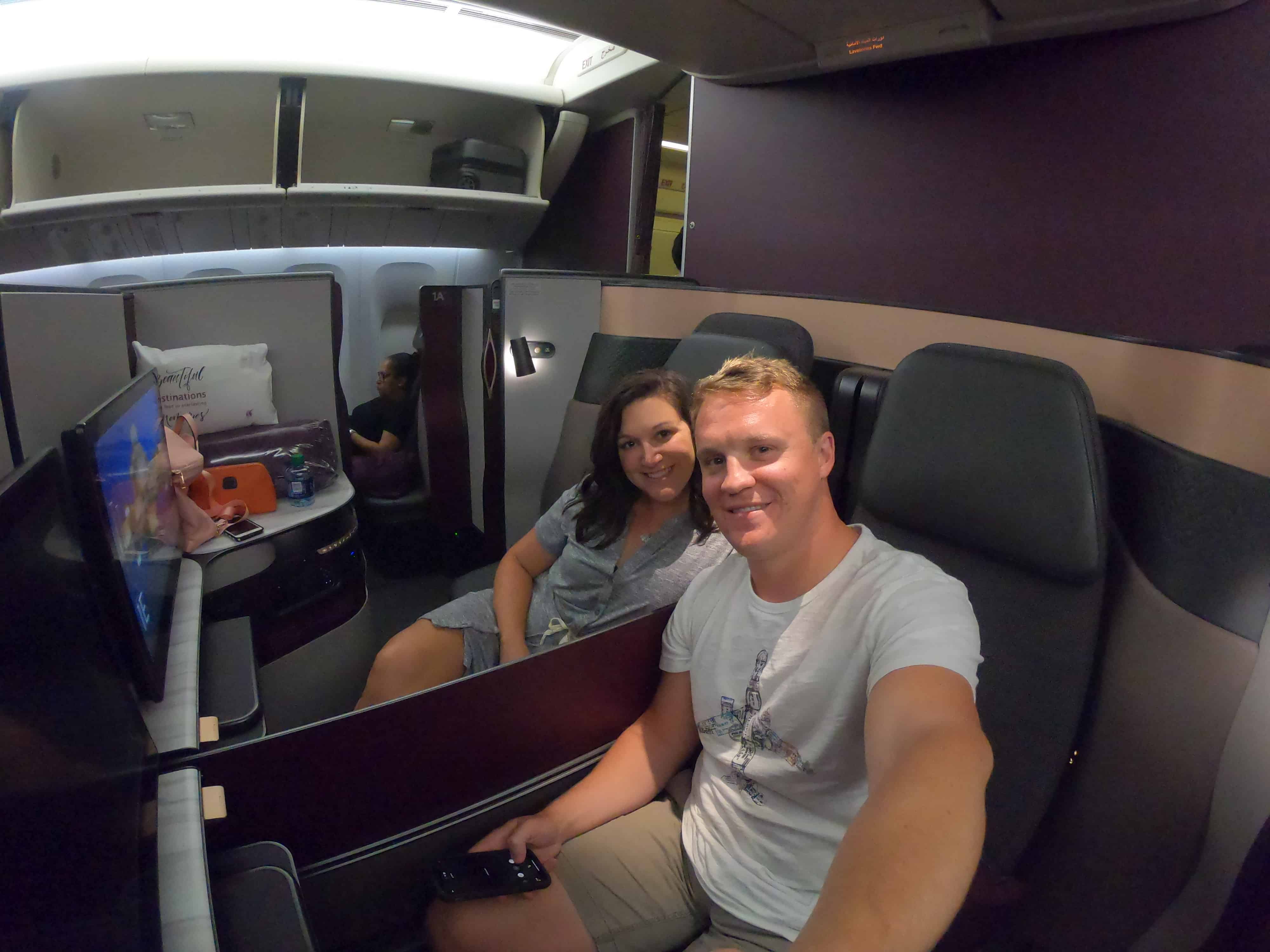 Note: Some of the offers mentioned below may have changed or are no longer be available. The content on this page is accurate as of the posting date; however, some of our partner offers may have expired. You can view current offers here.
Hi Travel Junkies,
I just got back from a 2-week trip to South Africa that featured a leg on perhaps the best business class product in the sky, Qatar Airways Qsuites.
This was my first time flying Qatar Airways and I was pumped to say the least. I had been watching for Qsuites availability like a preteen watching for Jonas Brothers concert dates to drop. Needless to say, I booked them the moment I found saver space to Cape Town.
I even did so before notifying my wife that we were going to South Africa. Sorry, not sorry.
Booking
I booked our one-way tickets from Washington D.C. (IAD) to Cape Town (CPT), with a layover in Doha (DOH), for just 75,000 American miles and $6.10 per person.
I even received 10% of my AA miles back, thanks to being a Citi AAdvantage Platinum Card holder. To be honest, I totally forgot I had that perk until I saw the receipt.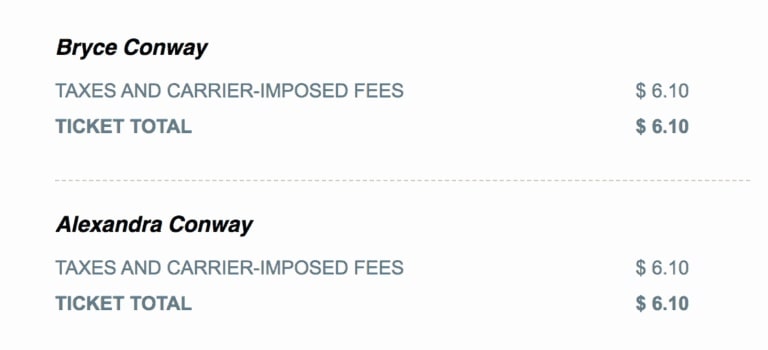 This is one of the better "sweet spots" (or in this case, "Suite Spots"….) in all of points/miles. 75,000 miles and $6.10 for two 8+ hour business class flights, one of them in the world famous Qsuites, truly cannot be beat. I paid that same 75,000 AA miles price for one-way premium economy flights to Spain last month.
Qsuites seats go for ~$7,500 if paying cash, so 75,000 miles comes to a value of 10 cents per American Airlines mile.
I earned the bulk of the required miles for this trip from my Citi AAdvantage Platinum Select card, which regularly offers a signup bonus of 50,000+ miles.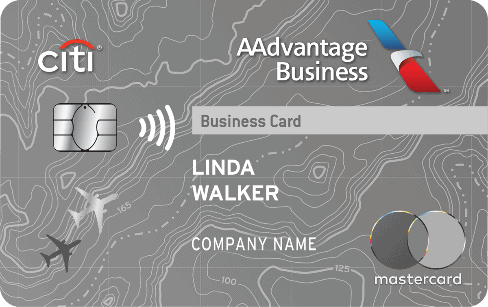 CitiBusiness / AAdvantage Platinum Select World Elite MasterCard
bonus miles
after $4,000 in purchases within the first 3 months of account opening.
Annual Fee: $0 for your first year, then $99.

I of course do not live in Washington D.C. so I had to book a positioning flight from Columbus to DC on Southwest, which was just 7,000 Southwest miles one-way. I was able to bring my wife along for free thanks to my Southwest Companion Pass.
As a quick aside, we actually had 5 hours to kill in DC so we decided to venture out and hit a couple museums. I used BagBNB (think AirBNB, but for your bags) to store my bags during the day and found it to be incredibly simple and convenient.
They connected us with a local craft beer shop who stored our luggage for $6 per bag.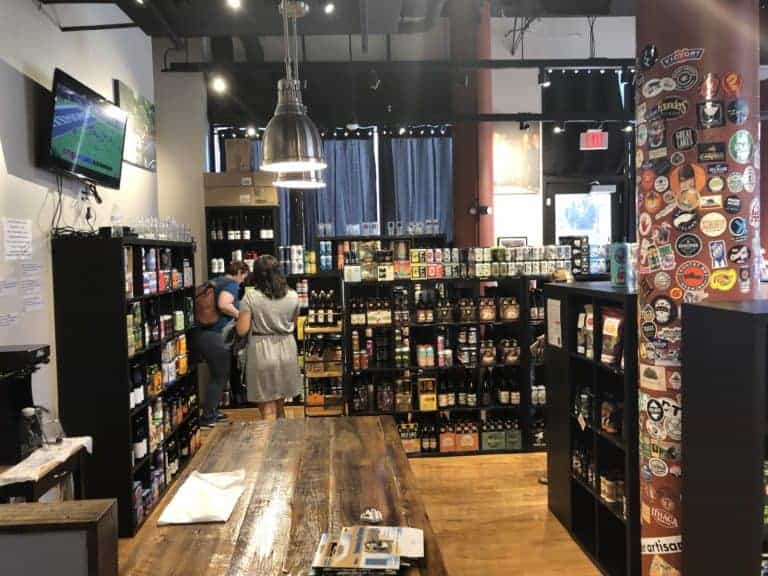 Sadly, the craft beer store was not allowed to serve alcohol in their shop. Not even when you store your bags there, ask super duper nicely, and assure them that you are not a cop.
After a couple quick museum stops we hopped in an Uber and made the seemingly endless drive out to Washington Dulles (IAD).
Check-In and Lounge
Check-in was incredibly fast and easy due to the fact that there was literally nobody in line when we arrived to the airport. We made it all the way to the security checkpoint before my Uber app could hit me with the usual "don't forget to rate and tip your driver!" notification.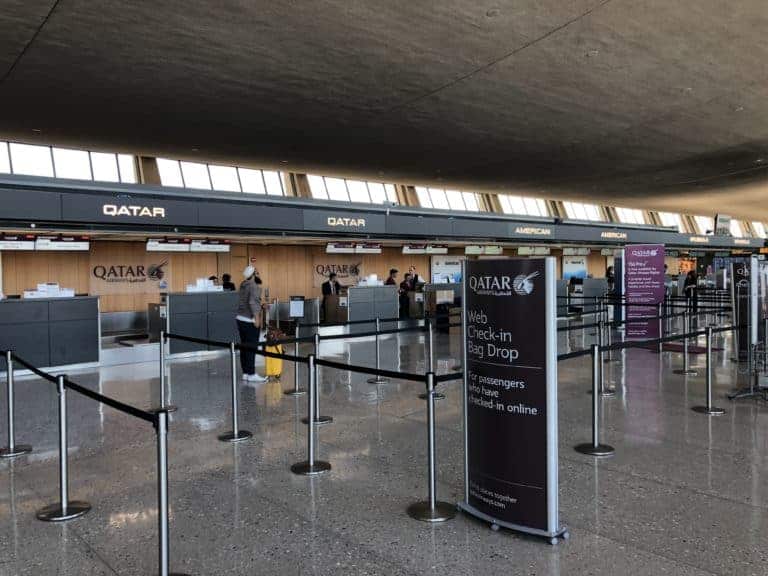 Qatar Airways does not operate their own lounge out of IAD so they send their premium cabin passengers to the incredibly popular Turkish Airlines Lounge, which was just a couple of gates down from our flight.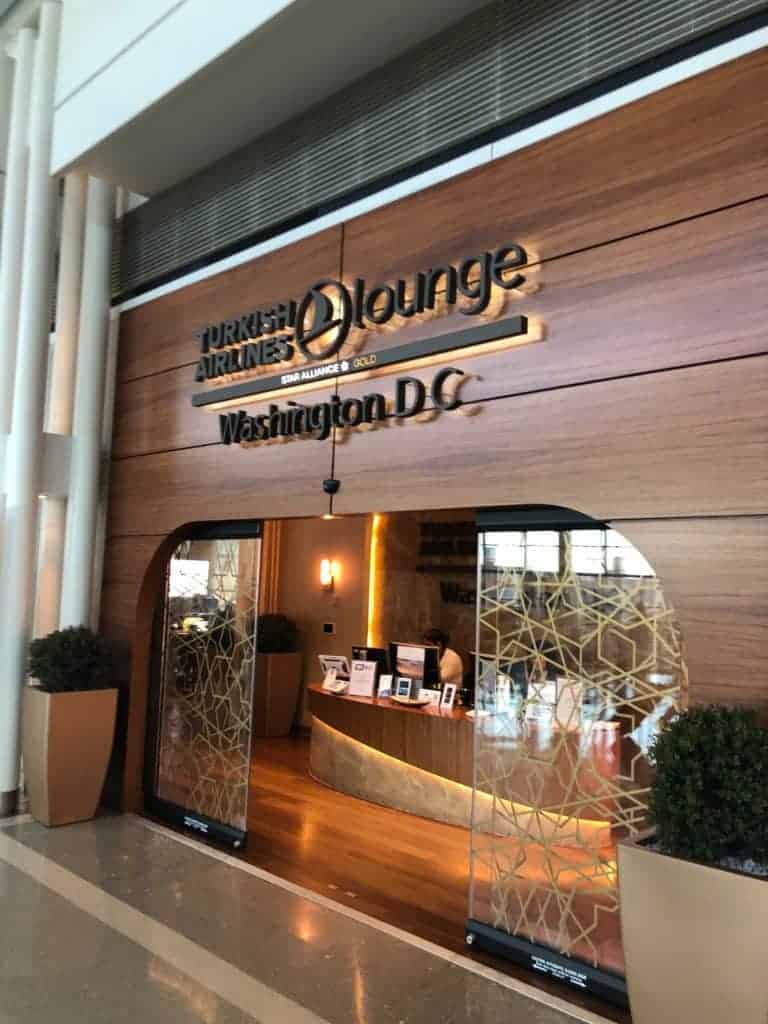 The Turkish Airlines Lounge is one of the most popular Priority Pass lounges in the country and often quite crowded. Its not uncommon to find them restricting entry to premium cabin passengers during peak hours.
Walking in and presenting my premium cabin boarding pass for entry felt like walking in to my favorite bar after actually turning 21 and having a (legitimate) ID to prove it.
Its the little things in this hobby that bring me joy.
The Turkish Airlines lounge is nice, but quite small. There is one bar, a small buffet, and enough seating for maybe 100 people to spread out and relax.
Here is a quick video walkthrough with my shiny new GoPro Hero 7 Black.
And here are a couple of photos for those of you with slower internet connections or less patience.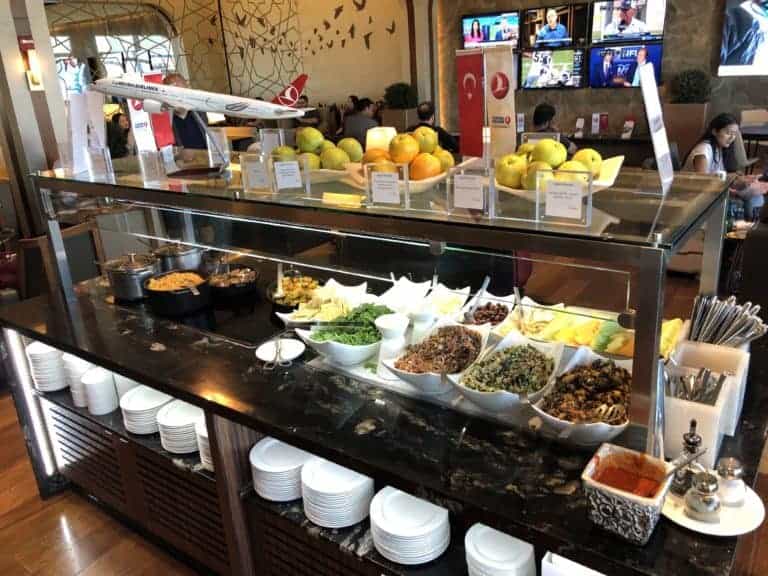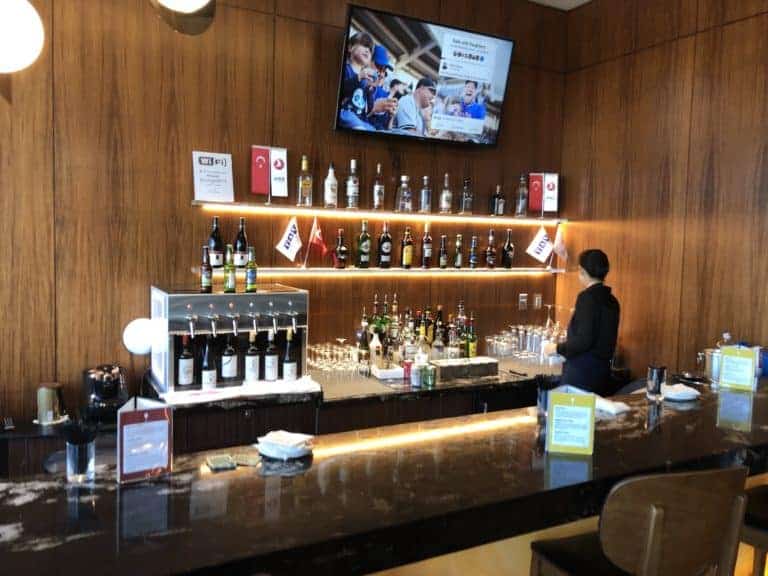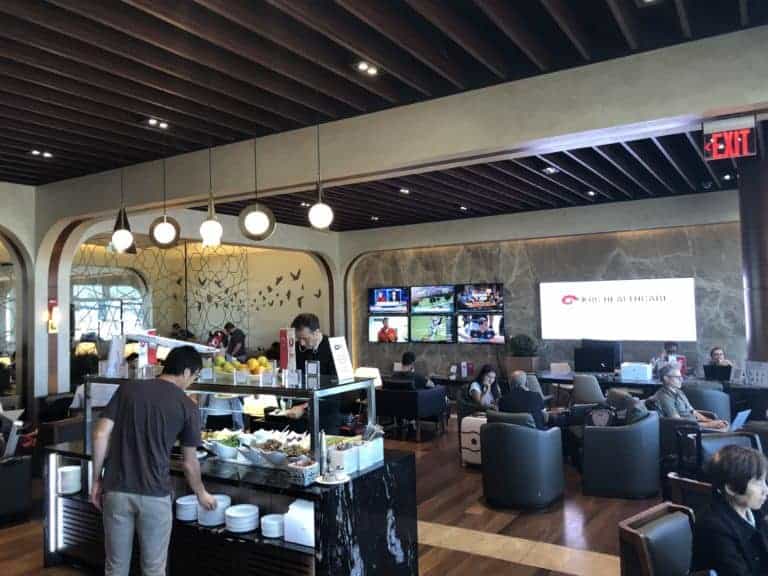 We were able to snag the last open table in the entire lounge and enjoy a glass or two of champagne before making our way to the gate.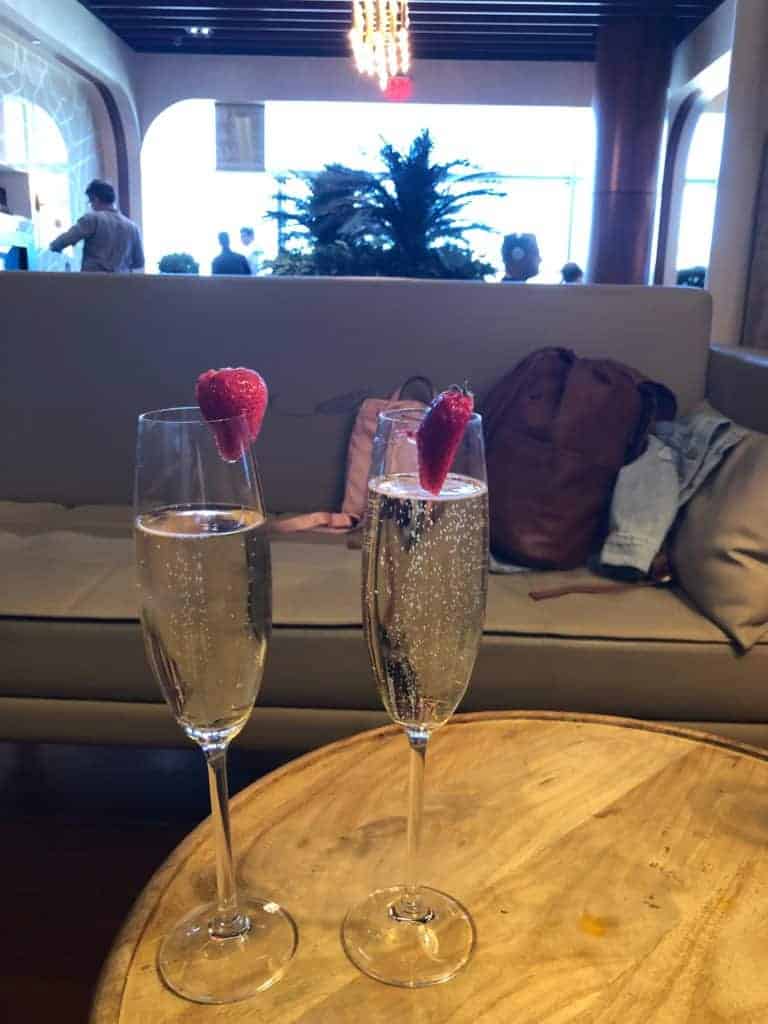 Our flight departed from gate B37, which was about a 2-minute walk from the lounge. Boarding had already commenced by the time we had arrived so we were able to walk straight on to the plane.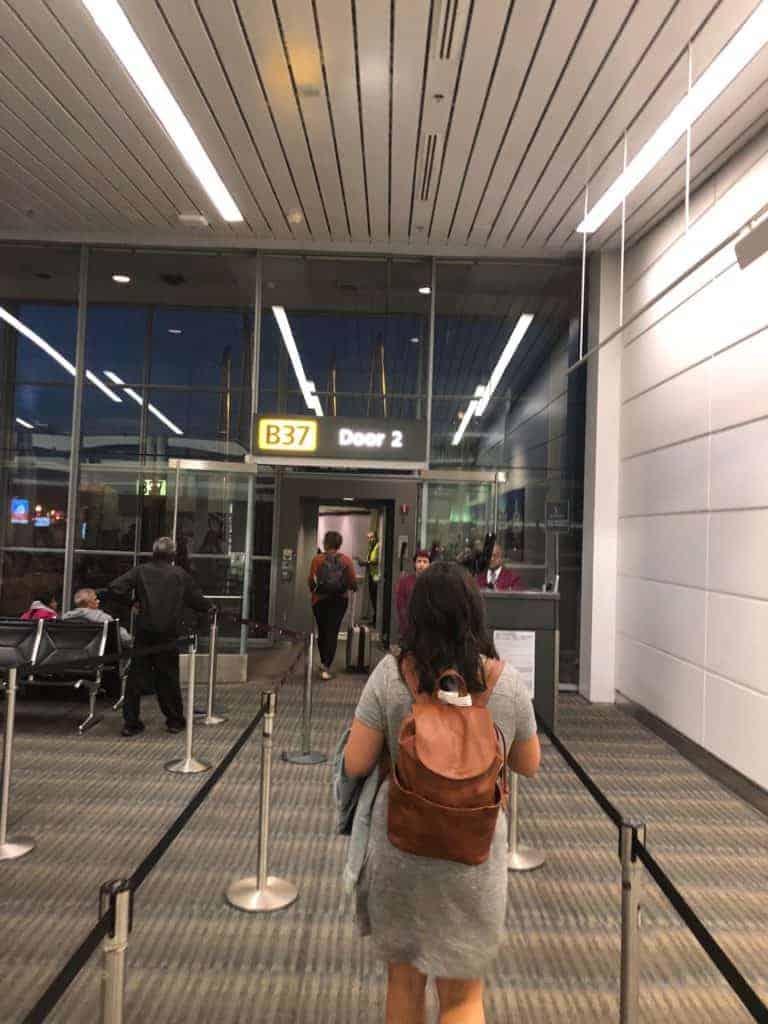 Seat and Cabin
The seat and cabin are without a doubt the highlight of any Qsuites flight.
Qatar Airways does not have a first-class cabin onboard any of their flights featuring Qsuites, which leaves two forward cabins to be filled with their business class Qsuites seats.
The Qsuites are all arranged in a 1-2-1 layout but have a couple of minor differences in the seat styles.
Generally speaking, odd-numbered rows are rear-facing with the 2 middle seats being essentially right beside each other. These are the ones that can be converted into the famous "double bed" suite configuration if you like.
There is, of course, a partition between the two seats should you happen to be traveling next to a stranger. This can only be lowered by the flight attendants, so there is no need to worry about an overly friendly neighbor.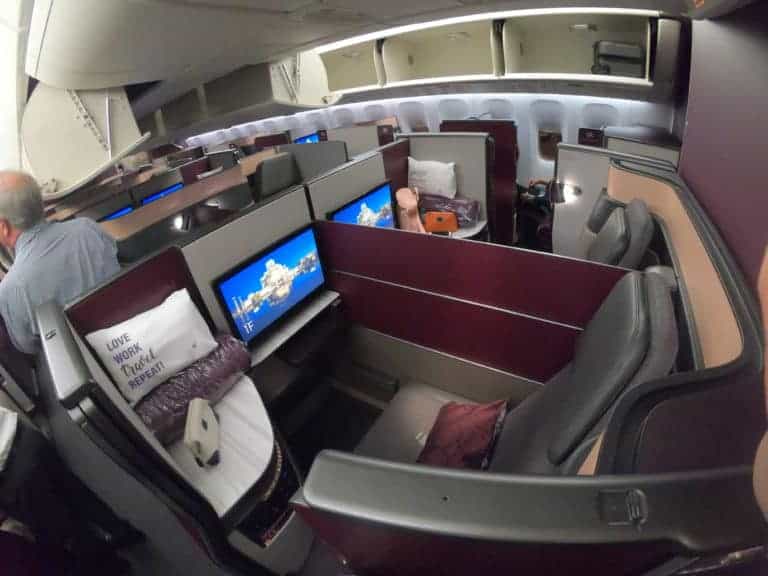 Even-numbered rows were generally forward-facing, with a larger gap between the two middle seats. The divider can still be lowered to combine the suites, but it doesn't create that same "double bed" type of setup.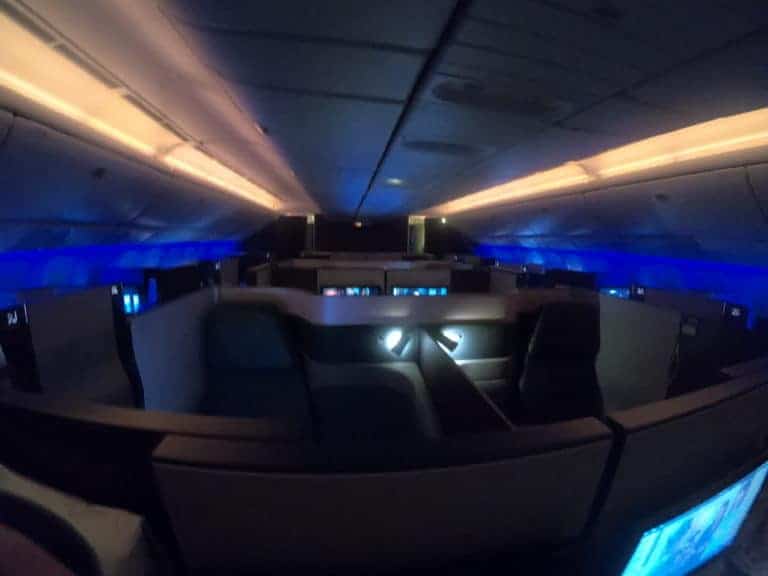 You can even combine two of the middle rows to create a 4 person suite if you like. Nobody did this on our flight, so here is a picture of the configuration courtesy of Qatar Airways.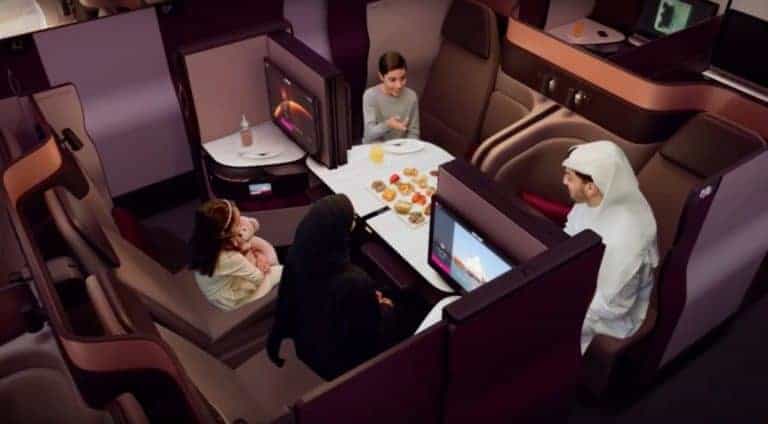 The window seats followed suit with odd numbered rows being rear facing and even numbered rows being forward facing. Like the middle seats, they also varied in that the odd numbered rows had seats directly beside to the window, with the even numbered rows having the personal storage area closer to the window.
If you need help determining which is which for your own booking, simply consult SeatGuru on that matter.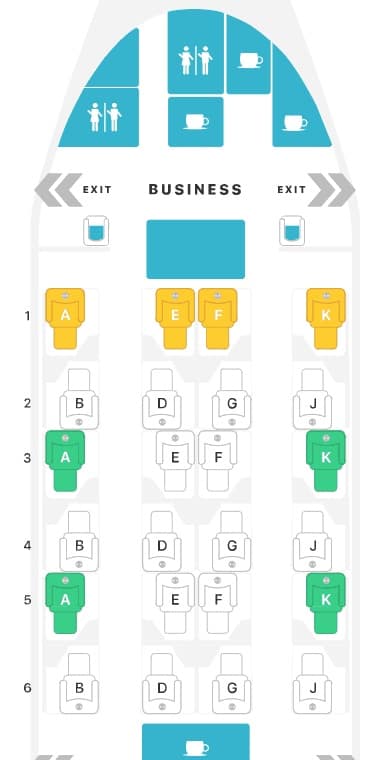 I was a little late to the boarding party, and the folks in the seats opposite of us were already seated facing our direction, so I only took a handful of photos of the actual cabin itself.
Forgive me, I like lounge champagne and dislike taking photos of unsuspecting strangers in their pajamas.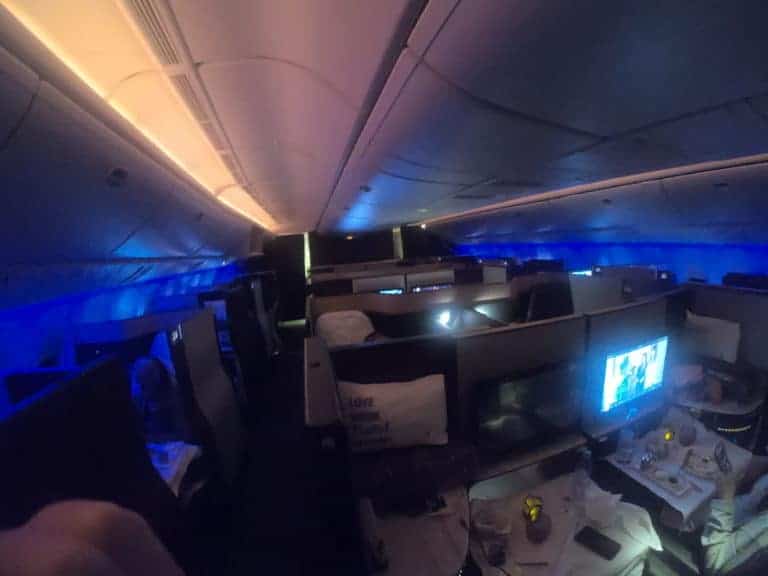 Overall though this was easily the best business class cabin I have ever seen. The cabin was very quiet, the lighting created a nice ambiance both day and night, and the suites were very private (for airline suites, anyway).
Don't believe me? Take a look at this.
For this next photo I literally held my iPhone over my eyes (I'm 6'0) to give you an idea of how private the suites are.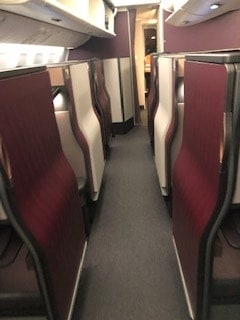 You would have to be 6'8 to see over these doors. Its glorious.
My wife and I were seated in row 1, middle seats E and F, and of course opted to have our suites combined in to a double bed after takeoff.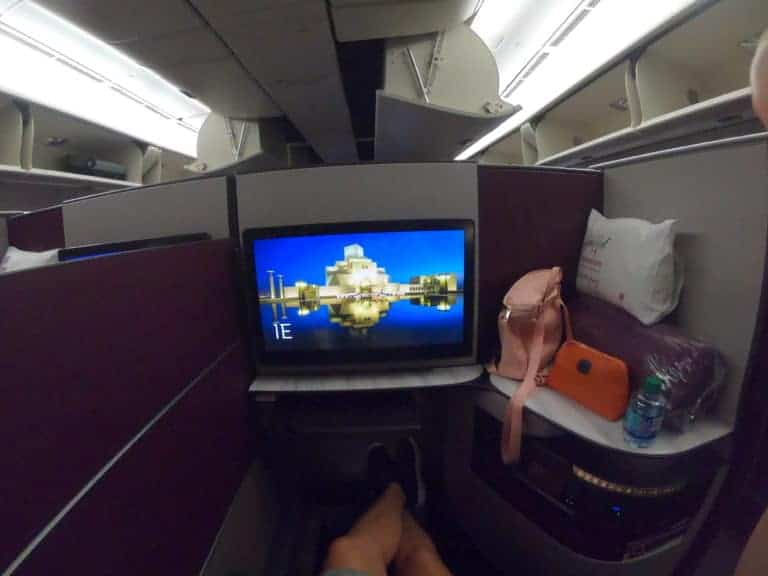 Read on for a quick magic trick.
Now you see the partition.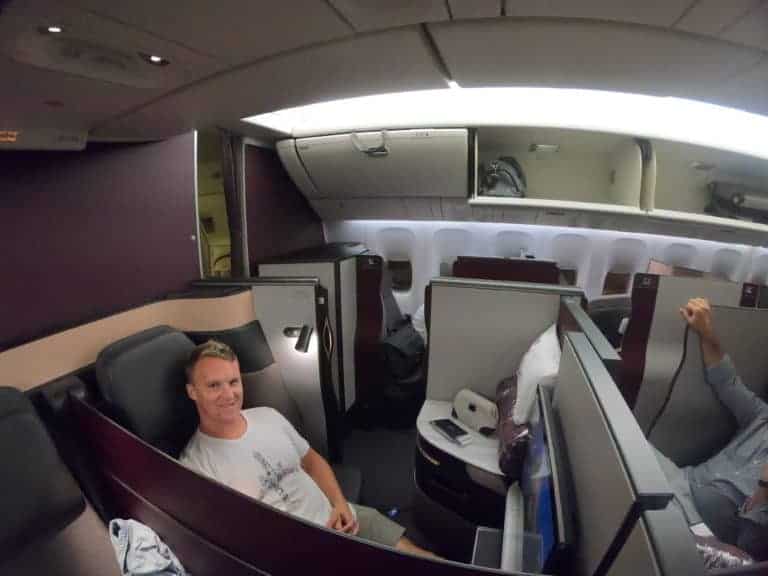 Now you see the partition halfway down.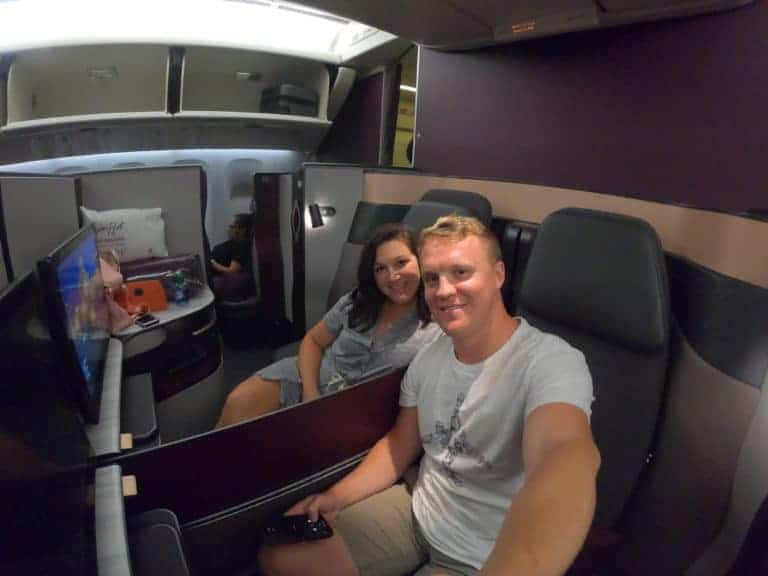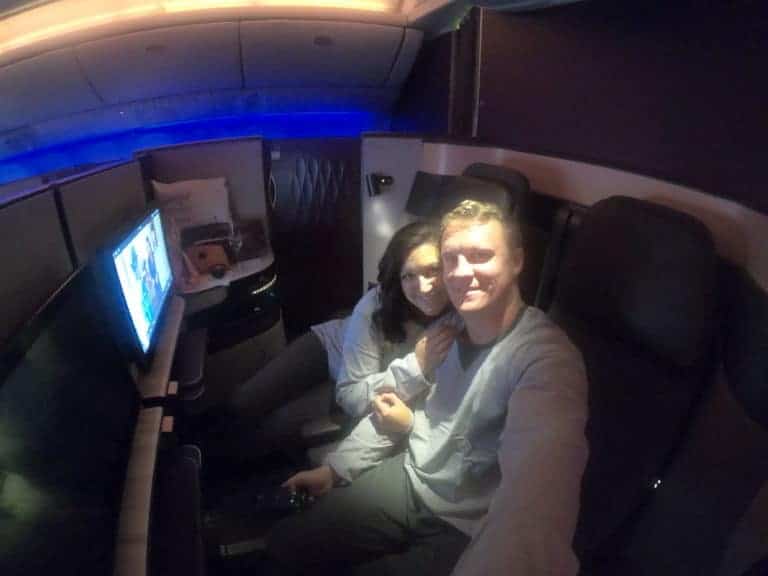 With that partition out of the way, let's talk about the seat for a moment.
Each Qsuite seat is in its own little….well… suite.
When you sit down the walls around you are high enough to make you forget that the rest of the world exists. Until you hear the drink card passing by of course.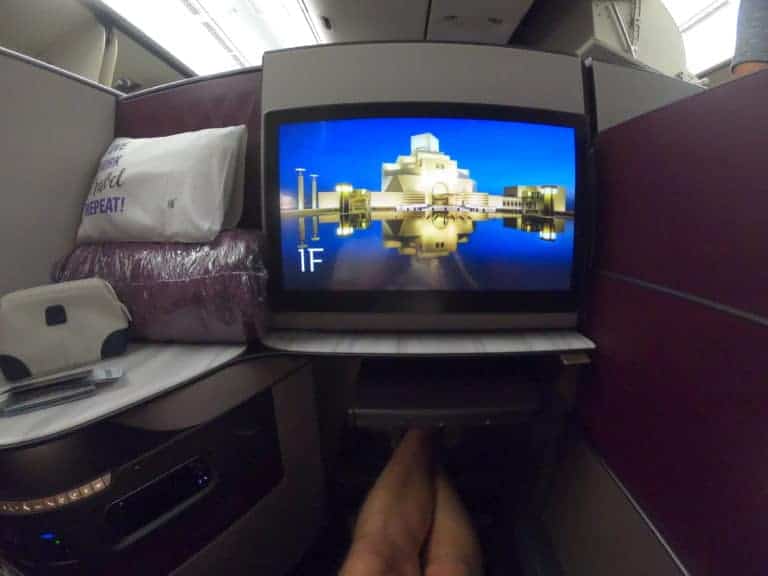 On your left (or right, depending on your seat) is a good-sized table with a "cubby" underneath for personal storage. Champagne and cocktails go on the top, cell phone and laptop go underneath. At least they did for me, anyway.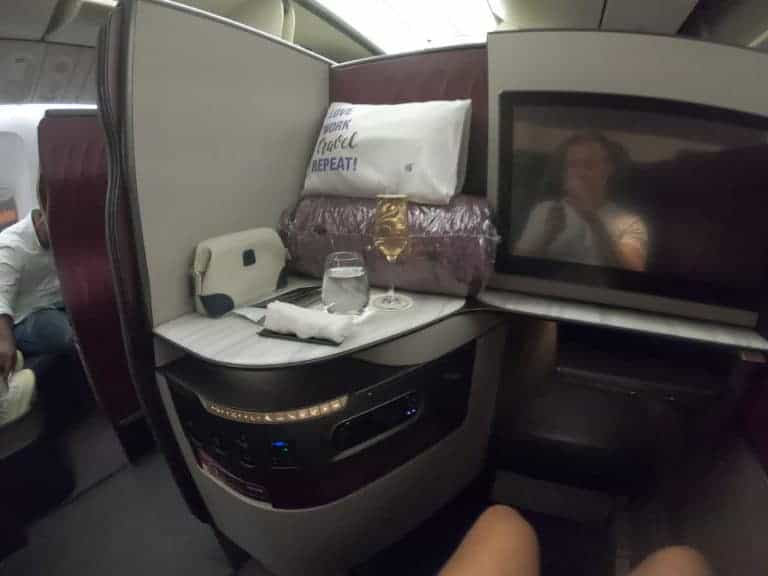 If you look all the way to the left you'll find the door.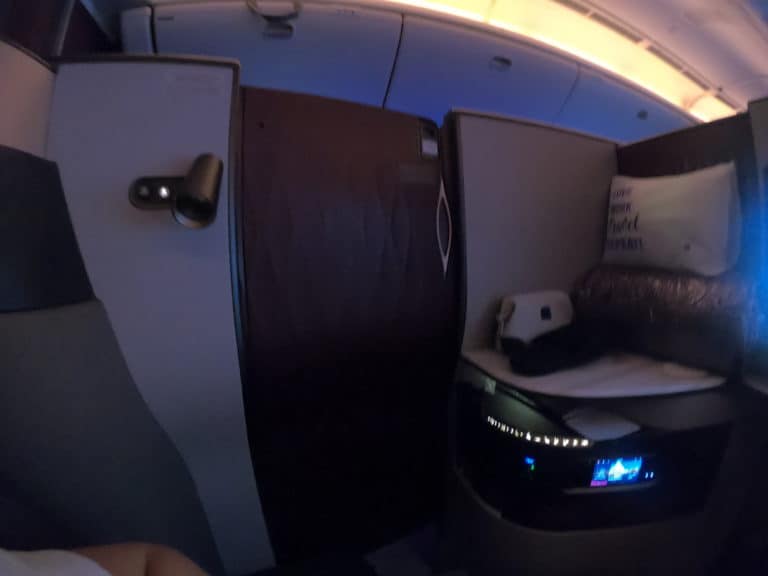 Which can be opened or closed by doing this.
That never got old by the way.
Unfortunately the doors cannot be closed until the flight attendants come around and unlock them after the plane has reached cruising altitude.
Directly in front of you you'll find an oversized entertainment center with more movies and shows than I have seen on any other flight to date.
And when you've had enough movies and are ready for some rest, simply say the word and your flight attendant will transform your Qsuite is in to a double bed.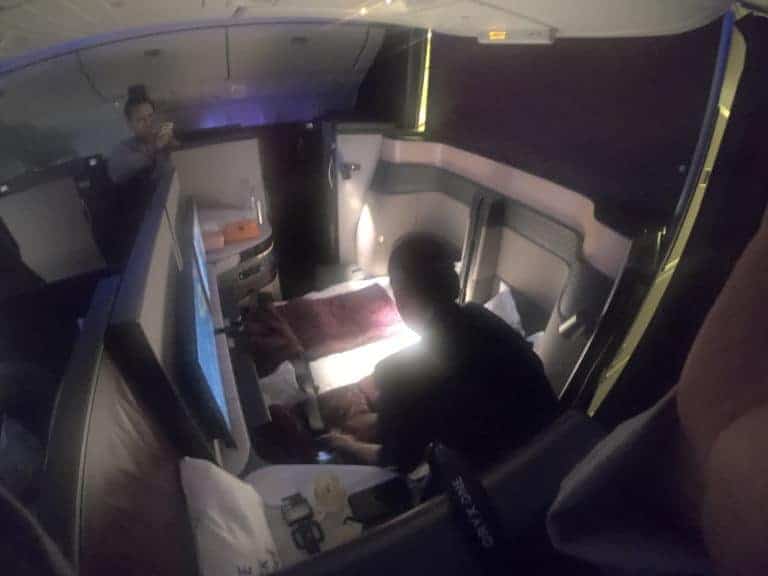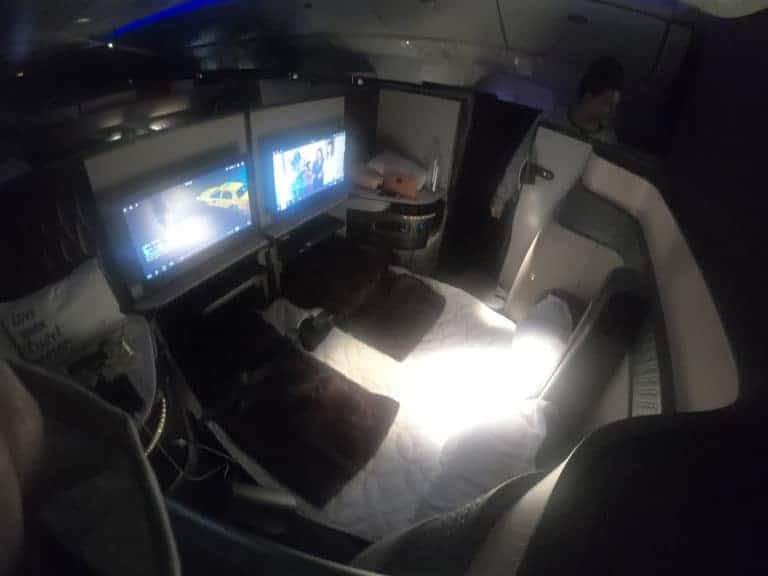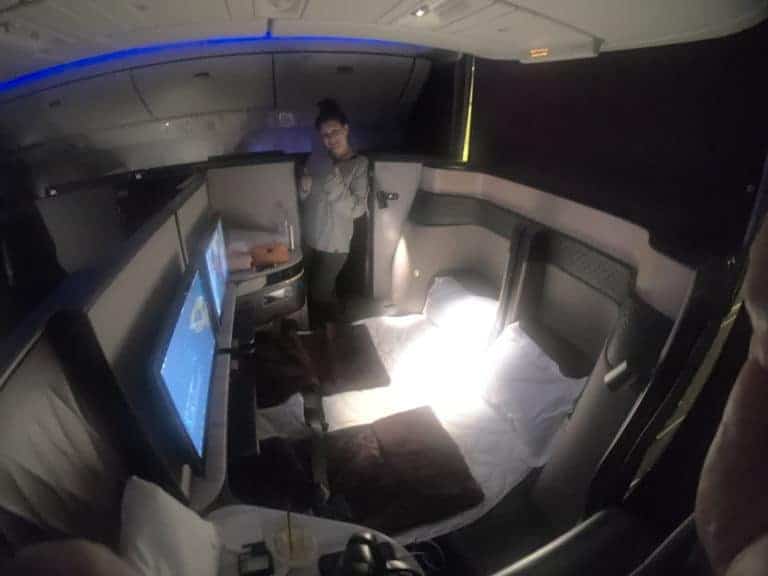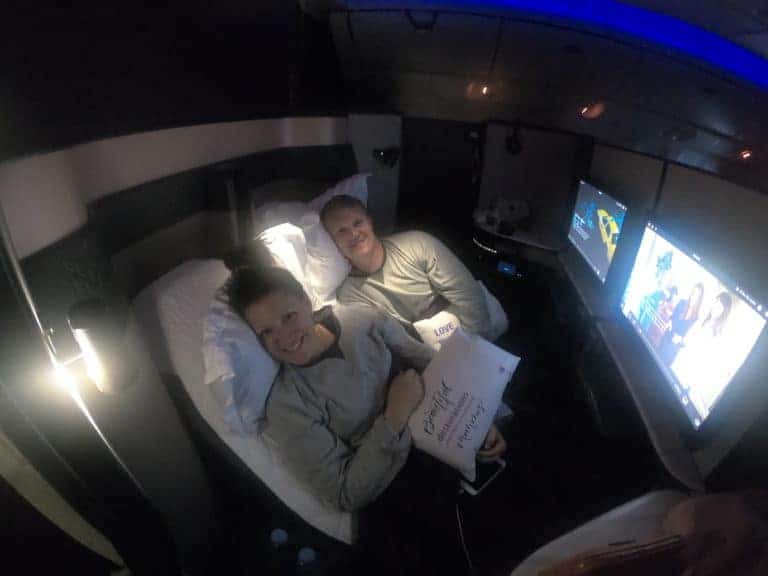 And, of course, there was a bathroom on board.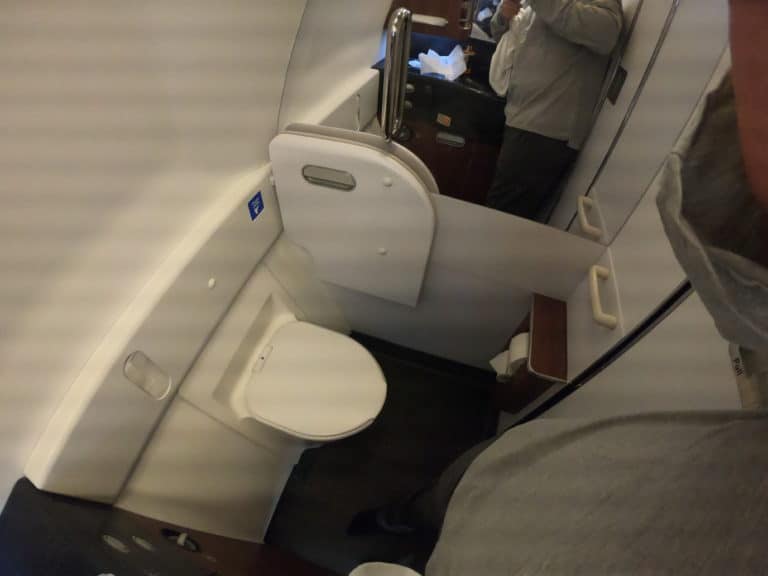 It was like any other airplane bathroom you've ever been in in your life. As Forrest Gump once said, that's all I'm going to say about that.
Let's talk about food and drink.
Food and Drink
The food and drink on board were good, but definitely more in line with other business-class products I have flown in the past.
That sounds negative, but what I am really trying to say is that the greatness of the seat and cabin made me forget that I was only flying in business class, not first.
Here's a quick look at the menu.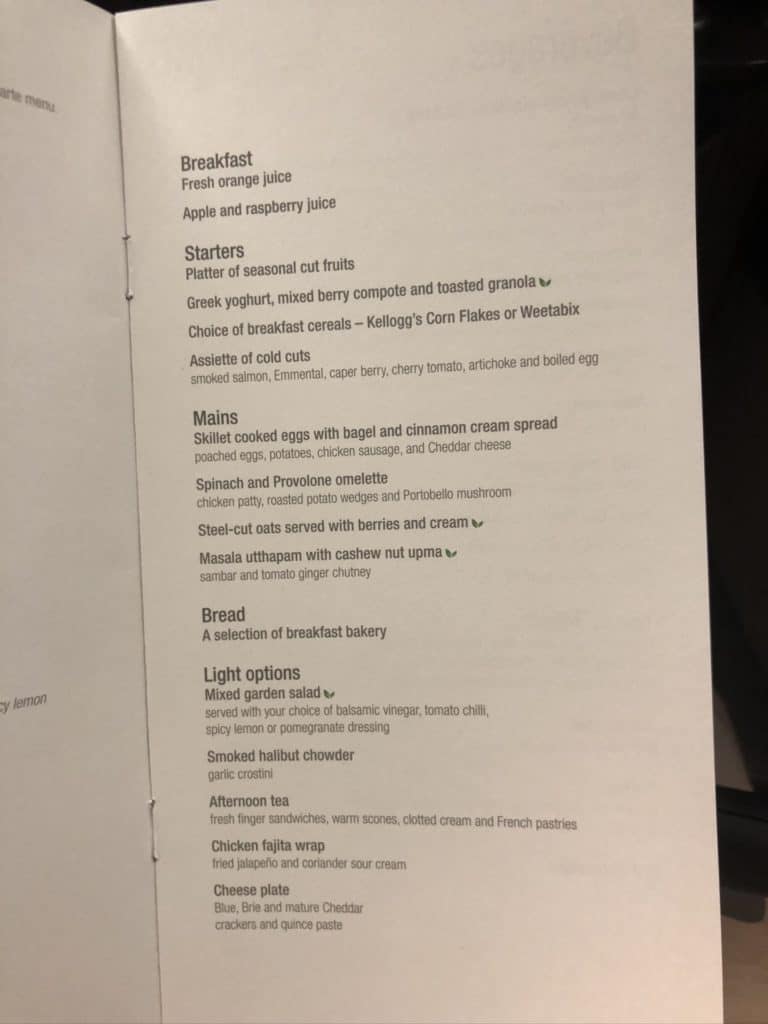 I went with the beef short rib and it was just ok.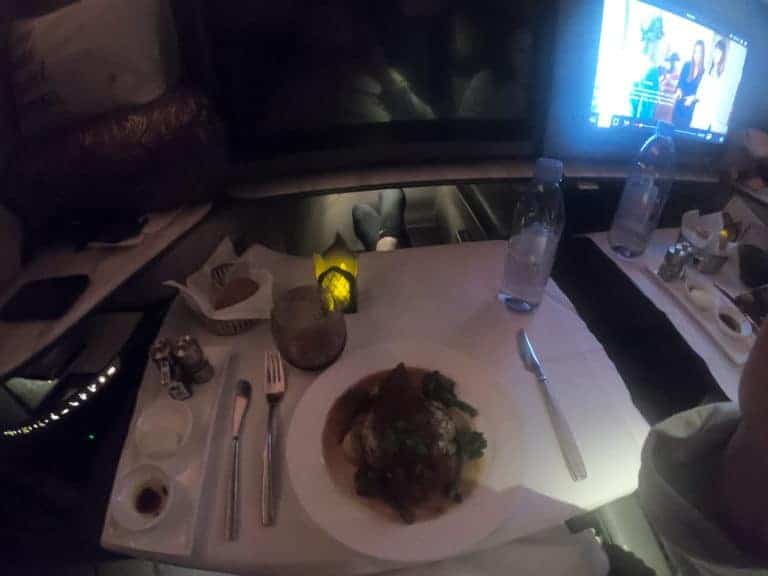 I have a handful of other "its dark on an airplane but here's an unenthusiastic picture of my food" pictures but I'll save those for another day.
Bottom line is this; the food was good not great.
The one positive was their anytime snack platter, which is not very common for business class products. I didn't end up ordering anything, but its always nice to know that there is food available should one get hungry mid flight.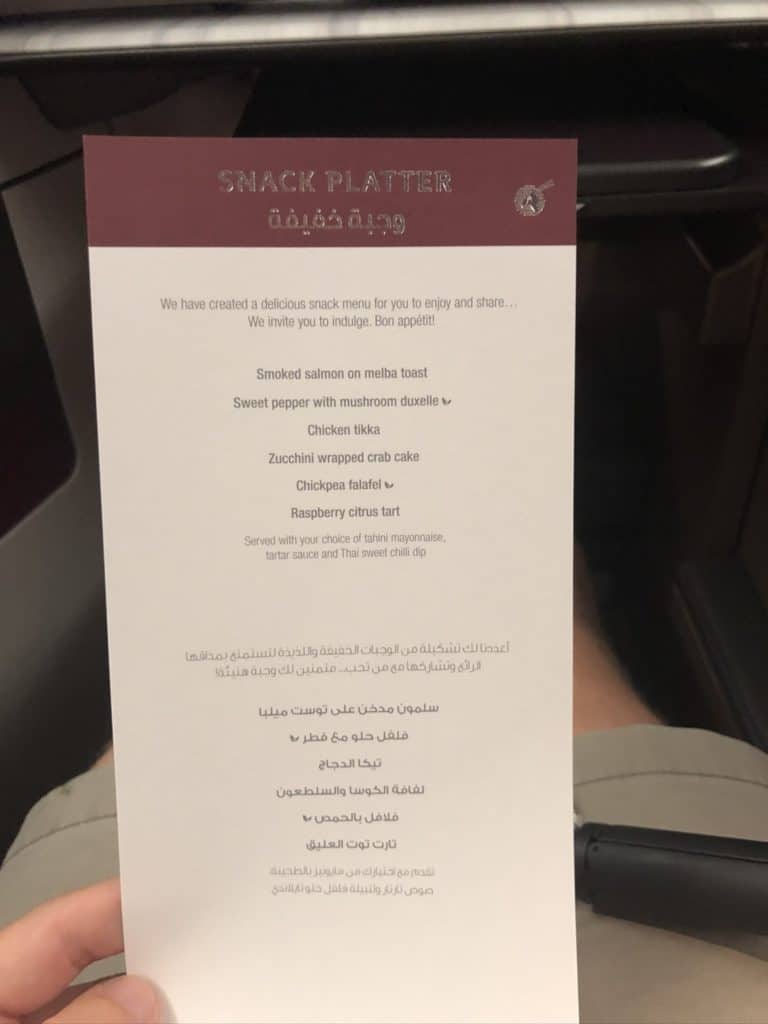 While the food wasn't particularly noteworthy, I was impressed with the cocktail selection on board. So impressed in fact that I opted to try 2-3 of them.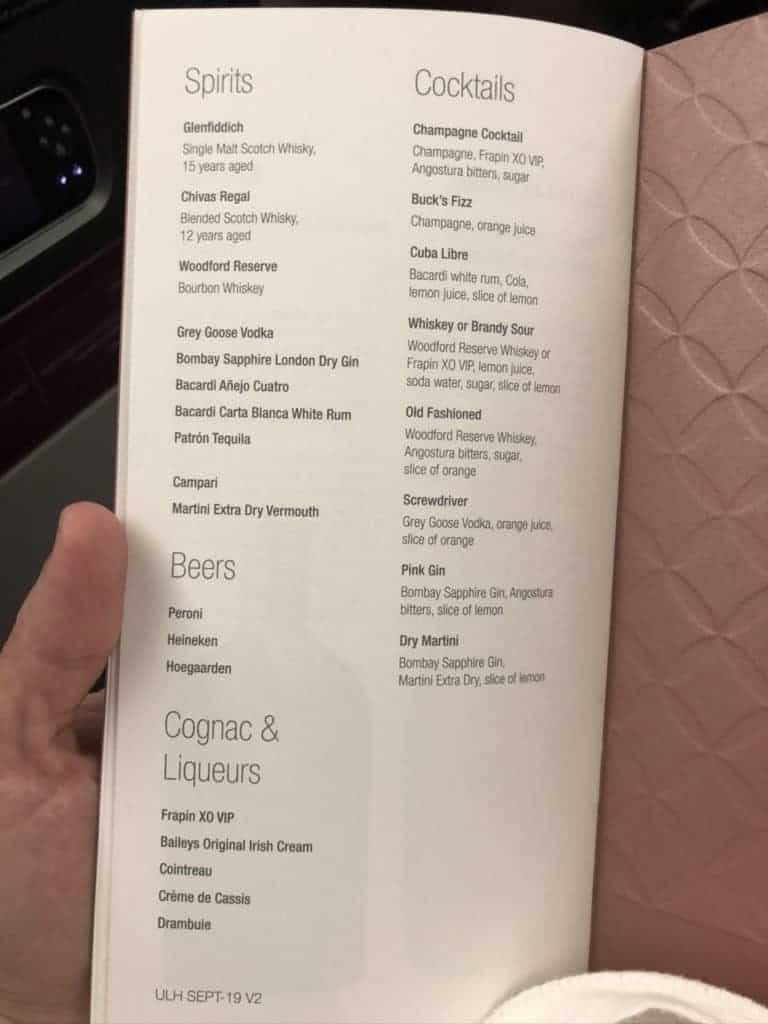 The martini ended up being a favorite.
You see, the more times you fly the more you start to learn little hacks to make your time in the air more enjoyable.
I've yet to learn the very simple lesson that not drinking will make you feel better overall when you land, but I have learned that sticking to liquor and cocktails makes for fewer trips to the bathroom.
Cheers to that.
Service
I have to be honest, the service was definitely the weakest aspect of this otherwise fantastic flight.
My service was fine, but my wife's left much to be desired. And because we were sitting hip to hip in our Qsuite we got to see the stark difference in real time.
I ordered and received my dinner a good 20 minutes before my wife was even asked for her order. My wine glass was regularly topped off before I could drink half of it and all of the staff were incredibly attentive and friendly to me.
My wife's dinner didn't arrive until after I was on dessert and she had to flag down a passing flight attendant to get her first in-flight drink.
This "flag us down or we will never approach you" type of service continued on her side throughout the entire flight.
Have you ever walked into a restaurant, been seated, and then approached 20 minutes later by an apologetic server who said something like "I'm sorry I didn't realize I was covering your table this evening"?
It felt just like that. Except the apologetic server never came, leaving my wife to try to grab the flight attendant's attention whenever she could.
Bottom Line
Don't let the end of the article fool you, we had a lovely time flying on the legendary Qatar Airways Qsuites. This is hands down the best business class experience I have ever had the privilege of trying.
The seat and cabin are on par with most first-class products, the food is decent, and the experience is particularly great if you can bring a friend and score the honeymoon seats.
And the kicker? All of this can be booked for a very reasonable amount of points/miles.
New to the world of points and miles? The Chase Sapphire Preferred is the best card to start with.

With a bonus of 60,000 points after $4,000 spend in the first 3 months, 5x points on travel booked through the Chase Travel Portal and 3x points on restaurants, streaming services, and online groceries (excluding Target, Walmart, and wholesale clubs), this card truly cannot be beat for getting started!
Learn More
Editors Note: Opinions expressed here are author's alone, not those of any bank, credit card issuer, hotel, airline, or other entity. This content has not been reviewed, approved or otherwise endorsed by any of the entities included within the post.