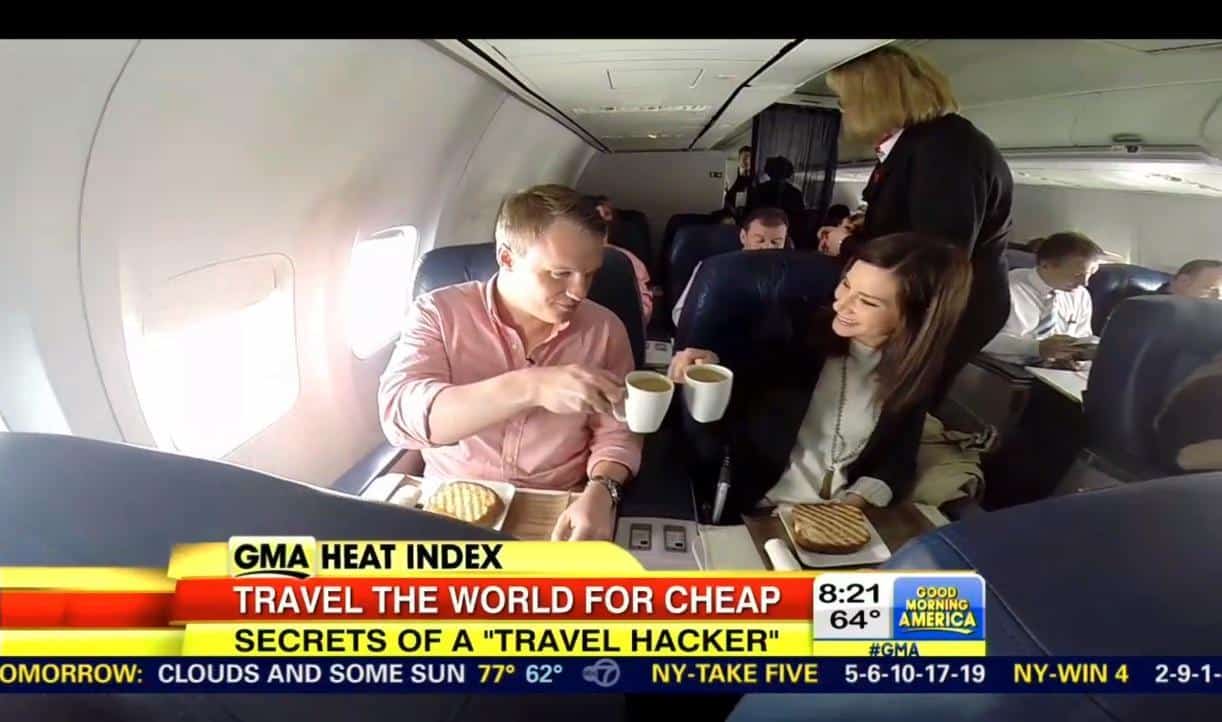 Good Morning America challenged me to fly to a random destination of their choosing for free. Here's how I did it:
I like to put things off until the absolute late minute. In fact, I was planning on writing this post last week as a follow up to my post on the importance of getting started with points and miles in the right away.
But then I decided to put it off by diving in to another project (which you'll be seeing soon), helping a few clients book ridiculously cheap vacations, and taking weekend trips to Vegas, Boston, and New York City.
Some of what I have been doing was work related, but if I'm being honest with myself I was trying to procrastinate.
As I have discovered over the past year, many of you are just like me. You browse my posts or my book, read through my free ebook, promise yourself that you'll get started right away, and then email me frantically for help booking a trip that is less than a month away.
And while these emails used to make me want to throw myself in to traffic, I have come to terms with the fact that most people (myself included) procrastinate from time to time.
So, with that in mind, I decided to share my strategy for saving money on last minute trips. It takes about 5 minutes to complete and will help you save at least $400 on your next vacation.
Here's how it works:
The Capital One Venture Credit Card offers 50,000 points as a signup bonus after you spend $3,000 in the first 3 months. These points can be redeemed at a rate of 1 penny a piece to erase travel expenses made within 90 days.
So you can erase a $300 airline ticket purchase with 30,000 points, a $55 taxi charge with 5,500 points, etc. You get the point. (Corny pun intended)
These statement credits can be used to erase just about any expense related to travel, from airline tickets to taxi fares.
One unique feature about this card is that you can take advantage of the  bonus before you meet the minimum spending requirement. Simply use the card to pay for your trip and erase the charges after you have met the minimum spending requirement.
So if you're eyeing a last minute trip, follow these three simple steps:
Apply for the Capital One Venture Credit Card
Use the card to pay for your entire trip
After meeting the minimum spending requirement, go back and redeem your points to erase $400+ or more of the expenses
It's that simple!
The Capital One Venture Credit Card has no fee for the first year, meaning you could cancel the card within 12 months and end up paying absolutely nothing out of pocket.
But with an effective earning rate of 2% toward travel, I would definitely encourage you to consider making it your go-to card for everyday purchases.
Happy Travels,
Bryce
---
10xTravel is part of an affiliate sales network and receives compensation for sending traffic to partner sites, such as CreditCards.com. This compensation may impact how and where links appear on this site. This site does not include all financial companies or all available financial offers.