In This Article
Loading table of contents …
Air Canada Aeroplan's eUpgrades are a great way to earn more opportunities to upgrade your flight, without necessarily having to earn top-tier status. This article will guide you on how you can use them to upgrade your next flight on Air Canada.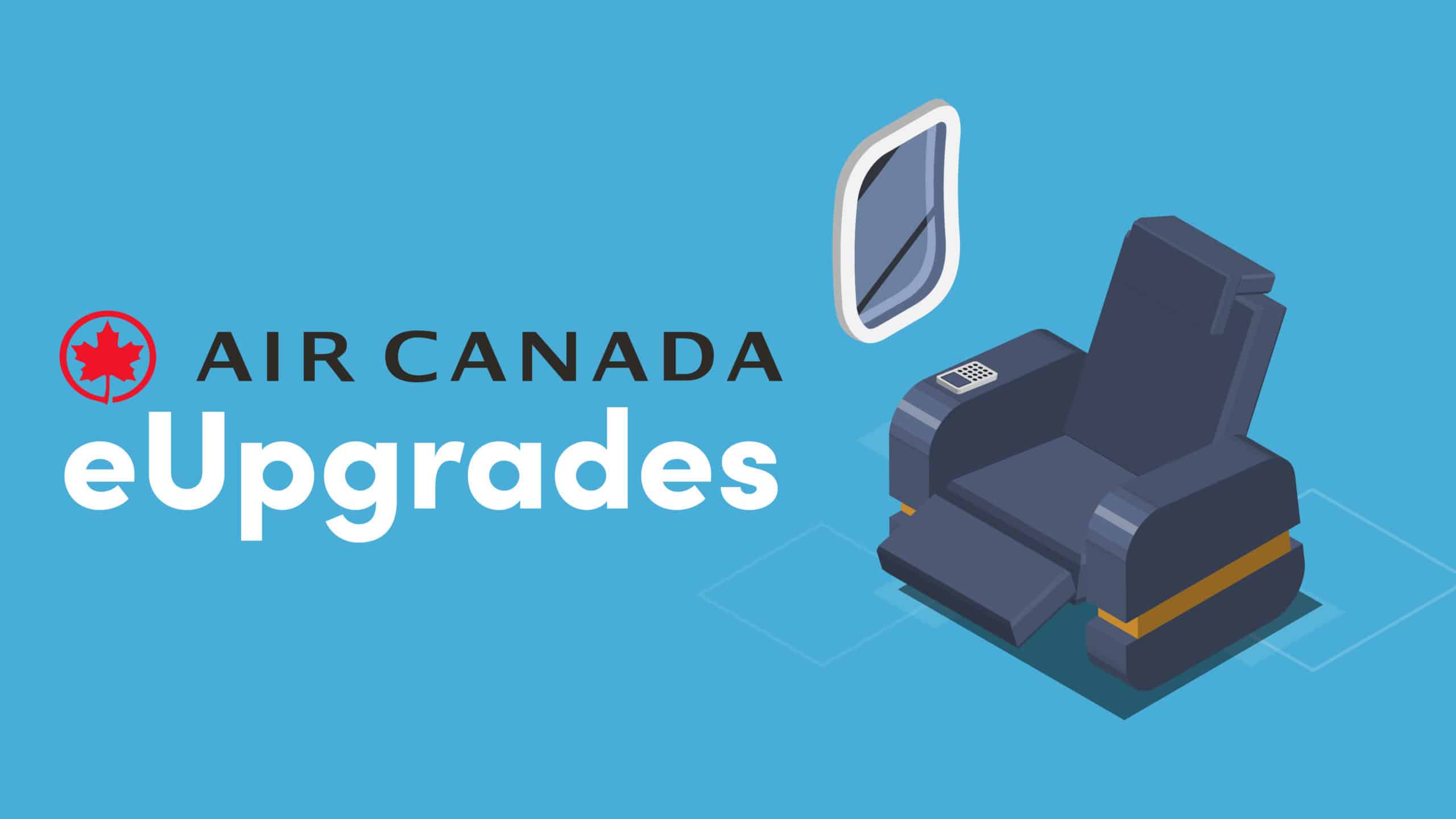 Note: Some of the offers mentioned below may have changed or are no longer be available. The content on this page is accurate as of the posting date; however, some of our partner offers may have expired. You can view current offers here.
Flying first class is a pampering experience, but it definitely comes with a price tag. Benefiting from additional legroom, more flight attendant attention and additional amenities without the steep price of a first-class ticket is one of the most sought-after perks of airline status and premium cards.
Air Canada Aeroplan's eUpgrades are a great way to earn more opportunities to upgrade your flight, without necessarily having to earn top-tier status.
You may have eUpgrade credits in your Aeroplan account and not even know how to use them. Let's explore Air Canada's eUpgrades and how you can use them to upgrade your next flight on Air Canada.
Aeroplan: Air Canada's Rewards Program
Air Canada is a Star Alliance member based out of Montreal. Aeroplan is its loyalty program, and it has experienced a face lift recently, thereby changing rewards strategies for those who often find themselves flying Star Alliance partners.
In addition, Aeroplan recently launched its first co-branded credit card in the U.S. market—the Aeroplan® Credit Card from Chase.
Air Canada's four-region award chart uses a hybrid of a zone-based and a distance-based award pricing model. In a world where most airlines are moving toward dynamic pricing, Air Canada's loyalty program is worth checking out, especially when booking economy tickets to Asia, Central America or the Nordic regions.
If you want to fly Air Canada but don't want to be stuck in coach, learn how to use eUpgrades.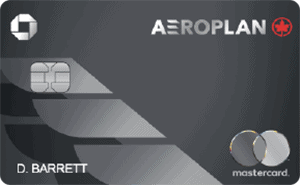 Points
after you spend $3,000 in the first three months from account opening.
What Is an eUpgrade?
An eUpgrade is a credit used to purchase upgrades to a higher class of service than the ticket you purchased. These eUpgrades are subject to availability based on a pecking order determined by tier status.
Those with the higher loyalty status have access to the upgrades before those with lower tier status. However, that doesn't mean that low or no status with Air Canada will prevent you from obtaining an upgrade.
For instance, suppose you are traveling from Seattle (SEA) to Seoul, South Korea (ICN). You could book a flexible Latitude reward ticket in premium economy for 108,300 Aeroplan points.
Purchasing a business-class ticket outright on the same flight would cost 222,900 points, but upgrading this ticket to business class would cost only 13 eUpgrade credits. If the upgrade is available, your premium economy ticket becomes a business-class ticket at no additional cost and you save 114,600 Aeroplan points.
In this example, the availability is showing a mixed-class ticket because the 127-mile flight from Seattle to Montreal (YVR) is an economy flight. The transpacific portion of the flight would continue in your upgraded business-class seat.

How to Earn eUpgrades.
eUpgrade credits are awarded for achieving tier status or reaching certain mileage or flight milestones. You can also earn eUpgrades by carrying one of the few premium Air Canada credit cards. However, these cards are available in Canada only.
Status
The Aeroplan Elite Status program has five tiers. These tiers are determined by your flight and revenue activity in the preceding year. Each status level earns 20 credits upon reaching the tier as part of the core benefit of that tier.
In addition to the core benefits, each status level has a menu of add-on benefits that the elite member may choose from. Selecting the eUpgrade credit as one of your additional benefits earns additional credits determined by your status tier.
| Status | Core Benefit Credits | Additional Credits |
| --- | --- | --- |
| 25K | 20 eUpgrades | 5 additional credits |
| 35K | 20 eUpgrades | 10 additional credits |
| 50K | 20 eUpgrades | 20 additional credits |
| 75K | 20 eUpgrades | 35 additional credits |
| Super Elite | 20 eUpgrades | 50 additional credits |
Mileage Thresholds
Threshold eUpgrades are another way to earn eUpgrade credits. Every time you surpass a Status Qualifying Mile (SQM) or Status Qualifying Segment (SQS) threshold, Air Canada adds credits to your account.
The first threshold starts at 60,000 SQM or 60 SQS and continues up to 700,000 SQM or 700 SQS. Note that you must already have a participating status tier to receive these credits.
Status
60,000 SQM
or 60 SQS
80,000 SQM
or 80 SQS
100,000 SQM
or 100 SQS
Each 40,000 SQM above 100,000
25K
X
X
X
X
35K
X
X
X
X
50K
10 eUpgrades
X
X
X
75K
10 eUpgrades
10 additional credits
X
X
Super Elite
10 eUpgrades
10 additional credits
20 credits
20 credits
Aeroplan Elite Status with Air Canada
Since your status tier with Air Canada is such an important part to how eUpgrades might work for you, let's take a minute to explore how you can earn status with Air Canada.
Air Canada uses two of three factors to determine your status tier based on the previous year's activity— either your number of Status Qualifying Miles or Status Qualifying Segments, whichever is higher, combined with your Status Qualifying Dollars (SQD).
Let's define each of these qualifiers:
Status Qualifying Miles are the number of air miles flown on Air Canada revenue flights (or codeshare flights credited to Aeroplan) multiplied by a factor based on the class of service.
Status Qualifying Segments are the number of flight segments flown on Air Canada revenue flights (or codeshare flights credited to Aeroplan).
Status Qualifying Dollars are the actual cost of the Air Canada revenue flight tickets, surcharges or eUpgrades (or the price of a codeshare flight credited to Aeroplan). Note: Credit card spend on a co-branded card earns Aeroplan points, not SQD.
Here are the requirements to reach each elite status level with Aeroplan:
| Status | 25K | 35K | 50K | 75K | Super Elite |
| --- | --- | --- | --- | --- | --- |
| SQM or SQS | 25,000 SQM or 25 SQS | 35,000 SQM or 35 SQS | 35,000 SQM or 35 SQS | 75,000 SQM or 75 SQS | 100,000 SQM or 100 SQS |
| SQD | $3,000 | $4,000 | $6,000 | $9,000 | $20,000 |
Previously, members whose primary residence was outside of Canada were eligible for Aeroplan Elite Status by earning half the required SQD. However, as of January 2022, all members must earn the full SQD listed on the chart.
The easiest way to earn status with Aeroplan is simply by holding the Aeroplan Credit Card from Chase. New cardmembers automatically receive Aeroplan 25K Status for the remainder of the calendar year in which they're approved plus the entirety of the following calendar year.
Keep the duration of the status in mind when applying for this card. Like planning for the Southwest Companion Pass, applying early in the year will likely be more beneficial than applying late in the year.
After the introductory period, spending $15,000 or more on your Aeroplan Credit Card will maintain your 25K Status for the following year.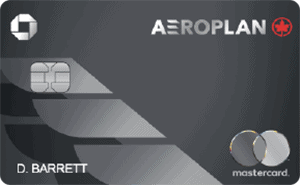 Points
after you spend $3,000 in the first three months from account opening.
How Many eUpgrade Credits Does Each Upgrade Require?
Determining how many eUpgrade credits an upgrade will cost you is a bit convoluted. It depends on your class of service, whether you are upgrading a cash or reward flight, the distance of your flight and your destination. Notably, it's not determined by your status.
Cash Tickets
Whether you pay for the flight, you travel for work or a family member buys a ticket, any fare purchased with money is considered a cash ticket. Although you may not have paid for the ticket directly, you can still use an eUpgrade to fly in a better class of service. This table is more complicated than the award table, because there are so many additional fare classifications.
Upgrades to Premium Economy
An easy and cheap way to get a little more legroom on your coach flight is to upgrade an economy ticket to premium economy. This is how many eUpgrade credits an upgrade to premium economy will cost, according to each ticket type.
Notice that Comfort, Flex and Standard fares are split into multiple booking classes. These booking classes denote the level of service, rewards points awarded and booking source for these flights.
You'll notice a small letter on your ticket when you book the flight. For our purposes, fare codes M, U and H are full-price flights, and the others are discounted fares. It costs a different number of eUpgrade credits to upgrade a flight within the North America Zone than an international flight.
Air Canada's North American zone includes the U.S., Mexico and Canada, along with Central America and the Caribbean, collectively referred to as "Sun destinations."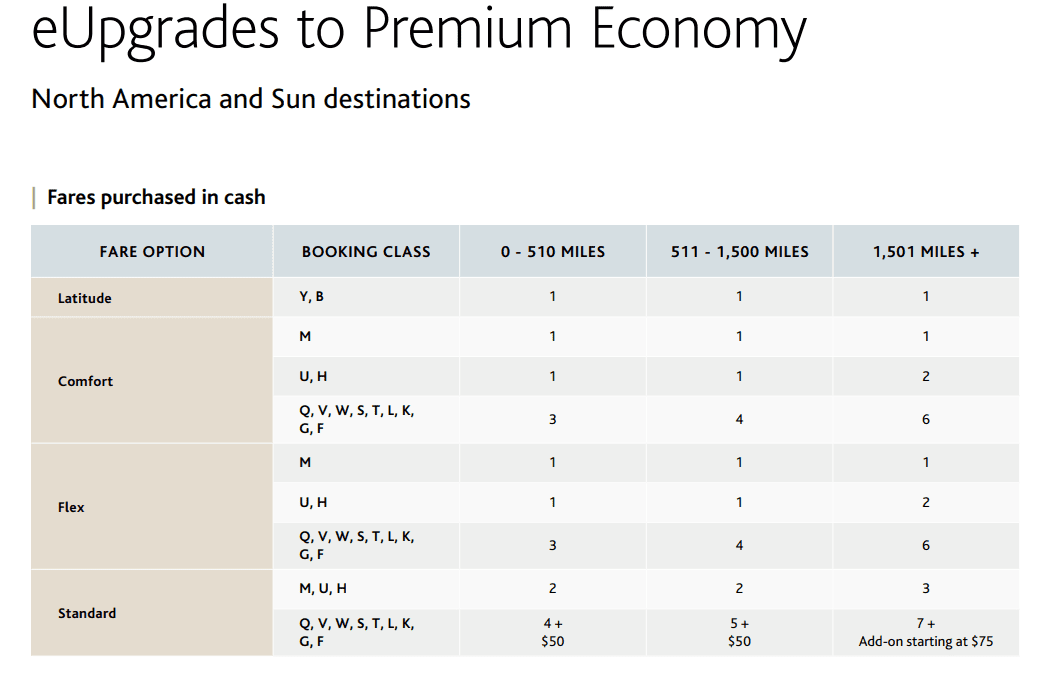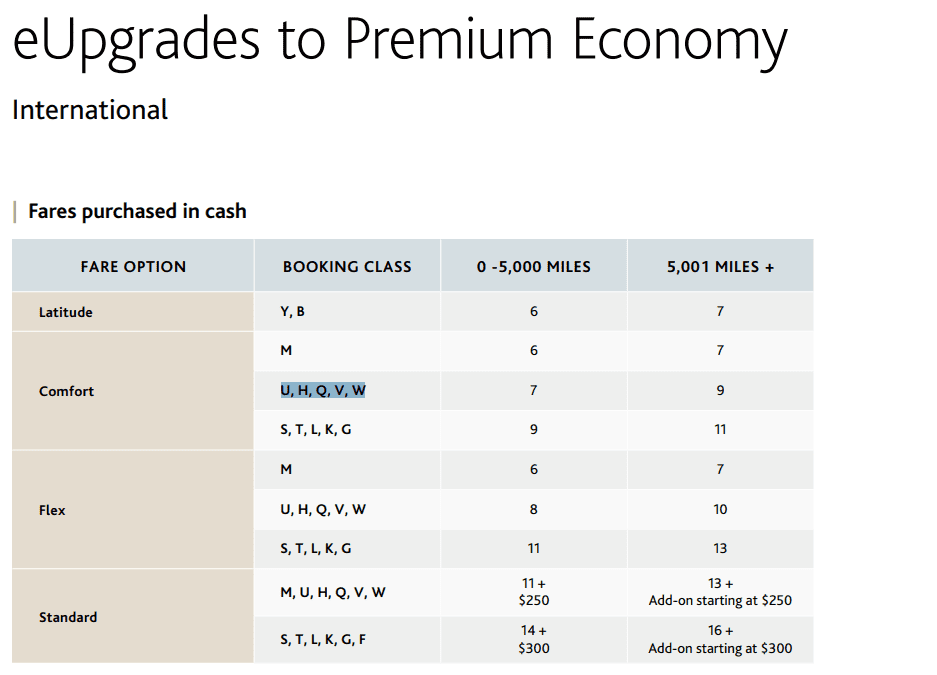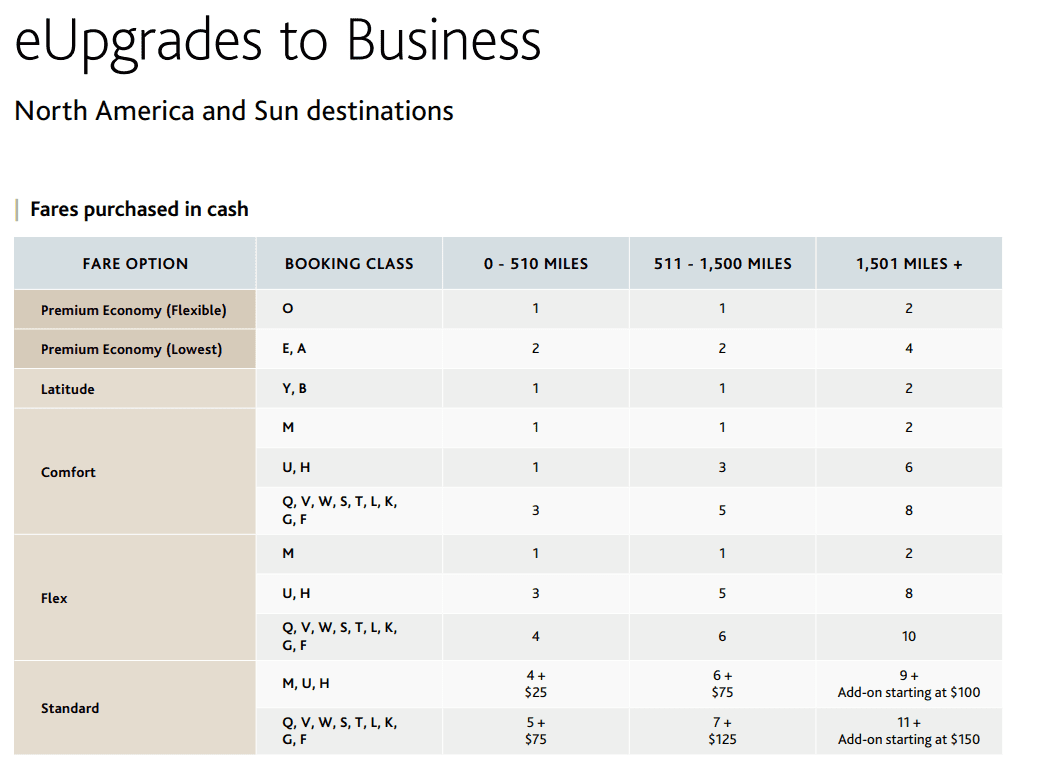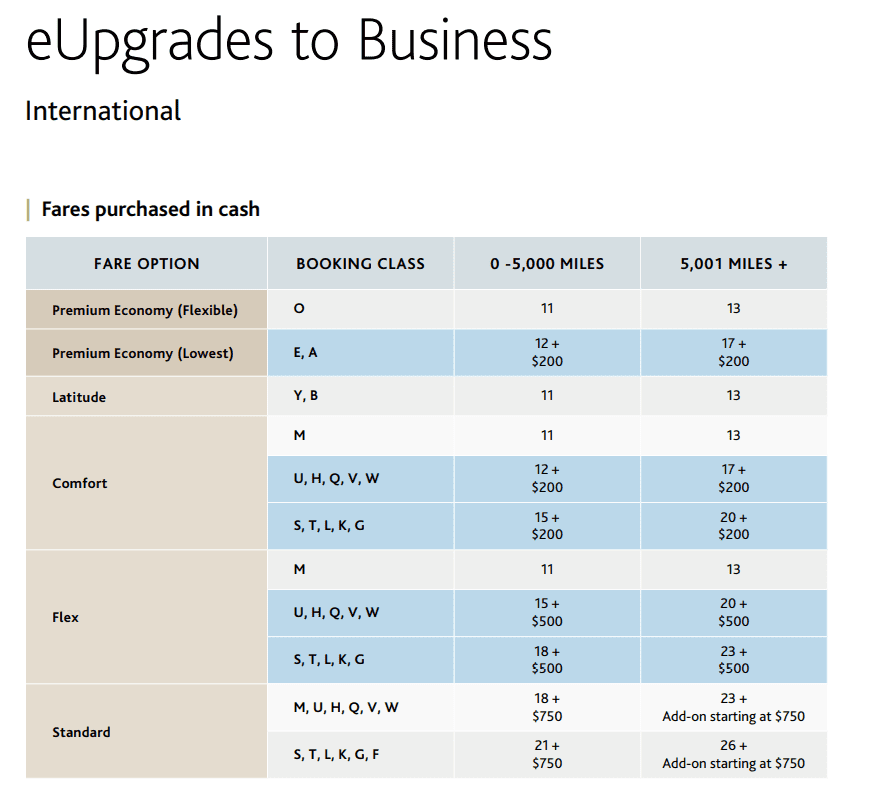 Reward Tickets
Of course, this is a points and miles site, so we'd expect you to be upgrading a flight you already scored with Aeroplan points. Upgrading these flights is a little more straightforward. There is only one booking class for each reward level, so it makes things much easier.
Upgrades to Premium Economy
North America and the Caribbean


Upgrades to Business
North America and the Caribbean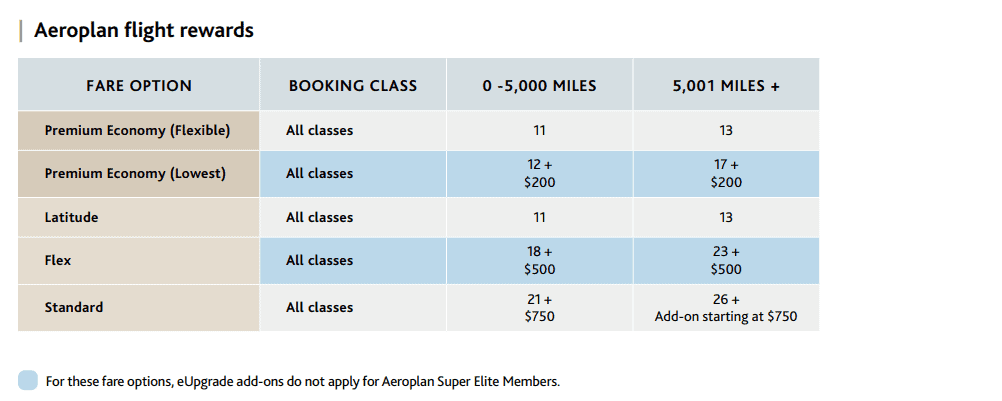 Rules to eUpgrade Credits
Expiration
eUpgrade credits earned before June 30 of the current year are valid through Jan. 15 of the following year. Credits earned between July 1 and Dec. 31 are valid through Jan. 15 of the year following the next calendar year.
You can rollover up to 50 expiring eUpgrade credits into the following year if you are the primary cardholder of a premium Aeroplan credit card (in Canada only).
Your eUpgrade credit can't expire before your flight. So, if you have a bank of eUpgrades to use, you can't just book travel for the rest of the year. You must travel on or before the expiration date of your eUpgrade credits.
Because eUpgrades have various expiration dates, Air Canada always uses the credits with the oldest expiration first.
Codeshare Flights
You can upgrade flights that you booked through a Star Alliance partner, such as United Airlines, but you can't upgrade flights that were booked via Air Canada on Star Alliance partners.
If your ticket is a codeshare flight, you can't request the upgrade until the date of departure, and you must do it at the ticket counter or at the gate with an Air Canada agent.
Companions
You can use eUpgrades to upgrade the seats of one other companion on a flight that you're on. If your companion is on the same flight but on a different reservation, you won't be able to complete your upgrade request until you're at the airport on the day of departure.
Top-tier Super Elite members may select an eUpgrade nominee and request upgrades on their behalf, even if the eUpgrade owner isn't the one traveling. Note that unless you are a Super Elite member, you must be traveling on the same flight as a companion you wish to upgrade.
The nominee designation works similar to the Southwest Companion Pass, except that the Super Elite member doesn't have to be present on the flight for the nominee to obtain an upgrade. Super Elite members can designate only one eUpgrade nominee per year, but can select a new one each year. The nominee must be an Aeroplan member and can't be nominated by another Super Elite member.
Clearance Window
The clearance window is where status really comes into play. You may request an upgrade at any time, but Air Canada won't consider your request until you reach your clearance window.
The clearance window is a period of time before your flight. The higher your status, the earlier your clearance window. Obviously, those with higher status have a better chance of getting their upgrades approved, while those with lower status could find themselves out of luck.
If you request an eUpgrade, the credit is immediately deducted from your account. If your upgrade is declined or for some reason you decline the upgrade, the credit will be returned to your account.
Here's the clearance windows for each status:
Premium
Economy
Latitude
All Other Economy
and Premium Economy Tickets
All Other Economy
and Premium Economy
Tickets
Flight Zones
All Flights
North America
International
Super Elite
14 days
7 days
75K
Anytime
12 days
6 days
50K
Anytime
10 days
5 days
35K
Anytime
8 days
4 days
25K
Anytime
4 days
3 days
Aeroplan Member
7 days
Day of departure
Day of departure
How to Request an eUpgrade
Requesting an eUpgrade is fairly easy. You can request an upgrade at the ticket counter, upon check-in on your phone, at the departure gate or through your Air Canada account.
While upgrading in-person is easy because the representative can assist you with it, let's walk through how to request an eUpgrade via your Aeroplan account.
Login to your Air Canada account.
Determine eUpgrade availability. Once you search for your flight, click on the filter that says "eUpgrades," and the site will display which flights are eligible for an eUpgrade.

Complete your booking. If you haven't already completed purchasing the ticket, do so. If you have, move on to Step 4.
Go to eUpgrade from your Aeroplan account. Click on "My Account," then hover over your name in the right hand corner and click on "eUpgrade."

Retrieve your Booking. In the middle of the screen, fill in the booking reference number and your last name. Press "Retrieve Booking."

Choose the ticket you'd like to upgrade and complete the upgrade request.
Wait for the clearance window. This will submit a request to Air Canada. Once your clearance window opens, you'll be notified via email whether your request was waitlisted or approved.
Cancel or confirm your request. If your request was waitlisted, you can cancel the request or wait and see if availability frees up. If your request was approved, you can confirm the upgrade or cancel. If you cancel the upgrade and the fare class you originally purchased isn't available, you may have to pay a fare difference. This could be a problem if Air Canada no longer has award availability for your flight, so be sure that you want to use the eUpgrade credit before you request the upgrade.
When to Use eUpgrade Credits
Immediate Upgrades to Business Class
You can use eUpgrades to purchase business-class tickets at premium-economy prices. Because Premium Economy Latitude tickets have an infinite clearance window for all Elite Status members who have achieved at least the 25K Status tier, you can immediately request an eUpgrade after purchasing a Latitude Premium Economy ticket.
As long as Air Canada's site is showing eUpgrade eligibility when you purchase your ticket, you'll save the difference between the Latitude Economy ticket price and the Business ticket price simply by utilizing your eUpgrade credits. This could save you thousands of points or dollars and get you flying in style on Air Canada's lie-flat seats.
Look in the Business column of your fare selection for the lie-flat seat emblem, which denotes whether the particular plane carrying you on your journey will have lie-flat seats. This is a popular feature on Air Canada's first-class product between Montreal and Vancouver.
More Legroom on Economy Flights
You can also use eUpgrades to access premium-economy seats on flights that you'd normally fly in coach. These upgrades require fewer eUpgrade credits but can make a huge difference in your flight experience. Again, you'll just need to ensure eUpgrade eligibility when shopping for your flight.
Not only does premium economy offer wider seats and more legroom, but this class of service also offers an additional checked bag, access to a priority check-in line and in-flight food service. Meals are served on flights longer than two hours. If you can score all these extra benefits for a few eUpgrade credits, why wouldn't you?
Final Thoughts
We'd forgive you for overlooking eUpgrade credits because you were so focused on points and miles, but don't let those credits expire. Whether you fly with Air Canada often or you're simply an Aeroplan Credit Card holder, eUpgrades can make your travel experience easier and more comfortable.
The higher status tier you have with Aeroplan, the better chance you have of getting approved for an eUpgrade, but you have nothing to lose by requesting one. So, next time you fly Air Canada, don't spend more for a better ticket. Put those eUpgrade credits to good use!
New to the world of points and miles? The Chase Sapphire Preferred® Card is the best card to start with.

With a bonus of 60,000 points after $4,000 spend in the first 3 months, 5x points on travel booked through the Chase Travel Portal and 3x points on restaurants, streaming services, and online groceries (excluding Target, Walmart, and wholesale clubs), this card truly cannot be beat for getting started!
Learn More
Cards in This Article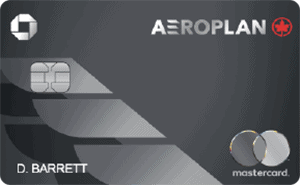 70,000
Points
after you spend $3,000 in the first three months from account opening.
Editors Note: Opinions expressed here are author's alone, not those of any bank, credit card issuer, hotel, airline, or other entity. This content has not been reviewed, approved or otherwise endorsed by any of the entities included within the post.