Editors Note: Some of these credit card offers have changed. Please visit 10xTravel.com/credit-cards for a list of up-to-date offers.
Hola Travel Junkies,
About a month ago I was de-stressing with my wife at our favorite diner, after yet another long week of work.
We were in one of those moods where we we're ready to quit our jobs, move to some remote island in the Maldives and live off the land. (I'm sure you can relate)
We needed a weekend getaway.
Before sitting down to dinner I was scrolling through my emails and a reminder popped up on my phone: "Two Free Hyatt Nights Expire Soon"
Suddenly it struck me. I had two free nights at any Hyatt in the world (thanks to my new Hyatt credit card) and a long Memorial Day weekend only a few days away. So I motioned to the waiter for a round of cheesecake and flipped over my placemat for brainstorming space. It was time to get to work.
While scanning the Internet for the best hotels to use our two free nights, my wife politely suggested, "we need a beach and tropical drinks" – and she was right.
Four days later I was lying in a hammock in sunny and beautiful Cancun, Mexico.
Here's how I did it.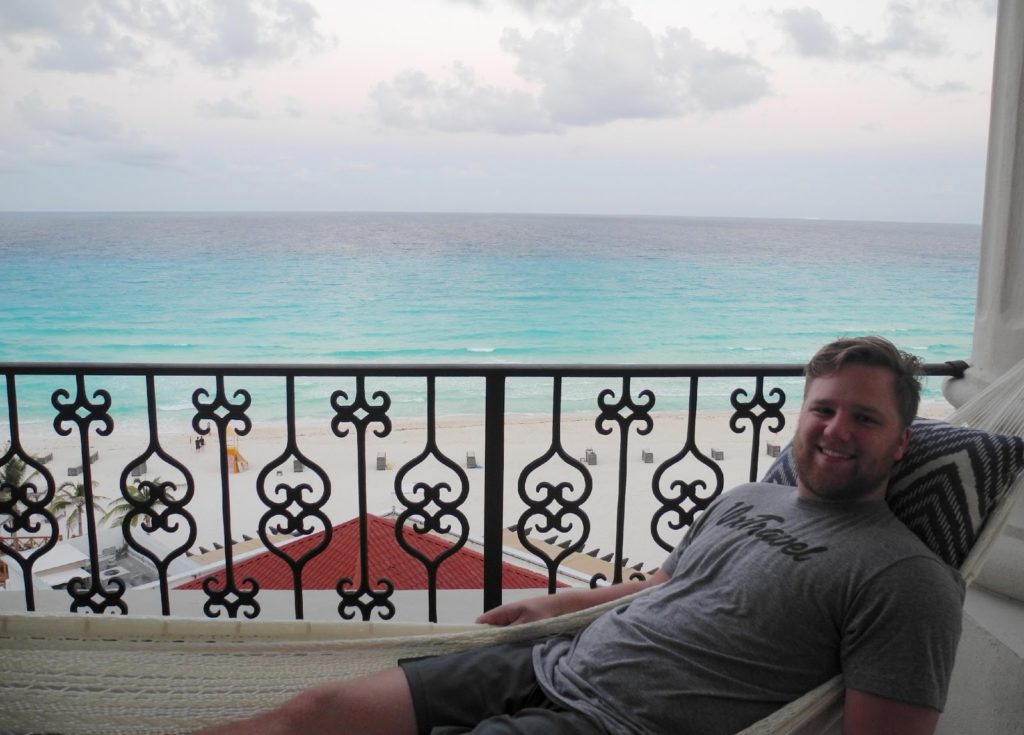 Baltimore to Cancun – 16,188 Southwest Points and $27.91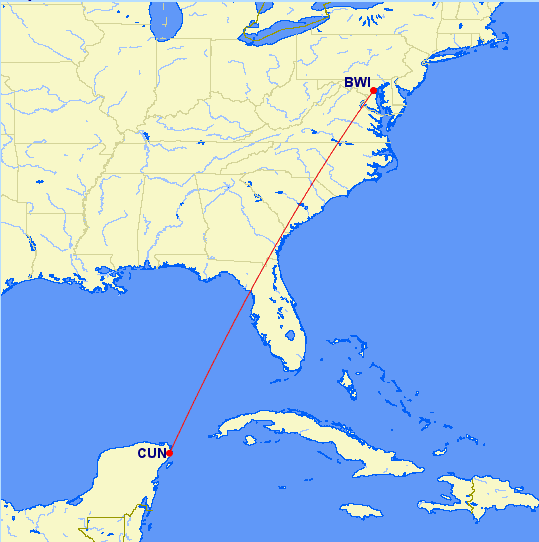 We live in Manhattan, so we typically opt to fly out of JFK, LGA, or EWR. But with the Memorial Day Holiday just days away every flight was either sold out, insanely expensive (miles wise), or full of long layovers and multiple stops.
After doing some searching it seemed that flying out of BWI in Baltimore was a much better option for this trip. BWI had the exact flight we wanted: early in the morning (we wanted to maximize our all-inclusive hotel), non-stop, and with Southwest Airlines.
There were two seats left on the plane, so I quickly grabbed a one-way ticket for myself and then added my wife for free using my Southwest Companion Pass.
The total price for both of our tickets was 16,188 points and $27.91.

The night before our early-morning flight, we hopped on a train down to Baltimore after work. One-way train tickets came to a total of $95.
We shacked up at the Aloft BWI Hotel for a cheap 4,000 SPG points, earned through my Starwood Preferred Guest sign up bonus.
The Starwood Preferred Guest is one of our favorite hotel credit cards here at 10xT for this very reason. You would be hard pressed to find any other hotel program on earth that features rooms for just 4,000 points per night.
(You can find more information about the Starwood Preferred Guest credit card on our credit cards page).

We landed in Cancun at 10:00am and cleared customs in a matter of minutes.  Our hotel was just a short shuttle ride away and we were sipping Mai Tai's by the pool before noon.
The Hyatt Zilara, Cancun – 2 Free All-Inclusive Nights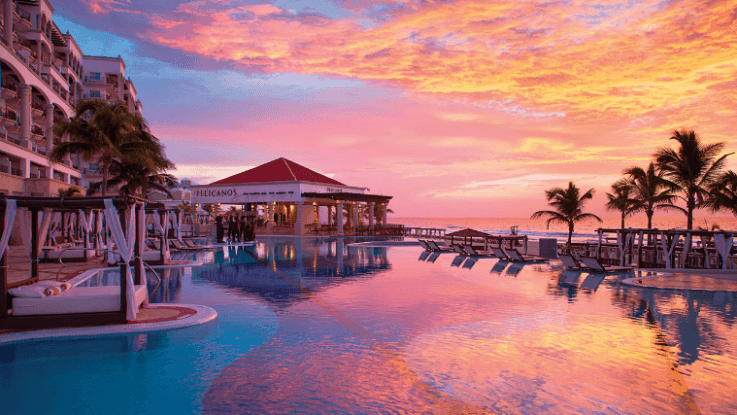 We opted to stay at the Hyatt Zilara, Canun to make use of the two free Hyatt nights that I mentioned earlier.
I had earned these two free nights almost a year ago thanks to the Hyatt Credit Card by Chase. The certificates expire exactly one year from the date of issuance, and there was no way I was going to let these babies go to waste.
Of course, the goal would be to maximize your two free nights by finding the best value, and with some of Hyatt's Category 7 hotels going for more than $889 a night – there are some incredible options out there.
(Some of the most popular options for using the two free nights: Park Hyatt Paris-Vendome, Park Hyatt Maldives, Park Hyatt Tokyo, Park Hyatt New York)
The Park Hyatt Zilara turned out to be the best hotel experience we've ever had.
I booked our room by calling the Hyatt customer service line. There are certain rooms specifically set aside for free night certificates (and they are often booked out far in advance), but after working my charm and explaining that this was our first wedding anniversary (close enough, anyway) we ended up with an upgraded room that was going for $992 USD per night – oh yeah.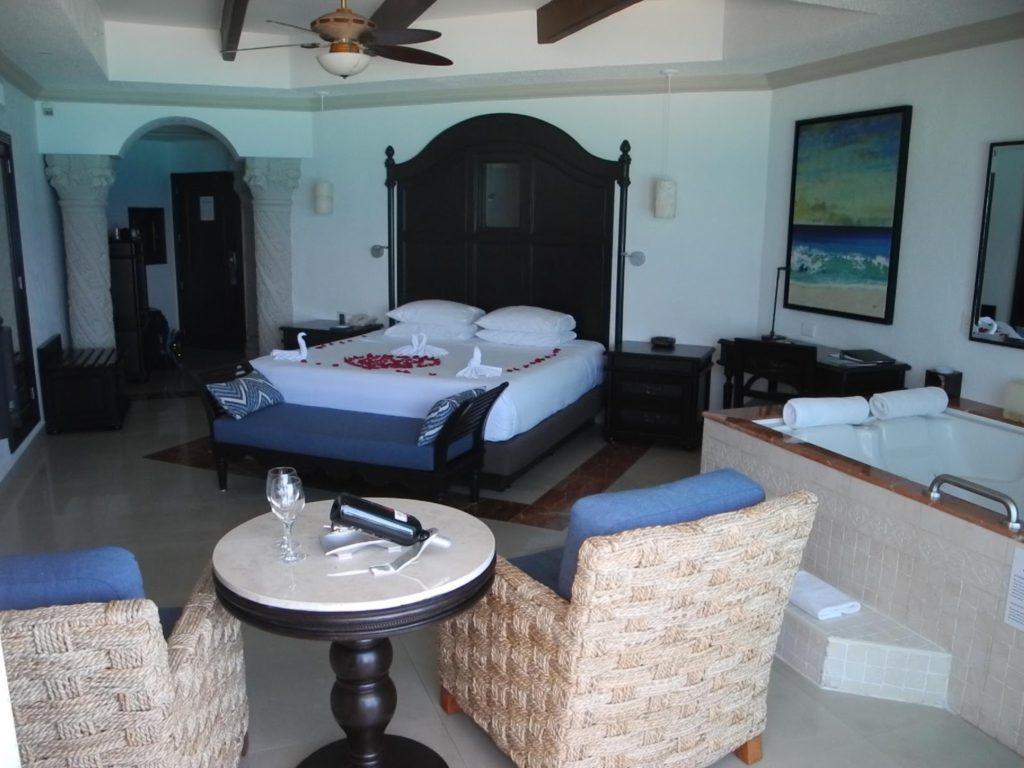 Any room booked at the Hyatt Zilara is all-inclusive, meaning we ate and drank whatever we wanted (including all room service and any booze) from the minute we checked in to the last mimosa I guzzled down before hopping on our shuttle back to the airport.
Whether we were sipping Pina Coladas in a cabana by the pool or enjoying our room's view of the beautiful Cancun sunsets, our experience at the Hyatt Zilara was second to none.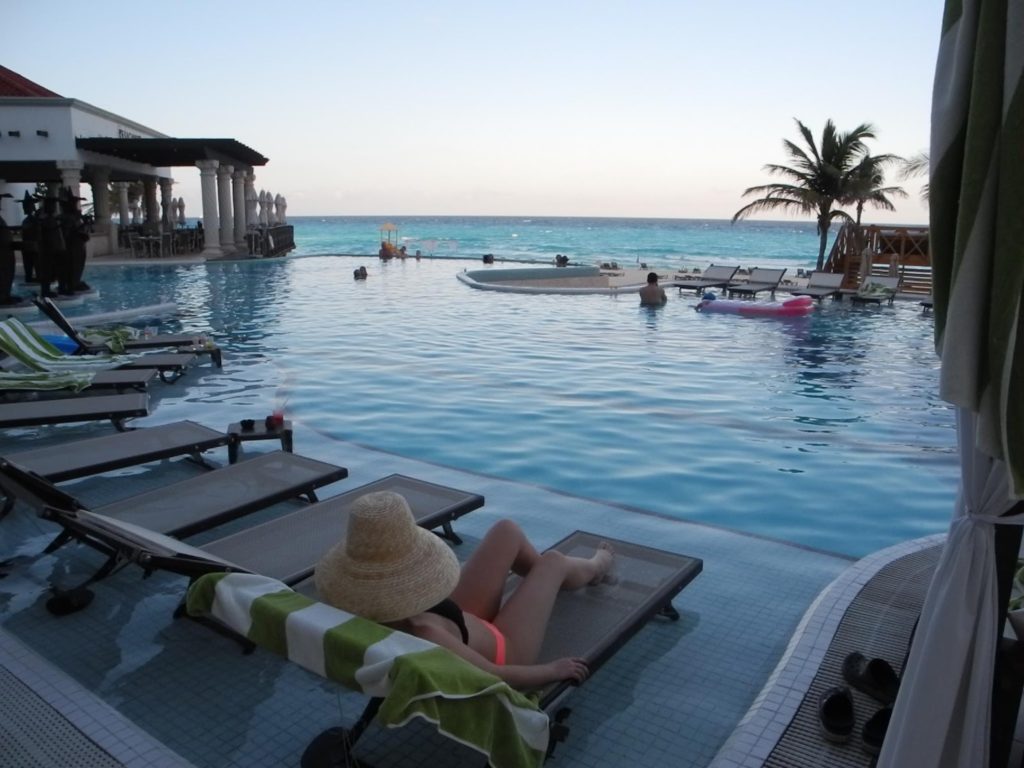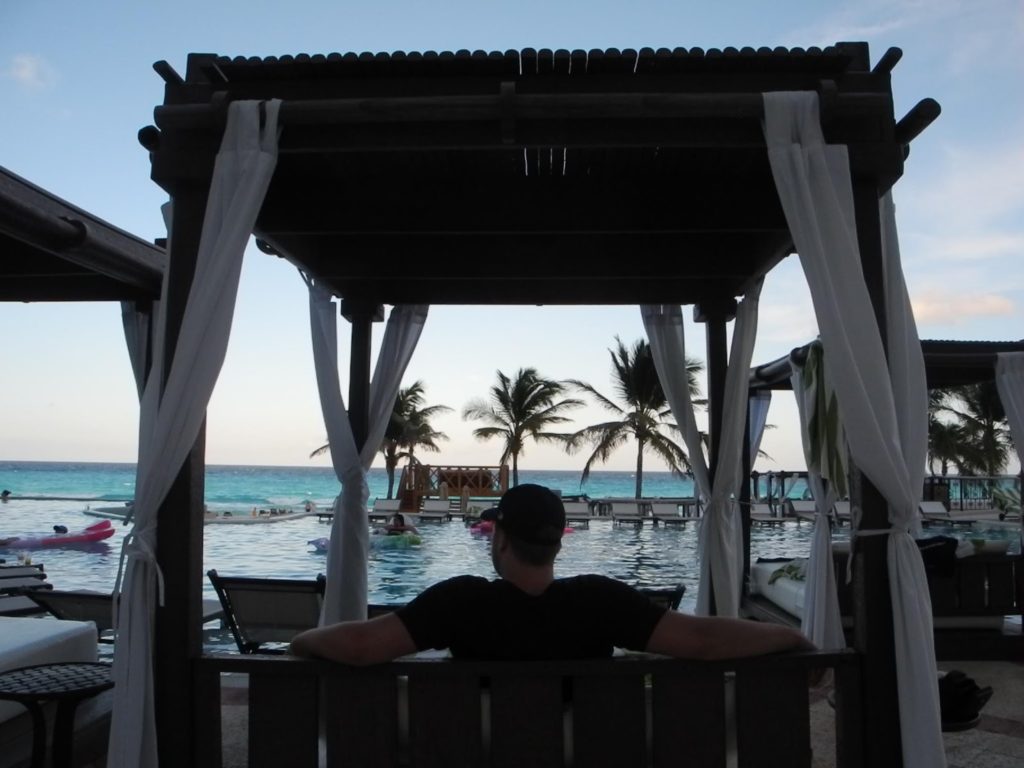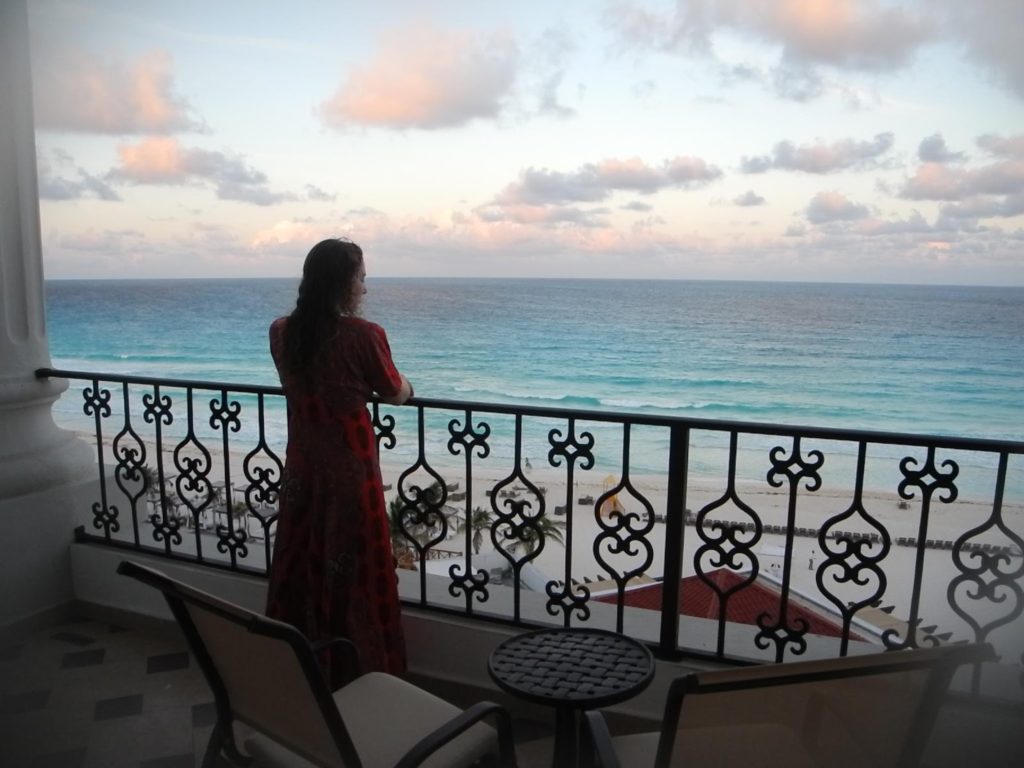 Cancun to NYC – 22,268 Southwest Points and $52.07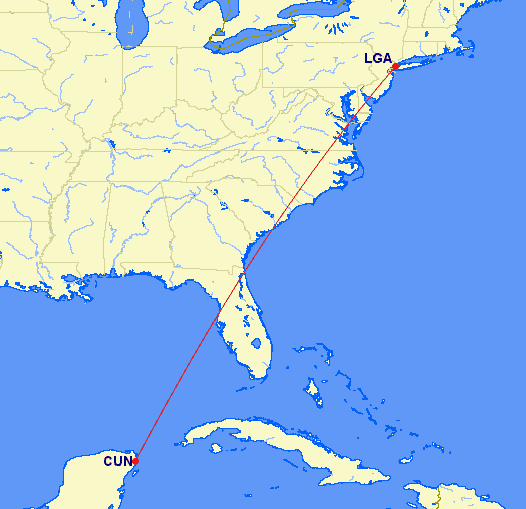 After three days in paradise, it was time to head back to our concrete jungle.
Heading home is never fun, so I took the slightly higher priced flight back straight to LGA in NYC. I booked my ticket for 22,268 Southwest points and added my wife with my companion pass. Our fees were a bit steeper on this flight, but our trip was seamless and eased the pain of coming home.

And there we were, in the same booth of our favorite diner as just a few days ago, with slightly burnt skin and sand in our flip flops, refreshed and ready to sell our souls to the NYC work grind again.
I never would have thought, at 23, I would be taking weekend trips to Cancun for stress relief.
Just one of the many reasons why I love this game.
Wheels Up,
Luke
Photo Credit: Hyatt.com
---
Disclosure: 10xTravel has partnered with CardRatings for our coverage of credit card products. 10xTravel and CardRatings may receive a commission from card issuers.
Opinions, reviews, analyses & recommendations are the author's alone, and have not been reviewed, endorsed or approved by any of these entities. You can read our advertiser disclosure here.