Note: Some of the offers mentioned below may have changed or are no longer be available. You can view current offers here.
Like most people who have visited Las Vegas, I have made my share of "first-time mistakes".
I've waited hours to get into mediocre clubs, paid full price to see some awful shows, and even bought one of those horrendous 3 foot tall drinks with the shoulder strap.
Yup, those ones. I still cringe when I think about how I must have looked carrying that thing up and down the strip.
Last week I asked you to send me some of your best Vegas mistakes and I discovered that I was not alone. Collectively, my readers have made just about every first-time mistake a Vegas traveler can make. I'll be sharing some of them with you next week.
In the meantime I thought that I should share a Vegas story of my own. Unlike my 3 foot tall drink, I am able to laugh at this one because it ended up working out in my favor.
So much so that I was able to fly home absolutely free. Here's how it went down.
I traveled to Vegas this past November with my brother Wes to celebrate the launch my new book, Takeoff: How to Travel the World for Next to Nothing. Wes lives in California so Vegas has become a central meeting place of sorts for us. It's not exactly "central" from a geographical perspective but it certainly beats traveling to Kansas.
It also helps that I can fly there for about $5 round-trip.
I booked my flight with Southwest Rapid Rewards points and set off for a weekend of fine dining, great shows, and world-class nightlife.

Bryce's free flight to vegas
On our last night in town we didn't get back to our hotel until about 1:30am. I was anxious to get to bed so I decided to forgo the usual hotel wakeup call and rely on my cell phone instead. I set 3 separate alarms, plugged my phone in to a wall outlet, and climbed into bed.
I knew that this was a bad idea, but I was too tired to care.
The next morning I awoke to a phone call from the front desk informing me that I had to leave my room immediately or I would be charged a late checkout fee. Confused, I took a look at the clock.
It was 2:40pm. My flight had left more than 2 HOURS ago.
I literally jumped out of bed and grabbed my phone, wondering why the alarm hadn't worked. At some point during the night the charger had fallen out of the outlet and my phone had died.
You know that feeling when you glance at your alarm clock and realize you are going to be late to work?
Missing your flight by 2 hours feels like that. Multiplied by 10.
I tossed all of my stuff into my suitcase and jumped in a cab to the airport. I was halfway to the terminal before I realized that I left most of my clothing in the hotel closet. Oops.
After arriving at the airport I ran to the check in desk to explain what happened. Not unpredictably, this is a common occurrence at McCarran International Airport. I was asked to head to the back of the line and wait like everyone else.
After finally getting to the front of the line I was informed by the customer service agent that the only other flight to Columbus that day was completely booked. As if that wasn't bad enough, I was also informed that every passenger had already checked in.
"Looks like you're staying another night in Vegas", she said.
I decided to grab a standby ticket just in case and made my way toward security.
I arrived at the gate just in time to hear the bad news. The flight was overbooked and they were asking for volunteers to bump to a later flight. As a standby passenger, this is the worst thing you can hear. Clearly there would be no extra seats available on this flight.
The other standby passengers realized this and decided to get a head start back to the ticketing desk.
Having nowhere else to go, I decided to grab breakfast while I waited for Wes to figure out his flight situation. I sat down at a bagel shop near the gate, found a place to plug in my phone, and waited to hear from him.
A few minutes passed and I noticed that the flight hadn't left yet. The airline employees looked confused so I decided to head back to the gate area to see what was going on.
I arrived just in time to overhear a young couple talking with the gate agent about bumping their flight to the following day. The airline only needed one more person to bump so there was some confusion as to whether they could accommodate the couple's request.
Seeing an opportunity, I approached another airline agent and asked if this meant I could use my standby ticket on the flight. She told me that nothing could be done until they received confirmation that the couple could give up their seats.
As all of this was occurring another airline agent approached the desk and informed everyone that the plane was already late and had to depart immediately. They needed any remaining passengers to board the plane right away.
At that very moment the first airline agent received confirmation that the couple was able to bump to a flight that departed the following afternoon. He shared this information with the other employees and instructed them to close the door to the jetway in preparation for departure.
The airline agent closest to me grabbed my arm and led me toward the gate.
"We need to get you on board right away", she said. "Grab the first seat you can find".
She walked me through the boarding area and on to the jetway before closing the door behind me. I boarded the plane as fast as I could and sat down in the last available seat on the plane. Luckily enough, it happened to be a window seat in the 4th row.
I fell asleep shortly after takeoff and slept through the entire flight.
Shortly after landing I turned on my cell phone and received a couple of texts from Wes. He was also able to fly standby and was already on his way home.
I also received the following email from Southwest: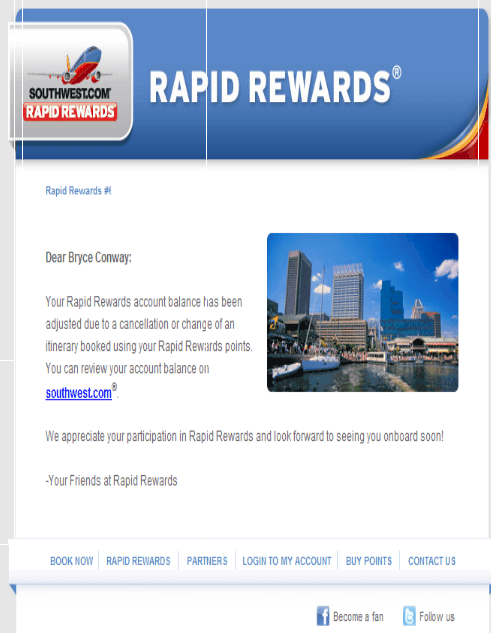 Bryces Email from Southwest
I figured that I had to pay a fee for my standby flight home and logged in to my Rapid Rewards account to see what the damage was.
What I saw next was shocking.
Southwest had refunded the points used to book my flight home.

Bryces Vegas Flight Refund
Then it hit me. In all of the confusion at the gate in Vegas I was never issued a boarding pass. In fact, they never even asked to see my standby ticket.
Which worked out well because my ticket was in a garbage can somewhere along with a half-eaten bagel.
As far as Southwest was concerned, I never made it on my flight back to Columbus and therefore could receive a refund.
Here is the receipt for my flight. Notice that there is no return trip listed.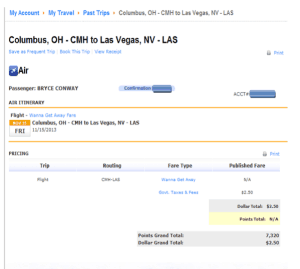 Bryce's Free Flight on Southwest
The 16,000+ points that I was refunded are more than enough to book a round trip flight for myself and my fiancée to head to Florida for the weekend (thanks to my Southwest Companion Pass). I'll be sure to post my itinerary when it is finalized.
I guess the house doesn't always win.
Happy Travels,
Bryce
---
10xTravel is part of an affiliate sales network and receives compensation for sending traffic to partner sites, such as CreditCards.com. This compensation may impact how and where links appear on this site. This site does not include all financial companies or all available financial offers.
Editors Note: Opinions expressed here are author's alone, not those of any bank, credit card issuer, hotel, airline, or other entity. This content has not been reviewed, approved or otherwise endorsed by any of the entities included within the post.