Hi Travel Junkies,
I recently had the pleasure of flying Lufthansa Business Class from Washington Dulles (IAD) to Rome's Leonardo da Vinci International (FCO) for a quick trip to Italy with my wife.
This was both my first time flying Lufthansa and my first time flying business class on the 747 so I was pretty excited to give both a try.
The flights between D.C. and Frankfurt on the 747-8 were the highlights of this itinerary so I will be focusing most of my attention on that today. The half-empty flights between Frankfurt and Rome had all the pizazz of a domestic economy adventure.
With that, let's get to it!
Booking With Lufthansa Miles & More Miles
If you read my recent post about this trip to Italy, you may recall that I booked this flight solely because I had a small stash of Lufthansa Miles & More miles that were about to expire.
Truth be told I had completely forgotten that I had them until a recent reader booking triggered my memory. Apparently, my wife and I had each opened the Barclaycard Miles & More World Elite MasterCard in late 2014, earned the 50,000-point sign-up bonus (plus about 5,000 miles from spending on the card), and I completely forgot to add the card and miles to my spreadsheet. Not ideal, but I have made worse mistakes in the world of points and miles.
Our Lufthansa Miles & More miles were set to expire in January 2018 so it was use them or lose them. I could think of worse things to do than spend a week in Europe while the rest of the US was experiencing the "Bomb Cyclone"—whatever that means.
I took advantage of one of Lufthansa's Mileage Bargains, which feature off-season routes to most major European cities for as little as 55,000 points round-trip in business class. Most cites had availability for our January travel dates but we settled on Rome for the warmer weather and variety of things to do in the off-season.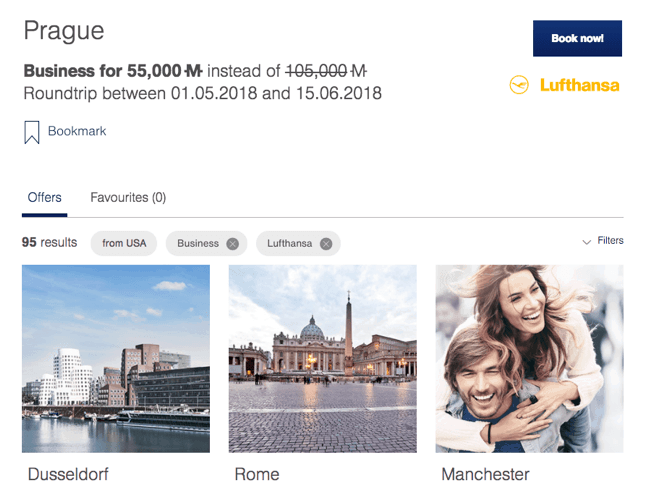 Lufthansa Mileage Bargains allow you to fly in business class to Europe round-trip for just 55,000 miles.
Conveniently, my wife and I each had 55,132 Lufthansa miles in our respective accounts so we were able to book the business class flights with almost no points left over. The downside to these award tickets were the taxes and fees, which are incredibly steep even for a business class ticket.
The damage came to $1,123.92 per ticket, which I paid with my Chase Sapphire Reserve Card for the 3x points on travel and the complimentary trip delay insurance. Had my trip been delayed for 6+ hours, I could be reimbursed up to $500 for food, lodging, and other "reasonable" expenses to make the delay more comfortable.
Immediately after booking, I logged into Lufthansa to select our seats for the Washington D.C. to Frankfurt leg of the itinerary. I was really hoping to sit in the upper deck cabin of the plane and was fortunate to find a number of options with two seats together. We ended up selecting seats 84A and 84C, which were right behind the emergency exit row.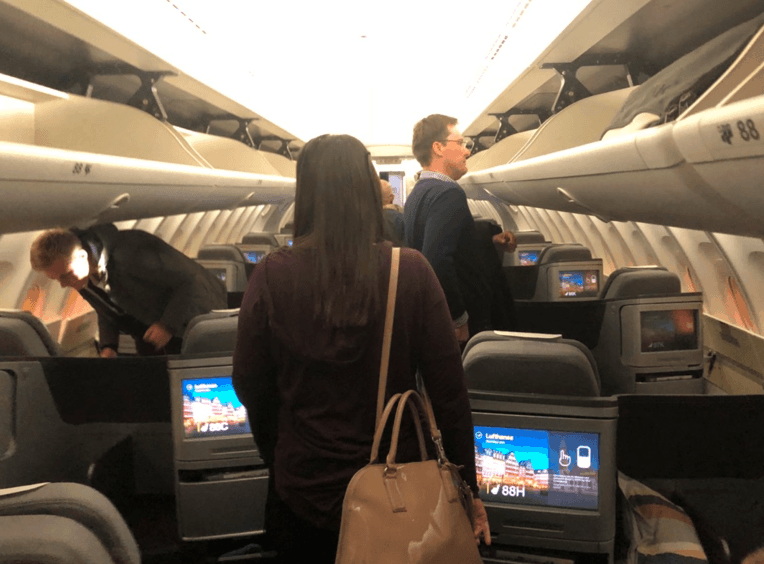 Alexandra boarding the business class upper deck – Lufthansa 747-8.
The upper deck of the Boeing 747-8 features a 2-2 configuration that is a bit more comfortable than the larger 2-2-2 configuration on the main level in business class. There are fewer passengers upstairs, which often results in a quieter cabin and easier access to restrooms.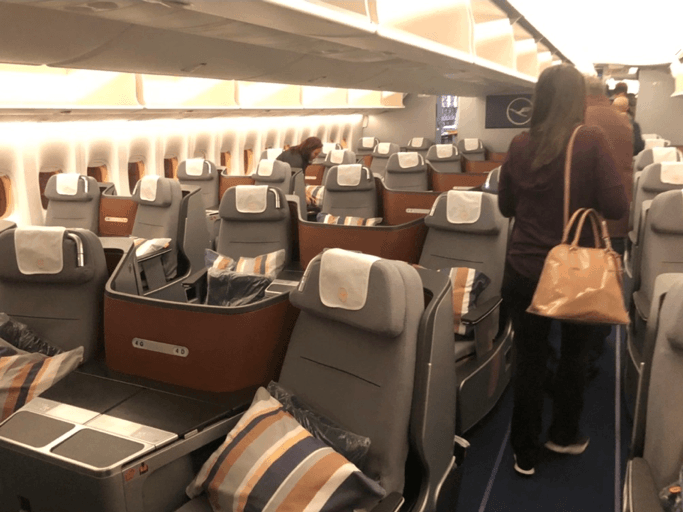 Lufthansa business class on the lower deck – Lufthansa 747-8.
Turkish Airlines and Lufthansa Business Lounges
Of course, flying in business class meant that we had access to the Lufthansa Business Lounge prior to our departure from Washington, D.C and for the duration of our trip. While I am always grateful for the lounge access that comes with a business class ticket, I passed on the Lufthansa lounge in favor of the Turkish Airways Lounge at Washington Dulles. Conveniently, it is located just steps away from the Lufthansa lounge and departure gate for the flight to Frankfurt.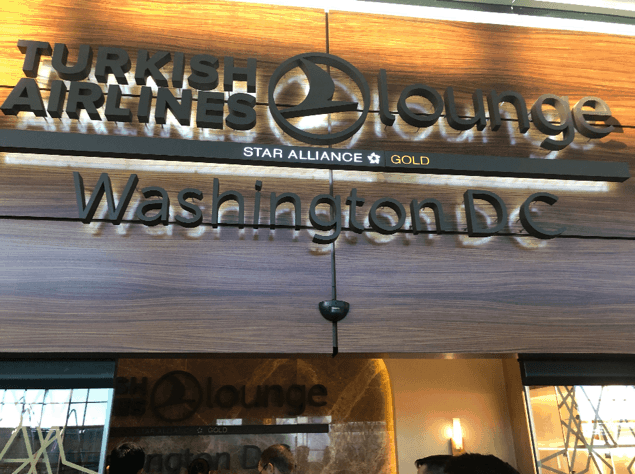 The Turkish Airlines Lounge entrance at Washington Dulles (IAD).
I was able to access the Turkish lounge for free thanks to my Priority Pass Select Membership, which is just another fantastic feature offered to anyone carrying a Chase Sapphire Reserve Card—and a number of other credit cards.
The lounge was pretty crowded when we arrived but, fortunately,I had made plans to meet a 10xTravel reader (Tim), who had arrived well before I did and saved a couple seats next to the bar. We had never met before, but clearly Tim knows me well.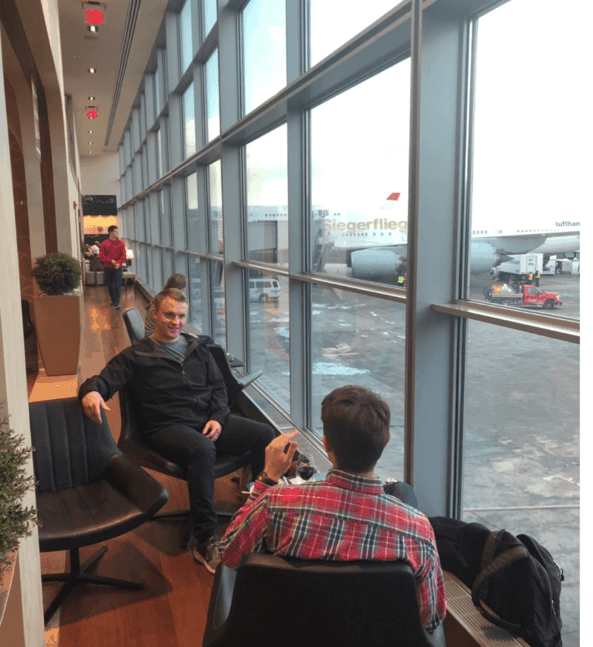 Chatting with 10xTravel Reader Tim in the Turkish Airways Lounge.
After a couple of cocktails and a nice conversation about points and miles, I made my way to the Lufthansa Lounge about one hour before we were set to depart.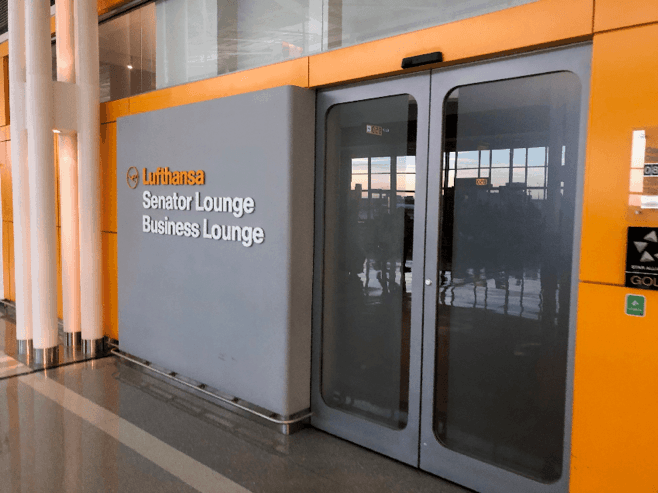 Lufthansa Senator and Business Lounge, Washington D.C.
The Lufthansa Lounge is divided into two sections, the Senator Lounge upstairs and the Business Lounge below. I took my place with the other business class travelers below.
The Business Lounge was pretty basic but featured all of the usual creature comforts. There was a cold buffet with sandwiches and snacks, a bar, and plenty of comfy seats. Overall, I couldn't shake the feeling that I was in a basement though. The lounge was pretty dark and had few windows.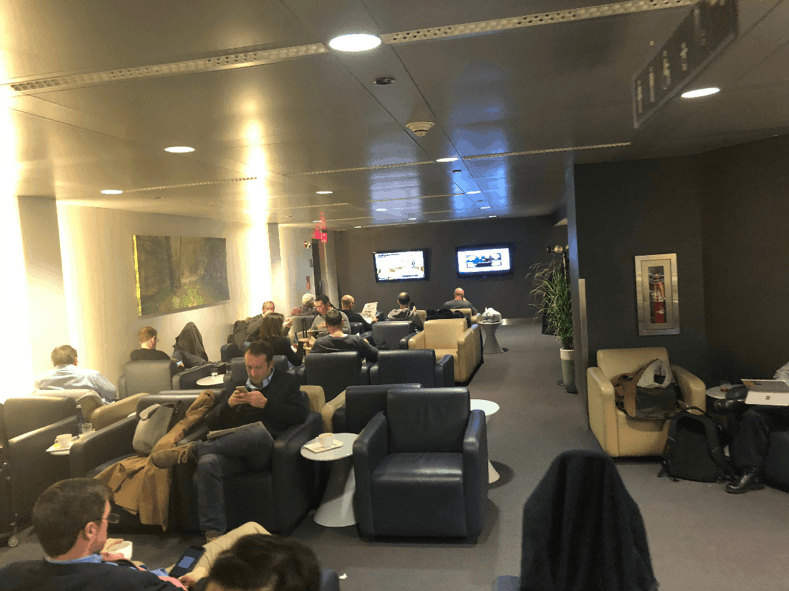 Lufthansa Business Lounge seating area at Washington Dulles.
Not wanting to spoil my appetite before the flight, I decided to stick to a few gummy bears and another cocktail—adding to the growing number of times I have consumed alcohol and gummy bears in a dark basement like a true adult.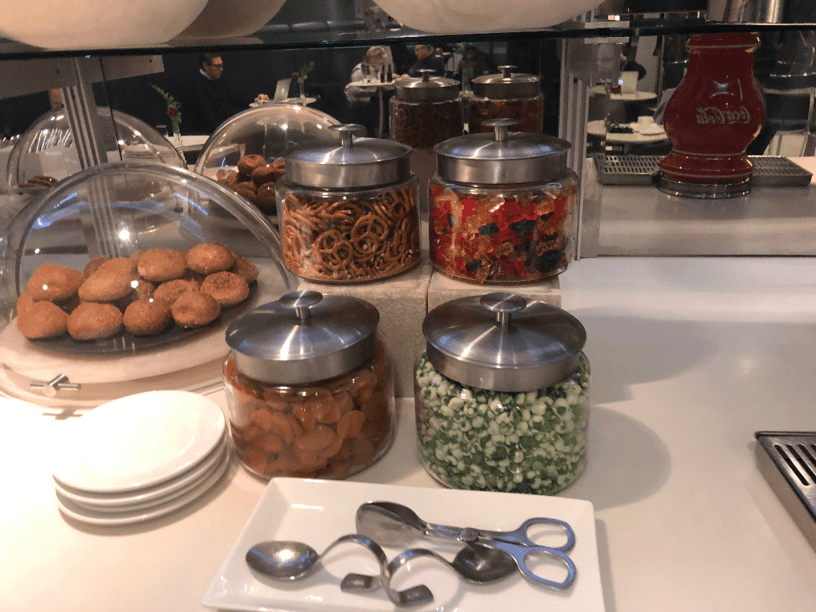 Gummy Bears at the Lufthansa Business Lounge!
The bar had a sign that stated that "the local liquor authority does not allow self-service." This meant I had to stand awkwardly at the bar like an 8th grader at a school dance until one of the staff noticed and summoned someone from the kitchen and pour me a drink. This only confirmed that my earlier time had been better spent in the Turkish Airways Lounge.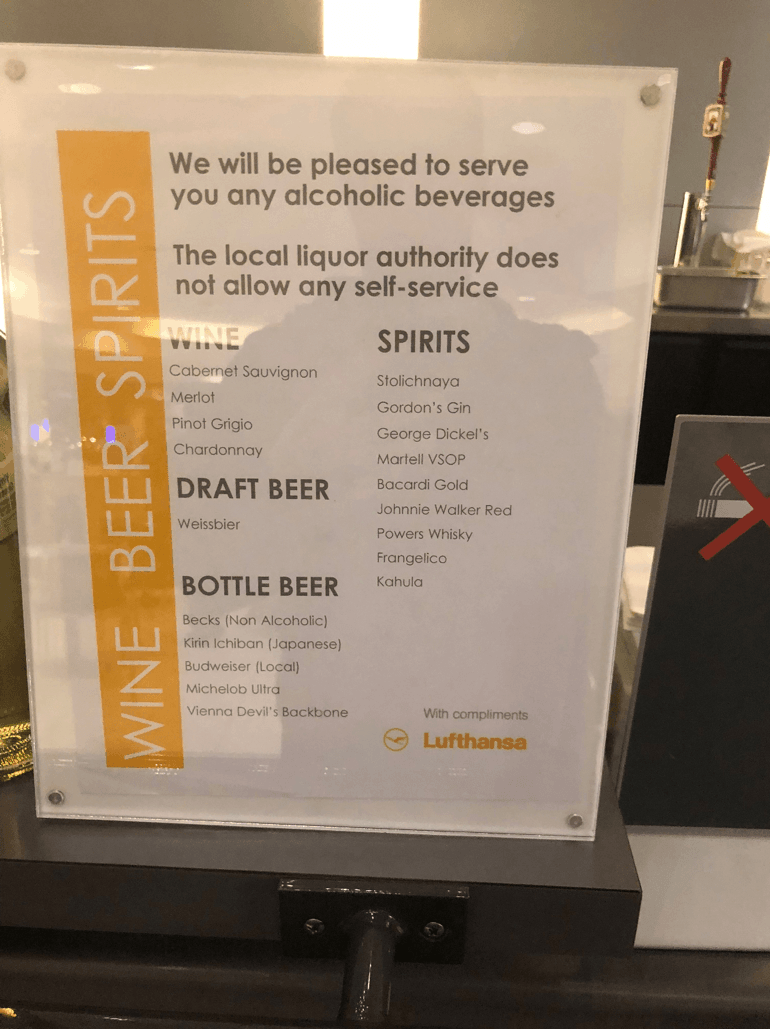 Lufthansa politely asks you not to serve yourself alcohol. Translation: Don't even think about touching the booze.
One redeeming quality of the Lufthansa lounge is that you are able to board the plane straight from the lounge. The staff announced that boarding had begun and my wife and I made our way to our ride across the Atlantic.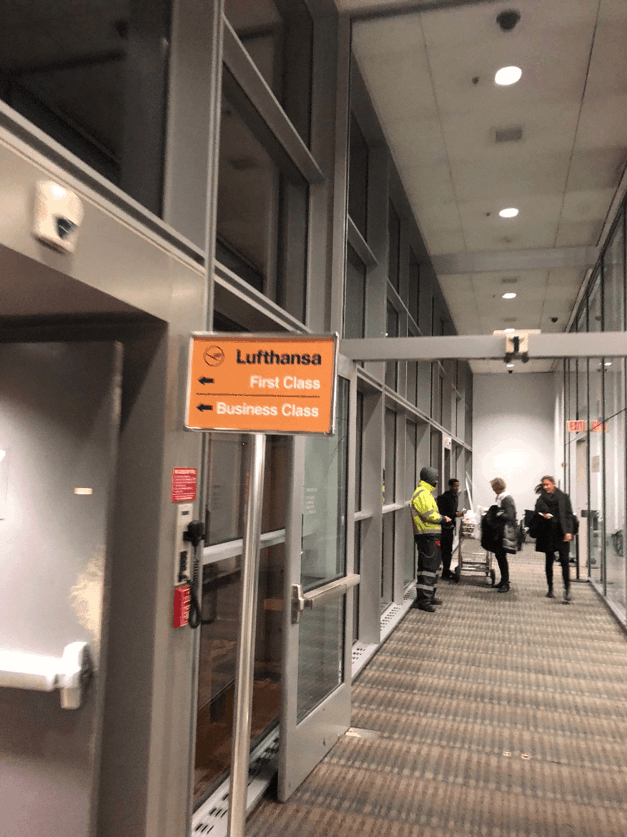 Boarding Lufthansa from the lounge at Washington Dulles.
Lufthansa Business Class Seat And Cabin
The Lufthansa business class seats on the 747-8 seem to be designed for couples who are traveling together. Which is fine when you are traveling with your wife, but a bit awkward when sitting next to a stranger.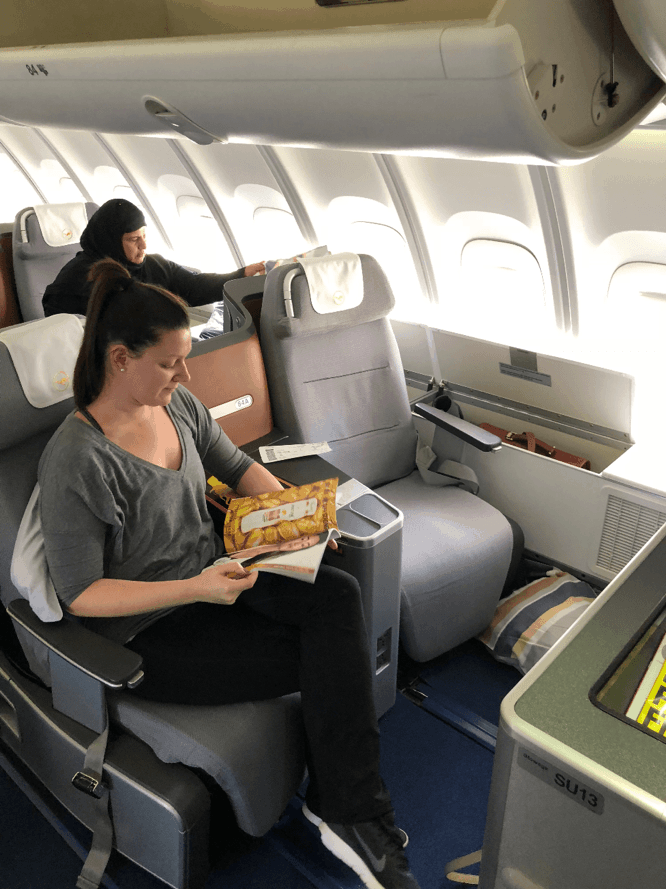 Lufthansa 747-8 Business Class Seat
Each pair of seats is angled toward one another and not staggered. Meaning the passenger in the window seat has to climb over his/her seatmate to access the aisle.
Again, generally not a problem if you are traveling with a friend. But downright awkward if you are sitting next to a stranger. Particularly if said stranger has their seat fully reclined or happens to be asleep.
I saw more than a few instances of window seat passengers channeling their inner Cirque du Soleil skills to get to the bathroom without waking their seatmate. Had it not been completely inappropriate to snap a picture with a flash at 3 a.m. in a dark business class cabin, I could have had some fun with that.
I don't travel with a tape measure but the width of the seat could be described as "adequate," even when being used as a bed. I had no issues getting comfortable before nodding off. Each seat was controlled by a panel on the center armrest and could fully recline into a lay flat bed.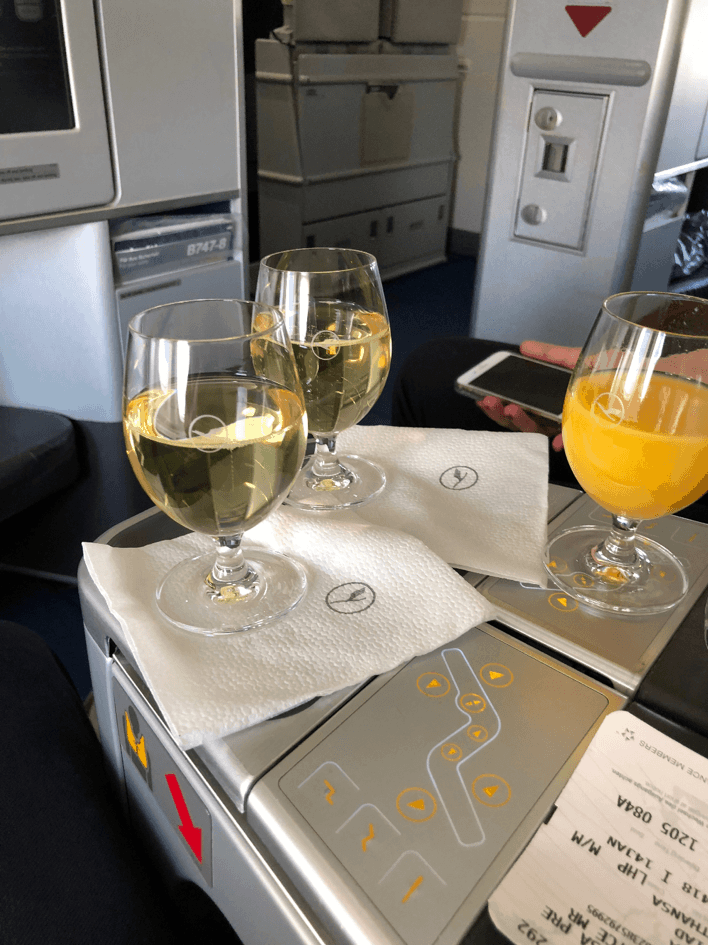 Lufthansa 747-8 Seat Controls. Champagne glass for scale
There was a small storage compartment in-between the two seats that held your tray table, entertainment system controller, and noise cancelling headphones.
The fabric was in good shape and breathed well, unlike some other business class products I have flown. There's nothing worse than having to shift around constantly to avoid that "It's 95 degrees outside and I am sitting in a golf cart" feeling. Consider yourself fortunate if you don't understand that reference.
The legroom was more than enough for my 6'0" frame but the foot "cubbies" were a bit small. There was also just a small divider between your cubby and that of your seatmate. Which basically forces a competition to see who is rocking a better sock game.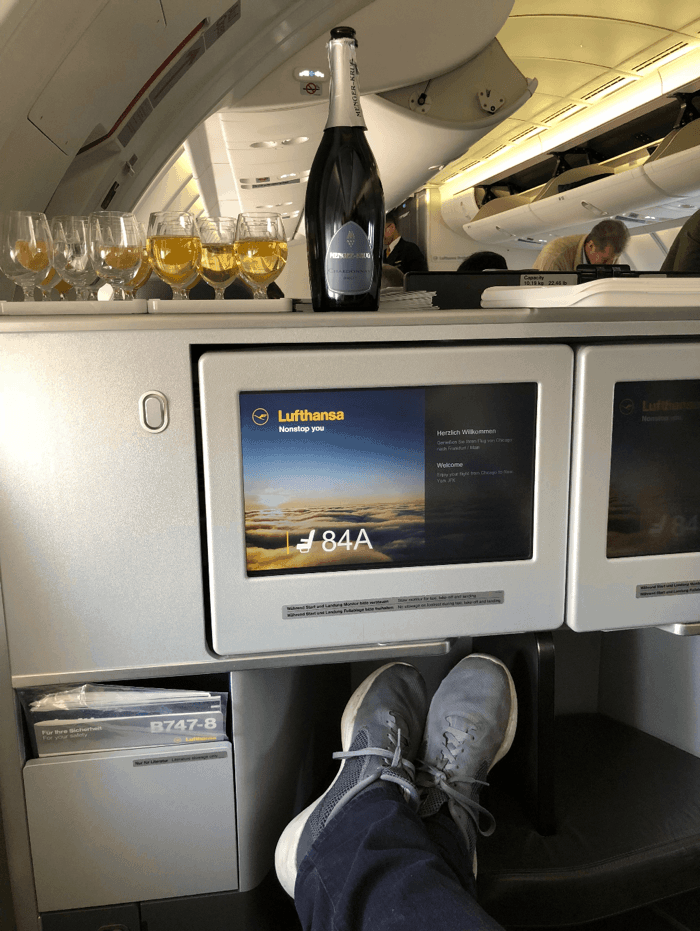 Lufthansa 747 Business Class "Foot Cubby"
The amenity kit was pretty basic, but I can't say I particularly value these anyway. It had the usual combination of lip balm, lotion, toothbrush and paste, socks, headphone covers, and sleeping masks designed to inform your fellow passengers just how little you value what they think of you.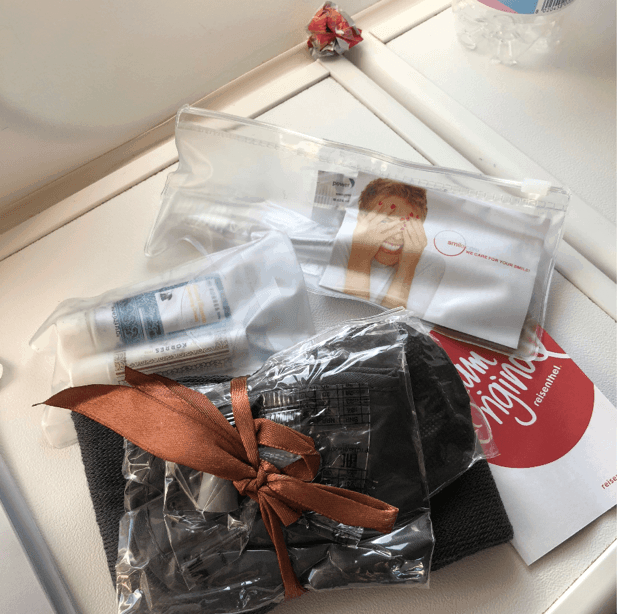 Lufthansa Business Class Amenity Kit
The entertainment system was very responsive and featured dozens of new release movies, TV shows, and music albums. I opted for Dunkirk on the way to Europe and American Made for the flight home.
One of these two movies was incredibly overrated and the other pleasantly surprising. But I'll leave the movie reviews to the experts.
There was also a large storage compartment under the window that could easily fit my carry-on, laptop, and probably a couple of my close friends if I felt like it.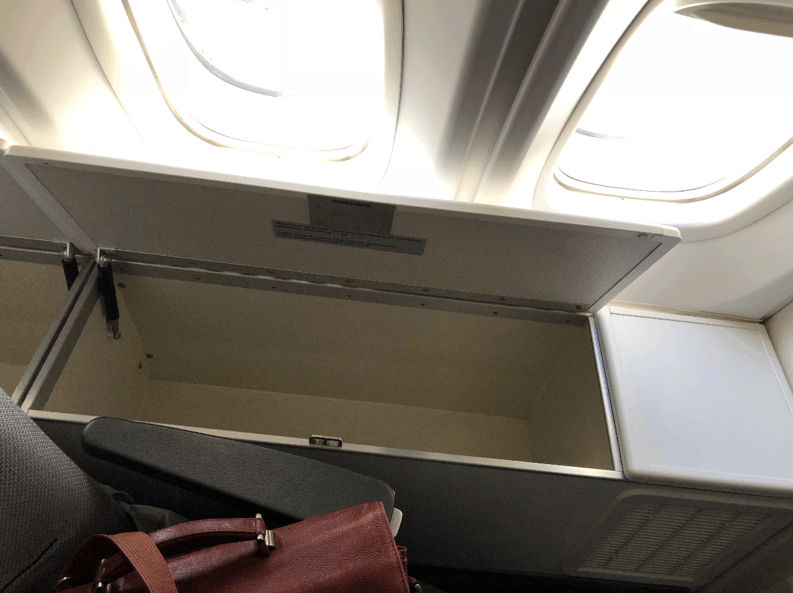 Lufthansa 747-8 window storage.
Again though, this is not an ideal design for anyone traveling next to a stranger, as the aisle seat passenger could only access this compartment by performing moves that are outlawed in many Vegas strip clubs.
The business class cabin on the upper deck was accessible via a stairway at the rear of the cabin.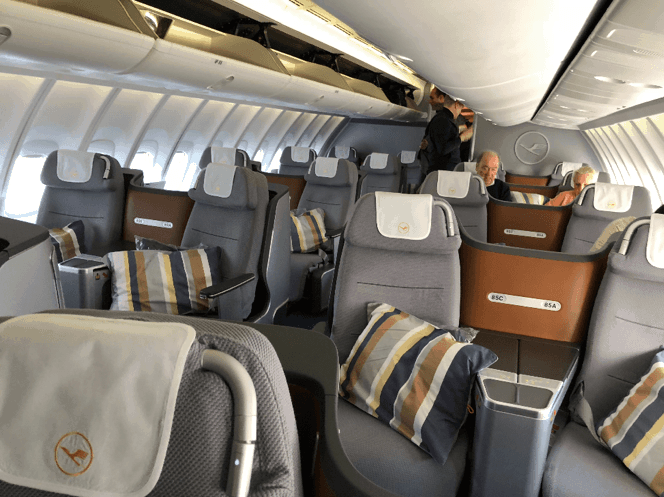 Lufthansa 747-8 upper cabin
There were two bathrooms for the upper deck, one in the front and one in the rear, and I never saw anyone have to wait for either one. Each one was standard size and featured a small basket of lotion, mouthwash, and lip balm.
I did not snap any pictures of the bathroom this time for reasons mentioned above. After all, it is just an airplane bathroom. I'm guessing you have been in one of them before.
Inflight Meals and Drinks
Service began shortly after we reached cruising altitude with the distribution of menus and hot towels.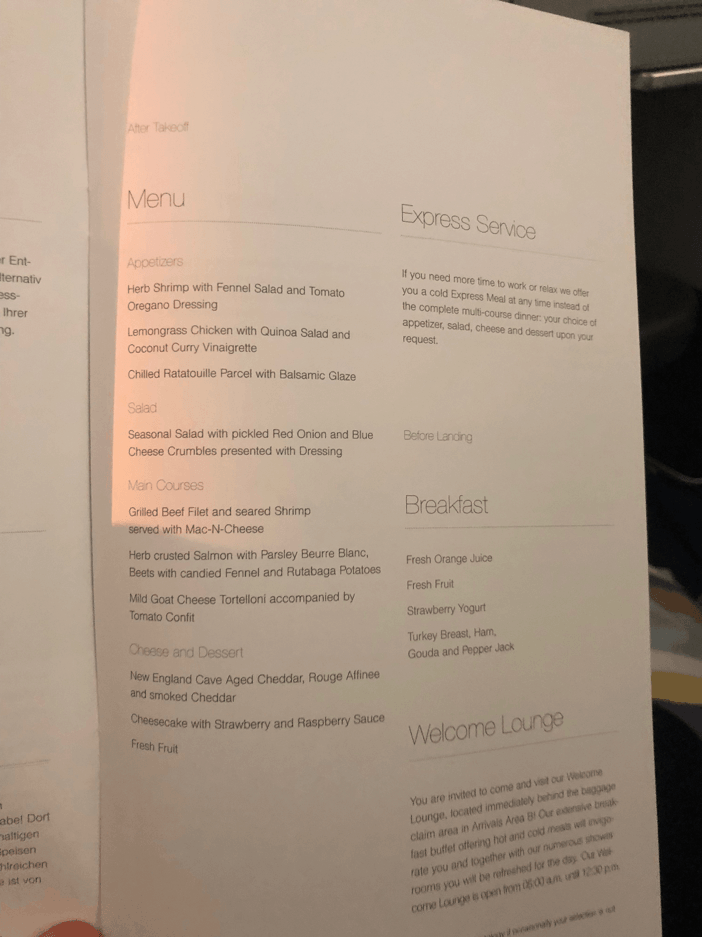 Lufthansa business class dinner menu
This was followed by a round of drinks and warm nuts. I opted for the Jacquart Brut champagne which retails for about $45 on the ground. I don't consider myself to be a connoisseur of champagne but this clearly was an upgrade from what is served at your average bottomless brunch place. Naturally, I had a second glass just to be sure.
I chose the herb shrimp for my appetizer and it was so-so. Nothing to write home (or on the blog) about.
Lufthansa Herb Shrimp Appetizer
For the main course, I went with the grilled beef filet and seared shrimp served with mac-n-cheese. It's a good thing that the word "shrimp" is both singular and plural, because my dish contained exactly one shrimp. I must say the dish was quite tasty though, particularly when paired with the 2013 French red wine.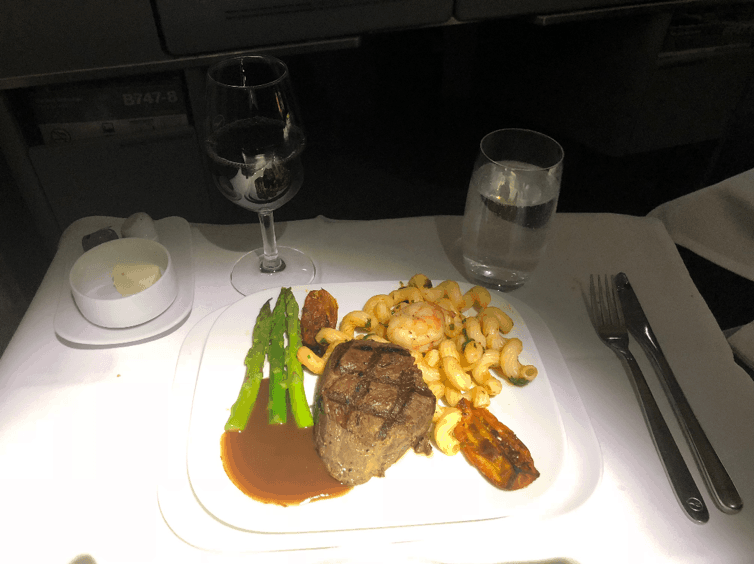 Lufthansa Grilled Beef Fillet
My wife chose the goat cheese tortellini and was gracious enough to trade a couple bites for some of my mac-n-cheese. The tortellini wasn't terrible but I did decline her future invitations to trade a bite for a bite.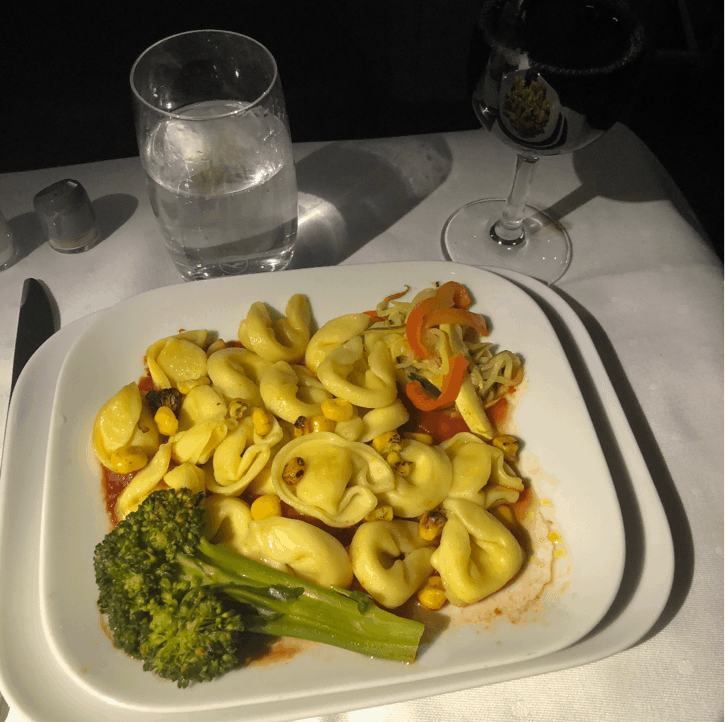 Lufthansa Tortellini
For dessert, I chose the cheese plate and my wife chose the cheesecake with strawberry and raspberry sauce. She (and her delicious cheesecake) won that round.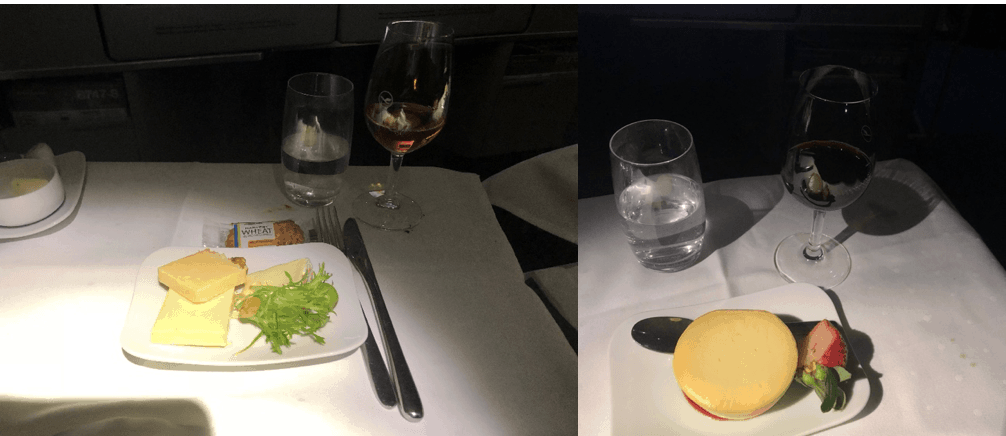 The Lufthansa cheese plate vs cheesecake
After dinner, the flight attendants came through once more with a selection of after dinner drinks. I chose the brandy and sipped it slowly before nodding off. I slept for a good four hours before being woken up for breakfast, which was a pretty basic plate of cheese and cold cuts with some fruit and yogurt.
Lufthansa Business Class Breakfast
I passed on the in-flight breakfast knowing that I would likely find better options in the Lufthansa Welcome Lounge.
Lufthansa Welcome Lounge at Frankfurt Airport
After landing in Frankfurt my wife and I made a beeline for the Lufthansa Welcome lounge to secure a shower without waiting. The lounge was a bit of a hike from the arrival gate and down a couple levels but we were finally able to locate it.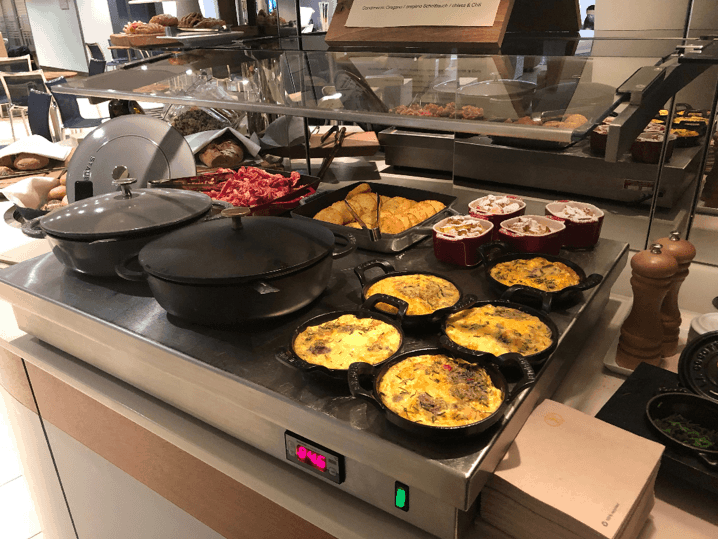 I immediately put my name on the list for a shower and was assigned one without a wait so I grabbed a towel and made another beeline (we are going with this one) downstairs to the private shower rooms.
If you haven't experienced the feeling of a shower at an arrivals lounge, you're going to want to go ahead and add it to your bucket list. I've never been stranded on a remote island before but my shower felt a bit like I had just been rescued from spending 2 years in the wilderness.
The water completely washed away all of that "I just flew 8 hours on a plane" feel along with my mild French wine induced hangover. It was glorious.
This next part is where I tell you that the water pressure and temperature were adequate. They were, I think. Let's be honest, though, I would have been satisfied with a lukewarm garden hose sticking out of the wall.
Luckily I took pictures to confirm that there were indeed no hoses sticking out of the wall. Only a well-cleaned and well-maintained private shower room. Complete with a spa-like waiting area, should you have to wait for your shower.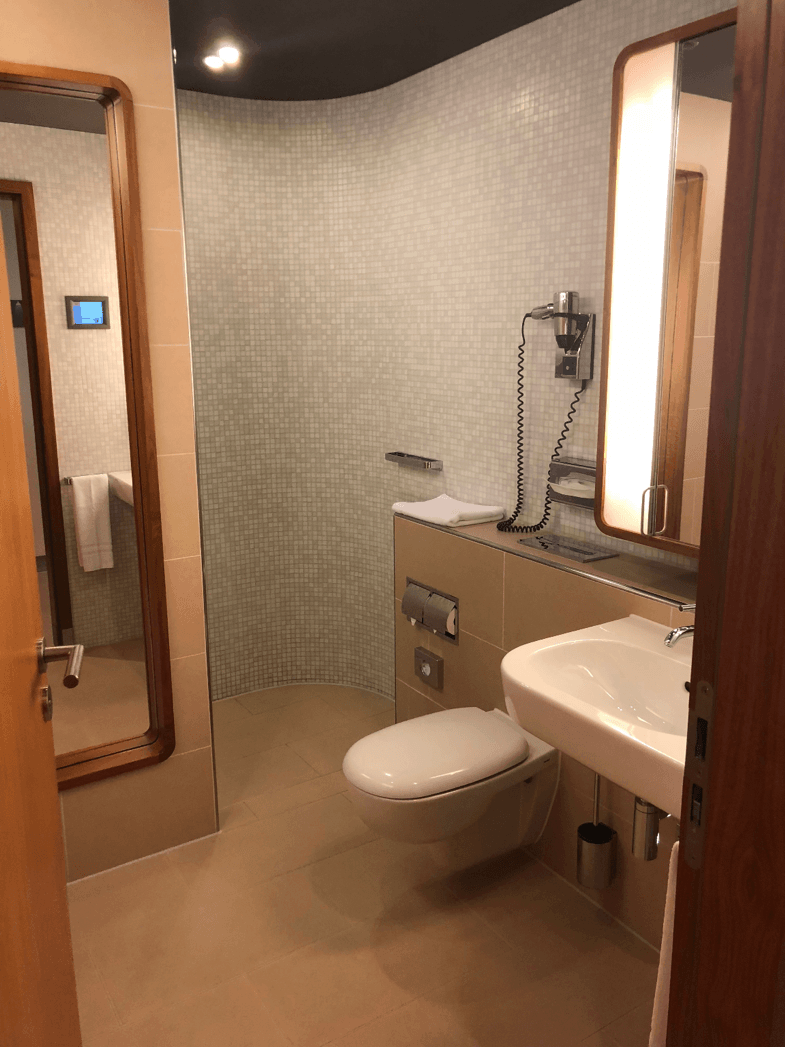 Lufthansa Welcome Lounge Shower – Frankfurt
Meanwhile, back upstairs there was a nice selection of hot breakfast items, a space age coffee/espresso machine, fresh snacks, and a number of drinks to choose from. All surrounded by plenty of places to sit down, connect to wifi, and recover from your trip. Or in my case prepare for the next flight.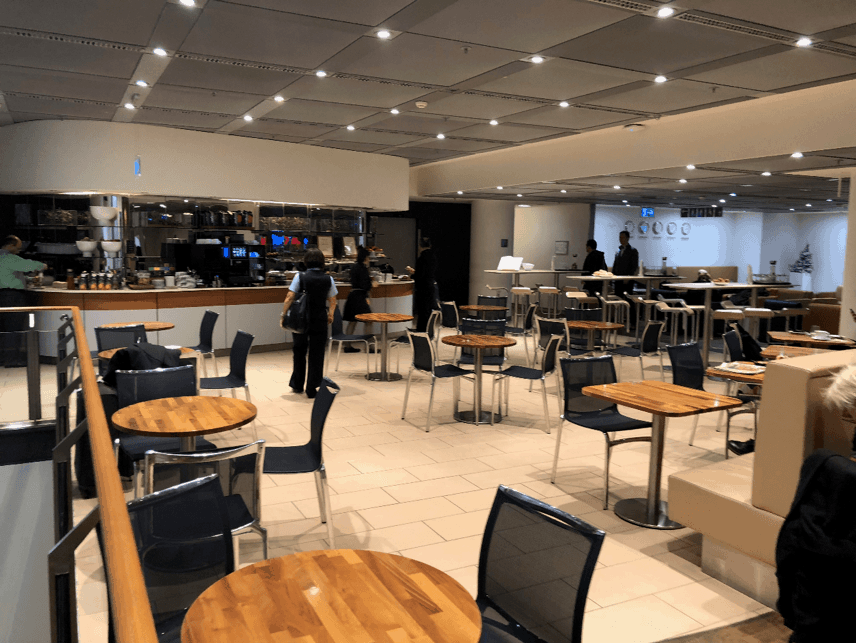 Lufthansa Welcome Lounge – Frankfurt
Frankfurt to Rome: Intra-Europe Business Class
I'm not going to spend a lot of time whining about what I think of intra-Europe business class. There's nothing I can write that hasn't been written before, often with significantly more vitriol than I am prepared to level. I booked this trip for the 747 flight over the Atlantic and knew exactly what I was getting into on Frankfurt to Rome leg.
So, I'll just share a few pictures and quick thoughts on my flight from Frankfurt to Rome on an A321 in business class.
After scanning our tickets at the gate we boarded multiple large buses and driven about 10 minutes to our plane. That is not an exaggeration, the ride was almost 10 minutes long.
After disembarking from the bus we were herded toward our plane, where we would board by climbing a set of covered stairs.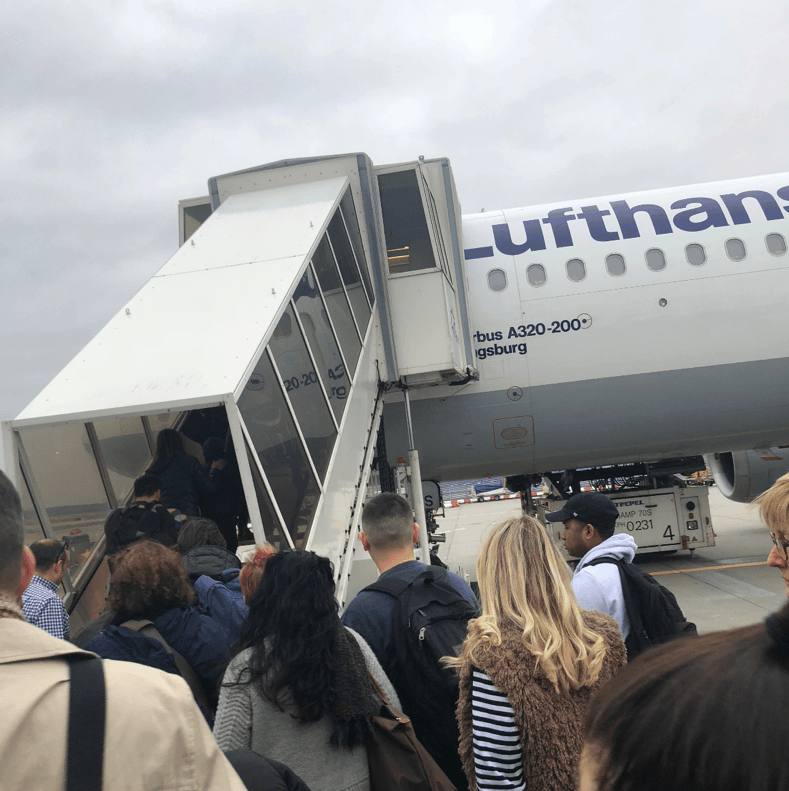 Boarding Lufthansa A321
Keep in mind this is January in Germany. It wasn't exactly pleasant to stand on the tarmac waiting for your fellow passengers to board. After about five minutes of internal anger rivaled only by that of a concertgoer standing behind someone filming the show with an iPad, we were on the plane.
The business class seats aren't what you would see in a domestic first-class cabin—wider seats with more legroom—rather they were simply economy seats with the middle seats left vacant for "Your Space".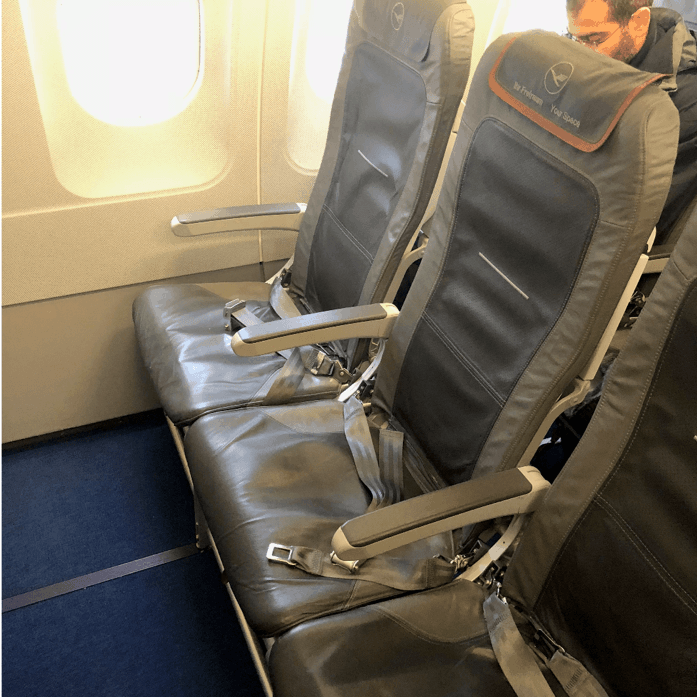 Lufthansa A321 Business Class
The food was comparable to what is served (or used to be served anyway) in many domestic economy flights. In this case, some sort of seafood dish, cold cuts, unsweetened pudding, and a roll. There was no menu to describe what exactly I was about to stare at and not eat.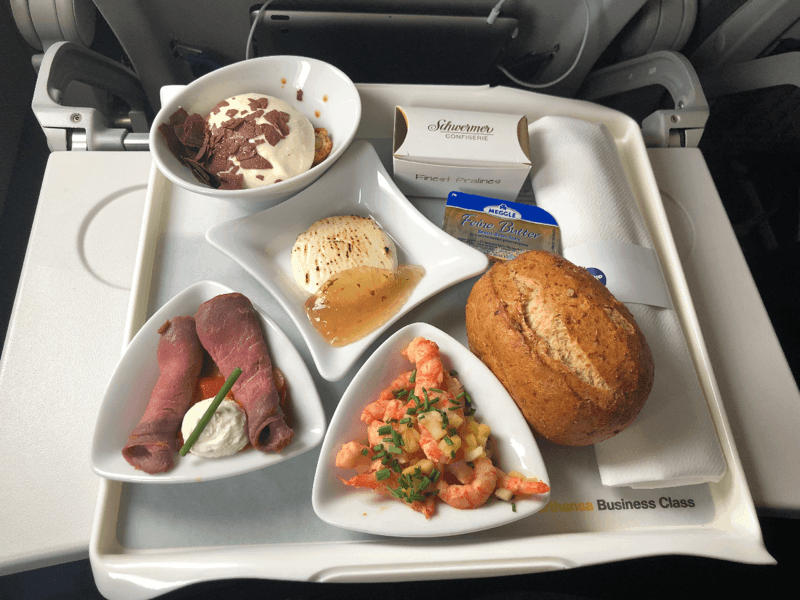 Lufthansa Business Class Lunch – Frankfurt to Rome
I did try one bite of each item so that I could provide an accurate review and had no desire to try a second. The mystery seafood dish in particular prompted my wife to declare that "anything that swims should never fly." I agreed.
And while it is of no fault of Lufthansa's, the passenger behind me decided to take his shoeless—thankfully sock covered—foot and try to snuggle it under my elbow on my arm rest. I'm not talking about an accidental bump, which is already grounds for being publicly shamed. I am talking about a deliberate attempt to slide his foot under my elbow. Much like you would do between two couch cushions on a lazy Sunday afternoon.
I tried to take a quick selfie to capture him in the act but he saw me and promptly pulled his foot back. Thankfully that was the end of our interaction until a very awkward deplaning process.
Anyway, the flight was only about an hour and forty minutes. Otherwise, it went off without a hitch. We made it to Rome and were ready to dive headfirst into all of the pasta, wine, and history we could stomach.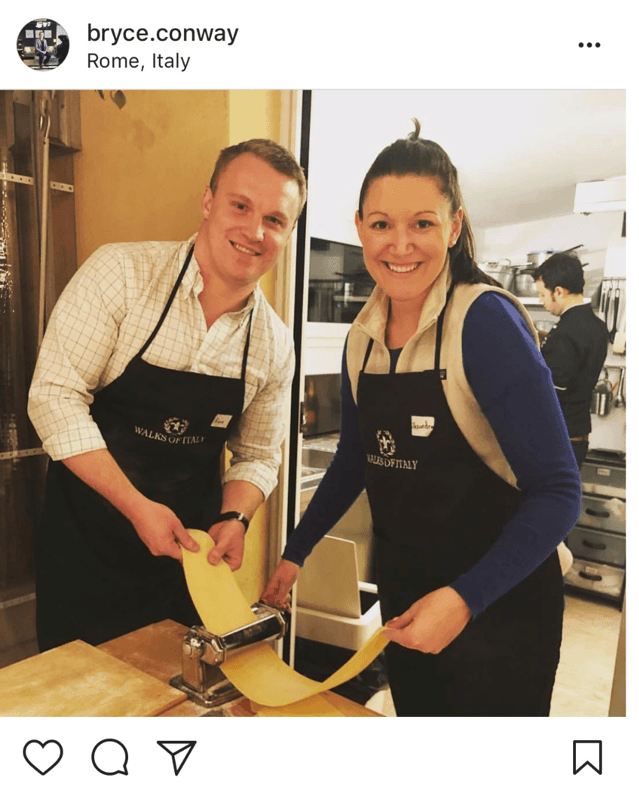 Bottom Line
Overall, I was impressed with my Lufthansa business class experience, even when factoring in the mediocre product at the end. It may not be the best business class option for flying across the Atlantic but I wouldn't hesitate to fly it again if given the chance. Particularly when I can do so for just 55,000 Lufthansa Miles & More miles that I earned from one sign-up bonus.
The food was great, the service was top-notch, and the plane was great for anyone traveling with a companion. The one downside is the 2-2 upper deck cabin layout and the 2-2-2 lower deck layout. If you're a solo traveler, your best bet is to pick a seat in the middle section of the lower deck so you don't have to climb over anyone and no one will climb over you.
Otherwise, give it a shot and know that you are in for relaxing and enjoyable travel experience.
Happy Travels,
Bryce
P.S. I would be remiss if I didn't specifically mention the fact that Alecks, my flight attendant from Frankfurt to Washington Dulles, was one of the best flight attendants I have ever had.
Alecks was attentive, friendly, and professional every moment of the flight.
Thank you, Alecks!
60,000 Chase Ultimate Rewards Points after you spend $4,000 spend in 3 months
Learn more
---
10xTravel is part of an affiliate sales network and receives compensation for sending traffic to partner sites, such as CreditCards.com. This compensation may impact how and where links appear on this site. This site does not include all financial companies or all available financial offers.