In This Article
Loading table of contents …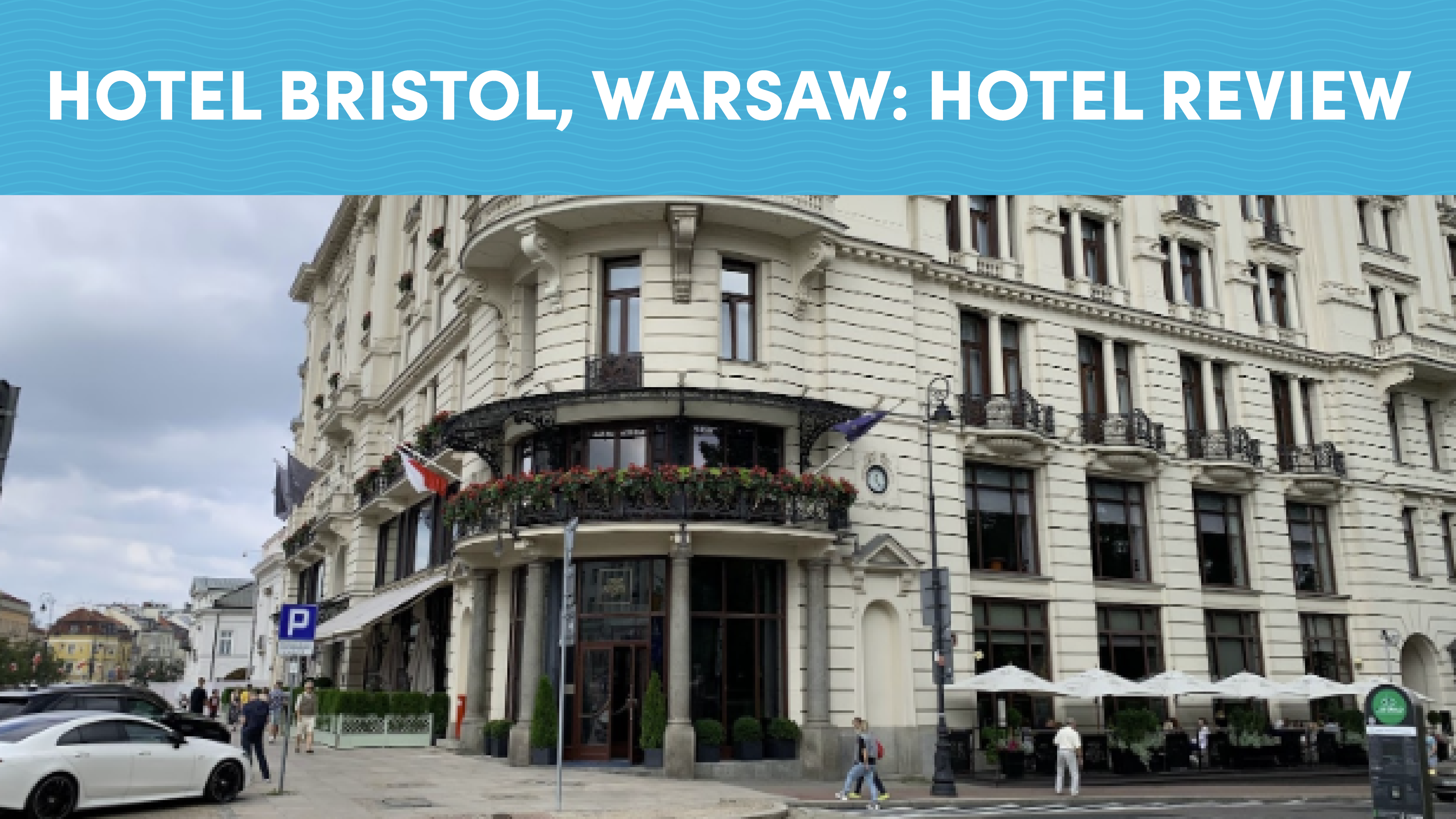 Note: Some of the offers mentioned below may have changed or are no longer be available. The content on this page is accurate as of the posting date; however, some of our partner offers may have expired. You can view current offers here.
Overview of Hotel Bristol, a Luxury Collection Hotel, Warsaw
This historic property is located on Warsaw's Royal Route, next to the Presidential Palace and just a few minutes from the Old Town. Opened more than 120 years ago, Hotel Bristol hosted heads of states and rockstars, functioned as the headquarters of the Chief of the Warsaw District during the Nazi occupation of Poland and miraculously survived the devastion and distruction of World War II.
The building emerged relatively unscathed and was renovated and reopened in 1945. The hotel stood closed during the last few years of the communism regime and after the fall of communism in 1989, it was reopened and restored to its former glory. Hotel Bristol was reopened in 1993 with Margaret Thatcher, the United Kingdom's prime minister at the time, in attendance.
Since the reopening, the hotel has hosted a few British prime ministers, The Rolling Stones, a couple of former U.S. presidents, actors, famous scientists and athletes.
The hotel has 165 rooms and 41 suites, and it's a delightful combination of old world charm and modern amenities.
Hotel Bristol, Warsaw is now part of Marriott and can be booked with Marriott Bonvoy points. I came across this hotel when my husband and I were looking for a place to stay in Warsaw to cap off our trip in Germany and Poland and decided that we had to stay there.
In spite of its storied history, Hotel Bristol doesn't have a stuffy or an overly formal feel. The hotel is family-friendly, has excellent access to public transportation, and the location in the heart of Warsaw couldn't be better.
It's also beautiful, inviting and has lots of gorgeous and historically accurate details throughout, like this painted ceiling in the hotel's main lobby.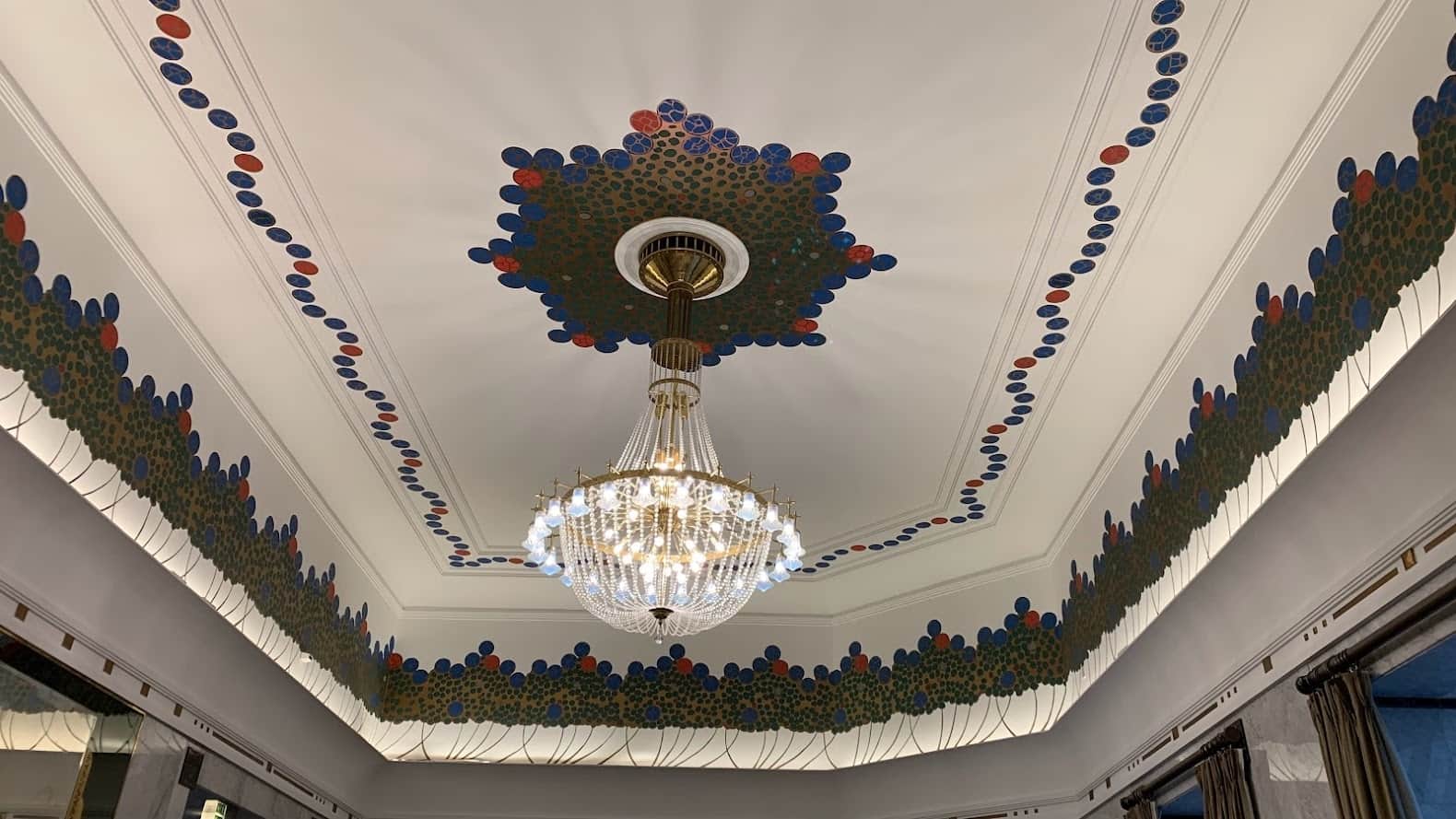 Here's another example of the beautiful details that you can find all throughout the hotel. I had the pleasure of walking past this floral display for four days.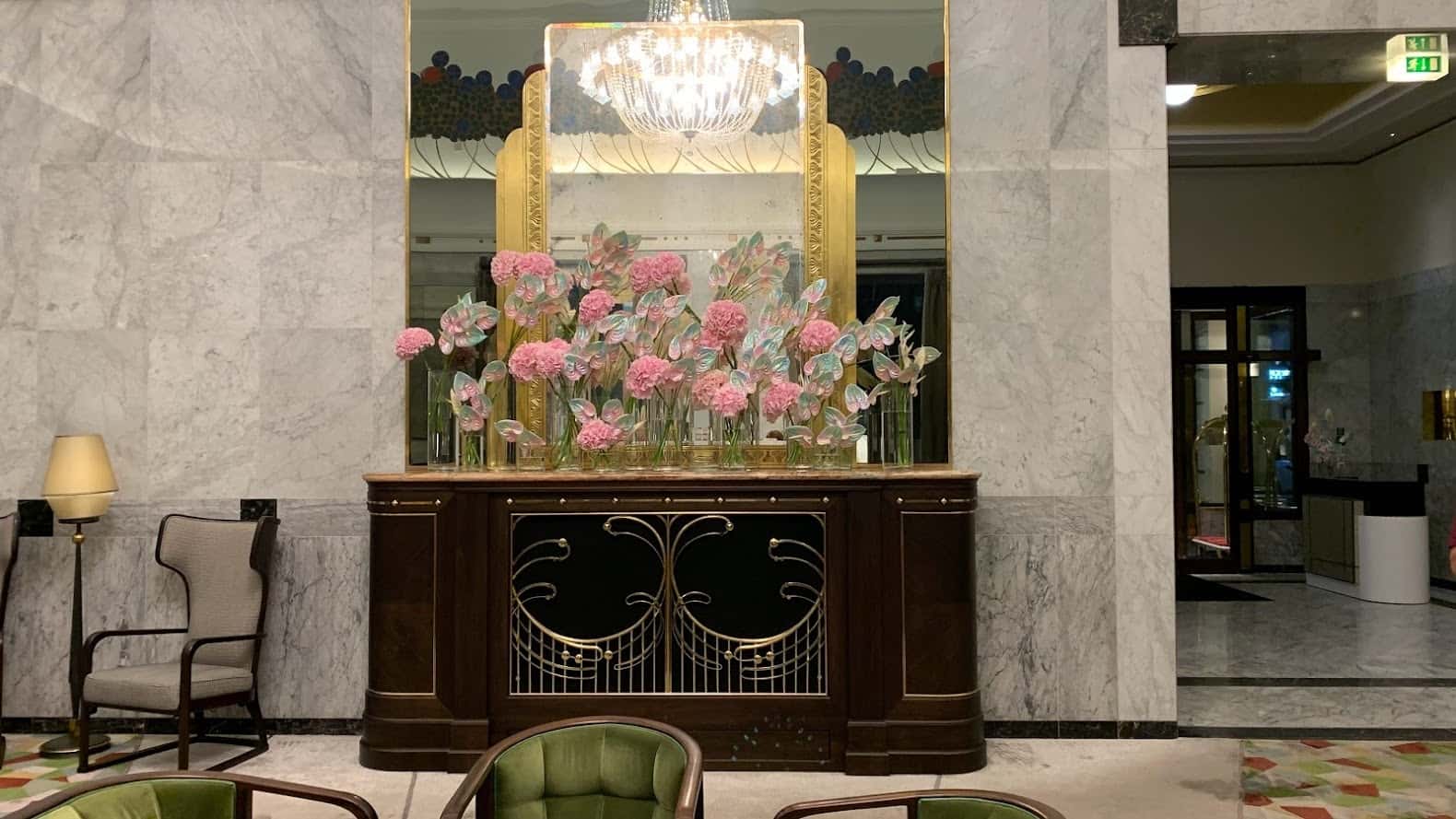 We loved our stay at Hotel Bristol and were amazed at the value you can still get in Eastern Europe. You can easily enjoy this luxury for less than $200 per night or for fewer than 40,000 Marriott Bonovy points. This is also a great place to use the annual hotel credit of up to $200 that comes with The Platinum Card® from American Express for prepaid hotels booked through Fine Hotels + Resorts® or The Hotel Collection (2 night-stay required) and paid for with your Platinum Card.
After spending four nights there, we both said we'd love to return when we have a chance to visit Warsaw again.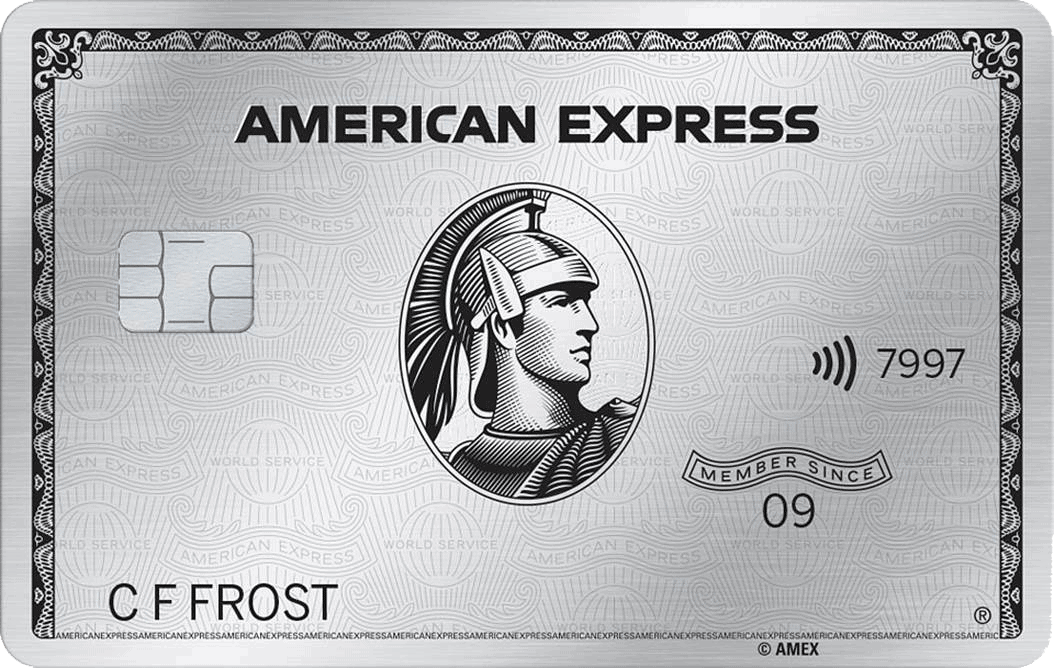 Hotel Bristol, a Luxury Collection Hotel, Warsaw Location
Hotel Bristol is centrally located, within a short walk to the University of Warsaw and the Old Town. The street right in front of the hotel is closed to car traffic, and only buses and taxis are allowed to enter. On the weekend and public holidays, the street is completely closed to traffic and turns into a huge festive pedestrian promenade.
We mostly walked everywhere or took an Uber when we had to go outside the city center.
Best Parts of Hotel Bristol
One of the best parts of staying at Hotel Bristol is its location. You're staying in the most historical part of the city, and the surrounding area has lots of great restaurants. The gorgeously restored Old Town, which isn't really that old as it had to be completely rebuilt after the war, is just a few minutes stroll away.
We loved that the hotel retained authenticity and its historical character both inside and outside. Sometimes renovated properties lose all the character, but that's definitely not the case here. The beautiful architectural details abound all through the property, but at the same time all the modern amenities and service are absolutely top notch.
Don't miss the free concierge-led tour of the property. You can sign up at the concierge desk. When we were there, the Belle Epoque Champagne Bar with a beautiful balcony, which is usually off-limits to the general public, was booked for a private event, and the hotel's most luxurious suite, Paderewski Suite, was occupied, so he couldn't show these two gems to us.
But he did tell us a lot of interesting stories about the hotel's history, the famous guests who stayed there and his personal favorite guest (a member of The Rolling Stones).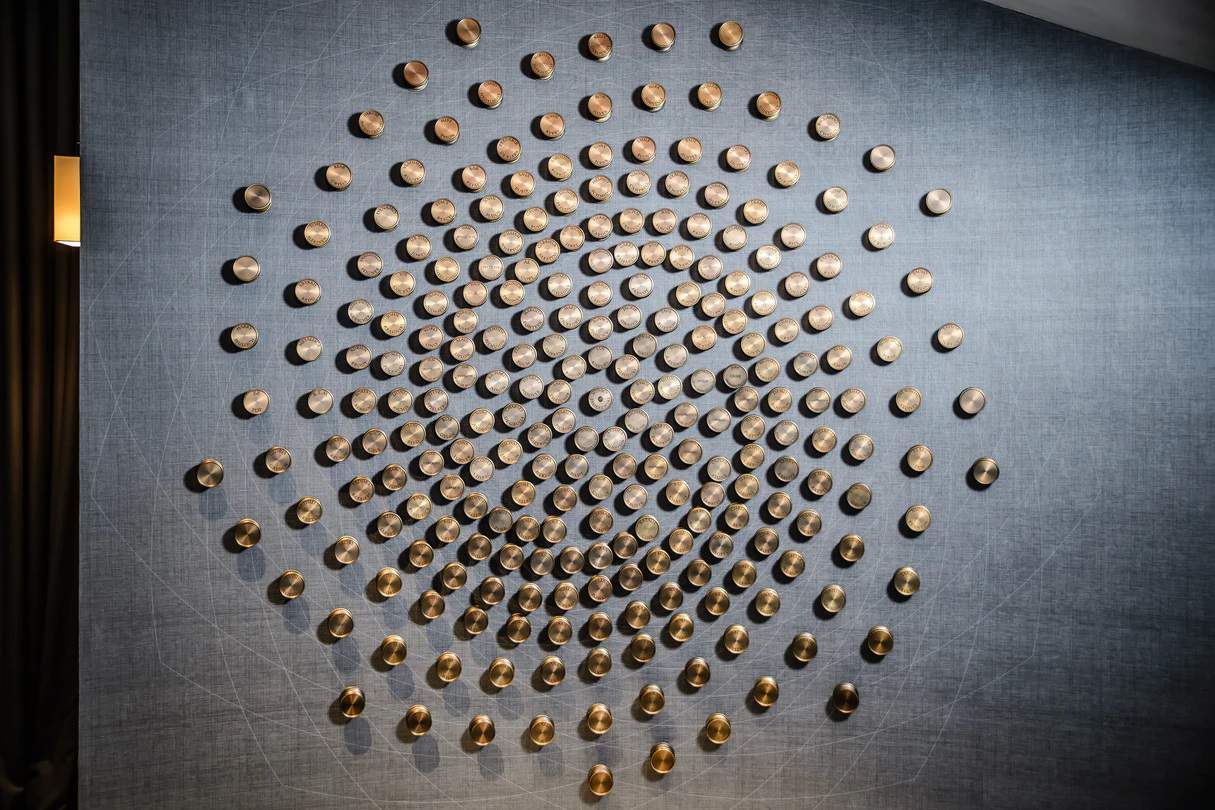 Hotel Bristol Drawbacks
Thanks to the excellent service and the hotel's history, this was one of our most memorable stays so I can't think of many drawbacks, but there's one—the bathtubs. I really don't like hotel bathtubs and consider them a hazard. They are slippery and often hard to get in and out of.
Both of our rooms (we were staying there on different reservations and more on that later) had bathtubs, but the second room also had a walk-in shower. It was tiny, but at least I didn't have to worry about slipping in the tub.
Getting to Hotel Bristol, a Luxury Collection Hotel, Warsaw
We arrived in Warsaw from Krakow by train and took a 15-minute Uber ride from the train station for $5.
There's a bus stop right in front of the hotel where you can catch the airport-bound bus. It takes about 30 to 40 minutes, depending on the traffic, to get to and from the Warsaw Chopin Airport, Poland's main gateway to international flights.
An Uber or a taxi ride from the airport takes about 20 to 25 minutes and costs about $6. You can catch an Uber for almost anywhere in the city for $3 to $5. Uber is widely available in Warsaw and is a little cheaper than taxis.
Check-In
When we walked up to the hotel's entrance, a bellman greeted us, took our bags and directed us toward the check-in area. A few staff members were working, so we didn't have to wait and were immediately greeted and asked for our passports. We arrived just after check-in time, so we didn't have to wait for our room.
We had three separate reservations, two of which were made through the American Express Fine Hotels + Resorts (FHR) program (one night in each of our names), and two nights were booked with points.
Booking through the American Express Fine Hotels + Resorts collection includes the following benefits:
Noon check-in, when available
Room upgrade upon arrival, when available
Daily breakfast for two people
Guaranteed 4 p.m. late check-out
Complimentary Wi-Fi
Special amenity unique to each property
We got $100 property credit as a special amenity at Hotel Bristol. The credit could be applied to food, beverage and spa services, but the service charges (tips) aren't covered.
The staff member checking us in was familiar with the Amex FHR benefits and explained how to use the $100 property credit. He told us that we'd get two $100 credits, which was good news, as some hotels combine two back-to-back reservations into one and give you one credit.
He also assured us that we can stay in one room for all four nights. I booked a basic queen room (Classic room) hoping we'd be upgraded at check in, and, after apologizing that they didn't have suites available, he told us about an upgrade to a Bristol Executive room, which turned out to be more like a small suite.
A bellman then escorted us to our room and delivered our bags.
Both my husband and I have Marriott Bonvoy Gold Elite status by virtue of being The Platinum Card® from American Express holders. The Gold status doesn't come with any meaningful benefits, except maybe a small room upgrade. From my experience, status recognition is better abroad than in the U.S., and that was definitely the case here as well.
Even though we were told that we could stay in the same room for the entire stay, we were upgraded to a huge suite for the two nights booked with points.
The beautiful lobby and the wonderful, friendly staff made a great first impression of the hotel.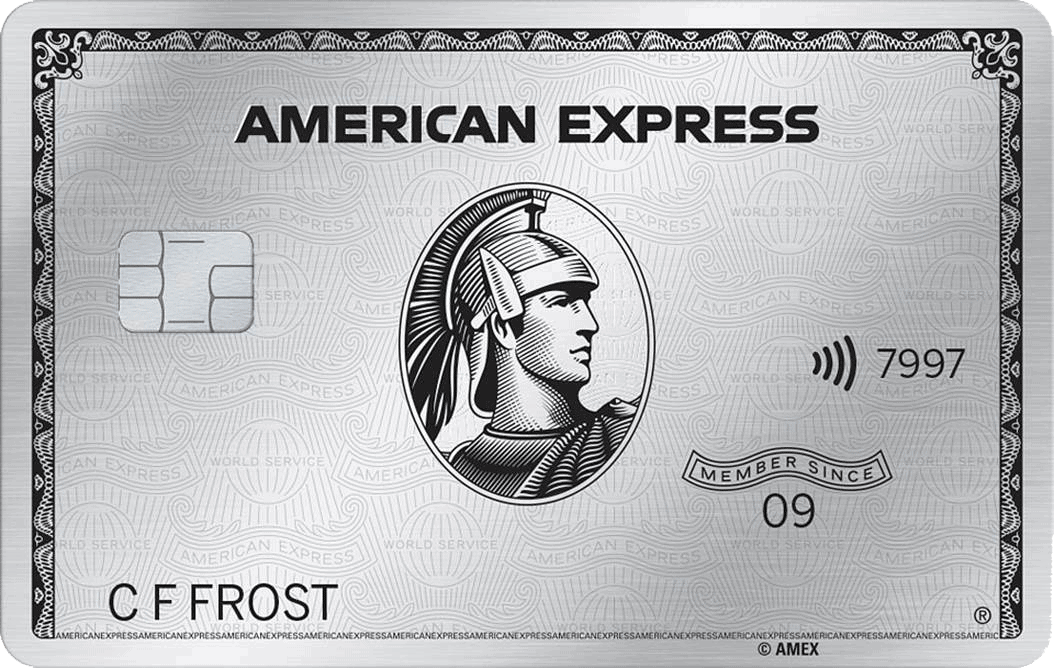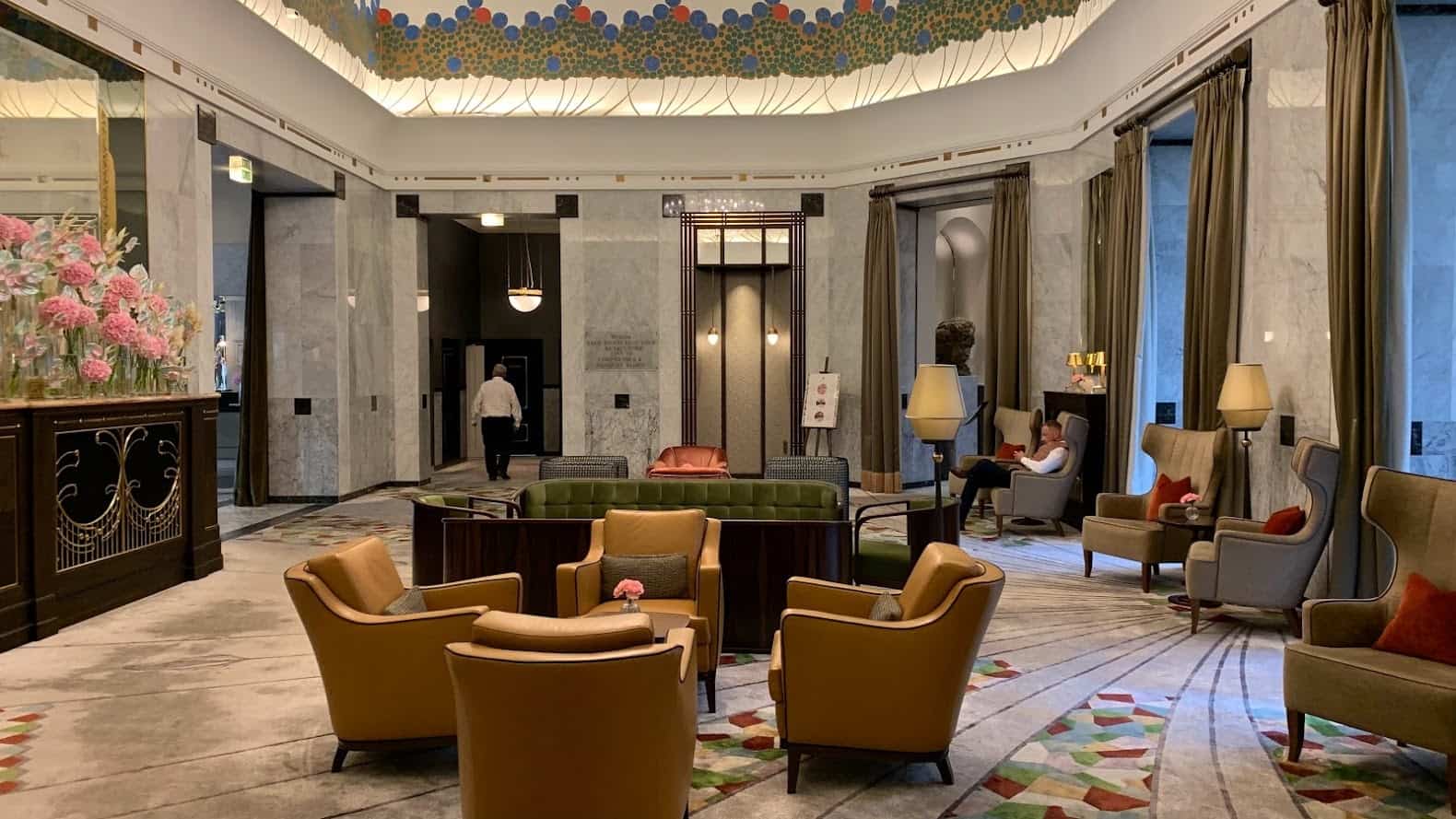 The Rooms at Hotel Bristol
As I mentioned earlier, we were told that we'd stay in the same room, but when we came to check in for the last two nights, the two nights I booked with points, we were told that they assigned us a bigger suite. We asked to see the new room first to make sure the move was worth it, and it definitely was!
Hotel Bristol, Warsaw Bristol Executive Room
Our first room, the Bristol Executive room on the fourth floor, was a small suite with an entrance area, a small living room with a sofa and a TV stand, and a side table that held the Nespresso coffee machine and a teakettle. The coffee capsules and the tea bags were replenished daily.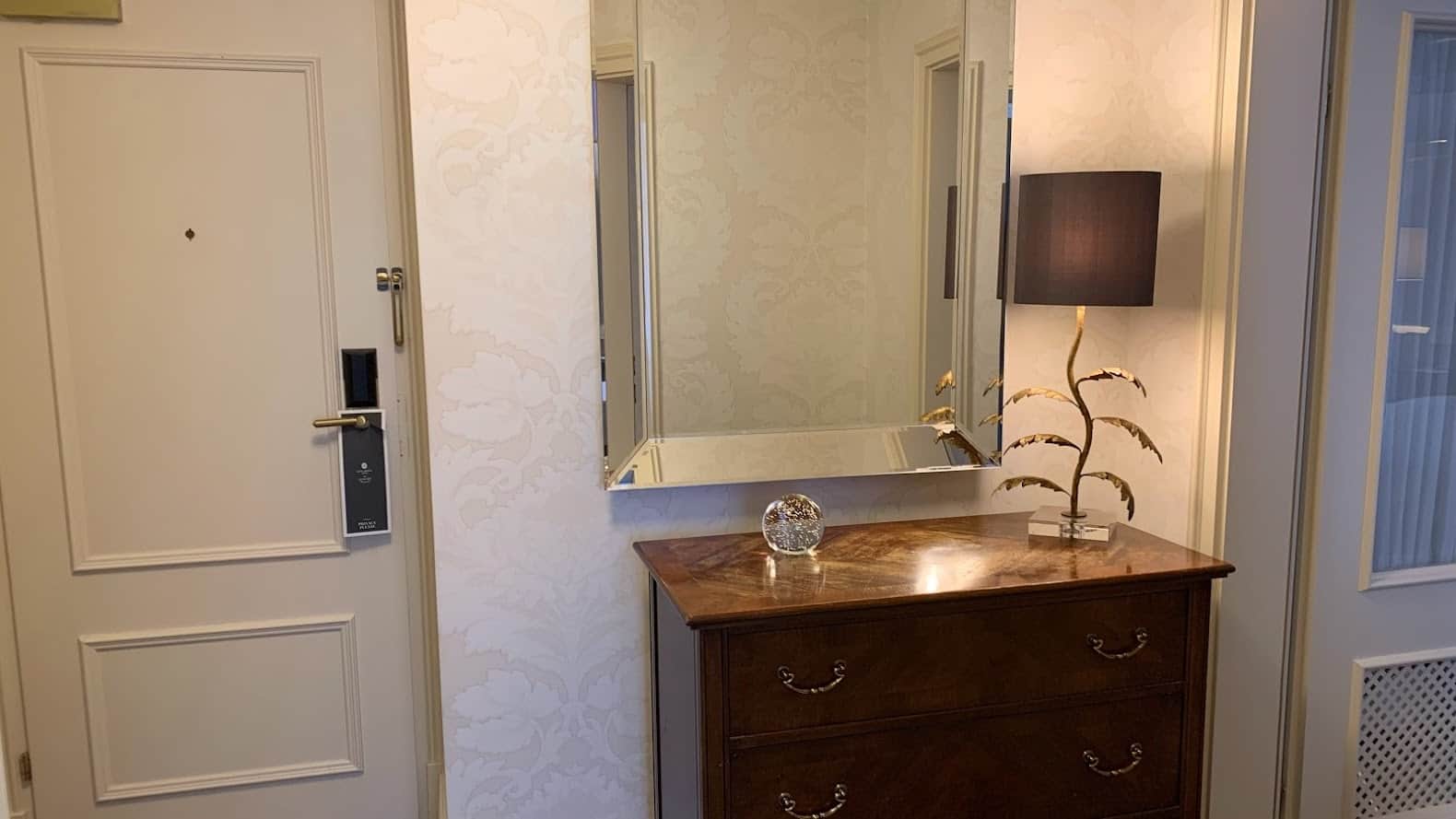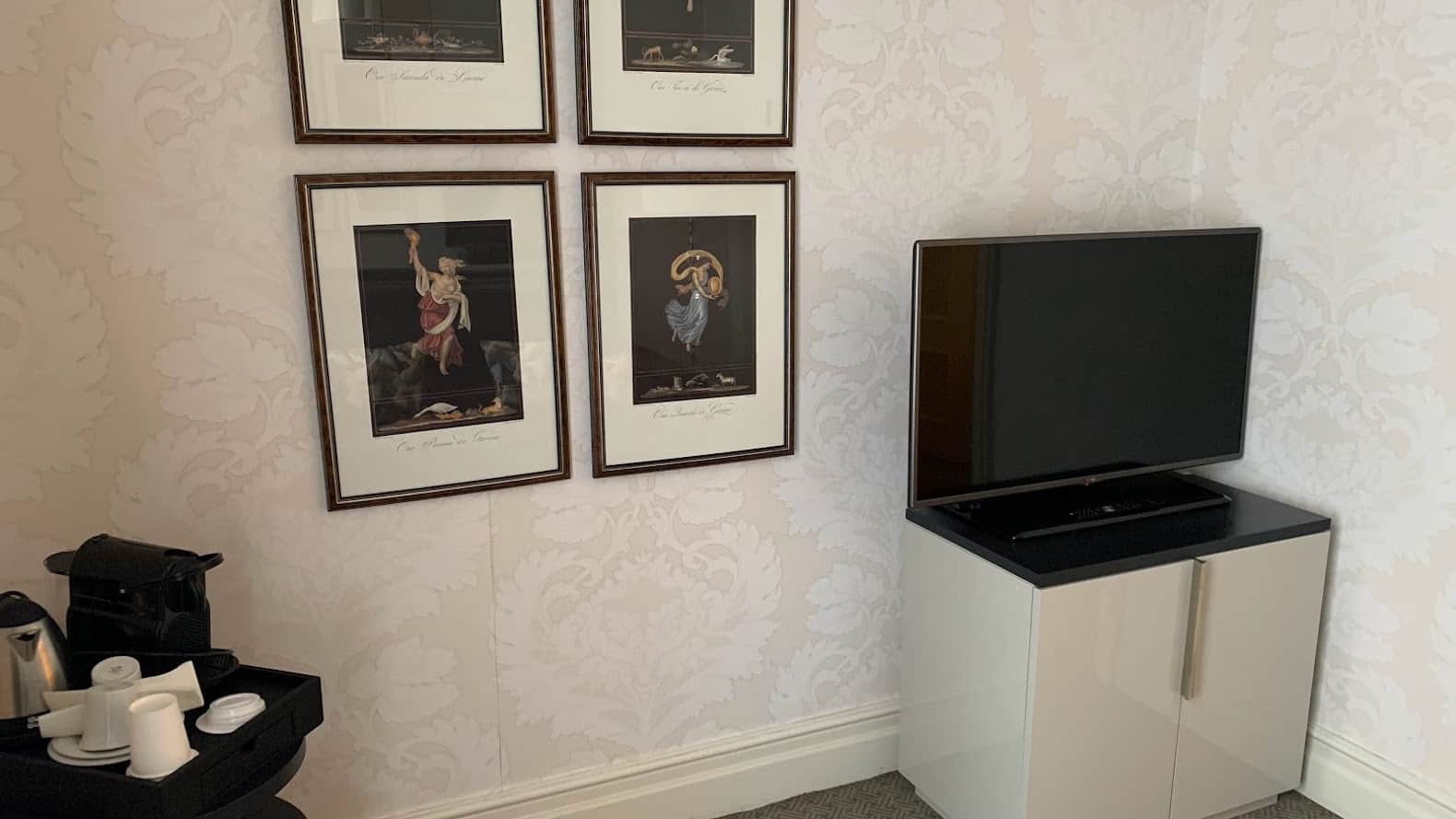 The bathroom was beautiful, all clad in marble, but had the dreaded shower/bath combo. I loved the rain-shower showerhead, but the glass half-door did little to prevent the water going all over the slippery marble bathroom floor.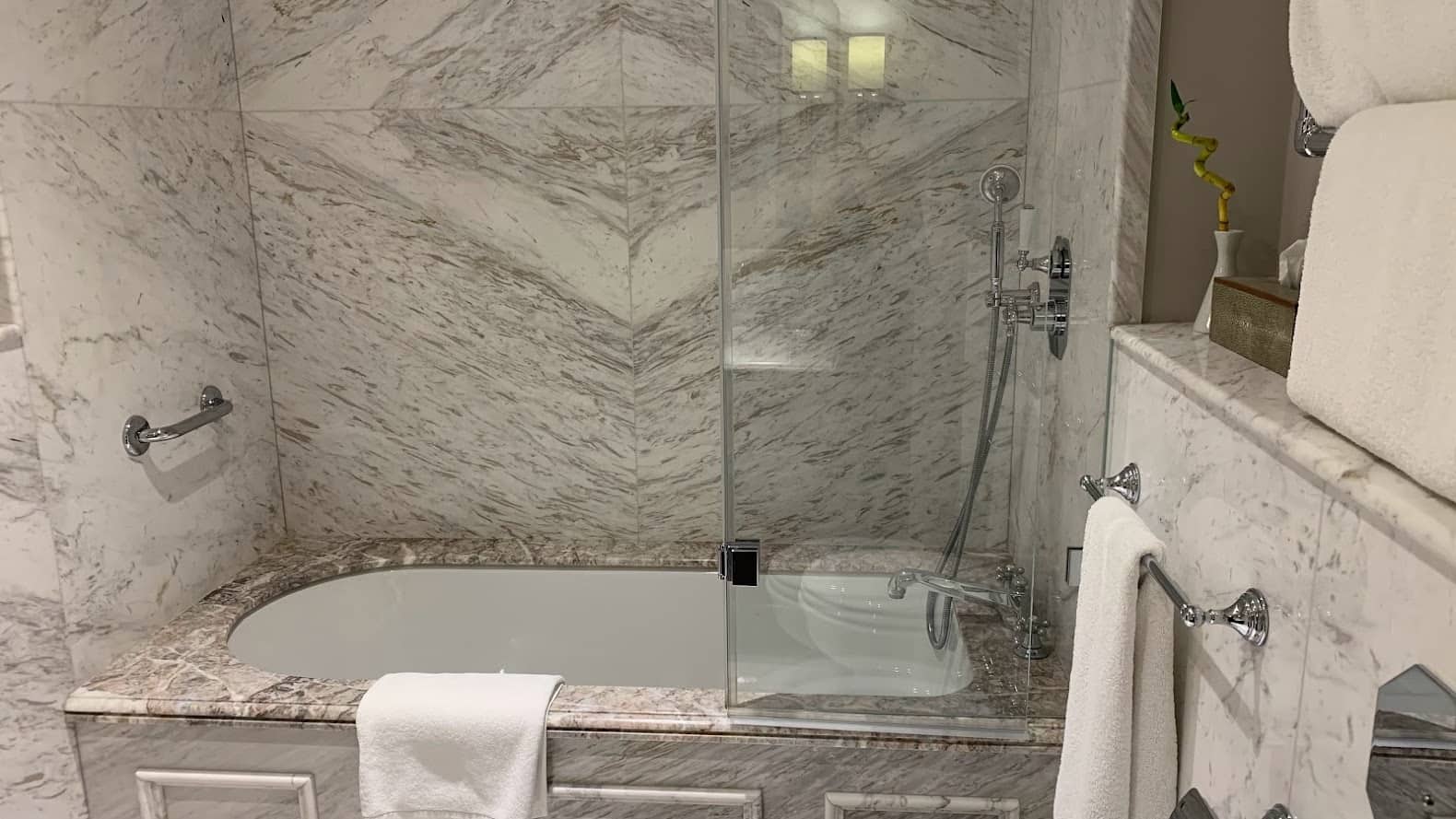 There were plenty of towels and the lovely-smelling individually packaged Acqua Di Parma toiletries.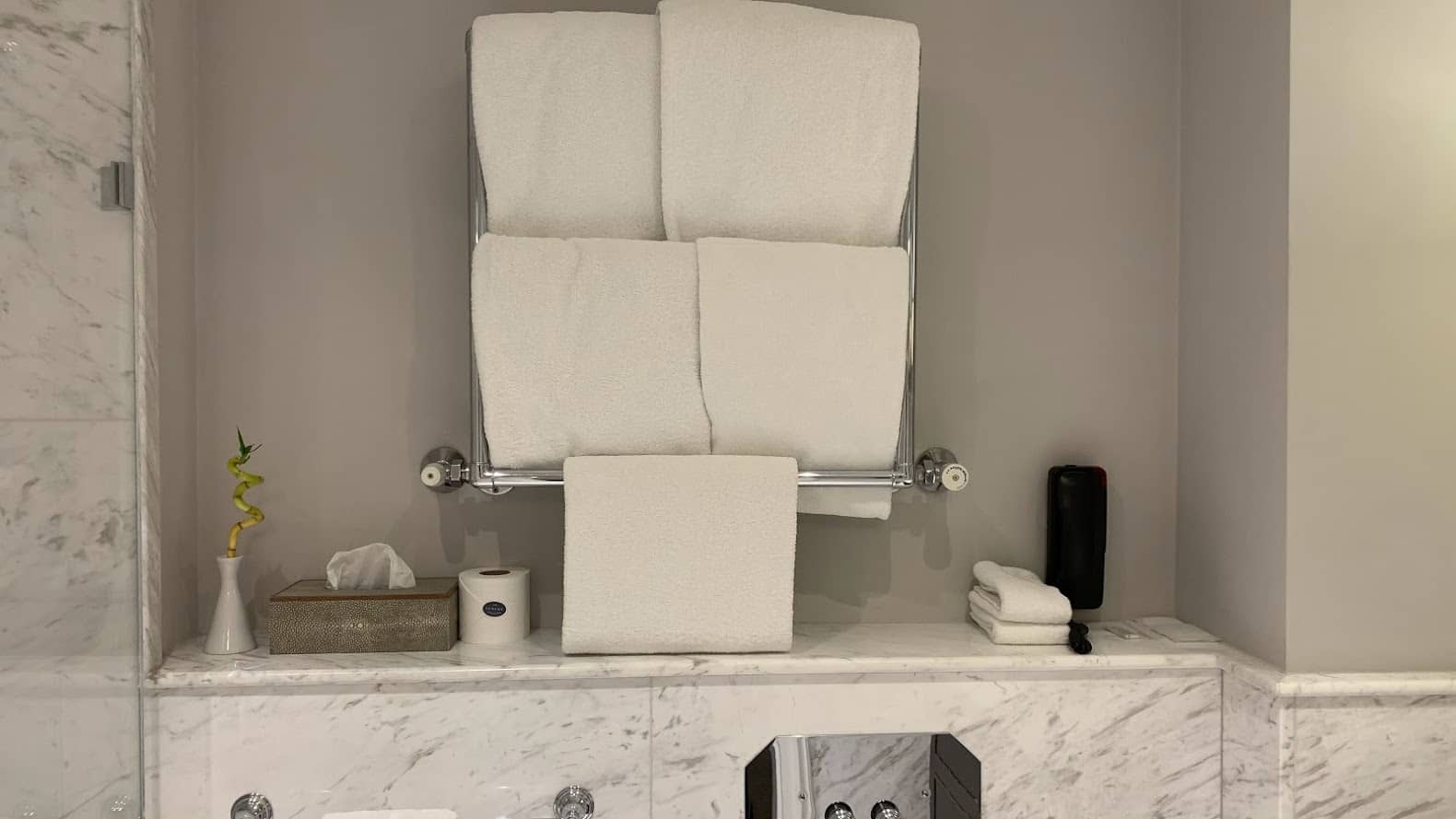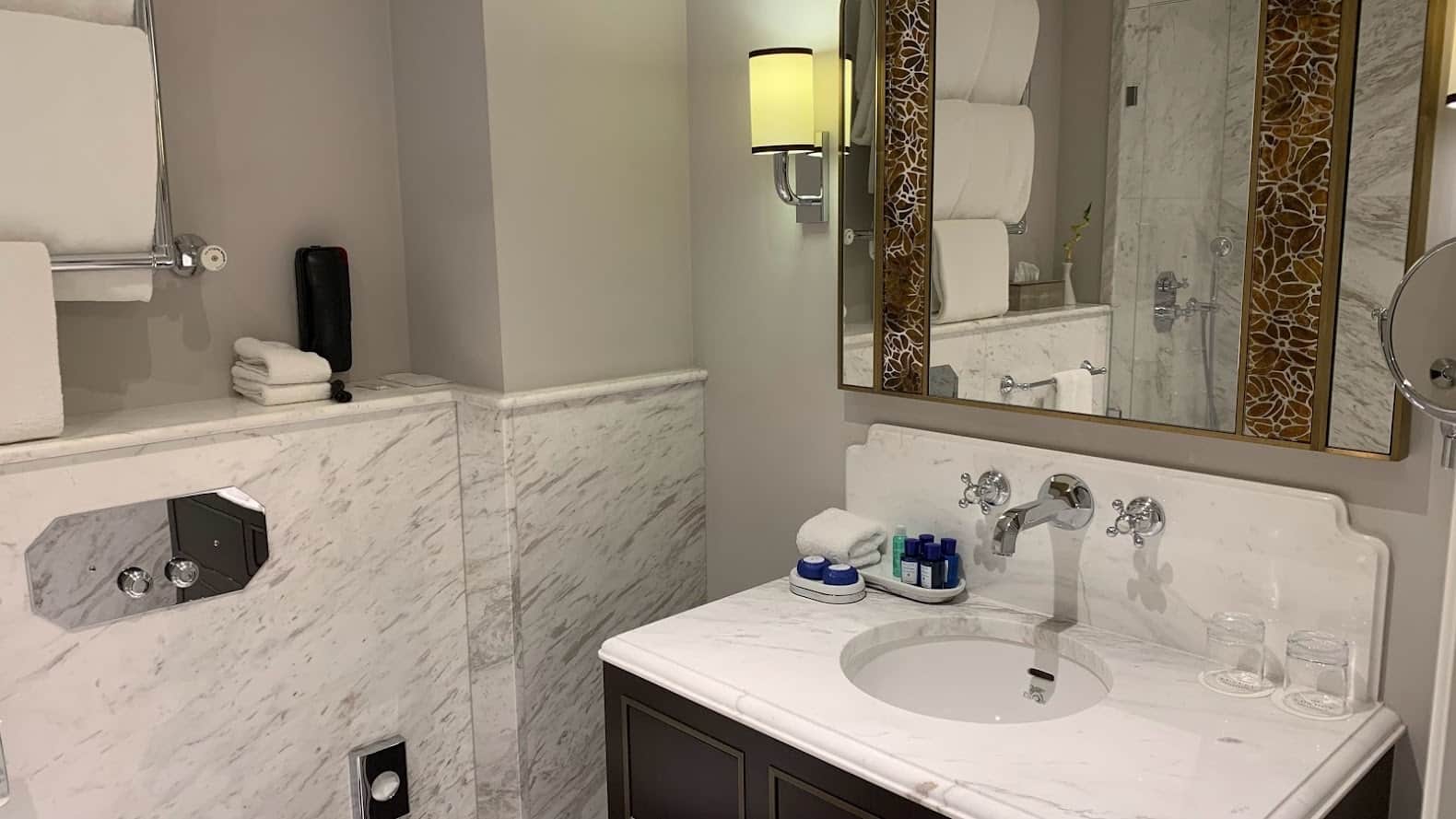 The bathroom also had a bidet.
The water pressure was excellent, and there was plenty of hot water.
The room was inviting, beautifully decorated and comfortable. There wasn't much of a view because most rooms face the hotel's courtyard, which was fine with us. The rooms facing the courtyard are usually quieter than rooms facing the street.
There was a wedding in the hotel's restaurant on our first night so we did hear some music, but it was over by about 11:30 p.m. and we never heard any noise on the subsequent nights.
The air conditioner was quiet, efficient and kept our room at a comfortable temperature. A huge advantage of a suite with a small entrance and a living room was the fact that the AC unit is located in the entrance hall's ceiling, so we couldn't hear anything in the bedroom.
The bed wasn't a true king, but it was larger than a queen bed and was comfortable and made up with beautiful, high-quality linens.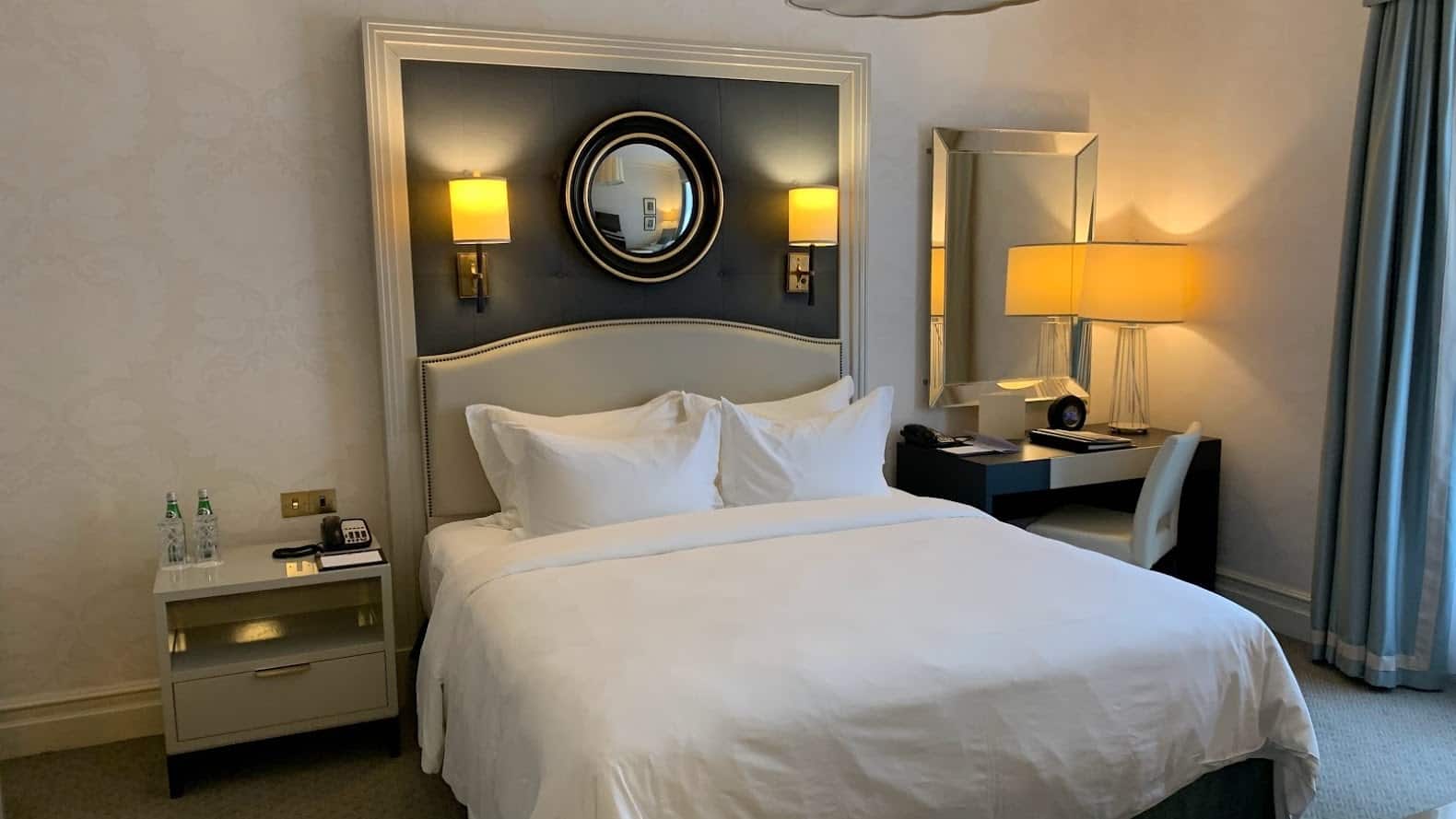 The desk had a couple of built-in outlets, so it was convenient for working, but otherwise there weren't that many outlets in the room. I prefer to keep my phone charging on my nightstand at night, but there was nowhere to plug it. This is common at older properties, unfortunately, and hopefully will be remedied with the next remodel.
We got two complimentary water bottles, which were replenished daily by the housekeeping, and more water was left in the room when the housekeeping did the turndown service at night. They also left some traditional Polish candy every night.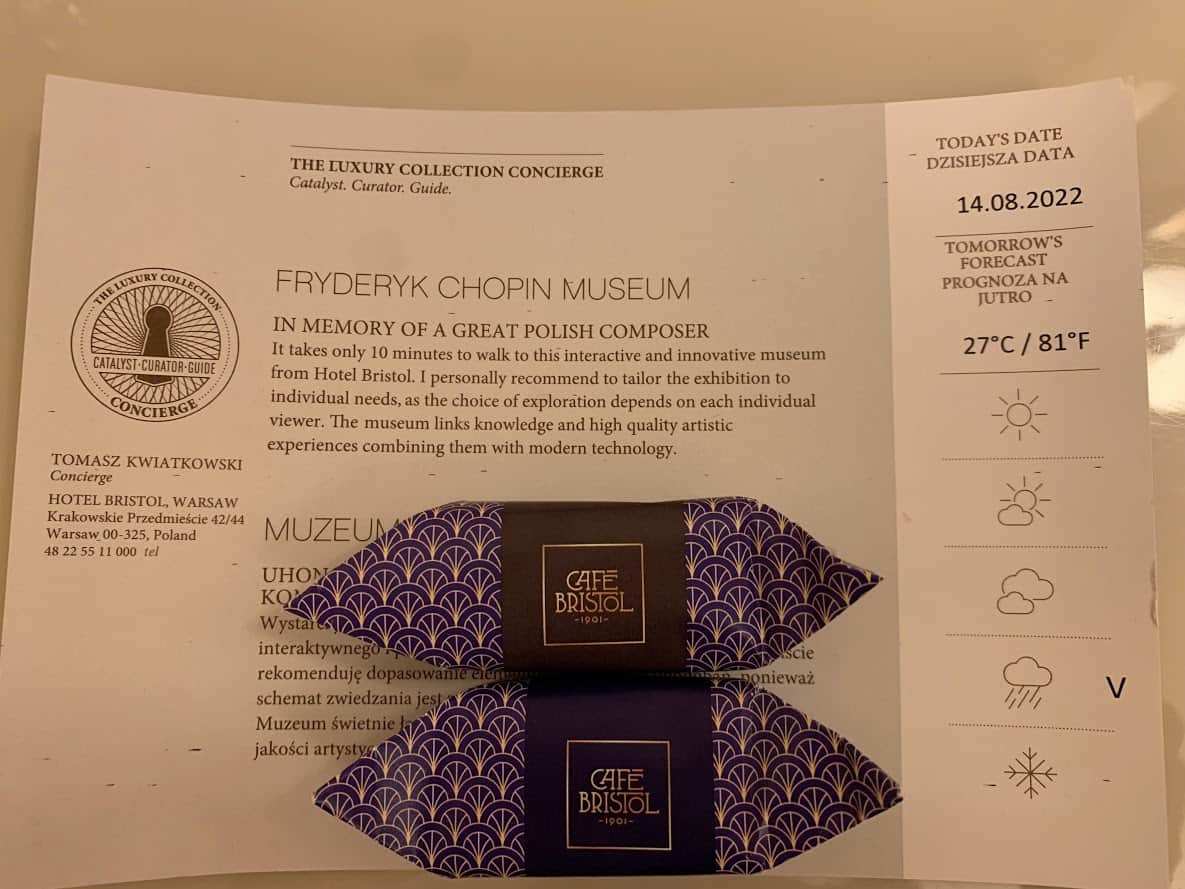 One evening when we got back from dinner, we found a bottle of Polish wine, a beautiful plate of cookies and a lovely note from the manager.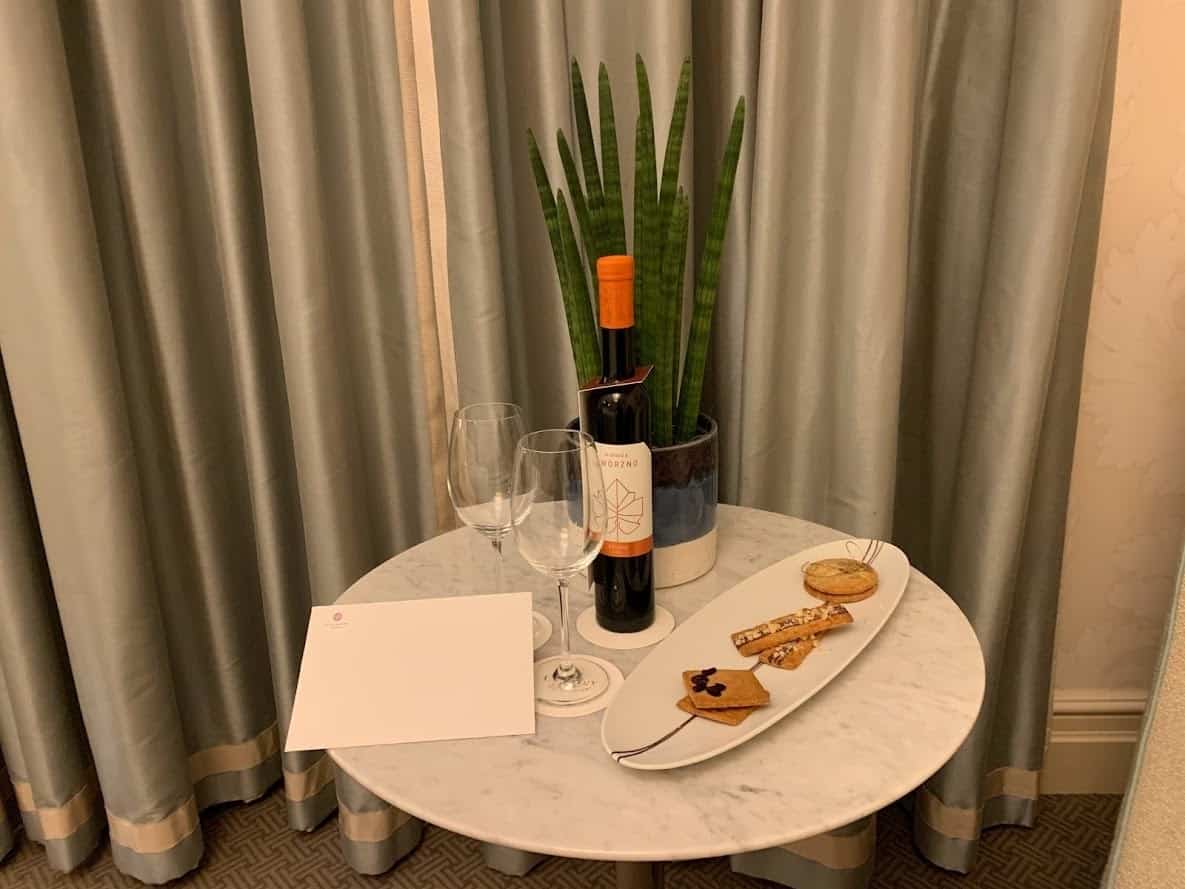 The minibar held a regular assortment of overpriced drinks, both alcoholic and non-alcoholic, but I moved things around to store our own water and snacks.
The room definitely lived up and exceeded my expectations, which were already high, considering this property is part of Marriott's Luxury Collection and one of the best hotels in Warsaw.
Hotel Bristol, Warsaw Bristol Suite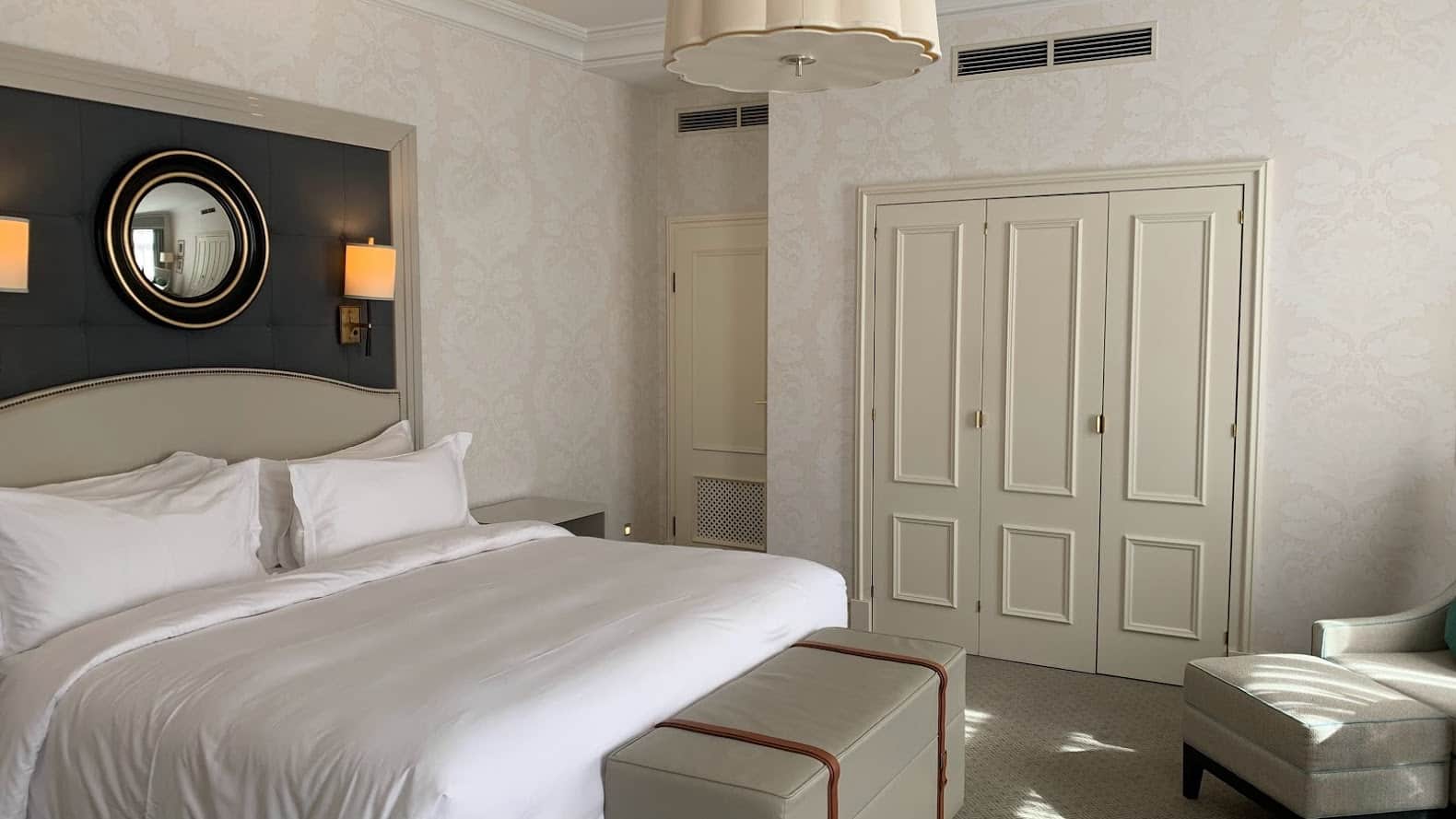 We were under the impression that we wouldn't have to move rooms, but when we came to check out and check in again on the third day, we were told that we were assigned another, bigger and better, suite.
The last two nights were booked with Marriott Bonvoy points, and because I only have Gold Elite status with Marriott Bonvoy, I wasn't expecting anything in terms of perks or amenities.
It was a pleasant surprise to get upgraded to this big suite that had a true living room and a huge bedroom with a king bed. There were also two desks: one in the bedroom and one in the living room, which was perfect for us because by this point in our trip we both had to do some work.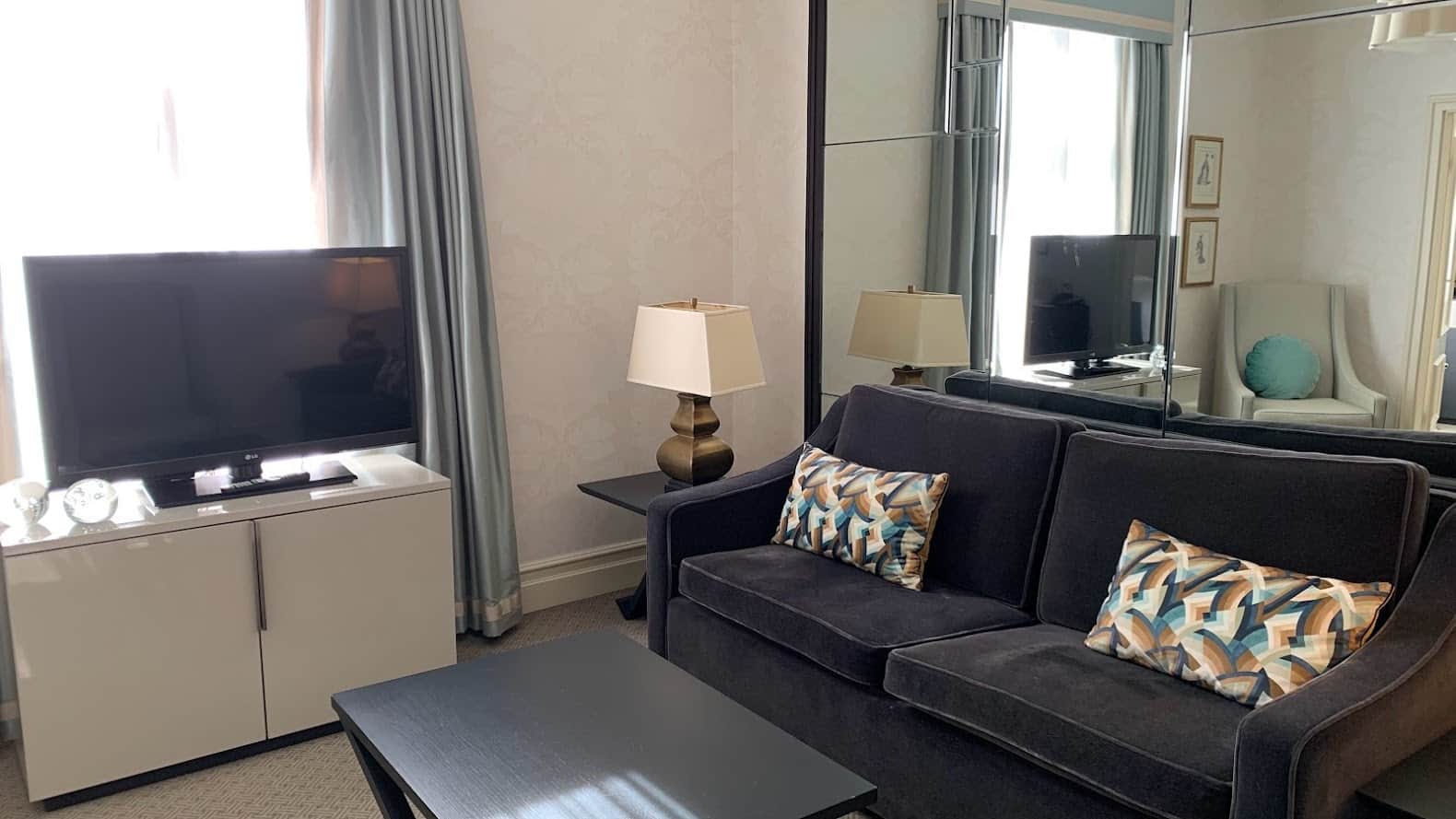 And there was another bottle of Polish white wine and a note from the manager waiting for us in the room.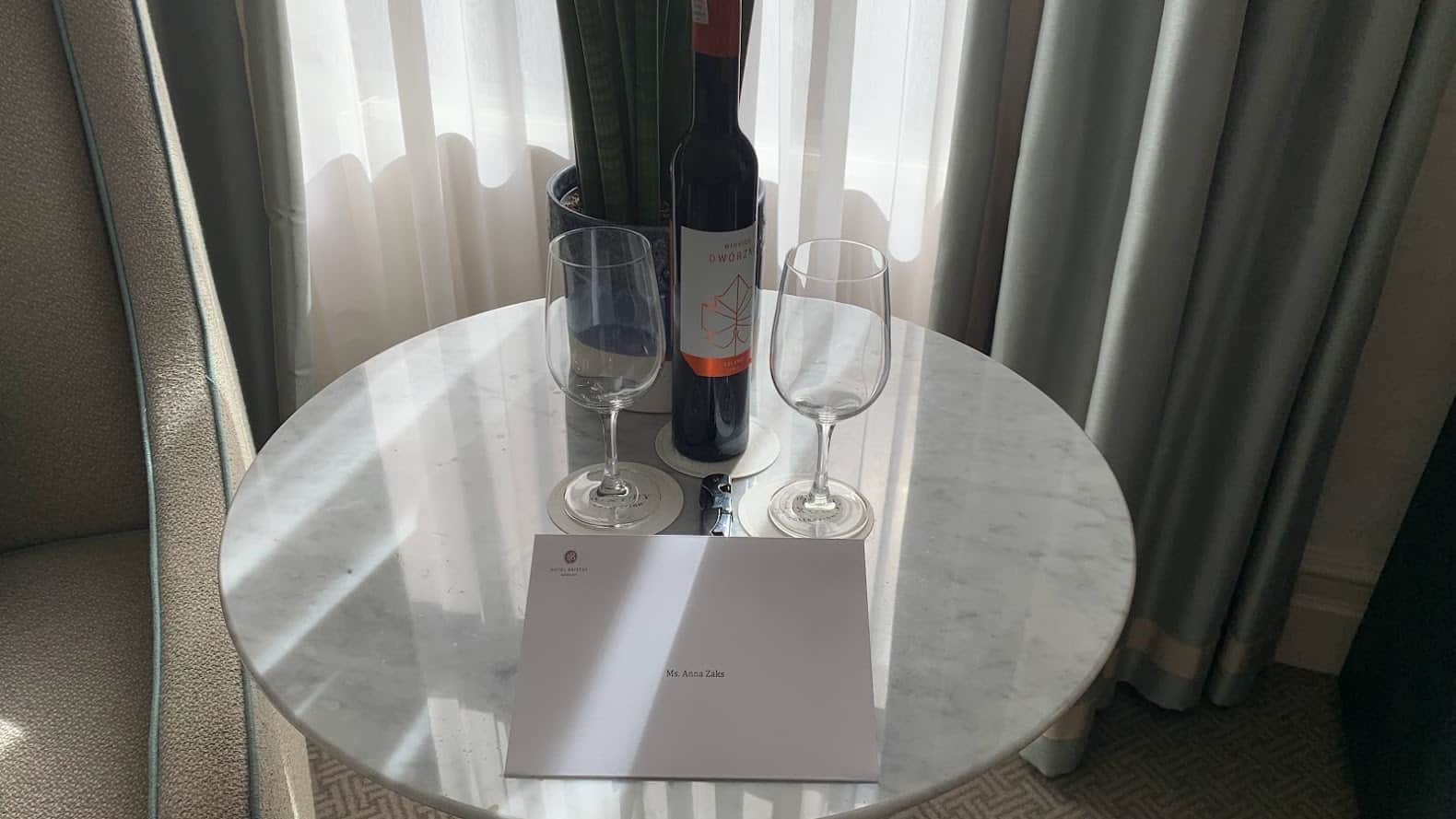 The bathroom was also much bigger and had a separate walk-in shower.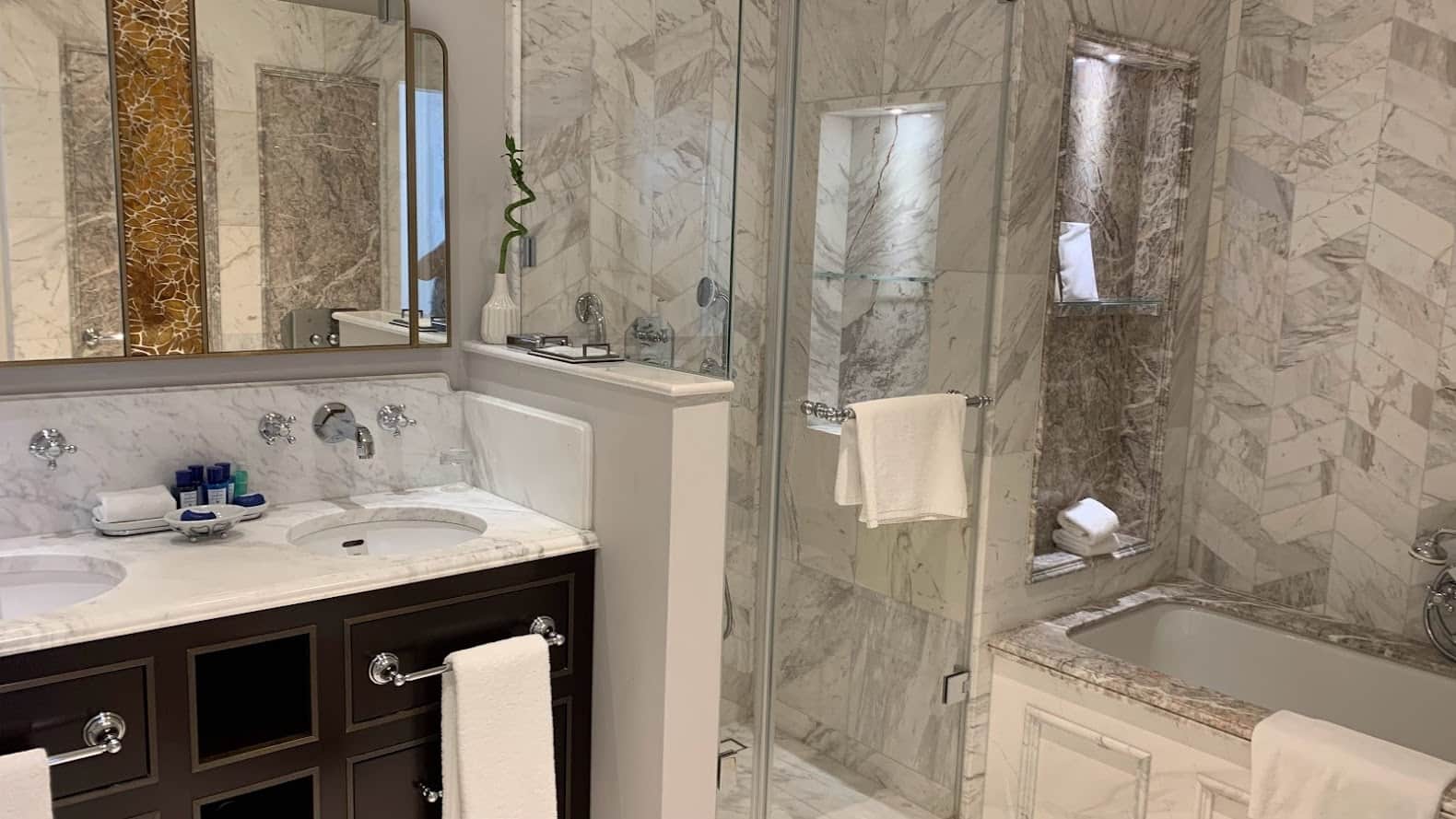 This room had electrical outlets on both sides of the bed.
The air conditioning was quiet, and this room also faced the courtyard. Just like in the first suite, the blackout curtains did a good job of blocking out the light, so this room also gets top marks from me for sleep quality.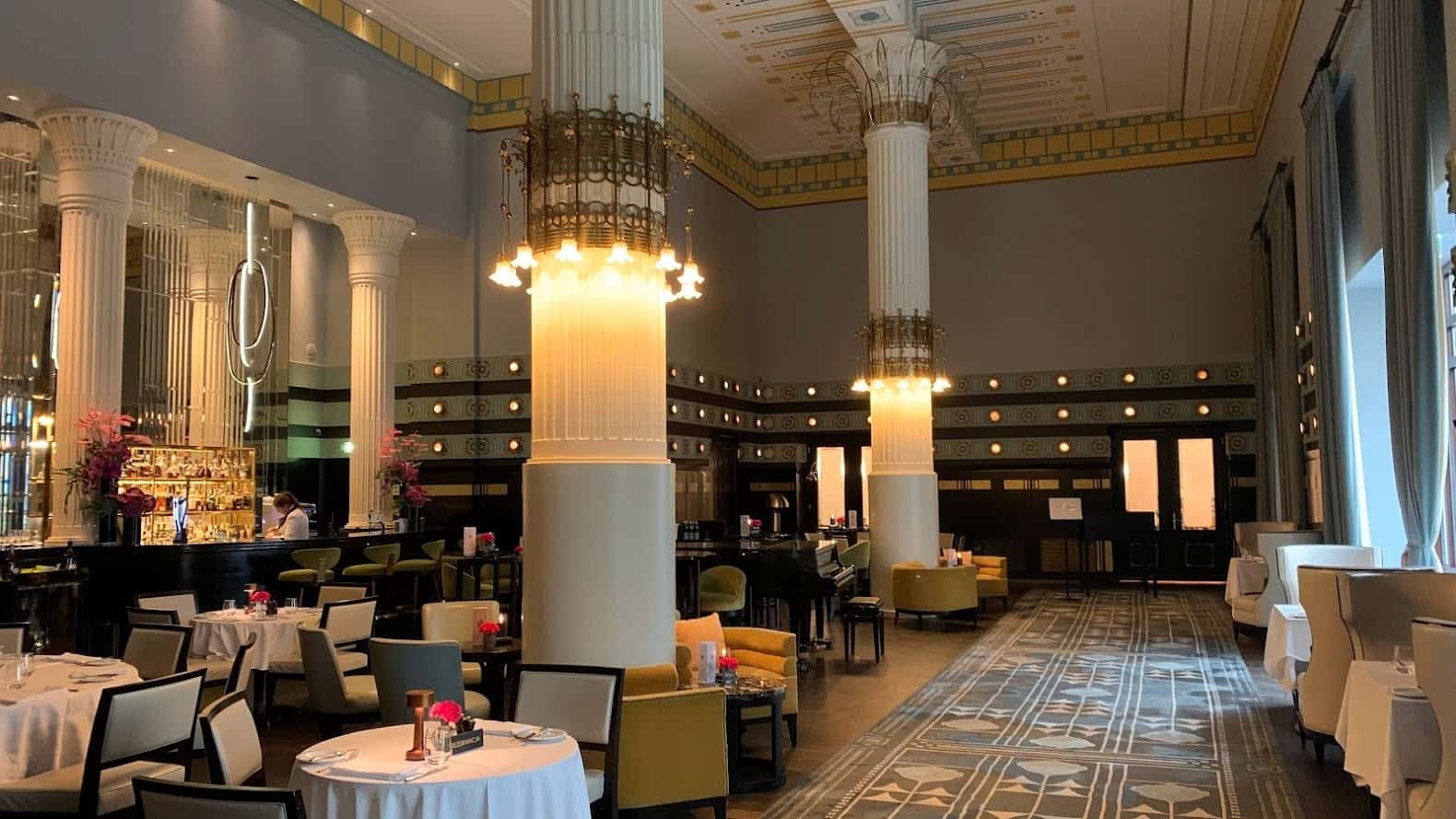 Hotel Bristol has three bars and two restaurants. Breakfast and dinner is served at the hotel's main restaurant, the Marconi Restaurant.
Viennese-style Café Bristol serves coffee, pastries and European cafe fare.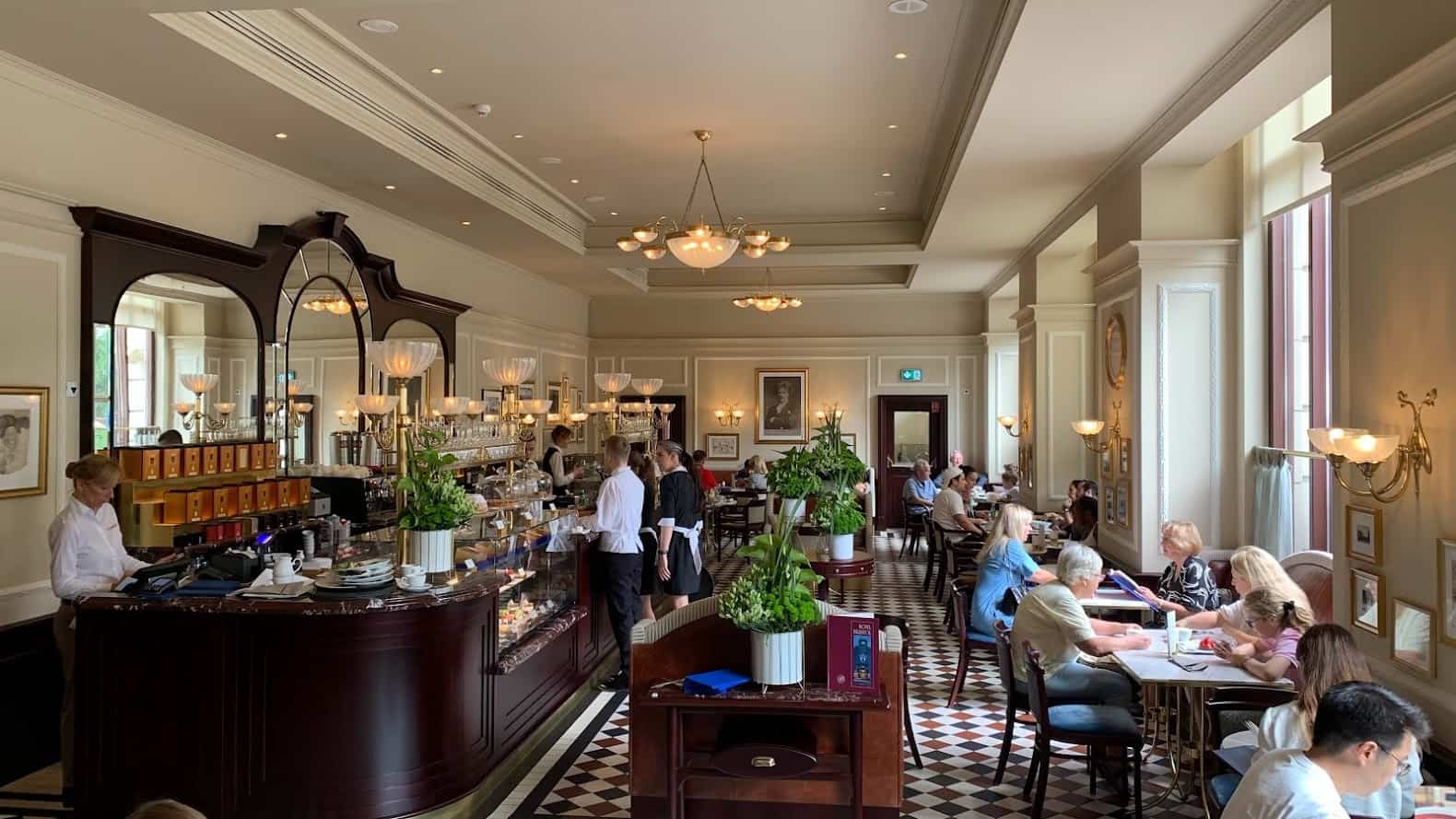 Breakfast is served in the Marconi Restaurant. Because I booked two nights through American Express FHR, breakfast was included. It's also included for Bonvoy Platinum members and above.
We were offered to add breakfast for the two nights that were booked with points for about $19 per person if added at the front desk at time of check-in. If we just showed up for breakfast, the restaurant would charge about $28 per person.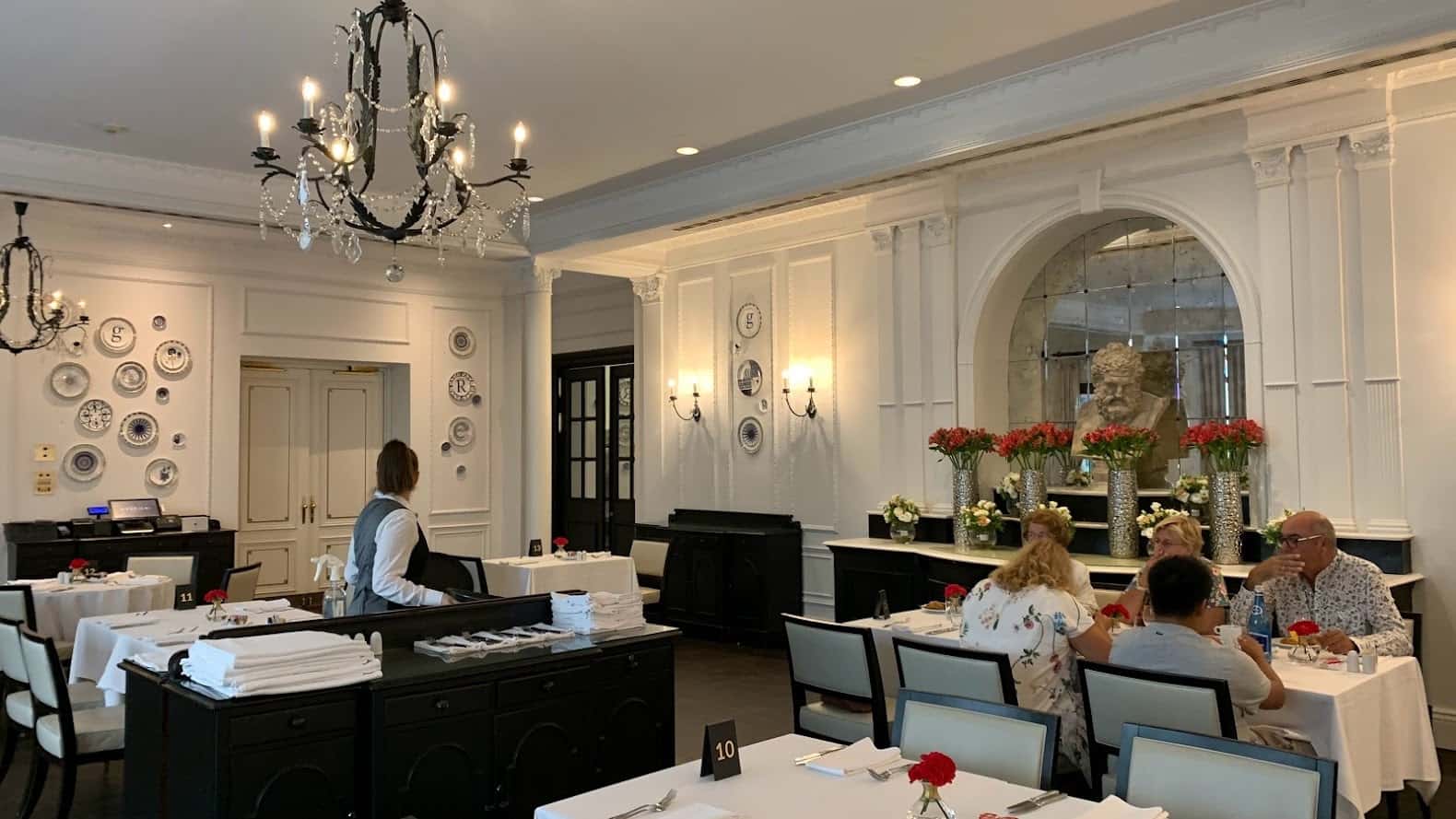 The weather was great, so we ate breakfast outside on the patio.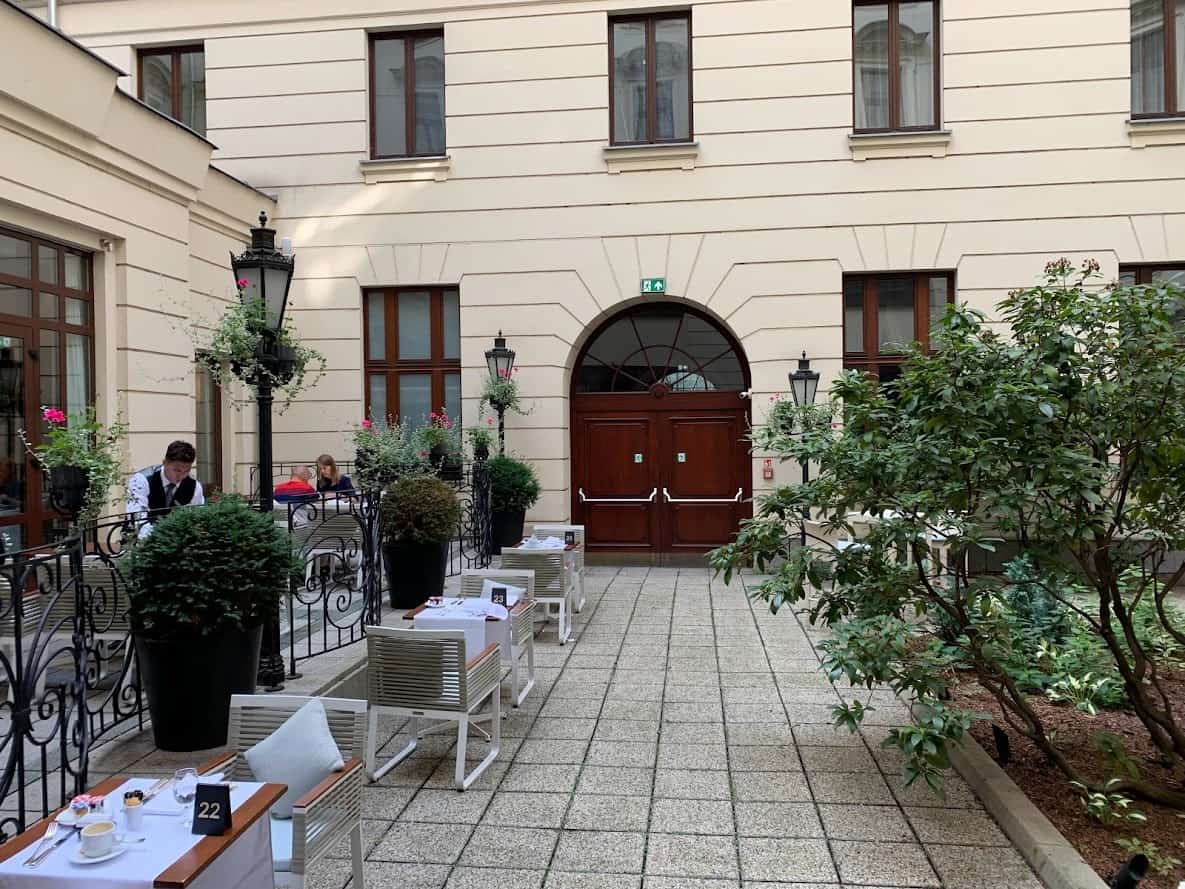 There's a huge buffet with a great selection of hot and cold dishes, cold cuts, smoked fish, yogurt, cereal, breads and amazing pastries.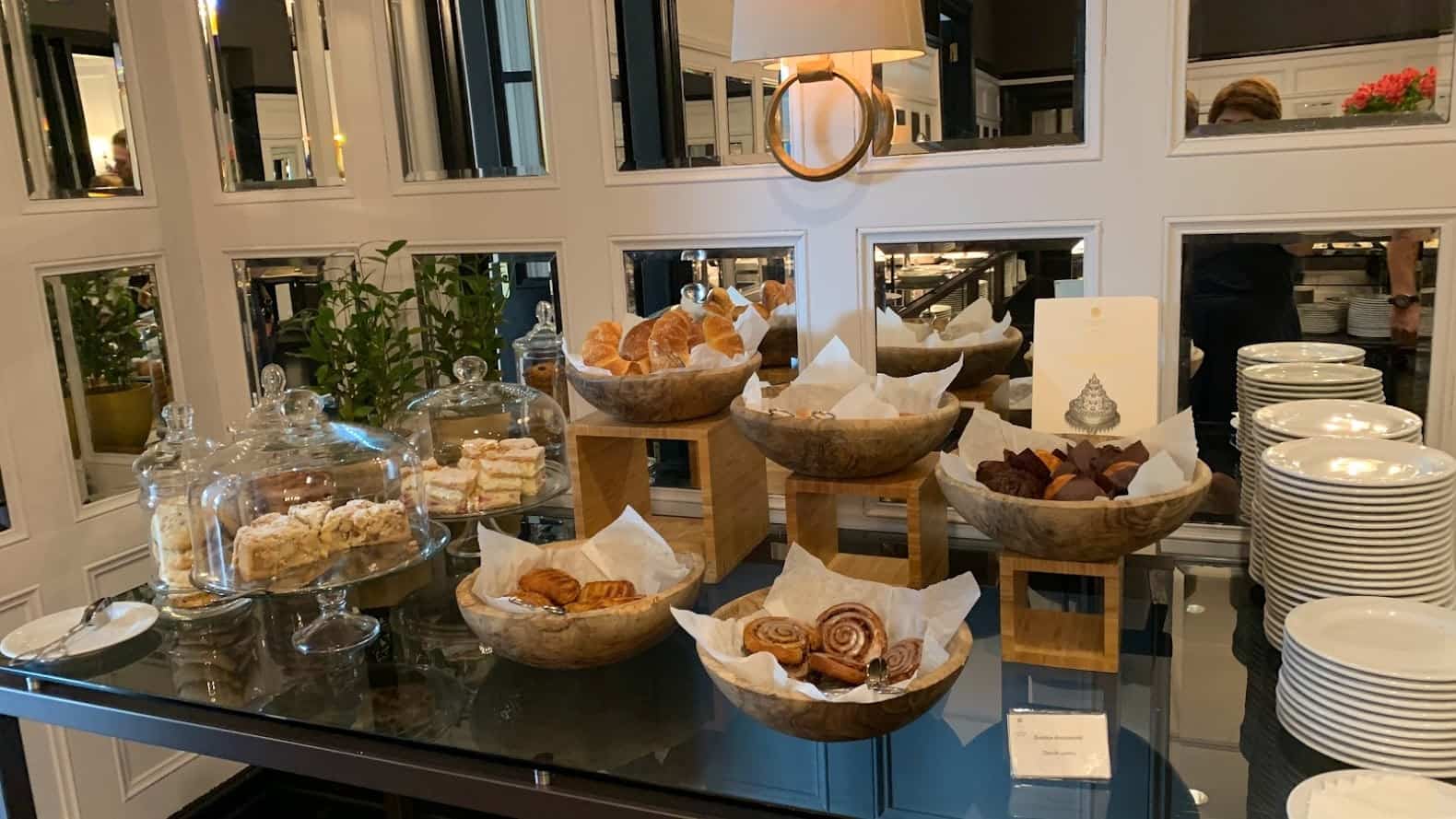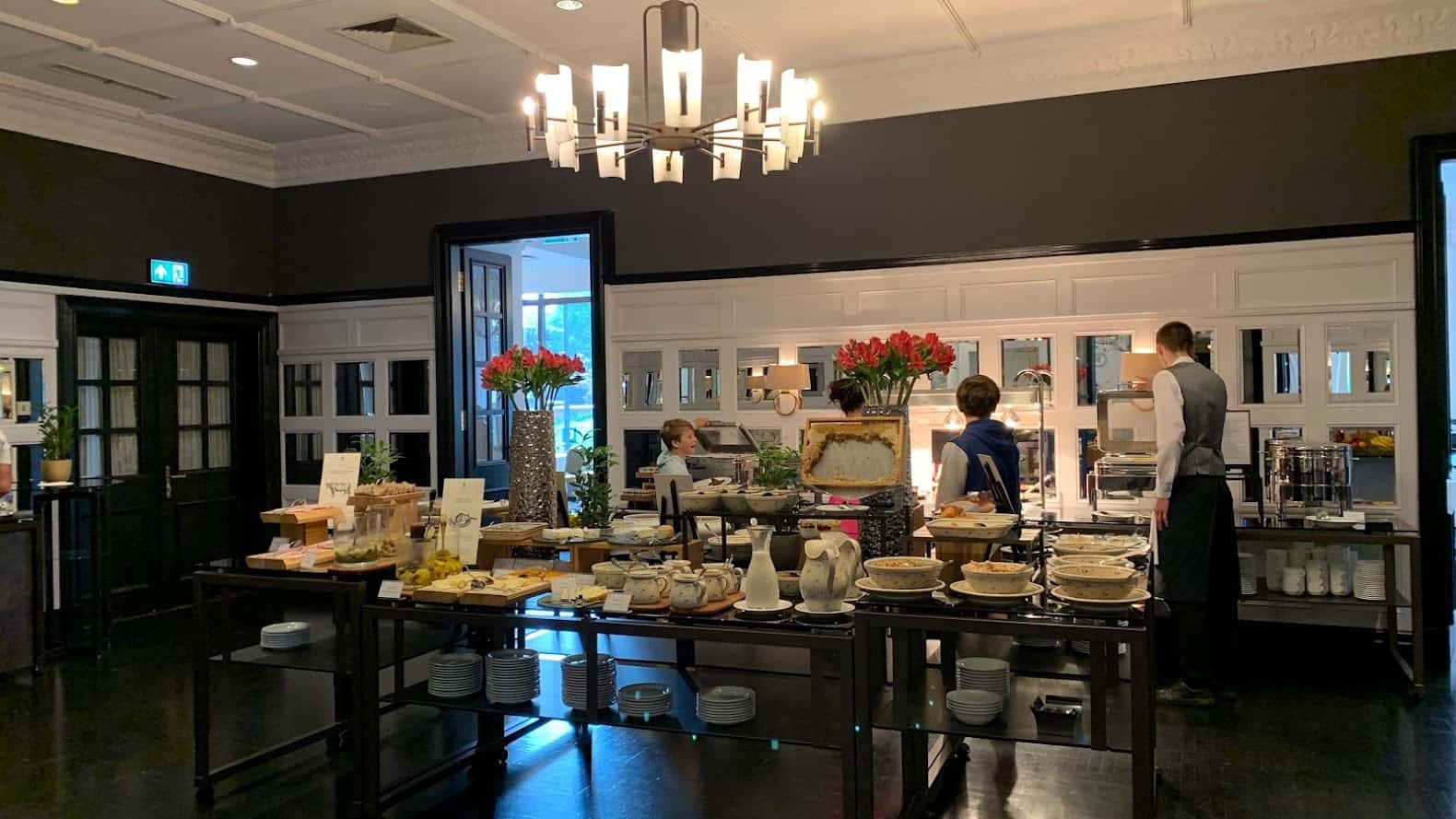 You can also order some dishes from the menu.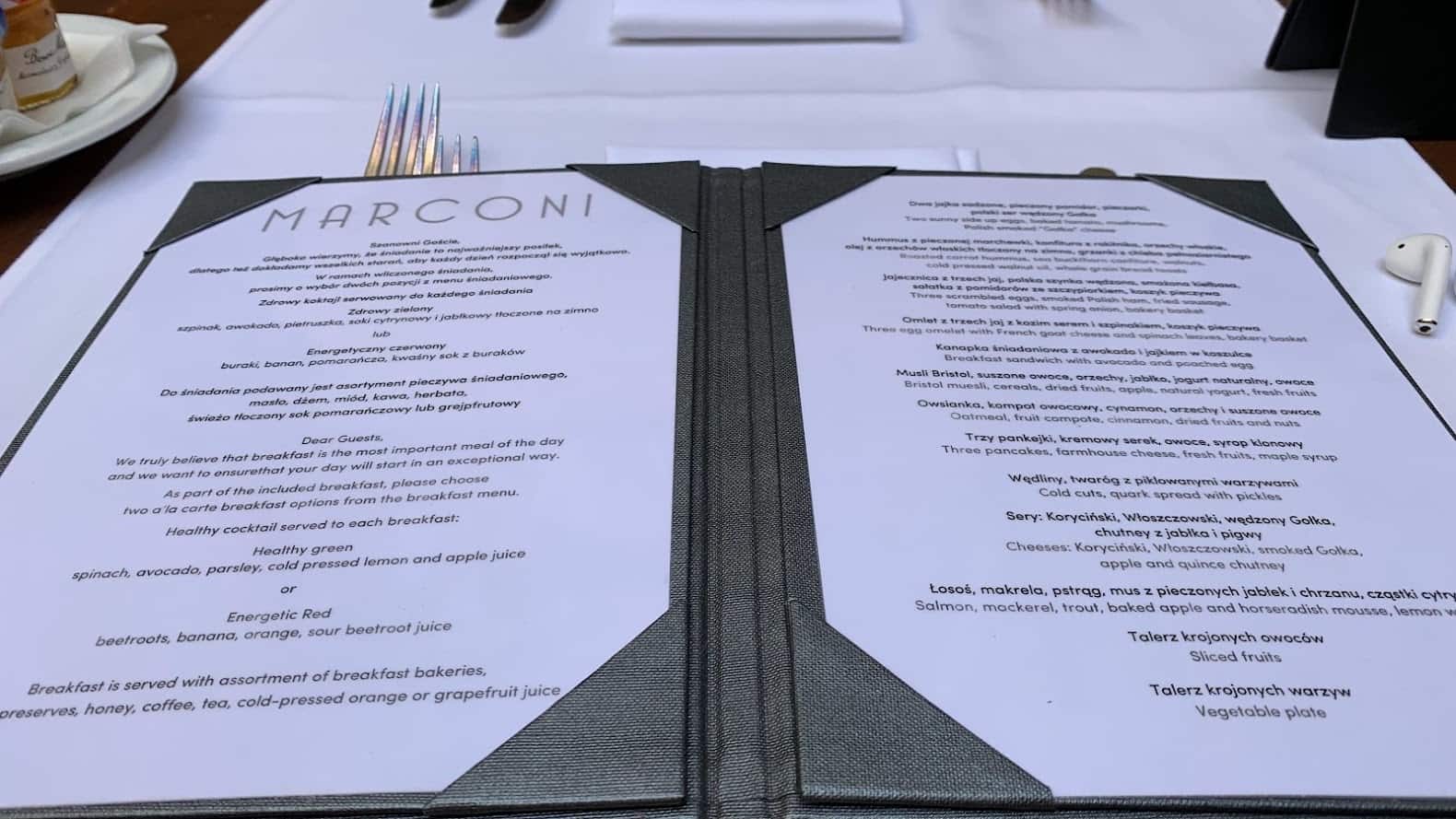 The food was quite good, but the service was a bit slow at times. I often wish the hotel restaurants had a self-service coffee machine, because the last thing I want to do in the morning is wait 15 minutes for my first cup of coffee.
We ate lunch one day at the Cafe Bristol, and I wasn't impressed by the food. I ordered a salad with octopus, and the octopus came partially frozen. I don't expect freshly caught seafood in Poland, but it should be at least properly cooked.
We had a nice dinner on the first night in the Column Bar, which was serving dinner instead of the Marconi Restaurant that was closed for a private event. The goal was to use the $100 property credit that comes with Amex FHR booking, and the credit was enough to cover two drinks, a bottle of sparkling water, two appetizers, two main dishes and a dessert.
That's how affordable prices are in Poland, even at one of the most expensive hotels in Warsaw. I wouldn't give the food five stars, but it was a solid four stars.
In hindsight, I wished I used the credit at the spa (and that's exactly what I did with the second property credit), because there are so many great, inexpensive restaurants around.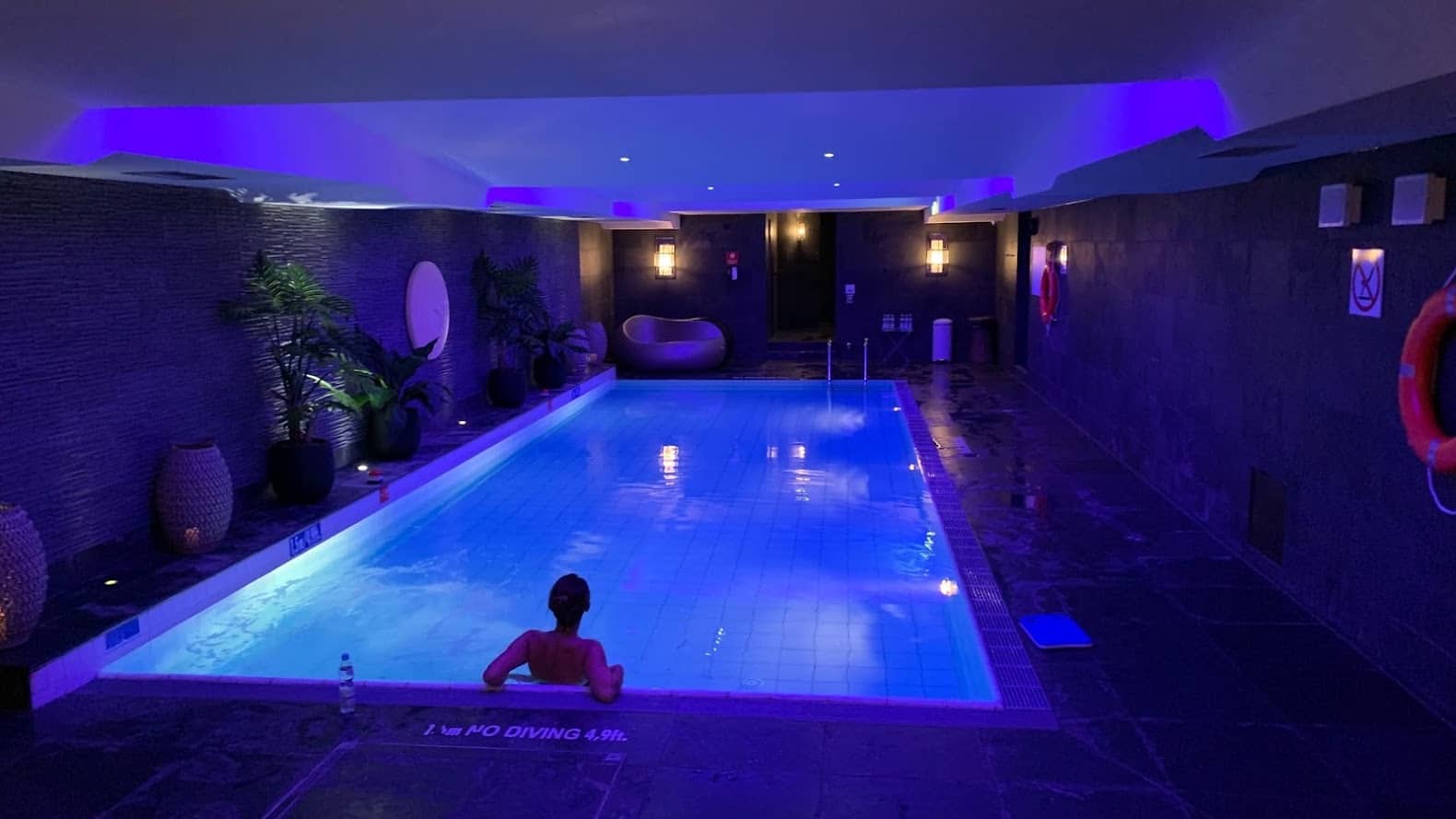 The small heated pool is open every day from 8 a.m. to 9 p.m. I was glad to see it open so late—it was nice to come after a whole day of walking and sightseeing and go for a relaxing swim. And it's a good way to pass some time on a rainy or a cold day. There's also a sauna and a steam room.
The gym isn't huge but is well-equipped and is open 24 hours.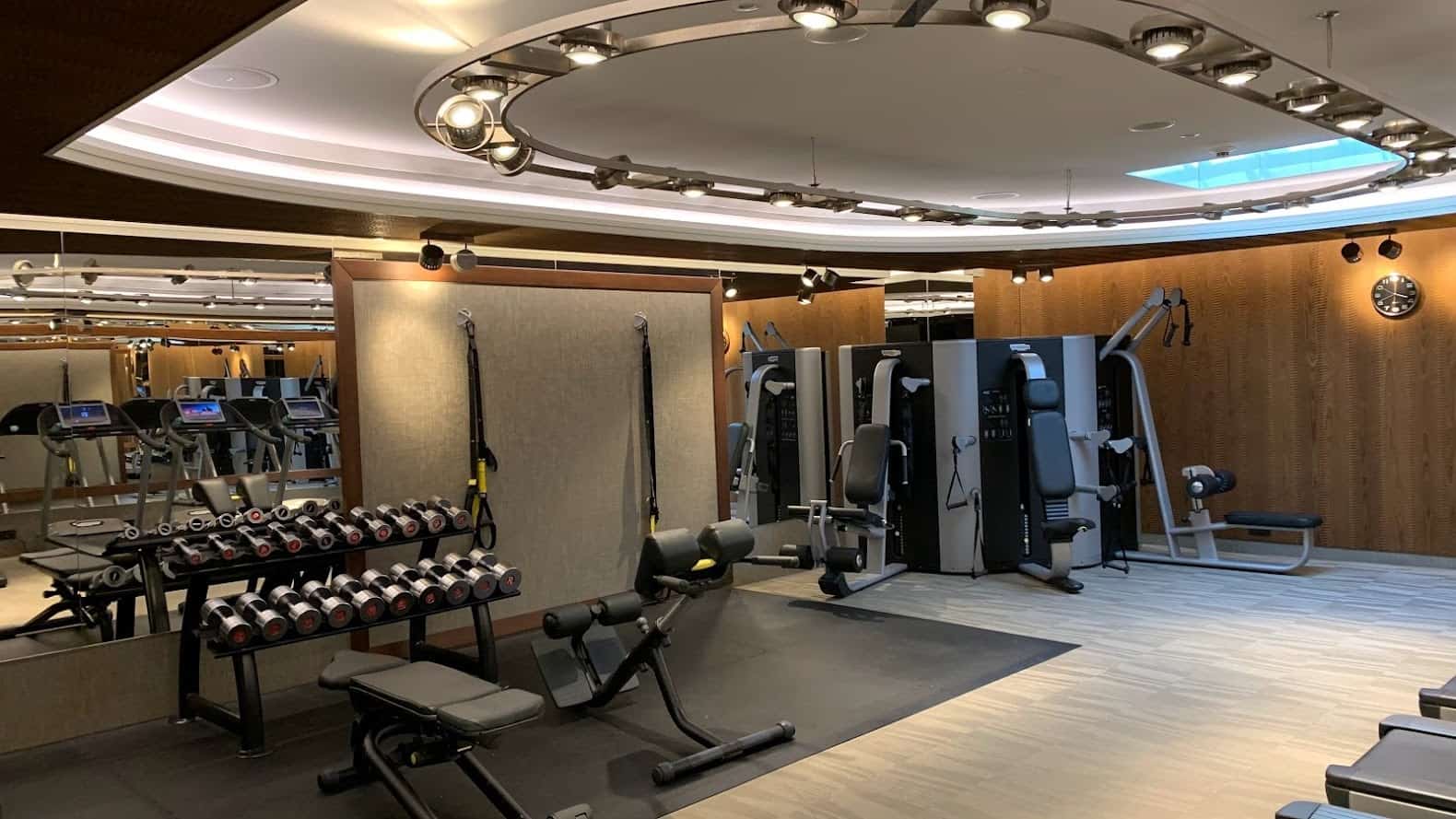 The Bristol Spa has the standard spa menu of services, and while the prices are higher than at non-hotel spas in Poland, they're much lower than at comparable properties in Western Europe or the U.S. For example, I had a relaxing express facial for about $50. Standard facial costs $81, and the prices for different massage treatments range from $70 to $100.
Hotel Bristol Family Friendliness
While this is definitely a big city hotel, we did see lots of families at breakfast. You won't find any activities geared specifically toward kids, but the central location makes it a great base for exploring Warsaw.
Most restaurants near the hotel are inexpensive and family-friendly, and you can easily pop back in during the day for a nap, a rest or a refreshing dip in the pool.
The bathrooms have walls, and a door-privacy is always a plus when traveling with a family.
Service
The service overall was great. Everyone at the front desk was friendly, polite and efficient. The concierge who led the property tour was a wealth of knowledge and a great story teller. The service at the restaurant during dinner was great, but the breakfast service could be a bit slow.
We had lunch at Cafe Bristol during the lunch rush and had to wait a long time for someone to come get our order and then for our food to arrive.
Service in the spa was outstanding, and I wish I had more time to enjoy a couple of other treatments.
Housekeeping did an excellent job of cleaning our room and keeping it restocked with supplies.
Overall, my husband and I were both extremely pleased with the staff and the level of service and loved how friendly and welcoming everyone was.
How to Book Hotel Bristol, a Luxury Collection Hotel, Warsaw
Hotel Bristol is part of Marriott and can be booked with Marriott Bonvoy points. Since Marriott went full dynamic with its pricing, the points rates fluctuate depending on the cash price between 34,000 and 40,000 points per night.
If you have any Marriott free night certificates that come with some Marriott credit cards, you can use a 35,000-point certificate to book Hotel Bristol. And because Marriott now allows you to top off the free night certificates with up to 15,000 points, you can easily cover any night at this property with a combination of points and a free night certificate.
Cash rates fluctuate a lot—I've seen them as low as $150 and as high as $260.
I booked our stay with a combination of Bonvoy points and two $200 annual Fine Hotels + Resorts hotel credits that come with The Platinum Card® from American Express. The cash rate during our stays was right around the $200 mark, and we have two Platinum Cards in our household. So in total, I had three separate reservations: one made with my Amex, one made with my husband's Amex, and the remaining two nights with points.
Booking separate reservations means checking out and checking in for each reservation, but the front desk made the process easy. They just asked for a credit card and re-coded our keys.
Sadly, American Express recently added new language to FHR booking, and back-to-back stays booked by a cardmember or cardmembers traveling together within a 24-hour period and staying at the same property will be considered one stay and will only be eligible for one property credit.
Eastern and Central Europe are great places for using the Amex Fine Hotels + Resorts credits. Hotel rates are low enough for the $200 credit to cover all or most of the cost, and it's a great opportunity to experience luxury on a budget.
Final Thoughts on Hotel Bristol, a Luxury Collection Hotel, Warsaw
We loved our stay at this beautiful historic property. The service was excellent. We were treated really well and received amazing (and unexpected) room upgrades. Any hotel of this caliber almost anywhere in Western Europe, especially in a capital city, would cost at least twice as much. The location was great too, right in the middle of the Royal Way and within a few minutes on foot from Warsaw's Old Town.
This is definitely a hotel I want to come back to and where I can put the $100 property credit that comes with Amex FHR bookings to good use.
Poland is an underrated and extremely affordable destination that remains relatively undiscovered by American tourists. It definitely deserves more attention—there are so many beautiful sites and gorgeous cities. And let's not forget about all the delicious food!
New to the world of points and miles? The Chase Sapphire Preferred® Card is the best card to start with.

With a bonus of 60,000 points after $4,000 spend in the first 3 months, 5x points on travel booked through the Chase Travel Portal and 3x points on restaurants, streaming services, and online groceries (excluding Target, Walmart, and wholesale clubs), this card truly cannot be beat for getting started!
Learn More
Cards in This Article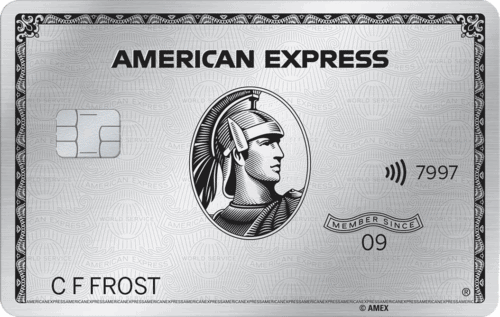 80,000
Membership Rewards® Points
after you spend $6,000 on purchases in your first 6 months of Card Membership.
Editors Note: Opinions expressed here are author's alone, not those of any bank, credit card issuer, hotel, airline, or other entity. This content has not been reviewed, approved or otherwise endorsed by any of the entities included within the post.