In This Article
Loading table of contents …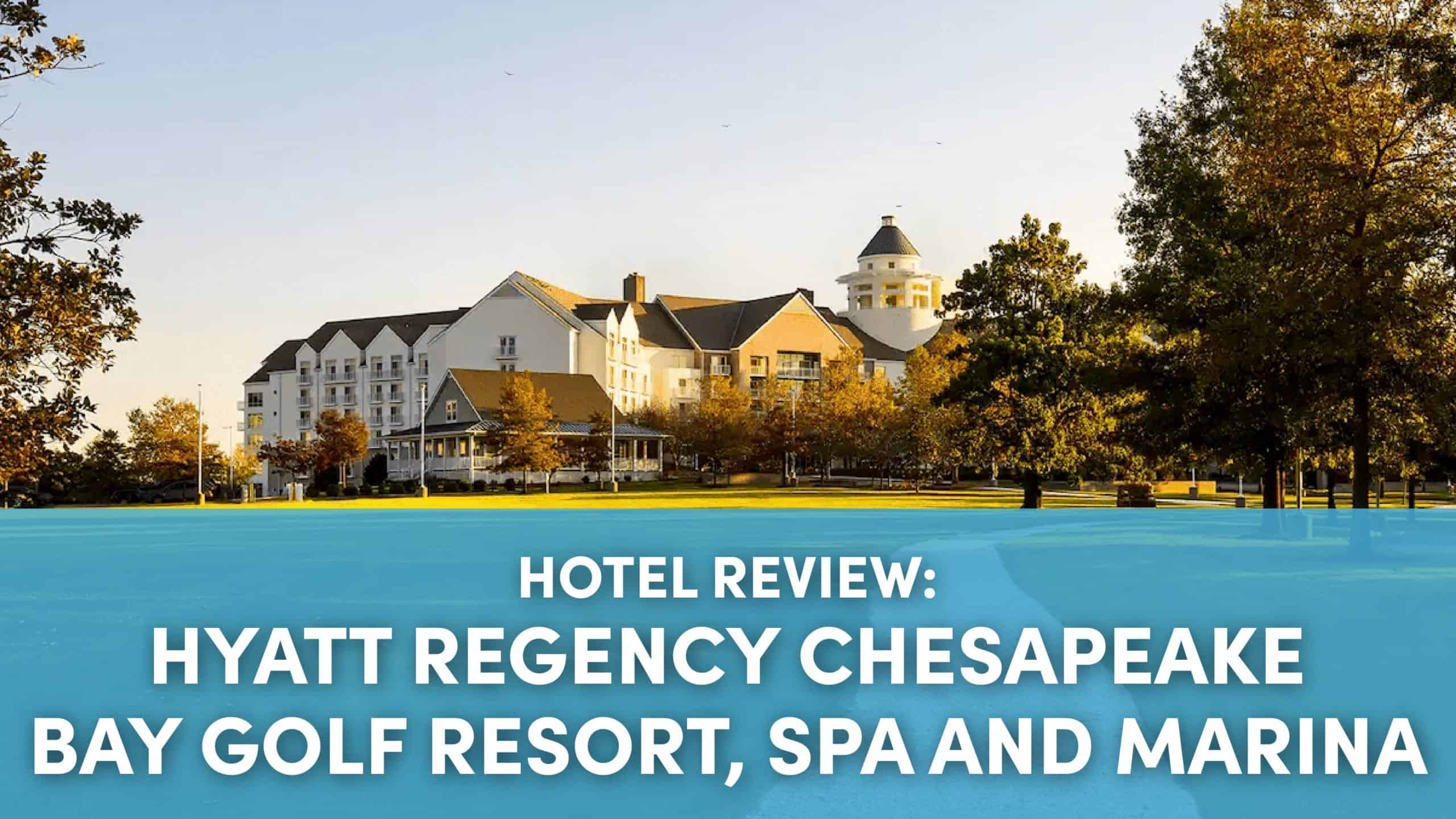 The Hyatt Regency Chesapeake Bay Golf Resort, Spa and Marina is located in the Maryland Eastern Shore region and has been a popular choice among points and miles enthusiasts for years. I spent one night here in mid-September and enjoyed my stay.
Overview of Hyatt Regency Chesapeake Bay
The Hyatt Regency Chesapeake Bay is a 400-room and suite resort. As the name suggests, facilities include an 18-hole golf course, a spa and a marina. The resort has a wide range of recreational options. The waterfront resort is on the Choptank River in Cambridge, Maryland.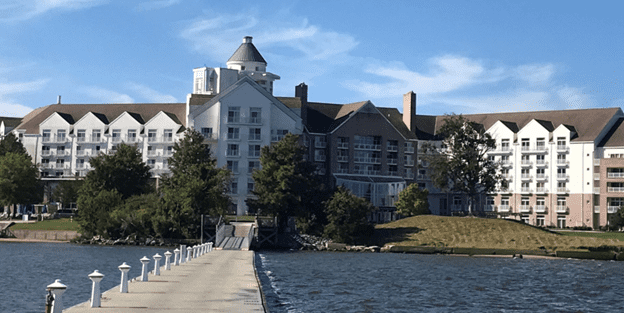 The resort has broad appeal, given its wide range of amenities. It's popular with families during the summer, but during my weeknight stay after Labor Day, guests were mostly adults, including couples and business groups there for meetings. Neither the Hyatt property nor the surrounding area seems like a good fit for people seeking nightlife or a party atmosphere.
How I Booked Hyatt Regency Chesapeake Bay
Until late March 2022, the Hyatt Regency Chesapeake Bay was a Category 4 property, making it a popular choice for World of Hyatt members redeeming Category 1 to 4 free night certificates. I booked my stay with a free night certificate right before the hotel moved to Category 5. Unfortunately, these certificates can't be redeemed at the Hyatt Regency Chesapeake Bay now.
World of Hyatt Category 1 to 7 free night certificates could be used here, but that option is less attractive for people seeking to maximize the value of these certificates.
As a Category 5 property, the number of World of Hyatt points required per night for standard rooms / standard suites are:
17,000 / 29,000 for off-peak dates
20,000 / 32,000 for standard dates
23,000 / 35,000 for peak dates
Hyatt's website has a calendar view that shows which dates are considered off-peak, standard and peak. To see this, search for the hotel name and dates, then click the "Points Calendar" link. (Note: Hyatt doesn't actually label standard or peak dates on its points calendar.)

This calendar view doesn't indicate actual availability. It just notes how many points are needed if award space is available. As an example, the calendar for June 2023 shows a few nights with off-peak award pricing, while the majority of nights are at regular or peak award pricing on most Friday and Saturday nights. These award prices are for standard rooms, but there's a dropdown to view award pricing for other types of rooms and suites.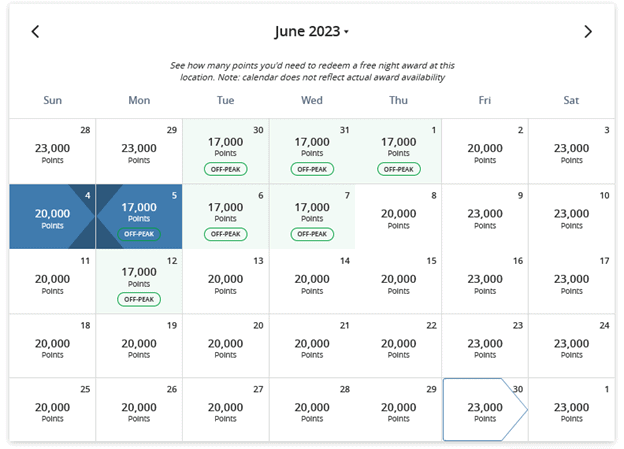 World of Hyatt points are pretty easy to obtain. They can be earned through the following Chase co-branded credit cards:
In addition, Chase Ultimate Rewards and Bilt Rewards points can be transferred to Hyatt at a 1:1 ratio.
Using World of Hyatt points can be a good value, especially when cash prices are high. Another consideration in deciding between paying cash or using points is that the Hyatt Regency Chesapeake Bay charges a daily resort fee of $39 plus tax on paid stays, but Hyatt properties don't add the resort fee to points or free night certificate bookings.
When I checked rates a couple of weeks in advance, a one-night stay in a standard room on Sep. 24, 2022, was available at a refundable member rate of $440. Taxes and the resort fee added $101, for a total of $541.
The same night was available as an award stay, with the same cancellation policy, for 23,000 points with no resort fee or taxes charged.
Many people would prefer to use points in this situation. First, spending more than $500 for a hotel night may be more cash than many people can or want to spend.
Some points and miles enthusiasts like to compare the cash and points prices by calculating a redemption value and seeing if it exceeds our personal valuation of Hyatt points. A simple way of doing this is dividing the cash cost (room rate plus taxes and resort fees) by the number of points required: $541 x 100 cents / 23,000 = 2.35 cents per point.
Many people value World of Hyatt points at 1.5 to 1.8 points each, so if your valuation is in this range, redeeming points for more than 2 cents each is good value.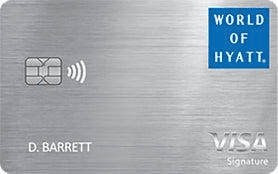 The World of Hyatt Credit Card
Total Bonus Points
30,000 points after $3k spend in 3 months. Up to 30,000 additional points by earning 2X points on the first $15,000 spent in non-bonus categories in the first 6 months.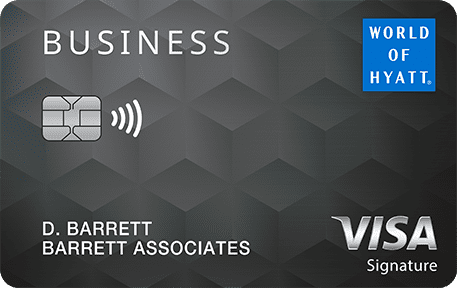 Hyatt Regency Chesapeake Bay Location
The resort is located in Cambridge just off Route 50, which is the main road from Washington, D.C., to the Eastern Shore and Atlantic Ocean beaches in Maryland.
The Hyatt is only a couple of miles from the historic area in Cambridge, and the section of Route 50 between the historic district and the road leading to the Hyatt is more suburban with chain restaurants, hotels and shopping.
Although there is a sign and access gate for the Hyatt when turning off Route 50 onto Heron Boulevard, the actual resort is more than a half mile from the gate.
Overall, Maryland's Eastern Shore is fairly rural outside of towns, and car travel to the Hyatt and around the region is the most practical option. Other Maryland Eastern Shore towns, including Easton and St. Michaels, are about 30 minutes away. The resort is just north and west of the Blackwater National Wildlife Refuge.
Cambridge is about an hour east and south of Annapolis, Maryland, and an hour west of Ocean City, Maryland.
Best Parts of Hyatt Regency Chesapeake Bay
The QR code system for accessing hotel information has become increasingly prevalent in recent years, and I think that the Hyatt Regency Chesapeake Bay did a good job of implementing this. By scanning a QR code, you can access the hotel's website and find current information about hotel amenities, see restaurant menus and order food online for pickup or delivery.
This hotel has one of the most attractive indoor swimming pools I've seen. In general, I'm not interested in indoor pools at hotels, but this one was glass enclosed and bright, with nice views. I think it would be a great place to hang out if staying at the resort when the weather is too cold to sit outside and when the outdoor pools are closed.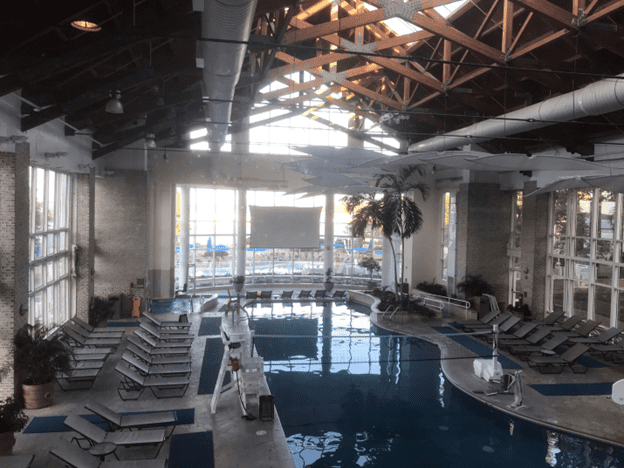 This may seem like a weird thing to mention as an impressive feature, but I really appreciated this property's approach to providing drinking water. At check-in, I was given a card that could be exchanged for two reusable water bottles, and it was easy to refill your own water bottles at this property.
Filtered water refilling stations were abundant on the property, including areas with ice machines near the elevators on each floor of the hotel, the fitness center and other locations around the property. I thought this was a great approach that is friendly to the environment and guests' wallets.
Hyatt Regency Chesapeake Bay Drawbacks
I don't consider these things major drawbacks, and I realize that there's a tradeoff between traveling during peak season, when everything is open and the resort is at capacity and prices are higher, and during the off-season, when some facilities are closed, but there are fewer people and lower prices.
I was fine with the reduced options and service level, since I value a more peaceful, less crowded experience. On the other hand, I understand that other people may expect more options and a higher level of service at a resort, so I think it's important to mention this.
First, I was a little surprised that there weren't any outdoor dining options available during my stay. The weather was sunny with daytime high temperatures around 80 degrees, which is around average for mid-September in this area.
Since the resort's food and beverage outlets offered the ability to scan a QR code to view menus and place online orders and there were ample outdoor tables, I ordered my breakfast to go and ate at one of the tables on the deck next to the indoor pool building. Guests also could order food and drinks from the Docks Poolside Food and Bar to eat in this area (ordering at the indoor pool area), but I didn't see any table service.
Similarly, the Off the Rock outdoor bar was closed when I was there. A posted sign noted that it would open at 12 p.m., but that didn't appear to be the case when I passed by several times in the afternoon.
For people who want to have a nice dinner on property, the options were limited. The dinner-only seafood restaurant, Blue Point Provisions, was closed. The only dinner options were the all-day Water's Edge Grill and Michener's Library (a bar/lounge).
I also read reviews indicating that the resort used one kitchen for all of its restaurants and noting issues with service time and food quality. I saw a robot-like contraption transporting food and drinks from the Water's Edge Grill to Michner's Library. Given that Blue Point Provisions was in a separate building, I could see how using one kitchen for it and Water's Edge Grill could create service issues.
The last drawback of the hotel was that the hallway leading to my room was cold. For a hotel that promotes being eco-friendly, it seems contradictory to over air-condition the corridors to this extent.
Getting to Hyatt Regency Chesapeake Bay
I drove to the Hyatt Regency Chesapeake from the Washington area. The trip was about 115 miles and took a little more than two hours without significant traffic or backups.
People familiar with this area know that driving to Delmarva and crossing the Chesapeake Bay Bridge can be a nightmare at certain times. For example, driving there on a Thursday night or Friday in the summer can be a long trip. Similarly, it's best to avoid driving back on a Sunday afternoon or evening.
If you're flying into the area, the closest major airport is Baltimore/Washington International (BWI). This airport is served by most U.S. airlines, and the drive from the airport to the Hyatt is about 80 miles.
The Salisbury (SBY) regional airport is about 30 minutes driving distance from the Hyatt but has limited service on American Airlines through its American Eagle regional carrier.
Check-In
I arrived at the hotel around 2:15 p.m. Since the designated check-in time is 4 p.m., I drove to the main guest parking area, parked, left luggage in my car and walked around the property a little bit before attempting to check into my room.
I entered the main building from the resort side, instead of the front, where you'd normally enter from the driveway, so I didn't interact with any staff members before reaching the check-in desk. The main lobby area was spacious and nice, but there wasn't anything particularly memorable about it.
The agent at the World of Hyatt elite desk was talking to another guest when I arrived, and she finished and called me within a couple of minutes. I gave my name and mentioned my reservation, while acknowledging that I was early for check-in. She confirmed my booking type (points) and length of stay, thanked me for being a Globalist member, said that they had upgraded me to a two queen bed Petite Suite and completed the check-in process. She asked if I needed assistance with my luggage, and I told her I didn't.
She also provided a paper card and explained the process for obtaining two complimentary reusable water bottles. I'm not sure if reusable water bottles are provided to all guests, or if this is limited to World of Hyatt members with Discoverist, Explorist or Globalist status, who normally receive bottled water as a member benefit.
She explained the resort's Globalist benefits, which include complimentary breakfast and parking in a preferred parking area closer to the main building. Breakfast options included the main restaurant, Water's Edge Grill or Bay Country Market, which is a combination gift shop and takeout food outlet with Starbucks coffee.
I request late checkout, if applicable, in the morning on my departure day. Normal checkout time at this property is 11 a.m. Since this property is a resort, 4 p.m. late checkout for Globalists is subject to availability and not guaranteed.
I called guest services and asked if late checkout was possible. The guest services representative offered a 2 p.m. late checkout.
The Room at Hyatt Regency Chesapeake Bay
My Petite Suite, which is considered a premium suite, was one room with a larger living area than typical hotel rooms. The overall style of the room was transitional with some coastal touches. I thought the room was attractive, bright and generally well-maintained, although I noticed some areas where paint touch-ups were needed. The room seemed clean.
Overall, I found the room comfortable and functional. I didn't notice any issues with noise, and the air conditioning adjusted easily to my preferred temperature. From a layout perspective, the placement of the television wasn't ideal to enable watching from bed or the desk/table.
My room had a nice view of the courtyard area in front of the building, the golf course and the river.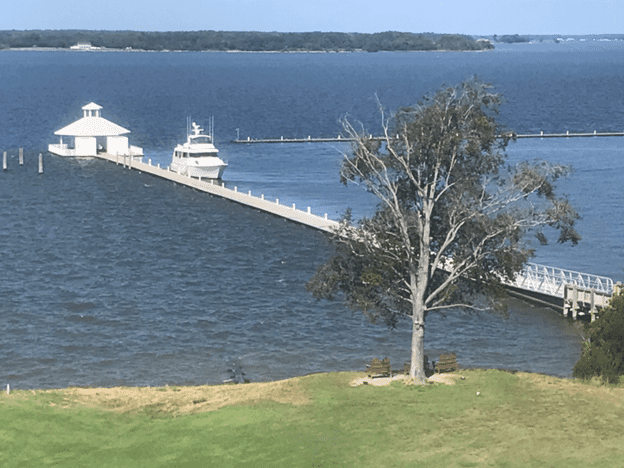 The entry area contained the closet and bar area. Two robes and a luggage rack were in the closet. The bar area had built-ins with a mirror, two drawers, a safe and a mini-refrigerator. On the shelf, there were drinking glasses, paper cups, coffee and supplies, a coffee maker and an ice bucket.
The bathroom was across from the closet and bar area, and it was a fairly standard bathroom for a mid-priced hotel. The toilet, shelf, vanity with a single sink and combination tub/shower were all in the same area. Toiletries were Pharmacopia brand with large bottles of shampoo, conditioner and body wash mounted in the shower, and individual-use soap and body lotion on the vanity.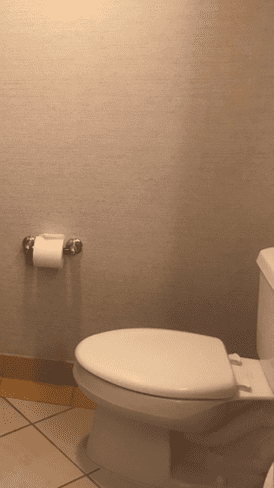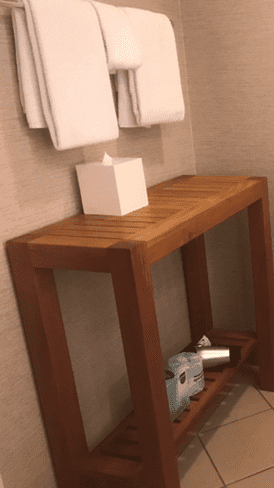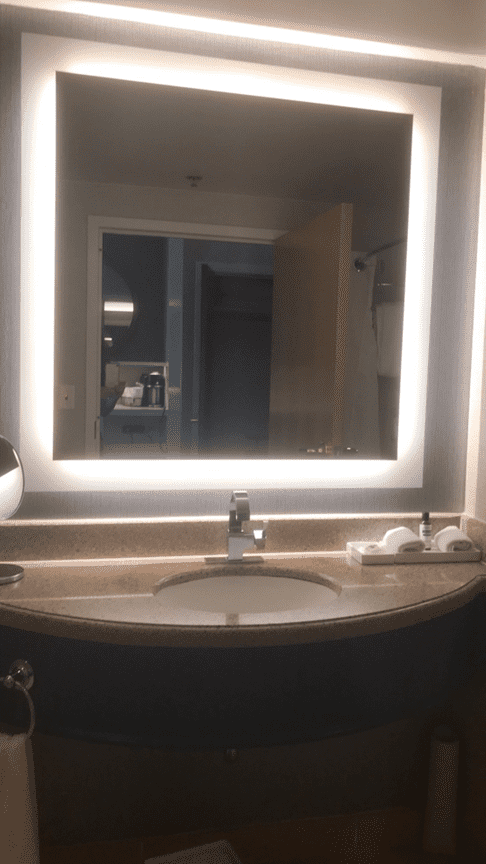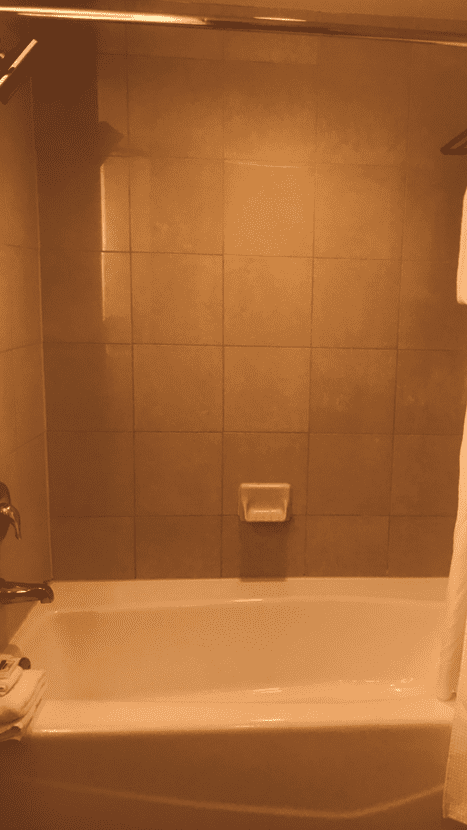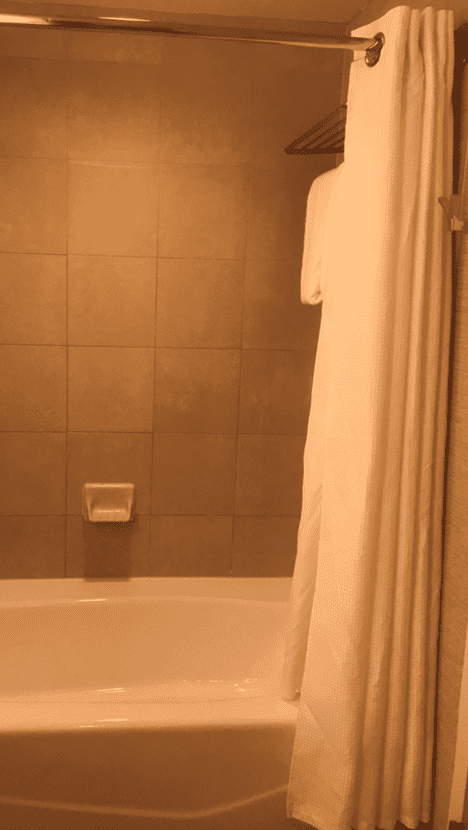 The main living area contained a sofa, chair, large television, dresser, coffee and side tables, and a desk with two chairs. There was no separation between the sleeping and living areas. The room also lacked a dedicated dining area and usable outdoor space. The room had a narrow balcony (the hotel calls this a "balconette") that was about 18 inches wide.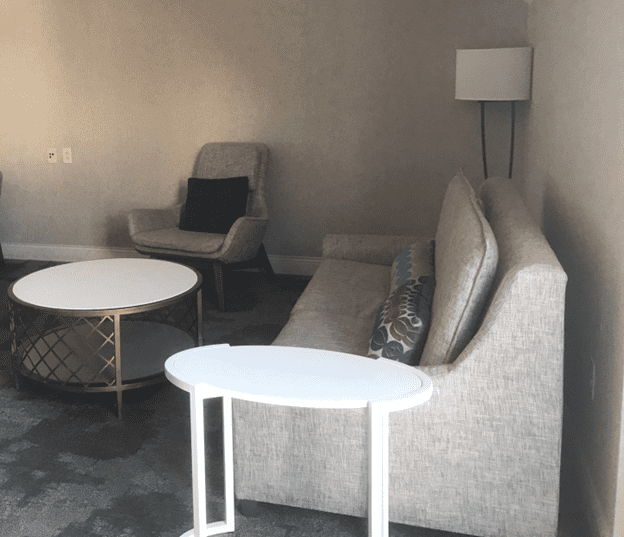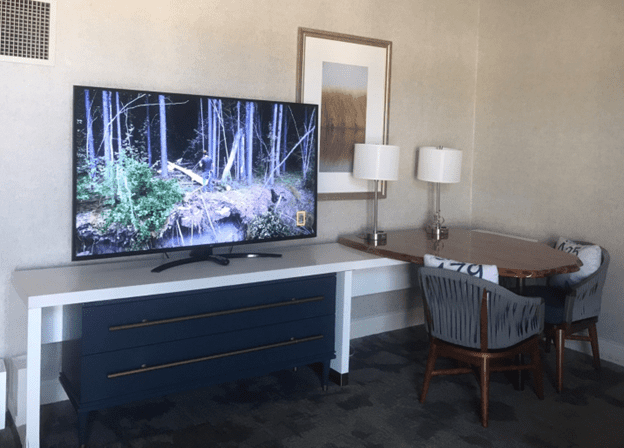 The beds were comfortable Hyatt Grand Beds™ with good-quality white linens.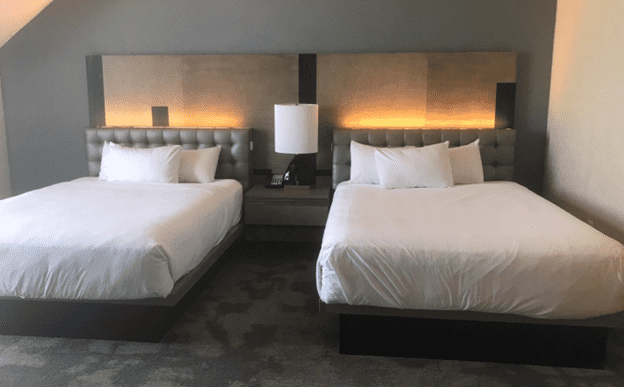 Food and Drink
The Hyatt Regency Chesapeake Bay offers the following food and beverage options:
Water's Edge Grill: This is the main restaurant open for breakfast and dinner.
Dock's Poolside Food & Bar: This is a casual restaurant located near the indoor pool that serves lunch, snacks and drinks.
Off the Rook: This is an outdoor bar located near the activities pool.
Michener's Library: This is an indoor lounge serving drinks and food.
Bay Country Market: This is the resort store that also offers takeout food options and Starbucks coffee drinks.
Blue Point Provisions: This is a seafood restaurant that serves dinner.
Eagle's Nest Bar & Grille: This is the restaurant at the adjacent River Marsh Golf Club.
Several outlets were closed or had limited hours during my stay. Details and menus are available on the website, accessed via QR codes provided around the resort and on the printed activity sheet.
I ate breakfast at the hotel only. I chose the Water's Edge Grill, and I appreciated the longer than average hours for breakfast: 7 a.m. to 11 a.m. Monday to Friday, and 7 a.m. to 12 p.m. on weekends. For a resort, I thought the prices were pretty reasonable with main courses between $8 and $18. The menu included options for gluten free, vegan and vegetarian diets.
As a World of Hyatt Globalist member, my breakfast was complimentary, and it included a choice of the buffet or ordering from the menu at the Water's Edge Grill or ordering items at the Bay Country Market.
The Bay Country Market had a more limited food menu and Starbucks beverages available for takeout only. Bay Country Market food choices included breakfast sandwiches, fruit, fruit and yogurt parfait, and a few bakery items.
I looked at the Water's Edge Grill buffet but decided to order off the menu. Items on the buffet weren't labeled, and I couldn't tell what all the hot dishes were. There definitely were scrambled eggs, bacon and oatmeal. In addition, a couple of types of cold cereal were available in dispensers. One table had various breads and pastries. Another table was set up with fruit, cheese cubes and deli meat. A third table had smoked salmon, hard boiled eggs, avocado spread and yogurt.
I ordered an egg white omelet served with potatoes and toast, a fruit cup and coffee. Since there was no outdoor restaurant seating, I got my food to go. Everything was packaged nicely, and the food quality and taste were good. My toast was packaged separately in a small bag, as were condiments (not in photo).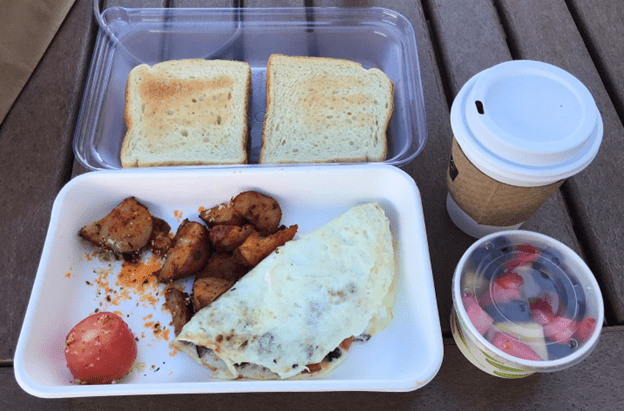 Amenities
This hotel has a wide variety of amenities, both indoors and outdoors, but they aren't all available year round or every day.
The hotel has three swimming pools and two hot tubs:
The Activities Pool is outdoors with a waterslide.
The Crescent Infinity Pool is outdoors and also is referred to as the Tranquility Pool on the signs. While this pool wasn't specifically designated as adults only, the nearby Crescent hot tub is noted as adults only.
The Wintergarden pool (pictured above) is indoors and adjacent to an indoor/outdoor hot tub.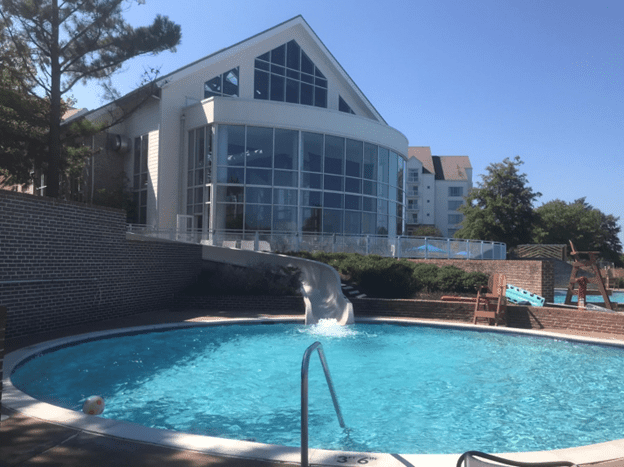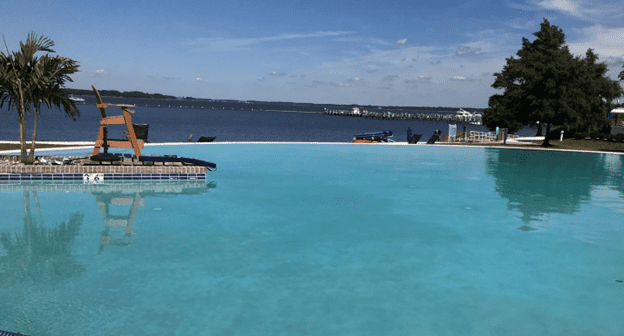 Other outdoor amenities include:
Beach volleyball court (Note: There's a sand court, but it's built within the property, since the actual beach area on the river is narrow.)
18-hole River Marsh golf course and eight-hole mini golf course
Blue Heron wildlife rookery
Tennis, pickle ball and half basketball courts
Trails for running or walking
Lawn games, such as corn hole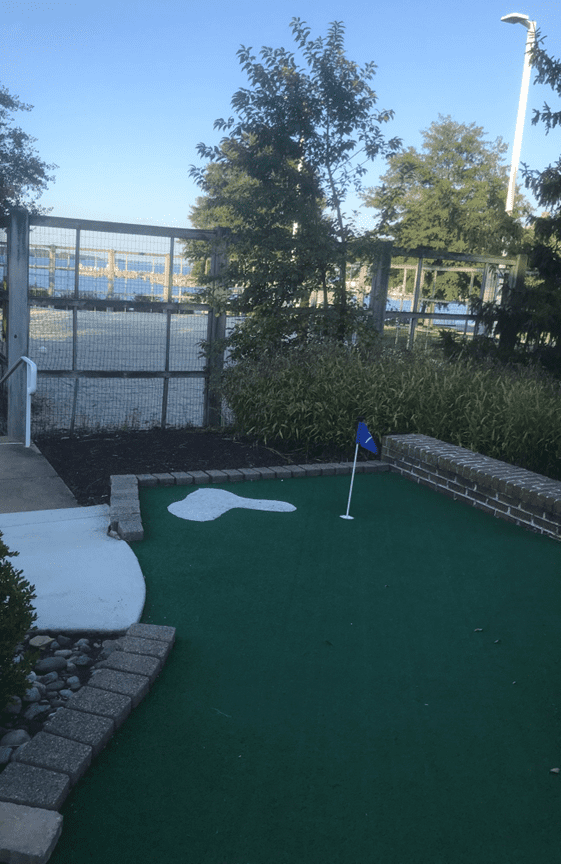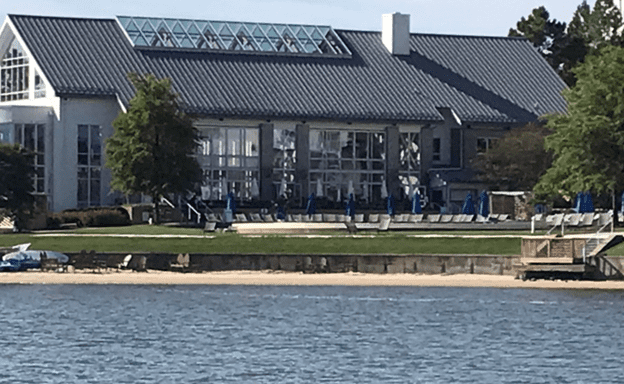 Blackwater Adventures is onsite and rents bicycles and a range of motorized and non-motorized water equipment including paddle boards, catamarans, kayaks, jet skis and other motorized boats. Rates are based on half hour, hour, half day or full day.
Indoor amenities included:
Large, well-equipped fitness center with LifeFitness weight and cardio machines (elliptical trainers, treadmills and stationary bicycles), dumb bells and other equipment
Game room including arcade and video games, air hockey, foosball and ping pong
Two pool tables near the bar / lounge
Sago Spa & Salon
The activity sheet also noted many activities at specific times, but most were offered only on weekends in September. Activities included:
Games such as bingo and pin the tail on the donkey
Arts and crafts
Pool focused events such as cannonball contests and "dive-in movies"
S'mores at the outdoor fireplace
Service
I thought service at the Hyatt was acceptable, but I don't mind an "on-request" style of service. I'm not sure that people going to a resort with the expectation of receiving proactive service or being taken care of would feel the same way. On the other hand, there might be more service available during busier times. The staff I encountered were friendly and polite.
In terms of housekeeping, I stayed just one night, and there was no evening turndown service. My room's condition and cleanliness were good.
I felt that the property met requirements for recognizing elite status but didn't go far beyond that. For example, they didn't provide a welcome amenity or personalized letter, as many full-service Hyatt branded properties do for World of Hyatt Globalist members.
Hyatt Regency Chesapeake Bay Family Friendliness
During the summer, this property would be a good option for families traveling with children. Beyond the family-focused resort amenities and activities, there is a kids' club called Camp Hyatt that I believe was open on weekends only in September. The sign posted on the door of the facility also noted hours which included morning, afternoon, all day and evening times.
While the room I stayed in wouldn't provide much privacy for families in either the suite or the bathroom, the hotel has other room types that might be better suited for families. For example, the hotel has a Resort View King Family Petite Suite with bunk beds and other rooms or suites that offer a dining table, a separate bedroom and a balcony or patio area with some furniture.
Final Thoughts on Hyatt Regency Chesapeake Bay
I liked this resort and depending on the price, I would return for a night or two to visit some of the Eastern Shore attractions or in conjunction with a trip to Delmarva beaches. Since I prefer beaches to pools and don't golf or participate in some of the activities that the resort offers, my interest in a longer stay at this property and its value proposition aren't as strong for me compared to other people.
I think the Hyatt Regency Chesapeake Bay is a good option for many people and situations. It has a 18-hole golf course, three pools, water sports, other activities and multiple options for dining onsite and nearby. It's located within a short drive of other Delmarva attractions and is suitable for a quick getaway from many northeast and mid-Atlantic locations.
New to the world of points and miles? The Chase Sapphire Preferred® Card is the best card to start with.

With a bonus of 60,000 points after $4,000 spend in the first 3 months, 5x points on travel booked through the Chase Travel Portal and 3x points on restaurants, streaming services, and online groceries (excluding Target, Walmart, and wholesale clubs), this card truly cannot be beat for getting started!
Learn More
Cards in This Article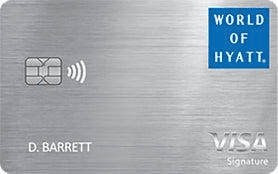 60,000
Total Bonus Points
30,000 points after $3k spend in 3 months. Up to 30,000 additional points by earning 2X points on the first $15,000 spent in non-bonus categories in the first 6 months.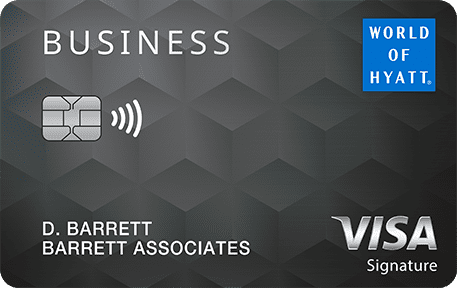 60,000
Bonus Points
after spending $5,000 on purchases within the first three months from account opening.
Editors Note: Opinions expressed here are author's alone, not those of any bank, credit card issuer, hotel, airline, or other entity. This content has not been reviewed, approved or otherwise endorsed by any of the entities included within the post.