In This Article
Loading table of contents …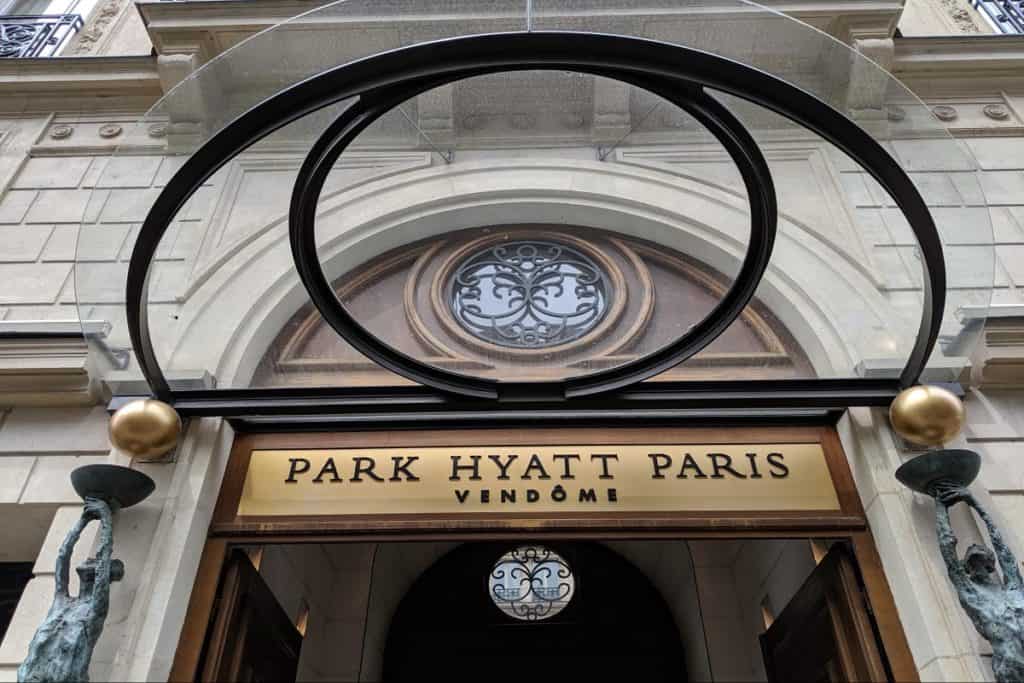 Note: Some of the offers mentioned below may have changed or are no longer be available. You can view current offers here.
One of the most famous aspirational properties in the Hyatt portfolio is the Park Hyatt Paris-Vendome. For better or worse, the Park Hyatt Vendome has become a luxury miles and points goal like flying Etihad First Class to the Maldives, one of those experiences that most of us can only do through miles and points.
I had the chance to stay two nights at this lovely property during a daddy-daughter trip to watch the Women's World Cup in France. Does the Park Hyatt Paris-Vendome live up to its lofty aspirational status in the miles and points world?
Let's take a look.
In This Article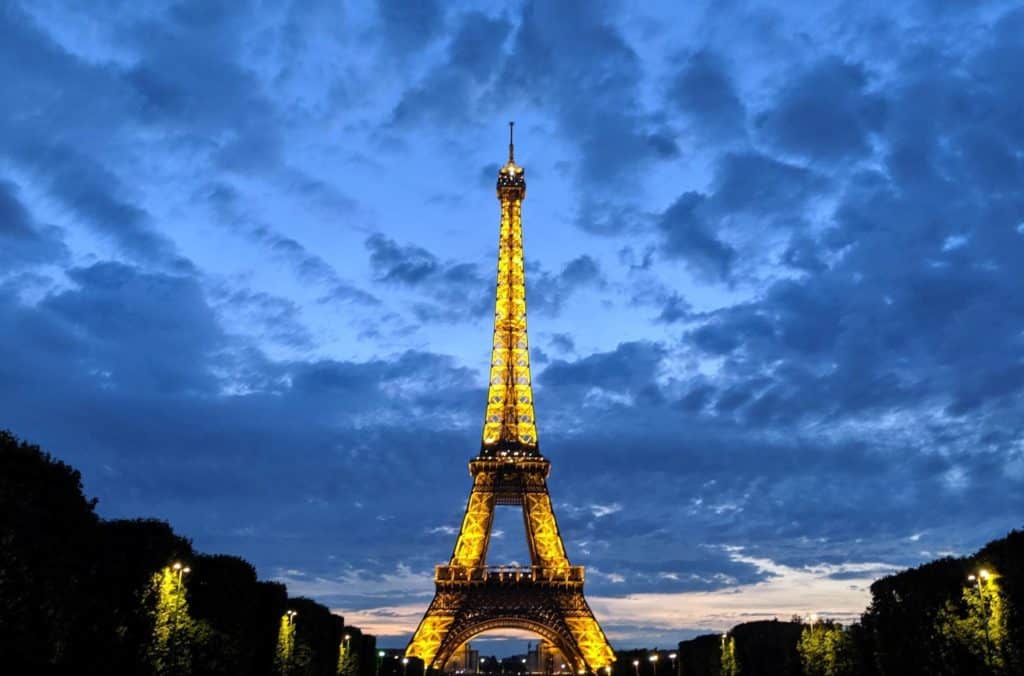 Booking the Park Hyatt Paris-Vendome with Points
The Park Hyatt Paris-Vendome is a Category 7 Hyatt Hotel so a standard room will cost 30,000 Hyatt points per night. Hyatt points can be earned through the World of Hyatt Credit Card, but you can also transfer them from Chase Ultimate Rewards earning cards like the Chase Sapphire Preferred Card or Chase Sapphire Reserve.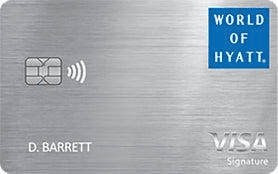 total bonus points
30,000 points after $3k spend in 3 months. Up to 30,000 additional points by earning 2X points on the first $15,000 spent in non-bonus categories in the first 6 months.
Rooms were going for $1,000/night for my dates in June, so 30,000 Hyatt points didn't feel too expensive for me (though I considered staying at the 15,000 points/night Hyatt Regency Paris Etoile). Ultimately, I wanted a hotel that was within walking distance to the main sights.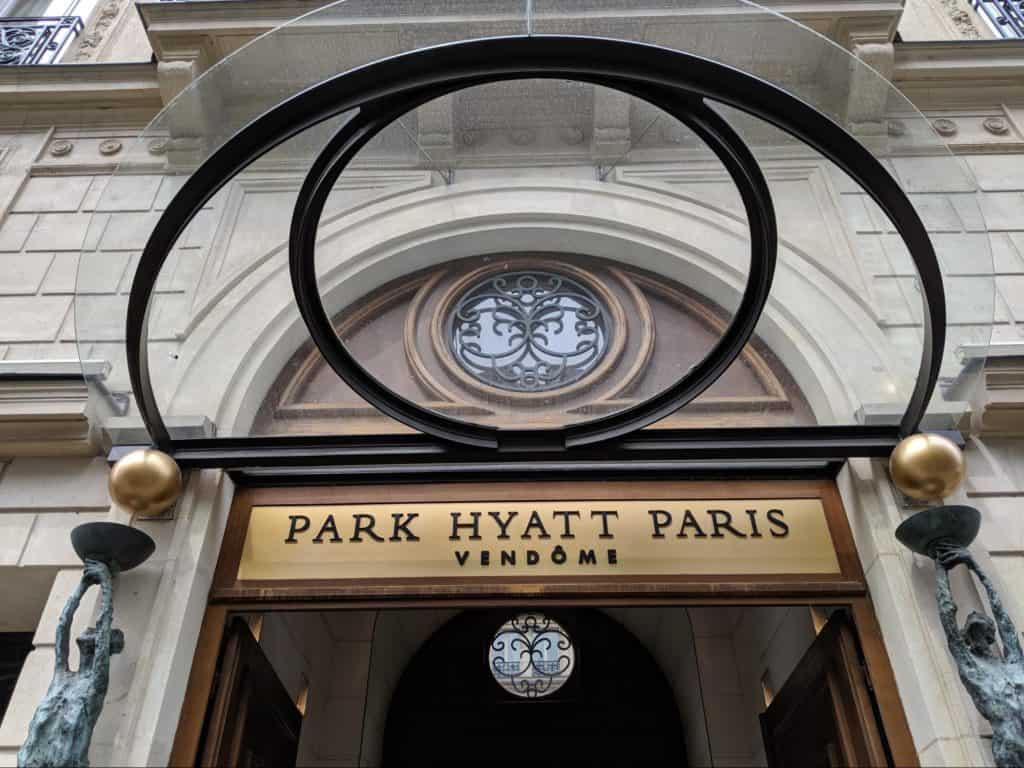 I actually had a friend with top tier Globalist status book for me to utilize the Hyatt Guest of Honor benefit. The Guest of Honor program allows a Hyatt member with Globalist status to book a hotel stay for someone else. During the stay, the guest of honor will be treated as if they had Globalist status – a pretty sweet deal. Since I was recognized as a Globalist for the stay, we received free breakfast and late checkout, amongst other Globalist benefits.
Getting to the Hotel and Check-in
My daughter and I arrived at Charles De Gaulle airport around 6:30 AM. After clearing customs, I decided the best combination of price and convenience would be the Roissybus, which travels directly between CDG and the Paris Opera area. I figured a forty-minute ride and a ten-minute walk beat the price of a cab (~50 Euros per my research) and the inconvenience of switching trains.
The Roissybus costs 12.50 Euro per person, but the bus driver didn't charge me for my daughter (even though technically you should buy tickets for everyone over the age of four). Note that I couldn't get any of my credit cards to work with the ticket machines and I didn't have Euros in denominations of 20 or lower, so I had to buy the ticket from the bus driver, which was easy enough.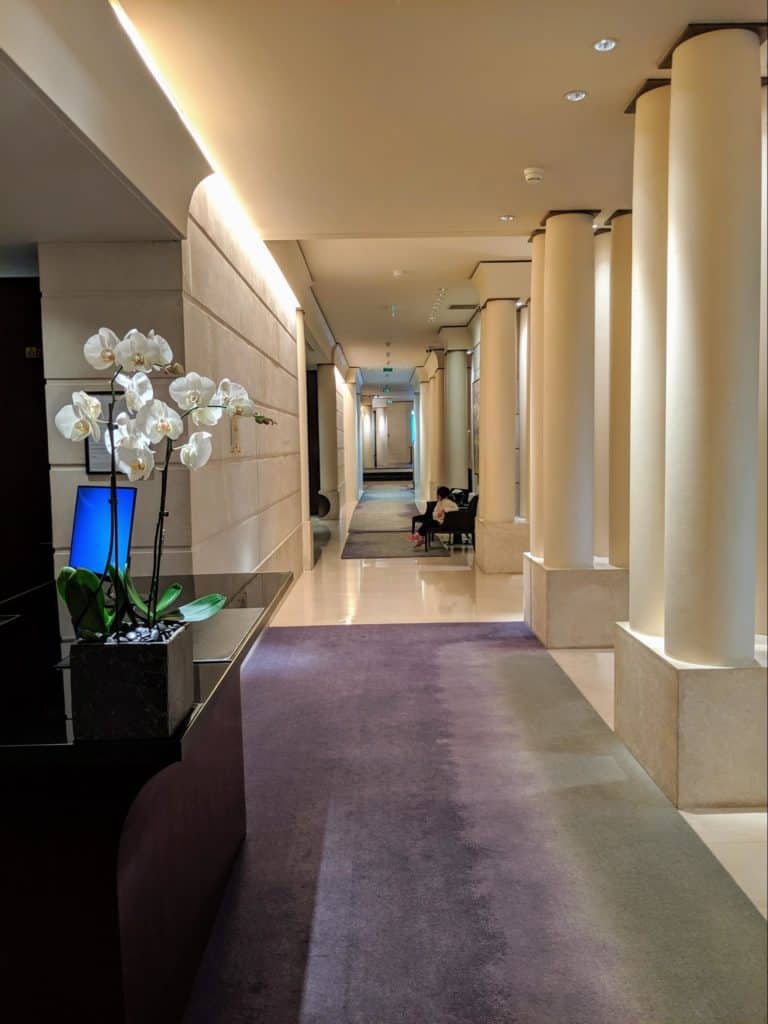 When I arrived at the Park Hyatt Paris-Vendome it was only 8:30 AM. They said my room wasn't ready (not a surprise) and confirmed that I was staying as a Globalist Guest of Honor. The front desk agent then asked if I was hungry and offered us breakfast. I'm guessing that's because they were treating us as Globalists who are entitled to complimentary breakfast but I suppose they may have just been being hospitable.
After breakfast (which I'll cover in a later section), we took a walk around the city. We got back around noon and our room was ready, so we settled in.
Room – Park Room King
We were booked into a Park Room King, which is a standard room at the Park Hyatt Paris-Vendome. We were given Room 435, which seems like one of the best standard rooms on the property. I don't think it's a suite, but it's definitely nicer than some of the other standard rooms I've seen online.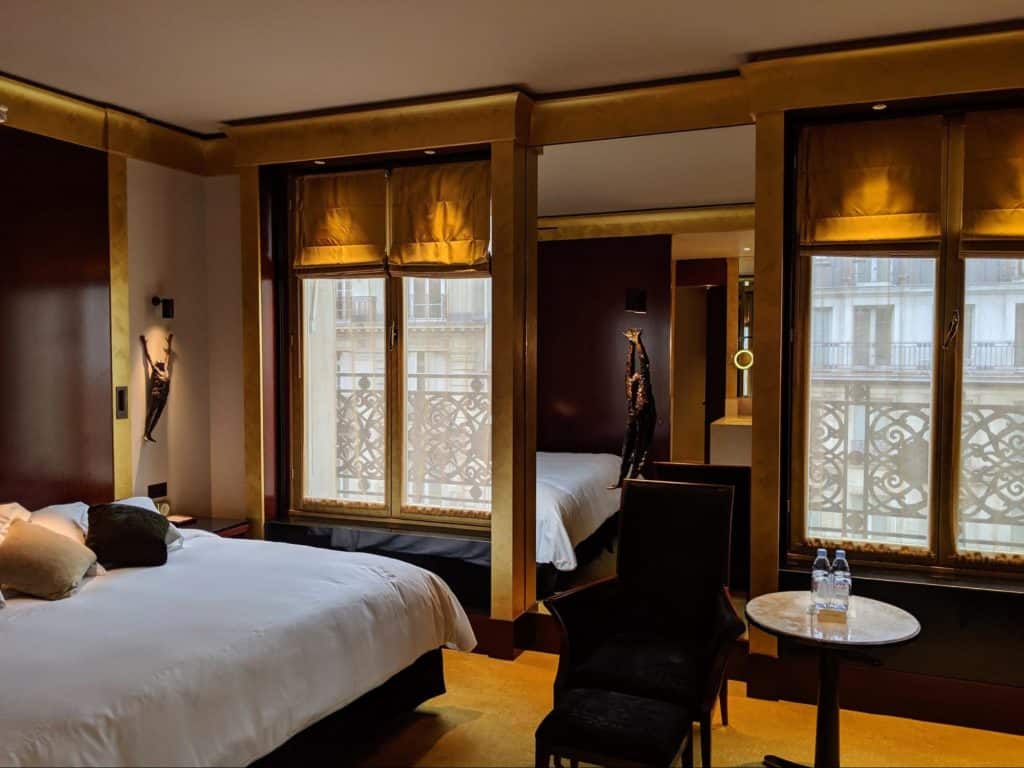 Let's talk about what we loved about the room. The king-sized bed was comfortable and spacious, but I'm not very picky about my beds. The bathroom was very big and featured a bath and separate shower. There was a seat inside the shower which is convenient and useful, especially for families. We weren't huge fans of the Japanese toilet, but we got used to it. They work better in Japan! The room itself was also bigger than the average hotel room in Europe in my experience.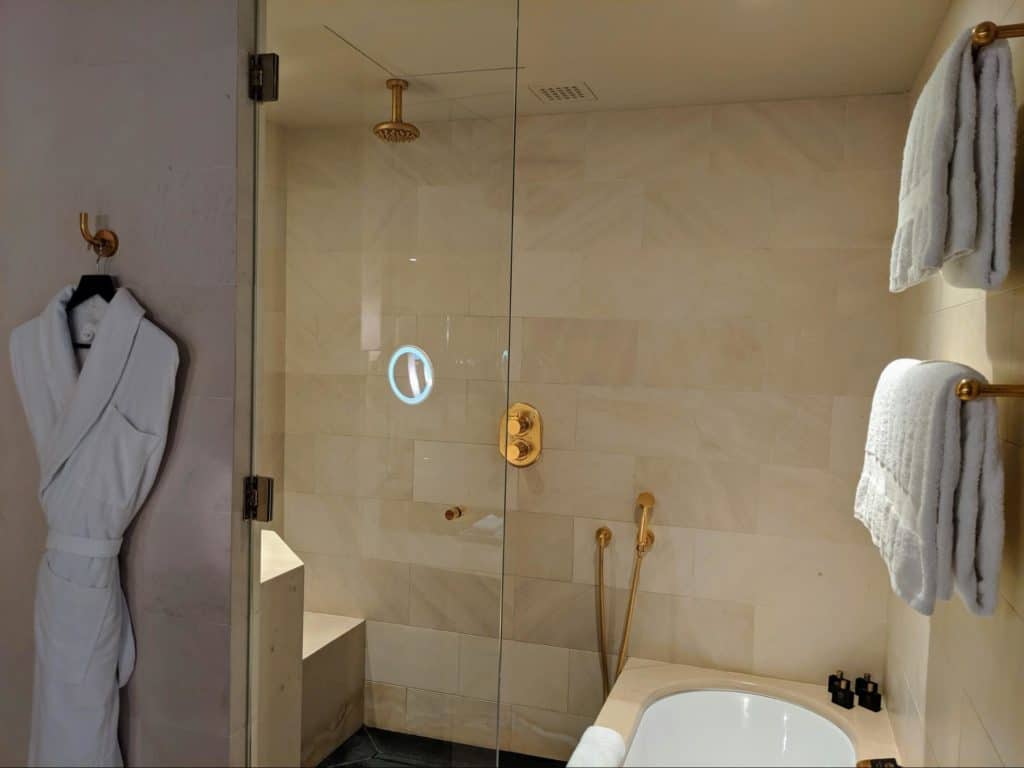 The highlight of the room was the balcony overlooking the Rue de la Paix. The balcony was accessed through the two windows in the room, so you had to climb up a ledge to access it. My daughter loved the balcony and the two windows! She was out there for much of the time we spent in our room. I couldn't blame her, the weather was mild and the view of the Place Vendome made it pleasant to hang out on the balcony.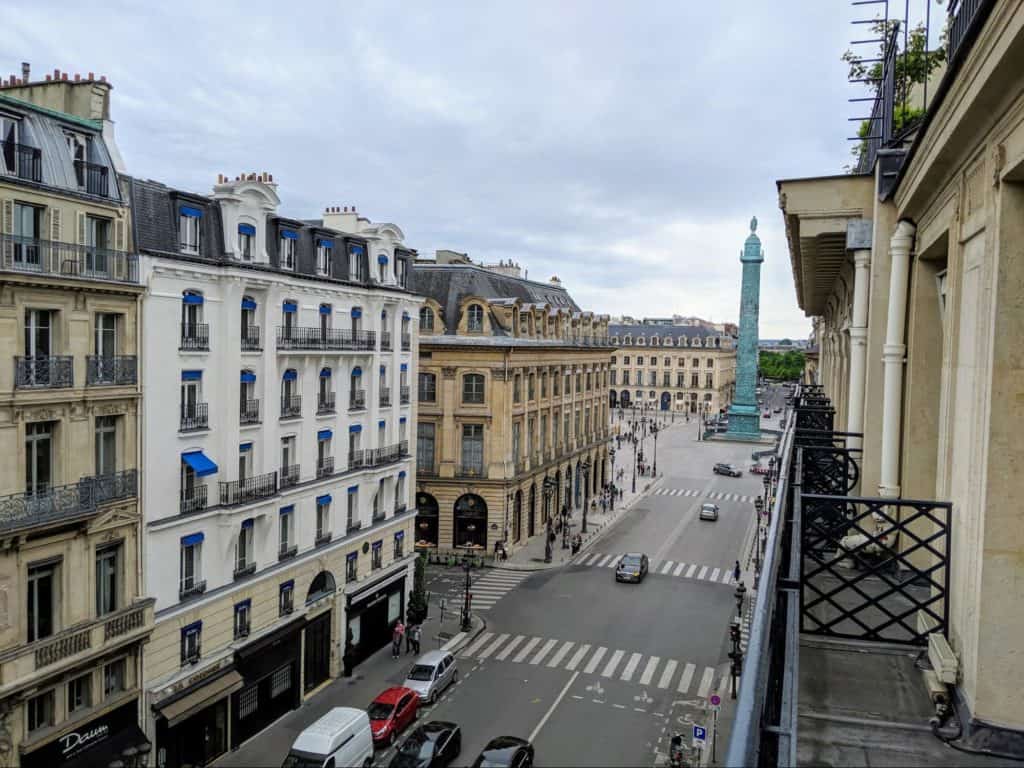 We also received two water bottles per day and a welcome gift of two sparkling ciders. The former was much appreciated while the latter wasn't very impressive, but I'm not actually Globalist, after all, so I didn't mind too much!
Service
As you'd expect of a five-star hotel, the service was consistently excellent throughout our stay. We aren't the type of family to ask a lot of the hotel staff when we're traveling, but we do expect our queries to be handled courteously and promptly. The staff at the Park Hyatt Paris-Vendome was consistently friendly and helpful.
As I said above, it started with the very friendly and hospitable front desk agent who checked us in. One nice touch I should note here is that they gave my daughter a small packet of activities for kids: crayons, a coloring book, etc. The friendly service continued with the wait staff at the restaurant during breakfast as they checked on us multiple times (but not too many times) to make sure everything was going okay. Simple service and, again, what you would expect from a five-star hotel.
Room service was prompt as was our room cleaning and turndown service. Overall, I was very impressed by the staff at the hotel, though again, I don't normally ask too much of hotel staff.
Breakfast at the Park Hyatt Paris-Vendome
Apparently, the Park Hyatt Paris-Vendome's breakfast is very popular, which is something I only learned in the middle of my stay. Since I was being treated like a Globalist, I was entitled to take breakfast at the restaurant or to a 50 Euro per person credit for room service. I tried breakfast both ways.
Breakfast at the restaurant was very nice, and the restaurant is tastefully appointed with orchids (which made an impression on me). The buffet spread is very nice, featuring cereals, meats, cheeses, French pastries (our first of many), and cakes. They also made eggs to order; our scrambled eggs were fine but unspectacular. They were, of course, much better than normal hotel eggs.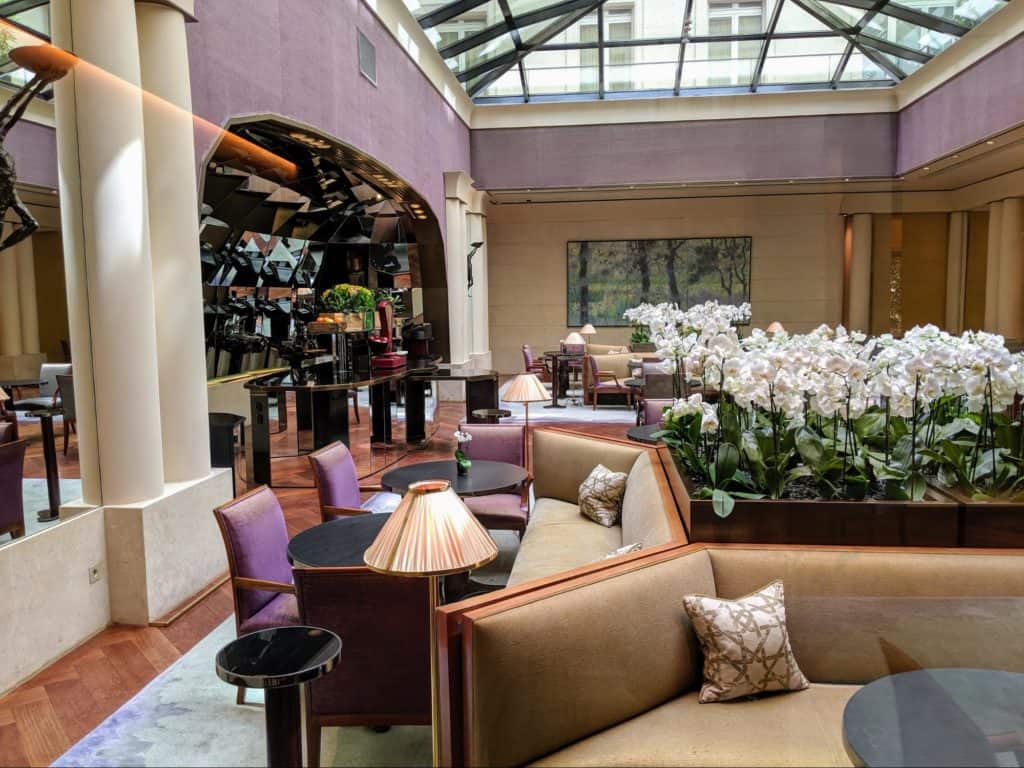 I found a much-preferred room service, mainly because it was easier for our schedule. We ordered the American breakfast which consists of cereal, fruit, bread and pastry basket, serrano ham, and eggs made to order. This time we tried an omelet which I preferred to the scrambled eggs. We also added a waffle on top of all that.
We actually ordered only the American breakfast for one – it was plenty of food for two people. The food was the same as the restaurant downstairs, so if you don't feel like getting out of bedroom service is a wonderful option.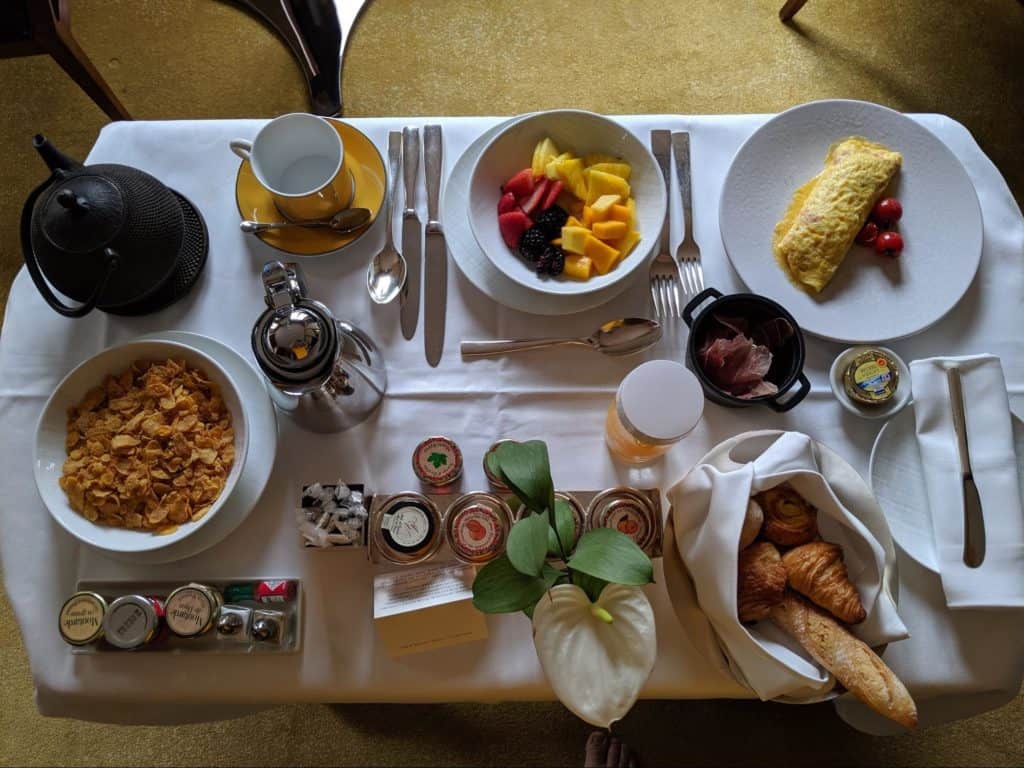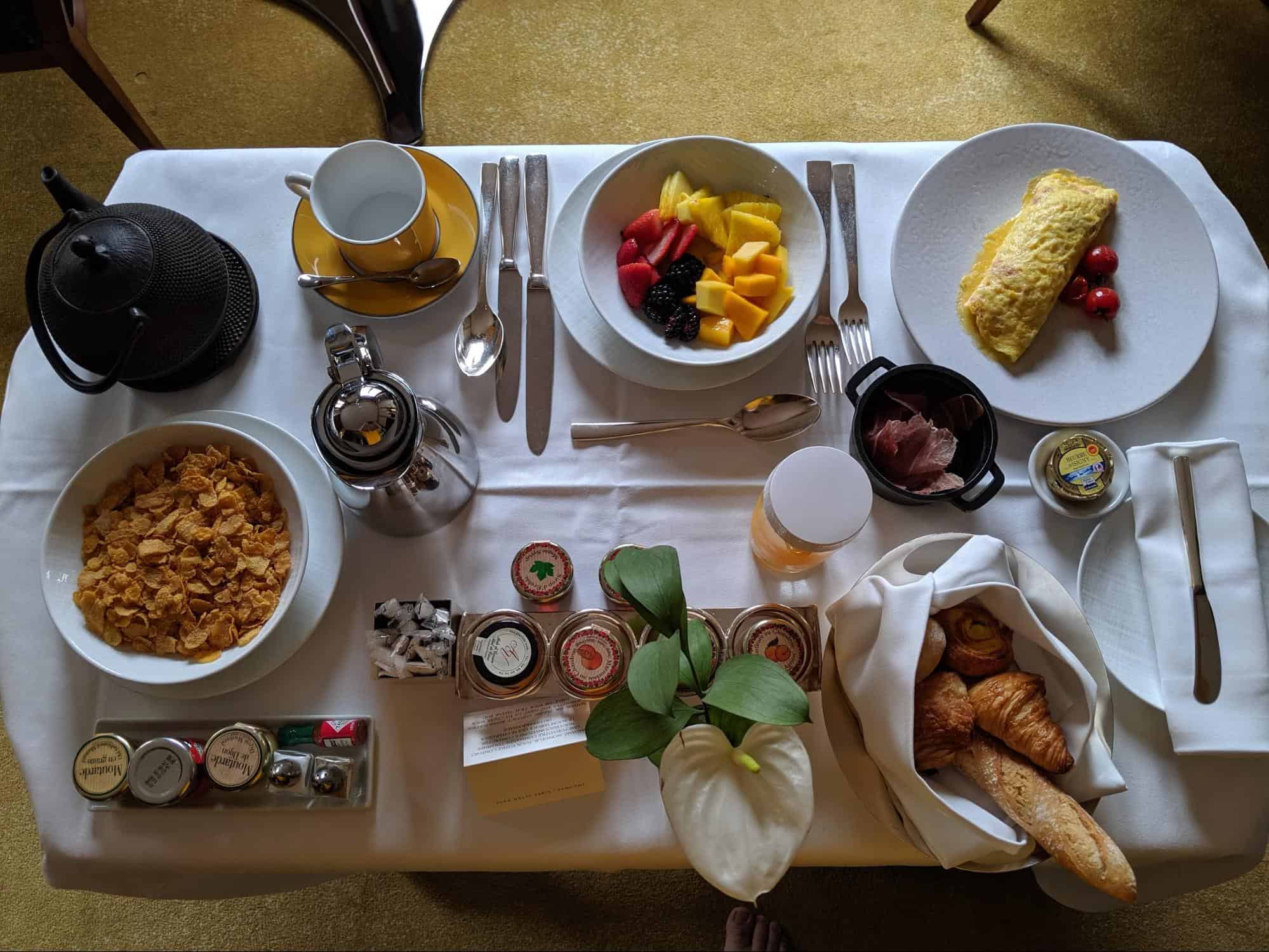 I should also note that at the time of our stay, they charge Explorists 50% of the breakfast cost for room service. The American breakfast costs 55 Euros for room service so I had to sign a bill for 27.50 Euro, but that charge wasn't on my folio when I checked out. So the Globalist Guest of Honor thing worked as intended (see above).
Overall Impressions of the Hotel
I firmly believe miles and points shouldn't only be used for aspirational travel, but I'm glad we splurged on the Park Hyatt Paris-Vendome. We loved our room but more importantly to me, the location of the hotel made our stay in Paris much easier logistically. We were a ten-minute walk from many of the main Metro lines and also within walking distance of the Louvre, the Jardin de Tuileries, and much more.
That being said, our stay was much more comfortable since my friend Guest of Honored us so that the hotel treated us like Globalists. If you don't have Hyatt status, however, losing out on breakfast isn't the worst thing – there's an Eric Kayser bakery right across the street with a lot of great breakfast and picnic options.
When my kids are older and I can afford more time for transit, I think we will check out the Hyatt Regency Paris Etoile since we can stay twice as long for the same number of points. But for the purposes of my daughter and my trip to the Women's World Cup, the Park Hyatt Paris-Vendome was the perfect base for our two nights in the city of lights.
And about that World Cup – we capped off our stay by driving to see the US Women's team defeat Thailand in Reims (about an hour away). My daughter loved every minute of that game and we watched all the US games together on the road to their eventual World Cup championship. So really, the points I paid felt small compared to the amazing experience we got to have together.
Have you stayed at the Park Hyatt Paris-Vendome? I'd love to hear your experiences in the comments!
New to the world of points and miles? The Chase Sapphire Preferred is the best card to start with. With a bonus of 60,000 points after $4,000 spend in the first 3 months and 2x points on dining and travel, this card truly cannot be beat!
Learn More
Editors Note: Opinions expressed here are author's alone, not those of any bank, credit card issuer, hotel, airline, or other entity. This content has not been reviewed, approved or otherwise endorsed by any of the entities included within the post.