In This Article
Loading table of contents …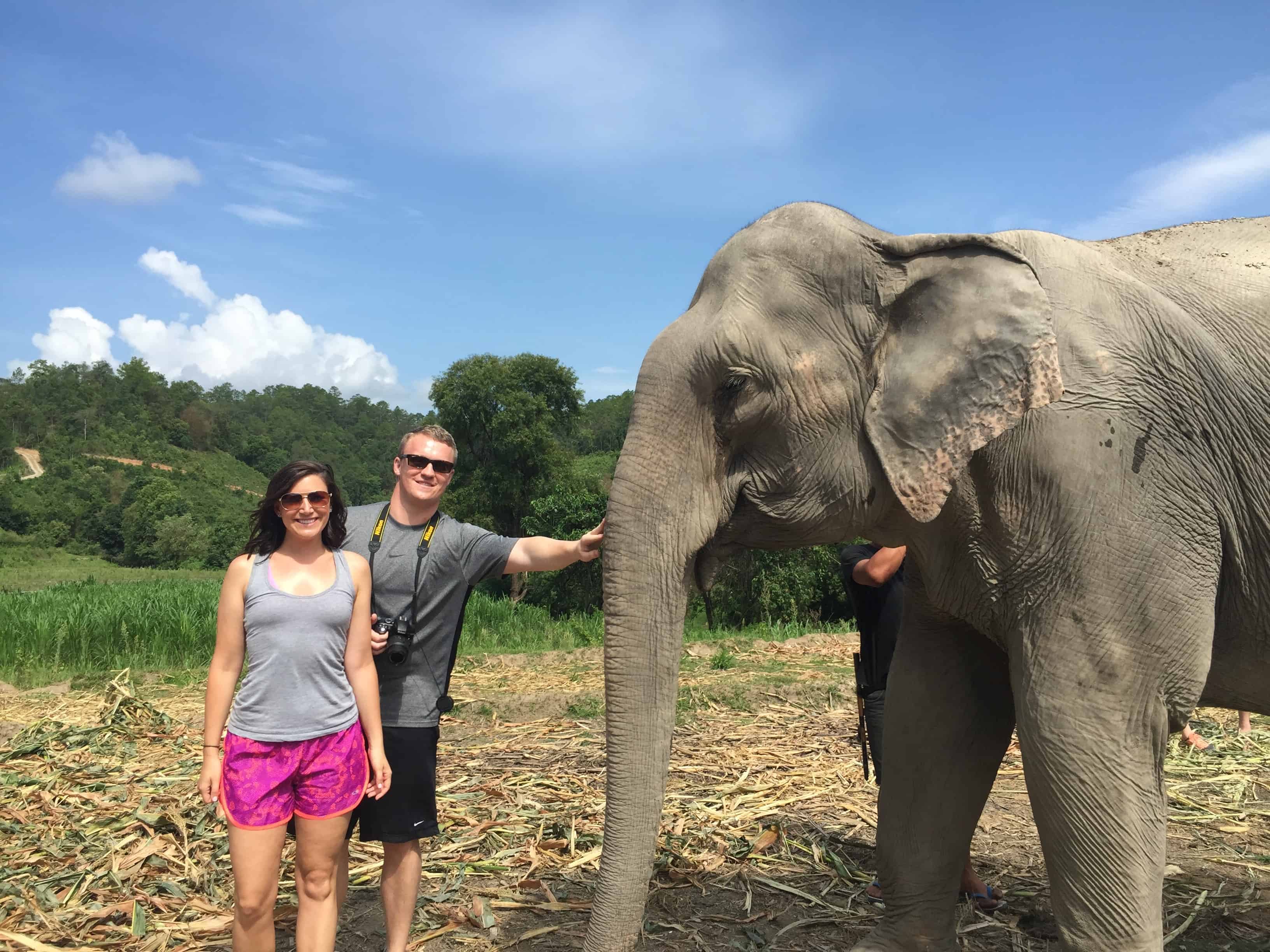 Note: Some of the offers mentioned below may have changed or are no longer be available. The content on this page is accurate as of the posting date; however, some of our partner offers may have expired. You can view current offers here.
Note: Some of the offers described in this post have since changed. Check out our credit cards page for an up to date list. 
Hi Travel Junkies,
I just got back from an amazing 2-week trip to Thailand with my wife.
We flew in business class, we stayed in luxury hotels, we got to feed elephants, we snorkeled in crystal clear water, and we ate a TON of Thai food.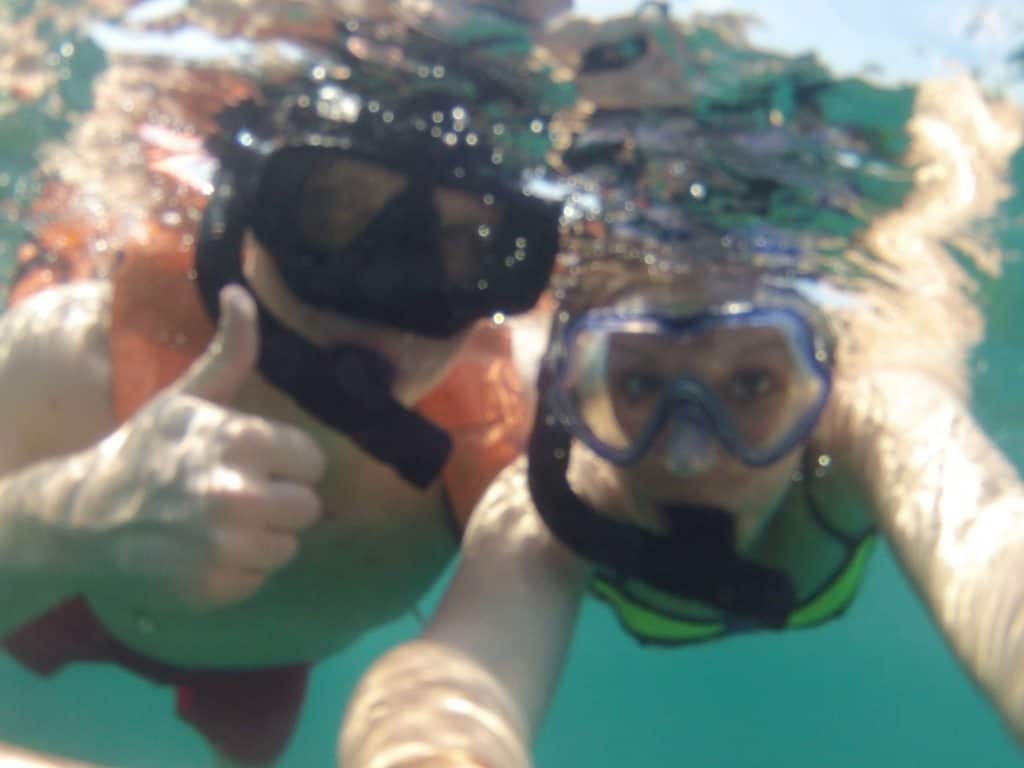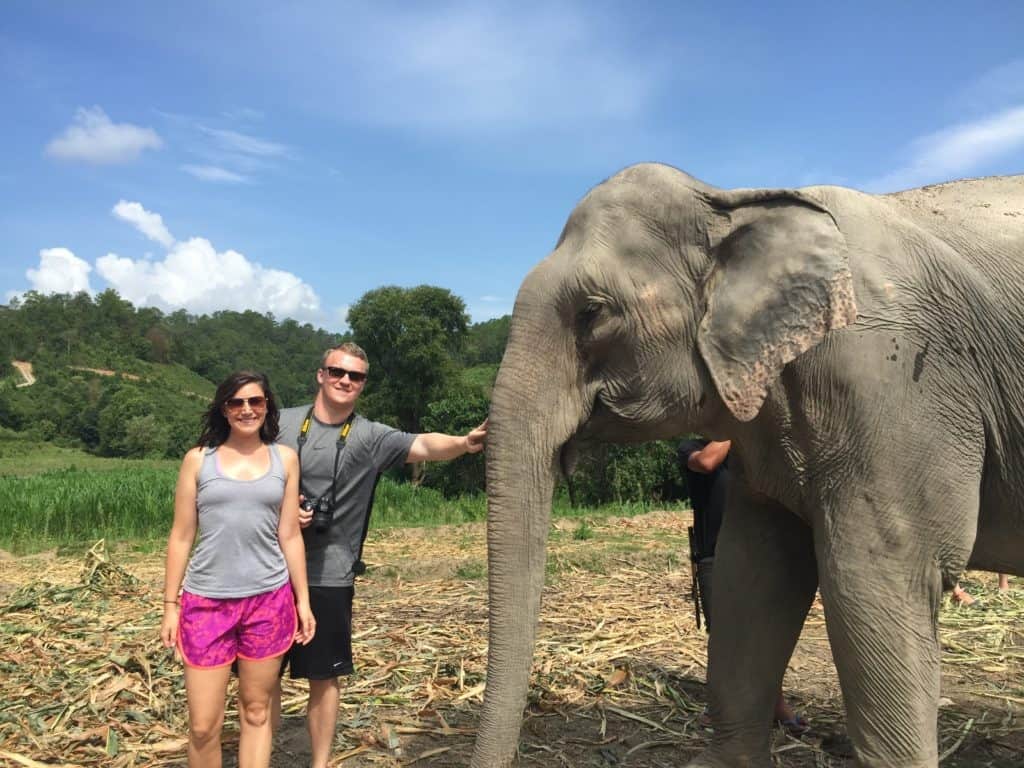 And the best part?
Our trip cost a whopping $326.42.
That's right. $326.42. Which is less than my monthly grocery bill.
Today, I am going to walk you through exactly how I did it. Complete with screenshots, step-by-step instructions, and tips for how you can book your own amazing getaway.
There is a TON of information in today's post, so take it slow if you need to.
And as always, feel free to email me with questions. I read every single one.
Also be sure to check out the 10xT Insiders Facebook Group, where you'll find thousands of 10xT Readers sharing the best money-saving travel tips of the day.
The Flights
My wife and I put together a large sum of Chase Ultimate Rewards Points thanks to the sign-up bonuses that we each earned from the Chase Sapphire Preferred (40,000 points), Chase Ink (50,000 points), and Chase Freedom (20,000 points) cards.
Each of these cards has a minimum spending requirement of $500 to $5,000, which met by moving most of day-to-day spending and our monthly bills.
We also each signed up for the Chase United MileagePlus Explorer card, which was offering a bonus 50,000 United points at the time.
Chase Ultimate Rewards points transfer 1:1 to United, meaning that we had a combined 320,000+ United miles burning a hole in our pockets. Which is more than most people earn in a lifetime.
It was time to go flight shopping.
This is my receipt for a Business Class flight from Columbus, OH to Chaing Mai, Thailand. I paid 80,000 United miles and $28.50 for a business class ticket that routes through Toronto, Copenhagen, and Bangkok.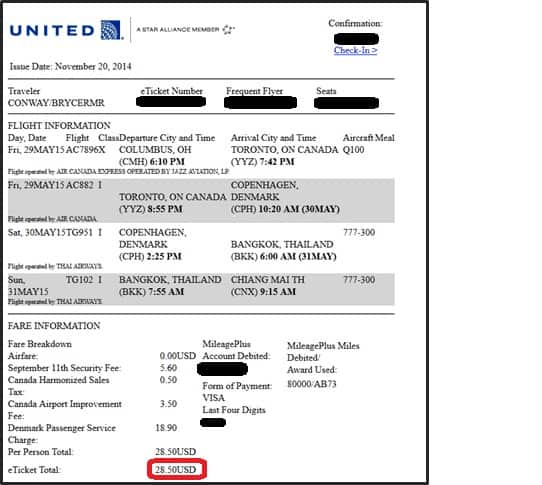 Unfortunately there was only one business class seat available for an award booking so I had to book an economy ticket for my wife. I made it up to her by booking her a business class ticket for the flight home (I flew economy home).
Her economy ticket cost just 40,000 miles and $28.50.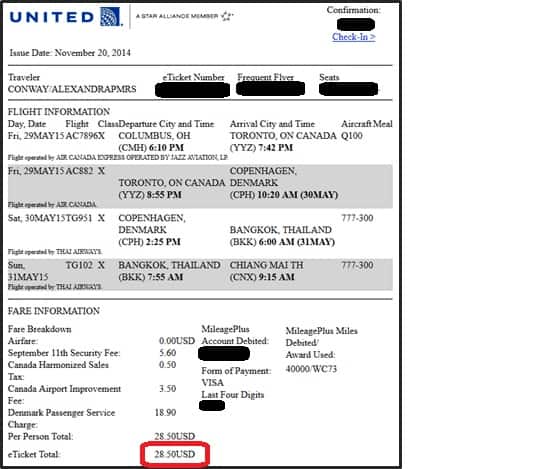 Here's what those flights would have cost if we would have paid cash: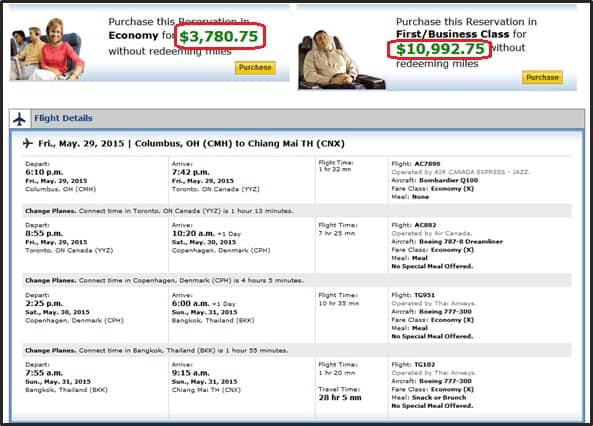 $10,992.75 for business class and $3,780.75 for economy for a total one-way price of $14,773.50. Not bad for about 20 minutes of work.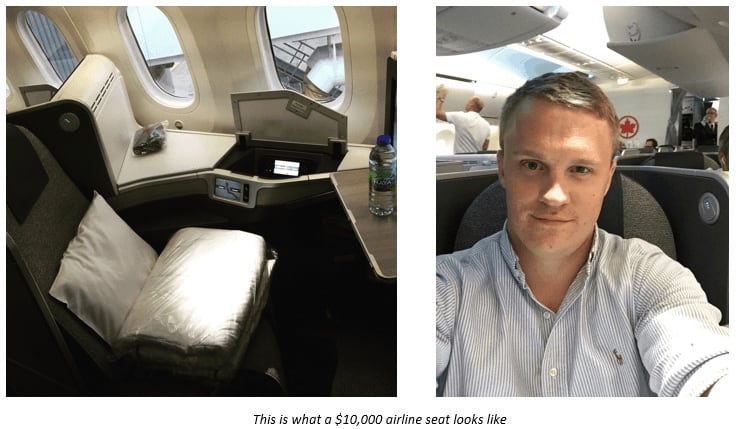 Now for the trip home.
We decided to fly home out of Koh Samui to give us more time to explore Thailand. This is called an open-jaw itinerary and it is a great tool to help maximize vacation time.
Here is a copy of my wife's business class itinerary. The total cost was 80,000 United miles and $54.90.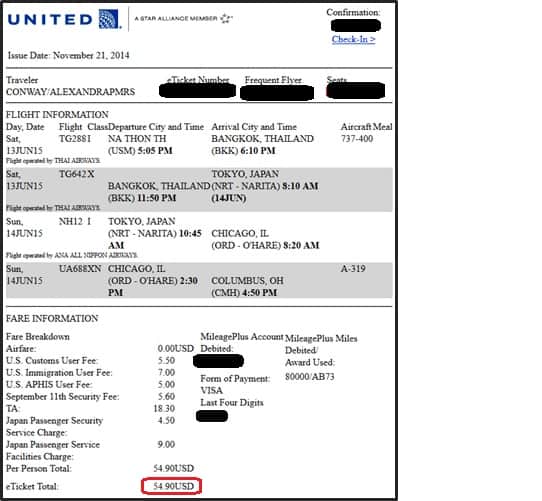 And here is my economy class ticket. 40,000 United Miles and $54.90.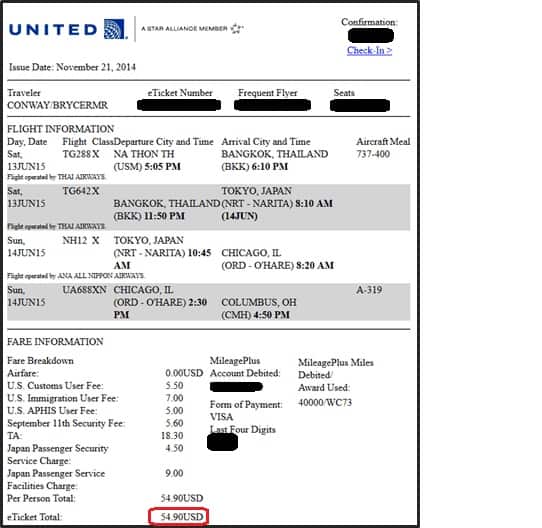 Here is what the flights would have cost. The exact itinerary was no longer available for booking so I found the closest alternative. The only difference is the time of the final flight from Chicago to Columbus, so the price difference should be immaterial.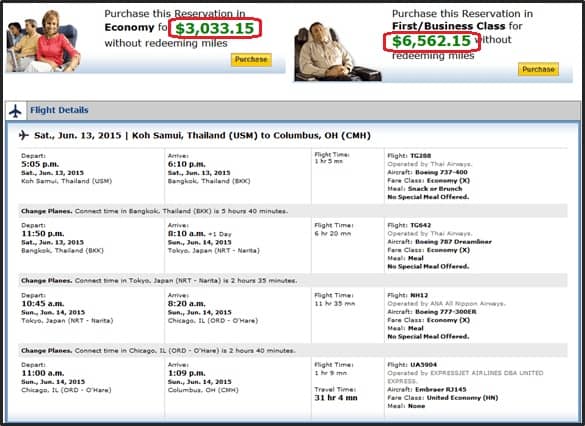 $6,562.15 for business class and $3,033.15 for economy for a total of $9,595.30.
Meaning that my total cost of 2 tickets to Thailand with Business Class 1 way was 240,000 United miles and $166.80.
I've spent more on Thai food this month.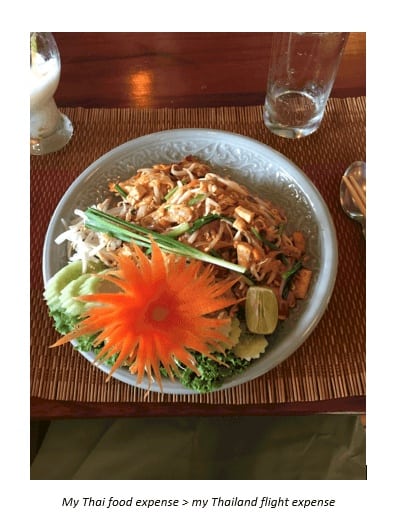 Next, we had to book our flights from Chiang Mai to Koh Samui to complete the triangle.
I used a Barclays Arrival Plus card to pay for the flights. The Arrival Plus earns points that can be used to erase any travel purchases made with the card at a value of 1 cent per point.
It also comes with 40,000 points (at the time, worth $400) as a sign-up bonus. There was no fee for the first year.
(This offer has since changed. More details can be found by visiting the credit cards page)
Now you see the charge.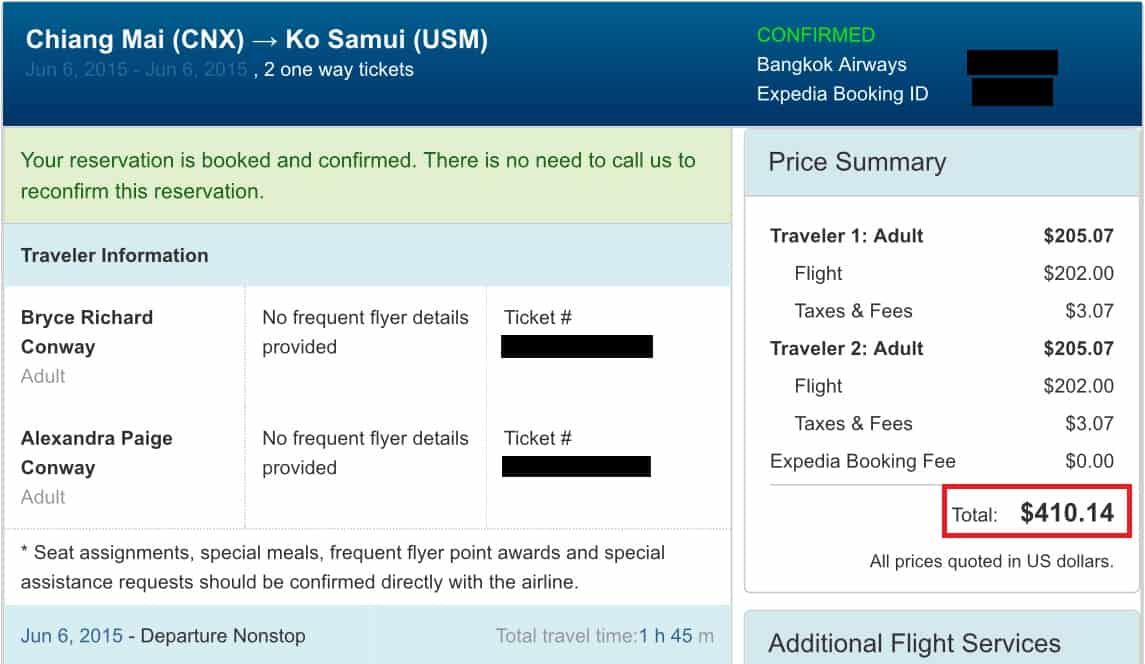 Possibly the easiest $400 I've ever saved.
Ok, deep breath. That was a lot of information.
Let's add the flights up.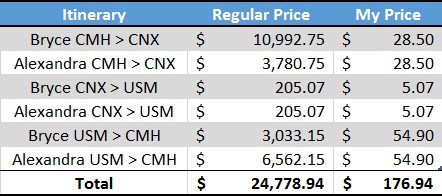 $24,778.98 of airfare for $176.94 out of pocket. Off to a good start.
With the flights booked, it was time to shift my focus to the hotels.
The Hotels
After a little bit of research I decided to stay at Le Meridian Chiang Mai because it is an amazing property, the location is perfect, and it's incredibly easy to book on points.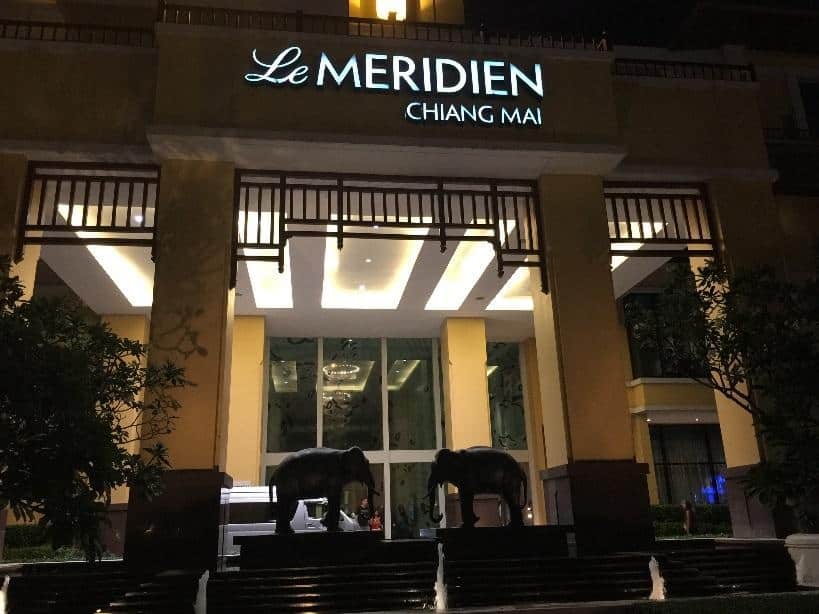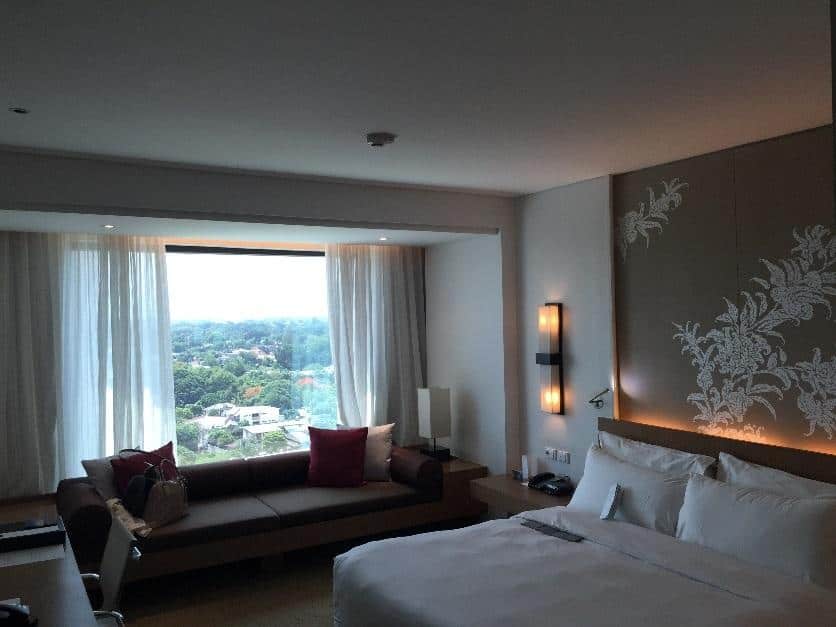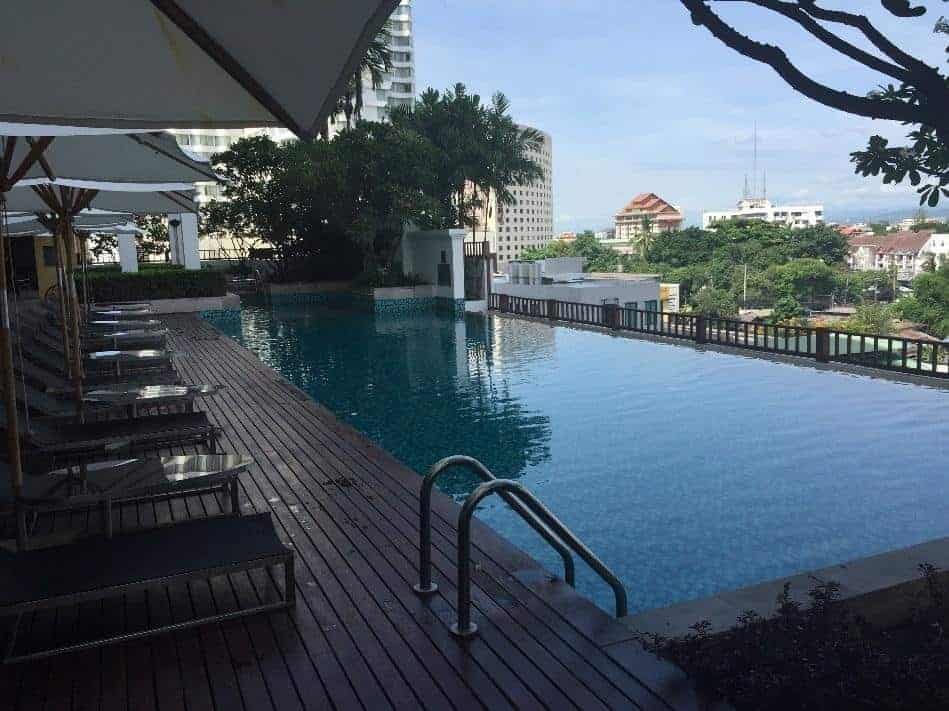 In fact, the going rate for our dates was a mere 3,833 Starpoints per night.
So I applied for a Starwood Preferred Guest Credit Card, used my normal bills to meet the $5,000 minimum spending limit, and earned the 25,000 point sign-up bonus.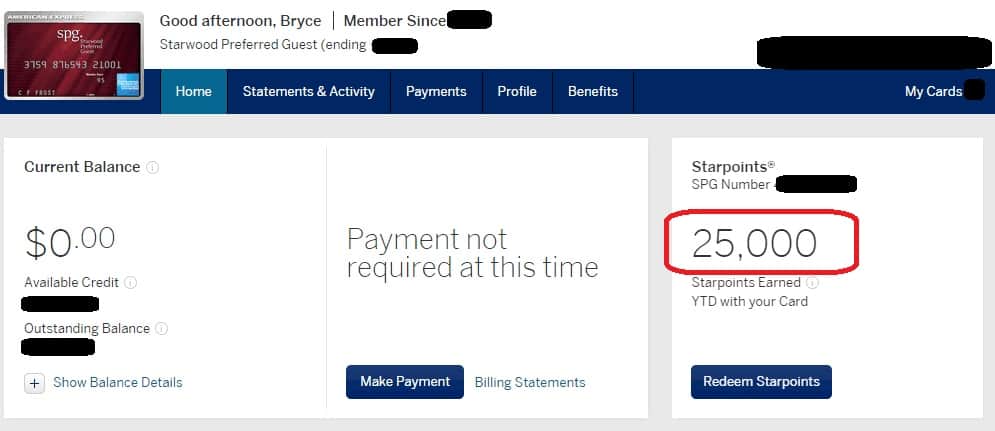 Like the Chase cards, the Starwood Preferred Guest Card has no fee for the first year. Meaning that I paid absolutely nothing out of pocket to earn these points.
My 25,000 Starpoints were just enough to book 6 nights at this amazing property.
Here is a copy of my receipt.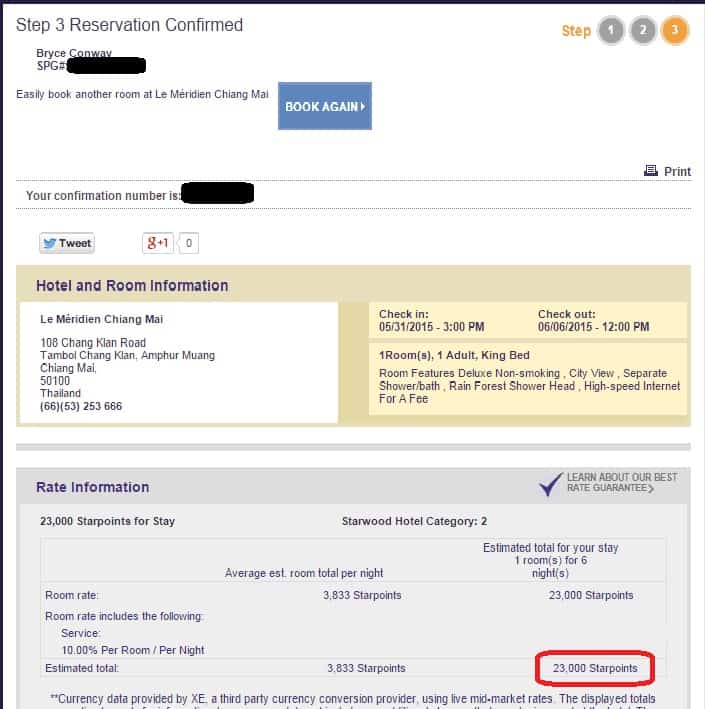 Starwood doesn't charge taxes on award reservations so our 6 nights were completely free.
The cash price for the exact same booking would have been 25,785 THB, or roughly $773.55.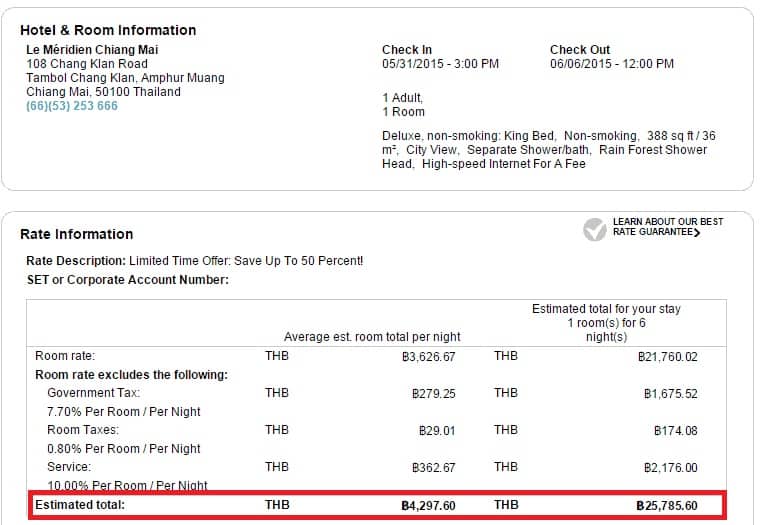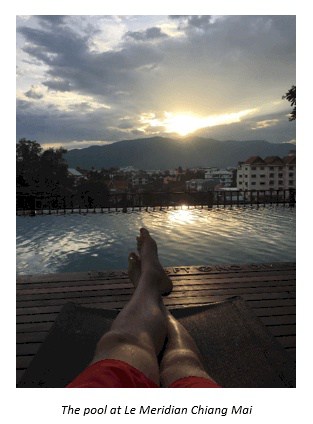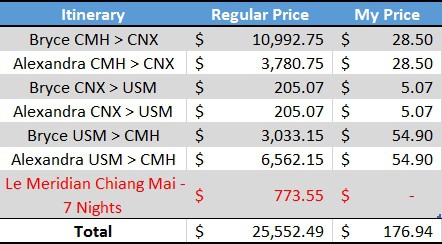 Next, we needed a hotel in Koh Samui. This is where things get interesting.
The Renaissance Koh Samui is widely considered to be one of the best award booking options on the island.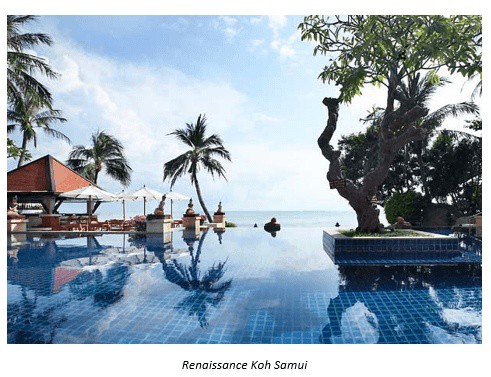 This luxury hotel (4.5 stars on Tripadvisor) was a category 7 Marriott (it's a category 8 now), meaning that it would cost 35,000 Marriott points per night.
Earning the required points for a one week stay would be nearly impossible with Marriott cards alone so we had to get creative here.
One little known fact about Marriott is that they share a rewards program with Ritz Carlton.
Meaning that any points earned with Ritz Carlton could be used to book Marriott properties and vice versa.
The Ritz Carlton Rewards Credit Card was offering 140,000 points after you spent $3,000 in 3 months. There was a $395 annual fee charged in the first billing period. More on that later.

The card also came with a $300 Annual Travel Credit. We'll talk about this later as well.
My wife and I each applied for the card, met the minimum spending requirements, and each earned the 140,000 bonus points. Which would have been more than enough to book a week at the Renaissance Koh Samui.
But I wasn't done there.
Another little known secret about Marriott is that they offer Travel Packages that come with frequent flyer miles to help cover the cost of your flights.
These packages basically allow you to overpay for your Marriott room (in points) in order to earn a bonus of frequent flyer miles.
Here's the award chart for Air Package 3, which gives you Southwest Rapid Rewards Points as a bonus.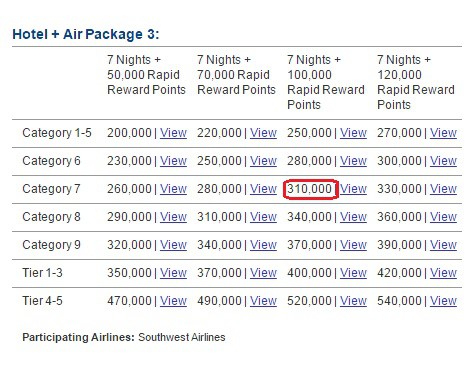 So if I paid 310,000 Marriott points instead of the standard rate of 245,000, Marriott would give me 100,000 Southwest Rapid Rewards Points in addition to my 7 free nights.
Southwest points are much more valuable to me than Marriott points so this was a no brainer.
I had ~30,000 leftover Marriott points from an earlier credit card bonus so I combined them with our 280,000 sign-up bonus points to book this package.
Here's my 7 night redemption.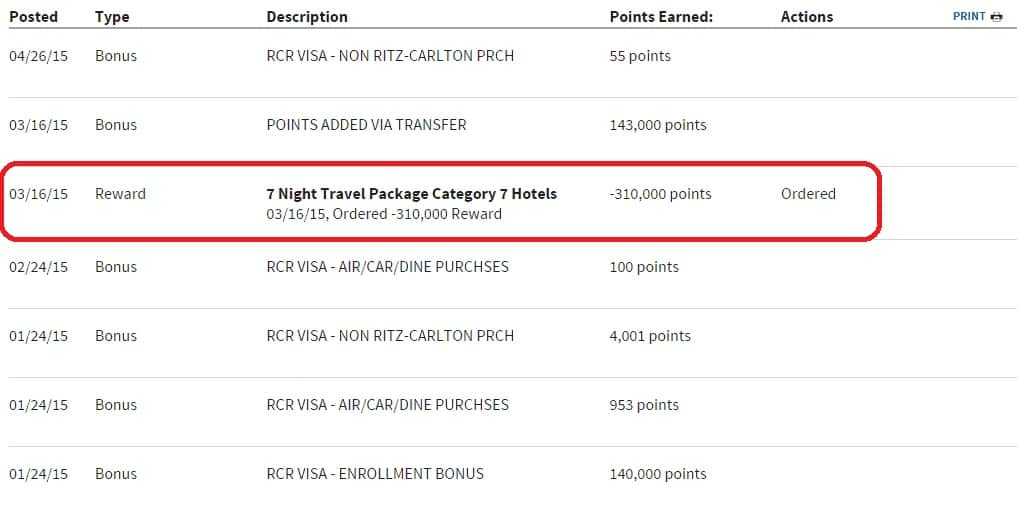 And here are my 100,000 Southwest Rapid Rewards Points, which are conservatively worth about $1,400.

I will omit this from the total trip savings but $1,400 of free Southwest travel is certainly more than a casual side benefit.
The 100,000 Southwest points also helped me earn Southwest Companion Pass, their highest possible status, despite having flown on Southwest just 1 time. This effectively doubled the value of my 100,000 Southwest points, as I could now bring a friend on any Southwest flight that I fly for just taxes and fees.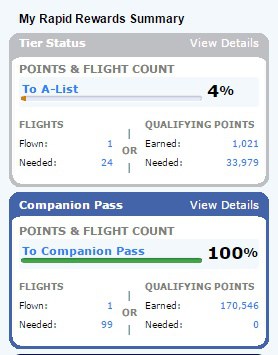 Oh, and remember the $300 Annual Travel Credit that I mentioned earlier? Turns out chase allows you to use it for southwest gift cards.
So I purchased $300 of Southwest gift cards and got them reimbursed with my $300 annual travel credit.

Again, I did the same with my wife's card. Over the course of 3 months we scored a combined $600 of Southwest gift cards literally for free.
Meaning that our Ritz Carlton Cards gave us a total of 7 nights in the Renaissance Koh Samui, 100,000 Southwest Miles, and $600 of Southwest gift cards.
All for a grand total of $395 out of pocket.
I'll take it.
Anyway, back to the Renaissance Koh Samui. Here's a copy of my receipt.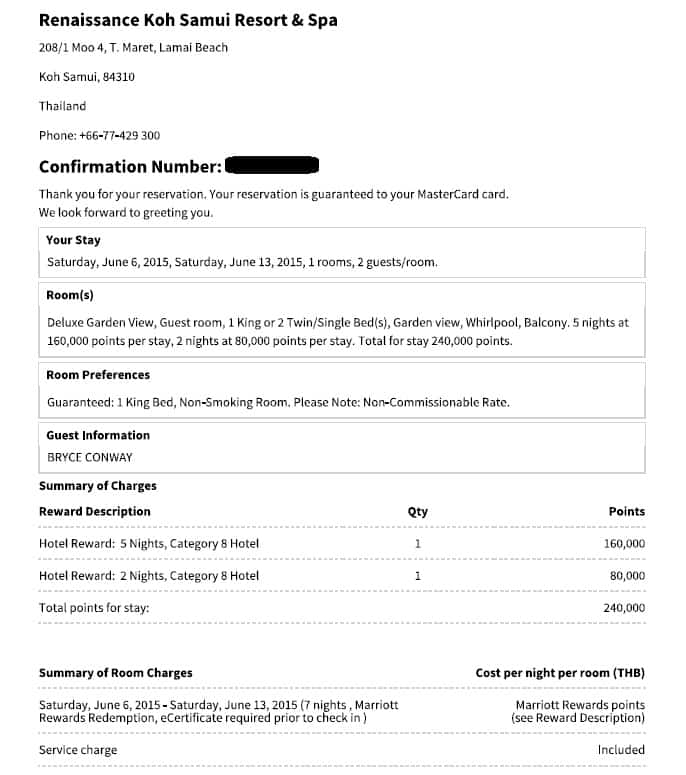 Like Le Meridian, the Renaissance Koh Samui did not charge any taxes or fees. My 7 nights were literally free.
Let's take a look at the cash price.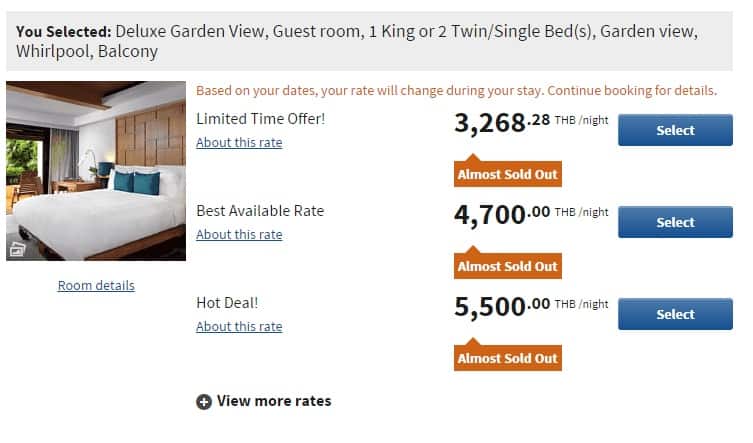 The "Limited Time Offer" is their non-refundable rate so the "Best Available Rate" of 4,700 THB rate is the equivalent here.
4,700 THB is roughly $141, so 7 nights would have cost $987.
As a bonus, I was able to talk myself into a free upgrade to the best suite on the property.
It was bigger than my condo, had 2 private balconies, a private outdoor whirlpool, and arguably the best views in Southeast Asia.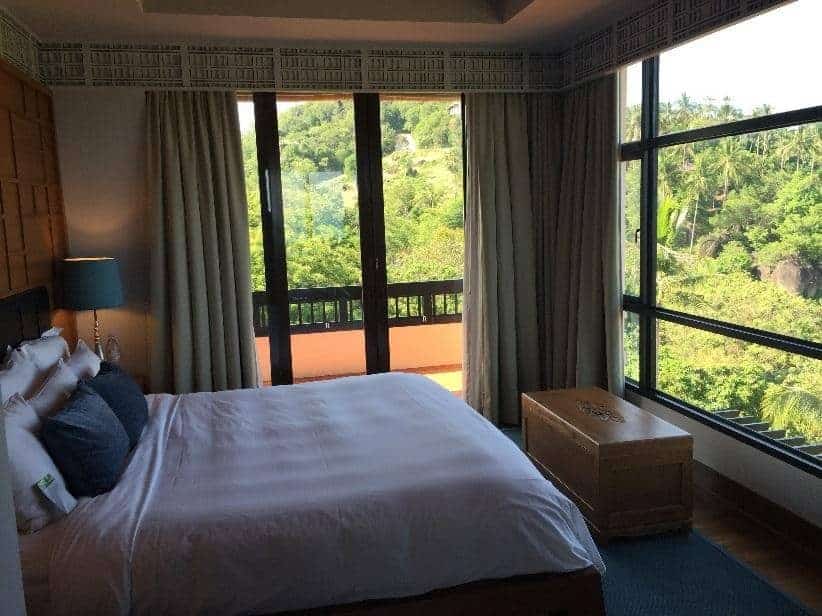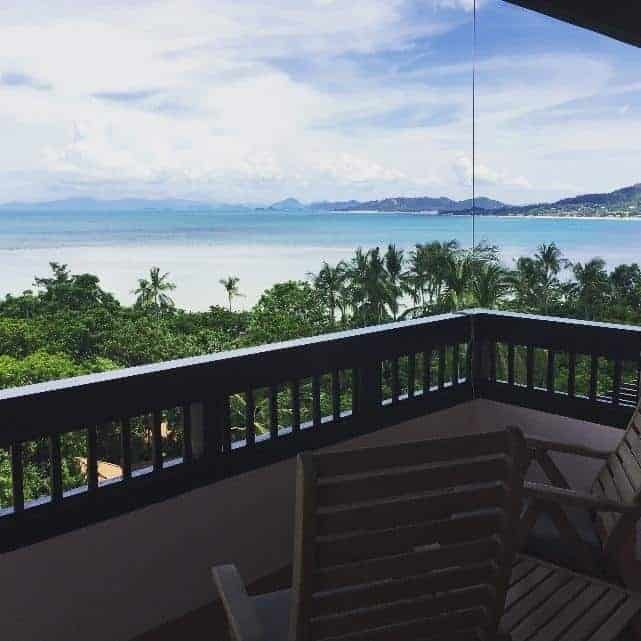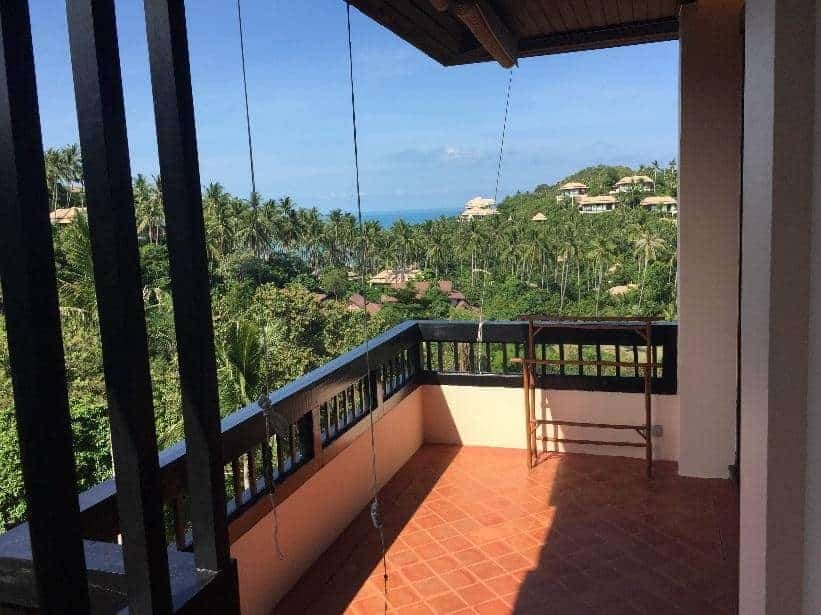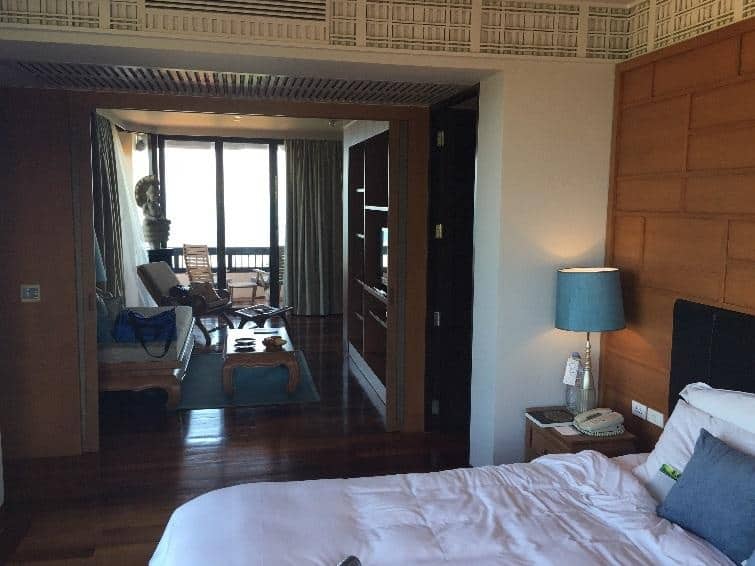 I won't count the upgrade toward the "regular price" but it was cool nonetheless.
Let's update the totals.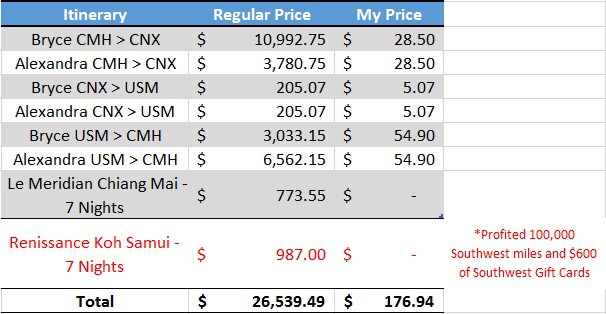 $26,539 of flights and hotels for $176 is cool and all, but I wasn't done quite yet.
I wanted to cover some of my hotel incidentals as well.
Here's how I did it.
The Incidentals
Remember the Barclays Arrival Plus that we discussed earlier?
It's the credit card that earns points that can be used to erase any travel purchases made with the card at a value of 1 cent per point.
Well it turns out that anything billed to your hotel room counts as a "travel" expense, so these points could be used to cover our hotel incidentals.
Fancy dinners? Check.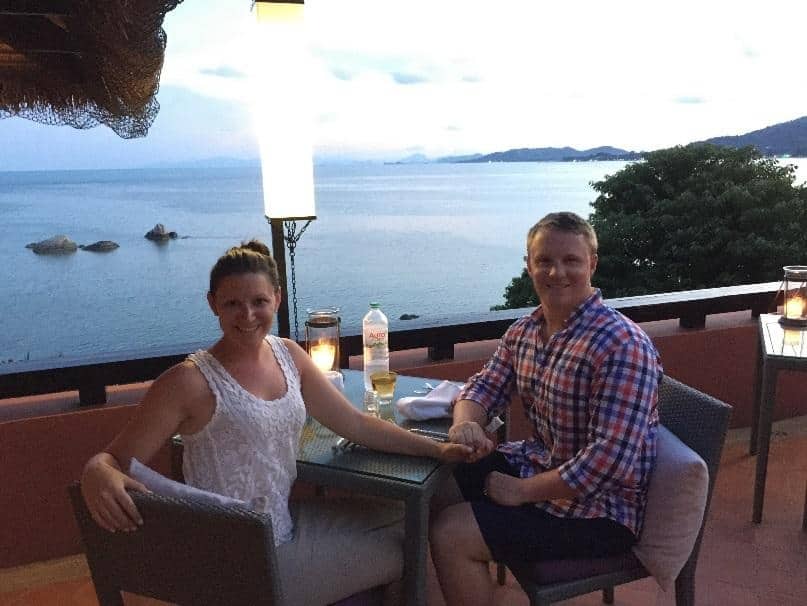 Poolside cocktails? You bet.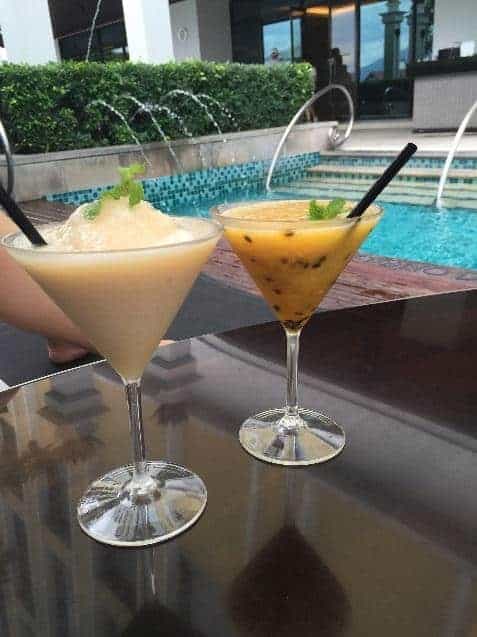 And we took full advantage. Here's a copy of our bill.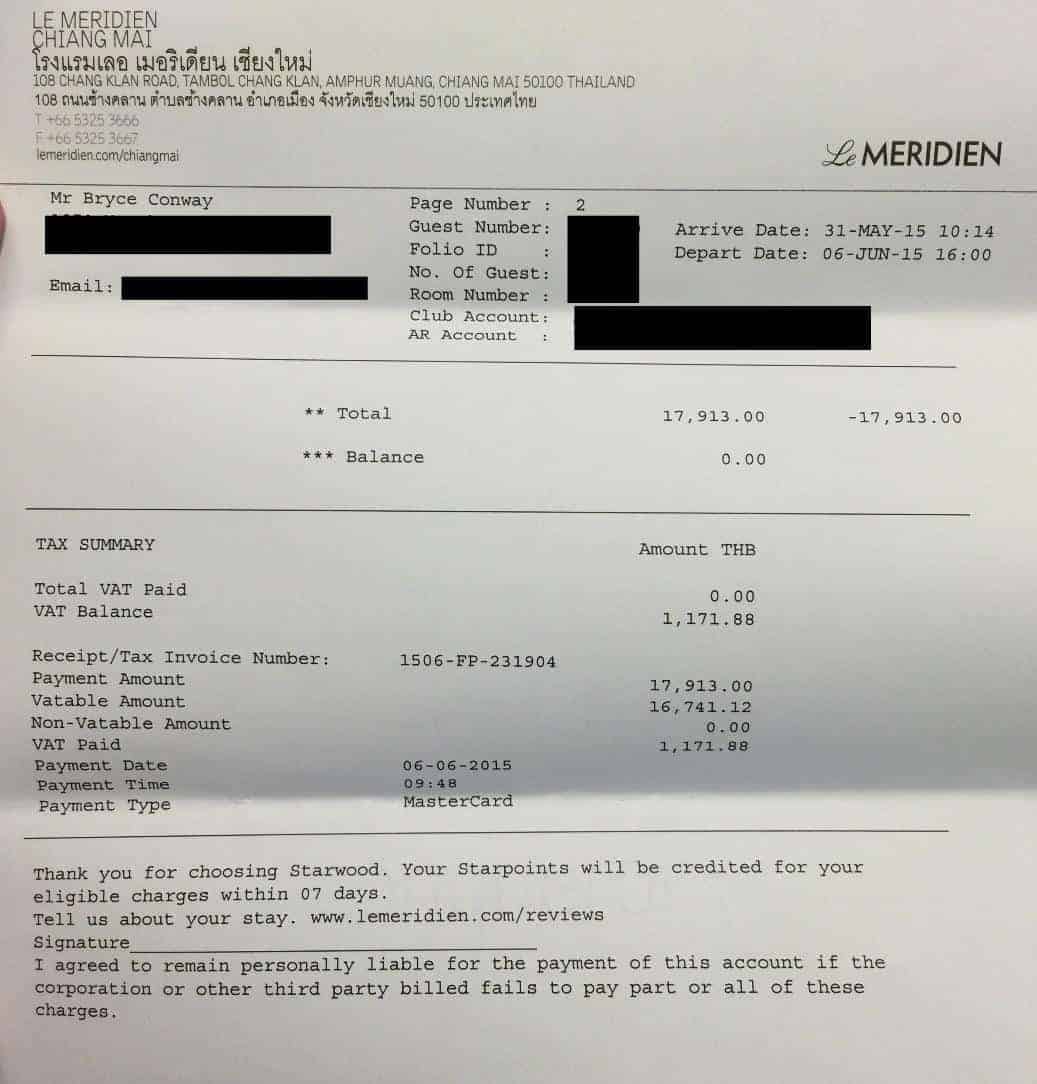 Here is the corresponding credit card charge on my Barclays Arrival Plus.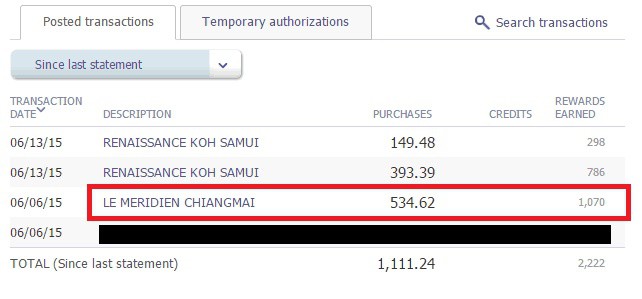 And here is a copy of my points redemption.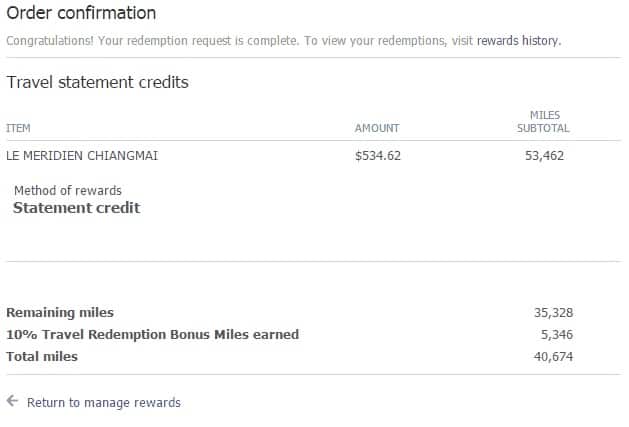 Poof! The $534.62 charge was completely erased with points.
I did the same thing with our hotel in Koh Samui.
Here is a copy of the bill. We got pretty carried away with the room service.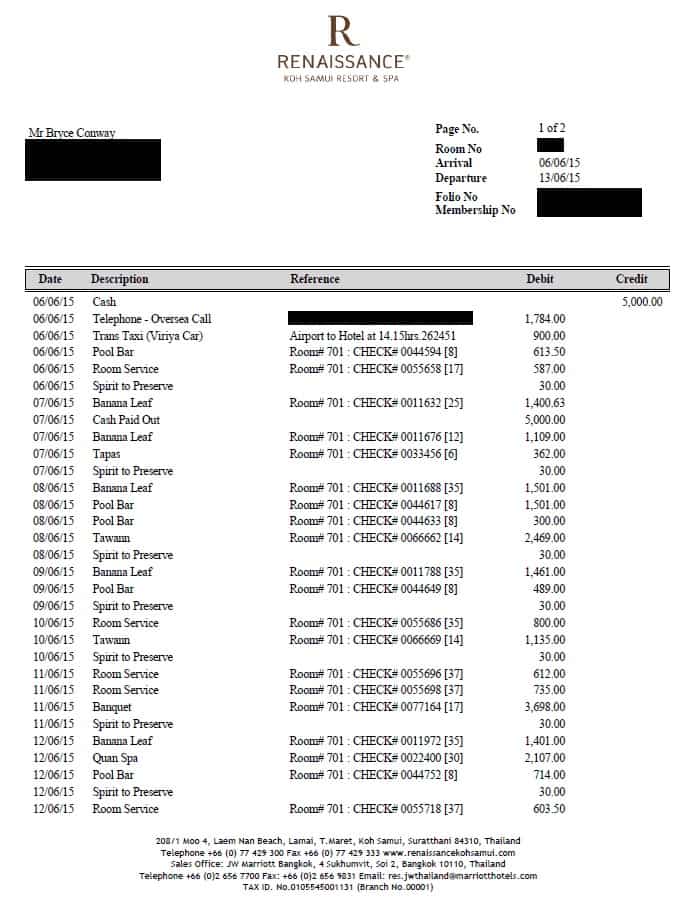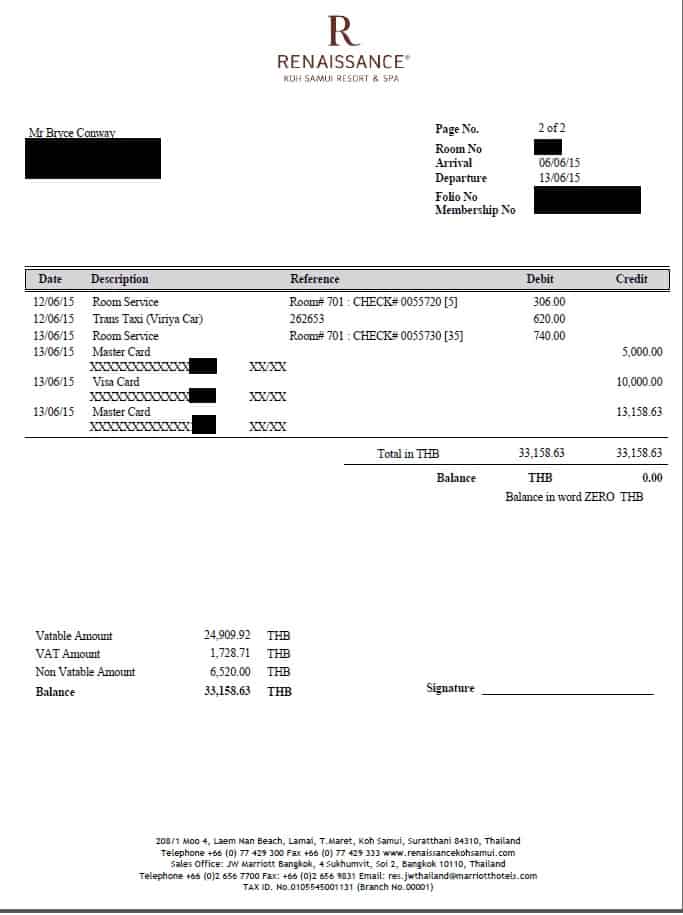 I split the charge across two credit cards to use up some old points on my Capital One Venture card. It has the exact same point structure as the Barclays Arrival Plus.
Here is the 10,000 THB charge (~$297) on my Capital One Venture card.

And here is the redemption covering the entire amount.

Here are the other two charges on my Barclays Arrival Plus.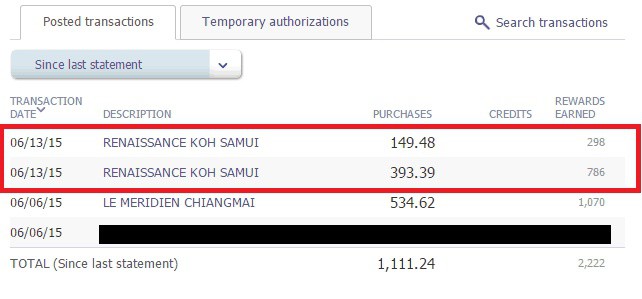 I only had enough points to erase the $393.39 so I was left paying $149.48 out of pocket.
Here is the $393.39 redemption.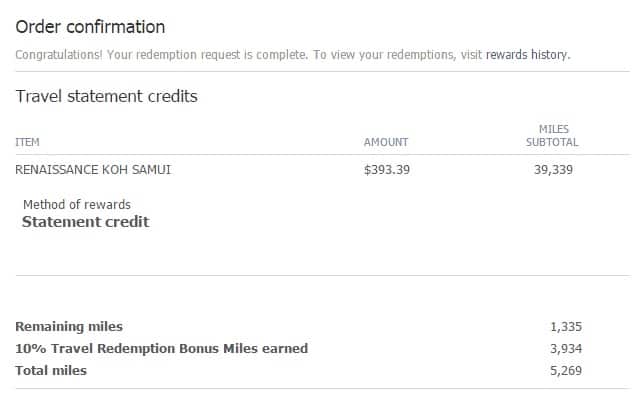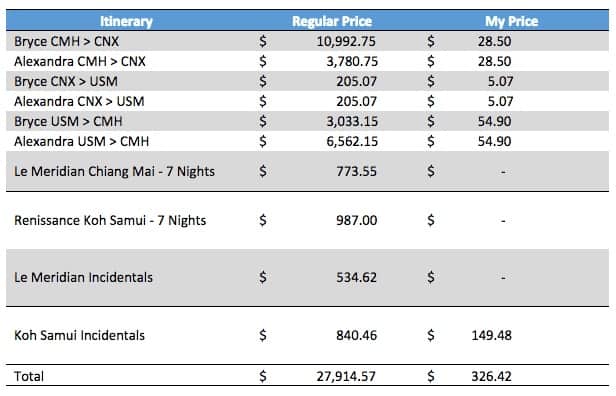 And there you have it. A $27,914.57 trip to Thailand for a whopping $326.42.
My only other expenses were for activities that didn't accept credit cards.
You know, things like feeding elephants, custom-made suits, snorkeling cruises, and private Thai cooking lessons.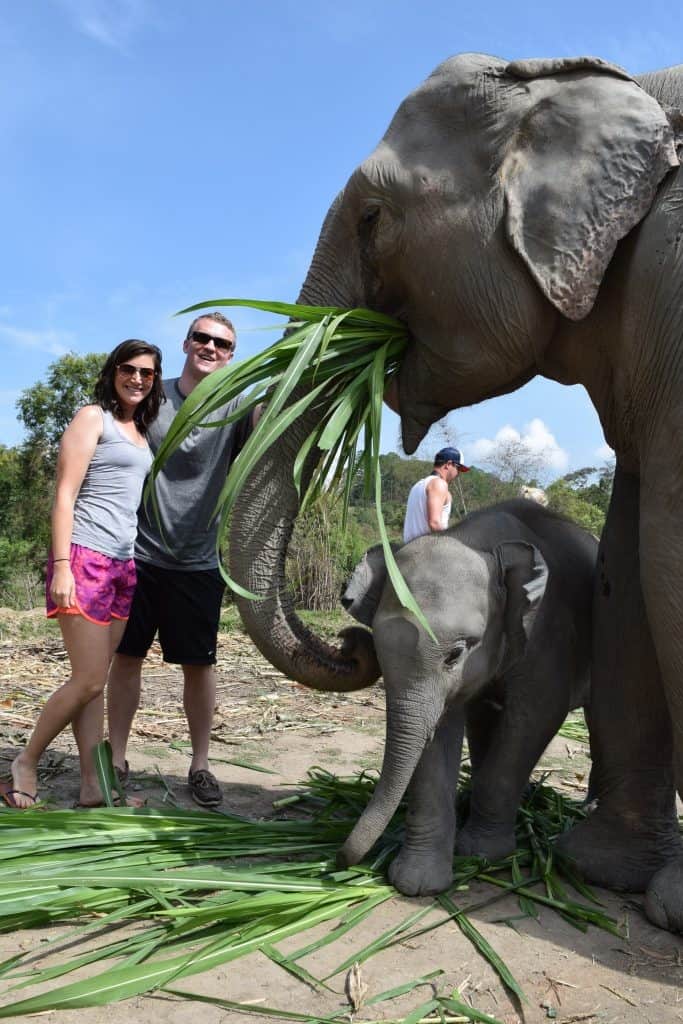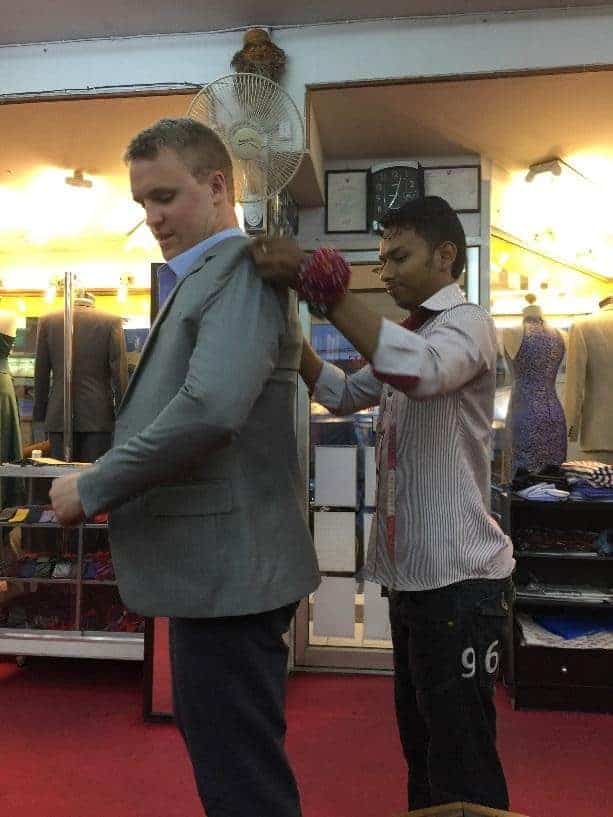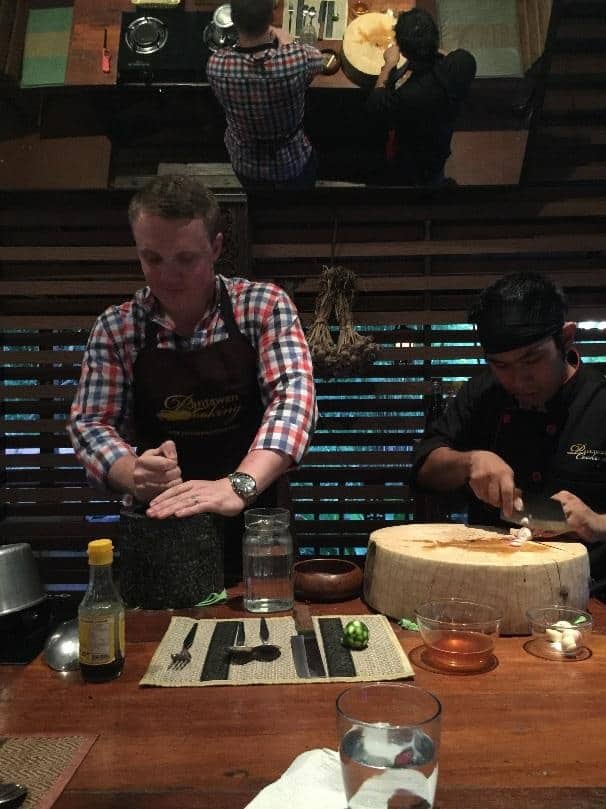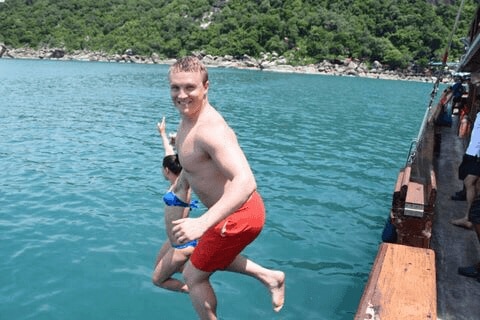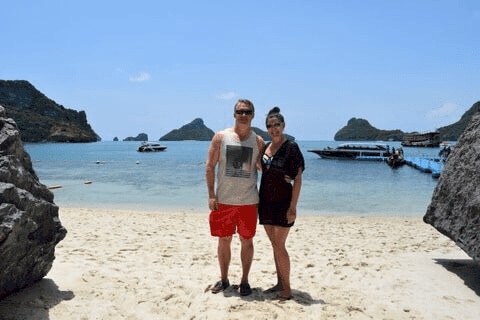 When you only spend $326 on your airfare and lodging you can afford to spend lavishly on your other travel activities.
Want to start putting together an amazing trip of your own?
Get started today by starting on my free course!
Happy Travels,
Bryce
P.S. You can also check out the 10xTravel Insider's Facebook Group, where 50,000+ Readers share the best tips and tricks you'll find anywhere on the web.
P.P.S. Want to create an amazing trip like this for yourself? Start by taking a look at the best credit card offers on the market right now.
New to the world of points and miles? The Chase Sapphire Preferred® Card is the best card to start with.

With a bonus of 60,000 points after $4,000 spend in the first 3 months, 5x points on travel booked through the Chase Travel Portal and 3x points on restaurants, streaming services, and online groceries (excluding Target, Walmart, and wholesale clubs), this card truly cannot be beat for getting started!
Learn More
Editors Note: Opinions expressed here are author's alone, not those of any bank, credit card issuer, hotel, airline, or other entity. This content has not been reviewed, approved or otherwise endorsed by any of the entities included within the post.