In This Article
Loading table of contents …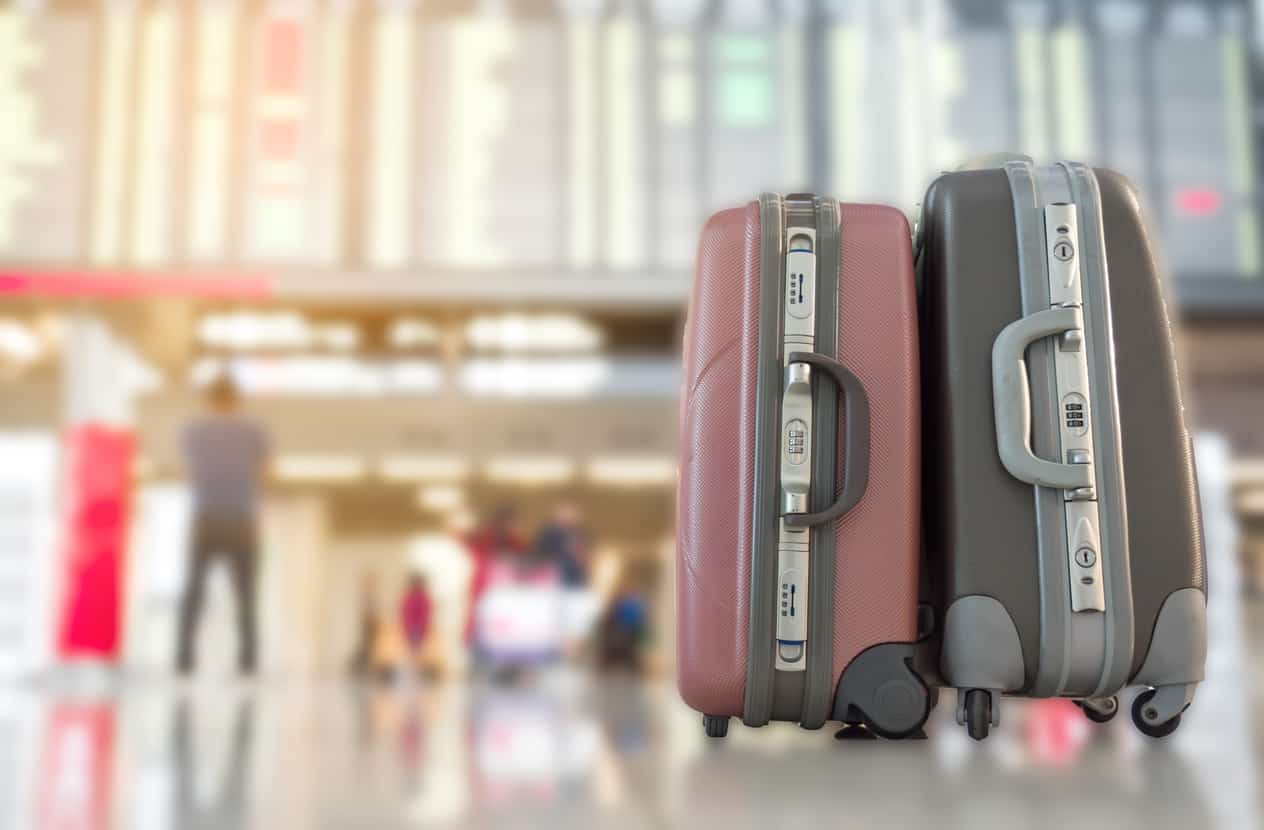 Note: Some of the offers mentioned below may have changed or are no longer be available. The content on this page is accurate as of the posting date; however, some of our partner offers may have expired. You can view current offers here.
Hey 10xers,
We spend a lot of time writing articles about amazing vacations or how to plan the perfect getaway for next to nothing. Our articles contain pictures of lavish hotel rooms, luxurious first-class plane seats, and amazingly beautiful beaches.
Today's article is a little different, though. I wanted to share a recent travel experience of mine to show you what to do when everything goes wrong on a vacation.
So, what happened?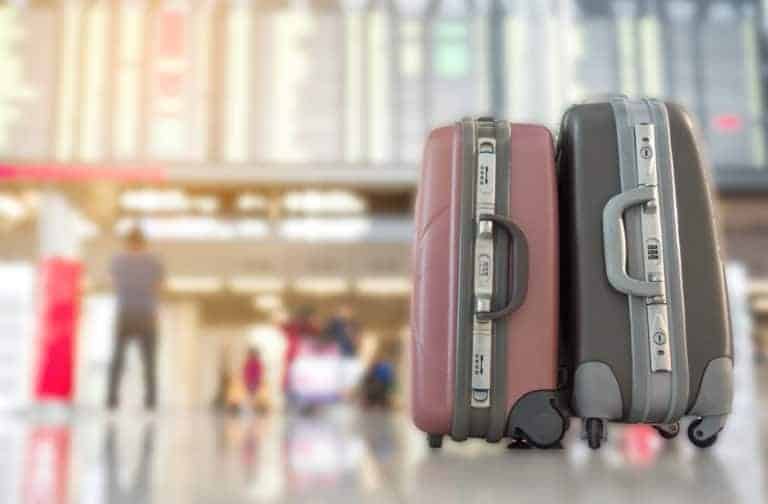 Our Adventure To Rome
My wife and I booked a 10-day trip to Italy to enjoy as much pasta, wine, and history as we could cram in.
We used 45,000 American AAdvantage miles each to book an economy flight from Austin, TX to Rome that featured stops in Dallas and Philadelphia. Not an ideal route by any stretch of the imagination, but sometimes that's how it goes when you have inflexible travel dates and are booking last minute.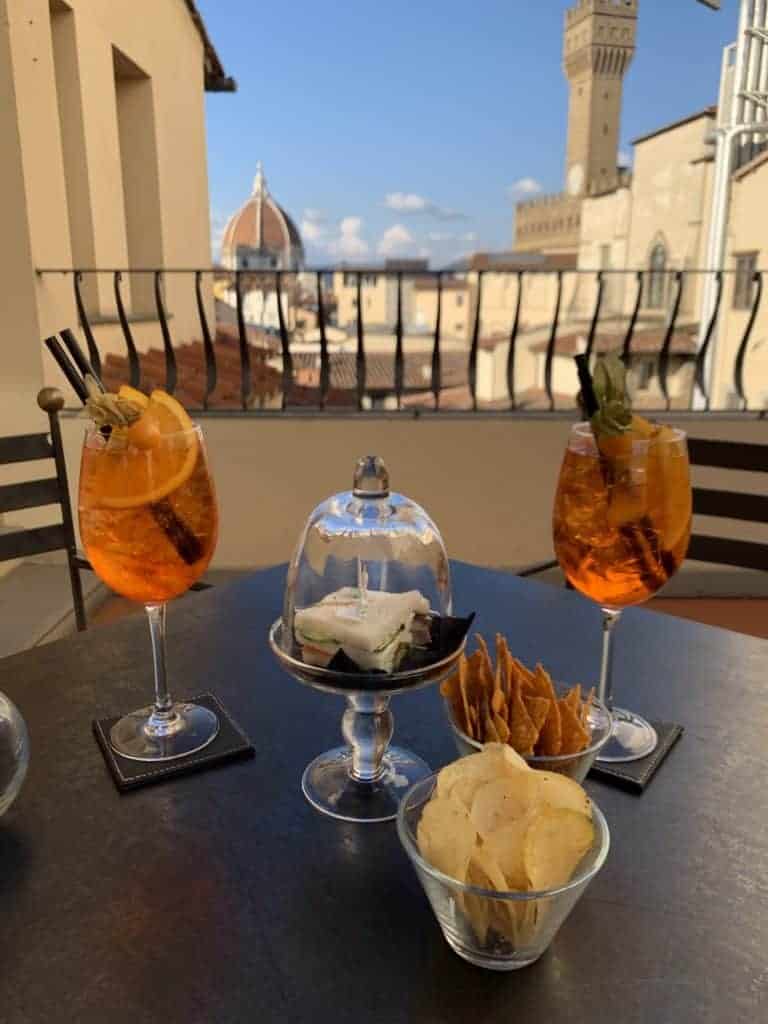 Things started to go wrong the moment we landed in Dallas. I turned on my phone and was immediately notified that our next flight to Philadelphia had been delayed by 30 minutes due to mechanical issues.
Not to worry, we would still have an hour and a half in Philly before our flight was scheduled to depart for Rome.
We spoke with an American Airlines agent to inquire about alternate itineraries just in case things got worse. She didn't know why our flight was delayed (or even that it was delayed in the first place) and said we should stick to our original itinerary since it would still work out.
I agreed and headed for the lounge.
While enjoying food and drink in the lounge we watched our flight delay continue to drag out until it was clear we were going to miss our flight to Rome. My wife quickly jumped in line to speak to a representative while I did some research to find an alternate route to Rome.
I was able to find a non-stop flight from Dallas to Rome with seats available that was scheduled to depart in 30 minutes. Unfortunately the airline representative informed me that this was not enough time (really?) to process the change and that we would have to explore other options.
Ouch.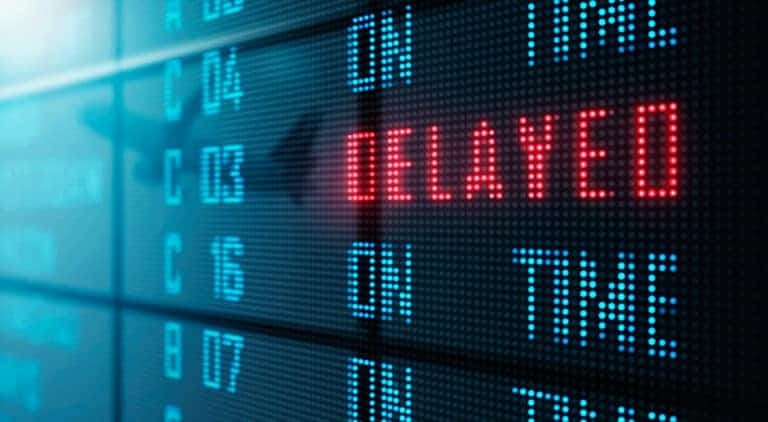 We asked if we could just fly directly from Dallas to London on an upcoming flight and skip the Philly leg of our trip. Once again, this question was met with bad news from the American representative. She said we could but our bags would likely be stuck on our original itinerary and be delayed. We were now going to have to fly from Dallas to Philly to London to Rome and arrive about 8 hours later than we planned.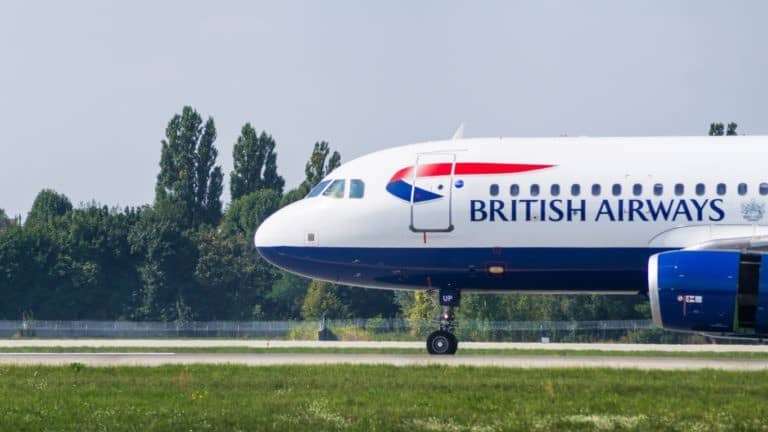 We finally boarded our delayed flight to Philly only to be informed that the pilots were past their legal flying hours and couldn't fly the plane.
The pilots left and the plane sat at the gate for an hour and a half while flight attendants frantically called American trying to figure out who was going to fly the plane. At this point I was starting to question if a higher force was trying to prevent me from getting to Rome.
We finally found new pilots for our Dallas to Philly flight but we were going to be close to missing our next flight to London. We landed in Philly with 40 minutes to spare when our pilot told us our gate is occupied by another plane. We sat on the tarmac for 25 minutes waiting for our gate and sprinted off the plane to make our flight to London. As we boarded our next flight, I asked the agent if he thought our bags would make it. He laughed and said the bags probably made it on the plane before I did.
After connecting in London, we finally make it to Rome and… our bags did not. Turns out, they never made it out of Philadelphia. Awesome.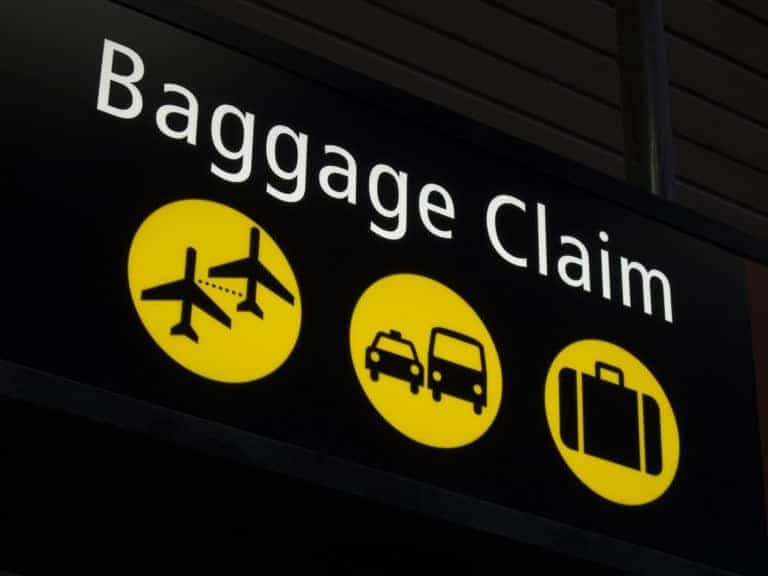 Finding A Way To Get Our Bags
Here's a fun airline fact. When your bags are lost it is the responsibility of the airline that flew your final leg to retrieve them.
Since our new route involved flying British Airways out of London, they were responsible for getting us our luggage despite having never handled our bags in the first place.
We filed a claim with British Airways and they told us they couldn't fly the bags into Rome for more than 24 hours since they had to fly them on a British Airways route. American Airlines had a direct flight from Philly to Rome that would have been much faster but since British Airways was in charge, that wasn't an option. British Airways took down our information and said they should have our bags to us late the next day.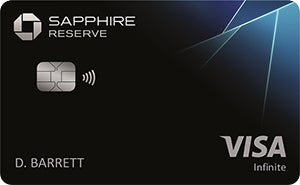 Chase Ultimate Rewards Points
after you spend $4,000 in 3 months
After leaving the airport, I called American Airlines and after some convincing, they told us they could put our bags on their next flight to Rome and inform British Airways they were coming. American never informed British Airways though and, despite me calling both airlines several times, our bags sat at the Rome baggage claim for 8 hours before British Airways picked them up.
Another fun airline fact. The airlines themselves don't deal with returning your lost luggage to you, but instead, they contract it out to a local delivery service.
I ended up dialing 5 different local Italian phone numbers to try and find our bags. Half of the people who answered didn't speak English — understandable as it is Rome, after all — while the other half kept telling us it was with a different office.
We finally spoke with someone who said our bags would arrive at our hotel that day and that they would call back in 10 minutes. They never called back and the next time we called that same number, they said our bags wouldn't make it to our current hotel but would catch up with us in Florence in 2 days.
Finally, I decided to do what most angry people do these days: I took to Twitter.
After a few strongly-worded tweets at both American Airlines and British Airways, they direct messaged me and helped us track down our bags. We ended up getting them back in Florence 4 days after we landed in Rome.
When they were finally delivered, the airlines didn't even know it. We had to tell them.
Losing your bags can ruin a vacation, but there are a few things we did that helped us to salvage our trip.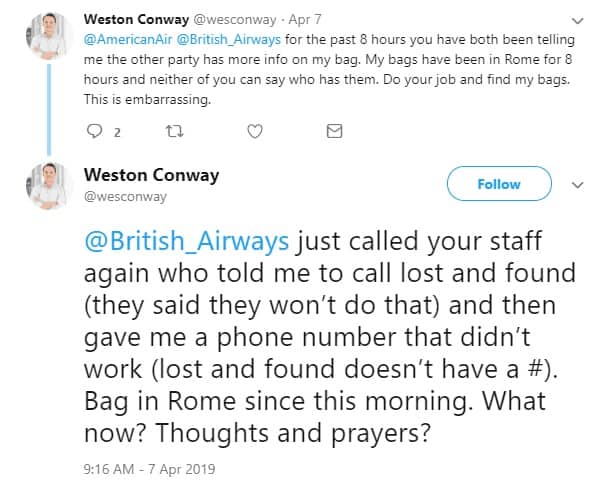 What To Do Before Your Trip To Avoid Disaster
Pay with a card that has a trip delay and baggage delay coverage
Even if you book an award flight, use the card to pay your taxes and fees. Our favorite card for this is the Chase Sapphire Reserve®. Its "delayed luggage insurance" gives you $100 per person per day to cover "reasonable expenses" such as clothing or toiletries.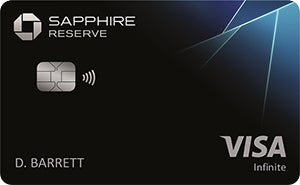 Chase Ultimate Rewards Points
after you spend $4,000 in 3 months
Pack a few must-have items in your carry-on
The airline will pay to replace some of your items but that doesn't mean you will easily be able to go shopping. Have a spare pair of socks, underwear and a t-shirt in case you can't immediately buy additional items. Also, if you have any medication or small items that would not be easily replaced, put them in your carry-on as well.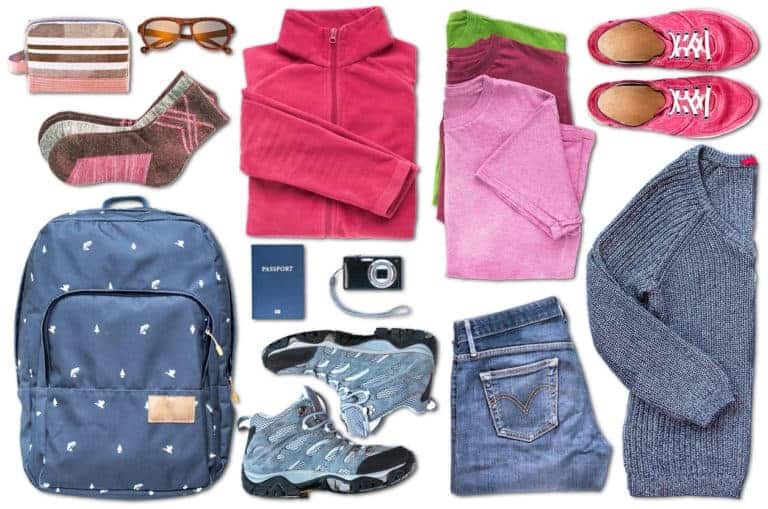 If you encounter any flight delays, do your own search for alternative routes
Gate agents often have to deal with numerous passengers and will try to keep your original itinerary in place as long as possible. If you can proactively suggest other routes, you can help make everything easier on them and on yourself.
What to do after your bags are lost
After filing your lost baggage claim, reach out to the airline returning your bag on Twitter
We spent hours trying to get in touch with the local company in charge of getting our bags back with no success. One tweet to British Airways and we were direct messaging with someone who could actually help us.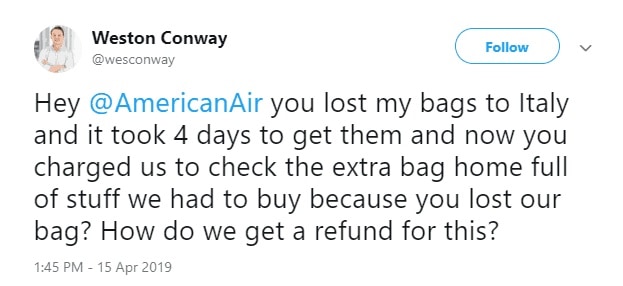 Track your own bags
American has a feature in their app in which you can track where your luggage. There were several times when we had to tell the customer service rep where our bags were.
When you speak to the airline, inform them that you will be buying equivalent items to replace your delayed luggage
While British Airways never gave me a firm dollar number I could spend, I told them I needed several nice outfits due to our vacation plans and they said that was fine. I also took a screenshot of that conversation on Twitter in case they decided to challenge me on my expenses.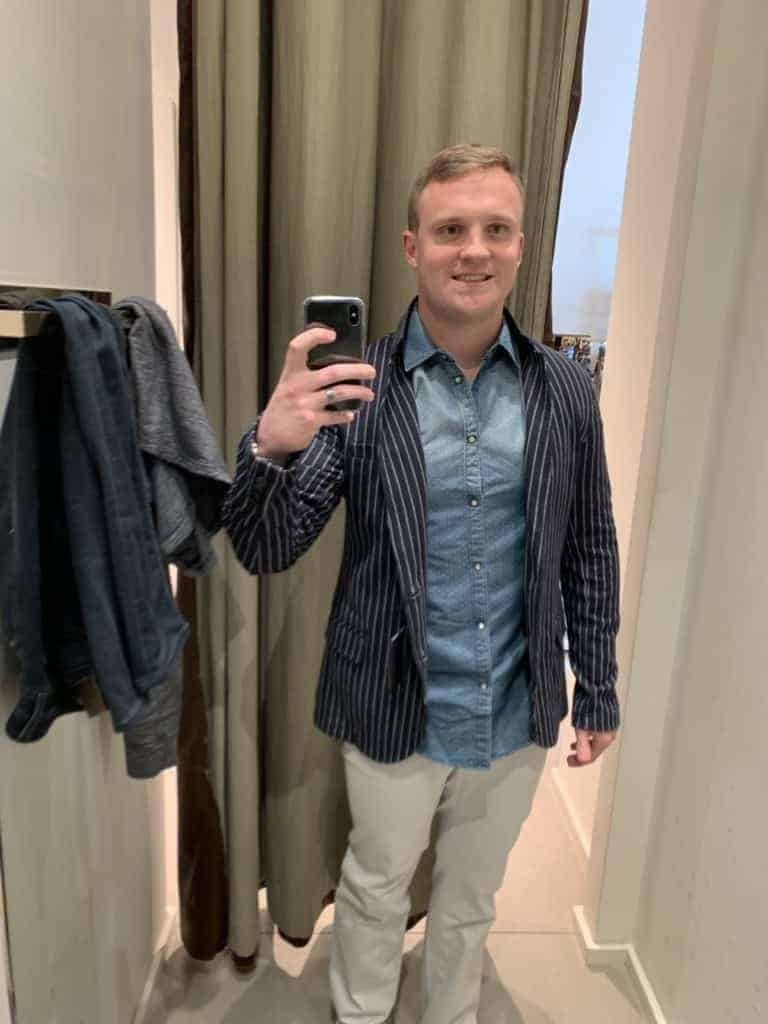 Take pictures of your checked baggage ticket, delayed baggage claim, and all receipts
This one is pretty obvious, but if you lose any of those receipts or claims, you are screwed.
Buy what you need to be comfortable for 1 day more than anticipated
When our bags were first delayed we thought we would get them in 1-2 days, but it ended up being 4 days.
Start your claim as soon as you get home (or earlier if you'll be gone for a while)
You only have 20 days from the time your luggage is delayed to file your claim so don't delay in informing them to get the claim started and then complete it as soon as your trip is done.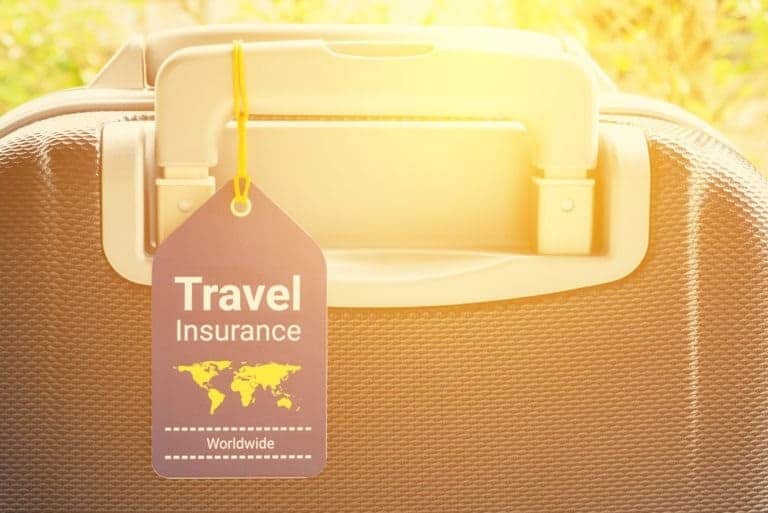 The Result
My wife and I ended up spending about $1,700 on new clothing and cosmetics. British Airways informed us that the maximum they could pay was $1,500, so we filed a $200 claim with Chase to cover the additional out of pocket expenses.
We could have spent an additional $600 and still been completely covered for the 4 days we were without our luggage. As a bonus, we billed the EU VAT tax on our items to British Airways but took the refund for ourselves and pocketed another $200. We also emailed American Airlines several times about how we were treated and each received a $175 voucher.
$1,700+ total compensation for 4 days of no bags? I'll take it. Though, I would have preferred a smoother European vacation.
Losing your bags is never fun, but with these steps, we were able to salvage our vacation and still have an awesome time! I also now have a few European-styled items to add to my regular wardrobe.
Weston
Have questions or a bag horror story of your own? Share them in the comments or email them to [email protected]!
New to the world of points and miles? The Chase Sapphire Preferred is the best card to start with.

With a bonus of 60,000 points after $4,000 spend in the first 3 months, 5x points on travel booked through the Chase Travel Portal and 3x points on restaurants, streaming services, and online groceries (excluding Target, Walmart, and wholesale clubs), this card truly cannot be beat for getting started!
Learn More
Editors Note: Opinions expressed here are author's alone, not those of any bank, credit card issuer, hotel, airline, or other entity. This content has not been reviewed, approved or otherwise endorsed by any of the entities included within the post.