In This Article
Loading table of contents …
Hyatt Pay My Way lets you choose how you want to pay for your stay. Let's look at how and why you might want to use Hyatt's Pay My Way to help book your hard to nab Hyatt award stay.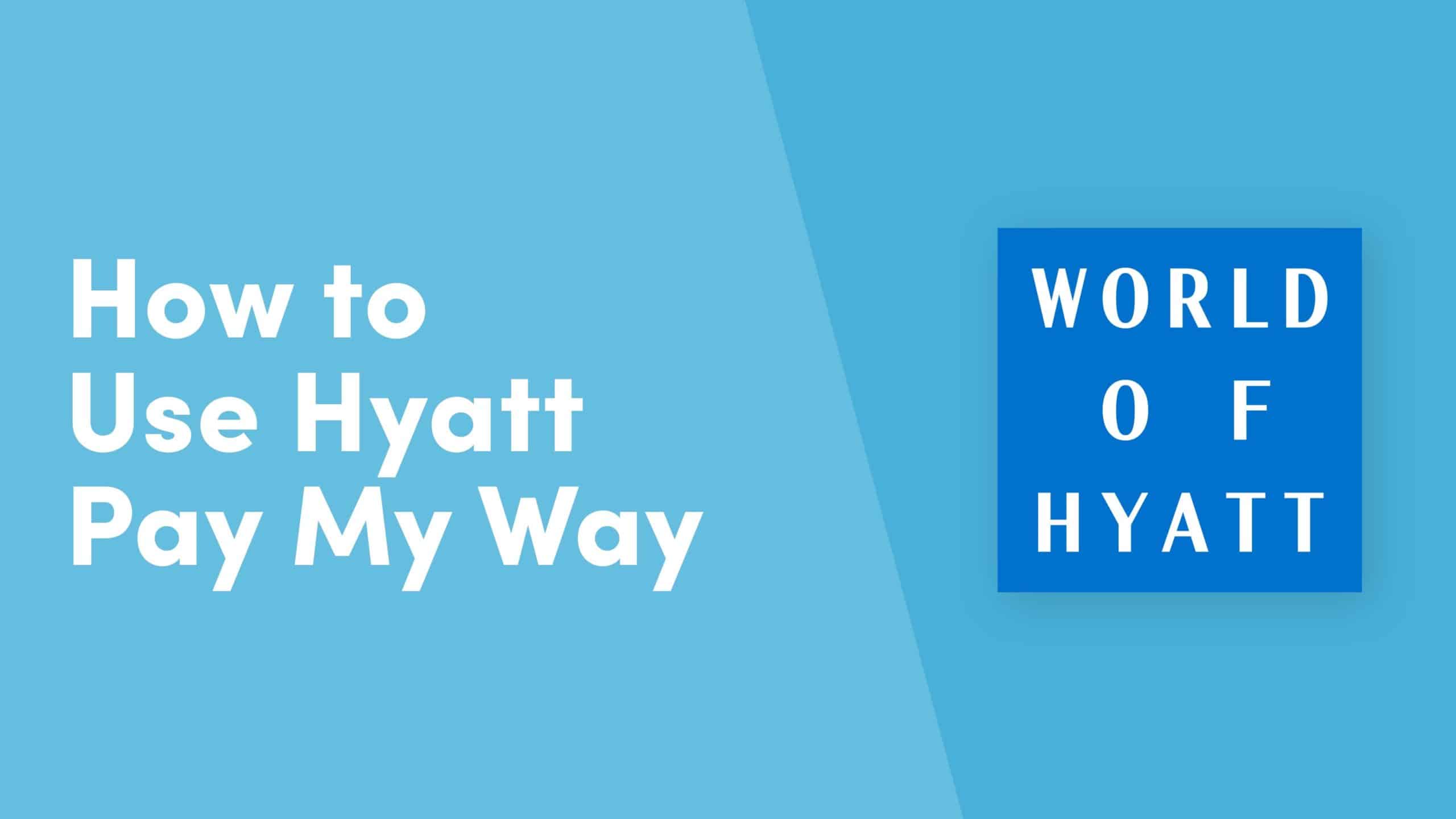 There are definitely some aspirational Hyatt properties out there. As customer friendly as Hyatt's World of Hyatt program is, sometimes hotels try to game the system to stop you from booking free nights (cough cough Andaz Maui cough cough). Knowing how to use Hyatt Pay My Way is a key tool in your award booking arsenal that can help you get the nights you want using points.
Although the usual advice is to book flights first and book hotels second, sometimes there's an aspirational hotel that you're looking to book. If the purpose of your trip is to book a specific hotel, then it makes sense to be sure free nights are available for your trip.
Let's look at how and why you might want to use Hyatt's Pay My Way to help book your hard to nab Hyatt award stay.
What is Hyatt Pay My Way
Hyatt Pay My Way lets you choose how you want to pay for your stay. You can split up your stay into points, cash or free night certificates. This lets you mix and match payment methods so that you can book in a way that best fits your needs.
Have a lingering free night certificate from The World of Hyatt Credit Card that you want to redeem along with points for a longer stay? In the past, the common way to do this was to make two separate reservations and call to have them combined in advance, or notify the front desk when you check in.
Maybe you have enough points to cover a few nights during your stay, but you're willing to pay cash for the rest. In that case, Hyatt Pay Your Way lets you make the booking with points covering some nights and paying cash for the rest.
Hyatt Pay My Way gives you the flexibility to pay for your reservation in a way that best serves you.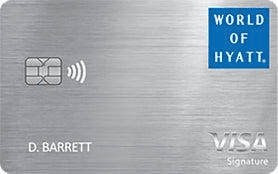 The World of Hyatt Credit Card
Total Bonus Points
30,000 points after $3k spend in 3 months. Up to 30,000 additional points by earning 2X points on the first $15,000 spent in non-bonus categories in the first 6 months.
Why Knowing How to Use Hyatt Pay My Way Is Important
There are a few reasons why knowing how to use Hyatt Pay My Way is important.
For starters, some hotels are known to play games with award space. They'll pick very select rooms to be "standard" hotel rooms. This means that more often than not those rooms will be booked up and there won't be any hotel inventory left to book with points.
Other times, hotels will limit you to an arbitrary minimum stay to show certain types of rooms. If you were planning on staying five nights, but they require you to stay eight nights, then you'll be completely out of luck.
Whatever the reason, Hyatt Pay My Way is another way that you can help make your next award stay a reality.
How to Use Hyatt Pay My Way
Some of these steps are going to seem a bit basic, but think of this as both a "how to" and as a troubleshooting guide to go through if you're not getting the option to use Pay My Way
Log in to Your World of Hyatt Accountt
As common sense as this may seem, Hyatt Pay My Way won't be an option if you aren't logged into your World of Hyatt account. I know I will often go to a hotel website to look for availability while planning my trip without logging in.
If you're not logged into your World of Hyatt account, Pay My Way won't show up as an option. So if you're not seeing it as an option when trying to book your hotel, consider this your "turn it off and back on again" prompt: check to be sure you're actually logged in to your World of Hyatt account.
Search for the Hotel You're Wanting to Book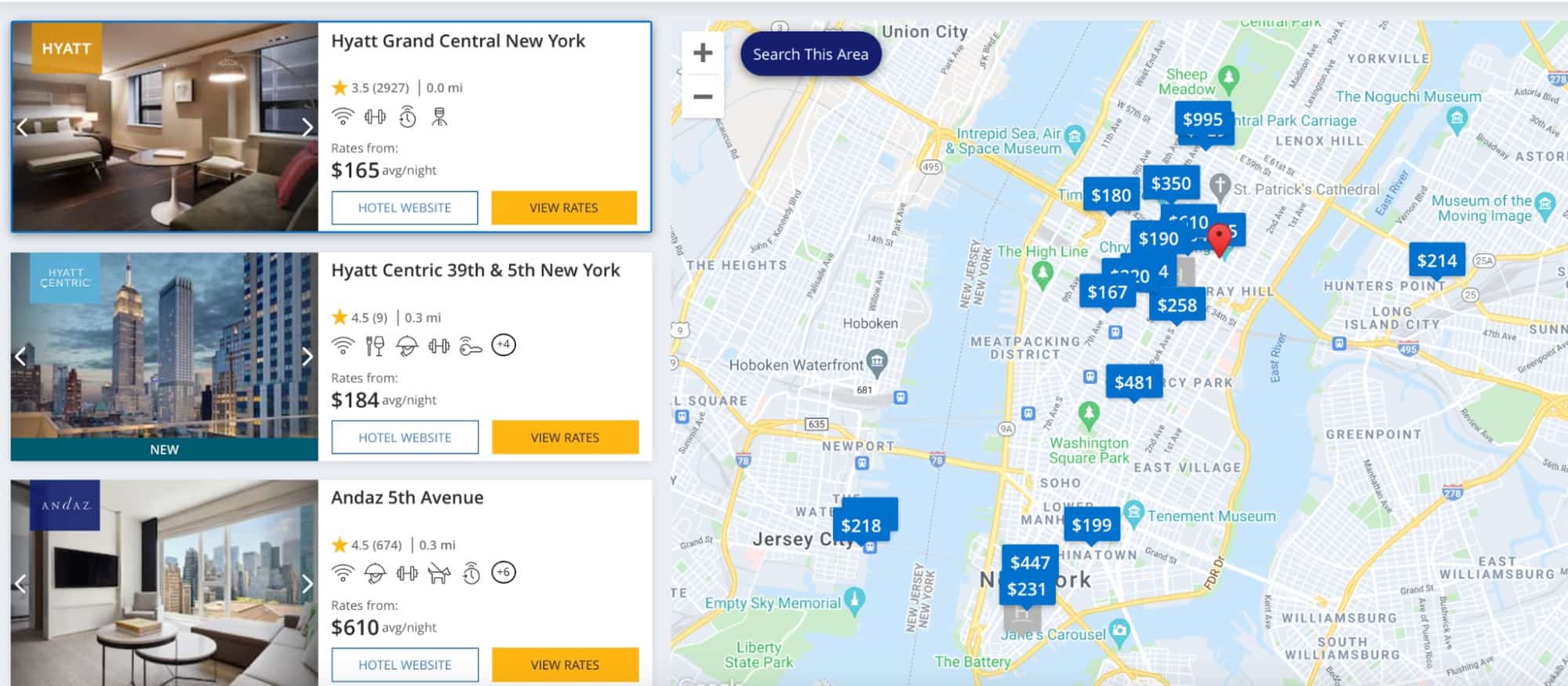 You can search for your hotel a number of ways. If you have a specific property in mind you can just type in the hotel's name to be taken directly to their page.

Alternatively, you can search by location such as "New York City" to see all hotels in the area for your given date. You can also do a city search with "points" selected to see how many points it would take for an award night. Keep in mind that if you search with points, Hyatt will show you how many points a standard night will cost but it doesn't guarantee that a standard night will be available.
If you're starting with a city search, identify the property that interests you and navigate to their page. For those of you with a specific property in mind, just go ahead and navigate directly to that hotel's page.
Search Cash Prices for Your Dates and Choose to Pay My Way
This is the key to triggering the Hyatt Pay My Way option – you must search for cash rates. If you search for point rates, Hyatt will gladly show you the availability but there won't be any way to access Hyatt Pay My Way. Be sure to select either "standard pricing" or "member pricing." The default pricing option that shows up may be an advance purchase rate or a package rate. Pay My Way isn't an option under any rates other than standard or member rates.

From there, you'll simply click "Use Pay My Way" which will populate below the "book now" option. This will send you to a booking page where you can select whether or not you want to use cash, points or free night certificates for each night of your stay.
Keep in mind that Hyatt Pay My Way will only show up as an option for rooms that are eligible to be booked with points. Premium rooms won't give you this option, so if standard rooms aren't available during your stay, you won't see the Hyatt Pay My Way option show up.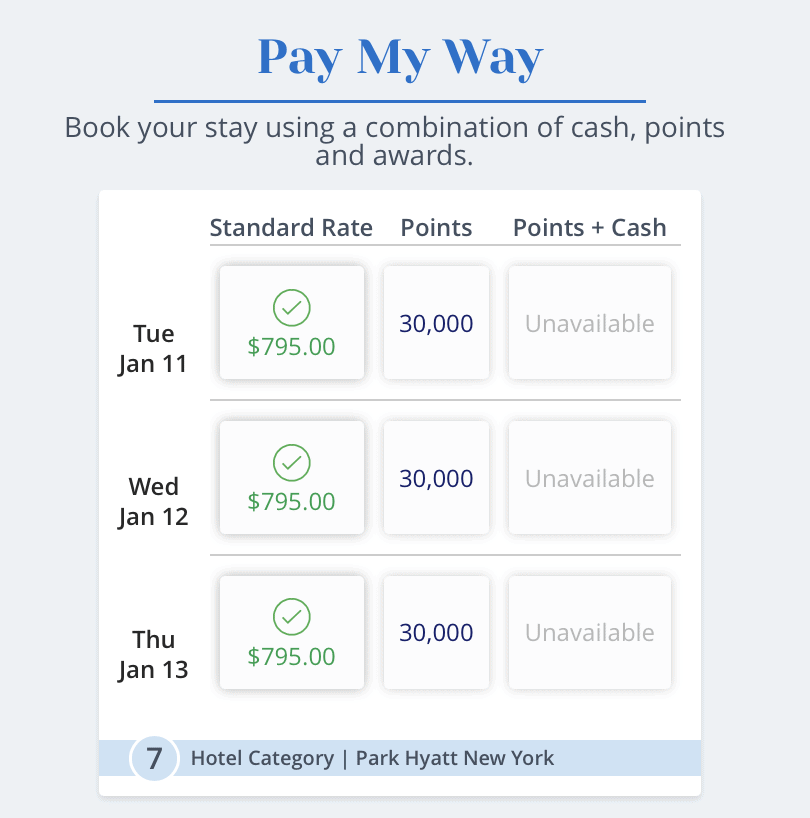 Simply select the option that you want to book for each night and proceed through the booking process.
Hyatt Pay My Way Strategies
Now you might be wondering why you'd want to use Hyatt Pay My Way to book your stay. There's a few use cases where the Pay My Way feature provides extra value to Hyatt customers.
Combine Free Night Awards With Points
In the past, if you wanted to use a Hyatt free night certificate with points, you had to call in and hope an agent was able to help you or book two reservations and notify them at check in that you plan to combine the two.
Although not all that bad, it certainly is inconvenient to have to take extra steps to be able to combine stays with free night certificates and with points. Using Hyatt Pay My Way you can now combine them all into one reservation.
Now you can use Pay My Way to take great trips to some of the best places to use Hyatt free night certificates. Most people are looking to use their free night certificates to extend their stay rather than to just stay one night. After all, traveling to use it for just one night really doesn't let you get a lot of use. Now you can easily book a longer stay and be able to use your free night certificate as well.
Use Free Night Awards at Peak Pricing
For now, this is speculative but I'll definitely provide you with an update once we confirm this. But another way that you should be able to use Pay My Way is to help save points if some of your nights are at peak award pricing.
Hyatt peak pricing is now here, which means that some nights during your stay may cost more than others. Since Hyatt Pay My Way lets you choose which nights to pay with points and which nights to use your free night certificates, you should theoretically be able to use your free night certificate for a peak night and use your points for standard or off peak nights.
Hyatt has confirmed that category specific free night certificates are valid for peak pricing as well, so it isn't locked into the points requirement per night. This means that you'll be able to use your certificate to cover those peak nights and stretch your points just a little bit farther.
Beat Tough to Book Hotels at Their Own Game
This is probably the most valuable way to use Hyatt Pay My Way. There are some hotels that are notorious for not releasing award inventory. I'm looking at you Andaz Maui.
A common strategy employed by some more valuable hotels is to restrict standard rooms to minimum night stay requirements. Often these minimum night requirements are longer than most people would travel.
Let's say you were wanting to visit the Andaz Maui coming in on Sunday and staying through Saturday.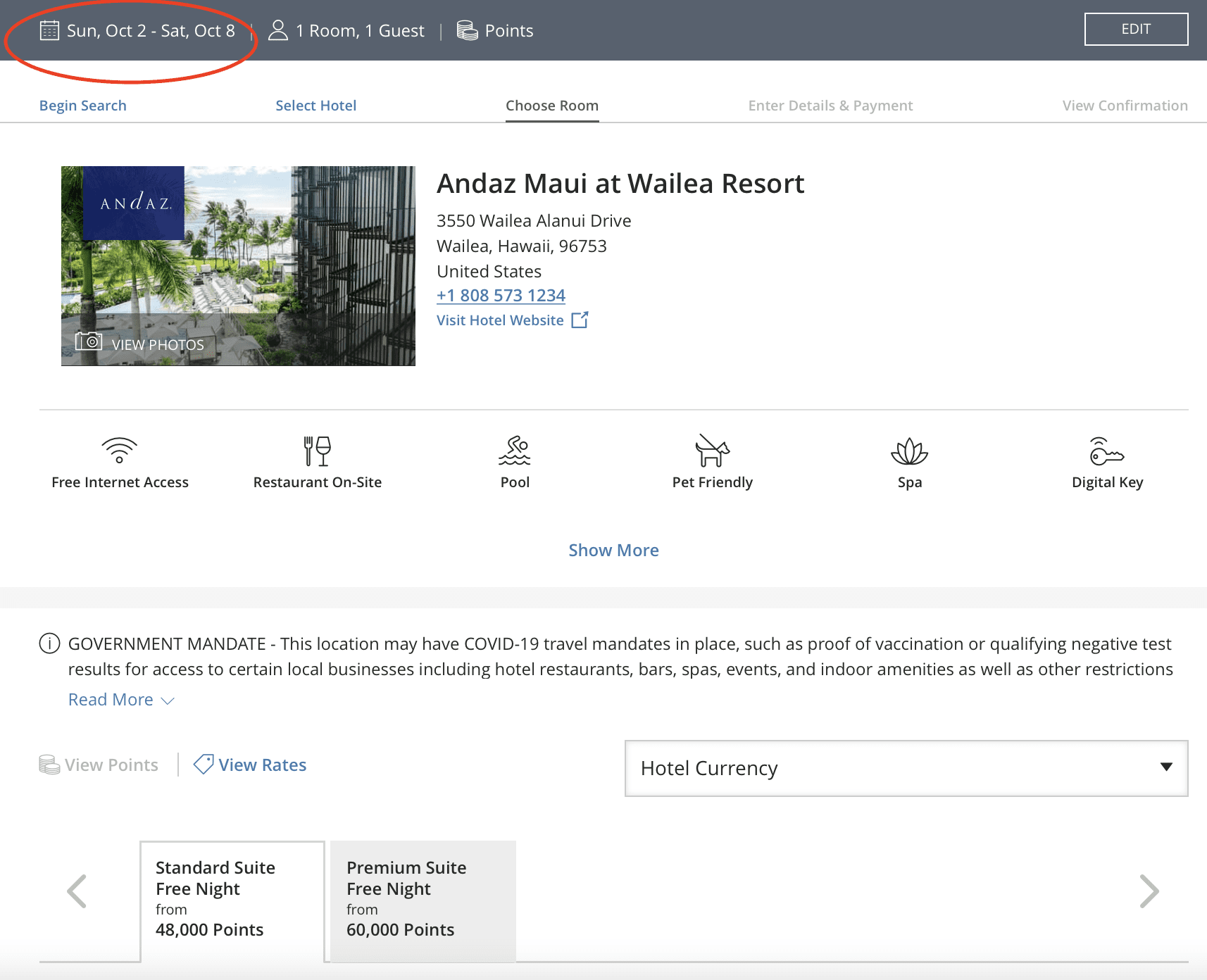 As you can see, the Andaz Maui is showing me that there aren't any standard free nights available. Sure I could shell out some extra points for a standard suite or a premium suite, but I'm really just looking to book a standard room.
If I stopped here, I'd go on thinking I'm out of luck. Insert Pay My Way.
The Andaz Maui tends to limit the standard "King Room" to a minimum night stay of 9 nights. Most people aren't in Hawaii that long. Your average traveler is looking to spend a week at most including travel time. This often means five to six nights max.
With Pay My Way, you can beat the hotel at its own game. Notice, when I extend the range of my stay to nine nights, the room inventory magically appears.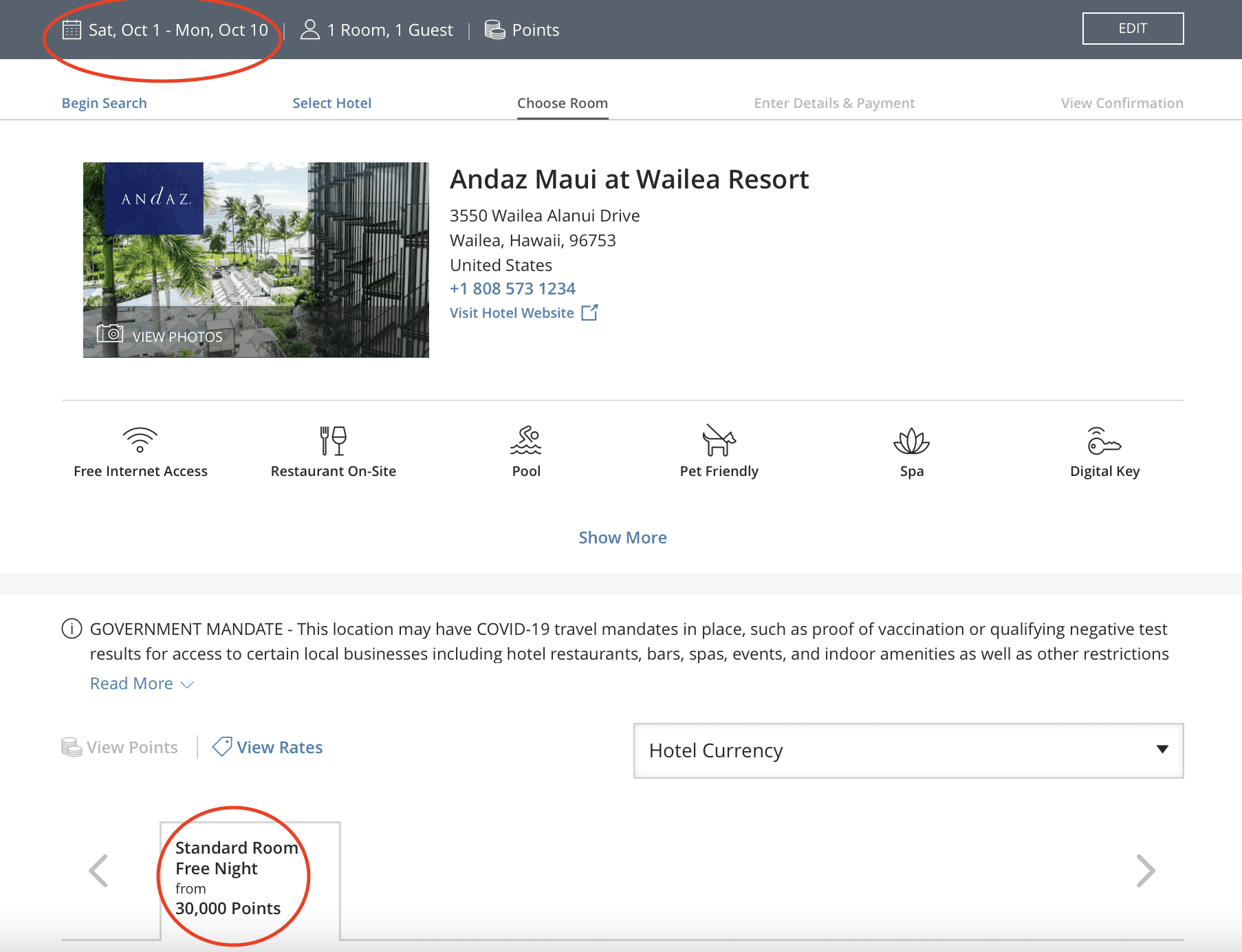 Now, there's magically a free night available during my dates. I'd just have to come in a day earlier and stay a few days later. Maybe these dates don't fit with your vacation allowance, or you're not wanting to stay at one hotel for nine nights. Whatever the reason, there are plenty of justifications for wanting to stay less than nine nights.
Instead of wondering why there's inventory over your nights for longer, but not for your shorter stay, you can use Pay My Way to beat the Andaz Maui at its own game.

Follow the process: flip your reservation over to a cash one and you'll be able to access Pay My Way.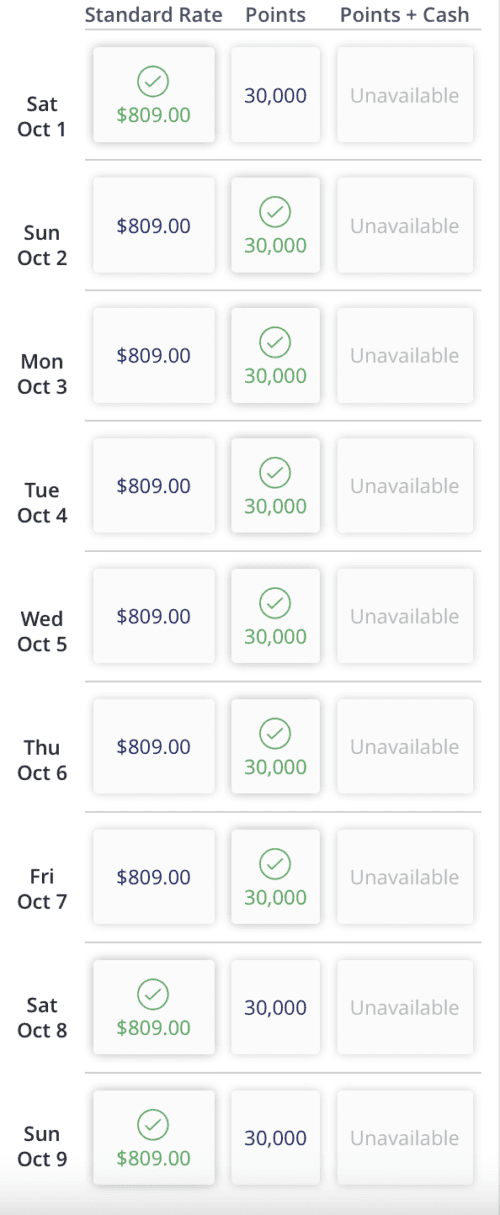 What you can do now is select points for the nights you want and cash rates for the other nights.
Don't panic, these rates are high but you ultimately won't end up actually paying for them. You'll need to complete the booking, which does mean your card will be initially charged for the nights.
After completing your booking you can reach out to Hyatt to cancel the paid nights and leave the points nights. Be sure to specify which nights you want to cancel. In this case I'd ask them to modify the reservation to cancel the nights on the 1st, the 8th and the 9th. This is relatively easy to do. For the millennials like me you don't even have to call in. You can message them on facebook or twitter to complete the process.
And voila! The power of Hyatt's Pay My Way lets you book a notoriously challenging hotel to book with points simply by utilizing the processes in place.
Drawbacks to Pay My Way
Despite all the great benefits of using Hyatt Pay My Way, it does still have some drawbacks. The biggest drawback is if you are actually trying to pay cash for part of your stay.
Many hotels offer a number of special rates and packages. You might get a free food and dining credit or a spa package. These types of packages aren't available using Hyatt Pay My Way since you can only book a standard or member rate.
One of our favorite ways to get more value on paid stays is booking with a Hyatt Prive agent through our hotel booking program. Hyatt Prive is a way to get many benefits similar to having top tier status without actually needing to earn the status. If you're mixing cash nights with points and free night certificates, you won't easily be able to take advantage of these special rates and packages.
There is a workaround. Remember how I mentioned earlier that you could just make two separate reservations? You can do that in this situation to get all the benefits of an award booking to save money and the benefits of a cash booking.
Rather than make your booking all under one reservation paying cash for some nights and points for another, you can make one award booking and a separate booking paying cash. This works best if the cash nights come at the beginning or end of your stay. While it might be a bit inconvenient, it could potentially save you a lot of money.
Final Thoughts
There are a lot of benefits to using Hyatt Pay My Way. You can combine free night certificates with awards in one booking, use free night certificates on peak pricing nights and even beat stingy hotels at their own game.
Of course, there are drawbacks to everything. If you're looking to mix a cash booking and a points booking you will likely be able to save more money or get more benefits by making two separate bookings.
Knowing how to use Hyatt Pay My Way is a great tool to have in your points and miles knowledge database. It may seem trivial, but just a little bit of effort can help you get what you want out of your trip. It just might be the difference you need to pull off a hard to book dream vacation.
New to the world of points and miles? The Chase Sapphire Preferred is the best card to start with.

With a bonus of 60,000 points after $4,000 spend in the first 3 months, 5x points on travel booked through the Chase Travel Portal and 3x points on restaurants, streaming services, and online groceries (excluding Target, Walmart, and wholesale clubs), this card truly cannot be beat for getting started!
Learn More
Editors Note: Opinions expressed here are author's alone, not those of any bank, credit card issuer, hotel, airline, or other entity. This content has not been reviewed, approved or otherwise endorsed by any of the entities included within the post.