In This Article
Loading table of contents …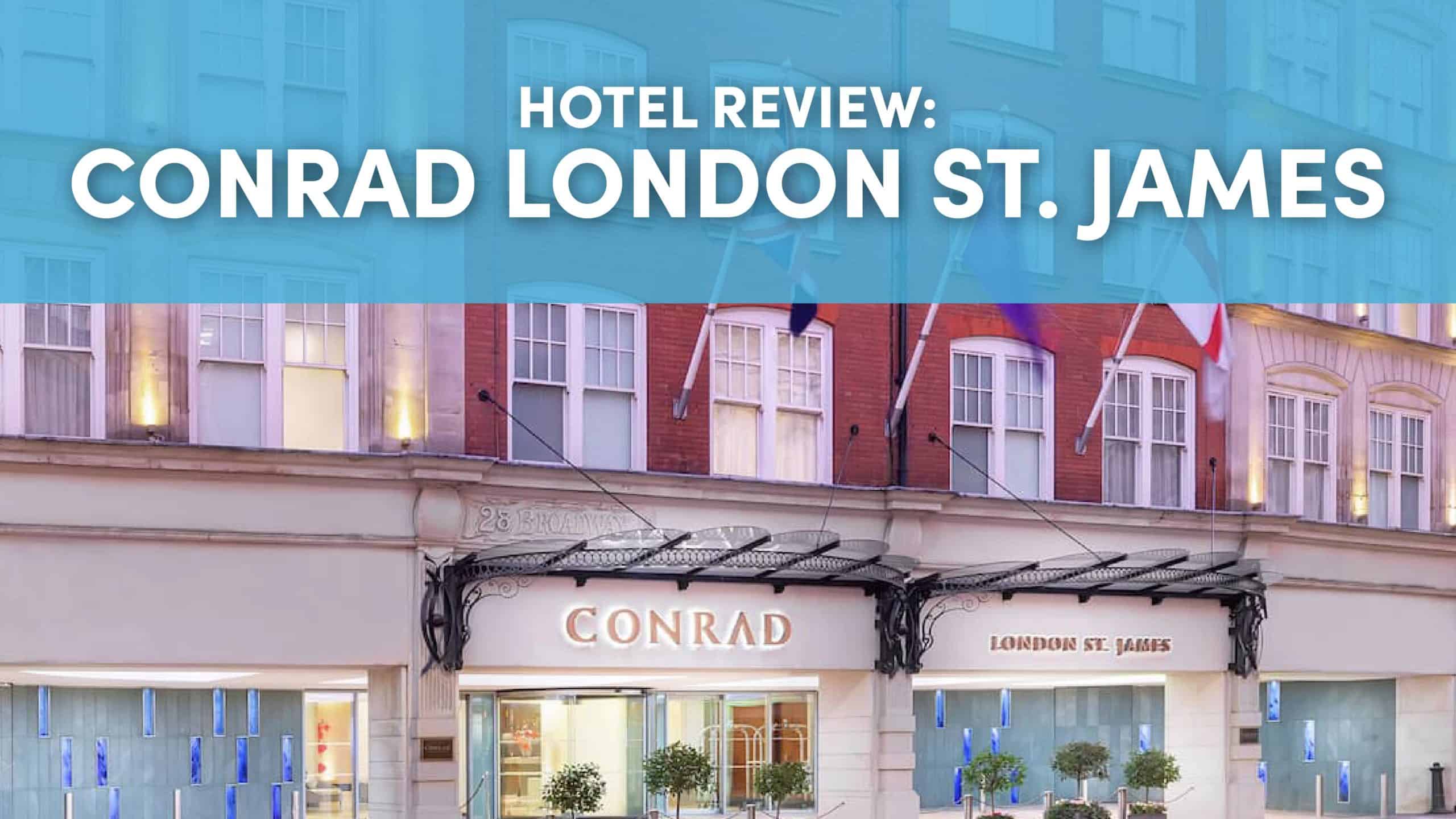 This wasn't my first trip to London, but it's been a while since my last visit. When I found out about the Platinum Jubilee of Queen Elizabeth II being celebrated the first week of June, I knew I had to be there for this once-in-a-lifetime event. My original plan was to stay at one of the Hyatt properties, but the one hotel I was especially interested in was booked, so I pivoted to Hilton.
After I booked the hotel, I decided to bring along my 5-year-old nephew. Since London was going to be all resplendent in its jubilee pageantry, I figured it was a great time to bring him to one of my favorite cities. There are so many things to do in London with kids of all ages, it's easy to fill five days with sightseeing, museums, boat tours and other things kids, and kids at heart, like to do.
How I Booked My Stay
A standard room at the Conrad London St. James goes for as few as 80,000 Hilton Honors points per night. Hilton elites, starting with Silver, get the fifth night free when booking four nights with points, so I redeemed 320,000 Hilton points for five nights.
I didn't have enough points in my account, so I transferred the missing points from my husband's account. Hilton has an easy process for pooling points with anyone—you can do it by filling out a simple online form.
If you have any Hilton free night rewards, you can redeem them at the Conrad London St. James, assuming standard rooms are available. The free night rewards can be earned by spending $15,000 per year on the Hilton Honors American Express Surpass® Card or the Hilton Honors American Express Business Card. The Hilton Honors American Express Aspire Card also comes with one free night reward every year that you're a cardmember.
At one point, I thought that my mom might join us in London, so I asked about the cash upgrade option. The standard king room couldn't accommodate a third person, but I was offered to upgrade to a bigger room for 70 pounds sterling (about $82) per night. Considering high cash rates at this property, I'd deem this a fair price.
I stayed at Conrad Hong Kong a few years ago and had high expectations of this stay. I can't say, though, that this time it went without a hitch, especially considering the high cash prices of this property.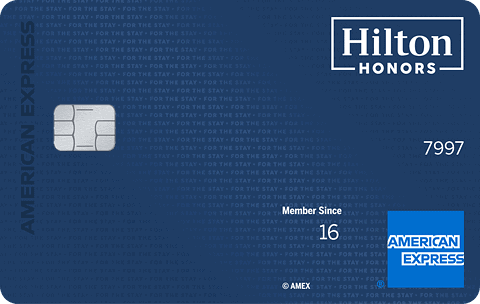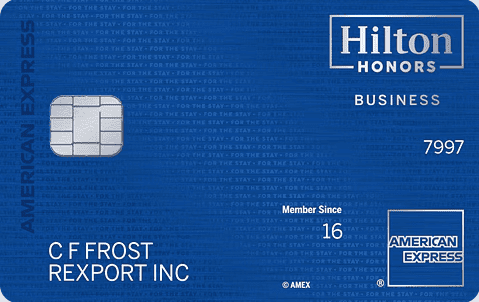 The Hilton Honors American Express Business Card
Hilton Honors Bonus Points
after you spend $5,000 in purchases on your card in the first 3 months. Plus you can earn a Free Night Reward after you spend $10,000 in purchases on the Hilton Honors Business Card in the first 6 months of Card Membership. Offer ends 12/21/22.
Annual Fee: $95 Terms Apply. | Rates & Fees.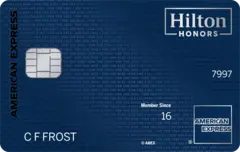 Hilton Honors American Express Aspire Card
Bonus Points
after you spend $4,000 in the first 3 months. All information about The Hilton Honors American Express Aspire Card has been collected independently by 10xTravel. The Hilton Honors American Express Aspire is no longer available through 10xTravel.
Annual Fee: $450 Terms Apply.
Hilton Honors Diamond Benefits at Conrad London St. James
I have Hilton Honors Diamond status so I started looking for centrally located Hilton properties that offer the best Diamond benefits. I'd read a lot of reviews of almost all Hilton hotels in central London, and one stood out—the Conrad London St. James.
I contacted the hotel ahead of time to find out more information about the Diamond benefits and I was happy to learn that in addition to free breakfast, I'd have access to the executive lounge that serves afternoon tea from 2 p.m. to 4 p.m., evening canapes and drinks from 5:15 p.m. to 7:15 p.m., and complimentary soft drinks, tea and coffee any time of the day.
I wasn't planning on spending too much time in the lounge, but it's nice to know what's available ahead of time.
How to Get to Conrad London St. James
Our flight to London arrived at the London Heathrow Airport (LHR), and one of the easiest, and the fastest, ways to get to central London is by Heathrow Express.
If you buy your tickets more than two weeks in advance, the price of a one-way ticket to Paddington train station is 18 pounds (about $21). The standard price is 25 pounds (about $29), so it pays to plan ahead. Kids under the age of 15 ride free but still require a ticket.
We caught a cab from the train station to the hotel because I couldn't figure out where the Uber pickup area was located and I didn't want to wander the area around the train station with all our luggage. In general, Uber is plentiful in London and less expensive than black cabs.
Location
The Conrad London St. James is located in the heart of Westminster, just a few minutes on foot from Westminster Abbey, the Houses of Parliament, St. James's Park and Buckingham Palace. St. James's Park underground station is across the street, and Victoria train station is less than a 15-minute walk away.
The area around the hotel gets quiet at night. There aren't a lot of restaurants or shops in the immediate vicinity with the exception of a couple of small restaurants and pubs. Our room was on the sixth floor and faced the courtyard, so we didn't hear any street noise at all.
Concierge Services
I contacted the hotel's concierge a few weeks before my arrival asking for recommendations on things to do in London with kids. I was specifically looking for things that couldn't be easily found on Google and for help with arranging a soccer stadium tour.
The concierge sent me some generic links, things that I'd already found by doing a few minutes of Googling and links to different stadiums' tours. A few days before arrival, I contacted the hotel again asking them to put something small in the room for my nephew. This was his first time in London, and the first time staying at a five-star hotel, so I was hoping the hotel could provide a small toy or a postcard of London.
My husband and I stayed at the Conrad Hong Kong a few years ago, and the hotel left a cute Conrad teddy bear on our bed and a sparkly rubber duck with a Conrad logo on the bathtub. So I was hoping for something like that, but there was nothing when we got to the room. So overall I wasn't impressed with concierge services during my stay.
We did get some fancy chocolates that were left in the room on our second day there (probably because I'm a Diamond member), but kids usually don't have a sophisticated taste in confectionery, so I know my nephew would've preferred a small toy or a postcard.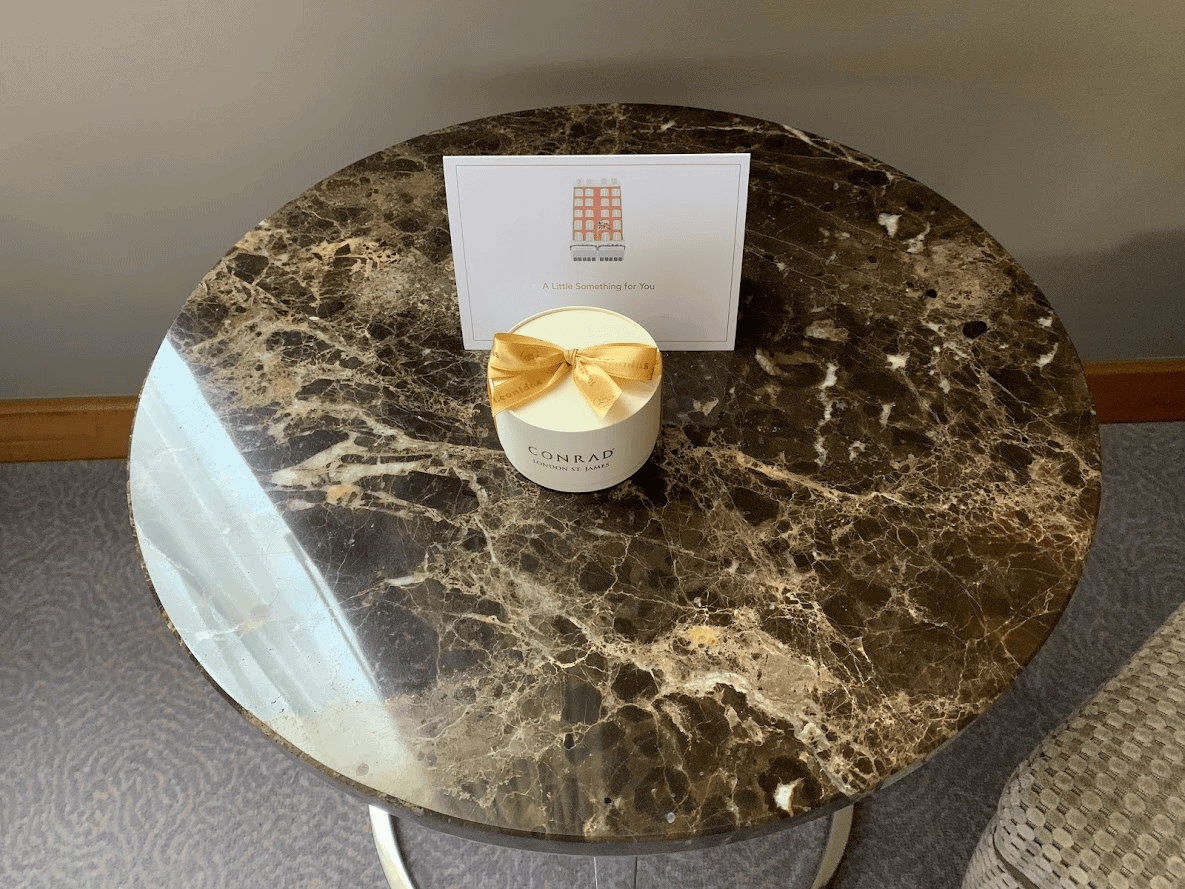 Our Room at London Conrad St. James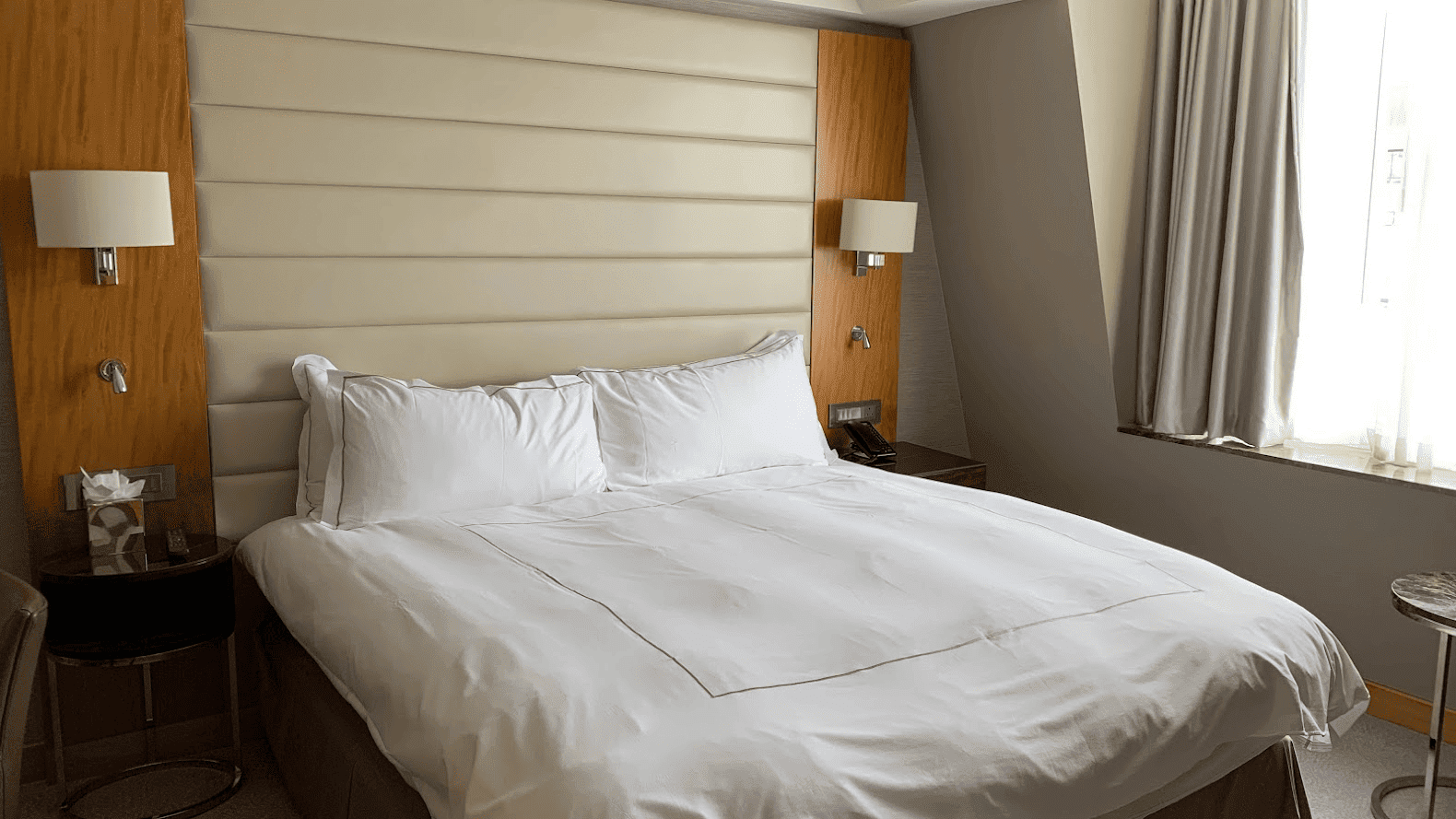 There was a line to check in, but a few front-desk agents were working, so the line moved quickly. I was there during a busy weekend, so I was expecting lines and longer wait times for everything.
I asked about an upgrade, but I was told that there was nothing available because the hotel was fully booked and I could check back in a couple of days. When I followed up on our third day in London, I was offered a slightly bigger room, but at that point, the move didn't make sense and the difference in room size wasn't that significant.
During check-in, the friendly Conrad employee put a VIP sticker on our room key and told my nephew that he's a VIP and his stay comes with free ice cream at the hotel's pub. Kids can get ice cream as many times per day as they want, so that's definitely a nice perk for the young guests.
Our room was small. I know that hotel rooms in London are on the smaller side, but it was smaller than I expected. However, the bathroom was huge and came with a big shower and a large bathtub. Some towels were old, and some of them were almost threadbare—definitely not something I expected to find in a five-star hotel.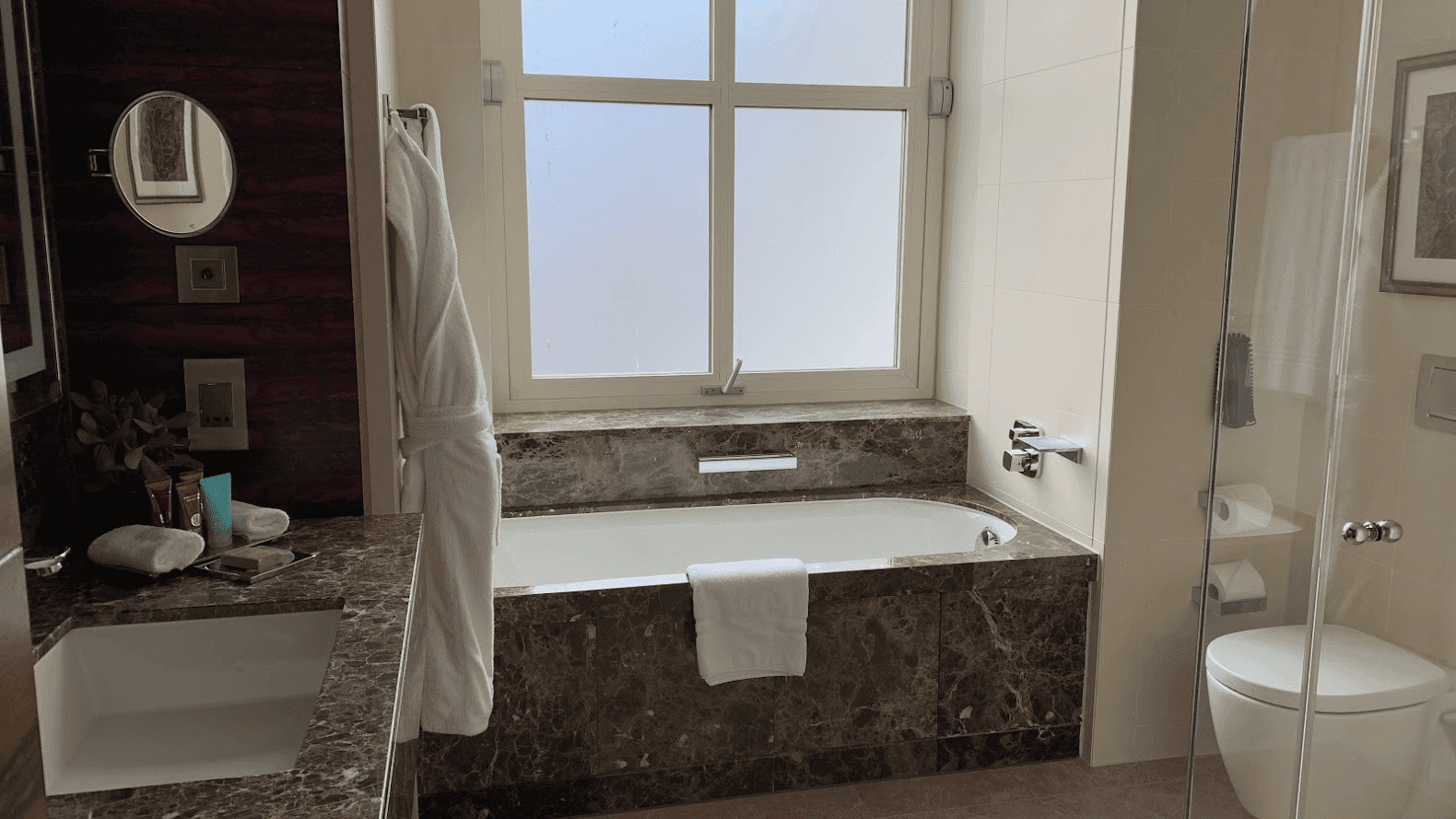 Overall, the room had a slightly dated look and there were no wall outlets with USB charging ports as is the custom now in newer hotels. So bring a lot of adapters to charge all of your various devices.
The minibar was empty, which is always my preference, so I can store my own snacks and drinks. There was also a Nespresso machine and an electric kettle.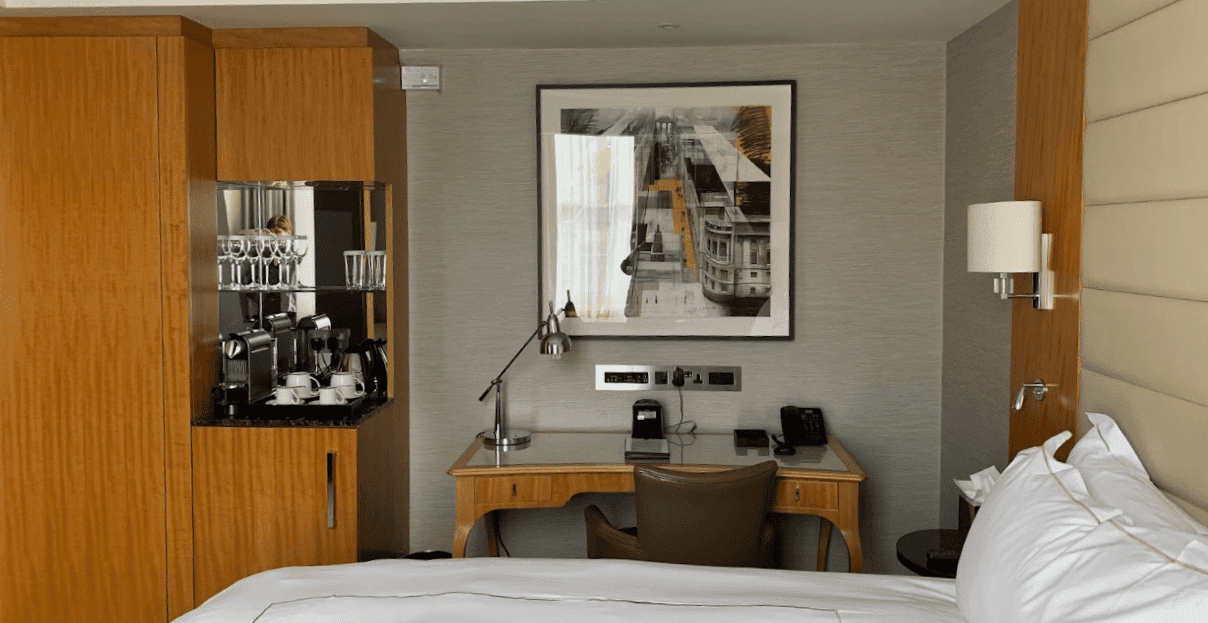 The bed was too soft for my taste but came with beautiful linens, a big fluffy duvet and nice pillows. I can't say that the sleep quality was that great, though, because the curtains were about half an inch short and let in a lot of light in the morning. We were there in June, so the sunset was late and the sunrise was early.
When I turned off the light on the first night, I discovered a strange box emanating bright green light high on the wall. I don't know if this was a router or something else, but the light was so bright, I had to climb up on a desk and put a towel over it.
Housekeeping
Housekeeping did a decent job but routinely failed to leave us replacement hand soap or shower gel. We had enough shampoo and conditioner to open a hair salon, but I had to ask for more shower gel. This was not a deal breaker, and we made a game out of it trying to guess what we'd get from housekeeping that day.
One day, our room wasn't cleaned when we got back just after 4 p.m. I notified the front desk as we headed out for another excursion, but when we returned at 7 p.m. our room still wasn't cleaned.
I notified the front desk, and the housekeeping manager called me back to apologize and offered a complimentary drink at the bar. Our room was finally cleaned around 7:30 p.m., and that was the only case of late housekeeping.
Next day, when we returned to the room, we got a cute white chocolate piggy filled with candy, and I assume it was left there as an apology for the late housekeeping on the previous day.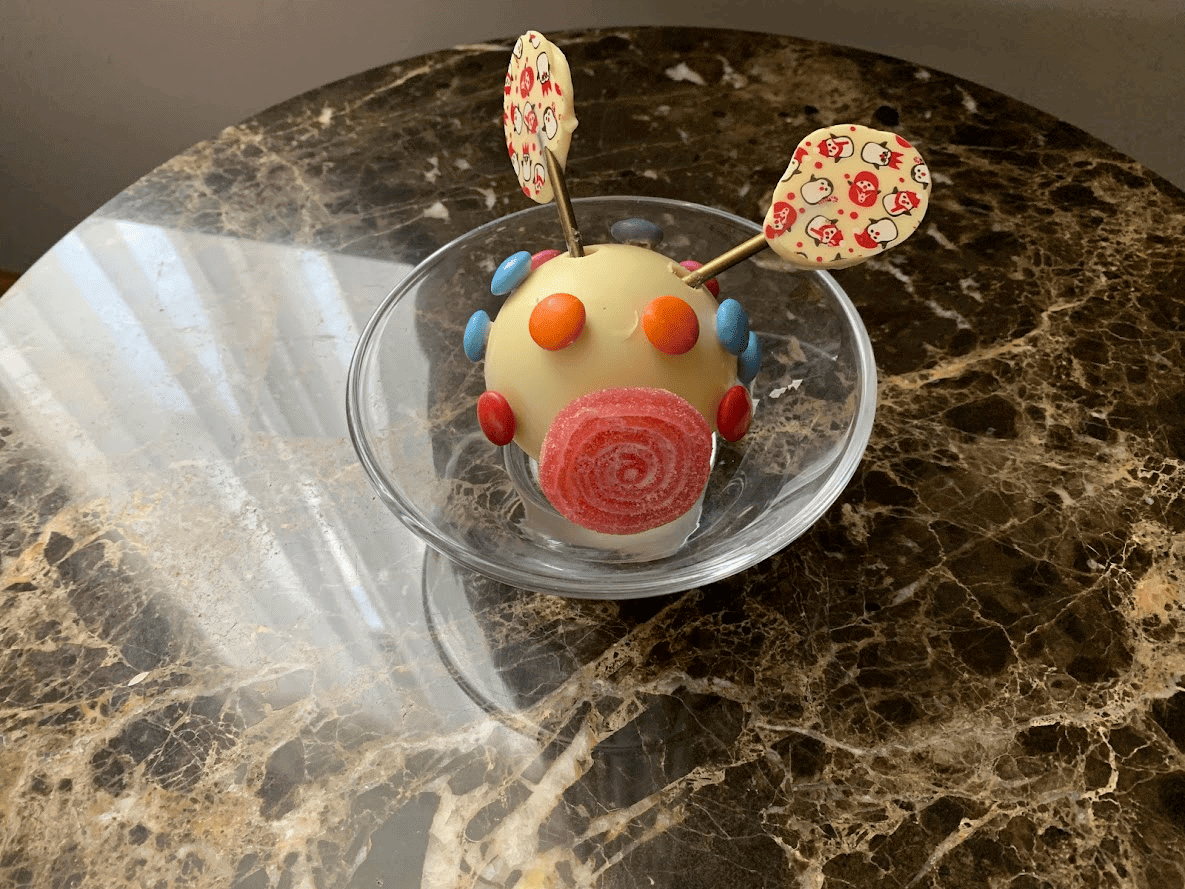 Overall the room was clean, but the thick carpet could be cleaner, and when a pen that I dropped on the floor rolled under the bed, I discovered too many dust bunnies under the bed skirt. I'd consider not vacuuming the rooms thoroughly a big fail, especially for people with allergies.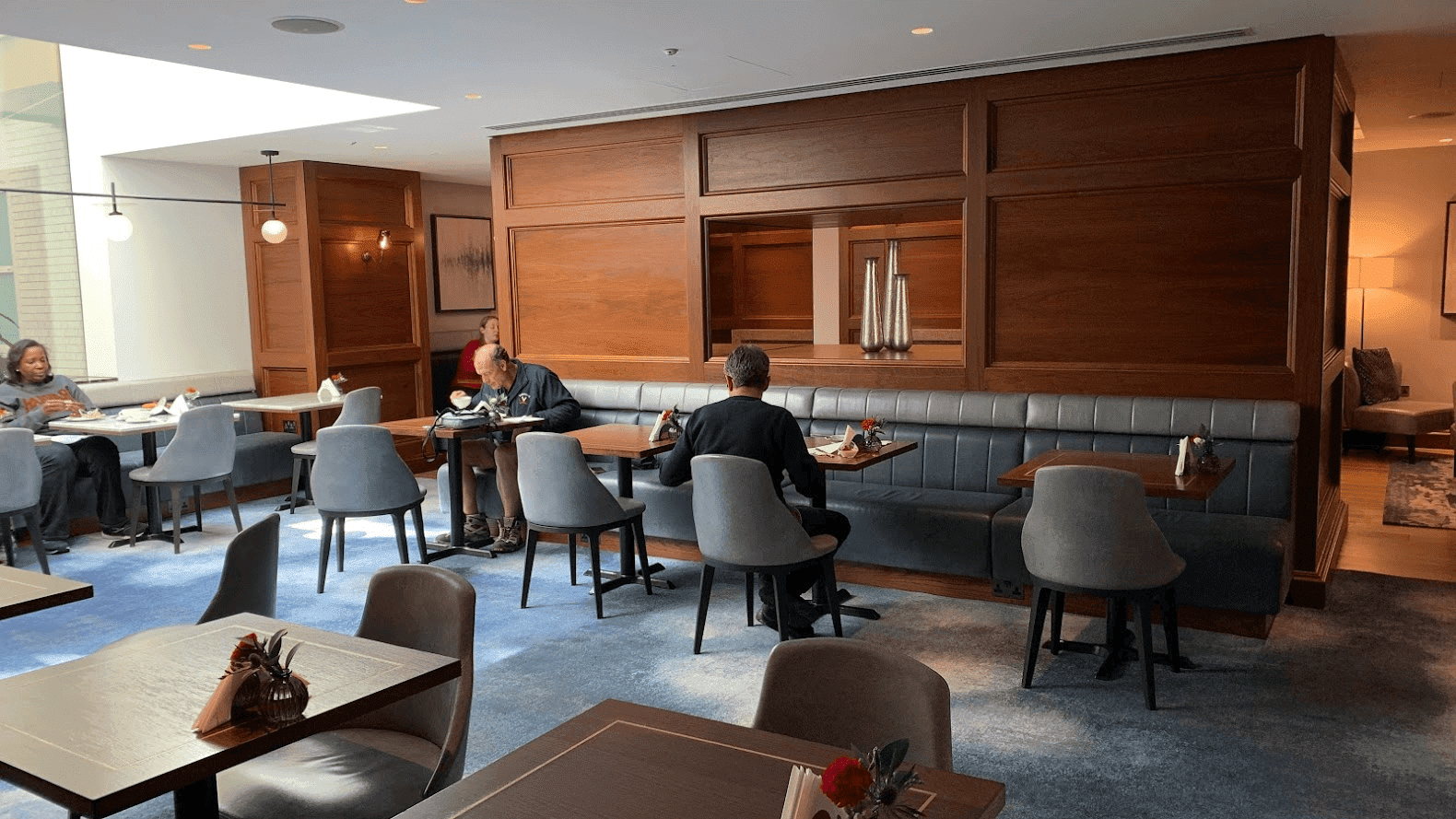 We stopped by the lounge every day, sometimes more than once a day, either for a snack or to grab some juice and water. The afternoon tea with mini sandwiches, tiny pastries and scones with cream and jam were good. My nephew became a big fan of the sugar cookies, which were actually available all day long.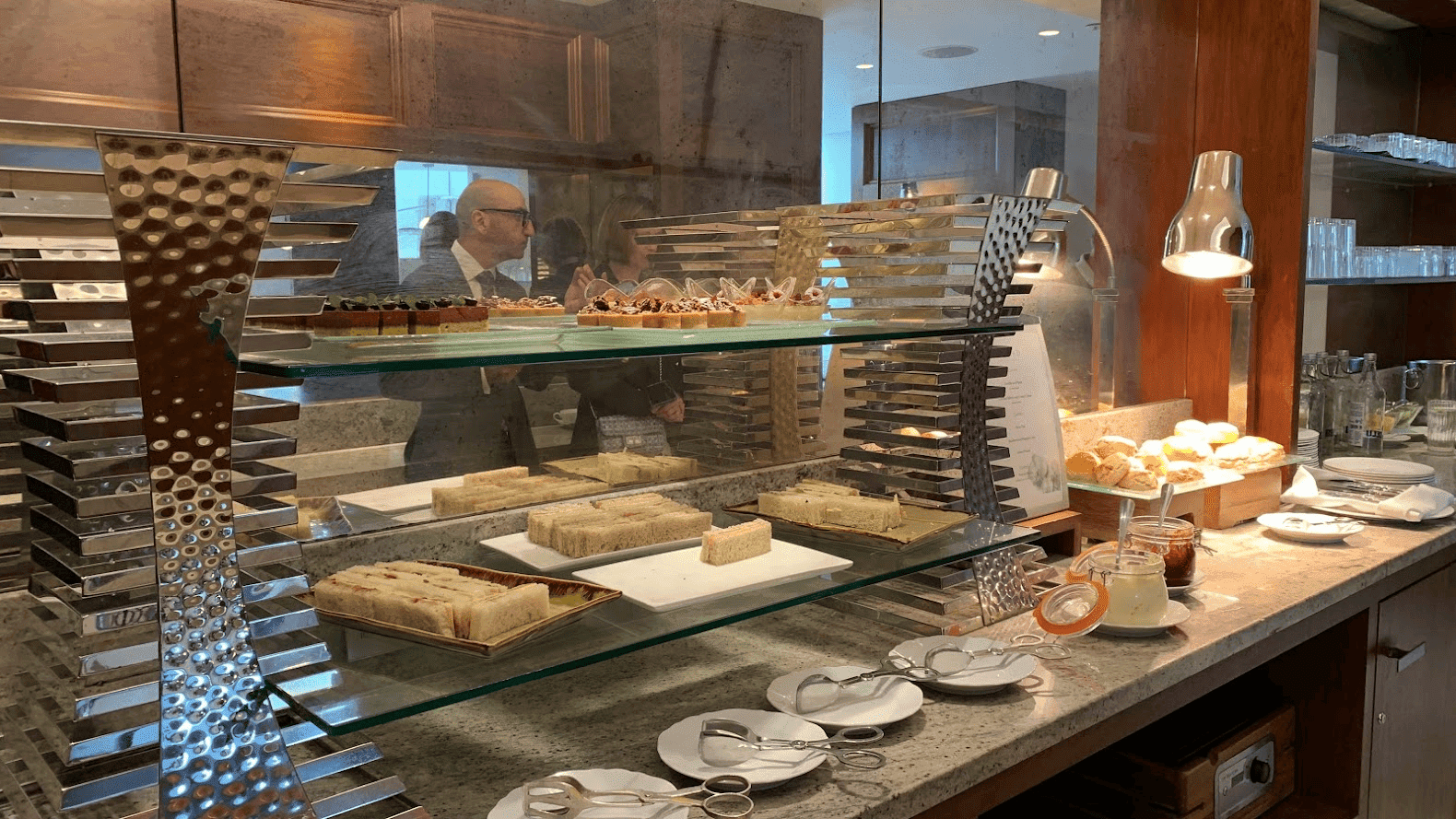 The evening snacks were not of a kid-friendly variety, so we skipped them most nights and just stopped after dinner for some cookies, apple juice for him and some tea for me. The adult beverages were top shelf and included spirits, wine and champagne.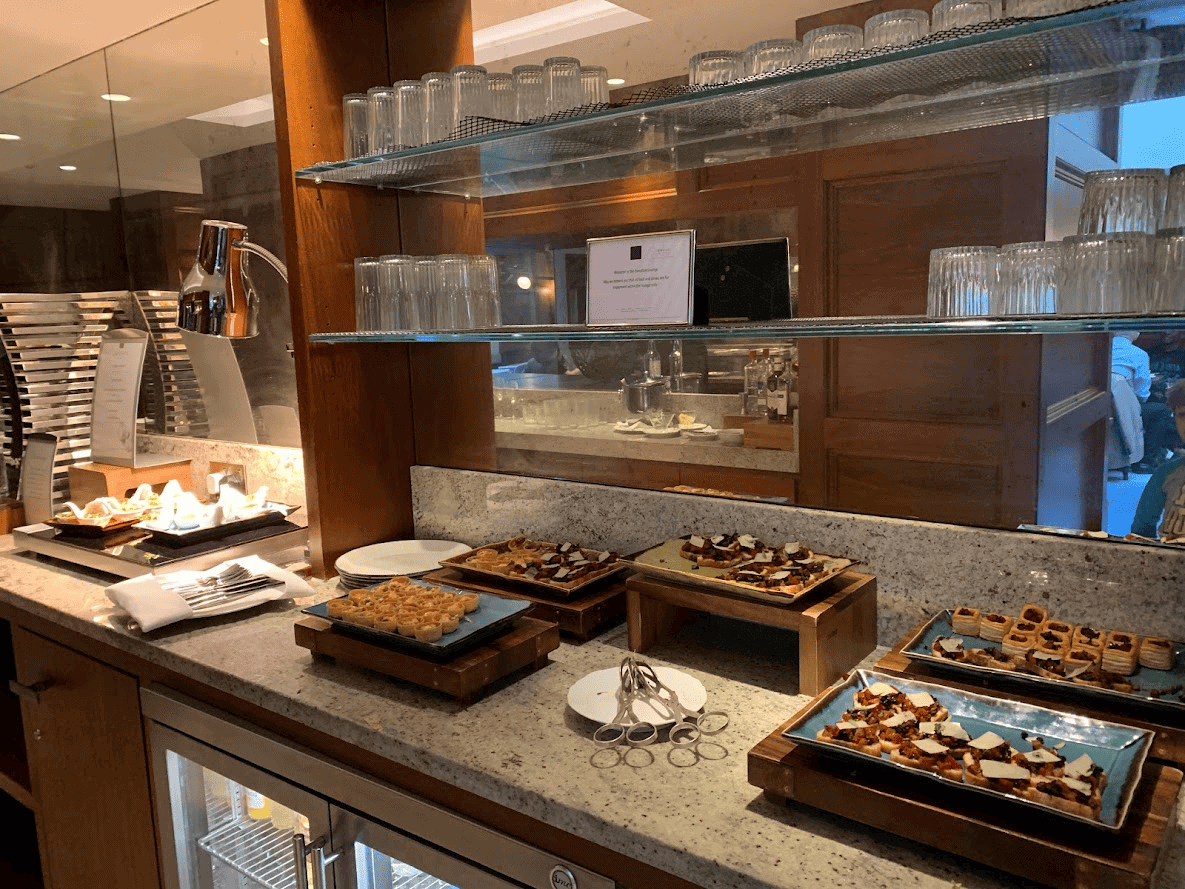 On the night of our late housekeeping, I ordered some Turkish food through Uber Eats, and we ate our dinner there. I know you aren't supposed to bring your own food into the lounge, but "needs must," as the Brits say, and I was glad nobody paid any attention to us.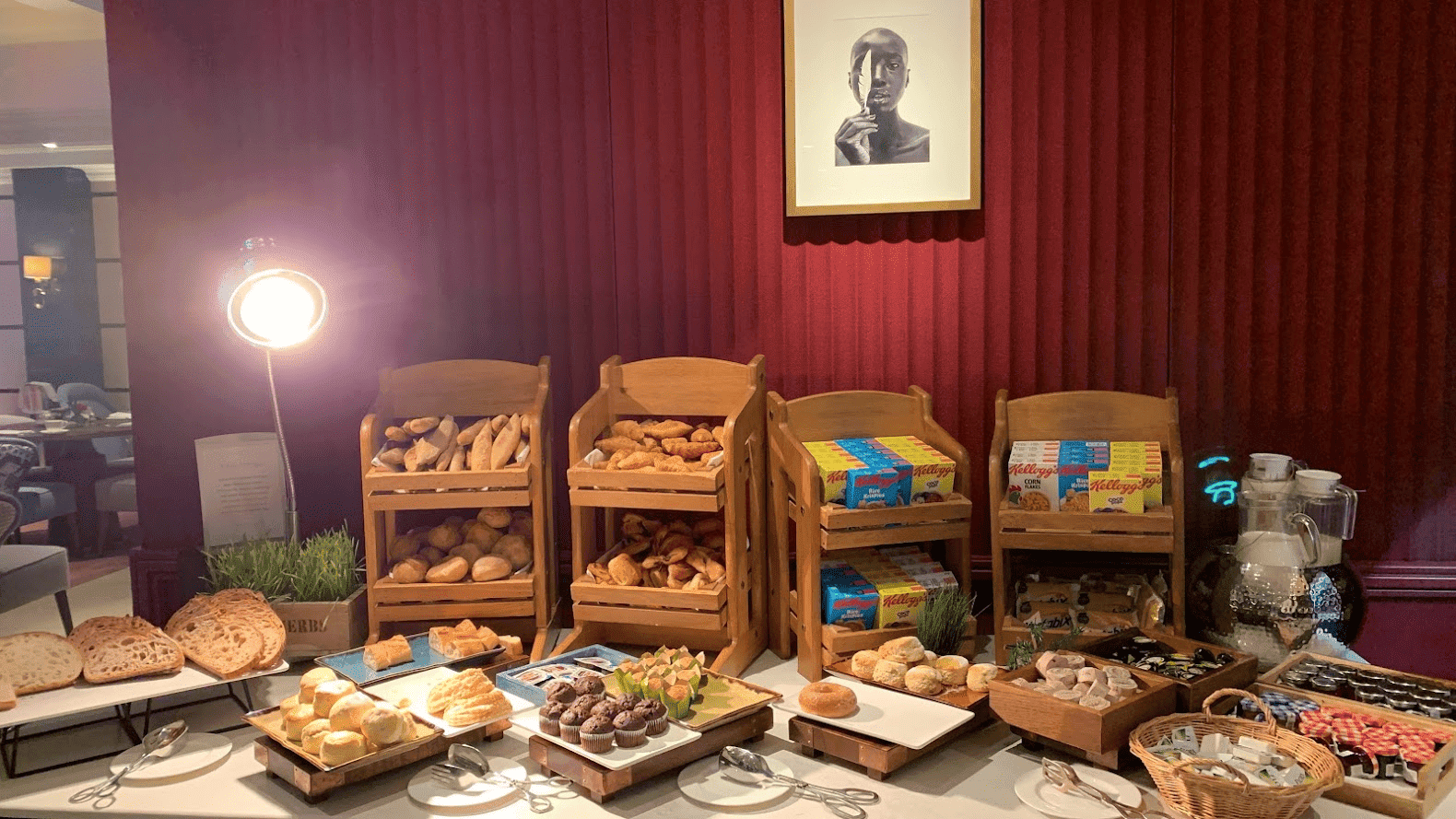 One of my favorite perks of staying at a nice hotel is breakfast. For Diamond members, breakfast was included and while it wasn't the best hotel breakfast I've ever had, it was quite good.
Diamond members can eat breakfast in the executive lounge or in the main restaurant. After checking out the lounge, we decided to have breakfast in the restaurant because the lounge looked a bit cramped and there wasn't that much room to set up a breakfast buffet.
The buffet included a couple of hot dishes but only one kind of cooked eggs. If you wanted an omelet or pancakes, you had to order from a separate menu and pay extra.
There was a decent selection of bread and pastries, some cereal, yogurt, cheese, ham and smoked salmon. I loved the green smoothie, and my nephew became a big fan of the natural apple juice. I wished they'd varied the selection somewhat from day to day.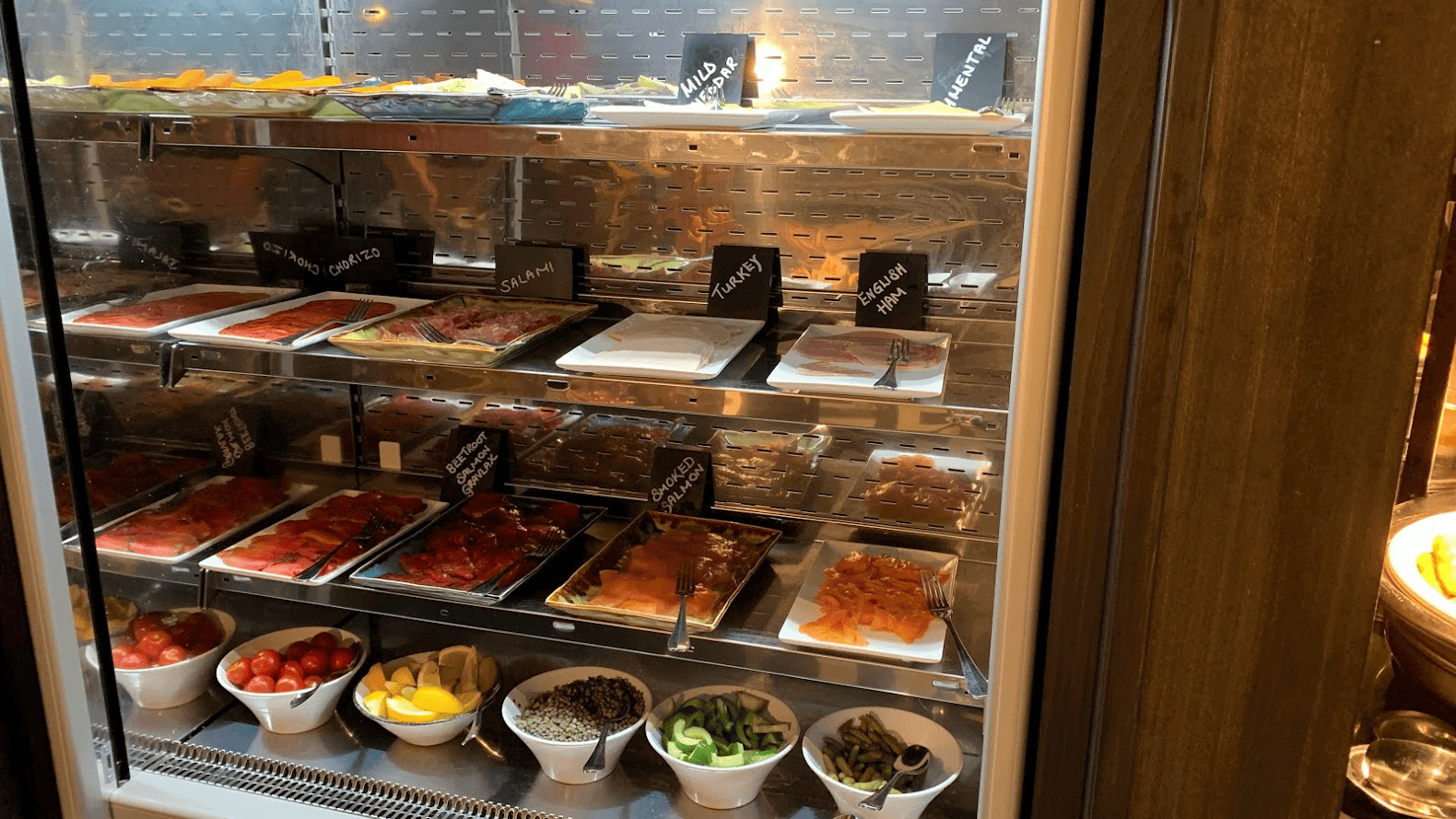 The service was excellent, and the staff was kind to my young travel companion.
Our Favorite London Experiences
There are dozens of blogs detailing the best things to see and do in London and how to visit London with kids, but I do want to mention a couple of our favorite experiences.
If you have a soccer fan in your family, a stadium tour is a must. There are several in and around London, and after checking their tour schedules I settled on the Tottenham Hotspur
Stadium.
When I told my nephew about the upcoming stadium tour, he immediately started watching YouTube videos of the Tottenham Hotspurs and quickly learned all the players' names. The tour ended up being a major highlight of our trip. The tour takes you to the pitch, the players' tunnel and the players' locker rooms, among other things.
A spin on the London Eye is a must for every first-timer in London. Tickets can be purchased online, and if you buy them ahead of time, you'll get a discount. As I went through the checkout process, I was offered to add a boat ride on the Thames for 8 pounds (about $9.50) per person.
Keep in mind that the times you'll be shown when booking your tickets are the times when you can start lining up for entry, not actual boarding times for the London Eye. So give yourself enough time and don't schedule the two activities too close together.
My nephew loves science and dinosaurs, so London's Natural History Museum was on the must-do list. I was glad to learn that it's free, as costs for all the activities were adding up fast. The museum is massive and you can spend a whole day there.
We found the London Transport Museum by accident while looking at the pictures of Covent Garden on Google Maps. If your youngest travelers enjoy riding the Tube and the double-decker buses, this is a must. The museum is more suited to younger kids, and my 5-year-old traveler had a blast there. This is exactly the type of information I was hoping to get from the concierge, but I'm glad we stumbled on this little gem.
Final Thoughts
The Conrad London St. James is a fine, kid-friendly hotel, some small glitches notwithstanding. I'm not sure I'd be coming back, though, because I'd love to try another, more lively, area of central London.
London is a kid-friendly city with so many museums and attractions geared toward children. If you prefer a more intense travel schedule, both my nephew and I agree that five nights is a good amount of time to spend in London. If you choose to spend more time in London with young kids, then fitting in more down time would make the trip more enjoyable for everyone.
New to the world of points and miles? The Chase Sapphire Preferred® Card is the best card to start with.

With a bonus of 60,000 points after $4,000 spend in the first 3 months, 5x points on travel booked through the Chase Travel Portal and 3x points on restaurants, streaming services, and online groceries (excluding Target, Walmart, and wholesale clubs), this card truly cannot be beat for getting started!
Learn More
Editors Note: Opinions expressed here are author's alone, not those of any bank, credit card issuer, hotel, airline, or other entity. This content has not been reviewed, approved or otherwise endorsed by any of the entities included within the post.