We all love earning points and miles but, if you don't know what to do with them, there isn't much point in getting them! Since the Chase Sapphire Preferred Card is one of the most popular choices for folks just starting their points journey, we wanted to share how 10xTravel team members would utilize the sign-up bonus.
Before we get to that, let's review the sign-up bonus and some of the benefits of the Chase Sapphire Preferred:
60,000 Chase Ultimate Rewards Points after you spend $4,000 spend in 3 months
Learn more
Sign-up bonus: 60,000 Chase Ultimate Rewards points if you spend $4,000 within 3 months
2X points per dollar on travel and dining purchases
1X point per dollar on all other purchases
Annual fee: $95
For the purposes of the following examples, we're going to make a couple assumptions. First, you will hit the minimum spend requirement to earn the sign-up bonus. Second, that $1,000 of the $4,000 minimum spend will be met with dining and travel purchases. Third, you will add an authorized user within 3 months.
The math on this works out as 60,000 points for the sign-up bonus, 3,000 points for the unbonused spend and 2,000 points for the spend on travel and dining. This brings us to a total of 65,000 Ultimate Rewards points.
Now, let's check out how the team would use these 65,000 points!
Bryce Conway, Founder
One word, three syllables as to how would spend ~60,000 Chase Ultimate Rewards Points.
Hawaii.
I haven't been to Hawaii since honeymooning there in 2014 and I have been itching to go back. Particularly when I see so many success stories of 10xT Readers traveling to these beautiful islands for next to nothing.
Hanging in Maui on my honeymoon
There are a number of ways to use Chase Ultimate Rewards points to fly to Hawaii, but none are better than transferring them to Korean Air SkyPass to book round-trip economy flights on Delta for just 25,000 miles per ticket.
Editors Note: Korean Air is no longer a transfer partner of Chase Ultimate Rewards.
Yes, you read that right. 25,000 miles per ticket round-trip. This is one of the best "sweet spots" in the entire world of points and miles.
Booking these tickets through Korean Air is slightly more complicated than your average award booking, which is why we put together a complete guide to booking. Finding availability can be tricky but not impossible. Particularly if you are flexible with your dates and can avoid peak season.
(Note: Don't plan on being able to do this over spring break or the holidays)
At 25,000 miles per ticket, I could use my 60,000 Chase Ultimate Rewards points to book two tickets and still have 10,000 points left over.
With those 10,000 points I would likely do a cash + points booking at the Hyatt Place Waikiki, which can be booked for 6,000 Hyatt points + $75 per night. Chase Ultimate Rewards points transfer 1:1 to Hyatt so I would just have to come up with the $75.
You can book the Hyatt Place Waikiki for 6,000 Hyatt Points + $75 per night. Image courtesy of Hyatt
Or, I could book any other type of travel (other hotels, ground transportation, etc.) via the Chase Ultimate Rewards travel portal at a value of 1.25 cents per point. Meaning my 10,000 leftover points would save me $125 on whatever I ended up booking without requiring me to come out of pocket.
I would happily say Aloha to 60,000 Chase Ultimate Rewards Points if they allowed me and another person to say Aloha to Hawaii!
See what I did there? Aloha can be used to say hello or goodbye….. anddddd I'll see myself out now. Who's next?
Julie Szpira, Contributor
After experiencing my first Mardi Gras in 2017, I fell in love with the festival. I would use the points to book a round trip flight and three nights at a hotel for Mardi Gras 2019.
For my flight, I would transfer 15,000 Ultimate Rewards points to British Airways to book a round-trip economy flight, operated by American Airlines.
British Airways utilizes a distance-based award chart and a one-way, non-stop flight from Chicago (ORD) to New Orleans (MSY) is 836 miles. That distance falls into "Zone 2", and would require 7,500 Avios, plus $5.60 in taxes and fees.
An American Airlines flight departing Saturday, March 2nd and returning Tuesday, March 5th is currently $458 round-trip. Spending 15,000 Avios and $11.20 in taxes and fees would provide a 2.9 cent per point valuation.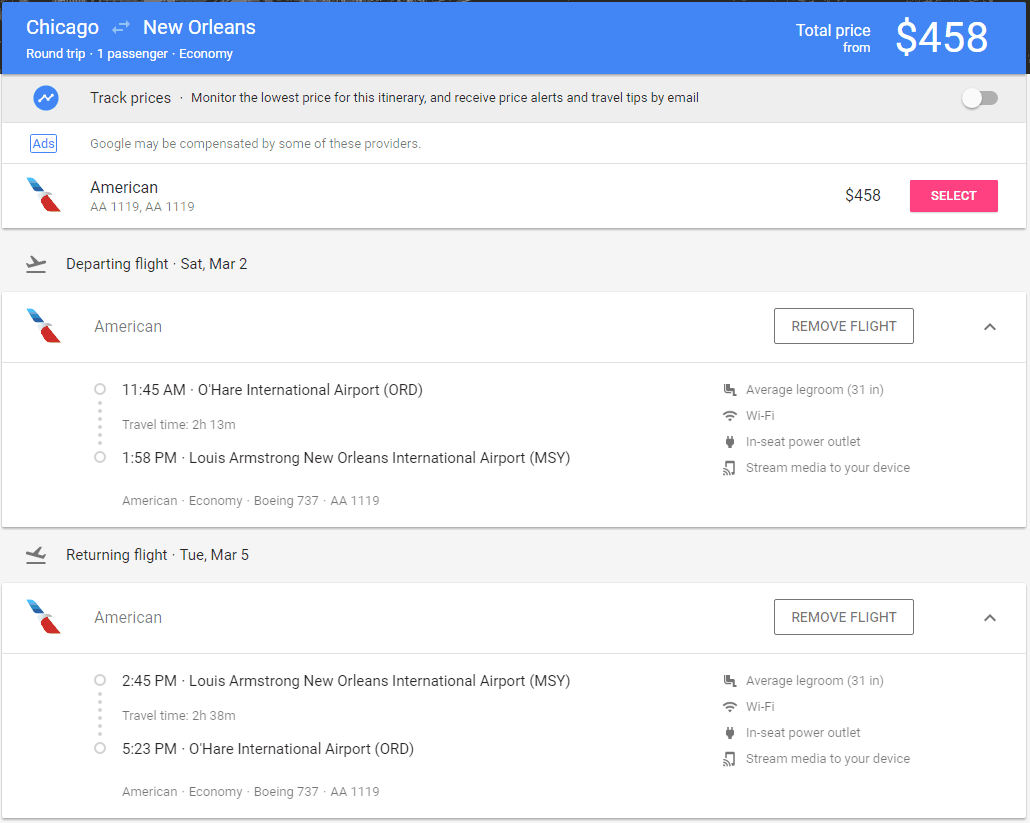 I have NO interest in paying $450+ for a domestic economy flight!
Just by booking the flight, things are already sounding pretty good, but I still have 45,000 points to work with! Since I'll be spending my days at the parades and my nights in the French Quarter, I'll need a place to rest my weary bones.
As you might imagine, hotel rates in New Orleans during Mardi Gras are insanely high. It's not uncommon to see rates around $500 per night, and that's for a simple hotel room! Therefore, I would transfer the remaining points to Hyatt and book the Hyatt Centric French Quarter New Orleans.
Booking the Member Rate for three nights, a room with two queen beds would cost $1,713.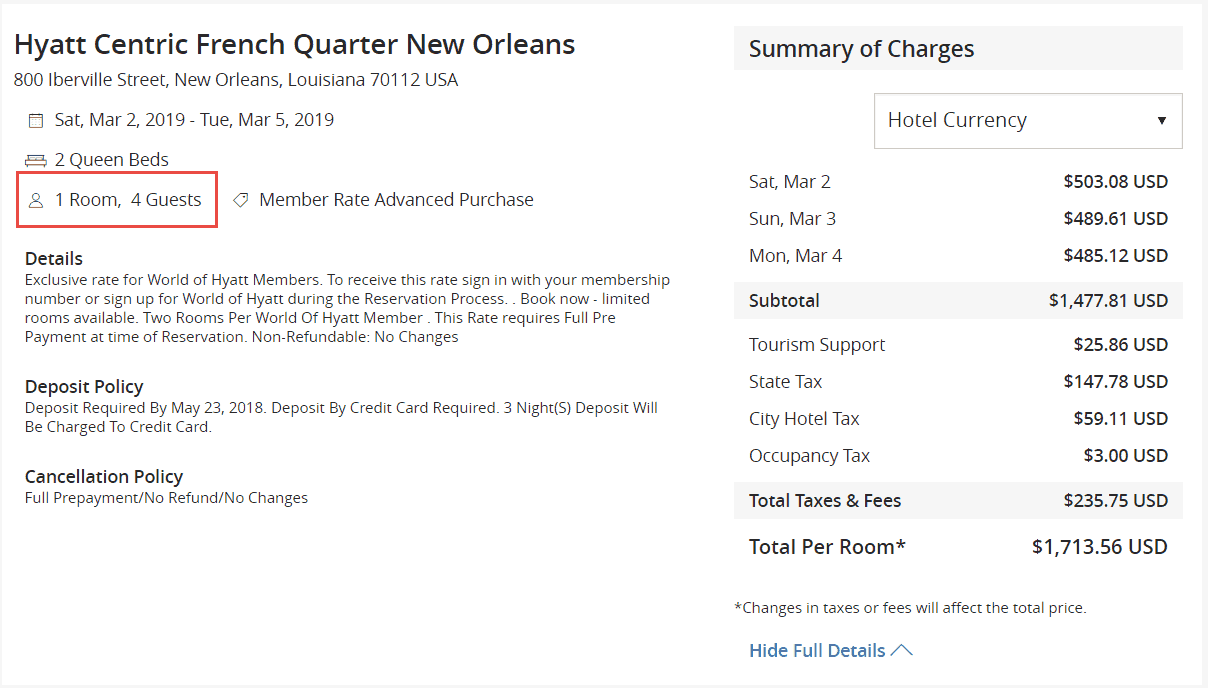 That's A LOT of money. If you used your Chase Ultimate Rewards points directly through the portal at the standard 1.25 cent per point redemption, the stay would require 137,085 points.
However, by transferring Ultimate Rewards points to you World of Hyatt account, the stay can be booked at a rate of 15,000 Hyatt points per night—a total of 45,000Hyatt points for the three night stay. Using 45,000 points for a $1,713-stay would give you a 3.8 cent per point redemption for the hotel reservation.
Furthermore, since occupancy at the Hyatt Centric French Quarter New Orleans accommodates up to four adults, you can invite three of your friends to join you. Usually if you provide a free hotel room, your friends will offer to pay for your drinks and food for the weekend, which would make your trip totally free!
Hyatt Centric French Quarter, image courtesy of Hyatt
In total, you would redeem 60,000 Chase Ultimate Rewards points for over $2,000 worth of flights and hotels, and get to experience one of my favorite events of the year.
Caroline Lupini, Contributor
The Chase Sapphire Preferred was my first credit card after I got into points and miles, so it holds a special place in my heart – and the current 50,000 point sign-up bonus makes it a great starting point for just about anyone!
One of my favorite airline programs is Singapore Airlines KrisFlyer because they are transfer partners of all major transferable points currencies: Chase Ultimate Rewards, American Express Membership Rewards, Citi ThankYou points and Starwood Preferred Guest (SPG)—until Marriott finishes combining loyalty programs on August 1. Even when I don't have enough points in one currency, I can still transfer to Singapore Airlines as a way to combine miles.
I'm a digital nomad and I'm planning to spend the end of 2018 in Australia. While I'm there, I might try to visit some South Pacific islands that are usually very difficult to get to. With Singapore KrisFlyer, you can book one-way economy flights within the South Pacific for only 12,500 miles or 17,500 miles in business class—these are normally very expensive flights! Availability can be tough to find, so I don't have my heart totally set on this just yet.
You can transfer Chase Ultimate Rewards Points to Krisflyer to book flights from Australia to the South Pacific for 12,500 miles each way
I doubt that I would be able to justify spending the extra miles to fly in business class. If I stick to economy, I'd be able to fly two round-trip flights with miles left over. Or maybe I'll take my boyfriend with me instead!
John Tunningley, Contributor
Not only is the Chase Sapphire Preferred (learn more) a great card for anyone starting out, but it also offers a great sign-up bonus with some of the most valuable points currently on the market. While I love traveling abroad and getting a taste of different cultures, the United States also has so much to offer.
With fantastic cities, beaches, and geological features alike sometimes the best trips are reached by getting in the car and driving someplace new. This is particularly true if you're traveling as a family as the costs for air travel can add up fast— even with the help of points and miles.
That's why I'm going to show you how to really stretch those Ultimate Rewards points and suggest you drive to a new destination and use the 60,000 points to cover the hotel(s) for an entire week.
Now, I know you might be thinking 7 days and 6 nights at a hotel is quite the vacation for 60,000 points and what's even more surprising is that you will have anywhere between 12,000 and 30,000 left if you're only staying for 6 nights at a Hyatt category 1 or category 2 property. This deal gets even sweeter if you stay at a Hyatt House or most Hyatt Place properties as they will also include breakfast.
The best part about this is if you transfer the points to Hyatt and manage to spend the entire week at a category 1 property you can get a second room for the kids or go on a second week-long vacation with the leftover points.
It can be a little more difficult to find these category 1 properties in some of the more desirable locations so to help get your brain turning and thinking about the possibilities, I've listed some of the locations below and also keep in mind all of the Hyatt House locations offer free breakfast and so do many of the Hyatt Place locations:
Phoenix, Arizona – 5 Hyatt Place locations
Tucson, Arizona – Hyatt Place
Colorado Springs, Colorado – Hyatt House
Fort Myers, Florida – Hyatt Place
St Petersburg, Florida – Hyatt Place
Atlanta, Georgia – 9 Hyatt Place locations
Chicago, Illinois – 3 Hyatt House locations, 5 Hyatt Place locations, and a Hyatt Regency
St. Louis, Missouri – Hyatt Place
Memphis, Tennessee – 3 Hyatt Place locations
Salt Lake City, Utah – Hyatt Place
You could use your Chase Sapphire Preferred bonus to book a week at Hyatt house Colorado Springs. Image courtesy of Hyatt
In addition to these locations, there are too many Hyatt category 1 locations to list in Texas as every major city seems to have a handful and, if you want to visit the nation's capitol, there are 3 category 1 Hyatt Place properties near Washington Dulles (IAD).
For category 2 properties, there is an even more extensive list you can find here. These hotels might not be in the center of downtown but being able to visit a beach in Florida or visit Washington D.C. for an entire week for 30,000 to 48,000 Ultimate Rewards points is a great deal.
Travis Cormier, Contributor
The Chase Sapphire Preferred is one of best reward cards for new points enthusiasts. One of the easiest ways for people new to the points and miles game to see the value is to have a plan for an entire vacation. Sometimes this can take multiple cards, but not with the Sapphire Preferred. You can use the 60,000 points for an entire vacation in Cabo—flights and accommodations included for 2 people!
I'm based in Texas, so my wife and I start our trips from Dallas. We would transfer 30,000 Ultimate Rewards to British Airways Executive Club. We would then use 30,000 Avios to book two round-trip tickets to Cabo for 15,000 point each.

These flights can cost $435 per person round trip. That's almost $900 in flights for only 30,000 points. I'll happily take that deal!
After booking flights, that leaves 30,000 Ultimate Rewards points for accomodations. My favorite hotel program is World of Hyatt. For this trip, I would target the Hyatt Place Los Cabos. It isn't the most luxurious hotel in Cabo, but the price and location make it a really good option to stretch your points as far as possible.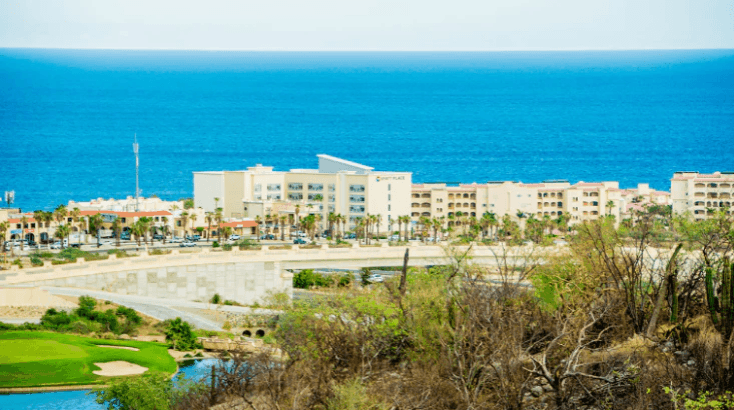 Image courtesy of Hyatt
The Hyatt Place Los Cabos is a Hyatt Category 1—5,000 Hyatt points per night. So, I would transfer 30,000 Ultimate Rewards points to my World of Hyatt account to book 6 nights. An extra benefit is the Hyatt Place comes with free breakfast, which will help save you money to enjoy the nightlife and other activities available in Cabo.
I'm sure there are some other great ideas here, but as a beach bum at heart, I can't imagine a better way to use the sign-up bonus (and AU bonus) from the Chase Sapphire Preferred than to get an entire vacation for 2 to Mexico. I love it so much, I'm planning to make this trip myself later this year!
Spencer Howard, Editor in Chief
With 60,000 Ultimate Rewards points in hand, I'd look to book a one-way business class award between Chicago (ORD) and Dublin (DUB) on Aer Lingus. That's right, with just one sign-up bonus, you have enough points to take a trip to Europe in business class.
For 50,000 Avios, you can book an off-peak business class award (peak level is 60,000 Avios). Aer Lingus business class provides fully lie-flat seats so you can get some rest on the overnight flight to Dublin. Additionally, the vast majority of seats have direct aisle access so you don't have to stumble over a neighbor to stretch your legs.
You can use your Chase Sapphire Preferred bonus to fly Business Class to Europe
To book, you can either transfer your Ultimate Rewards points to Aer Lingus AerClub and book through Avios.com or to British Airways Executive Club. Both programs use Avios, but have some small differences.
If you book with AerClub Avios, you can book online through Avios.com but, if you book with British Airways Avios, you'll need to call British Airways to book after finding award space on United's site or on ExpertFlyer.
To top it all off, unlike many other award flights to Europe, you won't have to pay any fuel surcharges on this one. Not a bad way to use a sign-up bonus if you ask me!
Bottom Line
As you can see, there are tons of ways to use Ultimate Rewards points. Whether you're looking for economy flights to the Caribbean, within Australia or within the U.S., Chase has you covered. With so many Hyatt properties around the world, hotel stays won't be too tough to book either. Finally, those who are hoping to try a business class flight can even use 60,000 points to give it a go.
Of course, there are tons of options we haven't even discussed but these should give you a great idea of what is possible when you get the Chase Sapphire Preferred. You can learn more about the Chase Sapphire Preferred here (learn more).
---
10xTravel is part of an affiliate sales network and receives compensation for sending traffic to partner sites, such as CreditCards.com. This compensation may impact how and where links appear on this site. This site does not include all financial companies or all available financial offers.