In This Article
Loading table of contents …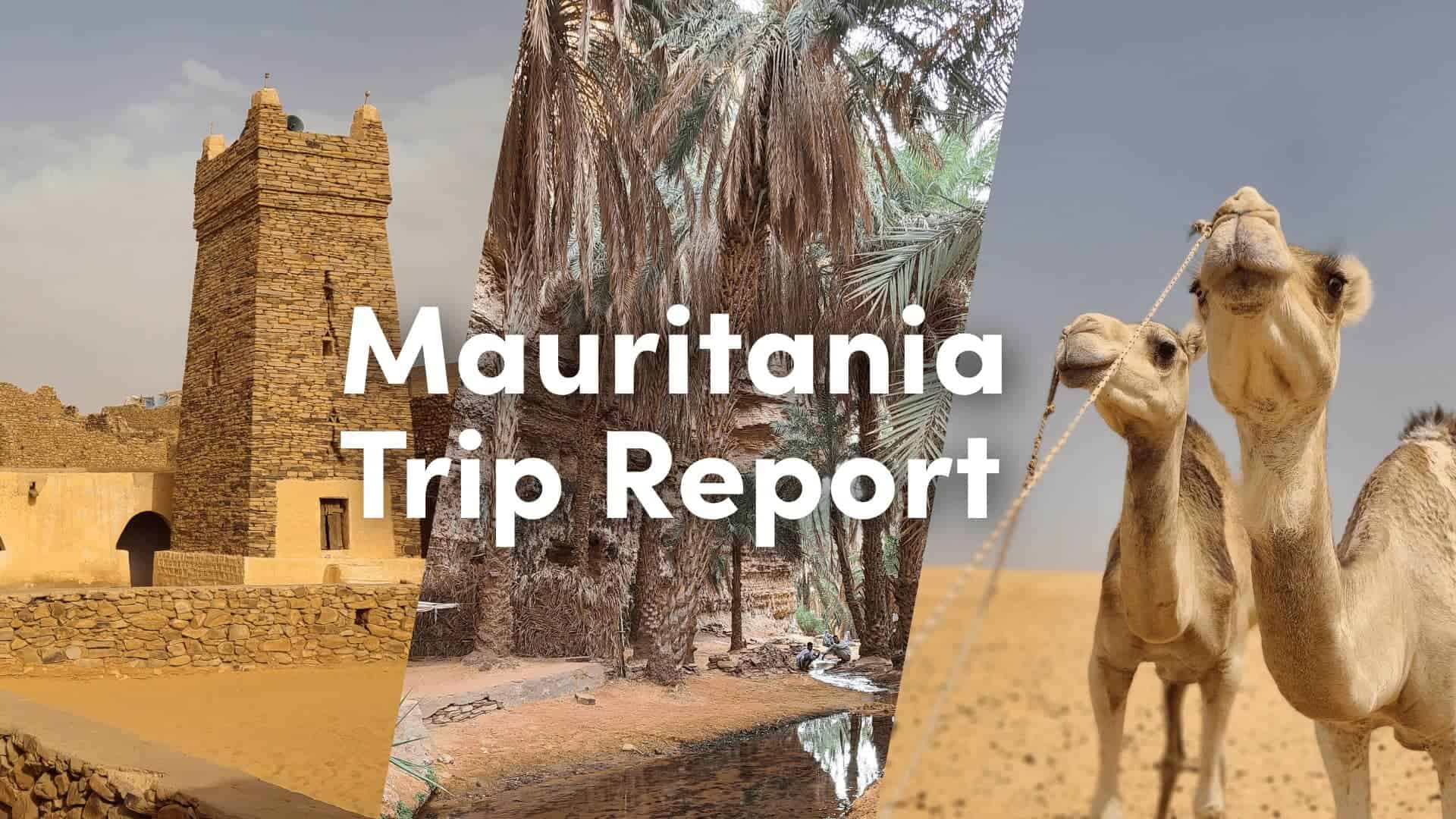 If you follow me on Instagram (@youreanyaway), you know that I enjoy visiting a lot of off-the-beaten-path destinations. During the last week of May, I went to Mauritania and am still catching my breath from how amazing it was.
Along with nine other travelers and a professional guide, I camped in a real-life oasis in the Sahara, went to a camel market, saw ancient Quranic texts with my own eyes and rode on top of the longest cargo train in the world filled with iron ore. To say it was a memorable trip is to say nothing.
How I Booked a Flight to Mauritania with Points and Miles
Let's be honest. This West Africa country with a total population of 4.4 million people isn't on a lot of people's lists, so I had to do a little digging into what airlines fly to Nouakchott, the capital of Mauritania.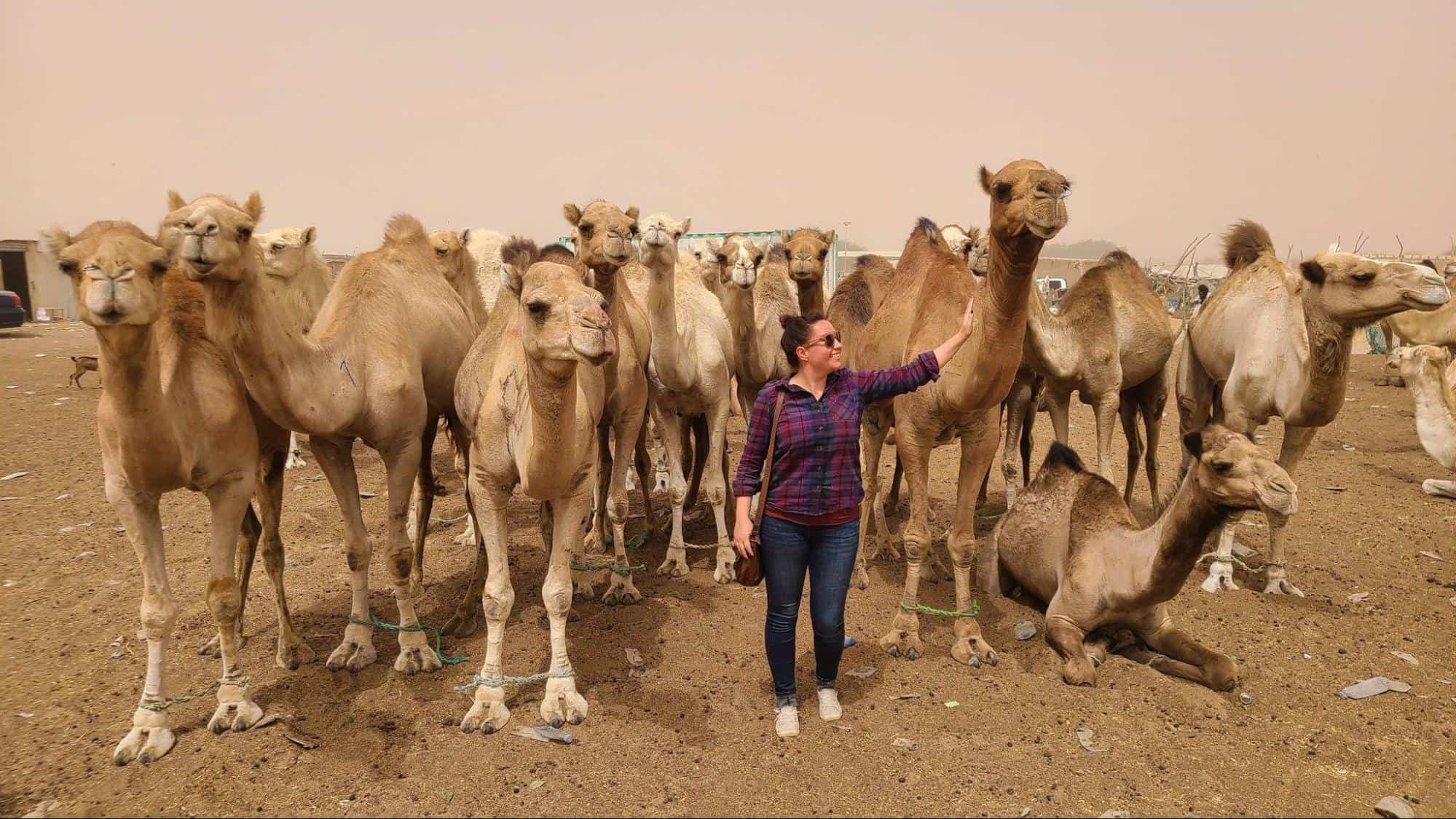 Air France (via Paris Charles De Gaulle) and Turkish Airlines (via Istanbul) were the only viable options for me, so I focused on award space with SkyTeam and Star Alliance partners.
Several other travelers in my group were taking the Air France flight, so I ultimately chose to arrive at the same time. Besides, the itinerary on Turkish Airlines included a nine-hour layover, and I didn't want to add extra time to an already-long journey to Africa. SkyTeam it was.
When it came time to book, I had an option to use either Air France-KLM Flying Blue miles or Delta SkyMiles. While the group was finalizing our travel dates, Flying Blue offered award flights at a reasonable rate of 46,000 miles + $163 in taxes. Eventually, I waited too long and missed the low-level rate, which was replaced with 85,000 miles instead, and I turned to Delta SkyMiles.
Delta SkyMiles won me over not only with a lower rate of 40,000 miles for a one-way flight from Salt Lake City to Nouakchott in economy class, but also with a lower tax of $35. I transferred American Express Membership Rewards points to Delta and booked my flight.
I returned home from Abidjan, Côte d'Ivoire, where I spent another nine days, and redeemed another 40,000 SkyMiles + $143 for my flight back to the United States.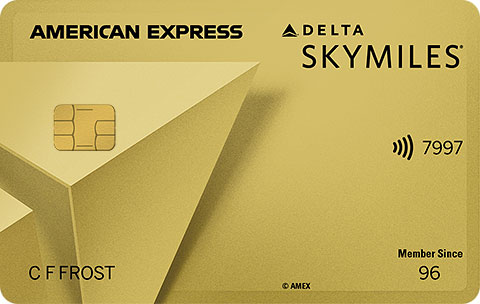 Delta SkyMiles® Gold American Express Card
Bonus Miles
after you spend $2,000 in purchases on your new card in your first 3 months. Offer expires 11/10/2021.
Annual Fee: $0 introductory annual fee for your first year, then $99.
Terms Apply. | Rates & Fees.
What I Did in Mauritania / Itinerary
Terjit
The oasis of Terjit is quite popular among Mauritania's few tourists. The oasis is nestled in a gorge between the cliffs where palm groves stretch along a small spring of water. It used to provide shelter for camel caravans traveling across the desert, and so it did for us with a number of camping tents.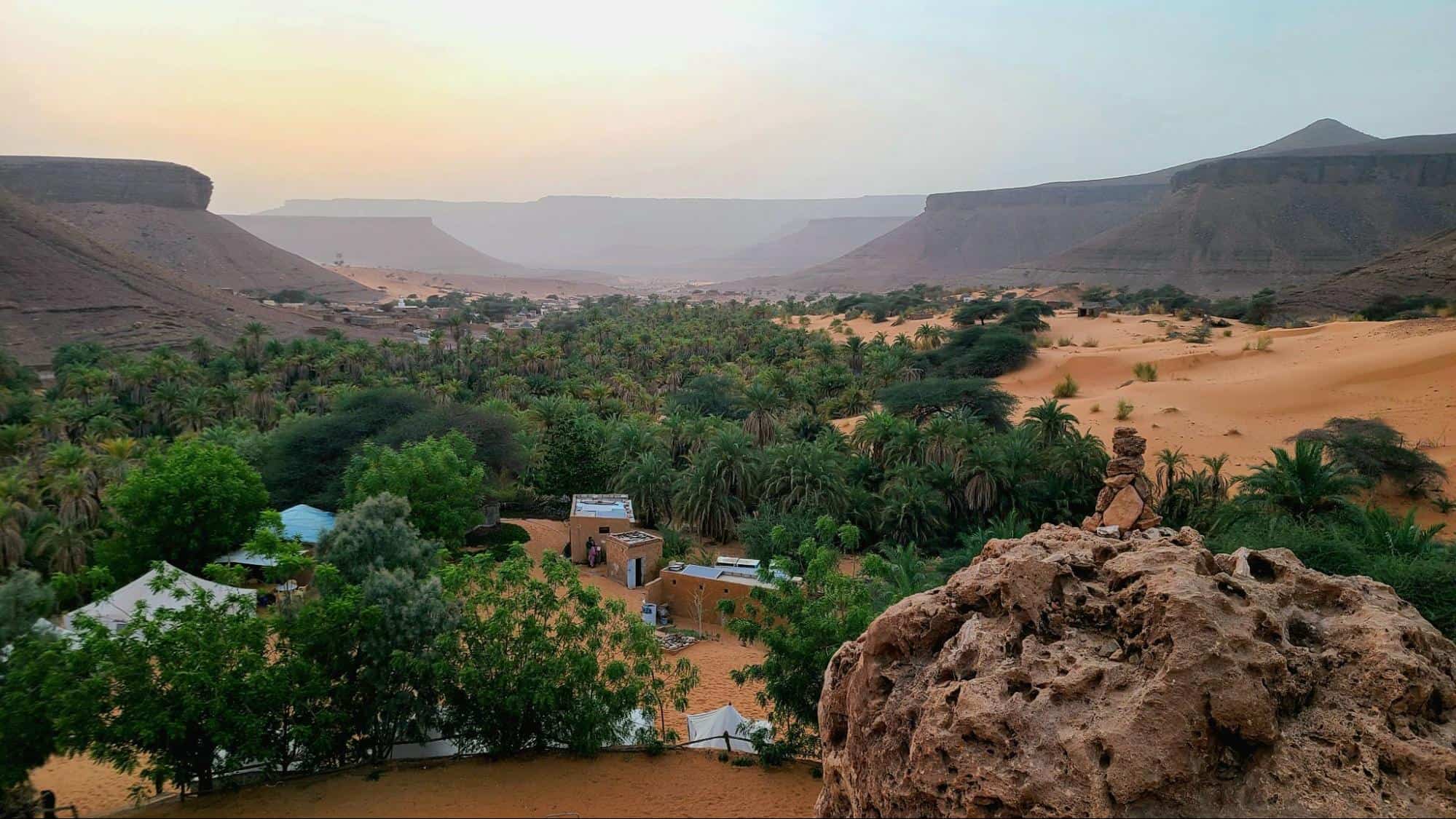 Mauritania's climate is quite harsh (some of you in certain parts of the United States getting torched by the sun can relate), and the group went on a small hike among the palm trees to escape the heat of the afternoon. There, we found shade and soaked in a natural tub full of spring water all while sharing conversations of travel.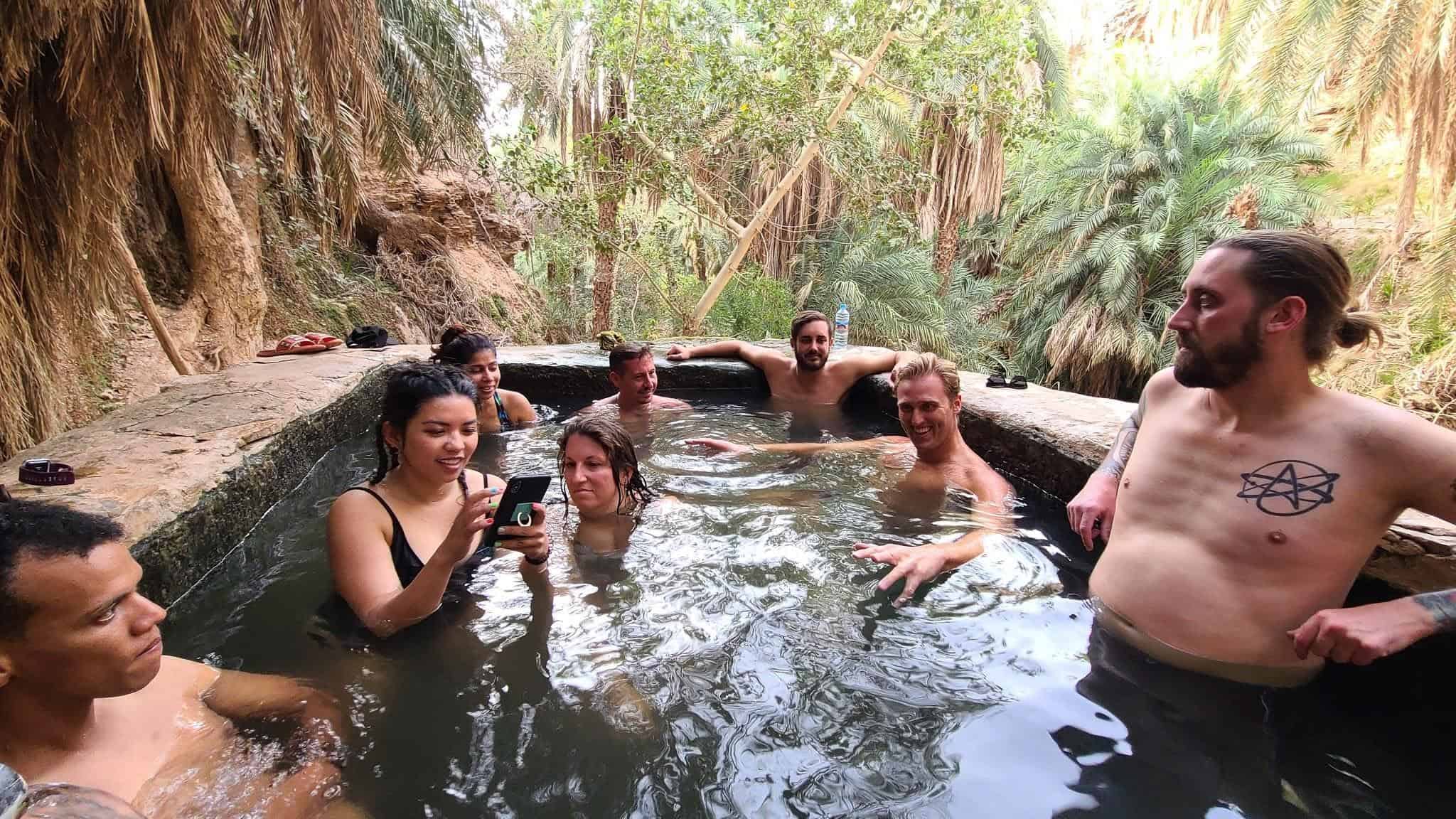 Can't say that I had ever camped inside an oasis before, but now I've checked it off a bucket list I didn't know I had.
Chinguetti
Chinguetti is a medieval trans-Saharan trading post. The old town is a UNESCO World Heritage Site and is home to a historic mosque and a few ancient libraries that contain important Islamic manuscripts. There, we met a library keeper who showed us the sacred books that can only be held while wearing gloves.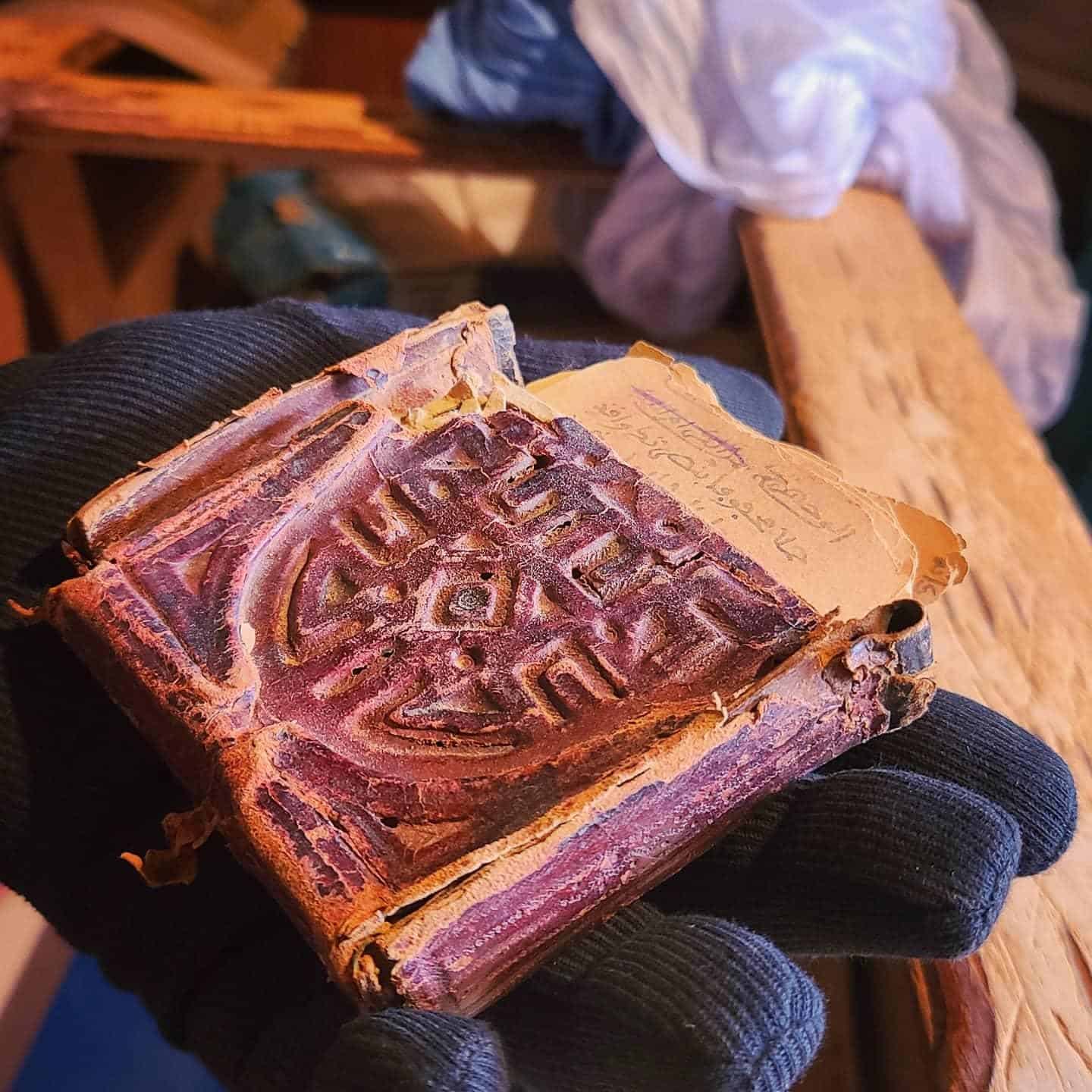 Unfortunately, the town is facing desertification with the Sahara approaching aggressively at a rate of 30 miles per year, and it's no longer the booming trading center it once was.
Ouadane
Another small town in the desert region, Ouadane was a prosperous post on the trans-Saharan trading route and is now a UNESCO site.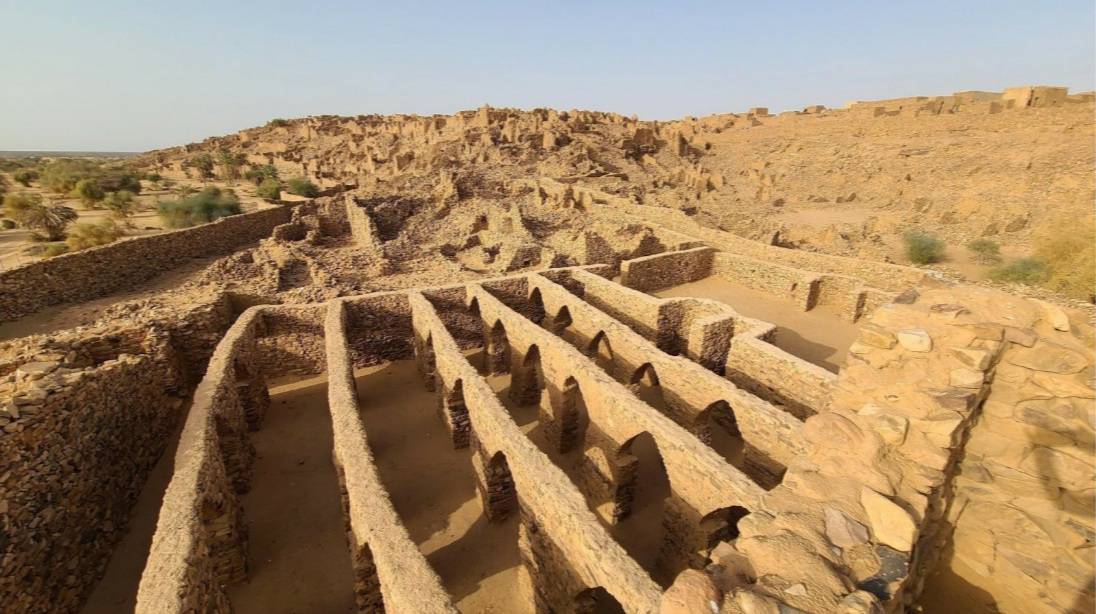 We walked down the narrow pathways exploring inside the walled old town and later attended a village party in someone's courtyard. As flip-flops banged on metal mixing bowls creating a beat, women sang and men danced in a circle while spinning guns. We dressed as the locals, drank tea as the locals and danced as the locals among the crowd of curious villagers.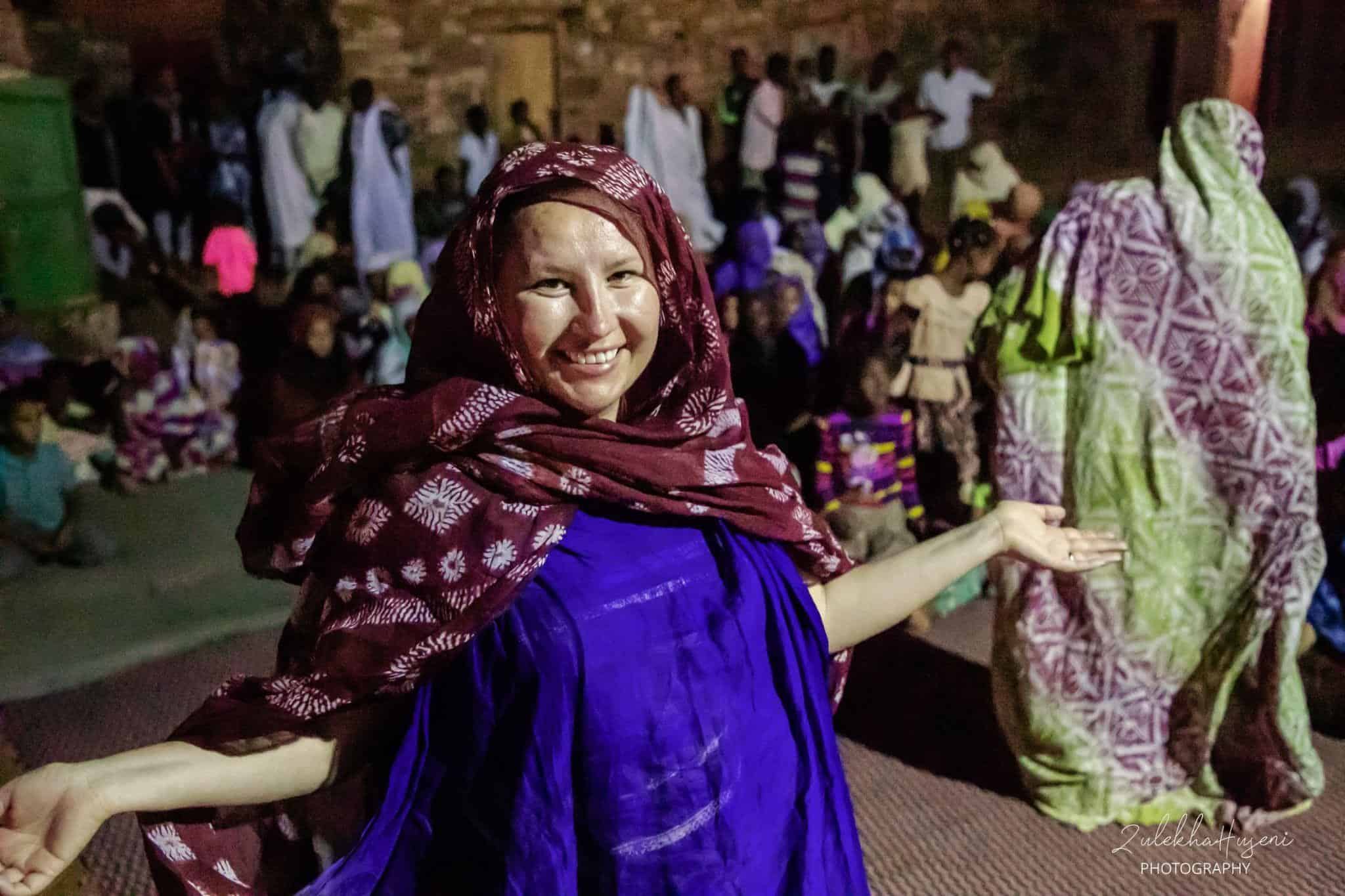 Choum / Iron Ore Train Ride
The desert town of Choum on its own is not that remarkable. However, it's where we waited to hop on an iron ore train and hitchhike to the coast.
If you're thinking that I'm out of my mind, you and my mom have something in common. She was not impressed when I shared my plan to ride a cargo train atop the freshly mined iron ore for hundreds of miles across the Sahara.
But first, let me share a bit of background.
Although most of Mauritania's territory is covered with sand, it's rich in natural resources, especially iron. Since 1963, the Mauritania Railway has been transporting iron ore from the mining town of Zouerat to the fishing port of Nouadhibou. Measuring at up to 3 kilometers long (1.9 miles), trains that run on this 700-kilometer (435-mile) line are some of the longest and heaviest in the world.
For many locals, the train is the only mode of transportation that connects them to the coast. National Geographic filmed a great 13-minute documentary about a Mauritanian man who buys fish in Nouadhibou and then rides into the desert to sell it. He repeats the trip every few days to make a living.
So, for the adventurers at heart, the train is a perfect opportunity to experience the way the locals transport goods, water and fuel in the midst of the harsh desert climate.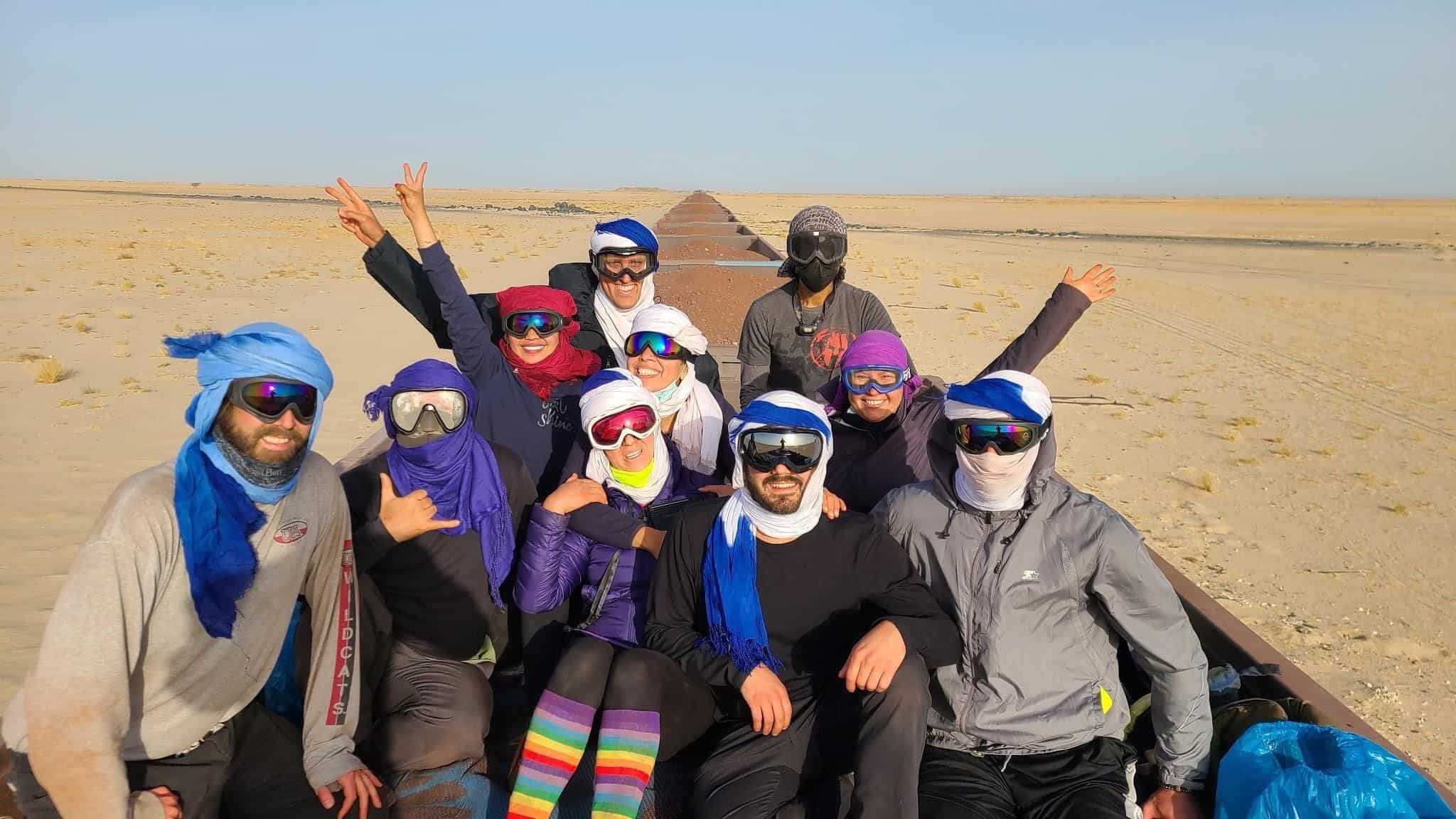 We boarded the train around midnight in Choum, a small village where the train makes a stop to pick up passengers, and rode it for 13.5 hours inside a cargo cart. Eleven of us, including the travelers and the guide, fit ourselves into one cart like Tetris pieces and fell asleep to the rhythmic rocking of the train.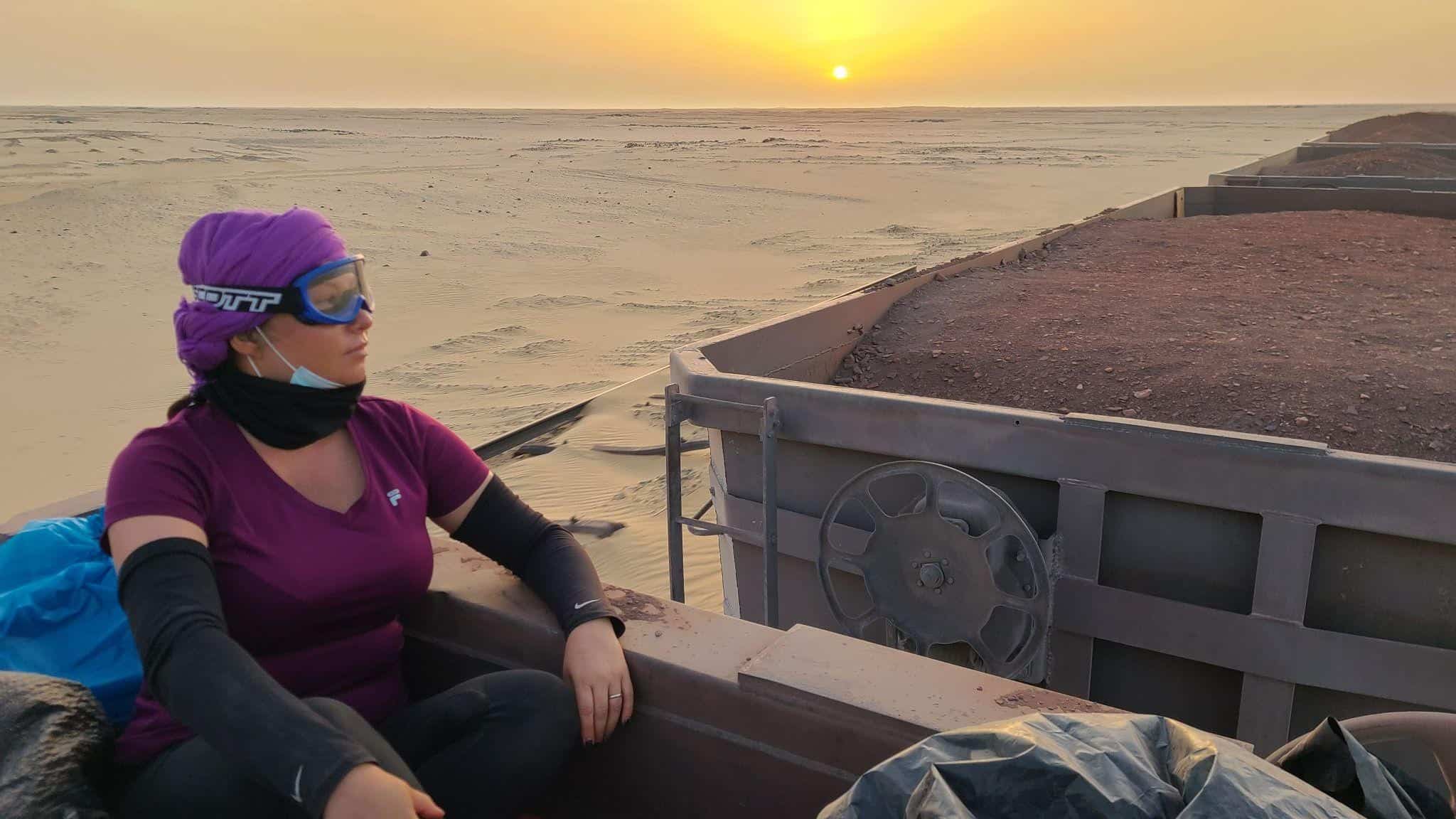 I remember waking up to the most beautiful sunrise I've ever seen. Imagine a red disc slowly making its appearance from behind the horizon, and you're in the Sahara on a moving train. Call me crazy, but this kind of an adventure is worth telling my grandkids about one day.
Banc d'Arguin National Park
After the wildest train ride of my life, we took showers at a Nouadhibou hotel and made our way to Banc d'Arguin National Park where we camped right on the beach.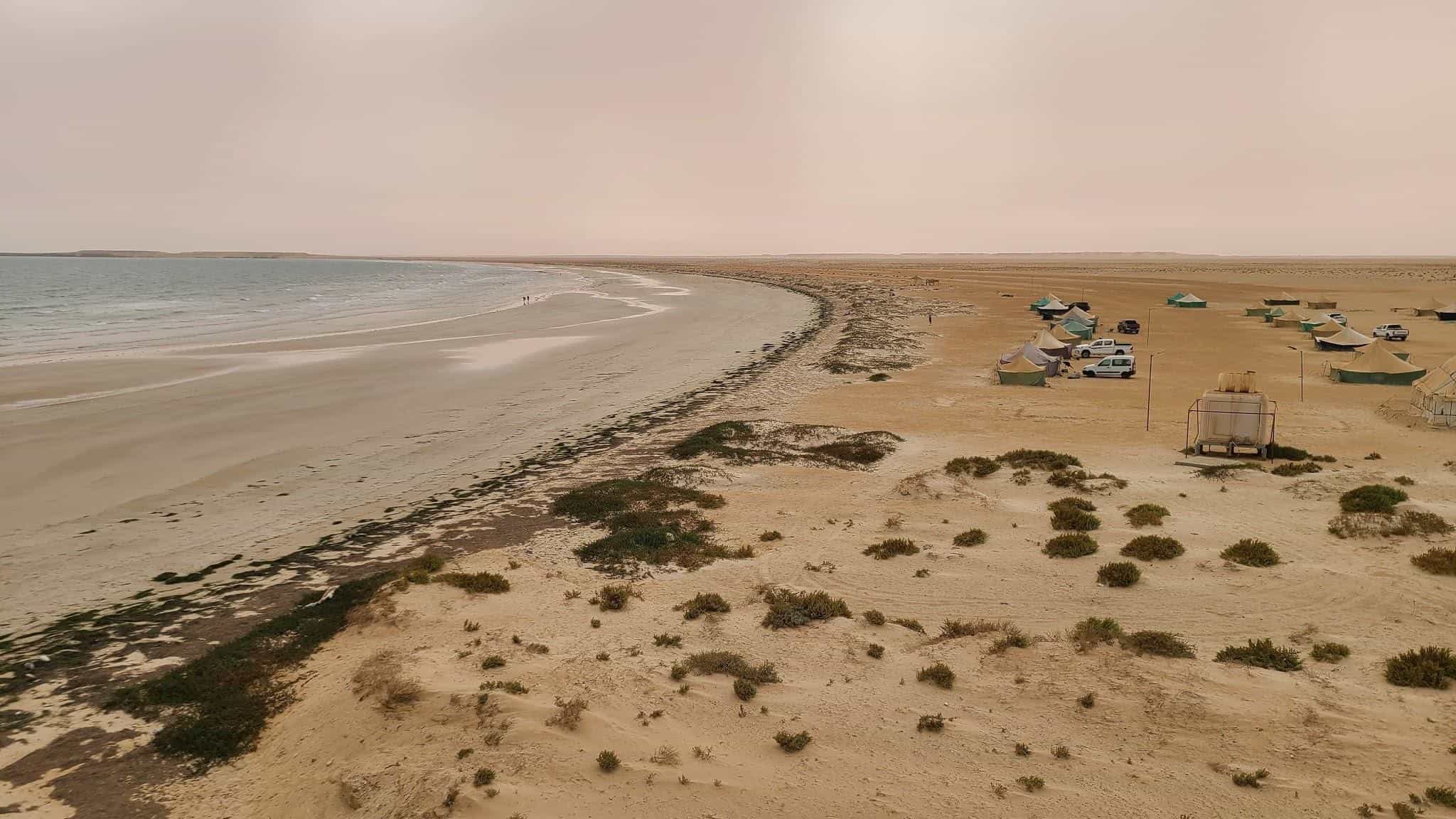 The area is known for its migratory birds that come from Europe to spend winters, but because we traveled in May, most birds were absent. We did see some flamingos, though.
Nouakchott
Finally, time for some air conditioning! I'll go ahead and say that Nouakchott, the capital of Mauritania, isn't the most beautiful city, but we had to spend a couple of nights there to get our COVID-19 tests scheduled and wait for our results.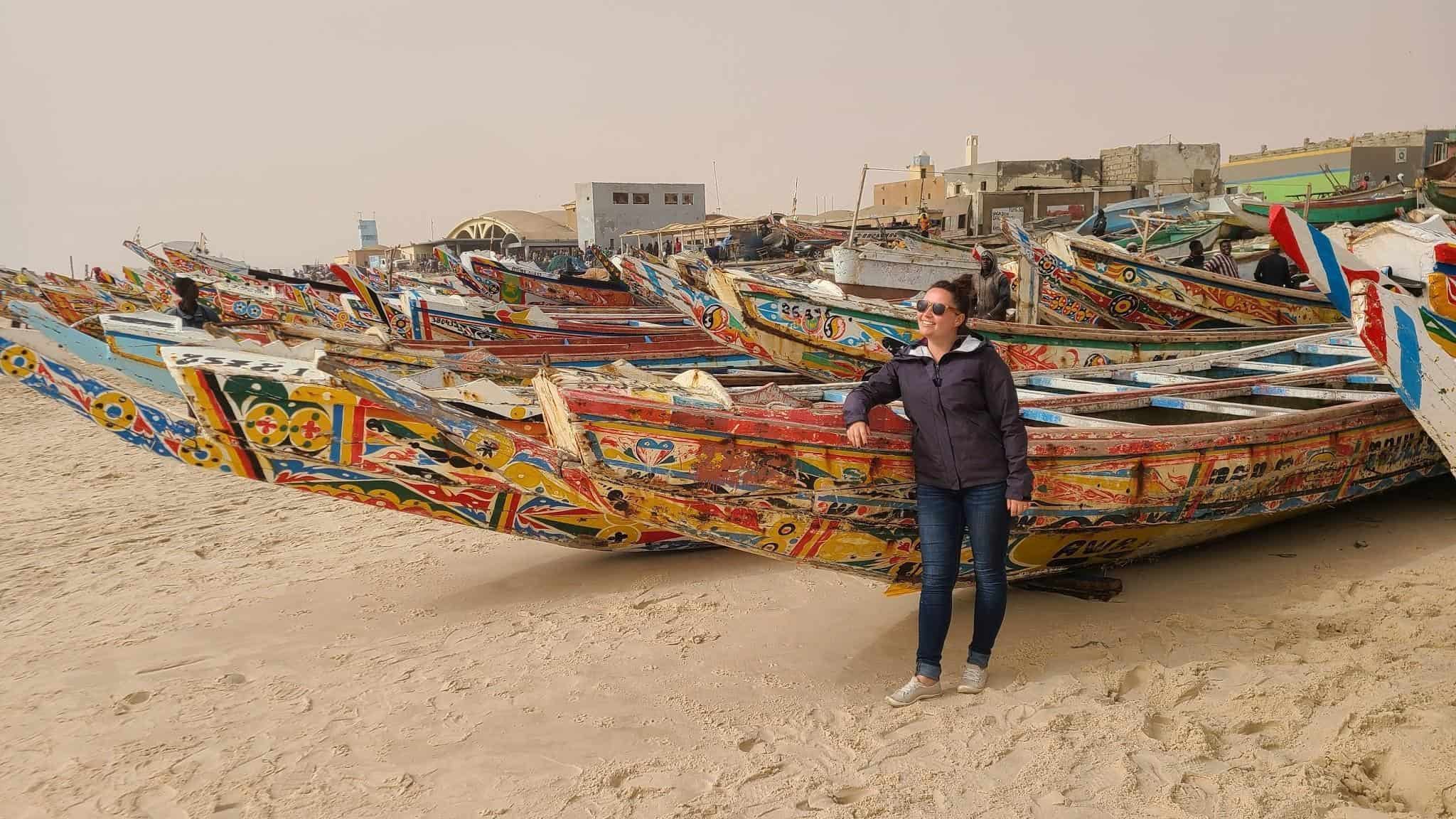 Still, I enjoyed my time in the capital sightseeing, visiting a camel market and later Port de Pêche, where we saw hundreds…nay, thousands of colorful fishing boats, or pirogues, catching, bringing to shore and selling seafood right at the nearby market. The port gets extra busy in the afternoon when the boats return to the beach.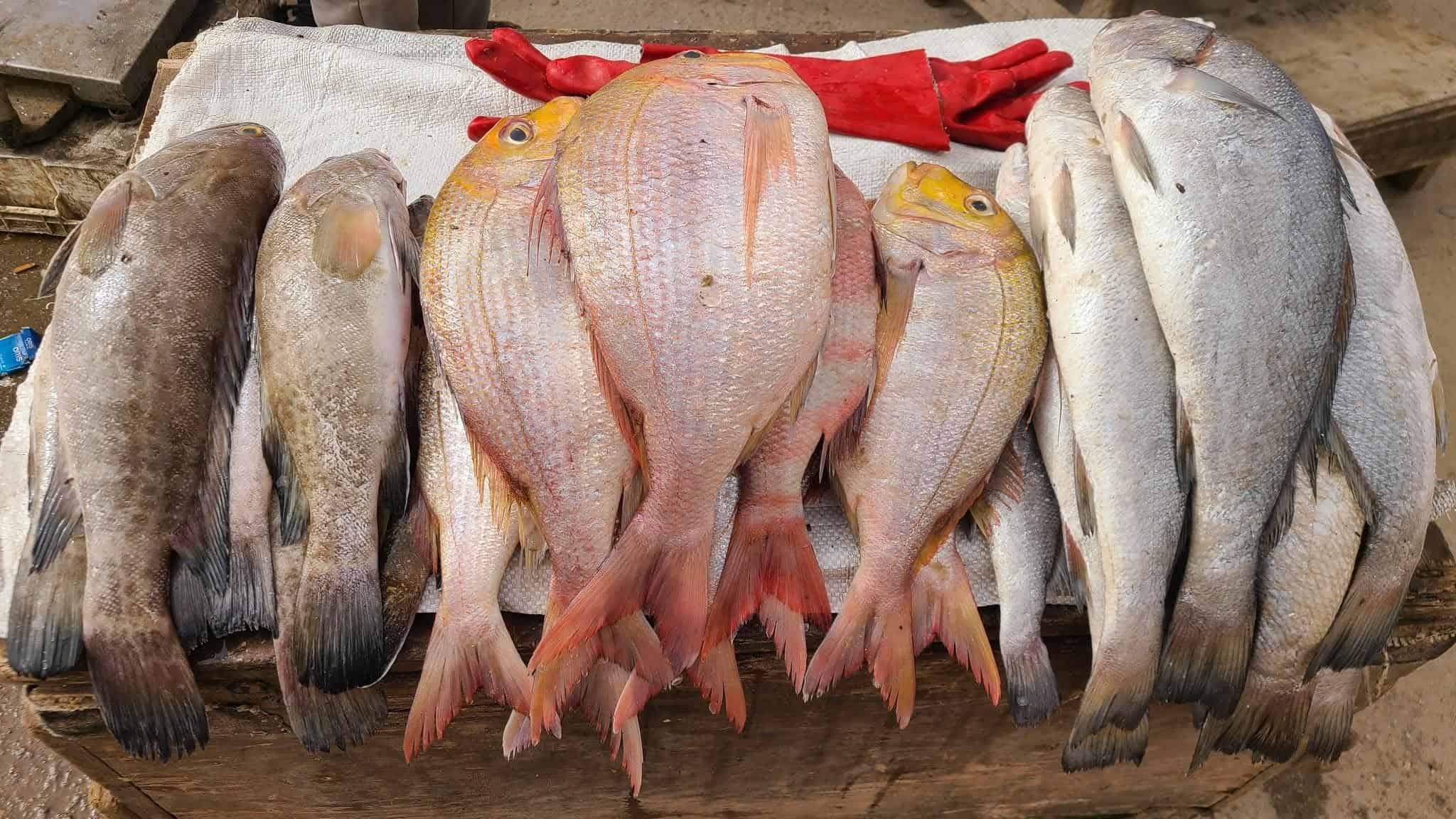 Visa Requirements and COVID-19 Travel Restrictions
Most visitors to Mauritania need to obtain a visa. Everyone in our group got theirs on arrival at the Nouakchott Airport. Thirty-day tourist visas cost $60 or €55 (cash only).
Mauritania requires all travelers ages 10 and older present a negative PCR test result within three days of departure from the first embarkation point, according to the IATA Travel center. The test result must be written in Arabic, French, English or Spanish.
Because we spent much of our time in the desert, we didn't have trouble with social distancing. Everyone in our group had been vaccinated as well, so we all felt safe around one another.
COVID-19 tests prior to departure from Mauritania were free of charge (as of May 2021), and we received our results the same day.
If You Decide to Go to Mauritania
As you probably guessed, Mauritania doesn't offer a whole lot of tourism infrastructure for a self-guided trip, so we went with a recommended tour guide. Hademine, the owner of Time4Mauritania, took care of all the logistics and organized every detail of such a unique trip, including hiring drivers and a chef who went everywhere with us.
He hired a team to ride the iron ore train from Zouerat (the town where the train is loaded) to Choum (where we boarded), pick a cart with good wheels (yes, it's a thing) and flatten the ore for us to be comfortable while sleeping on top of it.
He also organized our COVID-19 tests, made sure we were first in line before the testing facility opened and hand delivered test results to our hotels the same evening.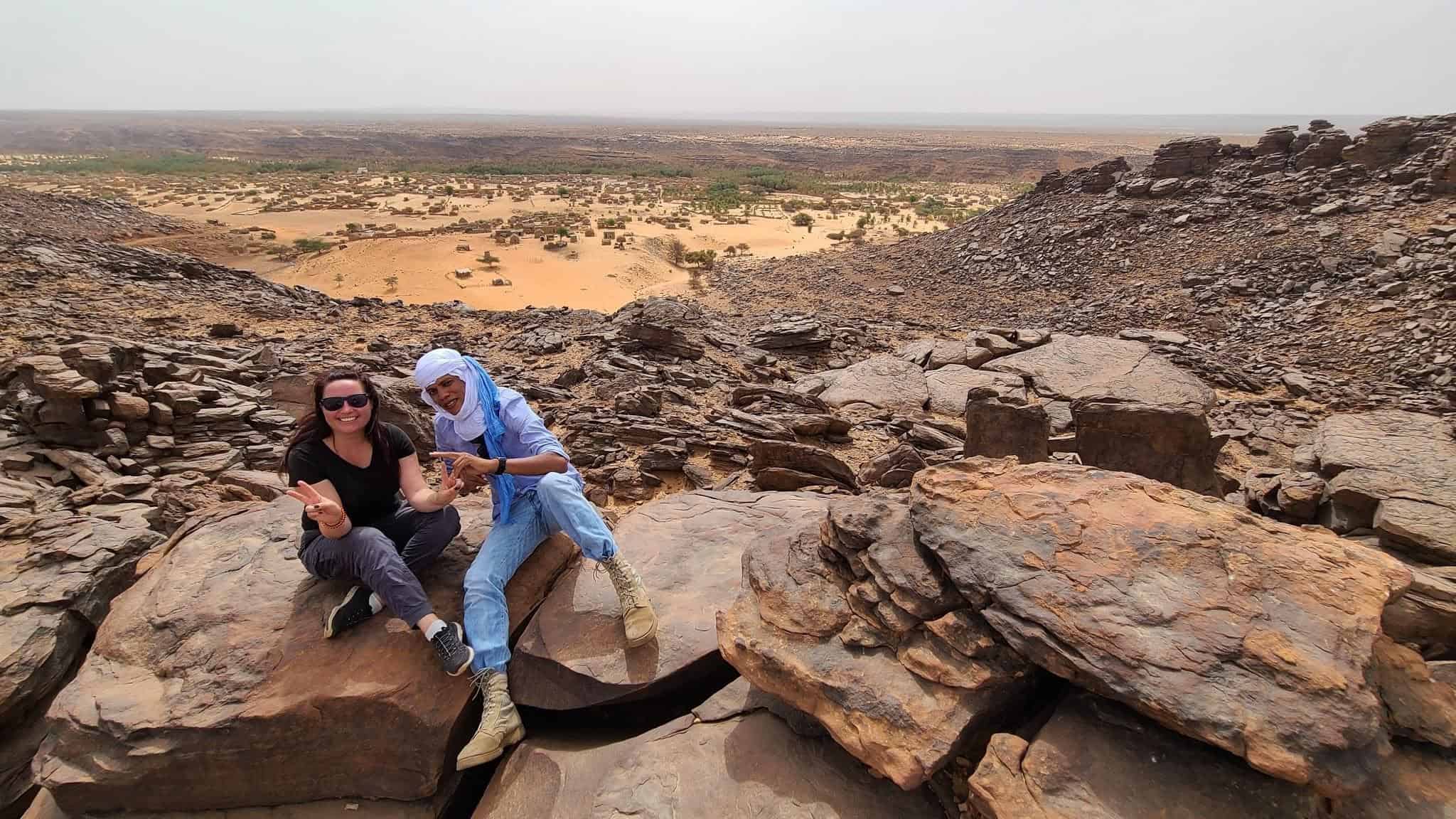 Overall, everyone on our tour was pleased with the service, which is hard to do for a group of 10 experienced travelers. So, if you're interested in adding a different destination to your list of travels, I recommend Time4Mauritania for your tour.
Author's note: This content isn't sponsored in any way.
Final Thoughts
You know that famous quote, "I haven't been everywhere, but it's on my list?" Well, it's about me. Mauritania wasn't on my immediate bucket list, per se, but in terms of visiting every country, it was on A list. Thanks to points and miles, I was able to check it off and have enough adventures in one of the most remote corners of the world to remember for a lifetime.
New to the world of points and miles? The Chase Sapphire Preferred is the best card to start with.

With a best-ever bonus of 100,000 points after $4,000 spend in the first 3 months, 5x points on travel booked through the Chase Travel Portal and 3x points on restaurants, streaming services, and online groceries (excluding Target, Walmart, and wholesale clubs), this card truly cannot be beat for getting started!
Learn More
Editors Note: Opinions expressed here are author's alone, not those of any bank, credit card issuer, hotel, airline, or other entity. This content has not been reviewed, approved or otherwise endorsed by any of the entities included within the post.