In This Article
Loading table of contents …
Parisi Udvar Hotel is Hyatt's only property in Budapest, so Hyatt loyalists, and Globalists especially, would definitely enjoy a stay there.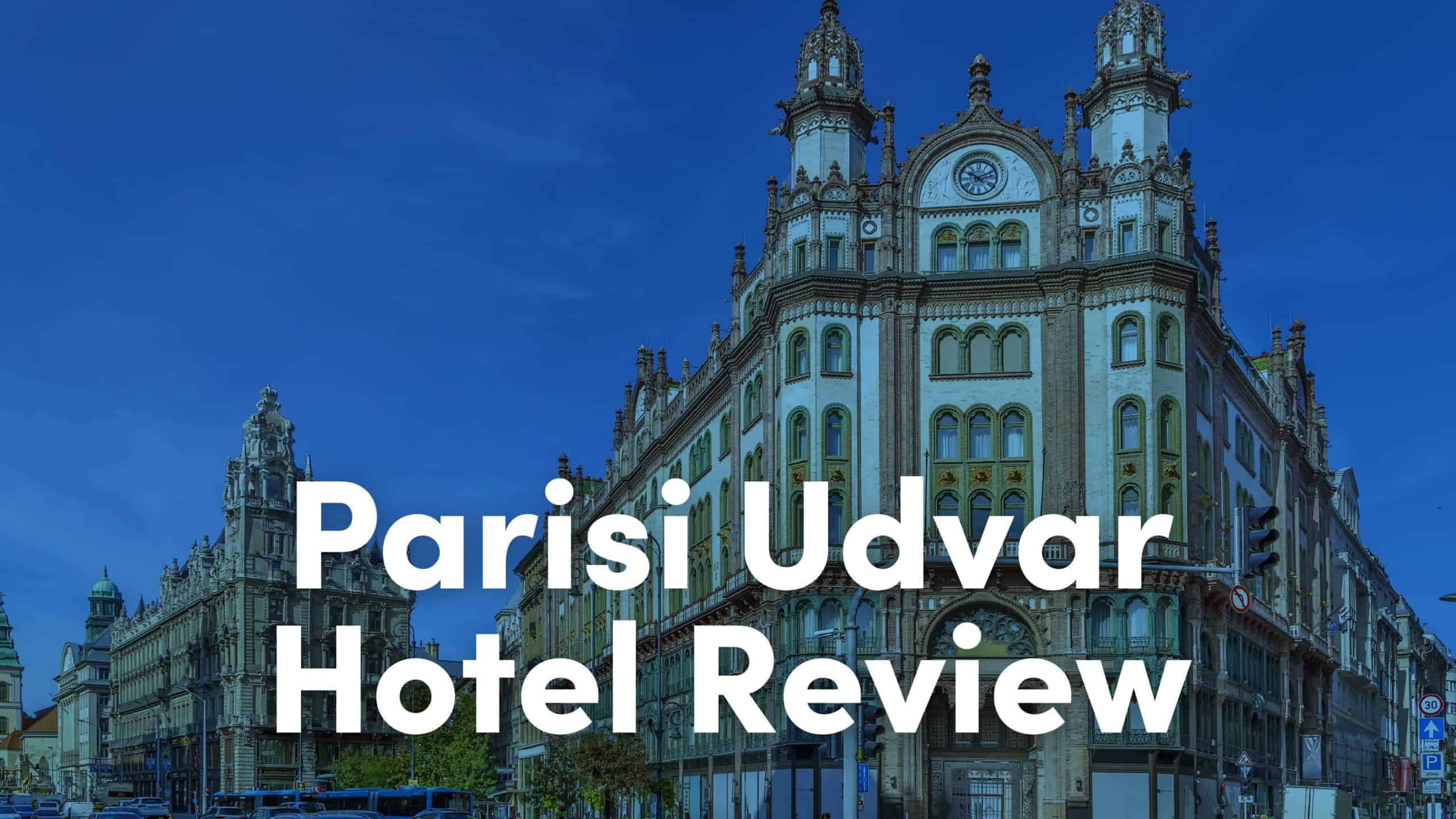 My husband and I visited Budapest, Hungary, nine years ago and loved the city so much that we wanted to come back. So when I read that Hyatt was opening a new property there, the Párisi Udvar Hotel Budapest, part of its Unbound Collection, I just had to book it.
The Unbound Collection by Hyatt is a portfolio of upscale and luxury properties that have a distinct character. These are definitely not your cookie-cutter chain hotels—each has a sense of place and reflects the individuality of its location.
Our original reservation for five nights was for May 2020, but with everything going on in the world, we had to move it to May 2021. But when Hungary still hadn't opened for tourism, we moved the reservation again to May 2022.
When Parisi Udvar Hotel first opened in 2019, it was a Category 2 property, so I booked it for just 8,000 World of Hyatt points per night. Considering how luxurious this hotel is and the high cash price, I knew this couldn't last. Shortly after I made my reservation, Hyatt moved this property into Category 5, and a night now costs 17,000 to 20,000 points.
Surprisingly, Hyatt let us change the reservation twice at the same rate of 8,000 points. I earned Globalist status last year, so when we finally made it to Budapest in May, we were able to enjoy all the Globalist benefits, including an upgrade and free breakfast.
Location and How to Get There
Parisi Udvar Hotel is located in the heart of Pest, the eastern part of the city, close to public transportation, shopping and dining. The hippest part of town, Budapest's Jewish Quarter, where you can find all the best bars and restaurants, is about a 10-minute walk from the hotel.
From the airport, you can take a public bus for about 3 euros. The airport bus stop is within a five-minute walk from the hotel. We had luggage, so we hailed a cab via the Bolt app for about $25.
If you take a regular taxi from the airport, it's going to be a lot more expensive, so I highly recommend downloading Bolt before you leave home (so you can receive a verification text message). Bolt works similar to Uber—no cost surprises and no cash is involved—you pay through the app with a linked credit card.
I linked my Chase Sapphire Preferred® Card with Bolt because it has a wide definition of travel, so I earned 2X Ultimate Rewards points on all Bolt transactions.

I also highly recommend BudapestGO, the official public transport app of Budapest. You can look up routes and buy public transport tickets in the app with a linked credit card. Not all bus or tram stops have a ticket machine, and the app is easy to use.
Parisi Udvar Hotel Overview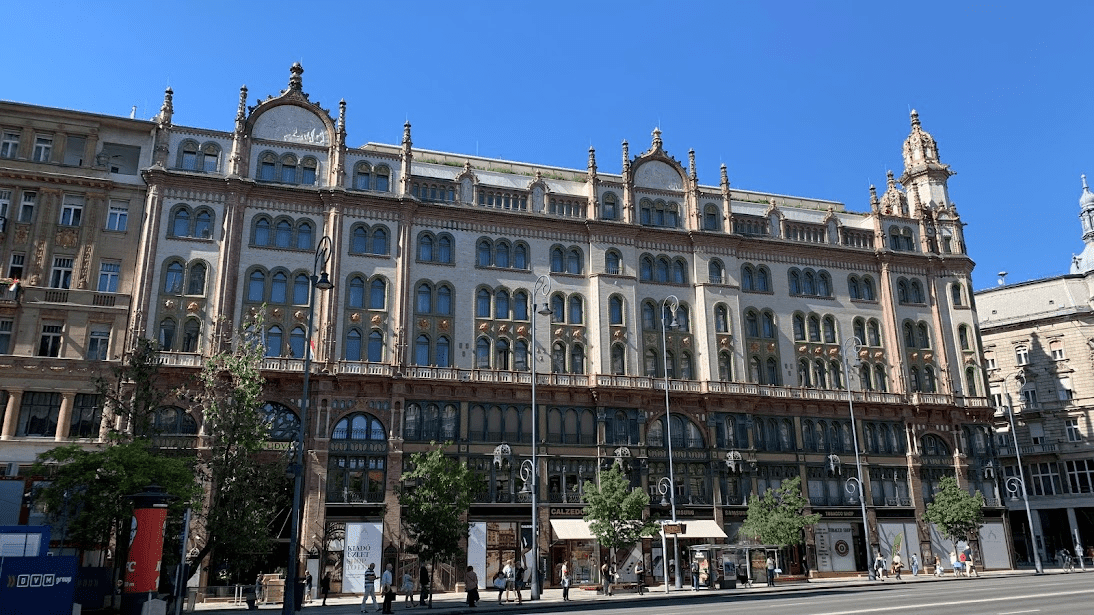 The hotel occupies one of the most beautiful buildings in Budapest. In the city of stunning architecture, Parisi Udvar really stands out. The former high-end glass-roofed shopping arcade survived World War II miraculously untouched, but it fell into disrepair during Hungary's comunist times. It closed for renovations in 2014 and opened in 2019 as a luxury hotel.
Everywhere you look—the ornate glass dome, the floors, the tiles on the inside and outside walls, the marble staircase—you can't help but marvel at all the beautiful details.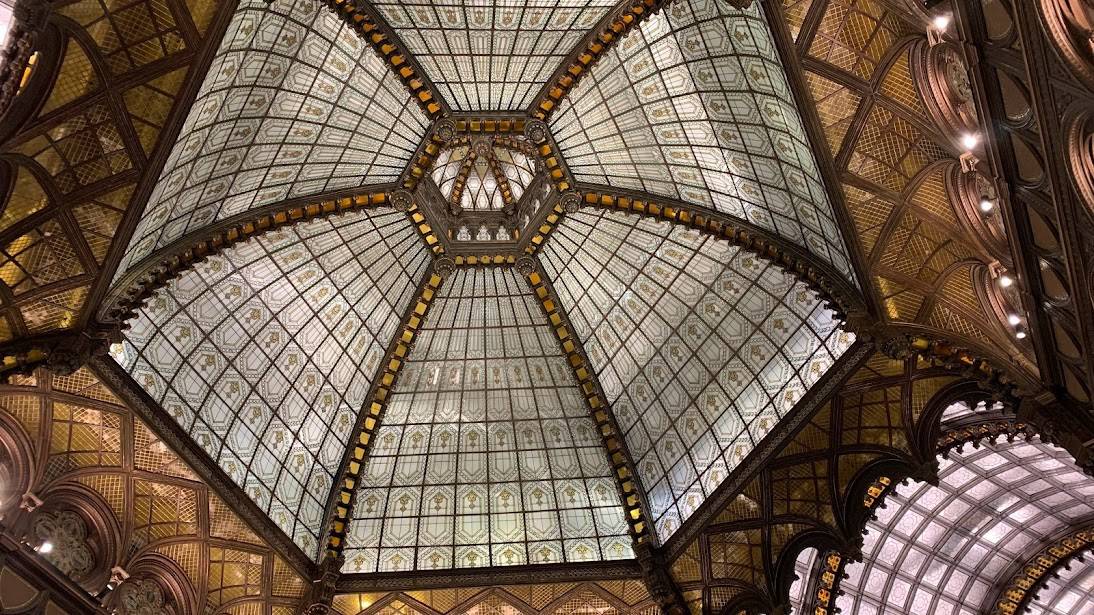 The design is stunning, and the renovations of the public spaces were done with a great degree of historical accuracy.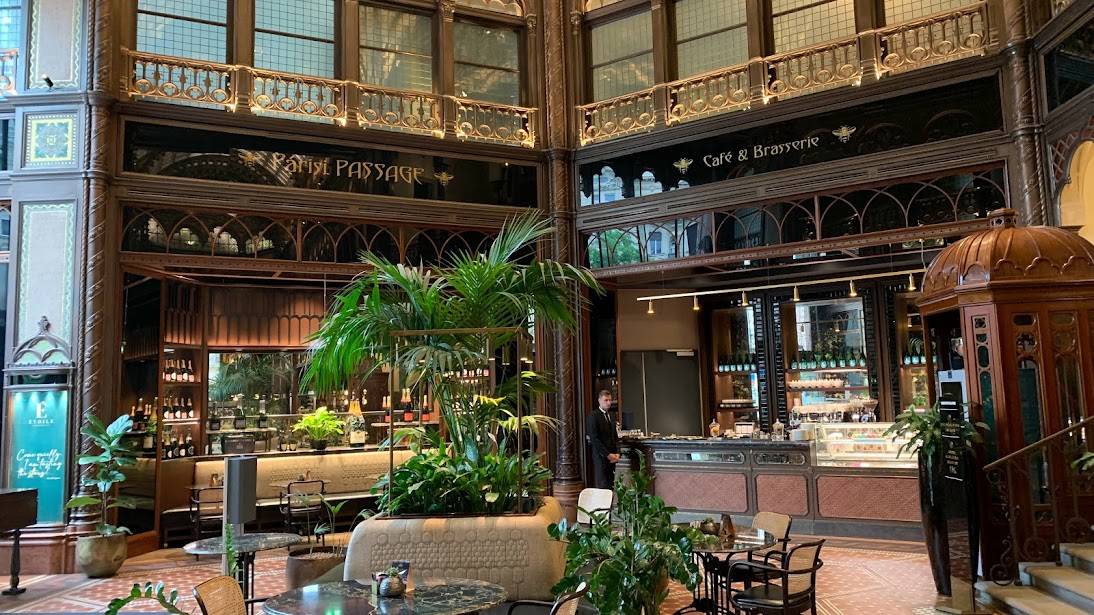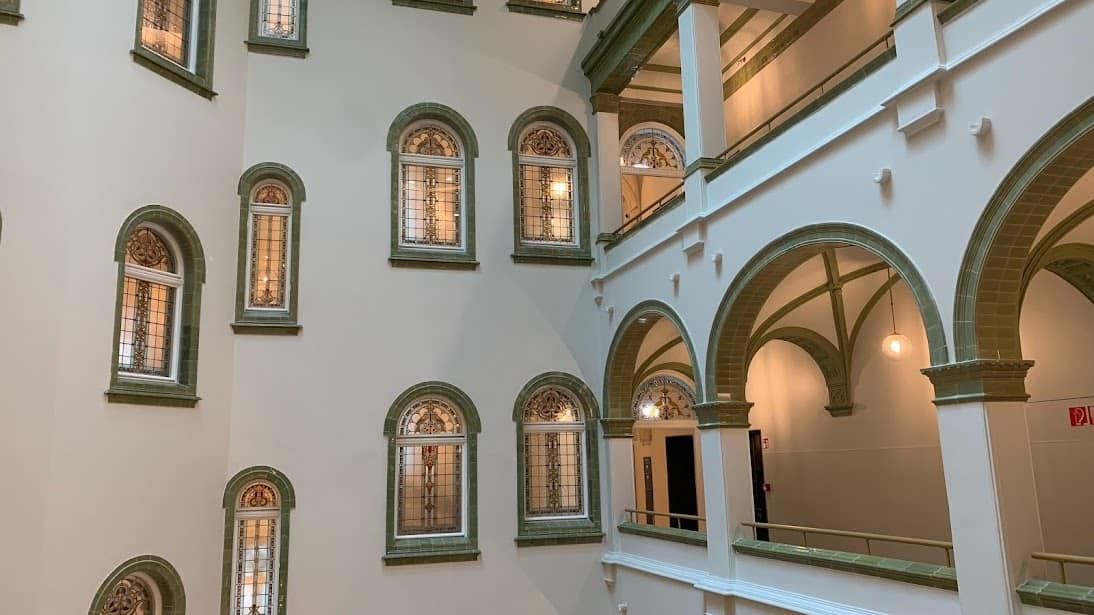 The service at the hotel was excellent. Everyone we interacted with, from the front desk to the wait staff at breakfast, spoke great English and was friendly and not overly formal.
My only minor disappointment was with the hotel's concierge. I'd emailed them before the trip, asking where I can find some traditional Hungarian music or see a traditional dance show. I had tried to find this information myself online, but there isn't much published in English, or the information is outdated.
The concierge replied that my only option was to book a river cruise with live entertainment. This was definitely not what I was looking for, and it felt like a cookie-cutter reply. Later, I was able to find some more information myself, and the concierge should've been able to find the same website that I found. I'm sure this question is asked a lot by hotel's guests, and I wasn't looking for anything out of the ordinary, so they should've had this information at the ready.
If you like to stay fit on the road, there's a tiny gym. The hotel also has a spa, but I didn't have an opportunity to try it out.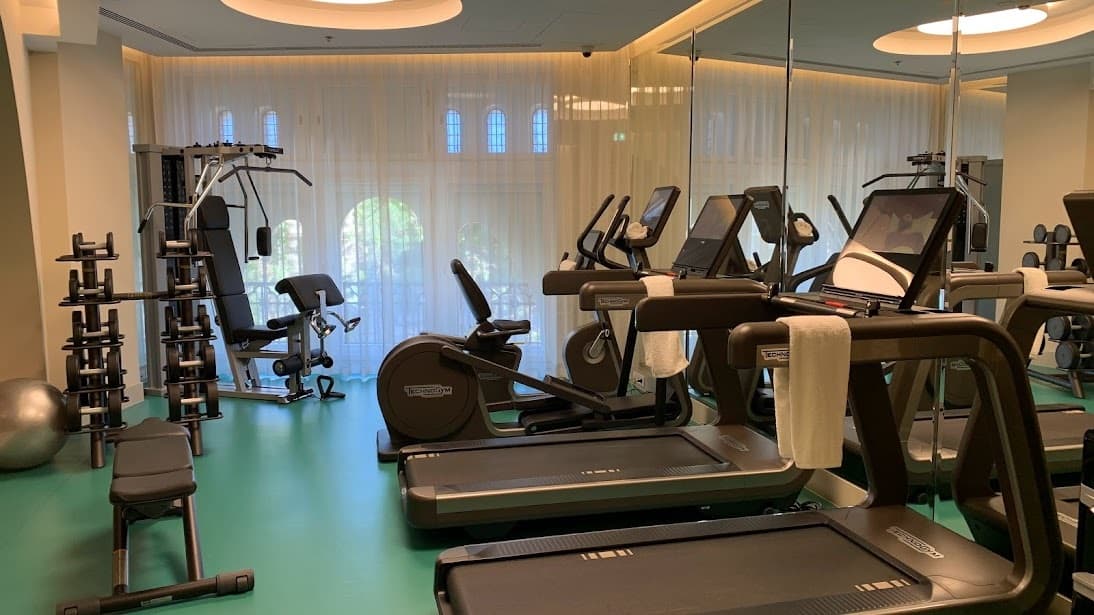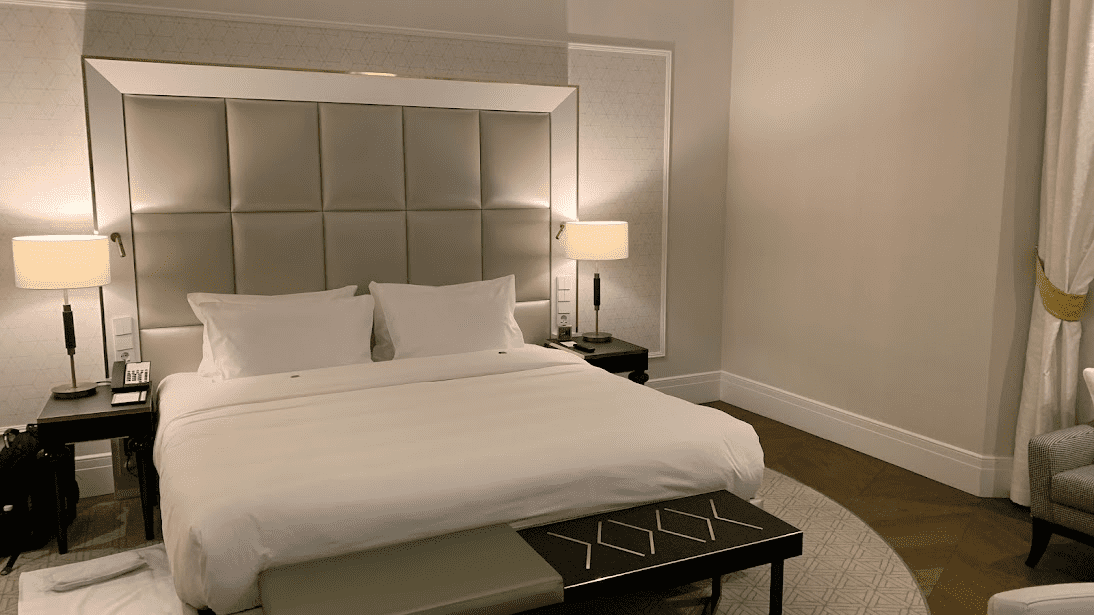 I booked the standard room and applied one of the two suite upgrades that Globalists get every year. The suite upgrade put me in the Art Collection Suite, but thanks to my Globalist status, the hotel upgraded us to the Heritage Collection Suite. As far as I can tell, the difference is the size of the room, and the suite is actually a big room with a sitting area.
At check-in, I asked if there were any suites available with a separate living room and a bedroom, but I was told that that none were available.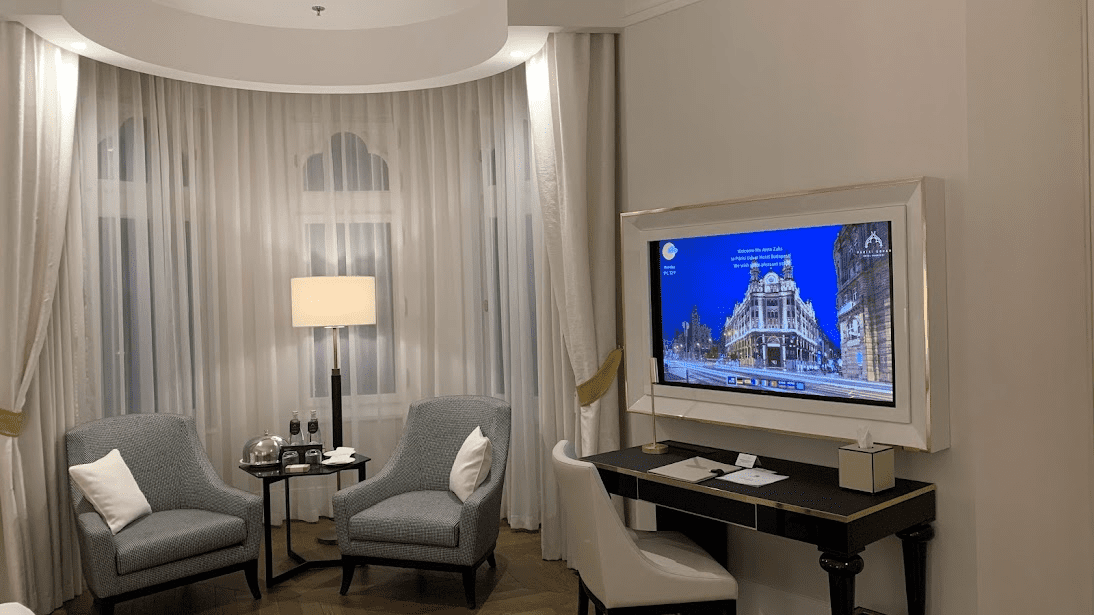 We got a lovely letter from the manager and a welcome amenity (a fruit plate and some local chocolates) when we arrived in the room. This is one of my favorite things about being a Globalist—Hyatt really knows how to make you feel welcome.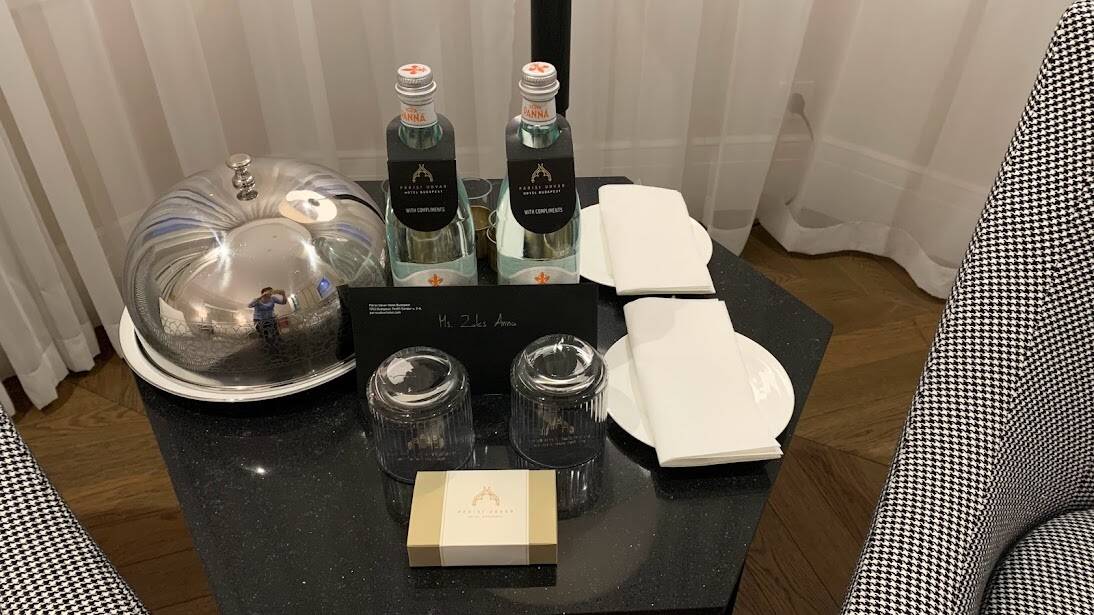 Our corner room overlooked the busy Ferenciek tere, one of Budapest's main thoroughfares. However, the soundproofing was superb. We could hear faint traffic noise, but with the drapes closed, it didn't bother us at all, and we're both usually sensitive to noise. We didn't hear our neighbors at all, so the soundproofing between rooms is also good.
The blackout curtains did a good job blocking out the streetlights at night, but not the early morning sunlight. Come morning, the room wasn't really dark anymore, so that would be my only complaint about the room's comfort. The air-conditioning did a great job cooling the room while staying whisper-quiet.
The huge king-size bed was comfortable. Everything was of the highest quality, including the mattress, the linens and the pillows, making it hard to get out of bed in the morning.
There was a well-stocked mini bar, which we used to store our own water, a Nespresso coffee machine and an electric kettle.
The huge marble-clad bathroom was beautiful. I loved all the amenities, but my favorite part was the shower. The water pressure was excellent, and the seal around the shower door was truly water-tight. I only mention this because I find it baffling that so many hotels, even upscale properties, can't figure out how to build a shower that doesn't leak all over the bathroom floor.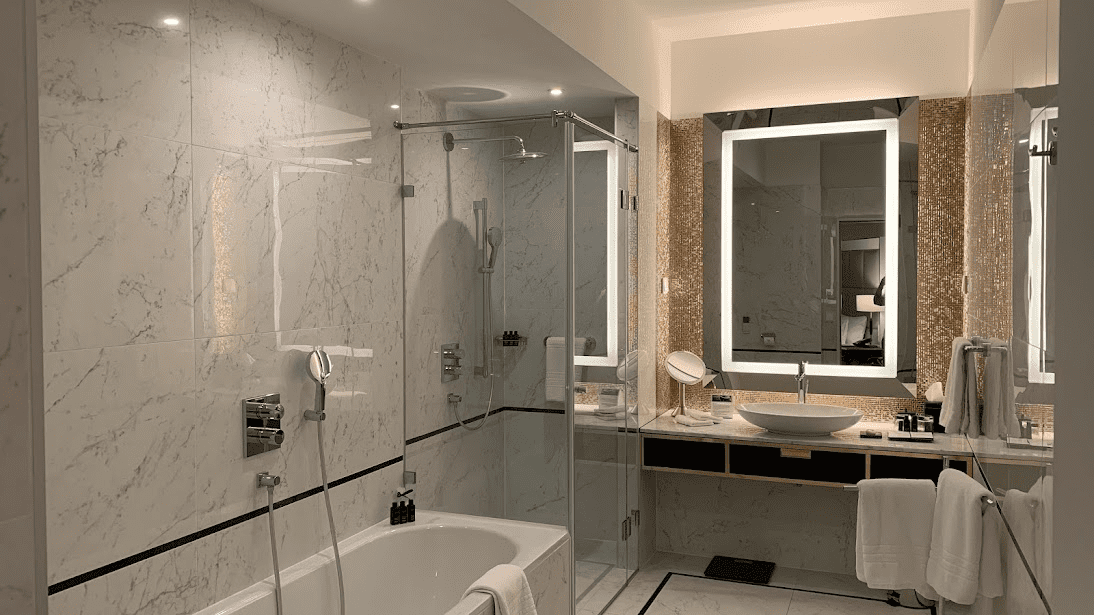 We had plenty of towels as well as towel hooks and a towel stand. I'll happily reuse my hotel towels if I have a place to hang them to dry.
The housekeeping did an excellent job keeping our room clean and well-stocked.
Breakfast at Parisi Udvar Hotel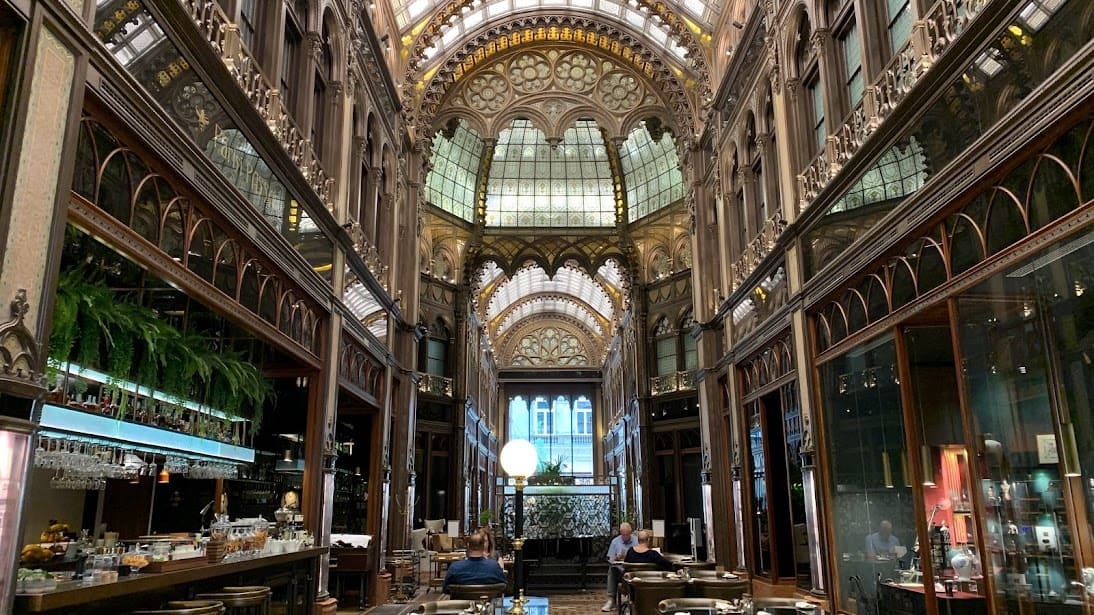 Breakfast is served in the main restaurant on the ground floor. I'd give breakfast four out of five stars. We could order a couple of egg dishes à la carte, but the hot and cold food buffet was somewhat limited, and the food didn't change at all from day to day. You can find such a huge variety of cheese, salami and other cured meats in Hungary, that it was disappointing to see exactly the same things every morning.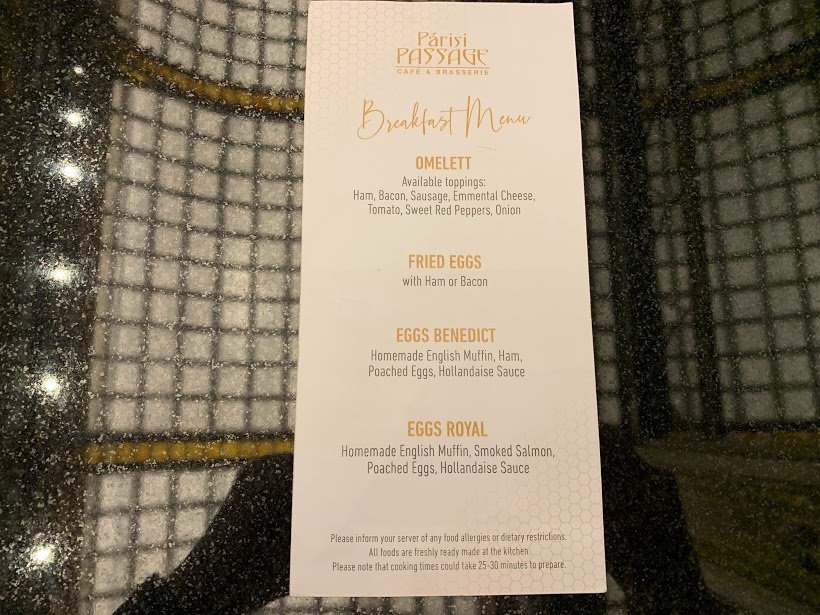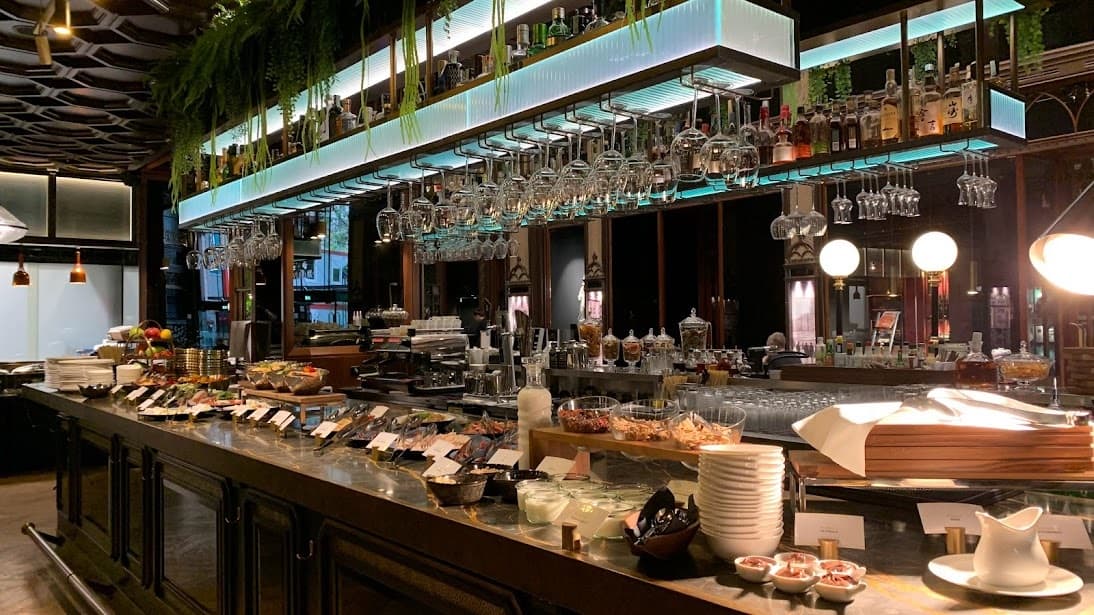 The coffee from the local small coffee roaster was excellent.
Dinner is served in the same space in the evenings, and prices range from $20 to $30 for the main course. We didn't have a chance to eat dinner there, but the restaurant looked full every night.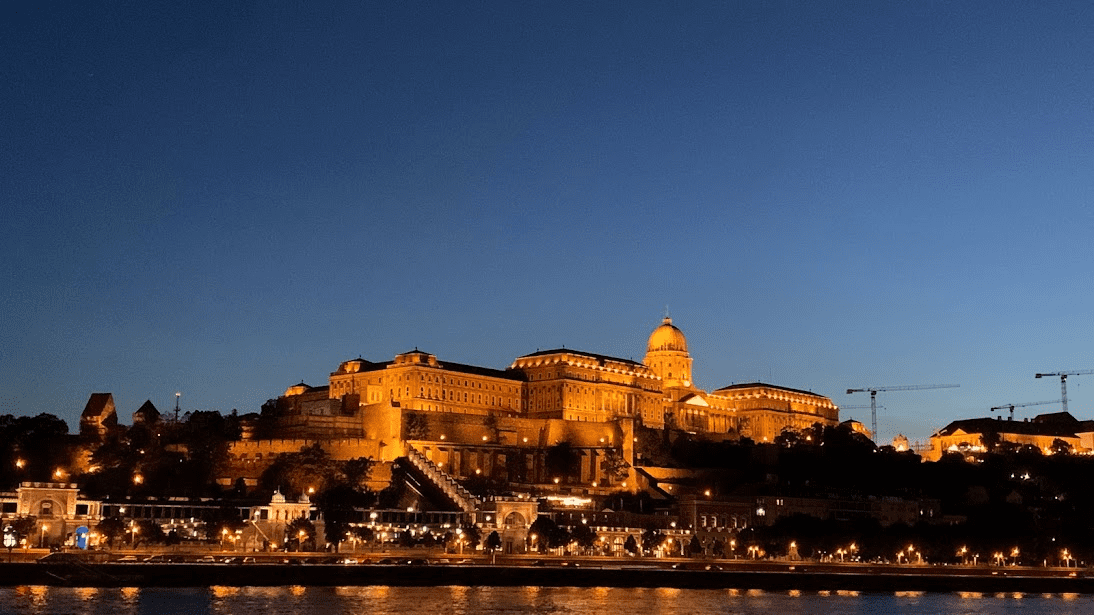 Countless guide books and hundreds of websites offer Budapest travel advice, but I have to mention a couple of my favorite things.
Going on the Danube river cruise, preferably at sunset, when the city is all lit up, is a must. I'd skip the tourist boats that overcharge you for this simple pleasure and take a city-run boat that goes in a big loop and stops a couple of times on the Pest side: one stop on Margaret Island and one stop on the Buda side. It costs just 1,400 Hungarian forints (about $3.85).
The most convenient location on the Pest side is by the Budapest Marriott Hotel, just a 10-minute walk from Parisi Udvar. You can buy tickets at one of the automated ticket machines in the tiny yellow building by the dock.
The boat schedule changes, so ask for the updated schedule at the hotel. We were in Budapest in late May, and because the sunset was pretty late, I went on the last boat of the day at 8 p.m. Few urban scenes are as beautiful as Castle Hill, the bridges criss-crossing the Danube and the Hungarian Parliament building lit up at night.
Our favorite meal was in a contemporary Israeli food restaurant called Mazel Tov located in the Jewish Quarter in a formerly abandoned old building. The space is charming; the prices are reasonable; and there's even live music. Make your reservation ahead of time online. The place is popular—I saw the hostess turn away customers who didn't have a reservation.
A visit to Szechenyi Baths was a highlight of my trip. I didn't have a chance to go last time I visited Budapest and made sure to make time for it this time. Bring a swim cap with you if you'd like to swim in the lap pool. The lifeguards are strictly enforcing this rule and won't allow you to enter without one. The other two outdoor pools don't require a swim cap.
Final Thoughts
Central Europe is one of my favorite places to visit, and while Budapest is one of the most-visited cities in Europe, I don't think it gets the attention it deserves from U.S. travelers.
Parisi Udvar Hotel is Hyatt's only property in Budapest, so Hyatt loyalists, and Globalists especially, would definitely enjoy a stay there. If you'd rather save your points for more expensive destinations, there are lots of reasonably priced hotels in the city.
Hungary is still an affordable destination, and there are so many great bars and restaurants as well as great shopping in Budapest. Go before the prices go up, as they inevitably do everywhere, and enjoy everything Budapest has to offer.
New to the world of points and miles? The Chase Sapphire Preferred® Card is the best card to start with.

With a bonus of 60,000 points after $4,000 spend in the first 3 months, 5x points on travel booked through the Chase Travel Portal and 3x points on restaurants, streaming services, and online groceries (excluding Target, Walmart, and wholesale clubs), this card truly cannot be beat for getting started!
Learn More
Editors Note: Opinions expressed here are author's alone, not those of any bank, credit card issuer, hotel, airline, or other entity. This content has not been reviewed, approved or otherwise endorsed by any of the entities included within the post.