In This Article
Loading table of contents …
Qatar Airways is known for its Qsuites business class with its private pods and excellent in-flight service.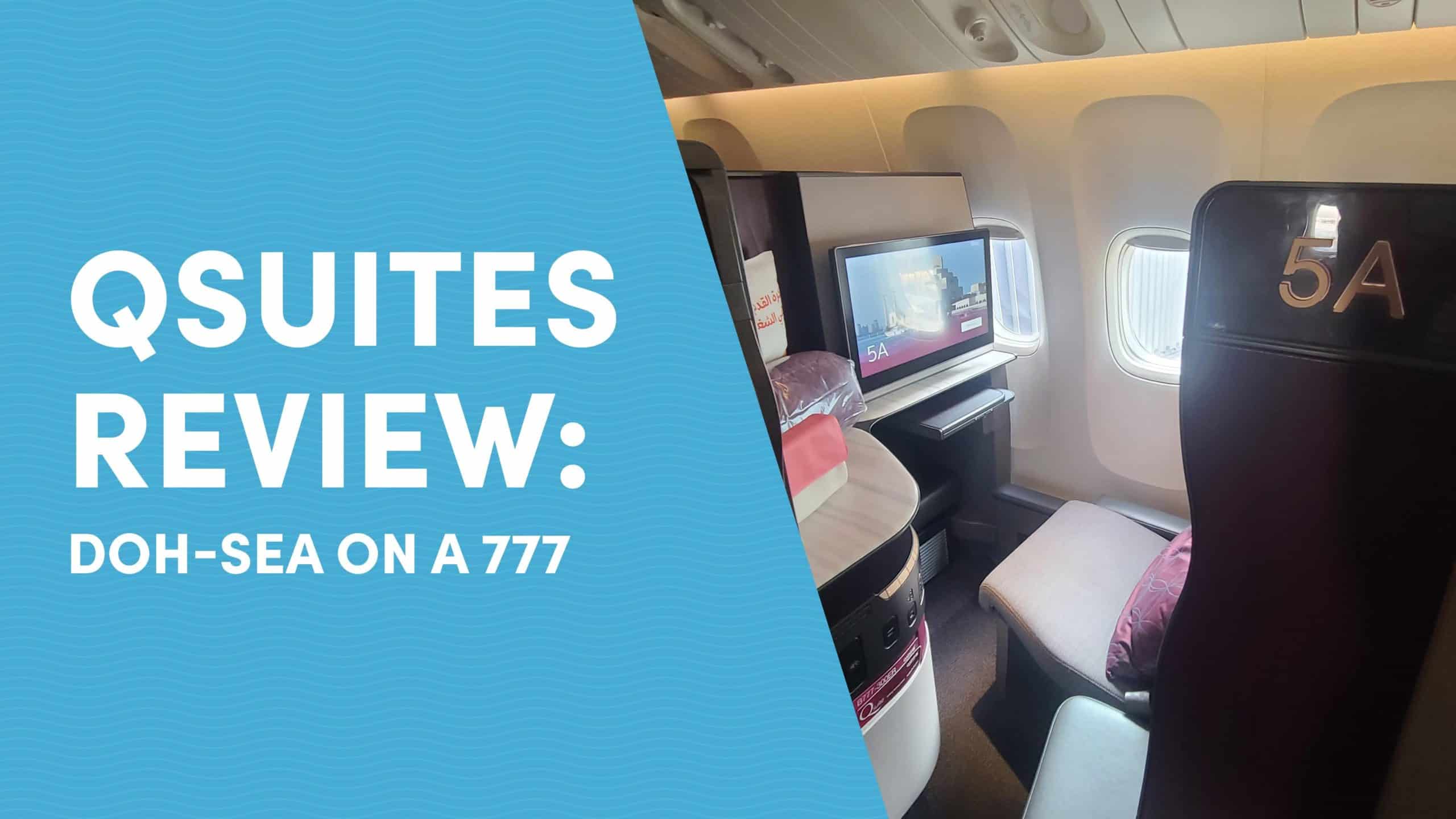 Note: Some of the offers mentioned below may have changed or are no longer be available. The content on this page is accurate as of the posting date; however, some of our partner offers may have expired. You can view current offers here.
Flying pretty much anywhere in business class is a pleasant experience, but it's especially nice when you have to fly far. Qatar Airways is known for its Qsuites business class with its private pods and excellent in-flight service, so I chose to fly the airline on a rather long itinerary—from Kazakhstan to the United States.
Although I'd flown Qatar in economy, it was my first time flying Qsuites, so I had been curious why everyone raves about the experience. Let's take a look at how I booked Qsuites with miles and what my experience in the sky (and on the ground) was like.
Overview of Qatar Airways Boeing B777-300ER Qsuites Business Class
My husband and I booked a trip to Munich for Oktoberfest, after which I planned to visit a few countries in the Caucasus region, including Armenia, Georgia and Azerbaijan. I figured because I was going to be that close to Kazakhstan, my home country, I'd visit my father at the end of the trip, so I was looking for a way back to the United States from Kazakhstan.
The thought of being able to stretch out, eat good food and drink Champagne on such a long flight—the total travel time was about 28 hours—was attractive to me.
How I Booked Qatar Boeing B777 Qsuites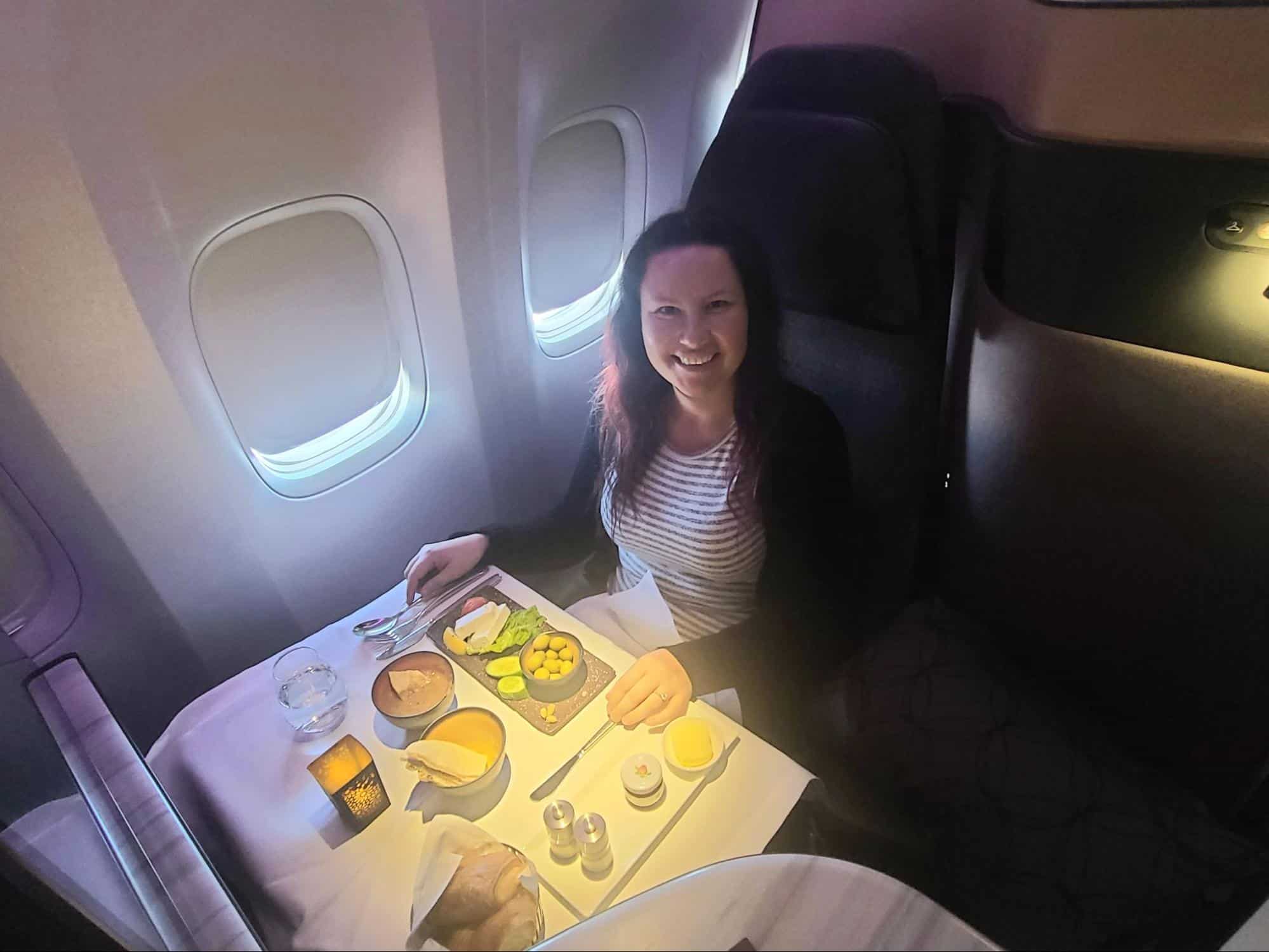 Because I was looking to fly from Kazakhstan to Salt Lake City, which is halfway around the world, I wanted to book something in business class. Don't get me wrong. I've completed this journey in economy class multiple times, but I wanted to make my ride home more comfortable this time.
Imagine my surprise when I found one seat available for a flight at the end of October, and the itinerary included a leg in Qsuites. I had about 100,000 AAdvantage miles in my American Airlines account so I pulled the trigger immediately, knowing that I could cancel for free. Luckily, I didn't have to and took the flight as planned.
I booked a combination of flights from Almaty, Kazakhstan (ALA); to Doha, Qatar (DOH); to Seattle (SEA); and finally to Salt Lake City (SLC) on a mix of Qatar Airways and Alaska Airlines for 70,000 AAdvantage miles + $69.
Qatar is a Oneworld partner, meaning you can redeem Alaska Mileage Plan miles, British Airways Avios and Qatar Avios to book this flight also. Just keep your eye on surcharges as they can be high when booking through some programs.
The leg from Doha to Seattle was in Qsuites on a Boeing 777-300ER. For those who are curious, Qatar began flying to Almaty in November 2021 and to Seattle in January 2022.
Check-In at Almaty Airport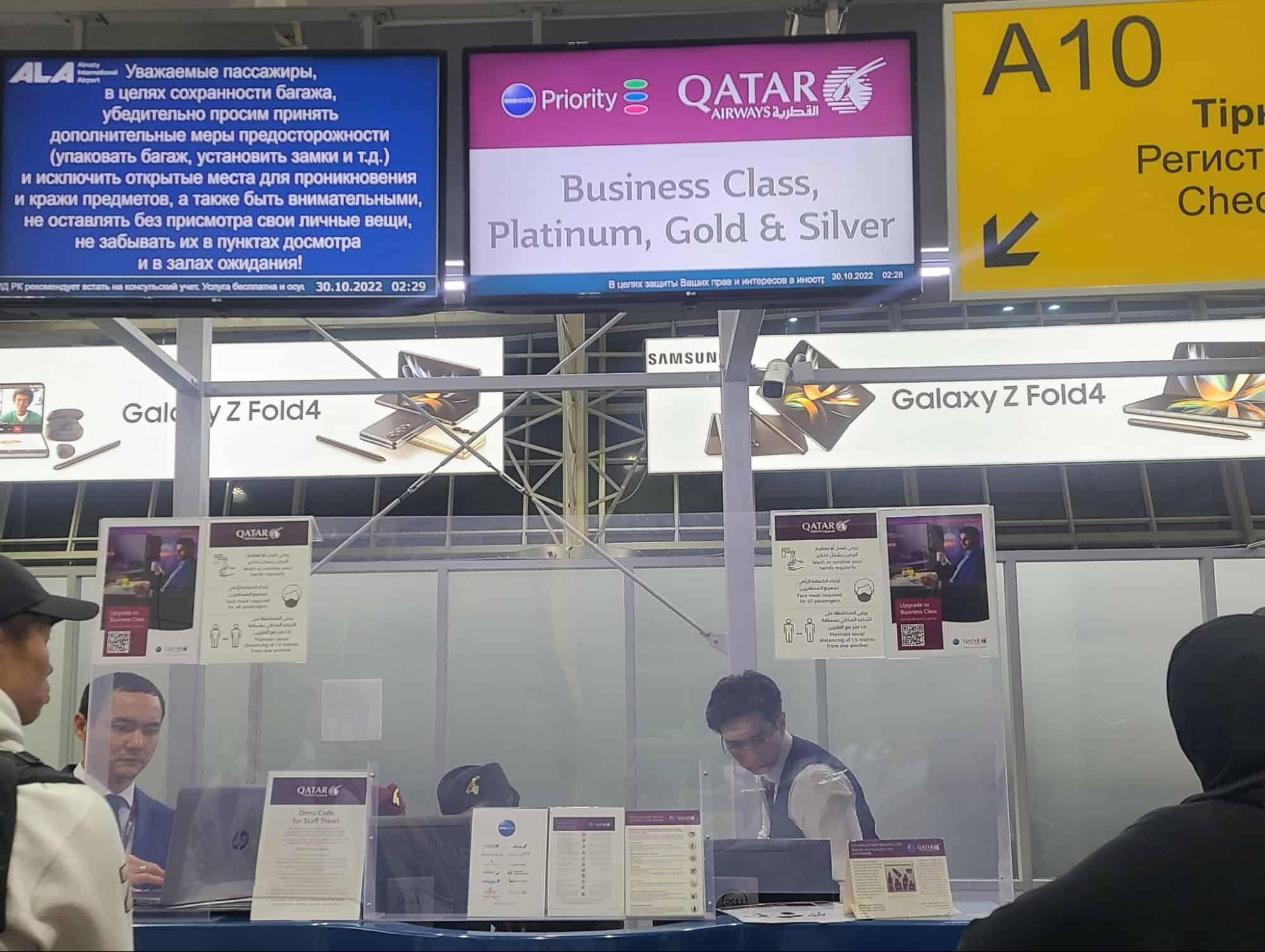 My first flight was out of Almaty, so I checked in at the Almaty International Airport. The flight was scheduled to depart at 3:55 a.m. and I arrived less than two hours before.
The airport was pretty busy in the early hours, and I waited a bit to check in, even in the priority line dedicated to business-class passengers.
Agents at both counters were helping people in front of me for about 20 minutes before I finally asked an agent at the economy desk to check me in. As soon as she did, the flight crew showed up behind me, which meant I would've waited even longer to get a boarding pass had I not been proactive.
Business-class passengers are allowed to check two bags weighing up to 70 pounds (32 kilograms) each. My mom requested I bring her some things back from Kazakhstan, so I used up my entire bag allowance and checked two bags. Both had orange priority tags for a quick transfer during connections.
Qatar Airways Lounge at Doha Airport
In this flight review, I'm focusing on the Doha-Seattle flight segment so I'll skip the flight review of the Almaty-Doha leg.
When we landed in Doha, a separate bus whisked business-class passengers from a remote gate to the terminal. The ride has leather seats and lots of rooms to spread out. The bus ride in and of itself was such a cool experience.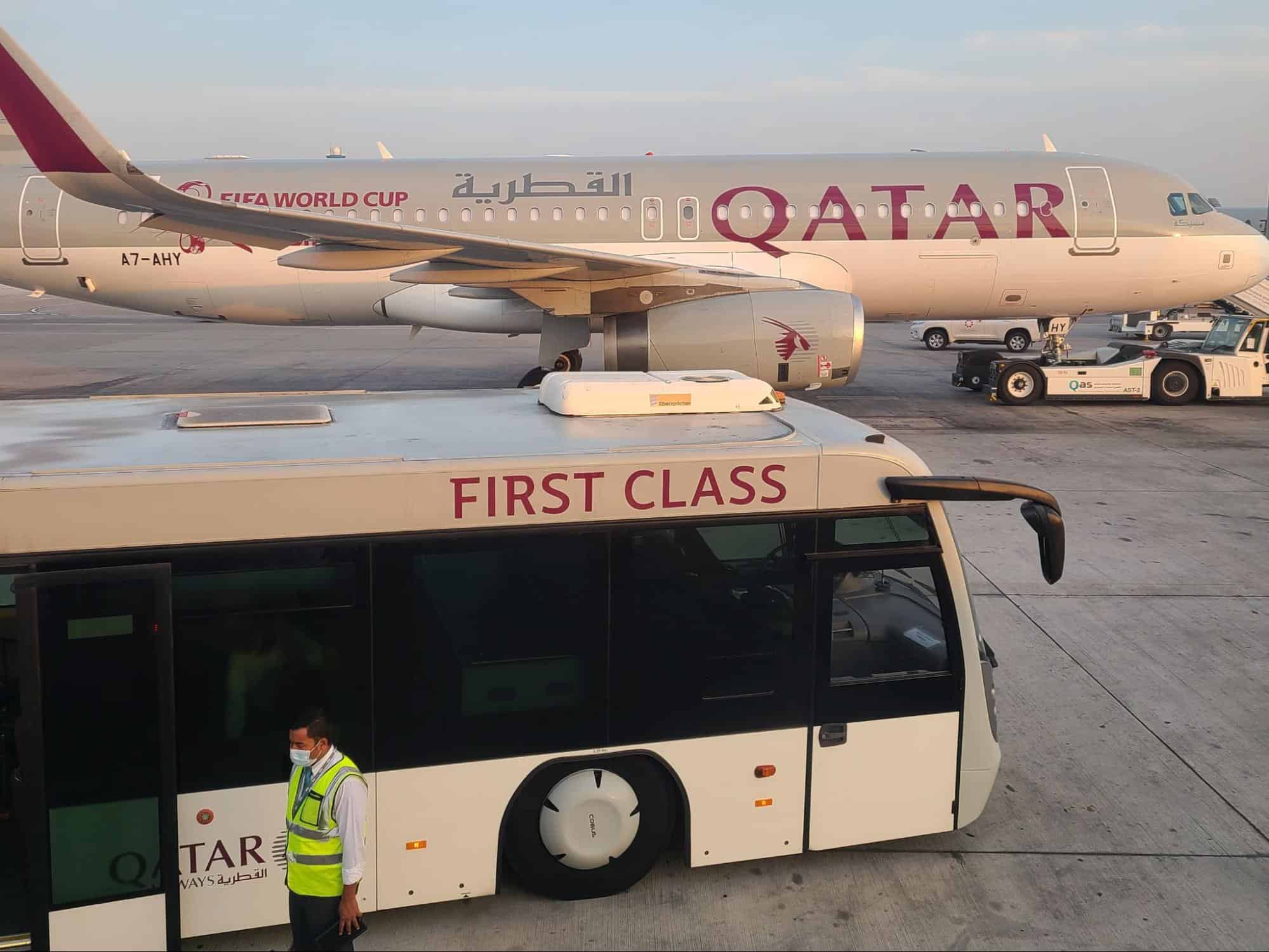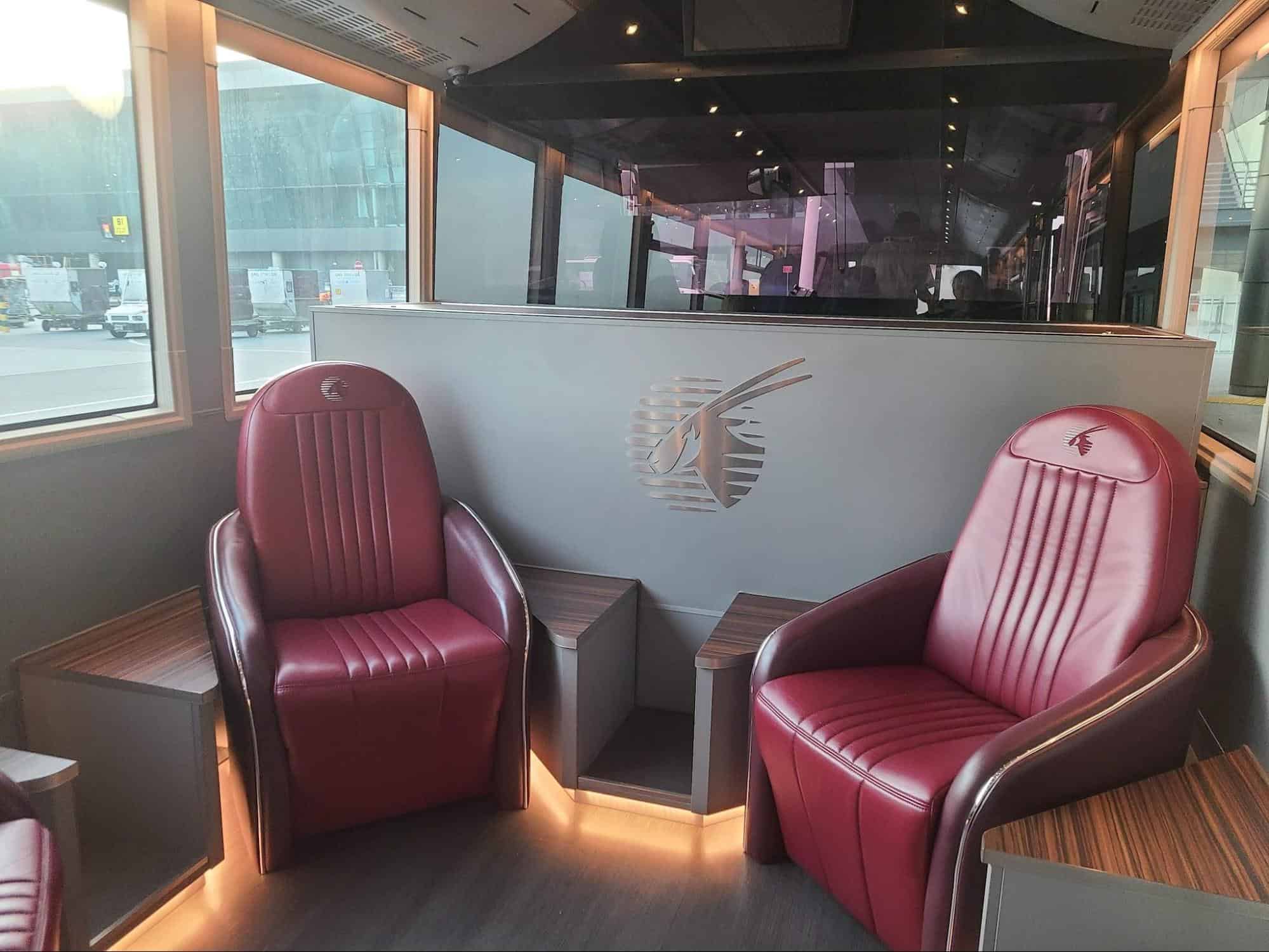 Getting to use a dedicated and much shorter transfer line was a nice touch as well. I was in and out of the transfer zone in minutes.
Qatar business-class passengers connecting (or perhaps starting their journey) at Hamad International Airport in Doha get to visit the Qatar Airways Al Mourjan Business Lounge. Qatar first-class passengers as well as Oneworld first- and business-class passengers can also enter the lounge for free.
The lounge is open 24 hours and is located on Level 3 toward the A gates from the giant yellow teddy bear located in the center of the terminal.
At 10,000 square meters, the Al Mourjan Lounge is humongous. I felt like I needed a map to explore every corner. Unfortunately, I didn't have a long connection, so all I had time for was a short walk around and a quick shower.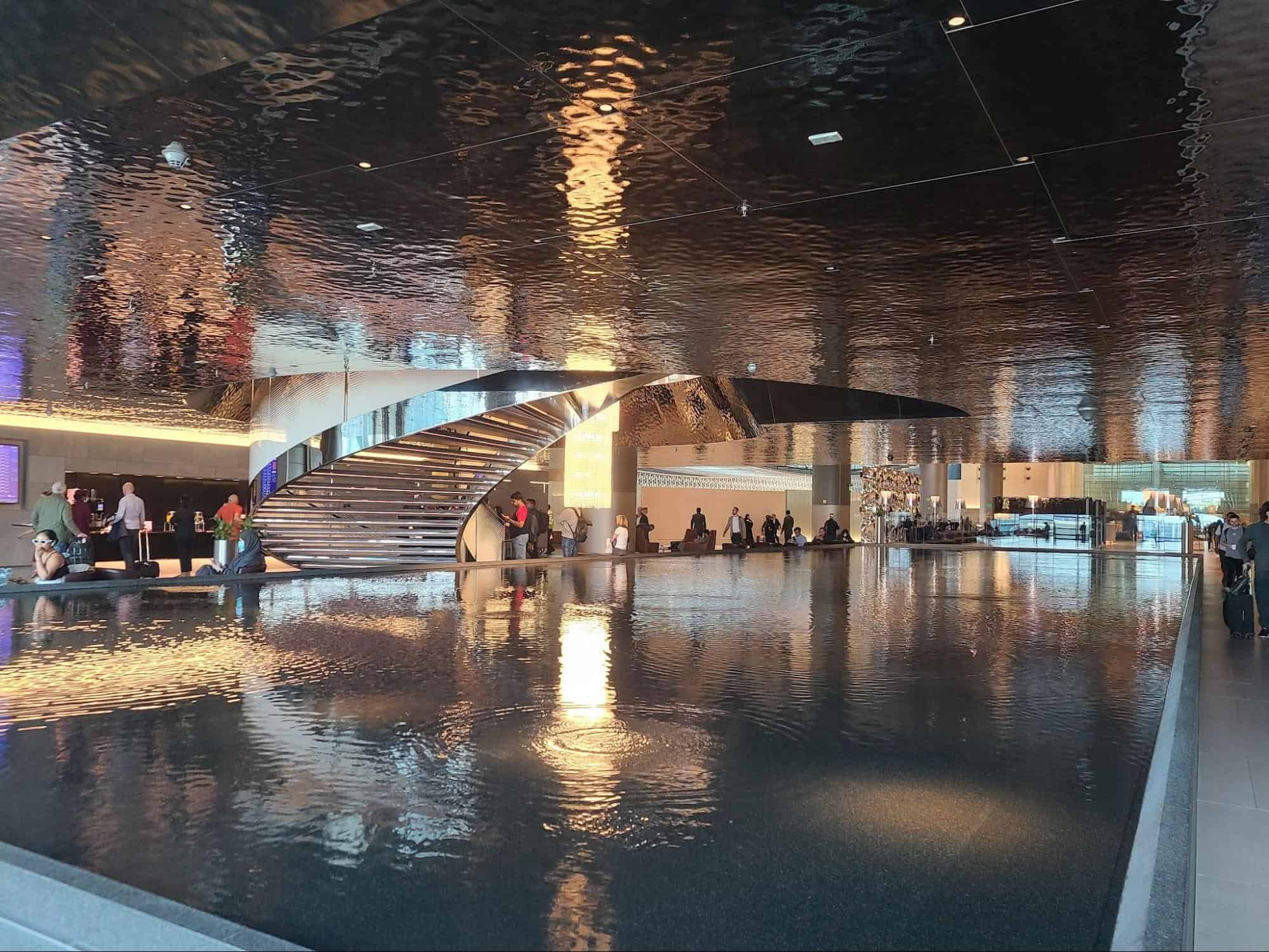 Upon entering the lounge, I asked to use the shower facilities and was placed on a waiting list. However, the wait wasn't long. An attendant let me know it was my turn, and I was able to freshen up just 10 minutes later. The private showers had everything you'd expect, including towels and bath products.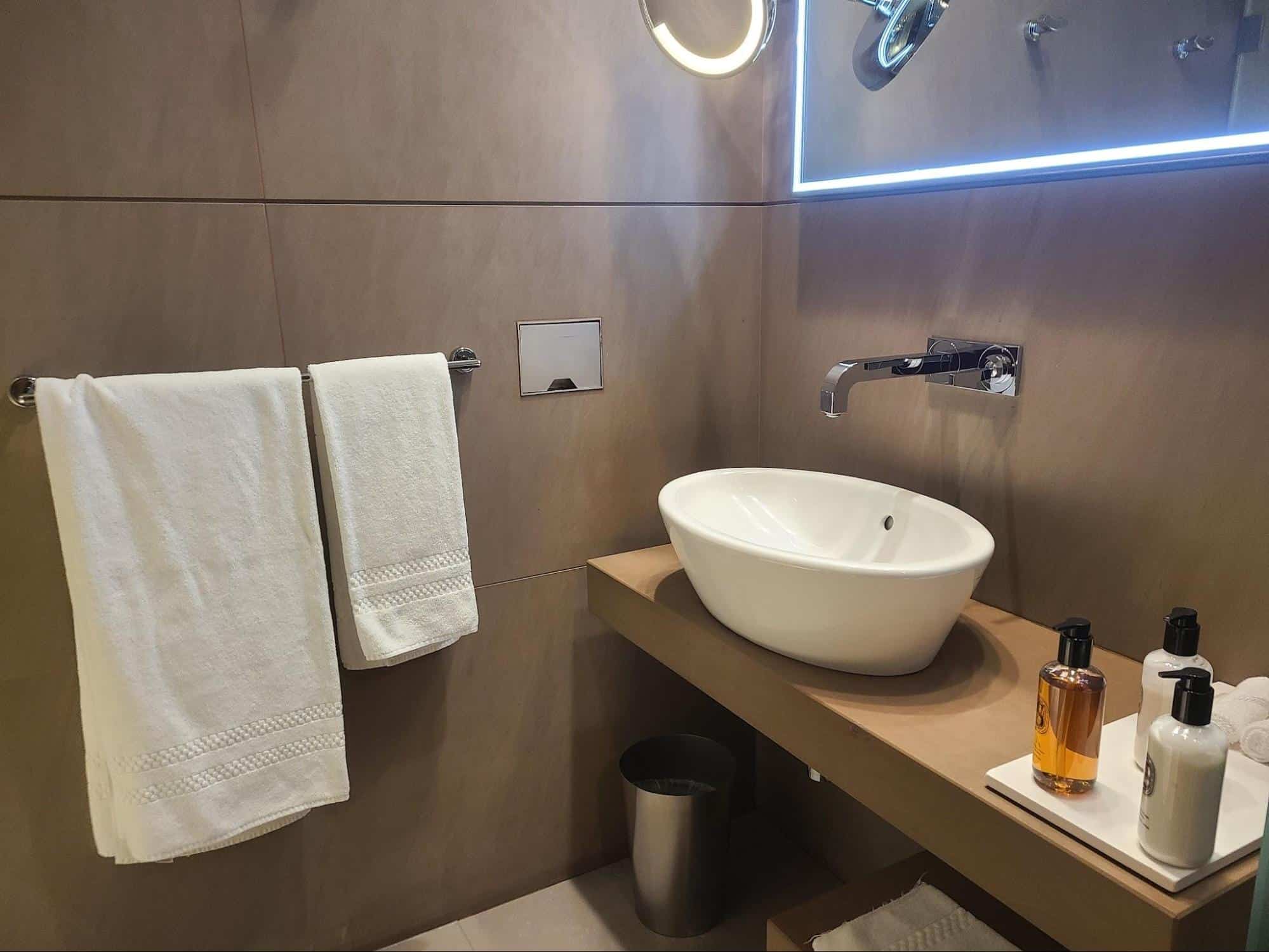 After showering, I grabbed a Fanta can to go and was on my way to the gate. I wish I had a longer layover to be able to enjoy the food offerings, but alas. Maybe next time.
Boarding Qatar Flight at Doha Airport
Boarding began about 40 minutes later than scheduled. As usual, business-class passengers were invited to board first through a separate jet bridge that was connected to the business-class cabin of the aircraft. I presented my boarding pass to a flight attendant who greeted me and pointed in the direction of my seat.
Shortly after I sat in my seat, a group of technicians arrived to fix one of the middle seats in my row. They brought a tool kit and disassembled the seat. I'm not 100% sure what was wrong with it, but I suspect it had to do something with the reclining features not working properly.
Needless to say, the seat malfunction delayed the boarding process and, as a result, the flight's departure by about 30 minutes.
Qatar Boeing 777-300ER Qsuites Business Class Cabin and Seats
The 42 enclosed suites on Qatar's Boeing 777-300ER are arranged in a 1-2-1 configuration, meaning everyone has aisle access. The even-numbered rows face forward, and the odd-numbered rows face backward.
If you're traveling as a couple, I suggest selecting the odd-numbered suites because they can be made into a double bed.
I didn't peek into every single suite, but from what I noticed, every seat in my section of the business-class cabin was taken.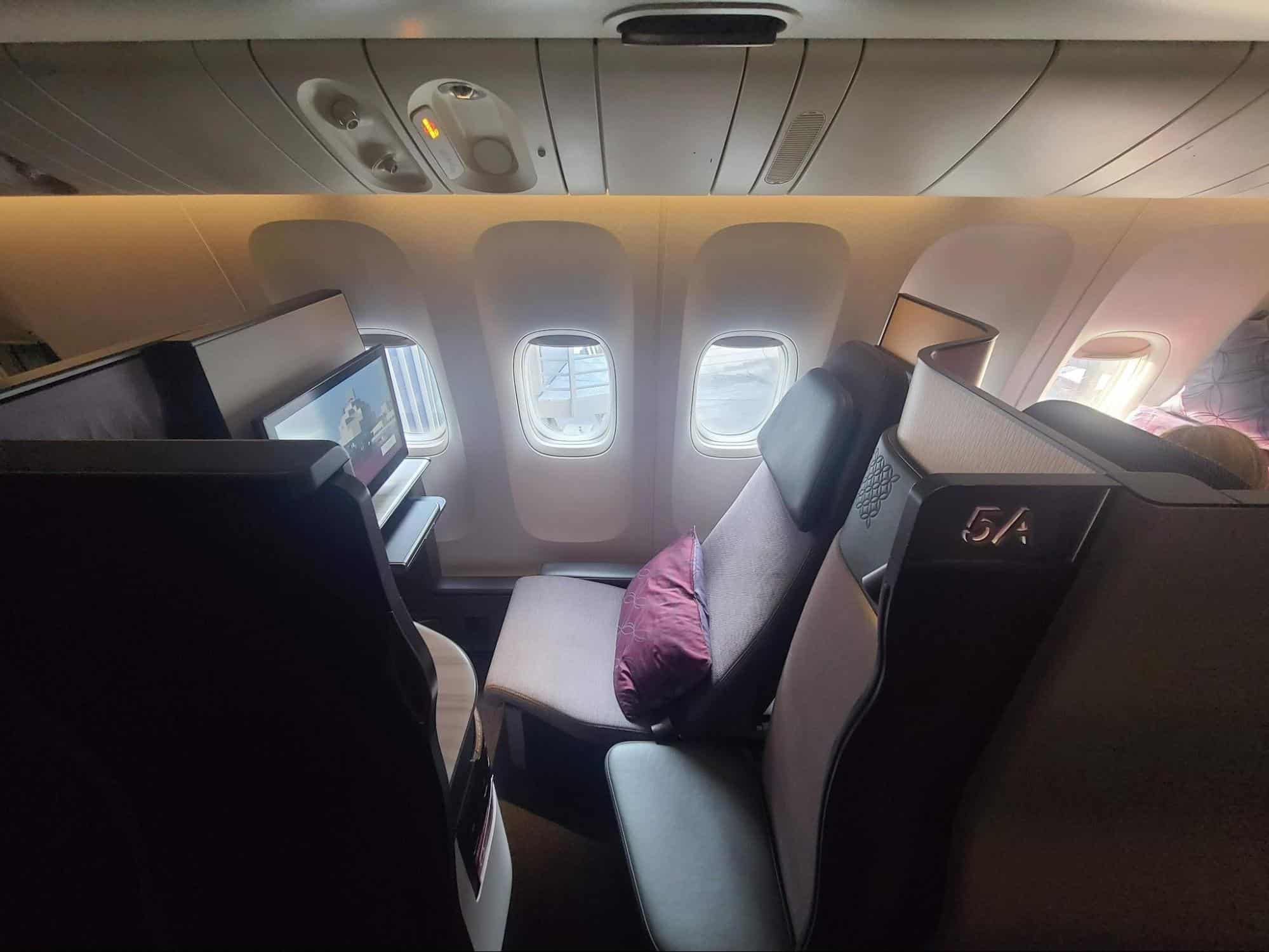 I had picked the rear-facing window suite 5A, and it was the first time I flew "backwards." Normally, I'm that person who gets motion sick and needs to sit face-forward on a train or a bus. However, this particular arrangement didn't bother me on either takeoff or landing.
My suite offered quite a bit of privacy as it was away from the aisle and had a sliding door with a Do Not Disturb button. The seat is also away from the galley and the lavatories, and I had two and a half windows all to myself.
The side storage space isn't large enough to fit much—a bottle of water, headphones and maybe a pair of slippers.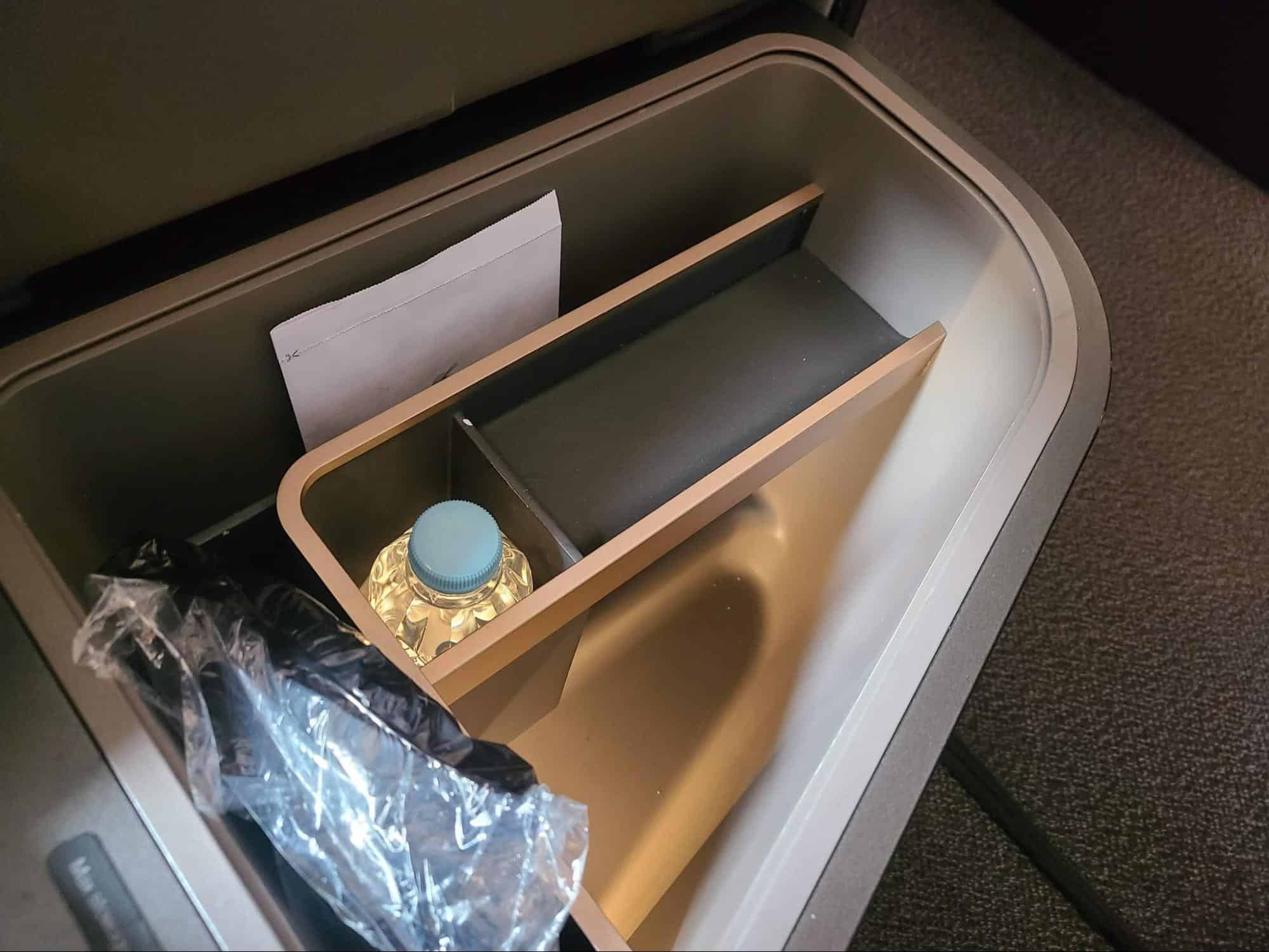 Additionally, you can store items on the side table, which is large enough for a laptop, or under the footwell. Keep in mind that access to the footwell is blocked when your seat is in a lie-flat position.
The control panel features a slot for an electric plug as well as a USB slot, an HDMI slot and a three-prong slot for the headphones. The seat buttons were in the same place and were mostly intuitive: recline, flat, light on, etc. I had to play with the buttons first, but they were easy to understand.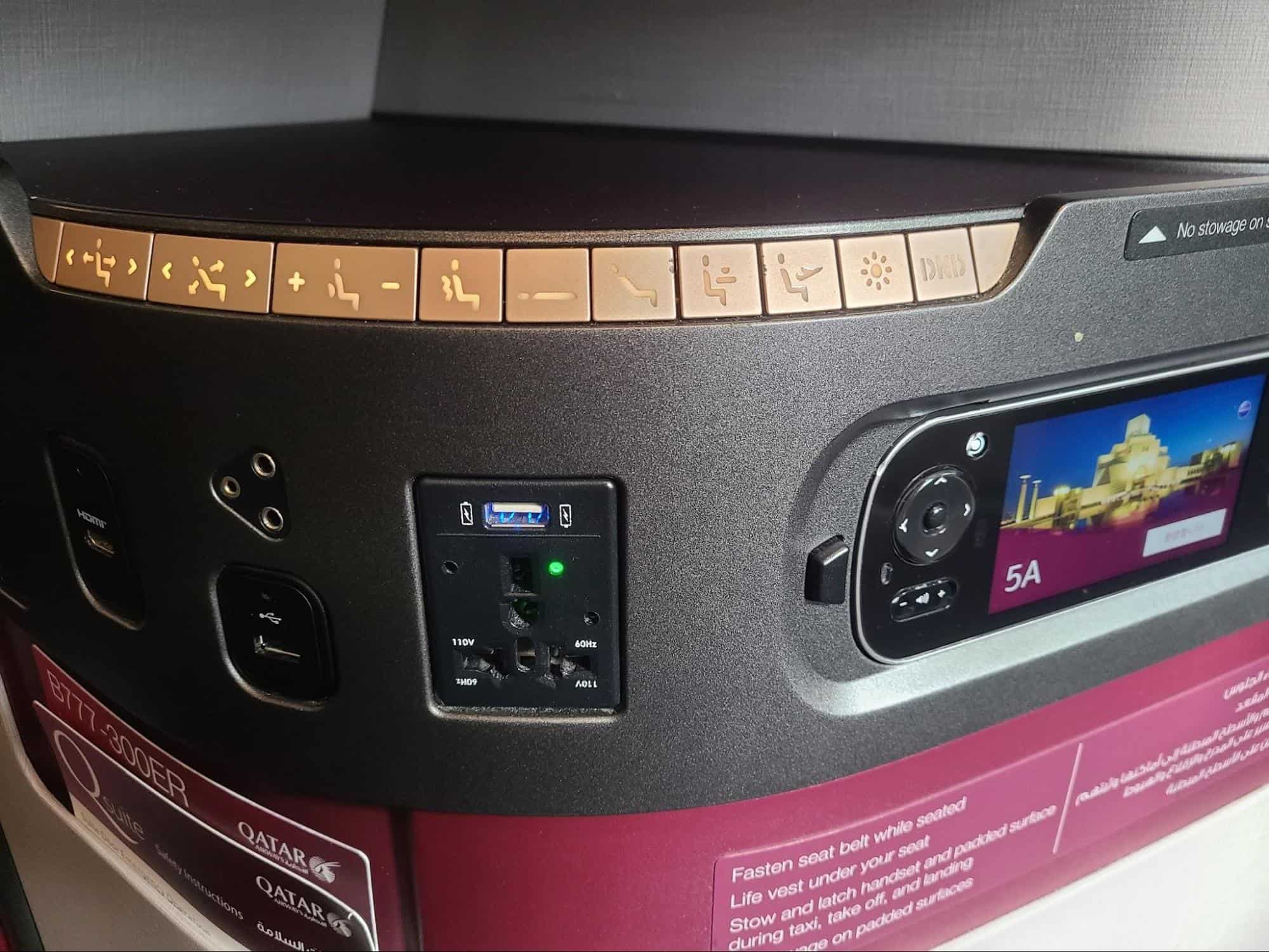 I found two types of lights: one above my seat and one reading light next to my shoulder.
The tray table pops out from underneath the screen. It's of decent size and offers enough space for a lot of food if you're the type of a flyer who likes to try everything on the menu. There's also enough room for the tray table to extend and for you to be somewhat reclined in the seat, but I guess it depends on how close you like to be to the edge of that table.
Qatar B777 Qsuites Bathrooms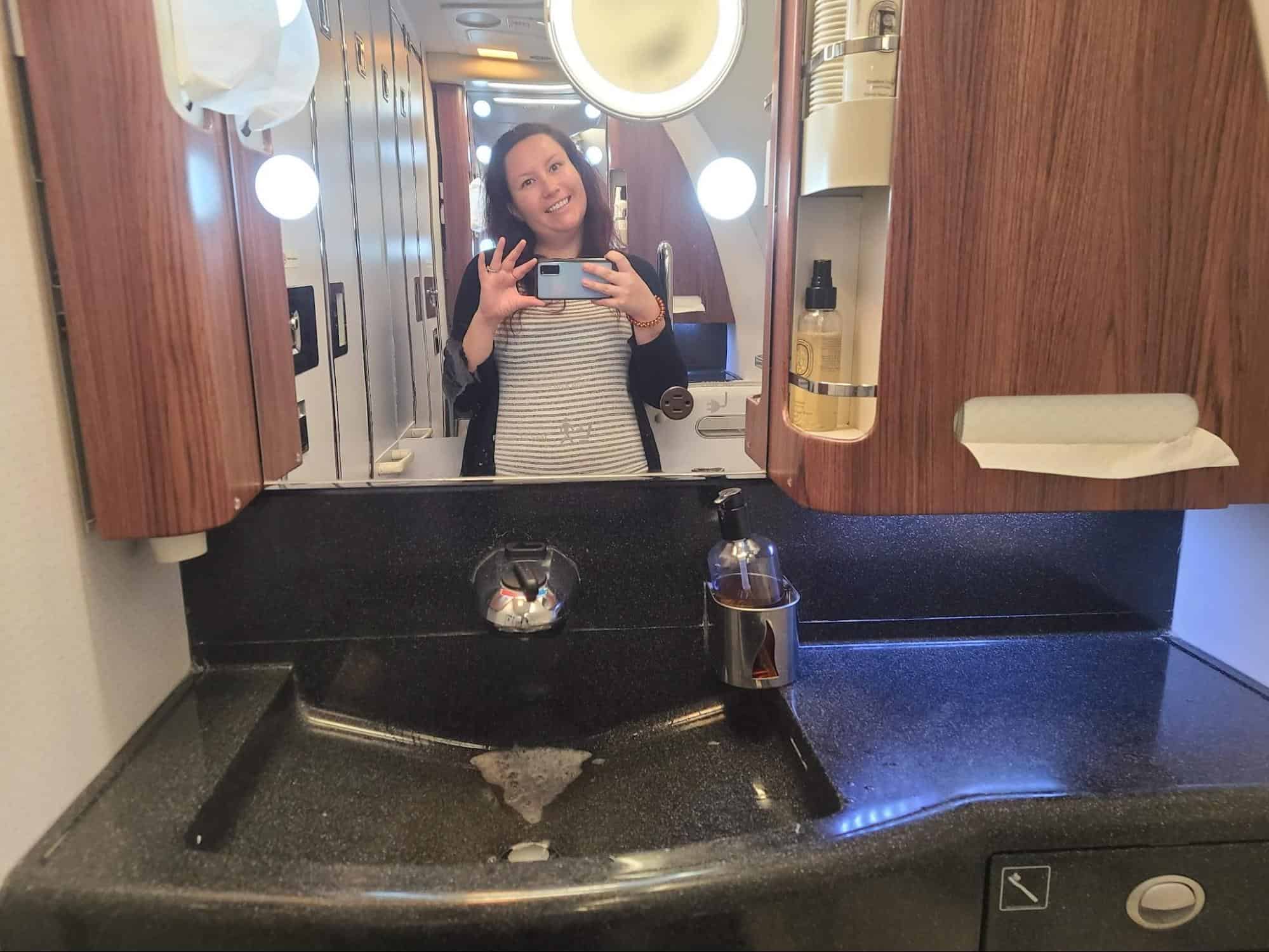 The business-class cabin features four lavatories: two in the front and two in the middle of the cabin by the second galley. The bathrooms are spacious and include a few amenities, such as dental kits and perfume. I never had to wait for a bathroom even once, although I did have to look at the red/green lights to determine which way to go.
Qatar Qsuites Business Class Amenities
Qatar Qsuites Business Class Amenity Kit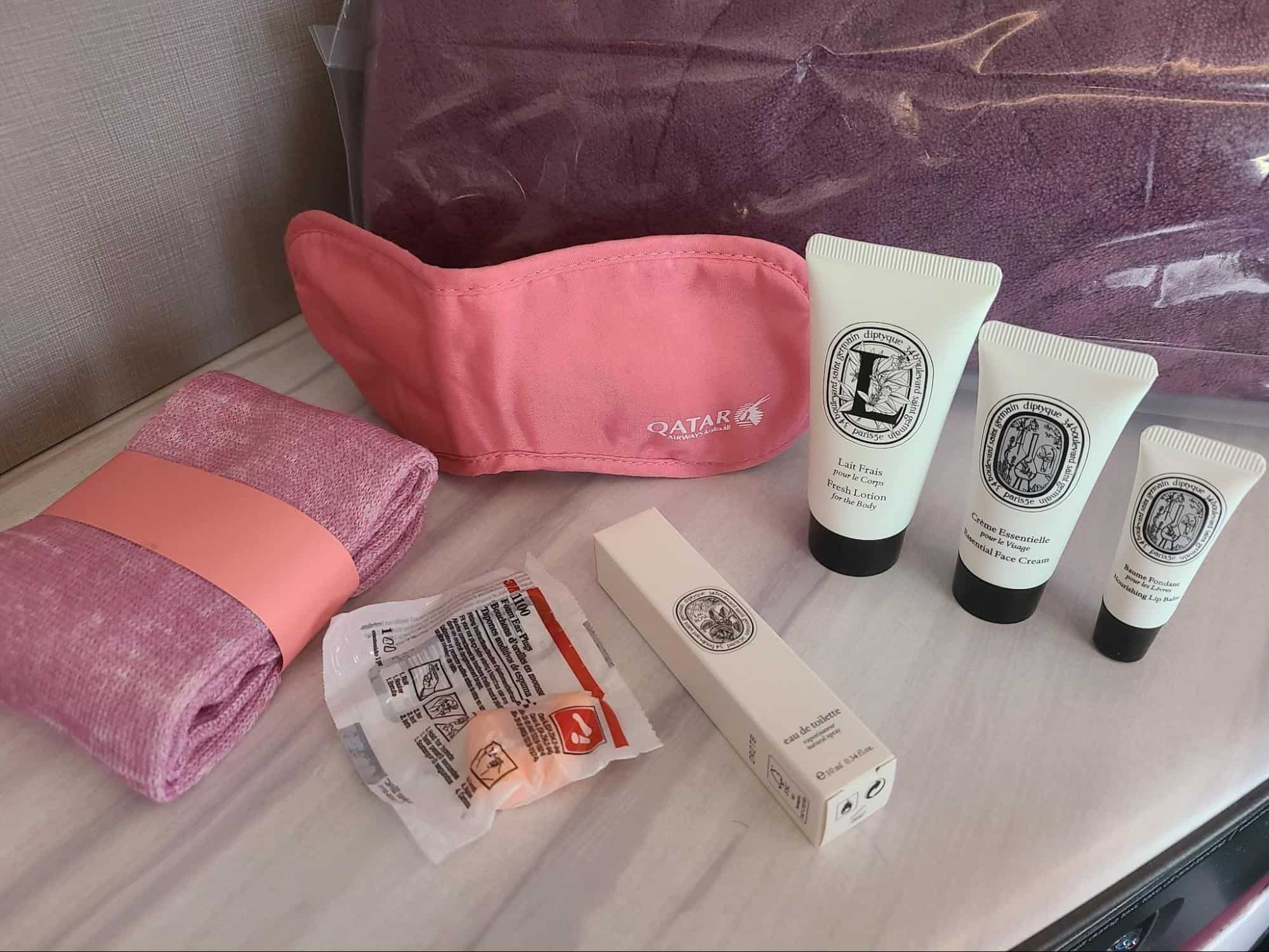 The amenity kit from Diptyque included an eye mask, a pair of socks, a pair of ear plugs, Diptyque-branded body lotion, face cream, lip balm and a lightly scented perfume. The skincare products felt luxurious.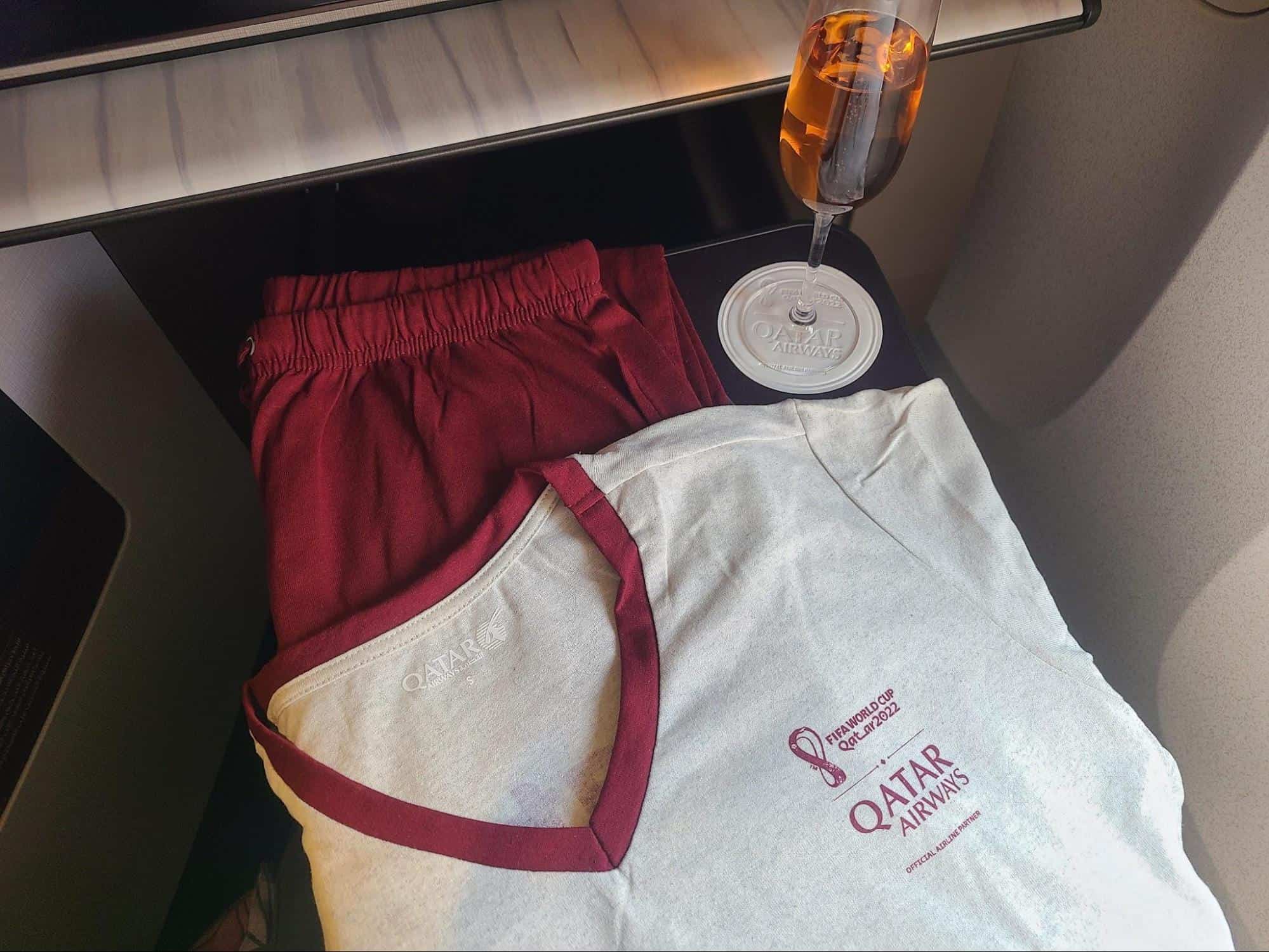 Additionally, a pair of slippers and a set of World Cup-themed pajamas were provided. In case you're wondering, yes, the pajamas were my favorite part, and yes, I wear them at home.
Qatar Qsuites Business Class Entertainment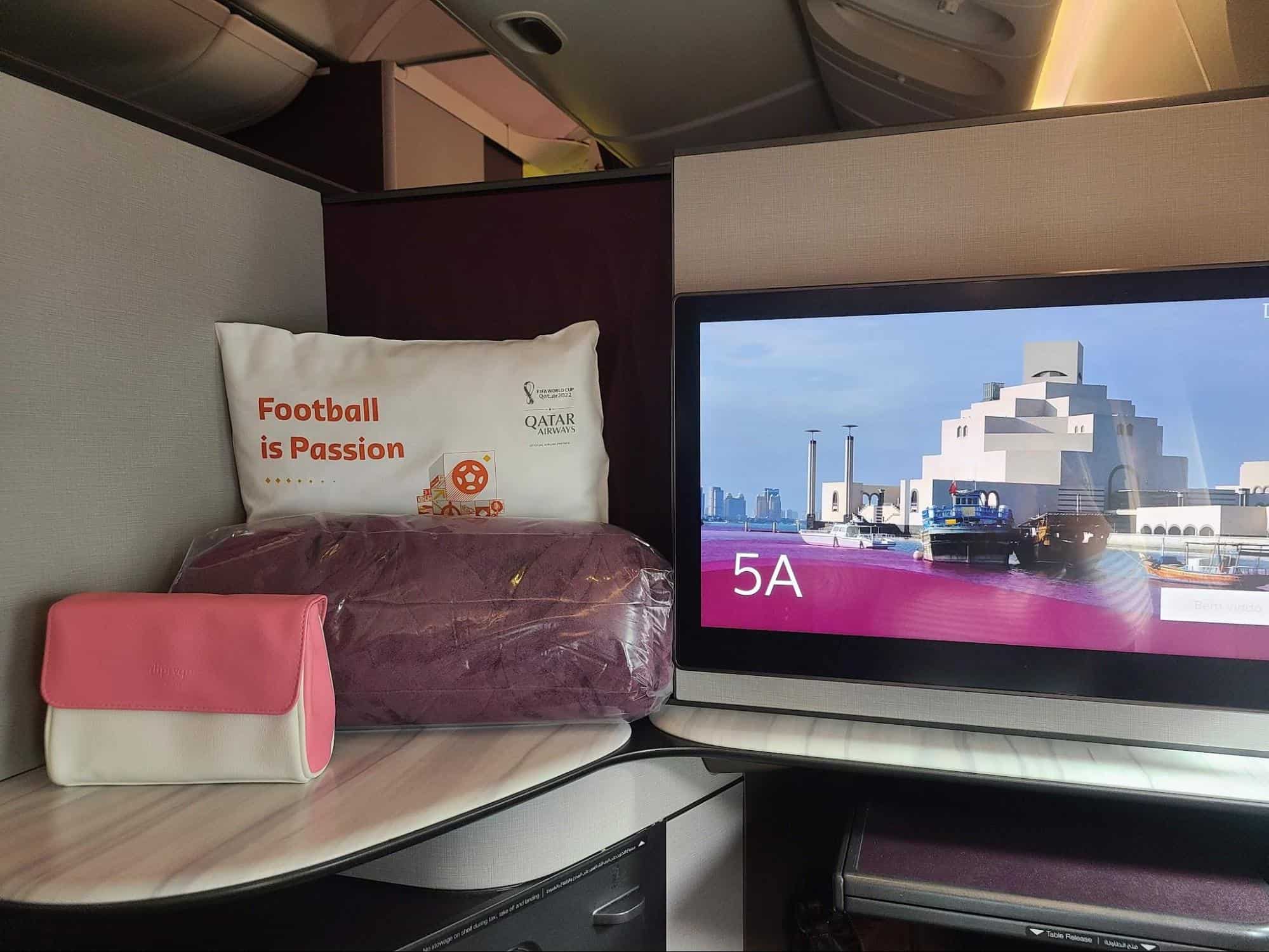 Qatar's business-class seats feature a 21-inch screen and a pair of noise-canceling headphones, which had been placed in the side storage compartment. The Oryx One system has hundreds of movies and TV shows on board, so you have a lot of options when it comes to in-flight entertainment.
Because I flew at the end of October, I watched a couple of horror movies in honor of the upcoming Halloween. I liked the quality of the earphones a lot. Having said that, I don't have a pair of my own so my judgment might be skewed.
If you fly onboard Qatar Airways through Dec. 18, 2022, you'll be able to watch live World Cup matches held in Qatar this year.
To continue with the World Cup theme, the airline's safety video was set in a soccer players' locker room and featured actual players. As expected, the safety video is funny and cute.
Qatar Qsuites Business Class Bedding Amenities
The bedding in Qatar business class was quite nice. I got two pillows (one decorative with World Cup-themed pillowcase to keep), a big plush blanket and a mattress pad.
Qatar Qsuites Business Class Pre-Departure Amenities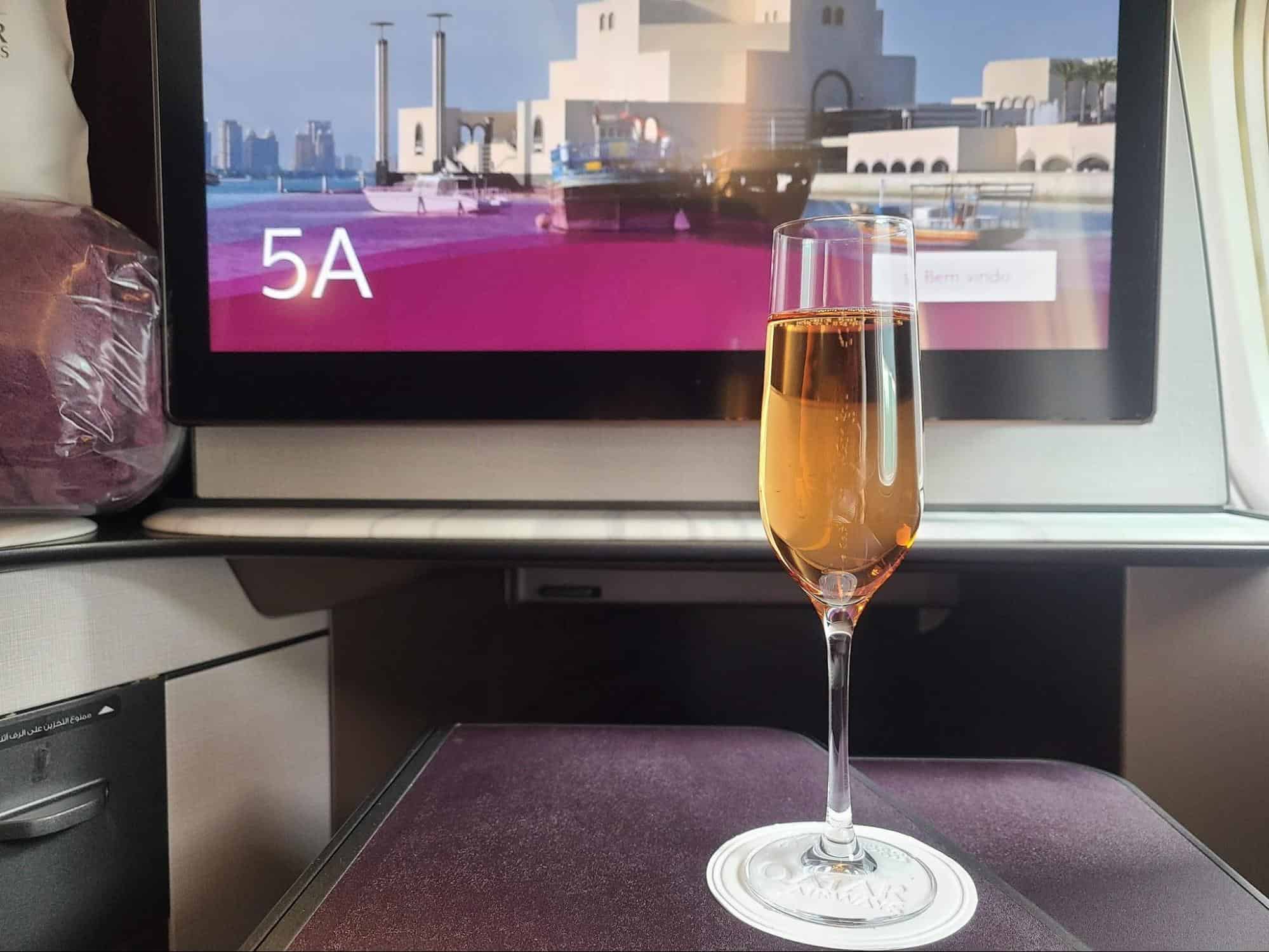 For a pre-departure drink, I ordered a glass of the 2006 Laurent-Perrier Alexandra Rose, and wow, it was some of the best Champagne I've tasted. The other bubbly option was Charles Heidsieck Brut Reserve. For those who prefer their drinks sans alcohol, Qatar serves non-alcoholic bubbles from So Jennie.
Qatar Qsuites Business Class Wi-Fi
Qatar gives its business-class passengers one hour of complimentary Wi-Fi. I connected with no problems and sent my husband a few messages, including photos of my fancy plane ride. About 15 minutes later, I dozed off and didn't get to use the remaining allowance of the free internet before it expired. Womp, womp.
After you reach the hour limit of your Wi-Fi allowance, Qatar charges $10 for the rest of the flight. Considering that the flight clocks in at more than 14 hours, it's not a terrible price for in-flight internet.
Qatar Qsuites Business Class Menus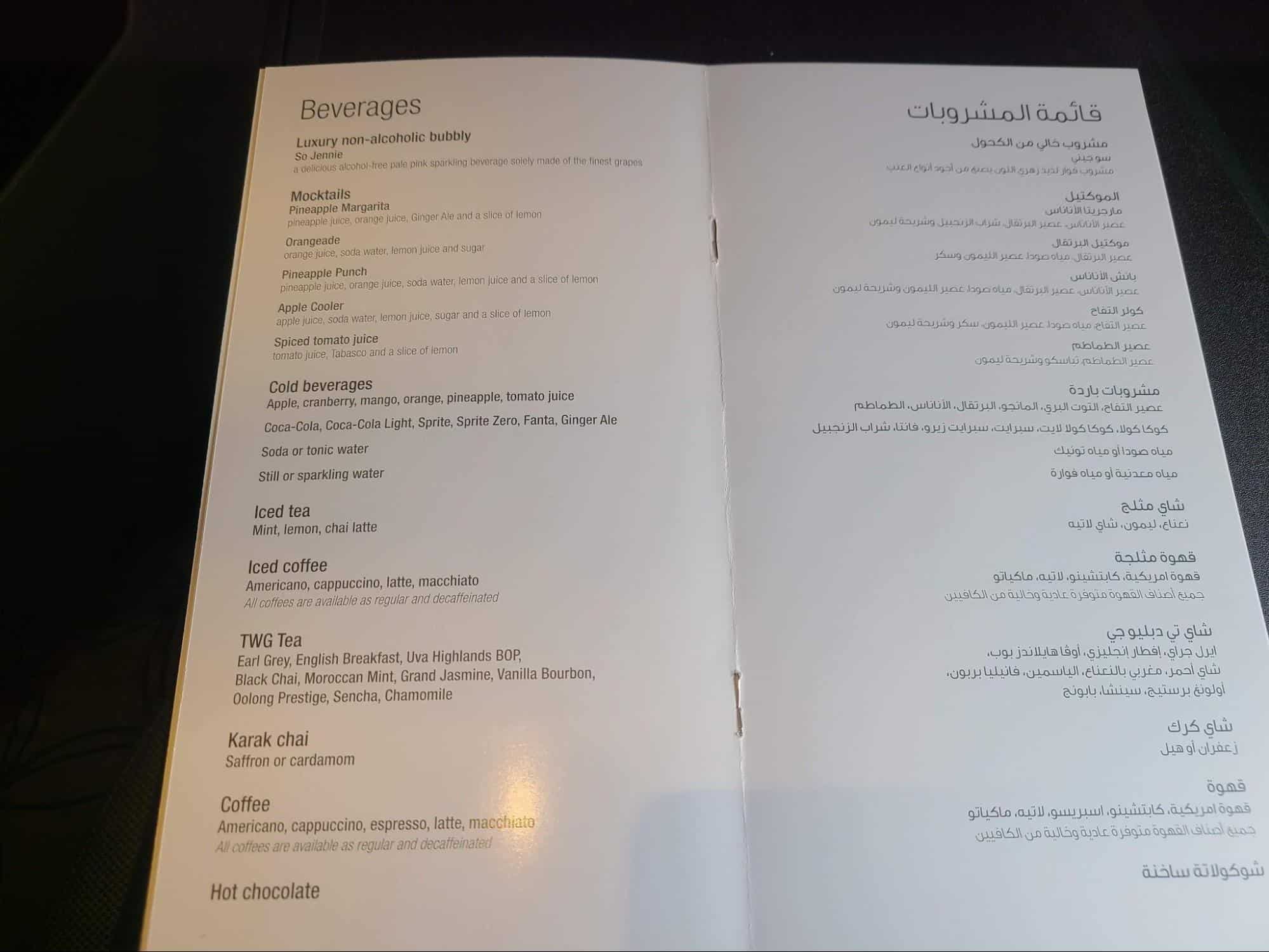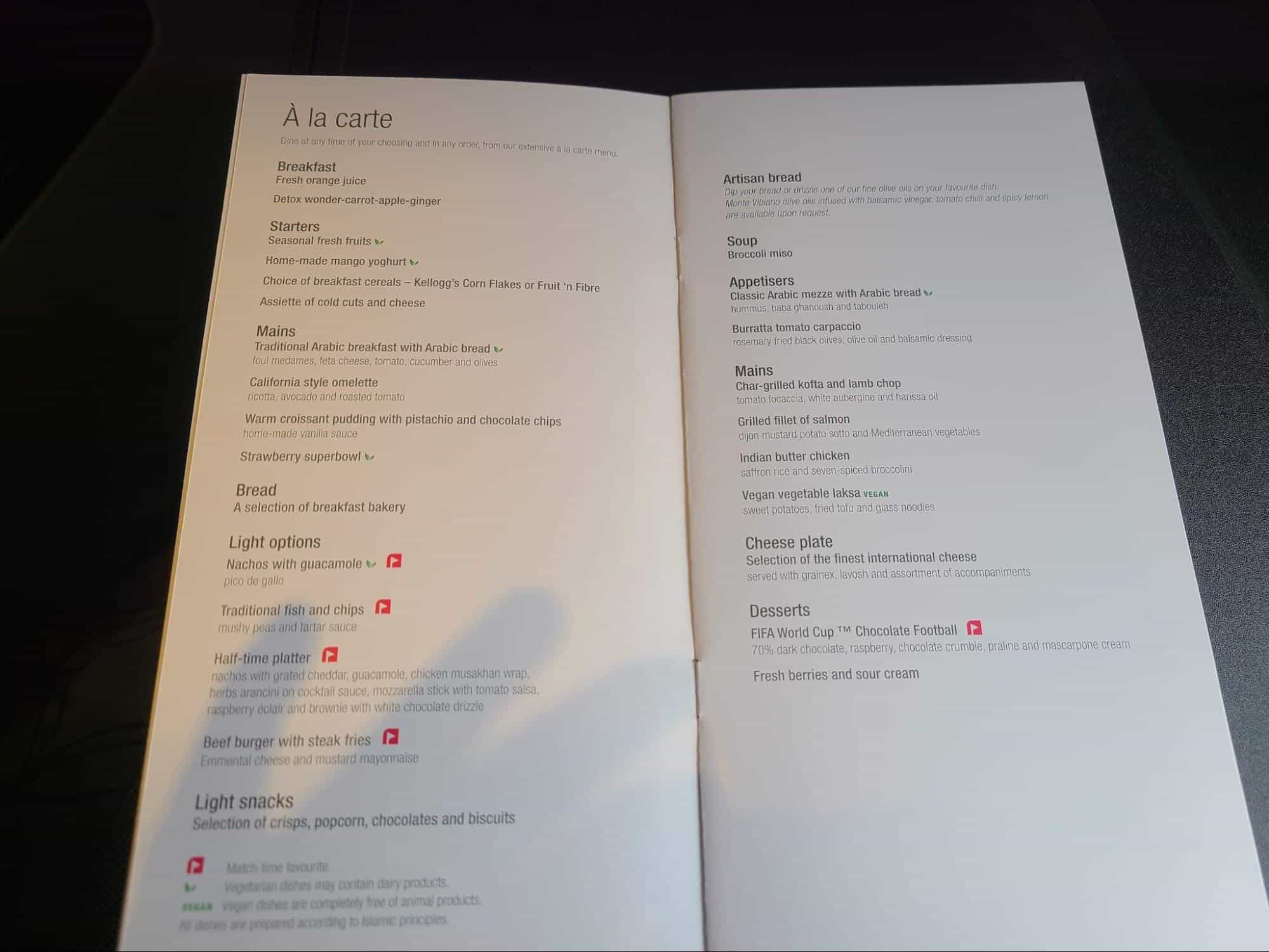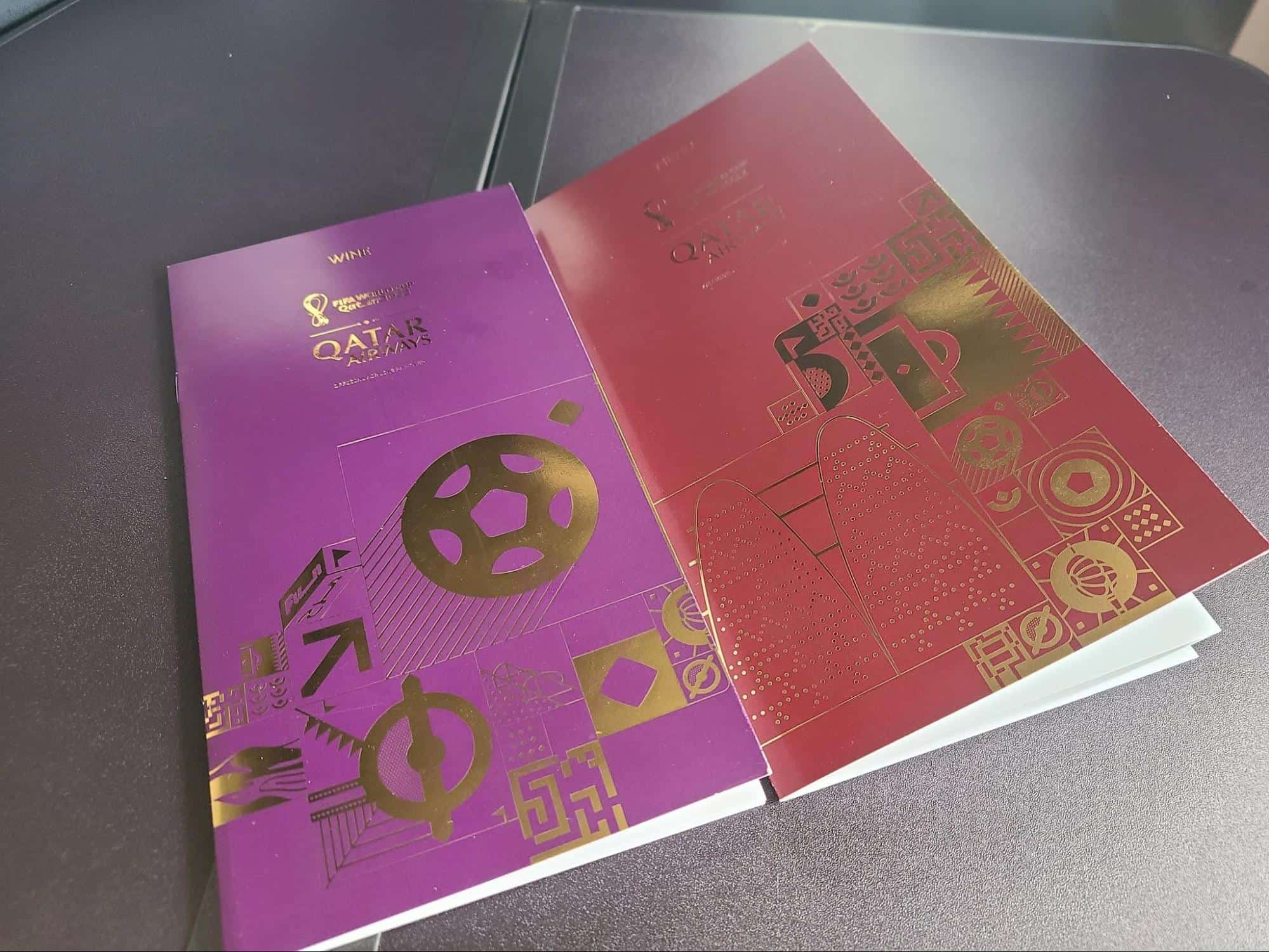 Qatar Qsuites Business Class Meal Service
When flying Qatar Qsuites, you can dine on demand. The flight attendant asked what I wanted for breakfast after takeoff, but I was able to order the other meals whenever I felt like it. It goes without saying that a tablecloth and real silverware are provided at each meal service. You also get a small candle, which is a nice touch.
Breakfast
My flight departed around 9 a.m. so the first meal was breakfast. I ordered a traditional Arabic breakfast, which consisted of ful medames, feta cheese, tomatoes, cucumbers and olives. I enjoy middle-Eastern cuisine and found the meal to be delicious.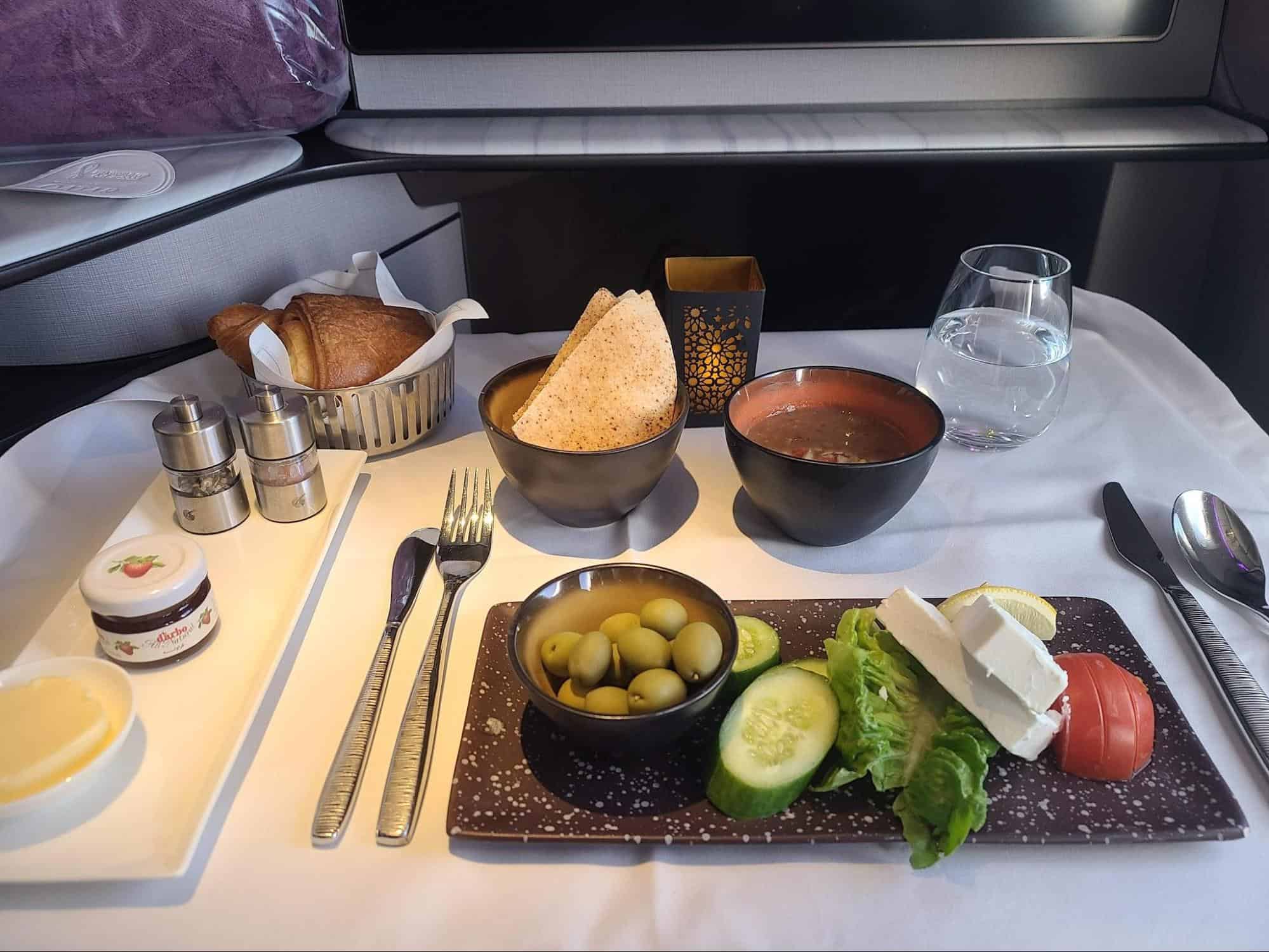 I had ordered another glass of rose Champagne, but it didn't come with the food. I then reminded the flight attendant, and she brought it after I was finished with the meal.
Light Options
Mid-flight snacks and light-meal options are available any time you feel like you could use a snack. I woke up from a three-hour nap, watched a bit of a movie and realized that I was hungry.
I ordered nachos with guacamole, but they were out, so I ordered fish and chips with mushy peas and tartar sauce instead. However, when my meal came, it was Indian butter chicken instead.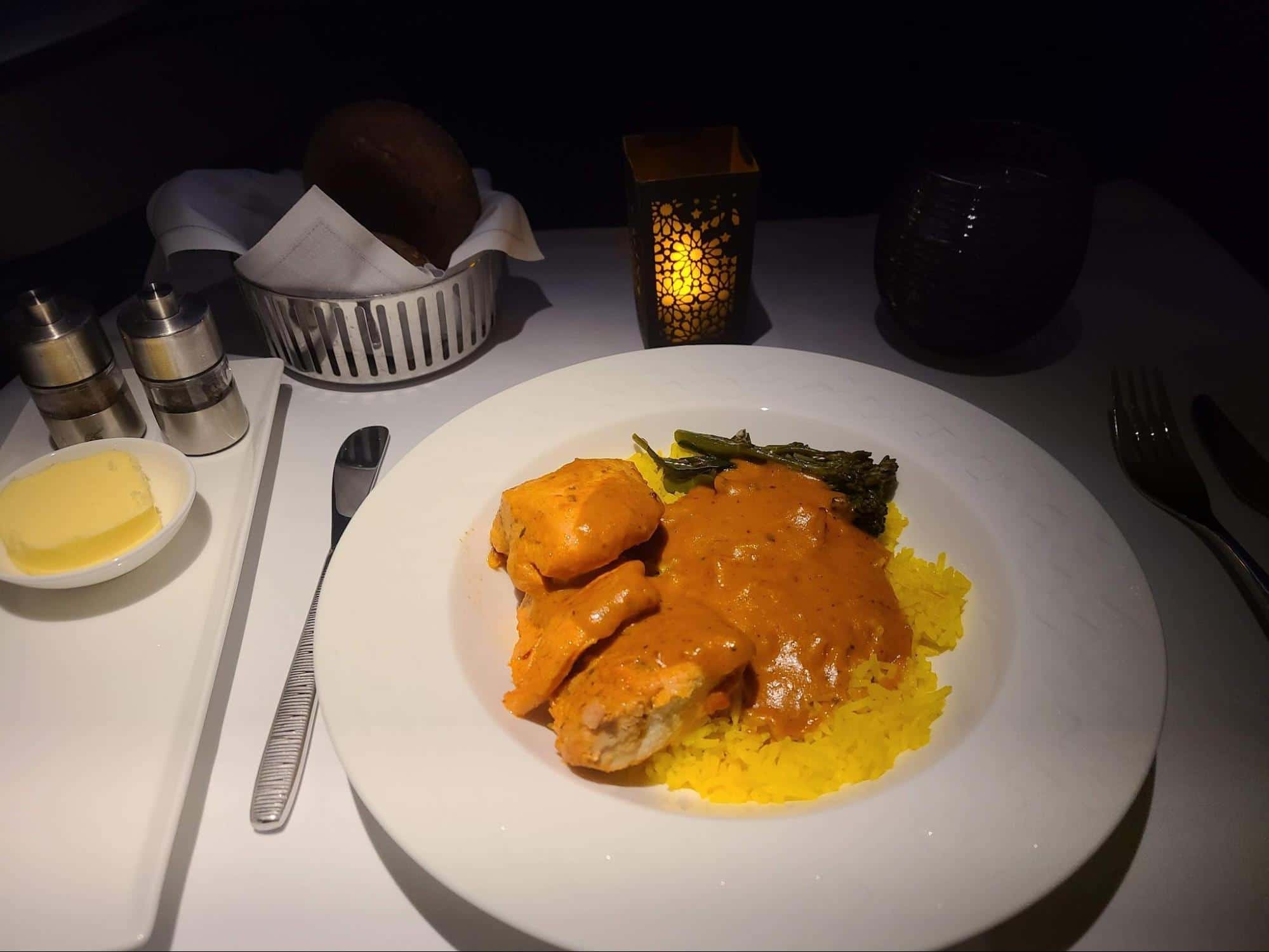 Somehow my order was mixed up. I wasn't in the mood for curry, so I asked whether they could still do fish and chips, and the flight attendant took away the butter chicken dish.
The fish and chips finally arrived, but the mushy peas didn't work with the fish at all, so it fell flat for me.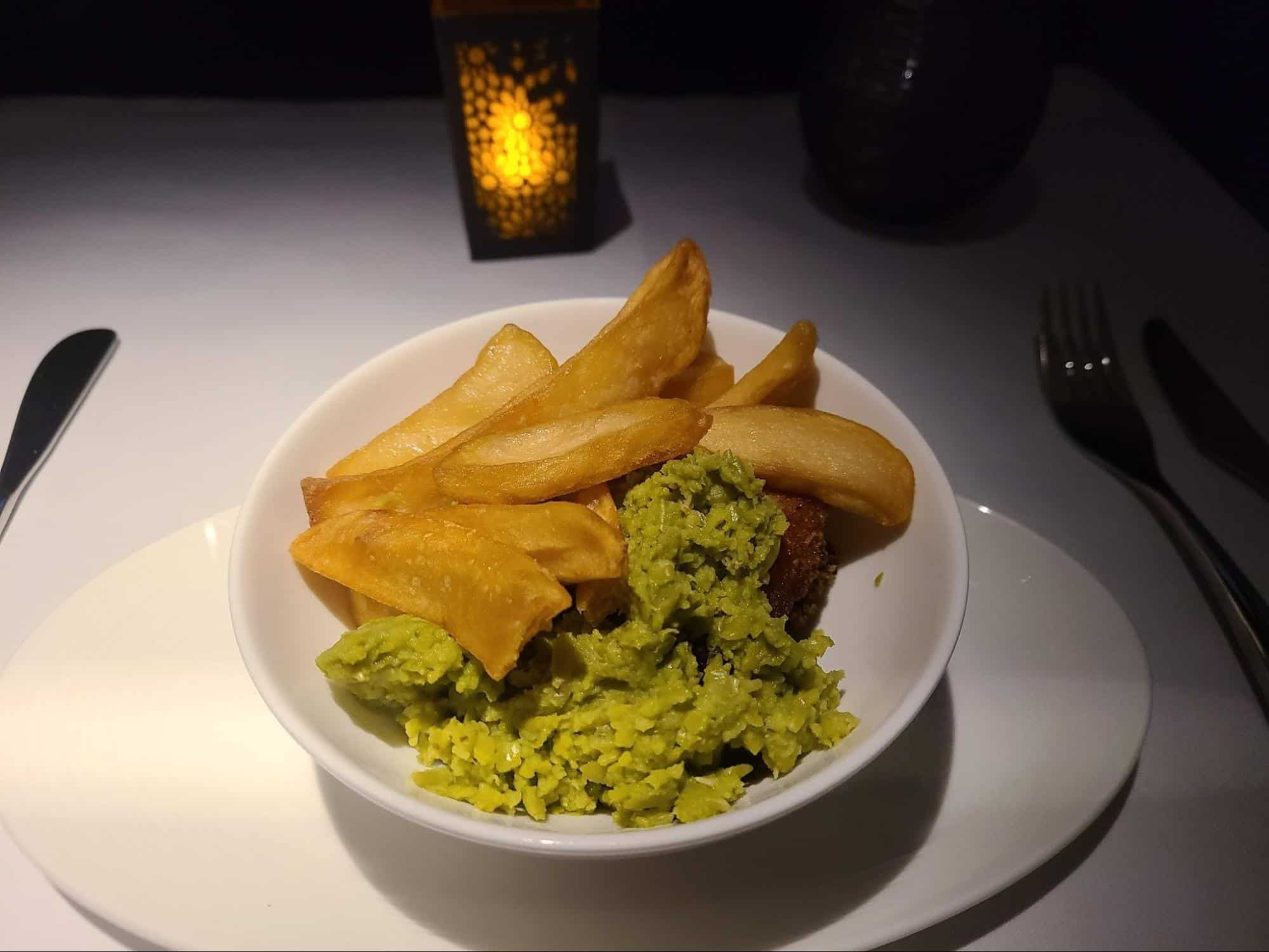 Lunch
The final meal was supposed to be lunch, as it was served around noon Seattle time, but because I had traveled all night and all day and changed multiple time zones, it felt more like dinner to me.
For this meal, I ordered a burrata tomato carpaccio for an appetizer and a char-grilled kofta with a lamb chop that came with tomato focaccia and white aubergine and harissa oil for my main.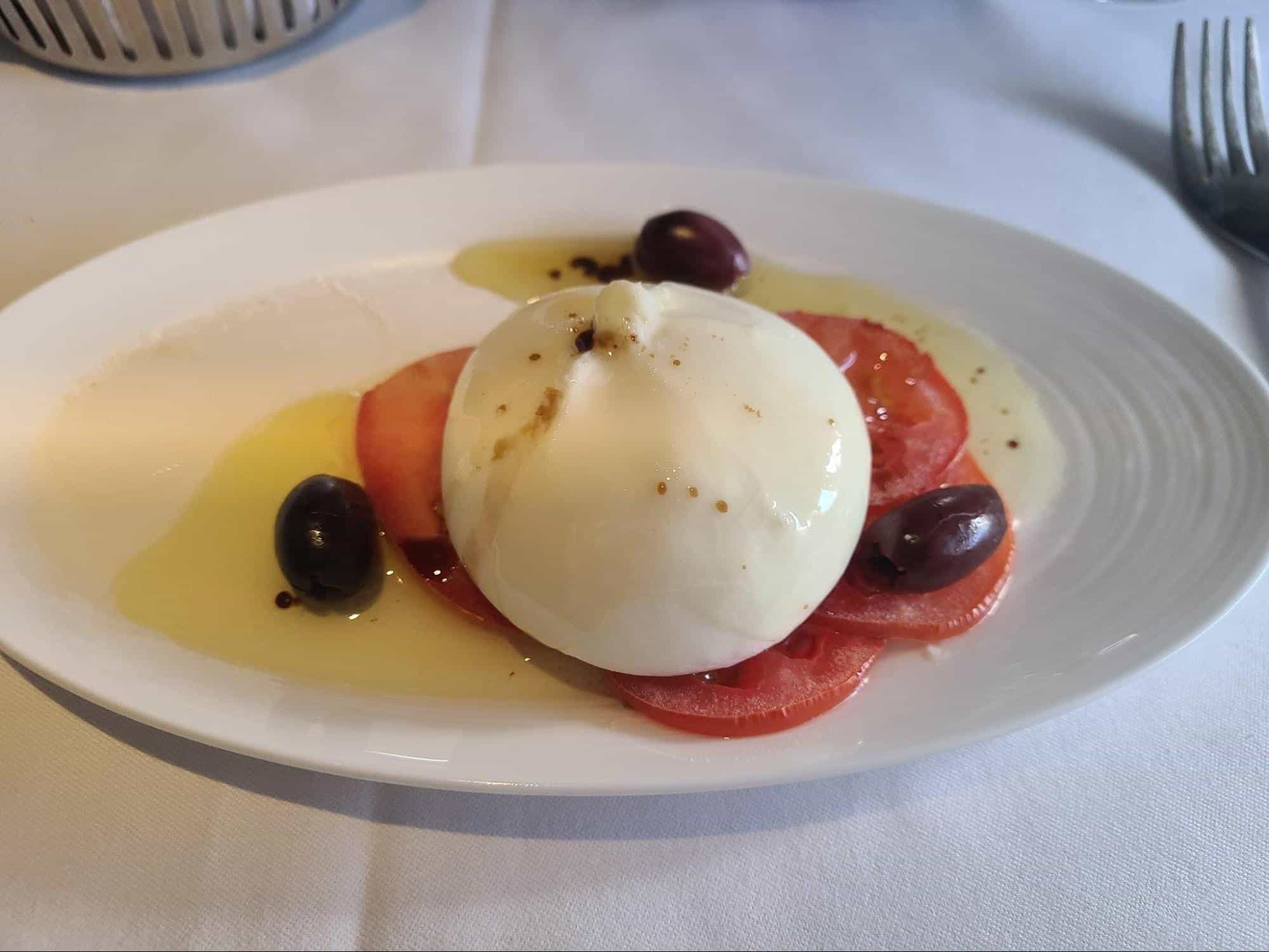 The appetizer was wonderful, and the kofta was tasty, but the lamb chop was pretty dry, so it was a bit of a hit and miss for me.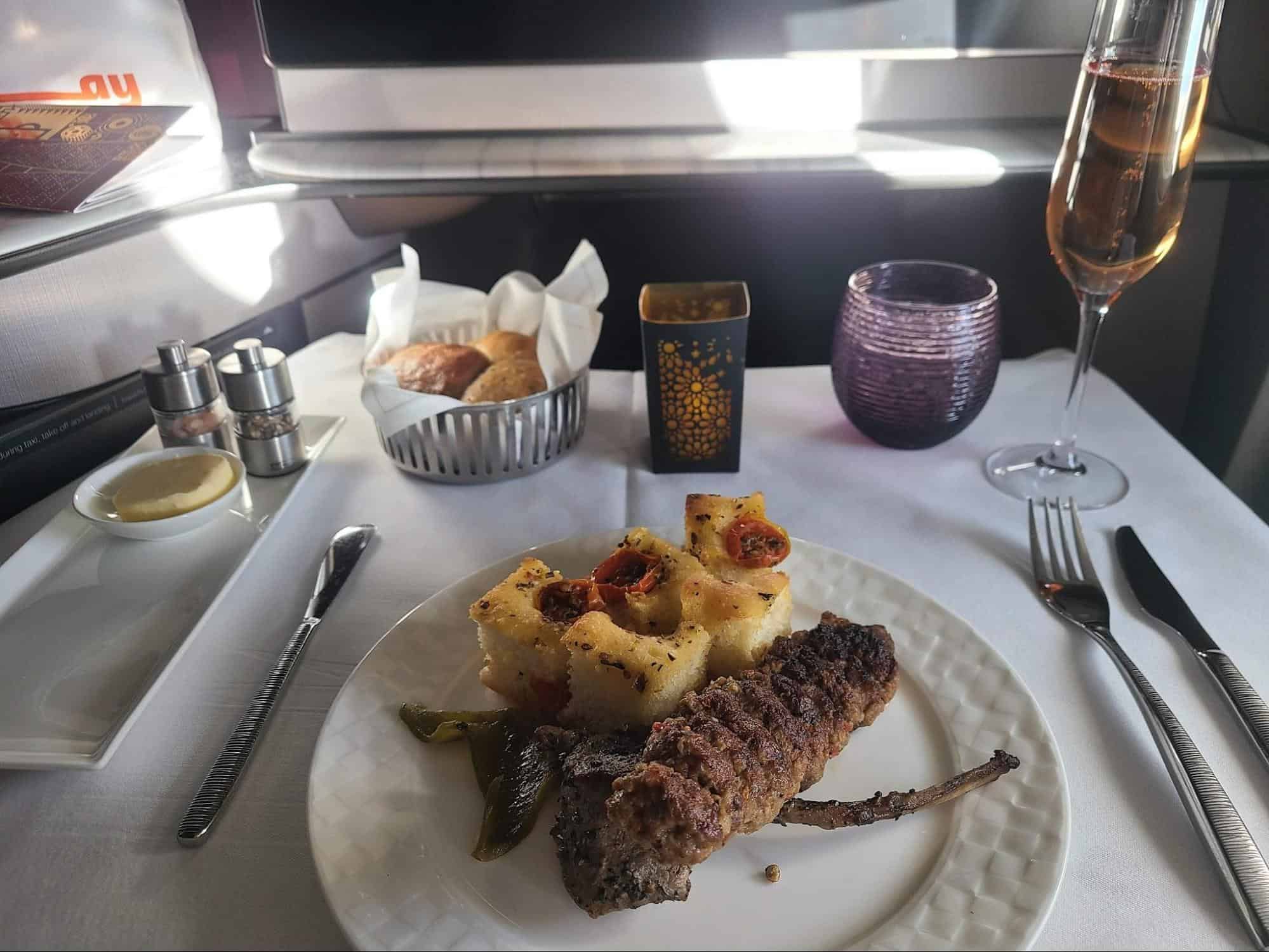 I stuck with the rose Champagne for all my meals. When in Rome, right? Luckily, they never ran out.
Overall, the in-flight service was decent, minus the wrong meal order and a forgotten drink.
Qatar Qsuites Business Class Bed
A flight attendant inquired whether she could make the bed after the first meal and placed a quilted mattress topper on my seat, so I was ready to enjoy my lie-flat experience in the sky.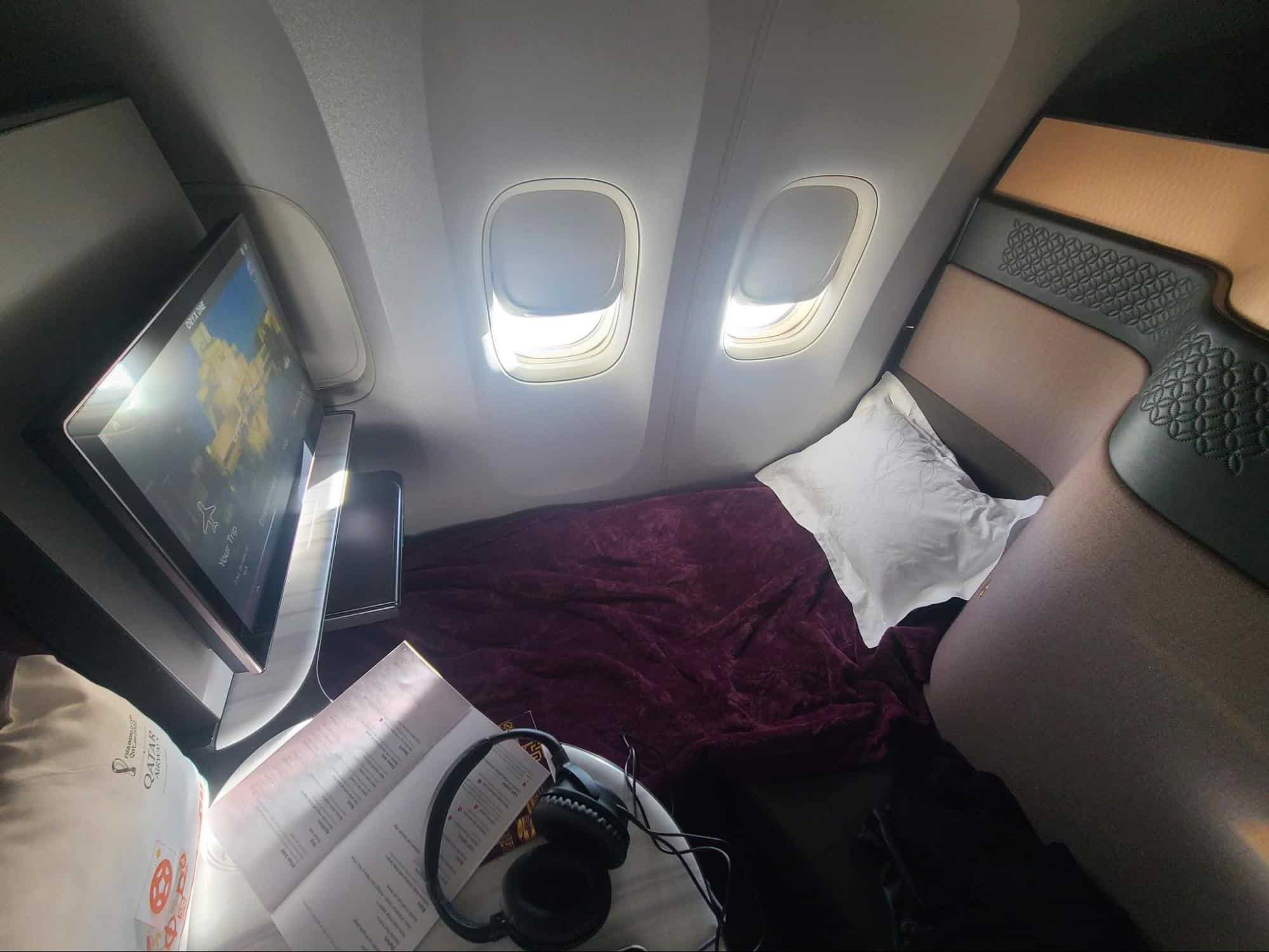 The seat is advertised to be 79 inches long when flat. When it was converted to a 180-degree bed, I couldn't reach the end of the footwell. You should also know that I'm 5-foot-3, so take it with a grain of salt.
I felt quite comfortable when sleeping, and I had a couple few-hour-long naps during my flight. The lights were dimmed for most of the flight, so no lights bothered me. I did think that the cabin temperature was a bit chilly, but the plush blanket did its job.
Overall Impression of Qatar Qsuites Business Class on Boeing 777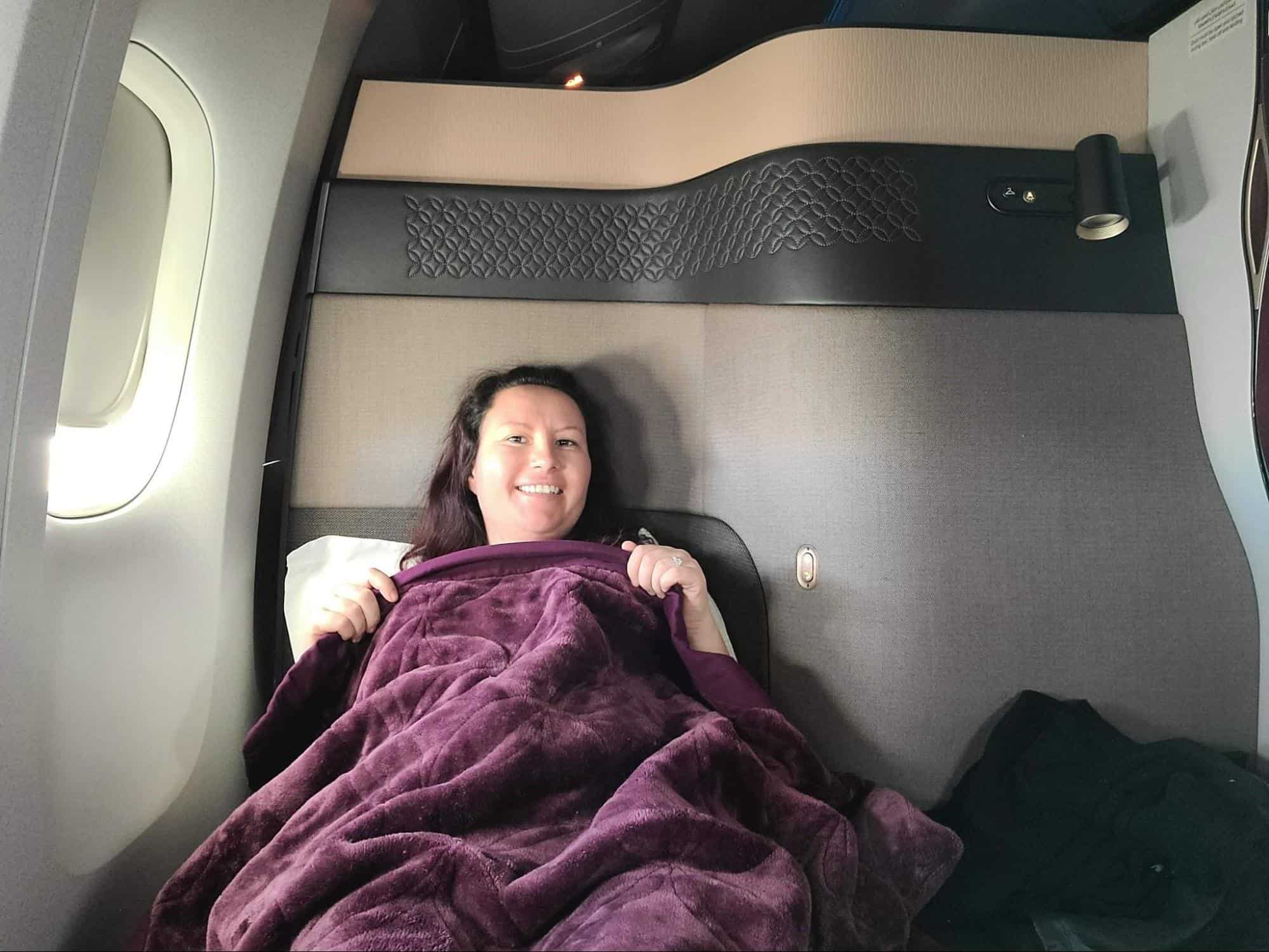 Overall, I was content with my experience flying Qatar Qsuites. It's hard not to be when you get to enjoy such a luxurious seat and service on an airplane. However, I'm not entirely sold that it's the best business class in the sky, especially when compared to other options, such as Etihad or Turkish Airlines.
Although the drinks and the amenities were great, the food on my flight was inconsistent, and the service wasn't top notch. Having said that, the level of privacy offered by each suite is hard to beat, and the overall experience was enjoyable.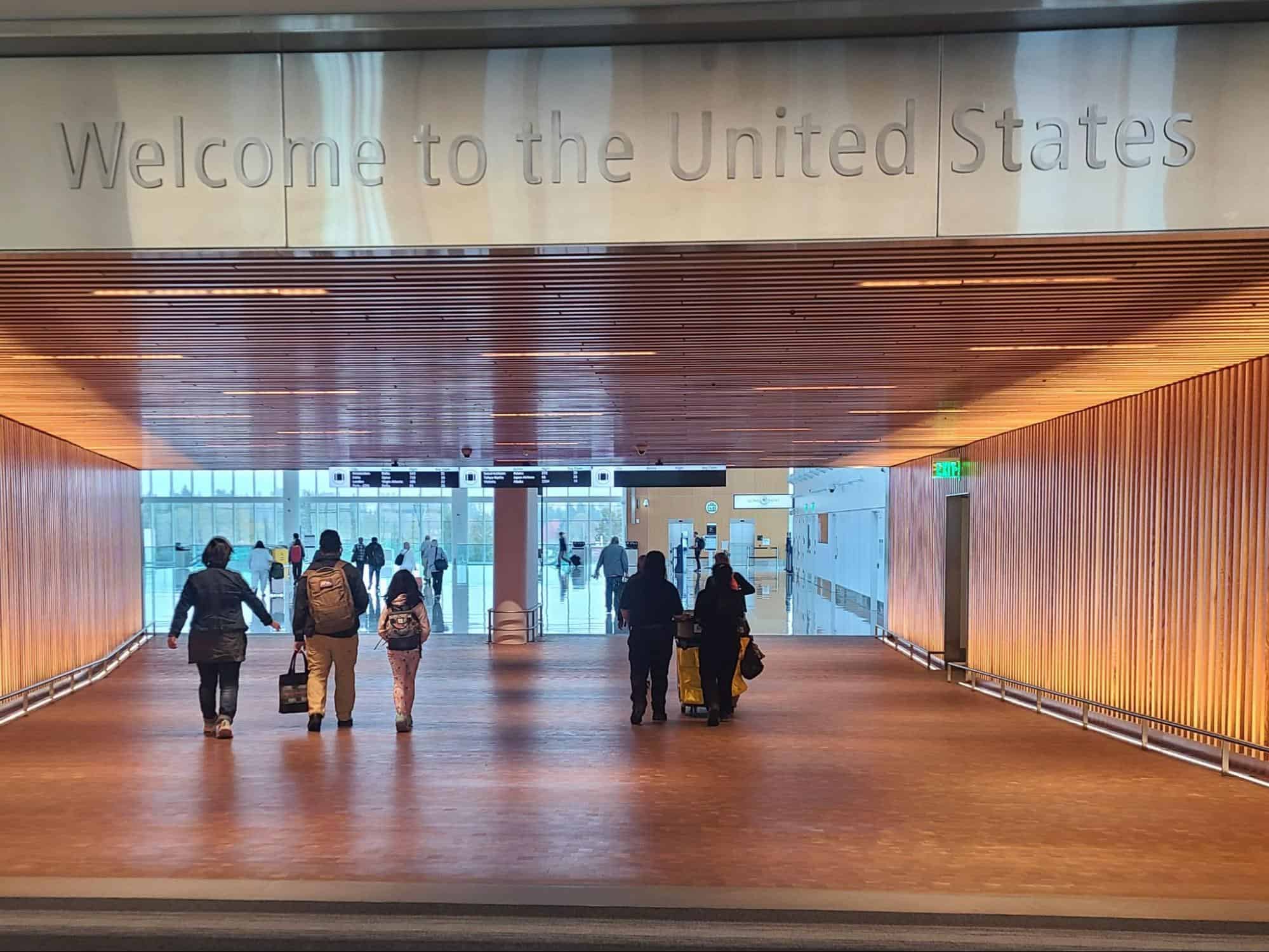 Given the chance, I'd definitely fly Qatar Qsuites again, especially long haul. Next time, I'd like to spend more time in the lounge in Doha and get to know its catering options. It's not always easy to find award availability with this class of service, so it's good to be flexible with travel dates. Hopefully, this wasn't my first and last time in Qsuites.
New to the world of points and miles? The Chase Sapphire Preferred® Card is the best card to start with.

With a bonus of 60,000 points after $4,000 spend in the first 3 months, 5x points on travel booked through the Chase Travel Portal and 3x points on restaurants, streaming services, and online groceries (excluding Target, Walmart, and wholesale clubs), this card truly cannot be beat for getting started!
Learn More
Editors Note: Opinions expressed here are author's alone, not those of any bank, credit card issuer, hotel, airline, or other entity. This content has not been reviewed, approved or otherwise endorsed by any of the entities included within the post.