Note: Some of the offers mentioned below may have changed or are no longer be available. You can view current offers here.
If you've ever wanted to see how you can put together an amazing honeymoon to Europe, this is the success story for you. Brett is going to tell you all about how took this amazing trip with his wife.
If you'd like to share your story with the 10xTravel readers, drop us an email and share how you did it! (bryce [at] 10xTravel [dot] com)
---
Editors Note: Some of these credit card offers have changed. Please visit 10xTravel.com/credit-cards for a list of up-to-date offers.
Planning a honeymoon was the last thing my fiancé wanted to worry about. The wedding took precedent for her and so the task was passed to me.
Luckily I had been following 10xTravel for a few years and already had a simple plan. Acquire as many points as possible to make our honeymoon as long as possible.
So, where did I begin you might ask?
It all started about two years ago while dating my now fiancé. I knew even back then that she was the one I was going to marry, and knew I wanted to surprise her with the honeymoon of a lifetime.
After using other miles and points for beach getaways, cruises, and family gatherings, these are the points we used to book this trip:
Chase Ultimate Rewards: 250,000
Capital One points: 120,000
Marriott Rewards: 240,000
We earned the Ultimate Rewards points through our Chase Sapphire Preferred cards as well as a Chase Sapphire Reserve card. The Capitol One points were earned through each of our Capitol One Venture cards.
We were fortunate to earn the Marriott Rewards points through my fiancé's work travel. However, we could have easily earned the points through the Chase Marriott cards.
Now that we had the needed points, we had to decide where to go!
We immediately agreed that Italy and Greece were perfect for our honeymoon and that we'd spend two and a half weeks enjoying ourselves.
Here's how we booked our trip: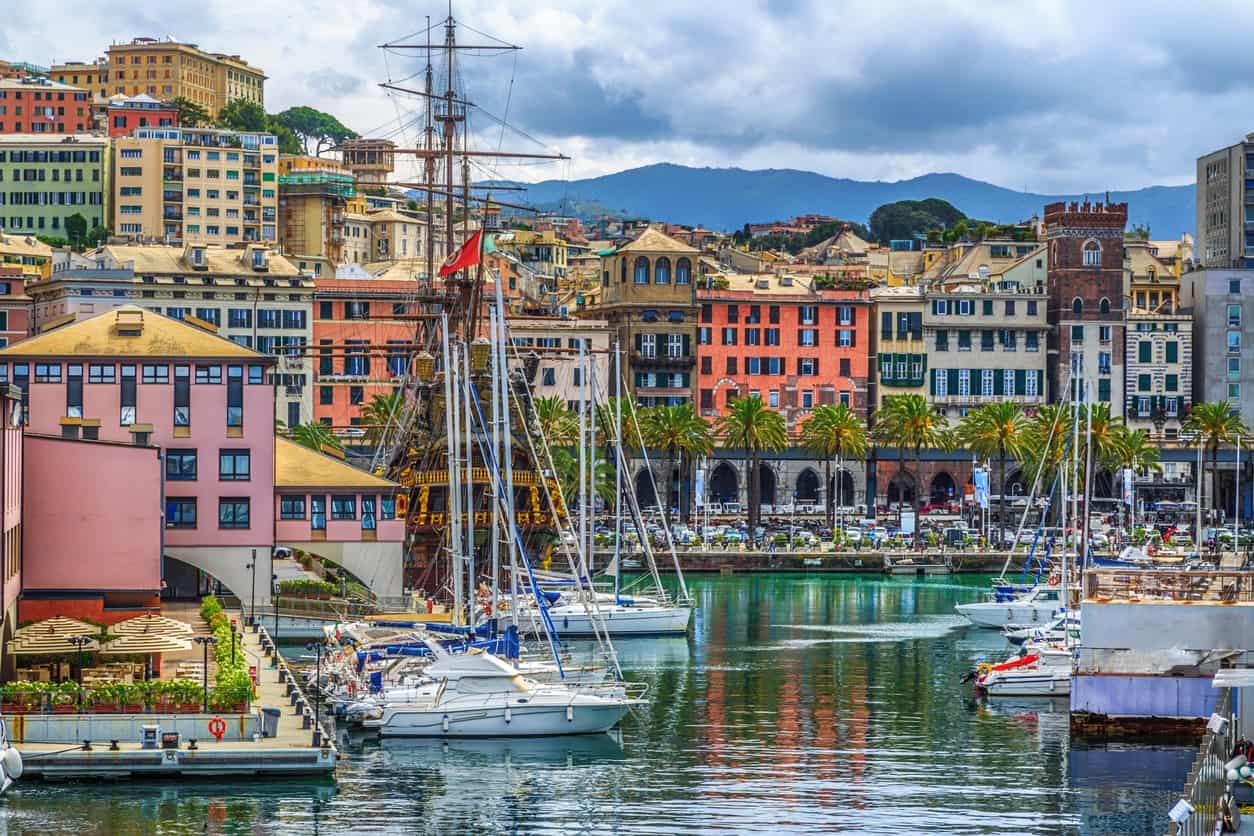 Flight to Genoa, Italy
To start, we wanted to go to Cinque Terre as we had heard wonderful things, so I transferred 60,000 Ultimate Rewards points to United and booked our flights to the closest airport. We used our Capital One to cover the taxes and fees.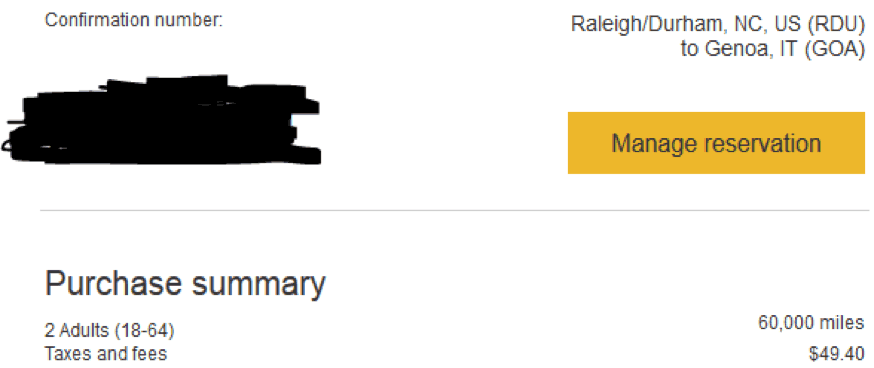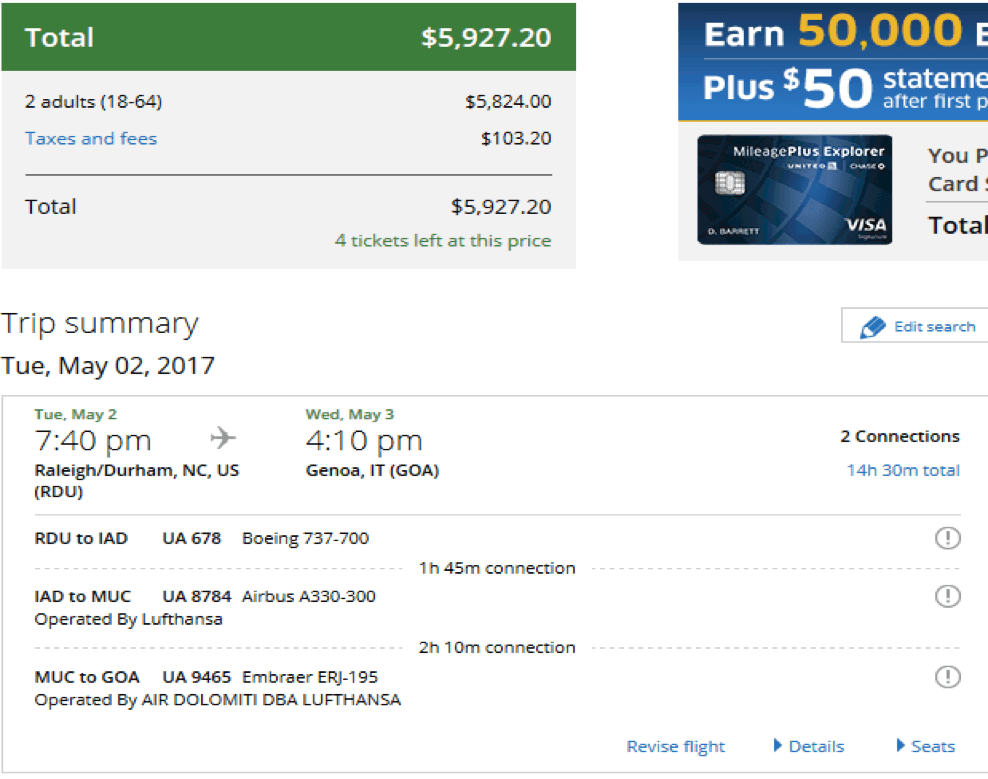 Three Nights in Cinque Terre
Hotels in the area were not part of any major hotel chain which meant we could not use hotel points to book an award stay. So, we used our Capitol One Venture points to cover our three nights in Cinque Terre.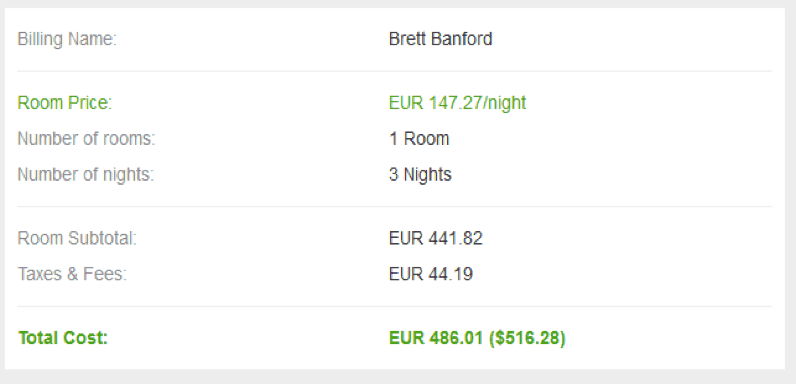 After Cinque Terre, we took a train to Rome, which was also cover with our Capital One Venture points.
Four Nights in Rome
Rome was a little more tricky for us. We both wanted to stay in the heart of Rome, but didn't care about how glamorous the room was as we'd mostly be out and about anyway.
Fortunately, Starwood's merger with Marriott made this possible. I transferred 144,000 Marriott points to Starwood to redeem 48,000 Starwood points for four nights at Le Meridien Visconti Rome. Much better than paying over €875 ($960).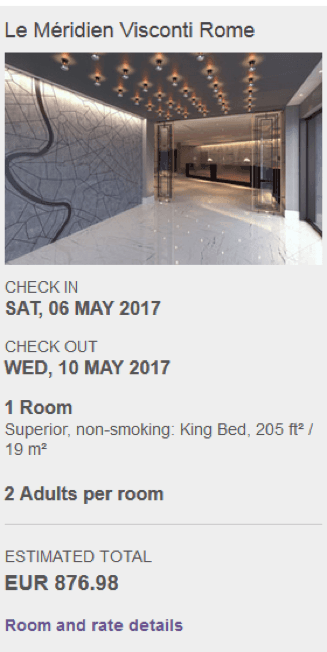 After four nights in Rome, it was time to take a break from the city and check out some Greek islands.
Next stop, Santorini.
Three Nights in Santorini
At this point in the trip, I realized how much I loved the versatility of Ultimate Rewards points. We were able to book two quick one way flights on Aegean airlines for under 15,000 Ultimate Rewards points which saved us over €400 ($440).
For our three nights in Santorini we decided to do something a little different. We chose the Athermi Suites in Megalochori. We were able to book their honeymoon suite for three nights for just under 35,000 Ultimate Rewards points saving €378 ($415).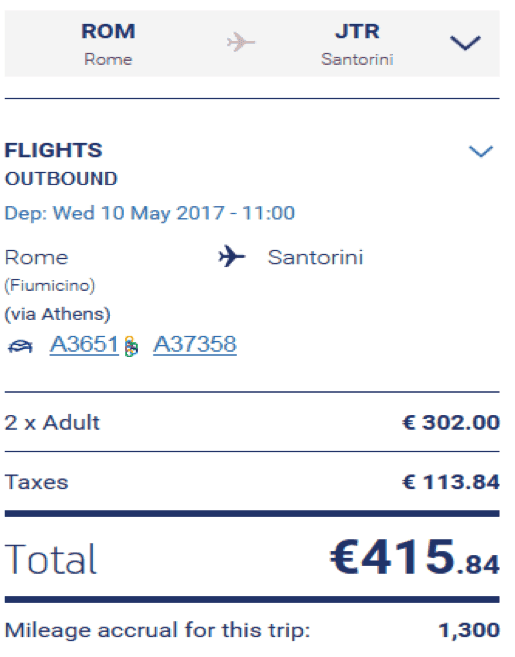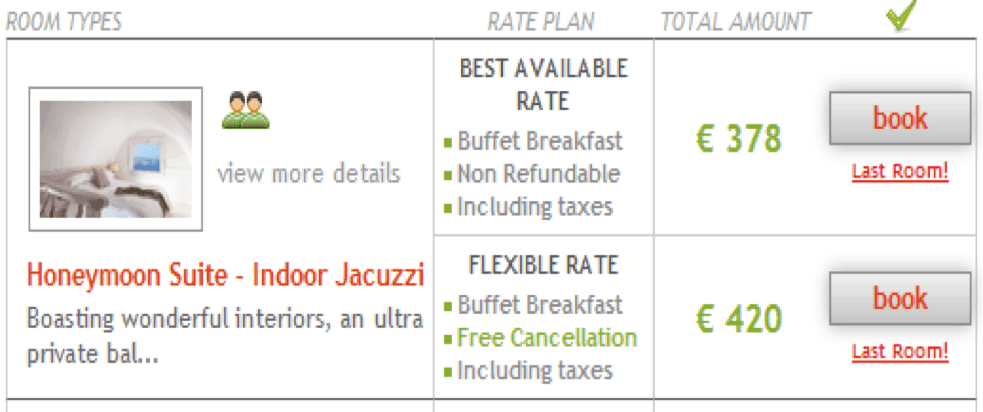 After Santorini we decided to check out Athens for a few nights. Using another 15,000 Ultimate Rewards, points we were able to book a similar flight as above.
Two Nights in Athens
Again, taking advantage of the Starwood Marriott merger, I transferred 96,000 Marriott points to SPG to book two nights at the beautiful King George Luxury Hotel right in the center of Athens. At 16,000 SPG Starpoints per night to be in view of the Acropolis, we both thought it was well worth it. We saved over €600 ($659) for this redemption.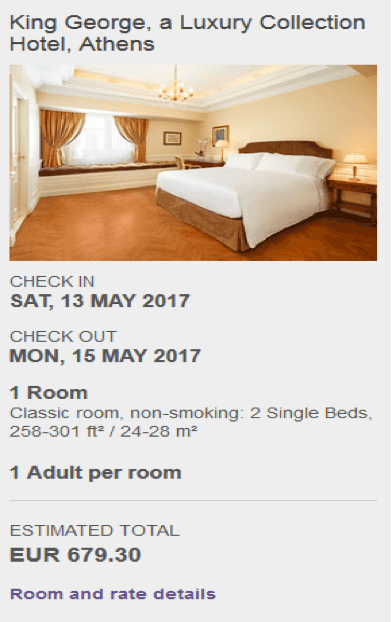 Four Nights in Malta, Italy
We wanted to end our trip someplace unique and after stumbling upon Malta we both thought it was the place for us.
We booked quick flights to Malta with 26,000 Ultimate Rewards points and ended our adventure by using 63,000 Ultimate Rewards points for an ocean view room at the Marina Hotel Corinthian Beach Resort. Much better than spending €960 ($1,054).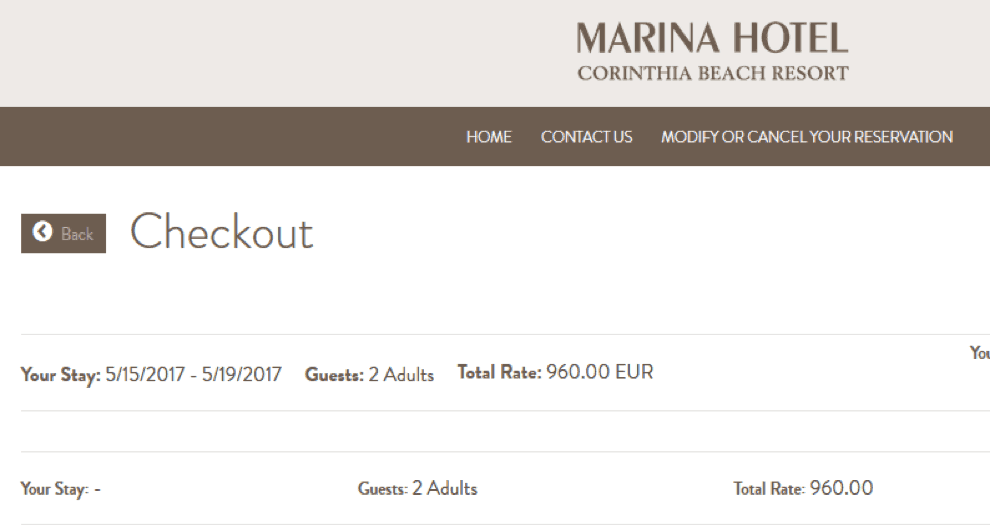 The Flight Home
For our flight home, we again transferred Chase Ultimate Rewards points to United and saved $5,000 by redeeming 60,000 United miles and covering the taxes with our Capital One.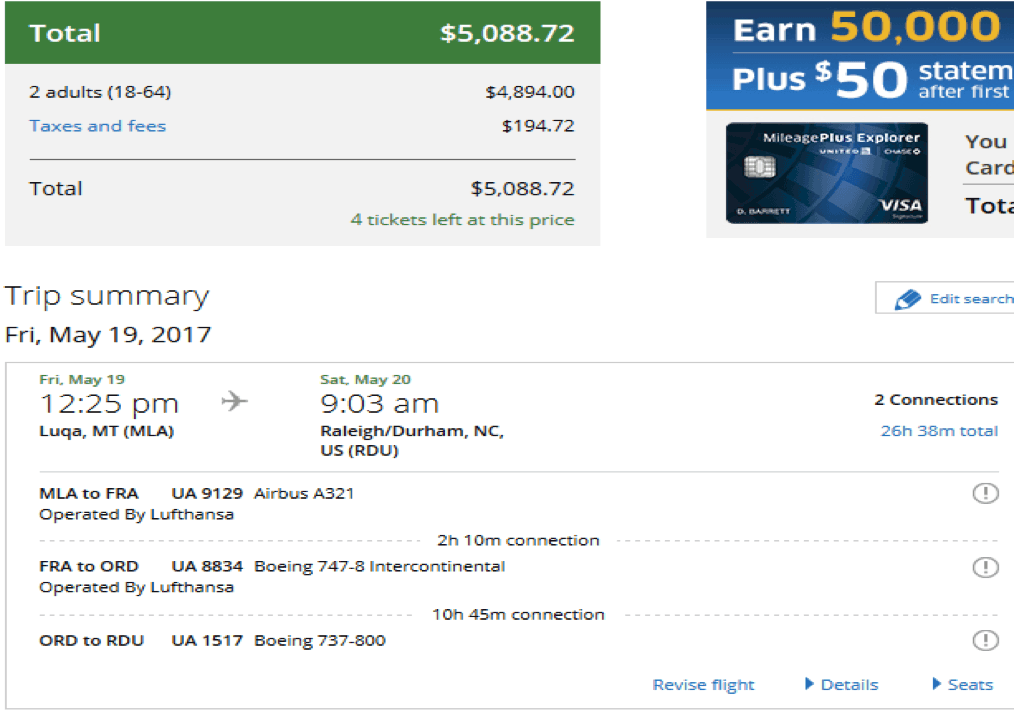 All in all we used a total of:
240,000 UR
240,000 Marriott Points
70,000 Capital One Points (roughly)
Our out-of-pocket expenses were $0 for a dream honeymoon that would have cost roughly $15,000. It was truly a once in a lifetime experience.
Thanks to the 10xTravel team for all the knowledge you've shared.
To those interested in traveling like this, I promise, if I can do this then you can do it..
Happy Travels,
Brett
If you are interested in learning how to take amazing vacations like this, join our email list to learn more.
---
10xTravel is part of an affiliate sales network and receives compensation for sending traffic to partner sites, such as CreditCards.com. This compensation may impact how and where links appear on this site. This site does not include all financial companies or all available financial offers.
Editors Note: Opinions expressed here are author's alone, not those of any bank, credit card issuer, hotel, airline, or other entity. This content has not been reviewed, approved or otherwise endorsed by any of the entities included within the post.