By 10xT Reader: Michael Kirby
My fiance and I were planning our wedding and I wanted to impress her with an amazing honeymoon. I was searching the web for a hotel+flight package when someone on the thread commented, "Check out 10xTravel!."
I'll admit that I was skeptical at first but after some research, I dove right into it. I had never had a credit card up to this point and decided to jump in and apply for the Chase Sapphire Preferred in October 2017.
Editors Note: An excellent move. Chase Sapphire Preferred is the card we recommend for anyone who is new to points/miles. 
After seeing how easy points and miles could be, I then grabbed a couple additional cards (Chase Ink Preferred, World of Hyatt, etc.) over the following months to diversify my points stash so that it would best fit with my upcoming trip. I was able to complete the minimum spend on each card with day-to-day spending, and did so on each before applying for the next. Needless to say, I was hooked on points and miles!
My goal was to completely cover our 10-day honeymoon trip to Maui with points, and for it to be fabulous!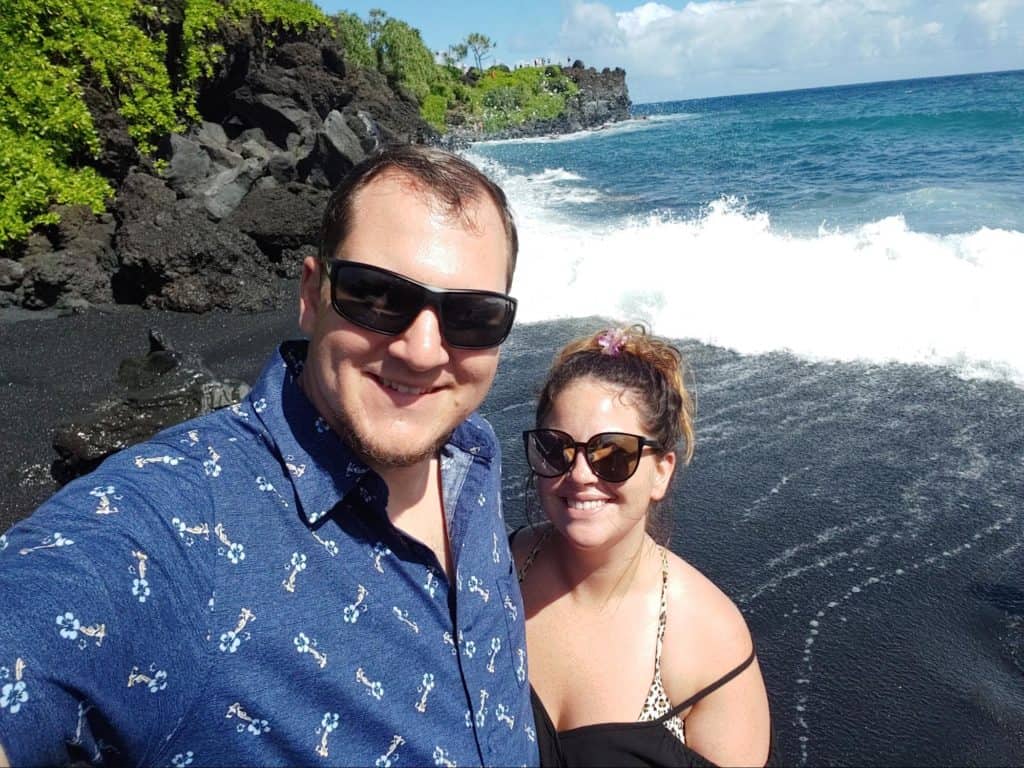 Flights to Hawaii
I searched for round-trip flights with United and found economy award space on a flight from Chicago (ORD) to Maui (OGG) for 45,000 United miles per person.
To book the flights, I used the welcome bonus from my United Explorer Card and transferred Chase Ultimate Rewards points to my United account.
On the dates we wanted to fly, cash tickets were being sold for nearly $2,500!
With the United Explorer Card, I also had 2 one-time United Club passes that I was able to use to treat my bride to her first airport lounge experience.
During our outbound flight, our flight attendant gave us complimentary food and drinks to help us celebrate our honeymoon. Needless to say, that made the long flight much more enjoyable!
The economy cabin on the flight from Chicago to Honolulu (HNL) had 3-4-3 configuration but the last five rows (48-52) were arranged in a 2-4-2 layout. We chose seats in this section so we could have two seats to ourselves. Our flight from Honolulu to Maui was operated by Hawaiian Airlines and was included in our award ticket as Hawaiian has a partnership with United.
One note of caution: Your status with United doesn't carry over to other airlines on the same ticket. For example, on the return trip home, I had to pay baggage fees to Hawaiian because they were the first part of our trip.
Hotels in Hawaii
For our lodging, I booked 4 days at the Hyatt Regency Maui Resort and Spa for 20k points per night, 80k points total. I used points earned from the World of  Hyatt card and added Chase Ultimate Rewards points to complete the necessary 80,000 I needed for the 4-night stay.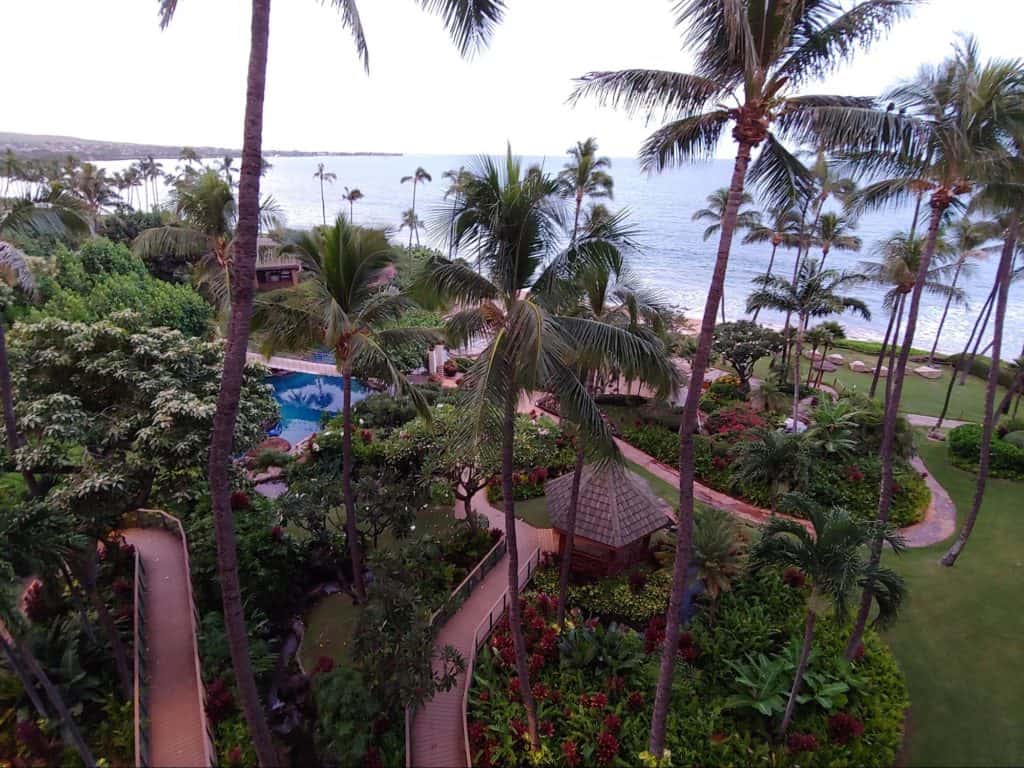 I had World of Hyatt Explorist status and requested an upgrade for our special occasion. We were upgraded to a King Bed Ocean Front and that came with a bottle of champagne and a towel swan.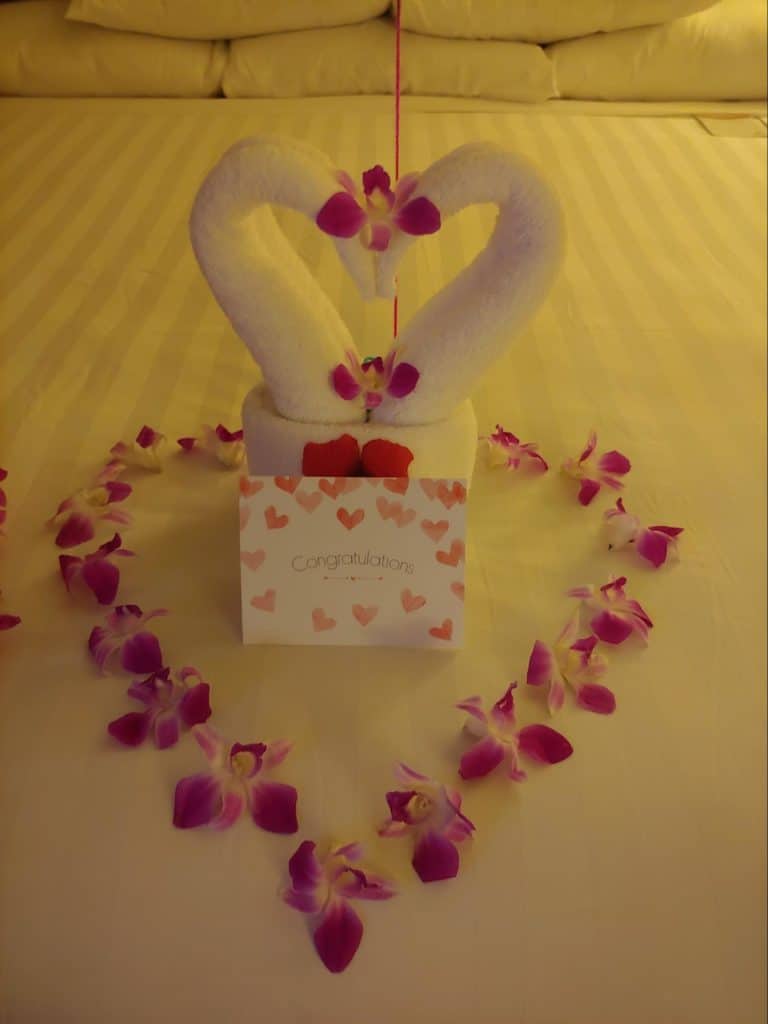 After 4 days of sailing, snorkeling, swimming and sunbathing, we checked out without ANY resort fees or taxes on the room! The only fees were valet parking (which were reduced to the regular parking rate with my Explorist status) and the food/drinks we charged to the room.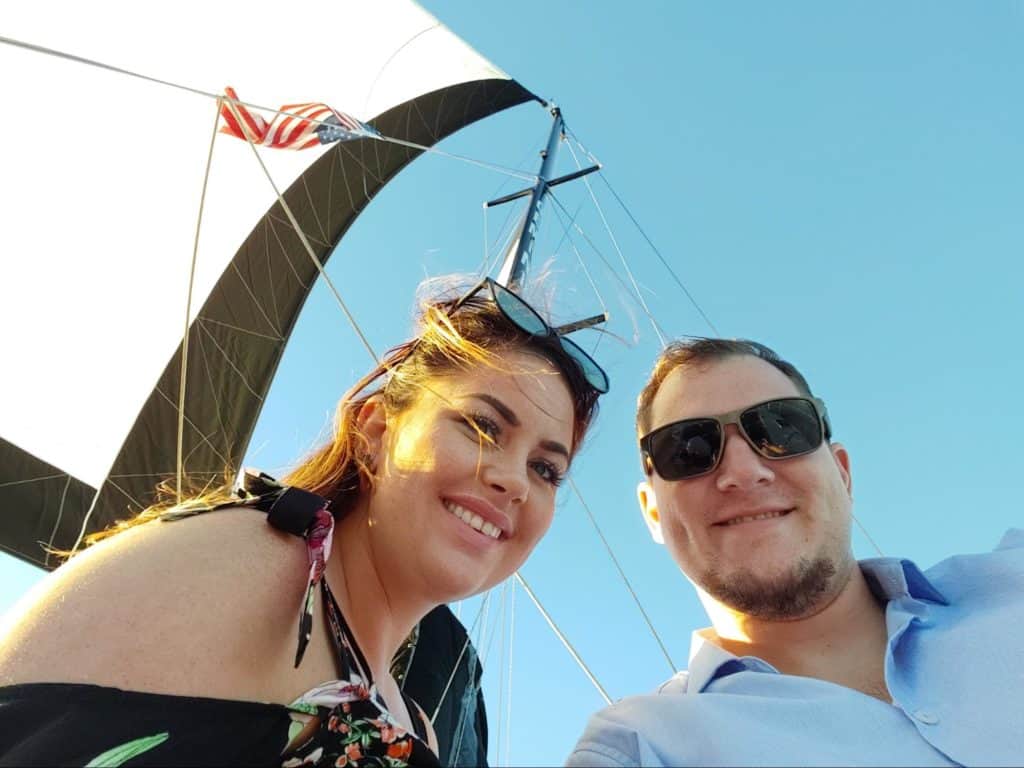 Next Up: South Maui
For this part of the trip, I booked 5 days at the Marriott Wailea Beach Resort. This Marriott is a Category 5, which at the time of our booking was 40,000 per night, but now the rate is 50,000 per night. Remember, when using Marriott points, when you book 4 nights, you get the fifth night free!
I used 160,000 points for the stay and thanks to Marriott's 5th-night free, that's all I needed! I had Gold Elite status with Marriott and was again able to get an upgrade — this time to a Garden Suite Room.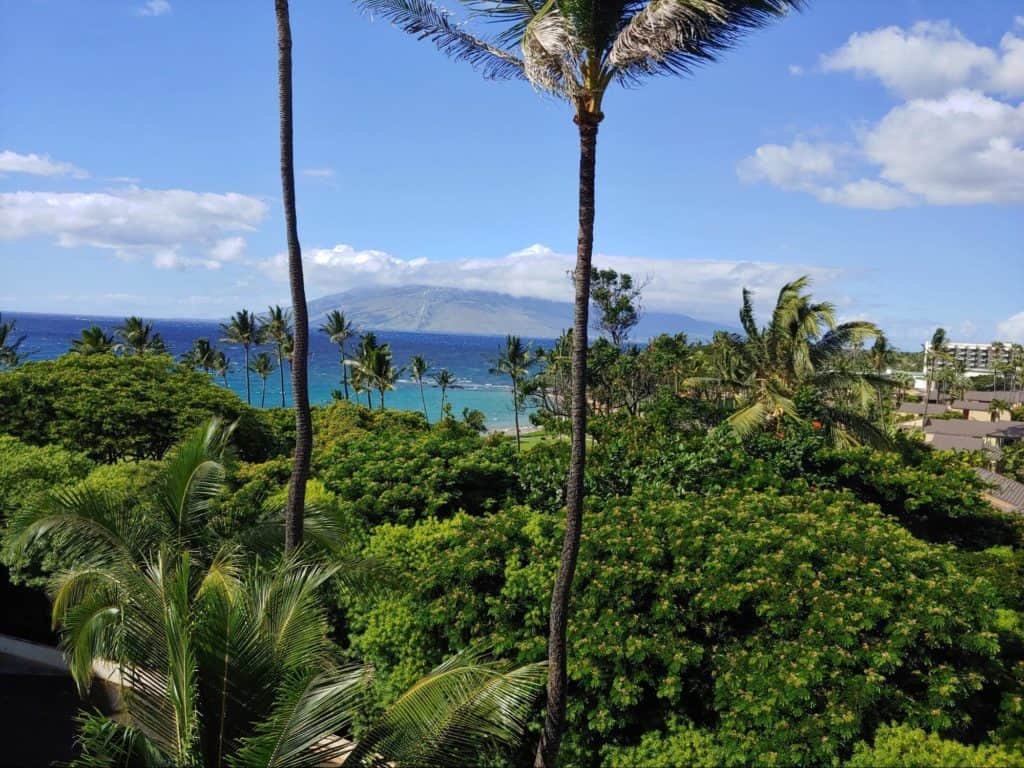 We were also greeted with a bottle of champagne and a nice welcome letter. The service at this resort was excellent and we spent time enjoying the infinity pool, snorkeling in the ocean, dancing at a luau, and taking an excursion to Molokini Crater and the Road to Hana.
Our 10th day was our travel home day but we made sure to enjoy one last Mai Tai and Shave Ice before we left!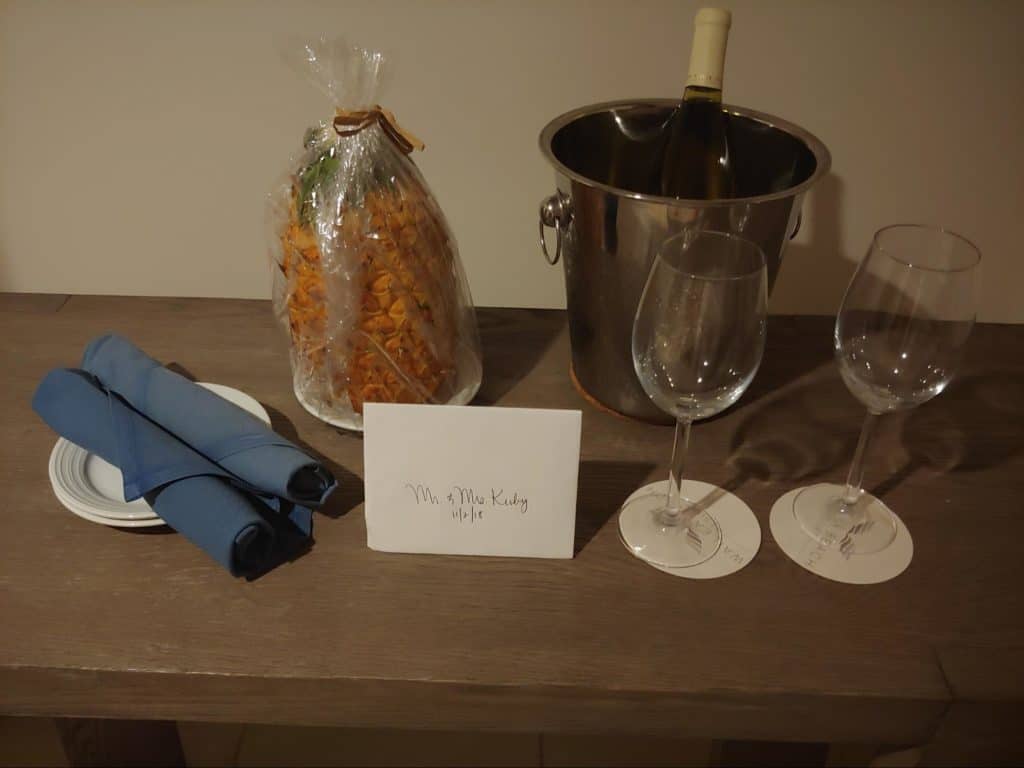 Overall, it was a beautiful, memorable trip that NEVER would have been possible without the benefit of strategic points and miles usage. Big thanks to the 10xT Team and community!
Adding It All Up
We used:
85k Chase Ultimate Rewards points
40K Hyatt points
160K Marriott points
45k United miles
We booked:
Round-trip flights from Chicago to Maui
4 nights at the Hyatt Resort in West Maui
5 nights the Marriott Resort in South Maui.
Total out of pocket: $688 for taxes, Marriott resort fees, and annual fees.
Cash price with upgrades: $9,218.98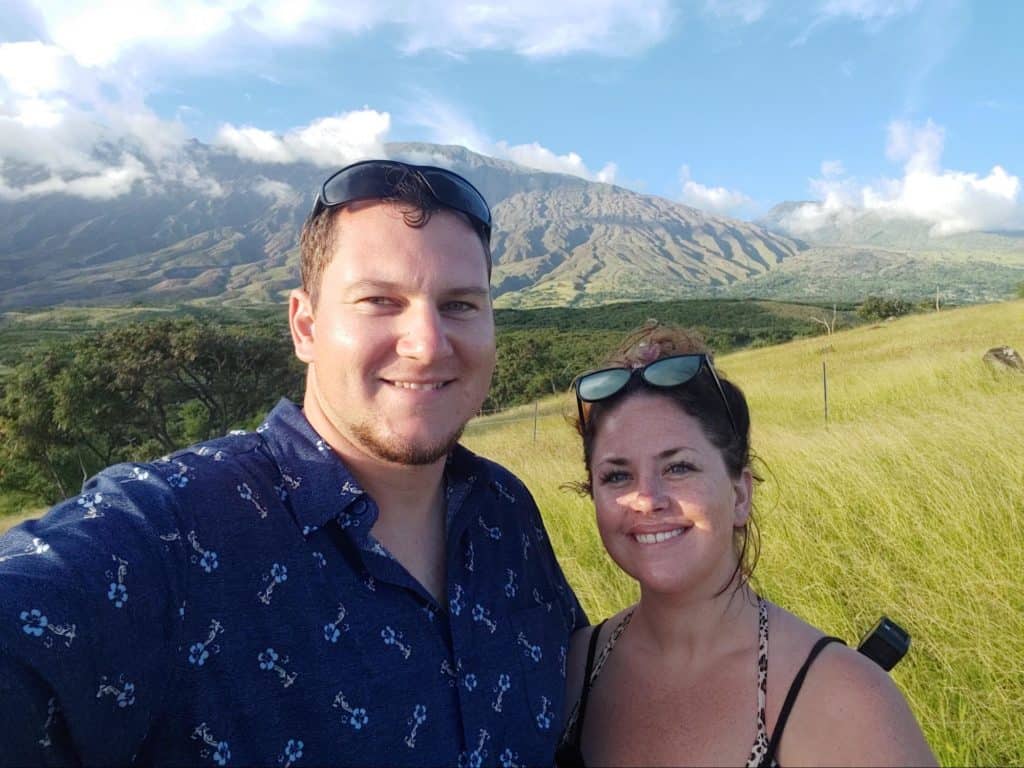 ---
10xTravel is part of an affiliate sales network and receives compensation for sending traffic to partner sites, such as CreditCards.com. This compensation may impact how and where links appear on this site. This site does not include all financial companies or all available financial offers.