Guest Post By: Robert
Editors Note: Some of these credit card offers have changed. Please visit 10xTravel.com/credit-cards for a list of up-to-date offers.
My wife and I were married last September and spent 12 beautiful days in the Greek Islands on our honeymoon. We used 120,000 American AAdvantage miles for the flight, but I was still just a beginning to understand what miles and points could do for me.
So, we went with a travel agency and got taken to the cleaners, spending over $3,000. Luckily, we had the American miles to cover the flights!! I have since learned a ton about how to earn and redeem credit card rewards and frequent flyer miles for travel.
Due to work scheduling conflicts, we had to take our first anniversary trip a few months early this year during the Fourth of July holiday—one of the most expensive times to travel.
We originally planned to visit Thailand but, given that we had less than 2 weeks, we elected to do a Caribbean cruise to Curacao and Aruba instead to cut down on transit time. This also gave us more time to relax on the beach with drinks.
Here's how we booked this amazing trip on points:
Flying from Dallas to Puerto Rico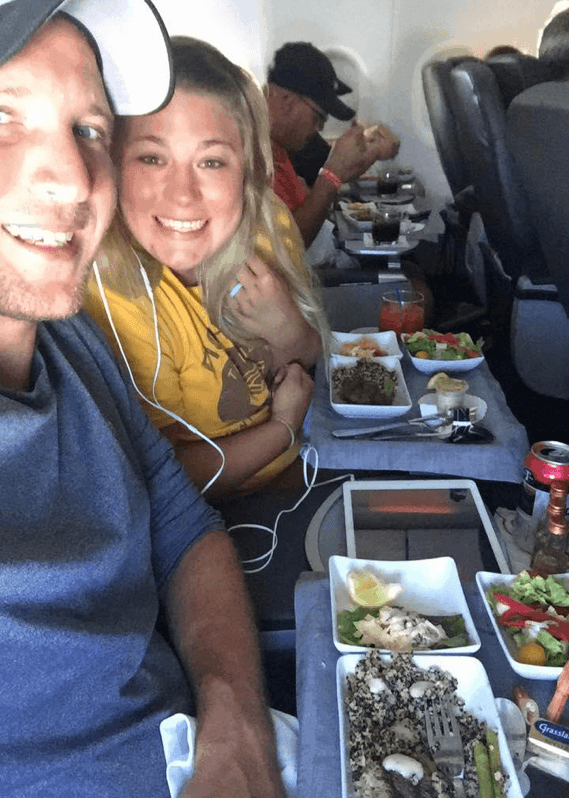 With the Chase Ritz-Carlton Card's annual $300 airline fee credit and 12,500 American miles we covered my wife's flights from Dallas to San Juan—my flights were covered by some by some work travel.
She wanted to fly to Puerto Rico with me and, fortunately, we were able to route her through Charlotte so she could! Thanks to my elite status with American Airlines, we were upgraded to first class on all our flights together.
Points Used:12,500 American Miles
Airline Fee Credit: Chase Ritz Carlton Card – $300
Cost Out of Pocket: $68.30
Cost Without Points: $842.78
Two Nights at the Ritz-Carlton San Juan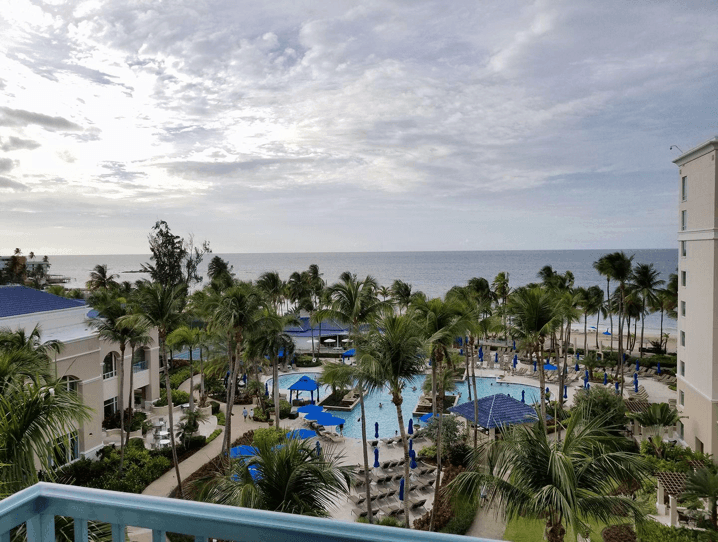 Ritz Carlton, San Juan. View from our room.
We used two free night certificates from the Chase Ritz-Carlton card sign-up bonus to book a stay at the Ritz-Carlton San Juan.
We arrived in San Juan on a Thursday afternoon, electing to have almost 2 full days to relax before boarding the cruise. Upon arrival, we were greeted by the front desk staff who took our bags and escorted us to the club lounge. What a first impression! With mimosas in hand and a comfy couch, it was easily the best check-in experience we've ever had!
The next two days were wonderful. The beach was right outside of the property and the club lounge provided an easy place to grab a bite to eat throughout the day. There was also a beautiful pool, next to the beach, so it was a nice change of pace to go back and forth between the two.
The service at the Ritz-Carlton San Juan was amazing throughout our stay and made it easy to relax before our cruise.
Points Used: 2 free night certificates
Source of Points: Chase Ritz Carlton Card
Cost Out of Pocket: $49.47 (food & drinks at the resort)
Cost Without Points: $1200.00
Booking a Royal Caribbean Cruise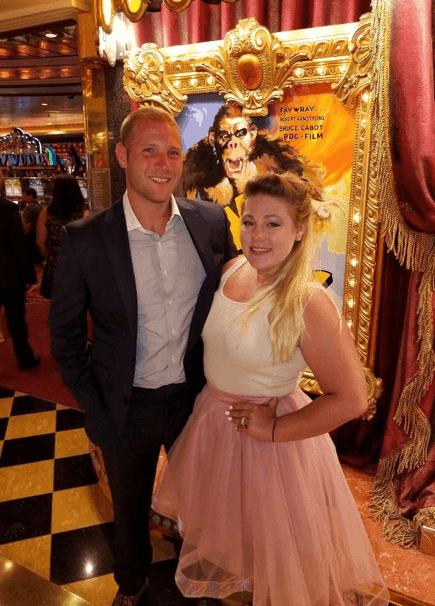 Royal Caribbean: Adventure of the Seas
I earned the sign-up bonus from the Chase Sapphire Reserve card in early March and held on to these points for a little while as I tried to decide what to do with them, but eventually settled on a cruise with Royal Caribbean.
This was not our first cruise, but it was our first on Royal Caribbean and I have nothing but great things to say about our experience. We told the Chase phone representative that it was for our anniversary celebration. Once onboard the ship, Royal Caribbean helped us celebrate with cake, music, champagne almost to the point of exhaustion!
I have been a long time Carnival cruiser, and in my eyes the food, the staff and the boat itself blew Carnival away and I will be looking to sail with them in the future.
The Chase agent who helped us was even able to get us an extra $100 to spend onboard. On top of that, when we had to change my wife's last name back to her maiden name on the booking, forgetting her passport wasn't changed yet, they were tremendously helpful.
Bonus tip: we brought bring four bottles of wine on the boat, and this helped cut down on drinking at dinner costs!
Points Used: 104,000 Chase Ultimate Rewards points
Source of Points: Chase Sapphire Reserve
Cost Out of Pocket: $165
Cost Without Points: $1,565 for two people, 1 stateroom
A Night at the Sheraton Old San Juan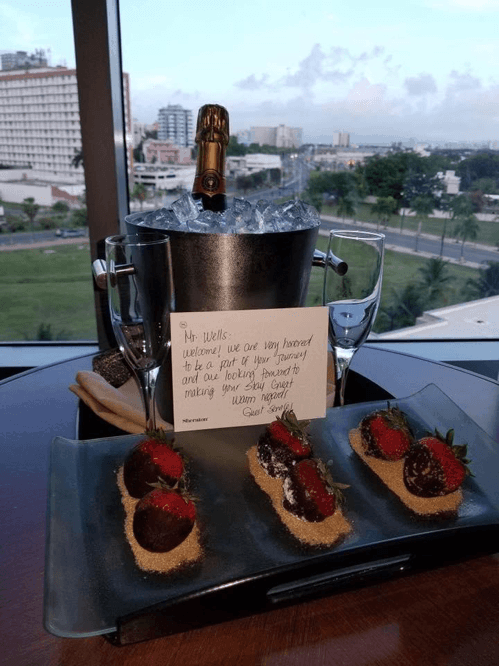 Gift from the front desk, thanking me for my stay.
Upon returning from the cruise, we chose to stay one more night in San Juan and check out a few of the sights around the Old San Juan area.
I have quite a few Marriott Rewards points from the Chase Marriott Rewards Card and work travel. I transferred 27,000 Marriott Rewards points to Starwood Preferred Guest account to book the Sheraton Old San Juan.
We checked in very early, around 11am, and were very happy to find that they had a room available for us to unwind. We were given an upgrade to an executive suite with an ocean view where strawberries and champagne were waiting for us. This was a great way to cap off a wonderful trip.
Points Used: 9,000 SPG Starpoints
Source of Points: Chase Marriott Rewards Card
Cost Out of Pocket: $26.80 (Caesar Salad room service delivery charge…seriously)
Cost Without Points: $349.00 (Executive Suite upgrade)
This was an amazing vacation and we can't wait to see where our miles and points will take us next!
If you are interested in learning how to take amazing vacations like this, join our email list to learn more.
---
Disclosure: 10xTravel has partnered with CardRatings for our coverage of credit card products. 10xTravel and CardRatings may receive a commission from card issuers.
Opinions, reviews, analyses & recommendations are the author's alone, and have not been reviewed, endorsed or approved by any of these entities. You can read our advertiser disclosure here.