In This Article
Loading table of contents …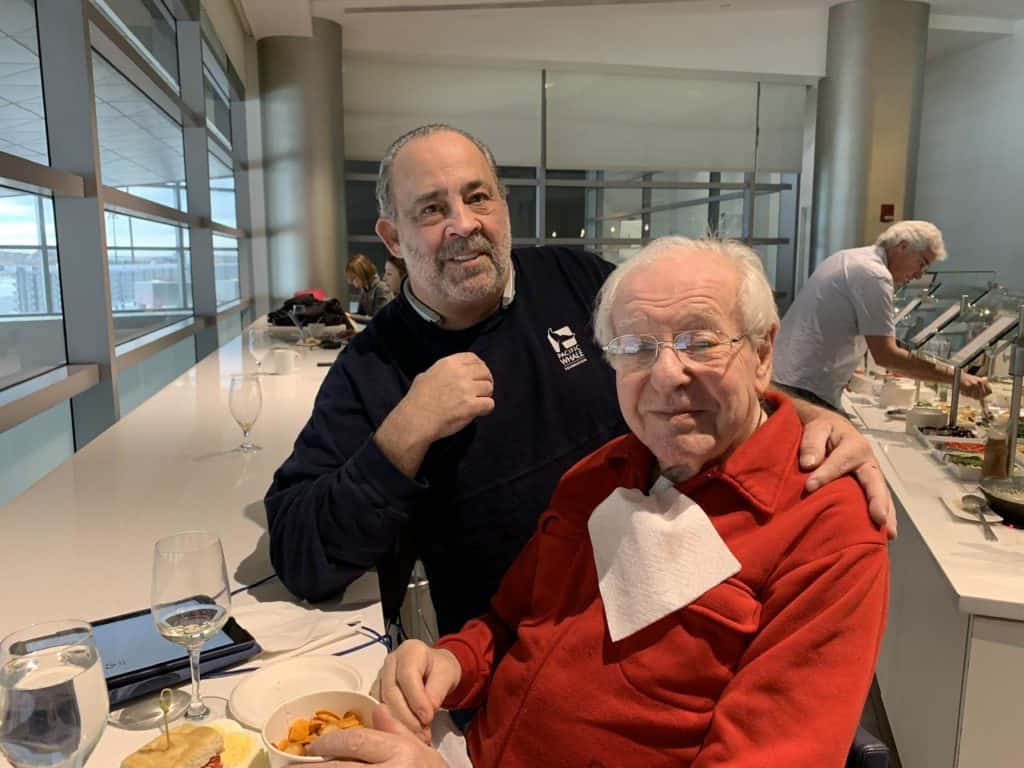 Note: Some of the offers mentioned below may have changed or are no longer be available. You can view current offers here.
By: 10xTravel Reader Jay Franklyn
My 89-year-old dad and I just came back from our action-packed long weekend trip to Ireland, starting out on Thursday and returning Monday.
In This Article
How I Booked Our Delta Flights
I booked the flights with 38,000 SkyMiles and $50 each in taxes round-trip in comfort plus during a Delta flash sale from Boston (BOS) to Dublin (DUB) with a connection in New York (JFK).
I earned these miles from the Delta SkyMiles cards that I had signed up for in the last couple of years. The cash price of these tickets were $998 plus taxes each, so we used the points and took the money on our trip.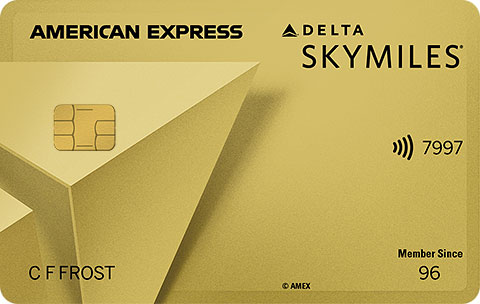 What It Was Like Flying Delta Economy to Dublin
We started with our Uber ride to Boston. I used my $15 monthly credit from The Platinum Card from American Express to help cover the trip.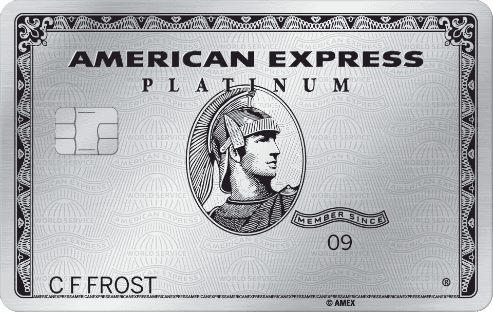 Then it was off to the Delta Sky Club, where we got free entry because of my Delta status and my Amex Platinum card. The food offerings were really good and included wine, salad bar fixings, hummus crackers, really good mac and cheese, plus soup and sandwiches. We had the soup and some Italian finger sandwiches but we ate lightly as we were going to eat on the plane.
Our flight from Boston to New York was pretty uneventful, as it was only 45 minutes but they still managed a drink service, and what I call the "happy basket" with all kinds of snacks. In addition, I think I have made a new friend LOL.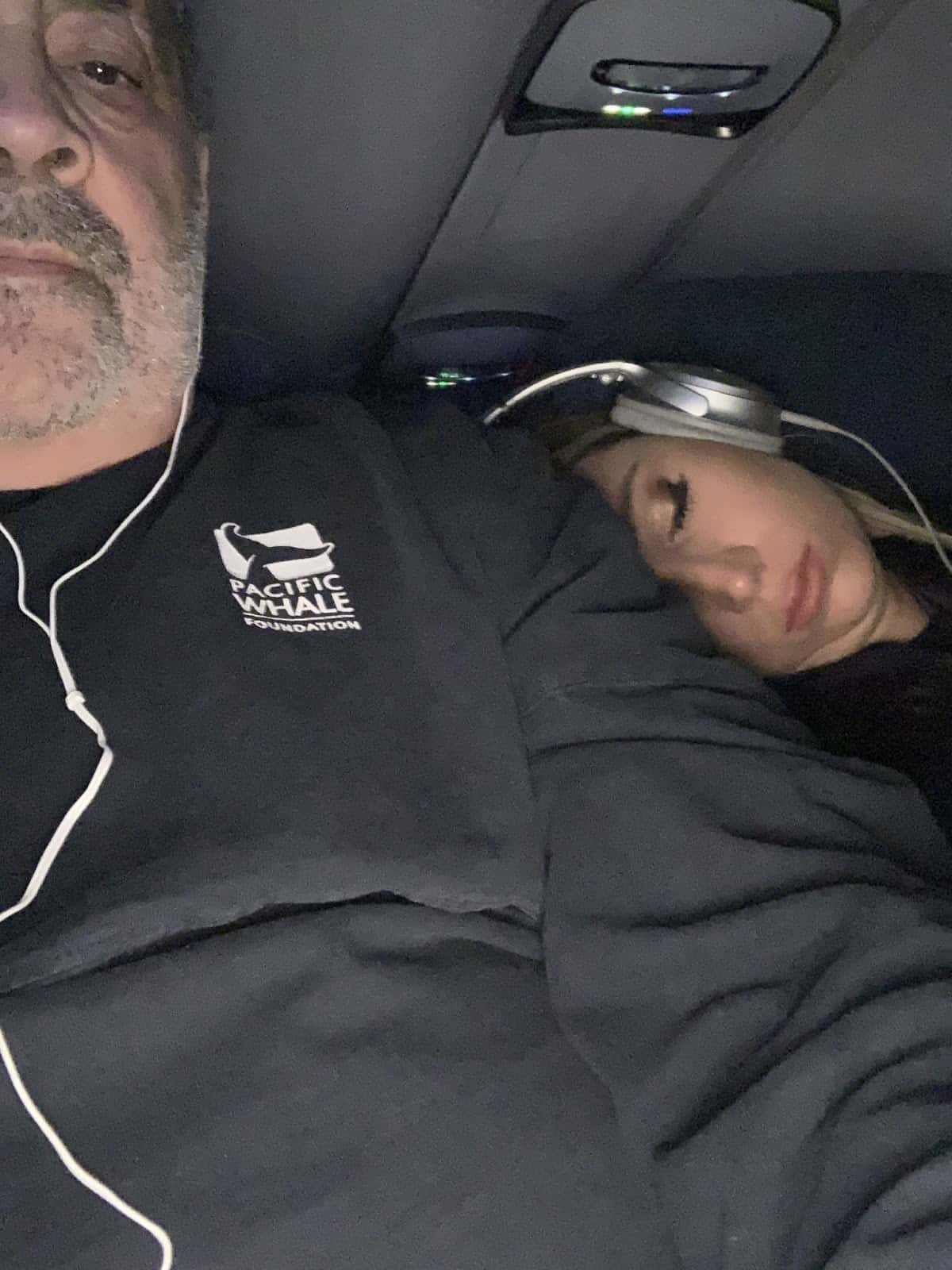 The flight from New York to Dublin was pretty uneventful but unfortunately, the plane was kind of junky. It was a tired old Boeing 767 with tiny TV screens and a broken tray table that resulted in a glass of wine ending up in my lap.
I learned a valuable lesson here. The aircraft matters. I could go on about this, but I'm sure you get the picture. We didn't let it ruin our time though as it got us from Point A to Point B, and the middle seat was empty.
Besides, we were going to Ireland!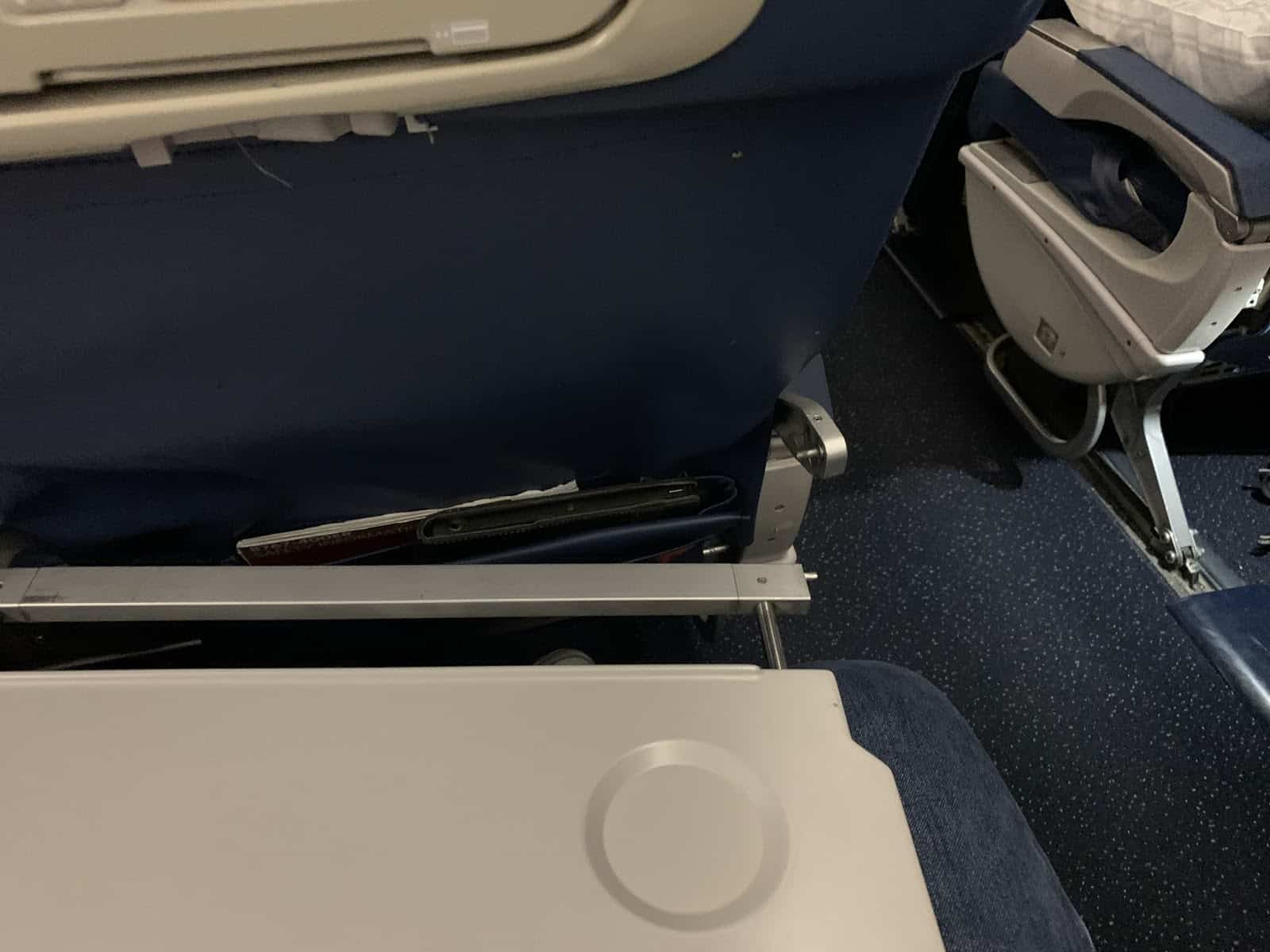 We were pretty tired on arrival as we only had a couple of hours of sleep on the 6.5-hour flight. This is where things took a nice turn. We breezed through customs so fast it amazed me and we grabbed a taxi curbside. It was really convenient and our driver pretty much gave us a guided tour showing us points of interest and their history.
Booking the Hyatt Centric Dublin
Then it was off to the Hyatt Centric Dublin at 9am. It's a beautiful new hotel right across from St Patrick's Cathedral. We booked that with cash as the hotel was 13,000 Ultimate Rewards per night while the case price was only $145 per night. So, I saved the points for a better redemption next time.
I had emailed reservations about a week before to let them know a few things:
I'd be there with my father really early in the morning
To ask for an early check-in
To mention that it was our first time traveling abroad together
A pub crawl was on the bucket list
I received an email back from Thiago in reservations saying they would try to accommodate our early check-in but there was no guarantee. They asked for a couple of pictures that they offered to frame so we would feel more at home. Nice touch!
Our Stay at the Hyatt Centric Dublin
I have Explorist status with Hyatt, achieved through status matching (thanks Amex Platinum). On our arrival, we were given complimentary upgrades to both of our rooms. My dad got a suite, and I got a room with awesome views of the streets below and St. Patrick's Cathedral. Unfortunately, they were not ready yet, but Thiago arranged for a room to share with two beds until 1 o'clock at no extra charge.
This is a brand new hotel, and the staff really goes above and beyond. When we finally did get to our rooms, this is what we found (see below).
A big shout out to Thiago in reservations for arranging all of this, as he really saw to our comfort the entire visit, and made several suggestions for places to visit. In my excitement, I didn't take pictures of the rooms, but they were great, and the beds were super comfortable.
The pictures I had emailed were framed and put in our rooms along with a tasty little welcome snack and notes.
I can't recommend this hotel enough. The service was great!
Our rooms included a buffet breakfast, which had all the basics with local dishes, rashers, puddings, and about every kind of potato and delicious breads.
Au gratin potatoes for breakfast? Count me in!
The coffee was brewed fresh by the cup, and I have to say it was great, as we enjoyed many cups each day. I'm so used to coffee by the pot but single cup brewing is the standard in Ireland, and I may be a convert now.
Exploring Dublin
We grabbed a couple of hours of sleep and walked across the street to St. Patrick's Cathedral. It was undergoing renovations  but there was still plenty to see as it is more than 900 years old. The place was spectacular and took more than 35 years to build. We're talking about the year 1100 here.
It's really big and beautiful. From the decorative tiles on the floors to the beautiful stained glass and the arched ceilings, its detail was amazing and has survived the test of time.
The artwork and statues were marvelous. There were a number of interactive exhibits as well, and we did a couple of brass rubbings that actually turned out pretty well! We spent a good part of the day there and then went back to the hotel to get ready for dinner, as it was starting to get dark.
On the way back to the hotel, we stopped to chat with a local store owner. He was a very colorful man, full of humor and happy to point us in the direction of a local pub for a pint and some food. Although he's been sober for 30 years, he assured us that back in the day, it was his favorite place, and he had enjoyed many pints of 'the mothers milk' there. He also said his wife was much happier now.
The place was called Fallons, and it was right next door, conveniently attached to the hotel, perfect!
Fallons Pub is a small place full of charm with 8 seats at the bar and maybe 6 or 8  very low tables. Total capacity was less than 25. The place has been a fixture there for many decades. The bartender was great and brought us our first pint of Guinness in Ireland.
It was ice cold, delicious creamy, and reasonably priced. I have never been a Guinness fan, but this was a game changer. We got directions to a local restaurant for some traditional food but somehow lost our way (probably due to the second pint) and ended up in a not traditional Irish food place instead. If you are looking for a place where the locals hang out, Fallons is the place.
The next morning after breakfast, we went across the street to the hop-on hop-off bus. The stop was right in front of the St. Patrick's Cathedral. We chose the City tours Dublin Red Bus. It was 18 euros for a 2-day pass, and featured 28 different stops around Dublin, and ran about every 20-25 minutes. So on we hopped!
Our first stop was the Teeling whiskey distillery. While it is not the oldest distillery, they hosted a very informative tour showing the entire process of whiskey-making. Part of the way whiskey gets its unique character is during the fermenting process when they leave the top of the wooden barrel open to catch the natural yeast that's in the air. At the end of the tour, we got to the tasting room which was my favorite part.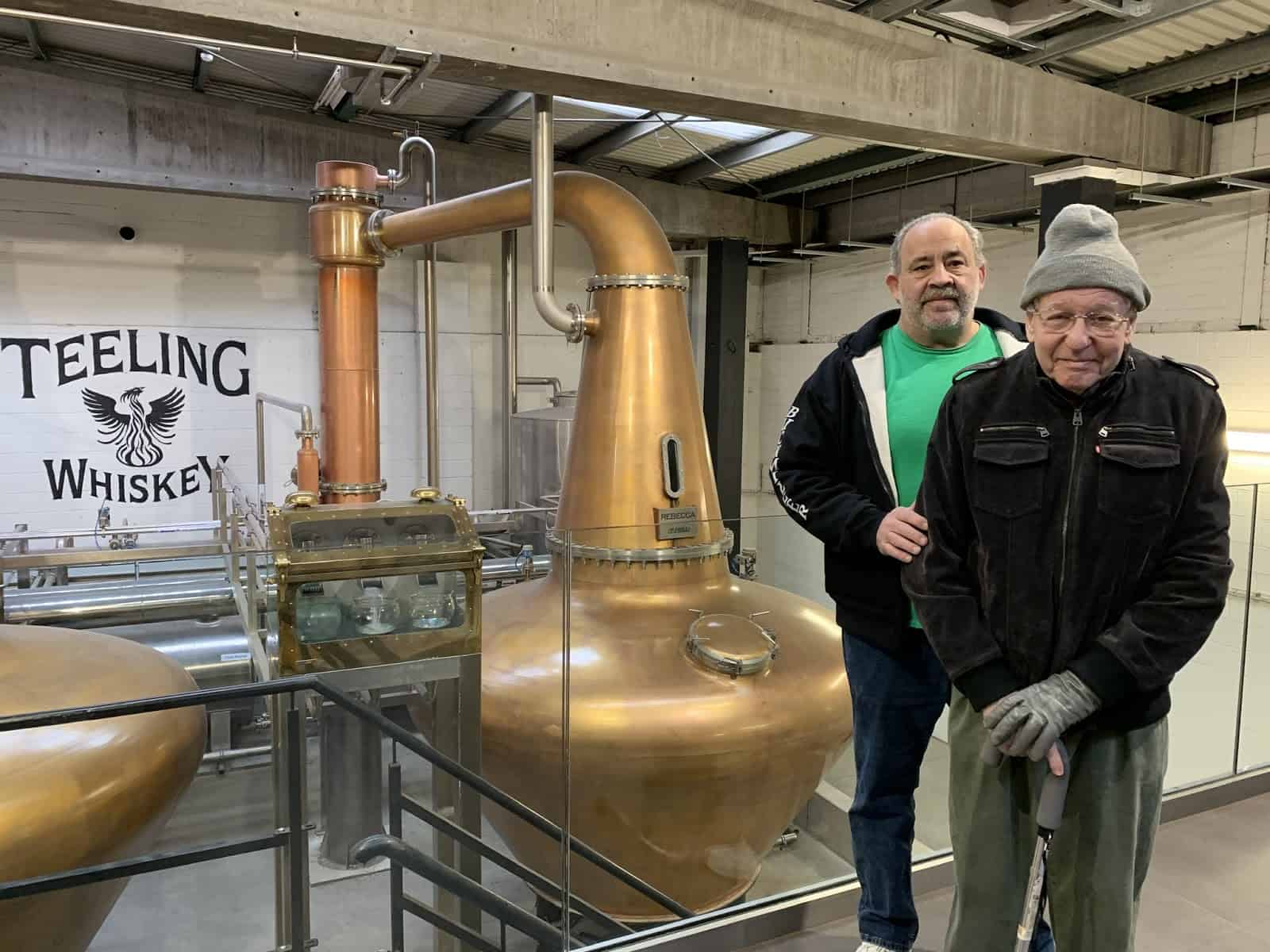 After the whiskey tour, it was time to hop on the bus again. With almost perfect timing, 5 minutes later we were on our way to the Guinness storehouse. The storehouse tour is about seven stories tall leading up to the Gravity bar for a pint. It has spectacular views of Dublin, but was really crowded. The pint was good, but we prefered Fallons better  (it might have been the atmosphere).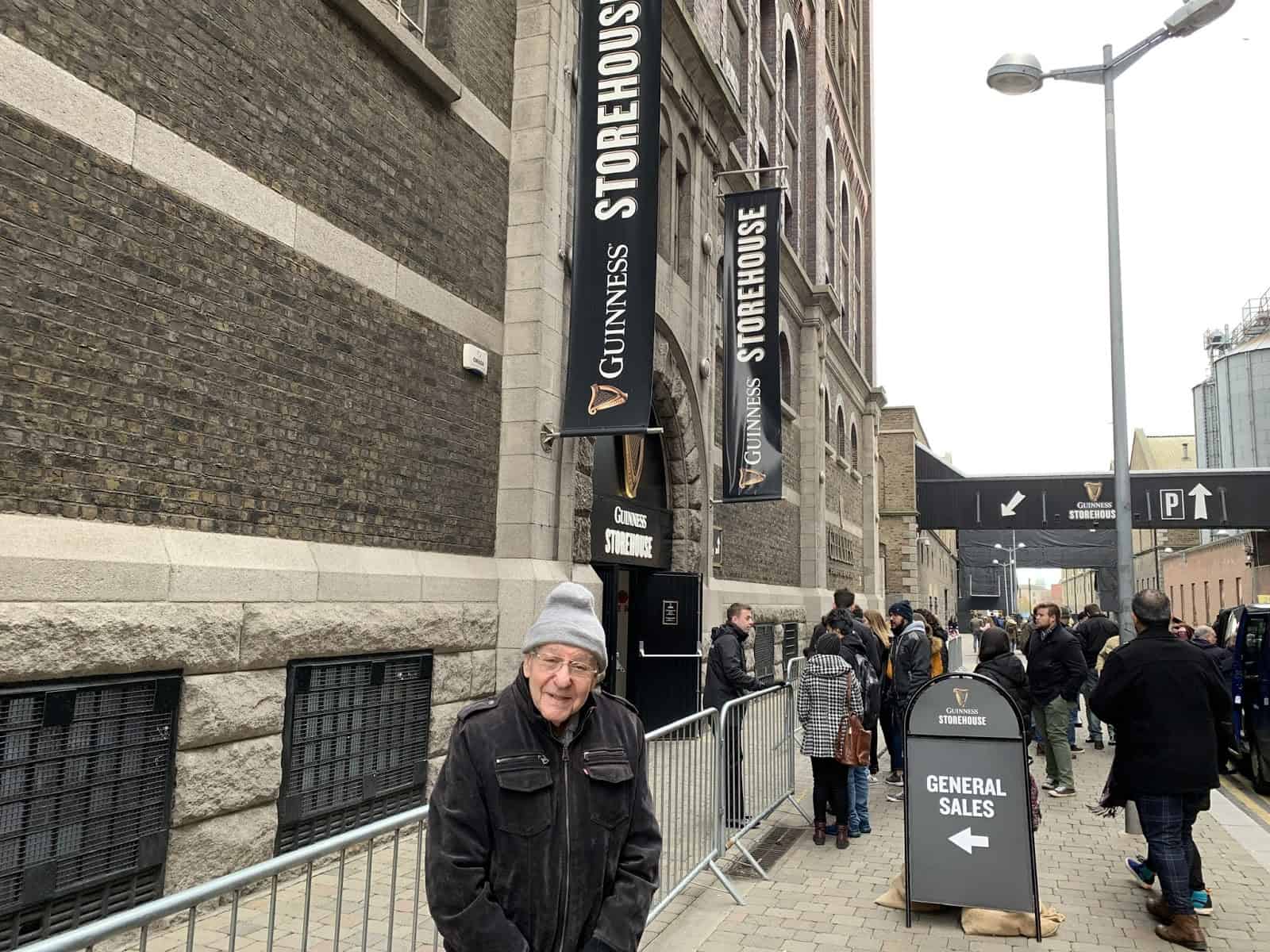 Our next stop was the Temple bar area of Dublin. It's a very busy area with hundreds of pubs and stores. We decided to get a coffee at the Arlington Hotel. They had a very large bar/restaurant, so we took a seat at the bar and ordered Irish coffee since, well, we were in Ireland after all. We also enjoyed some homemade tomato soup served with fresh bread that was delicious.
As it turns out, the restaurant had a dinner show downstairs starting at 8pm which was a nice surprise. There were 250 people seated at long tables of 10, and we made some great acquaintances with people from Argentina, France and Ireland.
It was a great dinner show featuring traditional Irish food served in three courses, and a two-hour show with wonderful Irish music, kick dancing and a bit of humor as well.
It was a great night.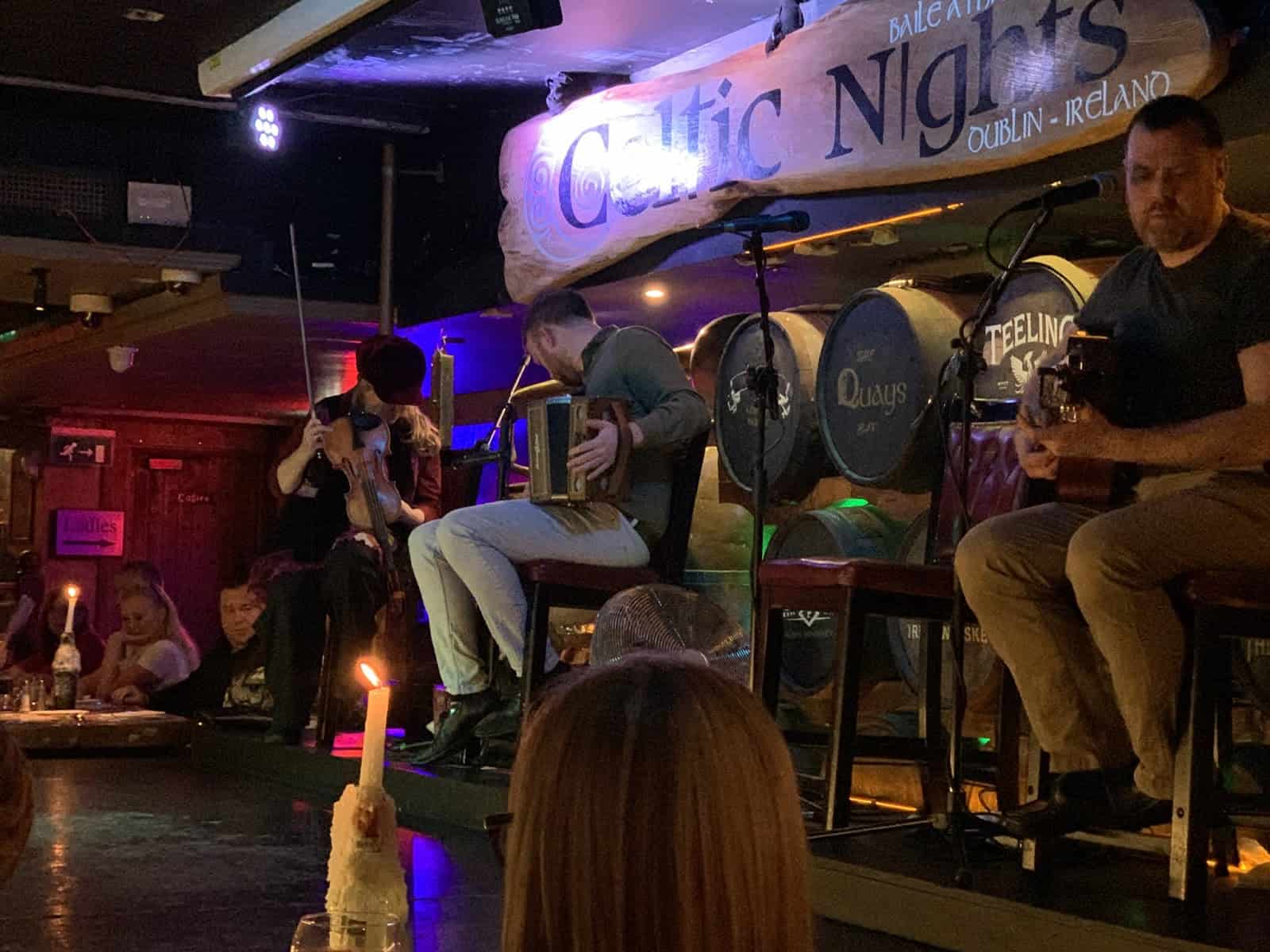 On our last day, we hopped on the bus, and visited various places including Trinity College, Dublin Castle, and the GPO, which was headquarters during the Irish uprising of 1915. We had a fish and chips lunch in the temple bar area at a place called O'Sheas. We both enjoy this kind of historical stuff and the day flew by.
To end our day, we stopped at Fallons to enjoy a final pint which incidentally paired quite well with their toasted ham and cheese sandwiches!
It was a great place to spend quality time with my dad and we loved Ireland and are busy planning our next trip. The nearly $2,000 we saved on airfare thanks to Delta SkyMiles more than covered all the rest of our expenses.
The best part is we are now in 2-player mode and dad is as excited to travel as I am.
So we're off to plan our next adventure.
Until next time, enjoy the ride and happy travels.
New to the world of points and miles? The Chase Sapphire Preferred is the best card to start with. With a bonus of 60,000 points after $4,000 spend in the first 3 months and 2x points on dining and travel, this card truly cannot be beat!
Learn More