Note: Some of the offers mentioned below may have changed or are no longer be available. You can view current offers here.
By: 10xTravel Reader Ashley Nelson
My interest was piqued in 2017 when Southwest announced they were going to start flying to Hawaii. Then in July 2018, I learned about Southwest's Companion Pass. Since we're trying to visit all 50 States before our oldest child turns 10, I figured with this winning combination, now was as good a time as any to put Hawaii on our radar!
I was eager to get started and didn't learn the crucial detail that the required points for the Companion Pass had to be earned within one calendar year. I actually earned mine in the 4th quarter of 2018 but my husband's was earned Jan 24th, 2019, 3 days before a Disneyworld trip and Southwest credited points for our son's flight since he became my husband's named companion, winning! Less than 2 months later, Southwest started service to Hawaii and during that time I found 10xTravel!
In This Article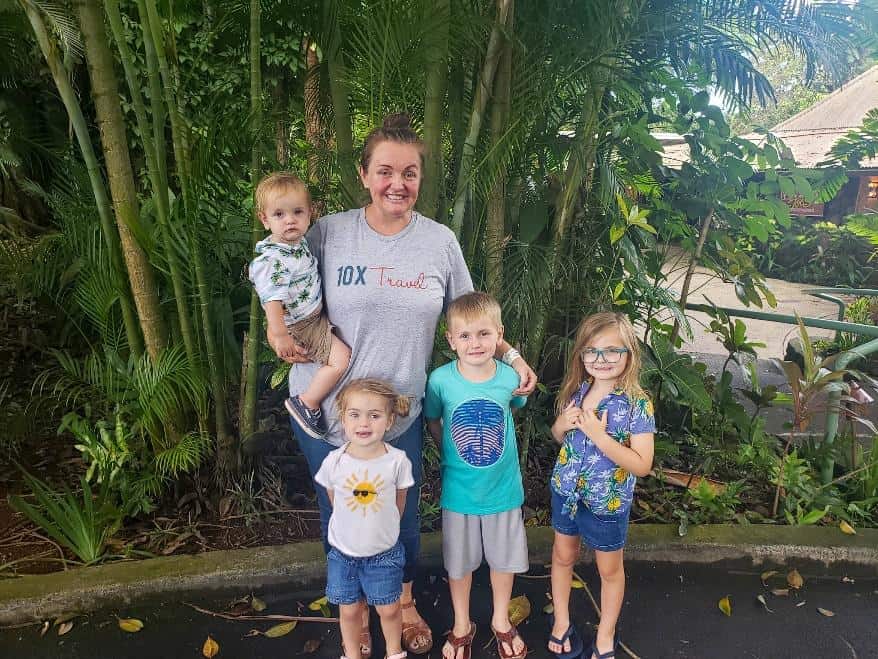 Credit Cards We Used for Points
Chase Sapphire Preferred Card: 50,000 and 60,000 Ultimate Rewards sign up bonuses after $4,000 spend in 3 months
Southwest Rapid Rewards Plus Credit Card: 40,000 Rapid Rewards each after $1,000 spend in the first 3 months
Southwest Rapid Rewards Premier Business: 60,000 Rapid Rewards each (this offer is no longer available)
Chase Ink Business Preferred

: 80,000 Ultimate Rewards sign up bonus (this offer is no longer available, see our credit cards page for the updated one)

Chase Ink Business Cash: $500 cash back sign up bonus after $3,000 spend in the first 3 months
When I found 10xTravel, I had recently hit 5/24 with only the Chase Sapphire Preferred Card and 2 Southwest cards from the recommended card list. During the application process for my Sapphire Preferred, I was offered to add an authorized user for 5,000 bonus points (Chase isn't offering this anymore), so I added my husband and received those points.
After reading the free e-book, we removed my husband as an authorized user on my card so as not to take up one of his 5/24 spots! My husband was at 3/24 and had recently gotten these same three cards I mentioned — a perk of two-player mode! Shortly after joining the 10xTravel Insiders Facebook group, Chase increased the sign-up bonus on the Sapphire Preferred from 50,000 to 60,000 and stopped waiving the annual fee for the first year.
At the initial request via secure message, my husband was denied the higher bonus but within 24 hours, a Chase employee sent another message that they reconsidered and were giving him the additional 10,000 points once he completed his minimum spend requirement!
From July 2018 through July 2019, we accumulated 275,000 Chase Ultimate Rewards points and 220,000 Southwest Rapid Rewards points from a combination of sign–up bonuses and referrals — plus some additional points from our everyday spend.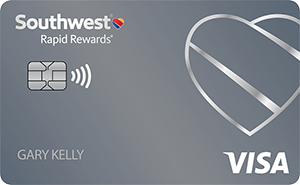 40,000 bonus points after $1,000 spend in the first 3 months
Learn more
Flights Booked with Rapid Reward Points
Dallas Love Field (DAL) to Honolulu (HNL) via San Jose (SJC): 15,610 Southwest points x 3
Honolulu to San Jose: 10,527 Southwest points x 3
San Jose to Dallas Love Field: 6,145 Southwest points x 3
My research led me to choose the island of O'ahu for our family trip since we'd be going with young kids and it seemed like the right mix of activities we were interested in! I think it was the same day the first flights posted for Hawaii on Southwest's website that I booked our flights going there.
Since Southwest doesn't do overnight flights and we would be landing too late in California to fly to Texas that same day, we planned to stay overnight in San Jose on our return. Three out of our four flights had extra seats so our lap infant ended up with his own seat which made for a great experience with Southwest.
We're a family of six, so two of our children are our named companions and one child is still a lap infant, so we used 96,846 points total and paid $84 in fees for our flights!
Our departure day was also the opening day for a new lounge at the San Jose International Airport — The Club at gate A8. I'm new to the Chase Sapphire Reserve and have only had a couple of opportunities to use my Priority Pass perk!
When we arrived at The Club by gate A15, an employee encouraged us to check out the new location. We had already walked pretty far to get to The Club at A15 but, after lounging for a bit, I made the trek with 2 of my kids to make sure we weren't missing out on any opening day specials (I was secretly hoping for macarons).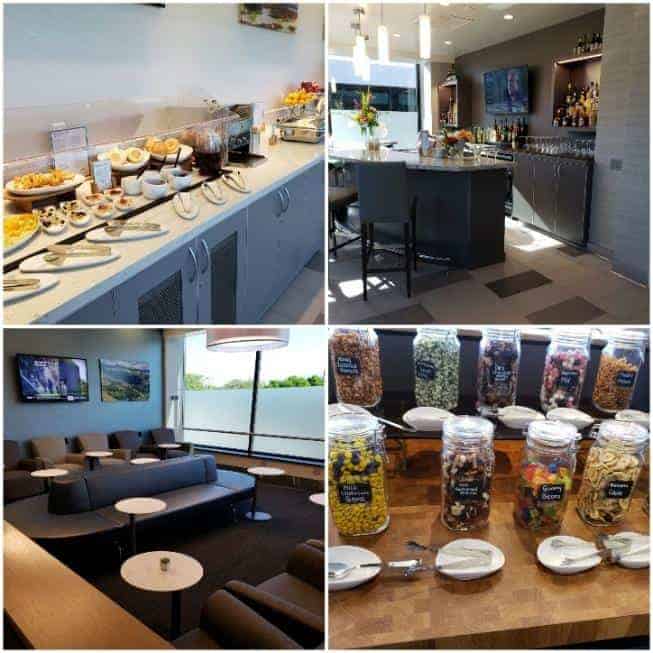 If you fly to Honolulu on Southwest, take note that it's an extremely long walk to exit the airport, give yourself enough time on the return. Also, my GPS really struggled because it seemed to be unaware there is a double-decker freeway of sorts right outside the airport. If you are renting a car from Thrifty or Dollar, pay attention on the shuttle so you can orient yourself and avoid confusion.
Hotels Booked with Ultimate Rewards Points
4 nights Embassy Suites by Hilton in Kapolei: 77,528 Chase points
1 night Courtyard by Marriott Oahu North Shore: 22,532 Chase points
1 night Hyatt Place San Jose Airport: 12,000 Hyatt points (transferred from Chase)
Oahu
Here are the reasons I chose the Embassy Suites by Hilton:
their free breakfast spread,
kid-friendly pool
near Ko Olina and
1 bedroom suite that allowed 6 occupants.
Destination Highlights
Wahiawa, Waikiki, Honolulu, Ewa Beach, Ko Olina
I had really been looking forward to visiting the Dole Plantation with my kids. Our train ride around the property malfunctioned shortly before returning to the station, so we had to walk through a bit of mud. We had dropped a toddler shoe along the ride that a worker brought to us promptly.
Then, there was chocolate, pineapple, ice cream drippings and I, unfortunately, spilled some of a pineapple float on my camera, eek!!! My husband used his shirt to quickly wipe it and then I ran to the bathroom to clean what else I could.
Thankfully, it survived, but we were a mess! We're not huge souvenir shoppers but we do like to get Christmas ornaments on some of our family vacations, so we picked out one from the big gift shop and let the kids pick out something.
I highly recommend trying the chocolate-dipped pineapple! Wish I had some right now!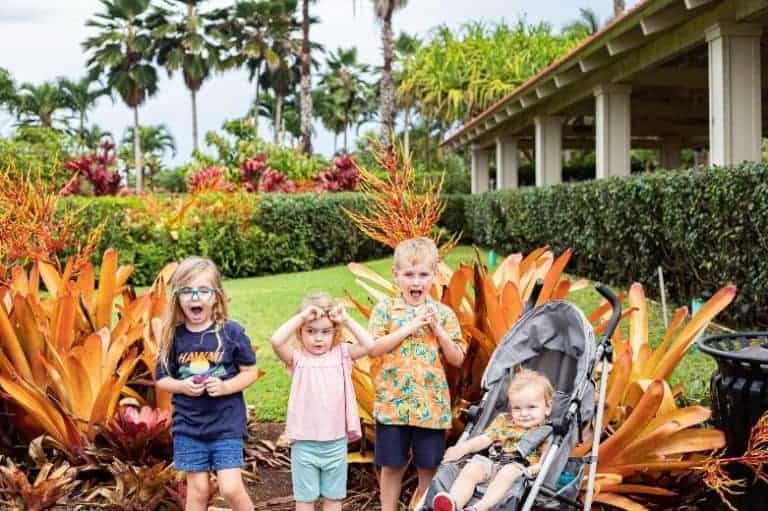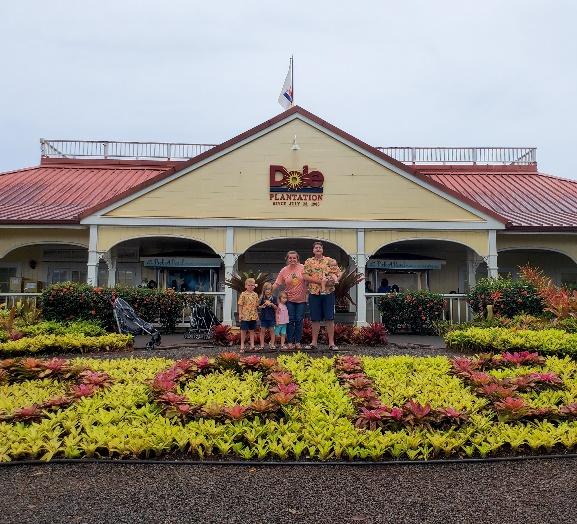 On Friday nights, the Hilton at Waikiki does a free firework show from the beach. We were lucky and found a parking spot quickly. Everybody but our 1 year old fell asleep in the van before the show, so he and I walked around the lagoon for 15-20 minutes.
He normally freaks out when his feet touch sand, but he happily walked on the sandy sidewalk while holding my hand. It's actually one of my favorite things I've done with him one-on-one since he was born and it was a really special experience for me. We grabbed hot dogs and woke up everybody to enjoy the show!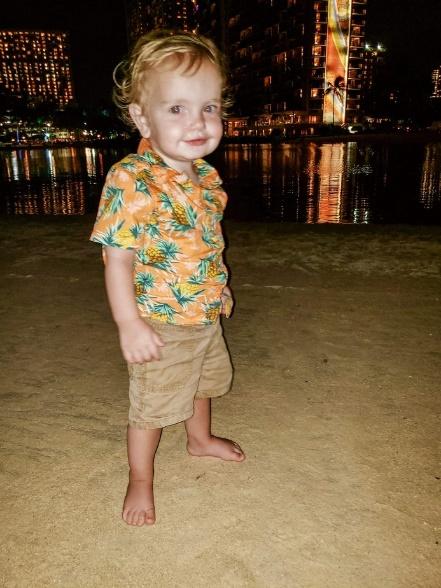 Before the trip, I purchased a few 3-day Go Oahu cards from Groupon, and I clicked through Swagbucks for an additional 8% cash back. We used our Go Oahu cards for 2 Pearl Harbor sites, the USS Bowfin Submarine Museum (the submarine has an age minimum of 4 years old) and The Battleship Missouri Memorial.
The submarine was neat to show our 6 year old. In fact, today he told me there is going to be a WWII book at his school's upcoming book fair and he was able to remember that the submarine he went on played a part in WWII.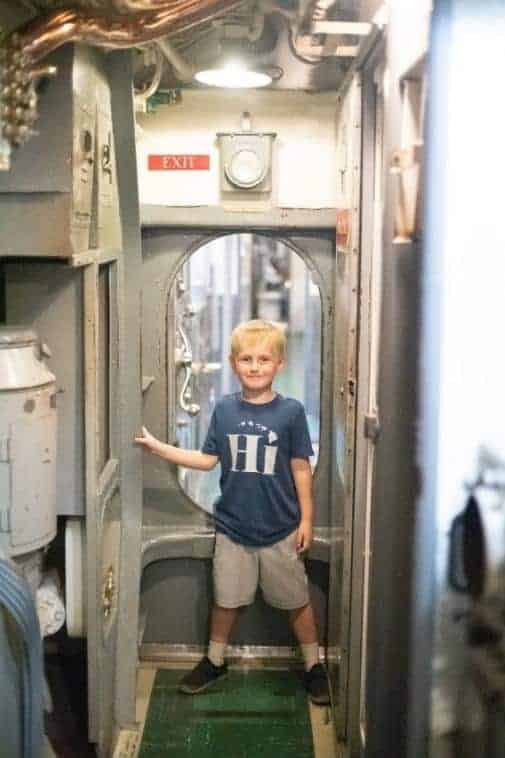 Back home in Texas, a week or so before our trip, I decided to practice taking some sunset photos since I didn't want to leave my husband in a bind supervising 4 small children on the beach while I was playing with my camera settings.
The first beach sunset we saw was beautiful but only blue and I was really hoping for a wide range of colors. Another evening, I was able to go to the beach alone, and when I got my chance, there were 10 minutes left until sunset with a 10-minute drive ahead of me plus parking at Ko Olina.

I went to Secret Beach between Paradise Cove and the Four Seasons Resort and I'm so glad I didn't give up. Sitting peacefully and watching the sky change colors was everything I hoped for and more.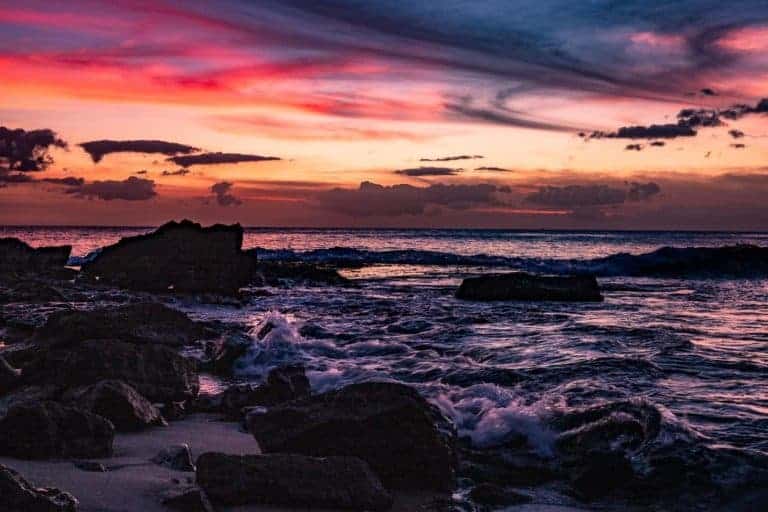 Waimanalo, Kailua, Kaneohe, Ewa Beach
The light blue water and beaches on the southeast side of Oahu are a must-see during your visit. You can go to Lanikai Beach or cruise along the coast for dreamy views! There's lots to do on the east side of the island, and exploring that side of the island was probably my favorite day of our vacation, because it also included getting to spontaneously meet up with a few friends we haven't seen in years!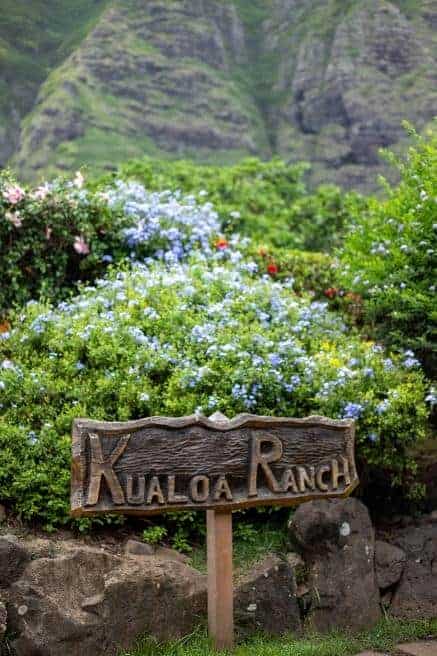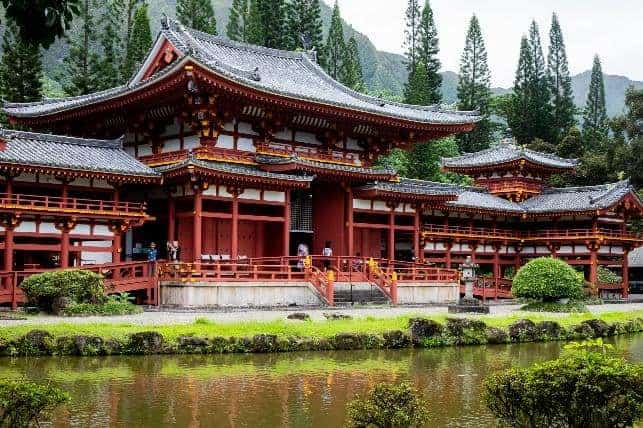 Laie
After 4 nights at Embassy Suites, we moved to the Courtyard North Shore in Laie which is in the northeastern part of the island. It was fun for us to drive around BYU Hawaii and the neighboring temple of The Church of Jesus Christ of Latter-day Saints, since my husband received his Master's Degree from BYU in Utah.
We then spent the day at the Polynesian Cultural Center. Our Go Oahu cards provided access, a luau dinner, and the night show. The drink highlight was a smoothie inside of this pineapple and my kids loved the big island frozen lemonade. I initially got one to share but had to get more quickly.
Drinks while watching the canoe show, Polynesian Cultural Center
The fire dancers during the night show were spectacular! Moving hotels was the way to go, since with some remaining jet lag, it was much appreciated to just walk across the parking lot after a full day exploring the Polynesian Cultural Center.
The much anticipated, and hyped by Mom and Dad for good behavior, Shave Ice. And yes, he got every flavor, why wouldn't he?!
Our favorite food of the trip was haupia. It can best be described as a coconut dessert in the shape of a small rectangle with the consistency of jello or flan. If you're visiting Hawaii, you'll want to get it early and often!
San Jose, California
We stayed one night in San Jose, California on the return to Texas since we lived in San Jose as newlyweds and wanted to show our kids our first apartment and load up on cookies at Specialty's. I transferred 12,000 Ultimate Rewards points to Hyatt to stay at the Hyatt Place San Jose Airport. Breakfast is included when you sign up for a free World of Hyatt membership, and the hotel also has a complimentary shuttle to and from the airport.
Final Thoughts
To summarize the points used for our family of six on a six-night vacation, five nights on Oahu with an overnight layover in San Jose, California:
| | | |
| --- | --- | --- |
| CATEGORY | REDEMPTION | CASH VALUE |
| Flights | 96,846 Southwest Rapid Rewards points + $84 in fees | Without points and 2 Southwest Companion Passes, estimated flight costs would have been around $2,510 |
| Van Rental | 19,902 Ultimate Rewards points booked via the Chase travel portal (1.5 cents per point with the Sapphire Reserve) | Cash price in Chase portal – $298 |
| 4 nights Embassy Suites by Hilton | 77,528 Ultimate Rewards points booked via the Chase portal + $80 parking fees | Cash price $1,162 + $80 parking fees |
| 1 night Courtyard North Shore Marriott | 22,532 Ultimate Rewards points booked via the Chase portal + $15 parking fee | Cash price $338 + $15 parking fee |
| 1 night Hyatt Place San Jose Airport | 12,000 Ultimate Rewards points transferred to World of Hyatt | Cash price $308 |
I'm happy and grateful that I found a hobby in miles and points. Flights, hotels, and car rental would have cost us over $4,000 for this family vacation but we were able to avoid that and only pay $179 in taxes/fees.
We're visiting our 29th through 38th states on a New England road trip next month with flights, hotels, and car on points again! By reading the 10xTravel articles and learning from the 10xTravel Facebook community, I've really started to learn how to maximize my points and miles. I still have lots to learn but I'm excited about what's to come.
My kids are already developing a love for seeing new places. Now that we no longer have to stress about how to get there, we can focus on the new experiences we can have together.
---
10xTravel is part of an affiliate sales network and receives compensation for sending traffic to partner sites, such as CreditCards.com. This compensation may impact how and where links appear on this site. This site does not include all financial companies or all available financial offers.
Editors Note: Opinions expressed here are author's alone, not those of any bank, credit card issuer, hotel, airline, or other entity. This content has not been reviewed, approved or otherwise endorsed by any of the entities included within the post.