In This Article
Loading table of contents …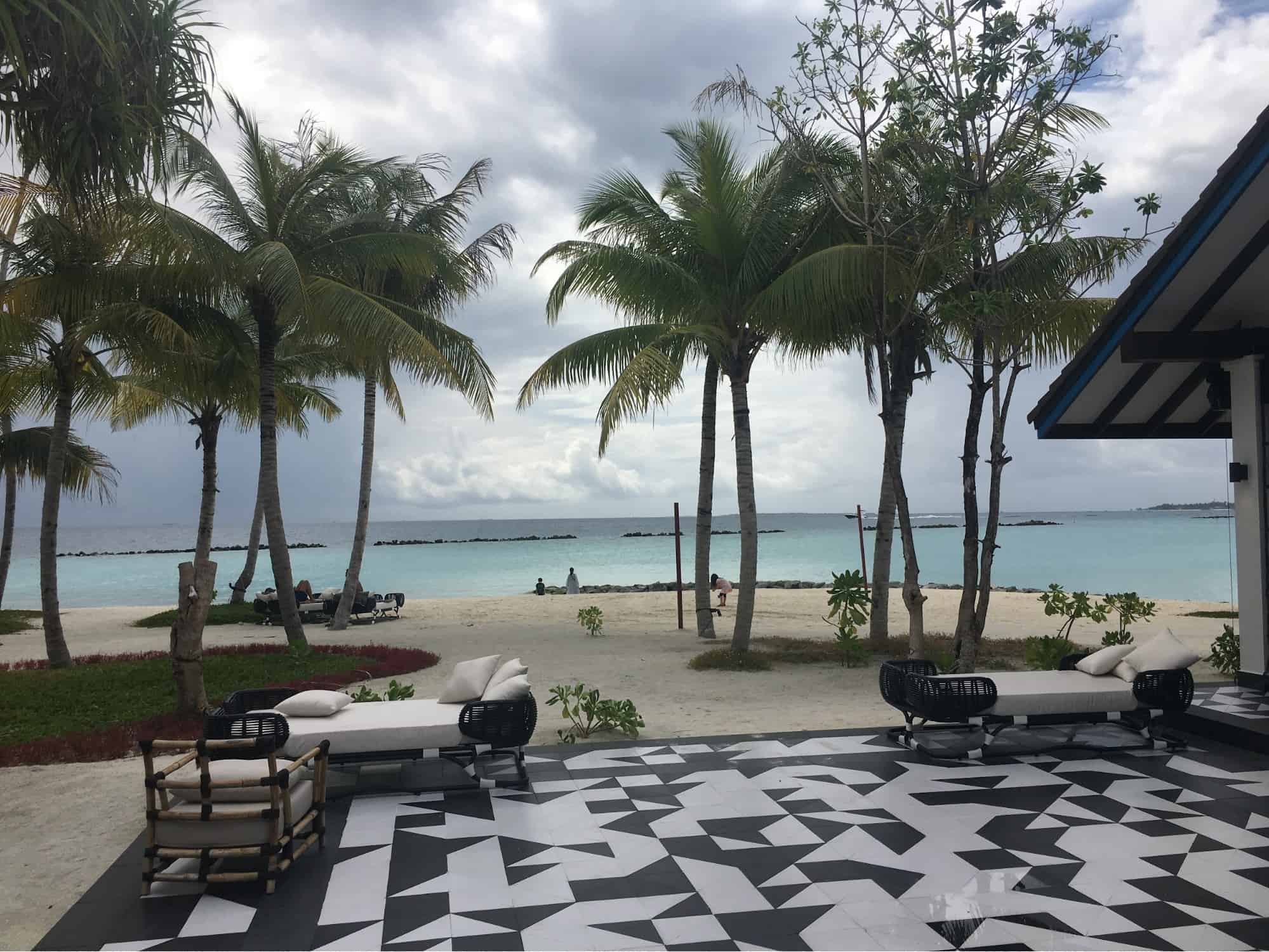 Note: Some of the offers mentioned below may have changed or are no longer be available. The content on this page is accurate as of the posting date; however, some of our partner offers may have expired. You can view current offers here.
After our brief stay in Singapore – the last stop on our around the world itinerary (RTW) – it was time to head to the Maldives for some R&R. I didn't book Maldives as part of the around the world ticket because at the time I was thinking of spending some time on the beach in Thailand.
Krabi was a strong contender, and thus I booked my ticket home from Bangkok. We didn't include the Singapore-Thailand segment in the RTW ticket because we thought we'd buy an inexpensive ticket to Krabi on a nonstop flight with one of Asia's low cost carriers.
However, I couldn't decide where I wanted to go and kept postponing the decision. When I mentioned my indecision to my sister, she suggested we go to the Maldives instead. And I thought, why not?! There are nonstop flights from Singapore to the Maldives and from the Maldives to Bangkok. We weren't sure when we were going to be in that part of the world again, so now seemed like a perfect time.
Getting to the Maldives
The easiest and the fastest way to get to the Maldives from Singapore is on nonstop flights operated by either Singapore Air or Silk Air. I kept checking for award space on Singapore Airlines's website, but there was nothing available.
I ended up booking flights with Silk Air because it operates a morning flight which, including the time difference, would give us almost an entire day in the Maldives. We used Chase Ultimate Rewards points to book the flights through the travel portal. My husband has the Chase Sapphire Reserve, so each point is worth 1.5c through Chase's travel portal. We spent a total of 56,880 Ultimate Rewards points for two tickets (equal to $426 per person).
Male International Airport (MLE) is quite small and the air conditioning in the baggage claim/passport control area is not very efficient. Thankfully, our bags arrived quickly, and after exiting the customs area, we were met by the hotel representative. The rest of the airport is open air, so I suggest dressing lightly for your arrival in Male.
We had to wait for another family to arrive and then were escorted to the hotel's speedboat. I didn't really know what to expect, so I was pleasantly surprised to see that the boat was actually quite large, looked brand new and was fully air-conditioned. It took about 20 minutes to get to the marina that's adjacent to the resort.
SAii Maldives Lagoon Check-In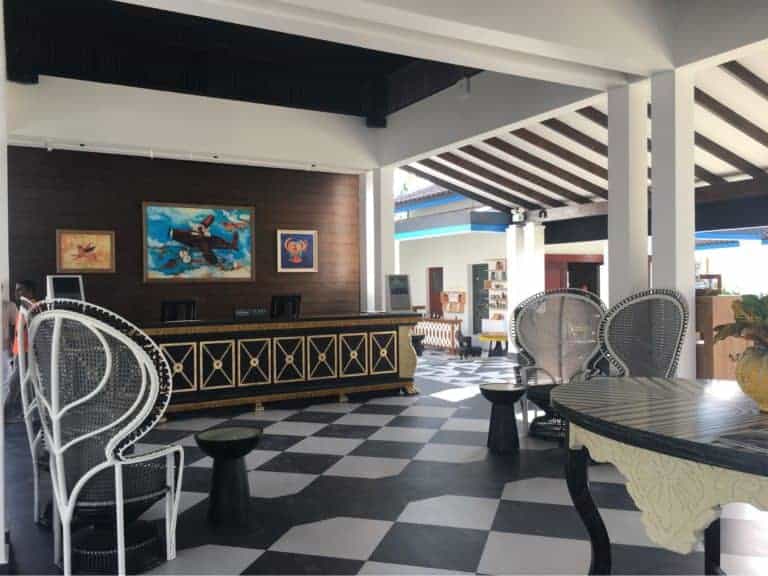 The resort and the adjacent marina complex are very new, as the resort just opened in September 2019. There are no cars, so we were picked up by a staff member in a golf cart.
After arriving at the resort's beautiful open air lobby and being offered a cold drink, a staff member filled out the paperwork and made copies of our passports while we lounged on comfortable couches. She quickly (too quickly in my opinion) went over the resort's restaurants and other miscellaneous things and gave me her WhatsApp number. She said I could contact her with any questions or requests any time during the stay.
My husband is a Hilton Honors Diamond member thanks to his Amex Hilton Aspire credit card, so I asked about a room upgrade. She assured us that the resort is at 100% capacity but we could check if anything became available later on. It was January 3rd, still peak travel season so I left it at that.
The lobby and other areas of the resort have beautiful decor that reminded me of the gorgeous JW Marriott Emerald Resort and Spa Phu Quoc. It was like a toned down version, but had similar cheerful and whimsical aesthetics.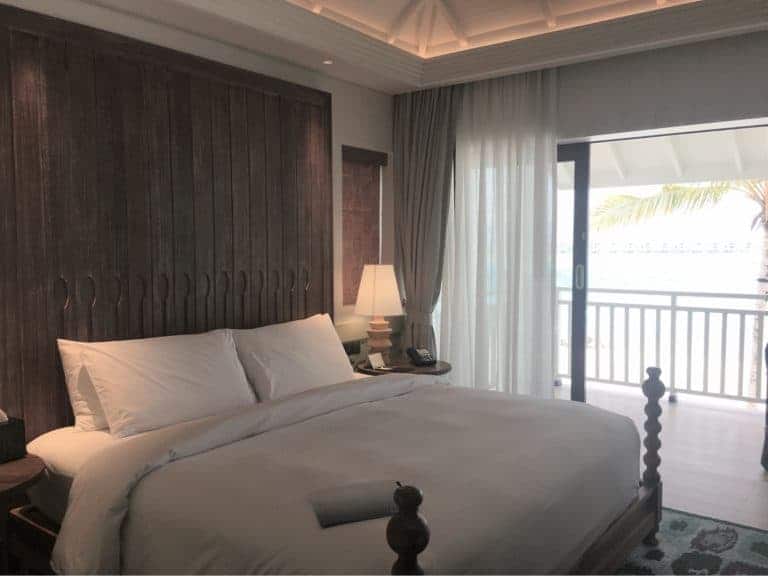 We hopped into the golf cart again and were taken to our room. I usually book the most inexpensive room, and at this resort, all rooms are beachfront. We were assigned a king room on the second floor of a small two-story building. There were eight rooms, four on each floor, and the beach was just outside.
Second floor rooms have balconies and first floor rooms have walk out patios. If you are staying on the first floor, you can just walk out and be on the beautiful Maldivian beach in seconds.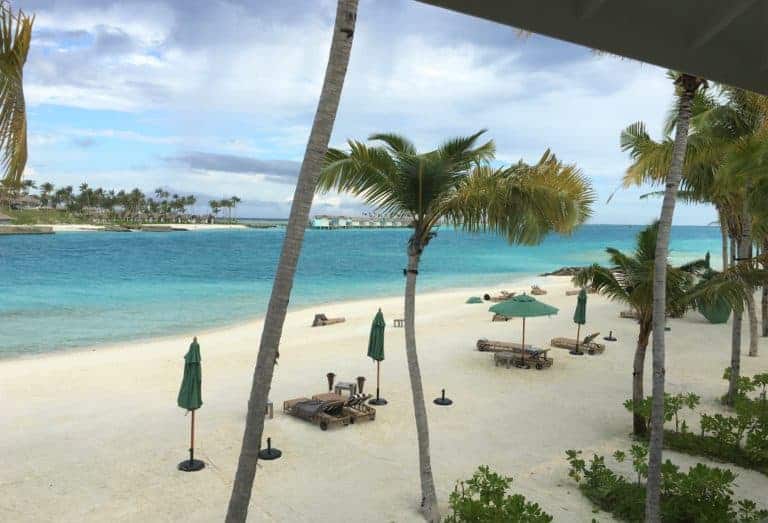 The room wasn't huge but had a nice size bathroom that was fully enclosed with a regular, solid wood door. I am not a fan of the open floor trend in hotel room design, as I like my privacy, so it was perfect!
Our room had a huge king bed, a day bed and an armoire that held the minibar. The closet was a good size, and more than enough for all of our stuff.
Diamond benefits at this resort include a welcome bottle of champagne and some chocolates. These were already in our room, and the champagne was chilling in the ice bucket.
We were so excited about finally making it to the beach that only a couple hours later my husband pointed out that there's no desk or table of any kind in the room. There's a table and two chairs on the balcony, but it was too hot to spend more than a few minutes outside.
Working isn't on many travelers' agenda when they come to the Maldives, but when you travel as much as we do, a work surface is a must. Even if you order room service, and want to eat it in your cool room instead of sweating outside, there's nowhere to put a tray or a plate of food. There were also no chairs of any kind, except for the two bulky armchairs on the balcony.
My husband talked to the front desk about possibly bringing in a small table and the next morning the housekeeping staff arrived with a small table, just big enough for a laptop and a chair. They moved the daybed to the balcony and freed up enough room for the new table.
The daybed isn't functional anyway, and I don't think it's meant for a third person in the room to sleep on it, and it was taking up a lot of room. The room instantly felt much more spacious and a lot more functional with the daybed out of the way.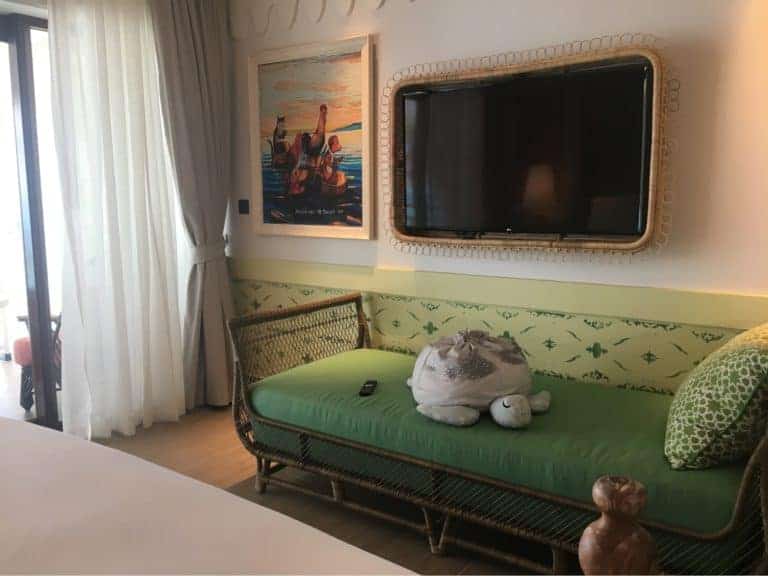 There were also a lot of knickknacks in the room and in the bathroom, like decorative vases and other "décor". My taste runs more minimalist, but even from a practical standpoint, they were just more things that collect dust and take up space.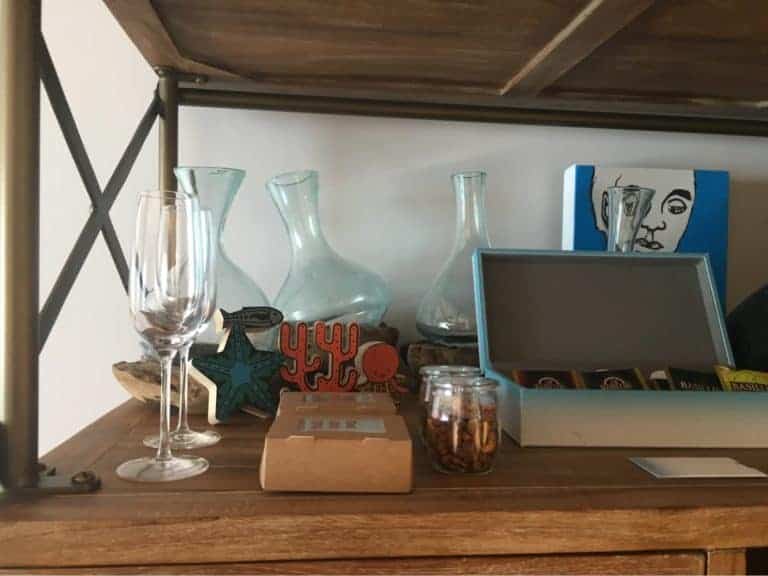 The bed was huge and very comfortable, the linens were beautiful and everything felt brand new. The A/C was efficient, if a tad noisy, but very good overall. The blackout curtains were great, with the exception of the Roman shades on the two small side windows.
I am very sensitive to light when I am trying to sleep, but the tiny amount of light seeping through the Roman shades didn't bother me too much. Besides, who wants to sleep in when there's a beautiful beach just a few steps outside! We didn't hear any noise from the neighbors, so overall, I'd give sleep quality 4.5 stars.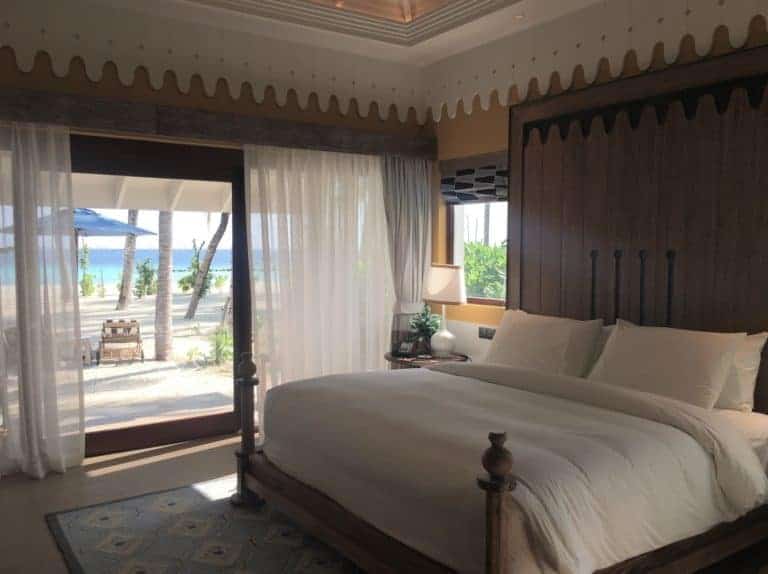 SAii Lagoon has just three rooms categories: standard rooms, beach villas and overwater bungalows. I kept checking with the front desk about the room upgrade because I could see that all types of rooms were bookable online. They finally told me that for the last two nights they could move us to a beach villa.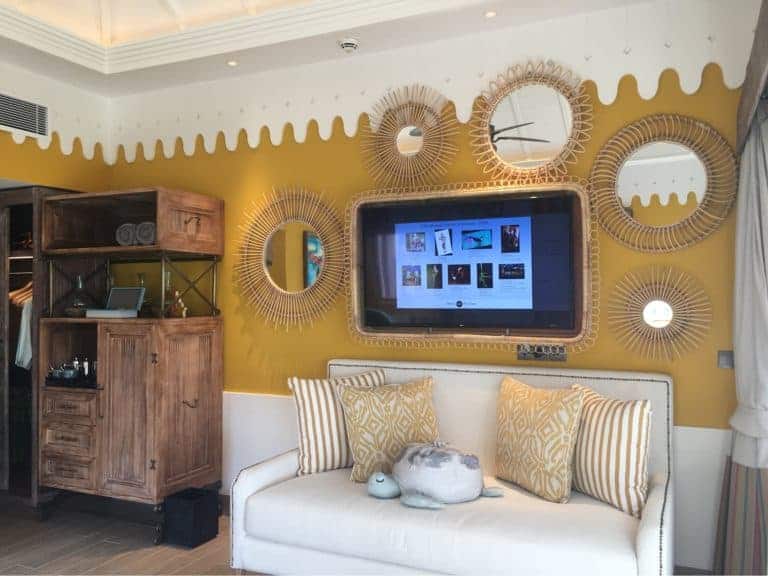 We gladly accepted the offer and I am so glad we moved rooms! The beach villas look like small duplexes, two rooms to a building. This wasn't a suite, but rather a larger version of our original room.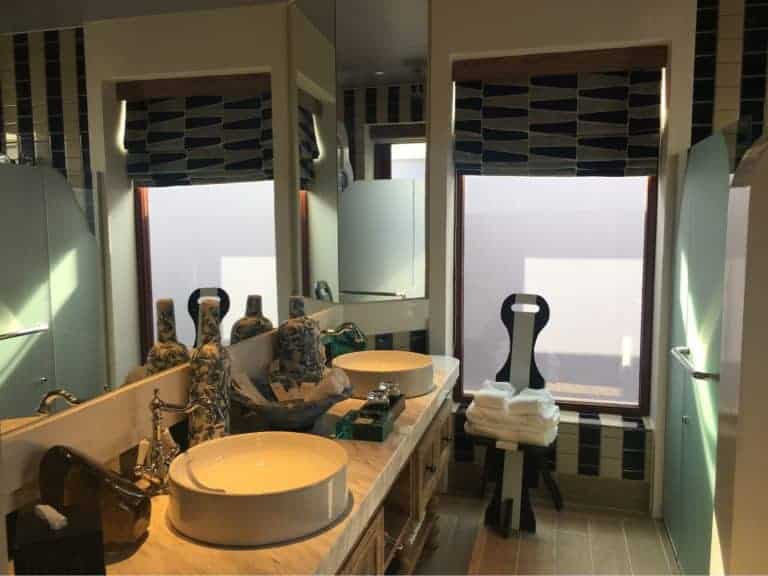 The bathroom was also a bit larger and there was an outdoor shower and tub accessible both directly from the beach and from the indoor shower. I can't imagine anyone wanting to actually take a bath outside, unless it was an ice bath. The outdoor shower was great for washing the sand off after coming back from the beach. The tall walls around each villa assured the utmost privacy.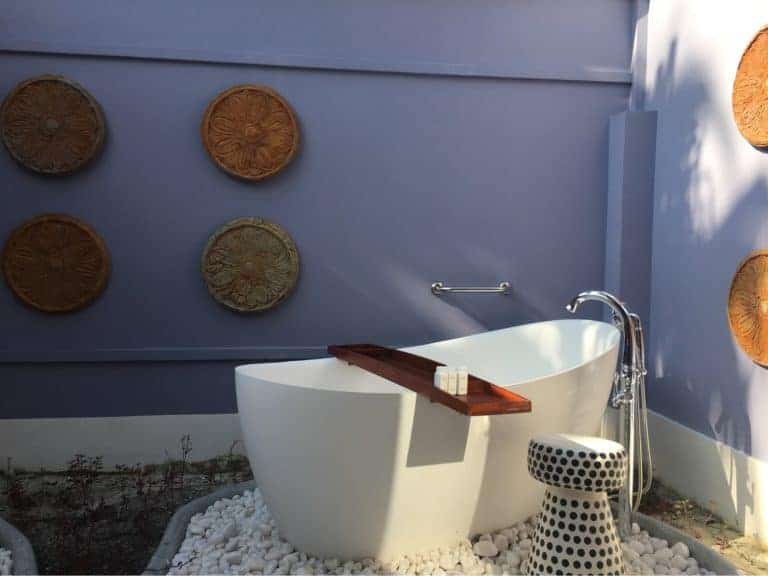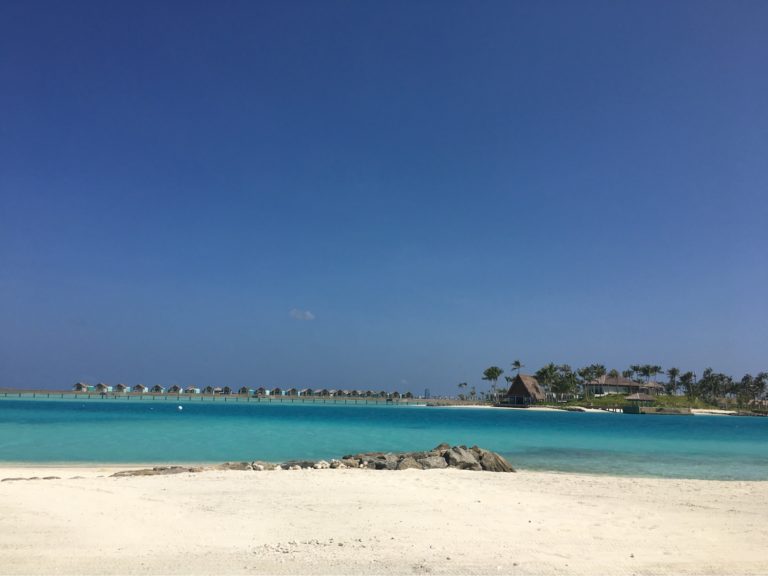 Now for the best part!
We came to the Maldives for their famous white beaches and the beautiful azure sea and we weren't disappointed – I've never seen the water this blue! I love to swim in the ocean, as I am not a pool person at all, and every day I spent hours in the water. The water was the perfect temperature, not too warm but still very refreshing. There were no waves and no surf. Even on windy days, the sea remained calm with just a touch of ripple.
I brought my swim goggles that I use in the pool at home, and I swam "laps" up and down the beach. Even if you aren't a big swimmer, I strongly recommend bringing a pair of tinted swim goggles. You can protect your eyes from very salty ocean water and the beating sun. The Maldives are so close to the equator, after all.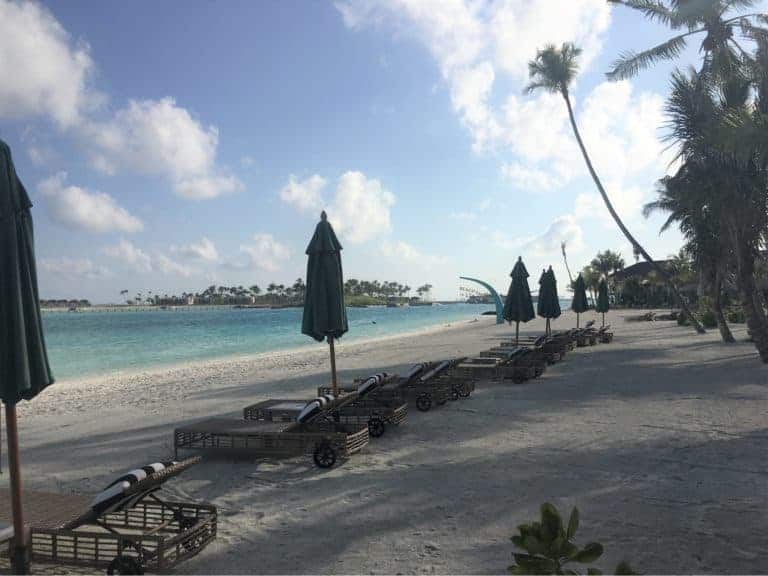 The resort occupies a whole atoll, and there are beaches all around it. The best beach for swimming is on the side where most of the resort's buildings are located. Our beach villa was on the opposite side of the atoll, and the beach there is too shallow and too rocky for swimming.
The beaches never looked or felt crowded and there were plenty of beach chairs – no need to claim your chair early in the morning. There was no loud music or any other noise on the beach where I spent most of my time.
Unfortunately, there was no beachside service and no water. I do wish there was cold water available because anything you bring with you becomes warm in a matter of minutes.
There were also no showers or anywhere to rinse the sand off your feet. When I asked a staff member about tracking all this sand into the room, he just said that housekeeping would sweep the room.
When we checked in, the beach towels were already in the room. There are no towels on the beach at all, and you could leave the used towels on the chair when you leave for the day and ask the housekeeping for fresh ones. There was also a beach bag and two pairs of flip flops.
The white sand is tightly packed and in places feels quite hard and prickly, for lack of a better word. I could see a lot of crushed coral and shell mixed in the sand, and, surprisingly, it never got too hot to walk on.
There are some small stones and bits of coral at the water's edge and some places have more of these than others. I am very, and I mean VERY, picky and particular when it comes to this type of stuff, but I didn't mind it too much. I'd recommend water shoes for kids, though.
The half moon-shaped pool isn't huge but was nicely situated on the edge of the beach. We didn't spend any time there, as the ocean was just too beautiful! The nearby pool bar played loud music, so that was another deterrent.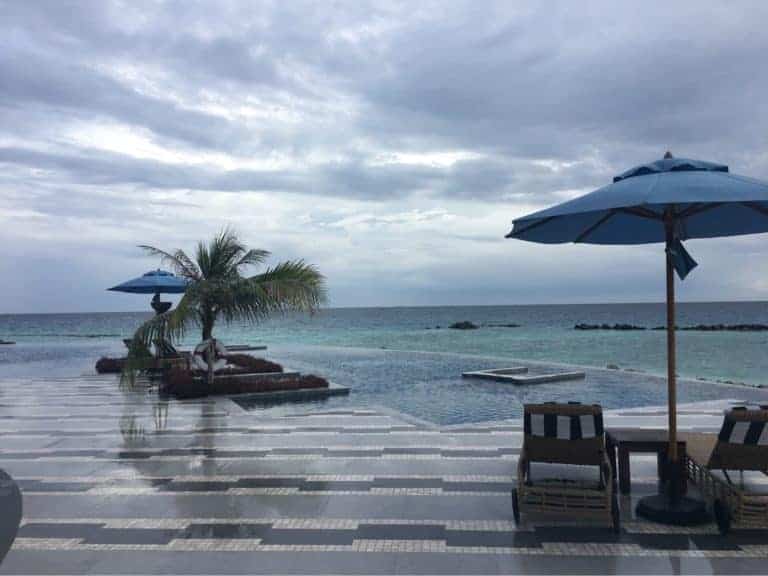 The Coffee Shop and Restaurants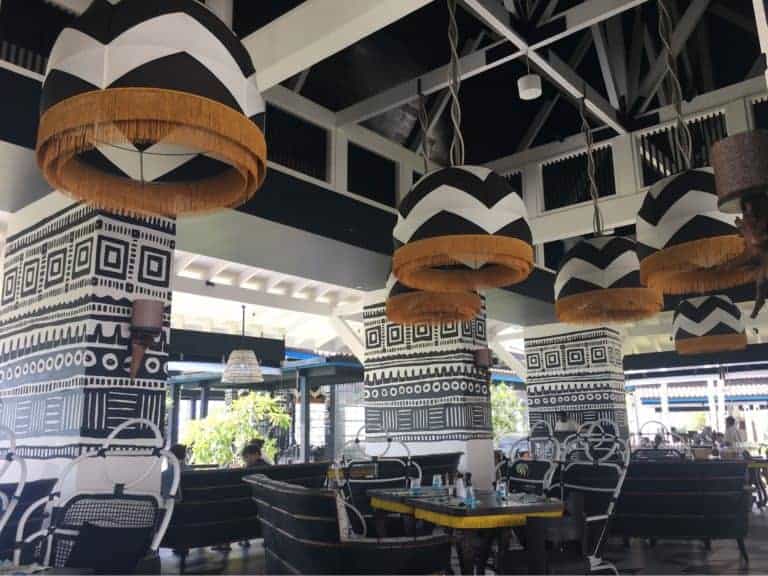 Diamond benefits include free food and drink at the Coffee Bean/Co coffee shop from 4:30 to 6:30 P.M. and one free drink a day at the poolside bar.
On our first day there, we went to get a snack at the coffee shop around 4:45 P.M. and found it was already very crowded. It is tiny, so even five or six customers seem like a crowd. They didn't have about 30% of the menu items and the two staff members, while working really hard behind the counter, couldn't keep up. The line got longer and longer and the customers got more irritable with each other – it became quite chaotic.
There was nobody available to clean the couple of tables that were there, and they became crowded with dirty dishes. I don't blame the coffee shop staff since they were working as fast as they could taking and filling orders, as well as operating the cash register. This seemed quite inefficient system during these two hours when Diamond members don't need to pay.
Ironically, this tiny coffee shop is the only place with AC at the whole resort. They keep the doors open all the time, so you hardly feel the AC but it's better than standing outside in the hot sun.
In my opinion, that's not the way to treat your most loyal customers. Hilton definitely didn't think this through. Compared to other hotel lounges I've been to, this is a big fail on the hotel's part.
The other two restaurants are both outside. The Mediterranean restaurant, Miss Olive Oyl, serves lunch and dinner. I ate lunch there a couple of times, and the food is very good, but, as everything in the Maldives, on the pricey side. I really wished they had indoor seating for those of us trying to escape the midday heat, but no such luck.
At dinner this restaurant doesn't have an a la carte menu and is buffet only. At $75 plus mandatory 10% service charge, plus 12% tax, a dinner would've cost us almost $200, not including drinks. I know this is the Maldives, but we couldn't overcome our natural frugal tendencies, so we never tried the buffet.
The other on-property restaurant, Mr. Tomyum, is tiny with just a few tables outside on the beach. It serves a fusion of Thai and Italian cuisine, a strange combination, by the looks of it. Because it's so small, it's booked several days in advance.
The pool bar also serves food and the menu looks identical to the room service menu. A glass of wine or a beer would run you about $6-10 and everything else cost upward of $10.
The resort is attached to the marina that also has a few restaurants. All of them have air-conditioning and that's where we had dinner every night. It's strange that the resort is sending its guests off property, especially those looking for some respite from the heat.
The marina restaurants we tried were just OK, and the prices were slightly more reasonable.
I ordered room service for lunch one day and the food arrived hot and fresh. I've never room service before, but it was a particularly hot day, and the last thing I wanted to do was to walk to the marina or sit outside at Ms. Olive Oyl.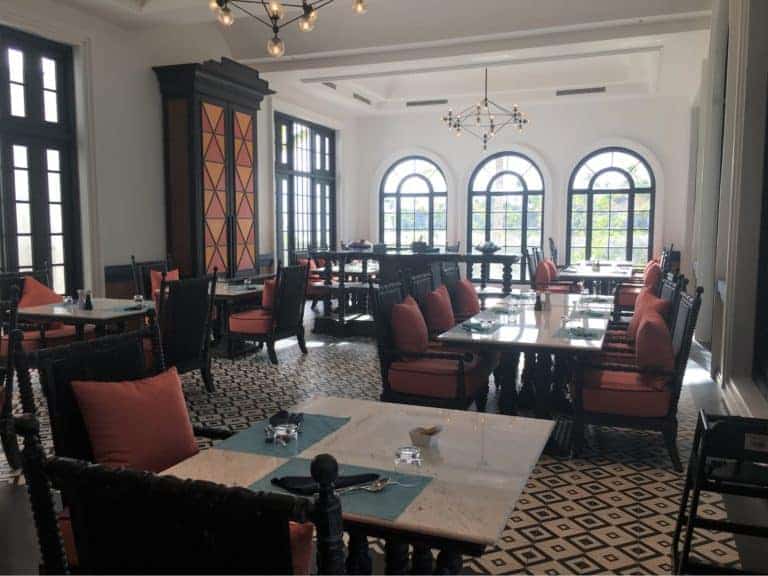 The included breakfast was served at Café Del Mar which turns into a beach club during the day. There was a good selection of hot and cold dishes. Strangely, there was no cheese except the cream cheese for a couple of days. Not a big deal, but we found it to be odd. There were also quite a few Indian and local dishes.
The food that was supposed to be hot, like waffles, French toast and frittata, was usually cold, even when they were out for a very short time. The heat lamps didn't keep them hot for long.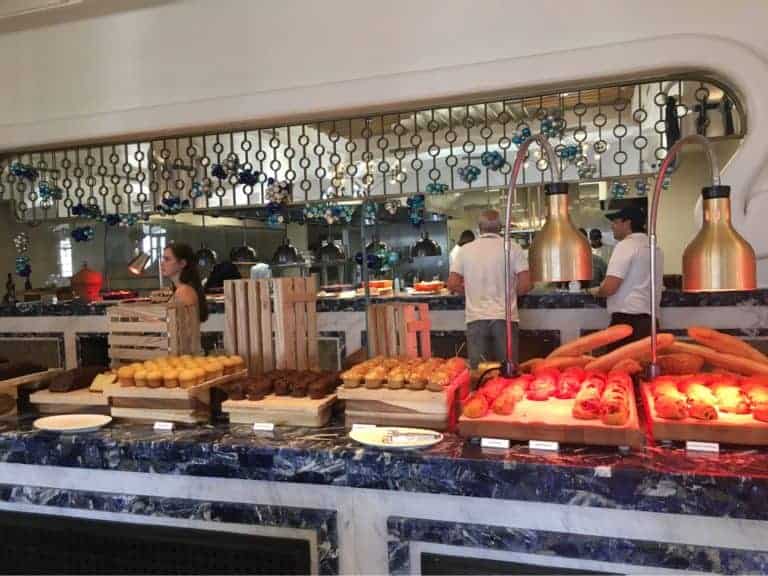 I was looking forward to having some tropical fruit or some freshly squeezed juice, but the most exotic thing on offer was dragon fruit and there was no fresh juice.
I wished there was a self-serve coffee machine because the table service was painfully slow. This is something I've noticed at other restaurants as well. The first couple of days the resort was full, but the last three days there were far fewer people at breakfast. The service didn't get any faster, however.
I can't eat gluten, so I was pleasantly surprised to see gluten-free bread, muffins and cereals.
I'd give the breakfast four stars overall.
Service
Overall, the service was inconsistent. The staff was uniformly polite and friendly, but there were some lapses in service at this five star property. They also need to improve the service and the food availability at the coffee shop or come up with a better way to provide benefits to Diamond members.
When we moved rooms, we were given the time frame when the new room would be ready and were asked to call the front desk when we packed our bags. We called and waited, but no one came for over 30 minutes. We tried calling again and got a busy signal.
When someone finally answered, she just said she'd send the cart for our stuff when one's available. In the end, we ended up waiting for an hour to move rooms. At a lesser property, that wouldn't phase me, but I wasn't expecting it here. I hope these are just growing pains and the service will improve as time goes on.
There's no resort map anywhere and there are no paper maps. They are trying to eliminate paper waste, and I am totally on board with that, but one big resort map in the lobby would have been very helpful.
Similarly, there is no room service menu, or any other paper in the rooms The room service menu can only be viewed on the in room TV. On the day when I wanted to order some food, our TV decided to malfunction and wouldn't connect to the internet. I called the front desk and they've reset it. Not a huge deal at all, but just another minor annoyance.
I applaud Hilton's attempt to eliminate waste but there should be a way for guests to find out about resorts facilities, activities and services without having to ask a million questions.
How I Booked SAii Lagoon Maldives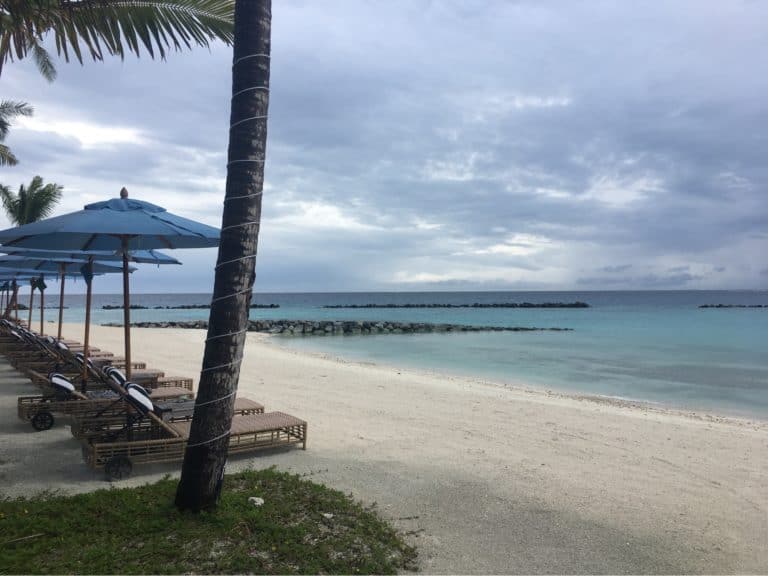 We stayed for five nights, three of which fell on the weekend. I used three free weekend night certificates that my husband and I have accumulated from various Hilton cards. Being able to book expensive upscale properties with free night certificates is one of the reasons I am not afraid of credit cards annual fees.
Play your cards right (pun intended) and you can get an outsized value out of the annual fees. Our two other nights were booked with points, 85,000 Hilton Honors points each.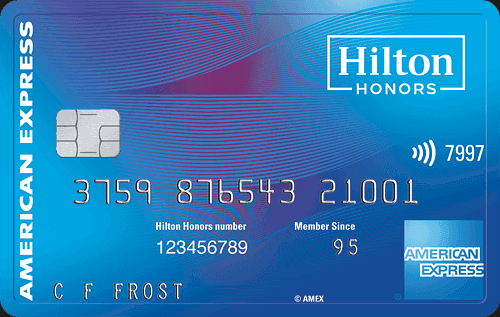 Hilton Honors American Express Card
Hilton Honors Bonus Points
after you use your new Card to make $1,000 in eligible purchases within the first 3 months of Card Membership. Plus, earn an additional 50,000 bonus points after you spend a total of $5,000 in purchases on the Card int he first 6 months
Departing the Maldives
I was hoping for the same type of large comfortable boat to take us back to the airport, but I didn't get my wish. This time the boat was much smaller and it was a much bumpier and rougher ride than the first time. I've never been happier to reach terra firma!
Most of the airport is open air but the international departures area, thankfully, has AC. Right at the entrance there's an X-ray machine and all luggage has to be screened. It looked like once you enter, you won't be able to leave. That turned out not to be the case, as you can come and go, but you'll just have to get everything x-rayed and go through the metal detector again.
Why is this important? Because there's no food and no lounges, except for a small coffee shop, inside the international departures area. The resort dropped us off at the airport 2.5 hours before departure, a standard practice, I think. So if like us you have an economy flight to catch, you might want to get something to eat at the airport.
We had more than enough time at the airport and were hoping to use the Priority Pass lounge in the international terminal, but it seems that the lounge is closed for good. There was another lounge in the domestic terminal a few minutes walk from there. Because we weren't sure if we can exit the international departure area after dropping off our bags, we headed there with all our stuff (the luggage carts are, thankfully, free).
The lounge is located on the second floor and was very crowded. It has a shower, but very little food or drink, only some sad looking sandwiches. There's no alcohol, just soft drinks, water and juice. In the short time we were there, I've seen a lot of people pay to enter and I was so glad we had free Priority Pass membership thanks to Chase Sapphire Reserve.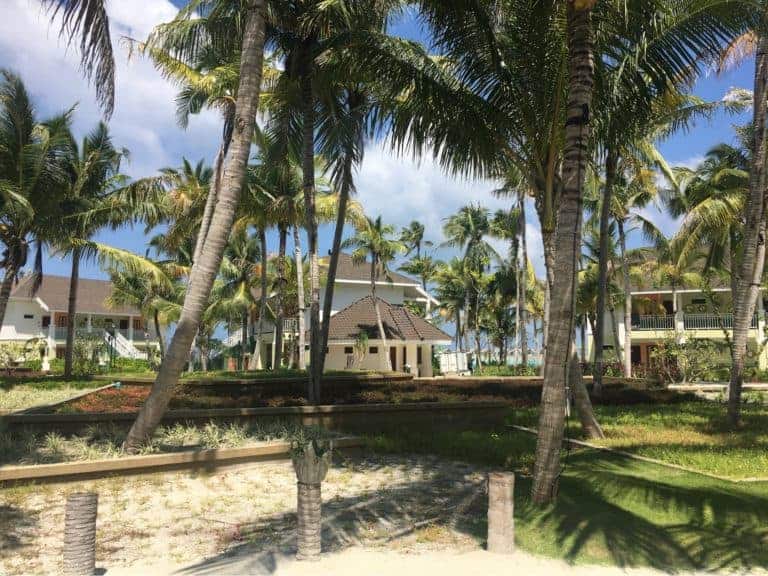 Maldivian Air
There aren't a lot of nonstop flights from the Maldives to Bangkok, but one of the options is Maldivian. Surprisingly, Google flights didn't find this airline. When I checked Kayak, Maldivian popped up at half the price of other airlines!
I've never heard of this airline, and the site is quite rudimentary, so I wasn't sure what to expect.
When we got through the first airport screening and went to check in at the counter, we were surprised to see no lines and no other passengers waiting. The agent said the flight's "empty" and we each had a row to ourselves. I can't remember the last time I saw so many empty seats!
Once we got our boarding passes, we headed upstairs for passport control and another security screening. That part of the airport looked thoroughly modern, with efficient AC and a huge duty free shop. Again, there were no lines and we breezed through. I didn't even have to take out my laptop or anything else out of my carryon.
There are only six international gates and the gates don't show on the departure display till almost boarding time.
The onboard service was pretty decent, and we were even served dinner. It was typical airplane food, nothing fancy, but the fact that food and non-alcoholic drinks are free is remarkable in this day and age. The ticket price also included seat assignments and checked bags.
Final Thoughts on the SAii Lagoon Curio Collection by Hilton
The clientele at Saii Maldives Lagoon was a good mix of families and couples. Besides sunrise yoga, I've only seen one other activity for families during our five night stay. The main attractions are definitely the beach and the ocean. You can get the kayaks for free, but windsurfing, snorkeling and diving excursions all cost extra.
Everything in the Maldives is very expensive. You might book a hotel with points but boat transfers, seaplanes, food, activities and everything else are going to be pricey. One of the reasons I booked SAii Lagoon is because it's close to the airport, just a 15 minute boat ride. The boat "only" cost $148 per person including tax.
There was a mandatory 10% service charge added to everything and 12% tax on top of that. The resort also charges $12/day "green tax".
Before I left the U.S. I did some research and bought reef-safe sunscreen. A few environmentally vulnerable places around the world are considering banning regular sunscreen. The Maldives have no such laws yet, but it's so easy to take these small steps to help preserve the world's natural beauty.
We enjoyed our stay but we aren't sure we'll go back any time soon. While there are a few great ways to get to the Maldives with points and miles, the country is so far from everything. Maybe if we go to Southeast Asia again, we'll tag on a visit to the Maldives again.
Travel well,
Anna
New to the world of points and miles? The Chase Sapphire Preferred is the best card to start with.

With a best-ever bonus of 100,000 points after $4,000 spend in the first 3 months, 5x points on travel booked through the Chase Travel Portal and 3x points on restaurants, streaming services, and online groceries (excluding Target, Walmart, and wholesale clubs), this card truly cannot be beat for getting started!
Learn More
Editors Note: Opinions expressed here are author's alone, not those of any bank, credit card issuer, hotel, airline, or other entity. This content has not been reviewed, approved or otherwise endorsed by any of the entities included within the post.