Note: Some of the offers mentioned below may have changed or are no longer be available. You can view current offers here.
Social Distancing Saturday is a new series by 10xTravel that shares ideas for how to pass the time while you are doing your part to prevent the spread of COVID-19 by engaging in #SocialDistancing. These pieces will not be directly related to points, miles, or travel, but rather are being shared just to help bring some joy to anyone who needs it in these difficult times.
Happy Social Distancing Saturday!
Today will actually be the last Social Distancing Saturday post that we publish on 10xTravel. With many states having already begun the process of reopening it feels like the right time to be done with these.
That's not to say that we are encouraging people to go out and participate in a "bobbing for apples" competition every Saturday. Don't do that.
But do get out there and try to return to as "normal" of a life as you can while following current guidelines to protect yourself and others.
Anyway, I think we might have saved the best #SocialDistancingSaturday post for last. I know this because today's post involves 10xT giving away a home bar & cocktails to one lucky reader. More on that in a bit.
But first, allow me to introduce you to what is easily the coolest gadget I have in my home right now, the Drinkworks® Home bar by Keurig®.
In This Article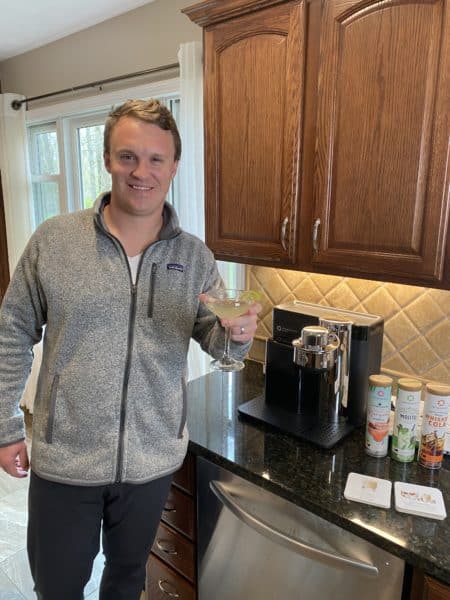 Meet Drinkworks
The Drinkworks® Home Bar by Keurig® ("Drinkworks") is a small and affordable machine that allows you to make a variety of bar quality cocktails from the comfort of your home in a matter of seconds.
I find that this product needs very little explanation thanks to the incredible popularity of Keurig coffee machines. If you're like me you've probably already thought to yourself "wouldn't it be great if Keurig made a Keurig but for cocktails?"
Well they did.
Its called the Drinkworks® Home Bar by Keurig®.
And its awesome.
How Does It Work?
Like its coffee-making cousin, the Drinkworks Home Bar utilizes pods and water to make its tasty creations in a matter of seconds. Simply place the pod in your Drinkworks, push start, and let the machine do the rest.
Here's a quick video of me making a Moscow Mule on a weekday afternoon. You know, for research purposes.
The pods themselves are slightly larger than Keurig coffee pods and are filled with real ingredients and natural flavors, including alcohol.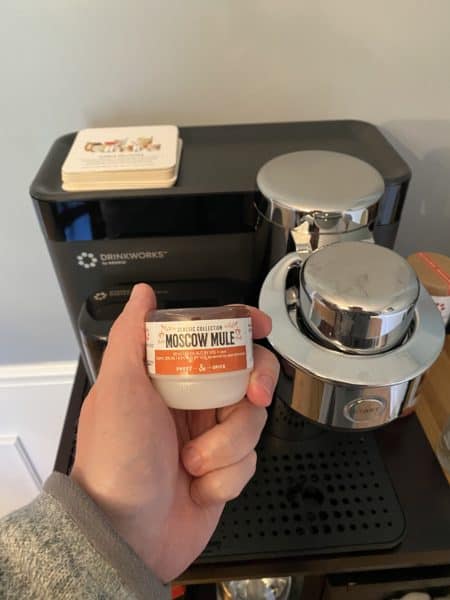 Most importantly, the pods only contain liquid. Not powder. One should never drink a cocktail that is made with powder.
The drinks come out of the machine ice cold, refreshing, and delicious.
Believe me, I was incredibly skeptical at first. I generally have low expectations for any cocktail not made by a hipster with a mustache wearing a suit vest.
But I have been pleasantly surprised by the quality and freshness of the dozen or so different types of cocktails that I have "tested" so far. The margarita in particular is fantastic.
Speaking of cocktails, let's talk about which types you can make with your Drinkworks.
What Types of Cocktails Can You Make?
Drinkworks currently offers more than two dozen different types of drinks, with more on the way very soon (including Jack Daniels Lynchburg Lemonade, which launches on Monday). You can make everything from a White Russian to an Old Fashioned without having to stock multiple types of expensive mixers or liquors in your home bar.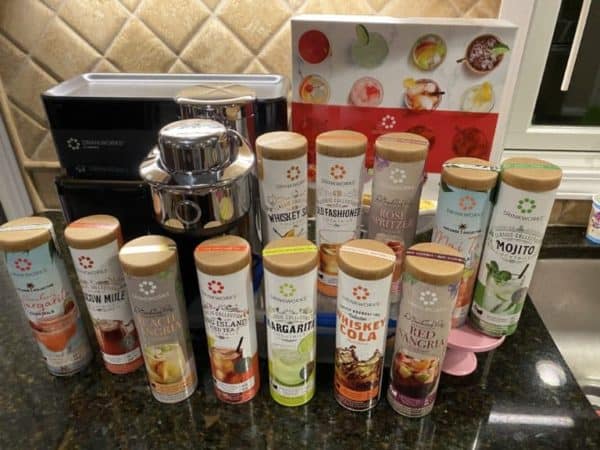 The ability to choose between so many different types of cocktails is perhaps my favorite thing about having a Drinkworks Home Bar. I hop from a Moscow Mule to a Mojito and back again as if I were the guest of honor at an open bar wedding.
I also find that I don't need to have an "occasion" to have a fancy cocktail. Simply surviving another day of quarantine is reason enough to make a delicious strawberry margarita. Two of them if it was a particularly difficult day.
Oh, and I don't have to feel guilty because each cocktail only costs ~$4. Which is a fraction of the price I would pay for that same cocktail if I were ordering it at a trendy bar. At that price I am tempted to take my Drinkworks out to the front yard and open an adult lemonade stand of sorts.
Speaking of feeling guilty, let's talk about the environmental impact of these pods for a moment.
What About the Used Pods?
Drinkworks sends you a pre addressed mailing pouch to collect your used pods and send them back for recycling. Simply place your used pods in the pouch, mail it, and know that your desire to enjoy craft cocktails isn't damaging the environment.
Watch this next video closely to ensure you do it correctly. The process is prettyyyyyy complex.

So how do you get one of these for yourself?
How to Get Your Own Drinkworks Home Bar
You can buy your own Drinkworks home bar right now for just $199 if you purchase before midnight on 5/10.
Yes, you read that right. $199 and shipping is free.
After 5/10 the price goes back to its regular $299, but you can save $50 by ordering via our 10xTravel affiliate link.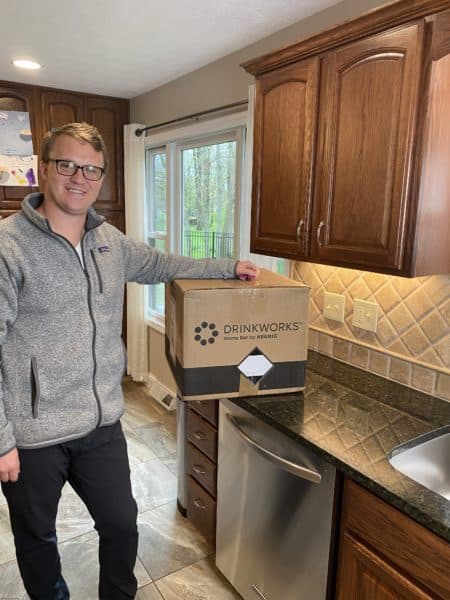 When I first saw this machine I assumed it would go for $350+ (and gladly would have paid that price for it). $199-$249 is a no-brainer.
Oh and by the way, your mother called. She said she wanted a Drinkworks Home Bar for mothers day.
One catch though, as of right now you can only buy one of these beauties if you live in AZ, CA, PA, FL, MO, NY, MA, KS, WA, IL, or Houston, TX. And of course you have to be 21 or older because the pods have alcohol in them. Here's to hoping that recent world developments will help additional states to see that delivery alcohol is an essential part of remaining sane during these times.
The Drinkworks Home Bar is the perfect "treat yourself" gift for any loved ones in your life. Including yourself.
And let's be honest, you could easily buy one of these with the money that you haven't spent at bars over the past couple of months.
But at least one of you won't have to buy one because……
We're Giving Away a Free Drinkworks!
That's right! One of you reading this is going to win a free Drinkworks Home Bar to be shipped right to your door.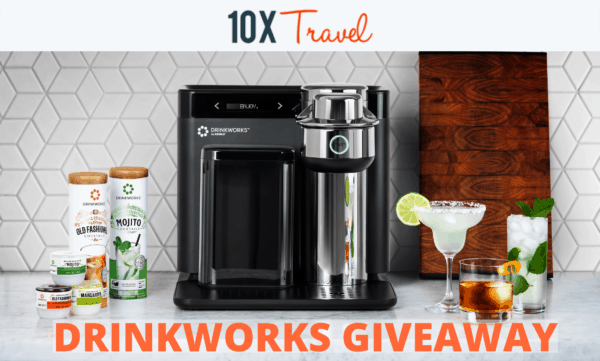 To enter, simply fill out this google form.
One winner will be drawn at random on Wednesday, May 13th, at 5pm EST.
Must be 21+ to enter
Must be a resident of AZ, CA, PA, FL, MO, NY, MA, KS, WA, or IL
Limit one entry per household
No purchase necessary
Again, you must be a resident of AZ, CA, PA, FL, MO, NY, MA, KS, WA, or IL to enter this contest. Otherwise we will not be able to ship this to you.
For those of you who do not live in one of these states, you might consider writing a letter to your state and local representatives to ask them to reconsider their laws around the shipment of alcohol to their constituents.
That's all for today. Good luck!
Happy Travels,
Bryce
---
10xTravel is part of an affiliate sales network and receives compensation for sending traffic to partner sites, such as CreditCards.com. This compensation may impact how and where links appear on this site. This site does not include all financial companies or all available financial offers.
Editors Note: Opinions expressed here are author's alone, not those of any bank, credit card issuer, hotel, airline, or other entity. This content has not been reviewed, approved or otherwise endorsed by any of the entities included within the post.