In This Article
Loading table of contents …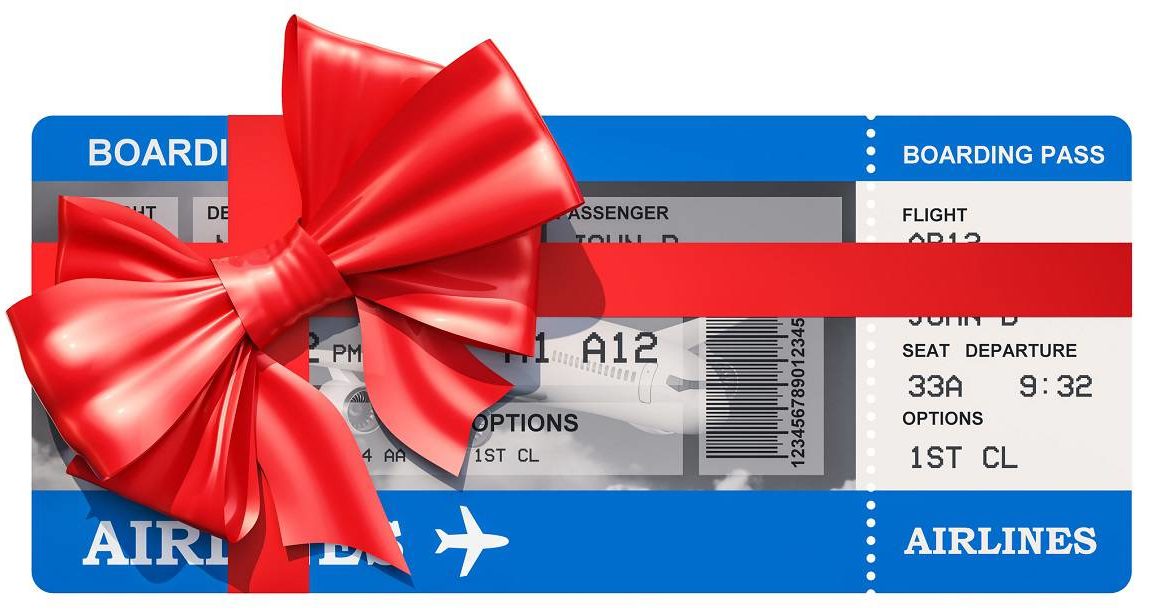 Note: Some of the offers mentioned below may have changed or are no longer be available. The content on this page is accurate as of the posting date; however, some of our partner offers may have expired. You can view current offers here.
I love seeing the success stories of our 10xTravel readers. Every story provides some fun insights into the earning and redemption strategies our readers have used to take some amazing vacations. What often isn't mentioned is what goes on behind the scenes.
Behind the scenes is where the real work happens. To connect your miles and points to travel, you have to know the rules and restrictions on award travel. You have to know how many points an award ticket is going to cost and you have to know how to find the award space you need.
This guide doesn't have pictures that will inspire you to travel more. It isn't about awesome planes or luxurious hotels and resorts. This guide is instead full of the essential information that you'll need to use your American Airlines AAdvantage miles to book award flights.
This guide will give you the necessary information so that you don't have to just look at pictures online—you can be the one taking them.
Maybe your pictures will be part of our next reader success story!
Understanding American Airlines' Region-Based Award Chart
American Airlines uses a zone-based award chart. A zone-based award chart groups countries into different zones. When you book a ticket from one zone to another, you pay a set number of miles.
If you're flying from the US to Europe, it doesn't matter if you're departing from New York or Los Angeles, you'll need the same number of miles. Below is a table listing every country by zone.
American Airlines region-based award chart
| Zone | Countries |
| --- | --- |
| US | US (contiguous 48 states) |
| Canada and Alaska | Canada, Alaska |
| Hawaii | Hawaii |
| Caribbean | Anguilla, Antigua & Barbuda, Aruba, Bahamas, Barbados, Bermuda, British Virgin Islands, Cayman Islands, Curacao, Dominica, Dominican Republic, Grenada, Guadeloupe, Haiti, Jamaica, Martinique, Puerto Rico, St Kitts & Nevis, St. Lucia, St. Maarten, Trinidad & Tobago, Turks & Caicos, US Virgin Islands |
| South America Region 1 | Bolivia, Colombia, Ecuador, Manaus (Brazil), Peru |
| South America Region 2 | Argentina, Brazil (excluding Manaus), Chile (excluding Easter Island), Falkland Islands, Paraguay, Uruguay, Venezuela |
| Europe | Albania, Armenia, Austria, Azerbaijan, Belarus, Belgium, Bulgaria, Canary Islands, Croatia, Cyprus, Czech Republic, Denmark, Estonia, Finland, France, Georgia, Germany, Gibraltar, Greece, Hungary, Iceland, Ireland, Italy, Latvia, Lithuania, Luxembourg, Malta, Moldova, Montenegro, Netherlands, Norway, Poland, Portugal, Romania, Russia, Serbia, Slovenia, Spain, Sweden, Switzerland, Turkey, Ukraine, United Kingdom |
| Middle East | Bahrain, Egypt, Iran, Iraq, Israel, Jordan, Kuwait, Lebanon, Oman, Qatar, Saudi Arabia, United Arab Emirates |
| Indian Subcontinent | Bangladesh, India, Kazakhstan, Maldives, Nepal, Pakistan, Sri Lanka, Turkmenistan, Uzbekistan |
| Africa | Algeria, Angola, Djibouti, Equatorial Guinea, Eritrea, Ethiopia, Ghana, Kenya, Mauritius, Melilla, Morocco, Mozambique, Namibia, Nigeria, Rwanda, Senegal, Seychelles, South Africa, Sudan, Tanzania, Tunisia, Uganda, Zambia, Zimbabwe |
| Asia Region 1 | Japan, Korea |
| Asia Region 2 | Brunei, Cambodia, China, Hong Kong, Indonesia, Malaysia, Myanmar, Philippines, Singapore, Taiwan, Thailand, Vietnam |
| South Pacific | Australia, Easter Island, Fiji, French Polynesia, Guam, Kiribati, New Zealand, Papua New Guinea, Palau, New Caledonia, Republic of Tonga, Republic of Vanuatu, American Samoa and Samoa, Solomon Islands, Tuvalu |
The U.S. is broken up a little bit with Hawaii is in its own zone, Alaska with Canada, and the 48 contiguous states are together. The only other country that is broken up is Brazil. If you want to visit Manaus (MAO) it is in a different region from the rest of Brazil.
American Airlines has two different award charts: one for flights operated by American Airlines and one for Oneworld and partner flights. If you want to figure out how many miles an award flight will cost, you'll need to use the correct award chart.
The chart will tell you exactly how many miles you need based on origin, destination, and class of service.
MileSAAver vs. AAnytime Awards
This part is relevant only if you're flying a flight operated by American Airlines. AAnytime awards aren't available for partner airlines. Understanding this difference is critical to making sure you get the maximum value for your hard-earned miles.
When you're using your AAdvantage miles to fly on an American Airlines flight, you'll be paying based on the type of ticket you select. Your ticket will fall into one of four categories: MileSAAver Off Peak, MileSAAver, AAnytime 1, or AAnytime 2.
AAnytime awards let you book an award ticket on any flight with available seating, but they require a massive amount of miles to do so. In some cases, you'll pay 5 times as many miles for an economy ticket. This is a terrible use of your miles.
To stretch your miles further, you will want to look for MileSAAver awards. MileSAAver availability is limited, and some flights won't have any. Start your search early and be diligent as availability might open up closer to your departure date.
On some routes, American offers even bigger discounts with off-peak MileSAAver economy class awards. Unfortunately, these off-peak awards only exist for award tickets booked in economy class.
Off-peak MileSAAver chart
| Region | Dates |
| --- | --- |
| To Hawaii | December 29 - March 12, August 11 - November 18, November 24 - December 10 |
| From Hawaii | January 7 - March 19, August 18 - November 27, December 3 - December 25 |
| Carribean, Mexico and Central America | September 7 - November 14, April 27 - May 20 |
| Europe | January 10 - March 14, November 1 - December 14 |
| To Japan (Asia Region 1) | January 1 - April 30, July 1 - November 30 |
| From Japan (Asia Region 1) | January 16 - April 19, May 2 - 31, September 1 - December 31 |
| To Korea (Asia Region 1) | January 1 - April 30, July 1 - November 30 |
| From Korea (Asia Region 1) | January 16 - May 31, September 1 - December 31 |
| To China/Hong Kong (Asia Region 2) | January 1 - April 30, July 1 - September 30, October 11 - November 30 |
| From China/Hong Kong (Asia Region 2) | February 1 - May 31, September 1 - 19, October 2 - December 31 |
| South America 1 | January 16 - June 14, September 7 - November 24 |
Now that you know to look for MileSAAver flights, let's talk about how to find the award space.
Redeem AAdvantage Miles On American Airlines
Redeeming your American AAdvantage miles for flights on American Airlines is a great option. You'll want to be sure to book online because American charges an over-the-phone booking fee if an award could have been booked online.
Finding American Airlines flights that can be booked with AAdvantage miles is easy.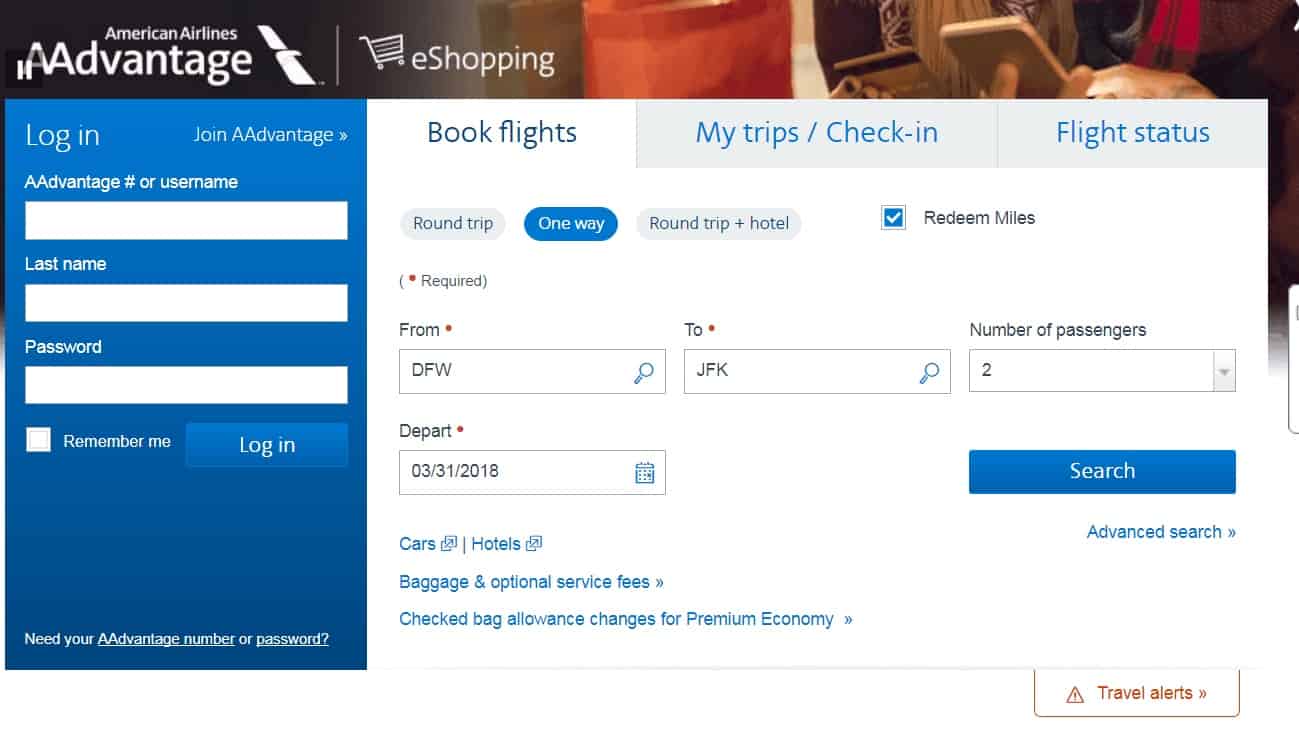 Simply use the search engine on the American Airlines home page and check the box "Redeem Miles". There's no need to log in until you are ready to book.
Your search will then display your results. By default, it will only show you one week of results. If you want to see the full month you can expand to the full calendar. Use the different tabs at the top to change the award type. Once you find a date that you like, click on it to see availability. You can filter by a variety of parameters to find what fits your needs.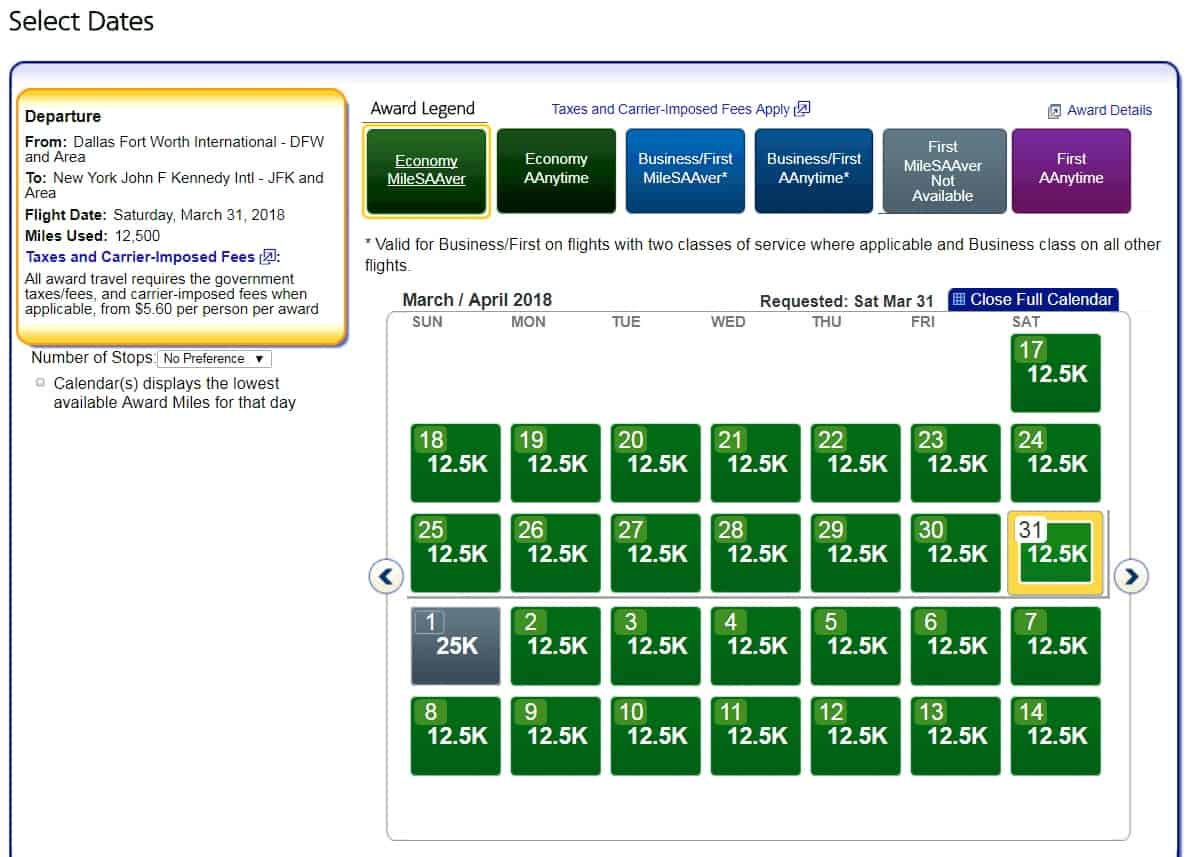 After finding your flights, you can select it and proceed to booking. If you can't find exactly what you're wanting, try again later. American Airlines can be a bit stingy with releasing award space—especially business and first class space—but they'll sometimes release award seats over time.
You can also try searching individual segments instead of relying on American Airlines' online search function to put together an itinerary that has what you want. If you do this, you may have to call in to book, but the fee should be waived.
Flying business class on a 3-cabin plane in the US or Canada does cost 7,500 more miles, so don't be surprised if you see your flight costing a little bit more than anticipated. This only applies to flights within the US or Canada though. If you're planning to fly business class on a long-haul flight, you won't have to worry about this.
Redeem AAdvantage Miles on Oneworld and Other Partners
American has some great partner airlines that can be booked with AAdvantage miles. As a member of the Oneworld alliance, you can use AAdvantage miles to book a flight with any of their 12 Oneworld members. In addition to its Oneworld partners, American partners with 11 other airlines.
| Oneworld Partners | Other Partners |
| --- | --- |
| British Airways | Air Tahiti Nui |
| Cathay Pacific | Alaska Airlines |
| Finnair | Cape Air |
| Iberia | Etihad Airways |
| Japan Airlines | Fiji Airways |
| LATAM Airlines | Gulf Air (ends 4/30/18) |
| Malaysia Airlines | Hawaiian Airlines |
| Qantas | Interjet |
| Qatar Airways | Seaborne Airlines |
| Royal Jordanian | WestJet |
| S7 Airlines | |
| SriLankan Airlines | |
Unfortunately, American Airlines has a pretty weak online function which means you can't use their website to find award space on many of their partners. Currently, only 8 partner airlines can be booked online:
Alaska Airlines
American Airlines
British Airways
Finnair
Hawaiian Airlines (not flights to the continental U.S.)
Iberia
Royal Jordanian
Qantas
To find award space on American's other Oneworld partners, you'll want to search on British Airways' website. You'll have to create a British Airways Executive Club account (it's free) and log in to run an award search. This is how you'll find award space on Cathay Pacific, Japan Airlines, LATAM, Malaysia Airlines, Qatar Airways, SriLankan Airlines, and S7 Airlines.
Several other airlines require you to use a variety of search methods:
| Partner Airline | Where To Search |
| --- | --- |
| Etihad Airways | Etihad—find "Guest" space |
| Air Tahiti Nui | Call American Airlines (or ExpertFlyer) |
| Fiji Airways | Alaska Airlines |
| Cape Air | Call American Airlines |
| Seaborne | Call American Airlines |
If at all possible, you should know the flight numbers on your travel dates when calling American Airlines so you can provide them to the customer service representative.
For premium cabin Etihad bookings, you won't have much luck calling the American Airlines' U.S. call center as they won't see the award space even if it's actually available. Call the Australia office (02-9101-1948)—Skype and Google Voice are useful for this—and ask them to put the award on hold for you. Once you've done that, you can call the U.S. call center to complete the booking.
Hold Award Tickets While You Transfer SPG Starpoints
American Airlines is the only domestic carrier that lets you place a hold on award flights, free of charge, for up to five days. American's award ticket holds are a great way to secure the flights you need while you transfer SPG Starpoints to your AAdvantage account or when you need to find a positioning flight.
Holds can be used for both American Airlines flights and flights operated by most partners. If you're waiting on points to transfer, be sure they transfer in time so you can confirm your booking.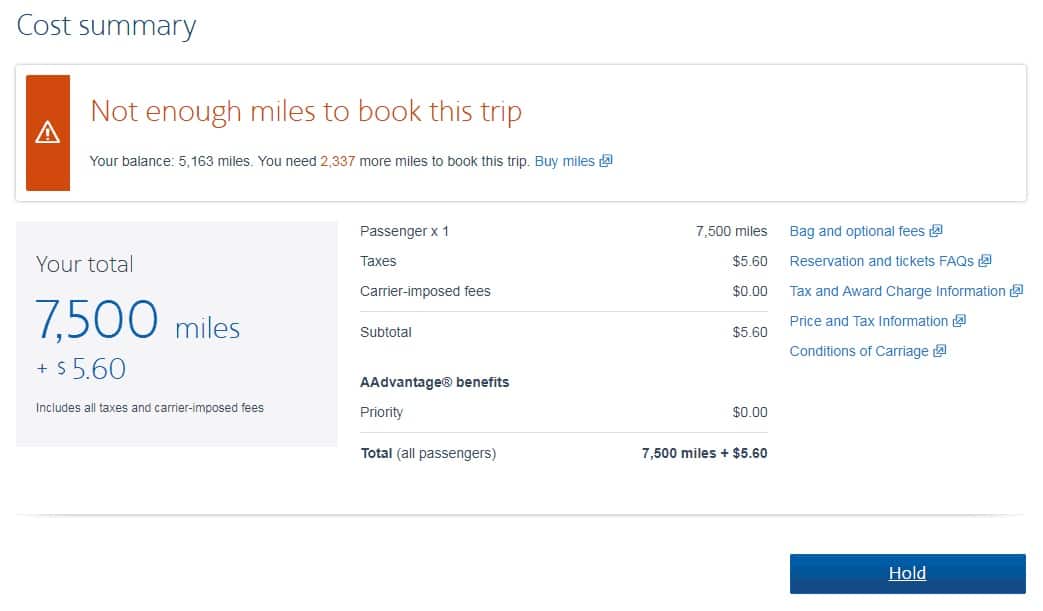 You can put AAdvantage flights on hold online, or over the phone with a booking agent. Placing your hold online isn't completely straightforward. The option doesn't show up immediately.
American will let you select a flight, and then ask you for details. Fill this out, and then you will be prompted to choose a seat. The flight still hasn't been booked and hasn't been placed on hold. Skip seat selection and then you'll finally get the checkout screen with the option to hold your flight.
American AAdvantage Routing Rules
When selecting your route, there are five major rules that you have to follow. If you break one of these rules, you may not be permitted to book your flight. These rules are:
You cannot exceed the maximum permitted mileage by 25%
You must fly the most direct routing
The overwater carrier must publish a fare between the origin and destination
Maximum permitted number of segments per award ticket
You can't transit to one zone via another
Let's break these rules down so you can know whether a ticket will be valid or not.
1. You Cannot Exceed the Maximum Permitted Mileage by 25%
Simply put, maximum permitted mileage is the distance calculated between a city pair. It is published by the International Air Transport Association (IATA). Instead of trying to find the exact maximum permitted mileage, you can estimate it pretty accurately. The easiest way to estimate the maximum permitted mileage is to use Great Circle Mapper's distance tool.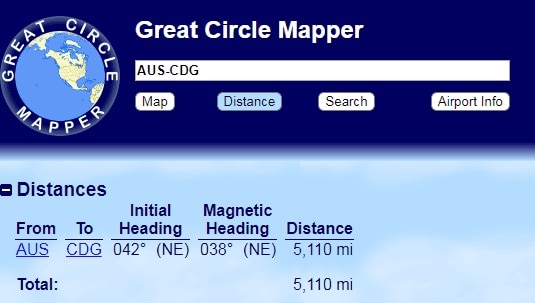 Using the tool I searched between the origin city, Austin (AUS), and my destination, Paris (CDG). The distance between these two is 5,110 miles. To estimate the maximum permitted mileage, I simply multiply by 1.25 to get 6387.5 miles.
Since American and its partners do not operate a direct flight between Austin and Paris, I'd have to do some other routing, such as Austin (AUS) to Dallas (DFW) to London (LHR) to Paris (CDG). I can put this into great circle mapper to see if it is in the 6,387.5 mile range.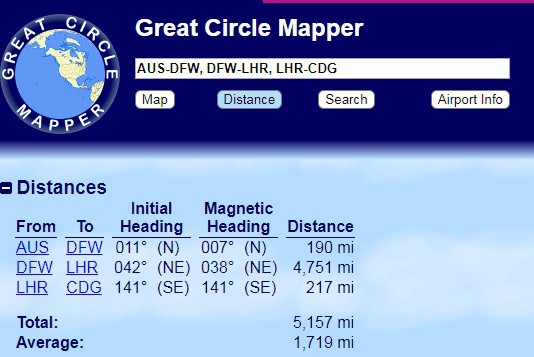 This routing is 5,157 miles, so it easily fits inside the maximum permitted mileage range plus 25%.
You will need to know your possible routes before checking this, but unless you're traveling far off course it will be hard to get outside of the maximum permitted mileage rule.
2. You Must Fly the Most Direct Routing
This rule is up to the booking agent's discretion. It doesn't mean you are forced to take certain available flights, just that if it seems you are going far out of the way, it won't be permitted.
In our example above, if instead of going directly from London to Paris, if you went to Rome first, this may be a violation of the rule. There are plenty of flights between London and Paris daily, with no real need to route through Rome.
But remember, this is up to the agent's discretion. And if a more direct routing isn't available, the agent can override this rule.
3. The Overwater Carrier Must Publish a Fare Between the Origin and Destination
This one sounds weird, but basically, American Airlines is saying that they won't issue you a ticket if the overwater airline wouldn't sell a ticket for the same route.
For example, let's say you live in Austin and want to go to the Maldives. You plan to fly from Austin (AUS) to New York (JFK) on American Airlines, New York (JFK) to Abu Dhabi (AUH) on Etihad, and Abu Dhabi (AUH) to Male (MLE) on Etihad. American would only issue this ticket if you can go to Etihad and buy a ticket from Austin to Male.
The easiest way to check this is to go to the overwater carrier's website and search for a cash booking.

Etihad won't even let you select MLE as a possible destination when departing from Austin, meaning they do not publish a fare between these two cities. Since they do not publish a fare, American rules say you cannot use this as an award routing either.
4. Maximum Number of Segments
This is a relatively new rule as of this post. American limits you to 3 segments per one-way ticket on flights operated in the US and Canada. For international flights, you are limited to 4 segments. International flights include Puerto Rico and the US Virgin Islands.
This means, if you aren't at an AA hub, it may be difficult to book some flights. If you need to build in a positioning flight to get to an international hub you are already using 1 segment, leaving just 2 for flights within the US and Canada, or 3 for international flights.
This new rule will mostly impact long-haul international travel but is something you should certainly be aware of when planning your routes.
5. You Cannot Transit One Zone to Get To Another
If you remember from the beginning of this article, American uses a zone-based award chart. Generally, you cannot have a layover in a zone that isn't your origin or destination. There are some exceptions to this rule, however. Let's look at all of them, and then highlight a few.
| Origin | Destination | Via |
| --- | --- | --- |
| North America | Middle East | Europe |
| North America | Indian Subcontinent | Europe, Hong Kong (Cathay Pacific Flights Only), Middle East |
| North America | Africa | Europe or through Doha on Qatar Airways Only |
| North America | Asia 2 | Asia 1 |
| Central America, South America 1 and 2 | Africa, Middle East, Indian Subcontinent | Europe |
| South America 2 | Africa | Doha on Qatar Airways |
| Europe | Asia 1 | Asia 2, or through Doha on Qatar Airways Only |
| Europe | Asia 2 | Doha on Qatar Airways |
| Europe | Australia | Doha on Qatar Airways |
| Europe | South Pacific | Asia 1 or 2, Doha on Qatar Airways, Dubai on Qantas |
| Middle East, Indian Subcontinent | Asia 1 | Asia 2 |
| Middle East, Indian Subcontinent | South Pacific | Asia 2 |
| Africa | Asia 1 | Asia 2, Doha on Qatar Airways Only |
| Africa | Asia 2 | Doha on Qatar Airways Only |
| Asia 1 | South Pacific | Asia 2 |
The big exception to this rule is routing via Doha. Many options allow you to route via Doha, but you can only do this on Qatar Airways. Your flight in and out of Doha must be operated by Qatar Airways, or else the transit is not permitted.
You may be wondering how the mileage cost is calculated when you transit via a third region. The answer is simple, just look up from your origin to destination. The cost will be the same whether you go directly or via a permitted third region route. There's no extra mileage cost to transit a third region.
Final Thoughts
Figuring out all of this information can seem daunting at first but, with this guide in hand, the process will be much easier.
Keep this article in your back pocket when planning a trip using American AAdvantage miles. It can be a good reference to help you remember where you need to be looking for award travel, how many miles it will cost you, and whether or not the routing will be allowed.
New to the world of points and miles? The Chase Sapphire Preferred is the best card to start with.

With a bonus of 60,000 points after $4,000 spend in the first 3 months, 5x points on travel booked through the Chase Travel Portal and 3x points on restaurants, streaming services, and online groceries (excluding Target, Walmart, and wholesale clubs), this card truly cannot be beat for getting started!
Learn More
Editors Note: Opinions expressed here are author's alone, not those of any bank, credit card issuer, hotel, airline, or other entity. This content has not been reviewed, approved or otherwise endorsed by any of the entities included within the post.