Note: Some of the offers mentioned below may have changed or are no longer be available. You can view current offers here.
The hobby of collecting points and miles can be an overwhelming one if you don't take the time to learn a few basics first. There's a lot to track, including credit card payment dates, award charts, mileage expiration policies, etc. If you don't have a system in place, it's almost impossible to keep track of it all and that's when slips happen.
Well, not on our watch! We at 10xTravel are going to help you avoid certain points and miles mistakes and help you make the right decisions along the way.
Make Sure to Review Class of Service Carefully on Every Leg
One such trap is booking a mixed-cabin award at the business or first class award rate. You have to make sure to review class of service for every leg of an itinerary booked with miles, especially when you set your sights on a premium-cabin redemption, such as business or first class.
Let's take a look at how this works.
Some loyalty programs charge the full redemption rate required for a business class booking but sneak in some legs in economy class. "Conveniently," the longest leg of the itinerary, be it transatlantic or transpacific, will be in economy class and the short connecting flights will be in business class or worse—domestic first class.
The point to watch out for here is loyalty program still charges the same number of miles as if the whole itinerary were in business class unless you are alert.
It's easy to miss the fine print and end up on a mixed-cabin itinerary to Europe, Asia or Africa. Trust us, the airline industry doesn't want to help you redeem your miles for the best possible value, but we do, so please don't fall for this trap.
What Airlines Offer Mixed-Class Awards
Alaska Mileage Plan, American AAdvantage and United MileagePlus are the biggest offenders in the loyalty program world.
Alaska Airlines
To be fair, Alaska makes it a little easier to spot these itineraries. Selections with multiple classes of service show two multi-colored seats: a light blue chair and a dark blue chair on top of each other. Additionally, when you select one such option, the system displays a pop-up window warning you of a mixed-cabin award ticket.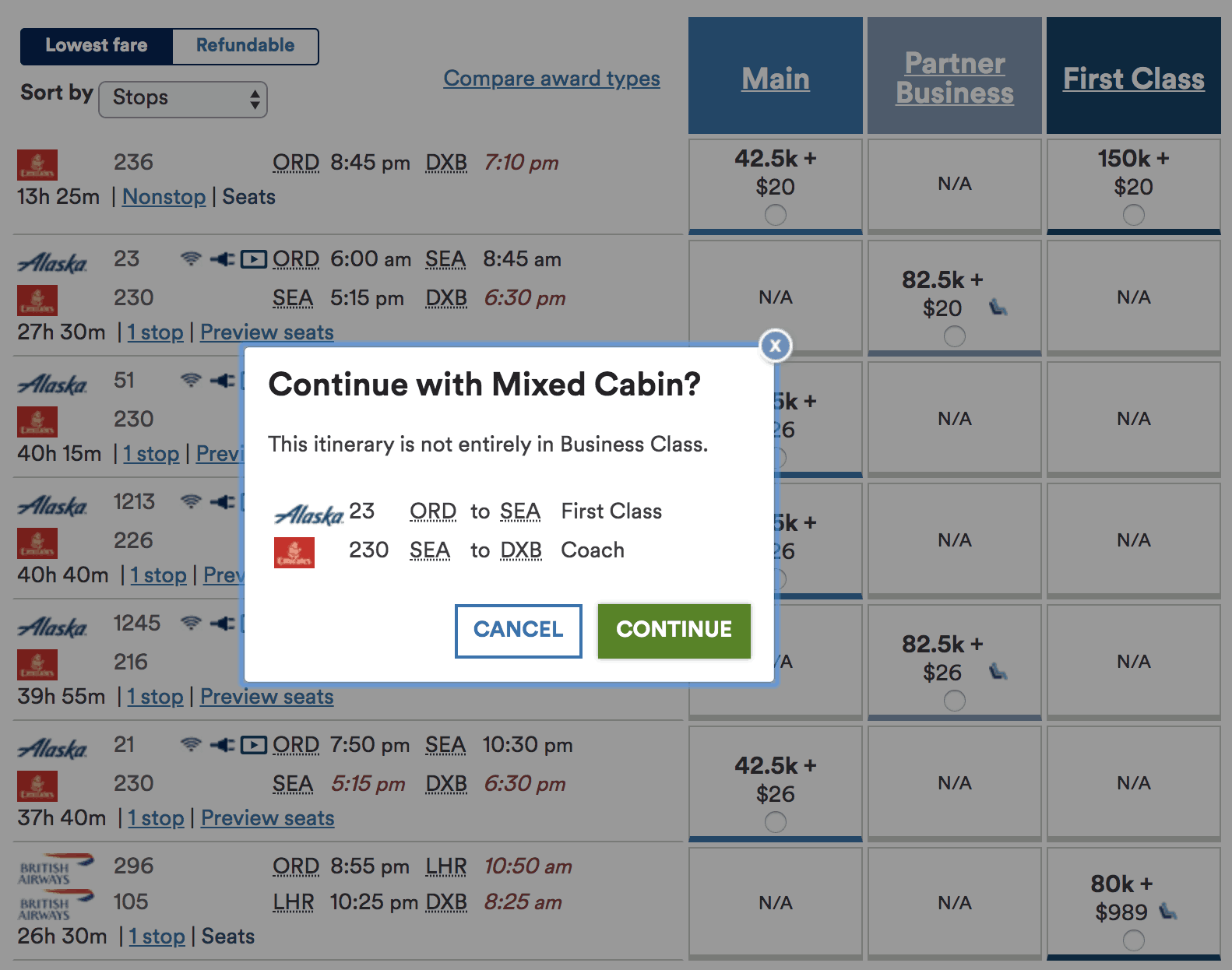 As you can see in the example above, the leg from Orlando (MCO) to Seattle (SEA) is in domestic first class, and the long leg from Seattle to Dubai (DXB) is in economy class. A typical award to Dubai on Emirates would require 42,500 miles in coach and 82,500 miles in business class—it's a difference of 40,000 miles. Let me tell you, a one-way ticket from Orlando to Seattle in domestic first-class sure isn't worth an additional 40,000 Alaska miles.
American Airlines
American Airlines lists a disclaimer in small letters that says, "The class of service you searched may not be available on one or more flights."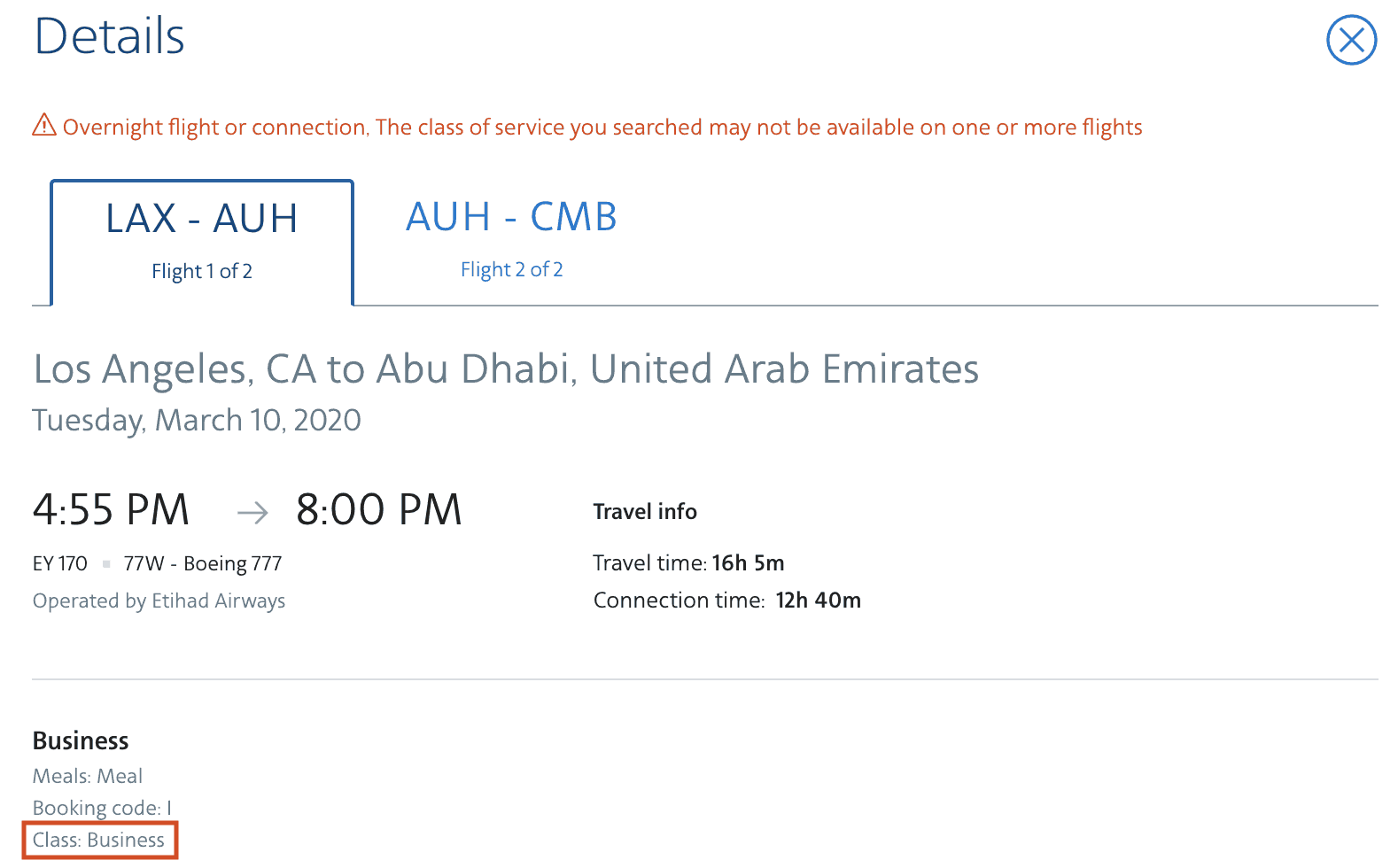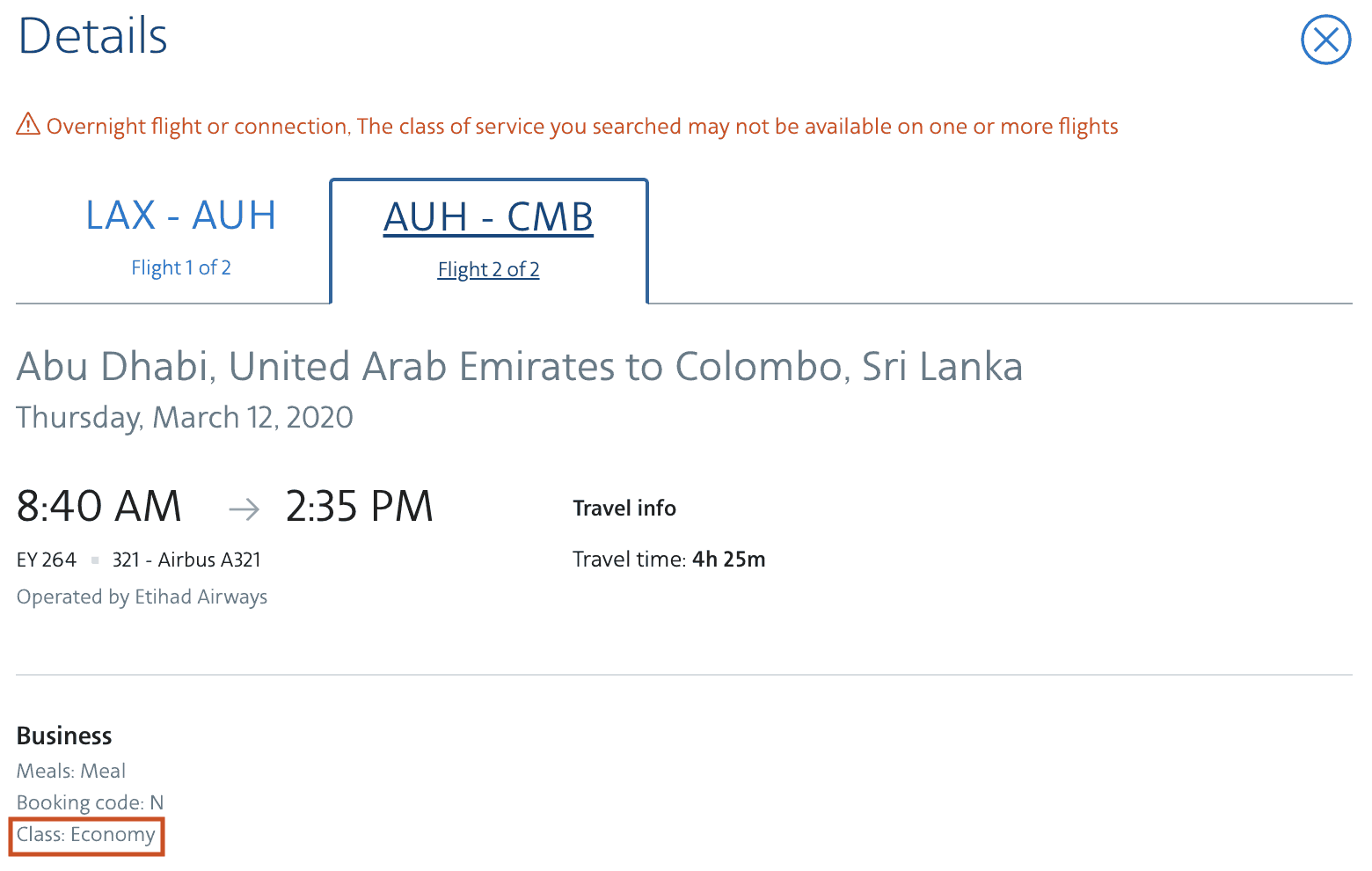 In the example above, we have a flight from Los Angeles (LAX) to Colombo, Sri Lanka (CMB), operated by Etihad. The first leg of the trip to Abu Dhabi is in business class, but the second leg is in economy.
However, the whole itinerary is listed for 70,000 AAdvantage miles. In this case, you have to click through to check the operating class of service on every flight segment. Know what you're buying before clicking "Book."
In this case, you might be OK with the economy connection as the long-haul segment of 16 hours is in business class while the shorter segment of 4.5 hours is in economy.
United Airlines
United places a "Mixed cabin" disclaimer in tiny red letters on every award with a mixed-cabin itinerary. Let's focus our attention on the Business Saver Award column of the example below.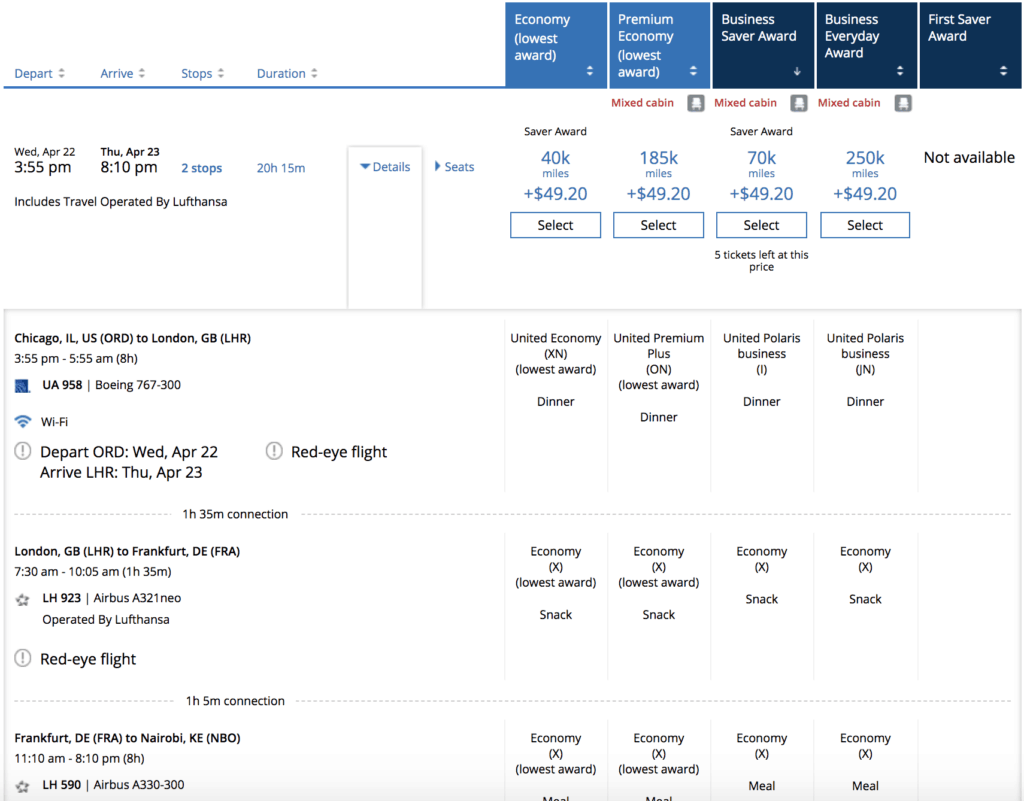 The itinerary is from Chicago (ORD) to Nairobi (NBO) with stops at London Heathrow (LHR) and Frankfurt (FRA). The first segment of the itinerary is on United in Polaris business class, so we're good there.
However, the next two segments on Lufthansa from London to Frankfurt and from Frankfurt to Nairobi are in economy class, but the system still wants you to shell out 70,000 MileagePlus miles for it. That'll be a no.
Is It Possible to Save Miles by Booking Mixed-Class Awards on Purpose?
I'm glad you asked!
Some programs don't allow mixed-cabin awards, and others, such as Avianca LifeMiles and Iberia Plus, go as far as breaking up an itinerary and allowing you to redeem miles on multiple legs of the same itinerary—in this case you can choose to redeem fewer miles on a coach segment and more miles on a premium-cabin leg.
There are several reasons to book mixed-cabin award flights.
You want to save miles: This one is the most obvious. The reason you want to mix and match cabins of service on different legs of the same itinerary is to save your points. Say, you want to fly the long leg in business class and the short leg in economy—you can save a few thousand miles by choosing such itineraries on purpose.
You don't have enough miles: If your mileage balance is a little short for an award entirely in business class and there aren't any transfer options, you can salvage your trip by foregoing a premium cabin on the short leg and redeeming enough miles for the rest of the trip. It's not ideal, but it can be the difference between going or not going to that specific destination.
Premium cabin isn't available on all flights: By not allowing mixed-class awards, some programs limit you to just economy class or to just business class. However, the ability to book such awards on one ticket can open up many more flight options. You already know that there aren't many award flights to begin with, so why not offer travelers more choice.
Mixed-Cabin Booking Options That Can Be a Good Deal
Let's take a look at some of the airline programs that allow multi-cabin award bookings.
Avianca LifeMiles
The following itinerary from Los Angeles to Brussels (BRU) is up for grabs with Avianca LifeMiles.

The flights are operated by Lufthansa, and both economy and business class awards are open on both legs of the journey. You can book the long-haul segment from Los Angeles to Frankfurt for 61,000 miles and then choose the short hop over to Brussels in economy and save 1,050 miles on this one-way flight.
Granted, it's not a big savings, but it's an option if you don't have enough miles, for example, or are booking multiple tickets.
Iberia Plus
The same idea applies to bookings made with Iberia Plus. Say, you want to go from Chicago to Paris (CDG) via Madrid (MAD) with Iberia. The following itinerary is available for 49,000 Avios + $120.52 with both legs in business class.

However, by selecting the first leg in business class and the second leg in economy on purpose, the price drops to 45,250 Avios + $114.93. In this case, you're also saving a few dollars on taxes.
Final Thoughts
When making a redemption, double- and triple-check everything. Make sure you know where to look to avoid flying the better half of your itinerary in economy even though you redeemed enough miles for a business-class cabin. It's a waste of your hard-earned miles, and we don't want you to get caught in the excitement of an adventure without reading the fine print.
---
10xTravel is part of an affiliate sales network and receives compensation for sending traffic to partner sites, such as CreditCards.com. This compensation may impact how and where links appear on this site. This site does not include all financial companies or all available financial offers.
Editors Note: Opinions expressed here are author's alone, not those of any bank, credit card issuer, hotel, airline, or other entity. This content has not been reviewed, approved or otherwise endorsed by any of the entities included within the post.