In This Article
Loading table of contents …
Learn how I managed to get my family of seven to the sandy Gulf Coast beaches by purchasing just four tickets for $67.20 total.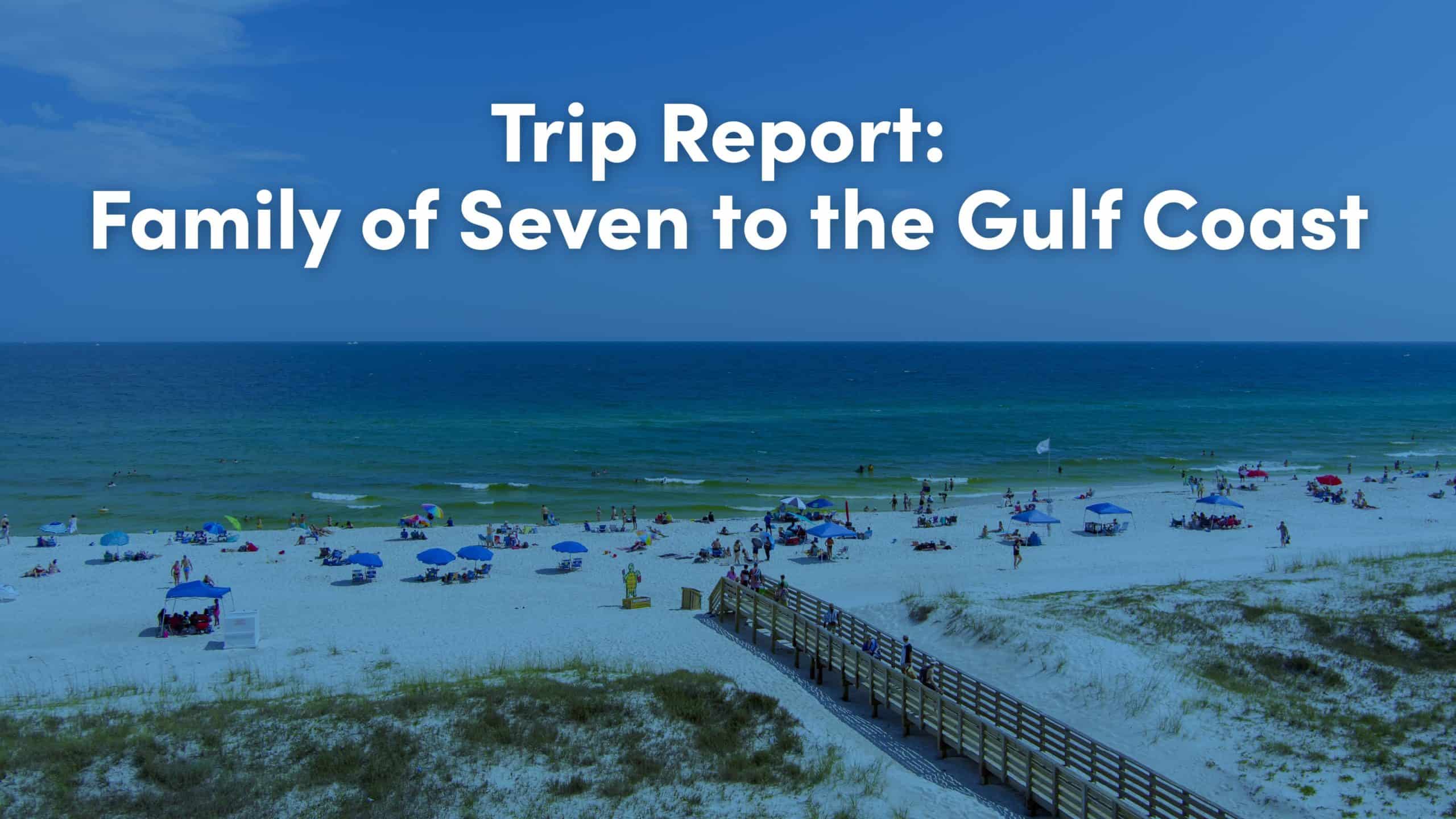 Using points and miles changed the way my family travels. Instead of a 12-hour drive to the beach full of emergency bathroom stops, nitpicking children and caffeine-induced wakefulness, my family and I hop on a two-hour flight and put our toes in the sand.
The best part? A short flight to the Gulf of Mexico is cheaper than the grueling hours on the road. I just returned from a family vacation in Gulf Shores, Alabama. Despite a rookie mistake on my part, I managed to get my family of seven to the sandy Gulf Coast beaches by purchasing just four tickets for $67.20 total.
The Trip
Our family takes at least two week-long vacations per year entirely on points. We like to spend at least one of those weeks at the beach. This year we headed to Gulf Shores. Our last trip ended early due to an impending hurricane, so we decided to try again.
We flew out of my home airport of Columbus, Ohio (CMH), to Pensacola, Florida (PNS). Once there, we stayed one night at the Hyatt Place Pensacola Airport. In the morning, we rented a car and drove two hours to a beach house that a friend of a friend let us rent at cost. On the return, we stayed another night in Pensacola before our flight home.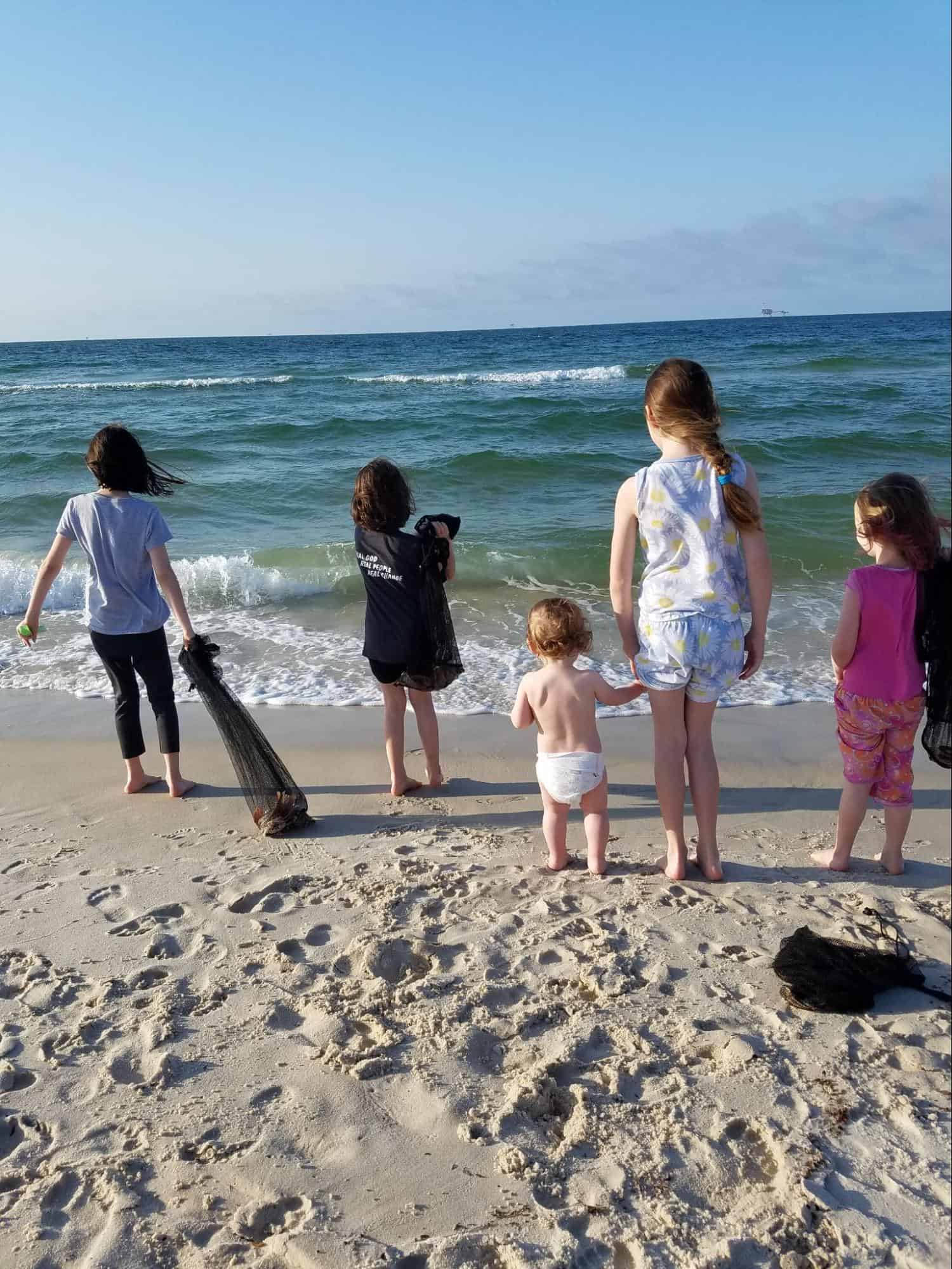 The Tickets
Southwest Airlines is my favorite airline for traveling with the family for a myriad of reasons. Family boarding, free two suitcases per traveler and easy-to-earn rewards make flying with a family easy. My favorite part of using Southwest for family trips is utilizing the Companion Pass to reduce the points required to buy flights.
We found a great deal on tickets for 16,336 points each. Multiplied by seven travelers makes the total trip cost 114,562 Rapid Rewards points. However, our youngest child is still under 2, which means he's allowed to travel as a lap infant without charge on domestic flights on many airlines, including Southwest.
The Southwest Companion Pass is a coveted prize in the points and miles community. Because we fly as a family, we consider it essential. My wife and I alternate earning a Companion Pass each year. Bringing two free children onto our flights reduces our points cost considerably.
Additionally, the perk allows my wife to take each of the kids on a mommy-kid weekend trip at milestone birthdays for almost nothing. Since my third daughter was already my wife's companion from one such trip, we bought five tickets for a total of 81,830 Rapid Rewards points and added her on the flight using the benefit.

The Mistake
I almost missed my chance to fly with a companion this trip. After I started earning the Companion Pass by receiving the welcome bonus on the Southwest® Rapid Rewards® Premier Business Credit Card, I realized I had earned a bonus on the only other card available to me, the Southwest® Rapid Rewards® Performance Business Credit Card, 22 months ago.
Because of the Southwest credit card rules, Southwest won't award you a bonus within 24 months of your last bonus on the same card, I was stuck. The 24-month mark was April 1, giving me just 45 days before our flight. I was behind the eight-ball to finish the minimum spend, earn the Companion Pass and switch my already-reserved tickets for one of my kids to a companion ticket.
The week before our flight, we had met the minimum spend, but I had a problem. My statement's closing date was the day after our flight, which meant I wouldn't have the Companion Pass in time for my flight.
However, I wasn't deterred. I called Chase and changed my statement date so that it closed the day of my phone call. Two days later, a shiny new Companion Pass was sitting in my Rapid Rewards account.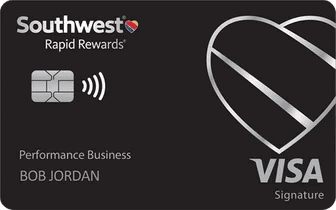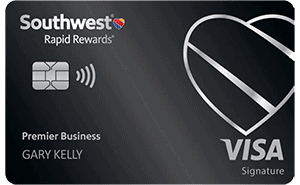 Another Problem
I added my oldest daughter as my companion and called the Southwest customer service line to change her ticket into a companion. The agent said there was a problem. Because the flight was full, she couldn't cancel my daughter's tickets and ensure her space as a companion.
Since no seats existed for her to give one to my daughter, canceling her existing ticket and reclaiming the seat as a companion left the possibility that someone else claimed her seat while the transaction happened. That wasn't a risk I was willing to take. Although I wasn't confident in the agent's answer, I politely thanked them for trying and hung up.
A day later I noticed there was availability on our flight and tried to add my daughter as a companion but got an error message. I called Southwest again. This time I got an agent who was willing to figure it out.
The agent explained that even though availability showed for my outbound flight, one of the segments of my return flight was full. She said she knew how to fix it and put me on hold for a few minutes. When she returned she had enlisted the help of another agent.
The plan was for one agent to cancel and the other to immediately reserve the newly available seat before anyone else could claim it online. I was nervous, but she assured me that the worst case scenario was that she'd cancel the change and stick with our original reservation.
Ten minutes later, she came back on the line and told me she had refunded 16,336 points and my daughter had a new companion reservation. This completed my hat trick of free tickets.
From the 10xTravel free course, I know persistence is key. Sometimes you don't get the answer you like. That doesn't mean it's the right answer. Even if it's technically the right answer, it doesn't mean it's the final answer. Having spent a few years talking with credit card companies, I know to stay calm and keep trying. This time it saved me 16,336 points, which I'll use on our next family vacation.
Utilizing Airport Hotels
Traveling with a family feels like running a marathon. (Well, it feels like what I imagine running a marathon would feel like, anyways).
After Southwest changed our flights a few times, we ended up with late arrival flights to our destination and early flights out. We had a two-hour drive between the airport and our lodging. Rather than complete our trip in one day, we decided to break things up a bit and stay at the Hyatt Place Pensacola Airport on arrival and the night before departure.
The hotel is within a short walk to the airport and the car rental desk. I used a free night certificate and 8,000 World of Hyatt points for the two nights. These rooms normally go for $244 per night. Although we sacrificed some time at the beach house, the kids enjoyed the pool and it allowed everyone to hang out at the hotel while I rented and loaded the minivan for our jaunt to Gulf Shores.

The Rental Car
Paying for rental cars is painful. Because of the size of our family, ride-booking services, such as Uber or Lyft, aren't an option. I'd considered Turo, but the insurance on my Chase Sapphire Reserve® doesn't cover Turo rentals. That's more risk than I wanted to take with my family in tow.
Most of the rental vans I found were pushing $1,000 for a week. I found a great deal through the Chase Ultimate Rewards travel portal for $653.92. I was a little light on Ultimate Rewards points at the moment but leveraged the 1.5 multiplier on the Chase Sapphire Reserve by redeeming 26,522 points to offset $397.84 of the cost. I paid cash for the remaining $256.
While this is generally considered a lackluster redemption, we often use the Chase portal to keep our vacation expenditures to a minimum. Traveling on points and miles is all about getting the most benefit for your situation. It's not always a purely mathematical decision.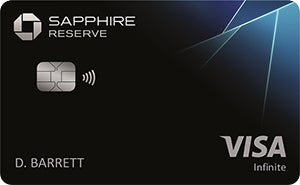 Chase Ultimate Rewards® Points
after you spend $4,000 in 3 months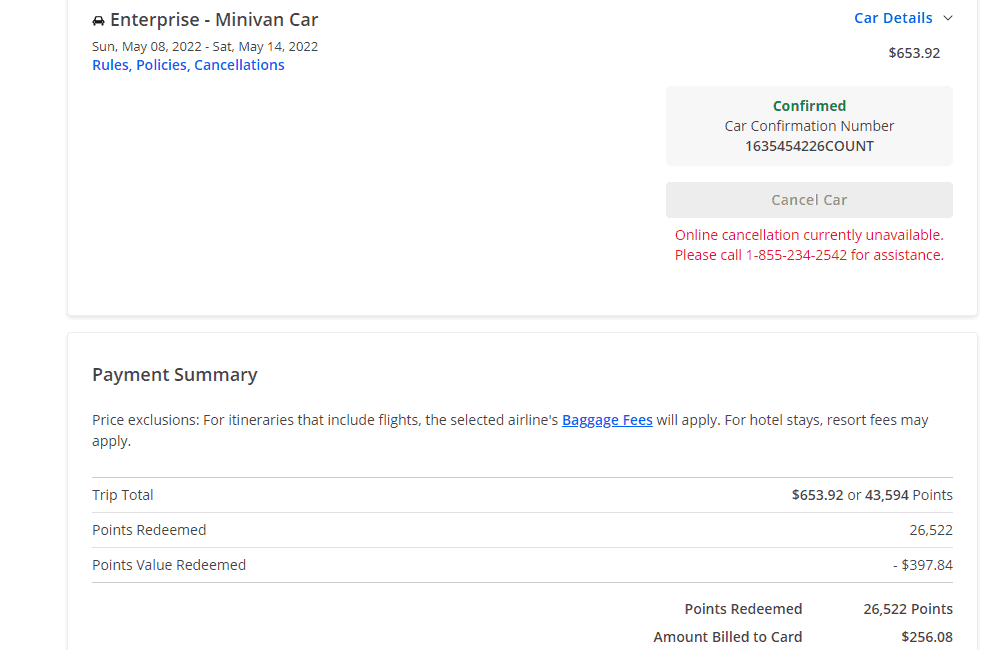 What Would This Trip Have Cost My Family?
Without counting the generous deal we received on the vacation rental, this trip would have easily cost us nearly $2,200. This figure includes two nights at the Hyatt at $488, offsetting nearly $400 of the cost of the rental van and six round-trip Southwest tickets at $230 each. For my family, this total trip cost just $323.28.
As a family, we've prioritized our pace of life and time with our kids over income. This means we don't always have the extra cash to take fun family trips like this one. However, because of points and miles, we take at least two memory-filled trips per year.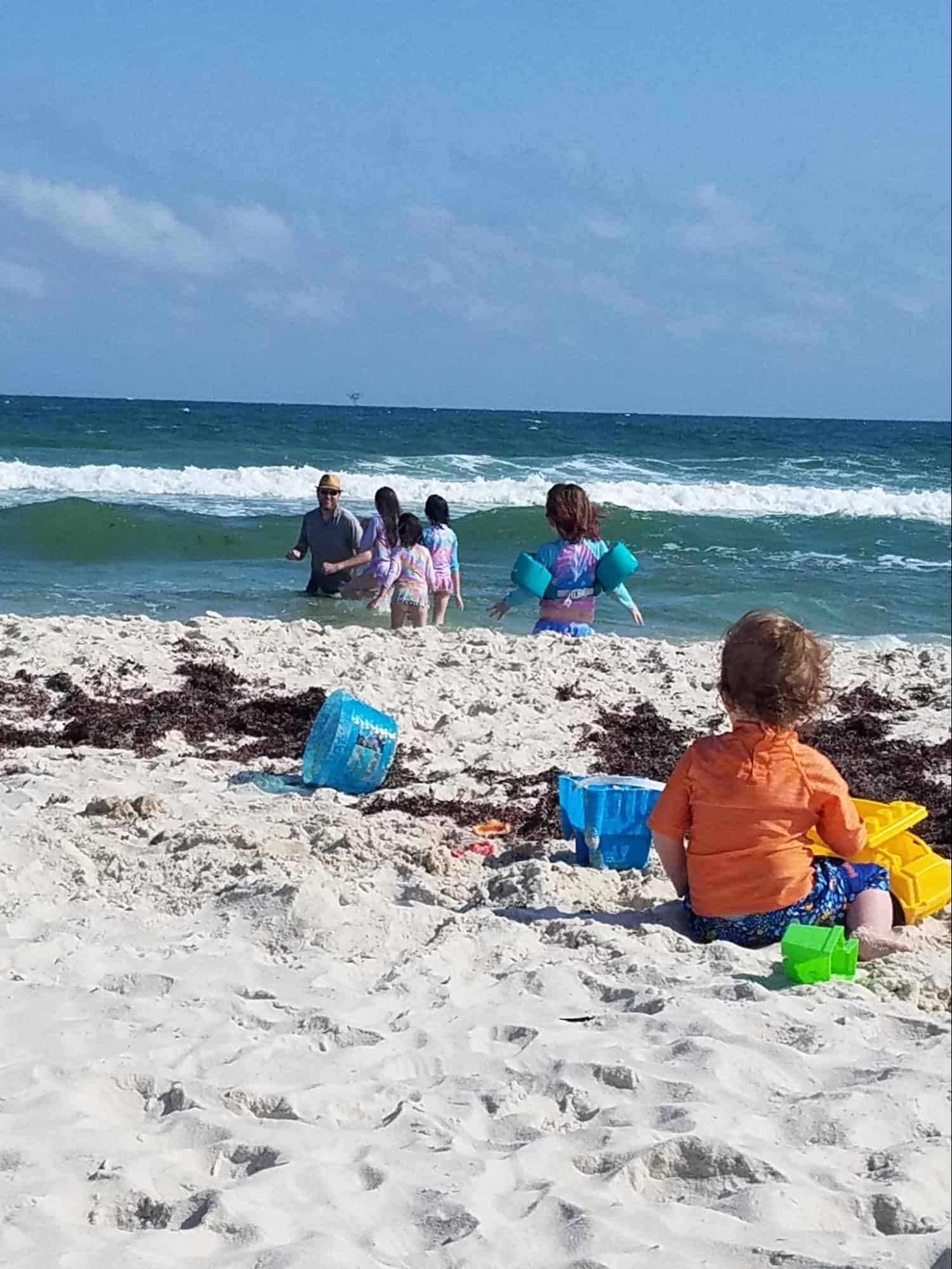 Final Thoughts
Traveling with a big family is definitely an exercise in logistics. From negotiating five suitcases through the airport to keeping the kids entertained and quiet on the flight, it's not for the faint of heart. But compared to exhausting road trips or not traveling at all, I'll fly with kids in tow any day.
The Southwest Companion Pass provides us with huge value every year because our family of seven travels like a family of four (except for the baggage). Going forward, I need to pay more attention to when I apply for credit cards and when I receive bonuses. Even though I put myself in a pinch, I got the job done and saved myself 16,336 points by not giving up.
If you think your family is too big or too broke to travel, think again. By following the advice on 10xTravel, we've transformed the way our family makes memories. Check out our free step-by-step course and get started today.
New to the world of points and miles? The Chase Sapphire Preferred® Card is the best card to start with.

With a bonus of 60,000 points after $4,000 spend in the first 3 months, 5x points on travel booked through the Chase Travel Portal and 3x points on restaurants, streaming services, and online groceries (excluding Target, Walmart, and wholesale clubs), this card truly cannot be beat for getting started!
Learn More
Cards in This Article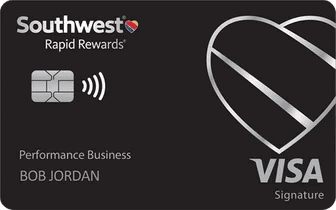 80,000
bonus points
after you spend $5,000 on purchases in the first 3 months.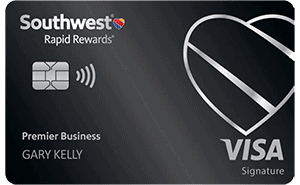 60,000
bonus points
after $3,000 spend in 3 months
Editors Note: Opinions expressed here are author's alone, not those of any bank, credit card issuer, hotel, airline, or other entity. This content has not been reviewed, approved or otherwise endorsed by any of the entities included within the post.