In This Article
Loading table of contents …
This is part one of my trip report to Berlin and Vienna where I'll discuss my flights booked with points and the COVID-19 related travel restrictions.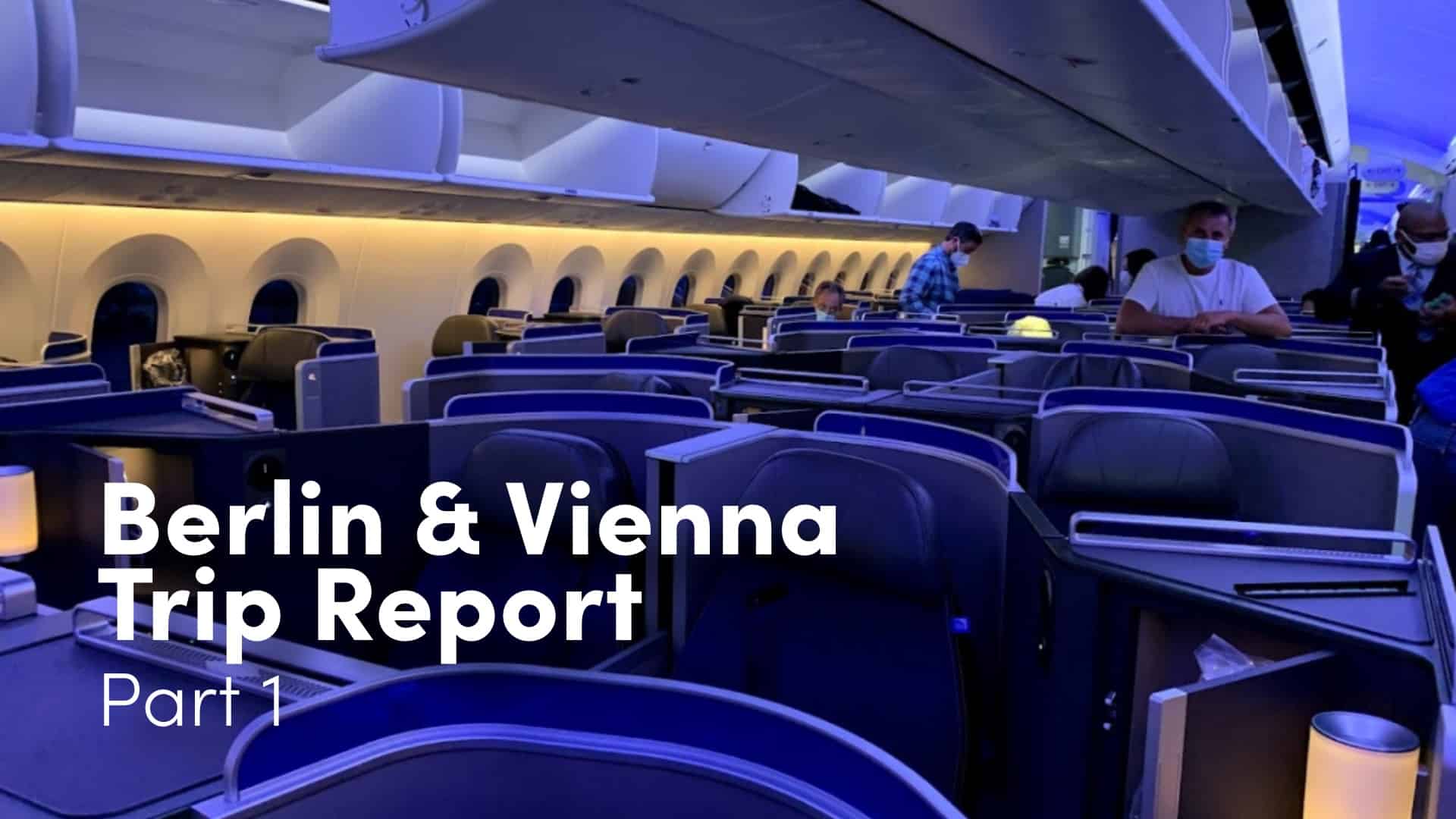 After much anticipation and planning, I was finally on my way to Europe. My plan was to fly on United Polaris from Newark to Berlin with a connection in Brussels, then take Easyjet to Vienna and from there hop over to Israel to see my family. My flight to Israel was on Wizz Air, and after spending a few days in Israel I was to fly home on a combination of Lufthansa and Air Canada flights.
Both of my intra Europe flights were completely uneventful. I didn't bother buying a seat on the Easyjet flight because the flight is just over an hour-long, but I lucked out into an aisle seat. I did purchase the extra legroom seat on the Wizz Air because it's a 3.5-hour flight and I wanted to be comfortable. Please note that right now only Israeli citizens are allowed to enter Israel, but this might change in the near future as Israel might allow entry to vaccinated American tourists.
This is part one of my trip report where I'll discuss my flights booked with points and the COVID-19 related travel restrictions.
Travel restrictions can change very fast, so it's important to stay informed and monitor the official sites often before your trip. I use the official European Union site that shows travel rules for all the E.U. member states. I've also consulted the official airport sites to get the updated links to passenger locator forms.
At the time of my trip, Germany didn't require a COVID-19 test from fully vaccinated travelers. There were also no forms to fill out. Belgium, on the other hand, did require a form (even for connecting passengers) that I found on the Brussels' airport website. The form was easy enough to fill out and I saved the electronic confirmation they sent me on my phone.
The CDC issued cards are accepted throughout Europe, and I didn't have any issues with those in Berlin or Vienna. This could depend on the country, but my husband and I didn't encounter any issues.
United Polaris Newark to Brussels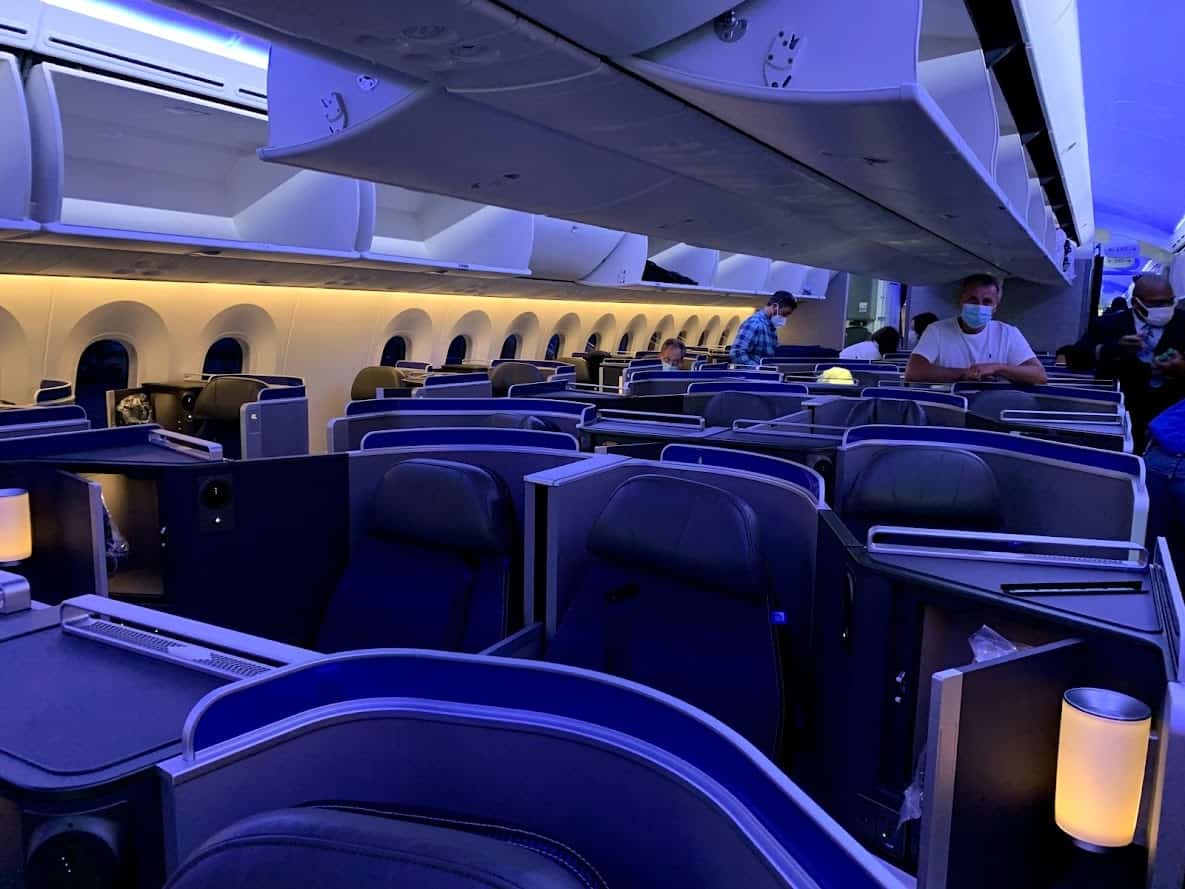 This was the first international leg of my itinerary. My connection in Newark wasn't long enough to go to the United Club (the fabulous Polaris lounge is, sadly, still closed), so I headed straight to the gate. The plan was to fly United in the Polaris cabin from Newark to Brussels, then take a Brussels Airlines flight to Berlin. My connection in Brussels was less than two hours long, and normally it's plenty of time to connect. This time, however, mother nature had a different plan for me, but more on that later.
Even though my documents were verified during the check-in in Cleveland, there was another document check in Newark and then we were all hoarded into a small gate area to await boarding. When I arrived in Brussels, nobody checked any paperwork and nobody checked anything in Berlin either.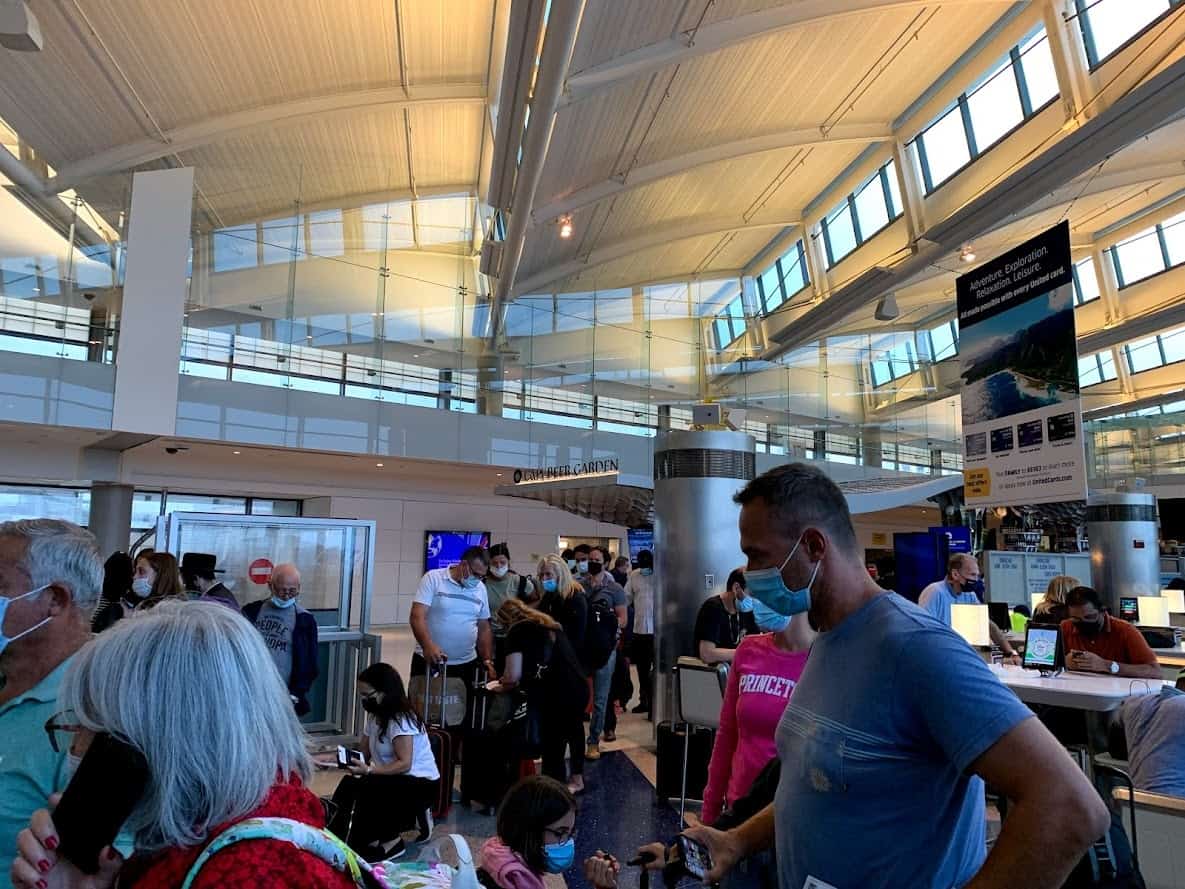 Just as we were finishing boarding, a huge thunderstorm shut down the entire airport. After about thirty minutes, it was clear I wasn't going to make my connection in Brussels. There wasn't much I could do, except enjoy my lie-flat seat, watch TV and wait till I get to Brussels to sort out my options.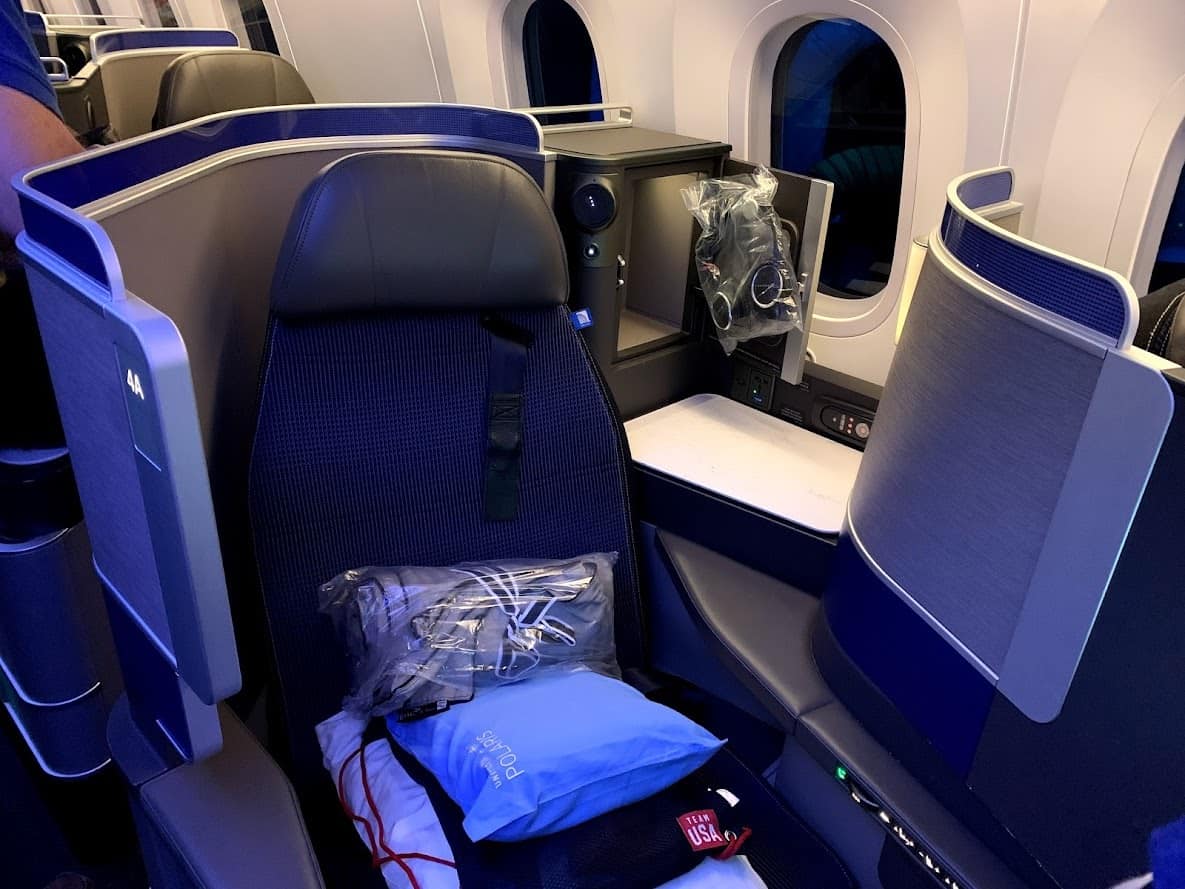 I like the Polaris seat and bedding. The seat has good padding, the IFE screen is huge and the seats have a good degree of privacy. The service was very good and the flight attendant was friendly and professional. Don't forget to ask for your pair of slippers, as they weren't on my seat, but when I asked the flight attendant he brought me a pair. That definitely beats wearing shoes on an overnight flight!
The amenity kit came in a cute mesh bag and included all the standard amenities.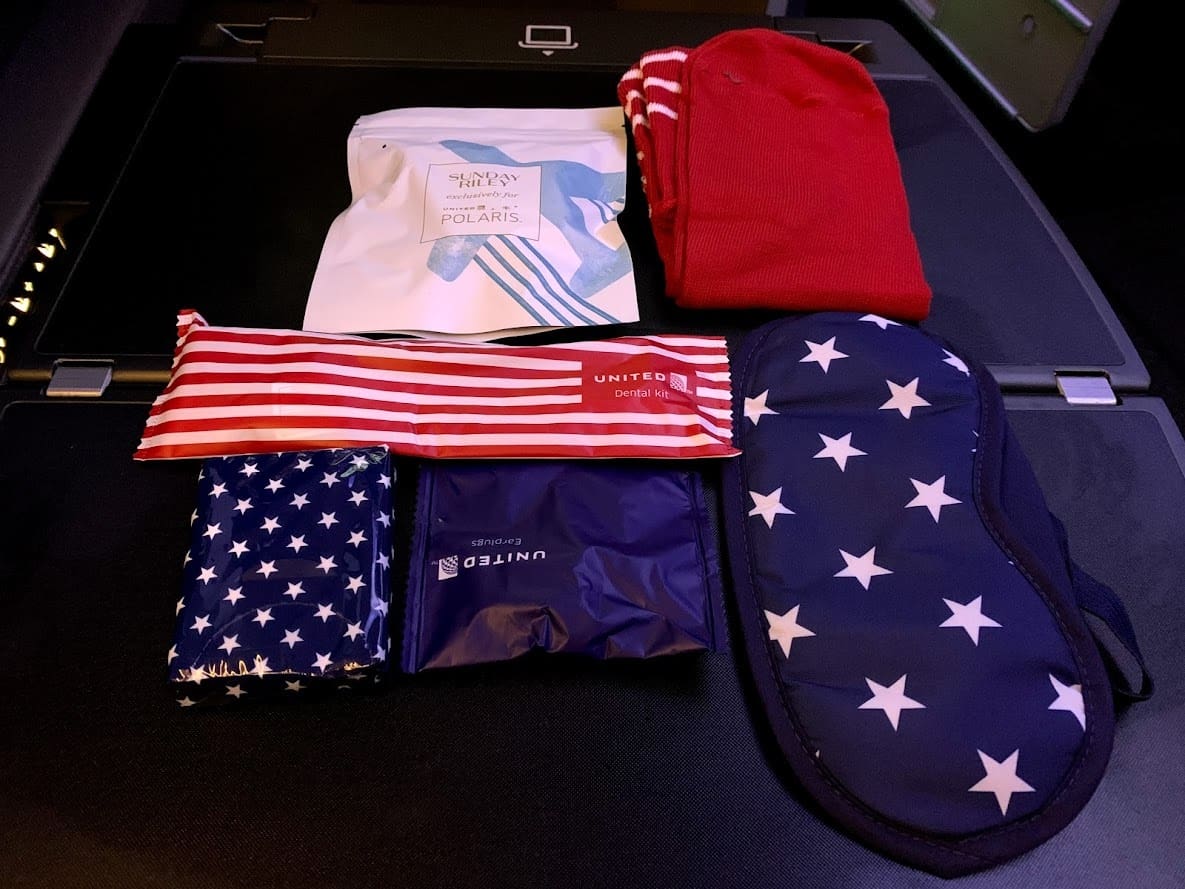 United still isn't doing the pre-flight beverage service and there are still no menus – the flight attendants just went around the cabin and asked what we'd like for our main course. The dinner is served on a single tray, so my appetizer and the hot dish arrived at the same time. I actually didn't mind because this was a shorter flight. This flight was only 6.5 hours long, and if the dinner service takes less time, that means more time for sleeping. The food tasted better than it looked, my short rib was tender and flavorful and I'd definitely get it again.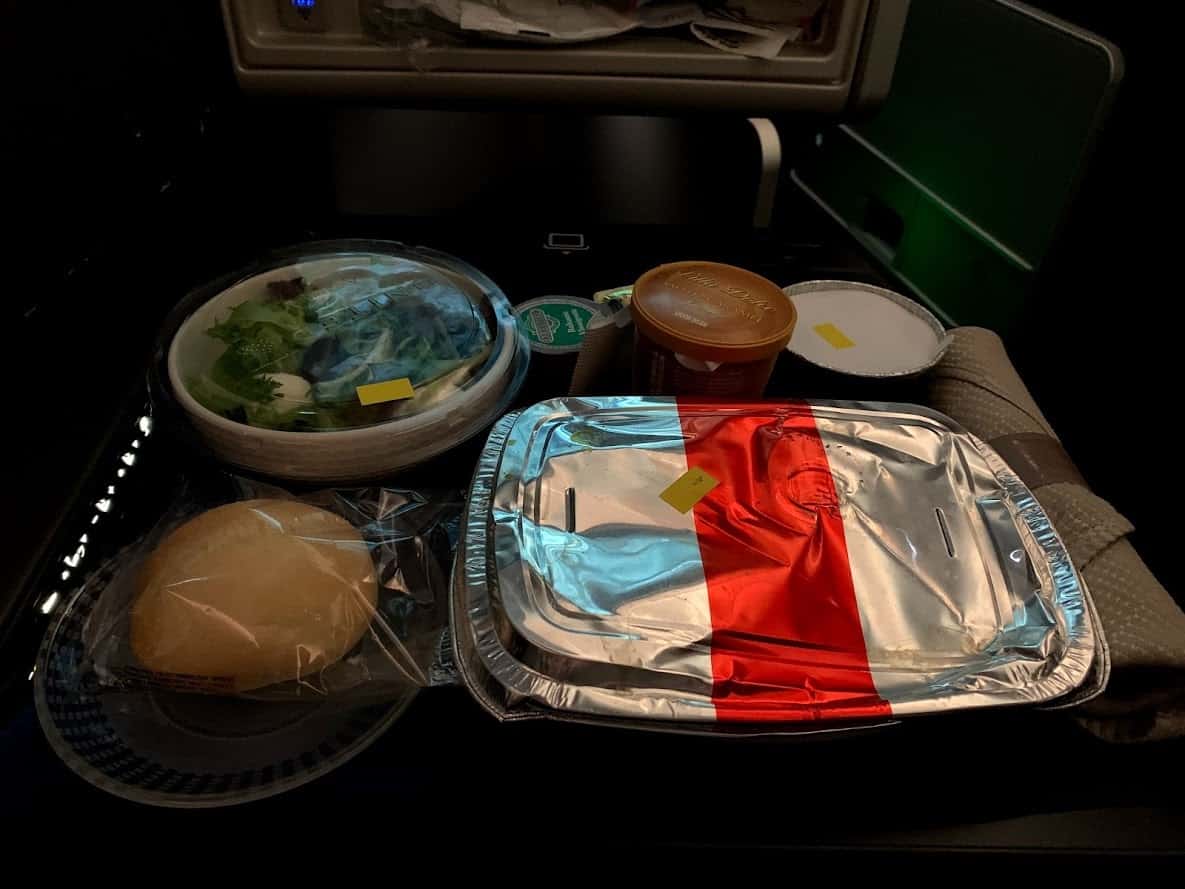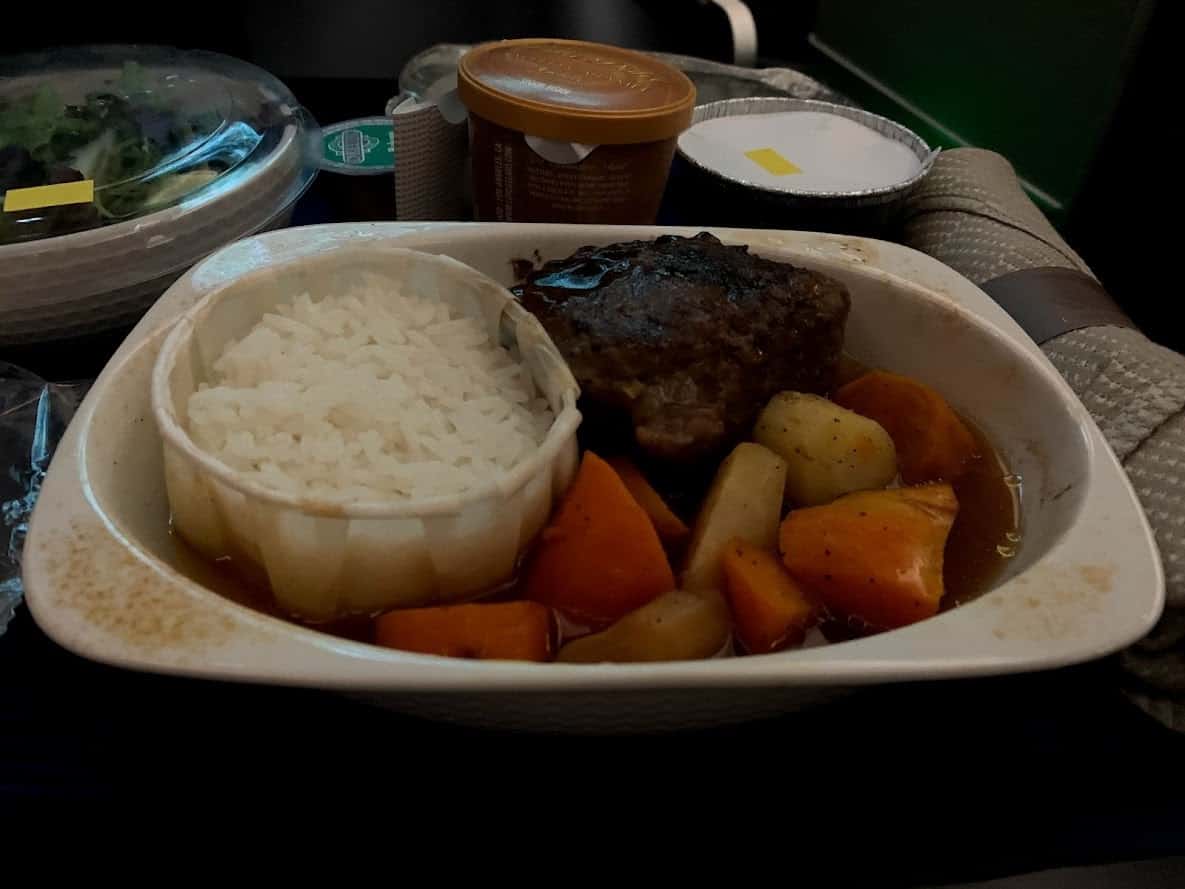 After the meal was over, I asked the flight attendant for a mattress pad and got a few hours of sleep. The IFE had the standard assortment of TV shows and movies including some recent releases. While we were stuck on the tarmac waiting for the thunderstorms to pass, I had a chance to catch up on the last few episodes of HBO's Mare of Easttown.
The second meal was served about an hour before arrival. The food was fine, but I am not a fan of disposable drinkware in premium cabins. All the other airlines I've flown on this trip have moved to real drinkware, even on short intra Europe flights, and it's time for United to catch up and restore the full service on board.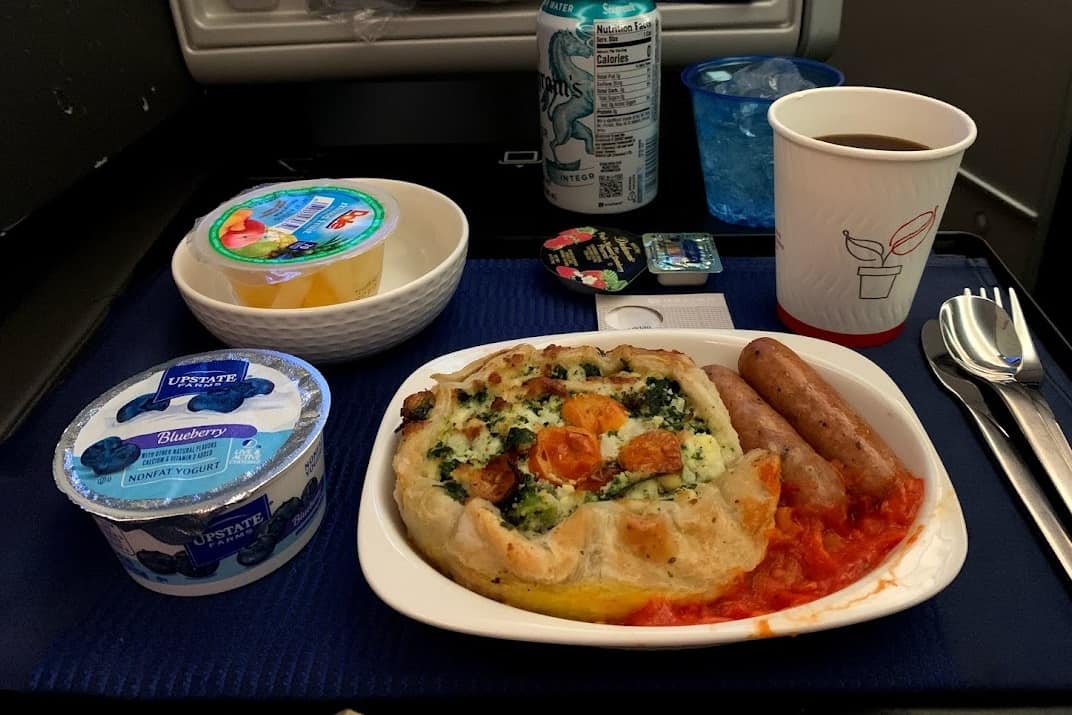 We ended up arriving in Brussels two hours later than scheduled and the connecting passengers were met at the gate by United agents with new boarding passes. The only other nonstop flight to Brussels was at 9 p.m., almost 10 hours later, so I decided to make lemonade out of my weather delay and head over to the city.
I went to the lounge, took a shower, had a bite to eat and left my backpack in the locker. The lounge is bright, spacious and very welcoming.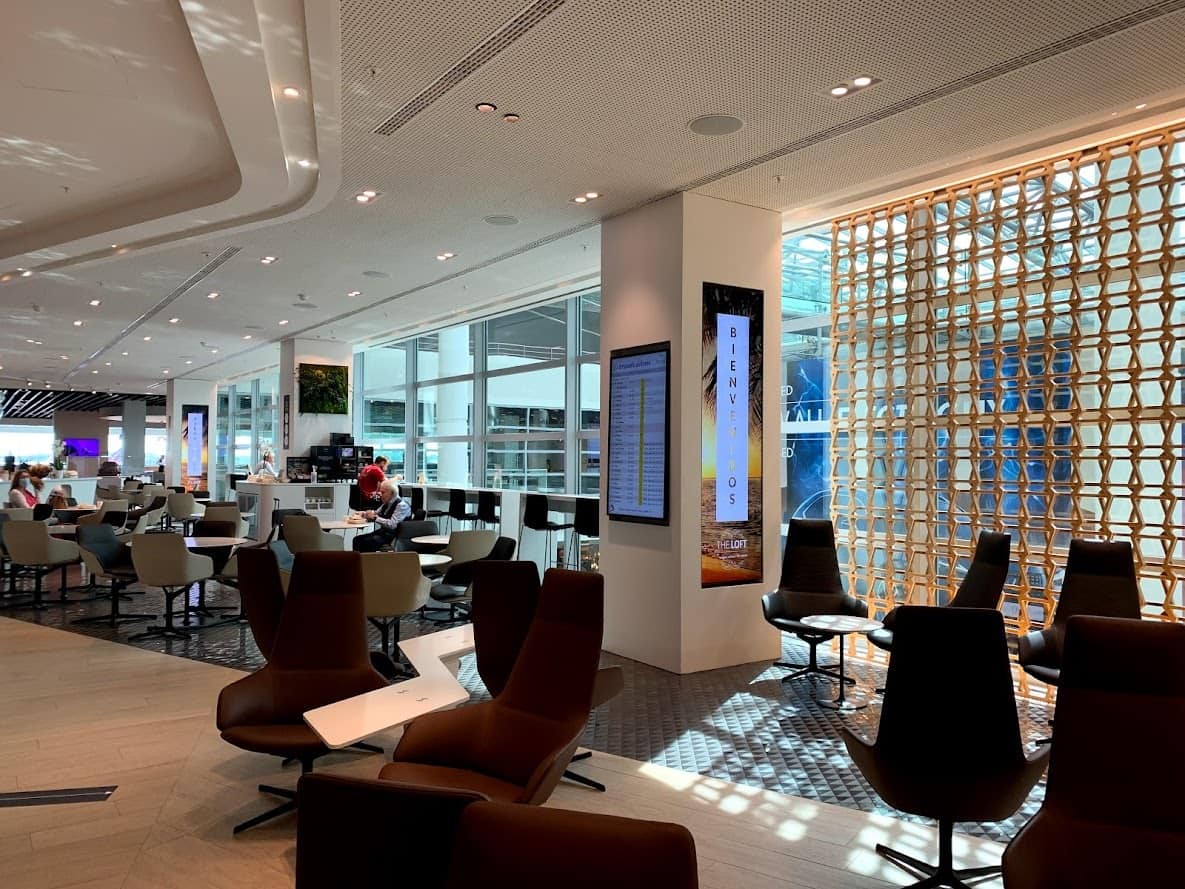 The food, however, left much to be desired. There wasn't much of a selection and it didn't taste particularly good. The lounge does have an amazing shower, so it's worth a stop just for that.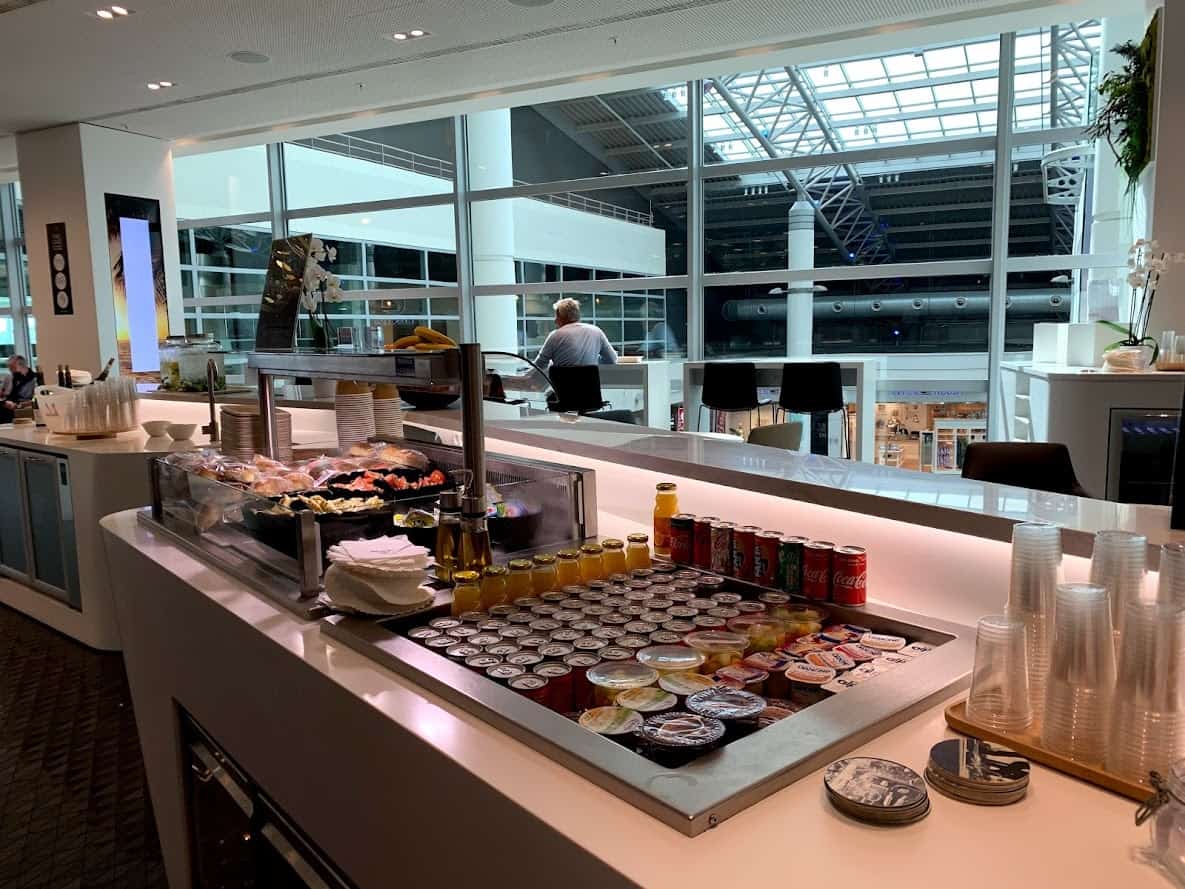 The train from the airport to the center of Brussels takes just 15 minutes and costs about 19 euros for a roundtrip ticket. After an amazing lunch of moules-frites, I did some shopping, had some famous Belgian chocolate, and went on a free walking tour. Surprisingly I wasn't falling off my feet, and it was fun to visit Brussels again.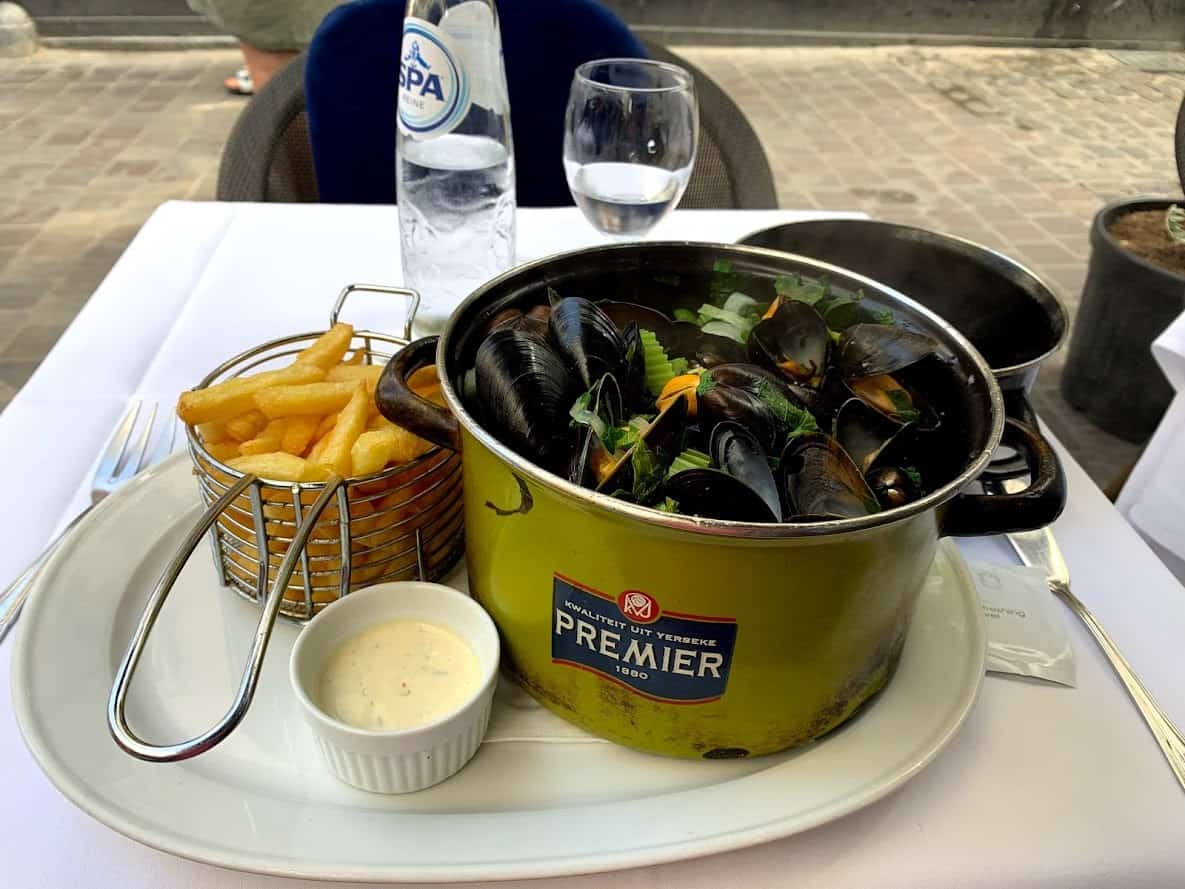 The flight from Brussels to Berlin on Brussels Airlines lasted just over an hour and the business class passengers were still served a light dinner. The food was nothing to write home about, except of course the exceptional Belgian chocolate, but I was surprised to see the full service on such a short flight. The business class was standard European business class in the first row of the aircraft, which is just a regular economy seat with a middle seat blocked off.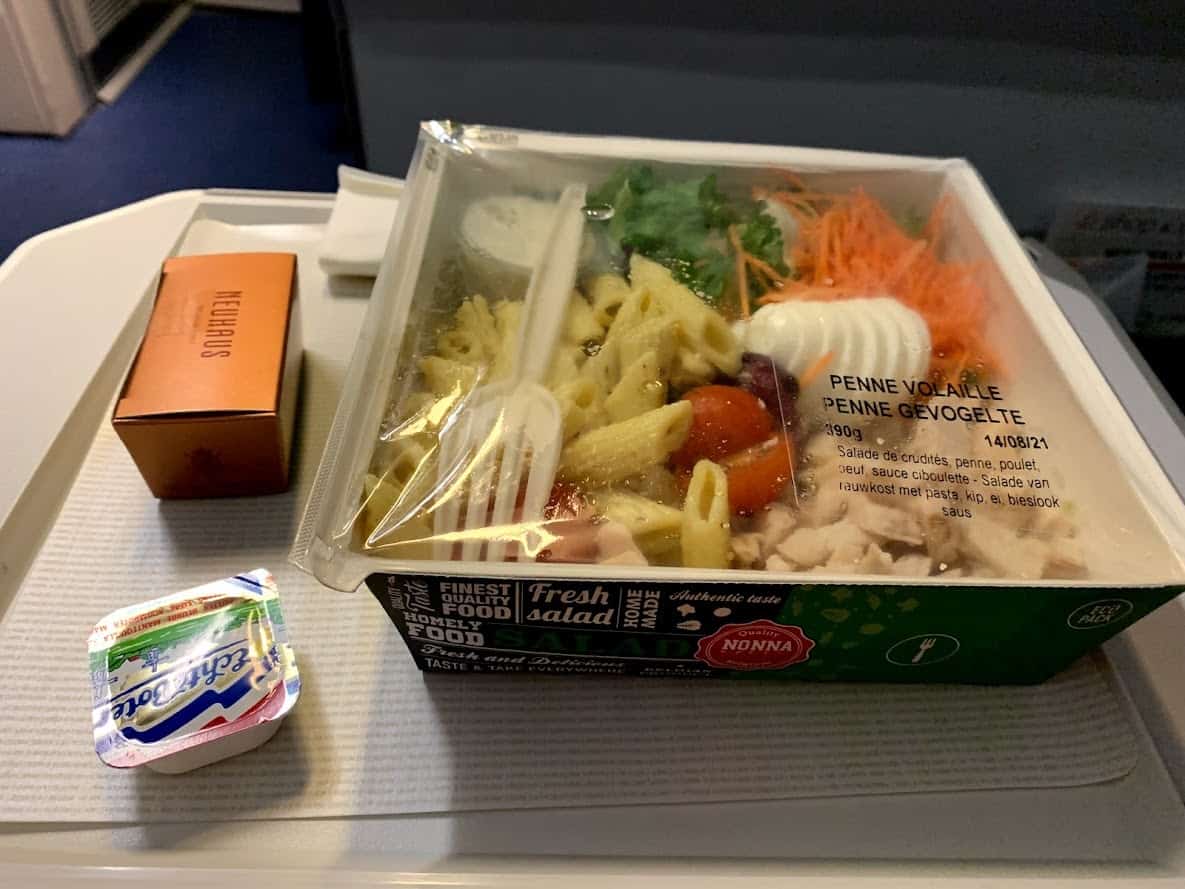 Berlin's New Brandenburg Airport
After a very long wait and much anticipation, Berlin's new Brandenburg Airport is finally open for business. The airport is light, airy and modern and has a lot of shops and places to eat. The new airport is connected to the city by train, and the ride takes about 25-30 minutes, depending on your destination.
When I arrived in Berlin after my long delay, I decided to take a cab instead of a train. There was also a train strike going on in Germany, and I wasn't sure how it was going to affect me, especially that late at night. The cab line was long, even at 11:30 p.m., but it moved fairly fast. I paid 55 euros for a 30-minute cab ride and made a decision to take the train next time.
On my way back to the airport, I took the train from Potsdamer Platz, the station closest to the Grand Hyatt Berlin where I was staying. There's no direct line to the airport from there and I had to change trains once. The airport train was very crowded, but I saved about 50 euros! I took my EasyJet flight to Tel Aviv to continue my trip.
I'll talk about my stay in Berlin and Vienna in a separate post, so stay tuned.
Lufthansa and Air Canada Tel Aviv to Toronto Review
So finally my trip was coming to an end and it was time to head home. My return trip from Tel Aviv to my home airport of Cleveland included two layovers in Frankfurt and Toronto.
Air Canada's frequent flyer program Aeroplan has recently undergone a big overhaul and one of the biggest changes was the dynamic pricing of Air Canada-operated flights. Aeroplan has a zone-based award chart, and it prices all the Star Alliance partner flights according to the chart.
However, there's an opportunity to save some points when flying on Air Canada's own flights. When I was booking this trip a few months ago, I found a business class award from Tel Aviv to my home airport for just 67,400 miles. That's huge savings compared to the more customary 85,000 miles!
Star Alliance doesn't have its own lounge in Tel Aviv airport, so with my Priority Pass in hand, I headed over to the only open lounge at Ben Gurion Airport, the DAN lounge. During normal times, both DAN lounges are open and busy, but right now Tel Aviv is very quiet.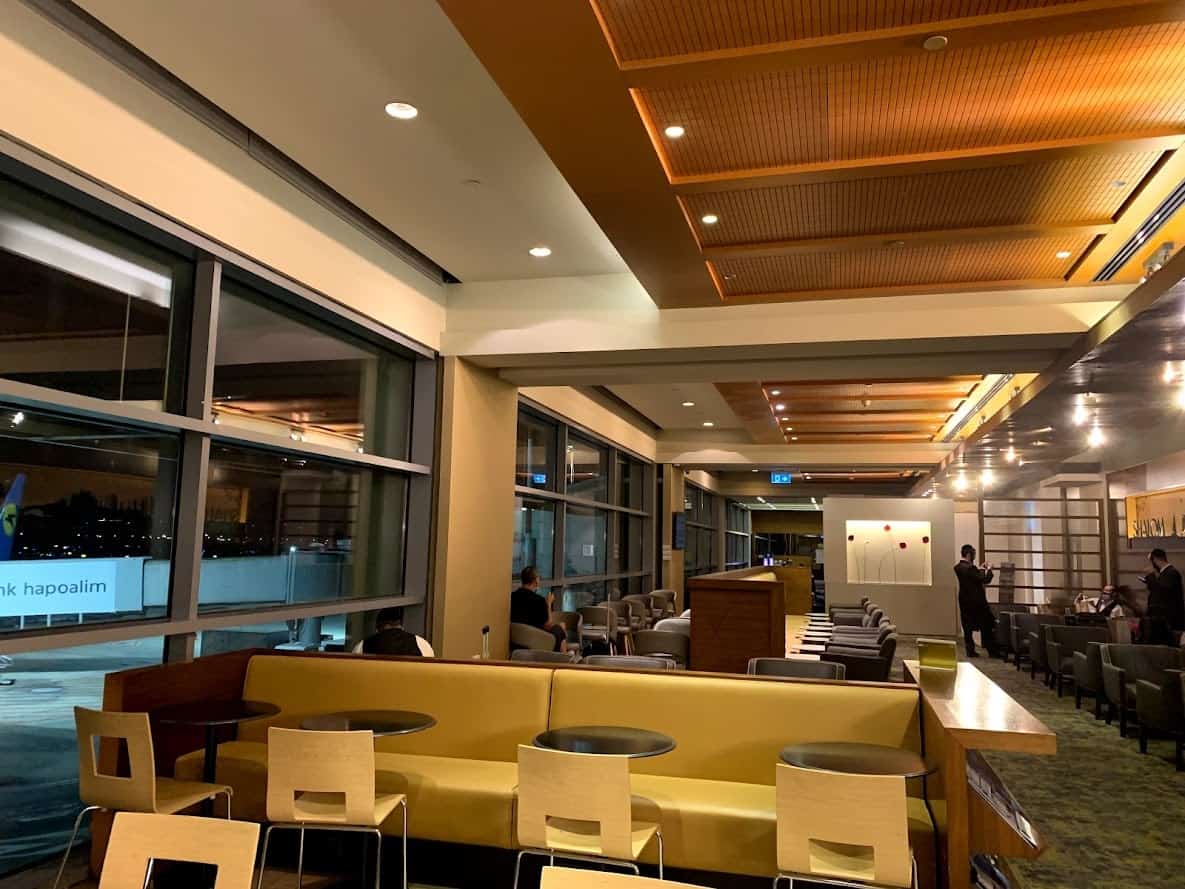 My first flight from Tel Aviv to Frankfurt, Germany was operated by Lufthansa. Lufthansa's intra Europe business-class cabin is nothing special since it's just an economy row with a middle seat blocked off.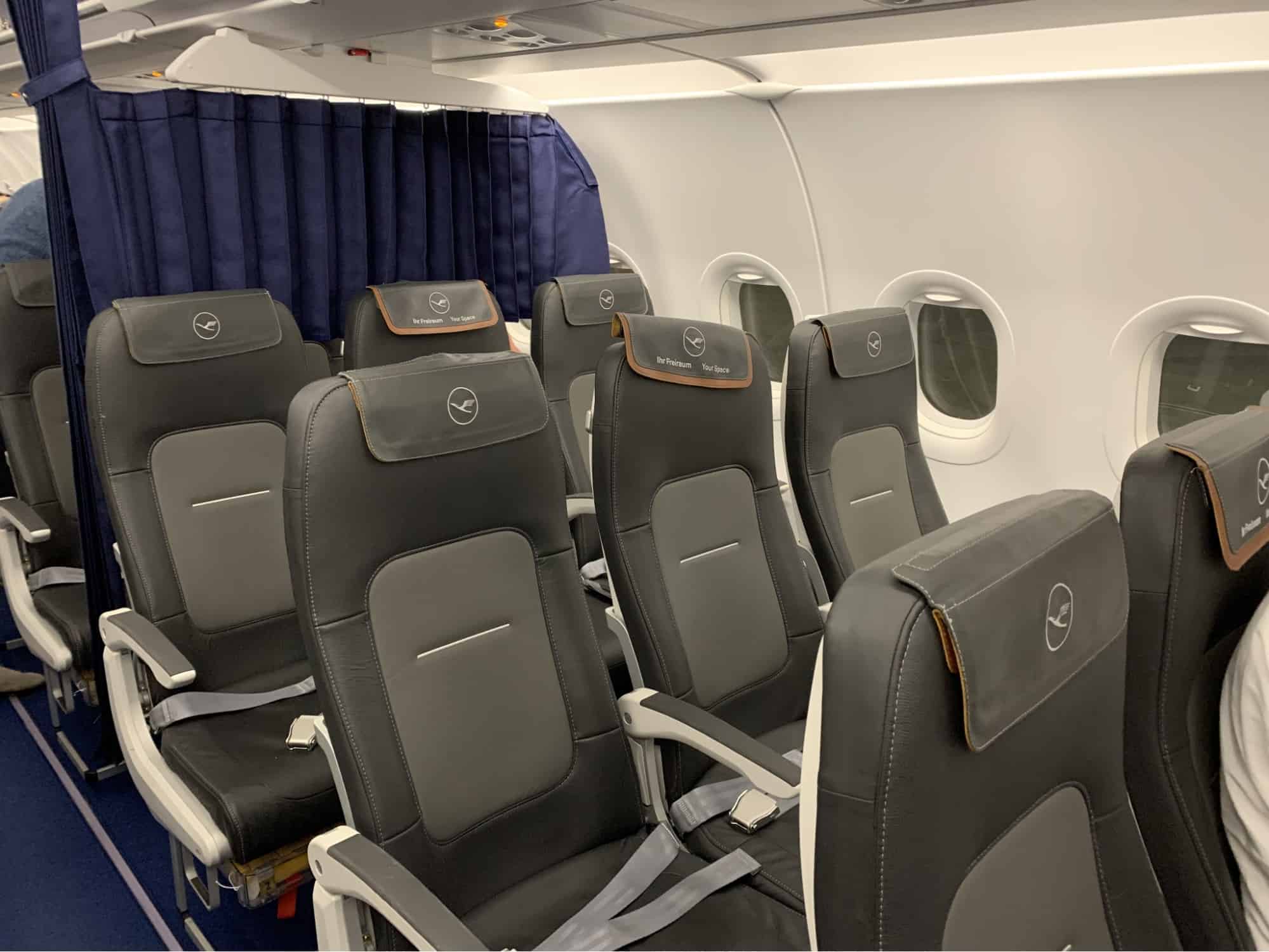 The on-board service, however, was definitely business class. I was glad to see that all the COVID-19 related cutbacks are no more. There was a menu, a small amenity kit and I got a lovely meal, served on real china and with real silverware. The very friendly and attentive flight attendant even heated up the croissants and the bread rolls for a handful of passengers in business class.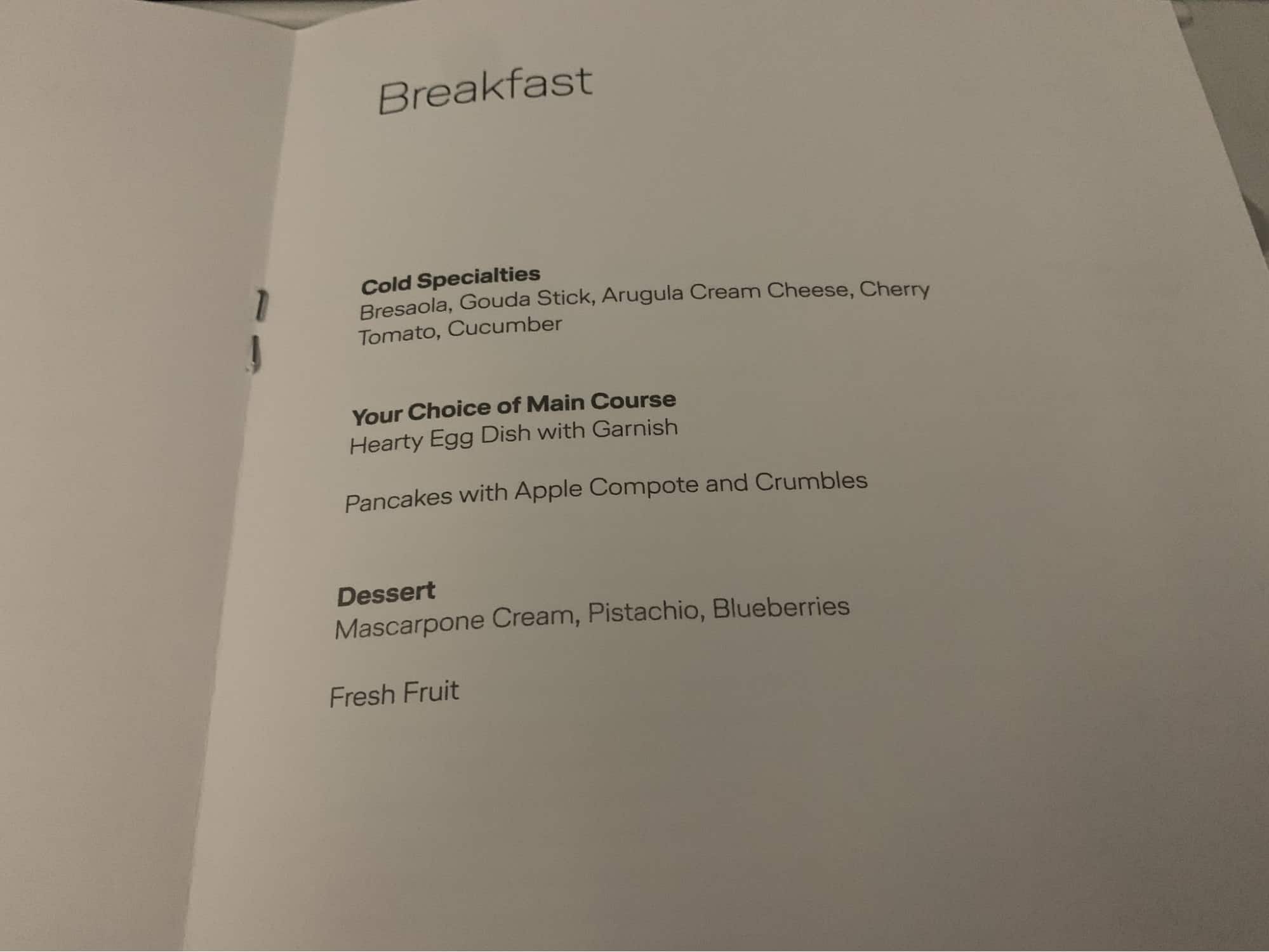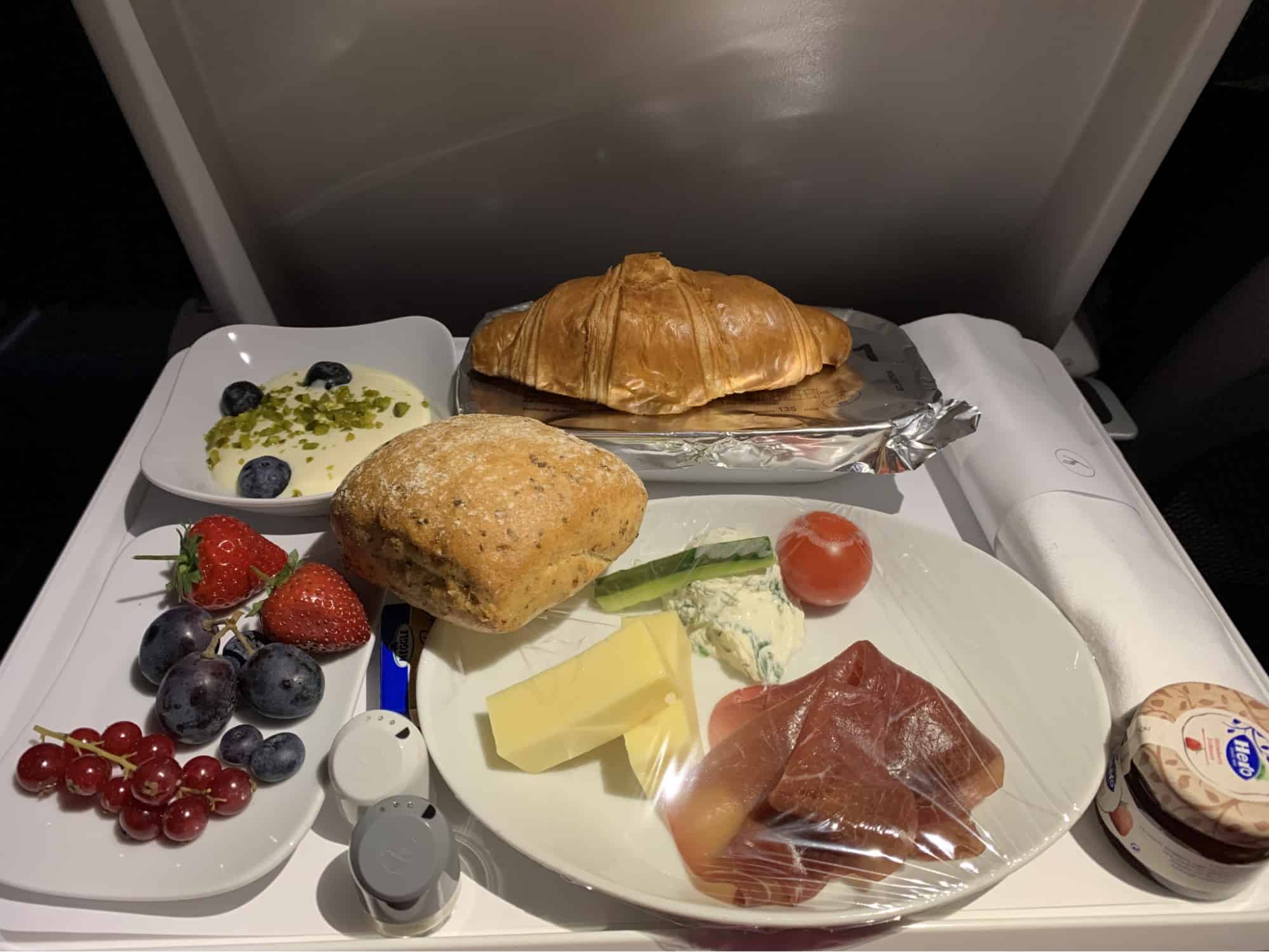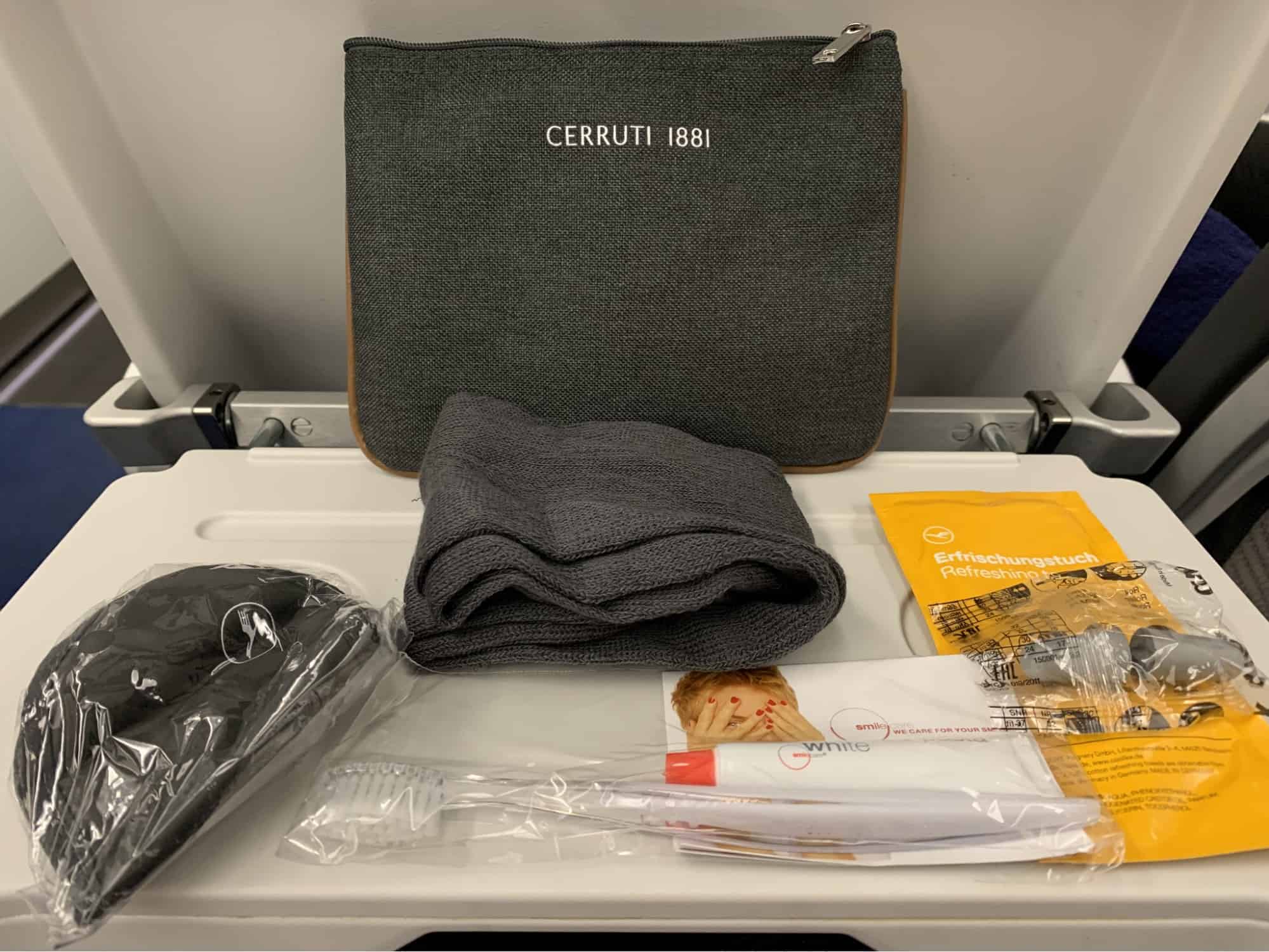 My layover in Frankfurt was less than two hours, so I didn't have time for a lounge visit. Lufthansa has reopened its lounges in Frankfurt, but there was a long line of people waiting to enter and I had to head over to Air Canada's gate to complete the document check. They verified my COVID test and the boarding started soon thereafter.
When I boarded the plane, I found a huge white plastic bag with a pillow, a duvet and a mattress pad on my seat, plastic-wrapped headphones and the amenity kit. Not the most aesthetically pleasing presentation, but definitely more sanitary than just leaving the bedding on the seat.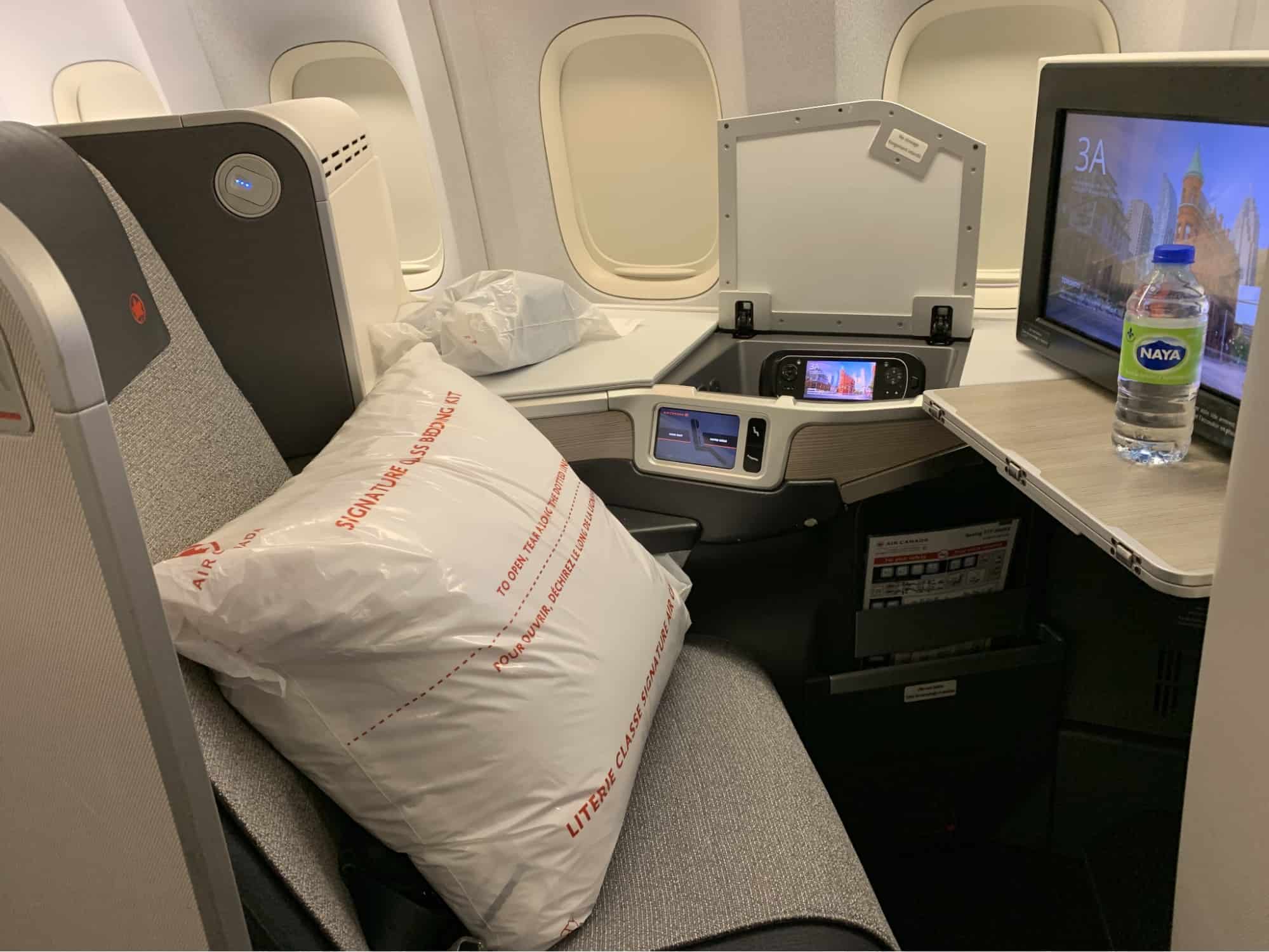 The amenity kit had all the usual necessities and came with a nice roomy pouch. I kept it to use later to store cords, USB sticks and other tiny miscellaneous things.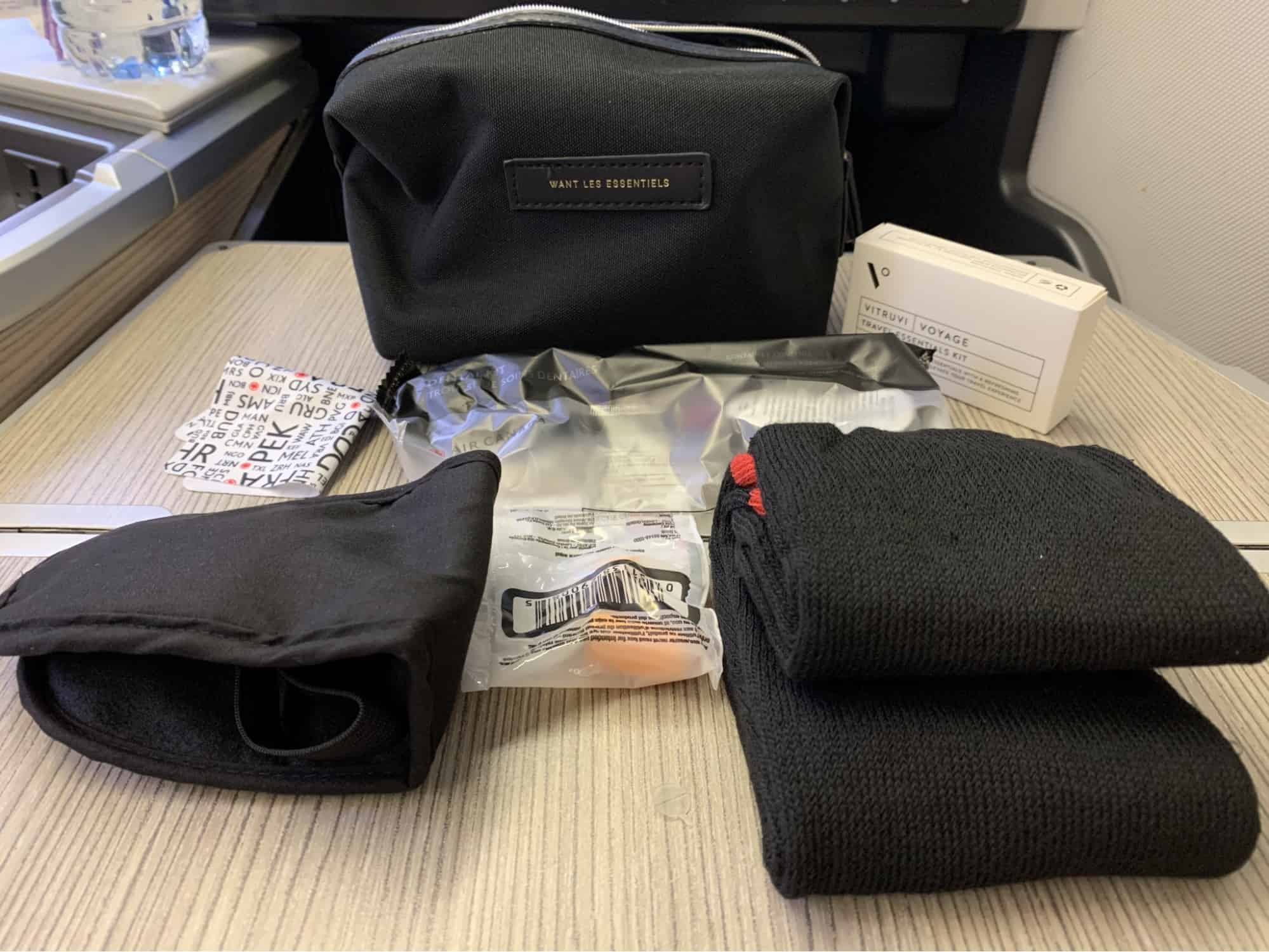 There was no pre-departure drinks service, but other than that, the service was excellent, like in the pre-COVID times. I've flown Air Canada in business class once before and the service on this flight was a lot better and more personable, while still being unobtrusive.
The seat on this aircraft was more comfortable than what I remember from my previous Air Canada experience. There's however one major flaw, and that's the tray table that's sticking out from under the IFE screen. See where the water bottle is in the photo above? That part doesn't retract fully, so when my seat was in a lie-flat position, every time I tried to turn from side to side I hit my hip on that tray table. I am only an average-sized female, and I always wonder if people who design these things ever really test them out themselves.
The food was delicious and nicely presented, and unlike the food on United, it wasn't all served on the same tray.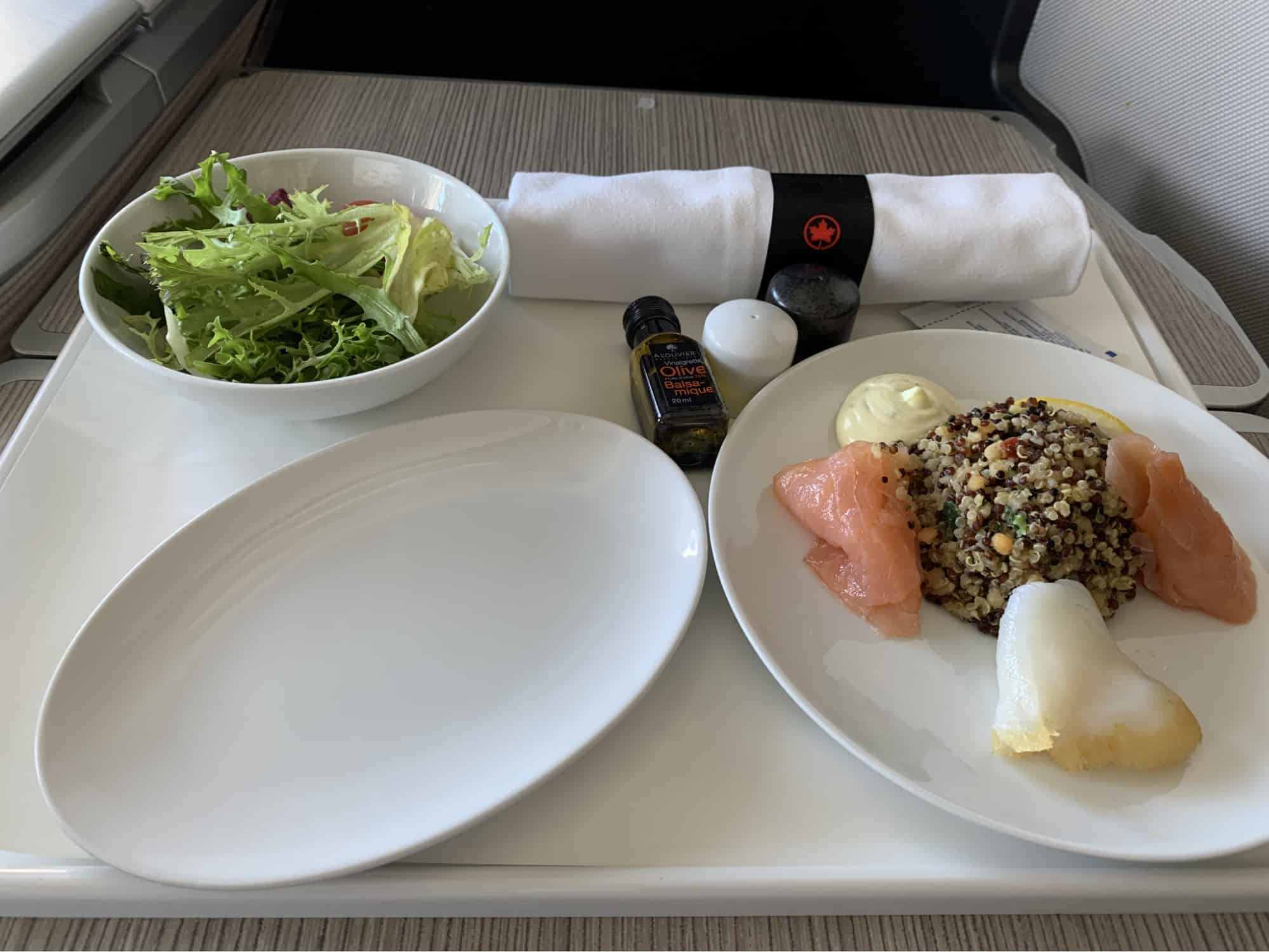 This seems to be the major difference between the domestic and the foreign airlines now. The food was delicious on all my flights, but there's definitely a major difference in how it's presented.
There were no menus on this flight, so the flight attendant just asked me to choose between Asian-style chicken or ravioli.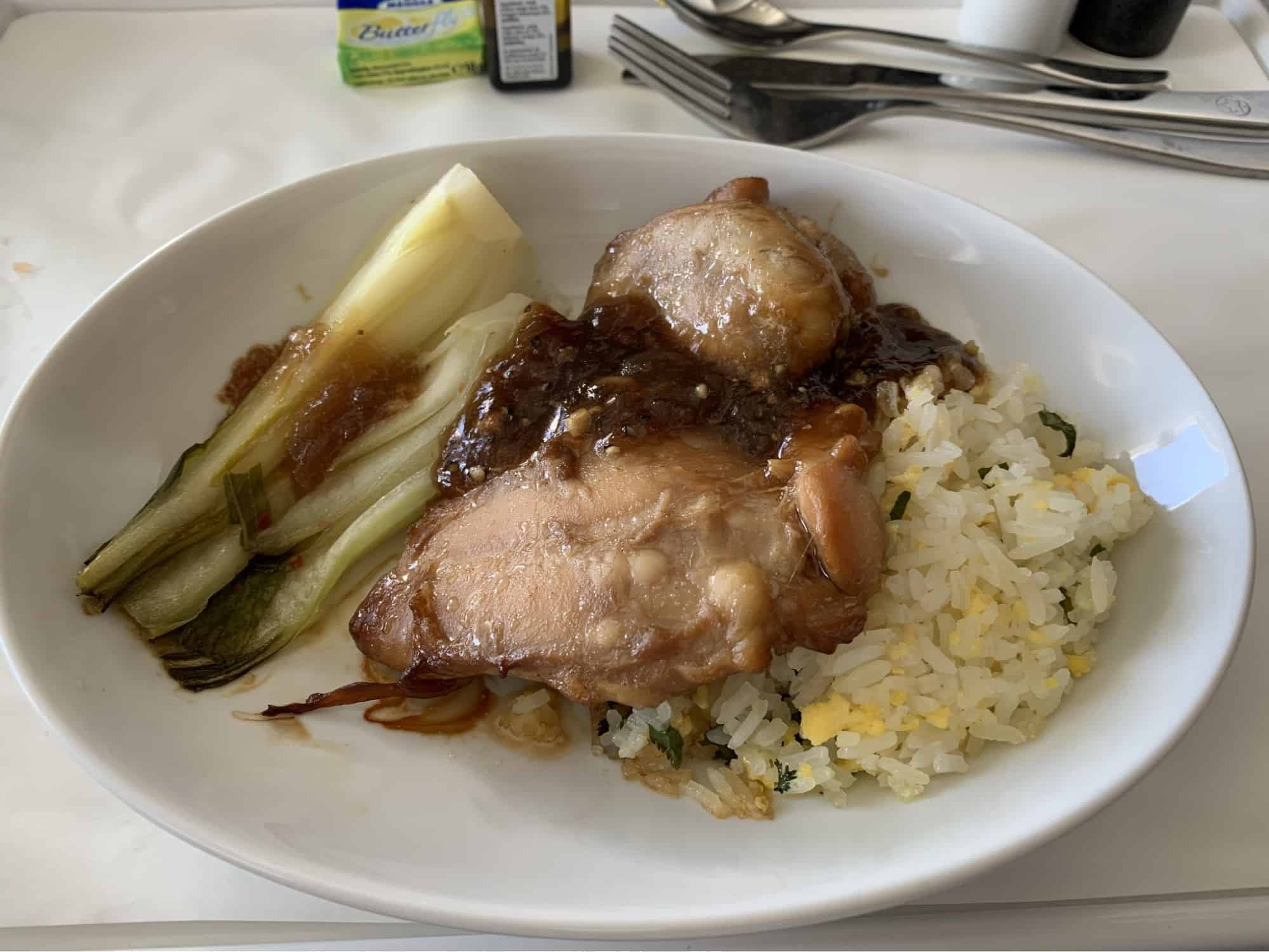 For our second meal we were served a light lunch.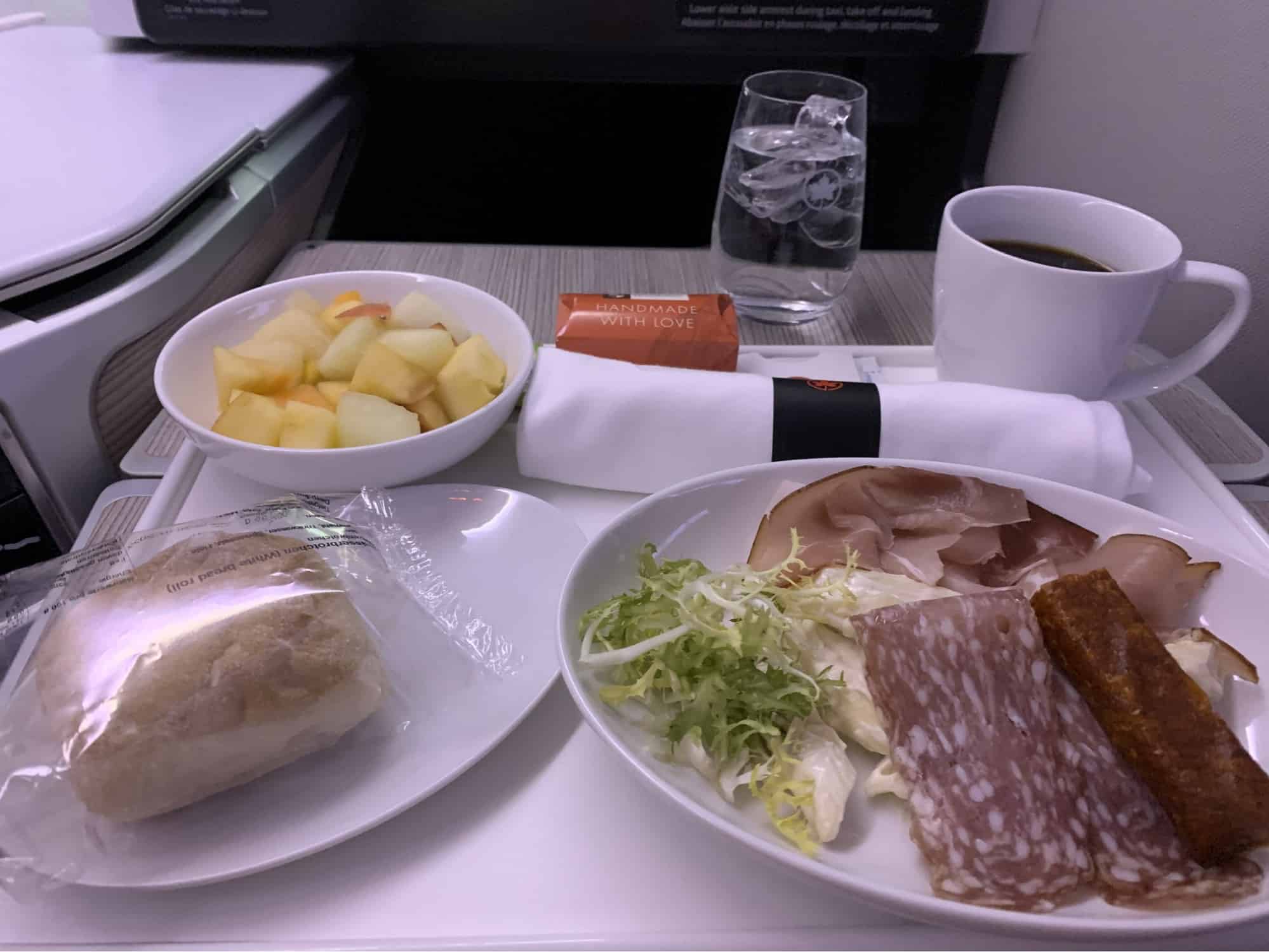 Arrival at the Toronto Airport
Canada has just started to open for travel, so the Toronto airport was largely deserted. What I love about connecting in Toronto is the fact that you go through U.S. passport control and customs right there. And what's even better, you don't have to collect your bag and recheck it for the next flight.
After I went through the security screening, I just sat in the waiting room until I saw my name on the overhead display. That means that my bag went through customs and I can go to the passport control. There were a few Global Entry machines and the immigration hall was completely empty; there wasn't anyone in line. I imagine that this is due to the currently very light flight schedule from Toronto to the U.S.
My U.S. bound flight departed from Terminal F. I haven't flown through Toronto airport in ages, so I am not sure how crowded it usually is, but when I was there in August, it looked pretty quiet.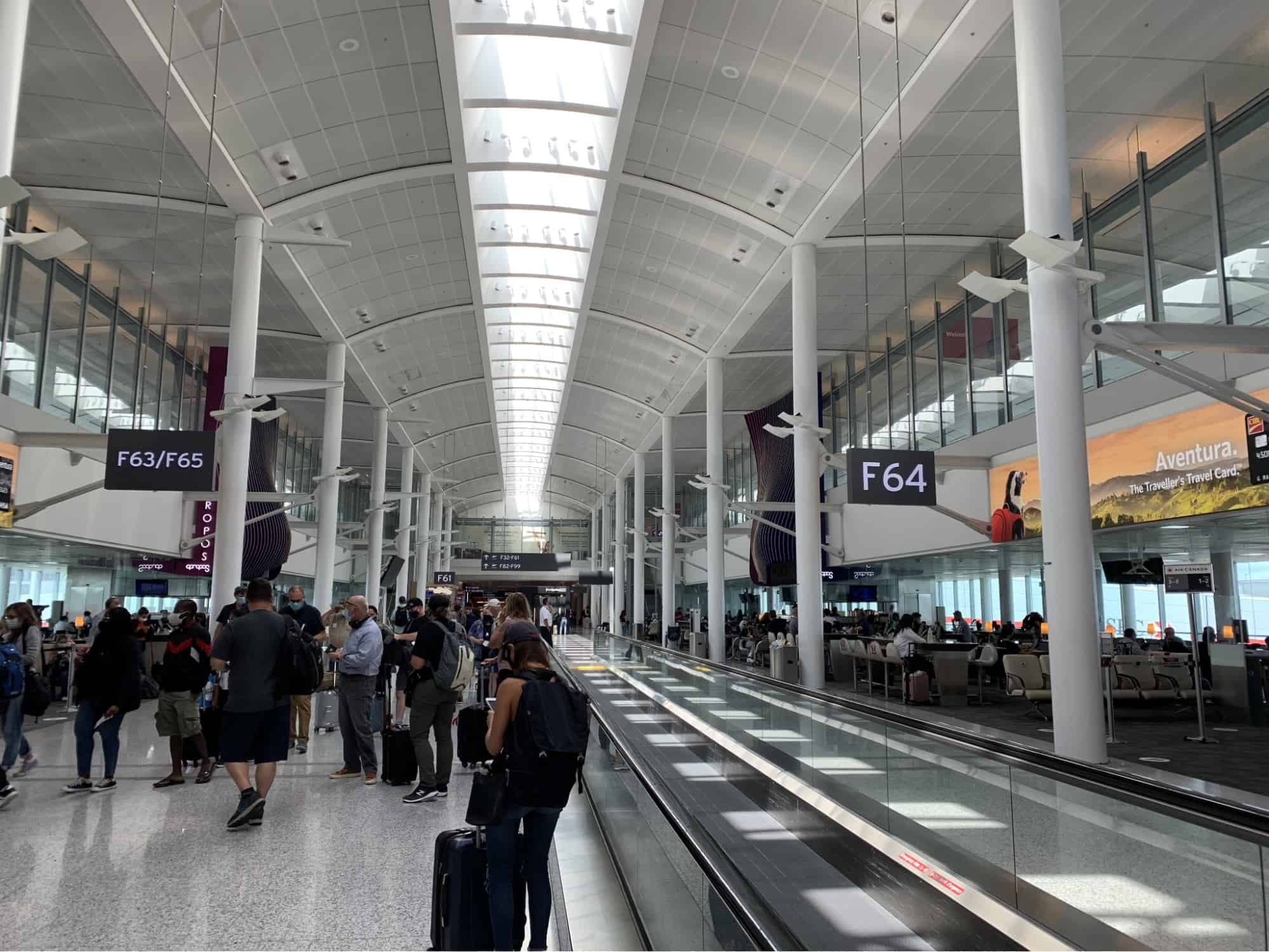 My last flight home was also completely uneventful. I wouldn't hesitate to book Air Canada business class again, especially if I can find a reduced rate like I did last time.
Final Thoughts
This was a whirlwind trip with lots of flying on different airlines and even an unexpected detour to a city that wasn't in the original plans. But when life gives you lemons, you go get some delicious Belgian food and chocolate, do some shopping and have a good time.
Booking these flights was relatively easy, and with the travel not being back to normal yet, there's still a good amount of award space. I expect this isn't going to last long, but we still have to watch out for possible new travel restrictions and adjust our plans accordingly.
In the next part of my trip report I'll talk about my experience with hotels in Berlin and Vienna, what it's like to travel in Europe right now and how to handle the COVID testing for your trip home.
Travel well,
Anna
New to the world of points and miles? The Chase Sapphire Preferred is the best card to start with.

With a bonus of 60,000 points after $4,000 spend in the first 3 months, 5x points on travel booked through the Chase Travel Portal and 3x points on restaurants, streaming services, and online groceries (excluding Target, Walmart, and wholesale clubs), this card truly cannot be beat for getting started!
Learn More
Editors Note: Opinions expressed here are author's alone, not those of any bank, credit card issuer, hotel, airline, or other entity. This content has not been reviewed, approved or otherwise endorsed by any of the entities included within the post.