Note: Some of the offers mentioned below may have changed or are no longer be available. You can view current offers here.
If you're an avid traveler (you're here, so I'm going to just assume that you are!), then you know that even though going on trips is often fun and exciting, the planning and transportation portions of traveling can be quite cumbersome, stressful and a burden to organize.
Whether you use a spreadsheet, a word document, or some other home-brew travel planning organization system that you've developed, having a centralized repository that contains all of your vital trip information – flights, hotels, rental cars, activities, and much much more – is essential to help execute your trip.
In This Article
About 4 or so years ago, I was introduced to an app called TripIt and it's managed our treks around the globe ever since. And to be honest, I don't know how we traveled without it before. To date, 2019 has been a busy travel year, compromising of well over 50,000 miles flown so far, 60+ segments and almost 80 nights away from home. Various airlines, hotels and Airbnbs, rentals cars, trains, ferries, and more have all been components of these adventures, and I've kept on top of it all thanks to my TripIt account.
Today, I want to introduce you to TripIt and show you how I use it to stay organized for your own travel adventures.
What Is TripIt?
TripIt is a travel itinerary planning application. It was started in 2006 and is owned by the company SAP Concur, which makes a variety of travel and expense management solutions for businesses.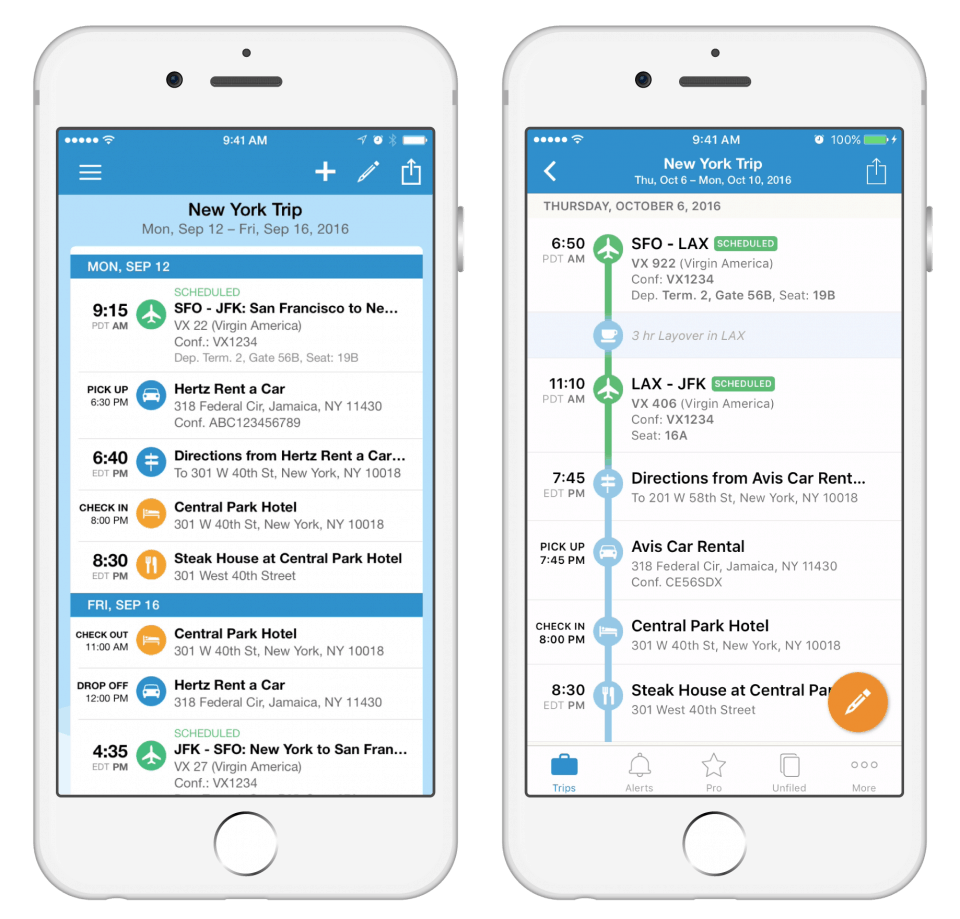 How It Works
Simply put, TripIt allows you to handle all of the pesky nuances of various travel confirmation documents in one centralized place that allows you to build your own itinerary in a simple to view, access, and understand format. Oh, and it's all done in a mostly automated fashion.
The key feature of TripIt is forwarding your confirmation emails to [email protected] from the email address you have associated with your TripIt account. Every time you book a rental car, or a flight, or a hotel, you simply forward on the confirmation email you receive from the rental agency/airline/hotel to TripIt. TripIt then scrapes all of the essential information from that email, such as Name, Confirmation #, the flight dates/times/routes, etc, and creates a master itinerary for the trip.
Once it has all of the information, you can access TripIt in a number of ways – online at TripIt.com in your web browser, using their iOS or Android apps, or their most recent app for MacOS that was just released. Just log in and you'll see all of your trips broken down by destinations in an easy format to see all of the various components of each trip. Even better, you can get all of the helpful alerts on your Apple Watch.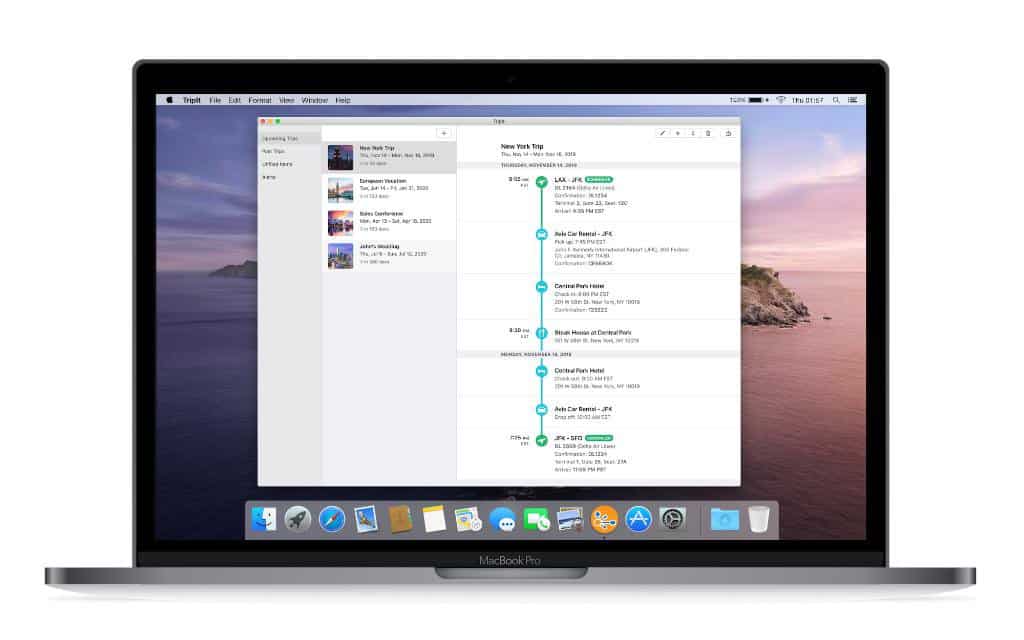 Have a flight to NYC, a car service scheduled to pick you up and take you to your hotel, and then ultimately a hotel reservation? Once forwarded to TripIt, these confirmation emails will quickly become a master itinerary so that you can have organized travel plans in seconds. You'll have a reliable schedule that's created that will help you instantly see where you need to be and when, all at your fingertips on either your phone or computer.
Further, TripIt makes it easy to share itineraries with others.
Growing up, my dad traveled a lot for work and used to always send a Microsoft Word document with his plans for each trip so that we'd know where he'd be and when he'd be there. I have to imagine this took a lot of time to put together, but it was important for my mom to know where he was and when.
Now, I share all of our trips with my parents. But I don't put together detailed itineraries as Word documents, I simply share my trip via TripIt, and they instantly have access to all of the logistics for the trip. Piece of cake!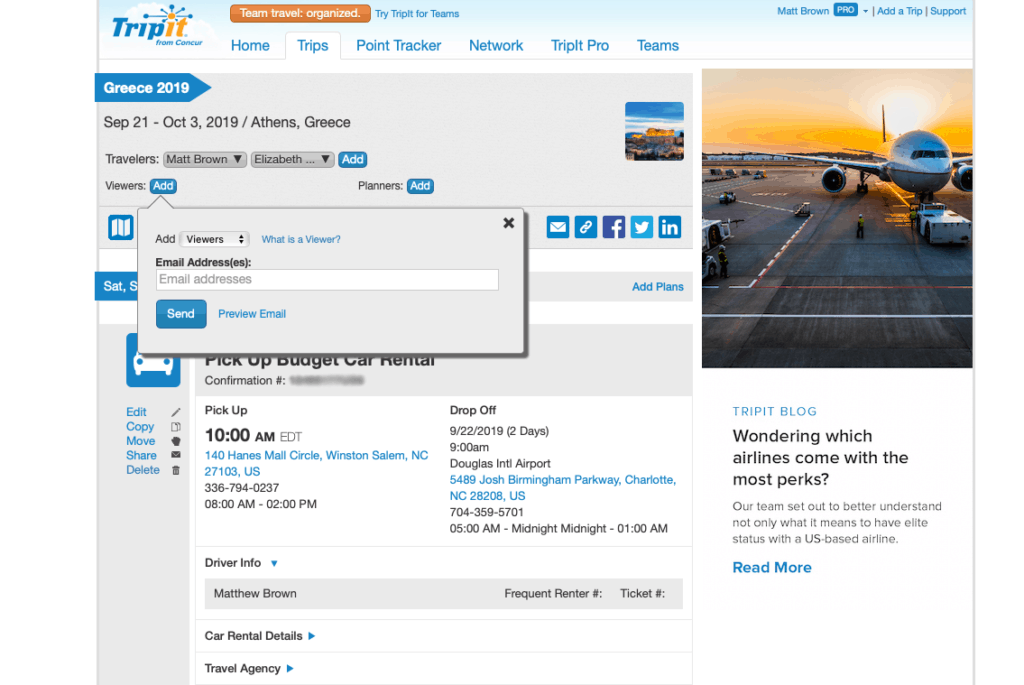 TripIt Free vs TripIt Pro
TripIt has two plans – TripIt (the free version) and TripIt Pro. I highly encourage you to start off with the TripIt free version.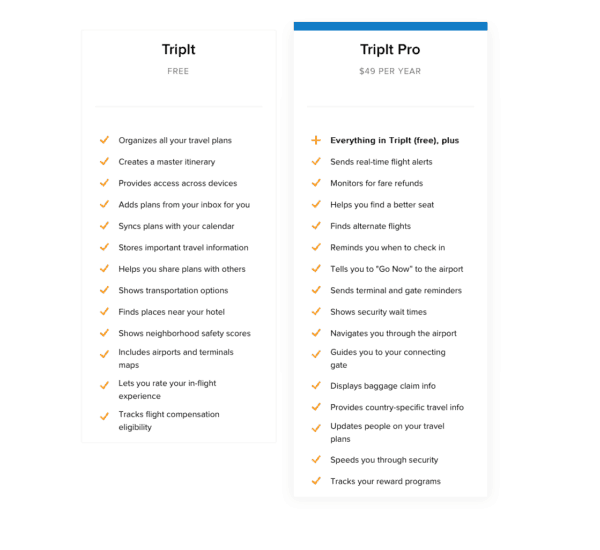 The TripIt free version has a number of important features such as:
Builds your master trip itinerary by simply forwarding your confirmation emails to [email protected]
Allows you to access TripIt either on the web, or on mobile apps.
Syncs your plans from your trip itinerary to your calendar
Allows you to share plans with others
Includes airport and terminal maps (a great feature!), which is great for help navigating unfamiliar airports
Allows you to store important travel documents such as frequent flyer account #'s, important passport information, global entry information, and more in a secure vault inside of the TripIt app.
The Pro version of TripIt costs just $49 per year, and includes the following key features in addition to all of the free features:
Real-Time Flight Alerts – I often get flight change and delay notifications from TripIt long before any alerts from the airline, which can be beneficial if you get rescheduled or need to make alternative plans.
Monitor for Fare Refunds – this could potentially save your hundreds or even thousands of dollars annually, but TripIt Pro will continually monitor the fares of the flight you booked, and if the prices goes down, they'll alert you so that you can potentially get a refund. This is great if you're a Southwest flyer where you can cancel flights for free and rebook.
Alternate Flight Finder – if you get delayed, rescheduled, or simply want an earlier flight, TripIt Pro can list out all of your options that have open seats to help you get the flight you want fast.
Check-In Alerts – You'll get a push notification when it's time to check-in, which is helpful if you're a Southwest flyer in order to get the earliest boarding location possible.
Security Wait Times – it loads the wait times at the airports you're traveling through in order to help you pick the best security line
Displays important flight information, such as up to the minute gate information (I find out about gate changes faster from TripIt alerts than I do from the airline), baggage claim location information and more.
Point Tracker – TripIt can access some loyalty programs for airlines, hotels, and credit cards, and display the balances of those programs. For programs that it can't directly access, you can simply forward your monthly reward statements to it and it will maintain your balances. Note: If you use AwardWallet or a similar program, it has a similar level of access to the same programs, so some overlap would occur.
These are some of the main features that differentiate the free version of TripIt from TripIt Pro. I'd suggest you give the free version a trial for a few months, and if you find yourself liking it, then evaluate whether an upgrade to TripIt Pro would be worth it.
So, now that we know what TripIt is and what some of its main features are, let's look at how we would use some of the main TripIt features before and during our travels.
Using It Before You Leave
Before using TripIt's automated import feature, you'll need to signup for an account. Once you have your account setup, be sure all confirmation emails from the airline/hotel/etc come to the same account you setup TripIt with. Then, simply forward that email to TripIt. A few moments later, you'll get a confirmation email back from TripIt letting you know that your flight/hotel/etc was successfully imported, and you can login to TripIt to see it.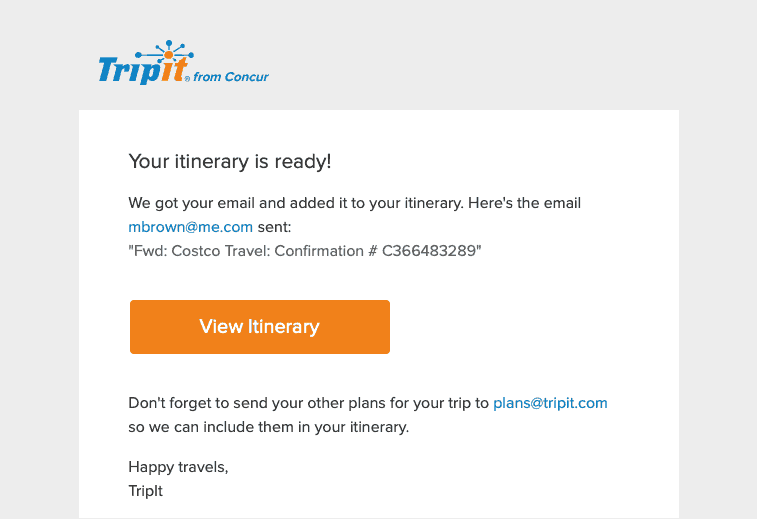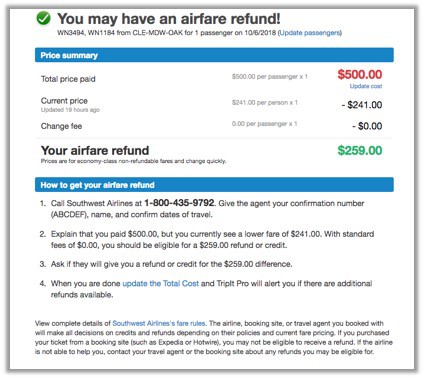 Once my itinerary with my flight and other travel information is loaded into TripIt Pro, the app will constantly monitor my reservations for price changes. If the price drops, they'll send me an alert with the new pricing information as well as instructions on how to rebook at the lower price. Note: this works great on airlines like Southwest with flexible cancellation policies, but some of the traditional mainline airlines like American, Delta and United would still charge their cancellation fees. But, if the price change is big enough, it could still be worth it to pay that if the fare has dropped by a significant amount.
Now, I want to keep my parents in the loop on where I'll be and when for my trip. So I have two options.
First, I can set up my parents in my "Inner Circle" in TripIt, which means they'll automatically get all existing detailed trip plans, as well as automatic notifications whenever we add a new trip.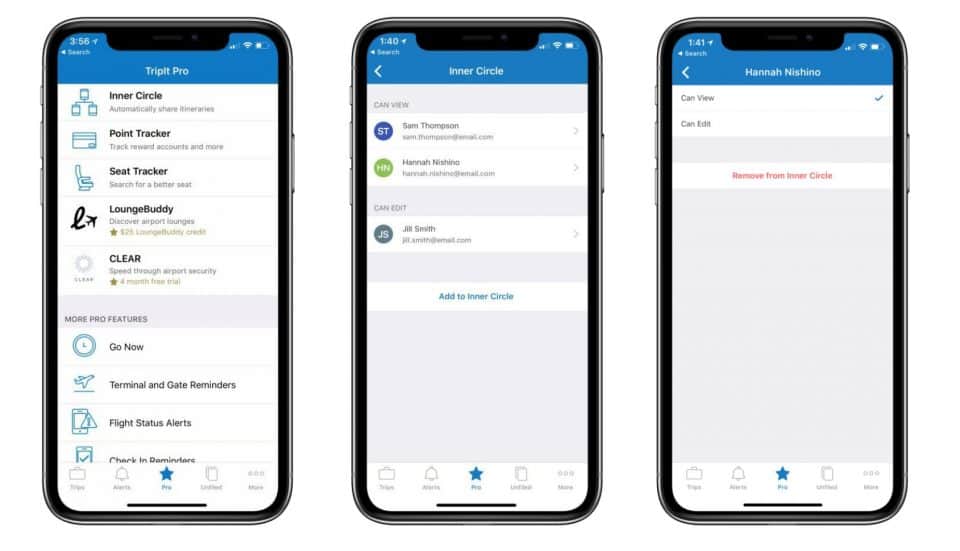 Alternatively, I can manually share individual trips with them one-by-one.
As a bonus, TripIt Pro can send them updates on our travel status, so you know longer have to send them a text to let them know you've landed in Chicago, they'll already have gotten a notification from TripIt as soon as your flight lands.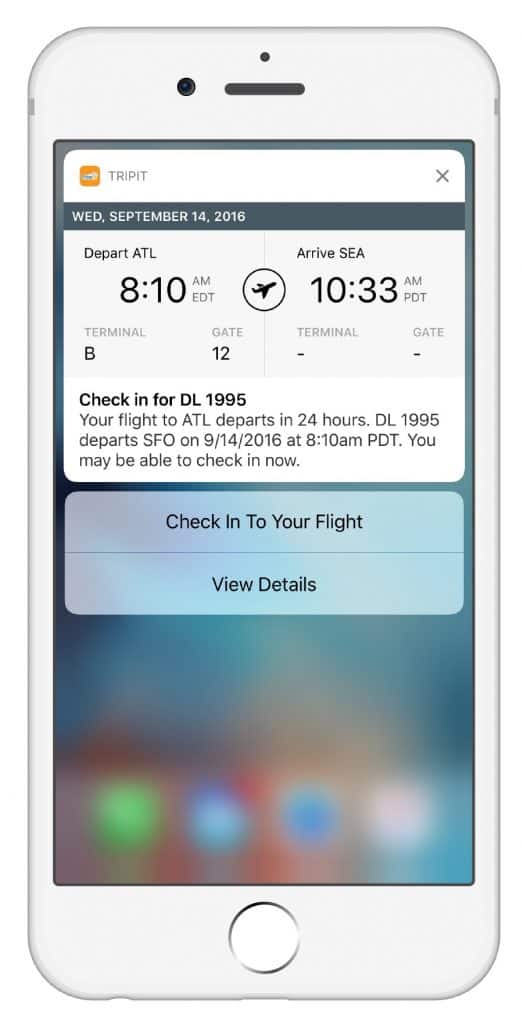 Lastly, if you're flying on an airline like Southwest, where it's best to check in 24-hours before your flight for optimal boarding order, TripIt Pro will send you a notification about 5 minutes before check-in opens for your flight.
This way, as soon as the clock strikes 9:04am and is 24 hours exactly before your flight, you can click "check-in" from your trip itinerary item in TripIt and be directed to the Southwest check-in process. This gives you the best chances for the highest boarding priority possible.
It even includes the weather forecast for your location!
Using It While Traveling
In my opinion, the day of your trip is when TripIt Pro really shines.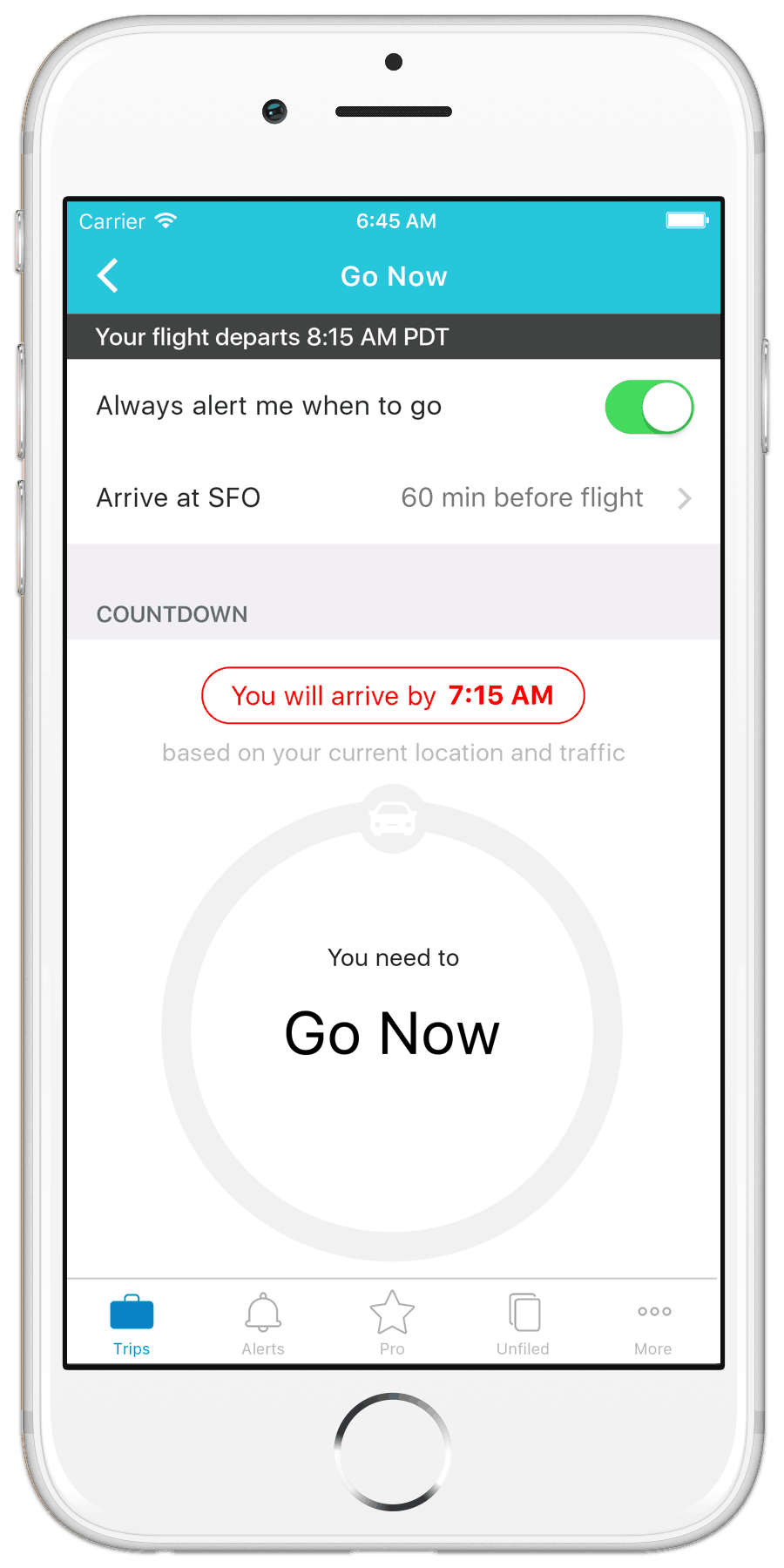 First up, I've enabled "Go Now alerts" for my trip, which uses my phone's location to let me know when I need to start leaving for the airport. And bonus, I'm looking to use public transportation, and thankfully, TripIt Pro gives me a list of transport options for public transport as well as the price, which can be very helpful when traveling in unfamiliar cities.
Next, once I've started making my way to the airport, I'll be getting an alert at some point soon with my flight information. It'll show up to the minute information such as the boarding time, departure time, as well as what terminal and gate I'm in. This is important and helpful since these things can change regularly.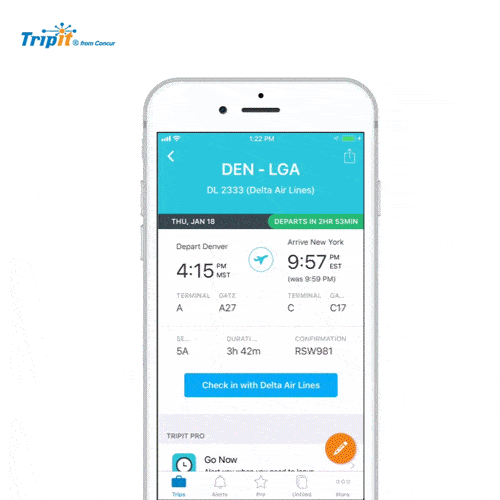 Now that I know where my departure gate, I'll pull up the airport map of that airport from inside the TripIt app. Here, I can zoom into the area around my gate, and find all of the restaurants, stores, and even lounges that are near my gate so that I can plan my pre-flight time accordingly.
Once I've arrived at the airport, I'm going to again pull up the TripIt app and make sure that the security line for my specific terminal isn't outrageously long. If it is, I can also use the airport map again to figure out an alternative option that may be more beneficial than standing in line for 20-30 minutes.
After clearing security, I'll check my Apple Watch, and confirm that I haven't gotten any additional updates from TripIt indicating a gate change or a change in my departure time, and then it's off to the lounge before boarding my flight.
Using It When You Arrive
Upon landing, I can again use the flight status alerts that TripIt sends me to confirm where I might have to make a connection, and then use the Airport map to plan how I'm going to get there, all while taxiing to the gate.
Since this is my final destination, instead I'm going to use TripIt Pro to figure out where baggage claim is. And no, I don't need to know how to get to baggage claim as that's one thing almost all airports have the proper amount of signage for – how to get to baggage claim.
Instead, I want to know what baggage claim carousel number our bags are going to be arriving at. Thankfully, I'll get an alert for this shortly after we arrive at my final destination.
Final Thoughts
As I mentioned, I've been using TripIt Pro for a few years now, and it's really changed the way I plan and organize my travel. I'm certainly a planner, so I need a visual and organized way to see all of the various logistics and components that make up a trip. For me, TripIt and TripIt Pro do just that, and I've found them to do it better than a number of similar services that I've tried.
I think TripIt and TripIt Pro can be a real life-saver for a number of different travelers and situations:
Has your flight been canceled due to the weather? This is bound to make a number of people make a mad dash to the nearest customer service desk to facilitate a rebooking. Not only will you likely know about the cancellation before most of the other passengers on the flight, you can also use TripIt Pro to already have a list of available alternative flights that you can put yourself on.
Are you an inexperienced traveler that gets anxious or overwhelmed by having to traverse airports? I bet there are more people that fall into this category than we might think. Well, the airport map, flight alerts, baggage information, and more, TripIt can be a lifesaver in helping to eliminate any of these fears or anxieties.
For me, only $49 for TripIt Pro is absolutely worth it. The flight monitoring feature is easily the most valuable feature for TripIt Pro, and can easily save you more than the cost of the subscription with the speed and accuracy of the alerts it gives you. It might make the difference between you making it home for dinner one night because you got the last seat on an alternate flight, and being stuck in Fargo, North Dakota for one more night in the dead of winter.
I absolutely recommend you consider looking into TripIt and TripIt Pro for use in your trip and travel planning. If you haven't been using a trip planning tool, you need to asap! TripIt Pro has been a lifesaver for me and has made organizing trips so seamless and easy that I don't even think about it anymore.
Not only are the trips organized ahead of time, but once I'm traveling, I'm able to use a variety of TripIt's features to help further make our actual travel easier and less stressful.
New to the world of points and miles? The Chase Sapphire Preferred is the best card to start with. With a bonus of 60,000 points after $4,000 spend in the first 3 months and 2x points on dining and travel, this card truly cannot be beat! 
Learn more
---
10xTravel is part of an affiliate sales network and receives compensation for sending traffic to partner sites, such as CreditCards.com. This compensation may impact how and where links appear on this site. This site does not include all financial companies or all available financial offers.
Editors Note: Opinions expressed here are author's alone, not those of any bank, credit card issuer, hotel, airline, or other entity. This content has not been reviewed, approved or otherwise endorsed by any of the entities included within the post.