Note: Some of the offers mentioned below may have changed or are no longer be available. You can view current offers here.
Editors Note: Two Card Trips is a series of articles that show how you could book a trip using points/miles earned from just two credit card bonuses. Today's two card trip takes us to Costa Rica with bonuses from the Chase Ink Preferred and World of Hyatt Credit Cards.
Hey Travel Junkies,
Costa Rica is one of the most popular countries to visit in Central America for a good reason: your options for adventure are almost limitless in Costa Rica. Whether you're looking to explore the rainforest, surf the waves, or watch the colorful wildlife, you will easily fill your time in this amazing country.
Thanks to some great sign-up bonuses, you can stay at a luxurious resort as your home-base for all your adventures. Let's take a look at how you can visit Costa Rica with just two credit card sign up bonuses.
The Two Cards
With just two credit cards, you can make your Costa Rica dreams a reality.
The first card is the Ink Business Preferred Credit Card. The Chase Ink Preferred comes with 80,000 Chase Ultimate Rewards when you spend $5,000 in the first three months. You'll also earn 3 points for every dollar spent on travel, shipping, internet cable and phone services, and online advertising. You'll earn 1 point for every dollar spent on all other purchases.
The second card is The World of Hyatt Credit Card by Chase which has a tiered bonus offer. You'll earn 25,000 points when you spend $3,000 in the first 3 months of opening the card. You'll earn an additional 25,000 points when you spend $6,000 total in the first 6 months.
While that is a lot of minimum spend to hit, with the right strategies, it is very doable. One great way is by paying your bills with Plastiq. When paired with your daily spend, you can quickly hit the bonuses on these two cards.
Both cards have some amazing benefits that make them compelling to keep in your wallet year after year.
The Chase Ink Preferred offers cell-phone insurance when you pay your bill with the card. I love this benefit because if my phone gets accidentally damaged, I know it will have coverage.
The World of Hyatt credit card earns a free night every year you own the card, starting with your first card-member anniversary. These free nights are great to use if you need to stay overnight in a city before your next flight.
Now that you know which two cards you need to book your Costa Rica adventure, let's look at the fun details of the trip.
Where to Stay
You'll be looking to stay at the Andaz Papagayo Resort. The resort is a category 4 Hyatt property which costs only 15,000 points per night.
You can check out 10xT Contributor Weston Conway's review of the property here.
Using points to stay at the Andaz Papagayo Resort is a great deal because it's an expensive resort if you wanted to pay cash, but by using points, you're going to save money and get a great experience for free. For example, A quick search shows some nights in February costing $650 per night! With points, you'll pay nothing!

Another great way using point saves you money comes from the fact that Hyatt doesn't charge resort fees on award nights, so you won't have any extra charges to pop-up and surprise you when you check out.
The Andaz Papagayo Resort offers a lot of free amenities to help you relax or seek out your next adventure. You can use the complimentary kayaks, paddle boards, and snorkel gear to explore the beautiful ocean. There is also an electric bike-share program around the entire peninsula to help you get out and explore the local area.
Additionally, you'll find activities that are resort standards. For example, you can spend a day on the fairways, or relax in one of the lovely spa cabanas.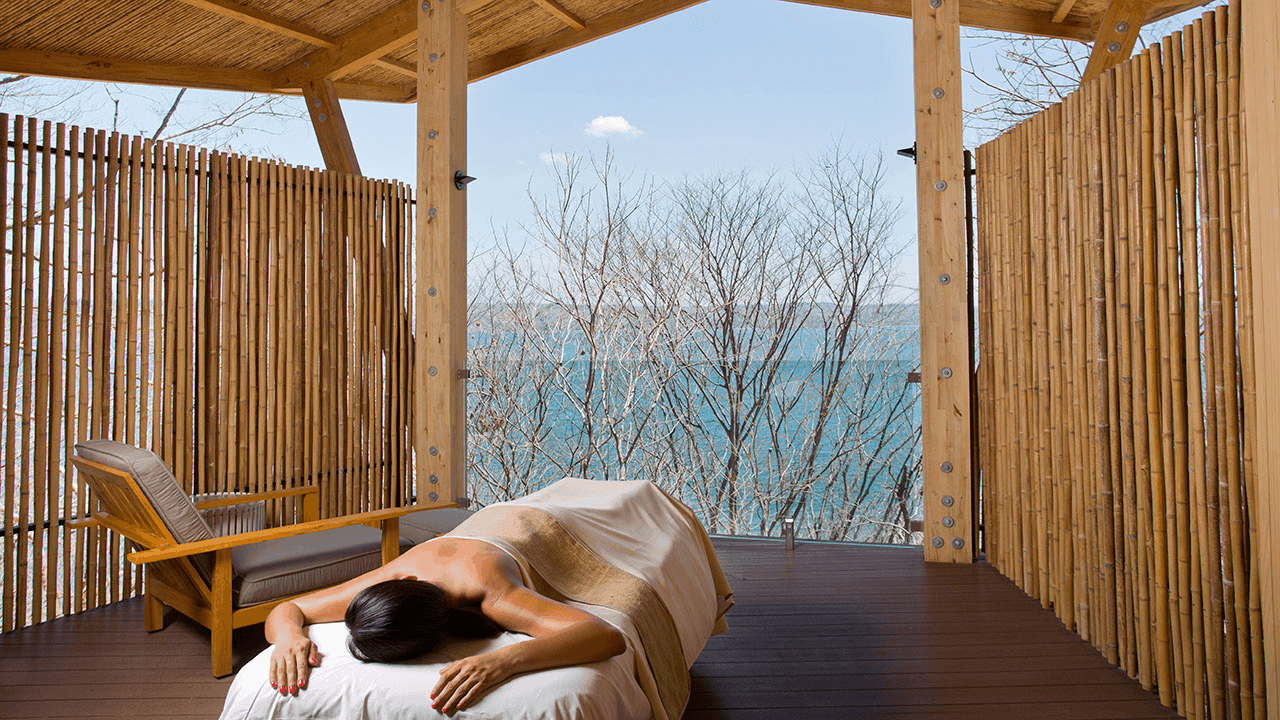 With the current World of Hyatt Credit Card bonus offer plus a little bit of card spend, you can spend 4 nights at this amazing resort at no cost.
If you're like me, the pictures alone have you itching to go. Now that you know what you'll experience in Costa Rica, let's talk about how to get there.
How to Get There
There are plenty of great options for getting to Costa Rica. You'll be using the 80,000 Ultimate Rewards earned from the Chase Ink Preferred sign-up bonus to redeem for flights. You'll use these points to transfer to travel partners in order to stretch them further.
There are two major airports in Costa Rica: San Jose (SJO) and Liberia (LIR). Liberia is the better airport when traveling to the Andaz Papagayo Resort. It is only about 45 minutes away, and you can arrange a ride in advance with the resort or with local service of your choice.
Your best option for flying into Liberia is Southwest. You can catch a direct flight from Baltimore (BWI) or Houston Hobby (HOU). From both airports, flights can be found for around 23,000 points and $75 in taxes and fees.

You can transfer Chase Ultimate Rewards to Southwest and for each ticket, you'll need about 25,000 Chase points. With the sign-up bonus from the Chase Ink Preferred, this is enough for up to 3 tickets.
Keep in mind, Southwest doesn't use a fixed points chart, so prices may vary by dates. I recommend using Southwest's low-fare calendar to find the dates that will cost the least amount of points if you have the flexibility.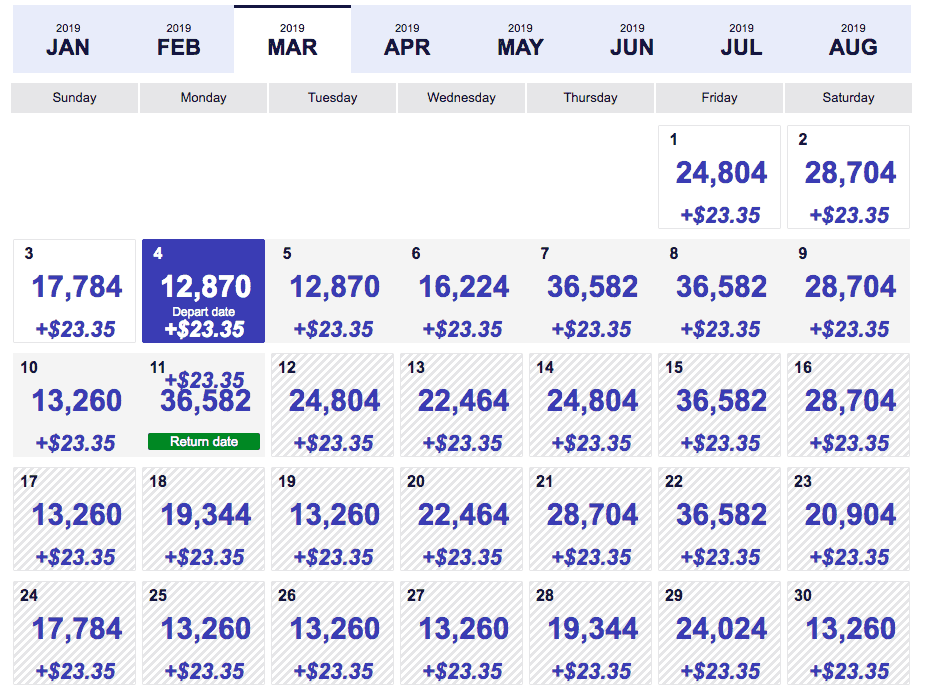 This is an even better deal if you've earned the Southwest Companions Pass. If so, you'll only pay the taxes and fees for your companion to travel with you. This means your flights for two people would only cost about 25,000 points and $150 in taxes and fees.
There are other Chase transfer partners that you can use to fly to Costa Rica. You can use the United MileagePlus program and travel to Costa Rica for 35,000 points per person on United or any of its Star Alliance partners.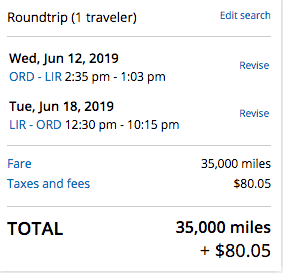 Another option is to use British Airways Avios to book a trip on American Airlines. British Airways charges per segment, so you'll want to avoid connecting flights to minimize the points cost. American Airlines flies to Liberia directly from Dallas/Forth Worth (DFW), Charlotte (CLT), and Miami (MIA). If you're not in one of these cities, you'll likely find a better deal with Southwest or United.
If you are in one of these three cities, do a search for award availability. If you can find the availability, you can book a trip to Costa Rica for as low as 15,000 Avios round-trips out of Miami. I had a hard time finding any availability for my screenshot though – but if you can find the availability you'll save a lot of points compared to Southwest or United.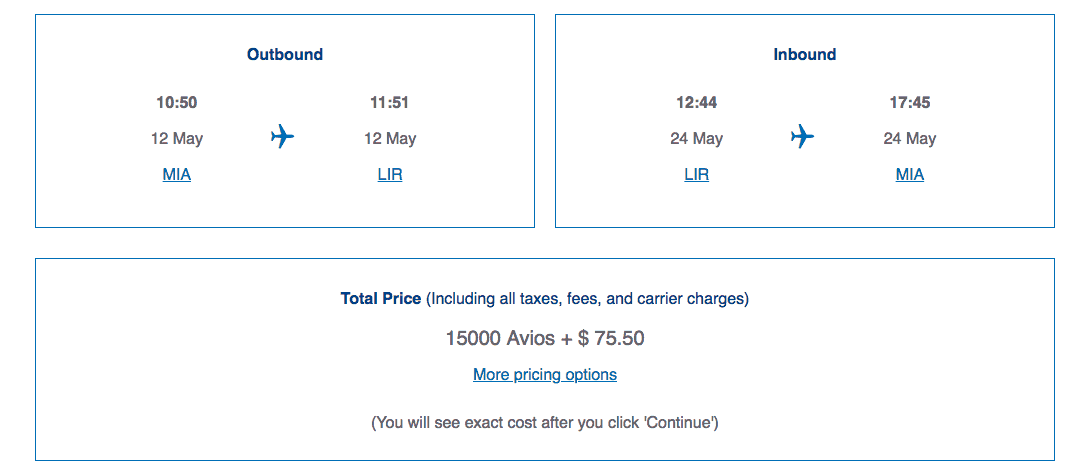 With these transfer partners, you have lots of options for using your points to fly to Costa Rica. To be sure you're getting the best rate, be sure to check the Chase Ultimate Rewards travel portal before you book.
With the Chase Ink Preferred, your points are worth 1.25 cents each. With economy bookings — and even some premium cabin bookings, you might be able to use fewer points by booking through the travel portal.
If the points required is similar to that of an award, you might be better off booking through the portal as these bookings are technically cash tickets that could be eligible to earn miles. Additionally, the points will cover the taxes and fees so there won't be an out of pocket cost if you have enough points.
Overview of Points Use
Now that you know how to get to Costa Rica and where to stay, let's do a quick overview of how many points you're earning, and how you'll use them for your trip.
You'll earn 50,000+ World of Hyatt points from the World of Hyatt card, good for ~4 nights at the Andaz Papagayo Resort in Costa Rica. For your second card, you'll earn 80,000 Chase Ultimate Rewards from the Chase Ink Preferred card. If you're looking for 2 people to travel, you'll use anywhere from 40,000 to 70,000 points for flights.
If you have any Chase Ultimate Rewards leftover, what can you do with them? A great option is to extend your stay! Since you can transfer Chase Ultimate Rewards points to the World of Hyatt program, you can transfer in 12,000 point intervals to add extra nights. If you need 50,000 points for two Southwest points, you can transfer 24,000 of the remaining Chase Ultimate Rewards to Hyatt to add 2 more nights onto your stay.
Bottom Line
Travel doesn't have to be expensive. With just two credit card bonuses, you can enjoy the adventures of Costa Rica at the Andaz Papagayo resort for 4 or more nights, flights included. That's very little work for a lot of adventure!
Have you taken this trip? If so, come join us in our facebook group and share your pictures and stories with us during our Friday Brags. I would love to hear how the trip worked out for you!
Travel in style,
Travis
---
10xTravel is part of an affiliate sales network and receives compensation for sending traffic to partner sites, such as CreditCards.com. This compensation may impact how and where links appear on this site. This site does not include all financial companies or all available financial offers.
Editors Note: Opinions expressed here are author's alone, not those of any bank, credit card issuer, hotel, airline, or other entity. This content has not been reviewed, approved or otherwise endorsed by any of the entities included within the post.