In This Article
Loading table of contents …
Finally, Uzbekistan is open again, and I spent 10 days there at the end of September and early October. With two other travelers, I visited more mosques than I could count and ate as much local cuisine as I could fit in my belly. Here's how it went.
Note: Some of the offers mentioned below may have changed or may no longer be available. The content on this page is accurate as of the posting date; however, some of our partner offers may have expired. You can view current offers here.
A couple of years ago, I wrote an article for 10xTravel on the Best Ways to Fly to Uzbekistan with Miles. That piece fueled a trip to the Central Asian country, and I had a plan to travel there for 2020. Because we all know what happened in 2020, the trip didn't take place, so I put the country on a back burner until it was possible to visit.
Finally, Uzbekistan is open again, and I spent 10 days there at the end of September and early October. With two other travelers, I visited more mosques than I could count and ate as much local cuisine as I could fit in my belly. Here's how it went.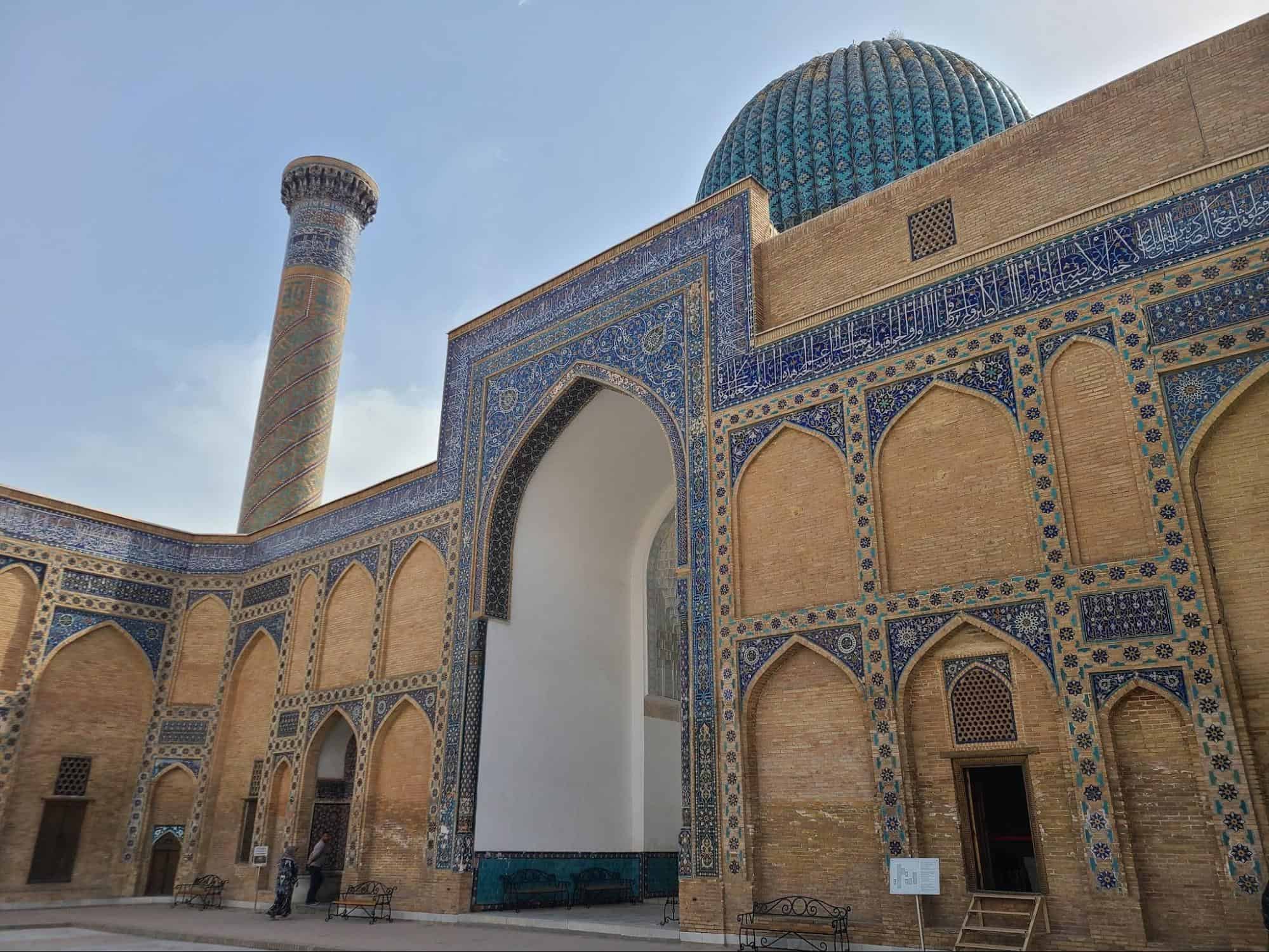 How I Booked a Flight to Uzbekistan with Points and Miles
Because I had written the aforementioned article, I was also familiar with the ways to use credit card rewards for a trip to Uzbekistan. However, the way that I actually redeemed my miles will surprise even the most experienced award bookers.
So, let's start at the beginning. After studying Uzbekistan's unique geography, my friends and I decided to begin our trip in Khiva, a small city in the west, and move eastward all the way to Tashkent, the country's capital, by train. The closest airport to Khiva is in Urgench, and that's where we ultimately chose to start the journey.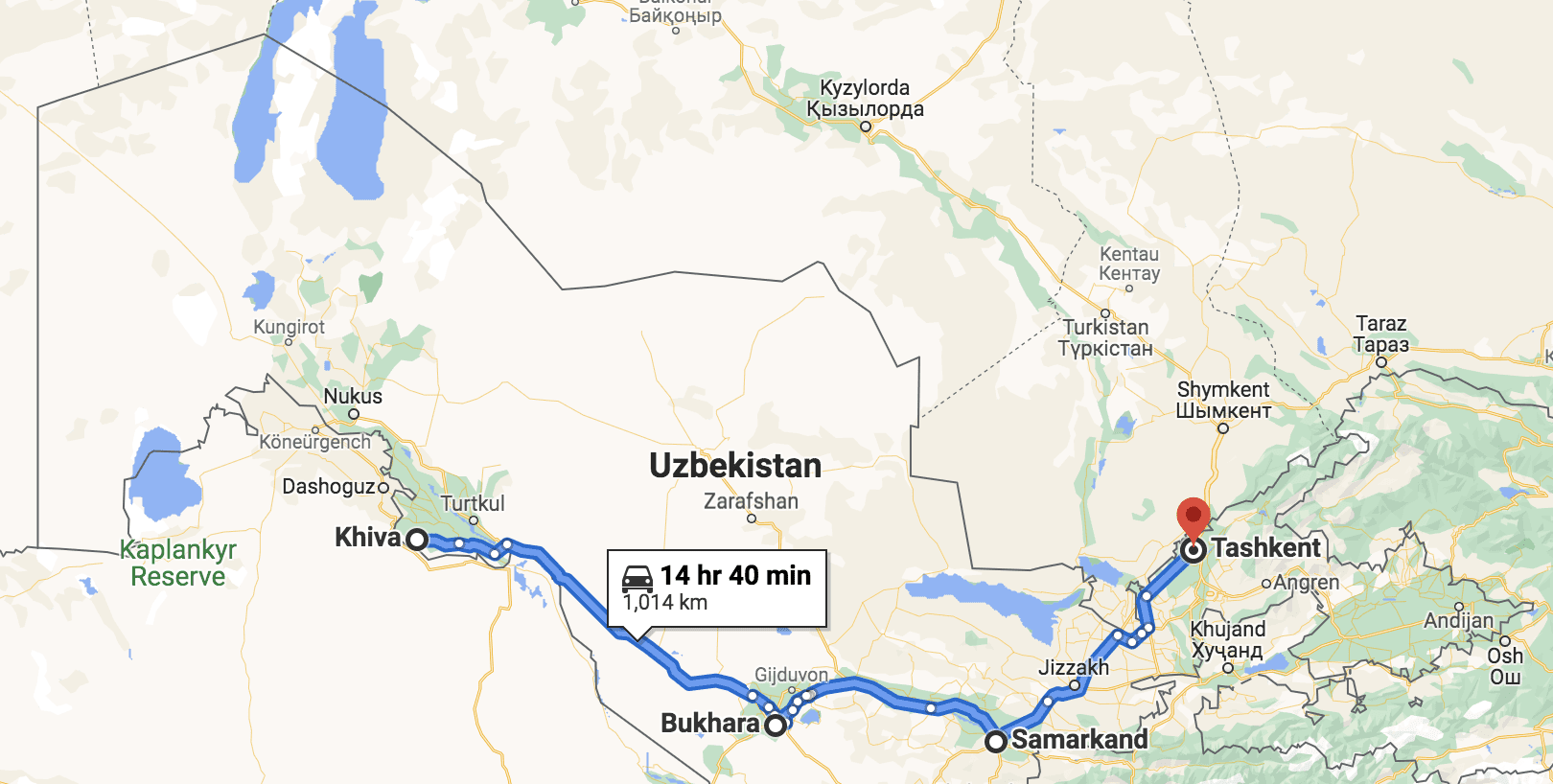 Interestingly enough, Turkish Airlines flies to Urgench. This tidbit of information was unanticipated but turned out to be a welcome addition to the piggy bank of facts we were collecting while preparing for the trip.
For my award flight, I used the United MileagePlus program, but that's not the surprising part, considering Star Alliance has the most travel partners and therefore the most options of flights into the region.
What shocked me was that United had a Business Everyday Award available for just 80,000 MileagePlus miles. Considering that a Saver award through the United loyalty program starts at 85,000 miles for a trip between the United States and Central Asia, 80,000 miles for an Everyday Award was an incredible find.
Furthermore, my friend and a fellow writer, Anna Zaks, found a similar award departing Cleveland, Ohio (CLE), so without deliberating too long, we both jumped on these flights.
My itinerary consisted of four segments, including travel from Salt Lake City (SLC) to Houston (IAH), to Frankfurt (FRA), to Istanbul (IST) and finally to Urgench (UGC)—with all four segments in business class on flights operated by United Airlines and Turkish Airlines. The flight from Houston to Frankfurt was on United Polaris on a Boeing 787-9 Dreamliner with a 1-2-1 seat configuration.
If you know me even a little bit, you know that I prefer to redeem fewer miles for more trips, and the same itinerary in economy class was actually available for 46,800 United miles. However, because I was looking at more than 30 hours of travel time, I decided to splurge for a business class flight and arrive ready to hit the ground running when the plane landed in Urgench in the early hours.
From Tashkent (TAS), I continued my trip to Tbilisi, Georgia (TBS), and redeemed 25,000 Aeroplan points for a one-way trip with Turkish Airlines.
What I Did in Uzbekistan
Khiva
As I mentioned before, our journey began in Khiva, whose old walled city of Itchan Kala was the first site in Uzbekistan to be included on the list of UNESCO World Heritage Sites in 1991. Itchan Kala once was the final stop along the Silk Road for the caravans to rest before crossing the Karakum Desert and continuing to Iran.
View this post on Instagram

Now, Itchan Kala is an open-air museum of well-preserved wonders of Muslim architecture.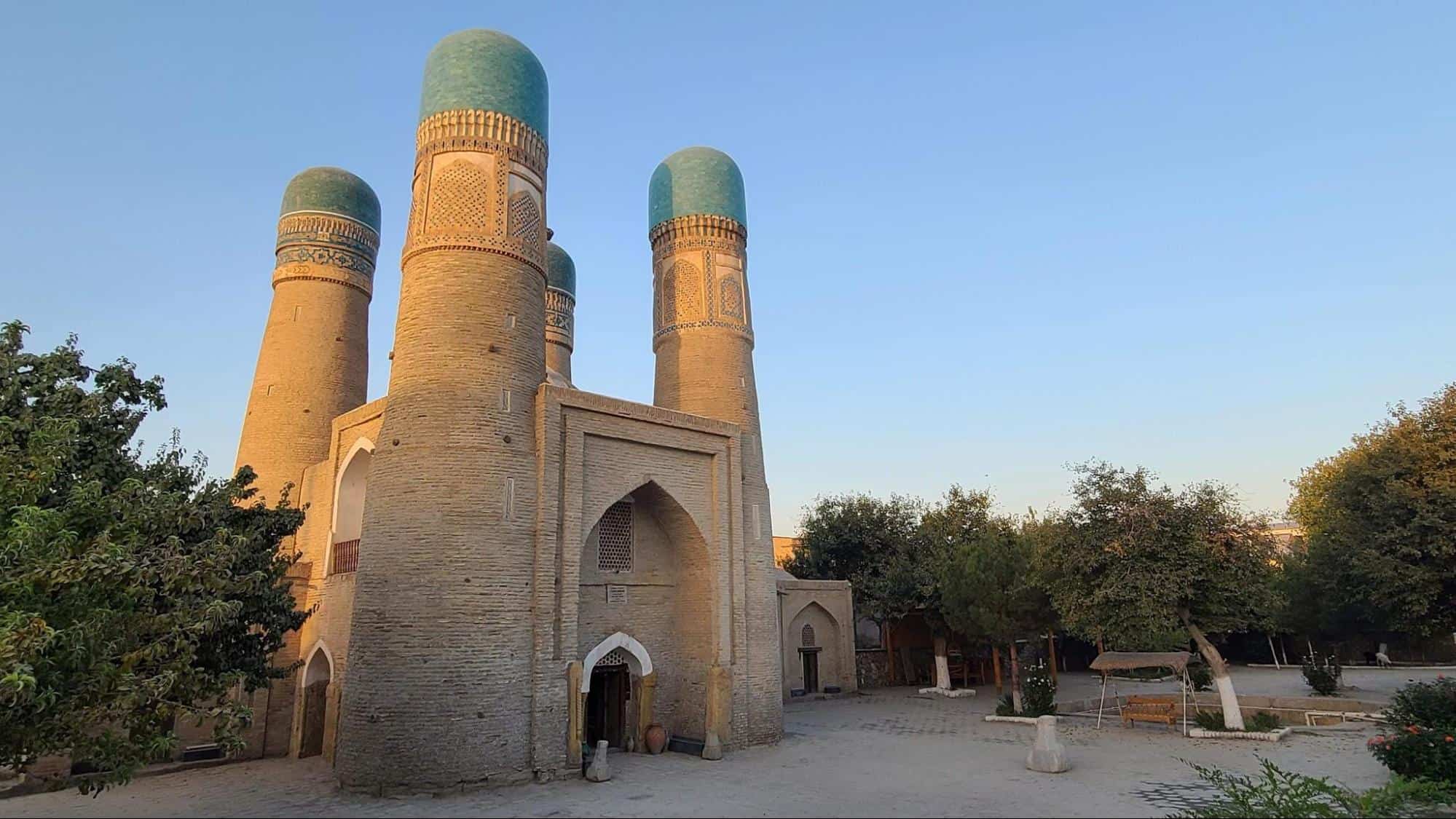 Bukhara is another stop on the Great Silk Road, and it shows. The remnants of what once was a popular trading center are everywhere. We're talking cobblestone alleyways lined with rug merchants. Old caravanserais (roadside inns) are bursting at the seams with handmade pillowcases, ceramic dinner plates and colorful textiles. Ancient madrasas (schools) are full of trinkets and souvenirs.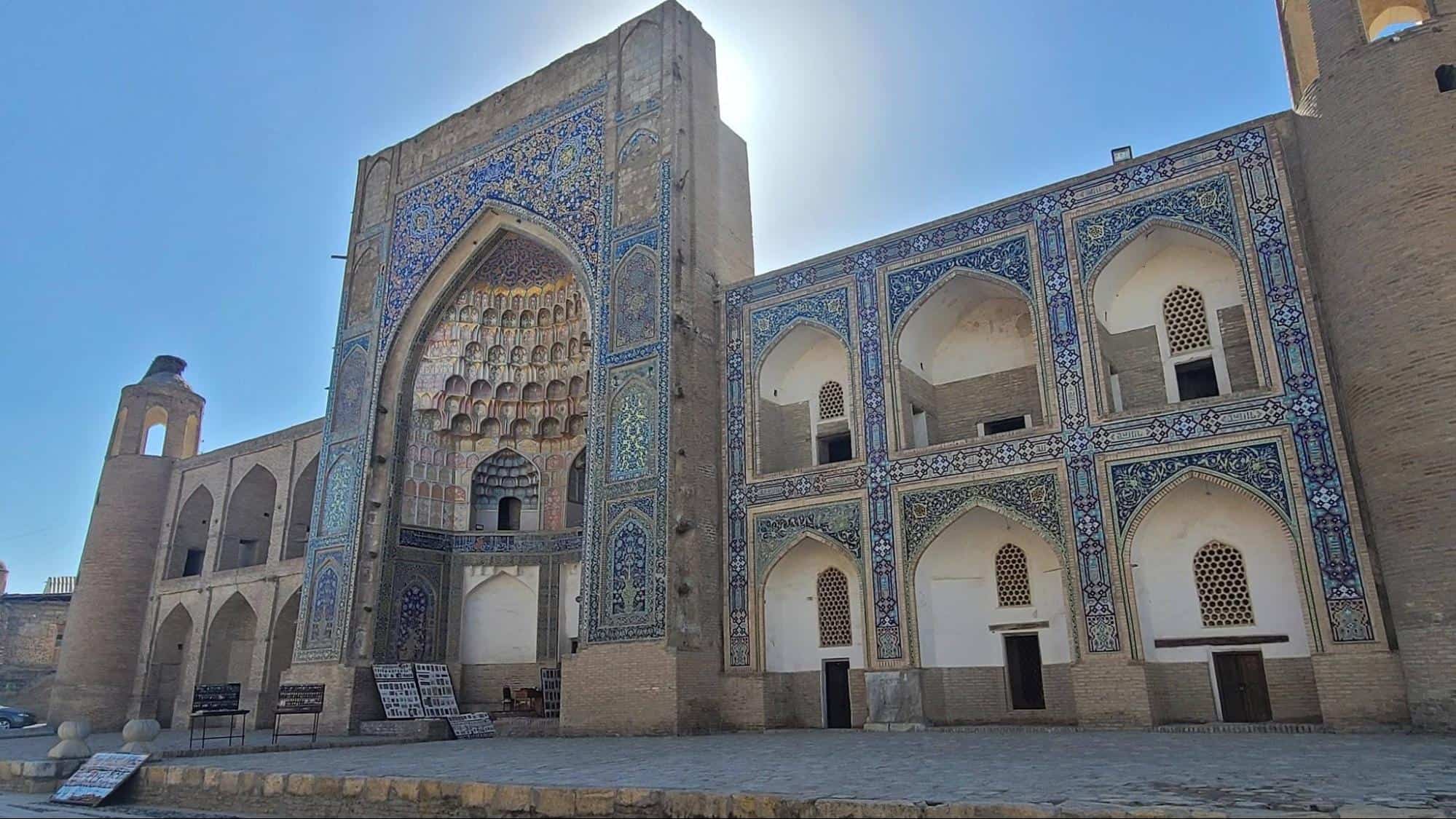 Shopping aside, the Historic Center of Bukhara is another UNESCO World Heritage Site worth seeing. The city's original layout and historic monuments have been preserved and are impressive to say the least.
Samarkand
Not to sound cliché, but Samarkand is the crown jewel of Uzbekistan. It's the exact reason we planned our journey west to east so as to not witness Samarkand's grandeur first and be underwhelmed by the other cities the rest of the way.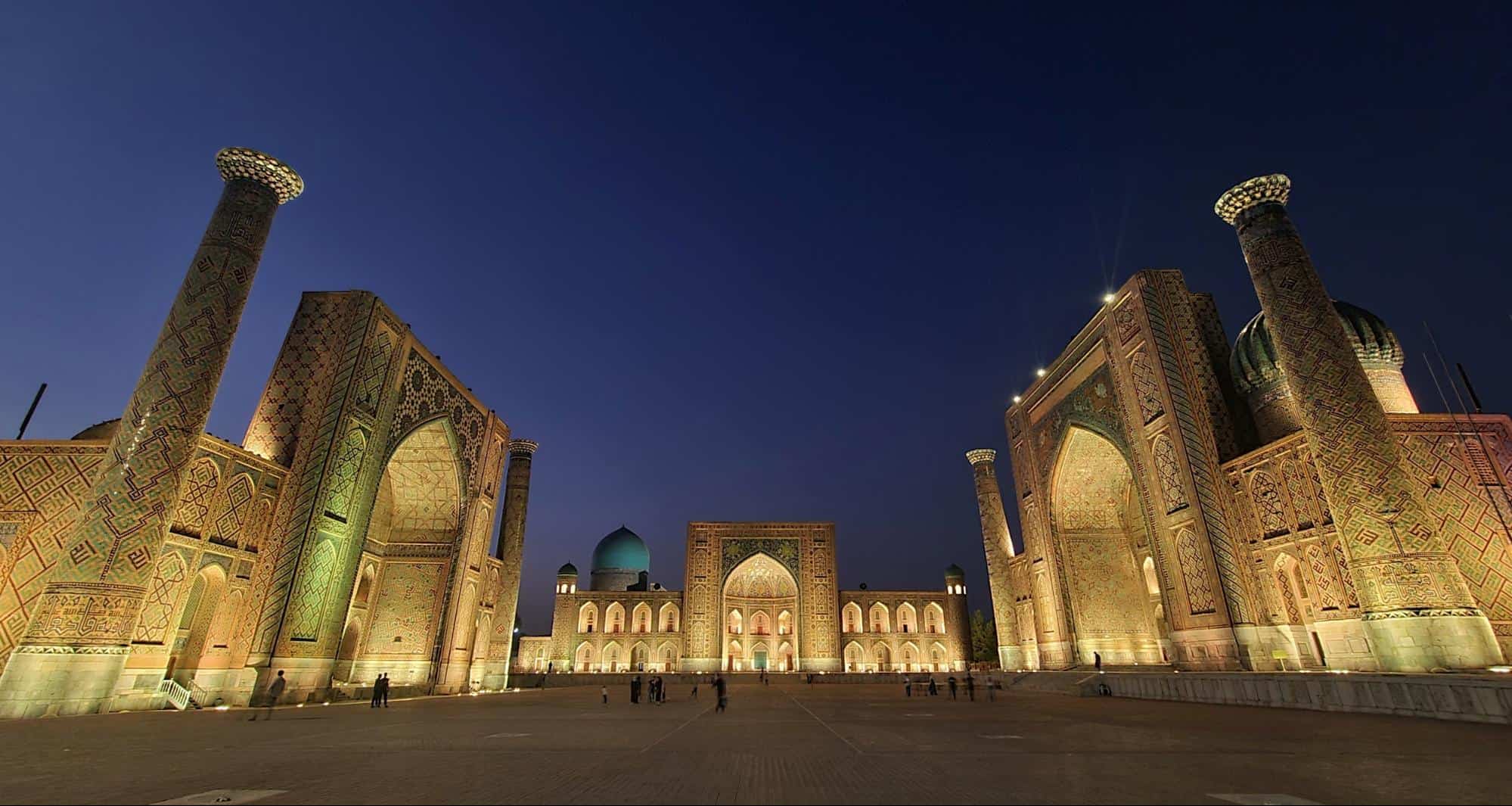 The city's famous Registan Square is enough to blow anyone's mind with its Timurid architecture of three madrasas and a mosque covered with ceramic tiles. However, the Bibi-Khanum Mosque and the Shah-i-Zinda necropolis are the final pieces of ammunition that kill you with their architectural splendor.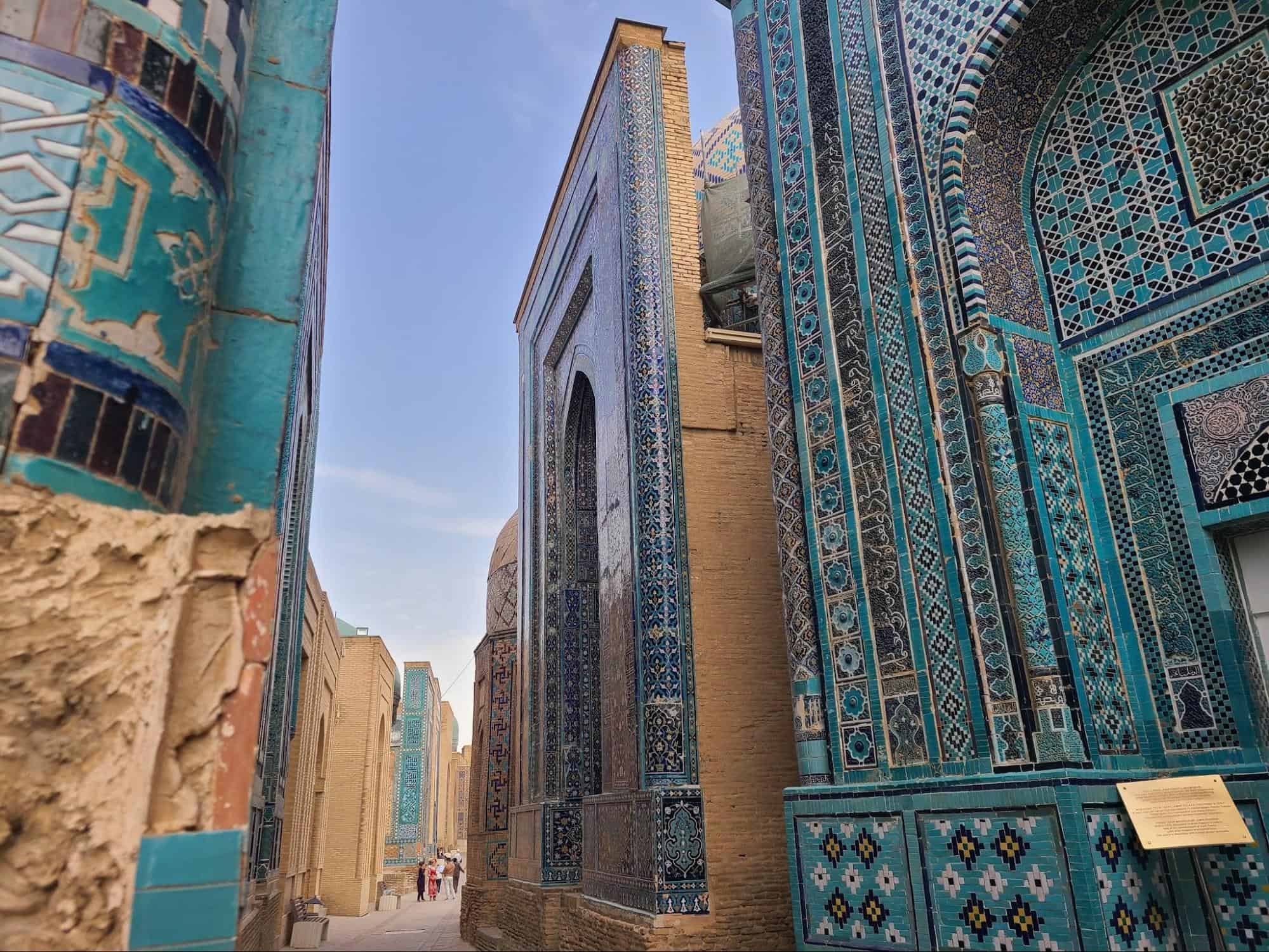 The most magnificent mosques and impressive monuments in Islamic architecture are located in Samarkand, also a UNESCO World Heritage Site (surprise, surprise).
Tashkent
Unfortunately, a disastrous earthquake hit Tashkent, the capital of Uzbekistan, in the '60s and destroyed many historic parts of the city. Since then, it's been rebuilt following Soviet architectural styles of the time. As you can imagine, Tashkent wasn't the most impressive stop on the itinerary, but it's where most of the flights go to and from, so we had to end the trip there anyway.
For me, the highlight of visiting Tashkent was going to a plov center. Plov is a traditional rice dish made with lamb fat, grated carrots and chopped onions. I grew up eating it in Kazakhstan as well, so seeing literal tons of it made in giant pans warmed my heart with nostalgia.
I'd say the second most fun thing to do in Tashkent is ride the metro. What? The metro? How much fun could going through dark underground tunnels be, right? Well, each of the 43 Tashkent Metro stations is designed differently, featuring artistic elements illustrating its name, and seeing some of the most beautiful stations is pretty entertaining.
For example, the Kosmonavtlar station looks like a space shuttle adorned with images of Soviet cosmonauts, and the Navoi station features ceramic murals with scenes from Alisher Navoi's (a Turkic author) poems.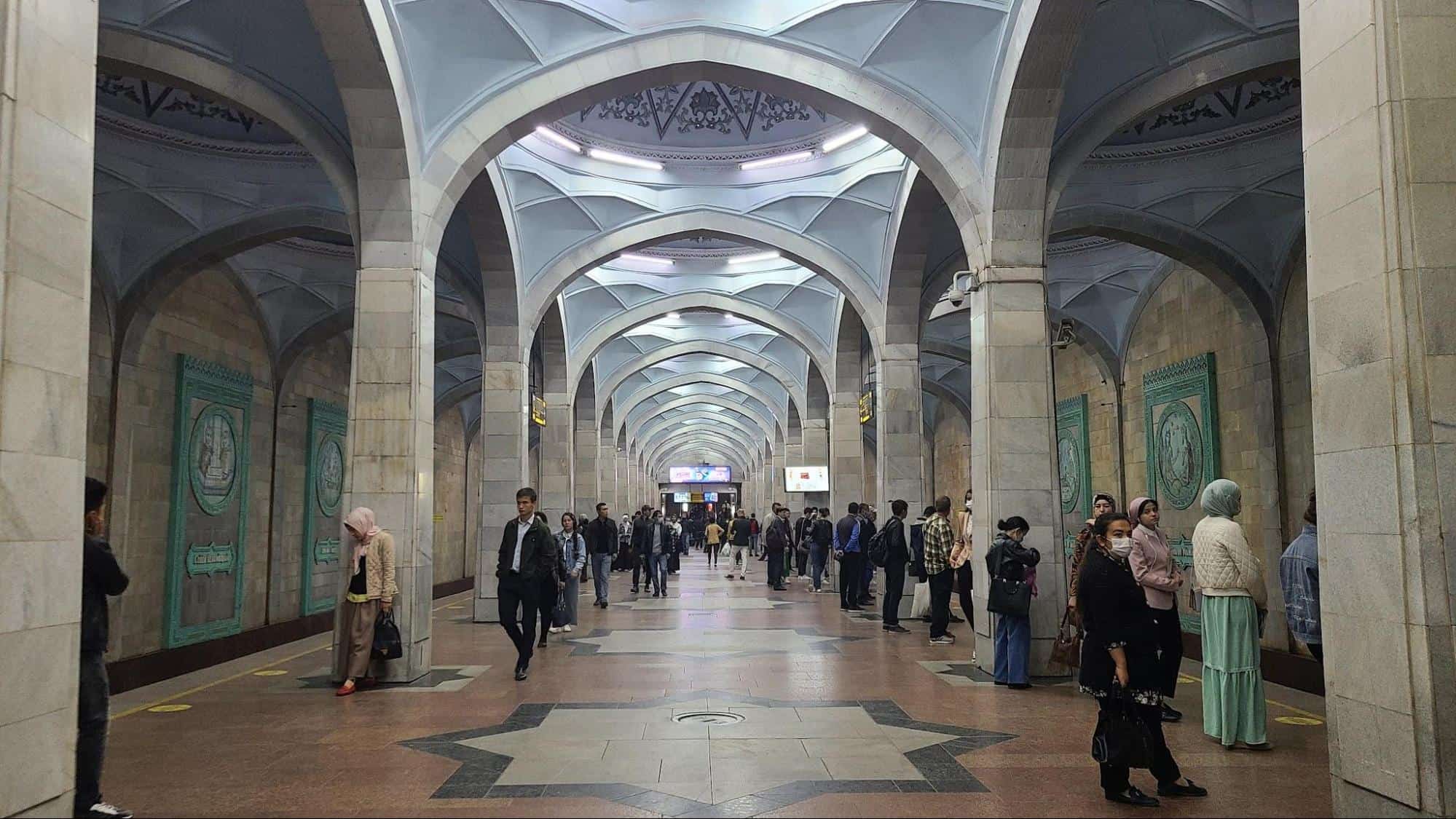 A single-entry, unlimited-use subway ticket costs about 13 cents and keeps on giving as far as entertainment in a world capital goes.
How to Travel Between Cities in Uzbekistan
With its developed infrastructure, Uzbekistan is pretty easy to navigate independently. My friends and I traveled between cities by train. We booked our tickets online directly with Uzbekistan Railways (available for purchase about 40 days prior to travel).
Tashkent, Samarkand and Bukhara are connected by two trains: a high-speed Afrosiyob and a slightly slower Sharq. However, Khiva and Urgench are so far away, you have to take an old Soviet-era train to reach them, and that one is really slow. The journey from Khiva to Bukhara took us eight hours.
During our trip, we tried all three types of trains, and obviously the modern Afrosiyob train is the best option to use between cities if you're not going to visit Khiva.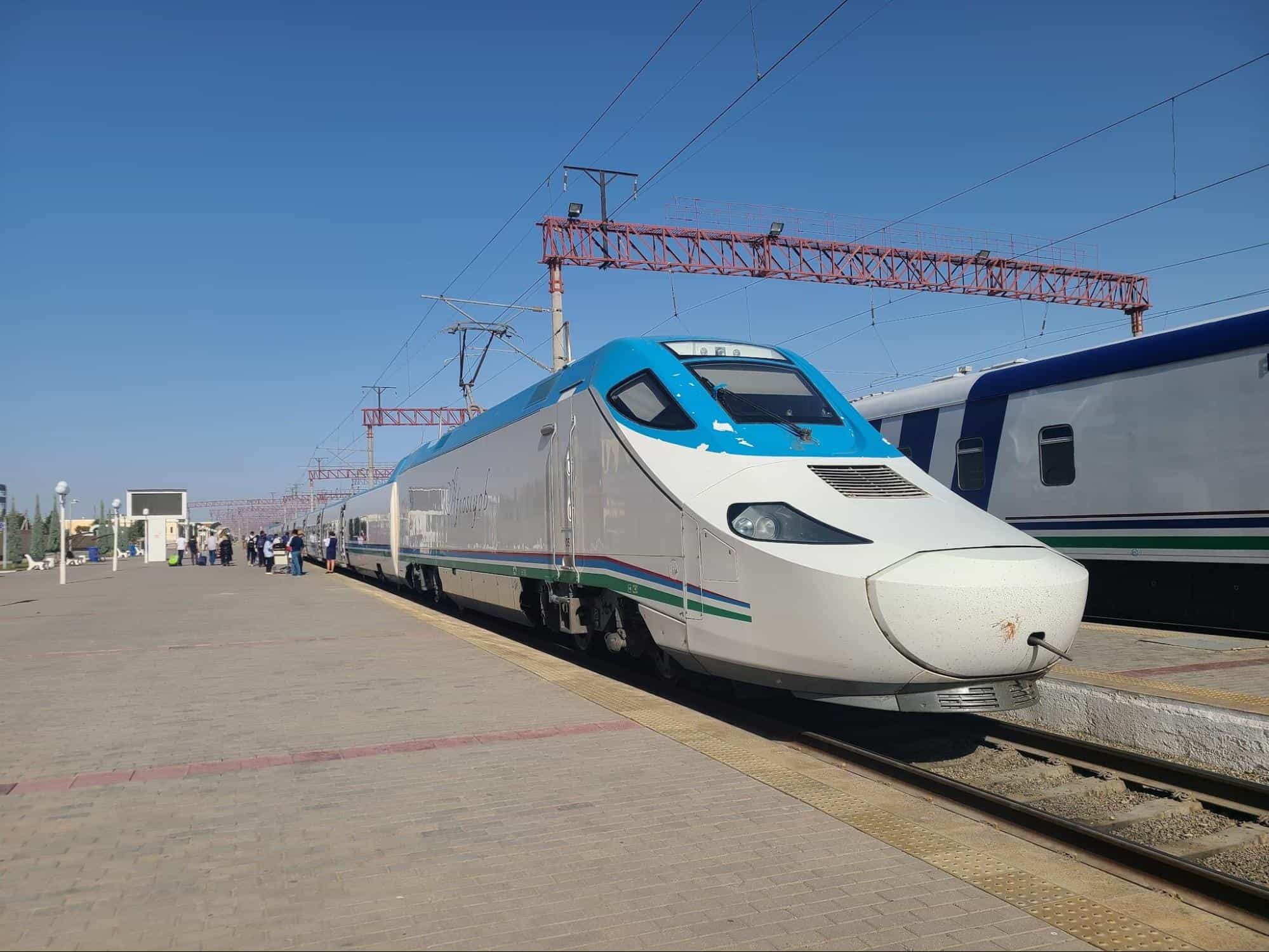 Once in Tashkent, we used Yandex.Taxi, a ride-hailing app similar to Uber. Although the vehicle quality isn't what you'd expect in the United States or Europe, the cars arrived quickly and the rides were inexpensive.
Visa Requirements and COVID-19 Travel Restrictions
Depending on which passport you hold, you might or might not need a visa to enter Uzbekistan.
If you're a U.S. citizen, you need a visa to travel to Uzbekistan. Normally, you could apply for an electronic visa through an online portal at e-visa.gov.uz for $20. However, the issuance of eVisas has been suspended since September. Now, one has to apply at the embassy and pay the processing fee of $160 for a 30-day sticker visa, which is what I had to do. Luckily, the consulate section accepts applications by mail, and you don't have to travel to Washington.
All passengers traveling to Uzbekistan must have a negative COVID-19 test result taken within 72 hours of departure from an approved lab.
If you need a test before you leave Uzbekistan, here's the list of available testing facilities. For about $22, I took my test at a mobile lab Inter Med around 11 a.m., and the result came back around 6 p.m. that same day.
Although Georgia, my next destination, didn't require a COVID-19 test in conjunction with a vaccination certificate, there had been some confusion as to whether a test was required to leave Uzbekistan. Apparently, citizens of certain countries (mostly those of non-post-Soviet states) had to present a test upon departure. I had taken a test just in case and was able to leave without issues.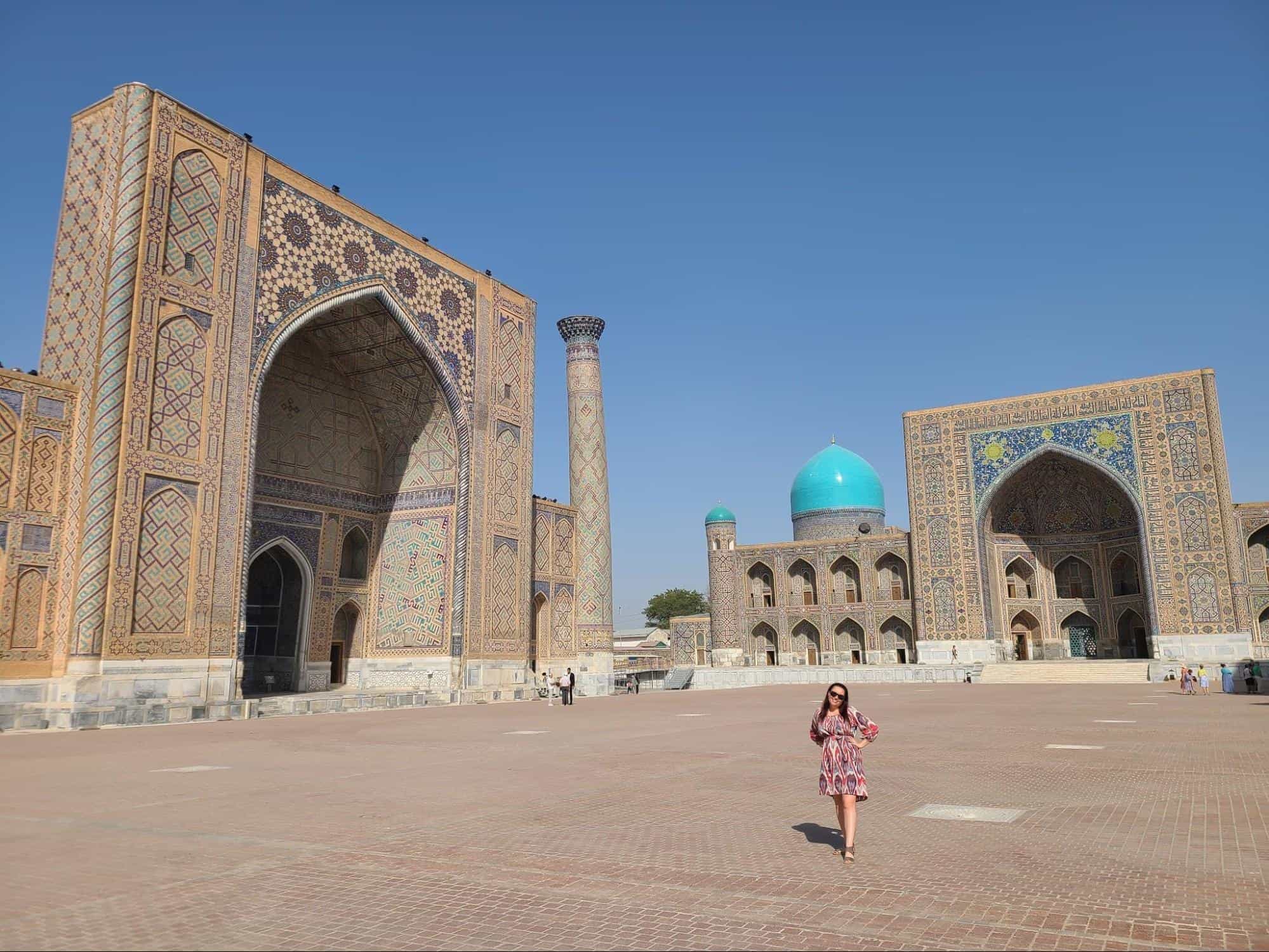 After a tumultuous year, I'm glad that I've been able to re-create a trip that got swallowed by the black hole of 2020. Uzbekistan is quite a distance away, but credit-card rewards brought it within reach. I flew halfway around the world in business class and arrived ready and excited to explore a new country.
Chase Sapphire Preferred® Card
New to the world of points and miles? The Chase Sapphire Preferred® Card is the best card to start with.
With a bonus of 60,000 Chase Ultimate Rewards® Points after you spend $4,000 on purchases in the first 3 months of account opening. , 5x points on travel booked through the Chase Travel Portal and 3x points on restaurants, streaming services, and online groceries (excluding Target, Walmart, and wholesale clubs), this card truly cannot be beat for getting started!
Learn How to Apply
Editors Note: Opinions expressed here are author's alone, not those of any bank, credit card issuer, hotel, airline, or other entity. This content has not been reviewed, approved or otherwise endorsed by any of the entities included within the post.