Note: Some of the offers mentioned below may have changed or are no longer be available. You can view current offers here.
Guest Post By: Luxury on Points 
Las Vegas offers lots more to do beyond casinos and clubs. It has world-class food, lots of entertainment, and interesting neighborhoods beyond the Strip.
But one common experience most Las Vegas outsiders have is getting overcharged for, well, just about everything. It usually starts in your hotel, from outrageous parking fees to buffet "deals" that aren't really deals at all.
With this in mind, we're going to talk about how you can defray at least some of these costs, and gain anywhere from $400-$1,550 in value out of your Hilton Honors Aspire Card from American Express on your next Vegas visit.
In This Article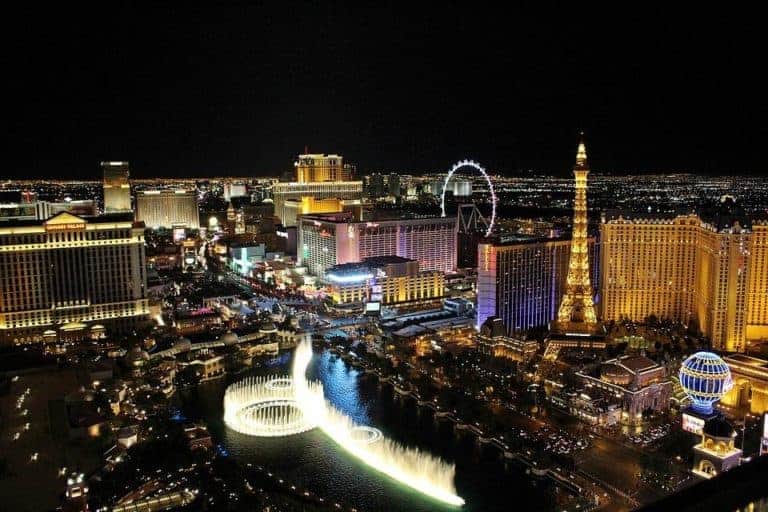 The Basics + Total Value
Item
How to get it
Value
$250 off your hotel stay
Book a flexible-rate stay with Hilton using your Aspire card
$250
$100 dinner
Status-match Hilton Diamond to Wyndham, then Wyndham to Caesars; go to Caesars desk
$100
2 free show tickets
Status-match Hilton Diamond to Wyndham, then Wyndham to Caesars; go to Caesars desk
$50-$200
Free parking, valet, skip-the-line passes
Use Hilton Diamond, Caesars Diamond, and M Life Gold statuses
$0-$100, depending on your usage
Bonus: Possible Hyatt Explorist status
Status-match Hilton Diamond to Wyndham, Wyndham to Caesars, Caesars to M Life Gold, M Life Gold to Hyatt Explorist
$0-$900, depending on how/whether you can take advantage of Hyatt status in the next year
TOTAL
$400-$1,550
Book Your Trip to Las Vegas
Get $250 Off Your Hotel Stay
 The Hilton Amex Aspire card's annual fee is $450, but it comes with a number of perks. One of those perks is an annual $250 resort statement credit.
Per Hilton's terms and conditions, this resort credit CAN be used towards your actual room rate, as long as you're not buying the cheapest Advance Purchase/Non-Refundable Rates. So, make sure you're purchasing a room rate that allows full refunds, and reap a significant discount on your hotel room.
The confusing part is that there are only 240-some Hilton resorts in the world, but thousands of Hilton hotels. You can only get the $250 credit on the actual resorts. Make sure you check Hilton's list of resorts to see if your desired property is eligible for the credit. Fortunately, a number of Las Vegas-area hotels are included on this list as of publication date: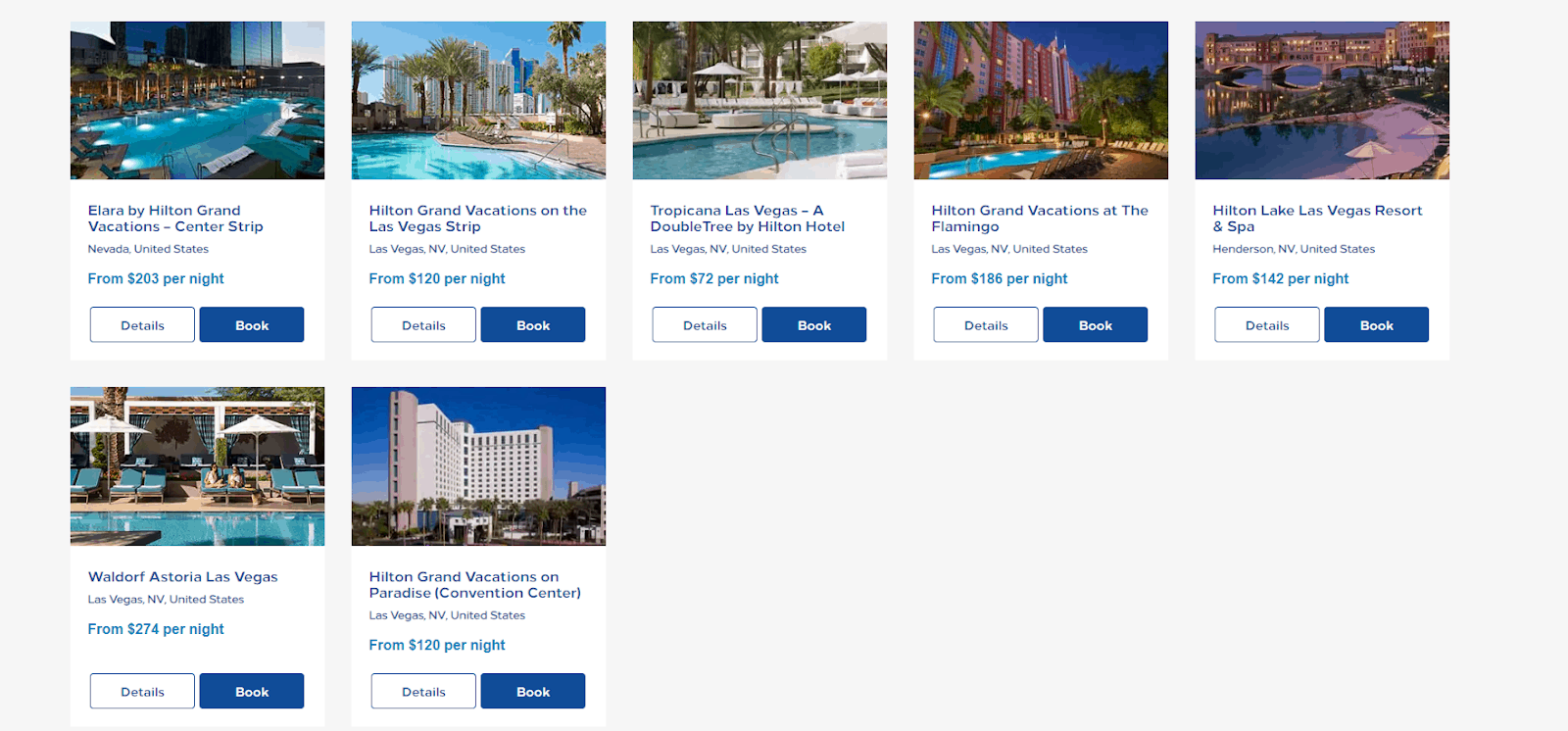 In the example above, I could book a room at the Tropicana for a long weekend for $109/night, plus resort fees: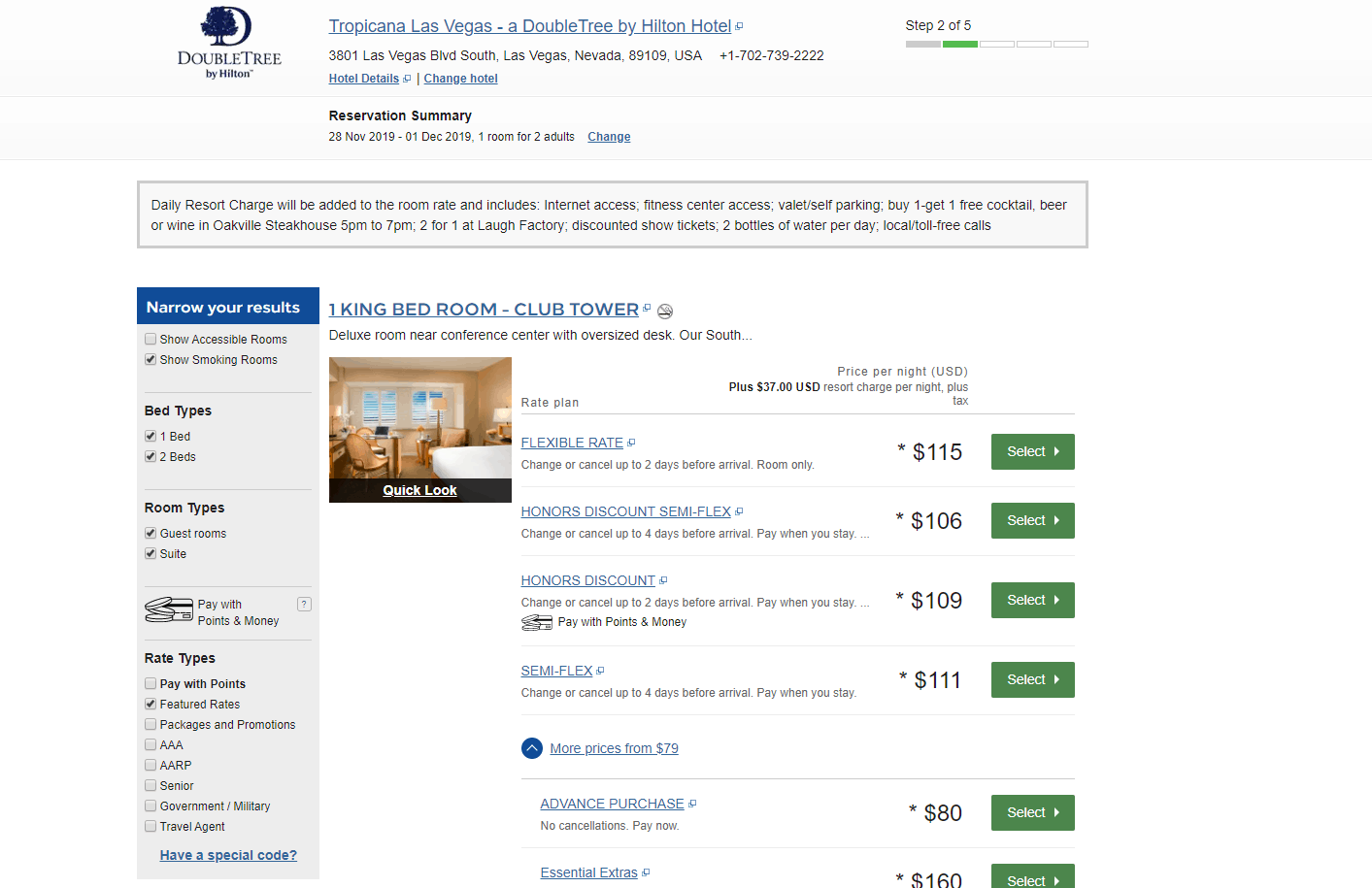 Just be sure to AVOID the "ADVANCE PURCHASE" $80 package, and instead book the $109 Honors Discount package.
I believe it's possible to book the "Honors Discount Semi-Flex" $106 rate and still receive the rebate, but I haven't tested it yet.
Note that you'll still be responsible for the pesky resort fee, even as a Hilton Diamond, but this resort fee is applicable to the $250 Hilton resort credit.
I tested this process with my Hilton card, booking 3 nights at the Hilton Tropicana on a flexible rate. I saw a $318.60 charge on my credit card, then a $250 "Hilton Resort Credit" only 3 business days later.
Since my Hilton Amex Aspire card grants me instant Diamond status, there's a decent chance I'll get upgraded when I arrive, making the $318 room worth even more. Also as a Hilton Diamond, I get 2 free bottles of water and 2,000 bonus points at that property. While I don't think these benefits are that valuable, being a Diamond at the higher-end Hilton hotels can provide very real additional value.
Status Match for More Perks
Now's the time to start using your Hilton Diamond status to status-match into different hotel chains in Las Vegas. You might ask, Why would I want to do that, when I've already booked my room?
Valid question.
It's because in Las Vegas especially, you'll end up spending a lot of time at various hotel properties, even if you're not staying there. Hotels are enormous in Las Vegas and include most of the Strip's dining and entertainment options.
So take advantage!
$100 Dinner Courtesy of Caesars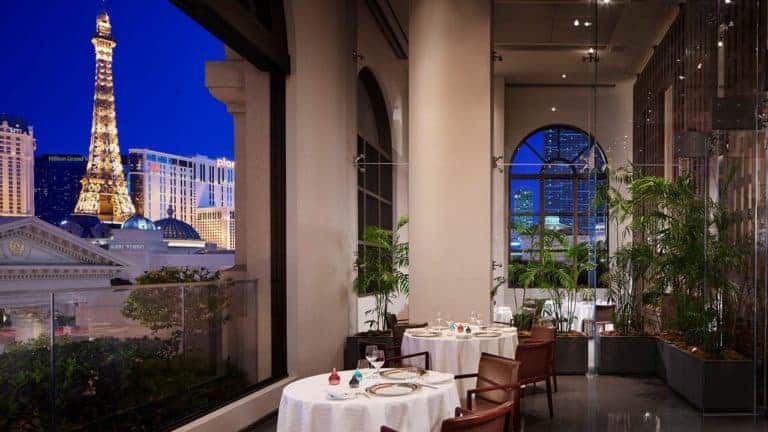 Note: You do NOT have to stay at a Caesars property, to get this $100 free dinner.
There are two steps to make this happen:
Status-match your Hilton Diamond status to Wyndham Diamond. If you need to create a Wyndham account, you can do so quickly and free. Once you have an account, fill out your Wyndham status match request. Be sure to upload a copy of your Hilton Diamond status. Within 3 business days, I saw my profile was updated to Wyndham Diamond. It took another few weeks to get an official email, but my profile reflected my new Wyndham status pretty quickly.
As soon as you have your Wyndham Diamond status, get your Caesars Diamond status. I became a Caesars Diamond within a day of doing this.
Save your Caesars Diamond number on your phone to show when you arrive at any Caesars property during your Las Vegas trip. They'll give you a Diamond card and a voucher for a $100 "annual celebration dinner," plus your show tickets (see below)! I highly recommend getting the physical card, since you might need it for the dinner.
Go here to download a current list of the Las Vegas restaurants where you can use with your Diamond Celebration. Be sure to read the fine print and bring your Caesars card and voucher if needed.
I'm most interested in Restaurant Guy Savoy or Nobu, both at Caesars Palace. These are pretty pricey example restaurants, but if you wanted to stay under the $100 limit for two people, you could do that AND have a few cocktails with Pronto by Giada: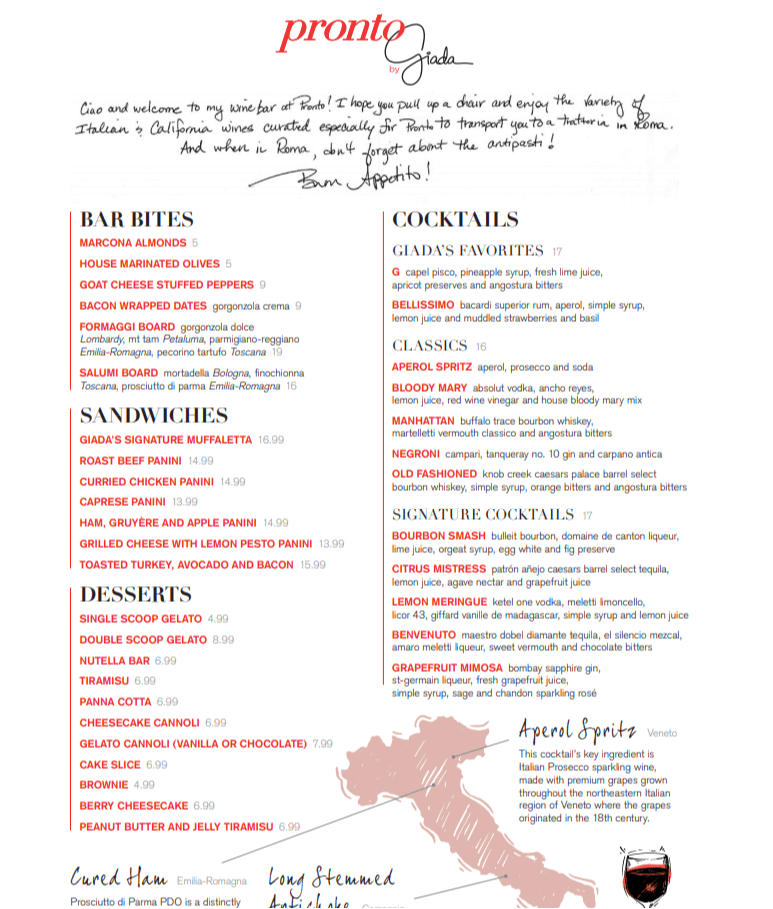 2 Free Show Tickets ($50-$200 value)
You get this benefit the same way you just got your $100 dinner benefit! You can and should combine this step with the one above. Go to any Caesars property desk and ask them to give you show tickets at the same time you get your dinner reservation.
Note that the shows change every month, but there is always a couple of dozen to choose from. I recommend having an idea of what show you want to see, before arriving at the Caesars member desk.
The most compelling options to me look like Penn & Teller (currently an $84 * 2 = $168 value) and several of the comedy shows.
TIP: One of the first things you should do upon arriving in Vegas is head to the casino desk at any Caesars property. Pick up your Diamond card, your show tickets, and your dinner reservations (and voucher if needed) so that you can plan the rest of your trip around whatever show and dinner reservations are available.
When you're IN Las Vegas:
Take advantage of freebies due to your newly-granted statuses.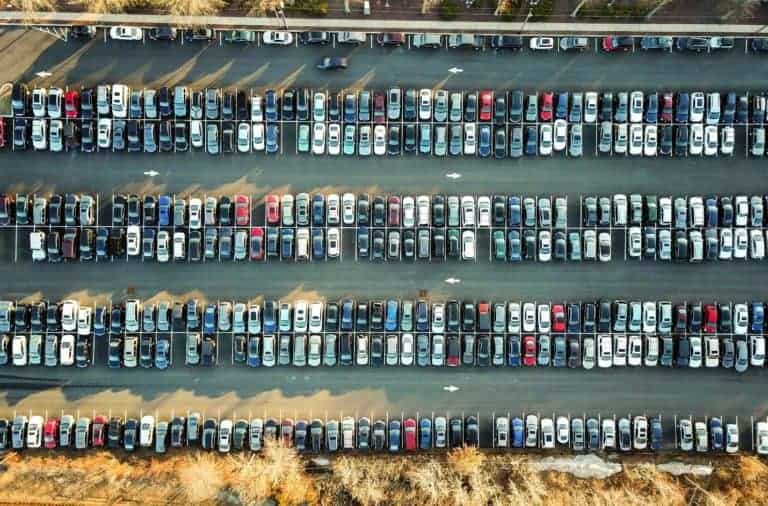 At any Caesars hotel, you can use your Caesars Diamond status to skip the line at any shows, restaurants, casino cash-out cages, or rewards desks. This is another benefit to getting a physical Caesars card when you arrive. You'll also receive free valet and self-parking at Caesars hotels, which can be worth up to $30-$40.
Check the full list of all Caesars Diamond benefits if you think you could use some of the other ones, including casino lounge access.
Bonus Match Opportunity: MLife Gold + World of Hyatt Explorist
Consider taking your Caesars Diamond status over to the MGM Grand property in Las Vegas. It's possible to match up to MLife Gold status, which would then allow you to match to Hyatt Explorist status. Reports are mixed about whether this always works – some front desk agents may require you to be new to the MLife program – but if it does work, Hyatt Explorist status could be valuable far beyond your Las Vegas trip.
Final Thoughts
There are lots of ways to use your status with ONE hotel chain to get elite status with another. This is because these companies compete closely for elite travelers' business. Since the Hilton Amex Aspire card gives you automatic top-tier status with Hilton just for having the card, you can benefit from Hilton status – AND from status-matching to other programs.
I hope you enjoyed learning how to get $400-$1,550 out of your Hilton Amex Aspire card during a Las Vegas trip!
Cheers,
The Hotel King
---
10xTravel is part of an affiliate sales network and receives compensation for sending traffic to partner sites, such as CreditCards.com. This compensation may impact how and where links appear on this site. This site does not include all financial companies or all available financial offers.
Editors Note: Opinions expressed here are author's alone, not those of any bank, credit card issuer, hotel, airline, or other entity. This content has not been reviewed, approved or otherwise endorsed by any of the entities included within the post.