In This Article
Loading table of contents …
Just a 2-hour flight from much of the East Coast, the Island of Bermuda is the ideal destination for a weekend getaway.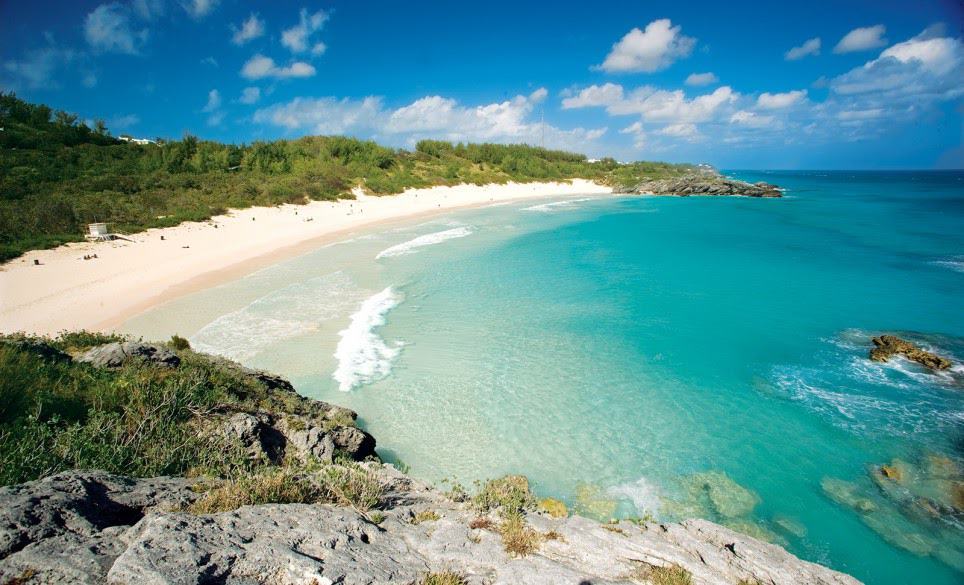 Note: Some of the offers mentioned below may have changed or are no longer be available. The content on this page is accurate as of the posting date; however, some of our partner offers may have expired. You can view current offers here.
As of July 1, 2020, Bermuda is open and welcoming visitors, including those from the US, with a negative PCR COVID-19 test. You can read more about the travel protocols in Bermuda before you take your weekend getaway to Bermuda.
If you're looking to book a trip somewhere, look no further than the middle of the Atlantic Ocean. Just a 2-hour flight from New York, the Island of Bermuda is the ideal destination for a weekend getaway, especially if you live on the East Coast or even the Midwest.
Looking to escape the cold winters of Chicago, Cleveland, Boston or New York City? While it might be 10 degrees and snowy there, chances are it's close to 70 degrees in Bermuda on any given day during the winter.
Or maybe you're trying to escape a hot and muggy southern summer. Living in North Carolina, I'd gladly trade 98 degrees with 100% humidity in August for temperatures in the mid-80s and humidity only in the 70s. I know – I've done just this on a previous visit to Bermuda and it's spectacular!
Bermuda is often referred to as one of the most expensive places to visit in North America. While points and miles can't offset the cost of your trip here as much as they can in other destinations, you can certainly use them to save a significant amount of money on your weekend getaway in Bermuda.
Let's take a look at how you can use points and miles to make a weekend getaway to Bermuda possible.

How to Book Flights to Bermuda with Points and Miles
American Airlines
With nonstop flights from Miami, Philadelphia, and New York (JFK), American Airlines offers the most routes to Bermuda. Additionally, AA has offered seasonal service from both Charlotte and Washington (DCA) historically.
Off-peak economy pricing can be found starting at 12,500 American miles one-way per person, but you'll most likely find award space consistently pricing at peak economy pricing for 15,000 American miles one-way per person. You can also expect to pay about $130-$140 in taxes and fees with any award tickets you book.
With cash rates regularly topping $600-800 per person round trip and up, this makes for a good use of AA miles even with the arguably high amount of taxes and fees that are charged.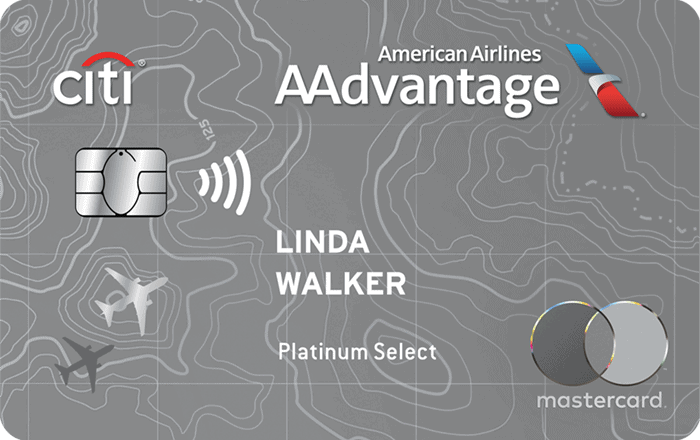 Citi / AAdvantage Platinum Select World Elite Mastercard
Bonus Miles
after $2,500 in purchases within the first 3 months of account opening.
Annual Fee: $0 for your first year, then $99.

If you don't have any American miles, or if you can fly on one of the nonstop AA operated flights, you might consider using British Airways Avios instead to book your flights. By using British Airways Avios, you'll be able to book MileSAAver flights for as low as 9,000 Avios one-way on nonstop flights from JFK, PHL and MIA.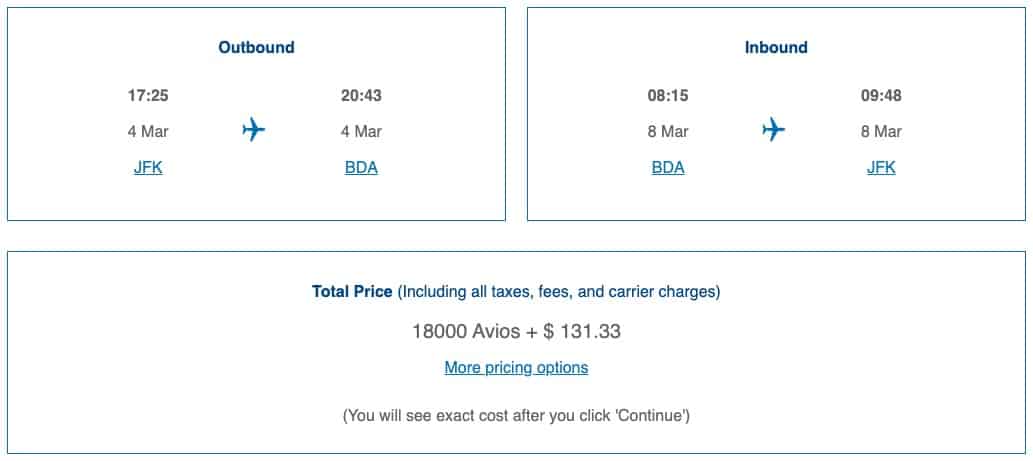 You'll still pay about $130 in taxes and fees, but since British Airways is a transfer partner of American Express Membership Rewards and Chase Ultimate Rewards, they are generally an easier award currency to earn. But this option really only makes sense if you can book one of the nonstop flights since British Airways charges for each segment you fly.
If you need a connecting option, consider booking via Iberia Avios. It's a very similar program to British Airways Avios, except Iberia charges based on the total distance flown rather than per segment like British Airways. So if you need to connect, you'll often come out much better booking through Iberia.
For instance, flying Charlotte to Bermuda round trip, with a connection in New York clocks in at 33,000 Avios booked via British Airways Avios. However, the same exact flights when booked instead through Iberia run just 23,000 Avios, an over 30% savings.
Delta
Delta offers nonstop routes to Bermuda from Atlanta  and New York (JFK). The challenge in booking award flights with Delta is that they don't publish an award chart, which makes it difficult to plan ahead for what the saver level award rates for any route will be.
The easiest way to see what the lowest award rates are for Delta flights to Bermuda is to click on the Price Calendar on Delta's site when running your search.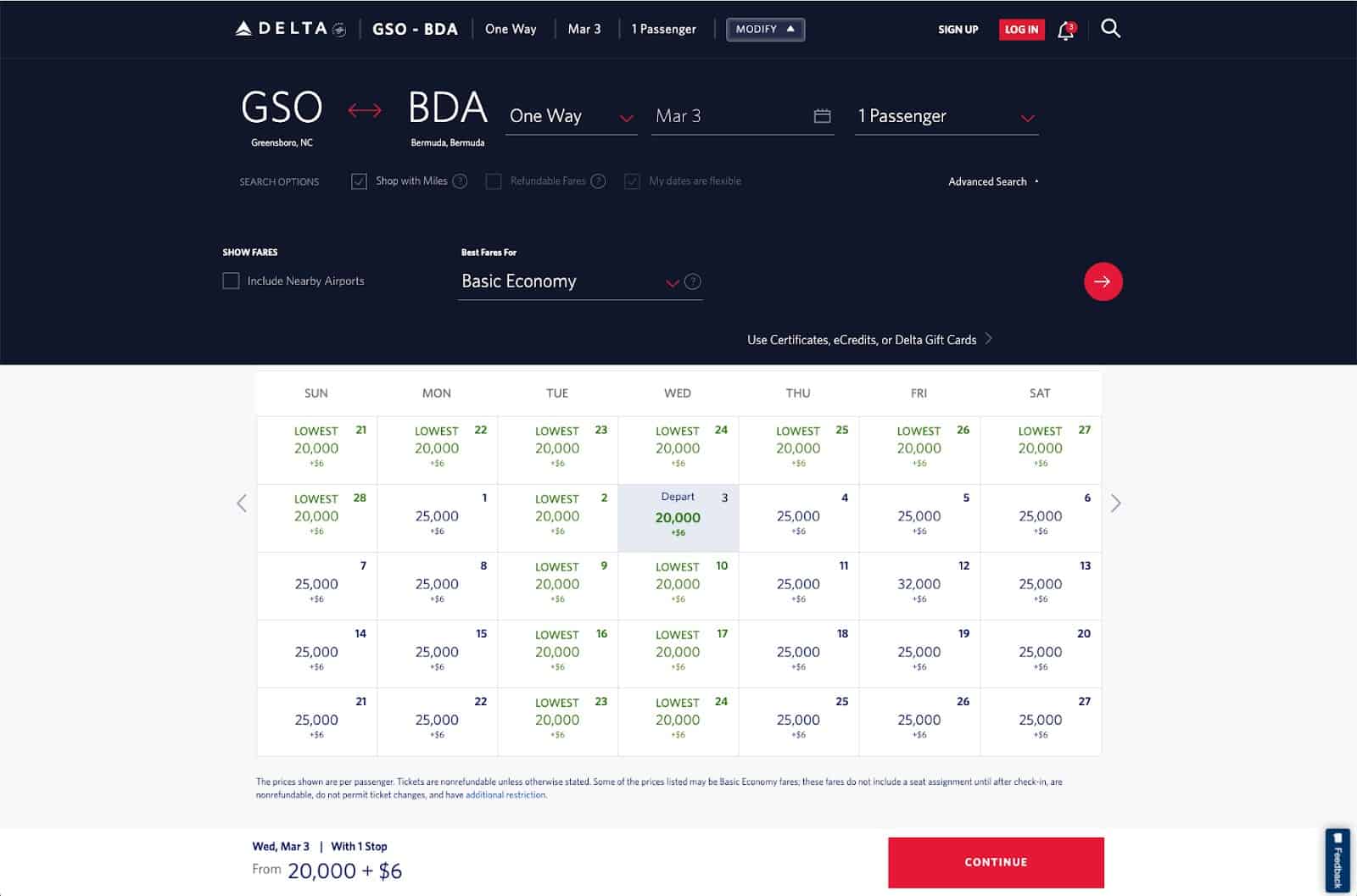 This will allow you to see up to five weeks of award availability. Using the Calendar view, you can see generally what some of the award rates are in order to help find your lowest rates. 20,000 SkyMiles one-way or 40,000 SkyMiles round trip seems to be the average lowest rate that we could find.
If you're short on Delta SkyMiles, don't forget that they're a transfer partner of American Express Membership Rewards. The points instantly transfer at a 1:1 ratio. Amex does charge an "excise tax" on all transfers to domestic partners, but in the grand scheme of things this is minimal but you should be prepared for it.
Membership Rewards® Points
after you spend $4,000 on eligible purchases with your new Card within the first 6 months. Terms apply.
Annual Fee: $250 Terms Apply. | Rates & Fees.
JetBlue
JetBlue offers nonstop flights from both New York (JFK) and Boston to Bermuda.
JetBlue prices their award flights primarily based on the cash price of the tickets. This means that the amount of JetBlue TrueBlue points needed for a ticket is directly correlated to the cash price of the ticket.
Your best option for searching for award space is going to be by using JetBlue's Best Fare Finder. This will allow you to find available award space and the rates required for your desired dates of travel.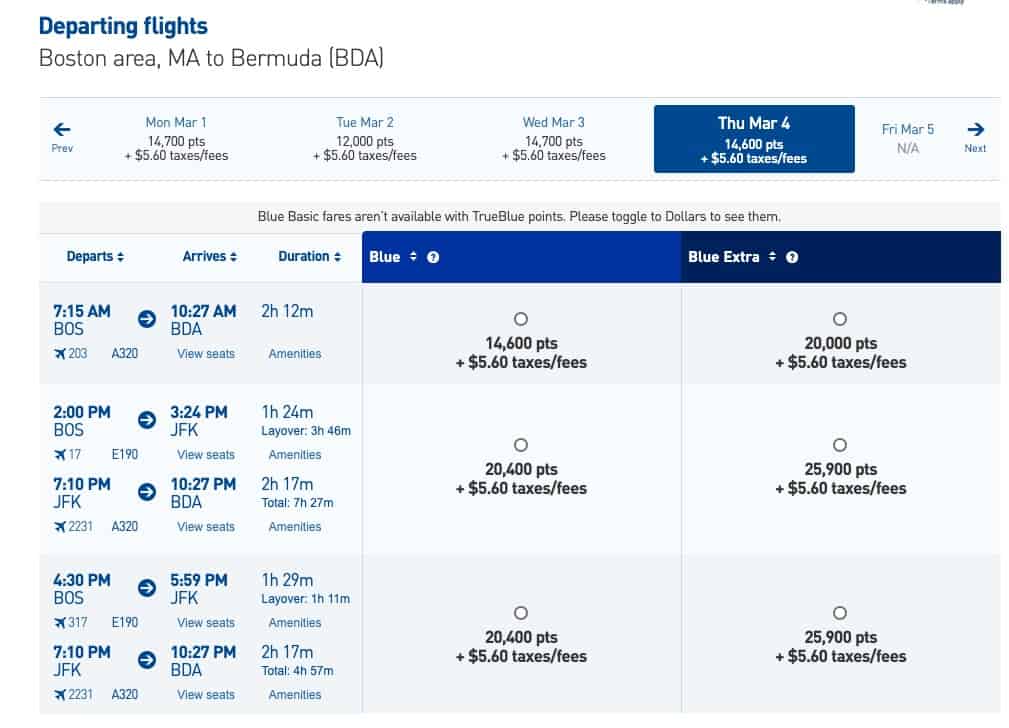 If you have Ultimate Rewards points, your best bet for booking JetBlue flights will actually be to book via the Chase Travel Portal. This way, the cost will likely be comparable to booking with TrueBlue points, but this way you will also earn TrueBlue points for the flights since it's the equivalent of making a cash booking.
If you're short on JetBlue TrueBlue points, they are a 1:1 transfer partner with Chase Ultimate Rewards and Citi ThankYou points. CapitalOne and American Express Membership Rewards are both also transfer partners, but neither are 1:1 partners. Instead, 250 American Express Membership Rewards points transfers into 200 TrueBlue points, and 1,000 Capital One Venture miles transfers to 750 JetBlue TrueBlue points.
Unless you're topping off your TrueBlue account, you shouldn't transfer Chase Ultimate Rewards to JetBlue. Since TrueBlue award bookings are based on the cash price of the ticket, you're better off booking the flight via the Chase Travel Portal with Ultimate Rewards points.
United
United offers nonstop service from Newark to Bermuda.
Similar to Delta, United no longer publishes an award chart. Your best approach to finding pricing options will be to run award searches on United's site, and use their 30-day calendar view to find the lowest priced award flights if you have flexibility in your travel dates.
However, you can expect to pay at least 35,000 United miles round trip per person in  economy for most United flights.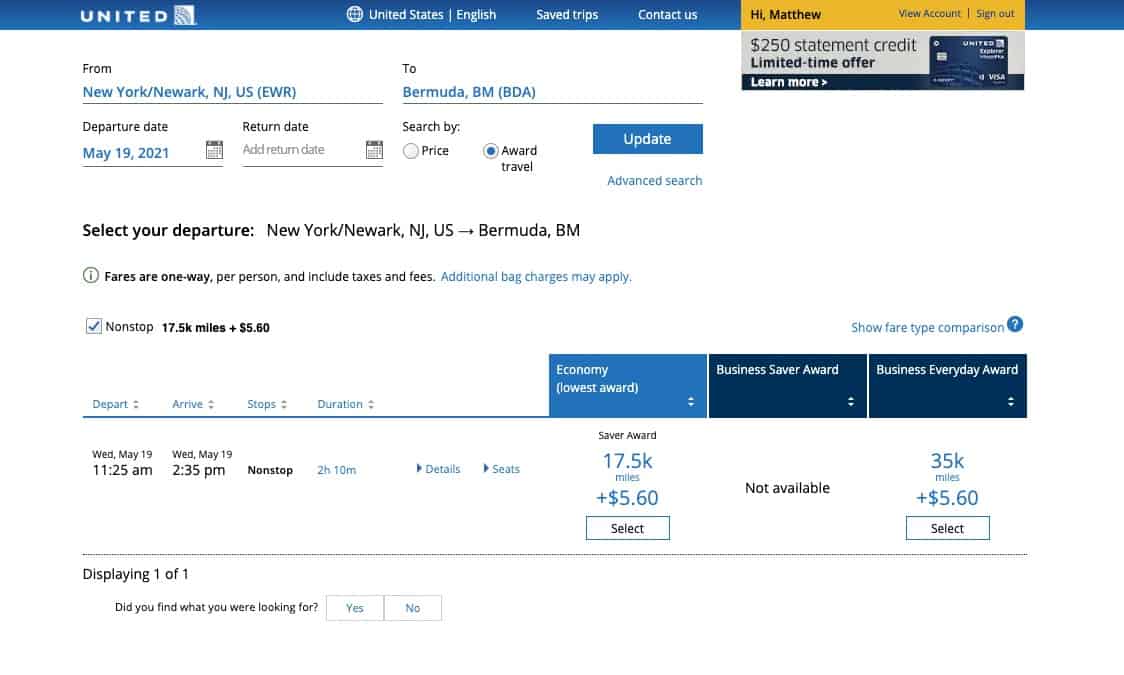 If you're a cardholder of Chase co-branded United cards or hold United elite status, you'll have access to expanded award availability.
You can also book United-operated flights with Star Alliance partner Avianca LifeMiles. Flights to Bermuda run 17,500 LifeMiles per person one-way, so inline with United's base award pricing. But LifeMiles can be transferred from American Express Membership Rewards, Citi ThankYou Points, and Capital One, and all 3 programs regularly run transfer promos.
If you are able to time your transfer right, you could potentially book this same United-operated one-way flight for 12,500 Membership Rewards points if you overlapped with a 1:1.4 transfer bonus, one of the recent promotions.
Bonus Miles
Earn 60,000 bonus miles after you spend $3,000 on purchases in the first 3 months. Plus, earn an additional 10,000 miles after you spend $6,000 total on purchases in the first 6 months.
Annual Fee: $0 for your first year, then $95.

Where to Stay in Bermuda with Points and Miles
For now, Bermuda is going to be a difficult destination for you to use points and miles for hotel stays. You won't find many major hotel chains here. However, with a Ritz-Carlton currently under construction in Caroline Bay, Marriott points will eventually be able to be used in Bermuda once the project is complete.
Accor Live Limitless
There are 2 Fairmont properties in Bermuda – the Fairmont Southampton and the Hamilton Princess & Beach Club. At the moment, that's about as "major hotel chain" as Bermuda gets.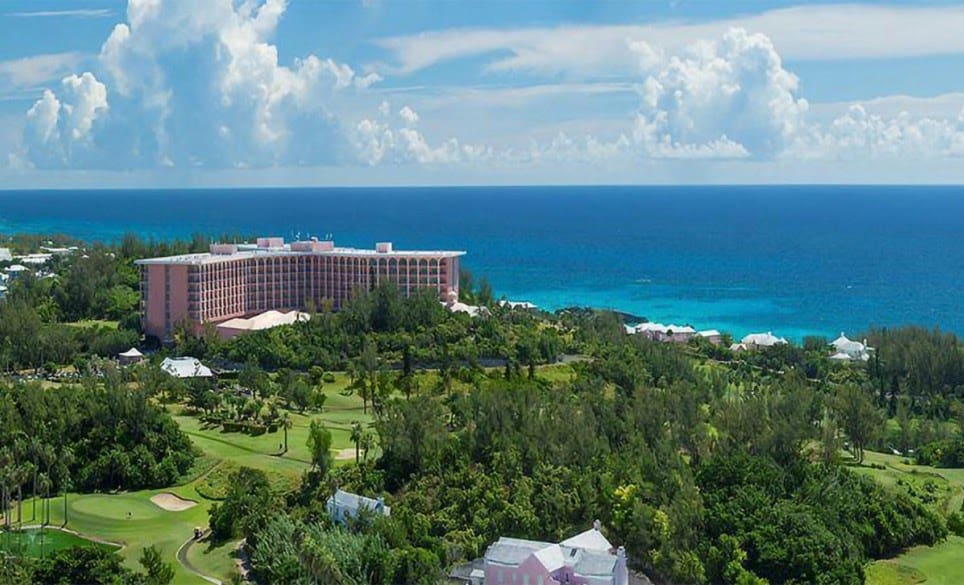 Fairmont Hotels are bookable with Accor Live Limitless (ALL) points, a currency we rarely even mention since its points are very hard to earn and get maximum value out of. Accor Live Limit has no U.S. co-branded credit cards, making them hard to earn. However, you can transfer Capital One miles to Accor Live Limit at a rate of 2:1 – though, you might be better off booking a cash stay and erasing the purchase with Capital One miles.
With Accor Live Limitless points, redemptions are relatively straightforward – 2,000 Accor Live Limitless points translates into €40 (~$46.50) of credit to your stay.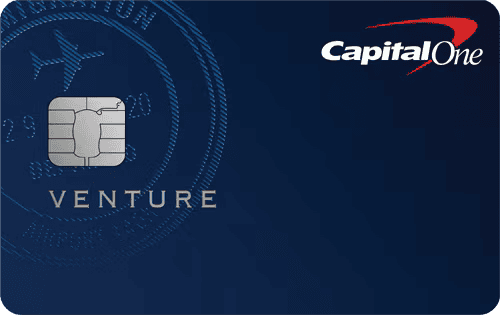 Chase Travel Portal
For most, using the Chase Travel Portal might end up being the best bet for booking hotels in Bermuda. This doesn't limit you to any sort of loyalty programs or transfer partners and offers you the most flexibility as it allows you to book just about any property on the island.
If you're a cardholder of any of the Chase Sapphire, Ink or Freedom products, you're eligible to redeem your Chase Ultimate Rewards points towards paid hotel stays via Chase's Travel Portal.
If you're a cardholder of the Chase Sapphire Reserve®, you can redeem Ultimate Rewards points at a value of 1.5 cents per point. If you have the Chase Sapphire Preferred® Card or Ink Business Preferred® Credit Card, you can redeem at a value of 1.25 cents per point, and all other cards can redeem at 1.0 cents per point.
The number of points required for your stay will be completely dictated by the cash rates charged during the dates you're traveling, which means it can be hard to plan ahead to know how much your stay might cost.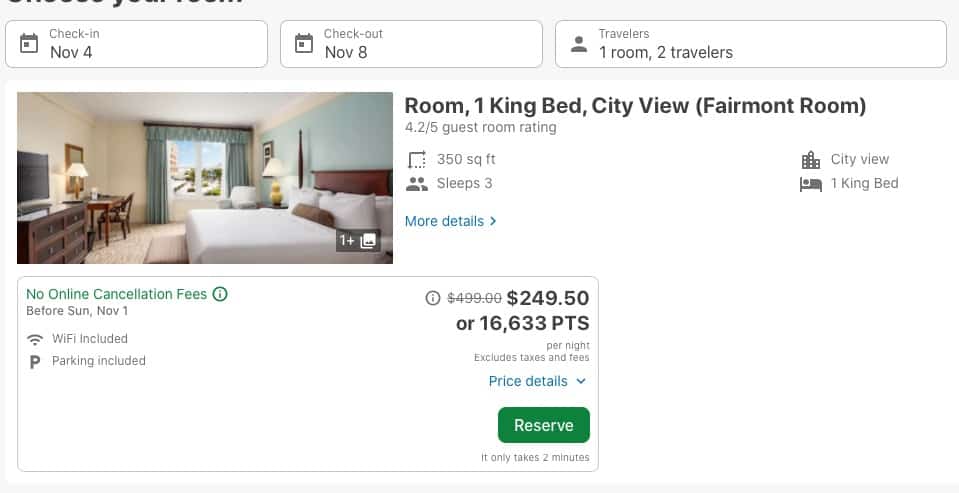 As a comparison, you can see the same hotel has a variety of cost options depending on not only dates, but also whether you book refundable or non-refundable rates.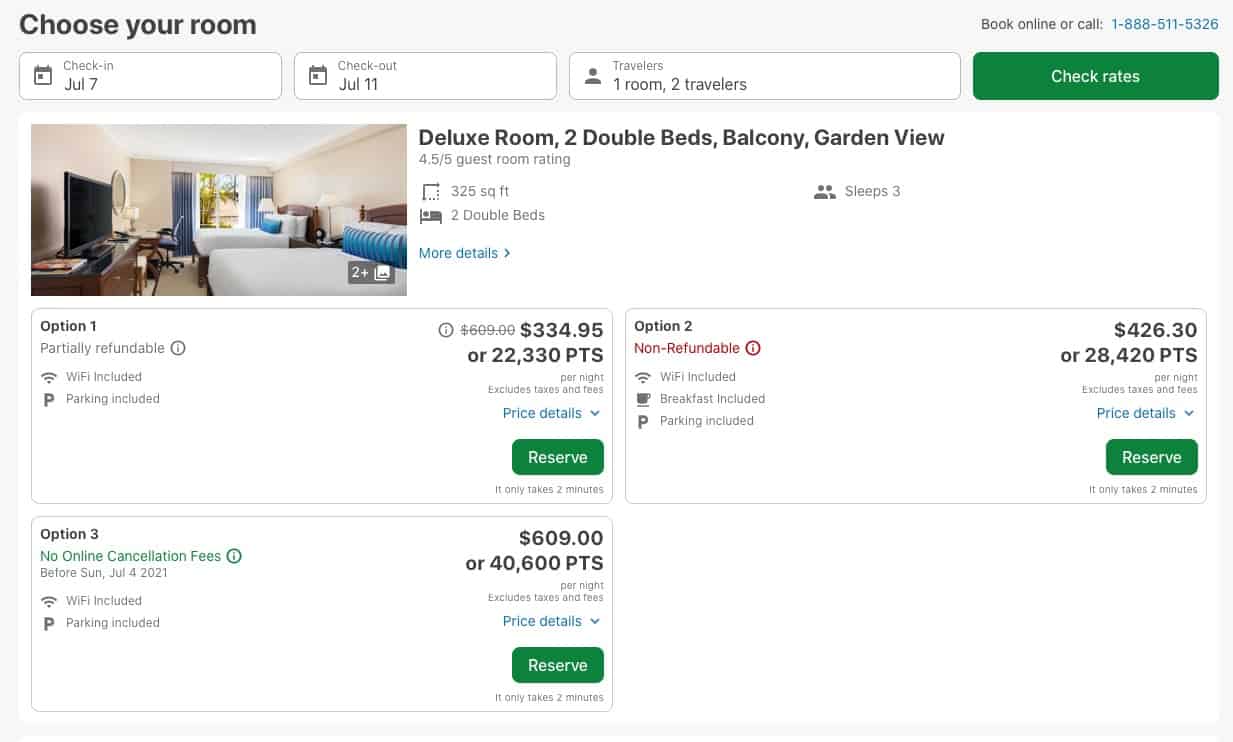 American Express Fine Hotels and Resorts
If you're a cardholder of The Platinum Card® from American Express or The Business Platinum Card® from American Express, then you have access to American Express Fine Hotels and Resorts (FHR). By booking travel through American Express FHR, you get access to additional benefits and discounts at select hotels around the world.
In Bermuda, three properties participate and are bookable via FHR – The Hamilton Princess & Beach Club, The Loren at Pink Beach, and The Rosewood Bermuda. All 3 offer a $100 property credit to be used during your stay as their unique amenity for booking via FHR, in addition to daily breakfast for two, room upgrades when available, noon check-in when available, 4pm check-out guaranteed, and complimentary Wi-Fi.

Additionally, I found a number of dates at some of these properties that offered a fourth-night free on your stay when booking through FHR. Combining this with the free breakfast and $100 resort credit really can help offset some costs in an otherwise expensive destination.
Things You Should Do in Bermuda
You'll soon find after arriving in Bermuda that it's a unique combination of old-world glam, upscale hotels and pristine waters that make for an experience of leisure and luxury. The island may be a relatively tiny speck in the vast expanses of the Atlantic Ocean, but it's full of immersive and exclusive experiences sure to appease all types.
Some of the can't-miss activities include:
Horseshoe Bay
Everywhere you look in Bermuda, you'll find stunning beaches. But none may be more famous than Horseshoe Bay and its legendary pink sand.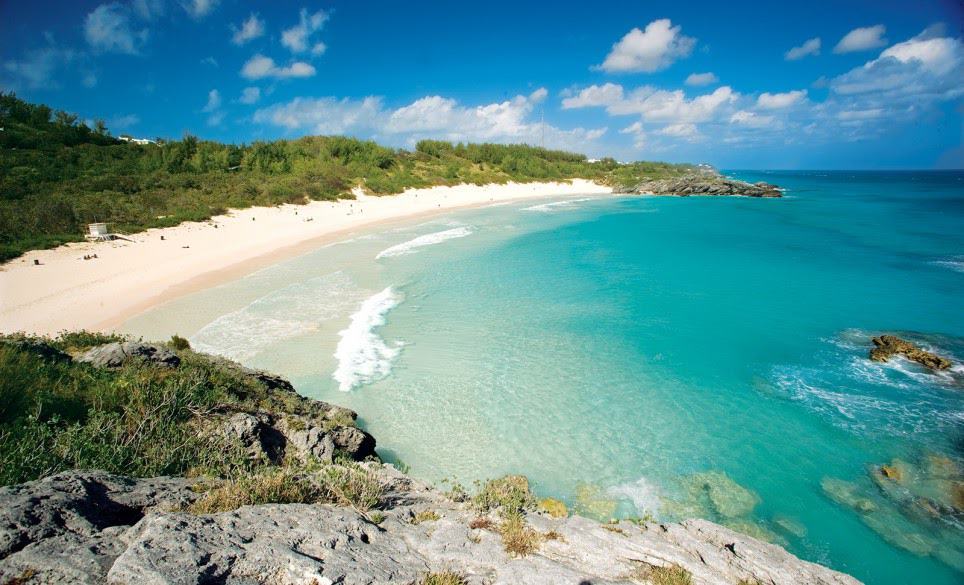 Food
Bermuda is a foodie haven, so much so that celebrity chef Marcus Samuelsson recently opened his Marcus' restaurant here in Hamilton Harbour. When we were there in 2014, every meal we had was better than the previous, so it's fair to say that you likely can't go wrong with any meal you have in Bermuda. But be warned, food is very expensive. We found that lunches for the two of us averaged at least $100 with 1 drink each, and dinners were easily $200+ with 1 drink each, so be prepared.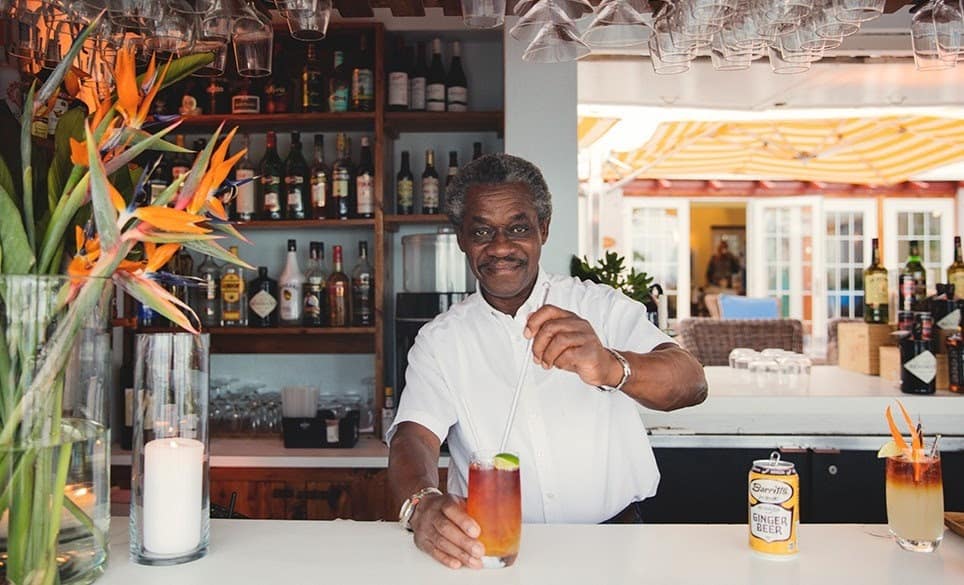 Wherever you choose to eat and drink on the island, you can bet you'll find stiff competition over who makes the best "Rum Swizzle" on the island. While the Dark 'n Stormy may be the drink Bermuda is most famous for, the Rum Swizzle is the unofficial national drink of Bermuda. And it's quite tasty!
Golf
If you're a big golf fan, then absolutely pack your clubs. Bermuda is a golfer's paradise, boasting 6 golf courses that all offer incredible ocean views. And given Bermuda's fantastic year round weather, you can play pretty much any time of the year.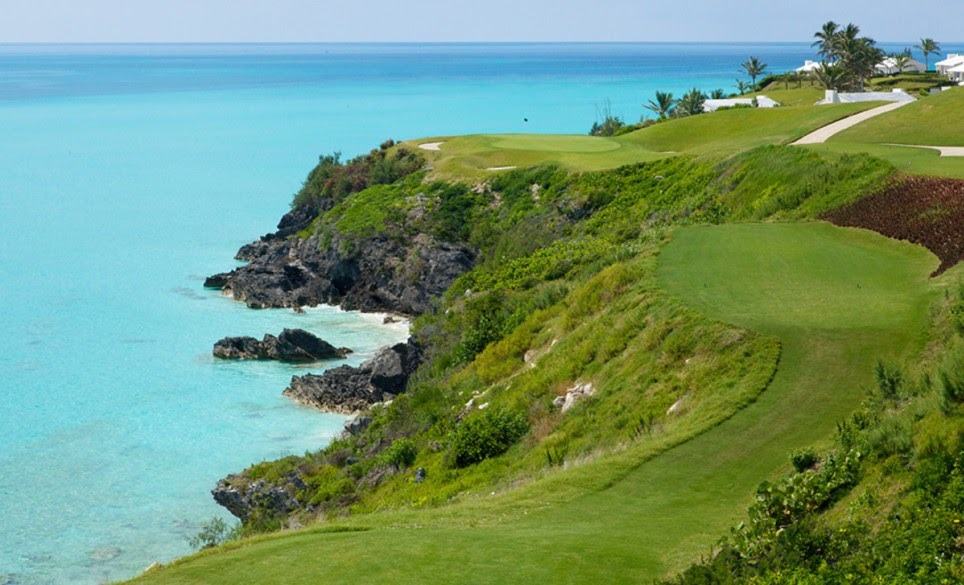 In addition to hosting the PGA Grand Slam of Golf for 7 years, ending in 2014, Port Royal Golf Course is now home to the PGA TOUR's Bermuda Championship. Port Royal also has one of the most incredible golf holes in the world, the par-3 16th.
Designed by world-renowned golf architect C.B. MacDonald, Mid Ocean Club is regularly ranked among the best golf courses in the world. This private club makes select tee times open to visitors during the middle of the week. I highly recommend a round here.
Other courses on the island are Turtle Hill Golf Club, Tucker's Point Golf Club, Ocean View Golf Club, and Newstead Belmont Hills Golf Course.
Whale Watching
Bermuda is a great spot to catch the humpback whales as nearly 10,000 of them migrate north annually to Canada and Greenland during March and April.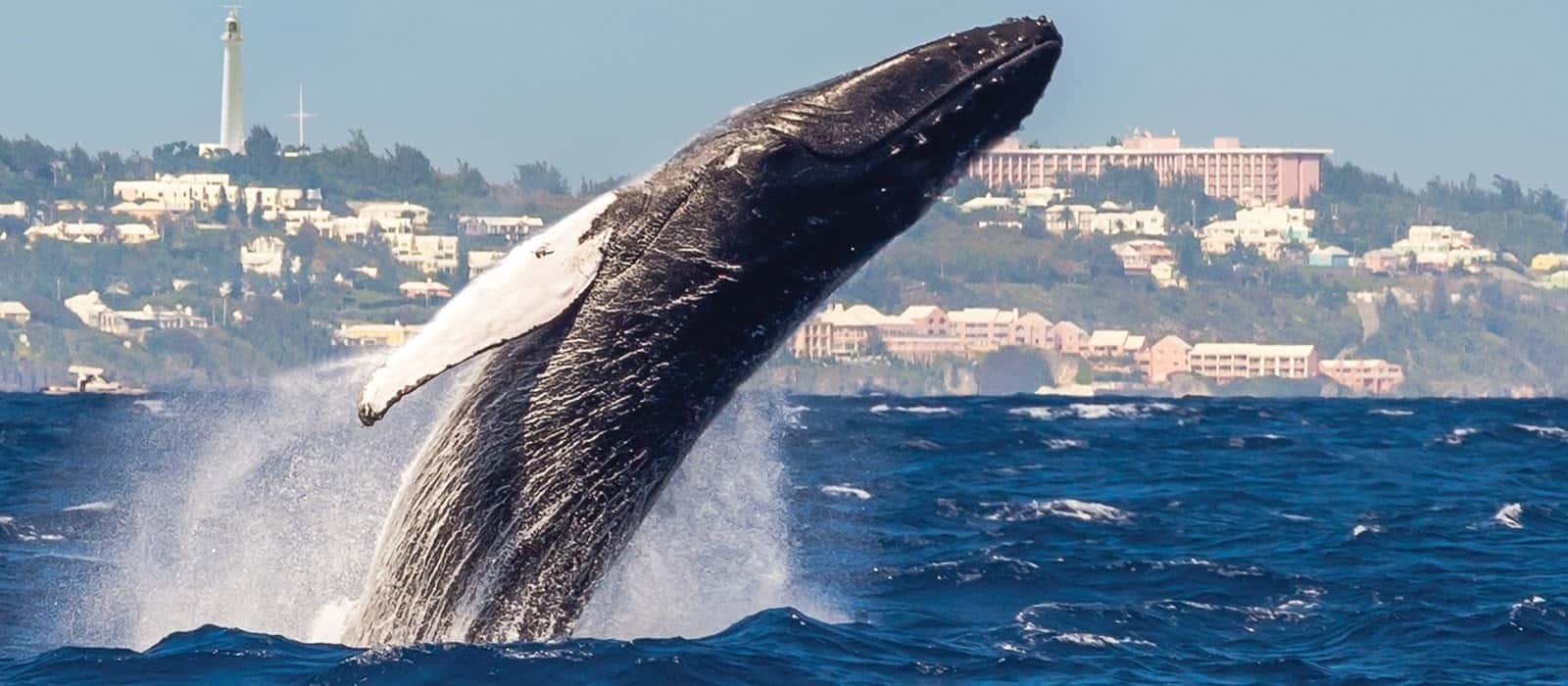 How to Earn Points and Miles for Your Trip to Bermuda
You'll likely find Chase Ultimate Rewards to be the best option for most to book flights to Bermuda. Cards like the Chase Sapphire Preferred, Chase Ink Preferred, and Chase Freedom Flex℠ help you to earn lots of Ultimate Rewards points in a hurry thanks to generous welcome bonuses as well as bonus categories for ongoing spending.
You can use some of the Chase Ultimate Rewards transfer partners to book flights on airlines such as Delta, JetBlue, American Airlines and United.
When cash fares are low, you could even look to book flights in the Chase Travel Portal using Chase Ultimate Rewards if you have cards like the Sapphire Preferred, Sapphire Reserve or Ink Preferred.
But Ultimate Rewards certainly aren't the only currency that will get you to Bermuda. You can earn loads of American Aadvantage miles thanks to co-branded cards offered by both Barclays and Citi. In addition to Delta being a transfer partner of American Express Membership Rewards, American Express also offers a slew of Delta cards. Chase also offers both personal and business United Cards.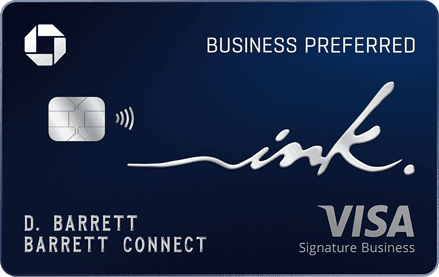 Final Thoughts on a Weekend Getaways to Bermuda
Bermuda was one of the early islands that my wife and I went on together, and we have looked multiple times into planning a trip back. It's so easy to get to, especially from the East Coast, that it's an ideal destination for a quick long weekend getaway.
There are only so many places that you can sit and relax on pink sand beaches, and 3-4 days would be the perfect amount of time to explore the beautiful island.
Even though once you arrive, you'll find Bermuda to be pretty expensive, points and miles can help eliminate the travel costs of getting there and home, helping to make this destination slightly less expensive.
New to the world of points and miles? The Chase Sapphire Preferred® Card is the best card to start with.

With a bonus of 80,000 points after $4,000 spend in the first 3 months, 5x points on travel booked through the Chase Travel Portal and 3x points on restaurants, streaming services, and online groceries (excluding Target, Walmart, and wholesale clubs), this card truly cannot be beat for getting started!
Learn More
Editors Note: Opinions expressed here are author's alone, not those of any bank, credit card issuer, hotel, airline, or other entity. This content has not been reviewed, approved or otherwise endorsed by any of the entities included within the post.